Looking for the best Lake Tahoe Airbnb? We're here to help you out with these suggestions.
Lake Tahoe is a hot spot for tourists all year round, and for good reason. With the lake at your disposal, excellent ski slopes, and hundreds of miles of hiking and biking trails, it's an outdoor lover's paradise.
When you're done kayaking, fishing, paragliding, or whatever adventurous activities you choose to tackle for the day, you can relax and just soak in the beauty of the lake with the stunning backdrop of the Sierra Nevada Mountains. Now the only thing you need to complete your ideal trip is the perfect Lake Tahoe Airbnb.
Lake Tahoe cabins are pricey, but you're paying for the spectacular views and/or easy access to the beaches and ski resorts, so ultimately the money you'll be dishing out is usually worth it. Staying at an Airbnb in Lake Tahoe also allows you to feel more at home and connect with the locals.
So take a look at our list of Lake Tahoe rentals that will have you admiring Crystal Bay from the windows in your bedroom or walking a couple of minutes to a private beach, and find the best Airbnb in Lake Tahoe for you.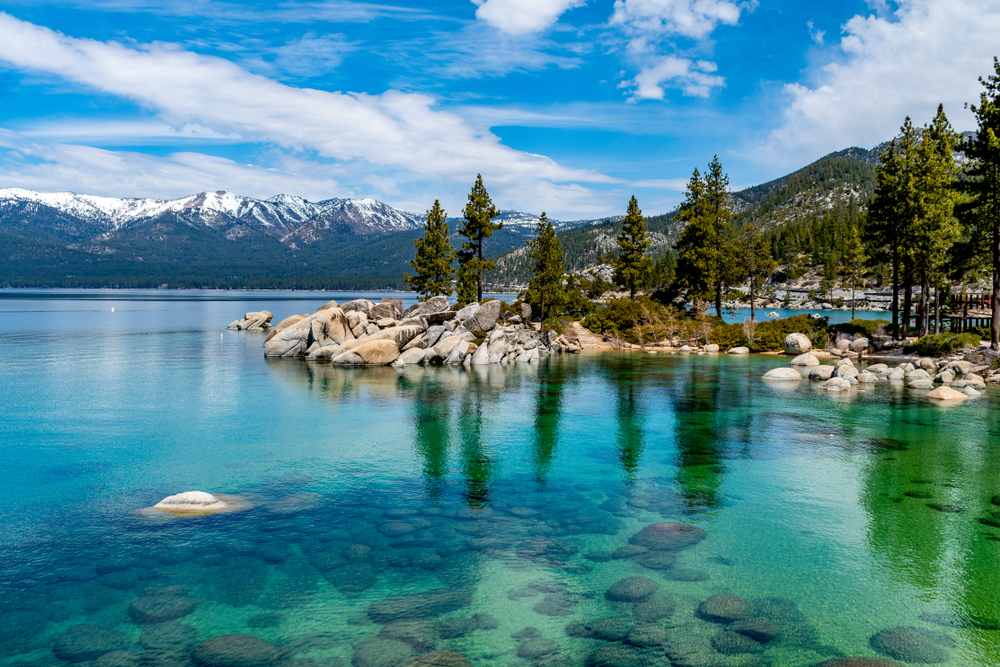 12 Best Airbnbs In Lake Tahoe (Cabins, Townhomes, and More)
Sylvan Moondance
You'll find the perfect 6-person Lake Tahoe Airbnb in Tahoma on the west side of the lake where the 2-bedroom Sylvan Moondance cabin and its comforts await you. This quiet slice of paradise is just a stone's throw from ski opportunities and the lake.
Take advantage of the unique opportunity to walk everywhere, whether you're headed into town or down to the lake. There are also plenty of hiking trails in the area for your enjoyment.
Dog owners will particularly enjoy this dog-friendly location that offers a dog bed and dog door leading from the downstairs bedroom down a little ramp to the outdoors. A fenced-in backyard will also give your dog the ability to romp around freely.
With an espresso machine to help you wake up in the morning and a cozy fireplace to help you wind down after a long, adventurous day, how can you not love a stay at this charming Airbnb in Lake Tahoe.
Click Here To Check Rates On Airbnb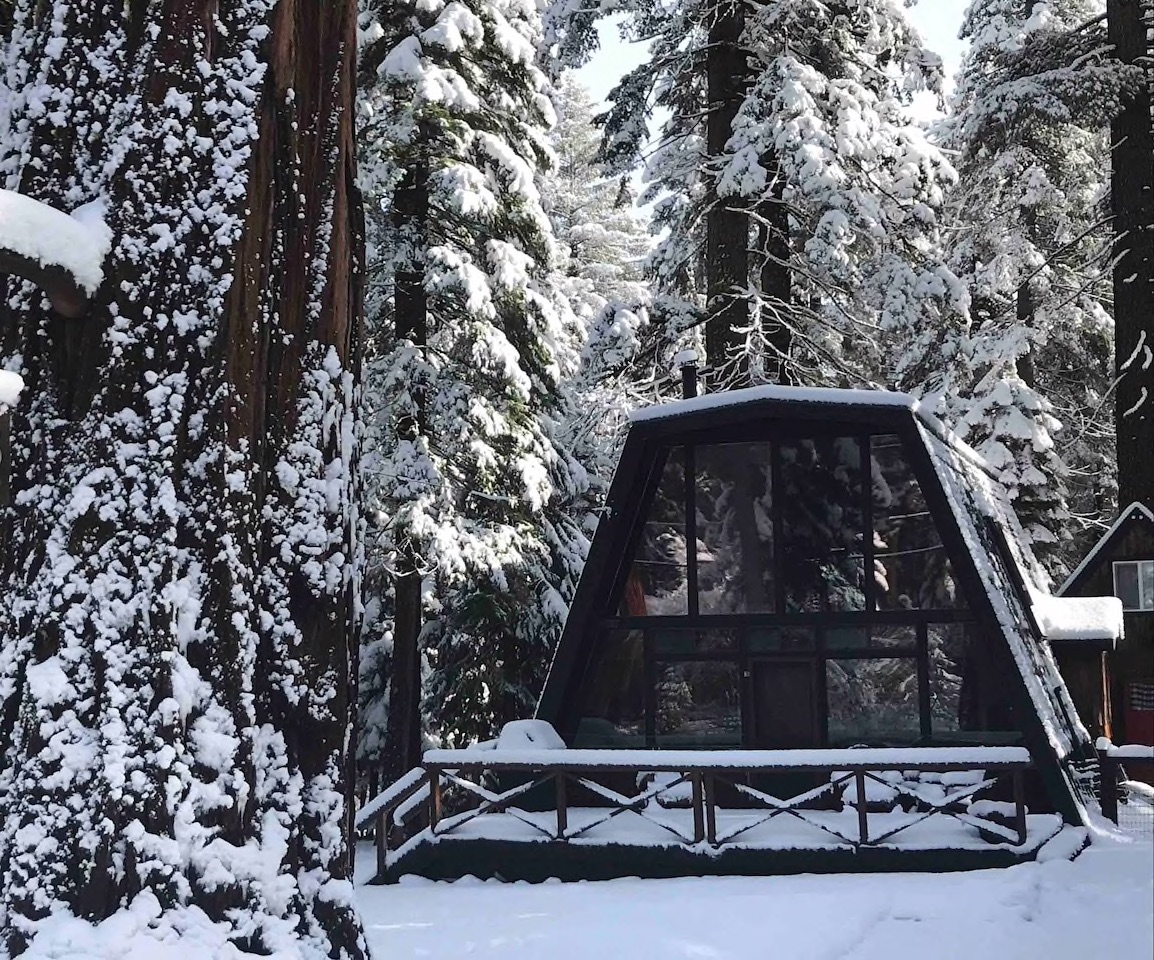 Beautiful Remodeled Cabin w/in mile of Heavenly
There's a 30-day minimum stay at this seasonal rental, but if you're looking at South Lake Tahoe Airbnbs and manage to snag this beautiful remodeled cabin, you're guaranteed to have a glorious vacation. This Airbnb is reasonably priced compared to many of the Lake Tahoe Cabins for rent in the area and can accommodate up to 6 people in 3 bedrooms.
The cabin has the advantage of being located in a quiet neighborhood while also being within a couple of miles of places you might be interested in venturing to such as El Dorado Beach, Heavenly Ski Resort, and the Bijou Community Park. The lots around the cabin are also vacant so you have a true feeling of privacy.
Comfortable queen beds, a propane BBQ, and a hot tub on the deck all add to the appeal of this Lake Tahoe Airbnb. It's a cozy and relaxing haven to return to after a day on the slopes or after a hiking adventure.
This cabin has everything you need to have a memorable month in Tahoe.
Click Here To Check Rates On Airbnb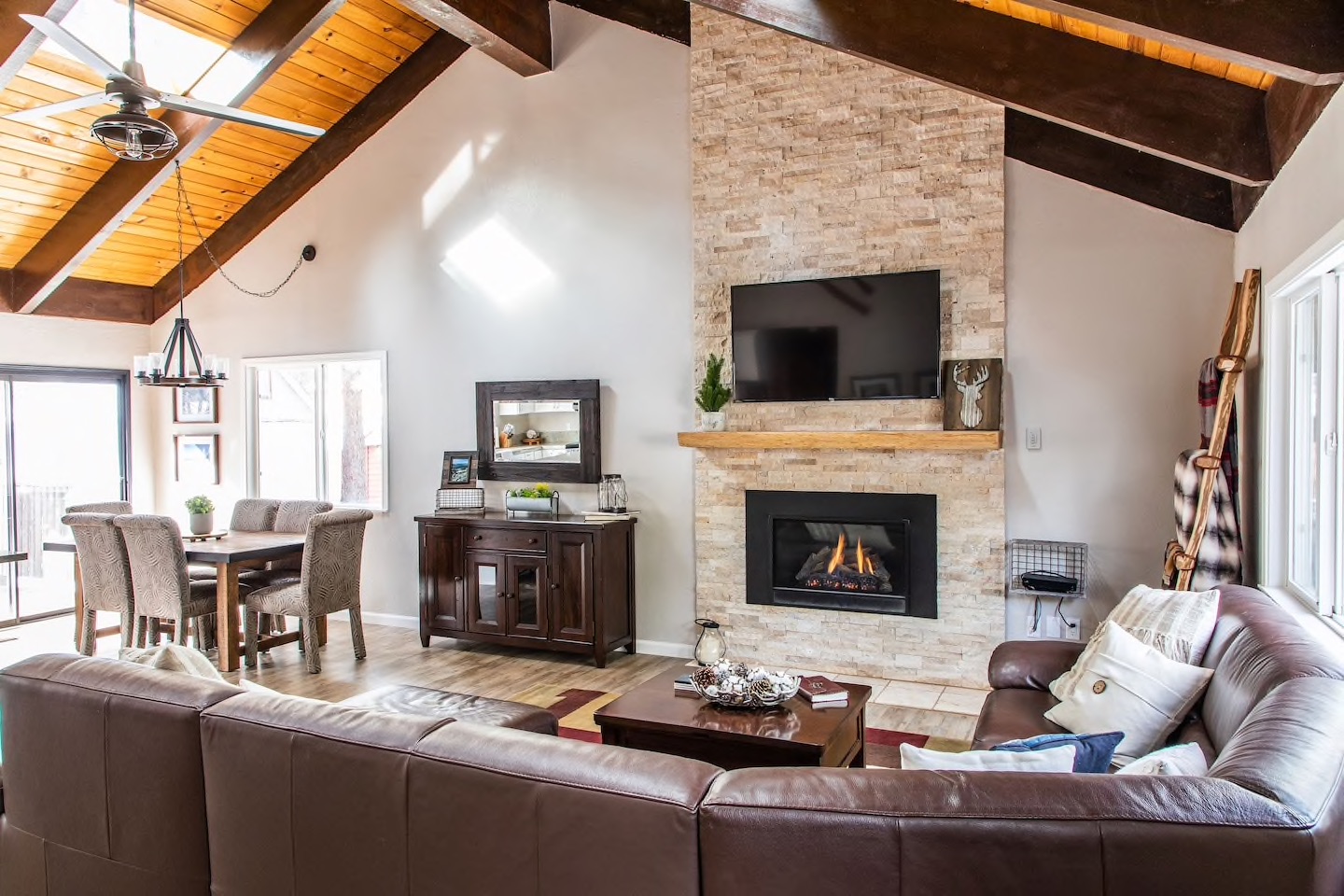 The Tahoe A-Frame
This mid-century modern beauty is not inexpensive but when you're snuggled up by the fireplace or thawing out in the hot tub you'll hardly care. The Tahoe A-Frame is tastefully decorated and as you kick back on the Adirondack chairs on the back deck surrounded by trees, you'll likely find you feel right at home.
You'll find this Lake Tahoe Airbnb in Homewood, California just a 5-minute walk away from a beach. A 5-minute drive will get you to the Homewood Ski Resort, and a 20-minute drive will take you to both the Squaw Valley Ski Resort and the Alpine Meadows Ski Resort.
You're just a stone's throw from shops and restaurants, though there's a BBQ on the deck if you feel like grilling at the house instead of going out to eat. If you have a well-behaved dog, it's welcome at the property so it can enjoy the magic of Tahoe right alongside you.
Take note that an electric bear wire is installed around the property for which instructions will be given when you arrive, and a 4-wheel drive is highly recommended in the winter for navigating the snow.
Click Here To Check Rates On Airbnb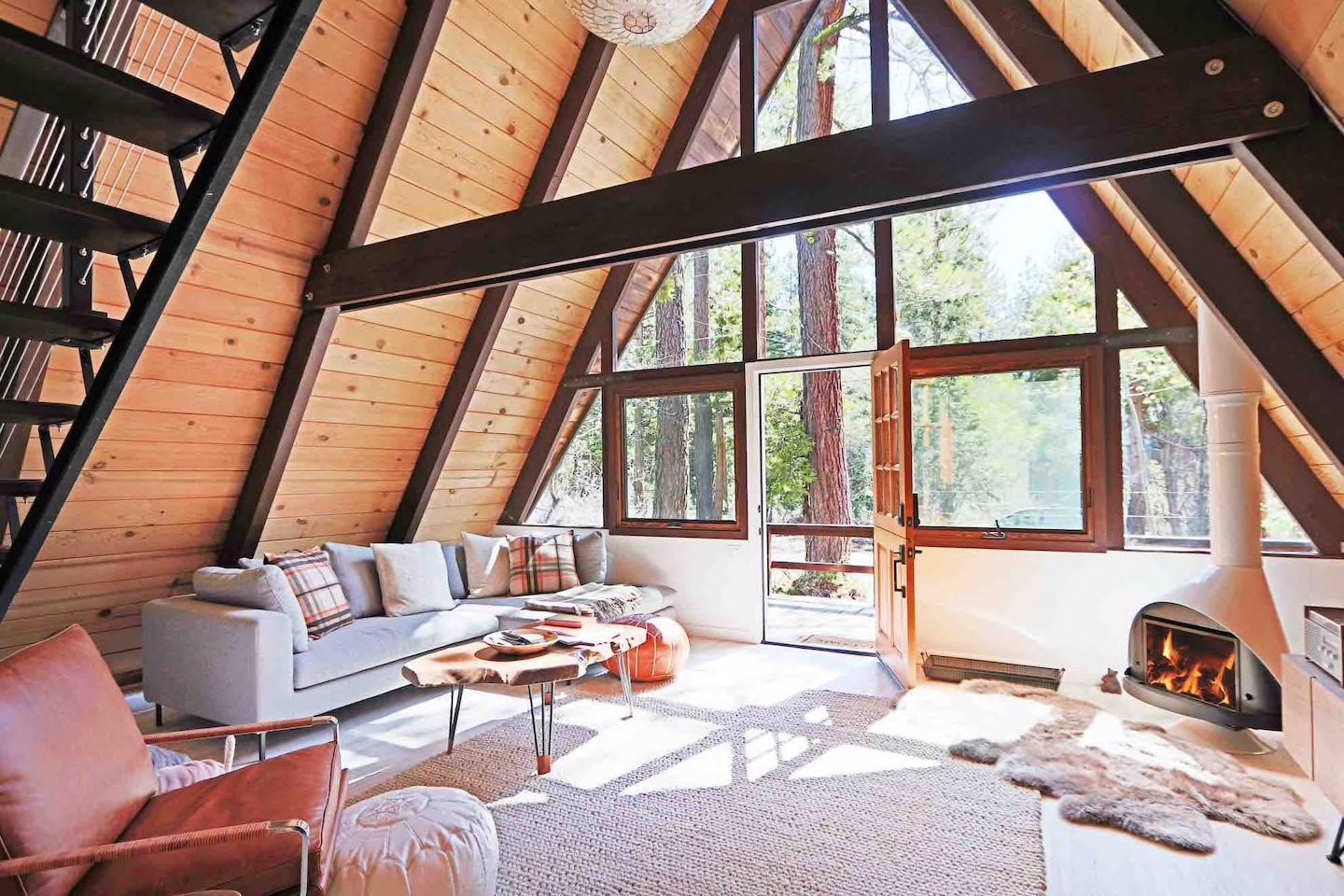 3 Bears Cabin
The 3 Bears Cabin is among the best South Lake Tahoe Airbnbs. It is optimally situated on Ski Run Boulevard just a mile from the Heavenly Ski Resort, The Shops at Heavenly Village, El Dorado Beach, and the Bijou Community Park.
Start your morning with a coffee on the front porch in the crisp, fresh Tahoe air, and end your day soaking in the hot tub in the backyard. The all-wood interior of the cabin is cozy and welcoming, although, with the beauty of Tahoe waiting just beyond the front door, you likely won't be inside for long.
There are many restaurants within walking distance of the cabin, as well as a Whole Foods grocery store. Being able to walk to the lake as well makes the 3 Bears Cabin a particularly desirable location.
Because the cabin is near the main road, privacy is lacking a little bit, but it's a small price to pay for everything else the location has to offer.
Click Here To Check Rates On Airbnb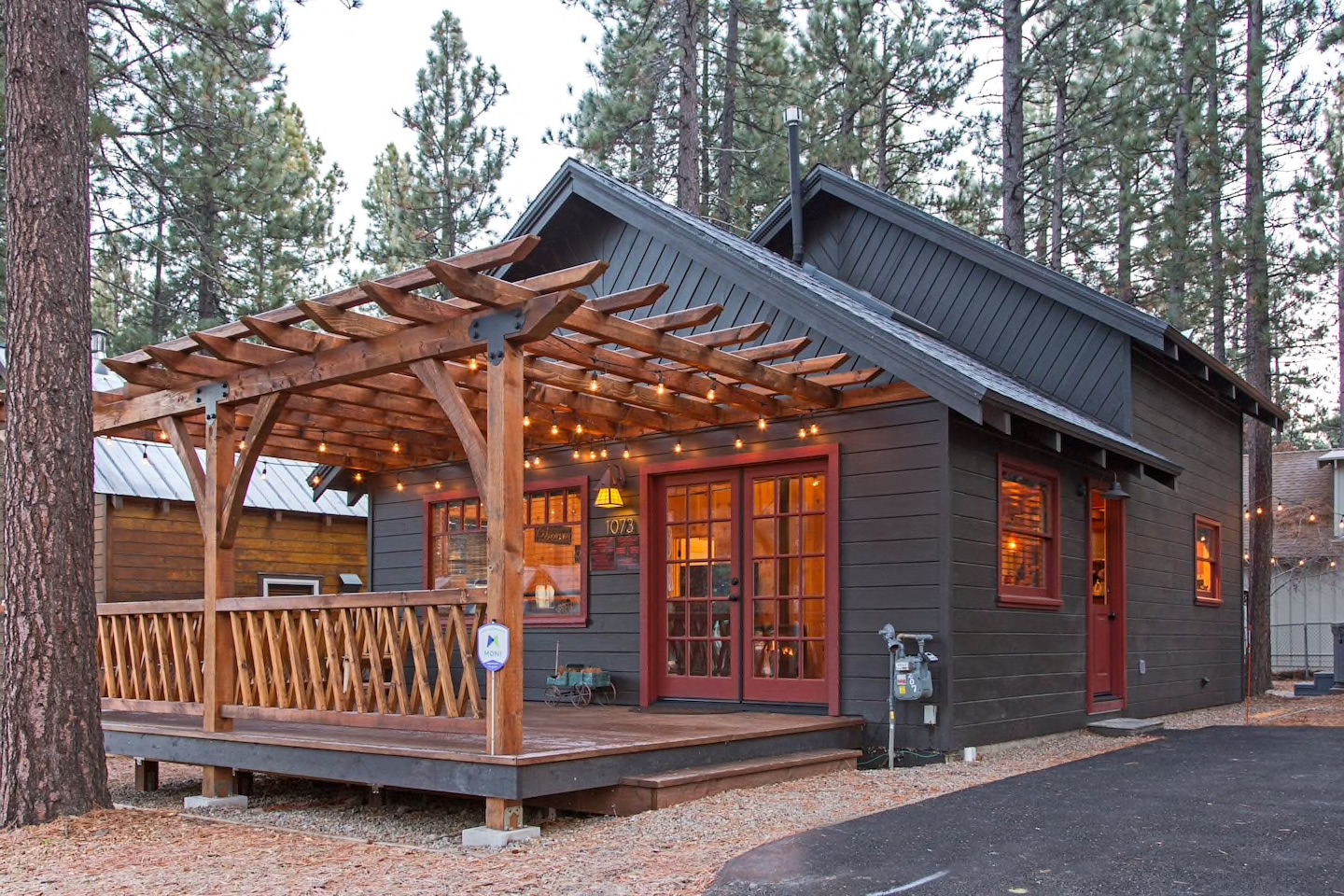 Stargazer
This Crystal Bay Airbnb in Lake Tahoe is all about the views. If you like the idea of waking up in the morning and thinking you're in paradise, then you'll enjoy a stay at the Stargazer.
You can get a gorgeous view of Crystal Bay from various vista points, but how many people can say they get to view the bay in all its glory from their bed. The sunrise and sunset are also particularly spectacular from this Lake Tahoe Airbnb whether you're enjoying it through the floor to ceiling bedroom windows or from the private balcony.
The studio has quick access to the lake's edge and is a short drive to restaurants, shops, and other Tahoe attractions. The TART bus also has a pick up in front of this Airbnb so if you're not in the mood to deal with parking, taking the bus is a great alternative.
If you're planning on booking this Lake Tahoe Airbnb in the winter, you must have a 4-wheel drive and snow tires. The driveway is extremely steep and tough to navigate and gets particularly tricky in the winter.
Click Here To Check Rates On Airbnb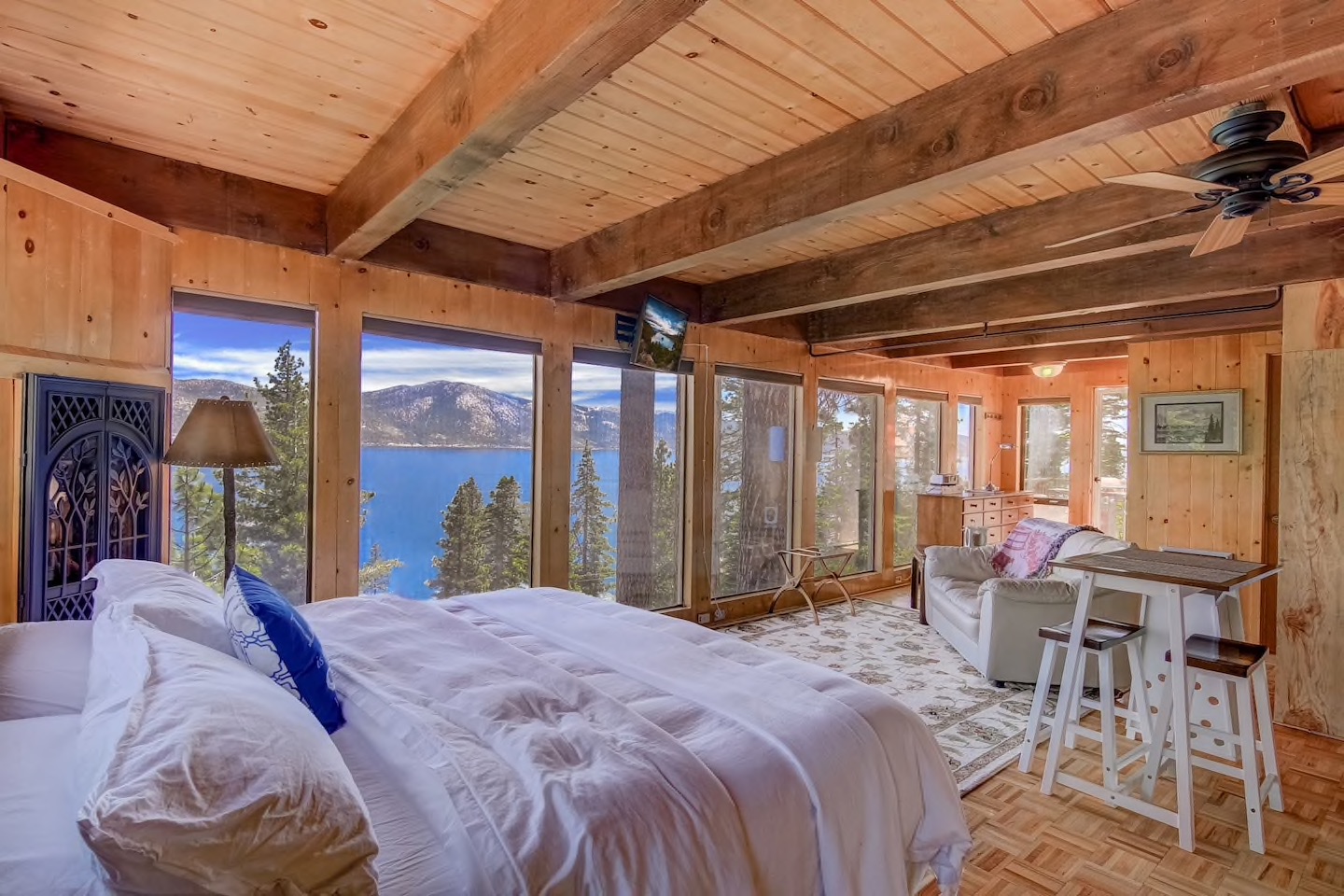 Eco View
Beautiful lake views await you at this west shore Lake Tahoe Airbnb. Eco View is located in Tahoma on a ridge in a quiet town.
Despite being in a quiet location, you're right next to hiking and biking trails and are a quick drive from excellent beaches and top ski resorts.
After a day full of adventure you'll be particularly eager to return to Airbnb's hot tub on the main deck out back that happens to have an excellent view of the lake. Or you can just sit on either the upper or lower deck and relax surrounded by the trees and peaceful quiet of nature.
There's also a wood-burning fireplace, so make sure you pack matches or a lighter to take full advantage of this feature. Beyond the warmth it provides, it adds an extra layer of coziness to the Airbnb that makes you feel even more at home.
Click Here To Check Rates On Airbnb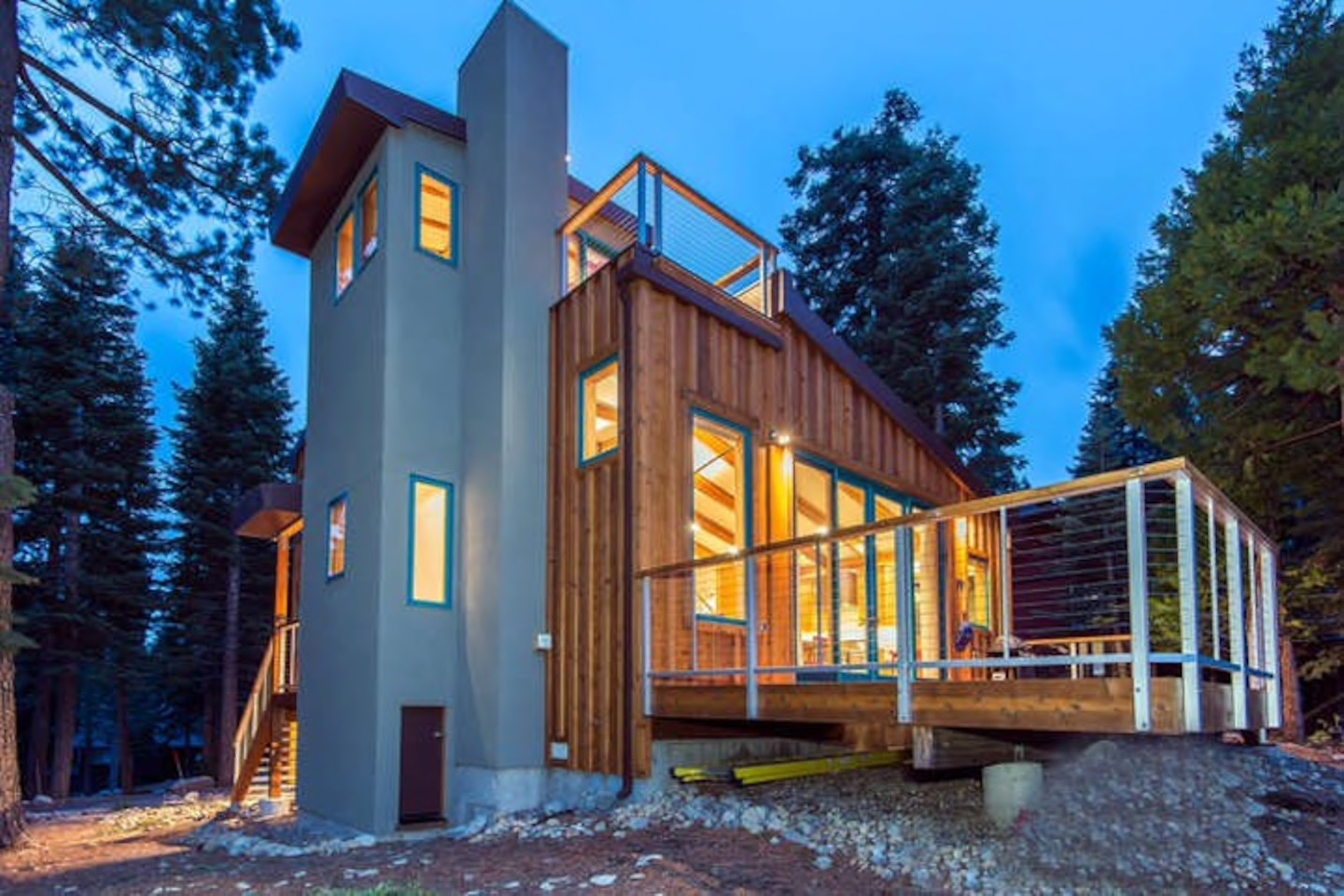 Cedar Summit
Cedar Summit is a townhouse in Carnelian Bay with lake views and a warm inviting living room with plenty of windows perfect for admiring Lake Tahoe and the Sierra Nevada mountains.
This Airbnb in Lake Tahoe is part of the Carnelian Woods townhome complex. The complex includes a recreation center and lodge where you'll have access to a swimming pool, two outdoor hot tubs, saunas, billiards, video games, and tennis and bocce ball courts.
If you'd rather venture outside, the Tahoe National Forest is right outside your door, perfect for hiking and biking. You're also nearby Patton Landing Beach and Magic Carpet mini golf.
When you're ready to return home for the day you'll have a luxurious bathtub with jets waiting for you in the master bathroom, a gas fireplace to curl up next to, and a BBQ grill on the deck for preparing a delicious dinner.
Click Here To Check Rates On Airbnb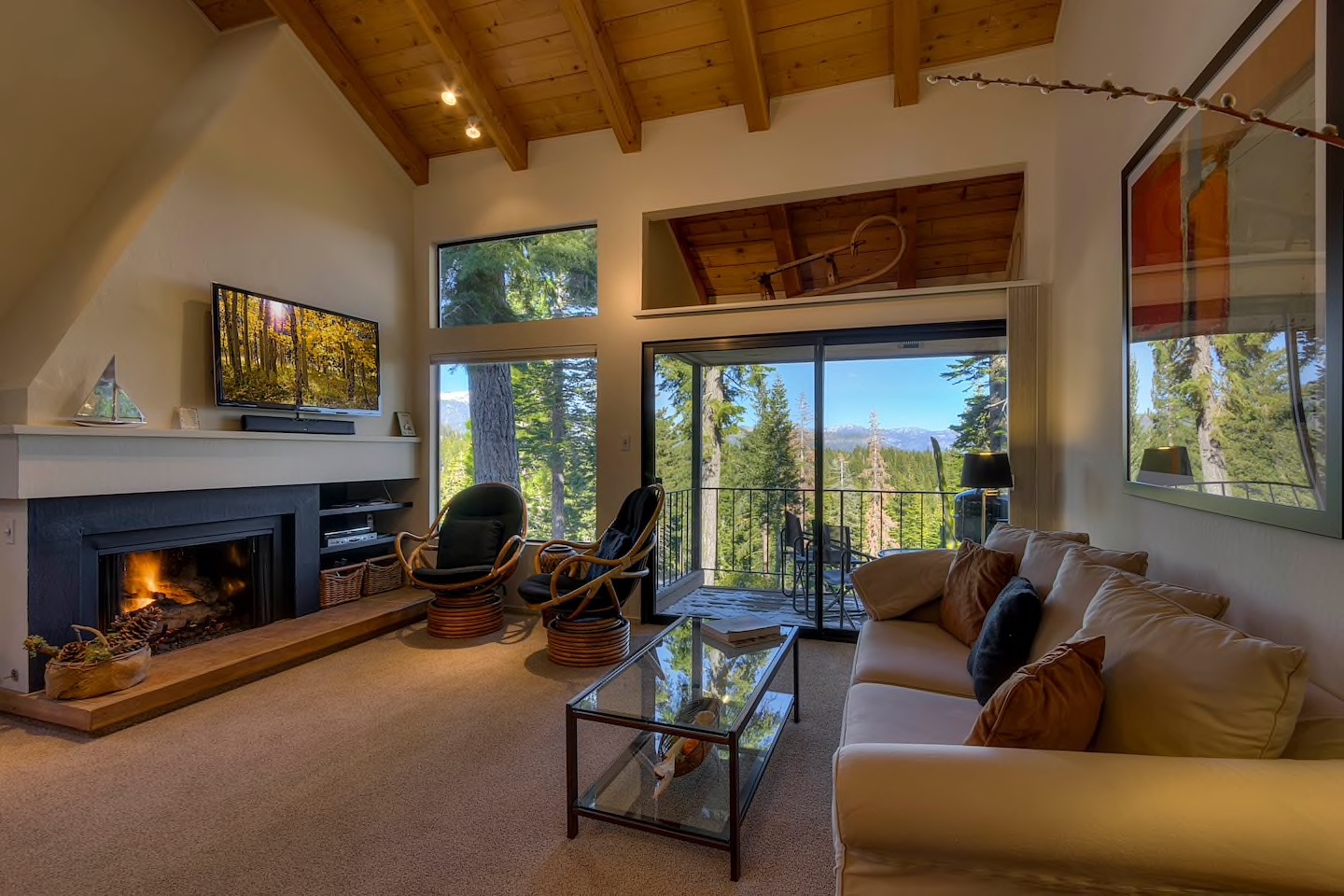 Cubby-The Little Black Cabin By The Lake
The Cubby is a small but beautiful Scandinavian design cabin in Carnelian Bay and is the perfect Airbnb in Lake Tahoe for your next vacation. With plenty of windows allowing light to stream in and a wood-burning fireplace to keep you warm, the Cubby is a cozy home through and through.
Outside is a wrap-around deck complete with an outdoor fire pit perfect for enjoying the crisp evening air with a hot drink in hand. If you'd rather pass the time indoors, the loft is the perfect location to read your favorite book and relax under the skylight.
This Lake Tahoe Airbnb is ideally situated in the quiet Cedar Flats neighborhood while still being close to the lake, hiking trails, and ski resorts. Just a two-minute walk from the cabin is a private beach and pier for you to enjoy.
You should note that you'll need to climb a steep set of stairs to reach the bedroom and loft so if that will be difficult for you, this may not be the ideal Airbnb option.
Click Here To Check Rates On Airbnb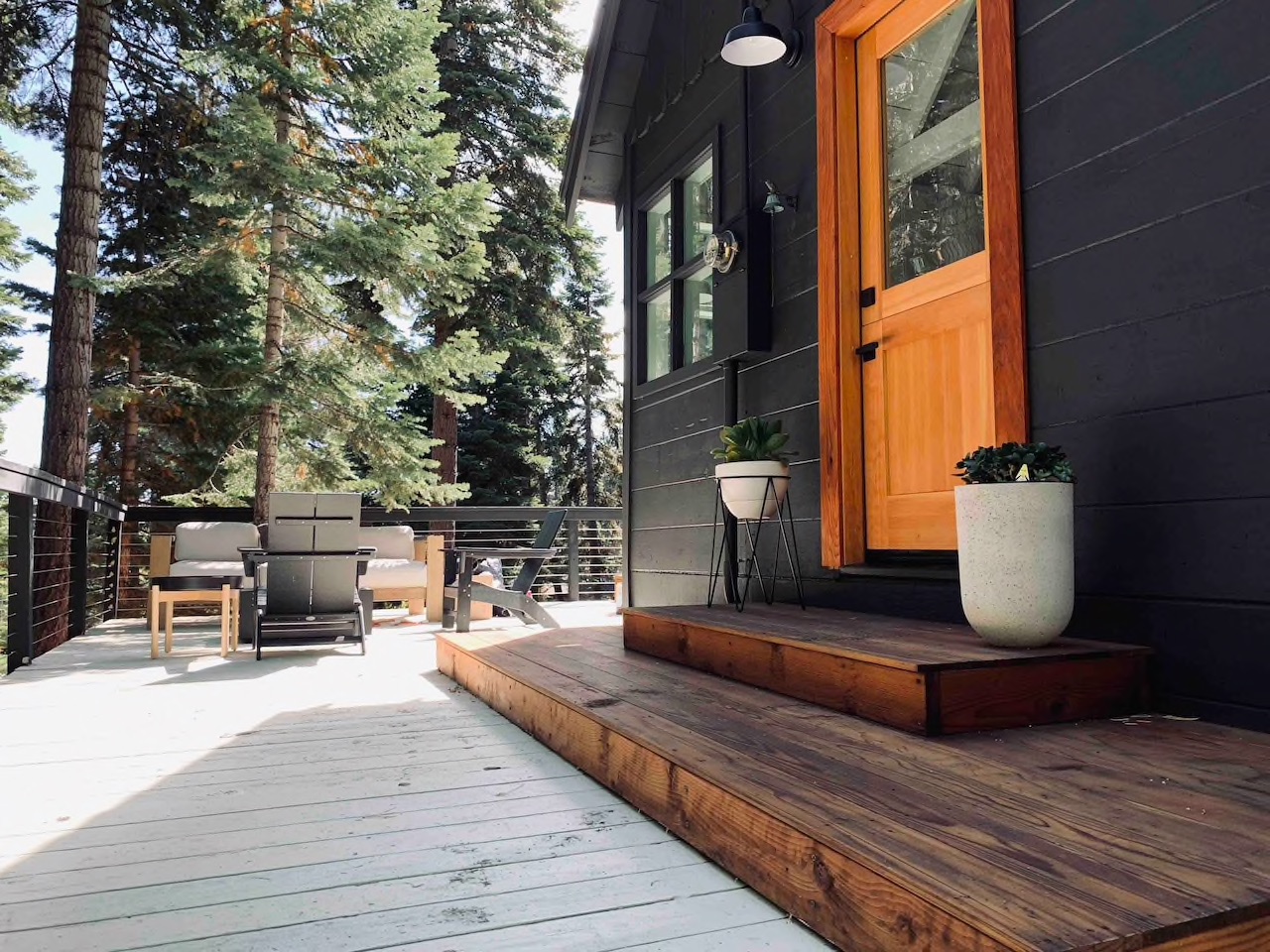 Tahoe Hideaway
If you're looking for conveniently located Lake Tahoe rentals, the Tahoe Hideaway definitely fits the bill. It's equidistant to practically everywhere you'll want to go including Incline Beach, Burnt Cedar Beach, Diamond Peak Ski Resort, the grocery store, coffee shops, etc.
The house itself is charming, cozy, and full of natural light. The dramatic, soaring ceilings and floor to ceiling windows add to the brightness of the space, making it very inviting.
Outside there is a wrap-around deck with chairs perfect for enjoying your morning coffee or stargazing at night. In the winter, the fireplace is a particularly welcome feature to help you thaw out after a day on the slopes.
The location of this Lake Tahoe Airbnb in Incline Village is along a busy road, so you'll likely hear street noise during the day. It's worth it however to be so ideally located next to the beaches and ski resort.
Click Here To Check Rates On Airbnb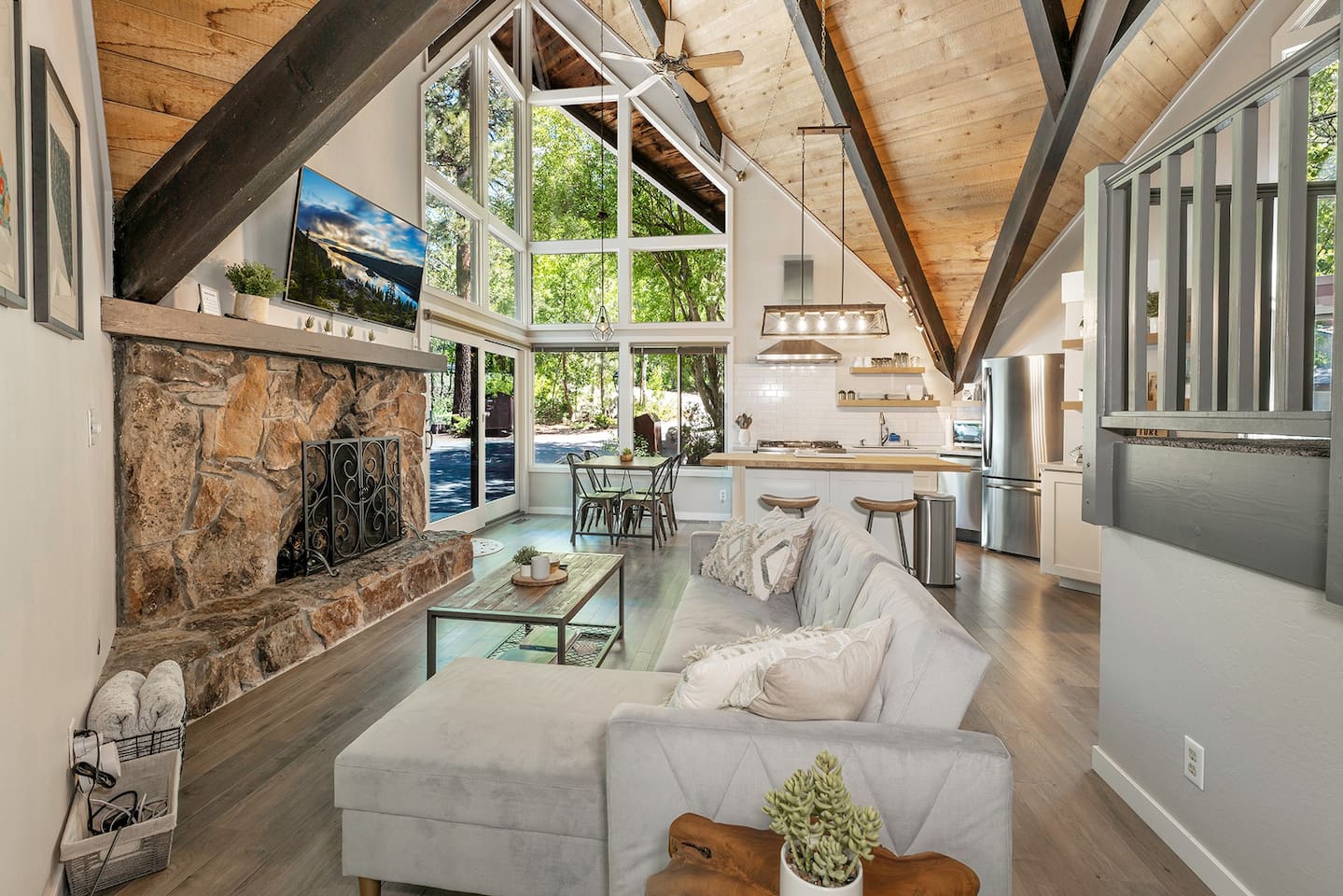 Modern Mountain A-Frame
If you're looking to rent a house on Lake Tahoe that offers privacy, easy access to hiking trails and beaches, and a cozy, home away from home feel, then this is it. You'll find this modern mountain A-frame in a quiet, private neighborhood in Carnelian Bay.
Ample natural light streams through the interior of the house as you cozy up inside. Inside the house, you'll also find a gas fireplace and Sonos speakers in case you're in the mood for a little dance party, some cooking music, or some chill coffee house tunes to help you wake up in the morning.
The outside deck of the house is particularly appealing in the summer. It features a propane grill, an outdoor couch with cushions, and a two-person breakfast table.
This Lake Tahoe Airbnb is conveniently located just 100 yards from over 300 miles of excellent hiking and biking trails. If you're interested in fishing, river rafting, or kayaking, those are all activities available nearby as well.
Click Here To Check Rates On Airbnb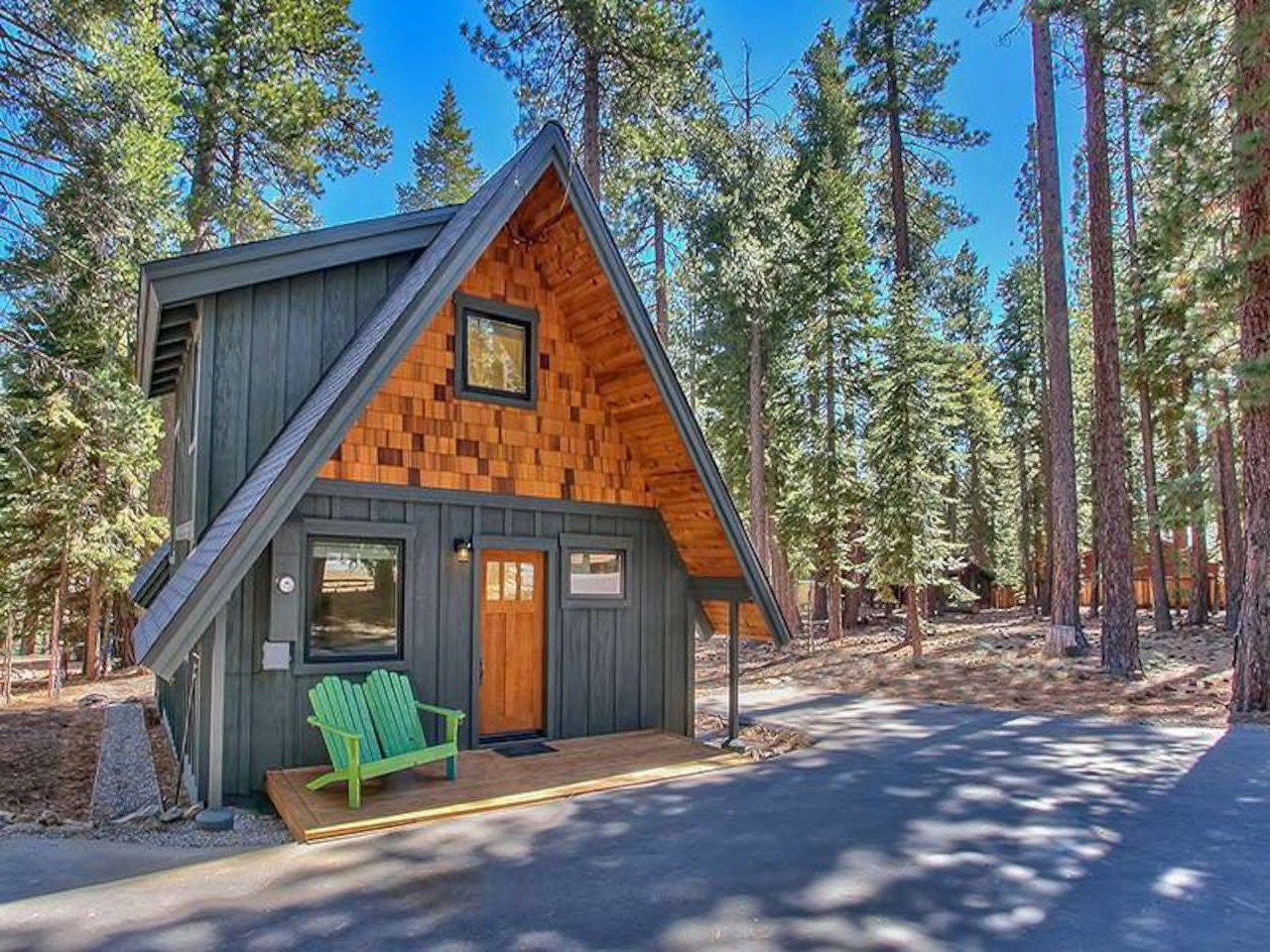 Pine Cone Haven
Pine Cone Haven is a cozy, modified A-frame cabin just 10 minutes from Tahoe City. With a wood-burning fireplace inside, and a wrap-around outdoor deck to grill and enjoy the trees and fresh air, who can resist a stay at this Lake Tahoe Airbnb.
Up a spiral staircase, you'll find four bedrooms perfect for housing a large family or a group of friends. Because all of the bedrooms are upstairs however, make sure you're willing and able to climb the stairs every night before booking this cabin.
The cabin is part of the Lake Tahoe Park Association, which means you'll have access to a private beach, picnic area, playground, horseshoes, and bocce ball during your stay. You're also conveniently close to many hiking trails allowing you to appreciate Tahoe's natural beauty in peace and quiet.
Please note that the road to the cabin is icy and steep in the winter so come prepared with an appropriate vehicle and tires to avoid any issues.
Click Here To Check Rates On Airbnb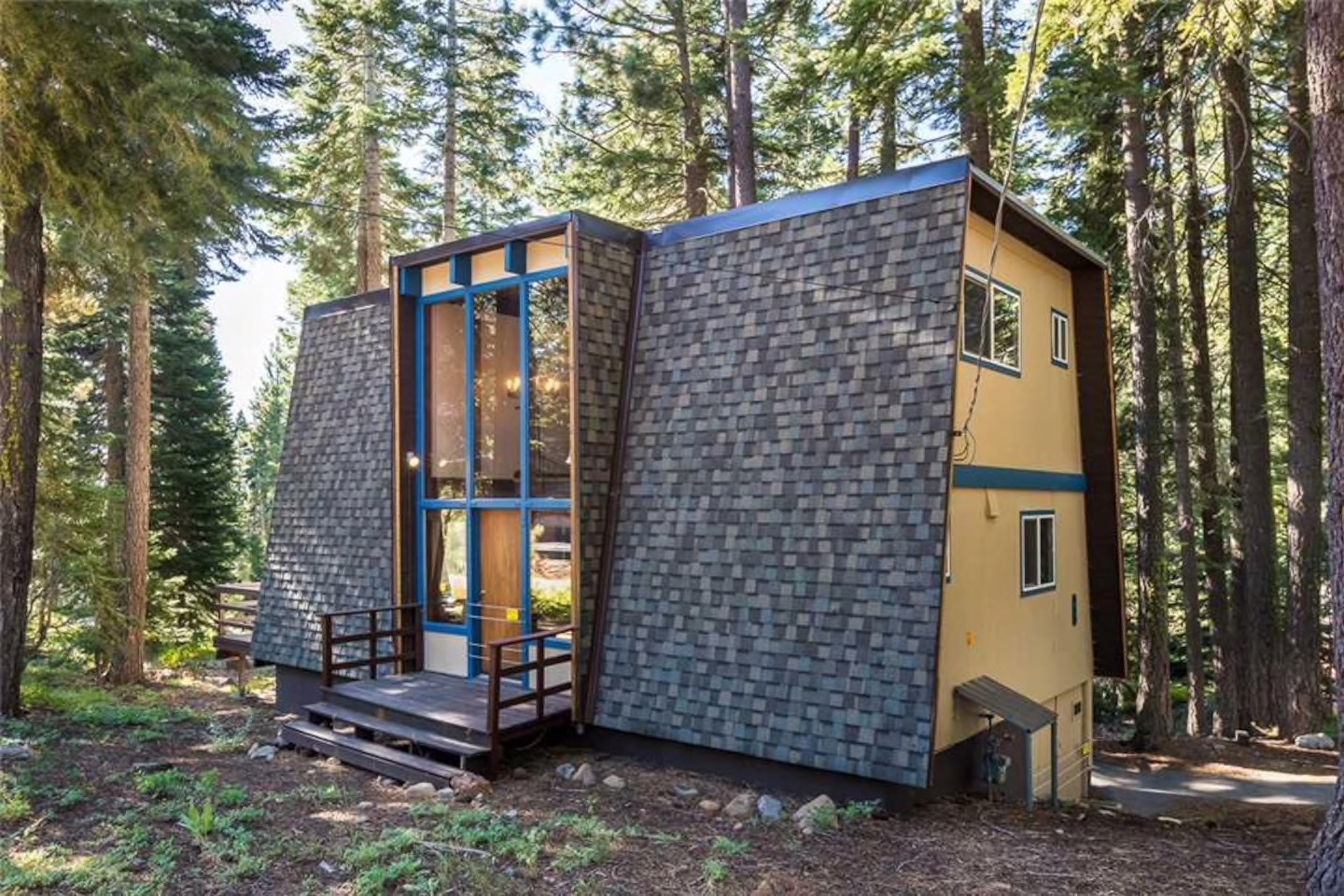 Grouse House Tahoe
You'll find the Grouse House on the west shore of Lake Tahoe waiting for you with private beach access, a pool, and tennis courts just a 10 minute walk away. The Homewood Ski Resort is a 4-minute drive, but shuttle service is also offered to both the resort and private beach.
Games and puzzles are provided for you at home so you can have a fun night in with family or friends. The Grouse House can host up to 8 people so it's perfect for larger gatherings.
A single car garage is available for your use, which you'll find is a particular luxury in the winter as you watch the neighbors scraping ice from their windows as you drive off.
Outside on the deck, you'll find a grill and plenty of comfortable outdoor seating to spend your evening sipping on wine or maybe hot chocolate while enjoying the company of your friends and family. After a long day of waterskiing, paddle boarding, biking, sledding, or whatever you choose to do, the Grouse House is the perfect home away from home to return to and recharge for the next day's adventures.
Click Here To Check Rates On Airbnb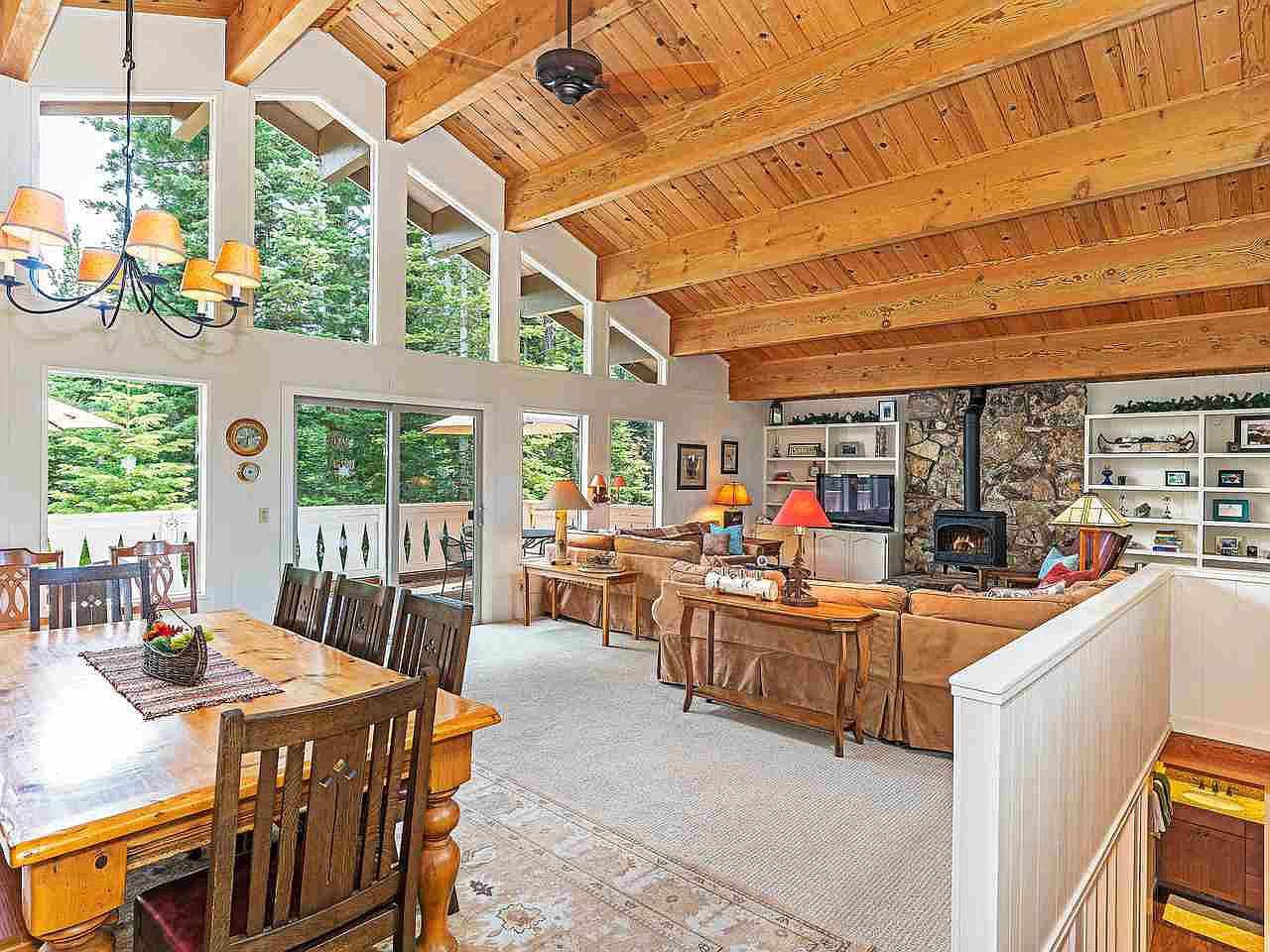 We're thrilled you've chosen to rent a house on Lake Tahoe for your next vacation. The lake, forests, and mountains will lure you in and have you embarking on your next great adventure.
Whether you're spending all day skiing on the slopes, or are boating across the lake, you're sure to have a memorable time exploring this outdoor paradise. If you have any questions or comments as you go about choosing your next Lake Tahoe Airbnb, please let us know.