As a local growing up on the beach, specifically going to Anna Maria, I also know that there are tons of things to do in Anna Maria Island! There are, of course, countless beaches you can visit. But don't forget that there are nearby restaurants, shops, and lifetime experiences.
I always loved exploring mangrove forests and kayaking alongside manatees. But honestly, the Gulf Coast has some of the best places to relax. Being just an hour from Tampa– where I am from– this is my go-to spot to visit.
The seven-mile stretch of beaches is relatively undisturbed and traffic-free. It really allows time to immerse yourself in nature. So whether you go to Bradenton Beach, Holmes Beach or Anna Maria, you'll love it. I promise! Anna Maria Island's activities are endless. And here are some of the best things to do on Anna Maria Island for you to try out!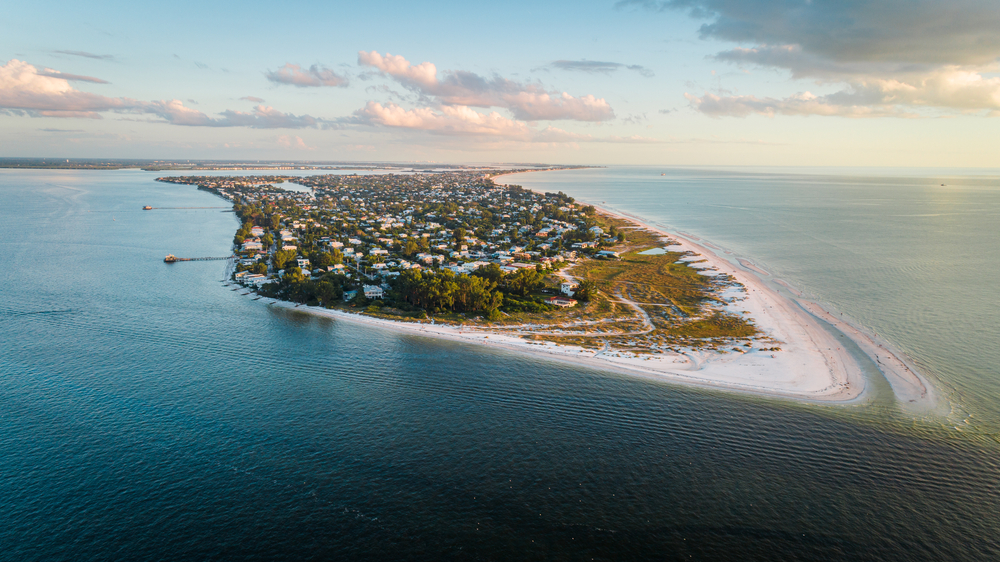 15 Best Things To Do In Anna Maria Island, Florida
1. Go to Bean Point Beach
Of course, some of the best things to do near Anna Maria Island Florida is the beaches. Bean Point Beach is of the most northern tip of the barrier island, and thus, is private. This adds to the beach's appeal. Guests seem to really love the Rod and Reel Pier here too– it is where I have gone fishing!
There aren't hoards of people, aside from on major holidays. The little, private beach feeling is something unmatched. And the scenery is to die for! Sunbathe, read on the beach, swim in crystal clear water, stroll the shoreline, or hunt for seashells. The classic beach activities are available at Bean Point!
This is one of my favorite things to do in Florida!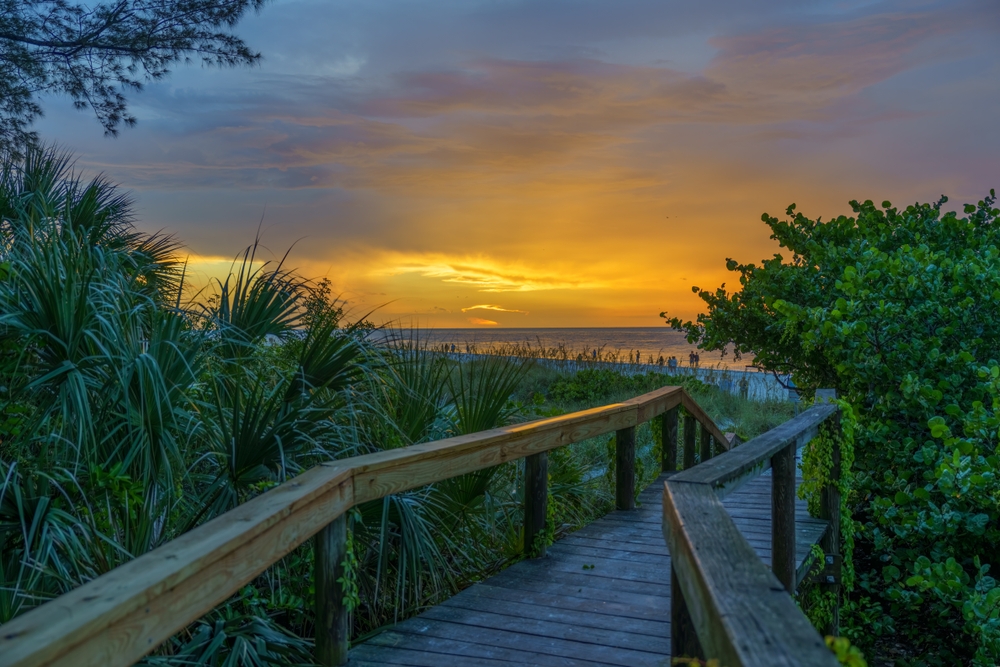 2. Explore Bridge Street
Bridge Street is the center of the Historic Old Town District of Bradenton. It features many of the unique things to do in Anna Maria Island! The bustling city of this historic area as rejuvenated. We love bringing my mother and grandmother here to experience cute shops and mouthwatering food.
There are both casual and laid-back restaurants here. Try places like the Beach House Waterfront Restaurant, or the Anna Maria Oyster Bar. Shopping is also fun, especially because many local artists and designers work in this area. There are fun handmade pieces you can have. Check out shops like the Hive, and Uptown Lot! And don't forget the fun activities like Segway Tours and Saturday morning markets!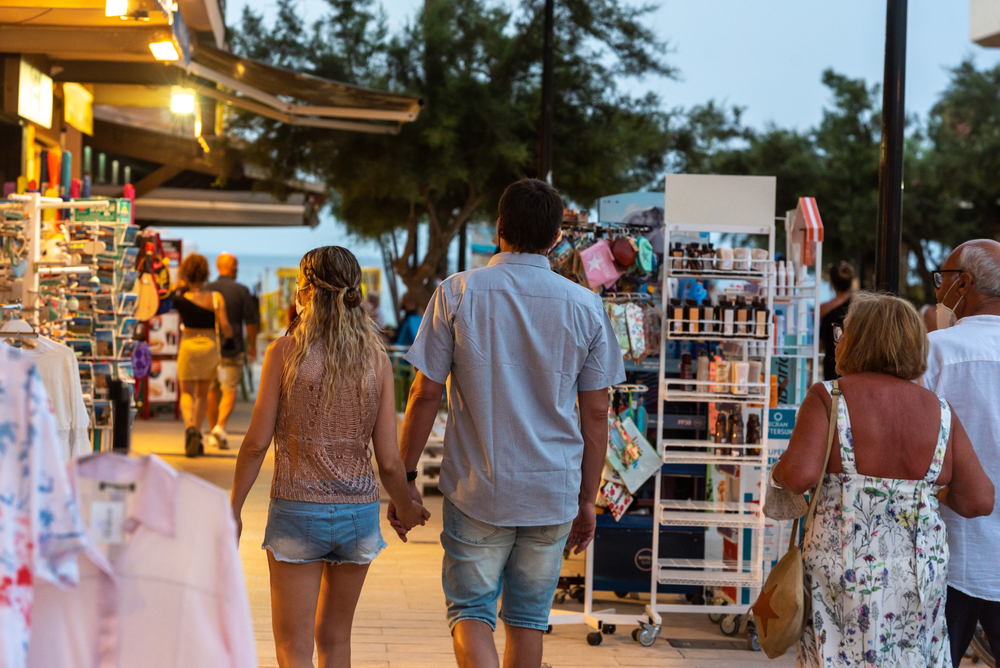 3. Visit Cortez Beach
Cortez Beach has more than just beaches! But, we love this beach because it one of the last remaining fishing villages on the southwest Gulf Coast. The working waterfront is right by the beaches and also offers fishing piers and shops. We love going jet skiing here!
Plus, there is the Cortez's Florida Maritime Museum. Of all Anna Maria Island attractions, the park-like grounds of the Cortex Nature Preserve show off Banks shell collections, ship models, historic boats and butterfly gardens. Exploring the preserve is one of the great family things to do in Anna Maria Island when you have a full, sun-filled day!
This is why Anna Maria Island and her beaches are on my list of Best Beaches close to Orlando!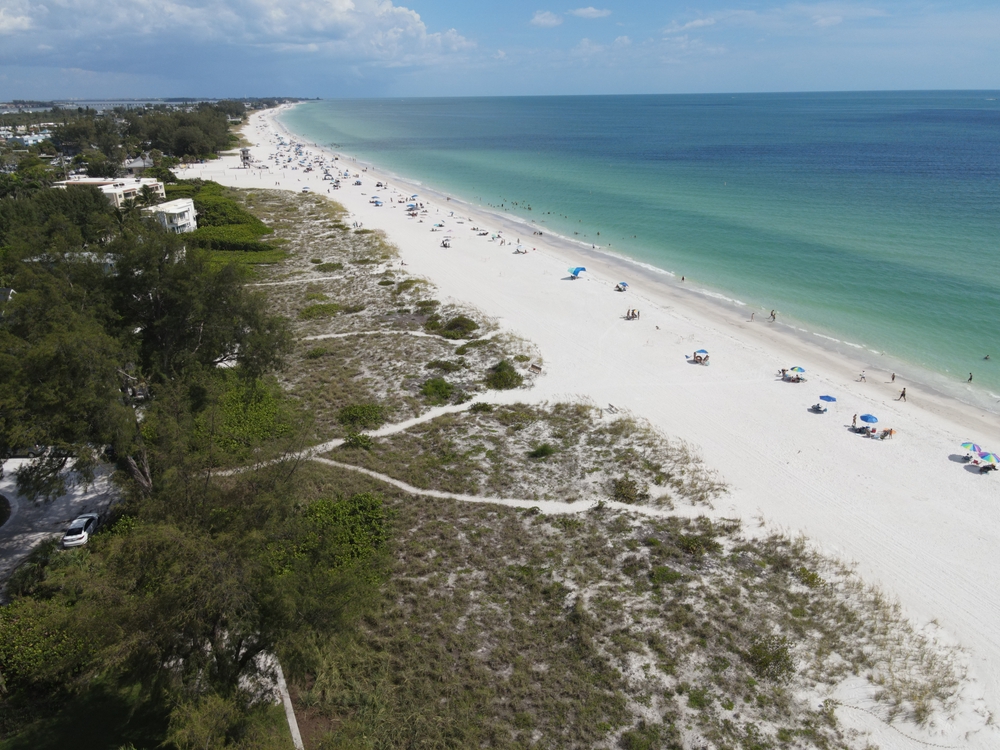 4. Relax at Coquina Beach
Coquina Beach is one of the more popular beaches in Anna Maria, and it is the longest stretch of beach! We used to love going here as kids because of the sand dunes: the grasses and sea oats are truly stunning. I personally loved to look for shells at this beach: sand dollars were easier to find here on the shoreline!
The white sands and clear water also make it easy to spot dolphins, and during sea turtle season, this is THE spot to see eggs hatch. Coquina is a great place to kayak, snorkel, explore the boardwalks and footpaths, and even launch a boat. This is one of the beaches near Anna Maria Island that is perfect for a family filled and relaxing day.
There is a reason this is one of my favorite Small Towns In Florida!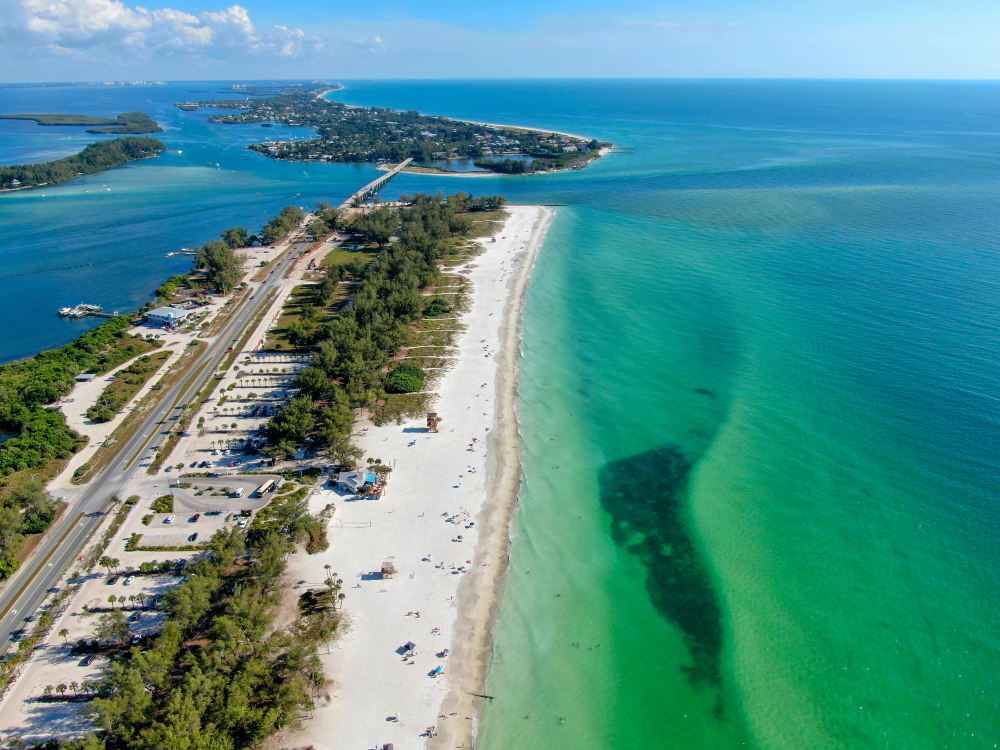 5. Enjoy Sandbar Food and Spirits
You must check out Anna Maira's favorite beach front restaurant. For generations, people have flocked to The Sandbar. The love sitting with their toes in the sand, under umbrellas, soaking in the beach atmosphere. Dining with a sunset has a new experience here!
Sandbar is also one of those romantic things to do in Anna Maria Island. Whether you decide to visit the indoor market at Gamble Creek Farms for delicious produce, or slurp some oysters from the raw bar, this is a great place to enjoy good food. Don't forget to stop by the shop too: Sandbar offers cute merchandise that go well with stuffed shrimp and chargrilled octopus!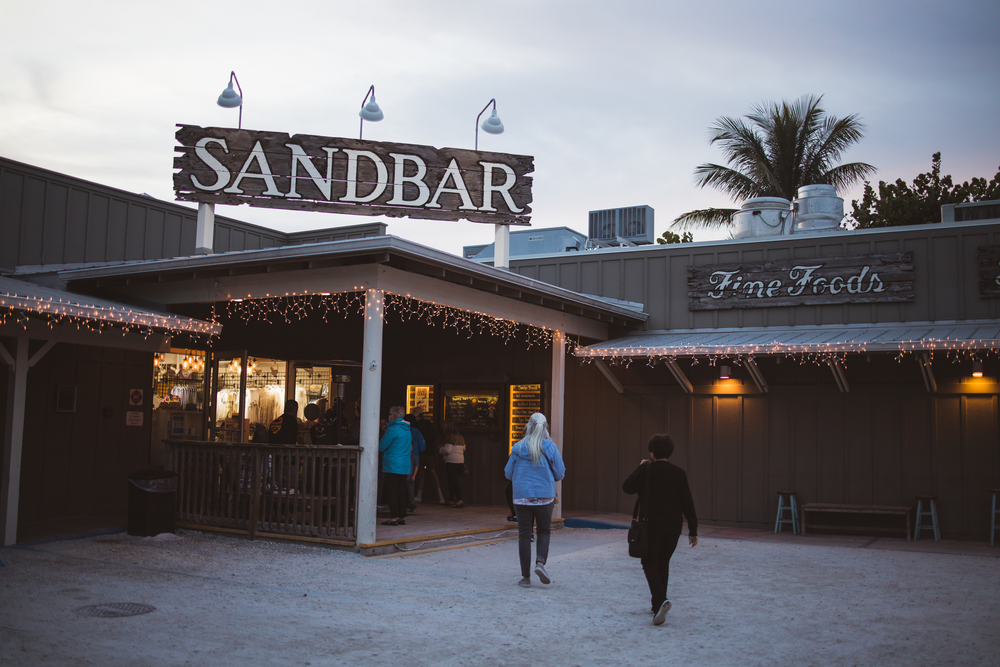 6. Spend Time at Holmes Beach
Some of the best things to do in Anna Maria Island is obviously the beaches. Holmes Beach is no exception! Holmes is located right in the middle of the island. It features Manatee Public Beach, playgrounds, picnic tables, grills for use, and more. Plus you can also participate in water sports, such as jet-skiing, and parasailing!
Holmes beach also stands out because there is so much to do around there: take the free trolley to visit these fun things to do in Anna Maria Island. Visit places like the Westcoast Surf Shop, or go freshen your palette with the Beach Cafe for brunch. Holmes truly encompasses a little beach town vibe, which is why my family and I love it.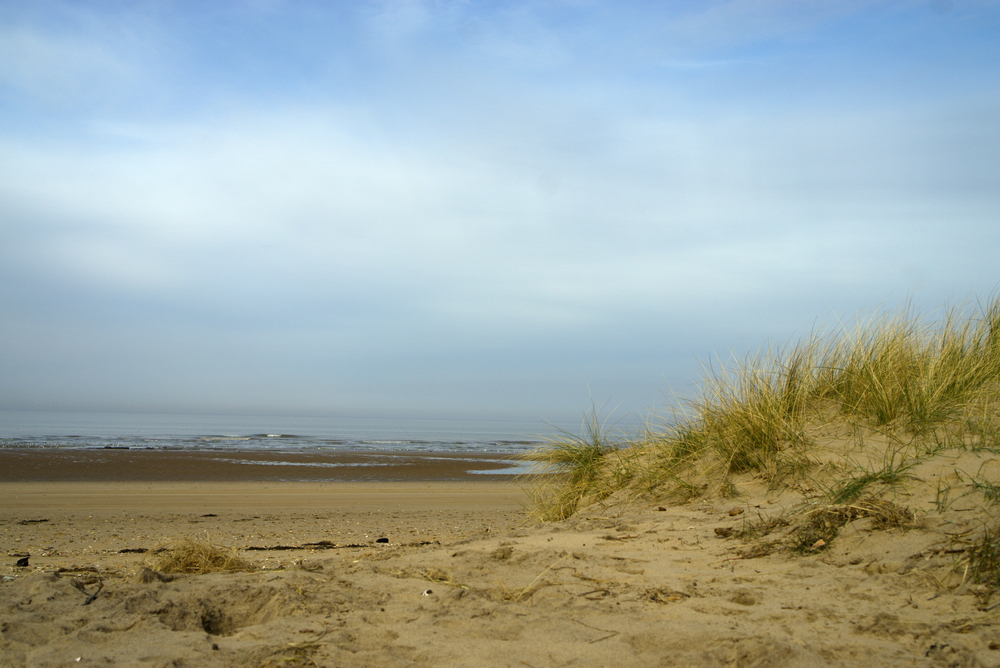 7. Book With AMI Paddleboarding
While we have been listing the best places to go, we want to make sure to stress that there are other things to do in Anna Maria Island that go beyond just visiting a place. Get your body up and moving at AMI Paddle board and Kayak Rentals!
You get to tour the waters at your own place, with some guidance, or join a tour to explore wild Florida. One of the best places to really explore, based off of personal experience, is the mangroves. The Mangrove Eco tour is immersive and fun!!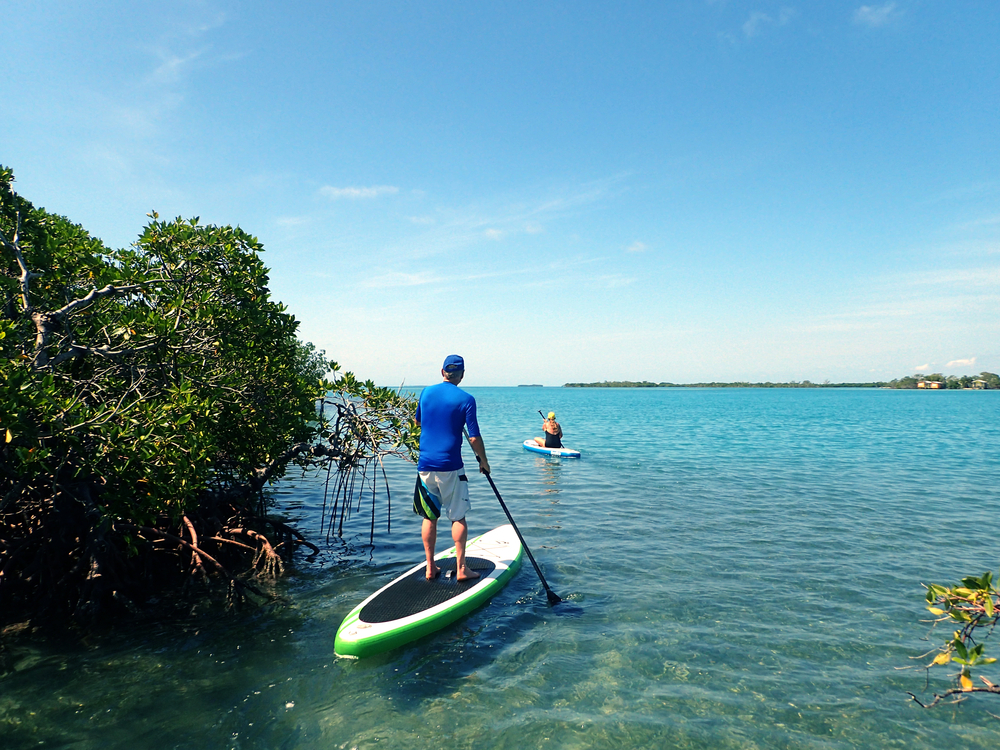 8. Traverse St. Armands Circle at Longboat Key
One of my favorite places in Florida is St. Armand's Circle. With the quiet gardens, stunning shops, and fantastic restaurants, this is one of the hidden gems of Florida! Plus, the Ringling Museum is here too! The Ringling family's history bleeds into the town here, and the art and architecture is to die for.
And while I love the little local bookshops in St. Armand's Circle, I also love Longboat Key. Longboat is right by St. Armands, and is all natural. The soft sands and few seashells makes it perfect to pitch a tent, enjoy a day with a book and some food, and tan.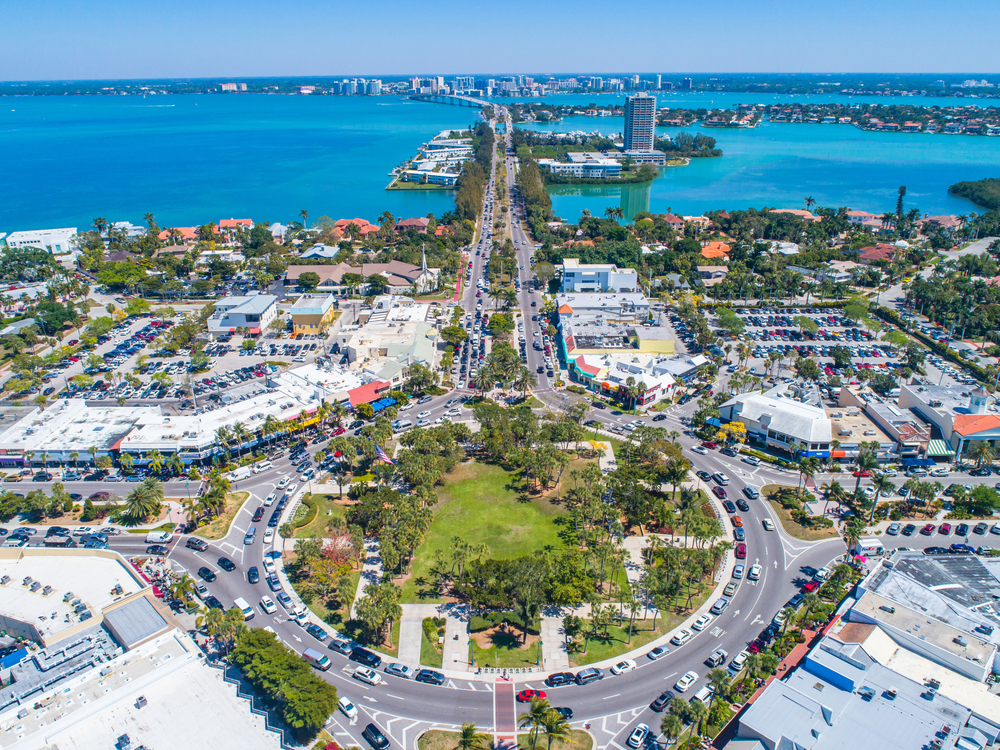 9. Visit Pine Avenue
While we love shopping at Pine Avenue to experience the ocean-themed and local eateries, we also adore the historic aspect of Pine Avenue. When you are asking what to do on Anna Maria Island, you want to make sure to visit the poplar attractions, which are the historical Landmarks!
The History Society Museum is here. You can step back in time, learn about George Emerson Bean, and eve then visit the Anna Maria City Jail! The Jail was built in 1927 and didn't have windows. Most prisoners got bitten by mosquitos as punishment! But if you are a history buff, stop and shop on Pine Avenue, before going to visit those historical landmarks.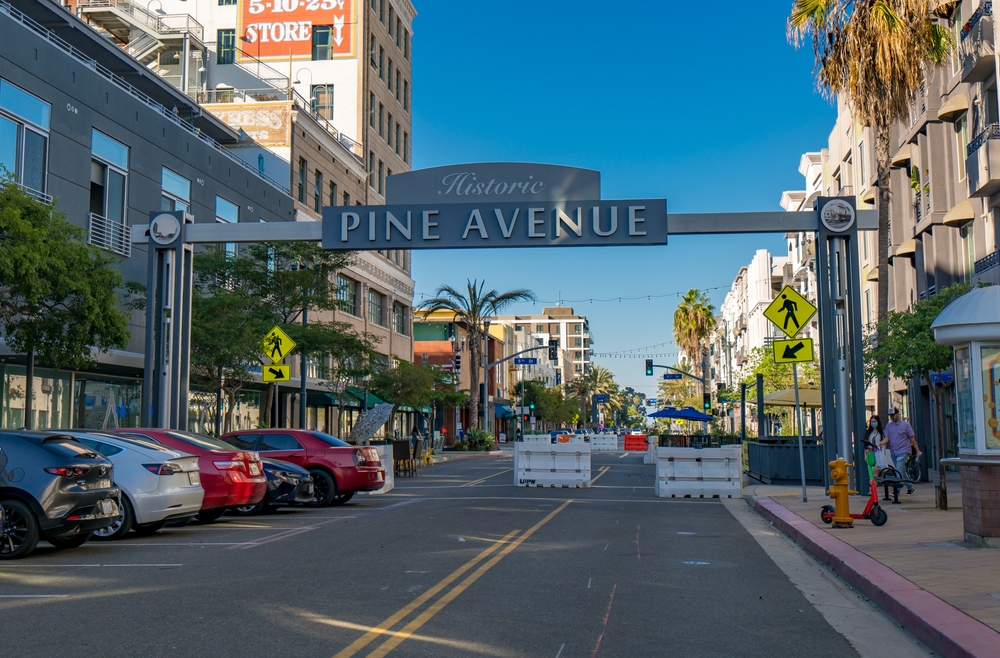 10. Support Mote Marine Aquarium
Day trips from Anna Maria Island don't have to be far! In fact, Mote is only 20-25 minutes from the Island and is one of the best things to do in Anna Maria Island, FL. If you, your family or friends are interested in seeing some fo the sea wildlife in Florida, go to Mote!
This aquarium features a 135,000 gallon shark habitat. You can also say hit to manatees, turtles, coral reefs, and jellyfish. Plus there is a giant squid! And while the aquarium is amazing, this place is also a wildlife rescue facility. So your visit helps with research and conservation!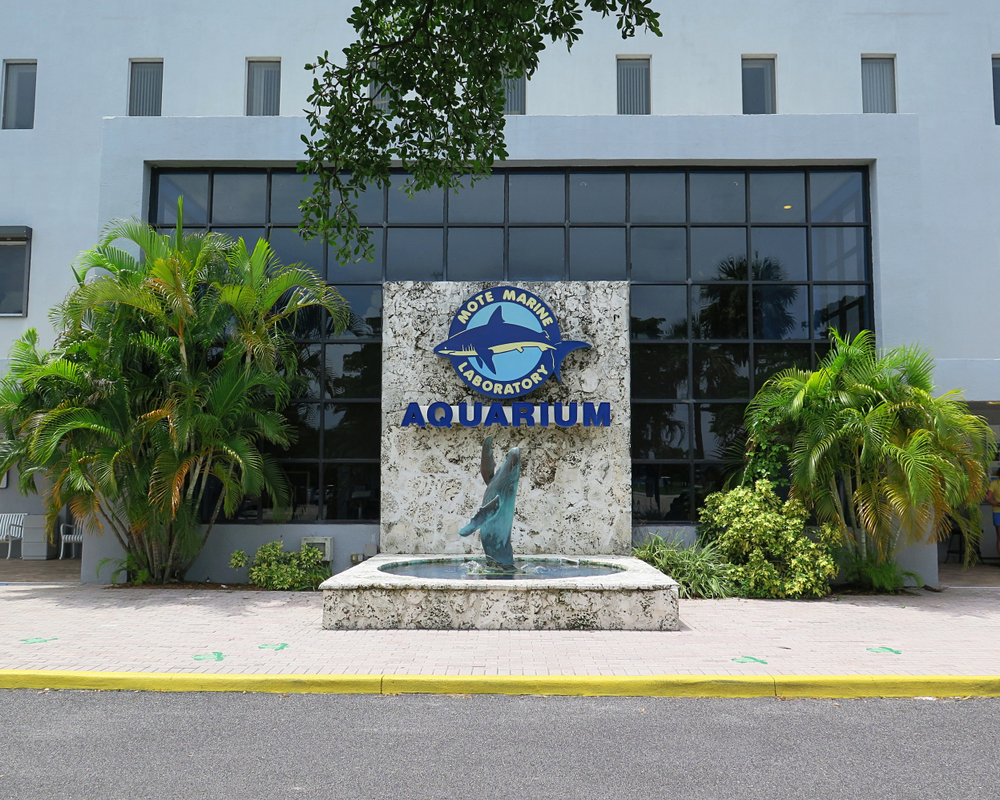 11. Rent with C Ponies
It has always been a dream of mine to ride horses on the beach. With C Ponies, this is possible! Go beach horseback riding through Tampa Bay, or on the trails in Bradenton. There are multiple excursions you can go on: from sunset excursion, to a state park trail ride, there is something for everyone.
These rescued horses enjoy going for exhilarating swims. Most excursions start on the beach in places like Palma Sola Bay. This puts you at ease, and then you can segue into the water! This is a romantic thing to do, a family friendly option, and just a lifetime experience on Anna Maria Island!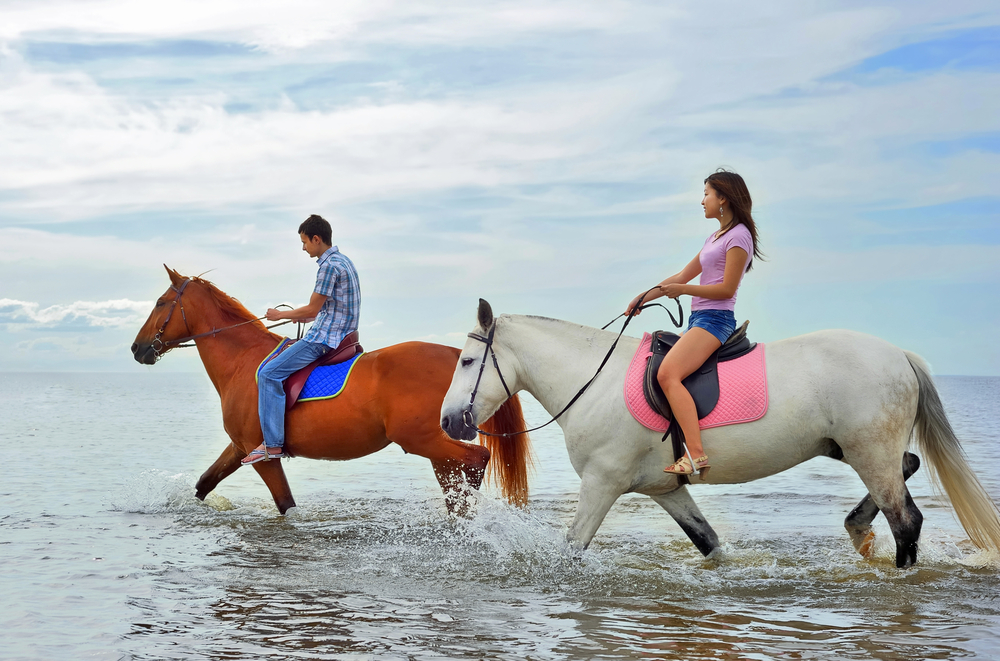 12. Take a Dolphin Sunset Cruise
Of all the fun things to do in Anna Maria Island, go take a dolphin cruise! These guided tours pretty much ensure that you will see stunning sealife in the wild since captains know where to find them! This is the perfect thing for both kids and adults: who doesn't love seeing dolphin?
Boating along the open water of Anna Maria brings joy to everyone. These cruises and tours– whether booked for sunset time or in the afternoon– allow you top spend 1.5 hour learning about the wildlife here. See seabirds, catch glimpses of manatees, and really become immersed in Anna Maria.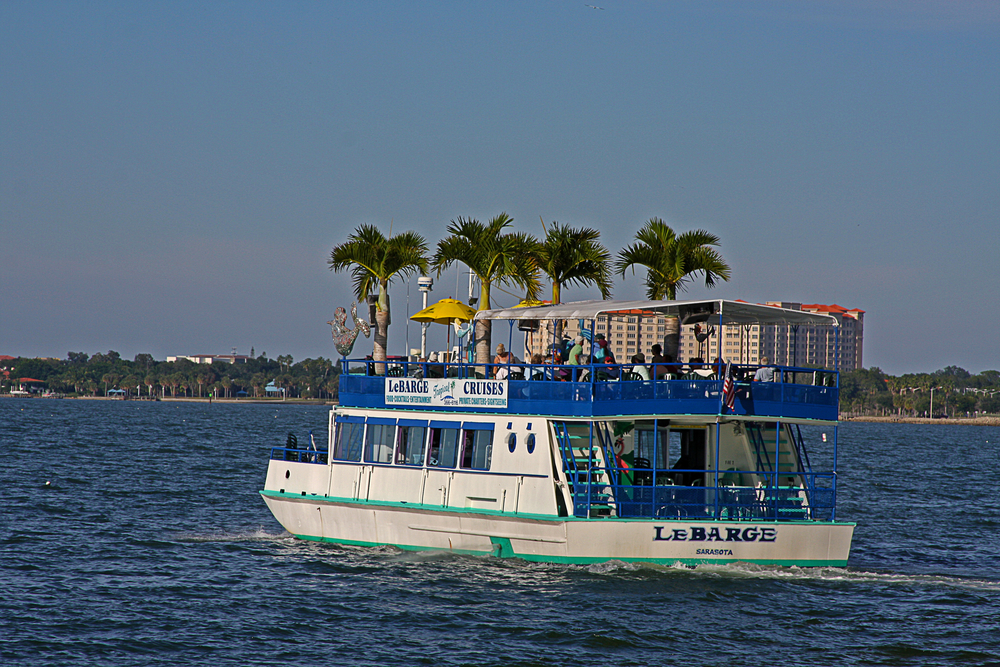 13. Hop the Island Trolley or Monkey Bus for Bars
There are things to do in Anna Maria Island at night, and it of course involves going to a few bars. This means that these are the best things to do in Anna Maria Island for adults! Taking the free Island Trolley or Monkey Bus helps you avoid the hassle of driving and parking.
From 6 am until 9 pm, these trolleys run on 20 minute intervals, and then every 30 minutes after 10:30 pm. You only have to tip your driver! This is a great way to hop on and hop off, as well as visit popular spots across the island. Stop by bars and clubs like the Drift-In AMI or the Anchor Inn! And enjoy in the tree things to do in Anna Maria Island while you can!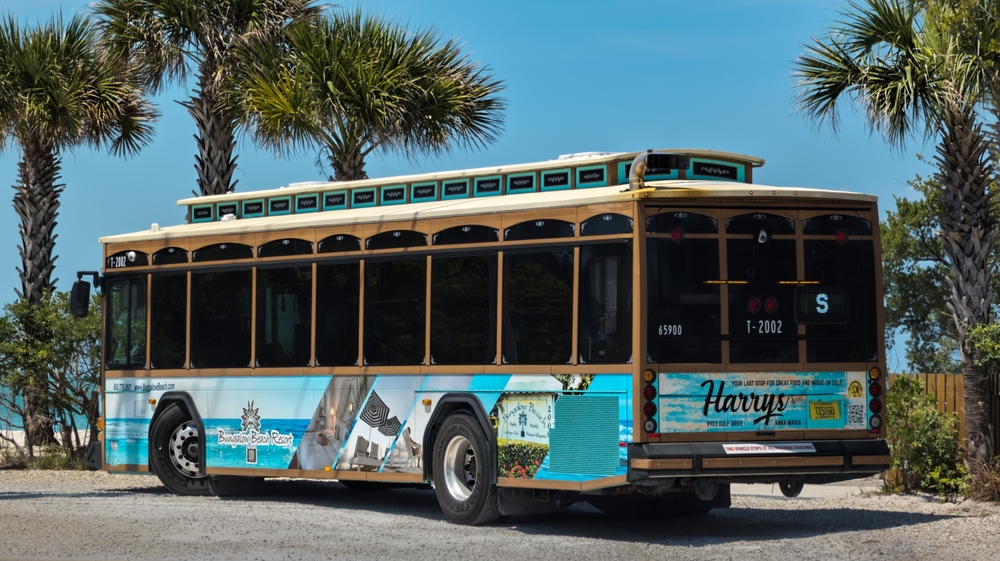 14. Create Donuts at the Donuts Experiment
We all love sweets. And what is better than a sweet that is created right before your eyes? The Donut Experience originally opened in Anna Maria as "Anna Maria Donuts." The creators behind this realized that there were no donut shops on the island, so they created one!
This boutique-styled shop is now an Anna Maria Island Must See Attraction. With freshly-made cake donuts, and a "decorate your own" donut bar, your tastebuds will be dancing. Biting into these fresh donuts is something you don't want to miss. Just make sure to purchase a cup of piping coffee as well!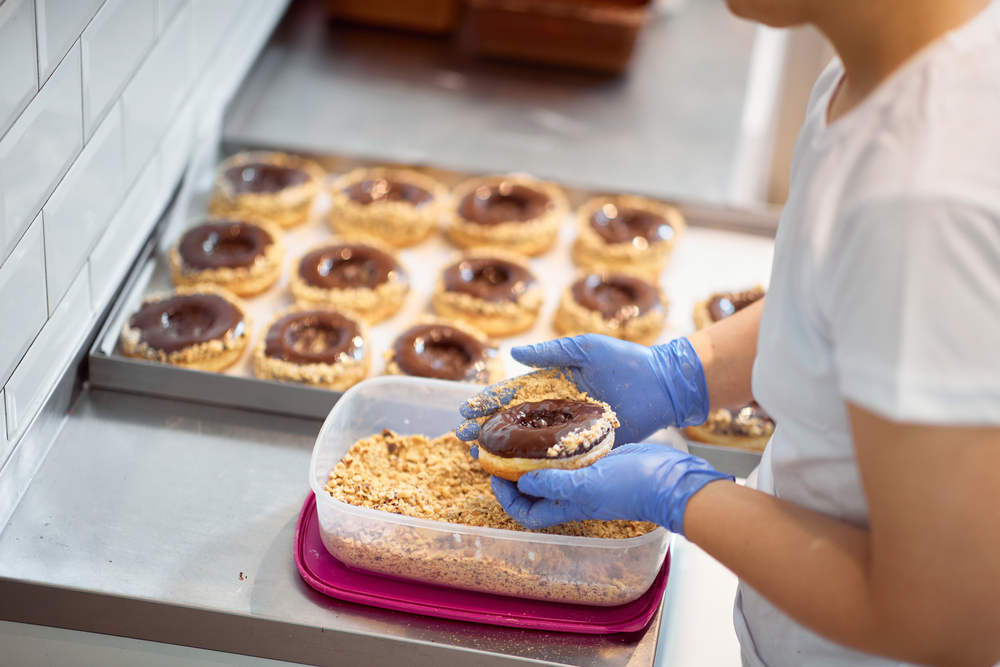 15. Play Putt Putt at the Fish Hole
Located right by the Anna Maria Oyster Bar, a great way to end your day on the Island is to go play some putt putt at sunset. The Fish Hole, on Bridge Street, is a family-friendly activity that has fun for everyone! The 18-hole miniature golf course features truly Floridan style.
The nautical decor, tropical plants, and fun vibe puts everyone at ease. The course is not over-challenging, and is price friendly, which means it is popular. And don't forget to feed the Koi in the 3,000 Koi pond that is on the course!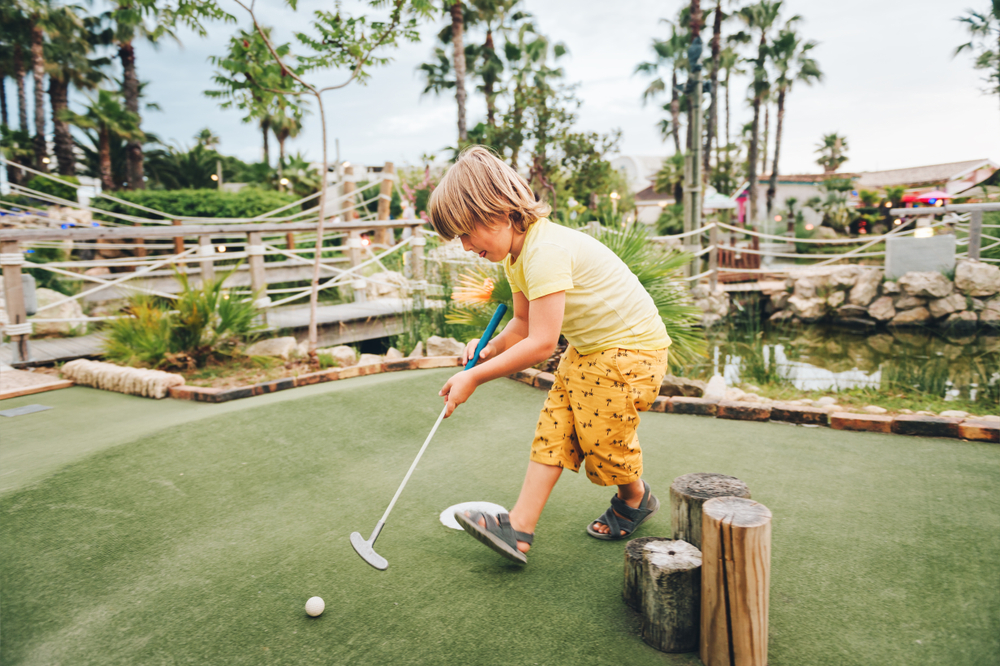 And there you have it, folks. 15 things to do in Anna Maria Island! This Barrier Island is one of the best in Florida, and I love to visit it. From tanning on the beach, kayaking on the clear waters, shopping, enjoying oysters, and playing some beachside games, I always have fun at Anna Maira. So, go yourself! Explore! And enjoy!