Are you looking for charming beach towns in the USA? Then you've come to the right place! This list is full of cute beach towns, on both coasts!
Most people only think about visiting the beach during the Summer, and that is a great time to go. But cute coastal cities in America are open year round. You might even find that you enjoy visiting them outside of the hustle and bustle of the Summer months.
On this list, we've found amazing and charming beach towns on both the East Coast and West Coast – and a few are even in the Mid West. They all have something truly unique to offer any visitor. You'll quickly find that no matter what time you visit, you love exploring these small beach towns in the USA.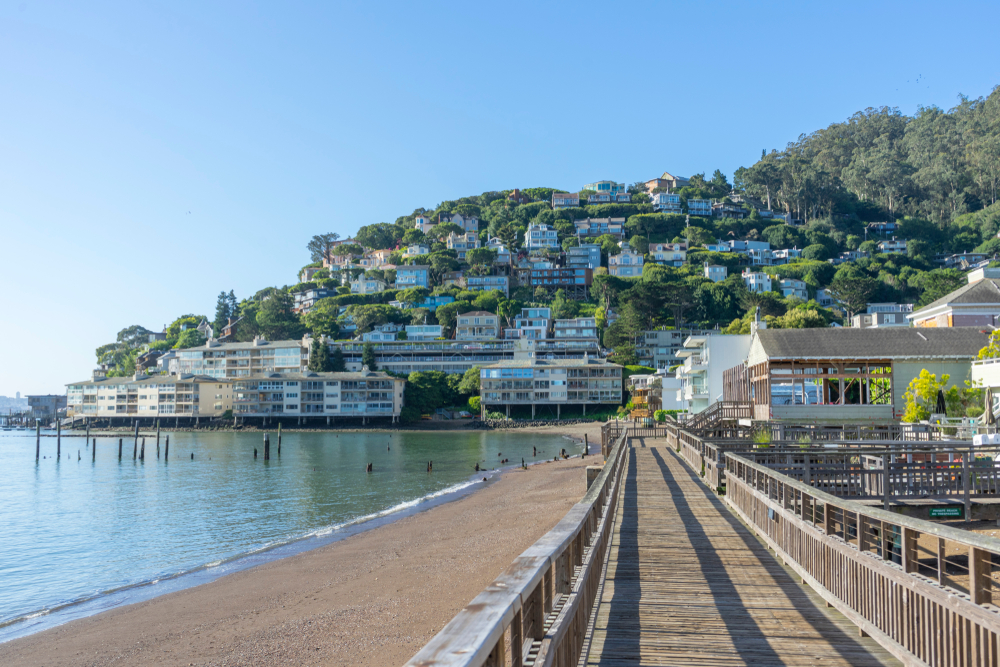 15 Charming Beach Towns In The USA
Carmel-by-the-Sea, California
Carmel-by-the-Sea is an enchanting seaside city almost right in the middle of California. It is known for its charming city streets and the beautiful Carmel Beach. The entire town is located in just one square mile, but that square mile is packed with fun things to do.
The main street that runs through Carmel-by-the-Sea is Ocean Avenue, and it's where you'll find pretty much everything. There are unique boutiques, delicious restaurants, and fun places to enjoy the nightlife. As you stroll the street you'll quickly understand why Carmel-by-the-Sea is often considered one of the cutest small towns on the West Coast.
If you'd like to explore a little bit of the town's history, you can tour the Mission San Carlos Borromeo de Carmelo. It is a beautiful Roman Catholic Mission that was first built in 1797 and has been recently restored and opened for tours. The town also has the honor of having a home designed by Frank Lloyd Wright, the famous American architect.
Even if all you do is relax on the beach, you'll enjoy every second of your trip to one of the best beach towns in America.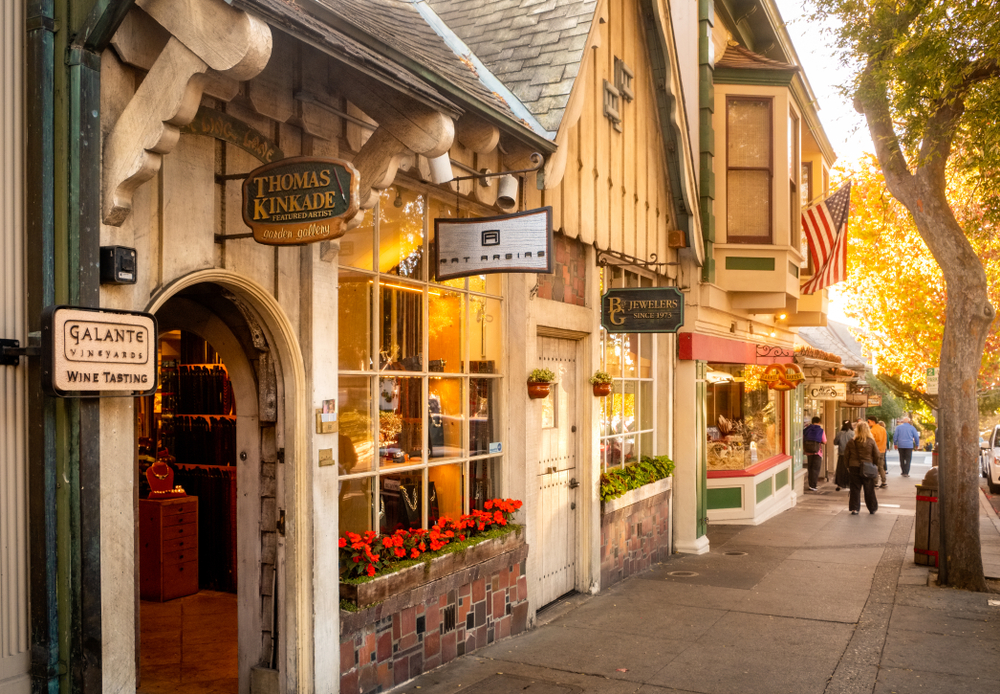 Cape May, New Jersey
Cape May New Jersey is often considered America's First Seaside Resort. In the late 1700's Cape May started to become a popular tourist destination for visitors from areas like Philadelphia to come and explore the ocean. Ever since then, it has become a staple coastal city in America.
Now, visitors can enjoy staying in beautiful historic homes that have been turned into Bed and Breakfasts or in one of the many adorable seaside homes and cottages. Cape May is the perfect beach town if you want to spend all day lounging on the beach. With over 10 beautiful beaches, you're bound to find the perfect one for you.
Cape May also has a charming town center. There are unique boutiques, amazing local restaurants, and art galleries. If you're looking for a trinket to bring home to remember your trip, there's a shop for that. Maybe you want a special bottle of wine to bring home, there's a shop for that too! Cape May has everything to make it the perfect choice for your next coastal city stay.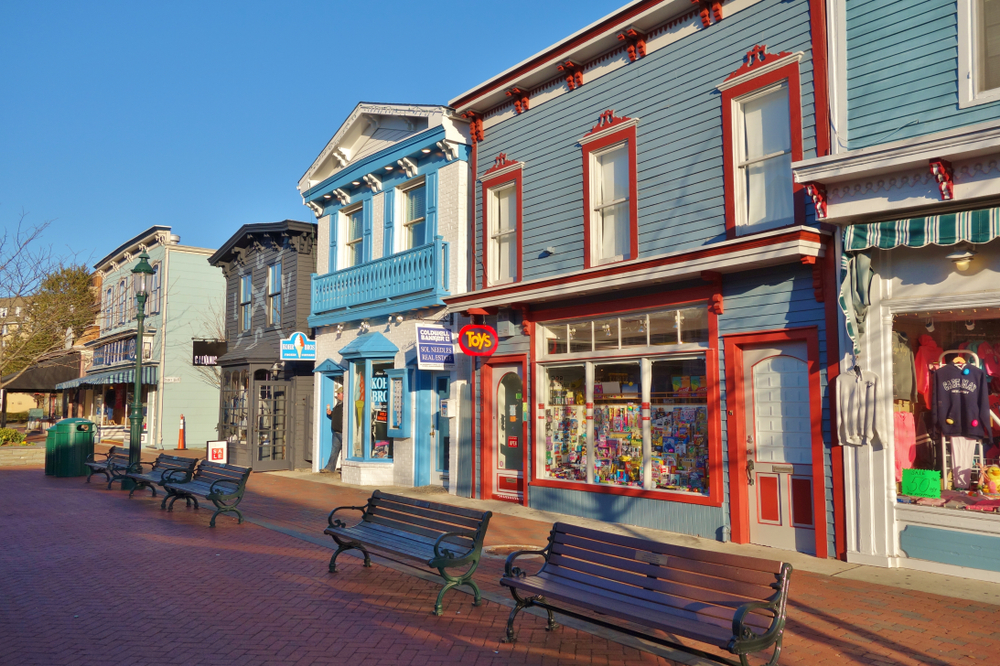 Kennebunkport, Maine
Kennebunkport is a popular destination in the Summer, but its a wonderful place to visit any time of the year. It is in the heart of New England and full of charm and history. At one point it was a major shipbuilding and fishing village, now it's one of the most beautiful coastal cities in America.
During your visit you'll want to take a boat tour so you can get a better idea of the towns important history. You can also take a tour of the Nibble Lighthouse, another important part of the town's history. There is also a Trolley Museum that visitors love to check out during your stay.
If historical tours aren't really your thing, don't worry. Kennebunkport wouldn't be a great beach town without an abundance of cool shops and restaurants. Of course there are plenty of places to get some good seafood. But there are also delicious bakeries, coffee shops, and more. The main center of town is also full of boutique stores, antique shops, and art galleries.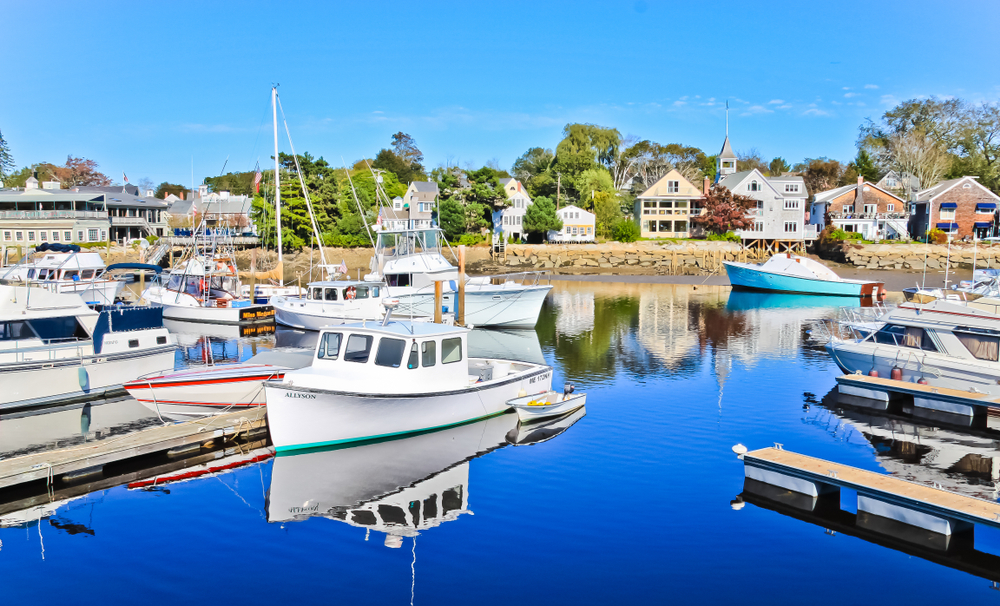 Cannon Beach, Oregon
You may not think of the beach when you think of Oregon, but you should. Cannon Beach is a beautiful seaside city in Northern Oregon. National Geographic Magazine even named Cannon Beach "one of the World's 100 Most Beautiful Places", so you know it's worth a visit.
Whether you want to relax on the beach, hike at Ecola State Park, or stroll the streets of the cute town center, you'll enjoy it. A lot of the beaches in Cannon Beach have beautiful rock formations along side the sandy beaches. There are also several beach parks in Cannon Beach that have the best of everything – sandy beaches, cool rock formations, and welcoming picnic areas.
In the main town center there is plenty of places to check out. Stop into one of the 15 art galleries and admire the works of local artists. If you are interested in local history, there is a Cannon Beach Museum as well as a museum dedicated to the Lost Art of Nursing. If you've got the time, take in a show at the Coaster Theater Playhouse. With so many unique activities you're guaranteed to enjoy your trip to Cannon Beach.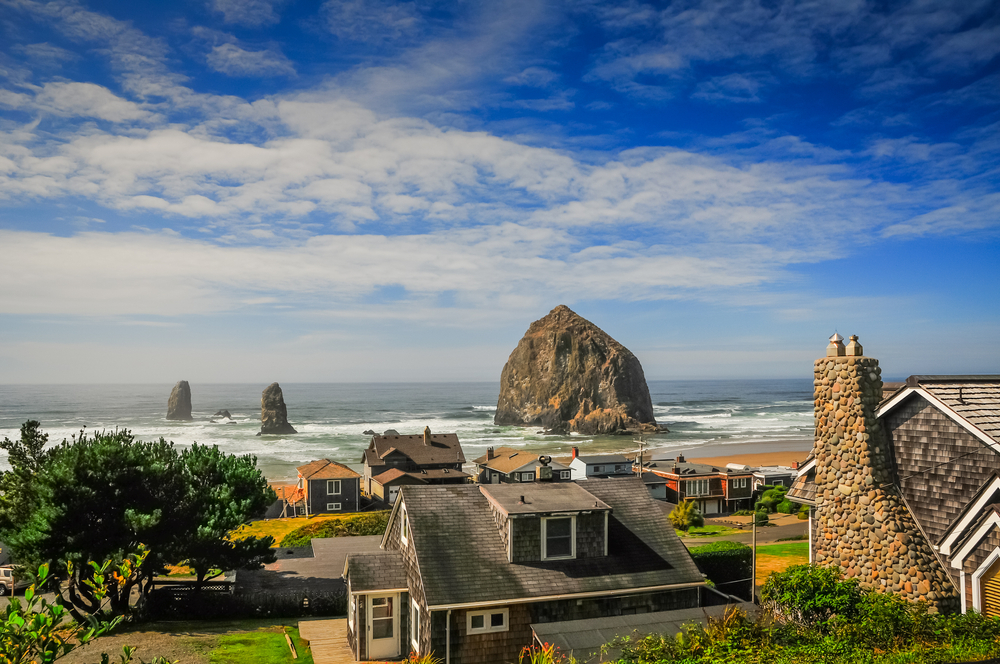 Mackinac Island, Michigan
You probably think of either the West Coast or the East Coast when you think of beaches. But the Mid West has beaches too! The Mid West is home to the Great Lakes, and the Great Lakes have some beautiful beaches towns. One of those is Mackinac Island on the shores of Lake Huron.
Mackinac Island has got a rich history and it's residents are proud of it. On Mackinac Island, you'll have several opportunities to feel like you've stepped back in time. Visitors can take carriage rides around the island, explore one of the 10 museums and historical shops, and even learn how to make Mackinac Island's famous fudge.
Locals also love the small-town charm of their beautiful island. There are some interesting shops, amazing restaurants, and art galleries. They even have fun gift shops so you can pick up something to remind you of your trip. No matter what time of year you go you'll love exploring Mackinac Island, one of the best beach towns in the USA.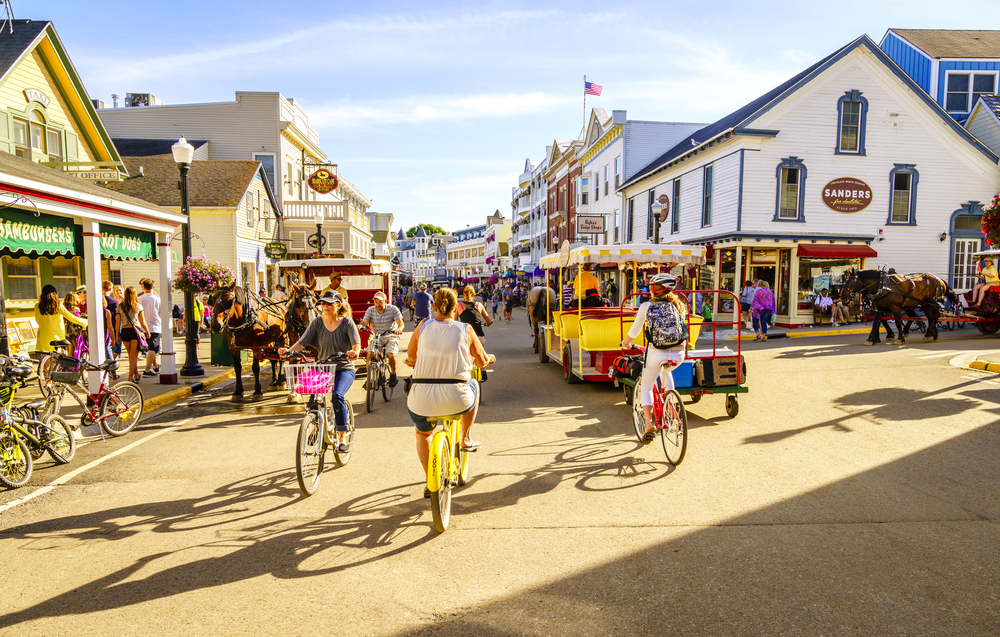 Bar Harbor, Maine
Bar Harbor Maine is probably best known for being the town closest to Acadia National Park. Acadia National Park is one of the top ten most visited parks in the USA and Bar Harbor is the perfect home base for visiting the park. Even if you aren't interested in exploring the National Park, there are plenty of fun things to do in Bar Harbor.
For those who want to visit Bar Harbor to explore Acadia National Park, you're in for a treat. You can drive along the Park Loop Road to enjoy 27 miles of ocean views and woodland landscapes. There are plenty of scenic look out spots and even hiking trails that you can stop at along the drive. Walk the sandy beaches and enjoy a beautiful slice of America's unique landscape.
In the town of Bar Harbor, there is a lively downtown area. Park and enjoy miles of adorable village shops, amazing restaurants, art galleries, and even exciting an nightlife. You can take a Maine Foodie Tour, explore the Woodlawn Museum with its stunning gardens and park, or learn a bit about the area in one of the many historical museums. Whether you're looking for outdoor adventures or quaint beach town activities, Bar Harbor won't disappoint.
Sausalito, California
The small coastal city of Sausalito is located just north of the Golden Gate Bridge in California. It is one of the cutest small towns on the West Coast, and for good reason. Sausalito is one of the most charming small towns in the USA and it has a very unique history.
Long before the Golden Gate Bridge was built, Sausalito was home to the Liwanelowa Nation. In 1775 Spanish settlers arrived and began taking over the area. The Spanish settlers left a lasting mark on the architecture as well as the history of the town. It eventually became a popular spot for bootleggers and rum runners before becoming industrialized during WWII.
Now, visitors can explore that history at one of the towns many museums or explore the very beaches where rum runners hid their stash. One of the most unique things about Sausalito is the over 400 house boats that are parked at the marinas around the city. Visitors can also enjoy water sports like kayaking and sailing, explore the Bay Area Discovery Museum, or enjoy seafood at one of the many amazing restaurants.
Sausalito is a beautiful beach city that is just bursting with a unique history and fun activities. No matter what time of year you decide to visit you'll find something cool to do or see. This is what makes it one of the best small beach towns in the USA.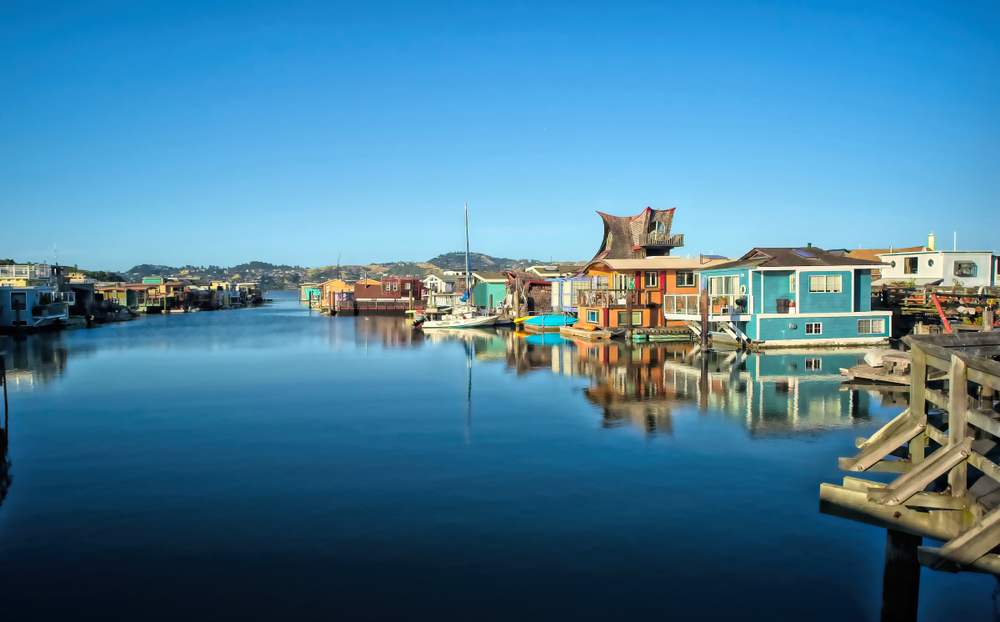 Beaufort, North Carolina
Beaufort is a charming Southern maritime town in North Carolina. The area is steeped in maritime history and was an important part of North Carolina's port system. Now, visitors can explore that history and stroll down charming streets admiring beautiful Beaufort.
The town is now known for its amazing seafood restaurants. The local restaurants have taken the classic Southern dishes and elevated them. Beaufort is one of the most excellent beach towns in the USA for foodies because of it's exciting restaurant scene.
That's not the only thing that makes Beaufort such a great beach town. You can also explore unique boutiques, learn about the area and one of the museums, or check out the yachts in the marina. There are also beautiful sandy beaches where you can lounge in the sun all day before having dinner at one of the amazing restaurants in town.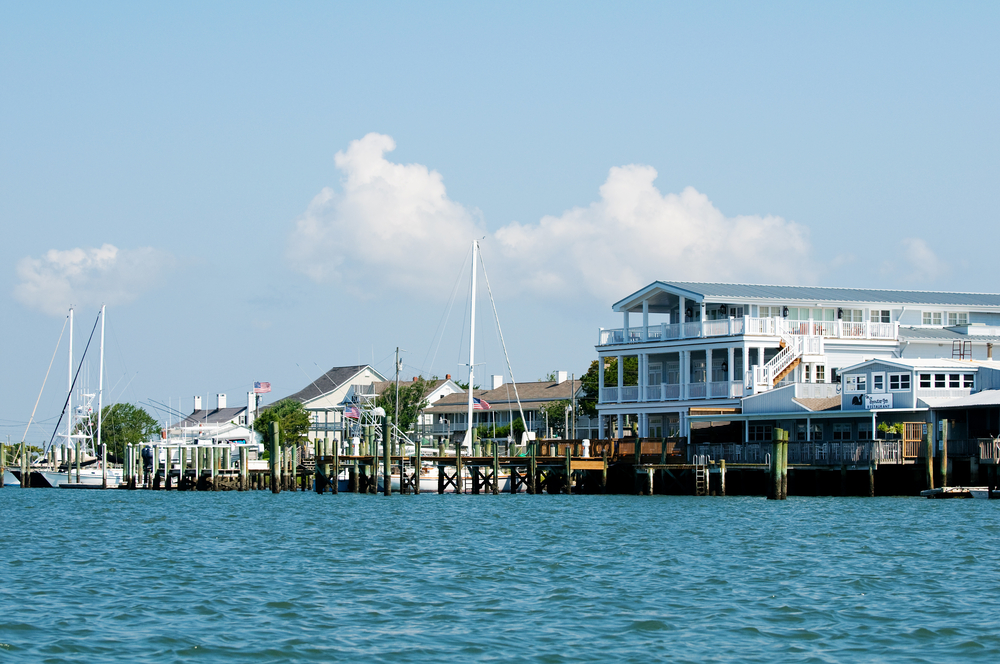 Tybee Island, Georgia
Outside of beautiful Savannah Georgia is the amazing small beach town of Tybee Island. Tybee Island is one of Georgia's barrier islands. There you'll find awesome warm sandy beaches, calm waves, and a charming town. It is a great day trip from Savannah but you could also easily spend a week enjoying the island.
On Tybee Island there are tons of things to do, including relaxing on the beach. You'll find plenty of beach front condos, homes, and cottages to rent during your stay. Stroll down sandy beaches, swim in the waves, or just relax on the beach that will be just steps from your cute beach house.
If you don't want to spend your days on the beach, there are other things to do on Tybee Island as well. You can catch concerts regularly at the Pier and Pavilion, check out art from the nearby SCAD students, or check out the local lighthouse. There are also plenty of boutiques, delicious restaurants, and fun trinket shops. Whether you spend a day or a week explore Tybee Island you're guaranteed to have a good trip.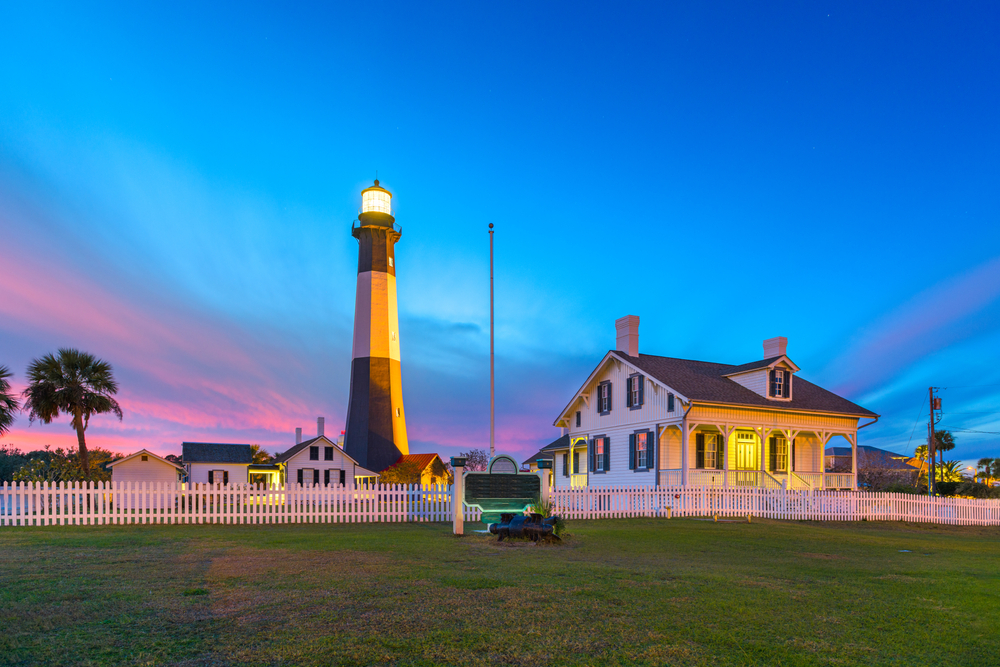 Ogunquit, Maine
Whether you're looking to take a road trip through Maine or just looking for New England beach town, Ogunquit is the perfect stop. Ogunquit is one of the best coastal cities in America and during your visit you'll quickly see why. One of the coolest things about Ogunquit is the trolley system. There is a trolley system that allows you to easily get around the entire town.
Using the trolley system you can get to the beautiful sandy beaches, the fun shopping district, and amazing restaurants. In the shopping district you can sample locally made fudge and taffy, stop into one of the funky boutiques, or have a meal at one of the delicious restaurants.
If you like outdoor activities, Ogunquit has them too. Other than the 3.5 miles of sandy beach, you can also enjoy other water sports. On the nearby river you can go kayaking, fishing, or just exploring. There is also Perkins Cove which is a small turn of the century fishing village. You can learn a little bit about Ogunquit's history there and enjoy more unique shopping, restaurants, and take a boat tour of the nearby water way.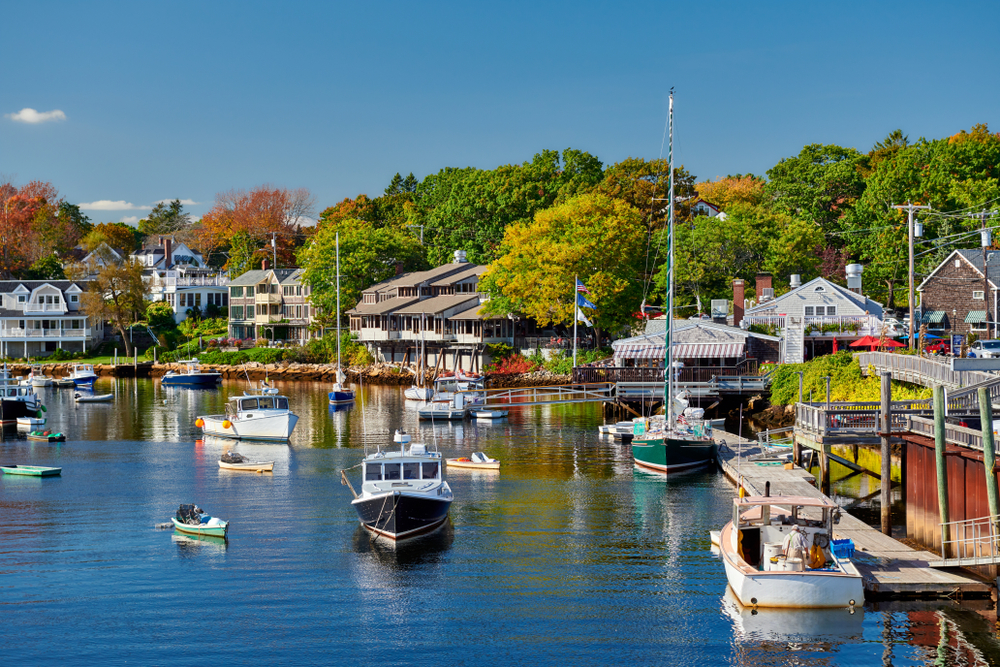 Kailua, Hawai'i
If you are looking for one of the beach towns in the USA to stay at on your Hawai'i honeymoon, then you'll want to check out Kailua. Kailua is a small beach town on Hawai'i's Oahu island. Because it is on the Southeastern part of the island, so it has a more tropical atmosphere due to the amount of rain it gets every year.
Kailua is a beautiful part of Hawai'i that is bursting with small town island charm. While visiting you'll definitely want to visit the Kailua Beach Park. It is a beautiful stretch of white sandy beach. There is also a grassy area where you can picnic and spend the day. If you like hiking, check out the Lanikai Pillboxes. It's a hiking trail loved by locals because of it's breathtaking views of Kailua.
Another great thing to do in Kailua is visit the local farmers market. Its an awesome place to try local produce, admire art from local artisans, and even find trinkets to bring home to remember your trip. Throughout Kailua you'll also find amazing restaurants, unique boutiques, and art galleries. Kailua is really known as an artists town and you'll be able to spend hours walking around town an exploring the art scene.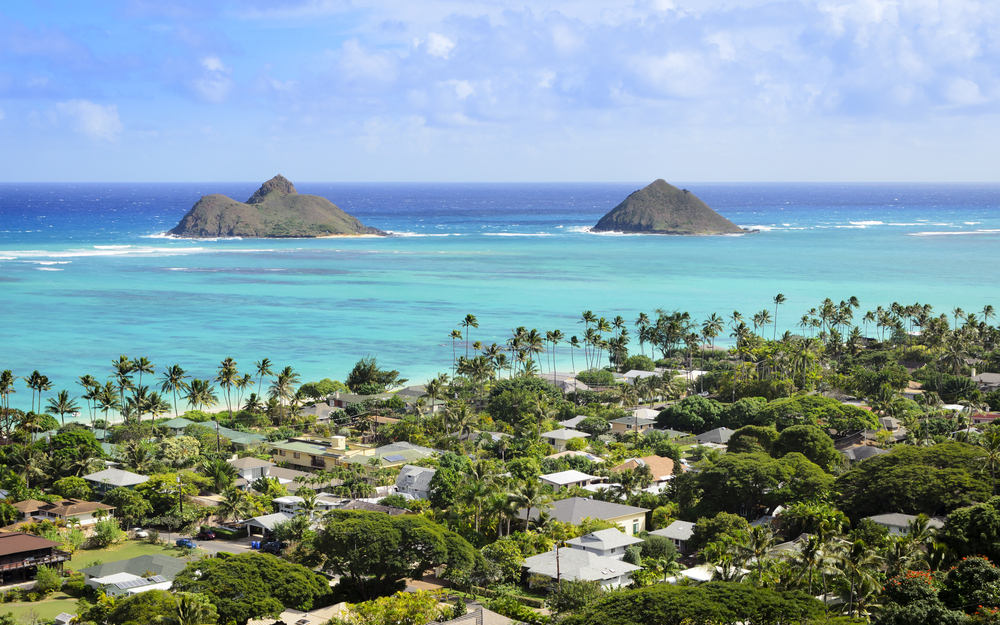 Port Townsend, Washington
Port Townsend is one of the best small towns on the West Coast. Nestled between the Pacific Ocean and the Olympic National Park, Port Townsend is the perfect small beach town for adventurers. In Port Townsend you'll find activities for the whole family, but its also a romantic coastal city as well.
Outdoor adventurers will love Port Townsend because of it's close proximity to Olympic National Park. There you'll find awesome hiking trails, stunning woodland vistas, and so much more. Near Port Townsend there is also the Fort Worden State Park. In Port Townsend you can go kayaking in the bay or take a romantic sunset cruise.
Port Townsend is a great place for a romantic beach vacation as well. There are spas to relax at, romantic and delicious restaurants, and a beautiful shopping district to stroll through. If you are vacationing with the whole family, make sure you stop by the Northwest Maritime Center. There you'll find a pirate ship that the kids will love.
No matter what kind of trip you have in mind, Port Townsend is one of the best small beach towns in the USA to explore.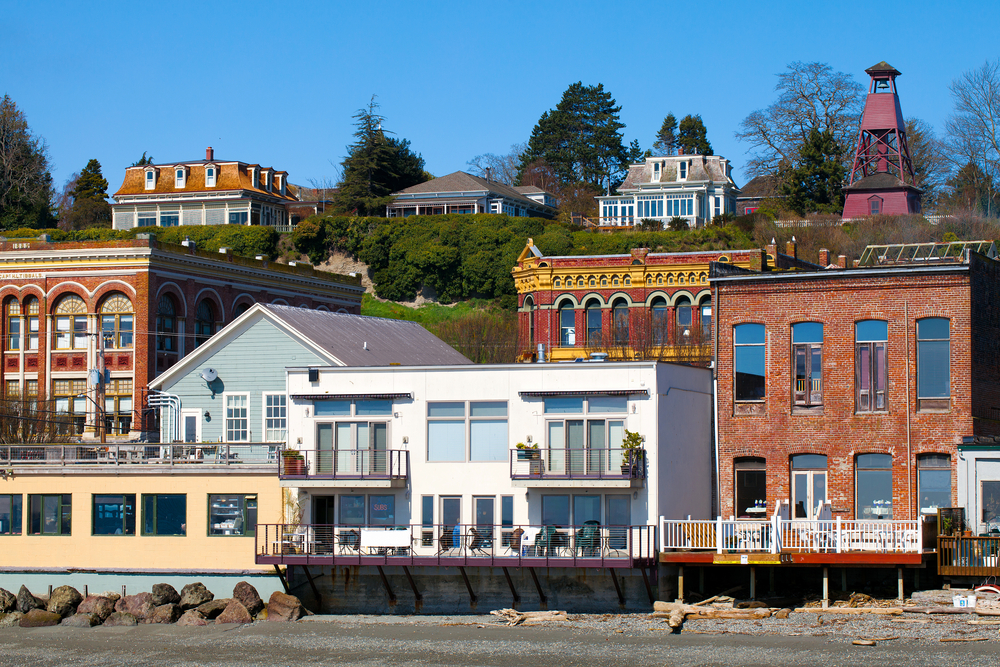 Block Island, Rhode Island
Block Island Rhode Island is one of the cutest small towns on the East Coast. The entire island is 17 miles of beautiful sandy beaches and hiking trails and has a deep and unique history. It is another great small beach town if you like to spend a lot of time exploring the outdoors.
The island is most known for it's plethora of outdoor activities. You can enjoy biking, hiking, fishing, parasailing, kayaking, bird watching, horse back riding, sailing and so much more. Of course there is also swimming at one of the many beaches. There is a National Wildlife Refuge where you can observe migratory song birds during different times of the year as well.
Block Island is also full of history. The island was settled by Europeans in 1661. Now you can explore the local history museum to learn more about not just the European settlers but also the original tribal nations that called the area home. The island also has several restored historical buildings like the Hygeia House, the Champlin House, and two lighthouses from the 1800s.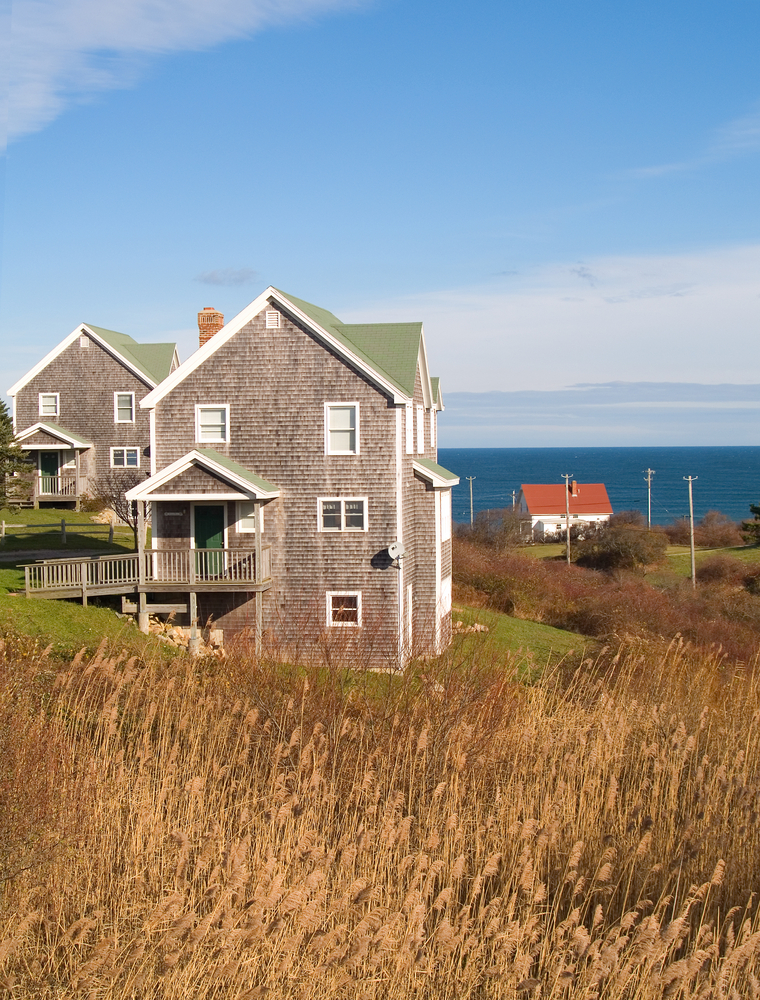 Folly Beach, South Carolina
Folly Beach is one of the best coastal cities in America and it is bursting with small town charm. The beach is located just outside of Charleston, South Carolina's most famous beach city. It is a perfect town to enjoy endless watersports. Visitors can enjoy kayaking, fishing, boating, paddle boarding, and even surfing.
As you walk on the sandy beaches you may even spy dolphins swimming or loggerhead turtles nesting on the shore. Folly Beach is also known for having some amazing seafood restaurants. There are gourmet restaurants, seafood shacks, and even local places that make some amazing quick bites.
If you like exploring local history, Folly Beach has some great local museums as well just over the town border in Charleston. You can learn about seaside life, South Carolina's European settlers, and more. Folly Beach also has a fun nightlife where you can go on brewery tours, hang out at trendy bars, or even enjoy a nice romantic night out.
The possibilities are endless when you visit Folly Beach. It is truly one of the best beach towns in the USA.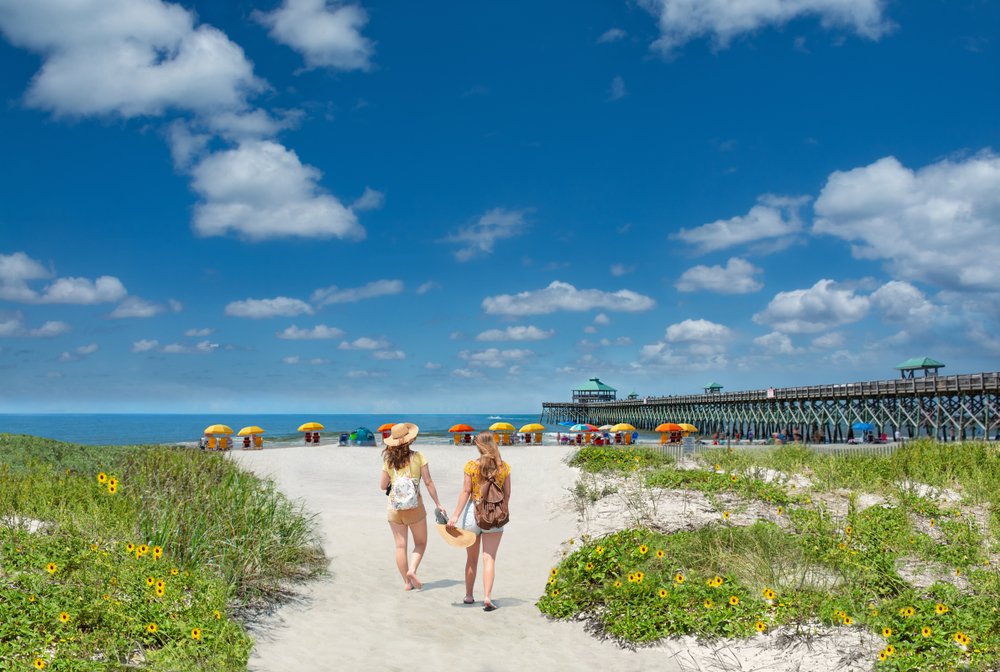 Topsail Beach, North Carolina
North Carolina natives know that Topsail Beach is one of the best beach towns in America. Topsail Beach is still mostly locals, and that's what makes it such a unique North Carolina beach. Over the last 20 years North Carolina has steadily become a more popular beach vacation destination and a lot of the beaches have become pretty large cities. That's not the case with Topsail Beach.
You won't find many condos on Topsail Beach. Instead you'll get to stay in awesome beach cottages, homes, and even mansions. Because it is still a fairly quiet small town, you won't find super packed beaches. You'll be able to enjoy small town activities like putt putt golf, skating at the local roller skating rink, or island boat tours.
Almost all the restaurants and shops in Topsail Beach are owned and operated by locals. You'll find very few chain restaurants or shops. Instead, grab a meal at the local grill or deli, enjoy gourmet donuts, and of course plenty of seafood. Topsail Beach is the perfect small beach town in America if you want to experience beach living as a local.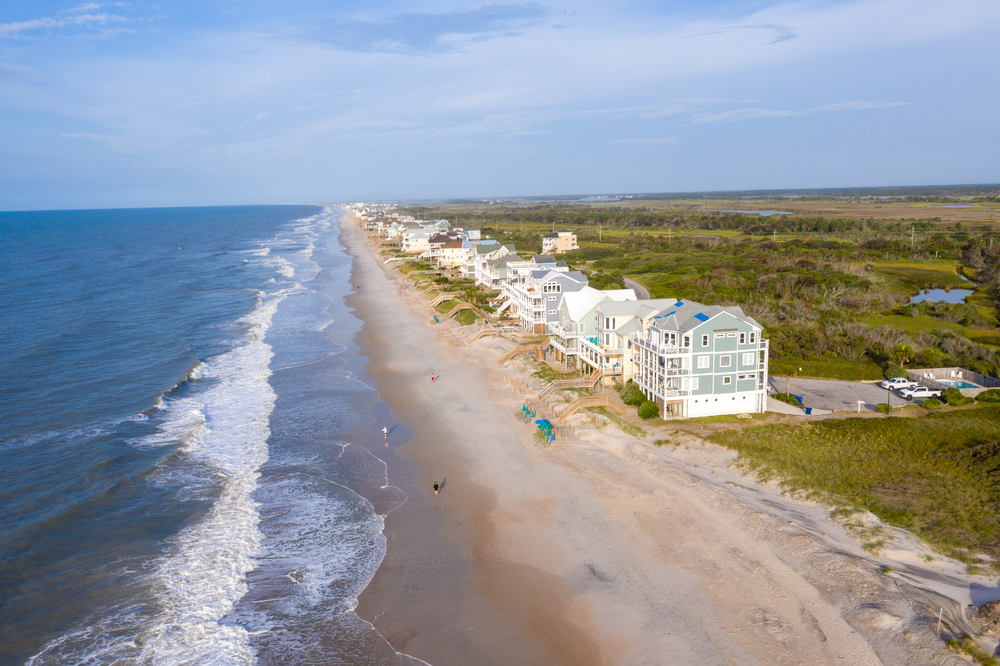 Have you visited any of these adorable small beach towns in the USA? If not, you'll definitely want to add one to your list of potential next vacation spots. If you have been to any of these amazing beach towns, let us know about your trip in the comments!