Are you looking for the cutest small towns on the east coast? This guide has some of the best east coast towns in the USA. The challenge we had writing this was which ones to leave out, there are so many.
What we love most about the United States are all the small sometimes undiscovered small towns there are to visit. While a trip to a well-known city like New York or Boston. is well worth a visit. The smaller east coast cities and towns in-between have a lot to offer. These small towns are perfect when you want something a bit different and a little more off the beaten track.
Some of these places to visit on the east coast offer you great views, some great history, and others are shrouded in mystery. All have a different flavor and feel. We know there will be something for even the most discerning traveler here.
We encourage you while in these towns on the east coast that you support local businesses. Shop local, eat local, go on local tours, and enjoy the history of these towns while being respectful to the residents.
No matter which of these east coast USA towns you choose to visit we are sure you will have a great time. We can't wait to hear about it.
So here we go a list of the cutest places to visit on the east coast of America.
Don't forget to check out our list of the Best Resorts On The East Coast if you are looking for some inspiration!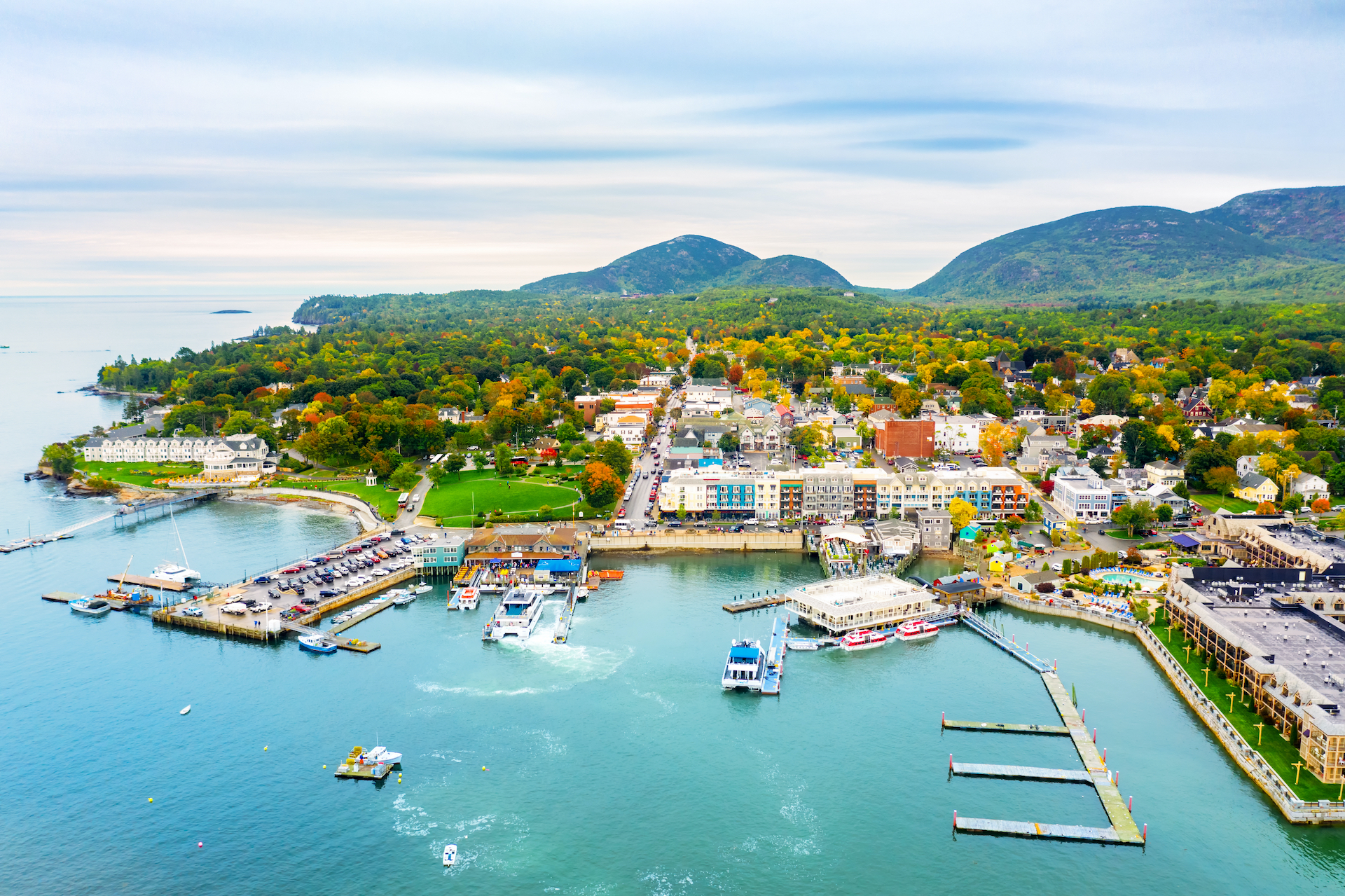 17 Cutest Small Towns On The East Coast USA
St Augustine, Florida
St Augustine is definitely one of the towns on the east coast that you need to visit. Not only is it picture postcard perfect but it also has a famous lighthouse with a somewhat torrid past.
This place has history and then some. Established by Spanish conquistadors in 1565 St Augustine and is one of the oldest cities in America sometimes called the Ancient City. The buildings range from the oldest wooden schoolhouse and jail from 1890 to colonial properties with a Spanish influence that is truly unique.
Make sure you visit Castillo de San Marcos, Ponce de Leon's Fountain of Youth Archeological Park, and the Lightner Museum that is housed in a gorgeous old grand hotel.
If you want more of a relaxing time then head to the beautiful beach. The white sands stretch for two miles and the water is crystal clear.
And for those, a bit more daring St Augustine lighthouse was featured on both Ghost Adventures and Buzz Feed unsolved. It is said to be one of the most haunted lighthouses in the USA. They do evening ghost tours if you are that way inclined.
If you are in the Florida area go visit St Augustine it won't disappoint. It's one of the best east coach towns to spend some time at.
Stay Here: Sand Dune Studio. Check Rates: Airbnb.com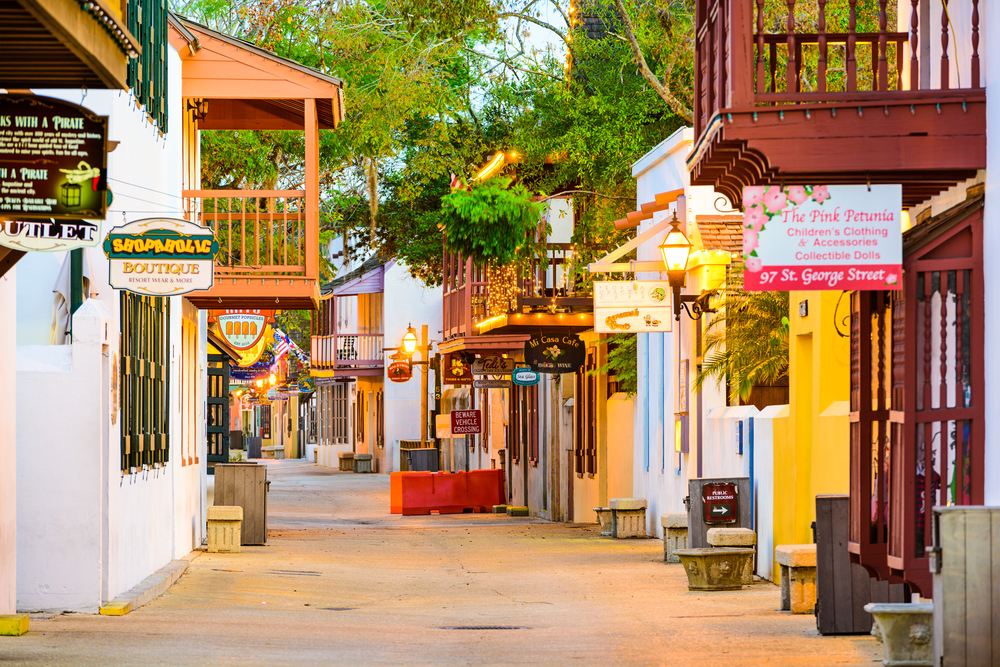 Helen, Georgia
Known for its Bavarian-style buildings there really is no other place like Helen. It's as if someone built a Bavarian village in the middle of Georgie.
Visiting Helen is like going to a European town without leaving the States. And for that reason, Helen is very very popular especially around Christmas time when it goes all out.
The fact it's nestled among the Blue Ridge Mountain range somehow adds to the Bavarian vibes. There is also a lot to do other than just admiring the local architecture.
Make sure you visit the Alpine railway museum at Charlemagne's Kingdom and the sweet treat-filled Hansel & Gretel Candy Kitchen.
And if the town gets too much for you there is nearby fishing., hiking, tubing, you name it. Make sure you visit the Anna Ruby and Rave Cliff Falls.
If you fancy a little escape to the mountain with something a little different added this is one of the towns on the east coast for you.
Stay Here: Cozy Treehouse Check Rates: Airbnb.com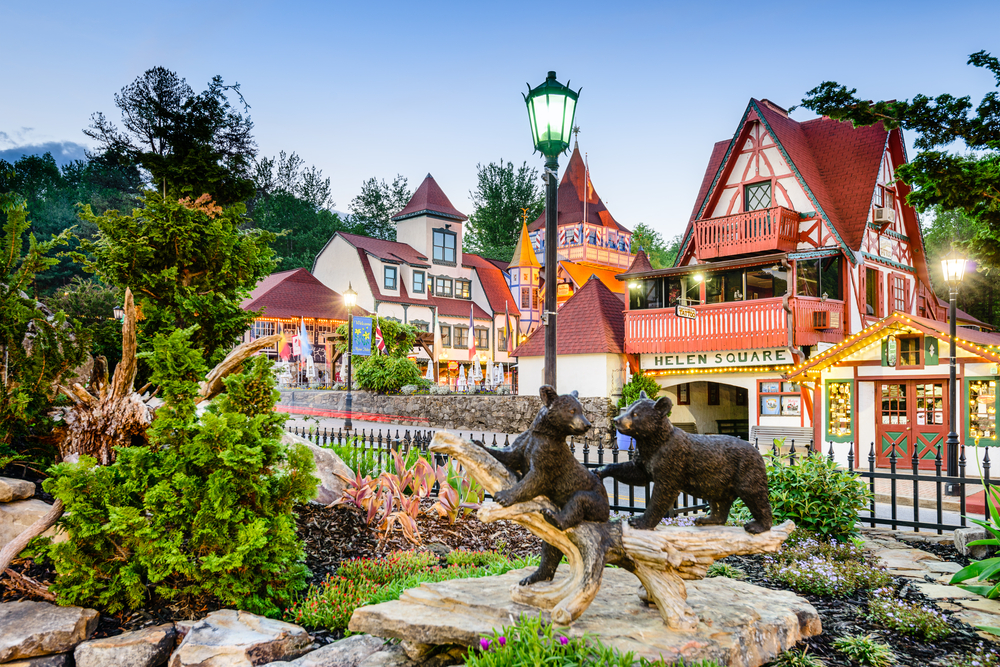 Montpelier, Vermont
Montpelier is one of those east coast cities that seems more like a town than a city. With a population of fewer than 8,000 people, the capital city of Vermont is less than bustling. In fact, it's the smallest state capital in the States.
Other than the fall foliage the main reason to visit Montpelier is food. The Ben & Jerry's factory is here for the ice cream lovers. And let's not forget maple syrup and the cider mill, yes one could get a real sugar rush in Montpelier.
The other draw here is the nature there is a towering mountain known as the Camel's Hump, a granite quarry known as the Rock of Ages, and the amazing colours known as fall.
When you imagine fall in New England you probably imagine a place like Montpelier. Lovely colored wooden new England houses surrounded by foliage bursting with color and of course the church spire to add that certain something.
Montpelier really is one of the cutest east coast cities to spend some time at.
Stay Here: Historic Home Check Rates: Airbnb.com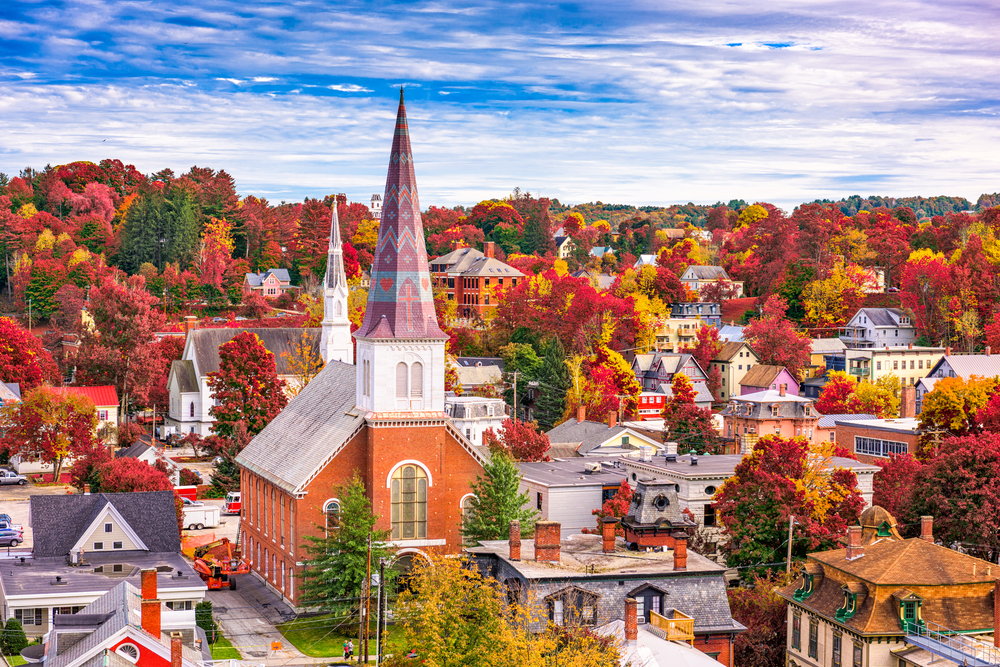 Savannah, Georgia
Rich in history, art, trendy boutiques, and haunted sites, Savannah is known for manicured parks, horse-drawn carriages, and incredible architecture.
This is one of the places to visit on the east coast if you like strolling around cobblestoned squares, veiled in Spanish moss taking in the history and sights.
Settled in 1733 it one of the oldest cities in the country and was one of the first planned grid square cities. The coastal landscape is beautiful and the locals are friendly. In fact, Savannah is known as the Hostess City and consistently named one of the "world's friendliest cities" by Condé Nast Traveler.
Savannah is also known for its connections with literature and film namely namely "Forrest Gump" and "Midnight in the Garden of Good and Evil", and of course "The Walking Dead".
One of those towns on the east coast you won't forget easily and we guarantee you will be back for a second visit.
Stay Here: Garden Home Check Rates: Airbnb.com
Ithaca, New York
Ithaca is a small picturesque town in the upstate New York Finger Lakes region. If you have never been to this area it truly is beautiful. One of the east coast cities that often gets overlooked but is well worth a visit.
On the shores of Lake Cayuga, the area has waterfalls and gorges galore. Downtown Ithaca is charming with lots to do and is home to many of the city's colorful festivals.
Itaca is also apparently the home to the ice cream sundae with one of the local churches still celebrates "Sundae Sundays".
This town has somewhat gone through a change and now has a very artsy bohemian vibe. Itaca is a very progressive place. There is so much to see and do not only in the town but in the surrounding countryside.
Things to visit include Cornell Botanic Gardens which includes an arboretum and multi-tiered Cascadilla Falls. Other waterfalls in the area include Ithaca Falls, near downtown. Southwest, Buttermilk Falls, and Robert H. Treman state parks.
A town on the east coast that has a lot to offer.
Stay Here: Lakeview Cottage Check Rates: Airbnb.com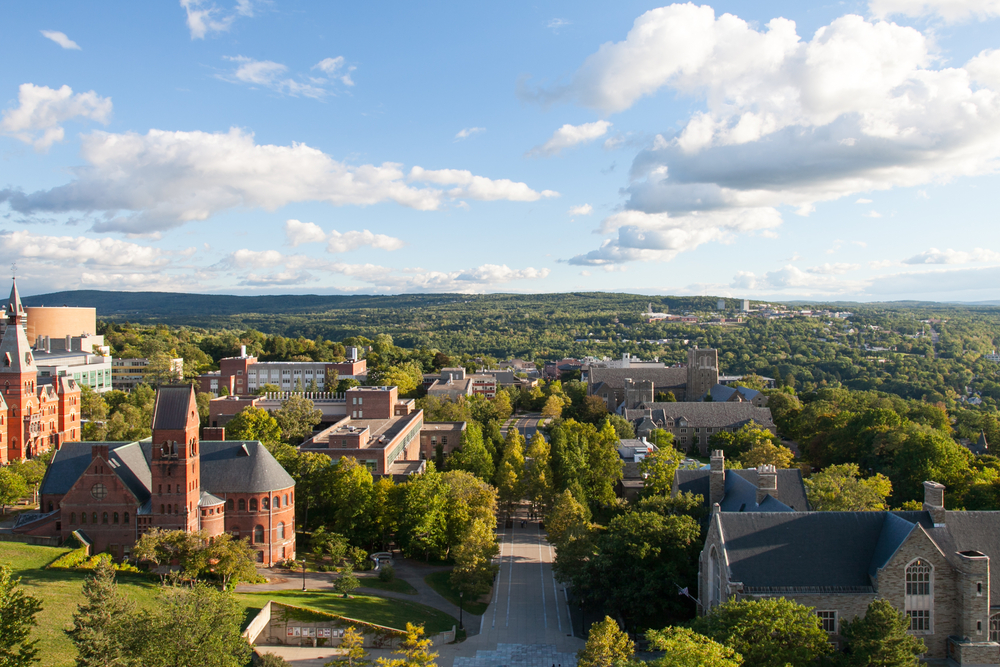 Annapolis, Maryland
The capital of Maryland is not only famous for United States Naval Academy but also its beautiful 8th-century brick houses and the domed 1700s Maryland State House.
The downtown area is home to many historic inns and scenic streets. The Romanesque-style St. Anne's Episcopal Church is well worth a visit with its Tiffany glass windows and historic cemetery.
Annapolis has played a vital role in the past, present, and future of the USA and has all the history to prove it.
If you love a bit of history then this is the town you need to visit.
Stay Here: Wright's Cottage Check Rates: Airbnb.com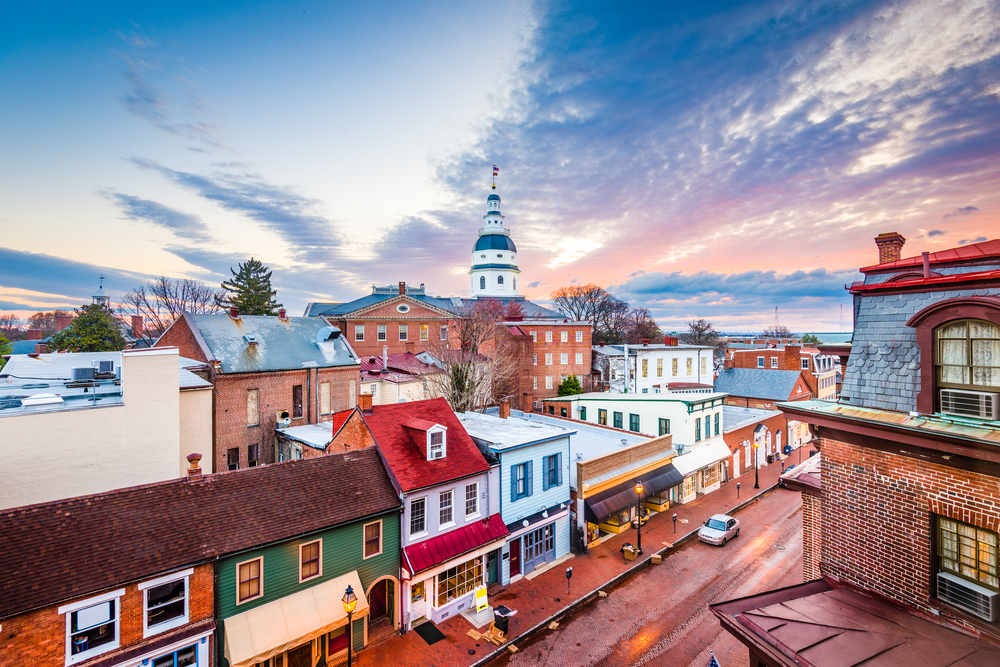 Roanoke, Virginia
If you are a fan of American Horror Story Roanoke is possibly the last place you want to visit. Don't worry this is not that Roanoke and is a lovely place to visit. At the southern tip of the Shenandoah Valley, this area is outstandingly beautiful.
Nestled in the Blue Ridge Mountains of southwest Virginia Roanoke is also know for The Roanoke Star, or Mill Mountain Star. Sometimes referred to as the Hollywood sign of the East Coast, it is the world's largest freestanding illuminated man-made star.
Roanoke is home to over 100,000 residents and refers to itself as a hub of innovation. Roanoke is also ranked as IMBA's top mountain biking destinations in the world and prides itself in its award-winning outdoor amenities.
The city maintains 70 parks that span 14,000+ acres offer 100 miles of award-winning natural surface and paved trail systems for commuting, road cycling, mountain biking, hiking, and horseback riding.
It's also a city known for art museums, craft breweries, and one of a kind shops
Roanoke is one of the east coast cities that deserves a second look.
Stay Here: Downtown Loft Check Rates: Airbnb.com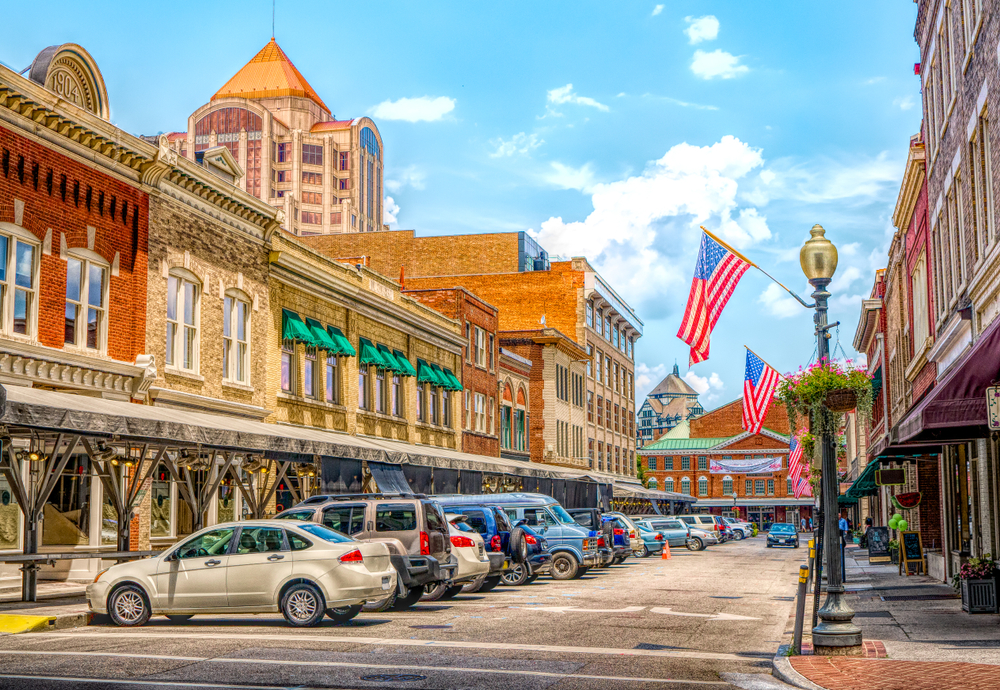 Portsmouth, New Hampshire
In New Hampshire, Portsmouth as its name suggests is a port and lies on the Piscataqua River. People settled in this town in the early 1600s, and Portsmouth citizens provided the gunpowder and stores that fueled the American Revolution.
Portsmouth was once the nation's busiest ports and shipbuilding cities and while it doesn't have that claim to fame now it still sees port sees five million tons of cargo on import/export ships
While the 1855 North Church presides over Market Square to remind you of its history the modern Paortmouth preserves its authentic routes while being a vibrant city.
It's an easy city to walk and that is what we advise you do. Make sure you visit Strawbery Banke Museum, John Paul Jones House, USS Albacore, a retired submarine that's been turned into a museum. Take a harbor cruise or just browse the many galleries, bookstores, antique shops, and craft boutiques. And a wonder through Prescott Park will really brighten up your day.
One of the towns on the east coast with lots to see and do.
Stay Here: Downtown Flat Check Rates: Airbnb.com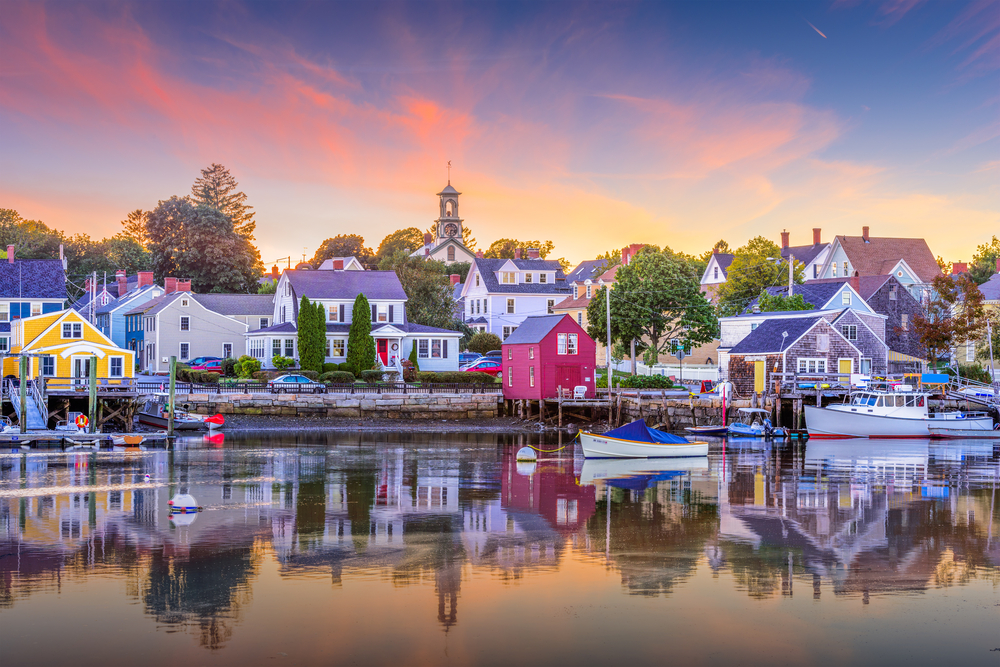 New Haven, Connecticut
Home to the Ivy League Yale University New Haven is a coastal town in Connecticut.
Yale founded in 1701 is the centerpiece of the town which is Connecticut's second-largest city. The Campus which is accessible houses the Yale Peabody Museum of Natural History, the Yale University Art Gallery, and the Yale Center for British Art. The faux-Gothic and Victorian architecture on campus really is a sight to see.
One of the east coast cities known as a thriving home for the arts, architecture, and the human mind, and when you move off the campus you will find an array of cars, shops, restaurants, longer, and a lively atmosphere.
Stay Here: Square 6ix Check Rates: Airbnb.com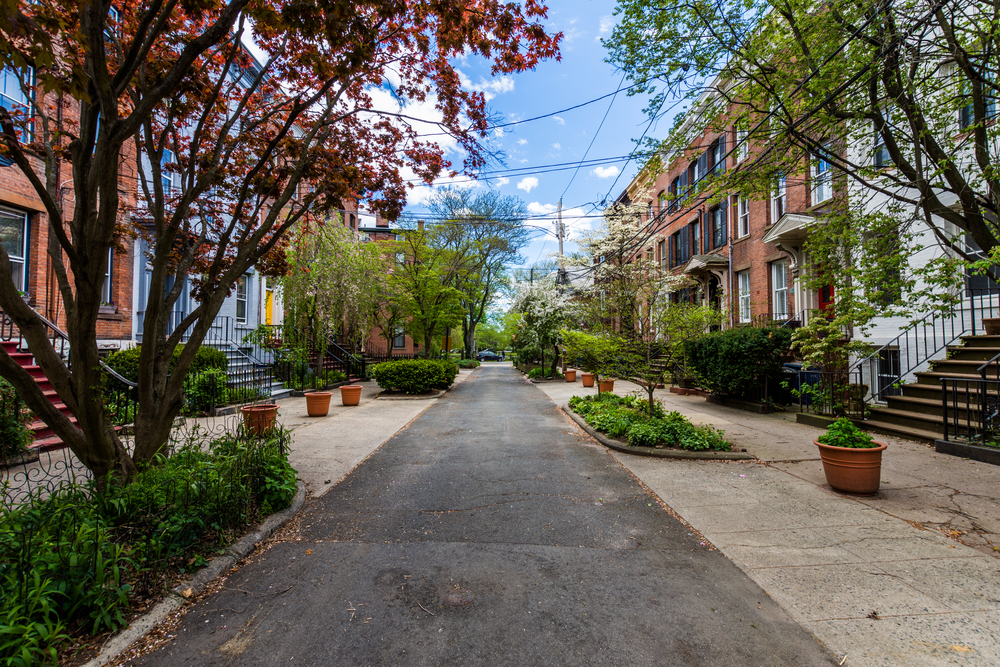 Easton, Maryland
Named as one of the best small towns in America you will find quiet streets lined with Colonial and Victorian buildings and lots of charm. First settled in the 17th century Easton has been a thriving community ever since.
It's also an arty quirky place with art by local painters displayed on lampposts and an annual Waterfowl Festival. This town really has a community feeling backed up with numerous award-winning restaurants, art galleries, and fine boutiques.
It's one of the towns on the east coast to take it slow. Stop and enjoy your surroundings, stroll down the tree-lined streets or sit on one of the shaded benches watching the world go by.
Stay Here: The Crib Check Rates: Airbnb.com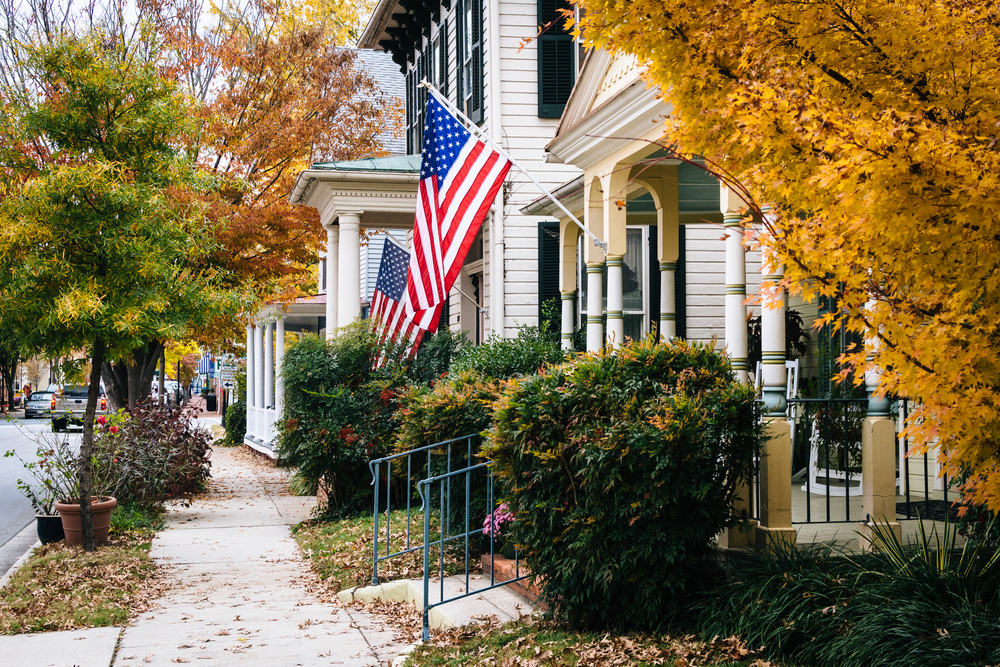 Seaside, Florida
If you love colors, airstreams, and picture-perfect pastels then Seaside is the place for you. Seaside is a resort community in northwest Florida. It has a white picket fence Urbanist design with a long stretch of white beach. What is not to love?
This perfect and clan location was the location for the film "The Truman Show" and yes it is as clean and perfect as you think.
On the emerald coast, Seaside has all the coastal charm you can imagine, even the walkways are architect-designed.
Seaside also is home to festivals and events throughout the year and you will never be without something to do. A visit to Airstream Row is a must with retro food trailers serving everything you can imagine.
Seaside is one of the most unique places to visit on the east coast.
Stay Here: Blue Two Check Rates: Airbnb.com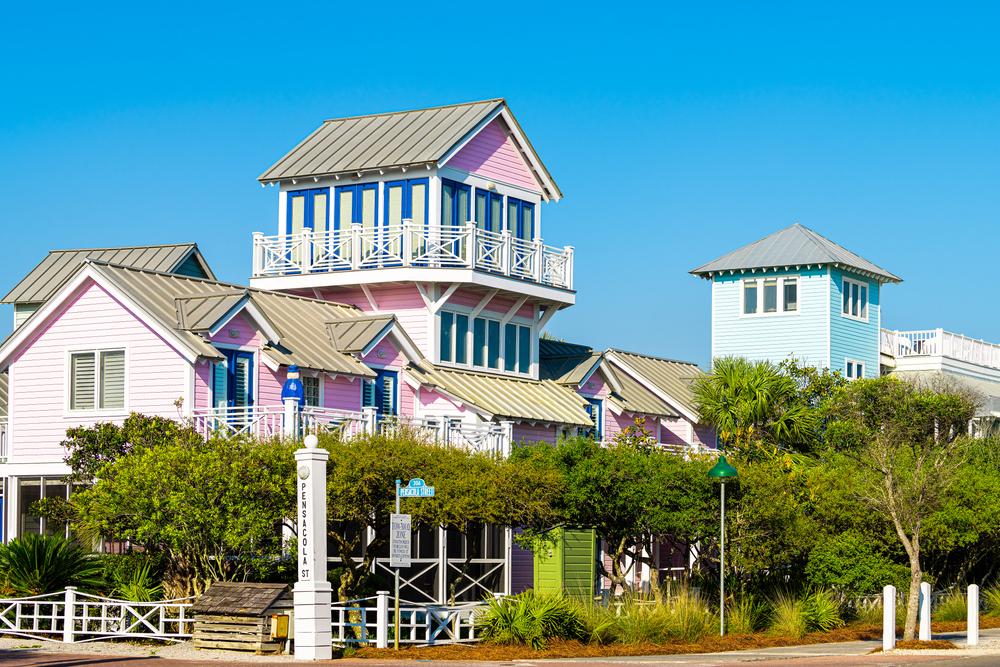 Block Island, Rhode Island
Twelves miles off the Rhode Island coast lies Block Island. Block Island has stunning views, 17 miles of beautiful beaches , hiking trails, a lively night scene, and a lot of history.
The island is 3 by 7 miles and shaped like a pork chop. Bike riding, hiking, horseback riding, bird-watching, snorkeling, fishing, parasailing, kayaking, and sailing are all activities that Block Island is known for.
Settled in 1661 you can learn about the local history at the Block Island Historical Society museum, shop, and gallery. Make sure you visit two of the island's lovingly restored structures, Peleg Champlin House and the Hygeia House. Also the 1800s red-brick Southeast Lighthouse and the 1867 North Lighthouse are worth a visit.
Block Island is also known for its Migratory songbirds and has a National Wildlife Refuge which is well, worth a visit. One of the towns on the east coast that has something to offer everyone.
Stay Here: Mansion Beach Check Rates: Airbnb.com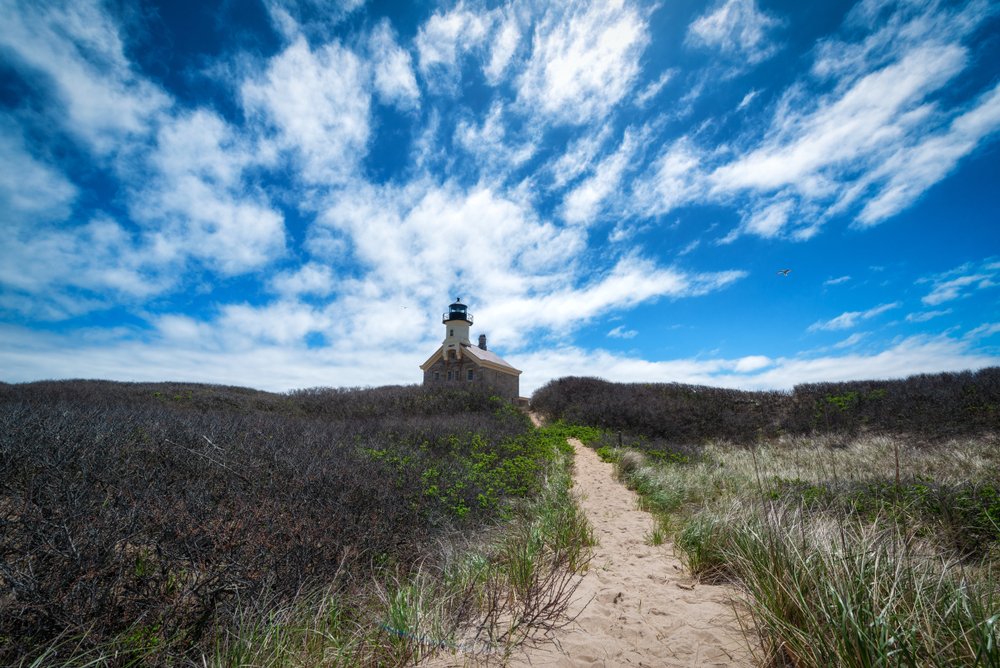 Newport, Rhode Island
If you are visiting Block Island then why not combine it with a trip to Newport as one of the ferries to the island leaves from here.
A city set on Aquidneck Island in the New England state of Rhode Island. It's a beautiful seaside city famous for its mansions, shopping, and scenery. One of the oldest resorts in America is home to 3 National Historic Landmark Districts.
Newport is always known as the Sailing Capital of the World and a trip to the harbor to see the yachts is well worth it.
Make sure you visit The Breakers, an 1895 mansion patterned after a Renaissance palace.
It's a vibrant lively east coast city that really is beautiful.
Stay Here: Boutique Hotel Check Rates: Airbnb.com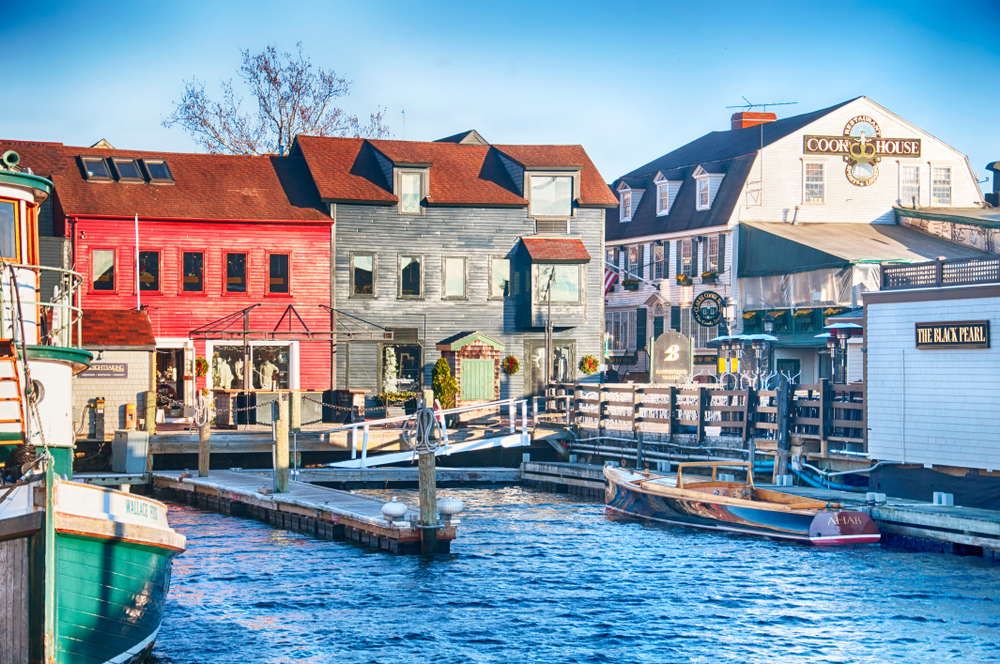 Bar Harbor, Maine
Close to Acadia National Park, Bar Harbor is one of those towns on the east coast that deserves a closer look. It is on Mount Desert Island along Maine's Frenchman Bay. Many see it as a gateway to the mountains of the national park but it has far more to offer.
The authentic and friendly atmosphere makes you feel at home and the slow pace and stunning coastal scenery are a welcome retreat.
Make sure while here that you catch the sunrise from the shore path at Agamond Park, it's stunning. And take a boat or a whale watching tour, the area around here is beautiful, and the best way to see it is from the sea.
Stay Here: Sunset Studio Check Rates: Airbnb.com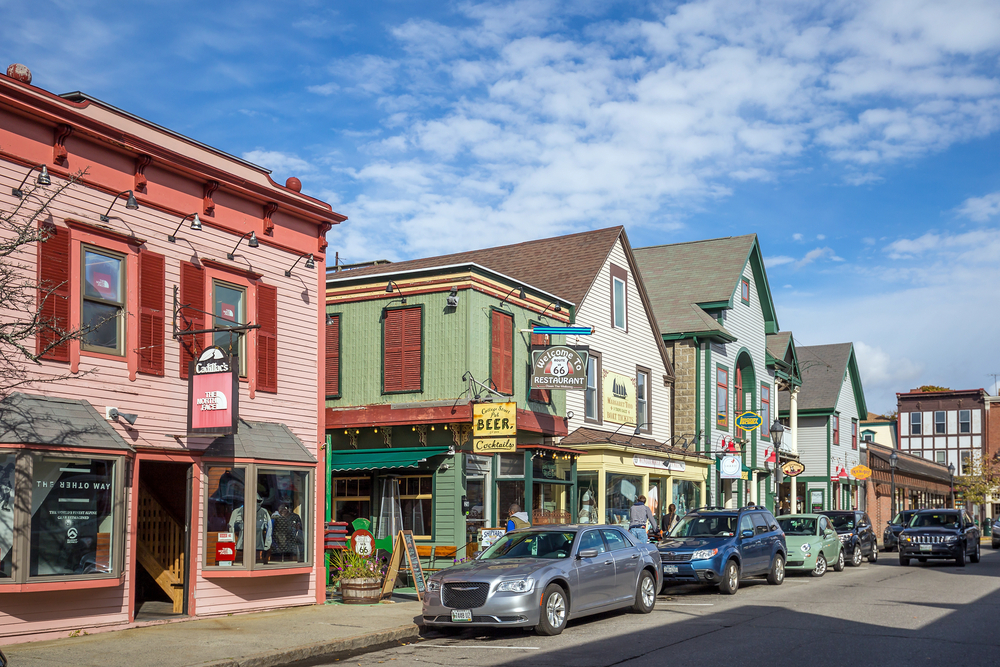 Provincetown, Massachusetts
At the northern tip of Cape Cod, Massachusetts this seaside town was the site of the Mayflower's landing in 1620. The population is just under 3000 growing to over 60,000 in summer so this is one of the popular towns on the east coast.
Provincetown is also on the US National Seashore and is America's favorite beach town. It's always being alternative attracting fringe writers and artists in the past and today is known as a great LGBT destination.
There are beautiful vast beaches, a rugged coastline, charming guesthouses, and lots of unique shops and restaurants to explore. It's rich creative history seep into every bone of this place.
The small fishing town allure mixes with the more modern making Povinctown well worth a visit any time of year.
Stay Here: Cottage Check Rates: Airbnb.com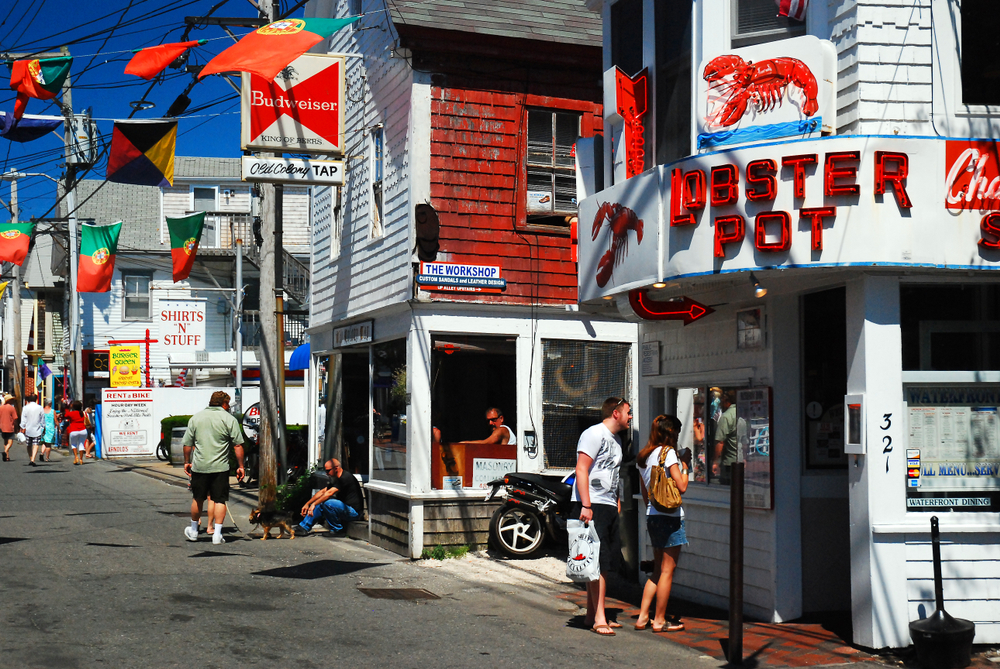 Kennebunkport, Maine
Historically a shipbuilding and fishing village Kennebunkport is one of the most popular summer getaway towns on the east coast.
Known for its friendly atmospheres and tranquil beaches this town is a slice of New England heaven.
The town revolves around the water so the best way to experience its vibe is to take a boat tour and visit Nubble Lighthouse.
Other things to do include a visit to The Seashore Trolley Museum, St. Ann's Episcopal Church, and the 1833 Goat Island Lighthouse.
Stay Here: The Nest Check Rates: Airbnb.com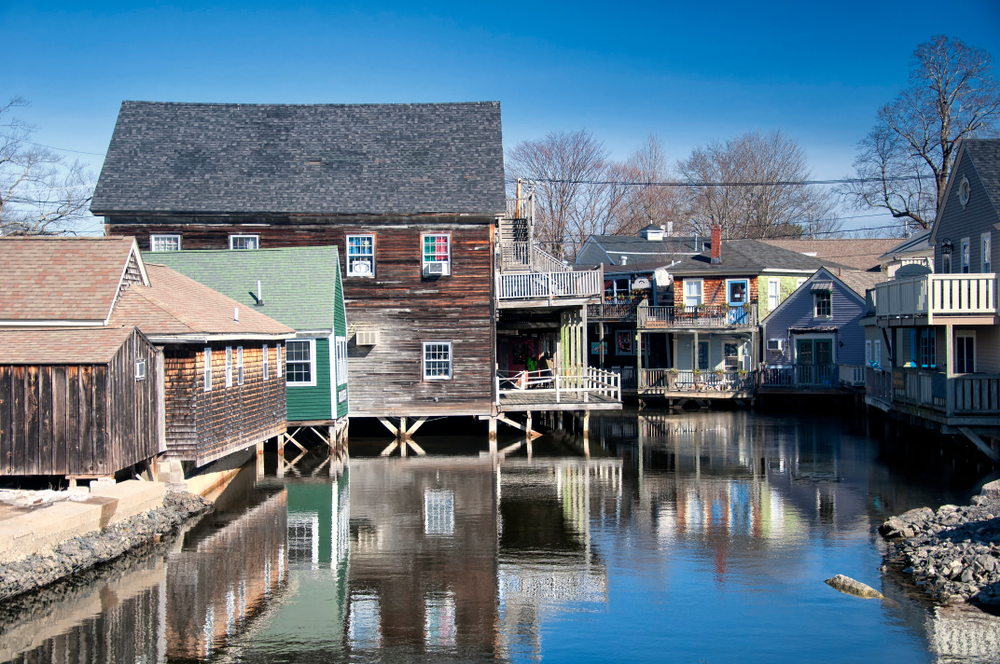 Lake George, New York
Lake George sits on the shores of Lake George surrounded by the beautiful Adirondack region of mountains. It's an east coast town that we guarantee you will love.
Known as the "Queen of the American Lakes," Lake George has welcomed tourists for over two centuries. Named one of the top 10 places to visit by MONEY's Best in Travel guide One of the cleanest and most beautiful lakes in the country Lake George really does wow.
In the summer it becomes a bustling town as people flocked to Million Dollar Beach. In winter it transforms into a winter wonderland with ice skating rinks and ice fishing hotspots, and skiing and snowboarding on nearby trails.
The town is touristy but the lake and boat rides are beautiful. For an amazing view drive up The Prospect Mountain Veterans Memorial Highway. You can see for miles and really take in the beauty of the area.
This is one of the towns on the east coast that shows off the best that up-state New York has to offer.
Stay Here: Cabin on Dream Lake Check Rates: Airbnb.com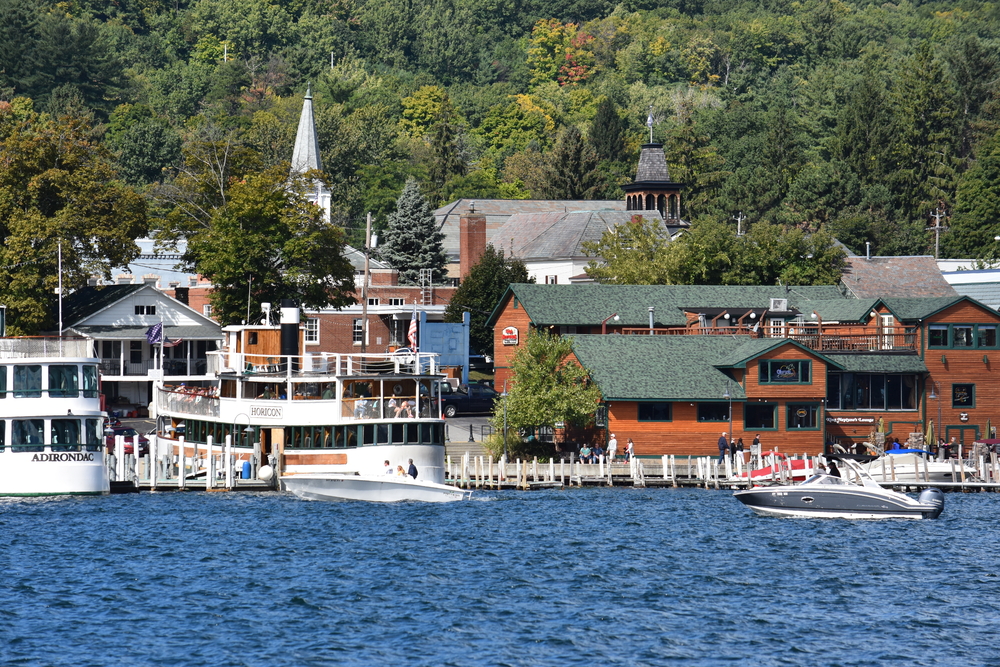 As you can see there are so many towns on the east coast to visit. From east coast cities to places that top the best places to live on the east coast. There really is something for everyone. If you visit any please let us know we would love to know how your trip went. Whichever you choose we know you will have an amazing trip.
You might also be interested in The Ultimate East Coast Road Trip Itinerary