Your Hawaii honeymoon is the dreamy beginning to a lifetime of wedded bliss. Romantic beach sunsets paired with the exotic tropic cannot help but set you up for an amazing experience. Your Relationship To-Do List already has the most important checks (Step 1: Find your person. Step 2: Get them to put a ring on it.), now let us help you with Step 3: Plan the ultimate Hawaii honeymoon. Now, we know that your relationship has taken a lot more than just a couple of steps, and we are so happy that your hard work has paid off! Congratulations! That is why we put this guide together–so that you can kick your heels up and take things a little easier for a bit.
And seriously, what better place to take things easy than Hawaii?! Even if you are hiking the challenging Kalalau Trail in Kauai (more on that later!), Hawaii has a way of making you feel like you are always just a few steps away from relaxing at the beach. Get ready for some sun, sand, and the most romantic adventure of your lifetime. Whichever island you stay on, we have found the best things to do and the greatest places to stay. Like your soulmate and your marriage, your Hawaii honeymoon is going to be totally awesome.
How to Plan the Ultimate Hawaii Honeymoon
When to Honeymoon in Hawaii
Hawaii is beautiful and classic year-round, but if you want the least problematic weather possible come in April or May. Of course, you probably are not going to plan your life and wedding around Hawaii's schedule (nor should you!) and that is fine. Just know what you are in for and understand there are plenty of fun things to do in Hawaii all year round!
Winter in Hawaii is lacking in hurricanes, but plentiful in rain. The summer and autumn months are technically hurricane season, but hurricanes are decently infrequent. It is something to be aware of as you plan so that you can keep track of the weather, but not something to stop you from taking your honeymoon in Hawaii whenever you want to take it.
And November is the least busy and touristy (read: less expensive) so there are definitely benefits to coming later in the year. You just need to weigh the pros and cons when choosing the best time of year to visit Hawaii!

Which Island to Pick for Your Hawaii Honeymoon
Hawaii offers a broad range of ways to enjoy your Hawaii honeymoon and has something for everyone. That is why it is such a go-to for honeymoons–it is basically impossible to leave this place unhappy. It is only natural that so many people choose to honeymoon in Hawaii. Part of the reason why there are so many options is that there are so many islands.
Maui and Oahu offer more of an urban, city setting, with many amenities within a short distance from wherever you stay. If you are looking to visit the Dole Plantation and sample some authentic Dole Whip, then Oahu is the island for you!
Kauai and Hawaii (often referred to as the Big Island) are more of the explorer's islands. And then you go swimming with manta rays in Kona!
The island of Hawaii also offers a lot of variety like Maui and Oahu. And then there is little Lanai, offering less variety but more of an otherworldly experience.
It goes without saying that you are more than welcome to spend the entirety of your Hawaii honeymoon on a beach in a loose and carefree escape. If that is your plan, you may still want to glance through the activities we list for each island.
You never know, there just might be something worthwhile enough to tempt you away from your beach escape. We have mapped out the best activities and the best places to stay for each island so that you can make a more informed decision on where you want to stay.
Maui Honeymoon
Maui is a great island to choose for your Hawaii honeymoon because it offers everything you could want in one place. Whether you love the great outdoors or prefer more of a cozy day in, Maui has what you need. Wherever you stay (we have some great recommendations below!) there will be spas, beaches, shops, and adventures all within walking distance. Maui also has some places that are more than worth a bit of a drive. You will never feel like there is nothing to do if you do your Hawaii honeymoon in Maui. It is also one of the best places for luxury hotels in Hawaii!
Things to Do in Maui
Couple's Massage
You are going on your honeymoon in Hawaii. Your honeymoon! In Hawaii! How can you not go for a couple's massage with your new spouse? For a lux experience that you will feel for days try the Spa Grande in Wailea. For an equally amazing massage that will eat less of your wallet, try the Wailea Massage & Body Care. Both spas have great couples packages that will blow you away and calm your every wedding-jangled nerve. Weddings are fun, and they also take a ton of work. Start your honeymoon with the massage of a lifetime.
Mini Roadtrip to Hana
Hana is a little town in Maui just off the beaten path. All of our recommended Maui places to stay are in Wailea, which is a three-hour drive from Hana if you drive straight through.
We recommend that you do not drive it straight through, but rather take your time and enjoy the many road to Hana stops along the way.
Classic stops include the hike to Twin Falls, the Garden of Eden Arboretum, and the Hana Lava Tube. There are so many more unique and beautiful things to see, those are just some of our favorites. You can drive it yourself or take a tour so you can spend more time staring into your lover's eyes.
Visit the Seven Sacred Pools
On your way to Hana, stop at the Seven Sacred Pools. You can even camp here overnight if you would like to! It is a paradisical place worth as much time as you can afford to spend. Getting to the pools involves a short hike through a bamboo forest that is just as beautiful as the pools themselves. We do advise coming earlier rather than later if you are not going to spend the night. The Seven Sacred Pools get busier and more crowded as the day goes on, and the road to them is a little tricky after dark. If you don't want to spend hours driving back to your hotel or resort in the dark, come in the early or late morning.
Sunset Cruise
Maui takes Hawaiian sunsets (and your Hawaii honeymoon!) to a whole new level with Adventure Sunset Sail. It is one of the absolute best experiences available that requires minimal effort. There is no hiking here, or long strenuous walks. No, settle in for a comfortable two hours of sailing with the songs of dolphins and whales to lull you into an awe-struck serenity. Not to mention the open bar, available menu, and sunset toast! You will have plenty of evenings to experience the Maui sunset from the beach. Do yourself and your lover a favor, and take the opportunity to see it on the ocean.
Sunrise at Mt. Haleakala
Mt. Haleakala in Maui offers incredible views of the island and is well known for its glorious sunrise possibilities. Even though it is a mountain, never fear, you actually drive to the summit of this one instead of hiking your way up. You can even use the same pass for it as at the Seven Sacred Pools, as long as you visit the two stops within three days of each other. Feel free to sleep in every single morning of your Hawaii honeymoon except the day you put aside for Mt. Haleakala. Trust us, it is worth the lack of sleep to see the sun's golden rays unfold on the ancient crater below from the summit above.
Places to Honeymoon in Maui
Affordable: Maui Vista 2220 Check Rates:  booking.com
Mid-Range:  Wailea Elua Village Check Rates:  booking.com | hotels.com
Upscale: Four Seasons Resort Maui at Wailea Check Rates: booking.com | hotels.com
Upscale: Wailea Beach Villas Check Rates: booking.com | hotels.com
Oahu Honeymoon
Oahu is the Hawaii honeymoon for urban comfort. Like Maui, everything you need will be at your fingertips. Oahu has no shortage of shops, resorts, beaches, and waves. If you do not have very much time for your honeymoon in Hawaii, Oahu is a great place to go because you will have access to so many different things.
Oahu is also the easiest island to get to with Hawaii's biggest airport in the capital city of Honolulu. Basically, we are telling you that if you want an easy, no experiences barred, hassle-free honeymoon, go to Oahu. It is also home to some of the best luxury hotels in the USA!
Things to Do in Oahu
Visit the Shops
Head to Waikiki for all the shops your heart could desire. This is the place to find the souvenirs that you will keep on display for years to come to remind you of your marriage's beautiful start on your Hawaii honeymoon. From your more traditional souvenirs to high-end finds, Waikiki has your back. If you really just want to Netflix and chill (married life is stellar, and also humorously similar to life before marriage) at your hotel or resort, do not worry. Honolulu has its fair share of fun shops so that you barely have to take a few steps outside.
Check Out Waikiki Beach
You will have to take more than a few steps outside to visit Waikiki Beach, but it is worth it. Waikiki Beach also has some fun, and more traditional, shops. This warm sandy location also has a fun nightlife with a range of restaurants and bars to check out. Waikiki Beach should top your Oahu bucket list as the famous beach doesn't disappoint!
You and your lover can try some traditional Hawaiian cuisine, something more familiar, or something more foreign all on Waikiki Beach. Sit and watch the waves, enjoy some time in the water, and take it all in. Oahu is an urban paradise, and Waikiki Beach is its playground. Don't forget to check out some of the best Waikiki Hotels to stay for your honeymoon!
Hike Manoa Falls
We know, we know, the whole point of honeymooning in Oahu is the convenience of it. Not to say it is not remarkable and amazing in its own right because it definitely is. And if you want to check out some of the natural beauty while you are taking it easy, Manoa Falls offers a very short and not challenging hike of 0.8 miles. It will most likely be muddy, but still very do-able. In the end, you are rewarded with the stunning Manoa Falls. Views like this one usually require a lot more sweat and sore muscles. Even if you do not like hiking, Manoa Falls is still worth considering.
Experience a Luau
Hawaii is famous for its luaus. They are the iconic Hawaiian celebration and are traditionally used to celebrate life's stages. How appropriate then to go to one during your Hawaii honeymoon! There are endless opportunities to experience a Luau in Maui. Waikiki Beach has its own luau that you can participate in while you are there, but there are so many others going on every night.
Here, you will get to experience some of the best food in Hawaii!
Traditional Luau activities include eating great food, watching amazing performers, and listening to music that is reminiscent of centuries of Hawaiian influence.
Sightsee in Kualoa Ranch
Kualoa Ranch is famous for many movies which have been filmed there. You can actually take a tour of the different film locations within Kualoa Ranch. If that is not exactly your idea of a romantic afternoon, that is fine. Kualoa Ranch still has something for you. They actually offer an ATV tour, as well as a 49-passenger catamaran tour, which take you through picturesque valleys and the Kaneohe Bay. It just might be the easiest sight-seeing tour you ever take, with striking views you will never forget.
Places to Honeymoon in Oahu
Affordable: Hampton Inn & Suites Oahu Check Rates:  booking.com | hotels.com
Mid-Range: Real Select Vacations at The Ritz-Carlton Residences Check Rates: booking.com | hotels.com
Upscale: Four Seasons Resort Oahu Check Rates: booking.com | hotels.com
Kauai Honeymoon
Kauai is the Hawaii honeymoon for those who would rather hike all day every day than spend so much as a single afternoon exploring the shops of Oahu. If your love for adventure is almost as big as your love for your new spouse, Kauai is the honeymoon location you are looking for. For a little island, there are endless opportunities to traverse and explore. And, because it is smaller and less developed than many of the other Hawaiian islands, Kauai is also less packed. It definitely has a reputation for its tropical beauty that still draws plenty of visitors–you will not be
alone by any means. But you might not have to compete quite as much for space on the road.
Things to Do in Kauai
Go Kayaking
Of course, Kauai has easy access to the ocean, but honeymoon here and you will also have easy access to rivers and waterfalls. A two-seat kayak is an excellent mode of transportation for you and your lover to get all the water exploration your hearts desire. If this sounds like a dream, we recommend kayaking the Huleia River. It is packed with waterfalls and wildlife. There are also kayak tour companies that offer all kinds of tours. Kayaking offers the opportunity to see the island in a way you just cannot from the land.
Visit Waimea Canyon and Kokee State Park
Welcome to Hawaii's version of the Grand Canyon. In what place can you both spend time on a beach and visit an exceptional national park on the same day? Oh, that's right, Kauai!
Whether you drive through or hike along the many trails, a trip to Waimea Canyon and Kokee State Park is sure to blow your mind in the best way possible. Due to the variety of hikes and adventures available, you can spend as much or as little time here as you like. It is definitely worth visiting during your Hawaii Honeymoon and is one of the best things to do in Kauai!
Venture to Hanalei Bay
Hanalei Bay is everything you imagine when you think of a Hawaiian beach. With two miles of the beach itself, and the lush green mountains standing beautifully resolute in the background… You will not be able to help the sigh of awe that escapes you when you see it. And while gaping in awe-struck wonder is certainly a popular activity at Hanalei Bay, the bay also offers many other experiences. Go sailing, swimming, and/or paddleboarding in this pristine setting.
Hike Awaawapuhi Trail
Are there any hikes more epic than ridge hikes? Awaawapuhi trail is located in the Kokee State Park, and if you stick to the trail it is not too challenging. Kauai certainly has much more difficult trails than this. Awaawapuhi is a good one for your honeymoon because it will not take all day to do it. It is actually a hike down, rather than up (although it will be up when you are on your way back, so save your snacks and save your strength). Awaawapuhi trail gives panoramic views of the cliffs and the ocean, and is one of the more unique adventures available in Kauai.
Take a Helicopter Tour
The thing about wild places is that they do not tend to stay wild if people can access them easily. Kauai is a wild, wild place. That means that you really cannot get to or explore most of it. Exceeeeeeeept (drum roll please) by helicopter. Kauai has many options for helicopter tours; the thing you are going to want to look out for is if they will take you by the Manawaiopuna Falls, otherwise known as the Jurassic Falls. They are absolutely stunning and only accessible via helicopter.
Places to Honeymoon in Kauai
Affordable: Kauai Shores Hotel Check Rates:  booking.com | hotels.com
Mid-Range: Kauai Marriott Resort Check Rates: booking.com | hotels.com
Upscale: Hanalei Colony Resort Check Rates: booking.com | hotels.com
Hawaii (The Big Island) Honeymoon
The island of Hawaii is a good mix of the variety of Oahu and Maui with the excitement of Kauai. Often referred to as "the Big Island", Hawaii is definitely bigger than the others, and as such offers urban experiences as well as more remote adventures. Want to stay in at your five-star resort all day, with short ventures to the beach because Hawaii? Do that here. Want to explore lava tubes and waterfalls? You can do that here too. You can even golf if you honeymoon in Hawaii! There is really no end to the opportunities on the Big Island.
Things to Do in Hawaii
Go Snorkeling
Sure, there are plenty of beachy places to go snorkeling in the world. But how many are there where you get to go diving with manta rays?! Not as many folks, not near as many. So take advantage of the opportunity during your Hawaii honeymoon. Even if manta rays are not your thing, there is plenty of the average snorkeling to go around. Bring your own gear or rent it–if you stay at a resort they might even provide it. There are some great snorkeling excursions available on the Big Island.
Go to the Beach!
How has this not made it into our lists of things to do yet? It might seem obvious, but we are telling you, Hawaii is the place to go for beaches. We actually recommend this for the island of Hawaii because the beaches are a little less traditional than most. There is plenty of sand to go around, but there are less beaches here than you might expect. And they are colorful! Go to Kauna'oa Beach or Hāpuna Beach for your regular white sand, Punalu'u Beach for black sand, and Papakōlea for green sand.
Witness Lava Flows
For those of you who are less nerdy than some, lava is the active, hot, red stuff above the earth's surface. (Magma is the active, hot, molten stuff below the surface.) That is right, you can go check out an active flow of Lava. When we said the Big Island has adventure we were not joking. That being said, don't be dumb. You can definitely go by yourself to view the lava flows, but we recommend going with a guide or on a guided tour. Your honeymoon is not the place to get the most epic third-degree burn of your life. It just isn't. But it is the place to experience something you will never forget that you can brag about to all the relatives.
Visit a Volcano
Why not go directly to the source? The Big Island has a national park dedicated to volcanoes–the Hawaii Volcanoes National Park. Within this awesome park lies the Kīlauea volcano, which is currently also Hawaii's most active volcano. Hawaiian volcanoes tend to be slow-moving and predictable, making this excursion a little less crazy. You do not have to mention that when you tell people about it though. Just tell them you went to Hawaii's most active volcano and you will have mad respect for life.
Check Out the Hawaii Tropical Botanical Garden
For something a little tamer than volcanoes, visit the Hawaii Tropical Botanical Garden. It is a garden, and a preserve. With 40 acres, there is plenty of room for the 2,000+ species that grow here. Meander through to see the plants in all their vegetative wonder, as well as to see the streams and waterfalls inside this beautiful sanctuary. You and your lover can walk hand in hand as you view some of the most exotic and tropical beauty you can see.
Places to Honeymoon in Hawaii
Affordable: Ocean Tower by Hilton Grand Vacations Check Rates:  booking.com | hotels.com
Mid-Range: Fairmont Orchid Check Rates: booking.com
Upscale: Four Seasons Resort Hualalai Check Rates: booking.com
Lanai Honeymoon
Relaxation, Short time frame, remote
Lanai is smaller than the other islands, and definitely has more of a remote, secluded feeling to it. If you want to feel like you have truly escaped from the mundaneness of regular day-to-day life, Lanai is the place to come. It is also a great Hawaii honeymoon location if you do not have a long time to stay. You will not be tempted by a never-ending supply of things to do. Not to say that there is not plenty to do. We are just saying that Lanai makes it easy to disconnect from the outside world and connect with your lover.
Things to Do in Lanai
Visit Hulopoe Bay
Hulopoe Bay is the perfect place to luxuriate in your new marriage with your wonderful and lovely new spouse. Bathe in the sun year-round here. You cannot swim in the winter because the waves are too high, but can in the summer. If you honeymoon here in the summer, it is also a great place to go snorkeling. And in the winter you just might see some dolphins and whales! This is the classic Hawaiian beach, with nothing but peace and relaxation waiting for you.
Check Out the Garden of the Gods
Imagine the exact opposite of what you expect anything in Hawaii to look like. Dry, barren, wasteland-ish… Add some rocks and some orange sand and you have the Garden of the Gods. People liken it to Mars. You may think that it does not sound like something very romantic, but come at sunset. The sky's pink and purple lights as the sun goes down play out on the rocks in a remarkable concord of unexpected harmony. It is unlike anything you have ever seen, and worth a visit.
Ride the Munro Trail
See all the Hawaiian islands when you travel the Munro Trail. You can hike, bike, or use a jeep to see the views available here. It is 12.8 miles, so keep that in mind when you consider what method of travel to use. Even if it is not a clear enough day to see all the islands, you will still be able to see and explore Lanai's forest and canyon. Catch views of the ocean, and witness the highest mountain peak of this little island.
Spend Some Time at the Lanai Culture and Heritage Center
The Lanai Culture and Heritage Center is not very big, but it packs a solid historical punch. Learn about the history of the Hawaiian islands, as well as Lanai's specific culture and past. You will not need to spend very much time here (it is not big enough to do that!), but you will come away with a lot more knowledge than you had before. And besides all the learning opportunities, the location is simply stunning. It is in the old Dole Administration Building from before the Dole pineapple plantation was closed. Everything around it is lush and green and beautiful.
Places to Honeymoon in Lanai
Mid-Range: Hotel Lanai Check Rates: booking.com
Upscale: Four Seasons Resort Lana'i at Manele Bay Check Rates: booking.com | hotels.com
What to Pack for Hawaii
#1. Reusable Filtered Water Bottle
We always recommend this one. A great way to add some ease to your Hawaii honeymoon is to bring a reusable filtered water bottle with you. Save the planet, save the ocean, and save your wallet. Trust us on this one–bring yourself a water bottle. It is so much easier and less expensive to carry water with you than to try to find it while you are out adventuring.
#2. Add A Poncho Instead Of An Umbrella
Looking to save space but still stay dry when choosing what to wear? Add a poncho to your packing list instead of a travel umbrella! Unless you are outfitted in a waterproof jacket, pants, and shoes, you are going to need something to stay dry in the event of a tropical storm. Whichever island you stay on, it's an island–there will be rain and there will be waterfalls, and you will get wet.
A poncho folds up teeny tiny in your suitcase and is easy to throw into a backpack when you're are sightseeing. It is quick to whip out and put on and keeps you more covered than an umbrella. When considering what to wear in Hawaii, make sure you pick a poncho that is made of quality material so it doesn't rip when you put it on. This is cheap but necessary to bring on your honeymoon in Hawaii.
#3. Portable Power Bank So You Can Keep Going Strong
Whether you use your phone camera or you're more high tech, it is always useful to carry something to recharge when an outlet is nowhere in sight. If you plan to stay in for the entirety of your honeymoon in Hawaii, then this one might not be as necessary. But, if you plan on going out and adventuring, bring a portable power bank. They are small, lightweight, and worth the space they will take up in your purse or pockets.
#4. Action Camera for All Your Unforgettable Moments
If you are going on your honeymoon in Hawaii, then you know you will be doing some amazing things. Your memories will last a lifetime, but there is no harm in taking some video to help remember things a little better! And lucky for you, cameras are kind of (read: very much) our thing. We have a couple of articles you can check out to learn more: the 5 Best GoPro Dome Ports and How to Use Them, and the 11 Best GoPro Alternatives That Won't Break the Bank.
#5. Underwater Case for Your Action Camera
If you're going to bring an action camera to your Hawaii honeymoon (and we recommend that you do!), do yourself a solid and bring an underwater case for it. We recommend this case for over-under water shots and for snorkeling and/or swimming in shallow water. If you are all about that deep water diving, we recommend this case instead. Of course, why not come prepared and bring both?!
Getting to Hawaii
Hawaii's main airport is in the capital city of Honolulu in Oahu. That being said, most of the other islands have their own airports. You can fly to Honolulu and then to a different island, or directly to the island in question. However, the flights to Honolulu tend to be the least expensive. If convenience is not one of your top priorities, you could save yourself some money by flying first to Honolulu and then to one of the other islands if you are not honeymooning in Oahu.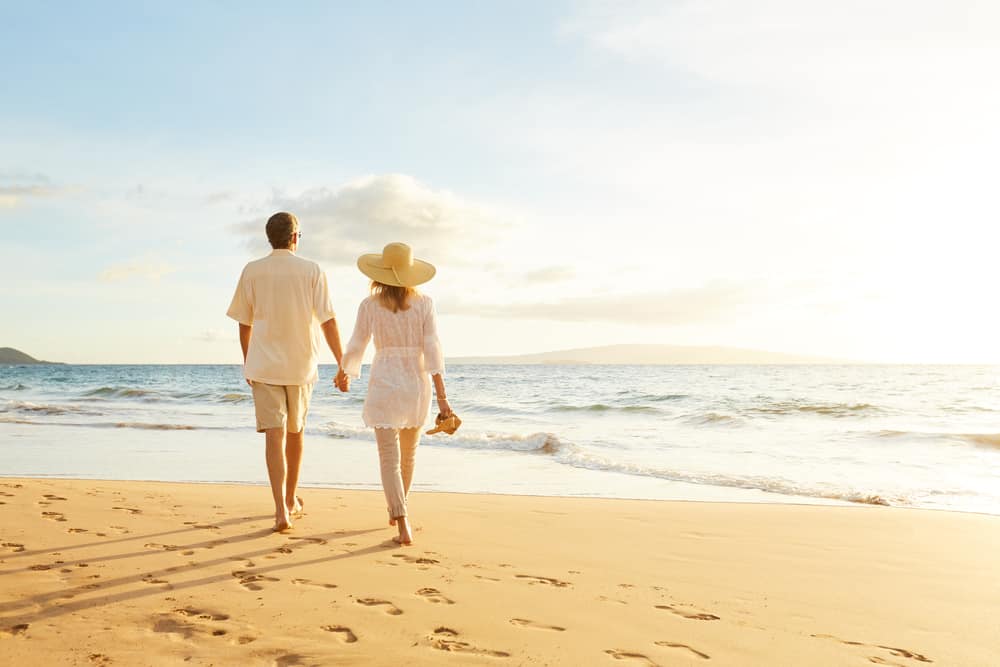 We hope we have been helpful in planning your Hawaii honeymoon. Congratulations on your marriage, and on being able to honeymoon in one of the most beautiful places on earth. Please let us know if you visit any of the places we have listed, and what your experience was. We wish you the best honeymoon in Hawaii possible!