When planning a vacation in Hawaii, vacation rentals in Kauai offer some of the best places to stay! Kauai is Hawaii's fourth-largest island and known as the Garden Island. It's easy to see why with it's seemingly endless lush green valleys, picture-perfect mountain peaks, and endless jagged cliffs.
This list includes the best Kauai VRBOs to immerse yourself in all of the gorgeous landscape with the best views and access to some of the most popular and secluded beaches.
When you find one you love, use our Hawaii packing list to make sure you have all the essentials for a memorable vacation.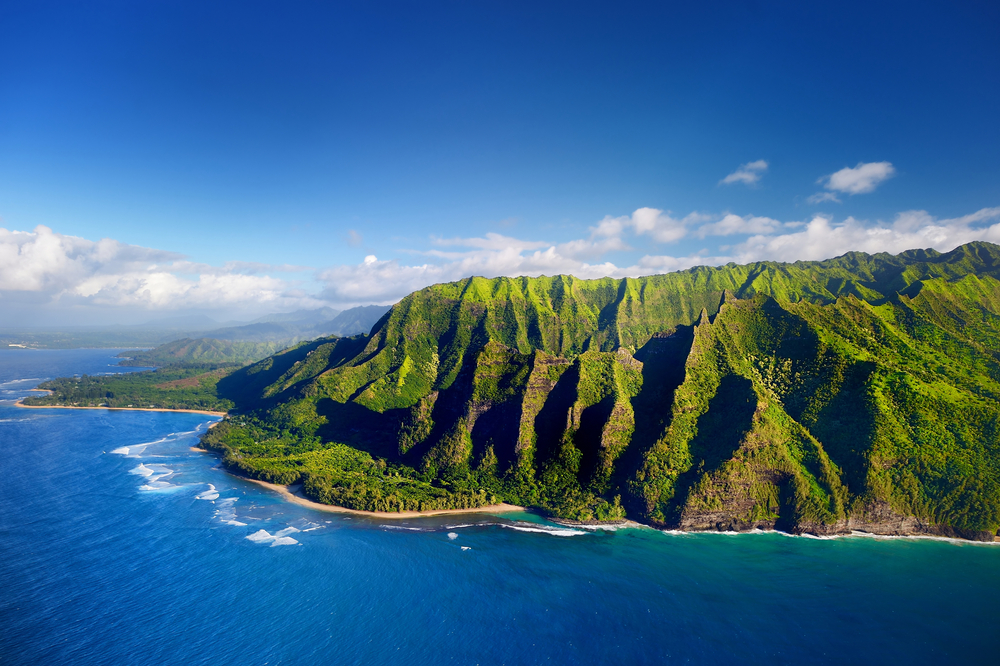 14 Best Airbnbs In Kauai (Bungalows, Estates And More!)
Beautiful waterfront house w/ garden & porch – walk to the beach
This beautiful waterfront home is the best VRBO in Hanalei Bay. Located right in the heart of Hanalei, this home puts you in the middle of everything the amazing city has to offer.
The wrap-around porch brings you incredible mountain and ocean views, perfect for watching whales and surfers in the winter and sailboats at sunset in the summer. Outside you can also enjoy the beautiful garden and take a snooze in the hammock.
This bright and stylish home has 2 bedrooms with handcrafted exotic wood beds and 2 bathrooms with rain showers. The high vaulted ceilings give the living areas a very spacious and open feel. It has an upstairs loft with 2 twin beds for a perfect space for kids, or you can turn it into one king bed for a couple.
Click Here To Check Rates At VRBO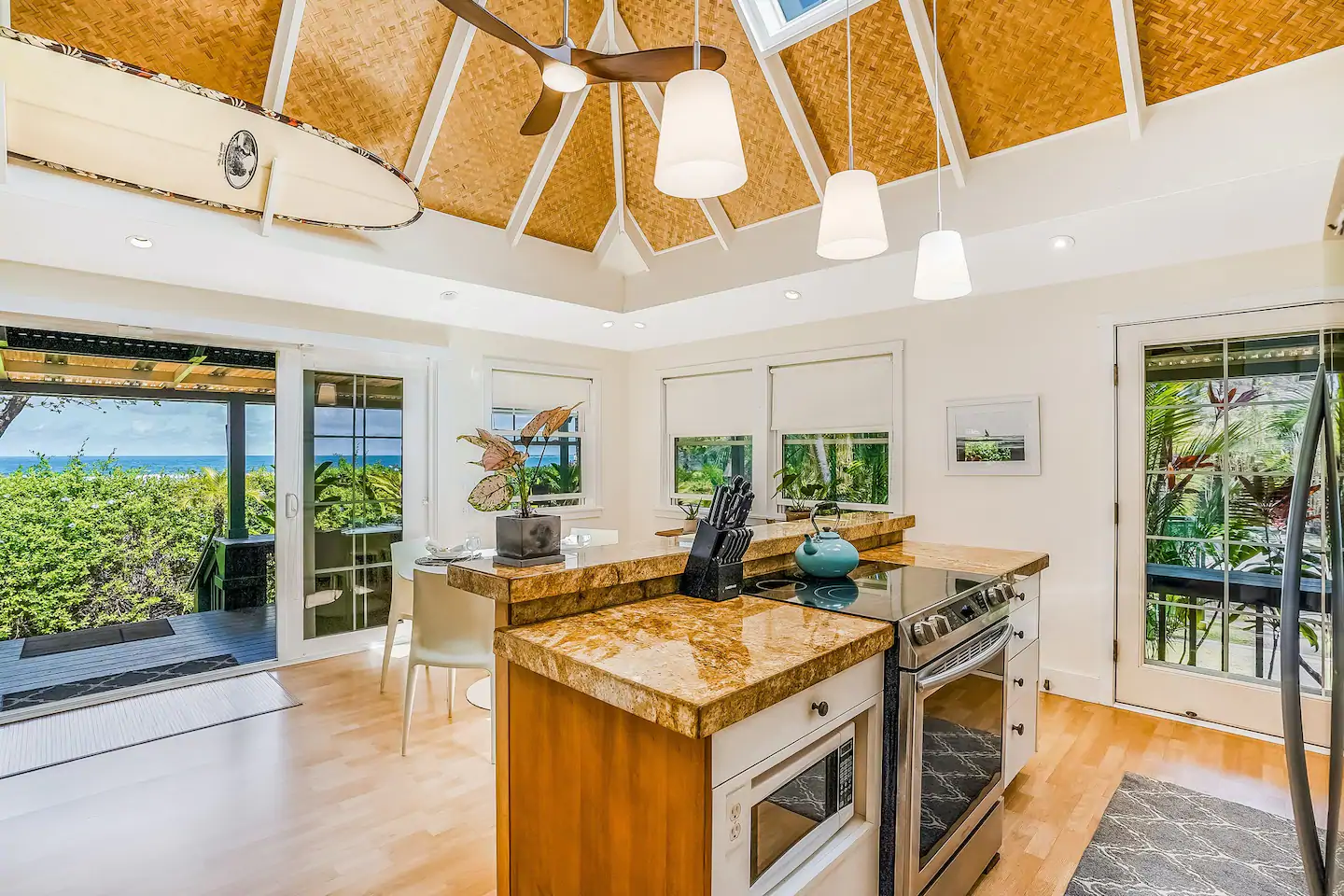 Oceanfront Luxury Penthouse In Princeville
Wake up to stunning panoramic views of the Bali Hai coastline in this penthouse VRBO. This is a top VRBO in Princeville featuring a gorgeous picture window the living room for the very best panoramic views of the ocean.
The space offers a living room, a huge deck, a well-sized dining room, 2 bedrooms, 2 bathrooms, and a full kitchen, so it's perfect for a family to comfortably stay or a few friends looking for a getaway.
You can enjoy dinner or just relax on the spacious balcony with the ocean breeze and the sounds of crashing waves. The building sits within a neighborhood atop a bluff overlooking Hideaways Reef and offers a 2-mile scenic walking path and swimming pool. You'll also be just a short drive to Hanalei Bay, sightseeing, Tunnels Beach, snorkeling, and enjoy more local treats along the way.
Click Here To Check Rates At VRBO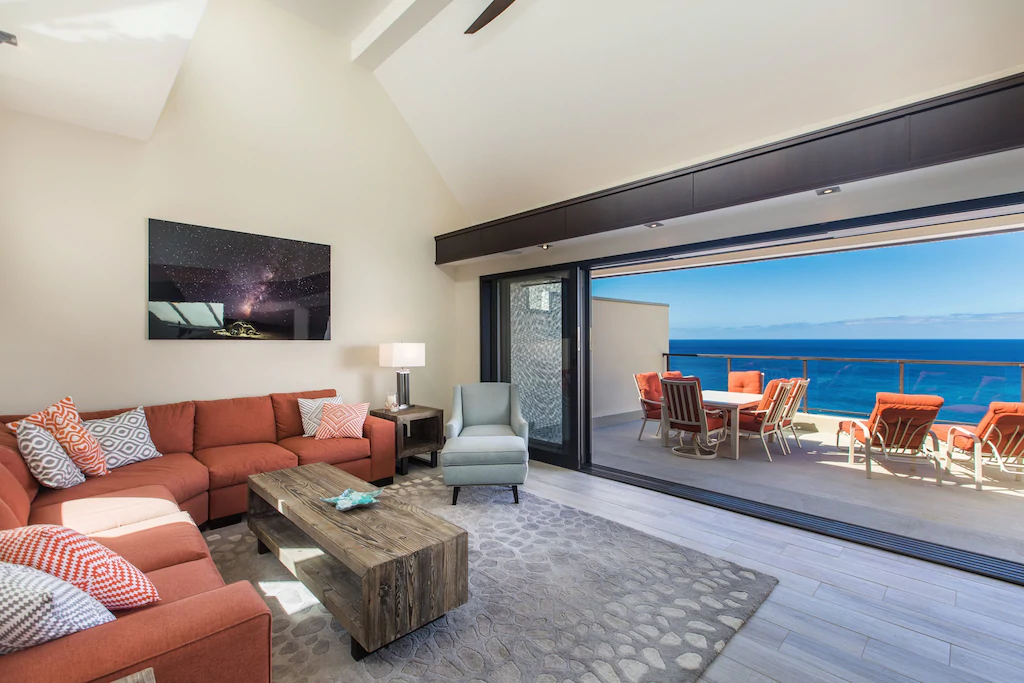 Moana Kai Beach House Ocean Front
This oceanfront home in Kapaa is one of the most gorgeous Kauai vacation rentals you can find. Its best feature is the stone landscaped custom pool that makes it feel like you have your own little ocean oasis all to yourself, plus you're just steps away from the beach and surfing.
The home offers beach access for fun in the sun during the day and a jacuzzi on the back lanai for unwinding at night. You can also explore the city with the 5-mile oceanfront path that'll bring you to plenty of shopping and restaurant hot spots. This location is great for a genuine Hawaiian experience.
This will be one of the best Airbnbs in Kapaa you can find with 3 bedrooms and enough space to sleep up to 8 people. It's great for traveling Kauai with family or planning a getaway with a few couples. There's a large kitchen to prepare all of your meals, which overlooks the spacious great room with a huge sliding glass door for the best ocean views and outdoor dining.
Charming Nene Nest Cottage
If you're looking for cheaper Kauai vacation rentals that still offer a bit of luxury, here is your unicorn! This beautiful and crisp 2-bedroom Nene Nest Cottage is perfect for your Hawaiian vacation and offers competitive nightly rates without having a 30-day stay minimum. You'll get an entire (beautifully decorated) house for the price of some condos!
It's surrounded by the iconic lush green landscape that Kauai is known for and still close to beaches, restaurants, and other popular spots in Kekaha. The 900 sq. ft. villa is fully stocked to make your vacation as comfortable as possible with a fully equipped kitchen, luxurious pillowtop king bed, relaxing lanai, and a washer and dryer.
This top Kauai VRBO is also close to some of the longest white sand beaches in Hawaii, great restaurants, and shopping villages. This is one romantic stay!
Click Here To Check Rates At VRBO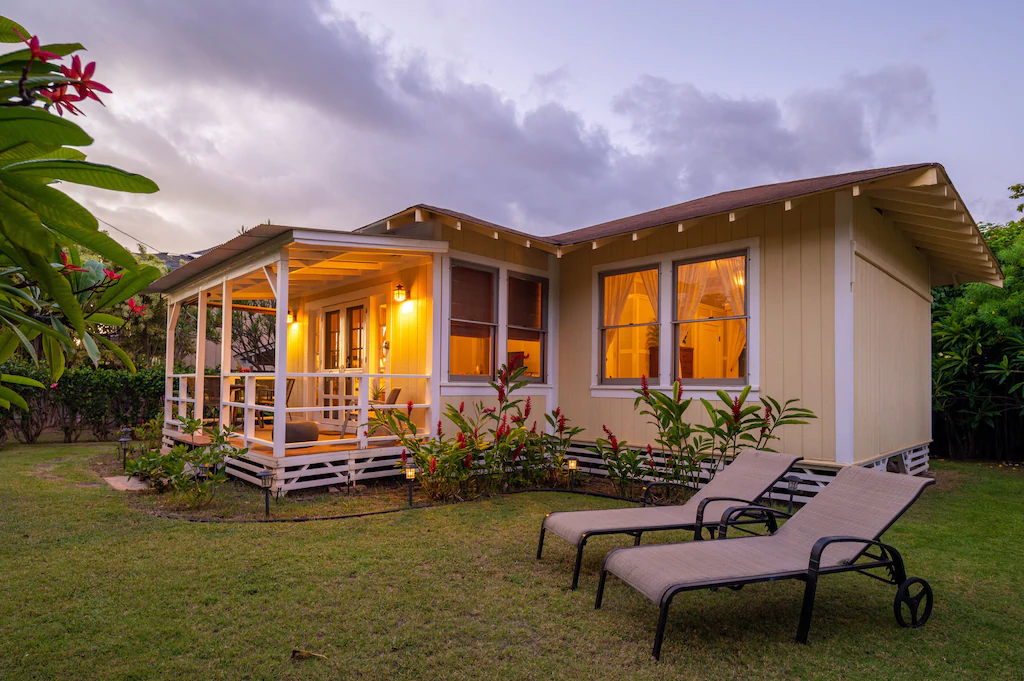 Dali Hale Estate On Secret Beach
The Dali Hale Estate is one of the best Kauai VRBOs available. If you are looking for a luxurious retreat to spend with your family or friends, this home is like having your own private resort.
The 6000 sq. ft. plantation is nestled into lush bluffs above Kauai's iconic North Shore coastline. This home brings you panoramic views of mountains and the ocean, best enjoyed from the pool terrace or huge wrap-around porch.
The pool resembles a resort complete with beach chairs and a large gazebo. If you'd like you can also head to the private courts for a game of tennis, or just simply take a nap in the outdoor daybed. With just a 5-minute walk you can be at the shore of the secluded Secret Beach and after a day in the waves, you can return to rise off in the outdoor showers.
Inside the home is filled with luxurious decor and finishes for the most comfortable stay including a huge kitchen, 7 bedrooms with 10 beds, nanny quarters with 2 twin beds, 7.5 spa-like bathrooms, and space for up to 12 guests.
Click Here To Check Rates At VRBO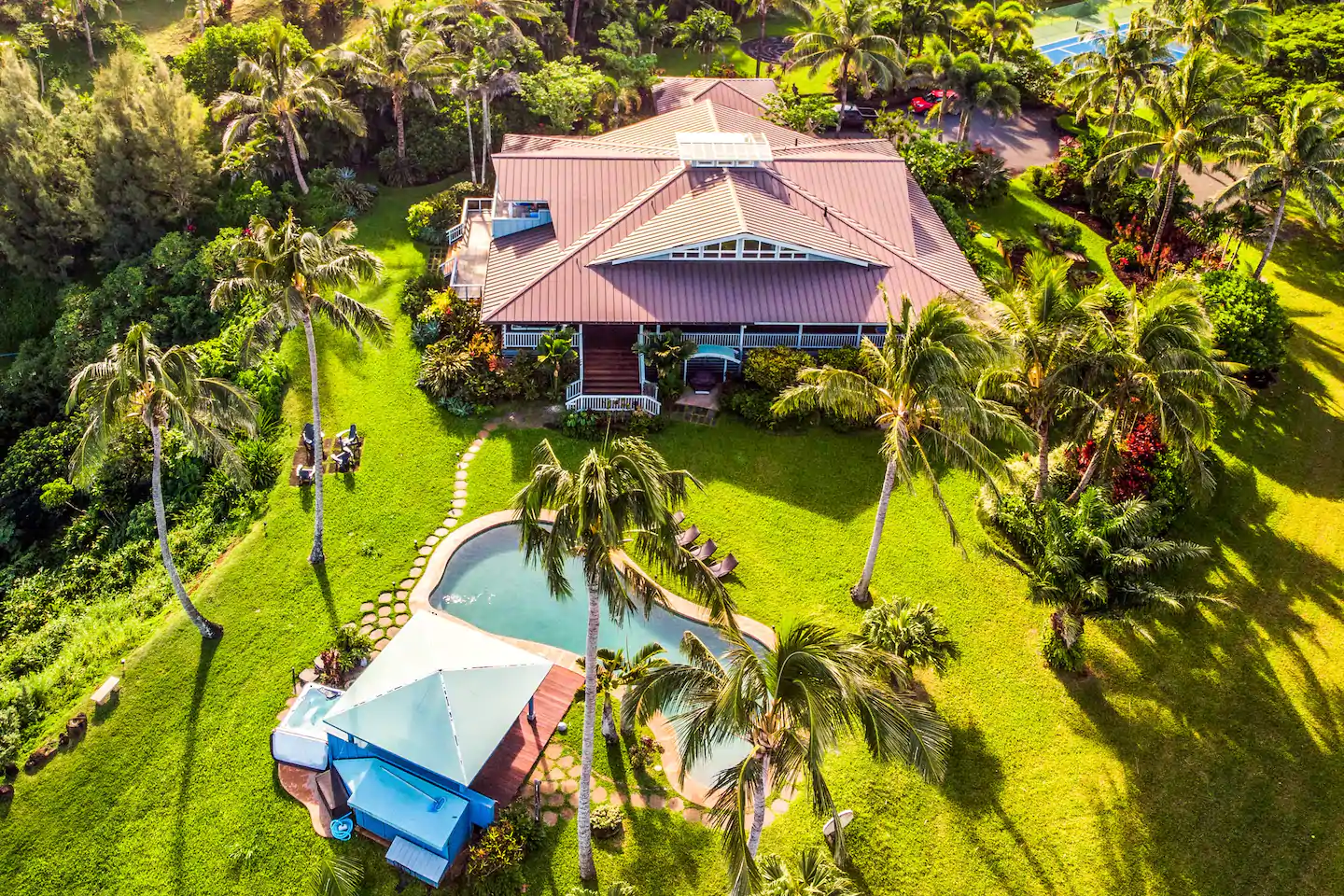 Old Hawaii Style Getaway
Cheap Kauai vacation rentals can be hard to find, but there are a few great options that offer a lot of bang for your buck. This condo VRBO in Koloa offers a beautiful garden view as a second-floor unit with close proximity to the beach. The historic Moir Gardens are directly below this unit.
This Kauai VRBO is located on the Kiahuna Plantation, which calls back visions of old Hawaii with 35 well-maintained acres. Orchid gardens, tropical lagoons, plumeria trees, and more can be found on the grounds.
The 640 sq. ft. condo is fully furnished with 1 bedroom, one bathroom, a living room, and a full, upgraded kitchen. You can take advantage of the property's beachside activity center where you can get complimentary chairs to use at the beach.
Click Here To Check Rates At VRBO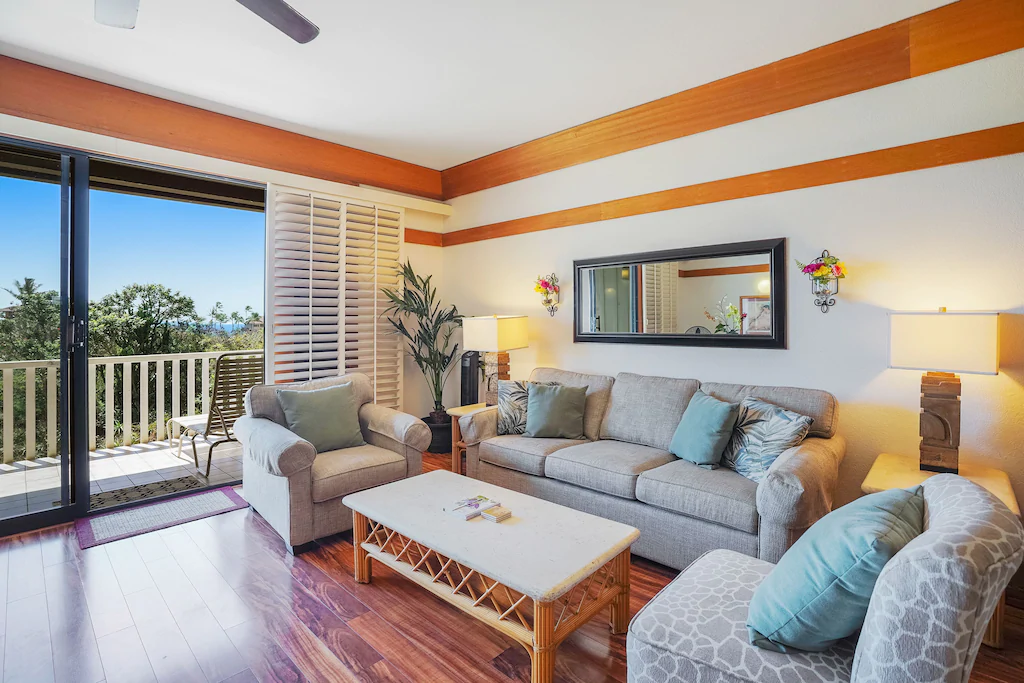 North Shore home – Hale Mana
Vacation rentals in Kauai North Shore are typically all about the ocean view, but this 3-acre multi-million dollar private estate is just as special inside as it is out.
Located on a high bluff, this gorgeous home has 360-degree views of the ocean, valley, mountains, and river. No matter which direction you look you'll find a view that showcases all of Kauai's beauty. The house's amenities will have you falling in love. Between the gourmet kitchen, the yoga deck, sauna, and infinity pool, you'll never want to leave.
The gorgeous white sandy beaches below the house are a 5-10 minute walk away and shopping and golf are just a 15-minute drive away. The home offers 5 bedrooms with room for up to 10 guests. Inside you'll have a gorgeous open living space and lots of windows for amazing views throughout. Many people have even hosted their weddings on this amazing property!
Click Here To Check Rates At VRBO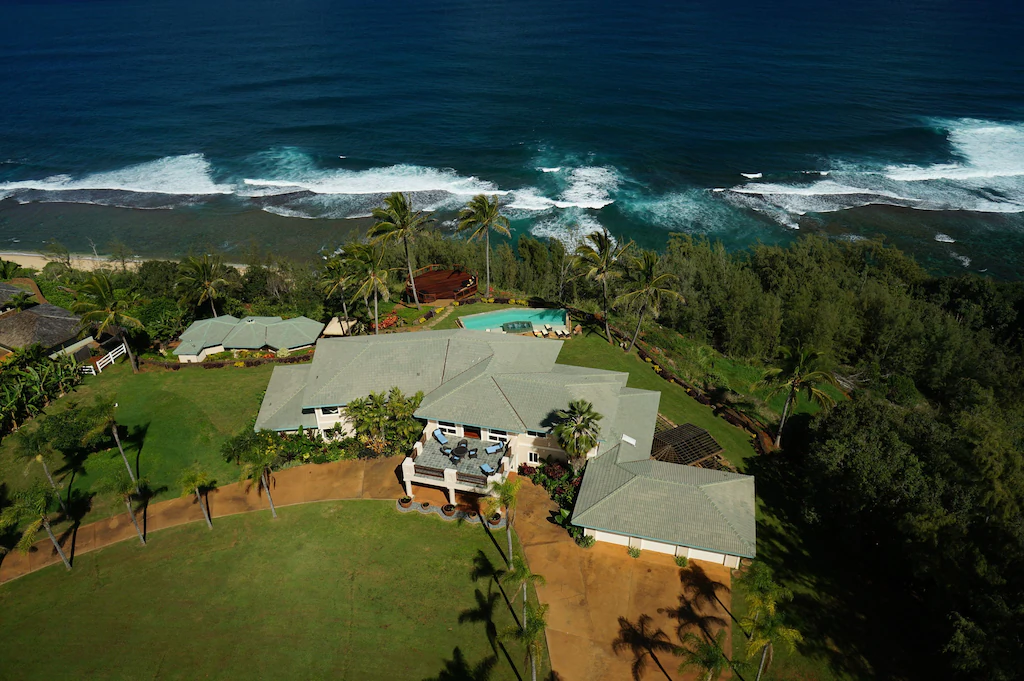 Paradise Retreat! Luxurious Home, steps to the beach
This incredible paradise retreat is one of the best Kauai vacation rentals on the island! Seated on the Napali coast and surrounded by gorgeous tropical greenery, this home offers nothing short of picture-perfect views.
With contemporary furnishings and tasteful decor, this home offers a luxurious experience inside and out. It's just 200 feet from the sandy shores and just a short walk to Tunnels Beach, which is known for its spectacular snorkeling and swimming.
The home has 3 spacious bedrooms with 4 beds and can accommodate up to 7 guests. You can prepare your meals in the large gourmet-style kitchen and dine with the ocean view on the spacious rear deck. Your stay will include beach gear, 2 bikes, a gas grill, and plenty of board games and books to help you unplug and unwind.
Click Here To Check Rates at VRBO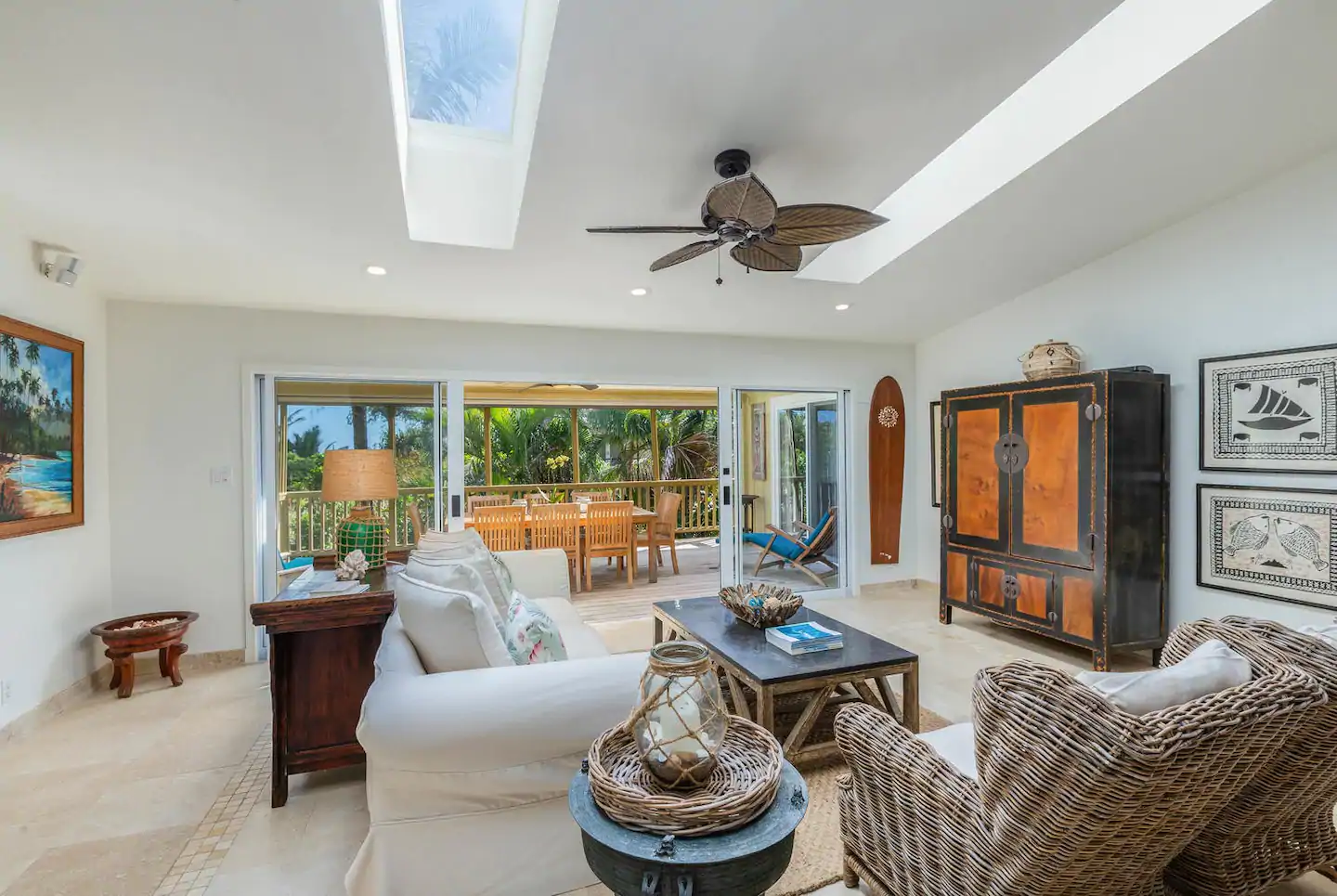 Poipu Kapili 51 Oceanfront Condo, Perfect Location
If you're looking for Airbnbs in Poipu, this end-unit oceanfront townhome is a perfect choice. Newly remodeled, the home features 2 oceanfront sliding glass doors that lead you right out to the lush green landscape and breathtaking ocean views.
This townhome offers 2 bedrooms, each with its own private bathroom, and a sofa bed downstairs, so it's perfect for a traveling family or a small group of friends. Each room offers beautiful tropical decor and lots of spectacular ocean or garden views.
If you're into surfing, you'll be close to one of the best surf spots on the island, and just past the surf is a popular scuba diving spot, Sheraton Caves. At the resort, you can enjoy the beautiful pool, two tennis courts, and a garden from which you can harvest fresh herbs for dinner.
When you're catching the sunset you can admire green flashes and between December and May, and watch the breaching whales from your own living room and lanai as the pods pass directly in front of Poipu Kapili. Year-round you'll see schools of playful dolphins, dive-boats, and surfers, making this an exciting and exclusive place to live out your Hawaiian vacation dream.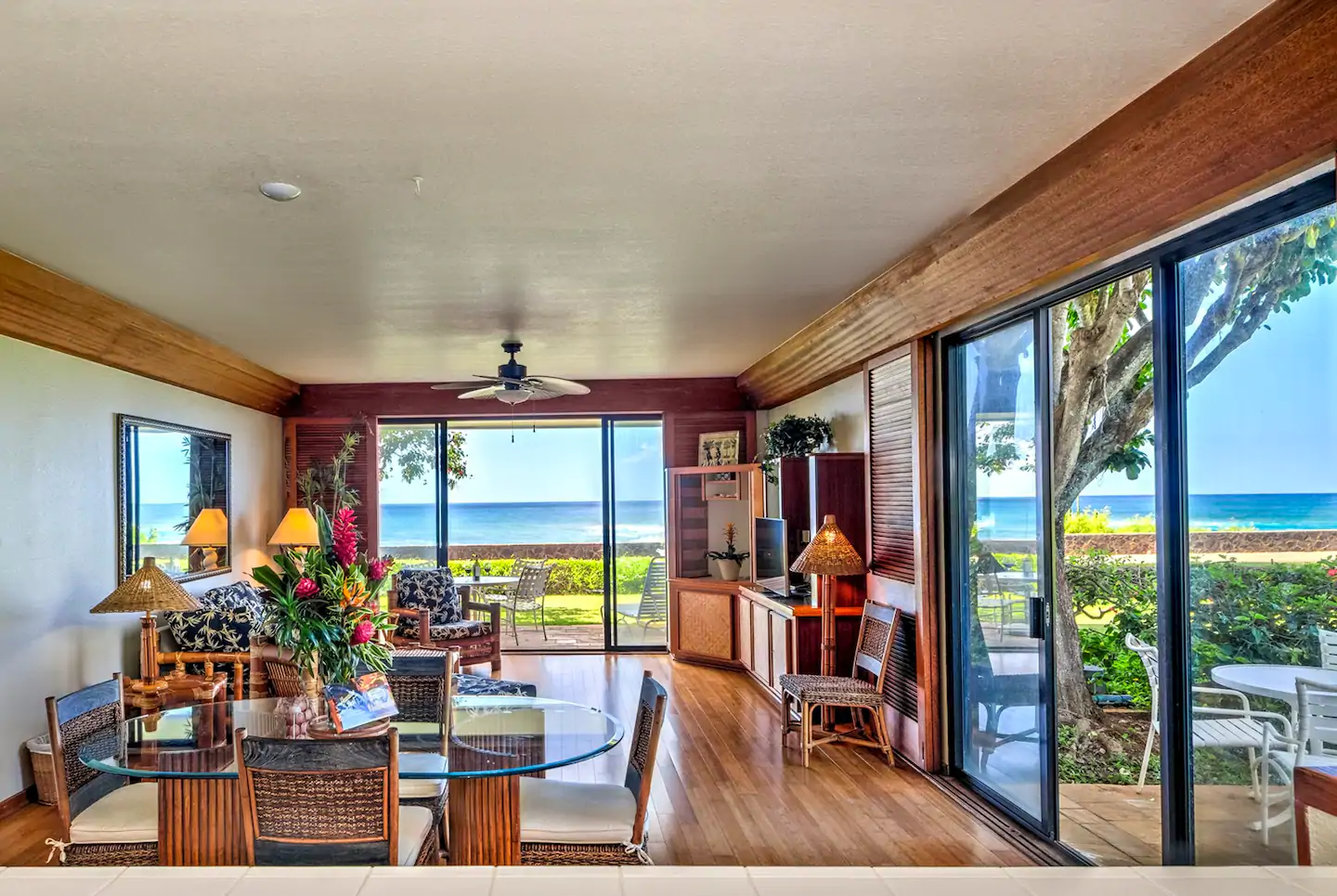 Luxury Cliffside Villa on Kalapaki Bay
One of the top VRBOs in Kauai is this perfect little Cliffside Villa. It's just steps from the beach with ocean views from your patio, and also right next to the Lihue Airport.
Swim, surf, and sunbathe at Kalapaki Bay, then check out the Kauai Museum, Wailua Falls, and shopping at Kukui Grove. You'll never run short of things to do in this gorgeous area. The location of this condo is perfect!
The details in this one-bedroom condo's recent renovation offer an upscale look for the best resort living. Prepare your meals in the gorgeous kitchen and enjoy breakfast with a view on the patio. After returning from the ocean you can enjoy a swim in the resort's pool.
Click Here To Check Rates At VRBO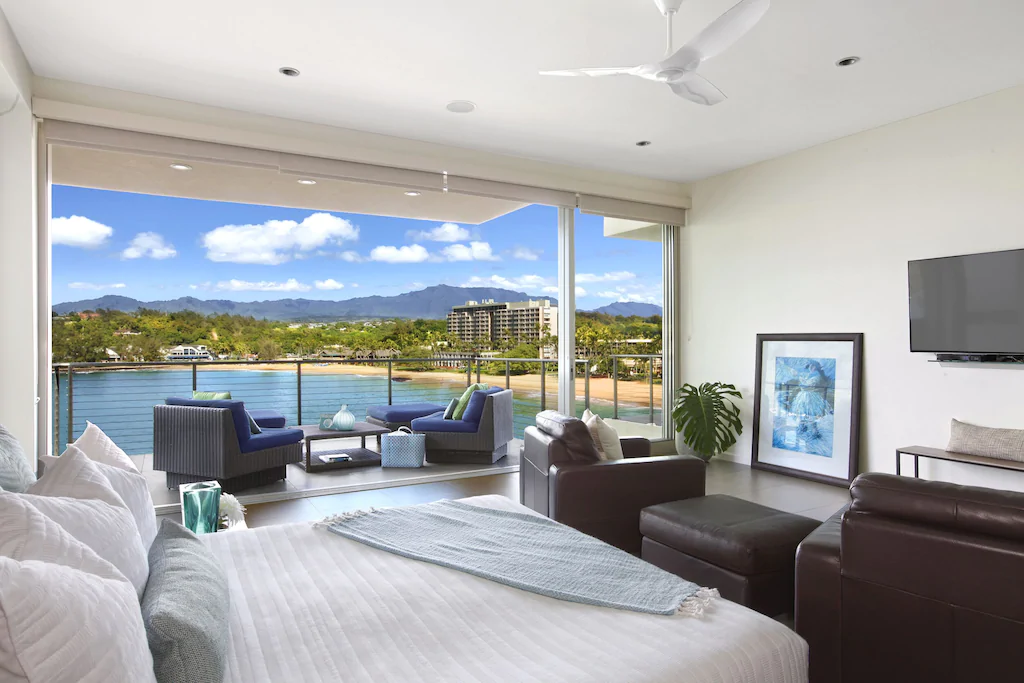 The Bay Bungalow At Hanalei
Airbnbs in Hanalei can be some of the best on the island, just for their location. This gorgeous bay bungalow brings ocean views right off the back deck, or you can go paddleboarding in the surf break, just steps from the bungalow. Plus this Airbnb also offers 2 outdoor showers, perfect for a rinsing offer after a day at the beach.
There's more to Hanalei than just the beach though, head into town for coffee shops, bakeries, restaurants, retail therapy, and even a farmers market, all just a short walk or bike ride away.
This bungalow has 2 bedrooms and 2 bathrooms offering space for up to 4 guests. The recent remodel offers modern decor with a luxury feel to ensure your stay is absolutely perfect. The attention to detail is seen in the gorgeous full kitchen, large farm table, eye-catching wood vaulted ceiling, and plenty of windows for the best island views.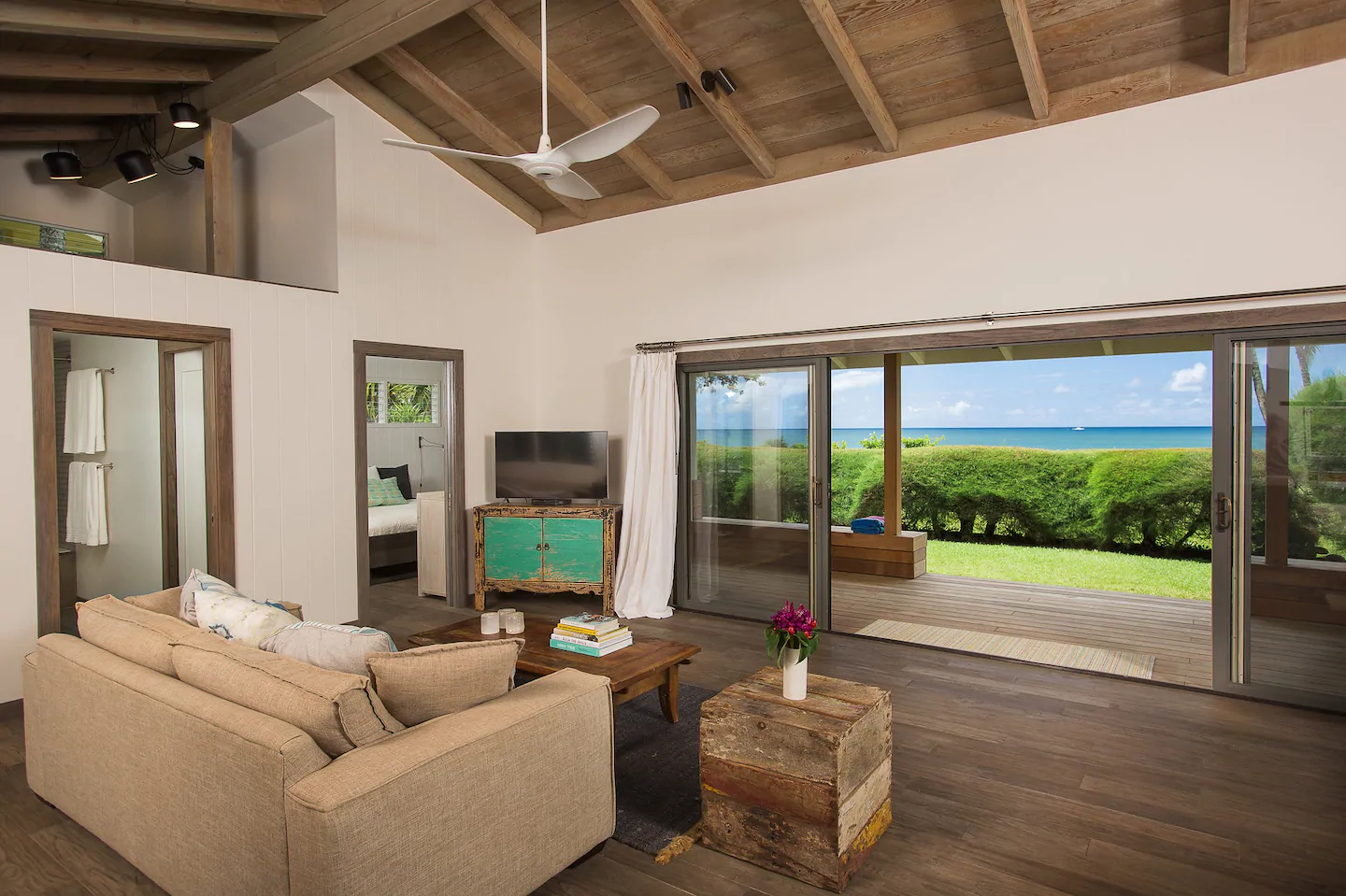 Kai Halulu
It's possible you won't find any vacation rentals in Kauai north shore better than this one. Kai Halulu is a modernist dream home and luxury is around every corner. The 3-bedroom villa features towering windows jutting out at sharp angles and panoramic, octagonal walls for views you'll never forget.
Perched on a cliffside above Pila's Beach, the mountain and ocean views can be seen for miles. The private path to the beach is full of the gorgeous greenery Kauai is known for and filled with the sounds of the crashing waves. When you're ready to come back from the beach you can rinse off in the outdoor shower and hang out in the outdoor gazebo with a grill or rear deck.
The interior of this home brings the perfect vacation retreat with luxury decor including a master bath with a stone tub and bamboo accents. Pops of color throughout the home bring in the gorgeous colors of the island right to you.
When you need a relaxing night in you can enjoy the state-of-the-art entertainment room with a home theatre and audio equipment, or embrace your inner chef and prepare a meal in the gourmet kitchen with high-end appliances.
This home has 3 bedrooms with huge windows for ocean views and 3.5 bathrooms and can welcome up to 6 guests.
Click Here To Check Rates At VRBO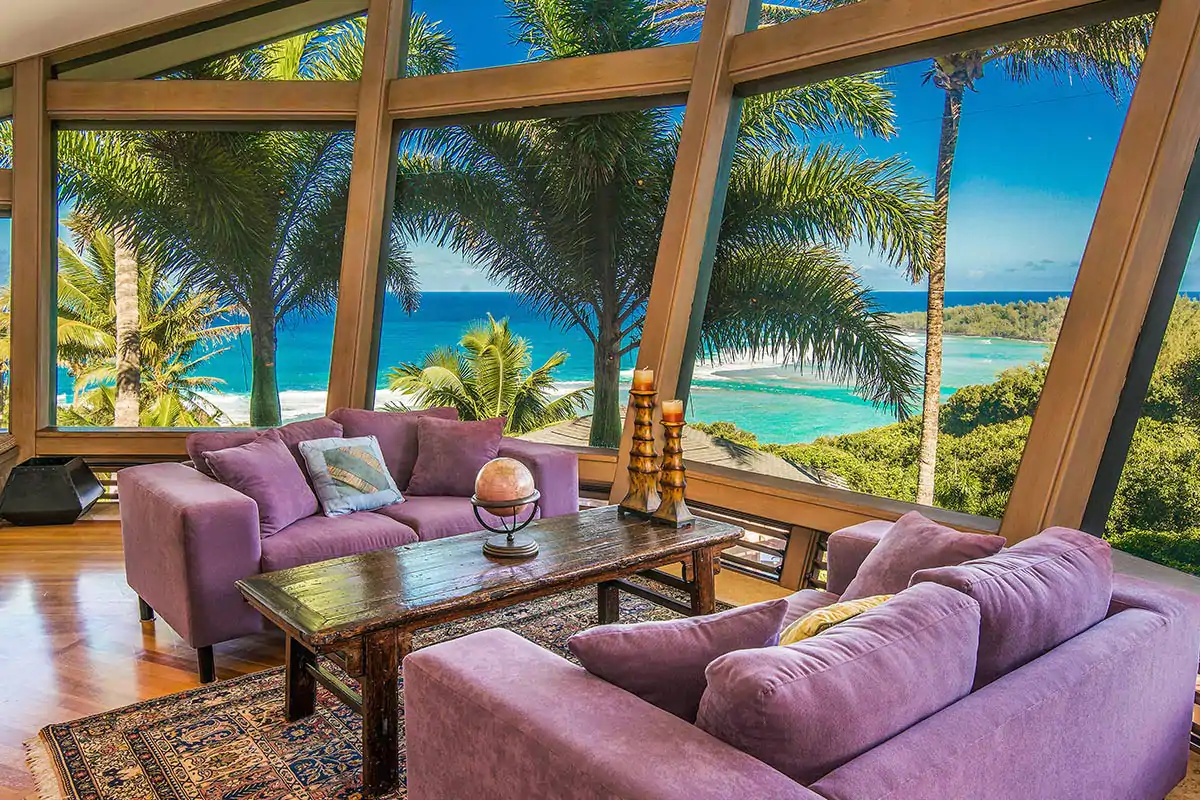 Eco-Chic Tropical TreeTops Villa
Find your complete escape from reality in this Treetop Villa Airbnb in Kalaheo. The luxury longhouse features breathtaking views, nestled into a hillside on an 11.5-acre private property. In this home, you'll be in harmony with nature and elegance with modern decor and fine art throughout the home.
The untouched landscape features many indigenous plants and plenty of local and endangered animals, including a variety of beautiful birds. You'll feel completely connected with nature with the beautiful, private infinity pool and exotic hardwood-lined outdoor shower.
The 800 sq. ft. home is one big open space with 1 bed and room for 2 people, perfect for a romantic getaway or honeymoon retreat. You'll likely find yourself spending a lot of time on the huge 800 sq. ft. balcony to take in the mountain and ocean views and Hawaiian breeze from the home's 1000 ft. high perch. You're also only about 20 minutes away from attractions at Poipu and minutes from Kauai's beautiful beaches.
Check rates at Airbnb.com.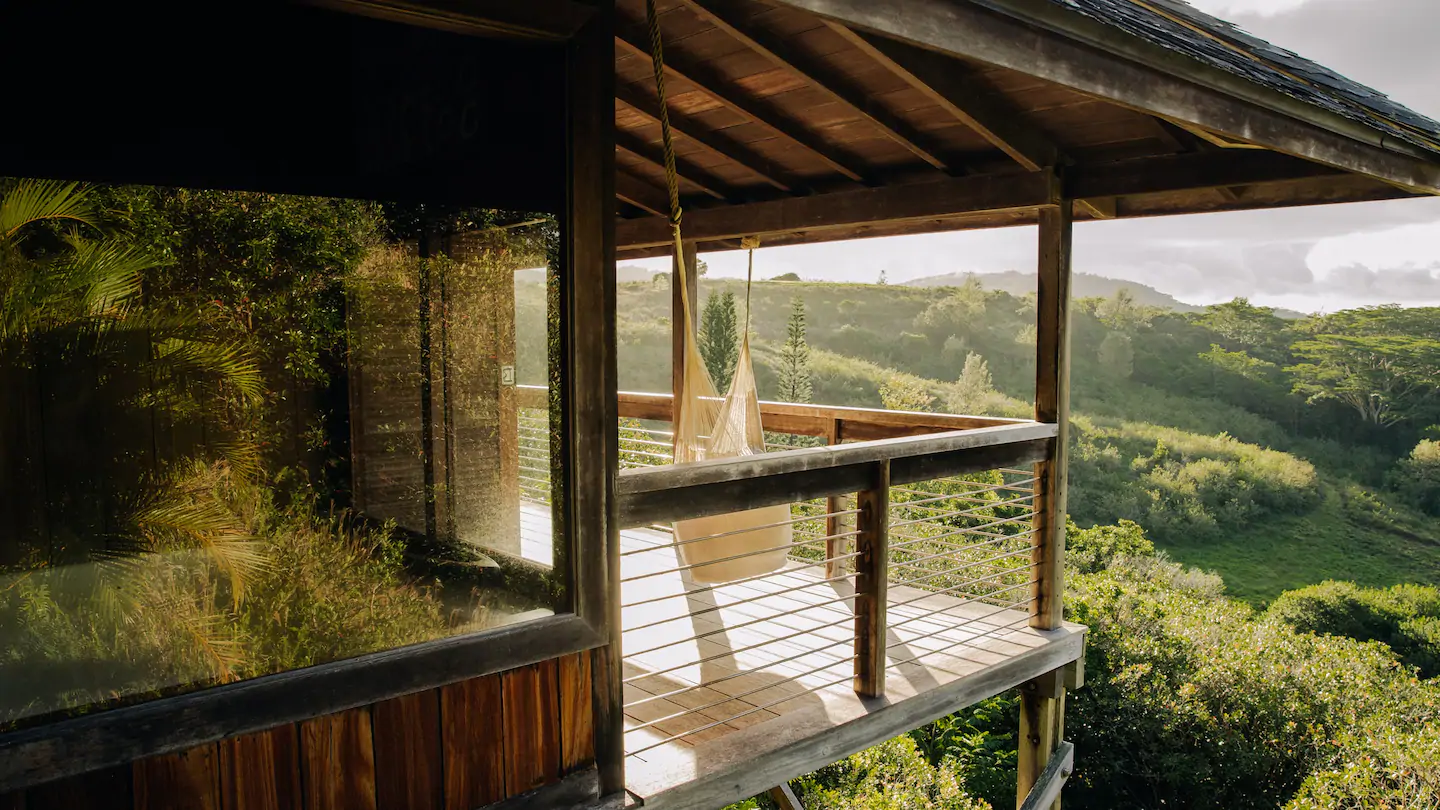 Elegant Malibu Style Beachfront House
VRBOS in Kauai is often full of tropical decor, but this beachfront malibu-style house offers quite the homey feel for a relaxing and comfortable stay. The spacious 2600 sq. ft. home has 4 bedrooms with plenty of space for up to 8 guests. Perfect for a traveling family or group of friends.
Seated on the longest white, sandy beach in Kauai, Kekaha, the surf just steps, and the ocean views from the balconies and porches throughout the home are unparalleled. In this home, you'll have all the comforts of home like a full kitchen, outdoor dining area, a BBQ, and more, all with a touch of elegance for a luxurious stay.
The ocean view jacuzzi is perfect for unwinding and when you're ready to head out, nearby attractions include Polihale State Park, Salt Pond, Kekaha Beach Park, hiking the Waimea Canyon/Koke'e Park, and boat touring the Na Pali coast.
Click Here To Check Rates At VRBO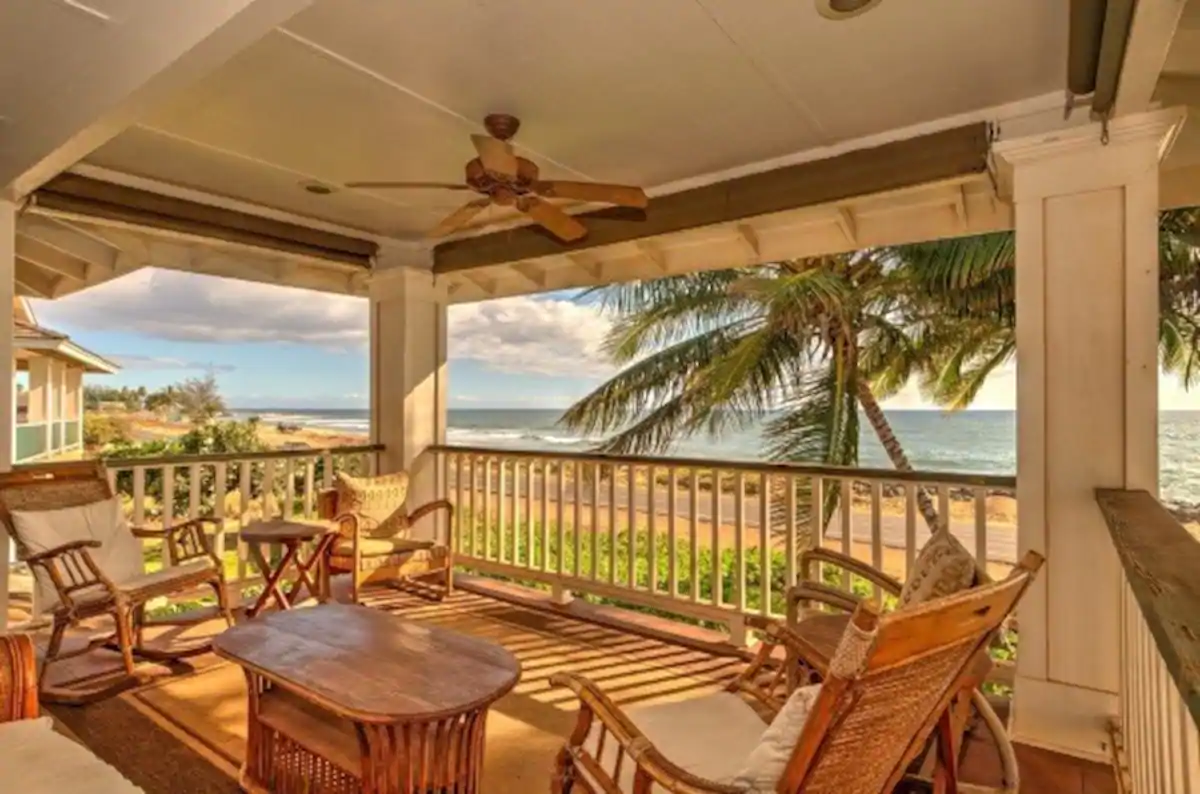 VRBOs in Kauai are the perfect escape from reality where you can immerse yourself in the gorgeous greenery of the gardens and relax the day away on the white sandy beaches all in the same day in your own little private oasis.
If you're looking for more places to stay in Hawaii, make sure you check our 20 Best Airbnbs in Hawaii for even more incredible places to stay. If your romantic retreat is for a honeymoon, we also have great tips for planning the Ultimate Hawaii Honeymoon.