Are you looking for the best weekend getaways in Arizona? We've got you covered with some of the best locations that include everything from relaxing in luxury to roughing it in nature. Whether you enjoy gazing out at the saguaro cacti filled landscape from an outdoor pool while the sun sets, or would prefer to wind your way through the cacti on a national park trail, this list has something for everyone.
Arizona is an incredibly diverse state with vibrant red rock, lush forests, one of the seven natural wonders of the world (The Grand Canyon), and mountainous desert landscapes with 100+ year old cacti. The state has refreshing rivers to tube down, lakes to boat in, and creeks to wade through.
You can find solitude in the vast Aravaipa Canyon Wilderness or crank up the boom box, grab a drink, and float down the Salt River with your best friends.  You can enjoy fine dining at Hacienda Del Sol, or go easy on the wallet and enjoy cheap weekend getaways in Arizona with your tent as shelter and a backyard full of nature's stunning beauty.
You may also love one of the best Resorts In Arizona for your trip!
Find the Arizona vacation ideas that speak to you, pack your bags, and get ready for a trip full of fun in the Arizona sun.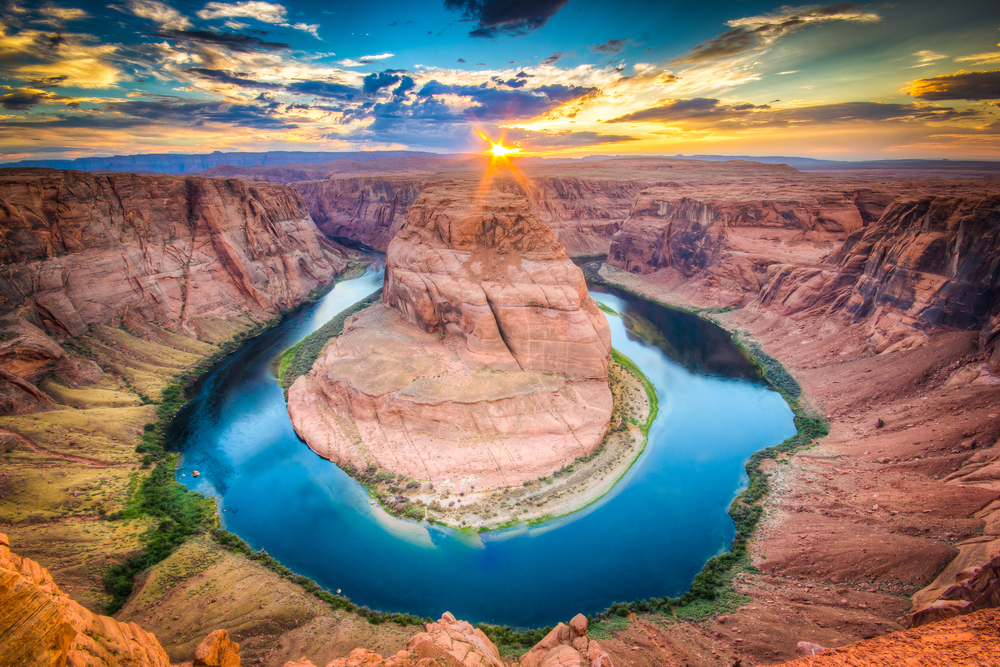 14 Interesting Weekend Getaways In Arizona
Relax In Southwest Luxury At Hacienda Del Sol
One of the most romantic resorts in Arizona lies at the base of the Santa Catalina Mountains surrounded by the stunning beauty of the Sonoran Desert. Hacienda Del Sol has everything you need for a relaxing weekend in the Arizona sunshine.
This historic resort was once a boarding school for the daughters of society's most elite families before becoming a guest ranch that would prove to be a relaxing escape for movie stars such as Spencer Tracy and Katharine Hepburn. Today its upscale, southwest charm has continued to enhance Tucson's natural desert beauty while offering those who seek it a luxurious place to call their home away from home.
The resort offers rooms, suites, and casitas, all beautiful in design. If you have the opportunity to book a Catalina Room with beautiful desert views, an outdoor shower for first floor rooms, colorful talavera tile in the bathrooms, and expertly crafted wood furniture, it's an opportunity you won't want to pass up.
Gazing out at the desert from the pool or Jacuzzi is a sure-fire way to leave behind the stresses of day-to-day life. Follow that up with a romantic dinner at The Grill, with a delectable menu featuring everything from rack of lamb to lobster fettuccine.
From the staff to the amenities, you're paying for the best, and you can absolutely expect the best during your stay at Hacienda Del Sol.
Check Rates: Booking.com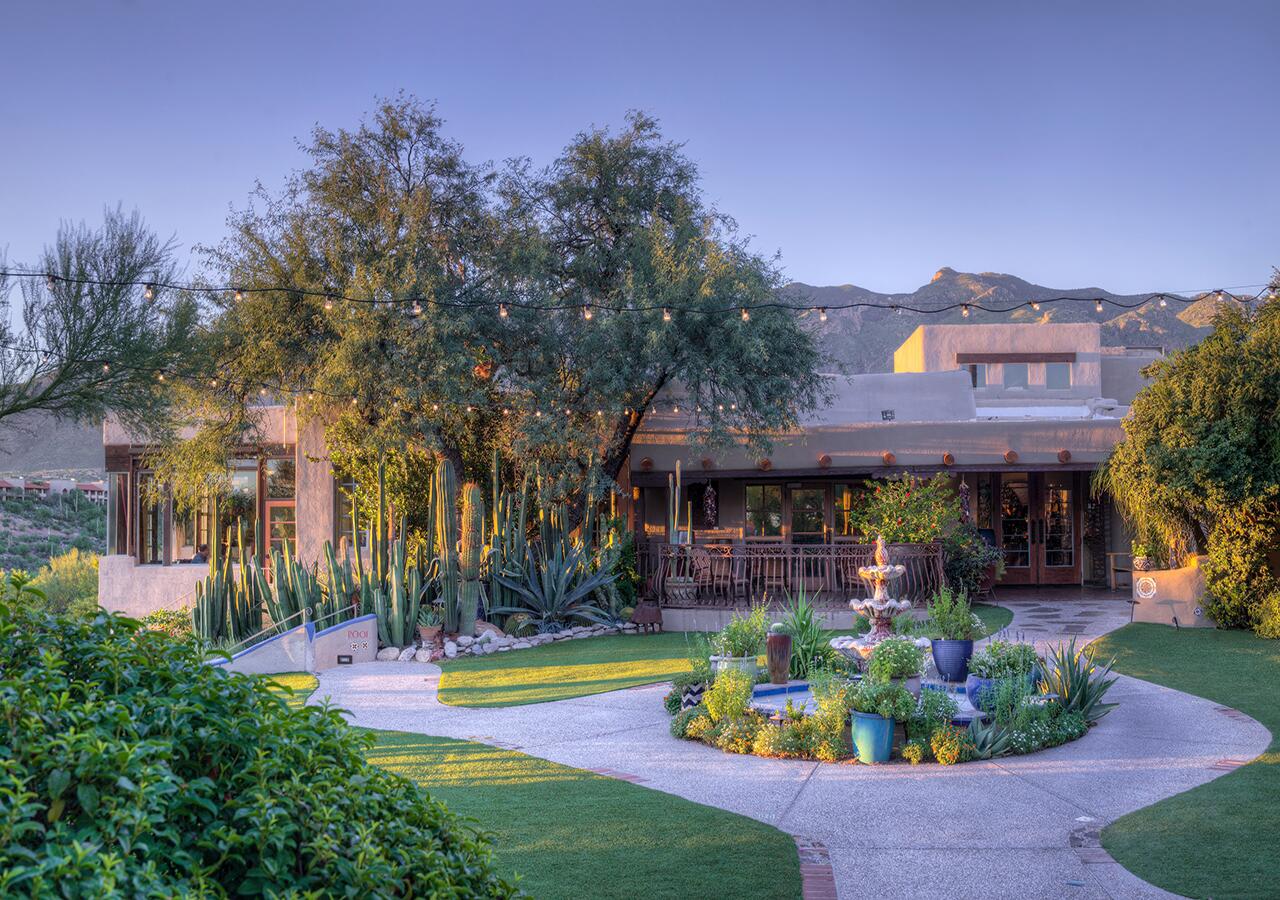 Escape To The Forests and Trails Of Flagstaff
With its green forests, scenic hikes, top-notch skiing, and cooler temperatures, Flagstaff is one of the best weekend trips from Phoenix. Flagstaff is home to Humphreys Peak (the tallest peak in Arizona), the dramatic San Francisco Peaks, aspen trees that change colors in the fall, and beautiful flower-filled meadows in the spring.
Flagstaff is full of excellent hiking opportunities including some beautiful sections of the Arizona Trail. The Walnut Canyon hike from Old Walnut Canyon Road to Fisher Point is one of those worthwhile AZ trail hikes. For a slightly different view of the AZ Trail head to Aspen Corner, a popular area for viewing the autumn leaves and spring flowers.
Winter visitors will enjoy a trip to the Arizona Snowbowl, a thrilling ski area on the San Francisco Peaks (which also happens to be near the Aspen Corner hike). 777 skiable acres with 32 runs of varying distances and difficulty levels will keep you thoroughly entertained throughout the weekend.
Just in case Flagstaff's natural landscape hasn't won you over just yet, head to the Wupatki and Sunset Crater Volcano National Monuments which are conveniently located right next to each other. Wupatki National Monument is home to a collection of preserved ancient pueblo sites while Sunset Crater displays a dramatic red and black volcanic landscape dotted with green as flowers and trees attempt to re-inhabit the area.
Where to stay in Flagstaff:
Little America Hotel Flagstaff. Check rates: Booking.com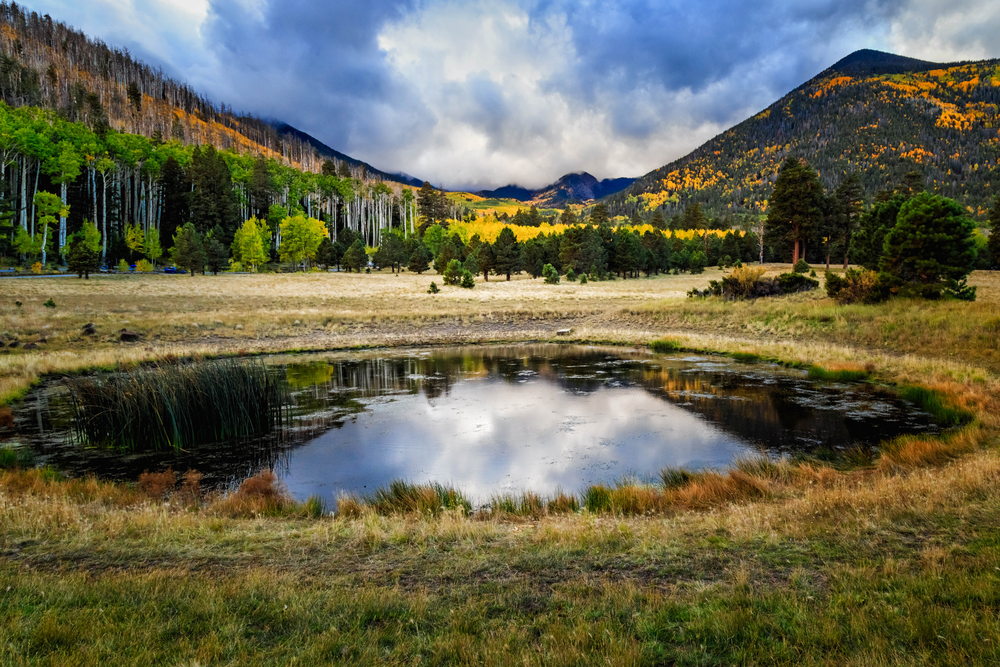 Swim In Blue-Green Waters At Havasupai
If you're one of the lucky few who can secure a permit for Havasupai, it'll likely be one of the most memorable weekend getaways in Arizona of your life. Reservations open up on February 1 and range from $100-$125 per night depending on the day of the week. Expect the permits to be sold out within the hour so be prepared to try to secure a reservation the moment they become available.
Getting to the Havasu Falls, which are located on the land of the Havasupai people, requires a group permit for a minimum of 4 days/3 nights in which you'll stay at either the Havasu Falls campground or the nearby lodge in the village of Supai. Your journey will also require a 10 mile strenuous hike each way for a total of 20 miles round trip.
The hike to the falls is downhill on switchbacks into the canyon, while your return hike is (you guessed it) all uphill. Both ways have their challenges and are not for the faint of heart, so we suggest tackling the hike while you're in your peak hiking shape.
You've made it down into the canyon, so now what? You get to bask in the fruits of your labor by cooling off with a swim in the strikingly beautiful blue-green water and cascading waterfalls or enjoying them from a distance. Continue past Havasu Falls, to the equally spectacular (though more difficult to reach the base of) Mooney Falls and Beaver Falls further downstream.
Where To Stay Near Havasupai:
Hualapai Lodge. Check Rates: Booking.com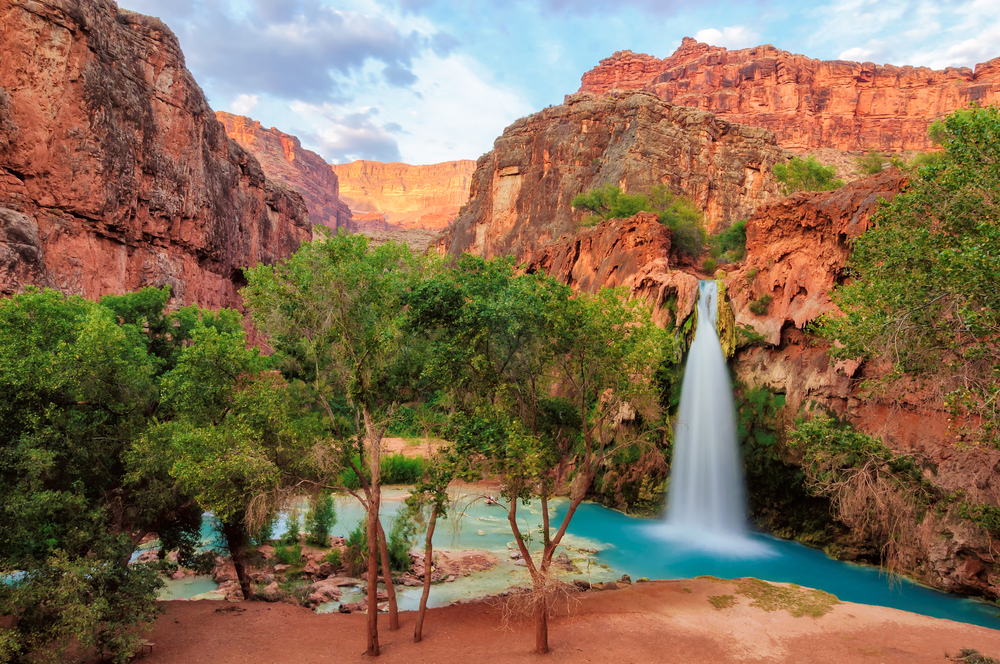 Climb The Vibrant Red Rocks In Sedona
The city of Sedona is famously known for its stunning red rock. As you can imagine, in a place so wonderfully colorful with eye-catching natural landscapes, hiking is one of the main activities when visiting.
Sedona has an abundance of hikes well worth your time that vary in length and difficulty. Whether you decide to tackle the short but moderately difficult scramble up Cathedral Rock or the wildly popular Devil's Bridge Trail with sweeping views and an element of danger, you'll no doubt enjoy your hike immensely.
In the summer, Sedona can be a great place to escape the Phoenix heat and enjoy the cool waters of Oak Creek by swimming in them at the end of a hike or sliding down the slick rock at Slide Rock State Park. So grab your swimsuits, towels, and picnic baskets and join the other families making the most of the summer days.
Despite the natural beauty of Sedona, many visitors come from around the country and the world purely to shop or wander through the fine art galleries of the Tlaquepaque Arts & Shopping Village or the various shops and restaurants along Main Street. A trip to Sedona can also be turned into one of the most romantic getaways in Arizona by staying at any number of the high-end resorts lining the creek and red rock.
Where to stay in Sedona:
L'Auberge de Sedona. Check rates: Booking.com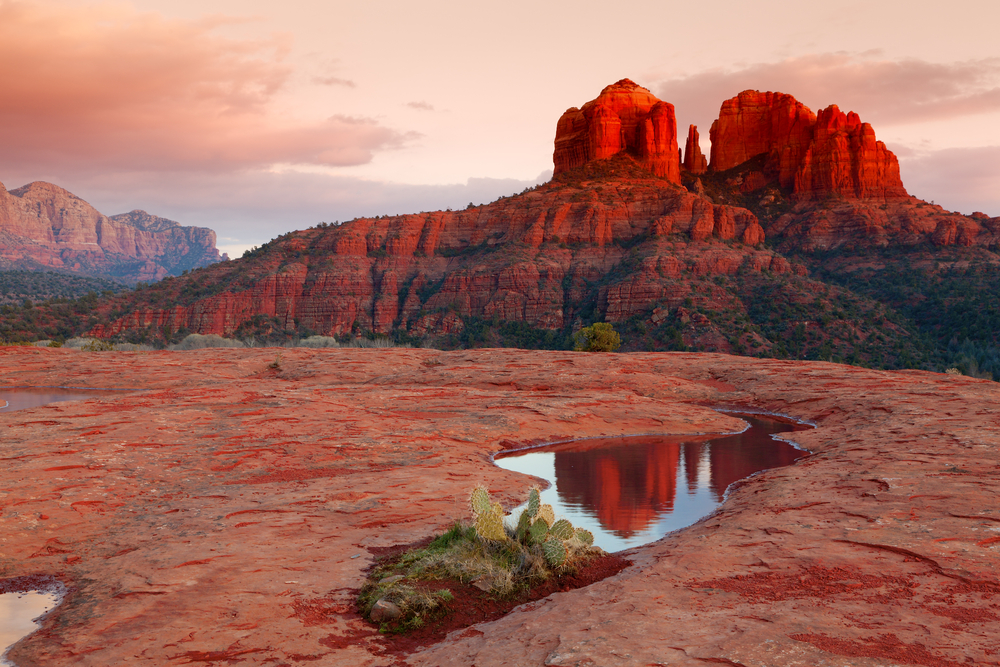 Enjoy Ideal Winter Temperatures In Phoenix
Looking for the best weekend getaways in Arizona? Why not come to the capital itself?
There's a reason snowbirds come flocking to Phoenix every winter. With highs in the 60s and 70s (Fahrenheit) the winter temperatures are ideal. With temperatures like that you can spend all day outside tackling any number of the excellent hiking trails in the Phoenix Metropolitan Area such as the Go John Trail (Cave Creek Regional Park) or the Granite Mountain Loop Trail (McDowell Sonoran Preserve).
For more casual outdoor activities head to the Desert Botanical Garden and stroll through the beautiful desert landscape learning about the plant life and the Sonoran Desert as you go. When you're done exploring the garden, you might consider a trip to The Phoenix Zoo next door to continue the family fun. Also next door is the Papago Golf Club, the perfect spot for avid golfers to get their fix.
Though summer temperatures in Phoenix are certainly fiery, there's no shortage of things to do in the summer months. As you might imagine, Arizona has some of the best resort pools that are popular summer hangouts. Check out the thrill slides, wave pool, and river for inner tubing at the Arizona Grand Resort and Spa or the slide and sand beach at the Hyatt Gainey Ranch.
Phoenix is also home to a number of excellent museums from the Musical Instrument Museum where you learn about the instruments and music of countries around the world to the Heard Museum that promotes the artwork, culture, and stories of Native Americans. And when you're just so toasty that all you can think of is something nice and cold to drink, head to Bahama Bucks for a big cup of flavorful shaved ice.
Where to stay in Phoenix:
Royal Palms Resort and Spa. Check rates: Booking.com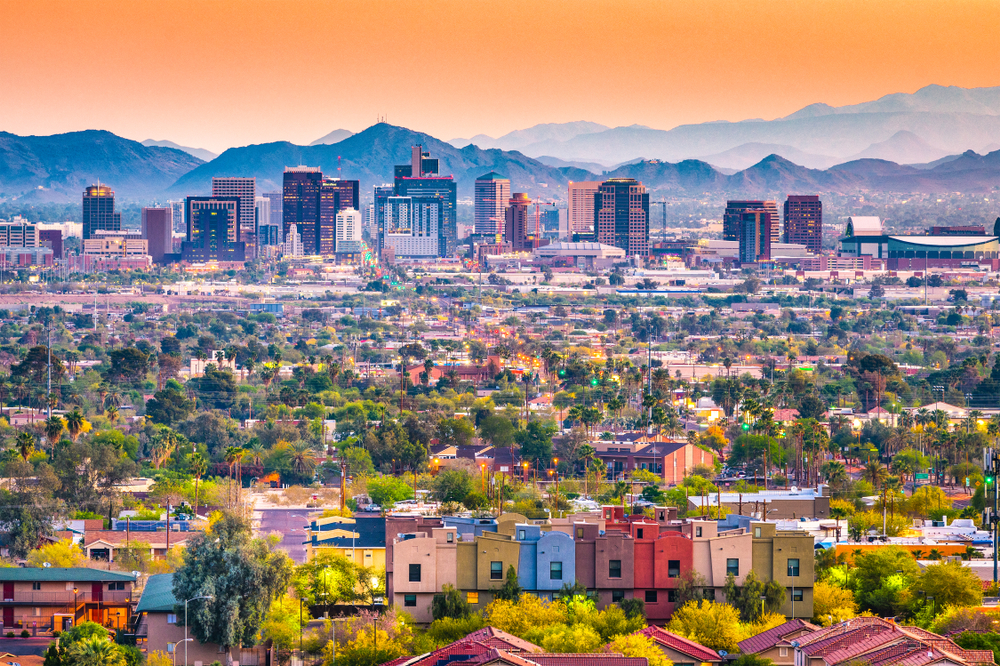 Admire The Majestic Cacti In Saguaro National Park
Weekend trips from Tucson can be as easy as taking a short drive to one or both sections of Saguaro National Park, which is split down the middle by the city.
Saguaro National Park West (Tucson Mountain District) is the more popular of the two sides with an abundance of the towering, majestic saguaros the park is so famous for, while Saguaro National Park East (Rincon Mountain District) features sky islands that make for stunning backdrops as well a healthy dose of animal wildlife.
If it's your first time at the national park, we suggest heading to the west side first to get up close and personal with the beautiful cacti. To ease into your adventures you can drive the 6-mile Bajada Loop Drive and check out the landscape from your car. Follow this up with easy strolls on the Valley View Overlook Trail or the Signal Hill Petroglyphs Trail that don't require you to expend much energy but have great payoffs.
The east side of the national park has its own scenic drive (Cactus Forest Loop Drive) and short hikes as well, but it also has excellent back packing opportunities. If you're looking for cheap weekend getaways in Arizona, you might consider securing an overnight permit to stay at one of the backcountry campsites and extend your desert adventure.
If you have the time, you'll want to stop at the nearby Arizona-Sonora Desert Museum as well to observe and learn about the plant and animal life of the Sonoran Desert.
Where To Stay Near Saguaro National Park:
Loews Ventana Canyon Resort. Check Rates: Booking.com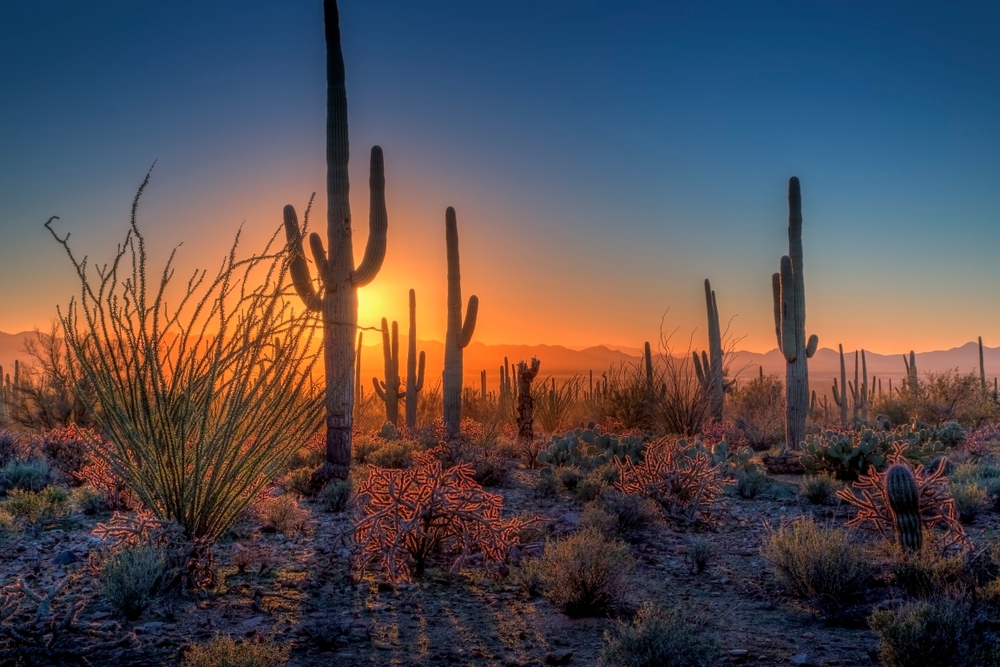 Tackle A Rewarding Hike At The Grand Canyon
We can't imagine a list of the best weekend getaways in Arizona that doesn't include The Grand Canyon. Talk about a trip to remember. Everywhere you look in the park you're met with stunning views with the canyon walls glowing in shades of red, orange, purple, and brown.
If you're short on time and/or prefer to take it a little easier on your trip, walk along the rim or take the free shuttles to the major viewpoints such as Mather Point, Yavapai Point, Desert View, and more. If you're in peak hiking shape and want to enter the belly of the beast and check out the canyon from below, lace up your boots and start your decent down.
One of the most breathtaking hiking trails into the canyon is the Bright Angel Trail with bathrooms and water stations every 1.5 miles and an ideal turnaround point at Indian Garden for a total of 6 miles round trip. The South Kaibab Trail to Cedar Ridge is another winner with the perfect sunrise viewpoint under a mile in called Ooh-Aah Point. Be sure to start hiking early in the morning, bring plenty of water, and remember however far you hike down, you still have to hike all that way back up the canyon.
If you're looking for a little more peace and quiet away from the largest crowds, you might consider heading to Grand Canyon's North Rim instead where there's an abundance of Ponderosa pines and Oaks and hikes are equally as spectacular as at the South Rim. Be sure to bring your camera along, as there will be more breathtaking moments to capture than you can possibly count.
Where to stay Near The Grand Canyon:
Under Canvas Grand Canyon. Check Rates: Booking.com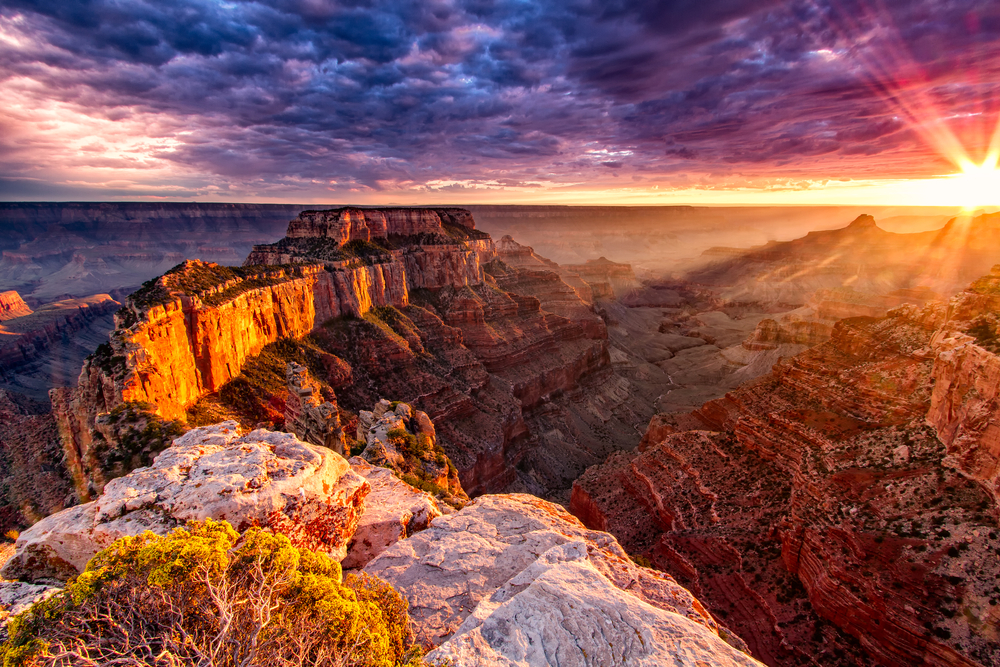 Explore The Route 66 Town Of Williams
Why, you might ask, is the small, unassuming city of Williams one of the best weekend trips from Phoenix? Because small though it may be, it is also the gateway to the Grand Canyon. It is truly one of the best small towns in Arizona!
Williams is famous for being the starting point of the Grand Canyon Railway which takes you on a 2 hour and 15 minute scenic drive through the open desert and the Ponderosa forests all the way to Grand Canyon National Park. From musicians playing Western music to cowboy characters that hop aboard the train, it's a great time for all and the perfect way to spend time with the family while admiring the scenery en route to the national park.
One of Williams' main attractions is Bearizona, a drive-through zoo where you can get right up close to junior and adult bears, wolves, and more from the safety of your car. There is a walk through section that more closely resembles a normal zoo and features everything from river otters to grizzly bears. If seeing bears climbing trees and play fighting in big open forested areas, or wolves howling as you drive by sounds remotely appealing to you, you'll enjoy spending a few hours at Bearizona.
A trip to the Grand Canyon Deer Farm and Petting Zoo or a hike up Bill Williams Mountain are always welcome stops in Williams as well. Home to a section of the historic Route 66, you can also "get your kicks on Route 66" in Williams with a visit downtown to restored historic buildings such as Pete's Route 66 Gas Station Museum and a glimpse of what the Route 66 town might have been like when the "Mother Road" was in full operation.
Where To Stay In Williams:
Grand Canyon Railway Hotel. Check Rates: Booking.com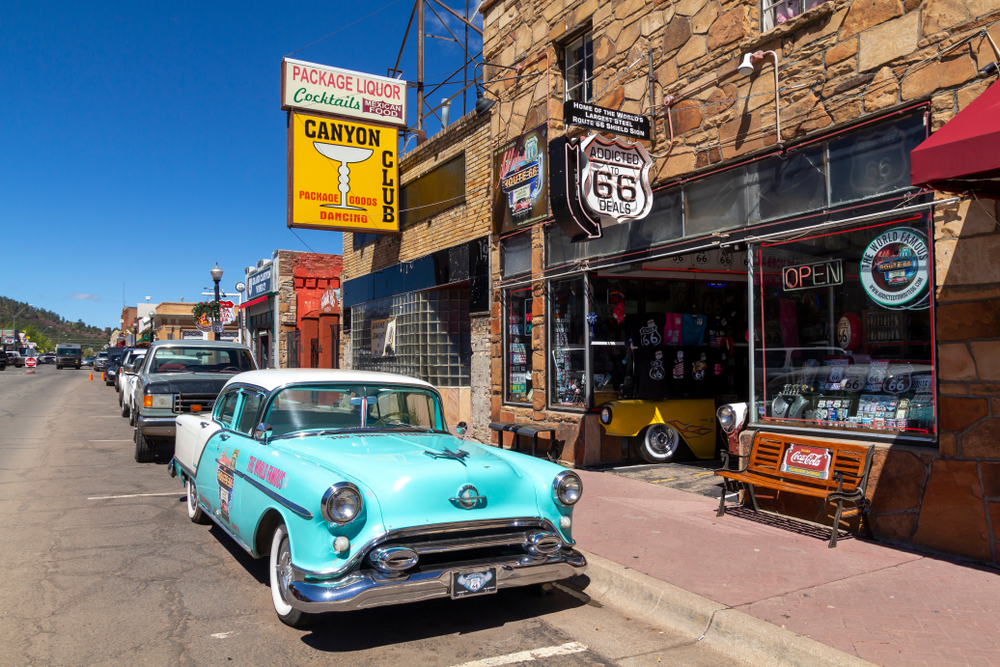 Have Some Fun In The Sun Tubing Down The Salt River
Tubing down the Salt River is a classic Arizona summer activity. Think of the cool water, the sun on your face, the company of your closest family and friends, and wild horses standing majestically along the riverbank. Have you booked your ticket yet?
If you're looking for cheap weekend getaways in Arizona for the summer, starting in May, the Salt River is where you'll want to be. For $19 you can rent an inner tube, get shuttle bus service to the launch spot, and free parking through the Salt River Tubing Company. You can also choose to bring your own inner tubes and pay a discounted price for the shuttle bus, or avoid the bus altogether and plan a two-car shuttle system with whoever you're tubing with.
The hotter the temperature outside, the more refreshing the cold river water feels, so don't be afraid to go during the peak summer months. That being said, make sure to apply plenty of sunscreen, bring a lot of water, and wear a hat. The Arizona heat is unforgiving.
The Salt River Tubing Company also rents tubes specifically for coolers and ice chests, so you can pack food and drinks to bring along. It's one big party out there on the river, so enjoy the scenery, let the water carry you along, and embrace the good times.
Where To Stay Near The Salt River Tubing:
Courtyard by Marriott Mesa at Wrigleyville West. Check Rates: Booking.com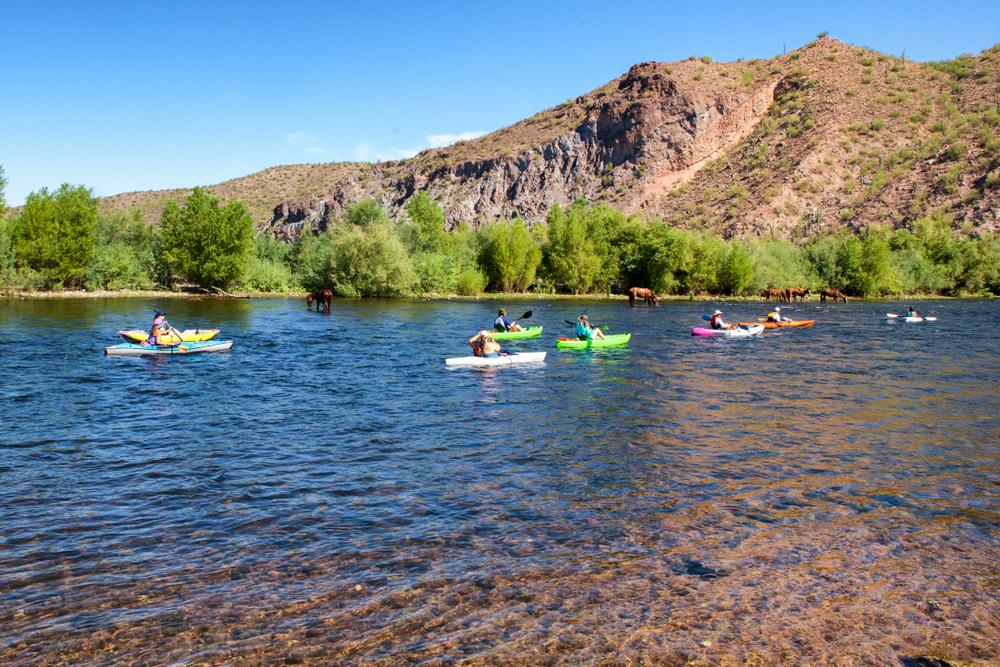 Hike The Scenic Desert Trails In Tucson
Trips to Tucson are the perfect chance to spend your vacations in Arizona celebrating the undeniable beauty of the Sonoran desert…and eating excellent Mexican food. Unlike the northern cities of Flagstaff and Sedona, Tucson will not be an escape from the relentless summer heat in Phoenix, so consider avoiding the summer months especially when so much of Tucson's charm comes from its outdoor landscapes.
Saguaro National Park, which can easily be a trip all on its own, is worth a stop while you're in Tucson. With drivable scenic loops and plenty of short nature trails, you can get a taste of the towering saguaros and desert landscape while still leaving plenty of time for other activities in the city.
Tucson is a true paradise for hikers, with an endless number of beautiful trails of varying lengths and difficulty levels. Some standouts include the 8.2 mile Seven Falls Trail that involves creek crossings and ends in (you guessed it) seven cascading waterfalls (during the times of year when the water is running), and the 4.8 mile Ventana Canyon Trail to the Maiden Pools.
If you're in the mood for delicious Mexican food, you've certainly come to the right place. Look no farther than El Charro Café and their signature "Charro Style" beef tacos or the Carne Seca Platter that involves sun drying marinated, lean angus beef in those glorious Tucson sun rays. First established back in 1922, this Tucson staple currently holds the title of "The Nation's Oldest Mexican Restaurant in continuous operation by the same family."
Where To Stay In Tucson:
Hacienda Del Sol. Check Rates: Booking.com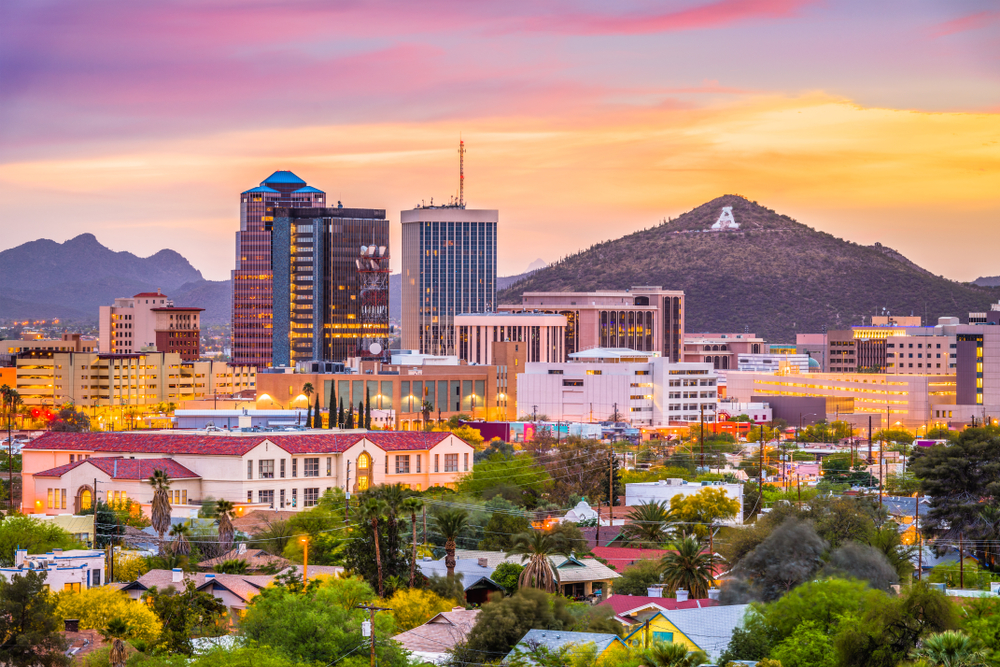 Bask In The Solitude And Beauty Of Aravaipa Canyon
It's unlikely that southeast Arizona near Winkelman is at the top of anyone's list of the best weekend getaways in Arizona, and yet there lies the stunning natural beauty that is the Aravaipa Canyon Wilderness. With a refreshing creek, lush plant life, dramatic canyon walls, and wildlife including bighorn sheep and wild turkeys, you're in for an adventurous and picturesque trip in this special Arizona landscape.
Permits are required to access Aravaipa Canyon with only 50 people being allowed in per day (20 from the east entrance and 30 from the west entrance). You can travel with a group of up to 10 people and stay for as many as 3 days/2 nights.
Once inside, these 19,410 acres of wilderness become your natural playground. There are no designated campsites or trails. You camp where there's flat ground and you hike where you wish (often hiking through the creek). Consider wearing gaiters over your footwear to prevent sand and gravel from entering your shoes while wading through the creek.
You might spot a handful of people during your trip, but with so many miles of endless wilderness at your disposal, you're more or less alone to explore nature in peace and quiet. Be sure to check out the side canyons as well such as Deer Creek/Hell Hole Canyon and Virgus Canyon with their own unique natural features.
Where To Stay Near Aravaipa Canyon:
Aravaipa Farms Orchard And Inn. Check Rates: Aravaipafarms.com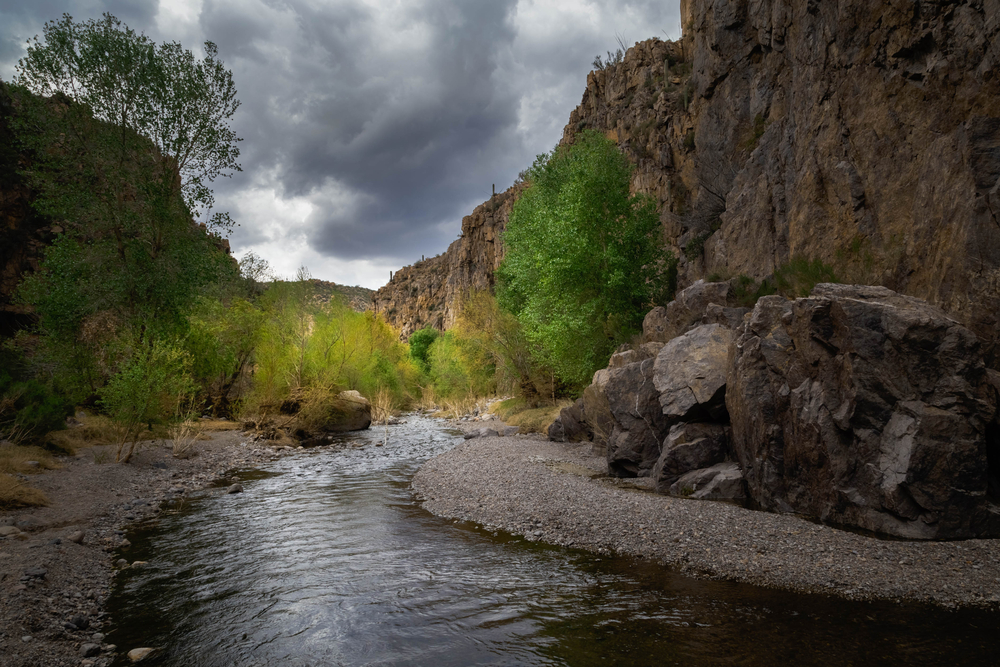 Marvel At Natural Wonders In Page
If you're looking for weekend getaways in Arizona that can be spent admiring the beauty of nature, the small town of Page will not disappoint. Home to extraordinary natural wonders such as Antelope Canyon and Horseshoe Bend, there's no shortage of jaw-dropping beauty at your fingertips.
The famous Antelope Canyon is a slot canyon split into an upper and lower canyon, both of which are only accessible through tours. The upper canyon is the more famous of the two thanks to its stunning light rays that stream down and light up the colorful canyon at certain times of the day. The lower canyon is no slouch either however boasting dramatic rock formations, vibrant orange, red, and purple canyon walls, and marginally smaller crowds.
Horseshoe Bend is a short but worthwhile stop during your Page, Arizona trip. A 1.5 mile round trip stroll will take you to the breathtaking view of the Colorado River snaking around sandstone formations in a horseshoe-like shape. Like Antelope Canyon, Horseshoe Bend attracts an enormous number of visitors, but while you're in Page, it's worth braving the crowds for the views.
Lake Powell (which is technically a man-made reservoir) is the perfect place to swim or boat. For some true luxury on the water, you might consider renting a large houseboat to accommodate you and your family and friends.
If however, you're looking for cheap weekend getaways in Arizona, Page has a number of fantastic campsites including the Lees Ferry Campground near the Colorado River. You'll still have to dish out money for the Antelope Canyon tour and parking at Horseshoe Bend, but camping can significantly decrease your trip cost.
Where To Stay In Page:
Best Western View Of Lake Powell Hotel. Check Rates: Booking.com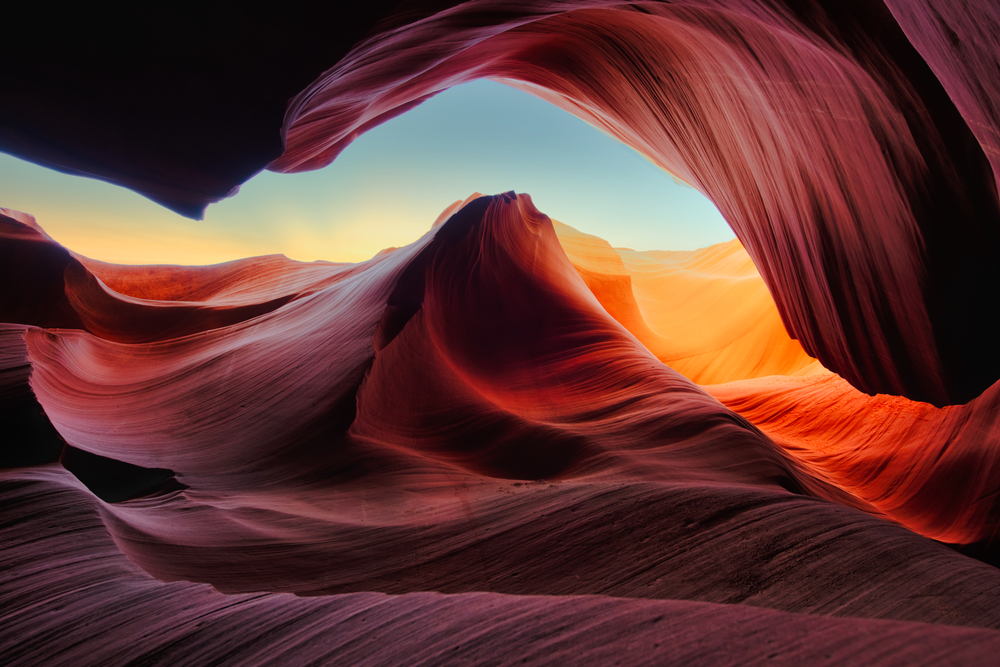 Spend The Weekend On The Water At Lake Havasu
Besides being affectionately known as Arizona's Playground, Lake Havasu is also the location of a rather famous world landmark. The historic London Bridge, which once stretched across the River Thames, now finds itself in the desert town of Lake Havasu City. This reconstructed (and reinforced) bridge in its unlikely new home, continues to draw tourists from around the world.
Lake Havasu is a reservoir on the Colorado River. Because the town itself isn't particularly noteworthy, Lake Havasu State Park tends to be a popular vacation spot among Arizona residents rather than out of town visitors. As a result it's one of the best weekend trips from Phoenix.
Though summer temperatures at Lake Havasu are high, water activities are always a welcome relief from the heat of the sun. Think swimming, boating (renting or bringing your own), jet skiing, and fishing. It's full of opportunities for carefree summer fun.
Pack a picnic basket and enjoy lunch on the sandy beach while your kids entertain themselves building sandcastles. If you're hoping to stay near the action for the duration of your trip, consider reserving a spot at the state park campground for $35 a night or $40 for a beachfront site.
Where To Stay Near Lake Havasu:
London Bridge Resort. Check Rates: Booking.com
Take A Guided Cave Tour At Kartchner Caverns
A drive to Kartchner Caverns State Park is another great option if you're looking for weekend trips from Tucson. The limestone cave, recently discovered in November 1974 by Gary Tenen and Randy Tufts, can be explored through guided tours and is fascinating to traverse through and learn about.
Prepare to journey half a mile through the cave enjoying its most noteworthy formations through one of two available tour options. One possible tour takes you to the Rotunda and Throne Room while the other takes you to the Big Room. Both tours are similar in length and time.
The Rotunda and Throne Room tour runs all year long as bats no longer roost in that section of the cave, however the Big Room is closed in the summer while the bats take over to give birth and care for their young. During your time in the cave, you'll see an abundance of stalagmites and stalactites and delicate, thin soda straws whose formation is a result of water leaking through cracks in the cave walls. You'll have plenty of time to observe the various formations as you continue along your tour led by extremely knowledgeable guides.
In addition to the cave, the Kartchner Caverns State Park offers a number of short to mid-length hiking opportunities through desert and woodland landscapes. Cheap weekend getaways in Arizona are always welcome, and the good news is you can cut down your trip budget by staying inside the park and reserving camping cabins or campground sites for RVs and tents.
Where To Stay Near Kartchner Caverns:
Comfort Inn Benson. Check rates: Booking.com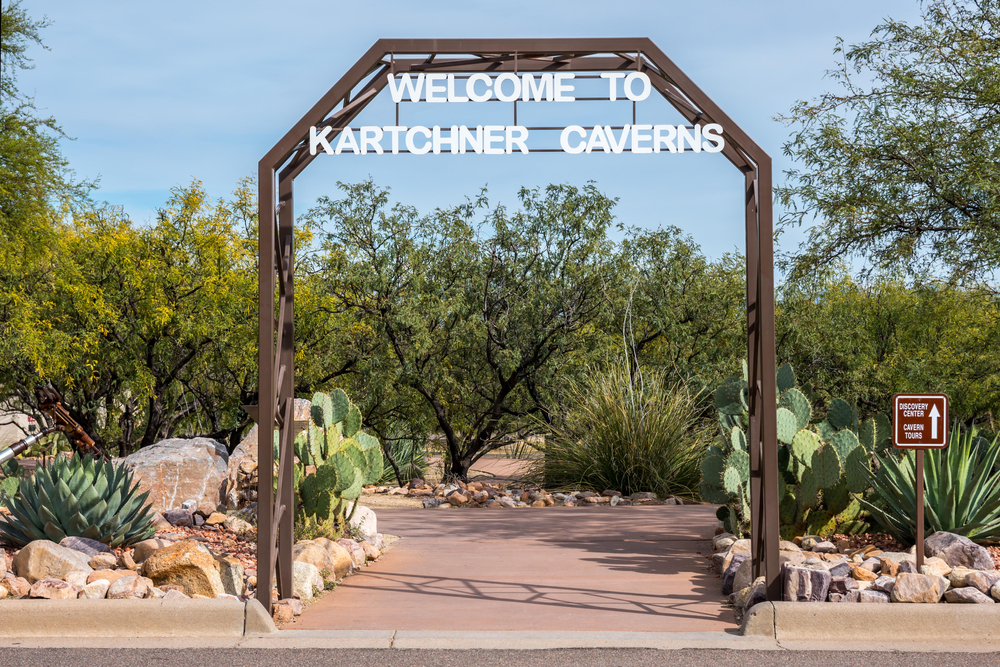 From romantic resorts in Arizona to unique desert landscapes, there's no shortage of fun to be had and memories to share in this sunshiny state. Lather on the sunscreen, pull down that wide brim hat, lace up your hiking boots, and remember hydration is key as you head out on your next desert adventure.
If you have any questions or comments as you plan your weekend trips in Arizona feel free to let us know in the comments section.