Looking for the best Airbnb in New Mexico? We've got you covered with 12 unique suggestions to make your trip as memorable as possible.
New Mexico has a diverse landscape ranging from dry deserts to snow-capped mountain peaks. The state is also home to a handful of national parks and monuments you won't want to miss including the Carlsbad Caverns and White Sands National Park.
Whether you're admiring ancient ruins in Chaco Canyon, visiting the Georgia O'Keeffe Museum in Santa Fe, reading up on the Roswell Crash at the International UFO Museum and Research Center, or hiking sections of the Continental Divide Trail, your New Mexico trip is sure to be an adventurous one.
To put the icing on the cake of a fun filled trip you'll want to ensure you have the perfect New Mexico Airbnb to come "home" to each night. You're in luck because with New Mexico's unique building styles, you're spoiled for choice when it comes to great Airbnbs.
Whether you're cozying up in an adobe casita with beautiful pops of color inside or enjoying economically sustainable living at an Earthship, you're guaranteed an authentic New Mexico experience that will leave an impression on you far greater than any hotel could.
Looking to save money on your trip to New Mexico? Get a FREE $55 Airbnb coupon by using our code when you book!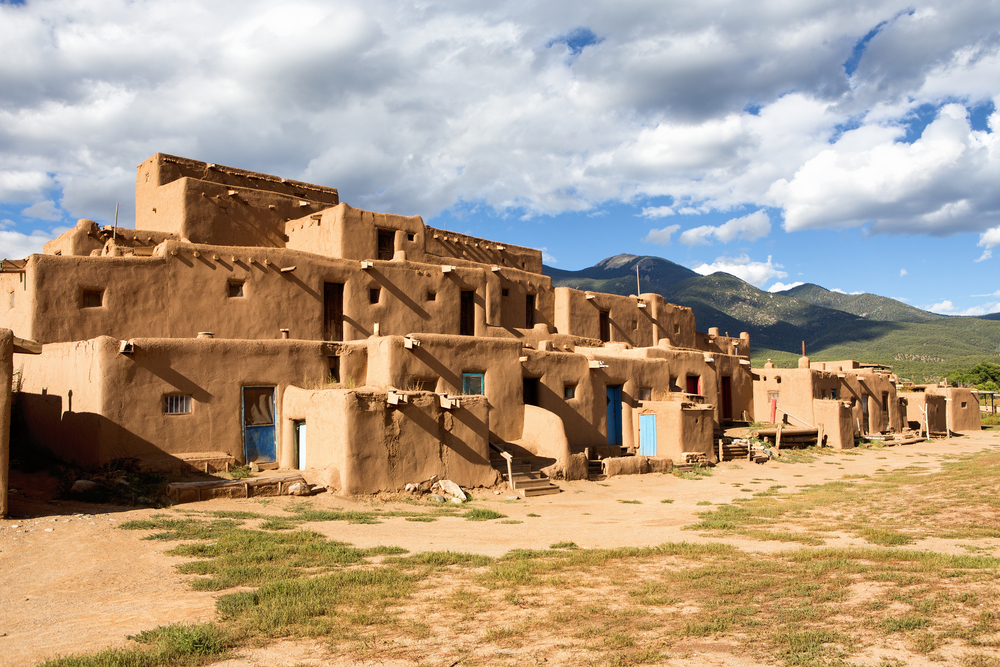 12 Best Airbnbs In New Mexico (Earthships, Casitas, & More)
Casita Benitez
Casita Benitez is a secluded adobe Airbnb in New Mexico that was once home to flamenco dancer and New Mexico native Maria Benitez. The good news for you is that this beautifully crafted casita can be your home away from home.
An abundance of light streams into this cozy casita making for an ideal naptime as you lie in the indoor hammock, lulled to sleep by the warm sunshine.
If you're feeling adventurous, this Taos, New Mexico Airbnb is located just a short distance from hiking trails in the Carson National Forest and excellent skiing opportunities at the Taos Ski Valley.
Whether you're sipping your coffee on the front patio, admiring the woodwork in the room from the marvelously comfortable king bed, or riding around on the bicycles provided, this Airbnb has everything you need for a relaxing, romantic getaway.
Click Here To Check Rates On Airbnb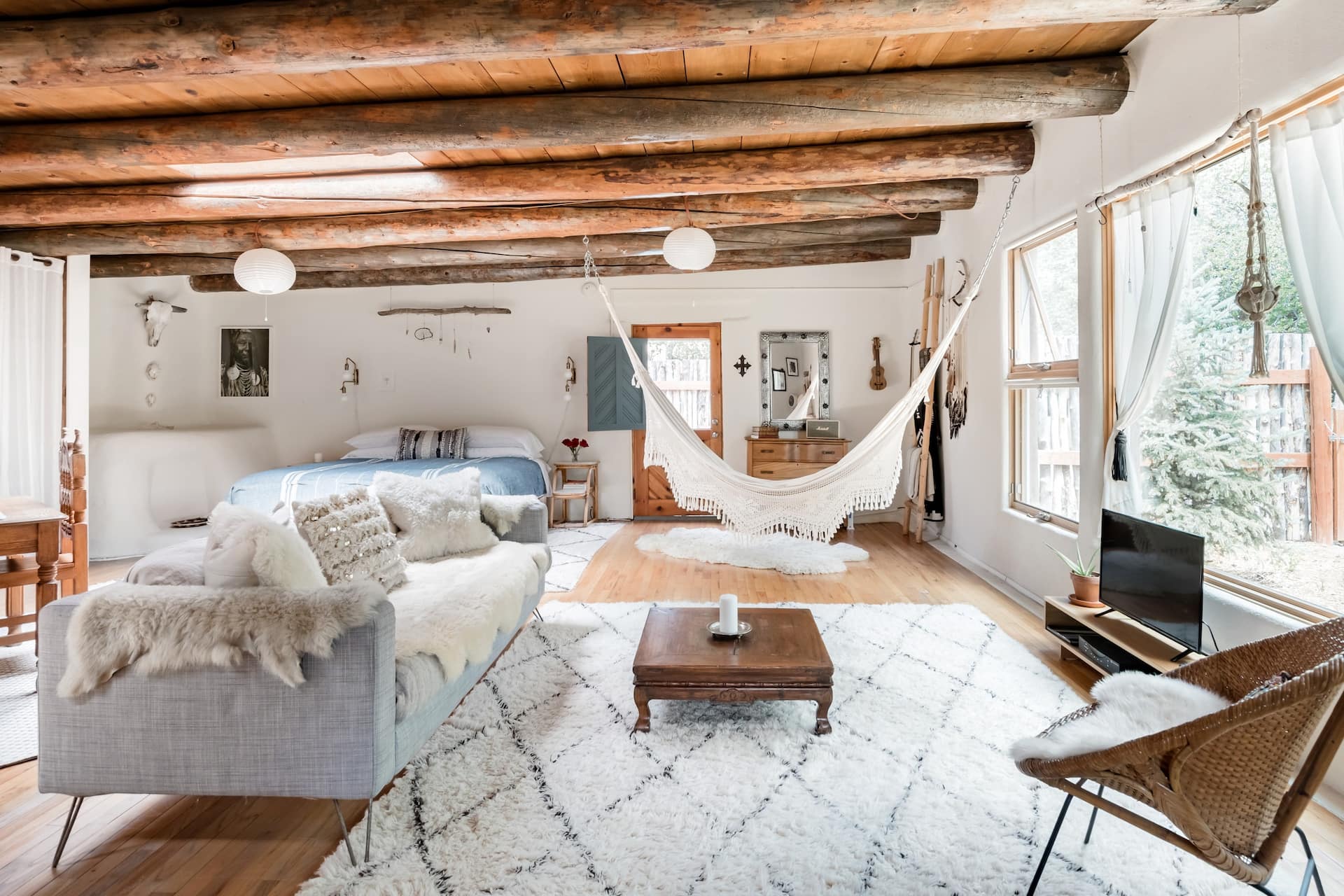 Brand New Studio Earthship
If you're up for giving off the grid, environmentally sustainable living a shot, then this studio Earthship just outside of Taos is the perfect Airbnb in New Mexico for you. Architect Mike Reynolds led the way creating the first Earthship, a structure that's able to produce its own electricity and maintain a relatively unwavering, comfortable indoor temperature.
This particular otherworldly masterpiece was built by the Airbnb host himself with natural and recycled materials. The design includes massive south-facing windows to help with the passive solar heating of the house.
You'll find these windows to be particularly appreciated as well during sunrise and sunset as you watch the light come and go in spectacular fashion. The lack of light pollution in the area also offers you unmatched views of the Milky Way at night.
Remarkably, the Earthship offers far more amenities than you might think with high-speed Wi-Fi, a TV, oven, refrigerator, etc. You'll feel very eco-friendly at this Earthship while still enjoying many basic comforts, a true win-win!
Click Here To Check Rates On Airbnb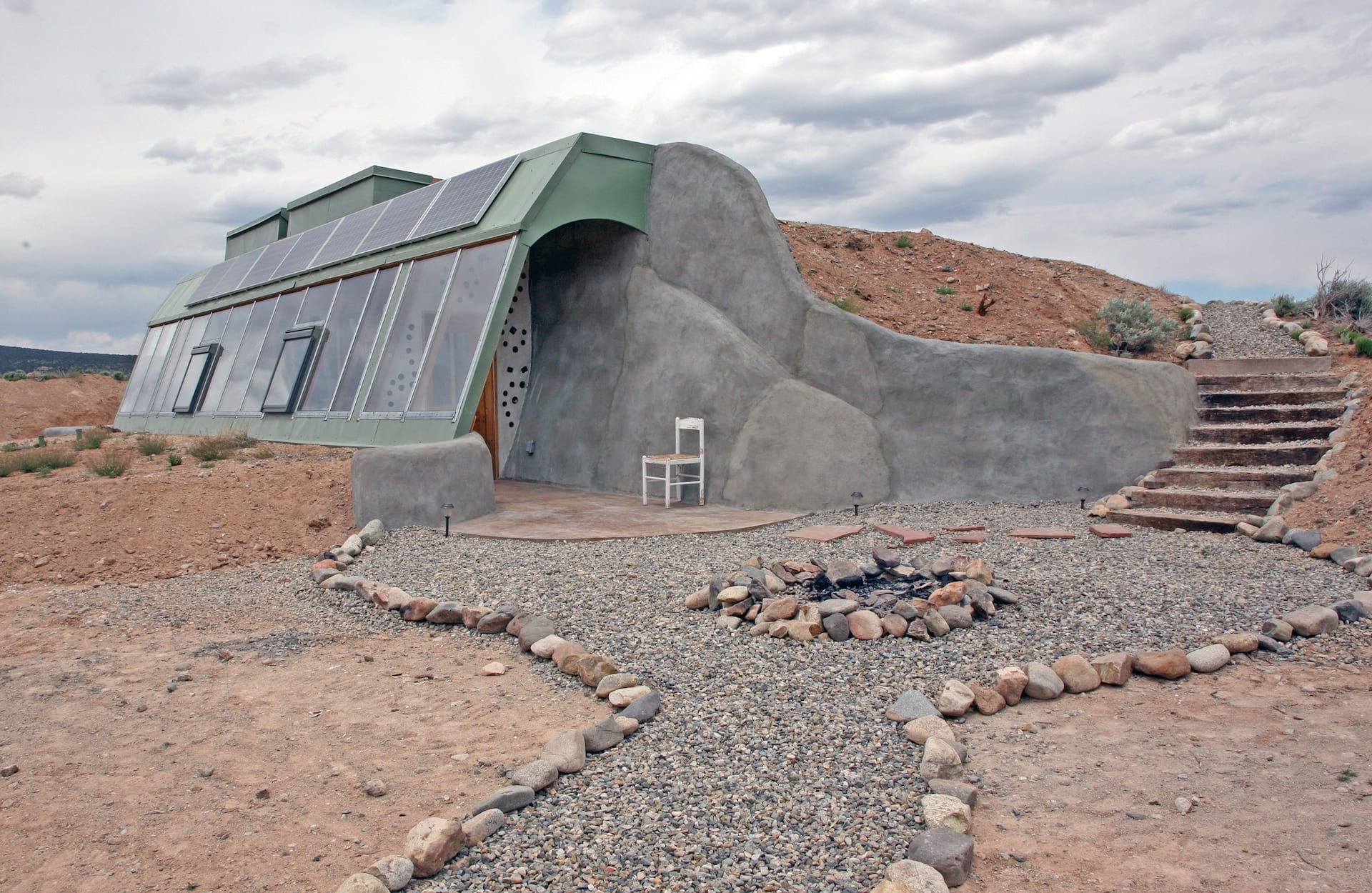 Creative Casita – Open-Air Living
This creative casita in Albuquerque offers the perfect amount of peace and quiet in a bustling university town. Though the property is shared with two other casitas, you're afforded plenty of privacy whether you're cozying up inside or relaxing on the private patio.
Outdoor meets indoor in this open-air living space. To enjoy the sunshine-filled New Mexico weather, simply open up the large windows to reveal the covered outdoor patio, a perfect spot to eat your meals.
When you're looking to venture outside of the casita, you'll find you're conveniently located just a stone's throw from the University of New Mexico, downtown, the historic Nob Hill neighborhood, and plenty of great restaurant options.
On top of that, this New Mexico Airbnb is very affordable and can host up to four guests with a queen bed, sofa bed, and floor mattress. So go ahead and book this convenient Airbnb and enjoy exploring Albuquerque, home of the popular Breaking Bad TV series.
Click Here To Check Rates On Airbnb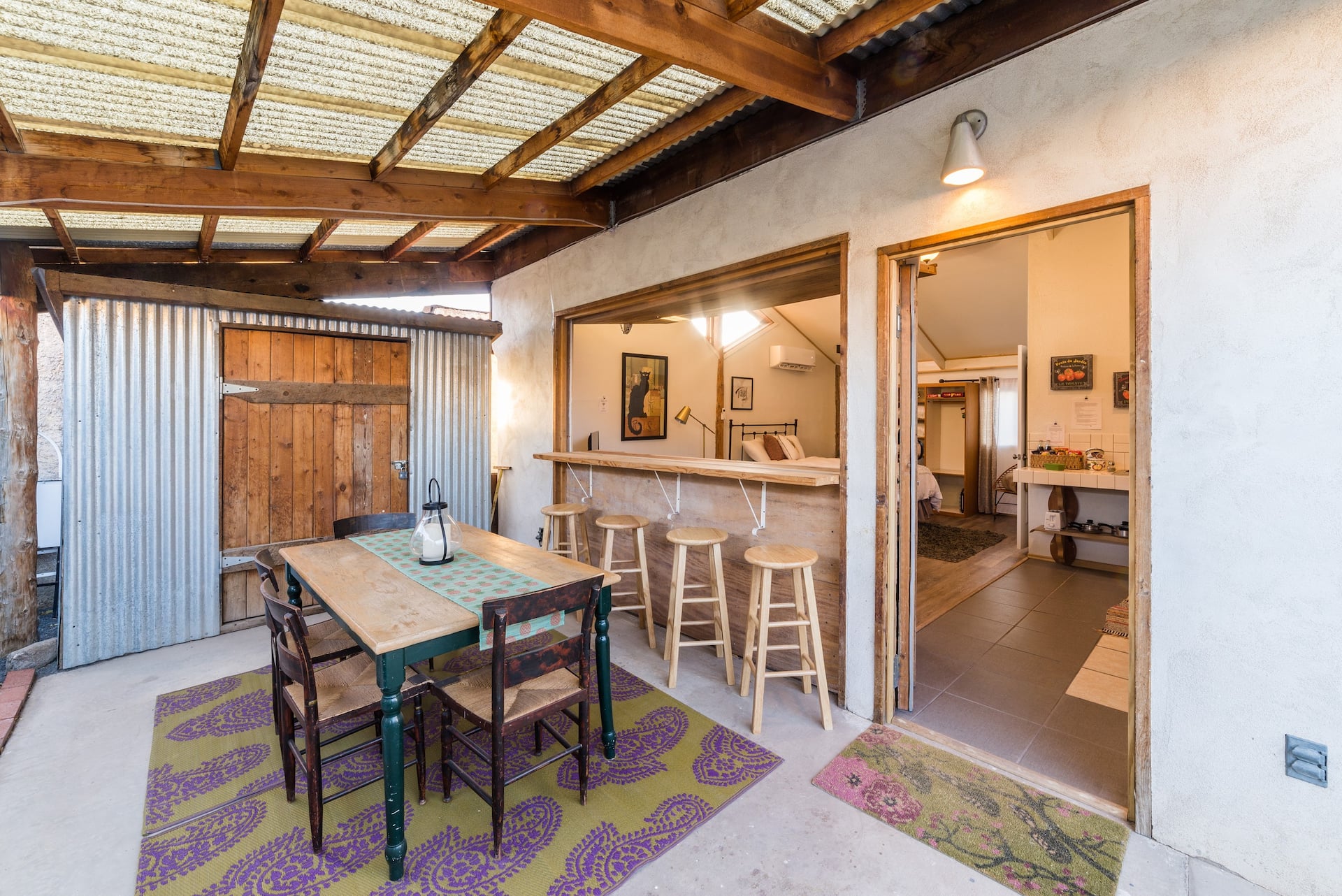 Writer's Farm Cabin
With Taos being an old art colony, it's only fitting that this eco-lodge and its cabins just north of Taos once housed writers Aldous Huxley and D.H. Lawrence. If you need a creative space to rid yourself of writer's block, the Writer's Farm Cabin is the best Airbnb in New Mexico for you.
Even if you have no intention of engaging in the arts during your stay, the cabin has plenty to offer including chickens, a goat, and two alpacas to interact with, seasonal vegetables and fruit to pick (the cabin is on a 40-acre farm), a small playground for children, hammocks to relax in as you enjoy the warm summer weather, and a hot tub to soak in during the winter months. For an extra fee, you can also enjoy breakfast and lunch at the farm.
When you're ready to trade in mountain views for more up-close encounters with nature, you can go mountain biking, hiking, fishing, or take a trip to nearby natural hot springs. You're also within a reasonable distance of the Taos Ski Valley, the Taos Pueblo UNESCO World Heritage Site, and Taos' wonderful art museums.
There's no shortage of activities to keep you occupied and inspired during your stay in this little slice of paradise.
Click Here To Check Rates On Airbnb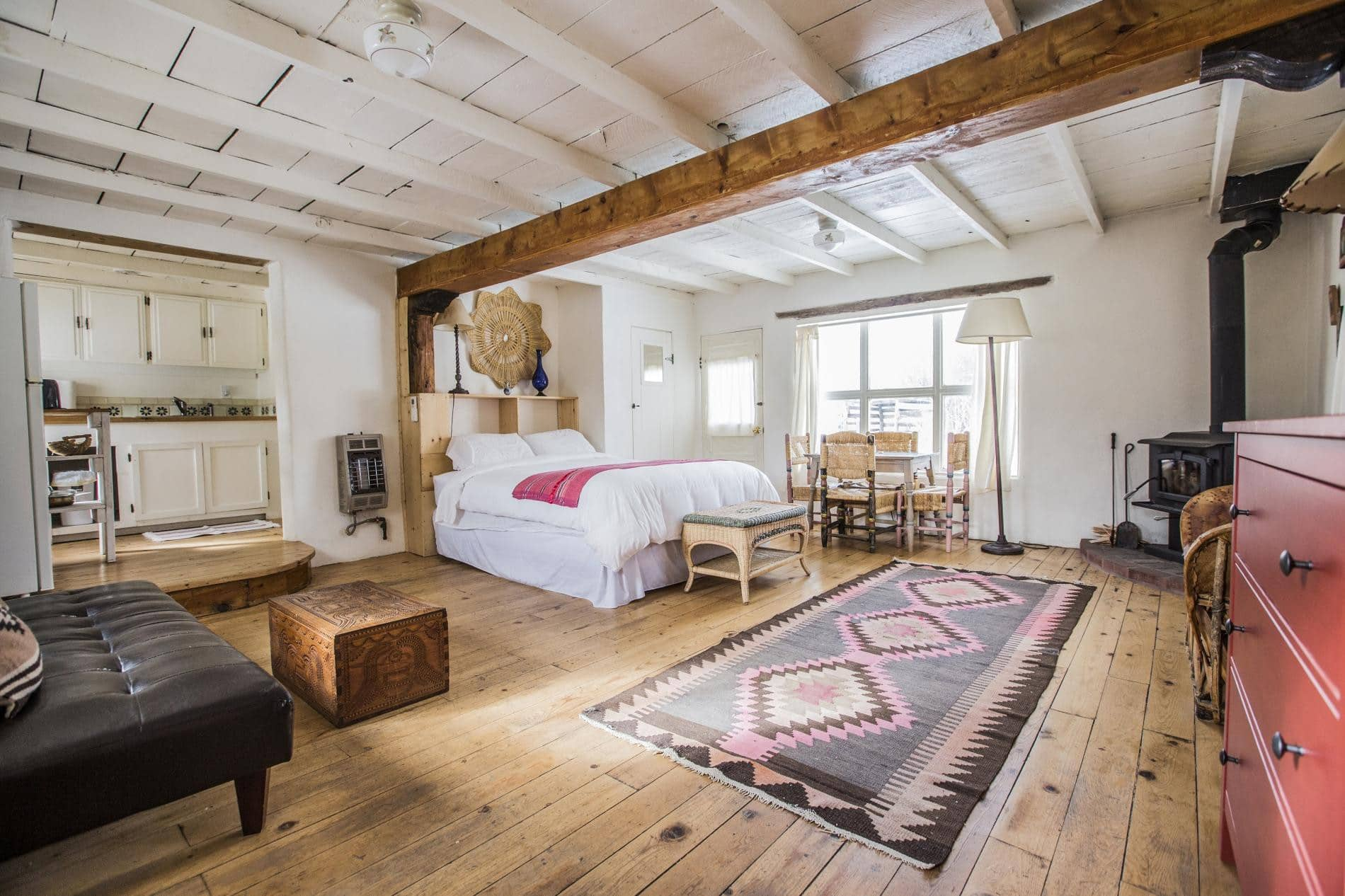 Auromesa Retreat Hogan
The Navajo style Auromesa Retreat Hogan in Arroyo Hondo with its surrounding properties and landscape is a meditation lover's dream.
Not only is the Hogan itself conducive to relaxing and recharging, but it is part of Auromesa, meditation and Ayurvedic treatment center where you can book an appointment if you wish. Ayurvedic therapy is historically an East Indian practice and the Airbnb host Tizia is a licensed practitioner.
The Hogan is a unique structure with an intricately designed roof and a skylight to welcome in the sun during the day and the stars at night. The smells of the greenhouse and a soak in the claw foot bathtub only help to enhance your stay.
The Hogan is within walking distance of the Rio Grande Gorge and its natural hot springs. So come take a load off at the Hogan for a truly relaxing experience you won't soon forget.
Click Here To Check Rates On Airbnb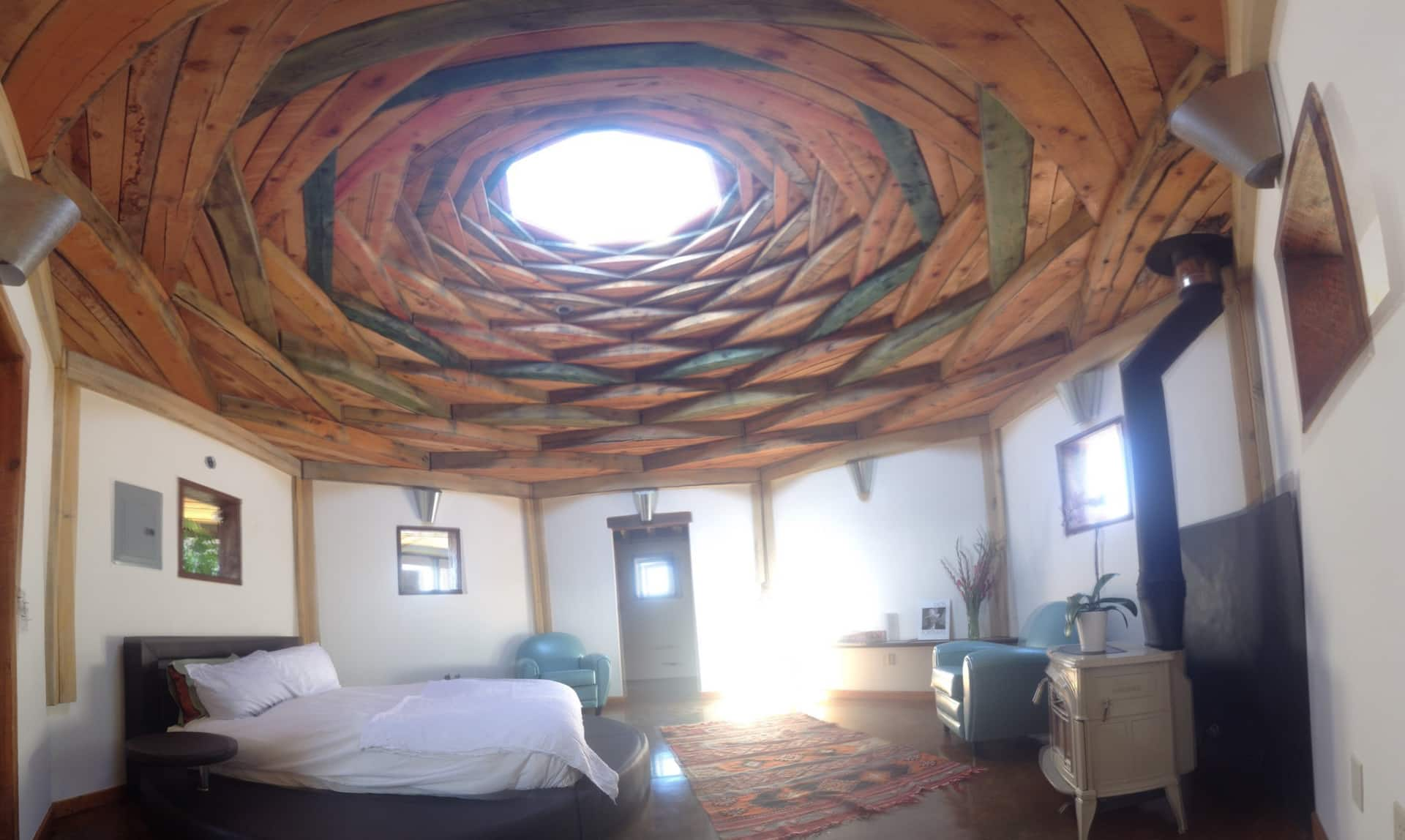 Casita De La Luz
If you love hiking and Santa Fe style adobe living then look no further. Casita de la Luz is a beautiful southwest haven.
This Santa Fe Airbnb has spectacular mountain views and is located near the Audubon Park and trails, Dale Ball trails, and trails above St. John's College for excellent hiking opportunities. During your stay, you'll experience the quiet of the historic Santa Fe neighborhood while also enjoying your close proximity to the Canyon Road arts district, Museum Hill and the Santa Fe Plaza.
Time spent at the casita will be memorable as well with the kiva gas fireplace keeping you cozy and a rooftop deck for the best views of the mountain and the stars.
From the bright yellow door welcoming you inside to the colorful tile designs, wood beams, and adobe structure, this casita screams southwest charm, and you can't help but fall in love with the homey beauty of its design.
Click Here To Check Rates On Airbnb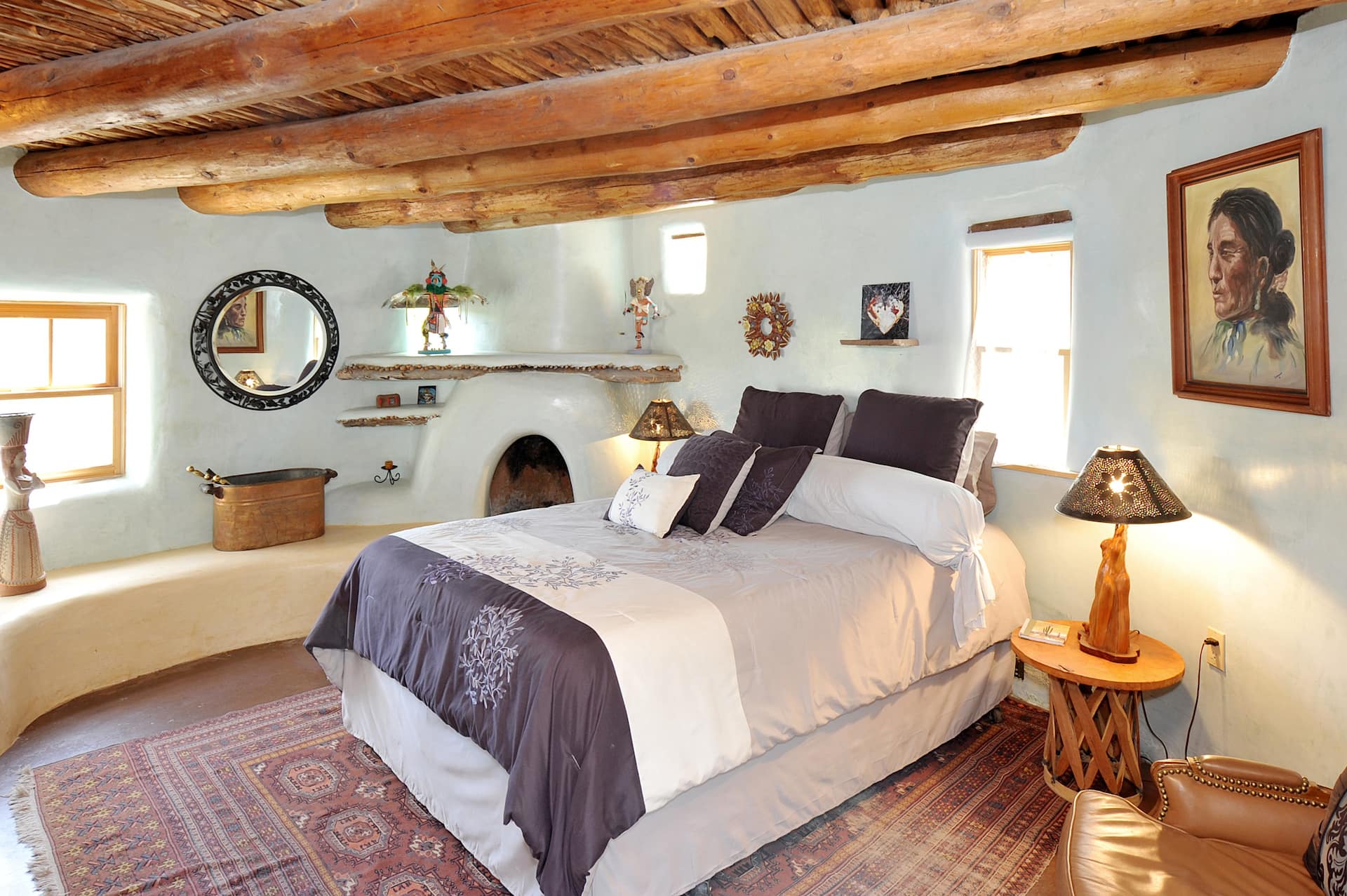 Taos Earthship: Modern + Mesa
We bring you another magical Earthship suggestion in the form of this Taos Earthship located in the Greater World Earthship Community in El Prado, New Mexico. This Airbnb follows the usual Earthship construction principles pulling from both natural and recycled materials with a structure made primarily from plastered adobe brick.
Pieces of glass bottles are used in abundance throughout the home as an unusual way of filtering light and creating a unique design. And large windows in the kitchen/dining area give you spectacular views of the mountains, sunrise, sunset, and stars.
All electrical power is solar-generated, and the water comes from collected rainwater that is then used to water the banana trees inside of the house. You'll hardly realize just how environmentally conscious you're being as you enjoy the comforts of this unique home.
If you're looking for a secluded getaway in the high desert with little but the coyotes, rabbits, and endless hiking trails to keep you company, then this is the best Airbnb in New Mexico for you.
Click Here To Check Rates On Airbnb
Casa De Lavanda
This adobe Santa Fe Airbnb charms you from the moment you arrive with turquoise accents, beautiful wood beams, chili ristras, hand-painted Mexican tiles, colorful artwork, and plenty of other special touches that make the home inviting.
Casa de Lavanda can host up to six guests with three separate bedrooms that include a king bed, a queen bed, and two singles. It can be the perfect spot for a larger family, although the more expensive price of the accommodation makes it even more suited to groups of friends or couples looking to split the cost among themselves.
This New Mexico Airbnb is located just far enough from the plaza to avoid the noise and crowds while still being walking distance from Canyon Road and other Santa Fe attractions. You'll also have plenty of access to nearby hiking trails during your stay.
Prepare to feel welcomed and right at home in this beautiful space whether you're grilling on the outdoor patio or reading a book by the living room fireplace. Santa Fe is rich in culture and history, and you won't regret making this adobe Airbnb your home base to explore the city.
Click Here To Check Rates On Airbnb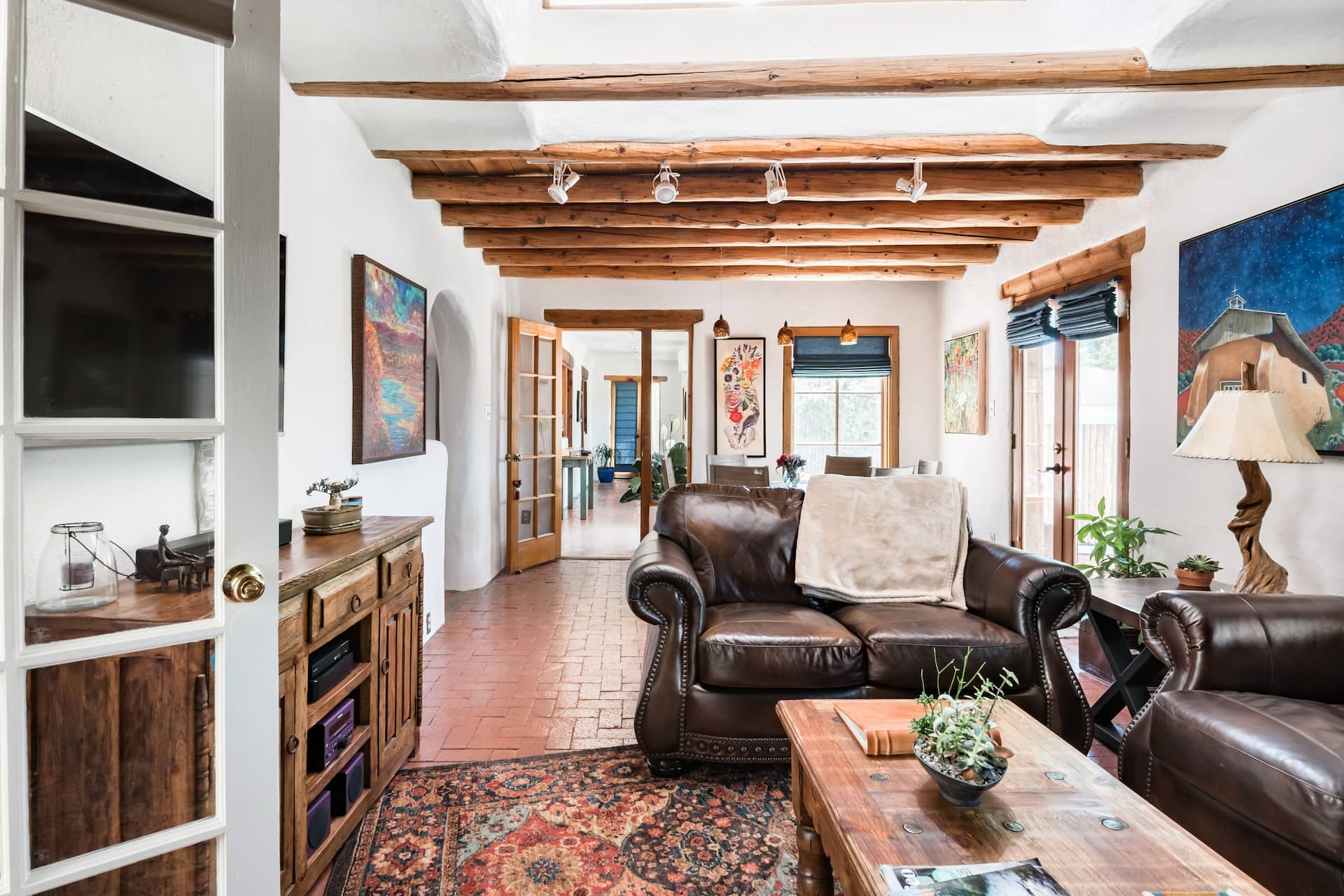 Artsy Earthship
The last of our Earthship New Mexico Airbnb suggestions is an artsy Earthship found on a hill in Arroyo Hondo. During your stay, you'll have easy access to the town of Taos and the ski valley while still enjoying quiet seclusion.
You'll be afforded plenty of privacy from up on the hill where you'll feel like the king of the world looking out at the beautiful natural landscape of the Arroyo Hondo mesa and the Taos ski mountain. Bring your favorite books and board games and settle down with the family or a group of friends for a night of fun bonding under the stars.
You're in for an unusual and special experience at this New Mexico Airbnb. The Artsy Earthship has colorful décor, large panels of windows that are both practical and add to the pleasing aesthetic of the place, and indoor plants thriving in the sunlight.
Take a bath by a collection of plants under a skylight or curl up by the adobe fireplace. No matter how you spend your time at the Earthship, you'll no doubt create lasting memories that will have you longing for a return trip.
Click Here To Check Rates On Airbnb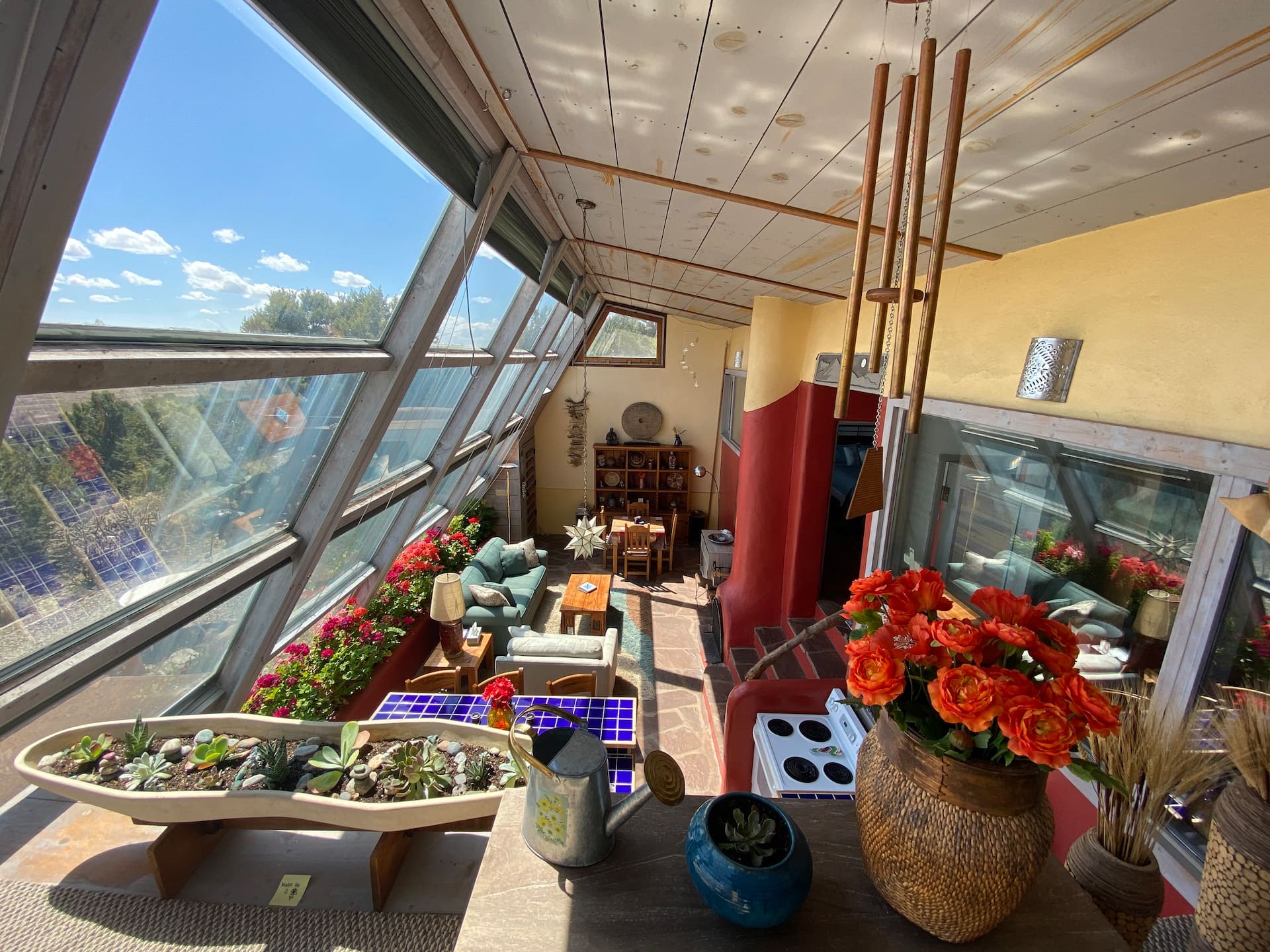 Charming Casita With Patio & Hot Tub
If you're looking for a pit stop on a long road trip (it's only about 15 minutes off the I-10) or a home base for day trips throughout the state, this Airbnb in San Miguel, New Mexico will do the trick. This charming casita, next door to a 90-year-old adobe home, will greet you with exposed rock walls, and a courtyard filled with plants.
Also in the courtyard is one of the main attractions of this Airbnb, the hot tub where you can stargaze at night or relax at any time of day. And if you're up for engaging with the host's cat and two dogs, a few treats will gain you three new best friends.
If you're looking for the perfect day trip during your stay, consider taking a drive to the Carlsbad Caverns, Guadalupe Mountains National Park, or the White Sands National Park for some fantastic outdoor adventures. For closer attractions, you can visit the Organ Mountains-Desert Peaks National Monument or the nearby historic town of Mesilla.
There's nothing wrong though with a day spent at the Airbnb relaxing under the vine-covered patio or reading a book in the sitting area. A stay at this serene Airbnb will find you appreciating a part of New Mexico that is often completely off the radar of most tourists.
Click Here To Check Rates On Airbnb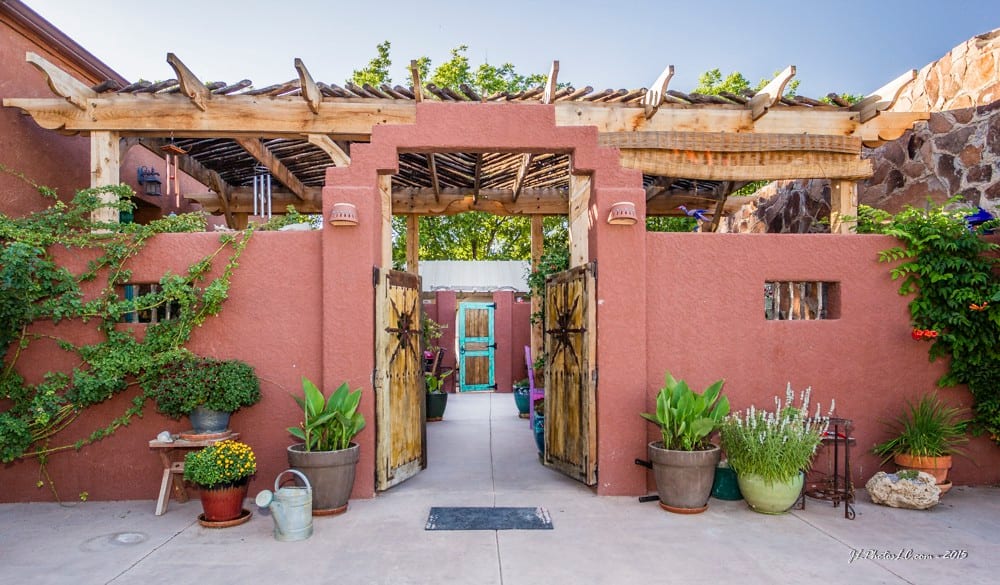 Gorgeous Casita With Private Hot Tub
If you're looking for a hint of luxury in a private but central location, this is the best Airbnb in New Mexico for you.
This gorgeous casita is hypoallergenic and scent-free, comes with two Smart TVs, an outdoor barbeque, washer and dryer, a comfortable king bed, and a hot tub among many other amenities. There's even a Tesla charger and RV parking on-site for travelers using those means of transportation.
The inside of the casita is thoughtfully decorated and features beautiful wood and brick floors. You'll be more than comfortable in this Santa Fe Airbnb located just a short distance from historic downtown Santa Fe.
And who can resist watching the sunset while relaxing in a hot tub? That kind of relaxing evening will top off what is sure to be a memorable stay at this popular casita.
Click Here To Check Rates On Airbnb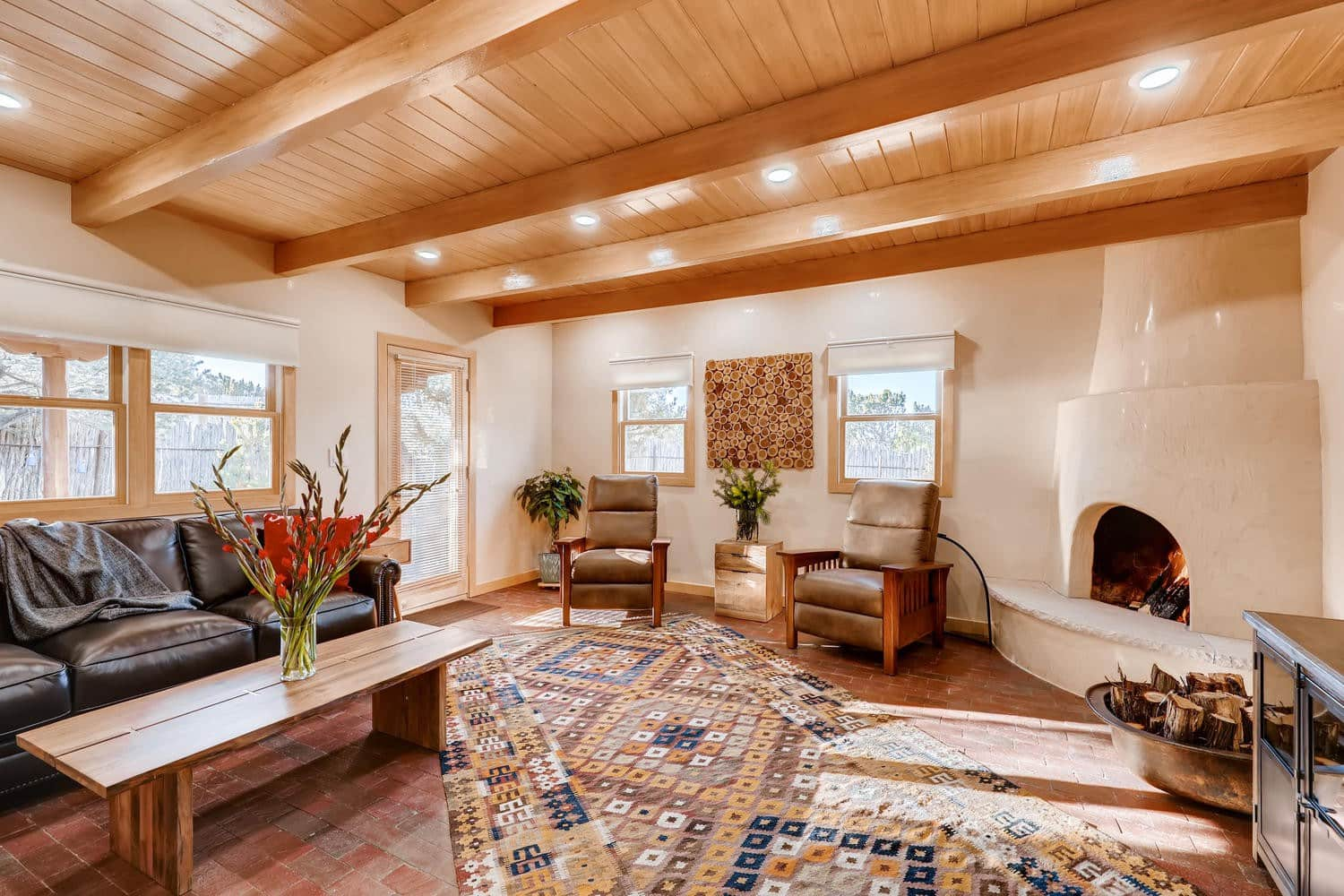 Besos Adobe
The Besos Adobe New Mexico Airbnb is in an ideal location on Canyon Road in Santa Fe. It's conveniently located next to an abundance of restaurants, art galleries, and hiking trails.
Across from the Airbnb is the Monsignor Patrick Smith Park and a small river, a perfect spot to soak up the sunshine. You'll also have access to three bikes for your adventures if you're visiting between May and November (though they are shared with the neighboring Airbnb casitas).
Two gas fireplaces keep the place toasty warm in the winter months. Windows and skylights also let in an ample amount of sunlight to brighten the rooms during the day.
If you enjoy socializing, you can meet the neighboring guests on the shared patio, or you can relax in the beautifully decorated adobe casita by yourself. Either way, you'll want to make this New Mexico Airbnb home for the duration of your adventures in Santa Fe.
You should note that the Besos Adobe requires a 30-day minimum when booking.
Click Here To Check Rates On Airbnb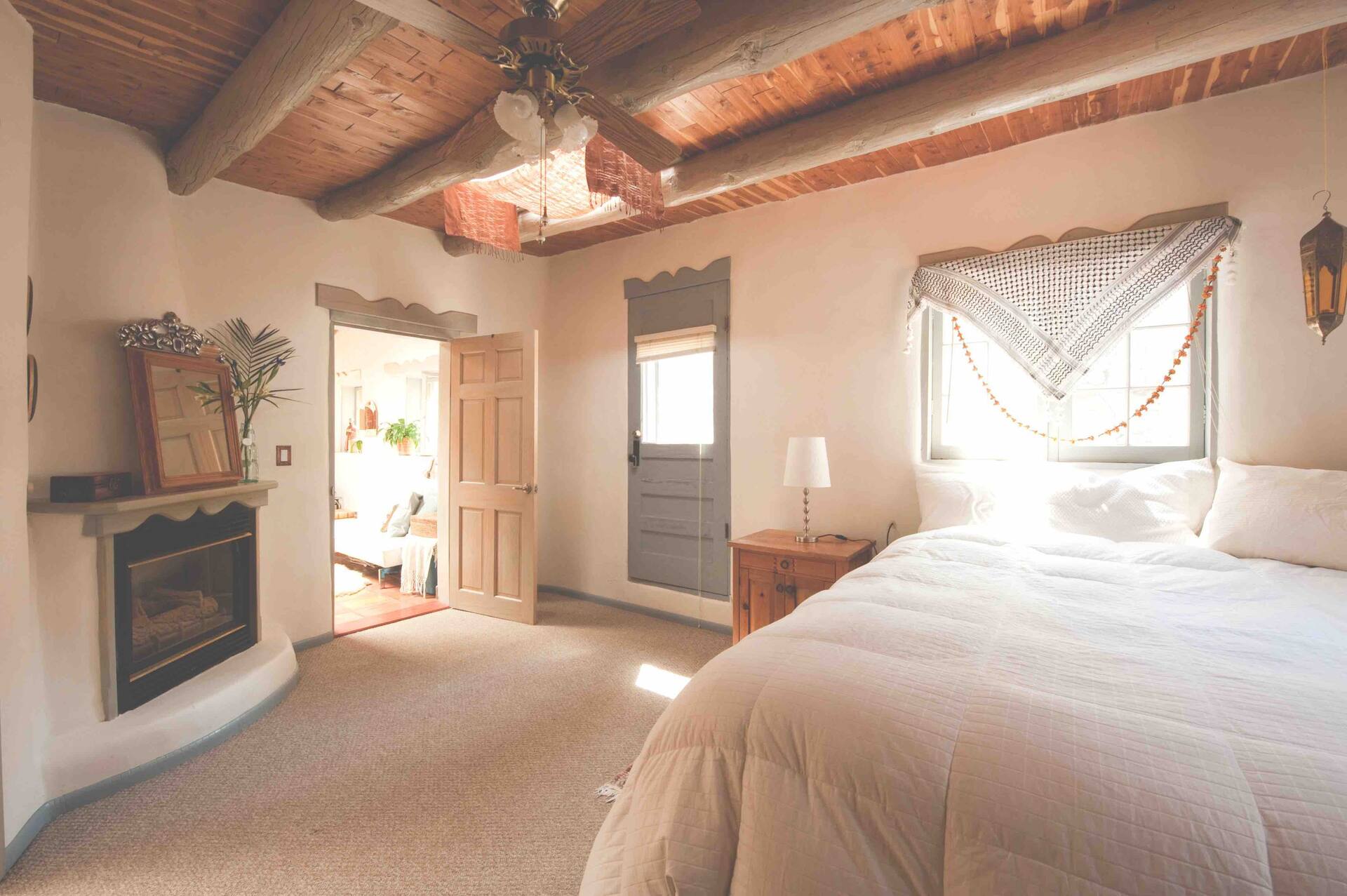 We're thrilled you've chosen to call the deserts and mountains of New Mexico home for your next vacation. We hope you'll find something from this unique list that catches your eye.
Due to the popularity of adobe as a building material, the Earthship community, and an affinity for hand-painted Mexican tiles, staying at an Airbnb in New Mexico is a particularly enjoyable experience. If you have any questions or wish to tell us about your own New Mexico adventures, feel free to leave a comment below.