If you're looking for the best resorts in Arizona, we're here to help with a list of 15 of Arizona's finest that will have you sipping drinks poolside, rejuvenating your mind and body at luxurious spas, and appreciating the natural beauty of the southwest from a patio at sunset.
With endless days of sunshine and a delightfully mild winter, Arizona is an ideal vacation spot. Even locals love frequenting these resorts for much-needed staycations throughout the year.
If you're an Arizona resident, be sure to check the hotel websites year-round for staycation discounts offered to residents only.
As you read through our list, you'll find that you're spoiled for choice when it comes to the best Arizona hotels. Get ready for a memorable trip in a slice of desert paradise.
15 Best Resorts In Arizona You Must Visit
Great Wolf Lodge
Great Wolf Lodge is one of the best Arizona resorts for families and is perfect for keeping the kids endlessly entertained. Grab breakfast as a family at the resort before you all get swept up in the activities of the day.
The highlight of the resort is its indoor water park which includes everything from a lazy river and tandem tube water slide to a treehouse and hot tub. Rent a cabana, run from one attraction to the next, and order some food to refuel in between.
Additional activities are available as part of your reservation including arts and crafts, family dance parties, face painting, and more.
For an extra charge, you can challenge the family to a round of mini golf or kid-friendly bowling right there at the resort.
Check Rates Here: Booking.com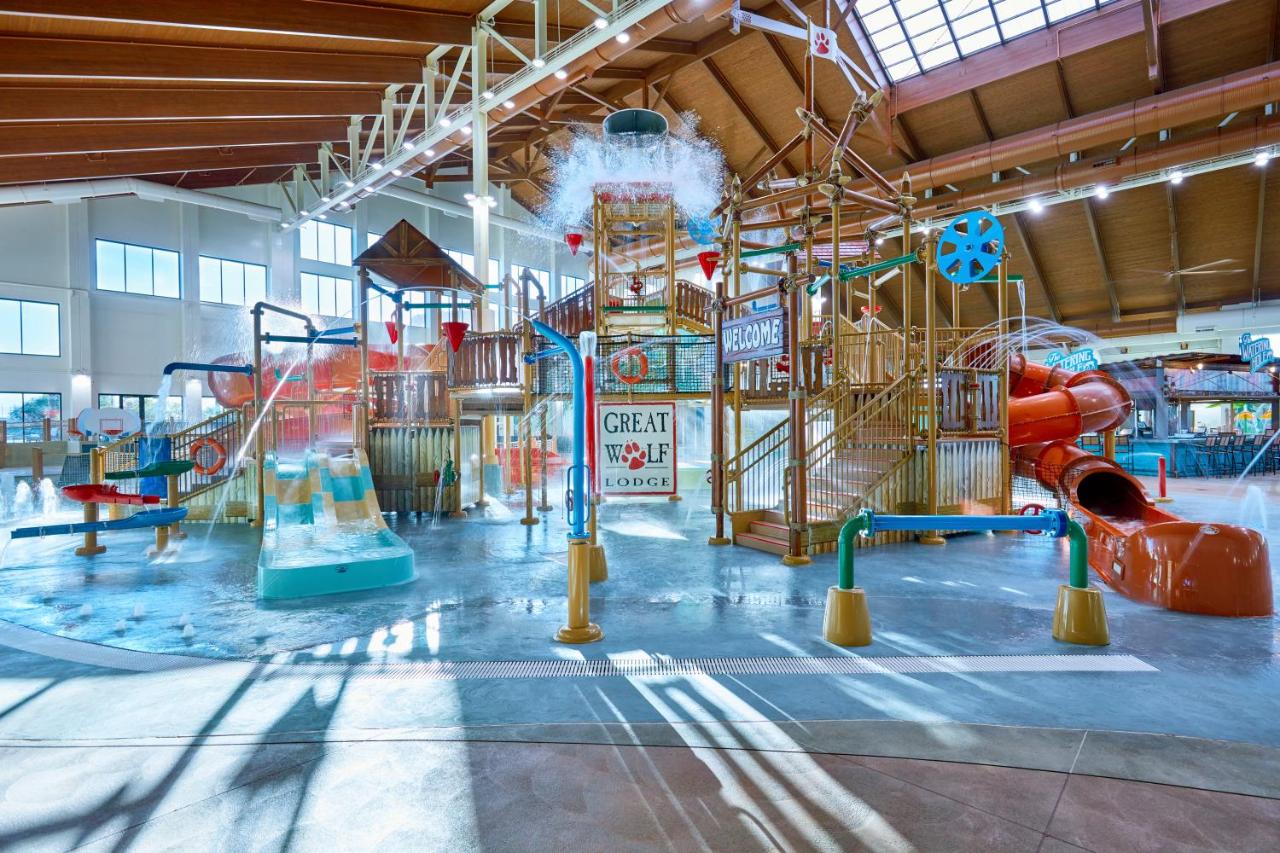 Fairmont Scottsdale Princess
Luxury awaits you at the Fairmont Scottsdale Princess. Many of the best Arizona resorts feature a collection of spectacular pools to help you combat the Arizona summer heat, and the Princess is no exception.
Though the resort's Scottsdale location gives you easy access to hikes, restaurants, museums, etc., you could easily spend the entire day at the resort. Adults can sip drinks at the adult-only pool followed by an elegant dinner at one of the many resort dining options.
If you're traveling with kids, the white sand beach and water slide will likely be their pool activities of choice.
You can also choose to participate in complimentary activities such as fishing in the lagoons or can choose to pay for your child to join the multi-hour kid's club while you enjoy a quiet morning.
Check Rates Here: Booking.com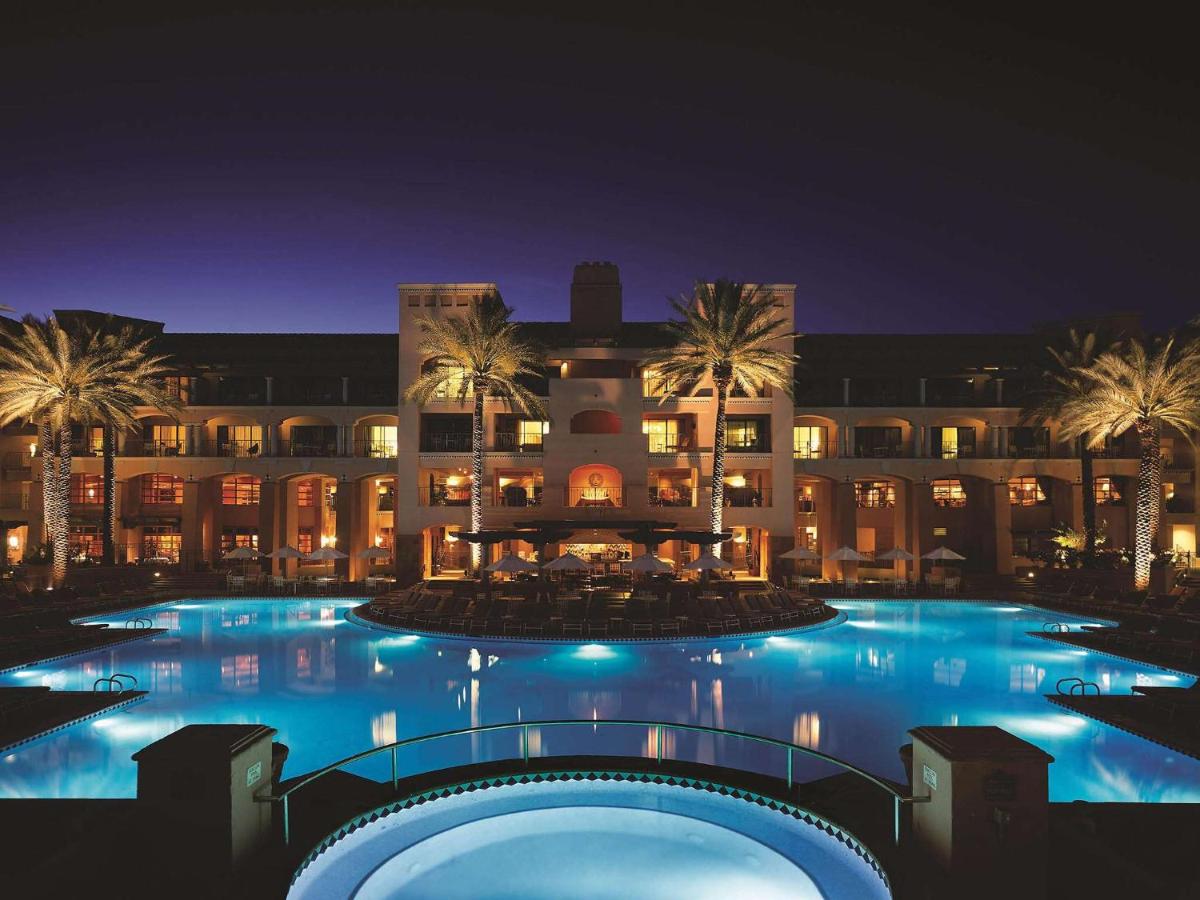 Arizona Biltmore Resort and Spa
Just as many luxury resorts in Arizona feature top-quality pools, they also offer excellent golf courses complete with spectacular mountain views. The Arizona Biltmore Resort and Spa offers all of the above.
Consider kicking off your morning with a round of golf at the Adobe Course before heading to one of the many pools.
In the mood for cocktails and quiet? Hit up the adult-only Saguaro Pool. Looking for a way to simultaneously entertain the kids while having fun yourself? The Paradise Pool with its Twist Waterslide, splash pad, and hot tub is where you'll want to be.
With architectural influences from the famous Frank Lloyd Wright and the Phoenix Mountain Preserve enhancing the resort's backdrop, you're sure to have a memorable stay in this desert paradise.
Check Rates Here: Booking.com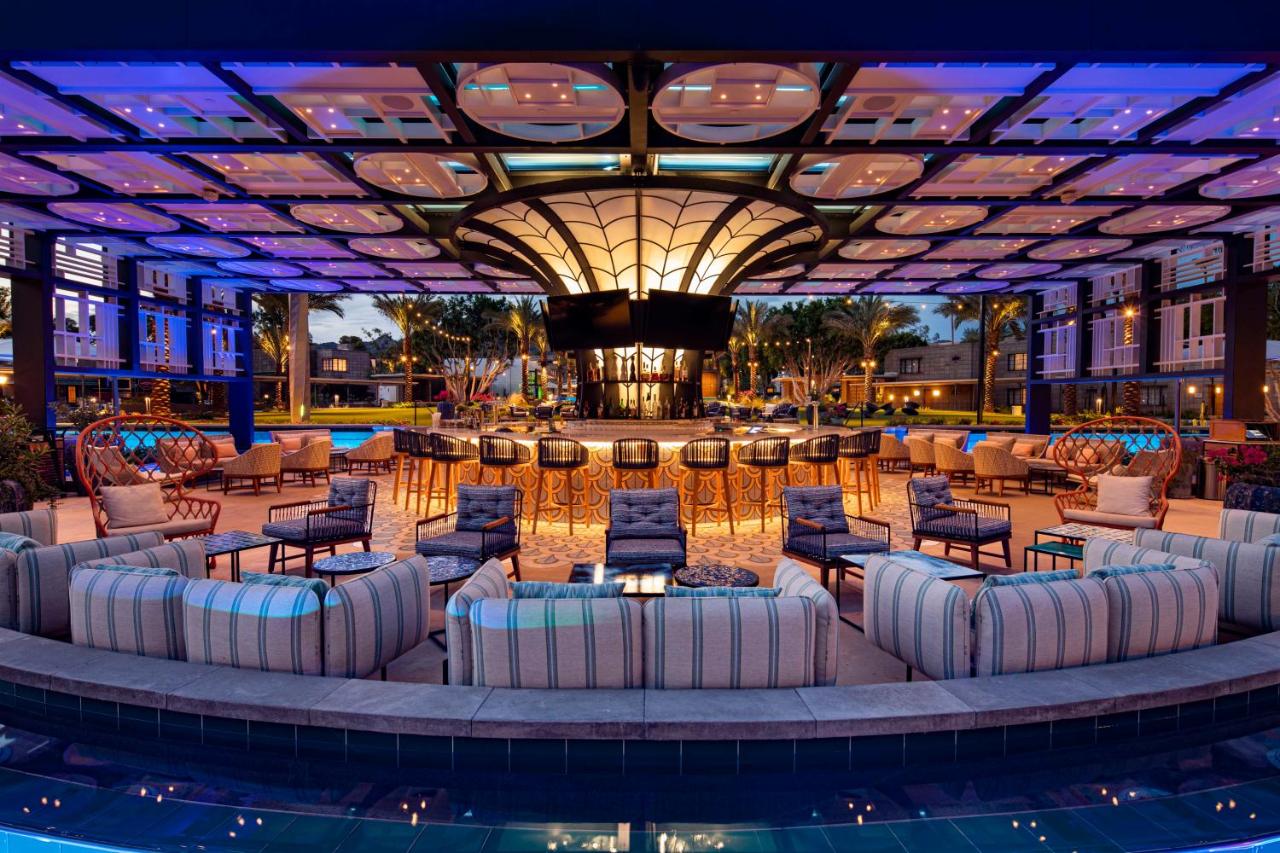 The Phoenician Resort
If you've looked into vacationing in Arizona you've likely heard of Camelback Mountain, a favorite hiking spot among locals. So when you discover that The Phoenician, one of the best resorts in Arizona, is nestled at the mountain's base, the appeal of this luxury vacation spot becomes obvious.
Hiking aficionados will love the easy access to Camelback Mountain's challenging and rewarding hiking trails.
If however, you're looking for a resort-centered trip, you'll have access to everything from separate pools for adults to a game room perfect for keeping the kids entertained while you're at the spa.
Though it's easy to play your day by ear, migrating at your own leisure from the pool to the restaurants to a round of golf, you can also participate in any of the planned resort activities such as wine tasting or an educational art history tour.
Check Rates Here: Booking.com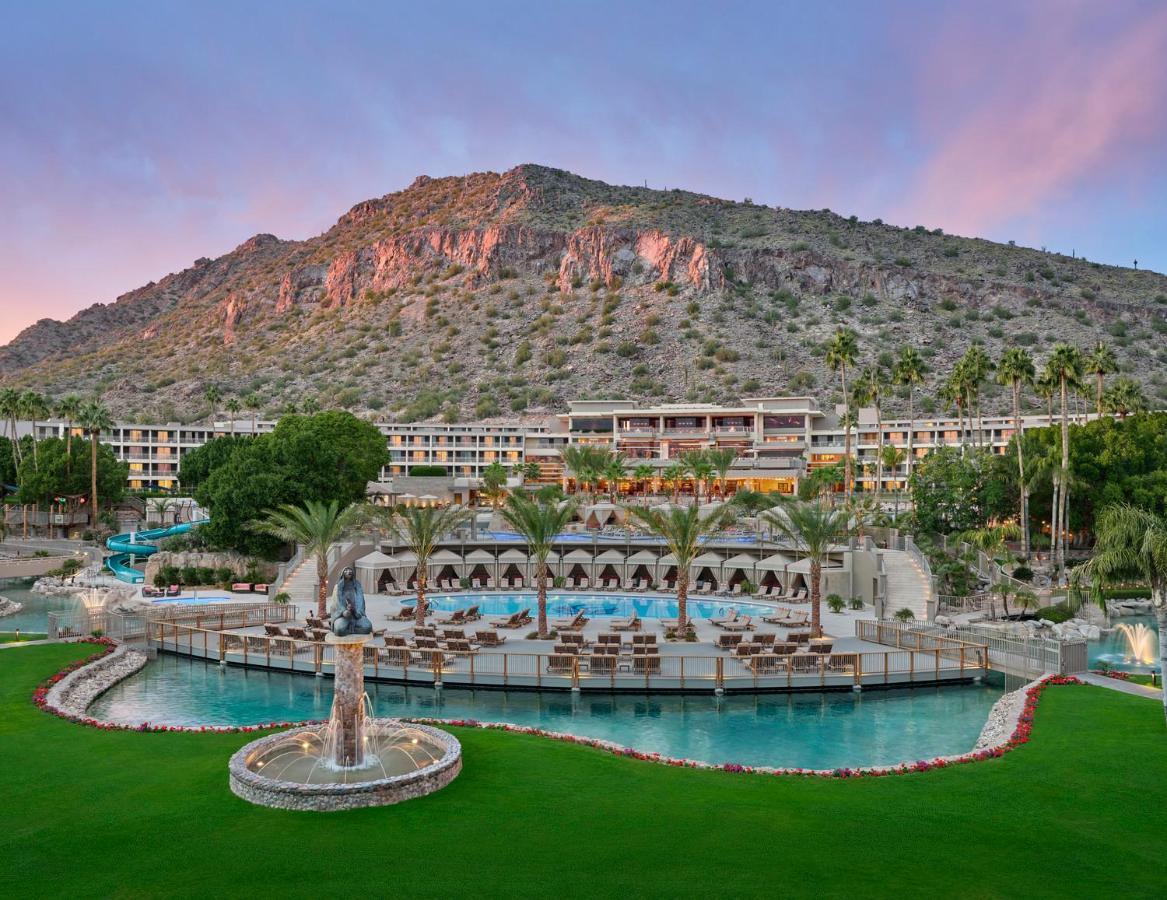 Miraval Resort And Spa
Are you looking for all-inclusive resorts in Arizona? You'd be hard-pressed to find one more spectacular and refreshing than the Miraval Resort and Spa near Catalina State Park in Tucson. Healthy meal options, an extensive list of daily wellness classes, pool time with a desert backdrop…yes please!
Your experience at Miraval is both a vacation and lifestyle choice for the duration of your stay. Expect to be inspired, to relax and reflect, and experience a great sense of peace.
You can pack your day full of fun and fascinating classes from improv games and birdwatching to photography and desert tightrope.
Miraval is also one of the best spa resorts in Arizona, so a day spent at the resort's spa is equally rewarding with a sprinkle of meditation or yoga classes in between.
Check Rates Here: Hotels.com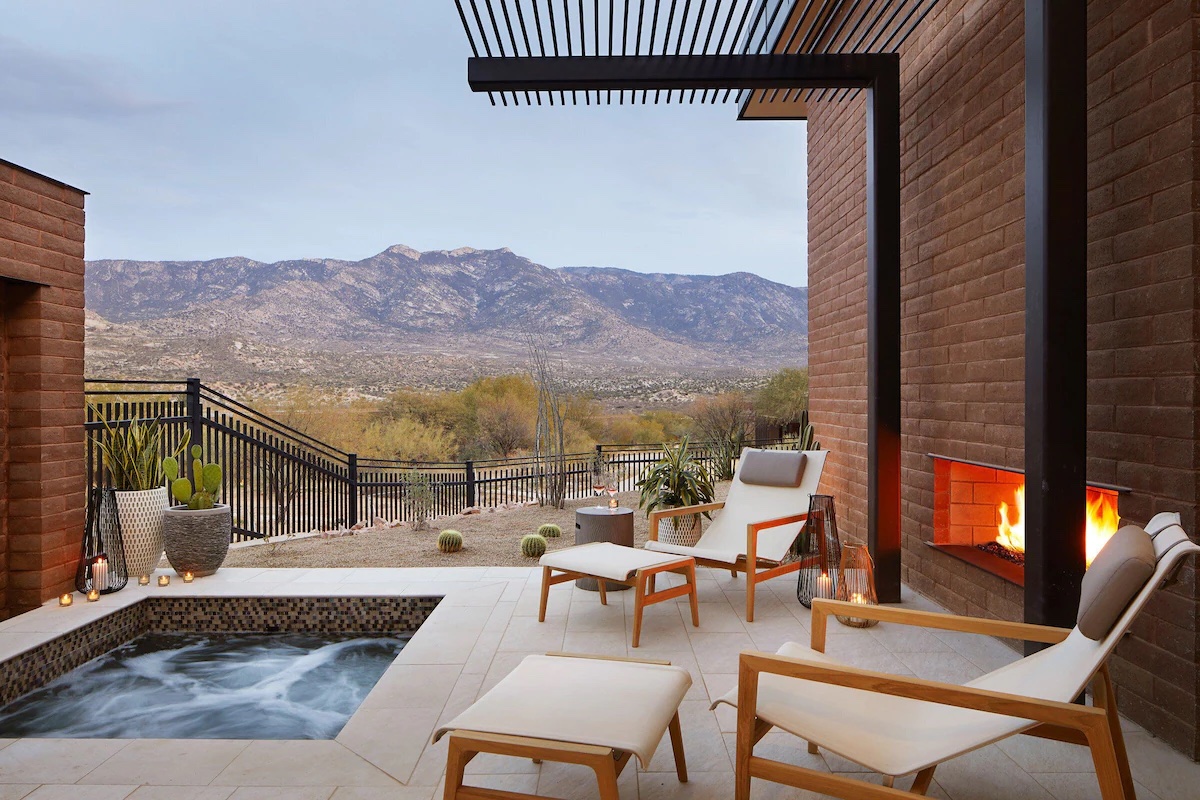 Royal Palms Resort and Spa
Spanish-style villas in the desert await you at the Royal Palms Resort and Spa. Like the Phoenician, it lies at the base of the iconic Camelback Mountain, which helps make it one of the best mountain resorts in Arizona.
Out of a 1929 private estate, this resort has blossomed into the ideal getaway it is today.
Unlike many of the previous Arizona vacation resorts on our list, Royal Palms is a smaller property that exudes intimate date-night-worthy charm. The citrus trees and the vibrant pinks of the bougainvillea vines accent the building's earthy tones and arched passageways.
A relaxing pool day to the sound of faint background music or a night out featuring the Mediterranean cuisine at the resort's restaurant, T. Cooks, will add to your idyllic stay at this historic hotel.
Check Rates Here: Booking.com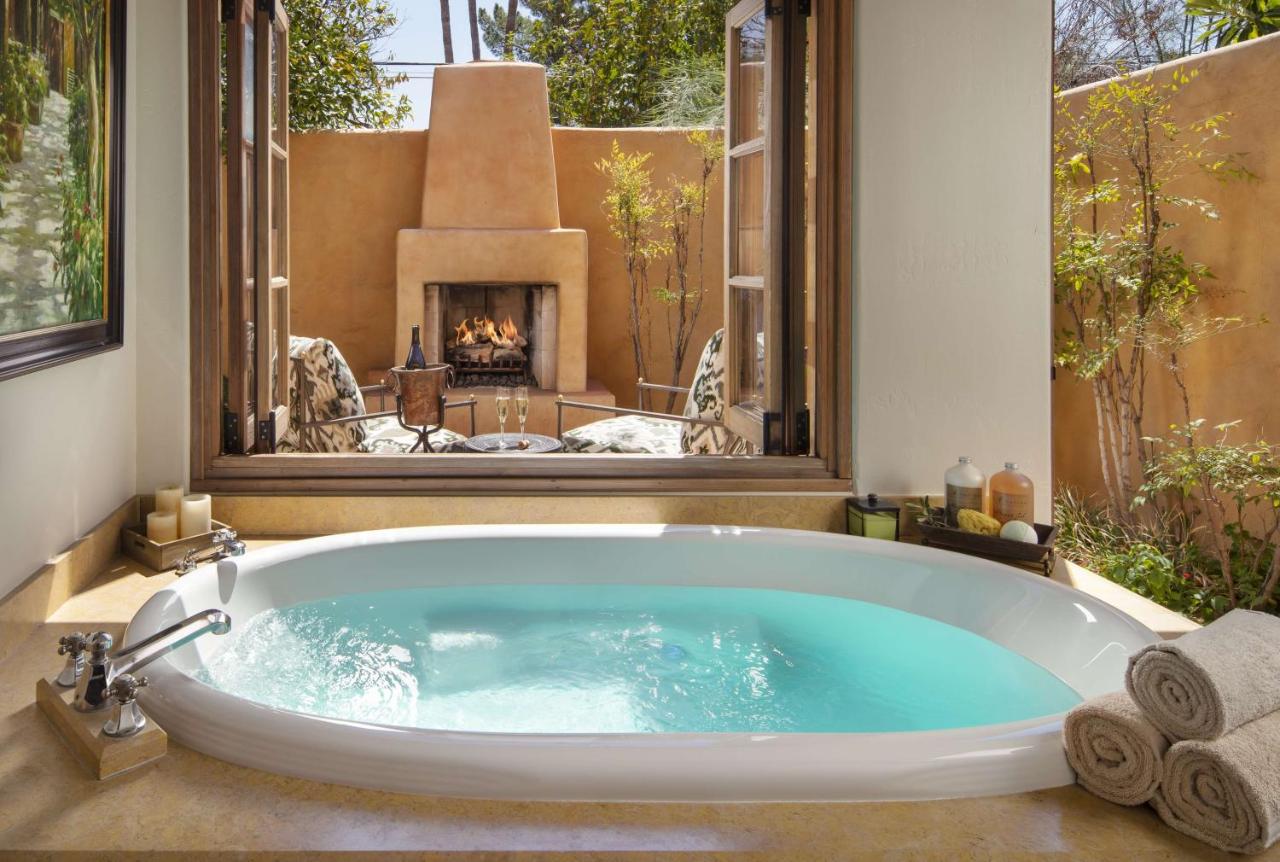 L'Auberge De Sedona
From Sedona's Main Street you'll head down a steep winding road into a sycamore tree, cottage-filled haven where you'll find L'Auberge de Sedona. Surrounded by stunning red rock and the tranquil Oak Creek, L'Auberge is one of the best places to stay in Arizona.
Each collection of cottages has a different star quality from views of the creek from your private deck to your very own private outdoor shower and easy access to the resort's spa. You also have the option of staying in the two-story lodge.
If you choose to stay on property you can focus on your well-being through yoga or meditation. Or perhaps you'd rather drive to one of Sedona's many popular hiking trails before returning for a creek-side dinner at the resort's fine-dining restaurant, Cress on Oak Creek.
However you choose to spend your time at L'Auberge, you're in for a memorable trip.
Check Rates Here: Booking.com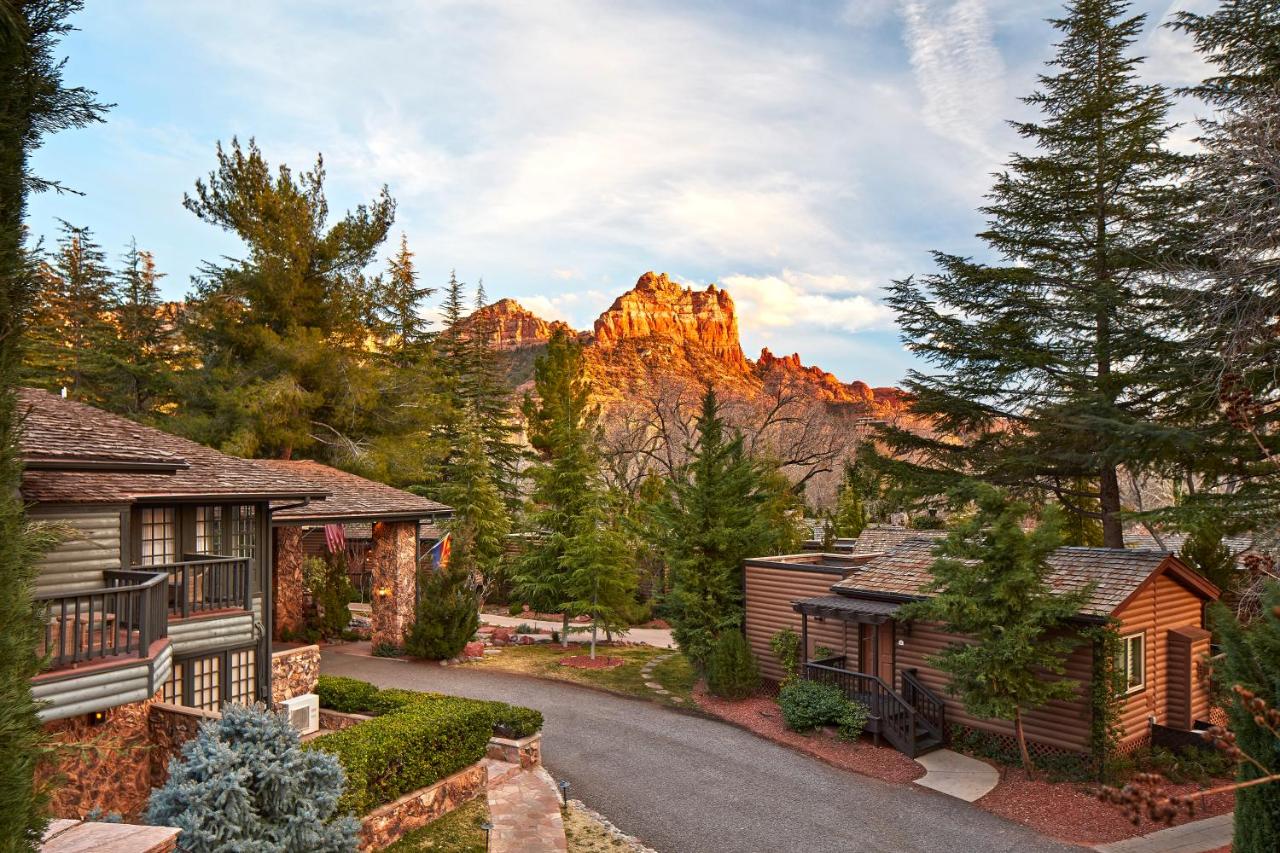 Hyatt Regency Scottsdale Resort and Spa at Gainey Ranch
At the Hyatt Gainey Ranch, you'll be spending a lot of time outdoors, specifically poolside. The resort's "water playground" makes it one of the best Arizona resorts for couples and families.
Kids will be drawn to the sandy beach and waterside. If you're an adult looking for peace and quiet however, there are 10 total pools so it's easy to find a relaxing spot to cool off in the summer sun.
You'll also have access to the spa, tennis courts, golf course, and an excellent assortment of restaurants, but should you choose to venture off-site you'll be pleased to know it's just a quick drive to Old Town Scottsdale and the trails at Camelback Mountain.
Just down the street, you'll also find coffee shops and top-quality restaurants at The Shops Gainey Village.
Check Rates Here: Booking.com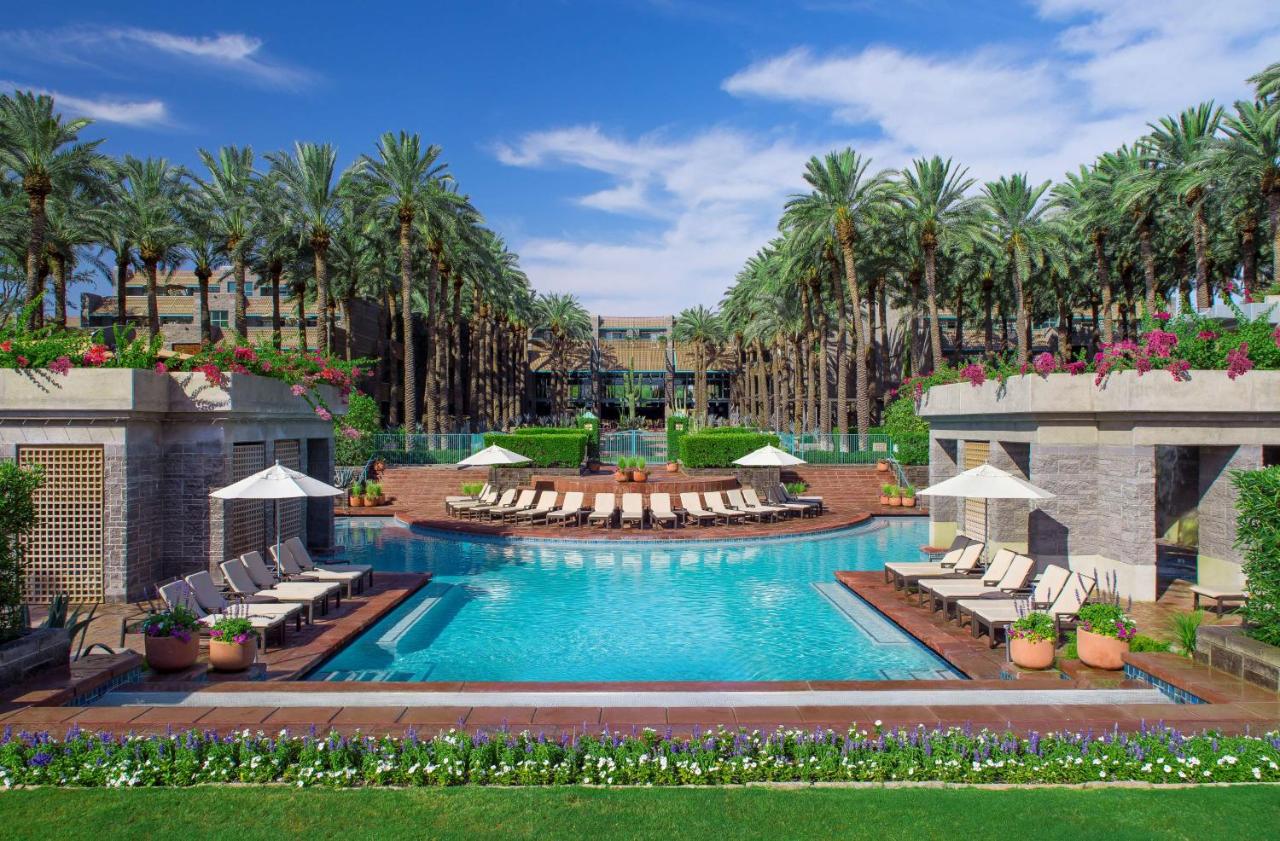 Loews Ventana Canyon Resort
The Catalina Mountains give the Loews Ventana Canyon Resort a splash of Sonoran Desert magic, making it one of the best Arizona mountain resorts. It also lies conveniently close to Sabino Canyon for easy access to some of Tucson's best hiking trails including the very popular Seven Falls.
If an 8-mile Seven Falls hike isn't part of your ideal vacation itinerary, you can stay on-site and wander the resort's nature trail. The resort even has its own 80-foot natural waterfall you can swing by before heading back to your room.
Let the relaxation continue with a soul-warming sauna experience at the spa and a sunset soak in the outdoor hot tub as you admire the desert views.
If you're one of the fortunate guests who have made a dinner reservation at the Flying V Bar and Grill you can enjoy a fabulous dinner to cap off the day.
Check Rates Here: Booking.com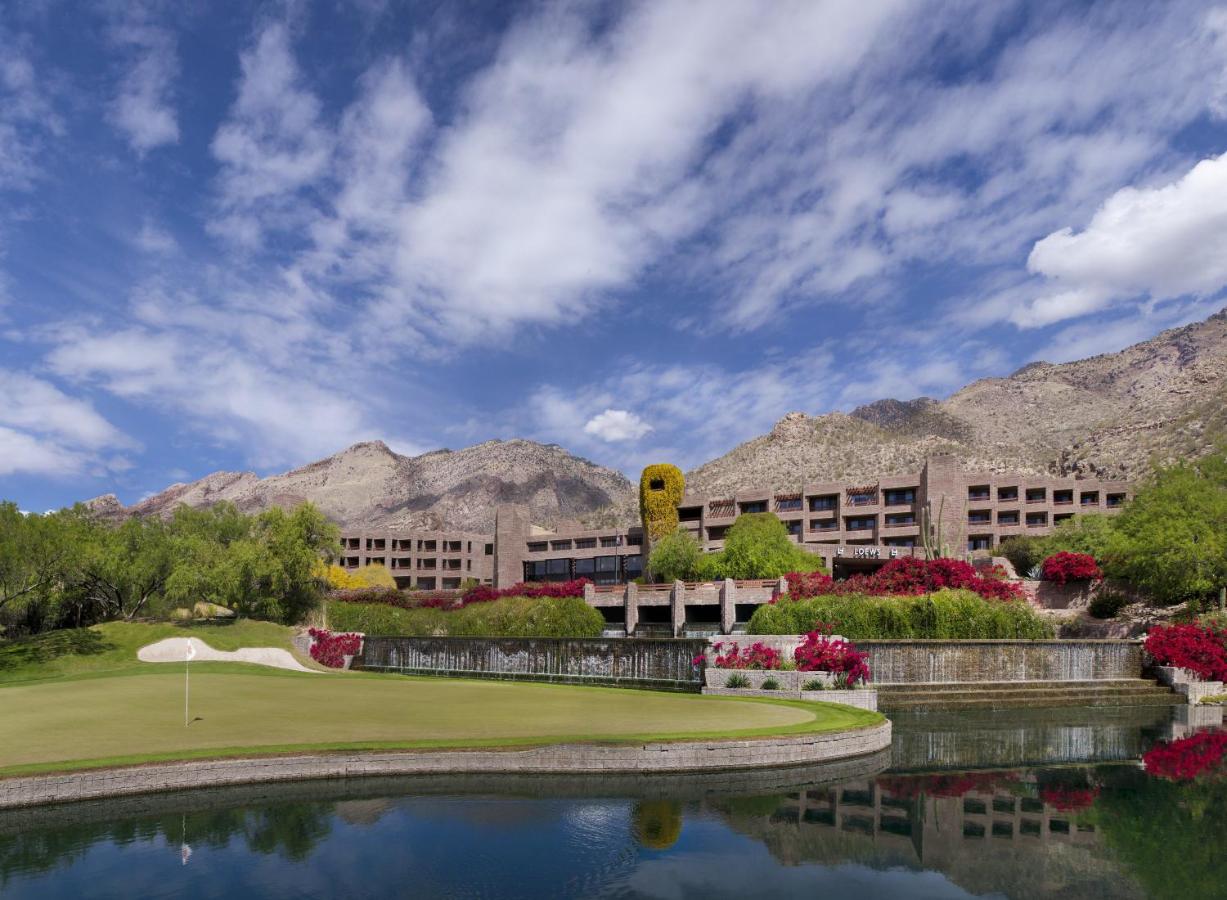 Scottsdale Camelback Inn Resort & Spa
With the trails and exceptional sights from the top of Camelback Mountain just a mile away, Scottsdale Camelback Inn attracts visitors from all over looking for the best resorts in AZ.
The whole property's southwest pueblo-style buildings fit right in with the beautiful desert landscape around it.
You can't go wrong with any of the accommodations, but if you're looking for a particularly luxurious experience, consider renting a Deluxe Pool Suite with your own private heated pool and a cozy fireplace.
All guests have access to the Jackrabbit Pool and whirlpool. Who doesn't love some refreshing relaxation with desert views and poolside food/drink service?
Check Rates Here: Booking.com
Hacienda Del Sol Guest Ranch Resort
Do you enjoy historic properties? Ever imagined yourself walking in the shoes of a famous actor or actress? Hacienda Del Sol has a fascinating history including a chapter as a favorite getaway spot for silver screen favorites Spencer Tracy and Katherine Hepburn.
If you've been seeking a romantic vacation with a significant other, you're in luck because this is one of the best resorts in Arizona for couples. String lights, a mountainous desert landscape, patio drinks, a late-night soak in the hot tub…what more could you ask for?
The property is quintessentially southwest with the rooms featuring adobe construction, wood beams, and colorful Talavera tiles.
When you're not admiring the historic architecture and cozy interiors, head to The Grill for an upscale dinner with the Santa Catalina Mountains in sight and a taste of fresh ingredients from the resort's gardens.
Check Rates Here: Booking.com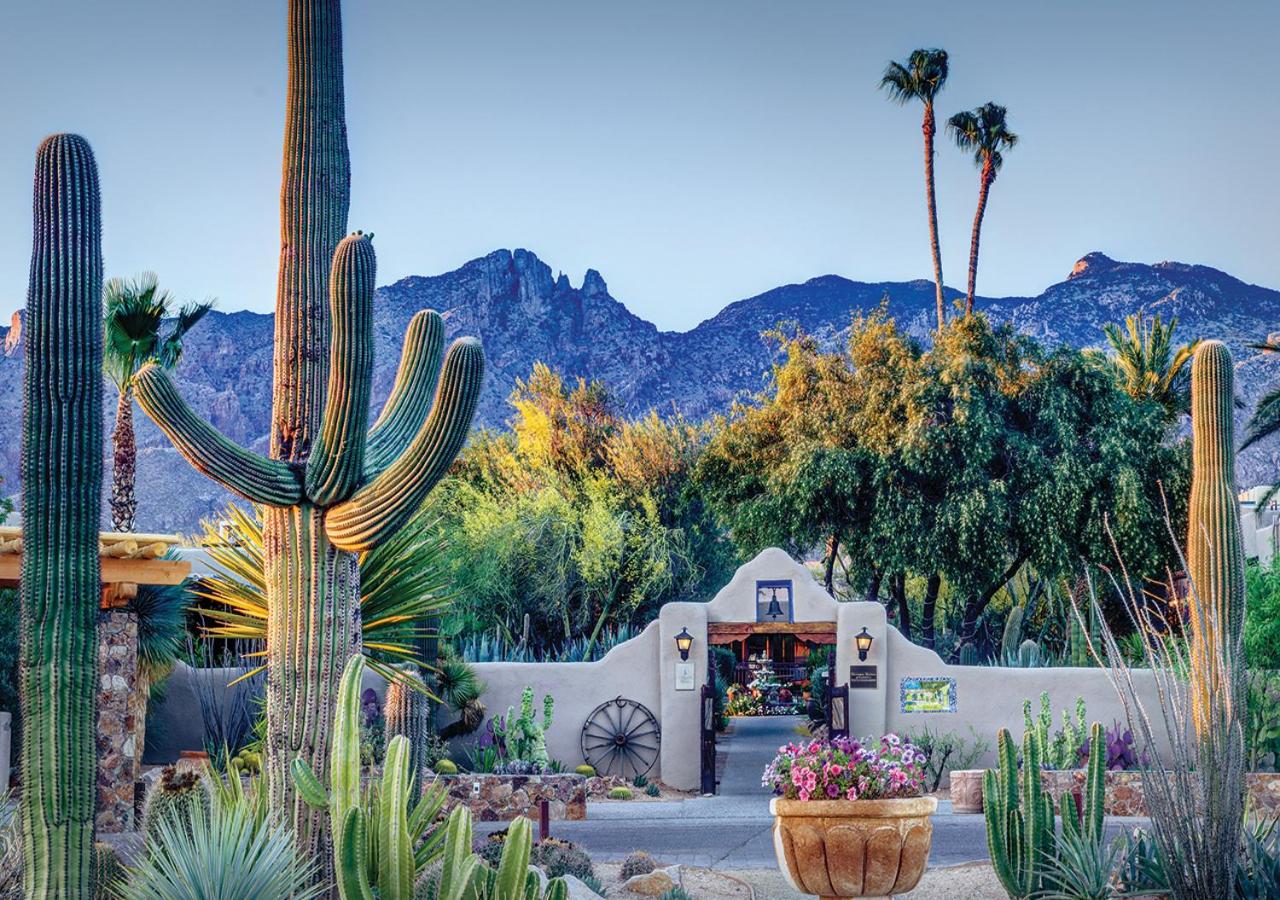 Boulders Resort and Spa
The architecture and desert landscape blend seamlessly together at the Boulders Resort and Spa. The tall boulders and the cacti-filled, mountainous landscape beyond, cocoon you in a peaceful desert paradise.
Whether you're looking for complete relaxation or constant activity, this is one of the best resorts in Arizona. Spa treatments and poolside naps await those looking to kick back and refill their tanks.
For the adventurous souls, rock climbing, competitive games of pickleball, and plenty of nearby hiking trails will keep you occupied throughout your stay.
Whether you're strolling the beautiful property or watching the sunset from your patio you'll be filled with the magic of this resort.
Check Rates Here: Booking.com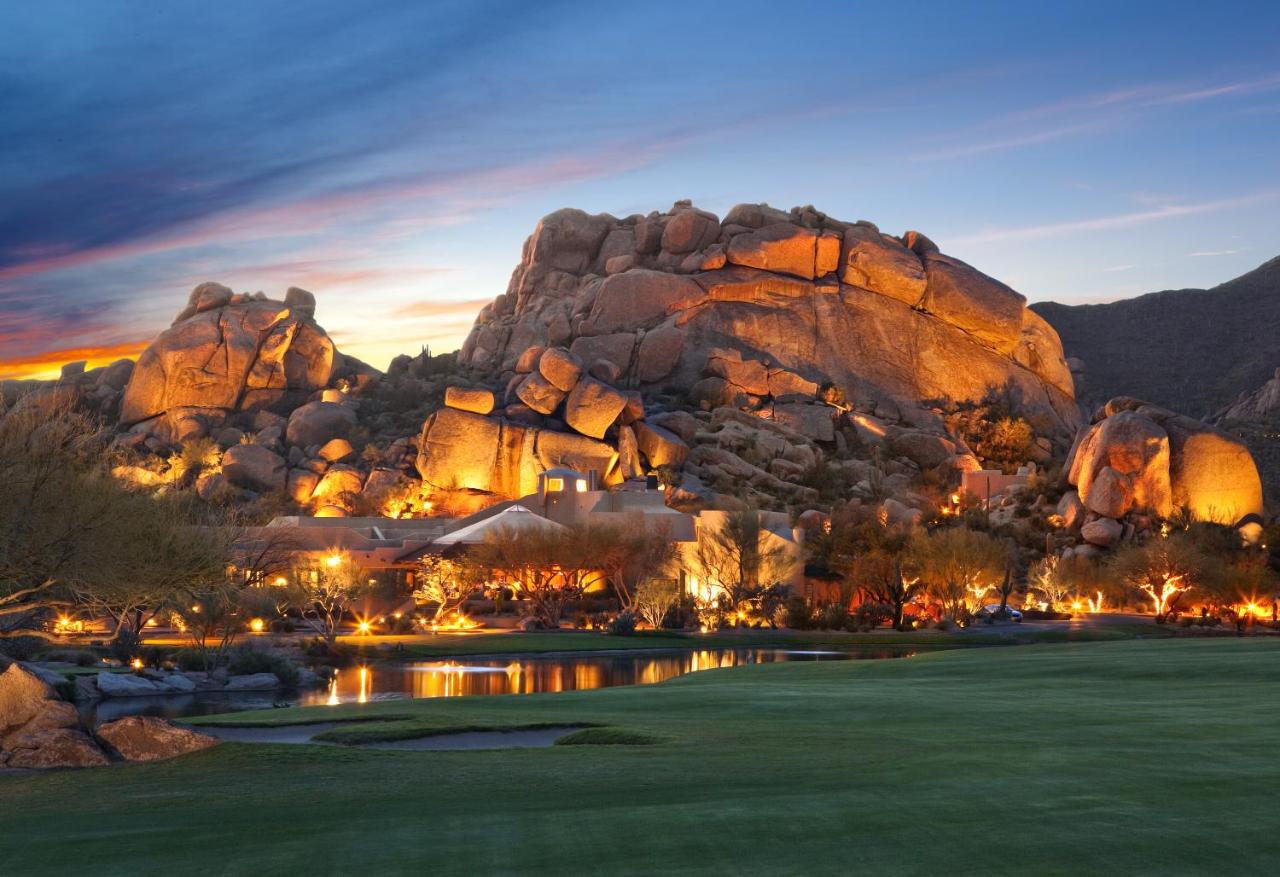 Sanctuary Camelback Mountain
How to make a bachelorette/bachelor party or family gathering more magical? Stay at one of the best Arizona vacation resorts, Sanctuary Camelback Mountain.
Each of the luxurious villas offers amenities that will exceed your expectations. Think private pools and jacuzzis, warmth by an outdoor fire pit, magical outdoor picnic areas, and more.
While the villas offer a piece of luxury at its finest, the rest of the resort rooms are no slouch either.
You'll be spoiled with the best views of Camelback Mountain and the surrounding desert landscape during your stay. You can go off-site and hike the mountain, or just enjoy its beauty from your room or from a table at the onsite restaurant, Elements.
Check Rates Here: Booking.com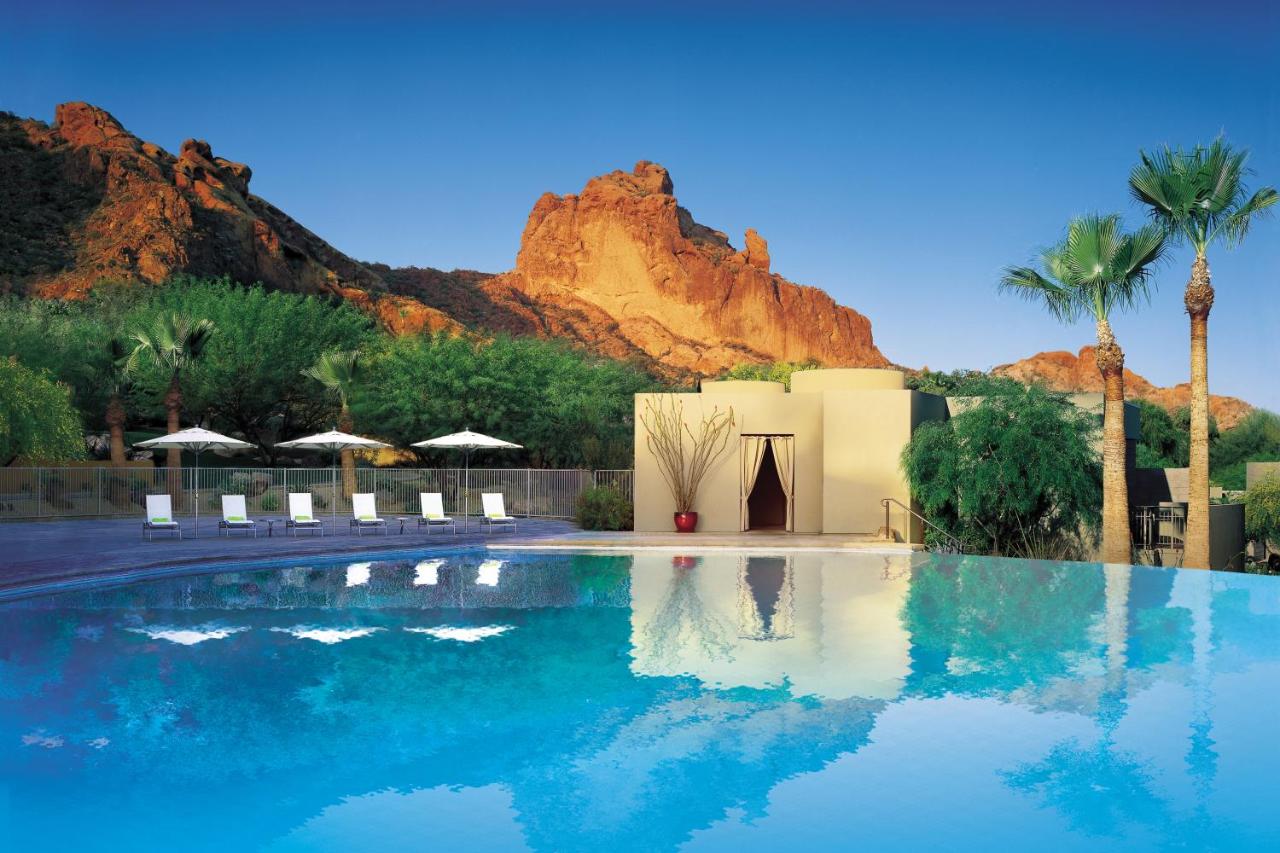 The Hermosa Inn
Six acres of desert landscape and adobe buildings await you at The Hermosa Inn.
Whether you're enjoying cold treats on a warm summer day at the pool or sipping a morning coffee on your front patio, you're in for an intimate, relaxing experience at one of the best resorts in Arizona.
Feeling hungry? Enjoy dinner in a romantic setting at Lon's, named after the artist, Lon Megargee who first brought the inn to life in 1930 as his home and studio. Delicious, garden-fresh food and attentive service will have you coming back for every meal.
The property isn't large, but it has everything you need for an ideal desert getaway. If you choose to leave the grounds, the ionic Camelback Mountain, Scottsdale shopping malls, museums, and historic sites are all located nearby.
Check Rates Here: Booking.com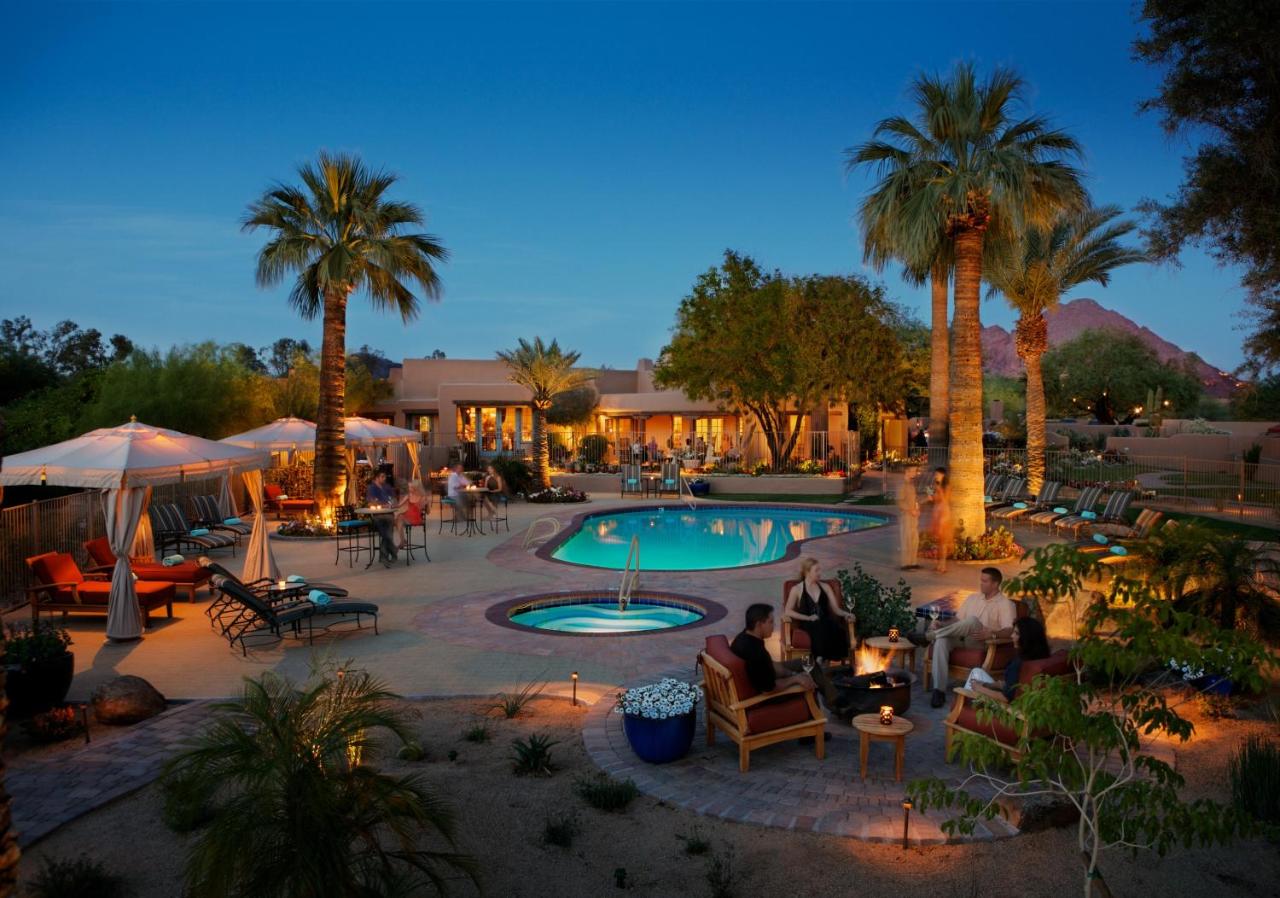 Enchantment Resort Sedona
If you're looking for 5 star hotels in Arizona, look no further than Enchantment Resort Sedona. The stunning red rock views and the location within Boynton Canyon make it ideal for those seeking rest and relaxation within Sedona's unique landscapes.
Kick back at the pool, zen out at the Mii Amo spa, or take part in any of the resort activities including watercolor and pottery workshops that draw inspiration from the surrounding canyon.
Sedona offers the perfect combination of peace, quiet, and adventure, and the resort takes a cue from its location and offers the same.
After a day full of hiking or mountain biking Sedona's nearby trails, you can return to the hotel for dinner at one of two restaurants full of large windows offering the best views of the surrounding scenery.
Check Rates Here: Booking.com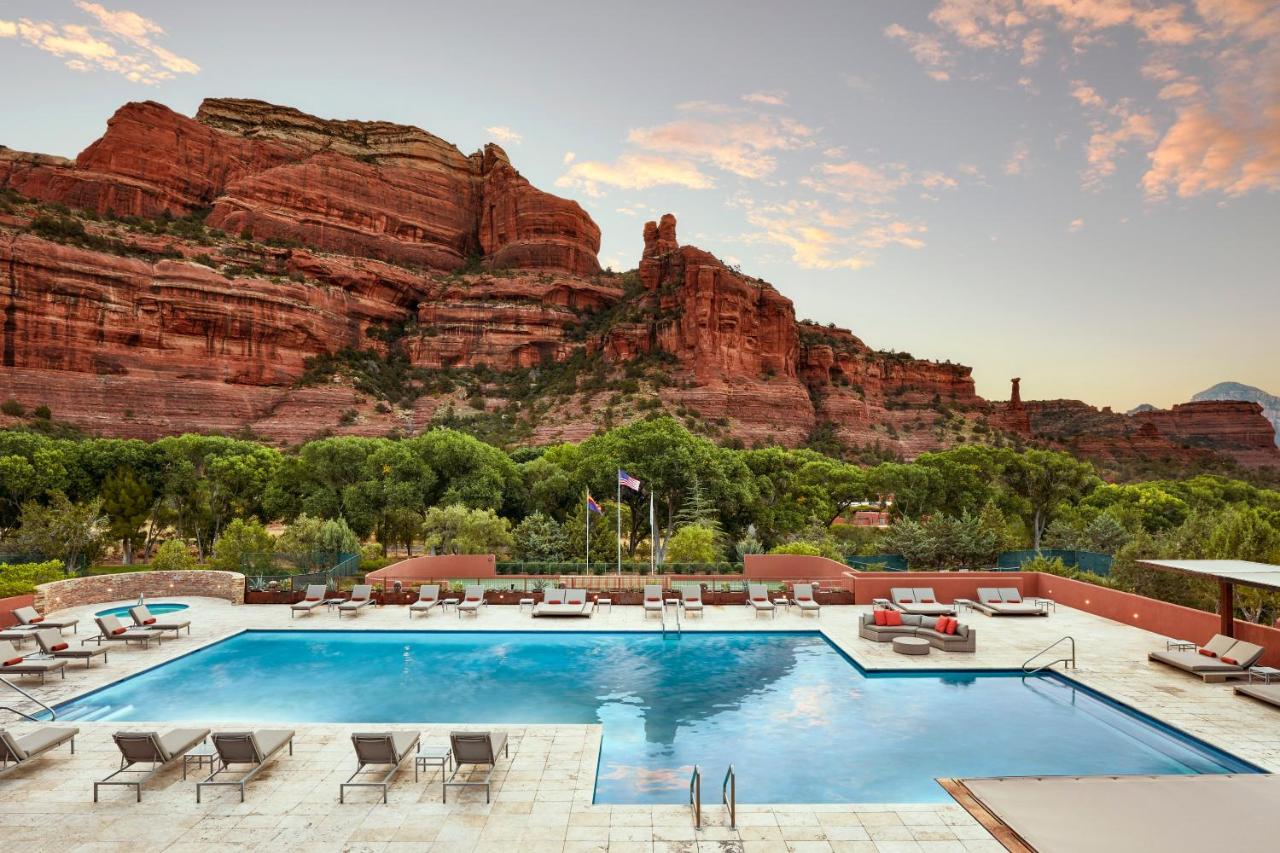 We're thrilled you've chosen to spend time vacationing in Arizona.
Bring your kids and hit up the pool amenities at some of the best family resorts in Arizona or relax in a romantic, intimate setting as a couple. Either way, you're in for a trip you won't soon forget.
If you have any questions or comments as you go about choosing which resorts in Arizona spark your interest, please let us know in the comments section.