Are you looking for a list of the best Airbnbs in Washington? Then this list is for you!
On this list, you'll find some stunning places to stay in Washington. There are massive treehouses, charming sea cottages, cozy cabins, and so much more.
Washington is a beautiful state and has some really varying landscapes. There are lush forests, quiet seaside towns, and even major cities like Seattle. There are also so many amazing things to do in Washington, partially because of its varying landscapes.
It is also one of the best states to road trip through. A lot of these vacation rentals in Washington are along the route of the ultimate Washington State road trip. Whether you're planning a short getaway, an epic road trip, or a romantic adventure, this list of Airbnbs has got a place for you to stay.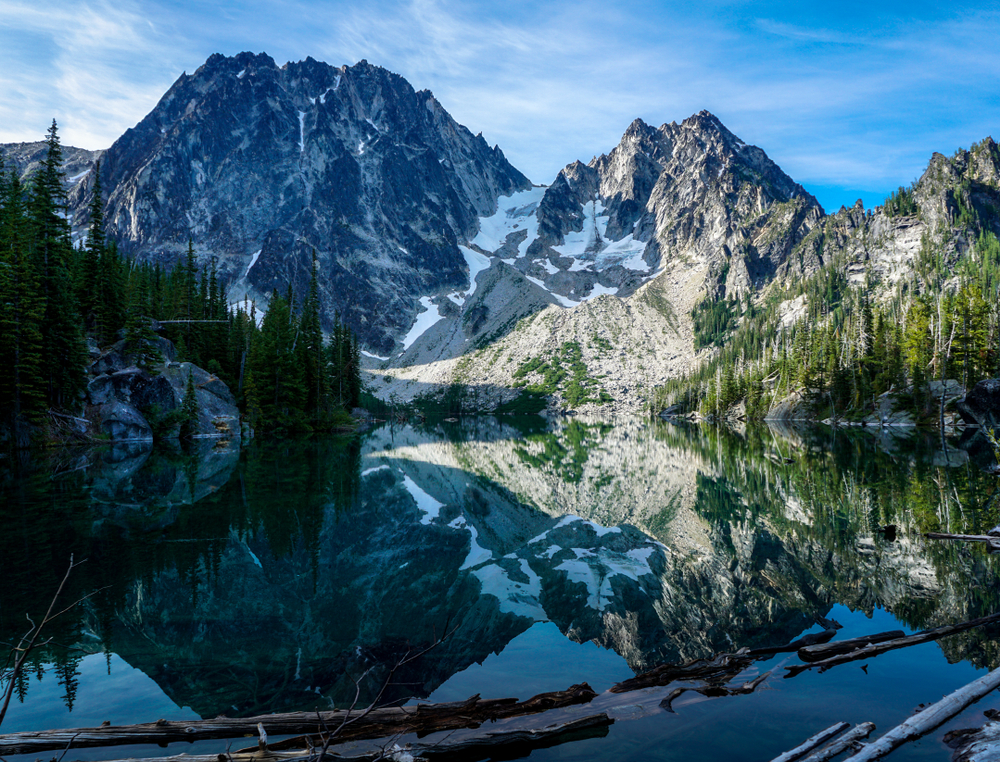 15 Best Washington State Airbnbs (Cabins, Treehouses, and More!)
Waterfront Paradise
Check out the views from this Waterfront Paradise, it really doesn't get more quintessentially Washington State than this! Watch the mist rise over the lake and evergreen-covered mountains. Stargaze on the famous Olympic Peninsula. Swim or take a boat out from your private dock.
The Waterfront Paradise can sleep 6 guests in 2 bedrooms. It has 1 full bathroom. The cozy cabin has wood paneling and amazing water views. You'll love grilling on the deck and jumping off the dock into the pristine green-blue lake.
The property has a really cool vintage vibe with a record player, records, a VHS player, and loads of movies on VHS. If you stay here you're sure to have a nostalgic good time while soaking up the beautiful Washington wilderness.
Check Rates: VRBO.com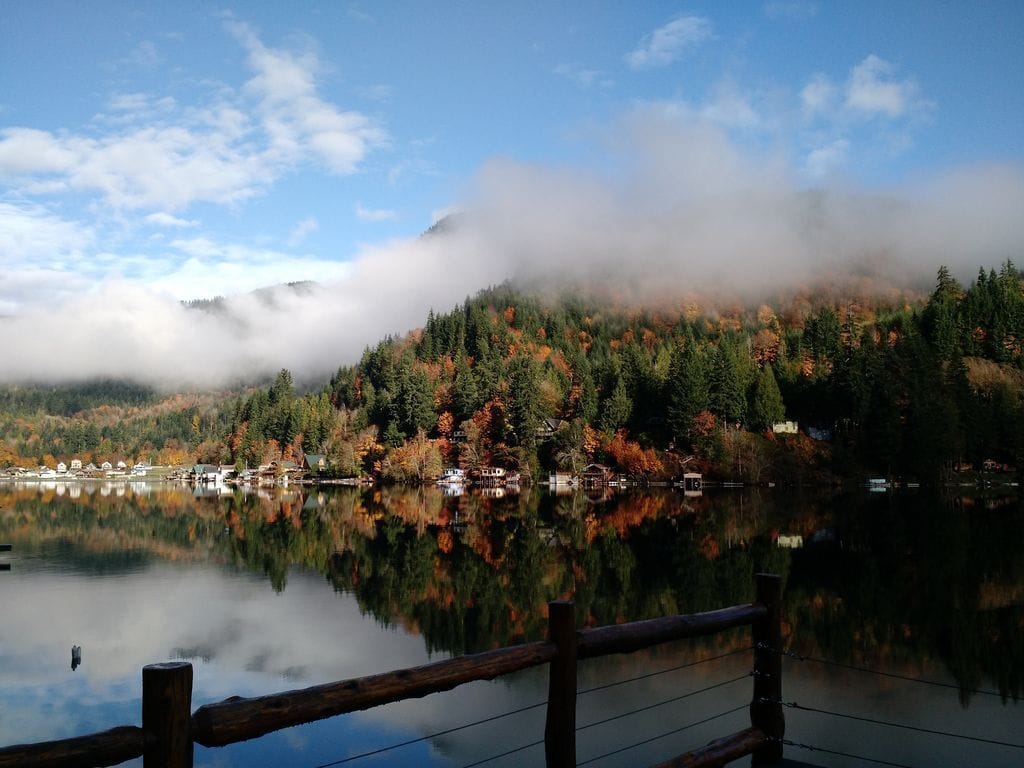 Lake Cabin
This cabin on our list of best Airbnbs in Washington practically begs for a special anniversary or birthday trip. In fact, a lot of the reviews say it's a birthday or anniversary tradition in their family to come to stay here! How sweet!
You can definitely see why the Big Lake Cabin is unbelievably picturesque. It's got that classic Washington cabin cedar siding and green roof. The cabin is built right on the edge of the startlingly blue pond on the property. The pond is for the exclusive use of the cabin, and is even stocked with fish! If it is too cold for a swim when you are visiting, you can use the hot tub on the deck overlooking the pond and woodland.
The 900-square-foot cabin can accommodate 4 guests. It has 1 bedroom and 1.5 bathrooms. The inside is cozy, cute, and has everything you need for a memorable stay in the Skagit Valley.
Check Rates: VRBO.com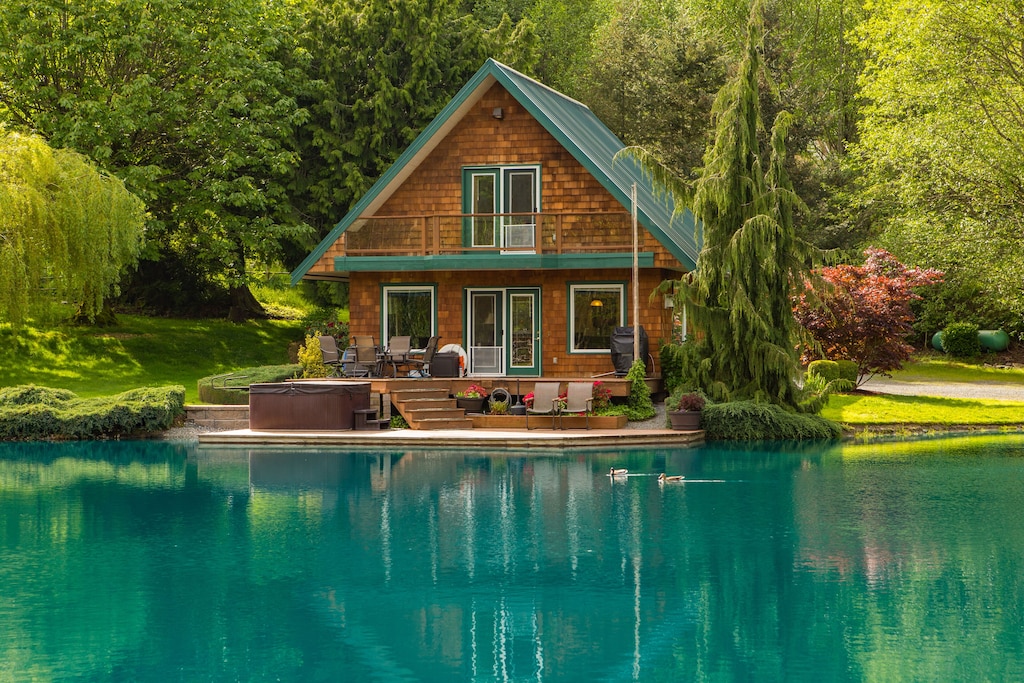 Treehouse on the Water
This amazing Treehouse on the Water is perfect for small groups or families looking to have a unique experience in Port Angeles Washington. Perched high in the trees, this treehouse has amazing views of the water. You'll feel like you're living on your own private island during your stay.
Outside of the Treehouse on the Water, there is a large outdoor space for activities. There are several decks, a large fire pit with plenty of seating, an area for grilling, as well as beach access.
Inside, you'll find a cozy space with huge windows for taking in the birds-eye views. The wood paneling and rustic touches really enhance the woodland vibes. This 150-square-foot VRBO can sleep 2 guests. Please note- the bathroom is down the stairs at the base of the treehouse.
This treehouse is located in a part of Washington famous for being in the Twilight books and movies. Whether you're a Twilight fan or not this would definitely be a memorable home base for exploring this beautiful area!
Check Rates: VRBO.com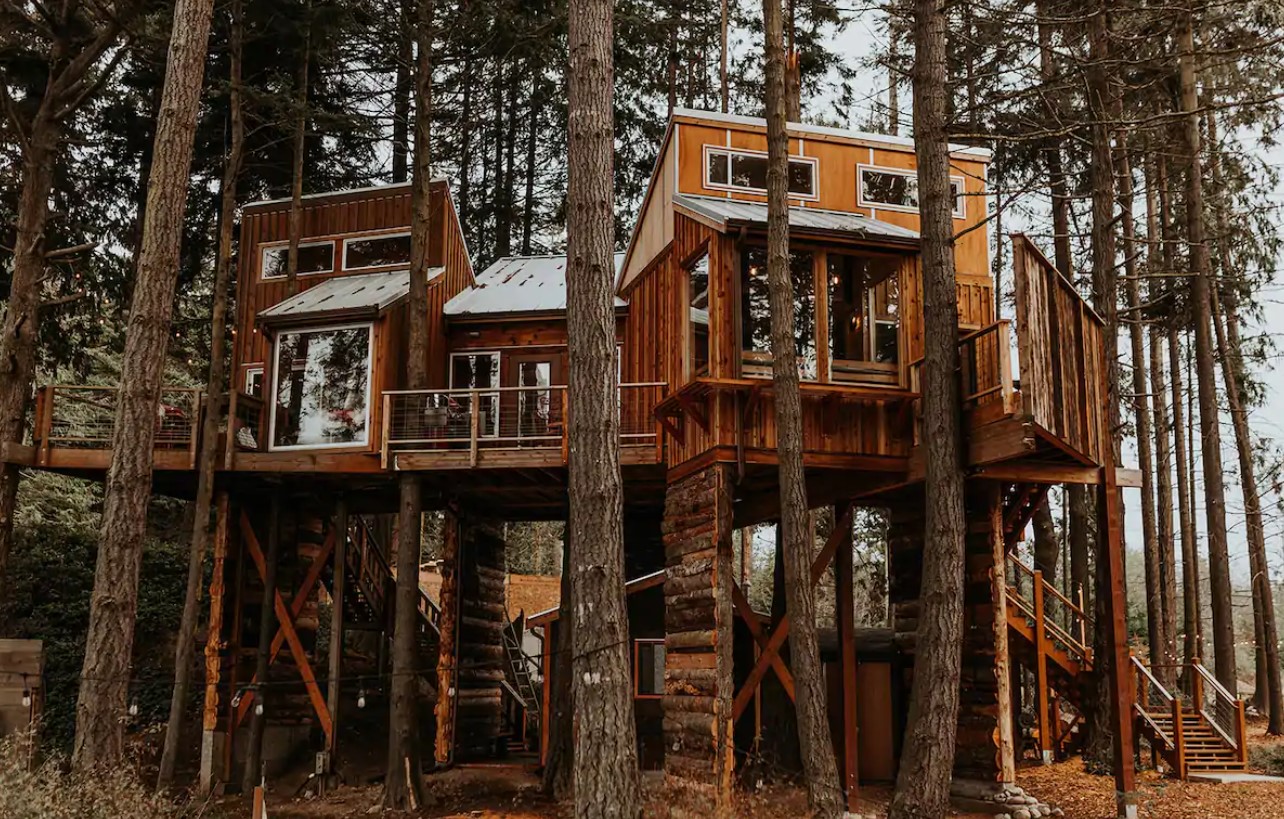 The Yakima Suite
The Yakima Suite is a studio space on the top floor of a classic Victorian house on San Juan Island. On the lower levels of the house, there is a coffee shop and another studio space. From your private deck, you'll get to enjoy beautiful views of the local port full of boats.
The space itself is small but charming. There is a queen-sized bed, a small sitting area, a small dining table, a full bathroom, and a small kitchenette. The kitchenette is not fully equipped to make all your meals, but you'll definitely be able to scrounge up some snacks or reheat leftovers!
The Yakima Suite is situated in the middle of some of the best restaurants and shops on San Juan Island. You'll be within walking distance of all that you could need or want. It is a perfect vacation rental in Washington if you want to explore San Juan Island.
Check Rates: VRBO.com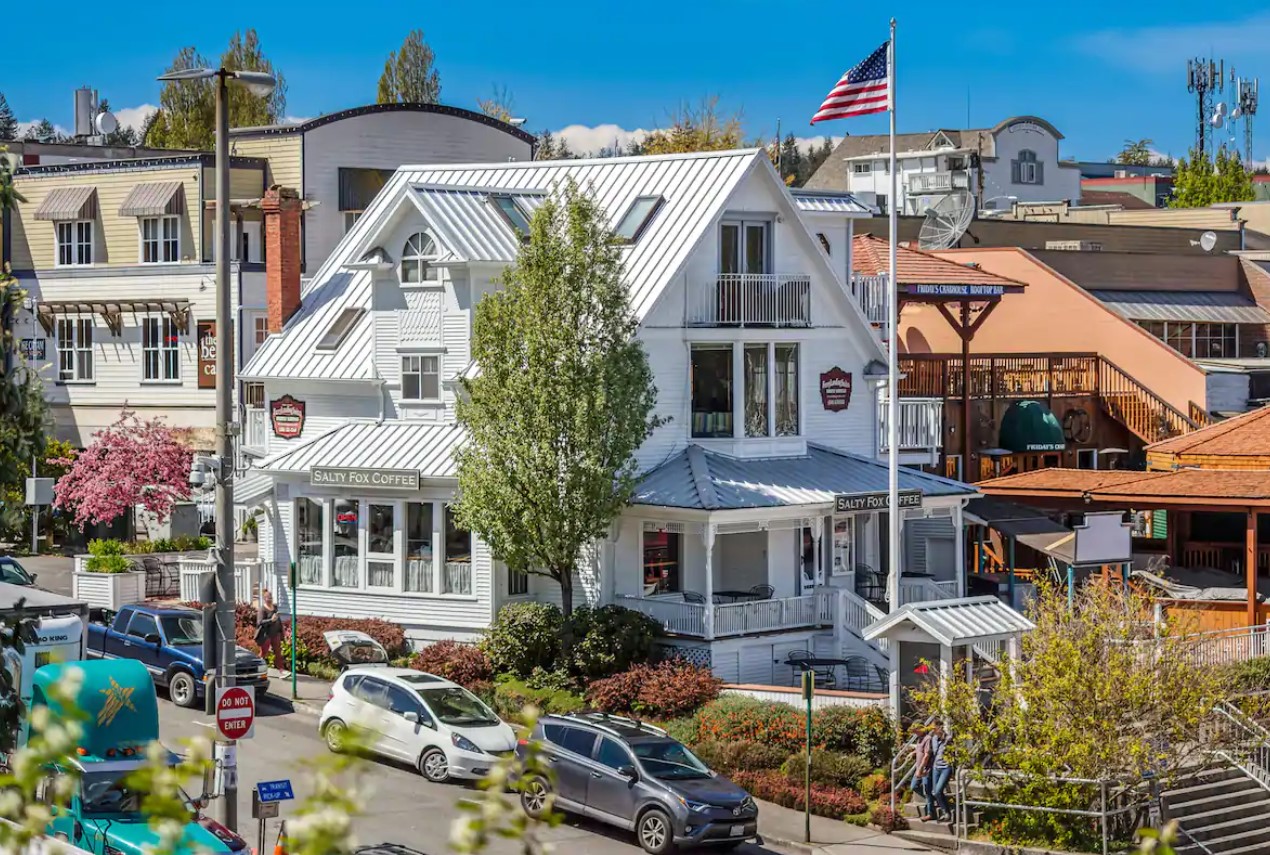 Historic Loft in Pioneer Square
The Historic Loft in Pioneer Square is one of the best Airbnbs in Seattle, and for good reason. If you're looking to start your Washington State road trip in Seattle, then this is the perfect place to stay in Washington. Seattle is an awesome city with tons of things to do, and you'll be right in the center of it in Pioneer Square.
The loft itself is full of charm with painted brick walls, an ornate wood headboard, and large windows that bring in plenty of light. There is a queen-sized bed, a small but full kitchen, a large sitting area, and a full bathroom. Upstairs in the loft, there is another queen-sized bed. There is also a futon, so there are plenty of sleeping options.
You'll be just a five-minute walk to the waterfront and the ferry terminal to Bainbridge and Vashon Islands. Hop in a taxi and take a ten-minute drive to the Space Needle. Or walk to the Pike Place Market and Seattle's Downtown district. You'll be in the center of it all at one of the best Airbnbs in Washington.
Check Rates: Airbnb.com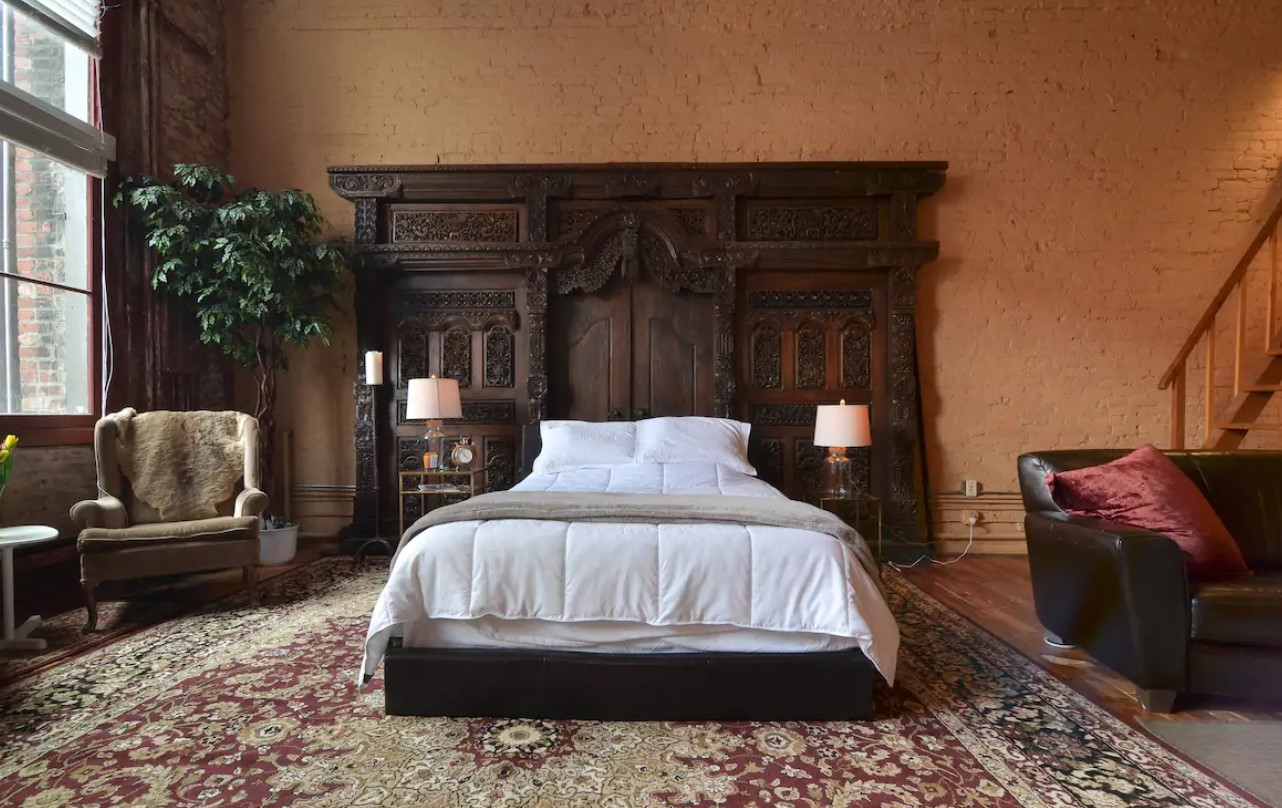 Waterfront Condo
This Waterfront Condo is located on the shores of Lake Chelan, which is one of the best things to see in Washington. It boasts beautiful views and stunning sunsets. Since you're right on the lake, you get to enjoy plenty of watersports. You even have your own ladder to the lake right from the backyard!
In the condo, you'll find a small sitting area, a wall of windows that leads out to your own private deck, and a small but fully equipped kitchen. There is also a full bathroom, a washer and dryer, and a bedroom with a queen-sized bed. In the living room, you'll find two pull-out futon twin beds.
Check Rates: VRBO.com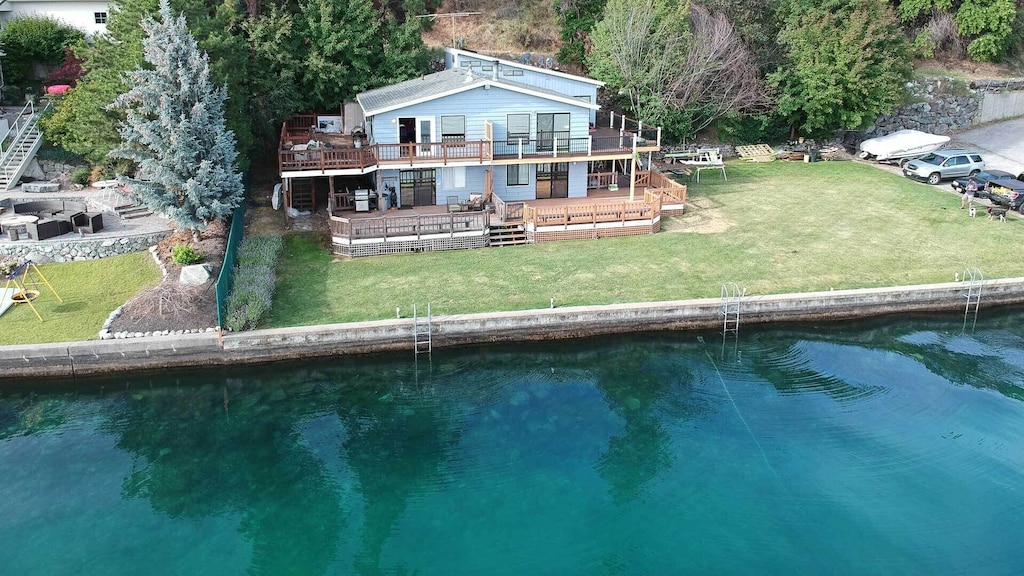 Riverfront Hot Tub
This amazing cabin just outside Leavenworth, Washington is perfect for those looking for a quiet retreat in nature. This deck with a hot tub overlooking the river is truly what PNW dreams are made of!
The sweet wood-paneled cabin has a gorgeous wood-burning stove and river rock hearth. The sleeping arrangements are a loft with 2 queen beds. It can sleep 4 guests. Please note that there are steep stairs to the cabin and the deck so this is not a good choice for travelers with small children.
This cabin puts you in a quiet and beautiful natural location while also having you close to one of the most popular vacation destinations in Washington: the town of Leavenworth.
Check Rates: VRBO.com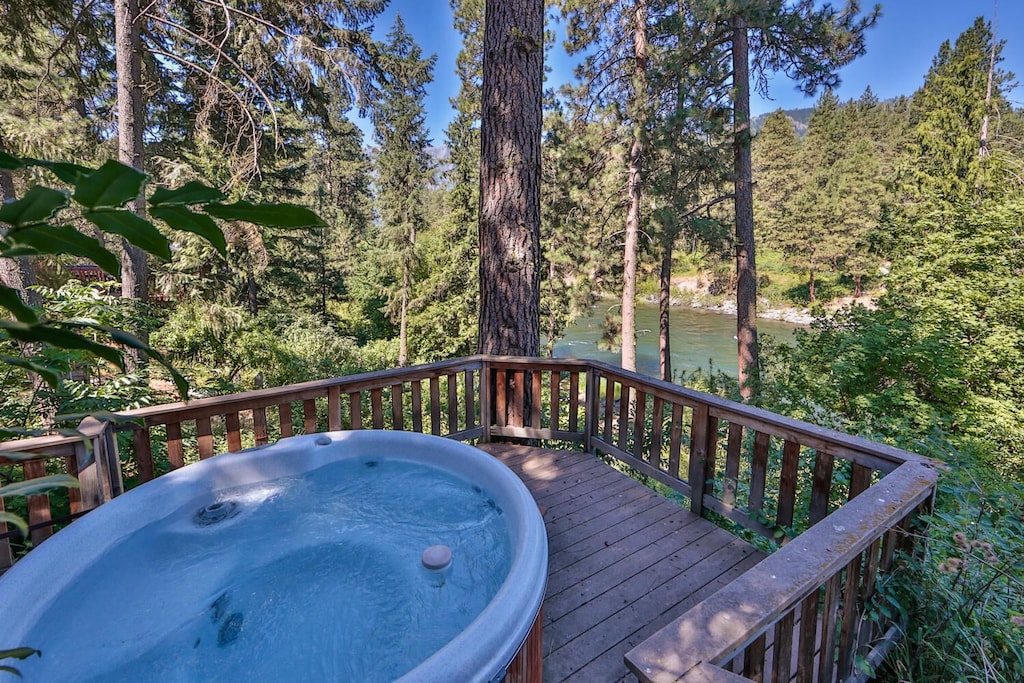 Whidbey Island Treehouse
In Freeland, on Whidbey Island in Washington, you'll find this amazing Whidbey Island Treehouse. The treehouse is perfect for a small family or group, with two beds and a separate bathhouse.
Inside the octagonal-shaped treehouse, you'll find 360 views of the Washington woods. Enjoy the large windows on every wall, which make you feel like you're floating in the trees. There is also a massive tree trunk running through the middle of the space.
Relax on the queen-sized bed tucked away in a nook as well as a pull-out sofa. You'll find a small kitchenette, a tv, and an electric fireplace. Outside, there is a large fire pit, beach access, and amazing woodland and water views.
Check Rates: Airbnb.com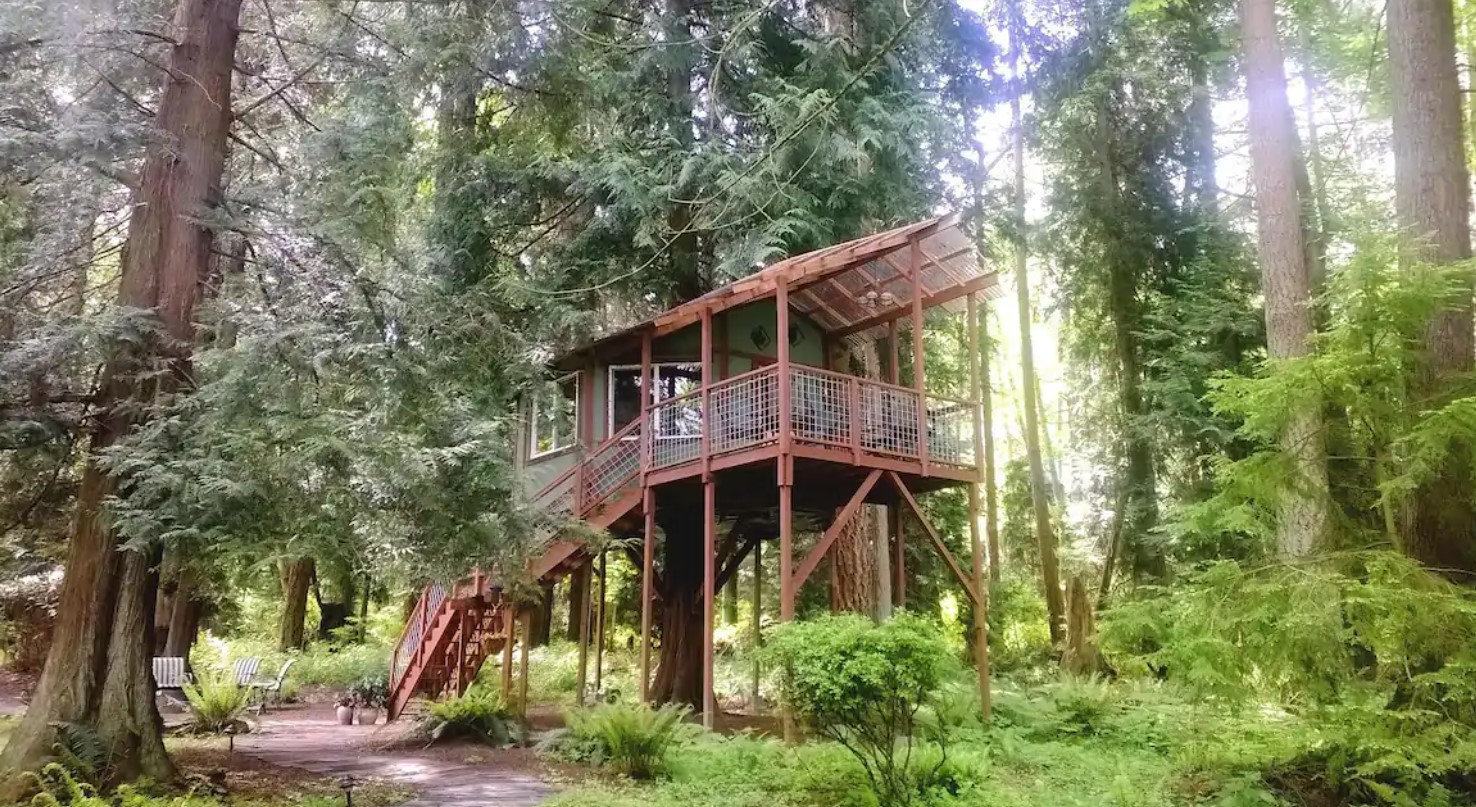 1910 Beach Bungalow
This adorable antique bungalow is in the highly sought-after Alki Beach area of Seattle. It has such sweet cottagecore vibes with a lovely garden. The lush garden has a hidden surprise private hot tub, perfect for warming up after a day in chilly Seattle!
This 1500-square foot house can sleep 6 guests. It is full of vintage touches like cool stained glass. Don't worry, the kitchen and one full bathroom are modern and updated!
This cottage has a great location, you'll love walking to the iconic Alki Point Lighthouse and you are less than 4 miles from Pike Place Market and the Seattle Ferris Wheel.
Check Rates: VRBO.com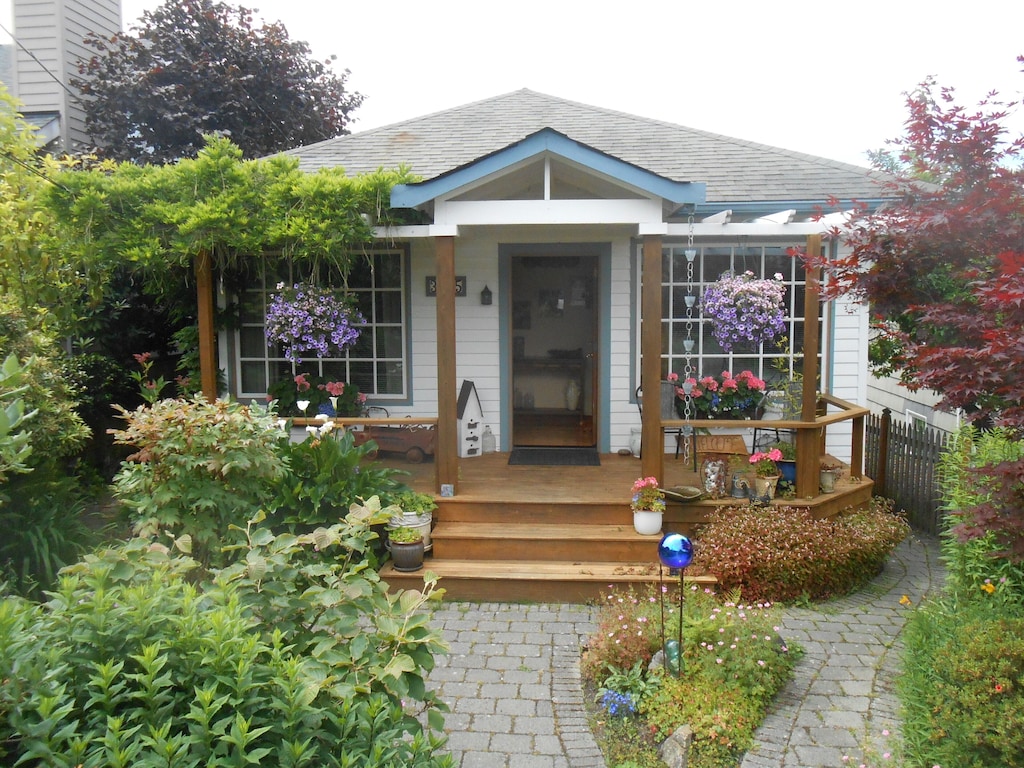 The Gnome House
In Deer Harbor, on Orcas Island, Washington is The Gnome House. The Gnome House is the perfect cozy place for a small group or family looking to experience the charming Orcas Island.
You'll find a very charming and lovingly kept home when you step inside The Gnome House. It feels like stepping into a home straight out of a Scandinavian fairy tale. There are large cedar beams, rounded doors, a wooden spiral staircase, and a beautiful shipbuilder's bay window.
On the main floor, you'll find a small sitting area, a wood-burning stove, and a small kitchenette and bathroom. In the upstairs loft, there is a queen-sized bed, and on the way upstairs, you'll find another little sleeping nook. Outside, there is a beautiful garden spa, a hot tub, a fire pit, and a kid's play area. This is one of the best Airbnbs in Washington for small families.
Check Rates: VRBO.com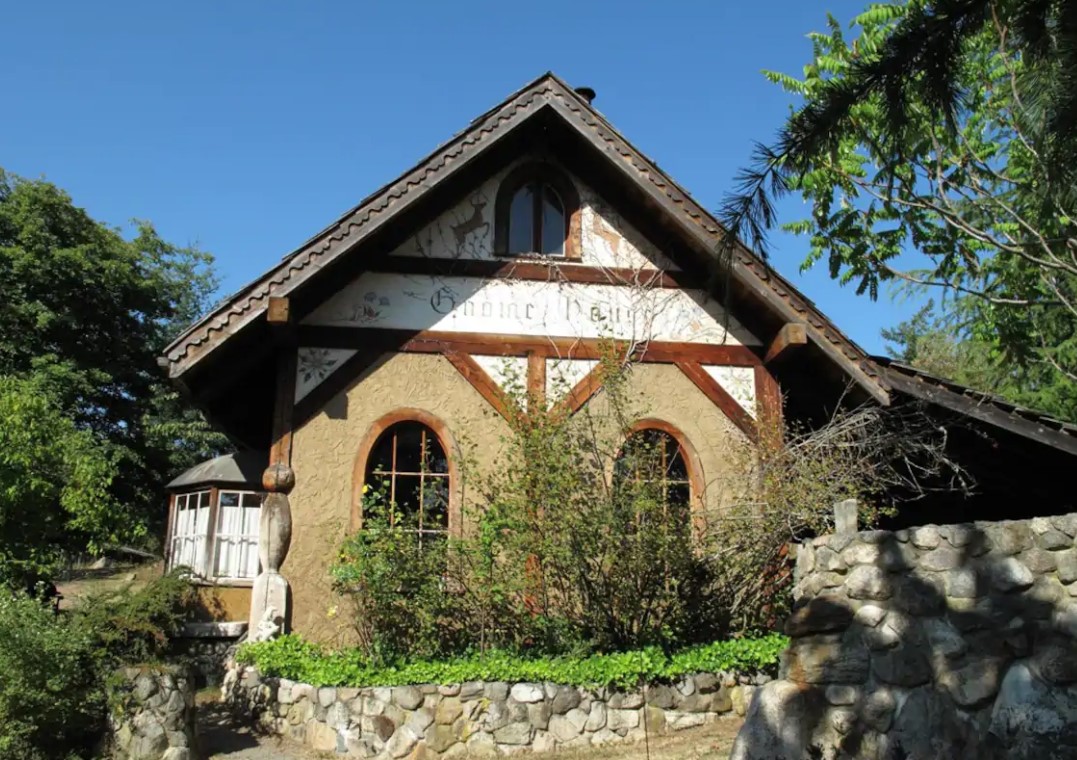 Sea Breeze Cottage
In Ocean Shores, Washington is the cozy Sea Breeze Cottage. This adorable beach town cottage is perfect for a couple looking to enjoy a romantic beach vacation.
The Sea Breeze Cottage is just a ten-minute walk from amazing restaurants, shops, bars, and of course, the beach! It is a two-story cottage with a full kitchen, bathroom, and a small sitting area. The second floor is a bedroom with a cozy queen-sized bed. This is a pet-friendly apartment so you can bring your furry friend to the beach!
Outside of the cottage, there is a private deck facing a small wooded area. There is also a small bistro set, so you can enjoy meals and coffee on your private deck. This is one of the best Airbnbs in Washington for couples looking to explore a charming PNW beach town.
Check Rates: VRBO.com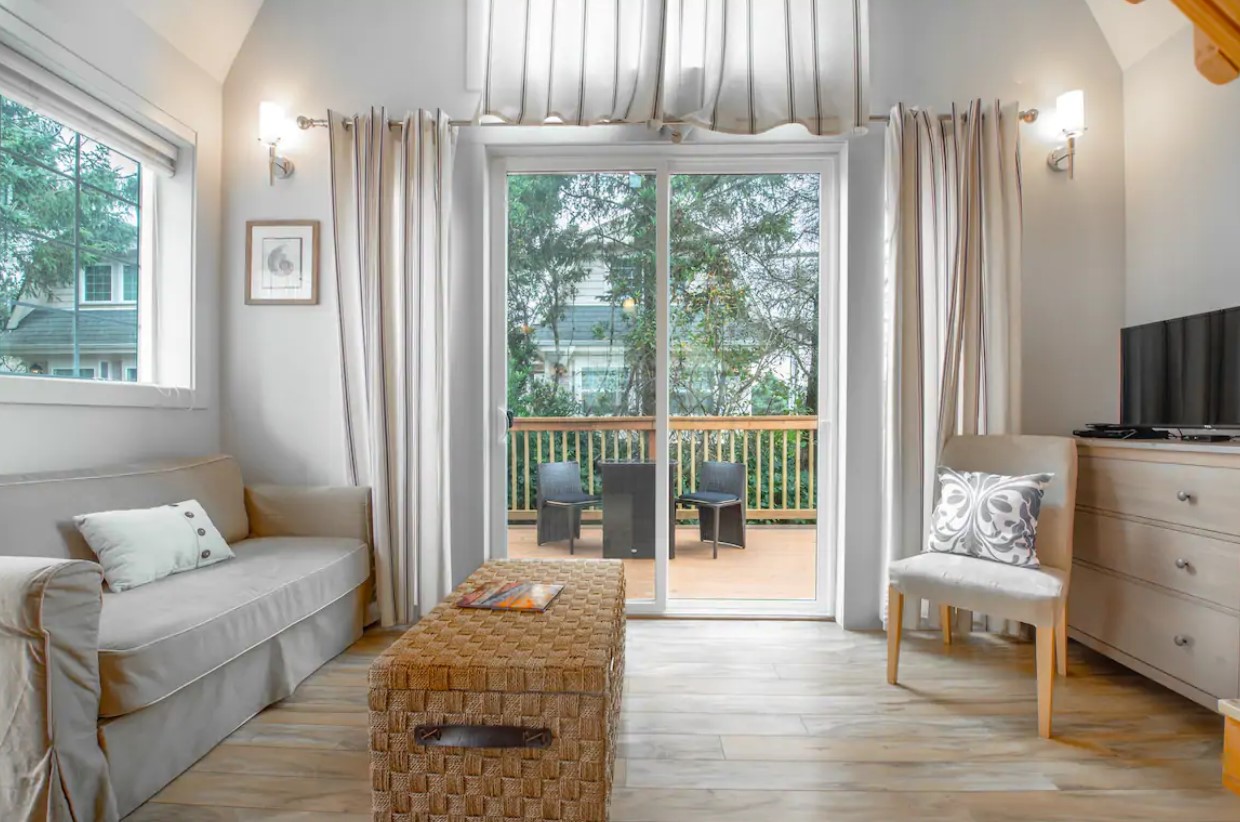 Micro Brewery Apartment
One of the biggest trends in the Pacific Northwest right now is Micro Breweries. This amazing VRBO in Bellingham Washington gives you the opportunity to stay on the property of one of the coolest microbreweries in the state! It's every beer connoisseur's dream!
This VRBO is located in the cool college town of Bellingham. It is a 1 bedroom `1 bath that can sleep 5 guests. Being on the same property as the Stone's Throw Microbrewery means that you are located in the extremely walkable downtown Fairhaven. It will be a breeze to walk to amazing restaurants and trails to hike on. This would be a great home base for a social and relaxing vacation in Washington State.
Check Rates: VRBO.com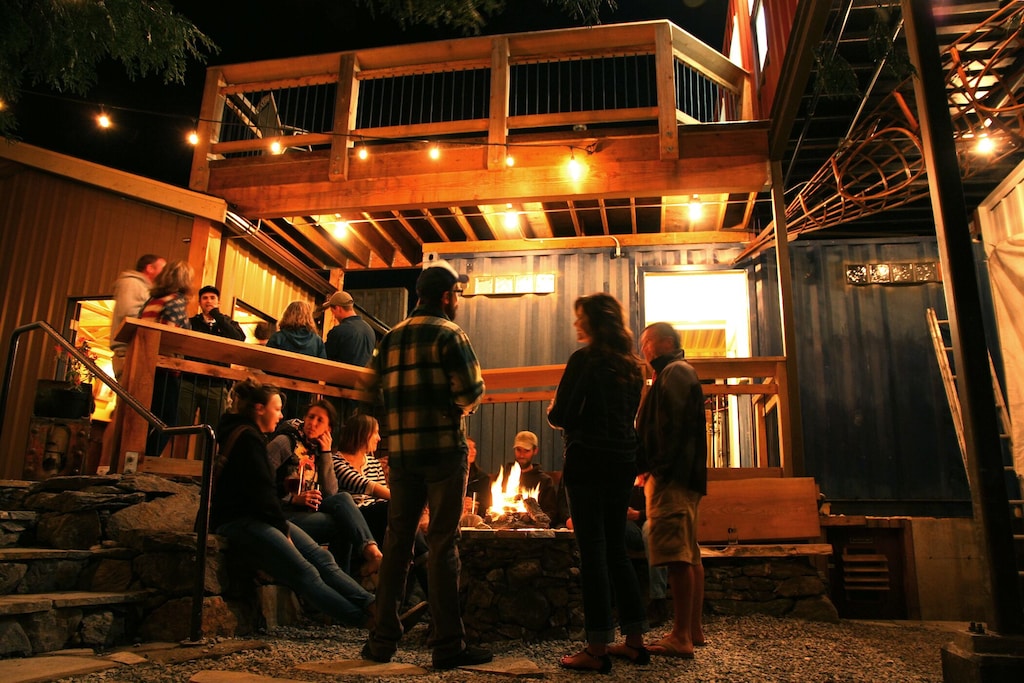 The Hobbit Hole
Nestled in the Columbia River Gorge, which is one of the best spots in Washington to visit, is The Hobbit Hole. The Hobbit Hole is an underground cottage, or Earth home, modeled after the famous Hobbit Holes from Lord of the Rings. This is truly a one-of-a-kind vacation rental in Washington.
Inside, you'll find a cozy sitting area with a chess board, a large stone fireplace, and a wooden table just big enough to make your morning cup of coffee. There is also a large queen-sized bed, which is incredibly inviting and cozy.
The Hobbit Hole truly feels like stepping into another world. Part of that is because you are rather secluded on the road that leads to the Hobbit Hole. You'll need to go out for all your meals as there is no formal kitchen space. There is a small bathroom inside the Earth house, that has a tub shower.
If you're looking for a unique place to stay, then this is absolutely one of the best Airbnbs in Washington for you.
Check Rates: Airbnb.com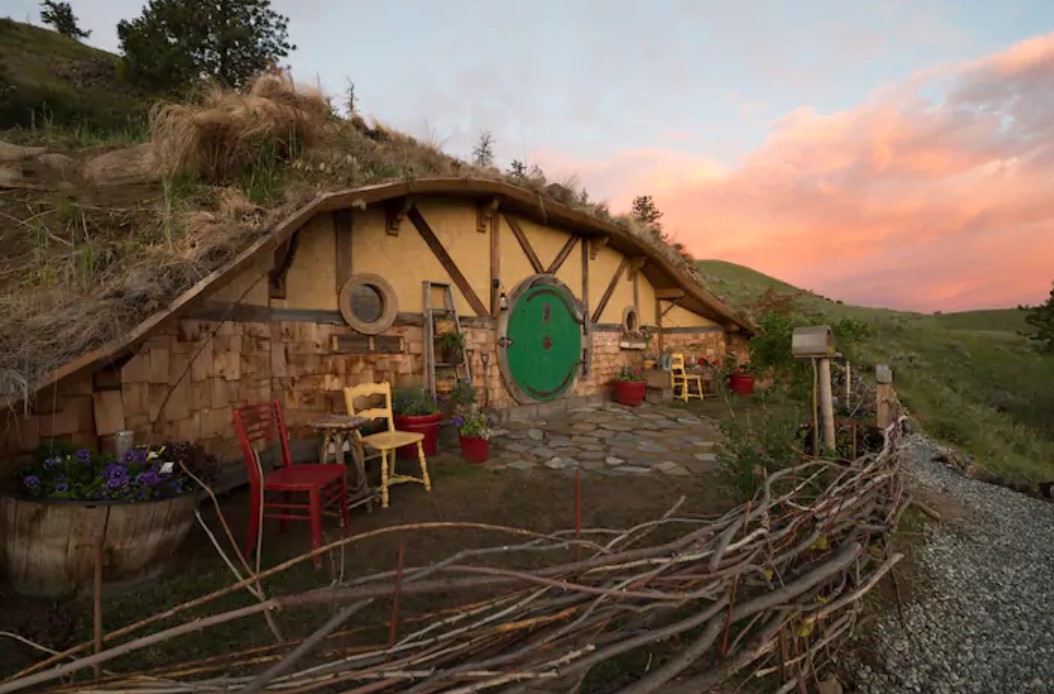 Hansel Creek Treehouse
Perched high in the trees is the Hansel Creek Treehouse. It is just 15 minutes away from Leavenworth, which is a must-stop on any Washington road trip. You'll also be within walking distance to the Alpine Lakes Wilderness trailhead, making this a perfect place to stay in Washington if you're looking for outdoor adventure.
The Hansel Creek Treehouse is on the banks of Hansel Creek and has one bedroom with a queen-sized bed. You'll also find a full bathroom with a standing shower. There is also an outdoor shower.
Inside you won't find a full kitchen, so you'll want to either grill all of your meals or eat out. You can enjoy a meal inside at the natural wood bar that looks out into the woods. Or you can enjoy the large deck that wraps around most of the treehouse.
Check Rates: Airbnb.com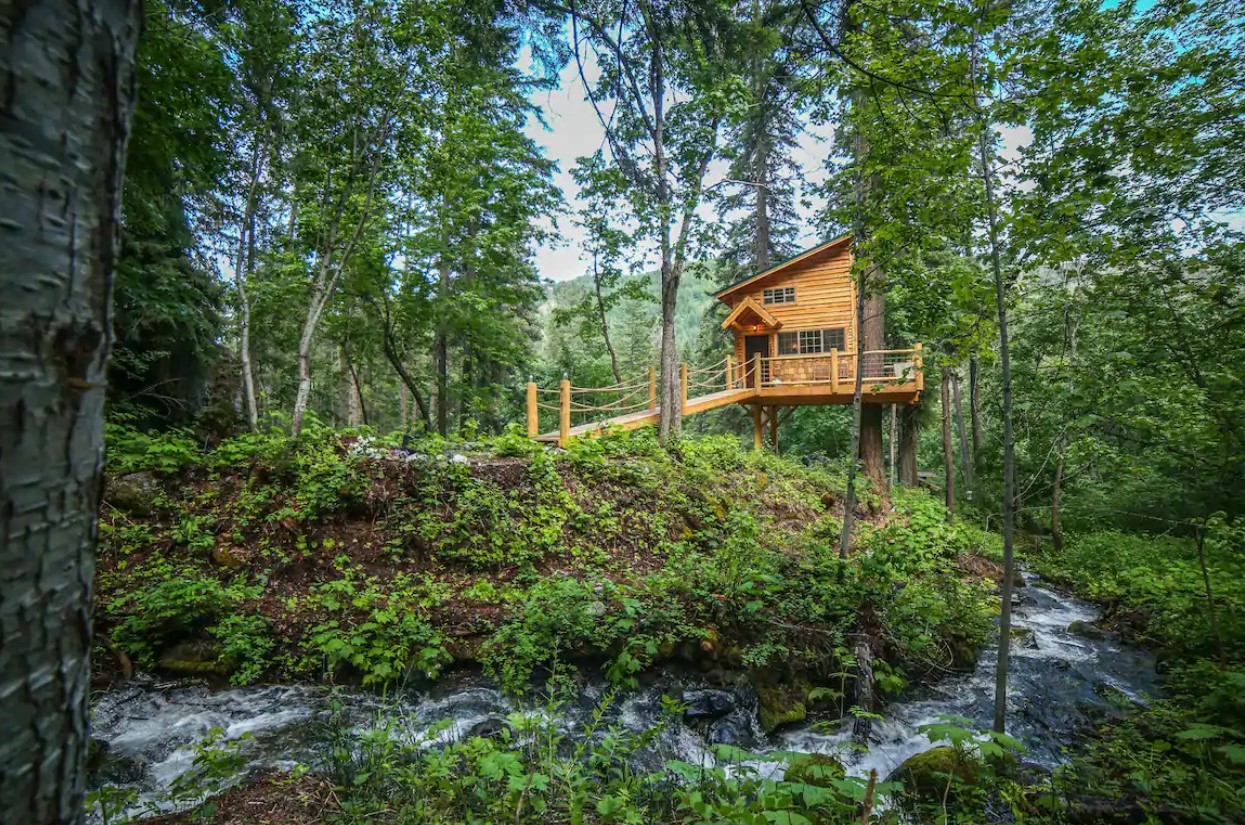 1904 Queen Anne
Closing out our best stays in Washington list is this Queen Anne stunner! What a cool place to stay while making the most of your trip to Seattle. This home combines the best of period charm with modern updates.
This VRBO is located in a quiet neighborhood that has a cool free water taxi stop so you'll be able to get to downtown Seattle quickly and cheaply. It's located 3 miles from West Seattle Junction and 2 miles from Alki beach.
The vintage home has 3 bedrooms and 2.5 bathrooms. The 2800-square-foot house can host 8 guests. The water views, wrap-around porch, and beautiful garden make this an excellent place to stay in Seattle.
Check Rates: VRBO.com
These Airbnbs in Washington are so unique and perfect for every type of traveler! We hope you enjoyed browsing and dreaming through these gorgeous cabins, lofts, and more!