The stunningly colorful walls and winding passageways of Lower Antelope Canyon attract tourists from around the world. National Geographic even used a photo of the Lion's Den rock formation in the front section of Lower Antelope Canyon for one of its covers. People come from around the world to walk through the impressive canyon, and when you look up at the ever-changing shapes and brilliant colors, you'll understand why. Located in Page, Arizona on Navajo land, this remarkable slot canyon has been carved into the land through flash floods and erosion. Left in the wake of these powerful natural forces is a canyon bursting with light and color and passageways that twist and turn before you.
Though the natural elements of the canyon are magical, the experience of touring the canyon is not always as magical as you might expect. The canyon draws a startling number of tourists every year, and as a result the canyon has become packed during the high season. The tour companies have already taken measures to reduce congestion in the canyon by offering less tour times and eliminating photography specific tours (these are still offered in Upper Antelope Canyon). Though efforts have been made to make the experience more fluid and enjoyable, the canyon still feels cramped and packed. Despite the crowds of people, it's still possible to have an enjoyable experience among some of nature's finest work. The key is knowing what you're getting into and being fully prepared by knowing that Lower Antelope Canyon is a major tourist attraction.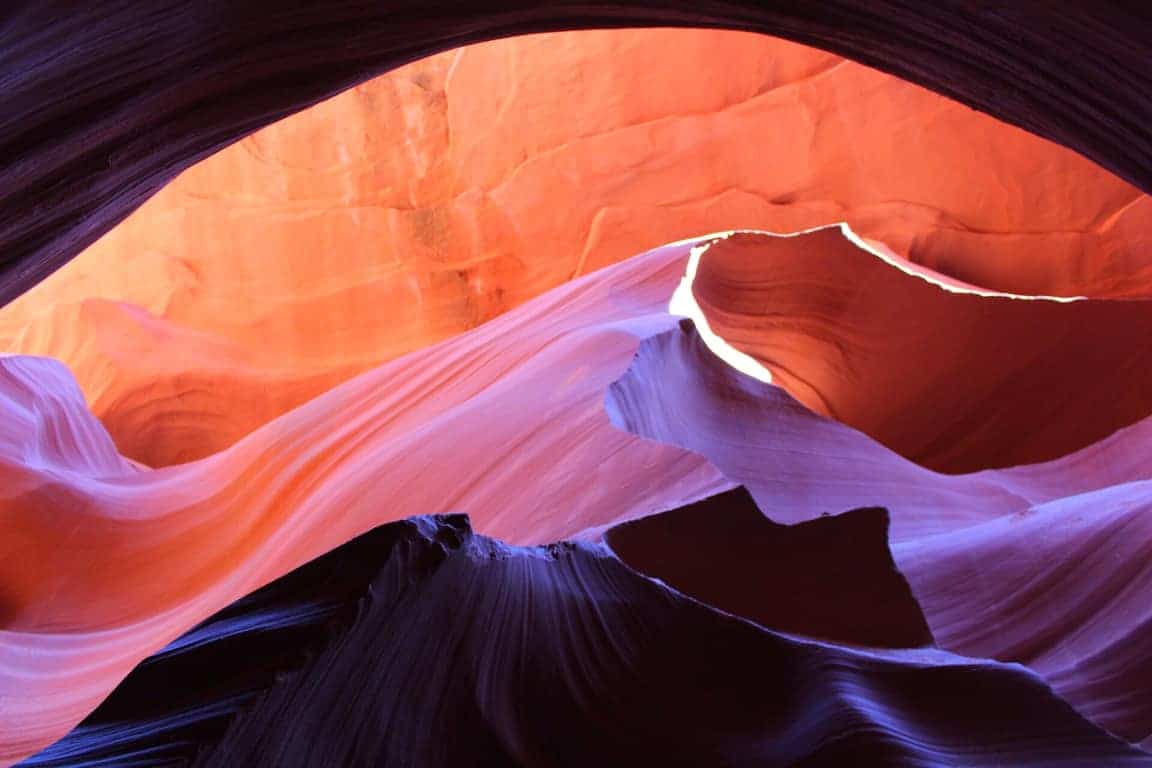 6 Things You Should Know Before Visiting Lower Antelope Canyon
You Have To Book A Tour In Order To Explore Lower Antelope Canyon
Antelope Canyon is on Navajo land, and in order to explore the canyon you're required to book a guided tour. There are two tour companies that lead tours through Lower Antelope Canyon, Ken's Tours and Dixie Ellis. The two tour companies are right next door to each other and use the same parking lot. Ken's Tours offers both General and Deluxe Tours. The General tour is $40 for adults, $20 for children ages 8-12, and free for infants ages 0-7. In addition to these base admission prices, there's an additional $8.00 Navajo Park Permit fee, a 6% Navajo Sales Tax, and a 6% processing fee per reservation. Tours run every 30 minutes and last between 40 minutes and 1 hour and 15 minutes. The tour length is dependent on how fast people are moving through the canyon and where you fall in the line of groups that have entered the canyon in the same time slot.
The deluxe tours are $80 for admission plus the $8.00 Navajo Park Permit, 6% Navajo Sales Tax, $50 service fee, and a 6% processing fee that will be added at the time of booking. The biggest benefit to this tour is that the group is limited to a maximum of 4 people per guide, which means you get more individual time with the guide to ask questions and learn more from them about the canyon. These tours also run every 30 minutes and last 40 minutes to 1 hour and 15 minutes. You'll also get your own private waiting area while you wait for your tour to begin, and you have the opportunity to watch a brief film about Lower Antelope Canyon. Though your specific tour group is only 4 people, you are in the canyon with all the general tour visitors, so the crowds and wait times in the canyon will still be exactly the same.
The Dixie Ellis tours are the same price and duration as Ken's Tours, and the building is right next-door. The only difference is that Dixie Ellis does not offer deluxe tours. The two tour companies consider themselves to be sister companies. Dixie Ellis also sends in tour groups every 30 minutes but their tours always leave 15 minutes after Ken's Tours, so that they're not sending in groups at the exact same time. Although the start times are staggered, when you enter the canyon, there will always be groups from both tour companies in the canyon simultaneously.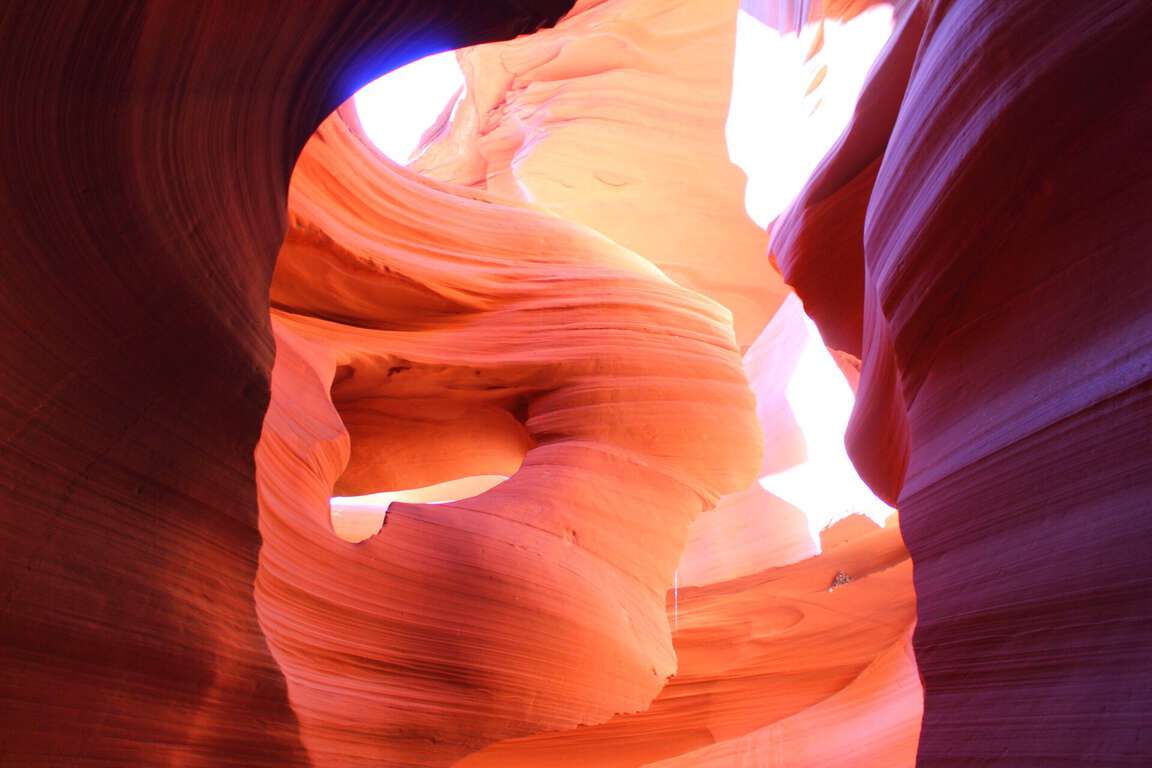 The Crowds Are As Large At Lower Antelope Canyon As At Upper Antelope Canyon
You might expect large swarming crowds in the middle of the summer in Venice, but maybe not in remote areas of Arizona, surrounded by the beauty of nature. The images of Antelope Canyon, devoid of any people, inspire a sense of peaceful solitude. The reality of the experience is anything but that. When people think of Antelope Canyon, they're often imaging iconic photographs of the Upper Antelope Canyon with its dramatic light beams and falling sand.
Upper Antelope Canyon is an A-shaped slot canyon, while Lower Antelope Canyon is a V-shaped slot canyon. This means that with the A shape, light streams in focused beams through narrow openings in the top of the canyon, and with the V shape, light shines down generously through large openings onto a narrow canyon floor. In years past, the lure of the chance to photograph the focused light beams of Upper Antelope Canyon meant the upper canyon was far more crowded with tourists. This is no longer the case.
Lower Antelope Canyon has surged in popularity and now attracts roughly the same number of tourists as Upper Antelope Canyon. Lower Antelope Canyon tours are also less expensive than the Upper Antelope Canyon tours, so for tourists looking to save a little money on their vacation, Lower Antelope Canyon becomes an appealing choice. Though it lacks the same type of light beams as its A-shaped neighbor, the lower canyon is brighter, which brings out remarkable colors in the canyon walls and allows for easier photography opportunities.
As the appreciation for the natural wonders of Lower Antelope Canyon grew, so did the crowd sizes. People from all over the country and the world come to visit Antelope Canyon often as a stop on an Arizona and/or Utah road trip. Especially if you decide to visit the canyon in the summer months or during winter break, you can expect to have to wait to enter the canyon, wait periodically inside the canyon, and be herded through the narrow passageways at turtle speed behind the many other groups who are also trying to explore the canyon.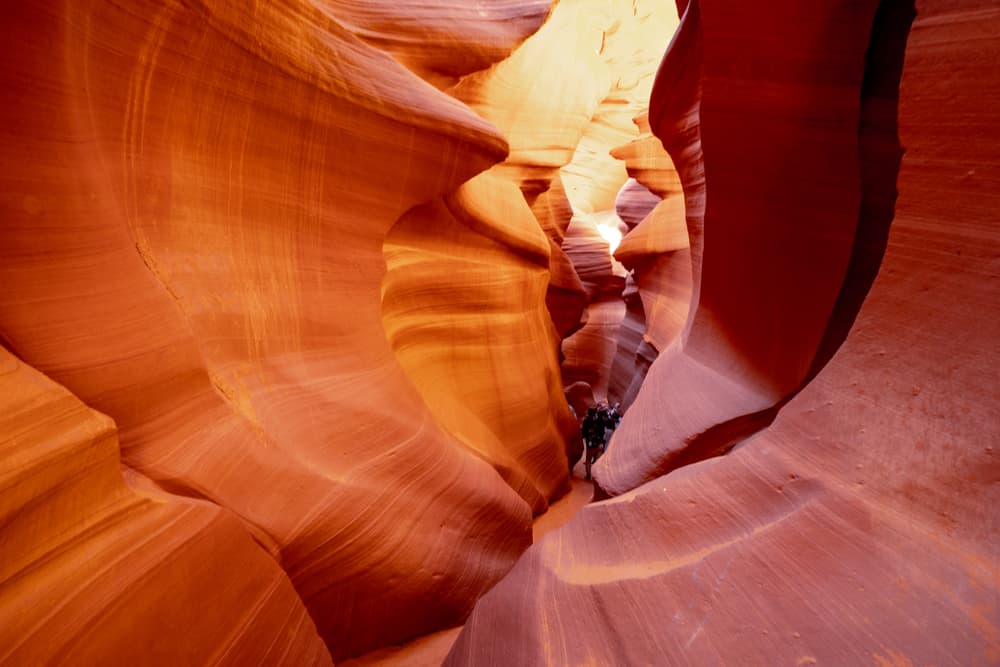 There Are Plenty Of Photography Opportunities During Your Lower Antelope Canyon Tour
You are allowed to bring a camera with you on your Lower Antelope Canyon Tour or take photos on your phone. Antelope Canyon is a treasure trove of stunning photo opportunities. The way the pathways snake back and forth and the walls curve and bend creating new shapes everywhere you go, is an image you'll be anxious to capture and show your friends and family back home. Though the canyon is crowded with many other tourists anxious to get pictures as well, you'll find that often the best photo compositions are just above head height. So don't forget to look up!
The tour guides are also often helpful with photography tips. They've walked and photographed the canyon many times and are familiar with the most appealing and noteworthy formations throughout the canyon from sunset-esque landscapes, to seahorse shaped openings, to the National Geographic shot of the Lion's Den. In addition to providing you with tips for your own photography, they'll usually pause at their go-to spots to take quick photographs of you and any family or friends accompanying you. Just be aware, this is not a full-blown photo shoot. There's no time for multiple photos or re-dos, just a few quick shutter clicks before you're ushered along to the next section of the canyon.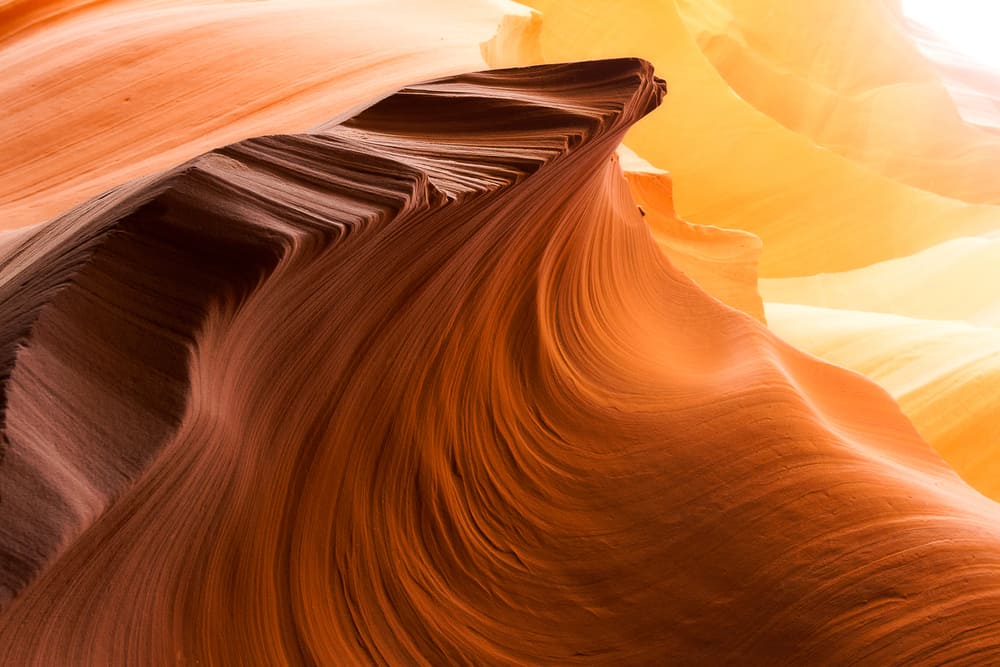 There Are Restrictions On What You Can And Cannot Bring Into The Canyon
The tour companies have strict rules on what you can and cannot bring on your tour of Lower Antelope Canyon. Photography is definitely encouraged, but you are not allowed to bring a Go Pro, Tripod, Monopod, Selfie Stick or Stabilizer into the canyon. This should not be a problem for taking photos. As mentioned before, Lower Antelope Canyon is a V shaped slot canyon and lets in significant amounts of light, so there's no need for a stabilization device to take clear, crisp photos. You are also not allowed a purse, side purse, wristlet, fanny pack, bag, backpack, camera bag, draw string bag or hydration bag. In addition to listing these items on their website, the tour companies will usually remind you of their rules when you arrive for your tour. You'll have time to put things back in your car if you accidentally brought a restricted item.
The tour companies do allow you to bring 1 clear, transparent bag, a camera, water bottle and cell phone (personal items such as your wallet and keys can of course also be brought along as long as they're in your pocket or transparent bag). Especially in the summer, it's crucial you bring water with you on your tour. The temperatures are generally in the mid-90's to low-100's. Though it's more shaded down in the canyon, it's still hot, and with so many people crowded together in the canyon, it can get humid too. You'll also want to make sure you bring your camera. Whether it's a cell phone camera or a fancier DSLR camera, there will be plenty of photo opportunities in the canyon that you won't want to miss.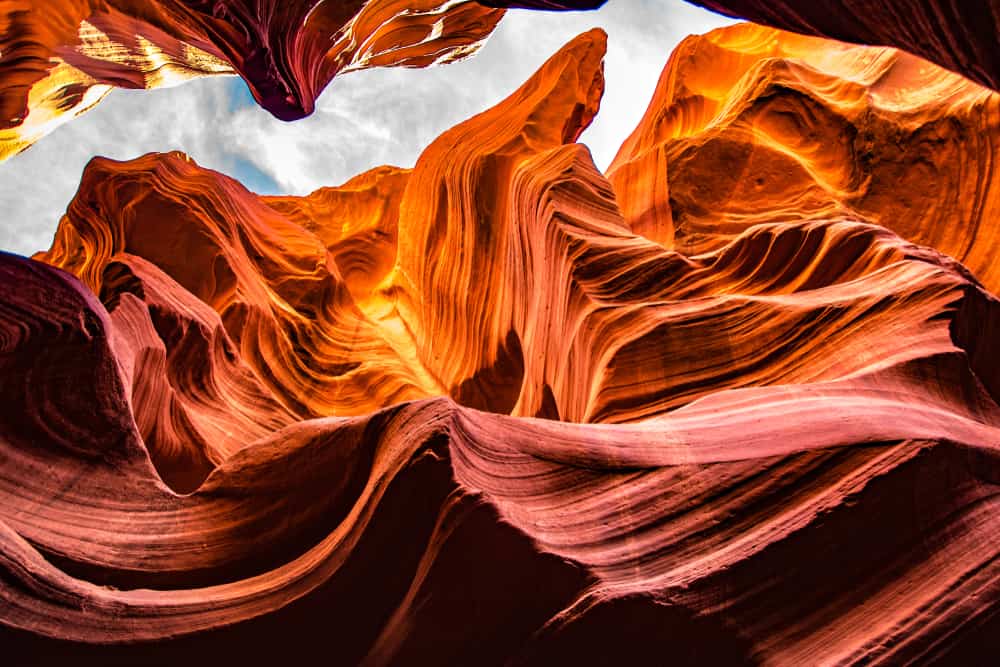 Visit In The Summer For Great Light Or In The Winter For Fewer Crowds
There are definitely optimal times for visiting Lower Antelope Canyon, but there aren't as many restrictions as there are for visiting Upper Antelope Canyon. Because Upper Antelope Canyon is an A shaped slot canyon, it requires the perfect light conditions to see those iconic light beams. The sun has to be positioned directly overhead, so the middle of the day around lunchtime is an optimal tour time. As a V-shaped canyon, Lower Antelope Canyon receives far more light than its neighbor. This means that the colors in the canyon will be brilliant at virtually any time of day as long as it's sunny outside.
Summer is a very popular time to visit Lower Antelope Canyon. From March to October the canyon is packed, and tour times fill up quickly. You'll most likely need to book your tour weeks if not months in advance, especially if you're looking for a specific time slot. From November-April, traffic in the canyon slows down a little bit. You're not guaranteed to get the same spectacular colors in the canyon that the summer offers, but it's still remarkably beautiful, and you might be able to enjoy a little more peace and quiet on your tour.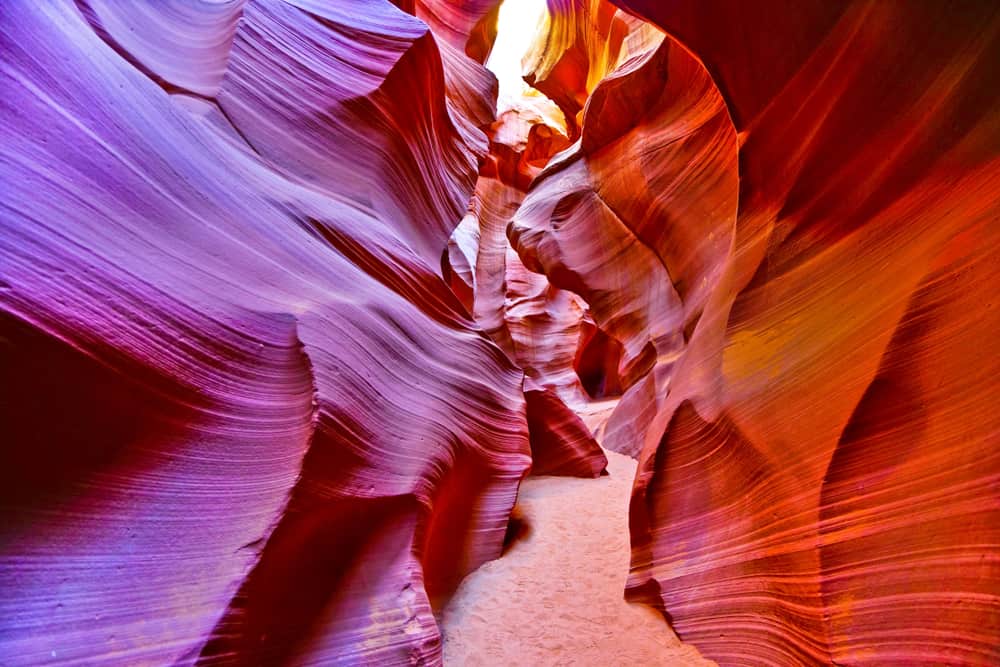 Here's What Will Happen During Your Tour Of Lower Antelope Canyon
Both tour companies require that you arrive 30 minutes before your tour time for check-in. It is crucial that you make sure to set your phone or watch to the correct time zone. The Antelope Canyon tours are on Arizona Standard Time, which means they do not observe daylight savings. When in doubt, set your clock to the same time as Phoenix, Arizona. Because Antelope Canyon is surrounded by the Navajo Nation, and resides very close to the Utah State Line (both Utah and the Navajo Nation observe daylight savings), the cell phone towers often will set your phone to the wrong time.
Upon arrival, you'll check in at the front of the building, and be directed to an indoor waiting area. Use this time to use the bathroom, put anything in the car you don't need, and check out the gift shop and/or coffee bar. As long as you're in the waiting area 15 minutes prior to your tour time, you can spend this time how you'd like. When it's time for your tour, you'll meet your guide outside (they'll be holding up a number that will correspond to your tour group number). One by one, each group will start the short walk to the entrance of the canyon. There you'll wait for a little while until your group is released to officially enter the canyon.
In order to enter Lower Antelope Canyon, you descend a steep ladder-like staircase single file. You're not allowed to take pictures while on the ladder. If you're not agile enough to climb up and down ladders, do not book a Lower Antelope Canyon Tour. When you reach the canyon floor, you'll wait again with many other groups in a wider area. You're allowed to take pictures though while you wait, so take a look around, because there are plenty of beautiful shapes and colors to enjoy.
Once you leave this holding area, things move along a little smoother, with the latter sections of the canyon going the fastest. The bottom of the canyon is incredibly narrow, and at times it's impossible to lay your foot completely flat on the ground. For most of the tour you'll be walking in a single file line behind your tour guide. As you wind your way through the canyon you'll learn about how it was formed and continues to be shaped, as well as photography tips, among other things.
Feel free to ask your guide any questions you might have. They're willing and eager to answer. You'll stop a few times to takes pictures, but for the most part you're continually moving throughout the canyon at a very slow pace. Make sure you stay with your tour guide. There are a lot of tour groups going through the canyon at the same time, and you don't want to get separated. When your tour ends, you'll walk the same short distance back to the company headquarters and are free to go about your day from there.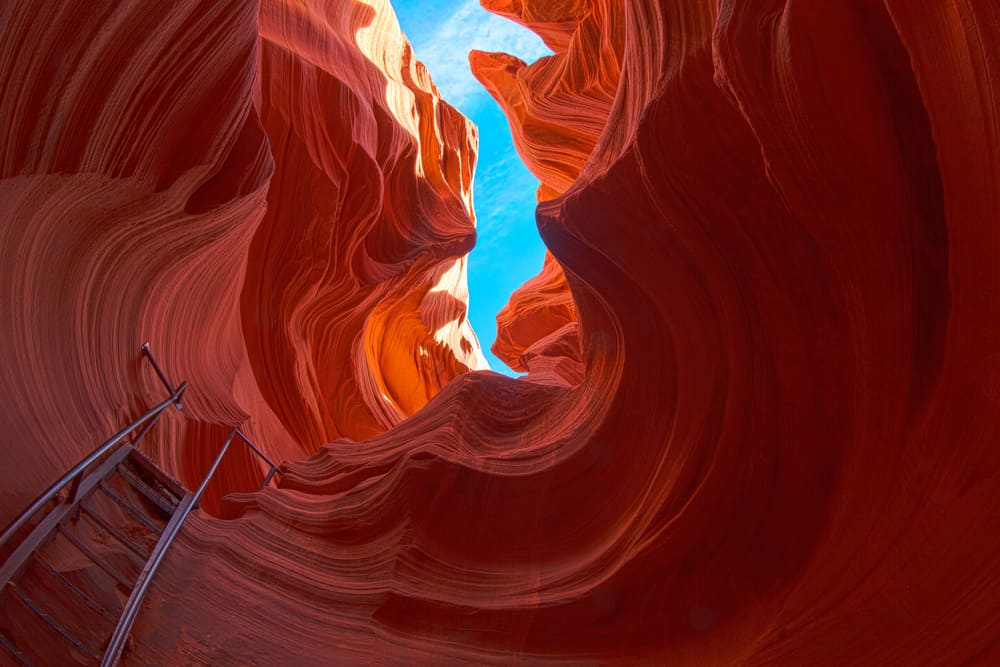 There is nothing quite like the beauty that lies down in Antelope Canyon. The canyon produces colors you didn't even know were on the color spectrum. To see the canyon walls light up in spectacular hues as you wind your way through the narrow canyon is an experience that should be enjoyed by all. As long as you understand that you'll be sharing your experience with hundreds of other tourists all crowded together eager to get the same pictures you're after, we suggest paying Lower Antelope Canyon a visit. If you can get past the crowds and wait times, your eyes are in for a real treat. We'd love to hear about your own experiences visiting this fascinating natural wonder in the comments.