If you have found yourself reading this article, you must be planning a Scotland road trip! Scotland is a gorgeous and fascinating nation in the north of the United Kingdom known for its natural beauty, moody weather, and large collection of cool castles. With so many fun things to do and wonderful sights to see, Scotland makes for the perfect country to travel by car. When you rent a car, you gain the freedom to go wherever your heart desires. And your heart should definitely desire Scotland!
This driving tour of Scotland will point you in the right direction for your trip, but feel free to adjust it for your own time restraints and interests. The route of this Scotland itinerary will take you in a clockwise circle around the whole nation so there will be no area unseen. If you have the time, you can add Scotland onto a larger U.K. road trip, but even if Scotland is your only destination, you are sure to have a trip you will not soon forget!
Don't forget to check out our Detailed Road Trip Packing List so you don't forget any essentials for your trip!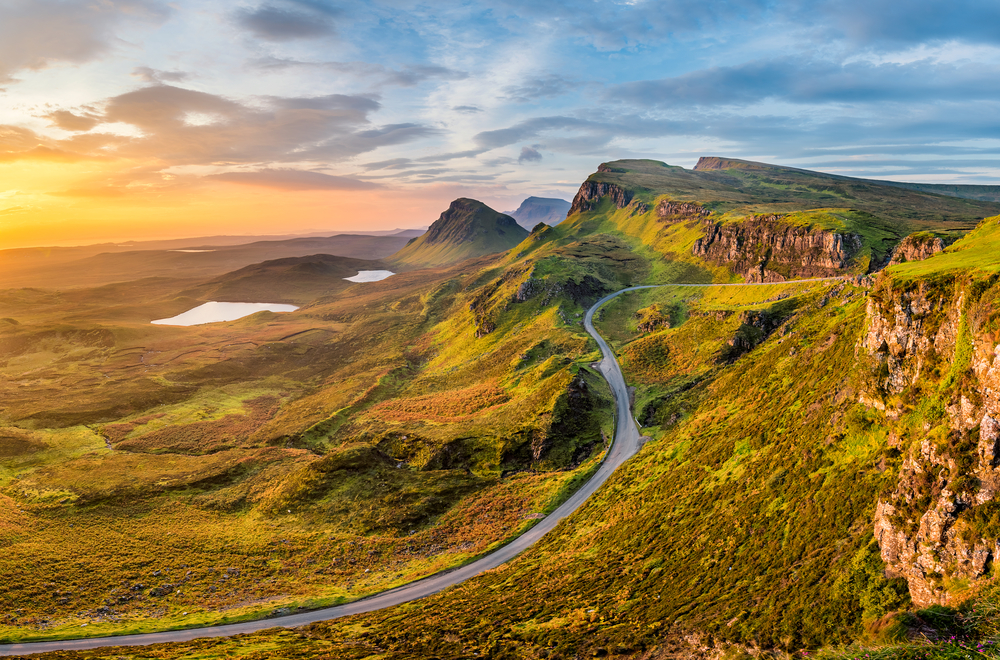 The Ultimate Scotland Road Trip Itinerary You Should Steal
Begin Your Scotland Road Trip By Flying Into Edinburgh
Start your Scotland road trip by flying into the country's capital, Edinburgh. Hopefully, you spent some time on the flight practicing the proper pronunciation of the city to avoid stares from the locals. Say "Ed-in-bruh" to sound at least a wee bit Scottish. The way this Scotland itinerary is written, you will end your trip in Edinburgh as well and fly out of the same airport.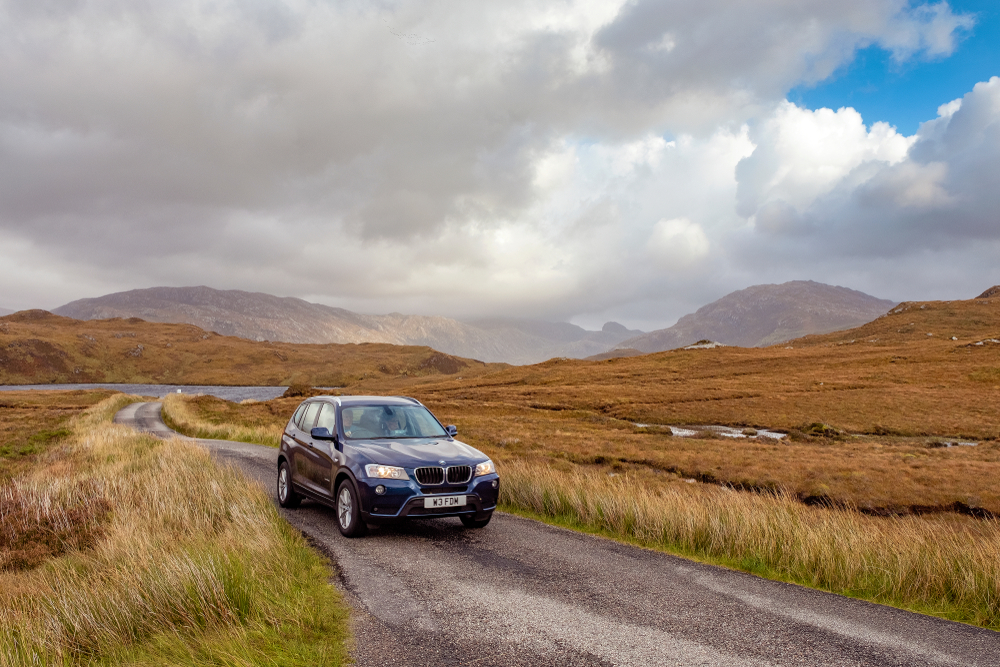 Renting A Car For Your Scotland Itinerary
Once you are off the plane and find your luggage, it is time to rent your car. There are plenty of car rental places at the airport, so you will not have to go far. To avoid stress and get the best deal, consider looking at AutoEurope before you fly out. This website compares prices of all major rental companies and assures you get the best rate. This is one of the BEST ROAD TRIPS IN EUROPE so you are in for a real treat and a memorable experience!
When choosing your car, do not get anything too big, as the roads in Scotland are fairly narrow. Always get insurance and think about getting a GPS to avoid getting lost.
Remember, if you are coming from a country that drives on the right, you will now be driving on the left. This can take a few days to get used to. If you have a passenger, they can help you stay where you need to be. Similarly, you may want to rent an automatic instead of manual transmission since it might be difficult to use your opposite hand to shift gears.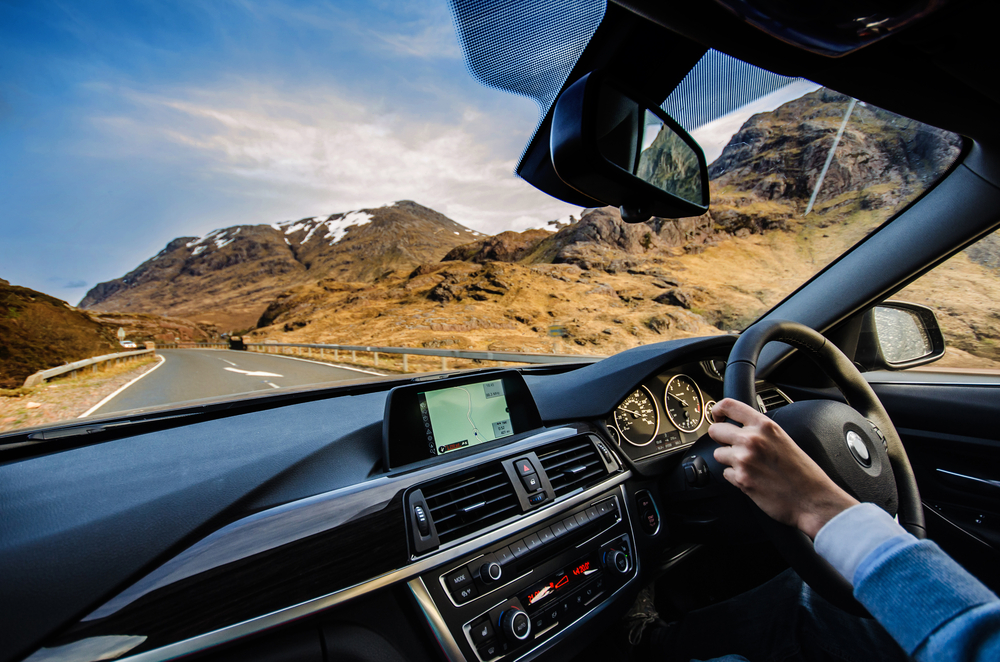 Stop 1: Begin Your Scotland Road Trip in Edinburgh
Edinburgh is a mostly compact city, so even though you have a car, it is possible to walk between most of the main attractions. As Scotland's capital, this city is perfect for the start of your trip and gives you an opportunity to dip your feet into Scottish culture and life. With a pretty, old town atmosphere, you will love Edinburgh! If possible, plan on staying at least one or two nights.
Noteworthy Things to Do In Edinburgh
Hike Arthur's Seat
Just on the edge of the city, you will find Arthur's Seat, a 250-meter extinct volcano that is a popular hike for locals and tourists. You will have to plan for about two hours to make it to the summit and back. It is an easy enough hike, but make sure you wear proper shoes and bring plenty of water. From the top, you will receive amazing, panoramic views of the city nestled below.
Visit Edinburgh Castle
The Edinburgh Castle sits prominently on Castle Rock and can be spotted throughout the city. At the castle, you will be able to learn about its history and the people that once lived there as well as get beautiful views of the city and a look at the Crown Jewels.
Book Here: Edinburgh Castle Ticket
Learn Scottish History at the National Museum of Scotland
Head over to the National Museum of Scotland in order to walk through Scotland's history, from the nation's geological beginning to today. You'll be able to see art, historic artifacts, and more of the 10,000 items on display. Plus, entry is free!
Enjoy the Beautiful Royal Botanic Garden

With over 70 acres and thousands of plants, the Royal Botanic Garden is a worthwhile stop on your Scotland road trip. You can wander the expansive gardens for free, but entry to the glasshouses, which are like giant greenhouses, will set you back a few pounds.
Stroll Cute Streets
Edinburgh really is a charming town with beautiful architecture and a great atmosphere, so you may want to take time on your stay to stroll along some of the many cute streets the city has to offer. Consider walking the famous Royal Mile, the charming Victoria Street, or the pretty Princes Street which is bordered by a beautiful garden. These three streets intersect, so you shouldn't get lost!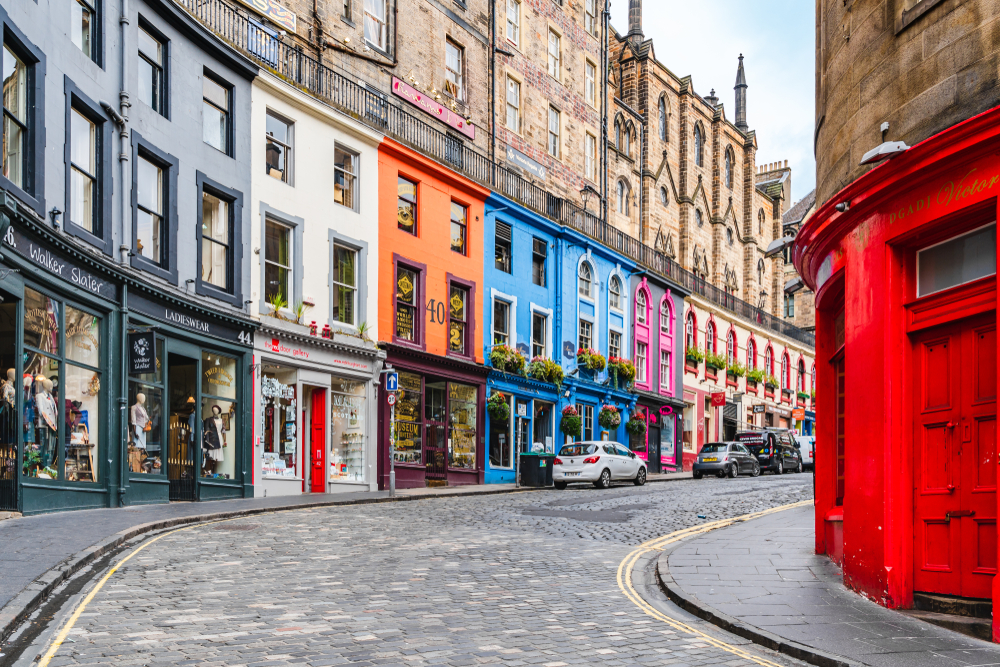 Take a Harry Potter Walking Tour
If you are a Harry Potter fan, then Edinburgh is the perfect destination! J.K. Rowling wrote a large portion of the series here and it seems there is an inspiration for the books around every corner. To see it all, book an informative walking tour.
Book Here: Edinburgh: Harry Potter Magical Guided Walking Tour
Where to Stay in Edinburgh
There are many great choices of places to stay in Edinburgh, most of which are near the old town city center and easy walking distance to many top sights. No matter your price range, there is something for you! There are many accommodations under $200.
Affordable: Richmond Place Apartments – Cute, studio apartment 650-feet from the old town area. Check rates here!
Mid-Range: St Giles Apartments – Modern apartment near the Grassmarket. Check rates here!
Luxury: Royal Mile Apartment – Private apartment right in the thick of things! Check rates here!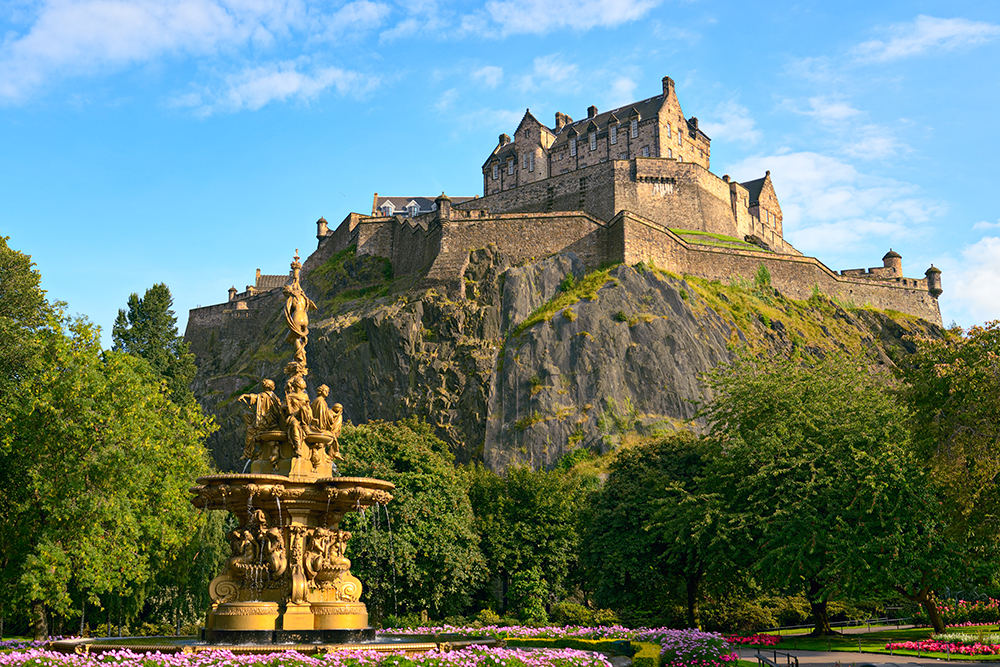 Stop 2: Glasgow
Glasgow is a port city on the River Clyde and the largest city in Scotland. Since it is only about an hour's drive from Edinburgh it makes sense to have it as the second stop on your Scotland road trip. Like the previous city, Glasgow is full of fun things to do and beautiful, Victorian architecture. One full day should be enough to see the main spots, but you can stay longer to explore more.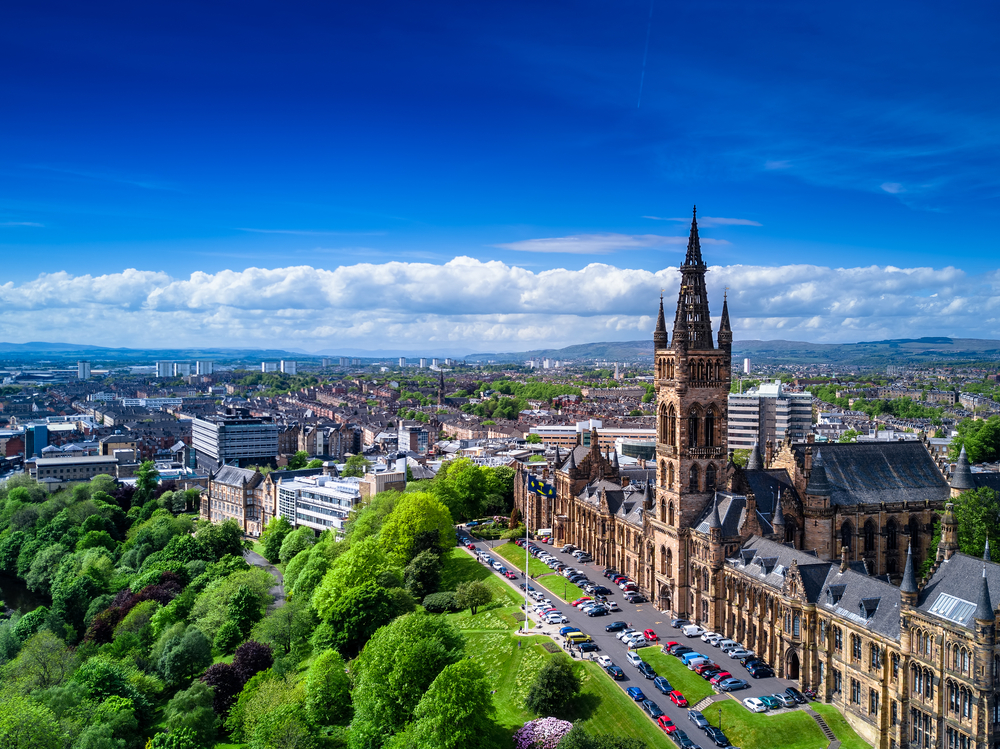 Interesting Things to Do in Glasgow
Museum Hop
Glasgow is a city full of museums of all sorts, and you can't go wrong checking a few out while in the city. One of the top museums is the Kelvingrove Art Gallery and Museum, which has a gorgeous exterior and holds 22 galleries of art and history inside. Another popular museum is the Riverside Museum of Transport and Travel, which has any type of transport you can think of as well as interactive displays.
You might also like the Scottish Football Museum, the Glasgow Science Center, the Gallery of Modern Art, or the St. Mungo Museum of Religious Life and Art.
Visit the Glasgow Cathedral and Necropolis
Wander over to the Glasgow Cathedral, a beautiful and imposing building dating back to 1197. When you are done exploring the church check out the Glasgow Necropolis alongside it. This Victorian-era cemetery might not be everyone's idea of a pleasant stroll, but it is a calm place to soak up the history only an ancient cemetery can provide.
Tour the University of Glasgow
Next to Kelvingrove Park, you will find the beautifully crafted, 18th-century styled University of Glasgow. You can take a self-guided tour of the campus and soak in the Old World college life. Make sure to check out the amazing cloisters while you are there.
Check out the City's Street Art
Glasgow is drenched in beautiful, intricately detailed, and large-scale pieces of street art. If you want to see all the best pieces and gain some insight into the art, think about booking a walking tour dedicated to it.
Book Here: Glasgow: Street Art Guided Walking Tour
Where to Stay in Glasgow
Like any large city, Glasgow is not short on accommodations for tourists, and you are sure to find the perfect place to spend the night.
Affordable: Sandyford Hotel – Nice hotel near a park. Check rates here!
Mid-Range: Jurys Inn Glasgow – Large hotel overlooking the River Clyde. Check rates here!
Luxury: The Spires Glasgow – Apartment suite in the city center. Check rates here!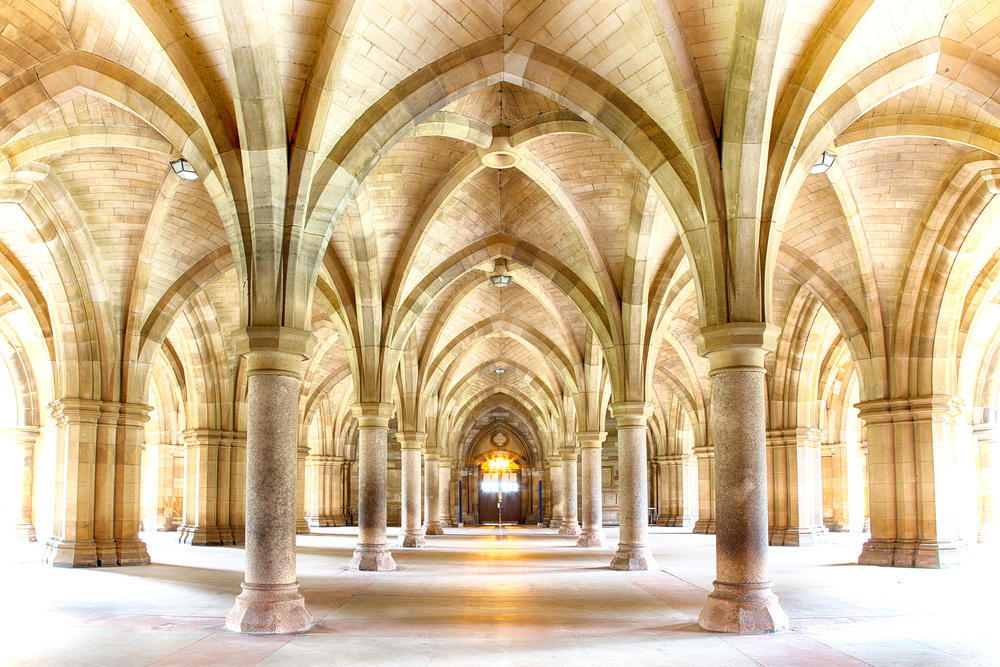 Stop 3: Castle Hop Your Way North
From Glasgow, you will drive north on your way to Glencoe, but not without needing to stop multiple times to see some of the nearly dozen castles in the mountainous area between the two cities. Listed below are four of the best castles to find along the way.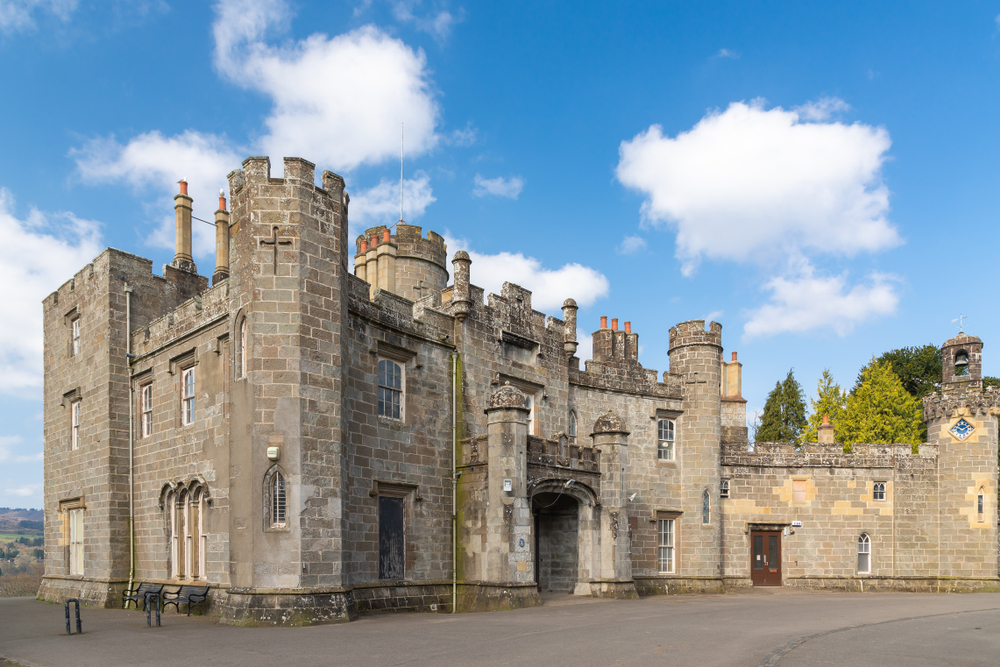 Castles to See on Your Scotland Road Trip
Balloch Castle
The closest of these castles to Glasgow, Balloch Castle is a stately structure right on Loch Lomond with a ship filled harbor nearby. This small castle no longer allows access to the inside, but it still possible to enjoy from the outside.
Kilchurn Castle
Another hour and twenty-minute drive will bring you to one of the most photographed castles in Scotland, Kilchurn Castle, which sits on a small peninsula jutting out into Loch Awe. The castle is free to visit.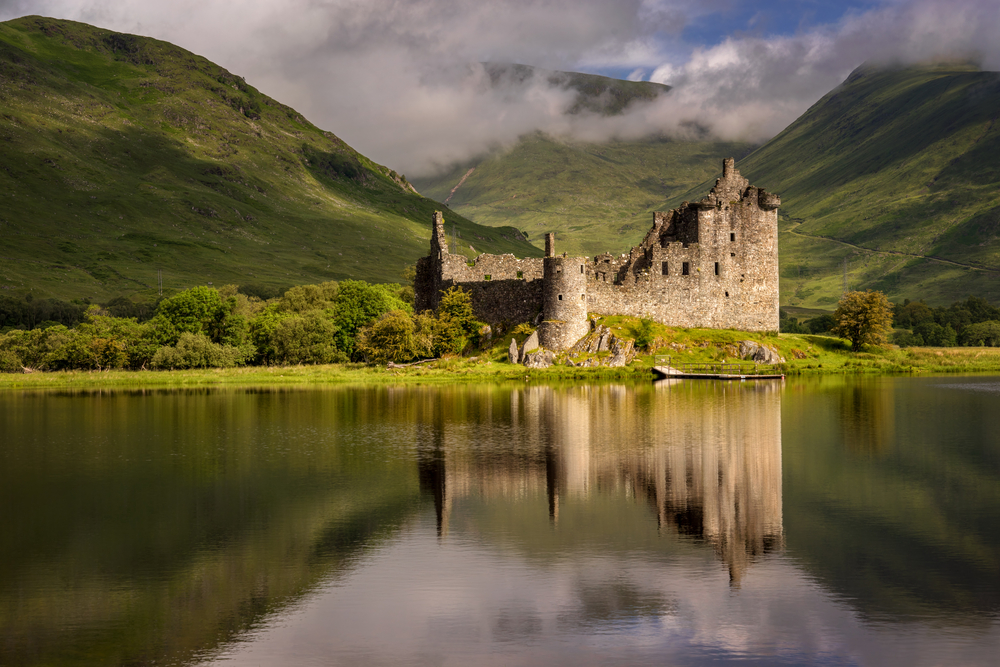 Dunstaffnage Castle
The next castle is a fortress also found on the water and was built in 1240. This castle in Scotland does cost a few pounds to enter. To get here, drive west from Kilchurn Castle
Castle Stalker
Now, take the curving road up to Castle Stalker, another beautiful castle. This ruin is on a small island just off the coast and can easily be seen from the shore.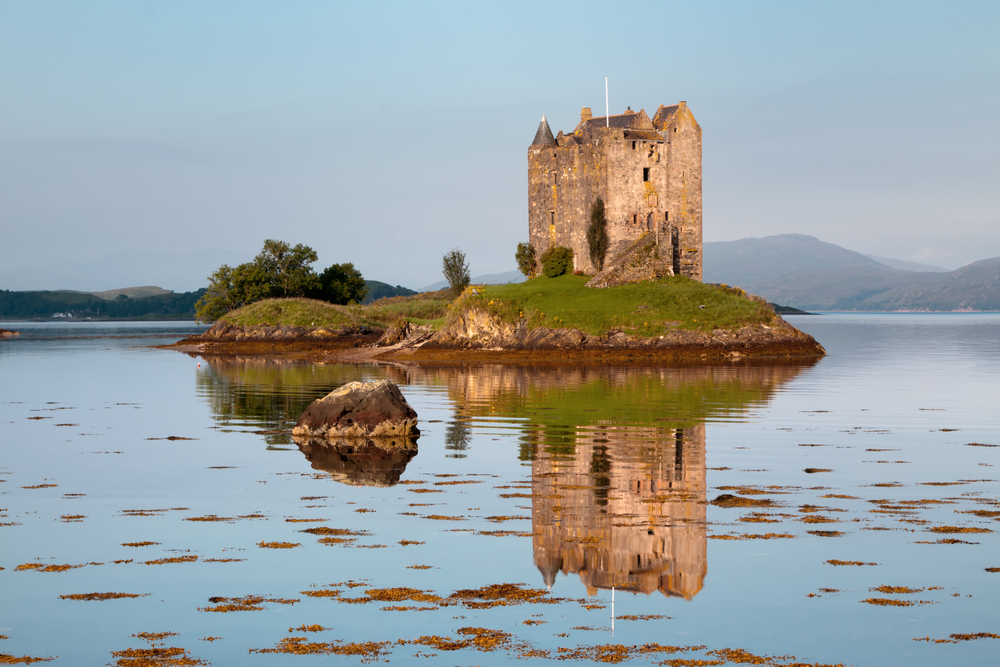 Stop 4: Bask in the Beauty of Glencoe Valley
From the last castle, it is only 20 or so minutes to the Glencoe Valley. This destination is full of natural beauty, especially magnificent waterfalls and rugged mountain views. No matter where you look, you are bound to find a jaw-dropping scene. Drive along the A82 highway in order to find many of the best sights in the area not far from the road. Below are some places to look for to snap some nice photos to document your Scotland road trip.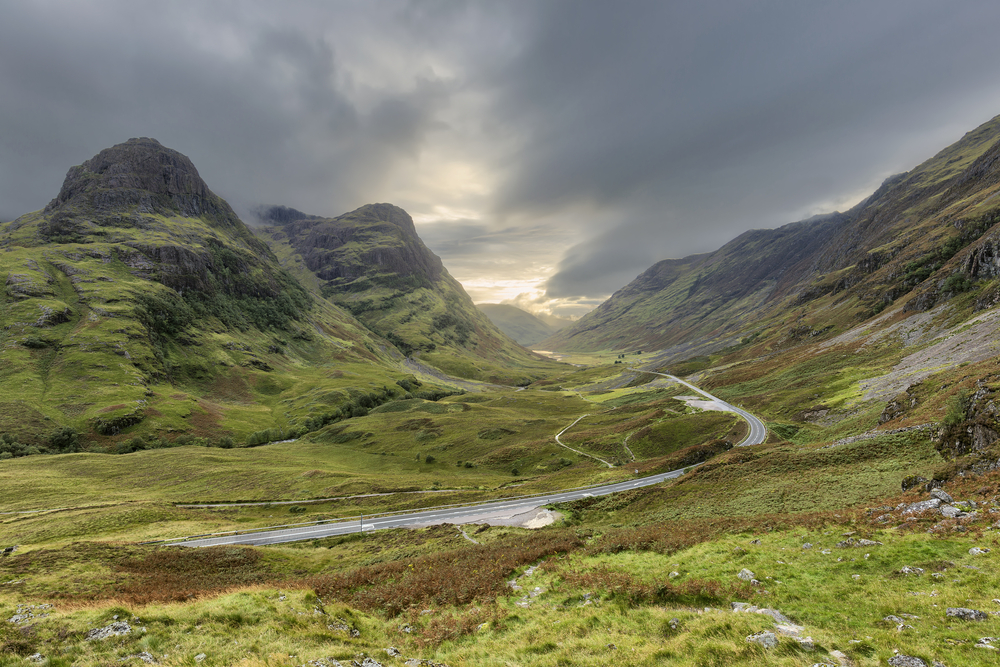 Beautiful Sights to See in Glencoe
Coe River Waterfall
Surrounded on either side by mountains, this tiny waterfall can look mighty when photographed close to it. Just be careful not to get your feet wet!
Loch Achtriochtan
Loch Achtriochtan can be very pretty and glassy if the conditions are right and, being Scotland, is often moody as well. Near the loch, you can find the Achtriochtan Cottage which is a lone white house that is popular to photograph. Keep in mind, though, that the house is on private property. Do not trespass to get a photo.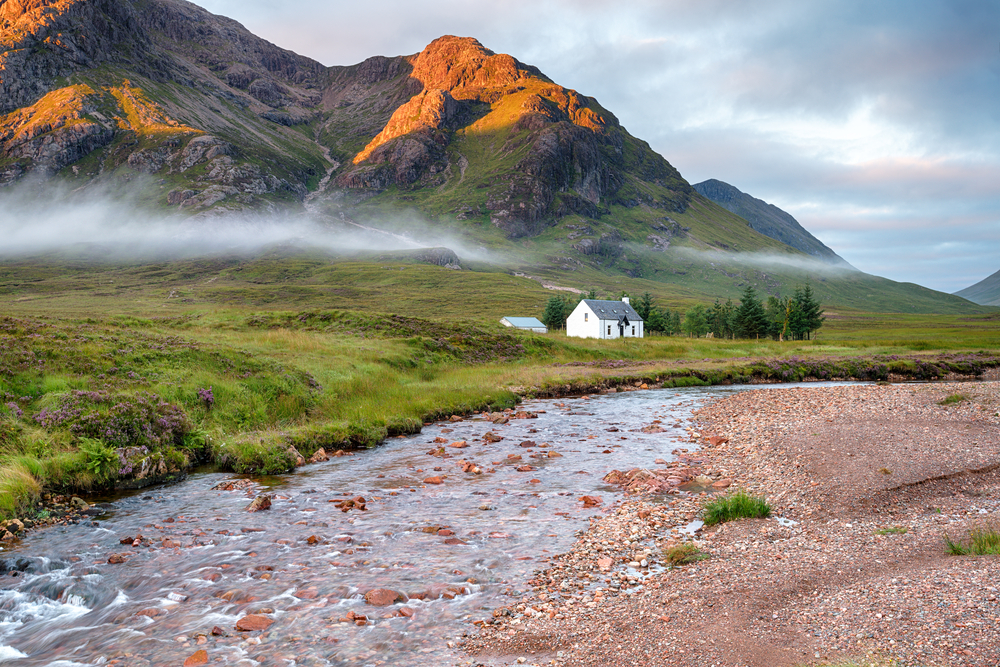 The Three Sisters
The Three Sisters are three consecutive mountain peaks in the Glencoe Valley that make for a postcard-worthy photograph. There is a small parking lot right off the road where you can stop for views or you can take a hike closer.
The Meeting of the Three Waters
Near the Three Sisters, you will find the Meeting of the Three Waters, which is a lovely waterfall that should not be missed.
Etive Mor Waterfall
A bit of a Scotland hidden gem since it is off the main road, you can find Etive Mor Waterfall by turning south off of A82 and on to the nondescript Glen Etive Road. This is a gorgeous waterfall with an isolated mountain peak as a backdrop.
Where to Stay in Glencoe
Stay in the city of Glencoe near Loch Leven to find some of the best and most affordable accommodations.
Affordable: Corran Bunkhouse – Guesthouse near Loch Linnhe with free parking. Check rates here!
Mid-Range: The Glencoe Inn – Cute hotel overlooking Loch Leven. Check rates here!
Luxury: The Isles of Glencoe Hotel – Beautiful hotel on Loch Leven with a swimming pool and sauna. Check rates here!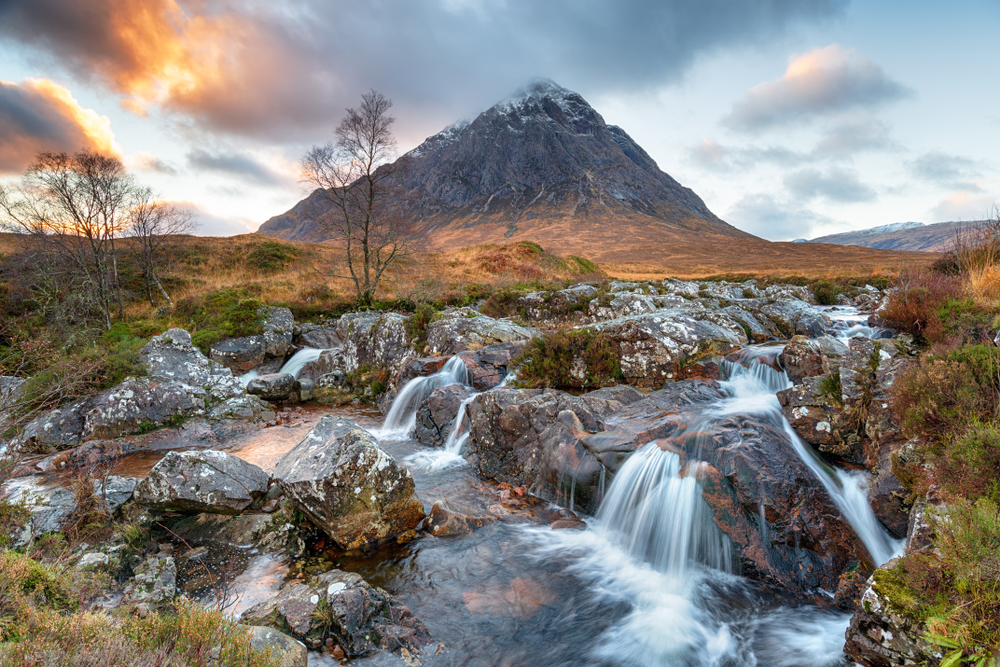 Stop 5: Hike to Steall Waterfall
About 45-minutes north of the city of Glencoe in Glen Nevis, you can find one of Scotland's hidden gems, Steall Waterfall. This powerful, 120-meter waterfall can only be seen by those daring to hike to it. The two-hour roundtrip hike can be dangerous and does involve walking over a river on a rope bridge. However, it is all worth it when you catch a glimpse of the stunning falls. If you can, make sure this is a stop on your Scotland road trip.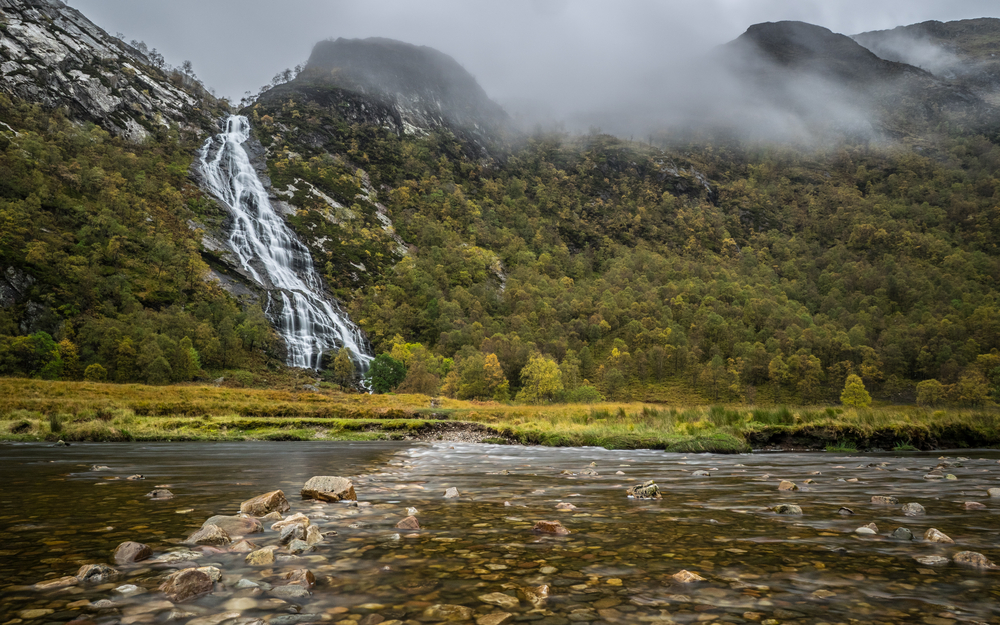 Stop 6: Discover Natural Wonders on the Isle of Skye
The Isle of Skye can easily be described as a photographer's dream and has quickly become one of the most popular destinations in Scotland. Tourists are drawn in by the rugged, moody landscapes that are found around every bend in the road here. This area is also full of one-way roads, so pay attention as you drive if you need to pull into a passing spot to let another car by.
The great thing about the Isle of Skye, and many places in Scotland for that matter, is that the natural attractions are free to enjoy, which will save you money on your Scotland road trip. Though you will want to spend at least one or two nights here, so you will have to pay for lodgings.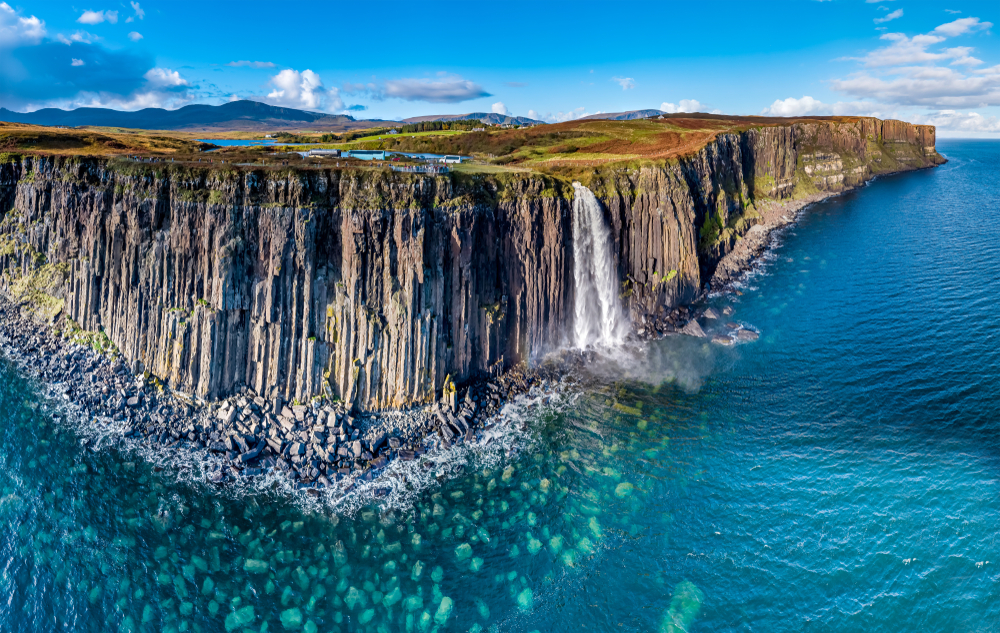 Top Attractions on the Isle of Skye
Eilean Donan Castle
Just before you enter the Isle of Skye proper, you will pass the Eilean Donan Castle, a gorgeous castle with a history dating back to the 13th century. It costs 10 pounds to go inside, but it is possible to photograph it without paying a fee. If you can, go around sunset when they light up the castle to get cool photos.
Fairy Pools
The fairy pools are a series of waterfalls along the River Brittle in the south of the Isle of Skye not far from the town of Sligachan. Depending on the time of year and if you are up for it, you can swim in the pools.
Old Man of Storr
Possibly the most iconic sight on the Isle of Skye, the Old Man of Storr is a rugged, pointed stone formation that can be hiked to or photographed from a distance. Your Scotland road trip cannot be complete without seeing and photographing this rock stretching into the sky.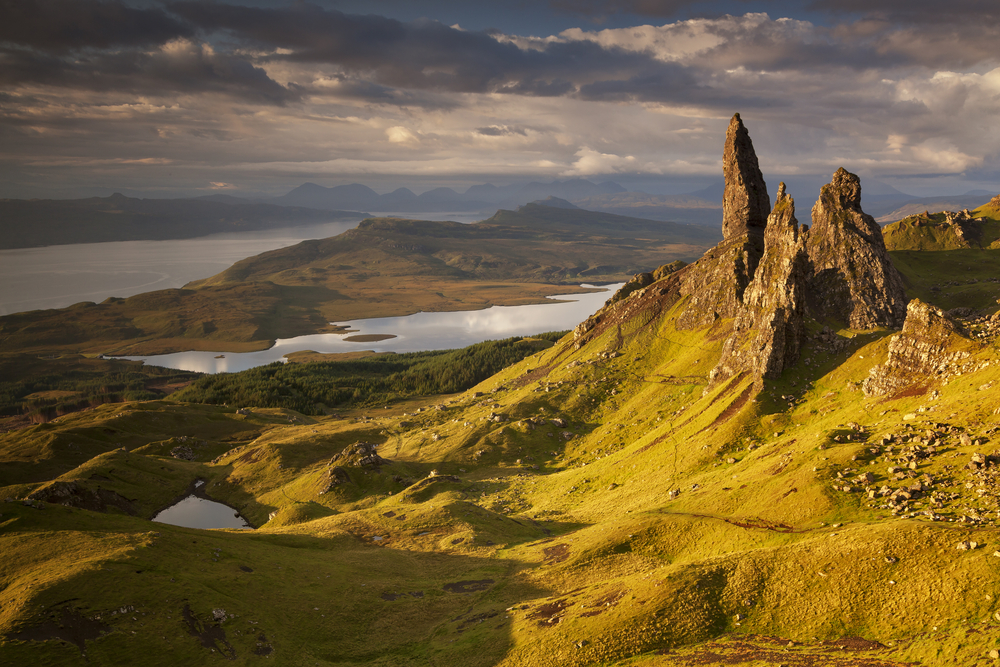 Quiraing
The Quiraing in the north of the Isle of Skye is an outstanding mountain formation that looks as if it is the scene from a fantasy novel. A trail loops through the area and can be hiked in about two hours, though you might want to plan extra time for all the photos you will want to take.
Kilt Rock and Mealt Falls
Flowing from Loch Mealt and into the ocean in the northeast of the Isle of Skye is a 55-meter waterfall worthy of gasps. The cliffside is made up of basalt columns that look otherworldly. This is the perfect location to break out a drone since you will be able to get a better view of the falls that way.
Neist Point Lighthouse
The Neist Point Lighthouse is the westernmost lighthouse in Scotland and is at the top of many photographer's lists. Come here at sunset and sit on the tall bluffs to watch the sun disappear into the sea with the lighthouse in the foreground.
Where to Stay on the Isle of Skye
As a tourist hub, accommodations on the Isle of Sky can be a bit pricey. Whether you want to go all out on a $1,000 property or stay in a hostel for under $100, you are still sure to find somewhere to spend the night on your Scotland road trip.
Affordable: The Roses B&B – Pretty bed and breakfast near Portree. Check rates here!
Mid-Range: The Royal Hotel – Nice hotel with views of the Portree harbor. Check rates here!
Luxury: Skeabost House Hotel – Beautiful hotel and property with views of the water in the center of the Isle of Skye. Check rates here!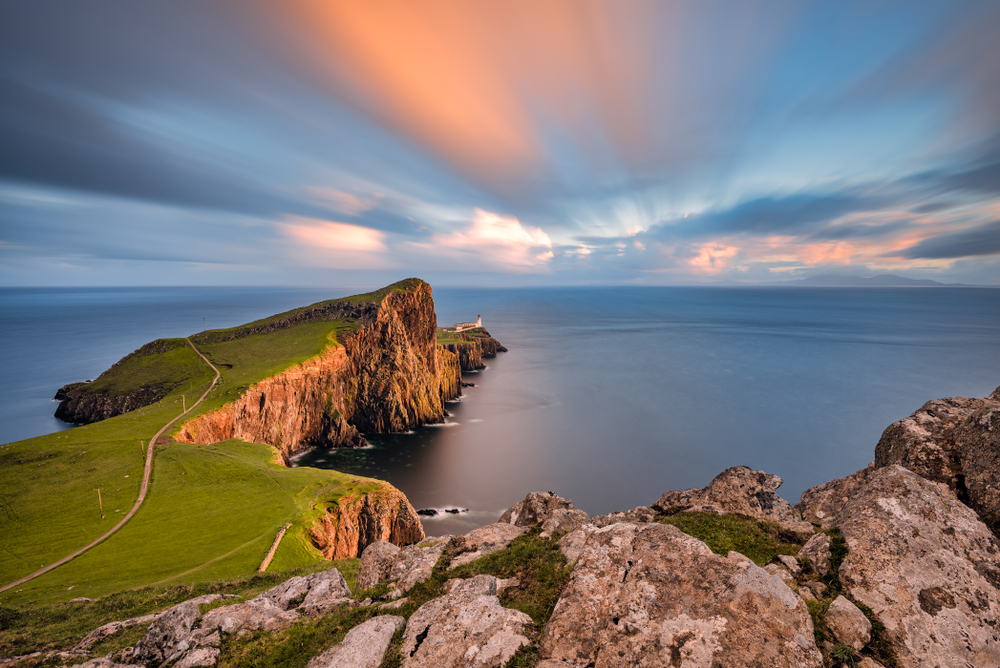 Stop 7: Enjoy Famous Loch Ness
You have undoubtedly heard of Loch Ness and the monster that supposedly makes the lake its home. The legend of the Loch Ness Monster dates back to 1802 but really gained popularity in 1934 when Robert Kenneth Wilson took a now-famous photograph of the alleged creature. Since then, the monster has become entwined in pop culture.
You can easily do Loch Ness in a day or even half a day. Though there are fun things to do, the area is very touristy and kitschy, which might not be for you.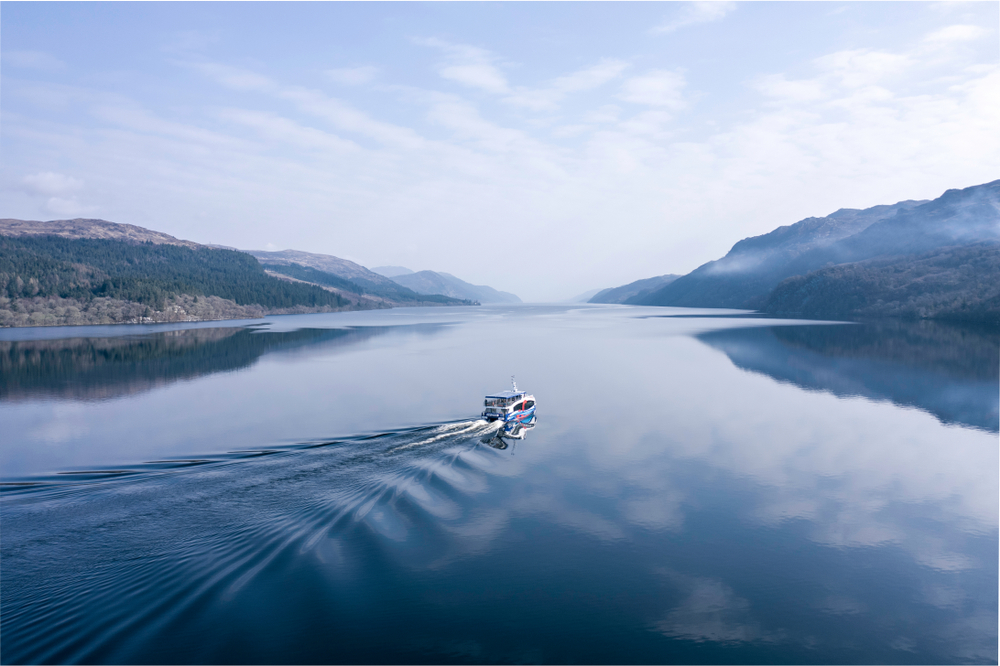 How to Spend Your Time at Loch Ness
Try to Spot Nessie on a Boat Tour
You can't visit this 21-square mile lake without taking a relaxing boat tour. With so many tourists, there are plenty of places to book a tour, some of which are even Loch Ness Monster themed.
Book Here: Loch Ness: 1-Hour Cruise
Visit the Splendid Urquhart Castle
The ruins of Urquhart Castle stand prominently on a cliff overlooking Loch Ness. Even in its state of disrepair, the castle is picture-perfect in the same way all the old castles in Scotland are. Twelve pounds will let you explore the site in more detail.
Stop 8: Inverness
Inverness is just north of Loch Ness on the Moray Firth and is a city steeped in Highland history. Though the city is not too big, there are plenty of things to do in and around the city, so plan on staying at least one night during your Scotland road trip.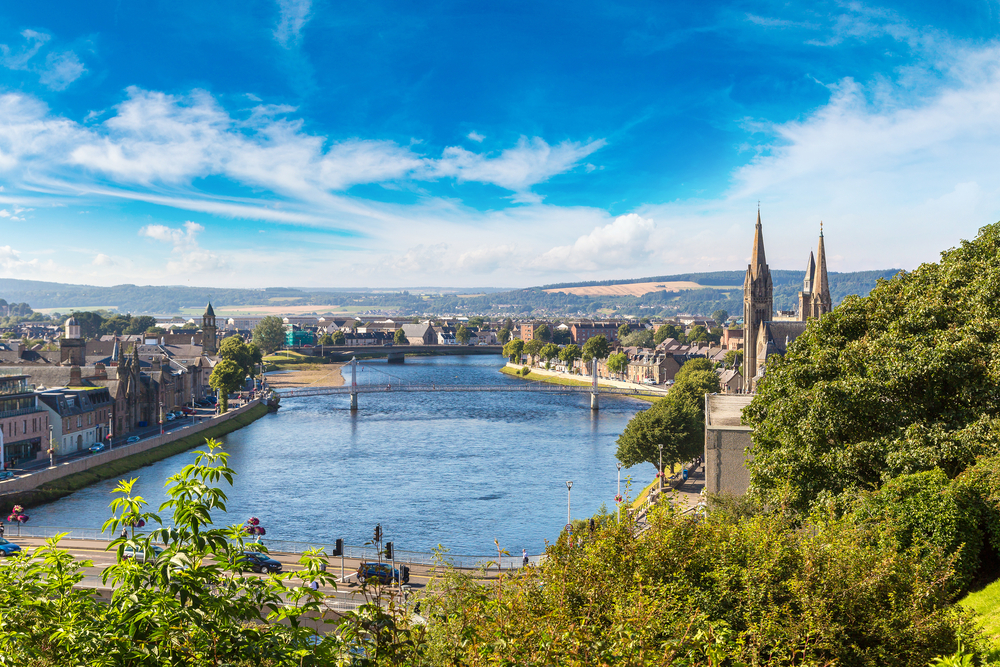 Best Things to Do in Inverness
Take a Walking Tour to See the City's Highlights
Inverness is a lovely city full of old and masterful architecture and beautiful views. If you want to see it all with a guide who knows the area and history, think about booking a walking tour. You will be able to see Inverness Castle, a few churches, and more.
Book Here: Inverness: Guided Walking Tour
Learn the History of the Culloden Battlefield
Just east of Inverness is the Culloden Battlefield where you can learn about the battle that took place there in 1746 when the Jacobite Rising came to a bloody end. With a modern visitor center, museum, and guided tours, this is an interesting place to visit for any history buff.
Book Here: Culloden Battlefield Visitor Center Ticket with Audio Guide
Visit the Regal Cawdor Castle
Keep driving northeast from the battlefield to find the stately Cawdor Castle with its beautiful gardens. Built in the 14th century, this once private castle is a great stop to make on your road trip of Scotland. For a fee, you can enjoy the castle, gardens, and surrounding nature trails.
Spot Dolphins from Fort George
From the castle, turn back towards the Moray Firth to find Fort George sitting proudly on the water at the end of a small peninsula. This 18th-century fortress is full of military history. Tour the fort to see how soldiers once lived and visit the Highlanders' Museum. Make sure to check out the view of the water from here as well, because it is possible to see dolphins swimming in the water below.
Where to Stay in Inverness
Inverness has a good variety of places to stay, most relatively cheap, either in the city or just outside of it.
Affordable: Invernevis Bed and Breakfast – B&B that serves a full Scottish breakfast. Check rates here!
Mid-Range: Columba Hotel Inverness – Nice hotel in the center of Inverness. Check rates here!
Luxury: Bunchrew House Hotel – Super cute, fairytale styled hotel with sea views. Check rates here!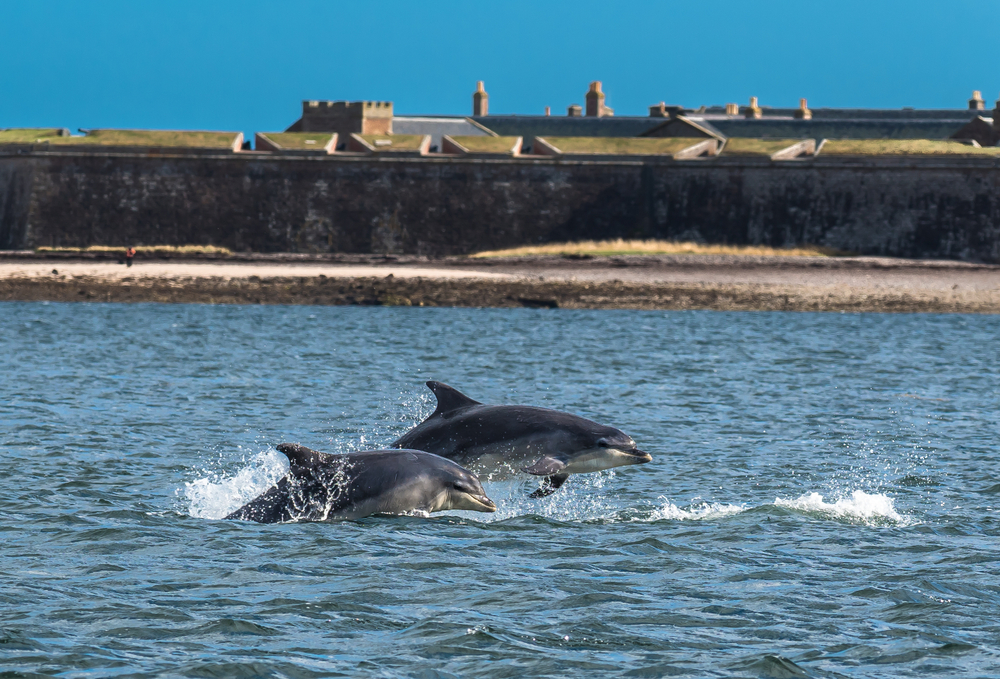 Stop 9: Drive Around Aberdeenshire on Your Scotland Road Trip

Aberdeenshire is one of the council areas of Scotland and is found in the northeast of the nation along the ocean. There are lots of castles, cute towns, and beautiful scenery in this area. Depending on how much you want to do and see, think about staying about one, two, or even three nights.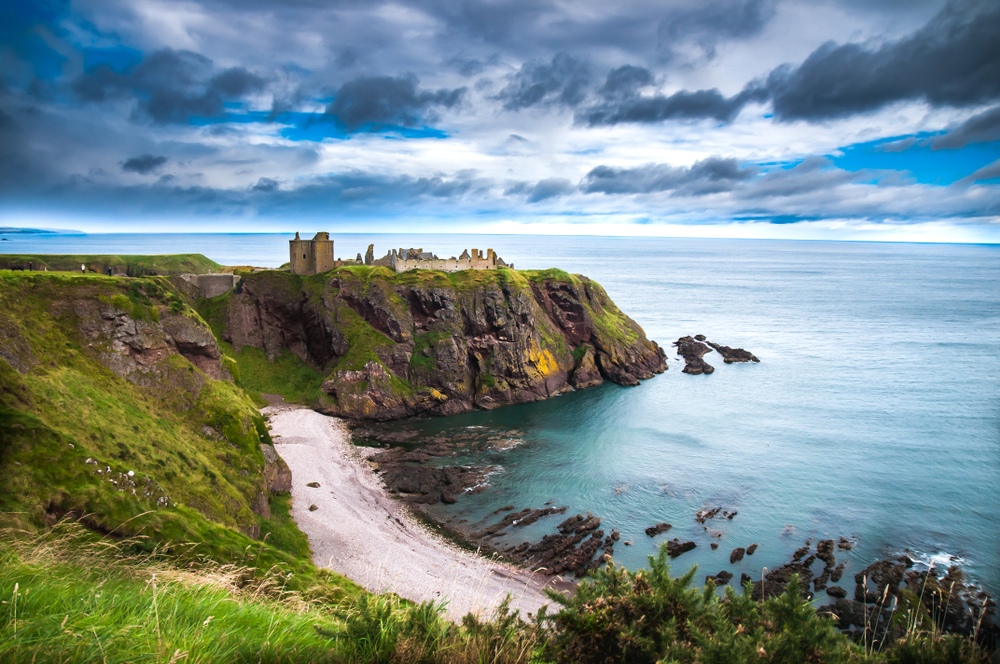 Cool Things to Do in Aberdeenshire
Visit All the Castles You Can

If you came to Scotland for castles, then Aberdeenshire is for you! There are dozens of castles in the area of different states and sizes. Here are some noteworthy ones, you may want to visit.
Slains Castle is a roofless ruin near Cruden Bay on the coast and was an inspiration for Bram Stoker's Dracula. Kildrummy Castle dates to the 13th century and the extensive ruins are a great place to explore. Craigievar Castle is pink in color and looks like it could have been pulled from a Disney movie. Dunnottar Castle, outside of Stonehaven on a rugged cliff, might be the best-known castle in the area with good reason due to its charm.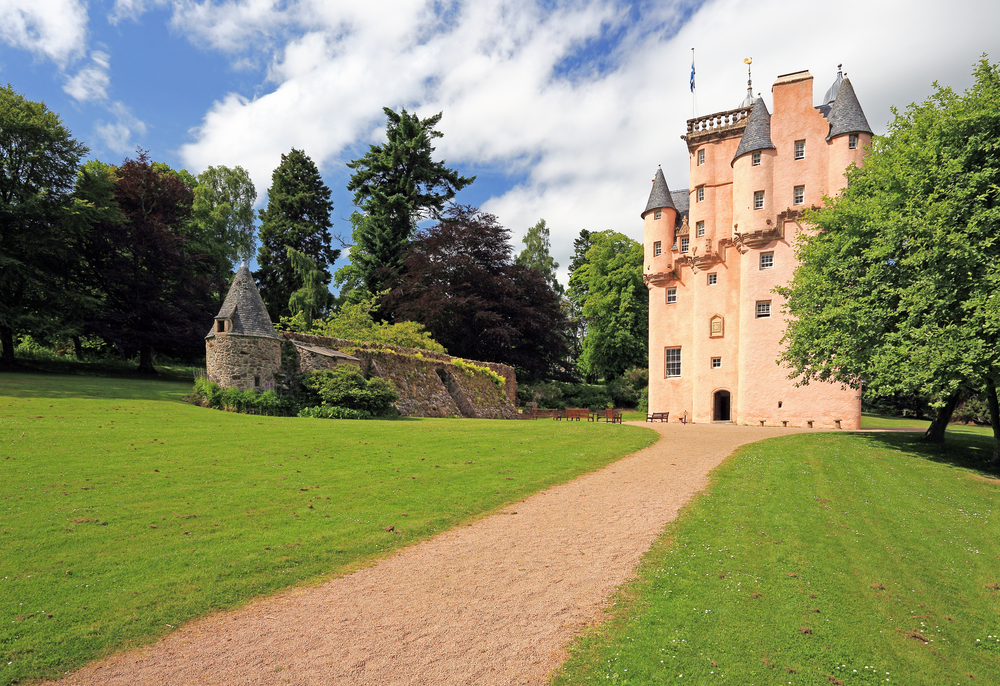 Take a Tour of the Glen Garioch Distillery
You can't come to Scotland without touring at least one whiskey distillery. The Glen Garioch (pronounced Geery in the Doric dialect) Distillery is one of the oldest whiskey distilleries in Scotland and is worth a visit if you want to see how this whiskey is made. You can find the distillery in the small town of Oldmeldrum.
Check Out the Aberdeen Maritime Museum
If you are interested in shipbuilding, sailing, or the fishing and oil industries, then this is the perfect museum for you. The building also provides great views of the nearby harbor.
Stroll Through the Cute Fishing Village of Footdee
Connected to Aberdeen and located on a peninsula near the harbor is the small fishing village of Footdee. This area is a Scottish hidden gem concealed in plain sight. The houses here are the real stars. They have brightly colored doors and walls decked out in quirky decorations.
Where to Stay in Aberdeenshire
Look into staying somewhere near the city of Aberdeen, the largest city in the area. There are plenty of choices of accommodation and the city is right on the ocean.
Affordable: Sandman Signature Aberdeen Hotel – Funky, modern hotel in the center of Aberdeen. Check rates here!
Mid-Range: Malmaison Aberdeen – Charming property with a spa in Aberdeen. Check rates here!

Luxury: Trump MacLeod House & Lodge – Beautiful castle-like building north of Aberdeen and near a great golf course. Check rates here!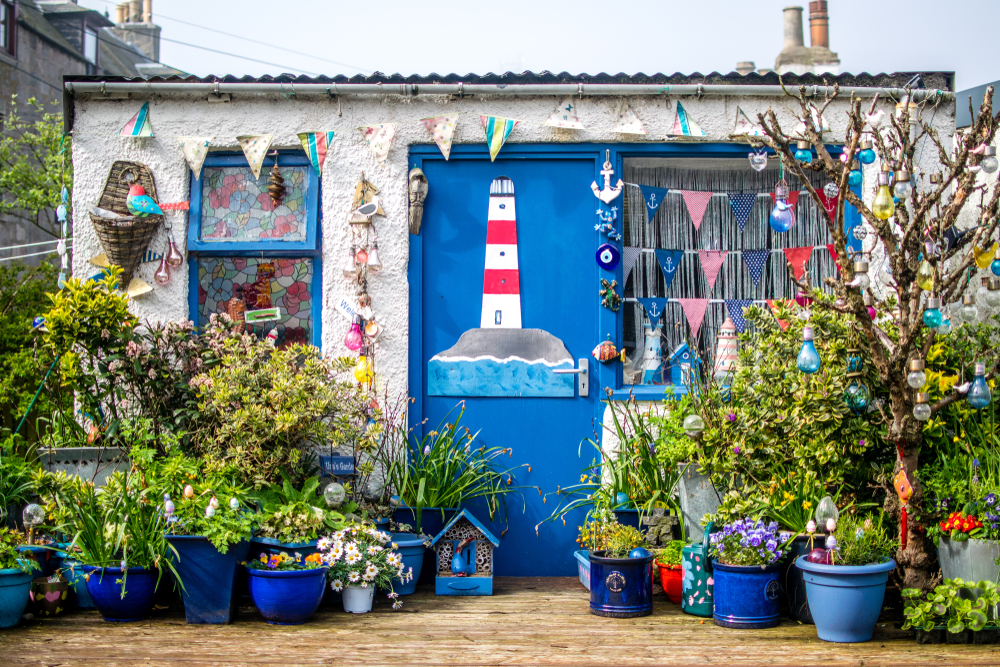 Stop 10: Explore the Town of Dundee
Dundee can be found about an hour and a half drive from the city of Aberdeen and is the next stop on this Scotland itinerary. Dundee is nestled along the River Tay and is the fourth-largest city in Scotland. One full day here is likely to be enough time.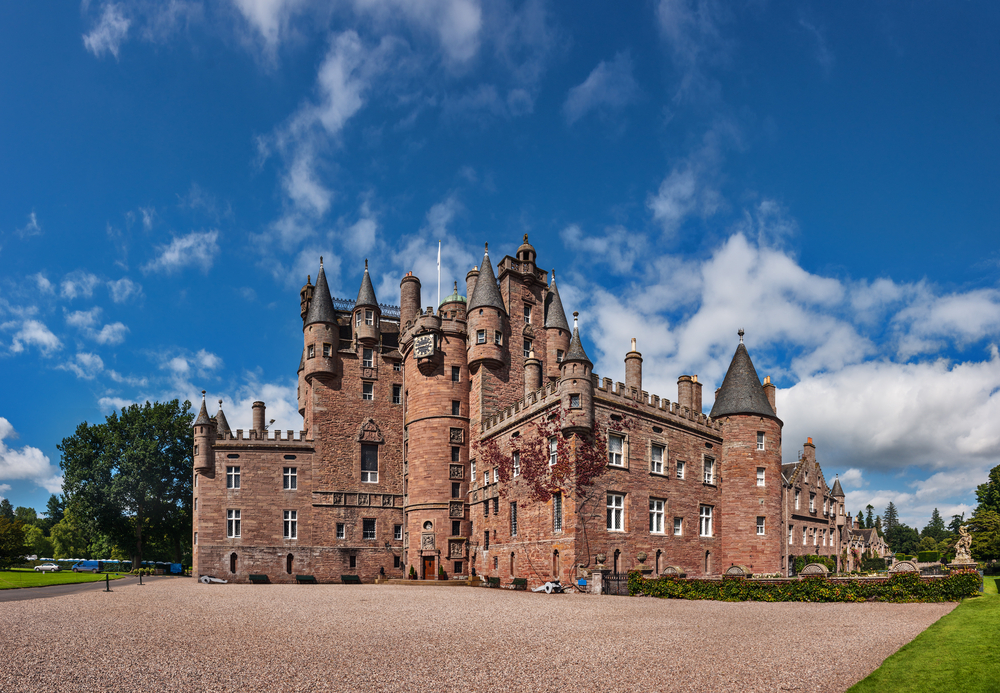 What to Do in Dundee
Enjoy the Glamis Castle
Stop at Glamis Castle right before you reach Dundee to enjoy some time at this 14th-century palace. This large and regal building is full of history. It was the childhood home of Queen Elizabeth I and the birthplace of her daughter, Princess Margret. The gardens are worth a stroll as well.
Discover the Victoria & Albert Museum of Design

The V&A Museum in Dundee opened in 2018 with the building itself crafted in a very interesting design by Japanese architect Kengo Kuma. The museum houses galleries and exhibitions dedicated to design and fashion.
Visit the McManus: Dundee's Art Gallery and Museum
Found in the center of Dundee in a gorgeous building, the McManus is a free museum full of interesting Scottish art and historic pieces. It is a cool place to check out on your Scotland road trip.
Check out the Broughty Castle Museum
This castle turned museum is found on the River Tay. Dating from 1496, this building has amazing views of the river. Inside, you can find displays of local history and culture. Admission is free.
Where to Stay in Dundee
Dundee hosts a variety of places to stay, from budget-friendly hotels to luxurious, private homes.
Affordable: Best Western Queens Hotel – Pretty hotel not far from the Tay River. Check rates here!
Mid-Range: Taypark House – Very pretty house with great views. Check rates here!
Luxury: Sandford Country Cottages – Large, private cottages on the opposite side of the river from Dundee. Check rates here!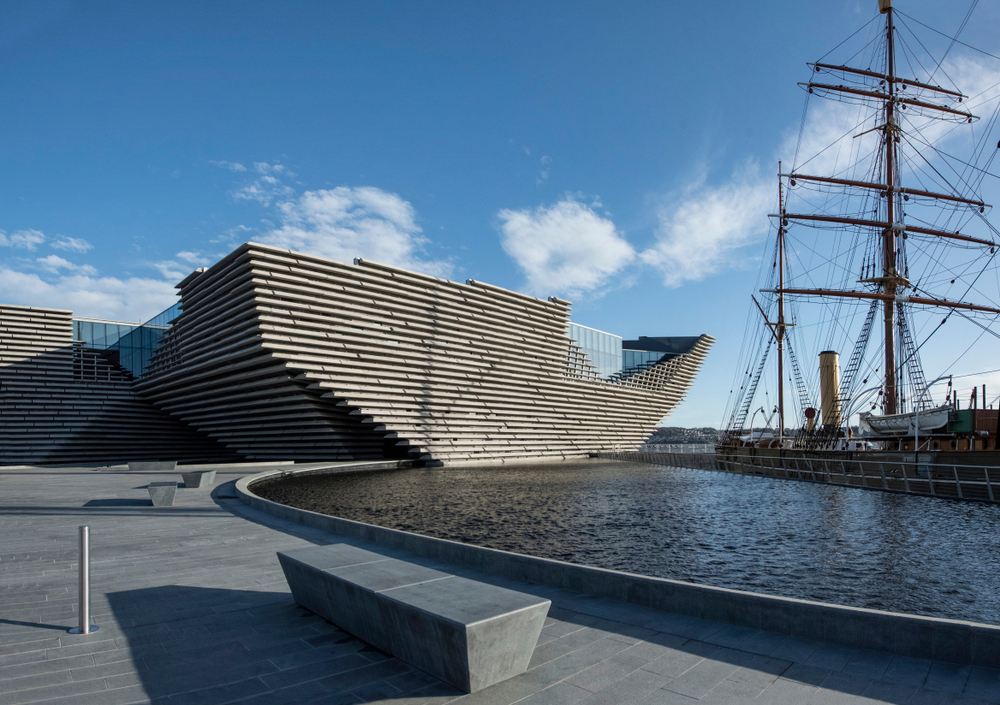 Stop 11: Check Out the Cute Town of Perth
Perth is just over thirty minutes from Dundee and is the last stop on this road trip of Scotland itinerary. Here, you will be able to chill for your last day or two before heading home.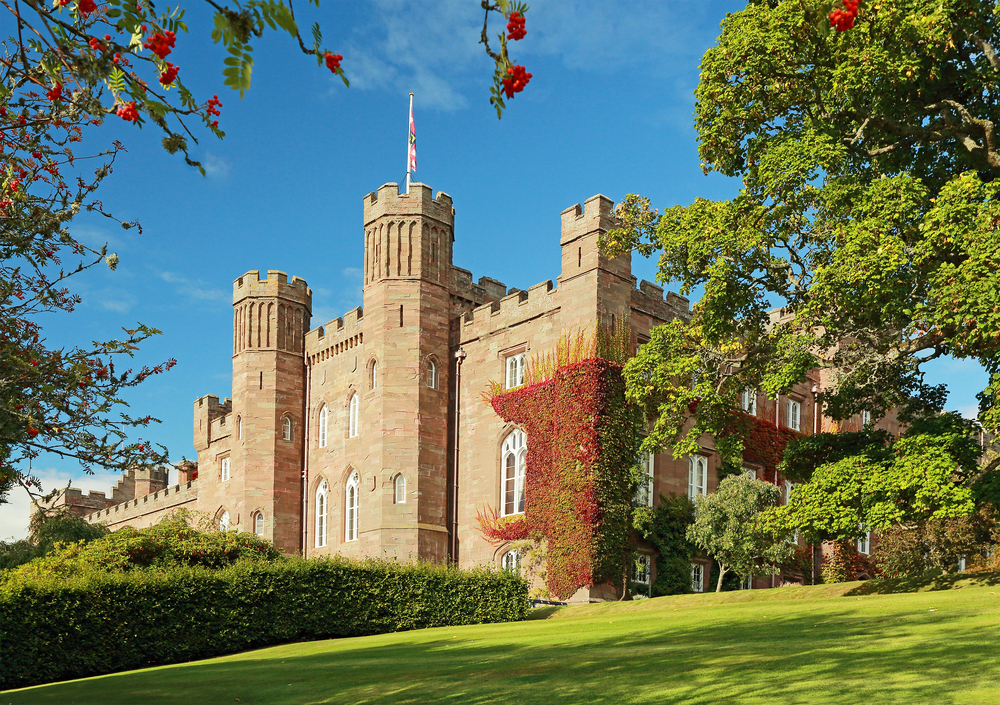 Top Things to Do in Perth
Walk Through Kinnoull Hill Woodland Park
Just on the outskirts of Perth is the Kinnoull Hill Woodland Park, which is made up of five forested hills and is a great hiking area. Some trails provide perfect views of the city. There is also an old cliffside tower to discover.
Visit Scone Palace
A couple of minutes north of Perth is Scone Palace, a stately Gothic castle with manicured lawns and gardens. This splendid palace has a long and interesting history. It was the ancient coronation location of Scotland's kings. Today, you can tour the palace and stroll through the 100-acre grounds, including hedge mazes and gardens.
Try Out a Scottish Golf Course
Modern golf was invented in Scotland in the 15th century and is still a popular game to play there today. Perth is surrounded by golf courses, many of which allow visitors to come play. The world-renown St. Andrew's Links are not too far away either, but if you want to golf there, make sure to book in advance to secure a tee time.
Where to Stay in Perth
Though Perth is a small town, there are plenty of affordable places to stay. As one of your last stops on your Scotland road trip, you can go out in style or stay somewhere simple.
Affordable: New County Hotel – Simple and modern hotel near the center of Perth. Check rates here!
Mid-Range: The Royal George Hotel – Nice property right on the river. Check rates here!
Luxury: Woodcroft House – Beautiful property with a garden across the river from the city center. Check rates here!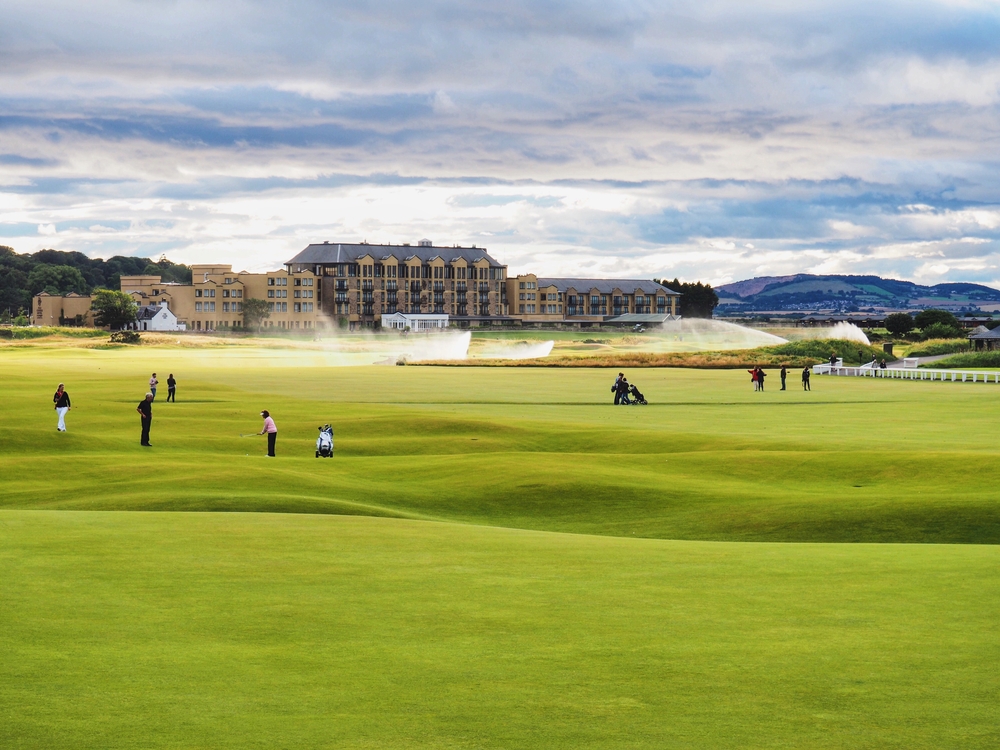 End Your Scotland Road Trip in Edinburgh
From Perth, it is only a 45-minute drive to the Edinburgh Airport where you can fly home. Since you are so close to the airport, if you are catching a late flight, you have time to sleep in to catch up on your sleep. Alternatively, you could spend a few extra hours in Edinburgh if there was something you originally did not have time for or even want to see again.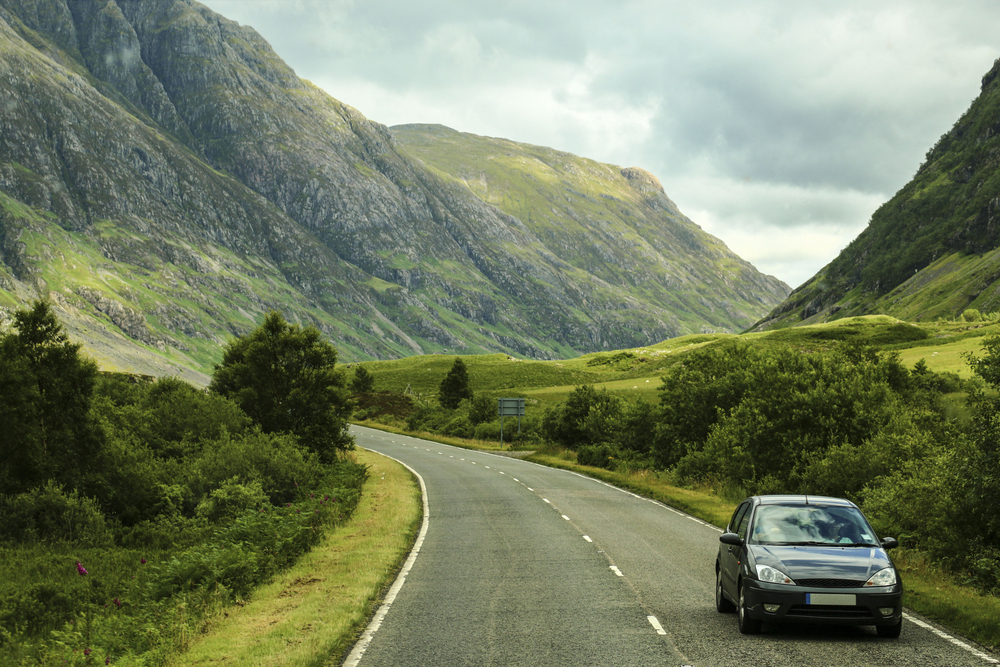 By now, you should have plenty of ideas on how to fill your Scotland itinerary as you plan your driving tour of Scotland, a beautiful nation you are sure to fall in love with! From rugged mountains and crashing waterfalls to ruinous and elegant castles, Scotland is a country full of awe-worthy sights that will blow your mind! If you like art and culture, being one with nature, or just having a good time in general, then you might want to consider taking a road trip in Scotland.