If your dream is to see all the highlights of the United Kingdom's best cities, look no further! This easy, stress-free UK road trip itinerary is perfect for people of all ages and will allow you to visit some of the most picturesque, historical sights in the world! On this itinerary, we will show you the perfect places to explore, the most exciting activities to do along the way, and even wonderful places to stay throughout your trip.
For this UK road trip itinerary, we will not specify a traveling timeframe. We understand that no one travels on the same schedule and some people have more time to visit the beautiful United Kingdom than others. We will list the best cities to discover and you can rearrange or modify this itinerary however you would like to best accommodate the length of your stay and the sights you most want to see.
The UK is a gorgeous region consisting of England, Wales, Scotland, and Northern Ireland. This itinerary will stop by places in most of these different countries listed so you can fully immerse yourself in the rich culture and history across this great island nation. No matter the length of your stay, you will love this ultimate UK road trip itinerary!
Don't forget to check out our Detailed Road Trip Packing List so you don't forget any essentials for your trip!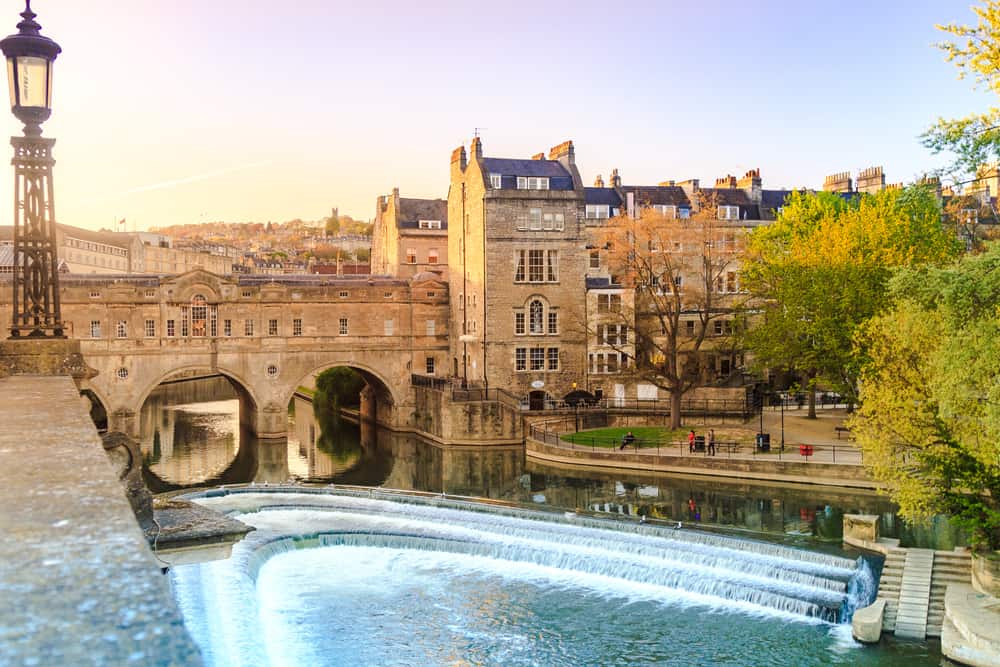 The Ultimate UK Road Trip Itinerary
Begin the perfect UK Road Trip Itinerary with a trip to the iconic city of London
London has been a cultural powerhouse for centuries. Founded in 50 A.D. by the Romans, it has a long, tangled history of different rulers and invasions, royal feuds and scandals, and bloody tales of war and woe. Yet London has also been a goldmine for the arts and sciences, with famous artists, architects, and writers taking up residence here to make a name for themselves and change the world through their work, while groundbreaking discoveries made by famous scientists and engineers helped pave the way for the health, peace, and safety of their communities.
London is the best place to start your UK road trip itinerary because there is so much to see and do in this amazing city! Visit the famous sights such as Buckingham Palace, Westminster Abbey, Big Ben, the Tower of London, the British Museum, and many more for a full exposure to British history. Enjoy the rich culture of the arts with a stop at Shakespeare's Globe Theatre, the National Gallery, or the Wallace Collection. Need a breather? Take a stroll through the lovely Kensington Gardens or Hyde Park. While London is undoubtedly a very urban city, it has many great options for relaxation with parks and gardens that are readily available to the public.
London is a great city that is easy to get around. It's built for walking and riding the tube short distances to get where you want to go, so no matter what you choose to see and do, you'll have no problem arriving at your chosen destinations. With so much to offer, London is a city that requires at least a few days to take in and experience, so plan accordingly because you won't want to miss out on anything here! This is one of the BEST ROAD TRIPS IN EUROPE so you are in for a real treat and a memorable experience!
Once your time in London has finished, make sure to get a rental car (if you haven't done so already) and drive to the next destination on your UK road trip itinerary.
Where to stay in London:
202 Apartments. Check prices on Booking.com.
London House Hotel. Check prices on Booking.com.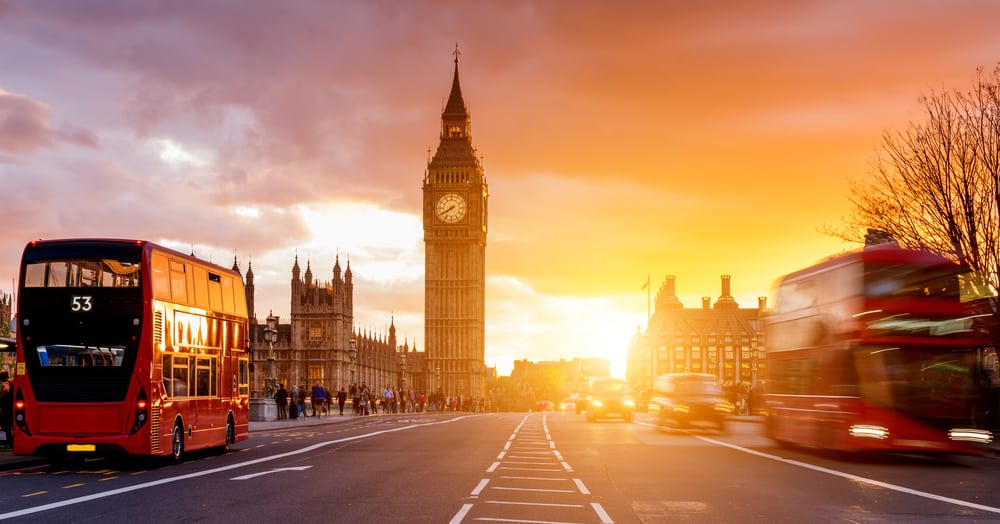 Set course for the cliffs of Dorset
Dorset is a small county right by the English Channel in southwest England. A two-and-a-half-hour drive from London, Dorset is a great choice for a UK road trip itinerary due to its fantastic location and scenic views. Dorset is a unique area, known for its cliffside views of the sea and cute seaside town. You can explore one of the many Dorset coast walks for a relaxing experience with beautiful views!
The county is primarily associated with Durdle Door, a naturally formed layer of limestone on the Jurassic Coast that forms a beautiful archway within the sea of the Channel. 140 million years old, Durdle Door is a geologic wonder and makes for a fun, relaxing getaway.
While you're at Jurassic Coast, you might also wish to explore the Old Harry Rocks on the Isle of Perbeck. The Old Harry Rocks are three giant white chalk cliffs jutting out of the sea, formed over millions of years. There are a few walking trails nearby where you can observe the cliffs and natural wildlife and take in the spectacular setting before you.
The towns in Dorset are all perfectly quaint and charming, but there are two that stand out: Dorchester and Shaftesbury. Dorchester was established by the Romans (originally called Durnovaria) and is also known as the residence of famous writer Thomas Hardy. Shaftesbury offers some of the best views you can get in what is considered classic English countryside. Fairy-tale like cottage towns and the ruins of an abbey buried deep in lush green grass? You got it! Go for a walk in these towns and soak in the sights, and talk to locals to fully immerse yourself in the English coastal life.
While there is plenty to do here, Dorset is a place that is great for a day trip or two. Hit the coast and explore the towns, or if you don't like the seaside, explore historical sights such as Corfe Castle and Highcliffe Castle. Dorset is fun for all ages and will be sure to enchant and entertain you on your visit. Your UK road trip itinerary is truly incomplete without a stop at the delightful county of Dorset!
Where to stay in Dorset:
Sea Breeze holiday apartment. Check prices on Booking.com.
Little Court. Check prices on Booking.com.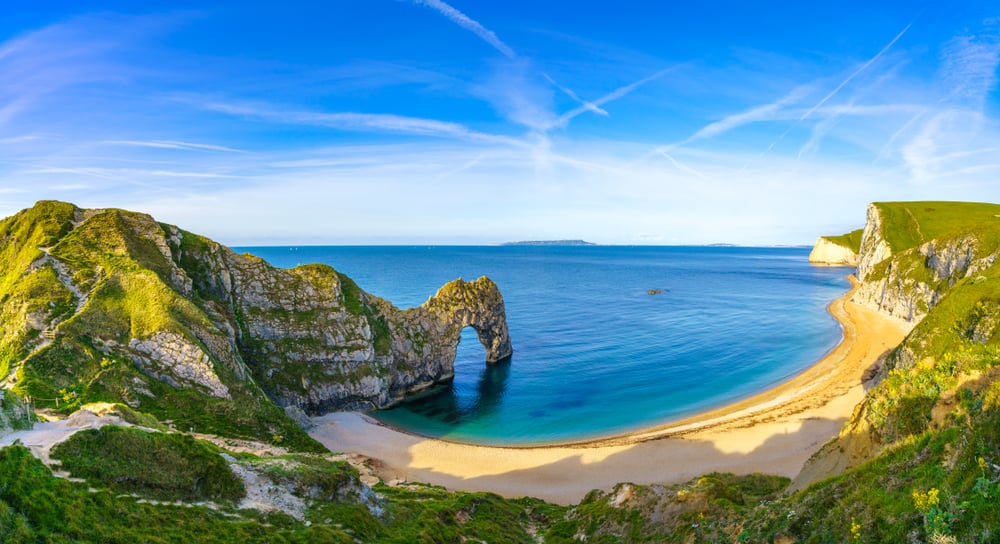 Continue Your UK Road Trip Itinerary with a visit to Bath and Bristol
Bath and Bristol are two classical, historic cities that you must put on your UK road trip itinerary. They are conveniently just 30 minutes away from each other, a nice short drive that will make your trip all the easier. Bath is about an hour and a half car ride from Dorset, but while you're on your way there, you should definitely make a pit stop at one of England's most iconic sights: Stonehenge!
Stonehenge is a world-famous prehistoric monument and is labeled a World Heritage Site, as well as one of the wonders of the world. It was built around 5,000 years ago, in the Neolithic period (2,500 BC) yet no one knows exactly who built it or why. The arrangement of the two concentric circles of stones remains a mystery to this day and continues to draw thousands of people out every year. You will definitely want to make note of this spot as you go about your UK road trip itinerary.
After Stonehenge, continue down to Bath. Also a World Heritage Site, Bath is well-known for its Roman baths, hot springs, and beautiful architecture. The Roman Baths are a must-see attraction while you are in the city. Constructed in 70 AD, the Roman Baths is a museum complex where you can see the actual ruins of the site Romans used to bathe, socialize, and worship in. The Roman name given to the area of Bath was Aquae Sulis. You can see how the people of Aquae Sulis lived and worked thousands of years ago during your visit, as you relish in the fact that you're literally walking in the footsteps of people from an ancient, mighty empire.
Other great sights in Bath include the Thermae Bath Spa, Bath Abbey, the Royal Crescent, and the Pulteney Bridge. If you're a Jane Austen fan, check out The Jane Austen Centre, a museum dedicated to celebrating the life of the famous novelist herself. There's so much to learn and discover within Bath, so take your time when visiting this location!
Bristol is a touch more modern than Bath, established in the 1100s. It has a reputation as a strong city center for trade and shares close ties with maritime history, as explorer John Cabot set sail from Bristol in 1497 on his journey to North America, where he eventually claimed Canada as land for England. Bristol has several incredible attractions, such as the beautiful Cheddar Gorge and Caves, which gets its name from the 1903 discovery of a complete skeleton in the area from 9,000 years ago, known as "Cheddar Man."
You can also visit unique sights like Brunel's SS Great Britain, the longest passenger ship in the world from 1845-1854. The vessel was one of the most important ships in the world due to its innovative design and has since served as a foundation for all modern ships we have today. If you like art and architecture, head on over to the Bristol Museum and Art Gallery or marvel at the grand Bristol Cathedral. No matter what you choose to do, Bristol is clearly a fun and interesting destination to have on your UK road trip itinerary.
Where to stay in Bath:
Broad Street Townhouse. Check prices on Booking.com.
Francis Hotel Bath – MGallery. Check prices on Booking.com.
Where to stay in Bristol:
Number 38 Clifton. Check prices on Booking.com.
The Bristol Hotel. Check prices on Booking.com.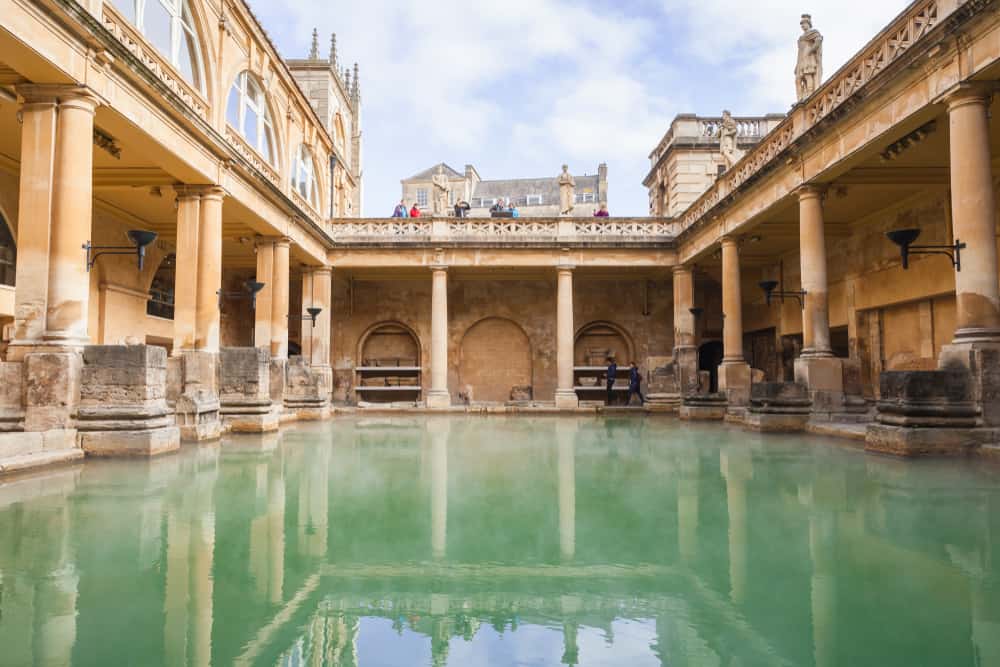 Take in the enchanting beauty of the Cotswolds
The Cotswolds is a special area within the UK that spans almost 800 square miles. It runs through the counties of Gloucestershire, Oxfordshire, Warwickshire, Wiltshire, and Worcestershire and will undoubtedly be one of the most picturesque places on your UK road trip itinerary. The Cotswolds are a series of villages that run along the Cotswolds Hills, which are formed from a type of limestone that creates a rare and exceptional grassland environment around it. Many houses in the Cotswolds are built from this limestone, which gives the buildings a warm golden color.
The Cotswolds dates back to the Neolithic era. It's easy to get a feel for the absolute beauty of this place as you explore hundreds of miles of enthralling woodlands and forests, bright meadows dotted with wildflowers, and wide-open skies spread over ancient foundations, sparkling warmly in the rays of the sun. The Cotswolds are truly something carved straight from a fairy tale and you'll definitely want to see all these villages up close and personal.
While all the villages in the Cotswolds are worth a trip, there are a handful that truly stand out for their unique charms and attractions. We recommend visiting Bourton-on-the-Water, Burton, Castle Combe, Chipping Campden, Upper Slaughter, Lower Slaughter, Broadway, and Painswick. You can pick and choose which ones to see (or if you have the time, visit all of them!) and add them onto your UK road trip itinerary. We have a handy guide to the Cotswolds villages as well to help you decide.
There are several breathtaking places you can visit within the Cotswolds, such as Bleinheim Palace, Berkeley Castle, and many more. The Cotswolds has a rich history and it is highly suggested that you stop to see these incredible sights. Make sure to soak up all the wonders of this amazing region, as you will definitely fall in love with the magical Cotswolds.
Where to stay in the Cotswolds:
Croft House Guest Suite Painswick. Check prices on Booking.com.
The Slaughters Manor House. Check prices on Booking.com.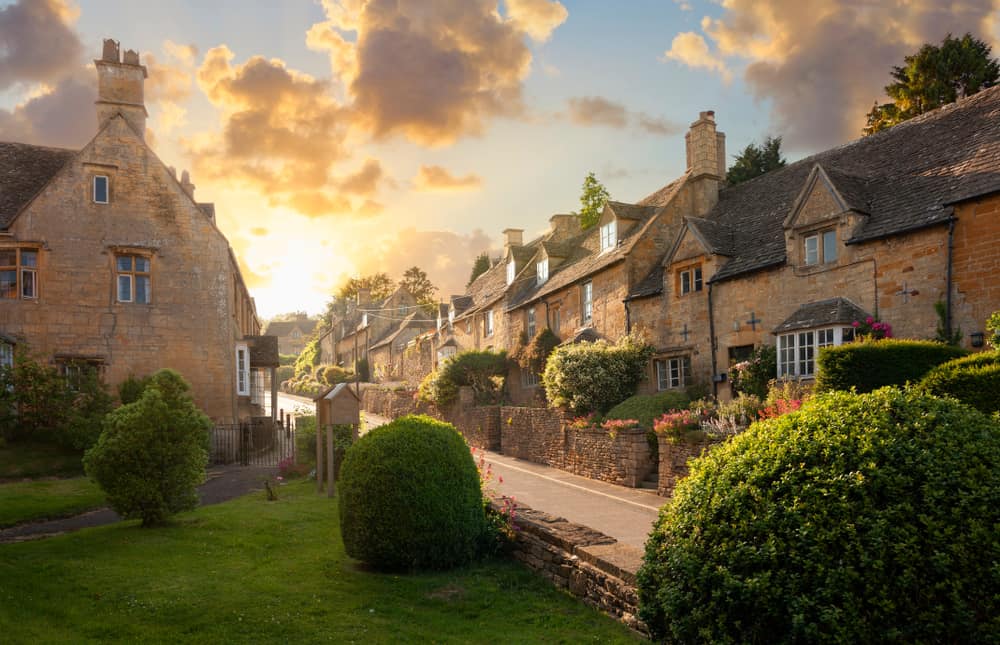 Go to Gower Peninsula
As you leave England behind, consider stopping by Cardiff, the capital of Wales and its largest city. Cardiff is a large city in the UK and makes a good day trip. You can see Cardiff Castle, stroll along the river, visit the oldest record shop in the world, and explore the cultural museums and numerous fun stores in the city. Whether you wish to stop and visit Cardiff or just prefer to drive through, you can then head on down to Gower Peninsula to resume your UK road trip itinerary.
Gower Peninsula is a fun seaside getaway located in South Wales. It sits on the Bristol Channel, bordered by Swansea Bay, and is renowned for its large and delightful coastal area. It has made numerous appearances in books, TV, and film, with its gorgeous scenery and relaxing atmosphere.
People love to explore and enjoy the sights of Gower Peninsula, whether it's walking along the bay or uncovering the historical destinations in the region. You can visit upwards of 6 castles and sets of ancient ruins and head into ancient caves, or relax in the calming water and breathe in the seaside air.
If you love the beach, head to Langland Bay, Caswell Bay, Rhossili Bay, or Llangennith Bay for great views and incredible waves for the best surfing. Rhossili Bay is consistently ranked as one of the best beaches in the UK, as well as being one of the top 10 beaches in the world. Gower Peninsula is also famous for its Three Cliffs Bay, where giant limestone cliffs form a picture-perfect cove, complete with sand dunes and even a salt marsh. These natural landmarks are hotspots for native wildlife as well, so be on the lookout for all the amazing animals that live here.
Gower Peninsula was the first place to be named an Area of Outstanding Natural Beauty in the UK in 1956. It is a protected space for conservation due to its vast landscape value. Gower Peninsula is truly worth a visit and it definitely deserves a spot on your UK road trip itinerary. Don't miss out on this wonderful place!
Where to stay in Gower Peninsula:
Blas Gwyr. Check prices on Booking.com.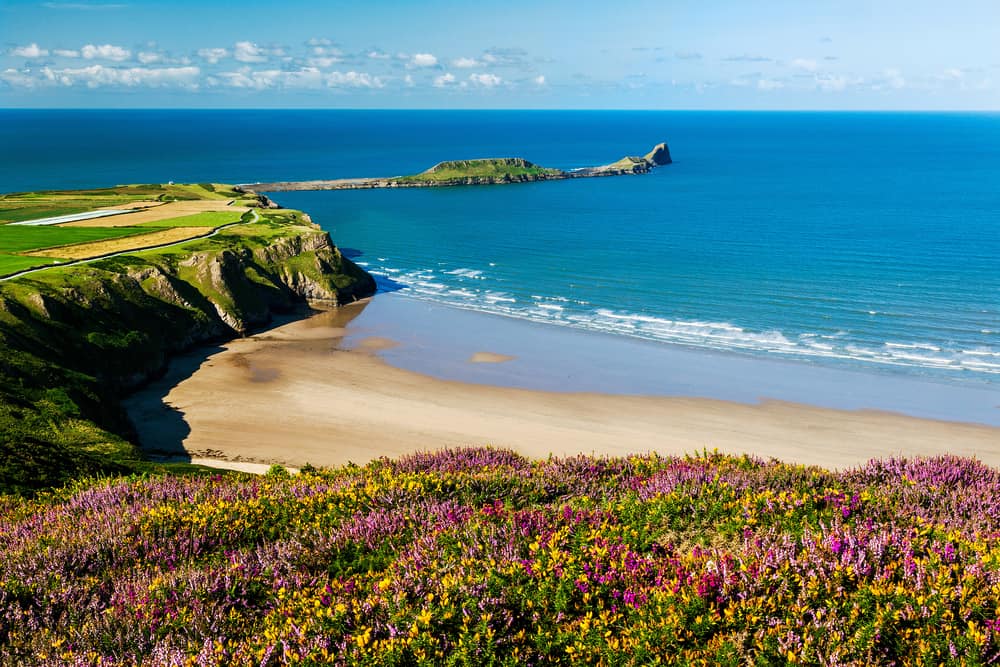 Marvel at the city of Manchester
For the next part of your UK road trip itinerary, you will be driving 4 hours up to Manchester, a city in northwest England. Manchester was a place at the forefront of the Industrial Revolution and its textile industry launching the city to new heights. It is the third-most visited city in the UK after London and Edinburgh and it's not hard to see why.
Manchester is deeply ingrained into history. Founded in the first century, the Romans built a fort they called Mamucium to defend against a tribe of Celts called Brigantes, who were stationed right where Manchester Cathedral is now. From that time onward, the area of Manchester has been inhabited. Significant events have taken place here—the atom was first split in Manchester, the Manchester Liverpool Road railway station was the world's first intercity passenger railway station, and the stored-program computer was developed in Manchester.
The city is very urban, with lots of fun activities for all ages. If you're soccer/European football fans, check out the Manchester United Museum and Stadium tour and the National Football Museum. If you love the arts and sciences, visit The Lowry, The Manchester Art Gallery, the Science and Industry Museum, and the Manchester Museum. For beautiful architecture, head over to the John Rylands Library and Manchester Cathedral. This wonderful city has something for everyone to enjoy!
Manchester is also close to 2 UK areas that are worth a quick day trip. Liverpool, the famed home of the Beatles, is only an hour away and offers some exclusive museums and tours that are perfect for Beatles fans. While you're there, make sure to visit Liverpool Cathedral, the Royal Albert Dock, and see the many other inspiring art galleries and museums around town.
You can also go up to Yorkshire Dales National Park, also about an hour from Manchester. Yorkshire Dales is an extraordinary area full of ruins and natural rock formations, placed in low valleys, rolling hills, and open moors. It's the best place to unwind and immerse yourself in nature, appreciating the amazing world around you.
Manchester is an iconic city to have on a UK road trip itinerary and you won't be disappointed after seeing this remarkable metropolis.
Where to stay in Manchester:
Motel One Manchester-Royal Exchange. Check prices on Booking.com.
Staycity Aparthotels Manchester Piccadilly. Check prices on Booking.com.

Experience the wonders of Glasgow
Next up is the wonderful country of Scotland! Your first stop in this beautiful region is the city of Glasgow, about a 4-hour drive from Manchester. Glasgow is an extremely popular city, as it's the most populated city in Scotland and the fifth most-visited city in the UK. It sits on the River Clyde in the West Central Lowlands and is known for being the largest seaport in Scotland.
The history of Glasgow is tied to some of the most interesting attractions you can see there today. You can see artifacts from the Antonine Wall, built in A.D. 142 by the Romans, at the Hunterian Museum, Scotland's oldest public museum. The Antonine Wall was built to establish a border around their territory and ran for miles, along the River Clyde and down to the Firth of Forth estuary. Another historical landmark you can visit is Glasgow Cathedral, which stands in place of the very spot where St. Mungo (also known as St. Kentigern) was buried around A.D. 612. St. Mungo is said to have been the first bishop of the area. Glasgow Cathedral is said to have been built in the time of King David I in 1136 and remains the best-preserved church from that era in Scotland, withstanding the test of time for over 800 years.
If you're looking for other splendid sights to see, make sure to stop by Kelvingrove Art Gallery and Museum, a massive structure with gorgeous architecture and fascinating exhibits, from artwork by famous painters to artifacts from ancient Egypt. Other activities on your radar could include a walking tour of the Glasgow Necropolis, a stroll through Glasgow Botanic Gardens and the Pollok Country Park, and a fun interactive visit to the Tall Ship at Riverside.
Scotland is well-known for its beautiful scenery, which can be experienced at Loch Lomond & The Trossachs National Park. As part of the mountainous Scottish Highlands area, this national park will allow you to hike up miscellaneous hills to gaze upon the stunning views around you. Only a half-hour drive from Glasgow, you won't want to miss out on the opportunity to witness the wild beauty of Scotland for yourself. Loch Lomond makes a great option for a day trip from Glasgow and there is plenty to see and do no matter your age or hiking ability. You will definitely miss this wonderful city as you leave Glasgow behind and continue your UK road trip.
Where to stay in Glasgow:
Stunning Glasgow City Centre Apartment. Check prices on Booking.com.
Fraser Suites Glasgow. Check prices on Booking.com.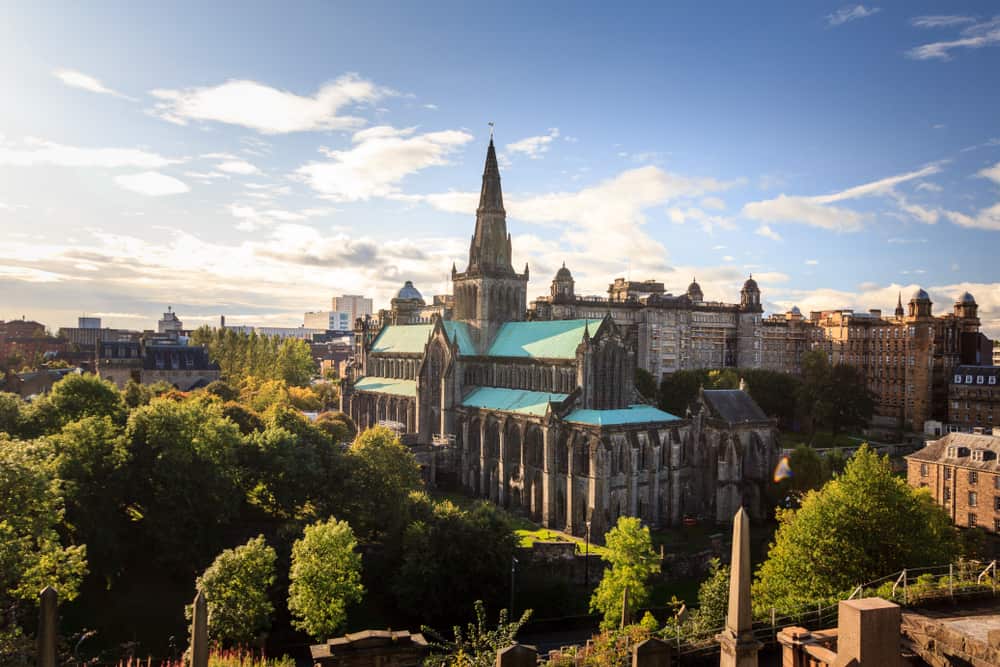 Explore the hidden treasures of Edinburgh
Edinburgh is the next destination of your UK road trip! This city is full of significant historical figures and places that changed the world. You will find that Edinburgh has something for everyone, whether it's grand and majestic buildings that served countless royal households, or fun activities for friends and family to enjoy.
No visit to Edinburgh is complete without seeing the famous Edinburgh Castle. This medieval stronghold was built in the 12th century, by King David I. It has served as a royal dwelling, a military fortress, and a prison, sitting on a rocky outcrop that overlooks the entire city. Edinburgh Castle has many different buildings and courtyards that are all connected, which you can explore today. Take a peek at the Honours of Scotland, the crown jewels of Scotland that crowned monarchs from 1543-1651, or walk around the Great Hall, where vast banquets and royal events took place. You can even enter into the bedroom of Mary Queen of Scots, where she gave birth to her son King James VI in 1566. Edinburgh Castle also hosts St. Margaret's Chapel, the oldest building in Edinburgh.
Edinburgh Castle isn't the only royal structure within the city, however. Drop by Holyrood Palace, the official royal residence of the monarchy in Edinburgh for the past 500 years. When the Queen is not staying at Holyrood herself, the building is open to the public. Be sure to venture into the magnificent State Apartments, more personal rooms of Mary Queen of Scots, and the ruins of an old nearby abbey that was founded by David I. There's nothing quite like seeing royal houses in person!
If you want to get out and immerse yourself into the Edinburgh city life, stroll down the Royal Mile, the single stretch of road connecting all of Edinburgh's biggest landmarks. Edinburgh Castle and Holyrood Palace are both on the Royal Mile, but that's not all you can find. Marvel at the historic St. Giles' Cathedral, with astounding architecture and antique clock tower. Dip in and out of all the quaint shops and bright colored storefronts you find along the way and find out what the city has to offer.
Other worthy places to note within Edinburgh are the National Museum of Scotland and Arthur's Seat, an extinct volcano that originated 2,000 years ago that you can hike up to the top and be greeted with the best view in the city. Scotland is truly an incredible country and you will fall in love with Edinburgh amidst your UK road trip itinerary.
Where to stay in Edinburgh:
Old Waverly Hotel. Check prices on Booking.com.
Old Town Edinburgh. Check prices on Booking.com.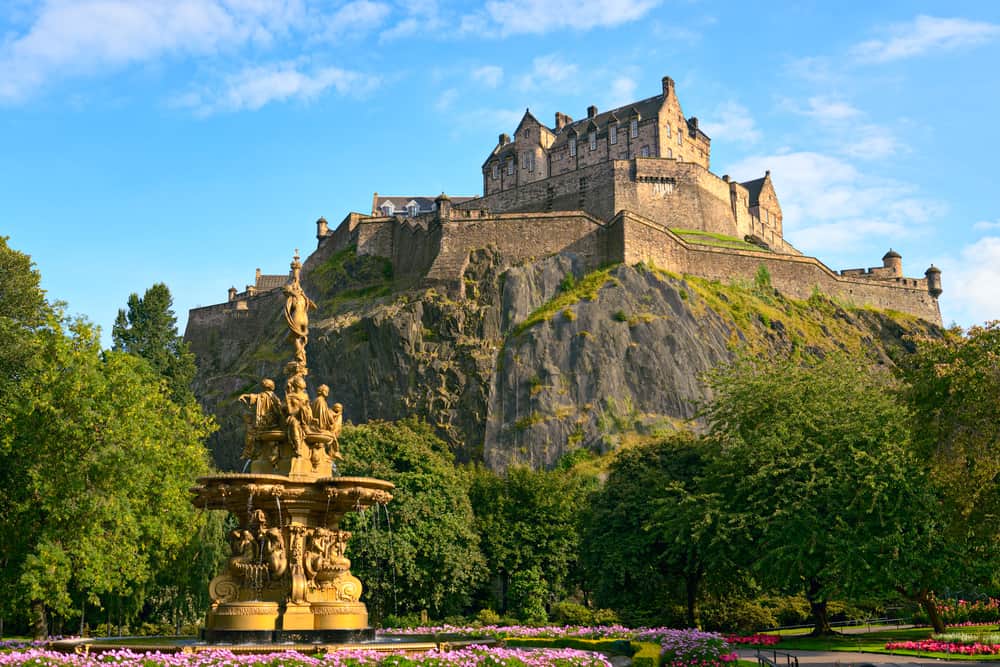 New adventures await in York
After saying your goodbyes to Scotland, you will drive about four hours back to the UK, arriving in the city of York. York is in North Yorkshire, England, bordered by the Rivers Fosse and Ouse. York was founded in 71 AD under the name Eboracum by the Romans. Over the centuries, it became a key wool trading area and has been established as the capital of the northern ecclesiastical province of the Church of England. This charming city is full of history and fun activities, so you will be sure to enjoy staying here on your UK road trip.
The most iconic building to see in York is the York Minster, or the Cathedral and Metropolitical Church of St. Peter. This church began construction around the year 1080 and slowly emerged into the grand structure it is today, over a period of 400 years. It was meant to be one of the greatest churches in the UK, and by the looks of it, that dream came true! Handmade stonework, soaring ceilings, and intricate stained-glass windows make the York Minster a sight to behold. It even boasts a tower that you can climb up to, the highest point in York. You can visit the church on your own or take a guided tour to further uncover the past of this amazing structure.
Other fun historical sights include the York City Walls, the longest medieval town wall in England. The walls were built by the Romans primarily for defense against enemies but also served other purposes. You can walk right next to the walls, which are comprised of 2 miles (3.4 km) of well-preserved ancient examples of Roman architecture, for free. Also stop by the Jorvik Viking Centre, Clifford's Tower, the National Railway Museum and the York Castle Museum, and the Shambles, classic York places that are great for all ages.
If you love the outdoors, consider a day trip to North York Moors National Park, about 40 minutes away. The woodlands, moor, coast, and historic landmarks all combine to make this national park an unforgettable place of beauty and serenity. Explore the ruins of several medieval castles within the park, or watch the wildlife around you as you walk the numerous trails available for guests.
Whatever you choose to do in York, this lovely city has something for everyone!
Where to stay in York:
Park Inn by Radisson York City Centre. Check prices on Booking.com.
The Gillygate Pub with Rooms. Check prices on Booking.com.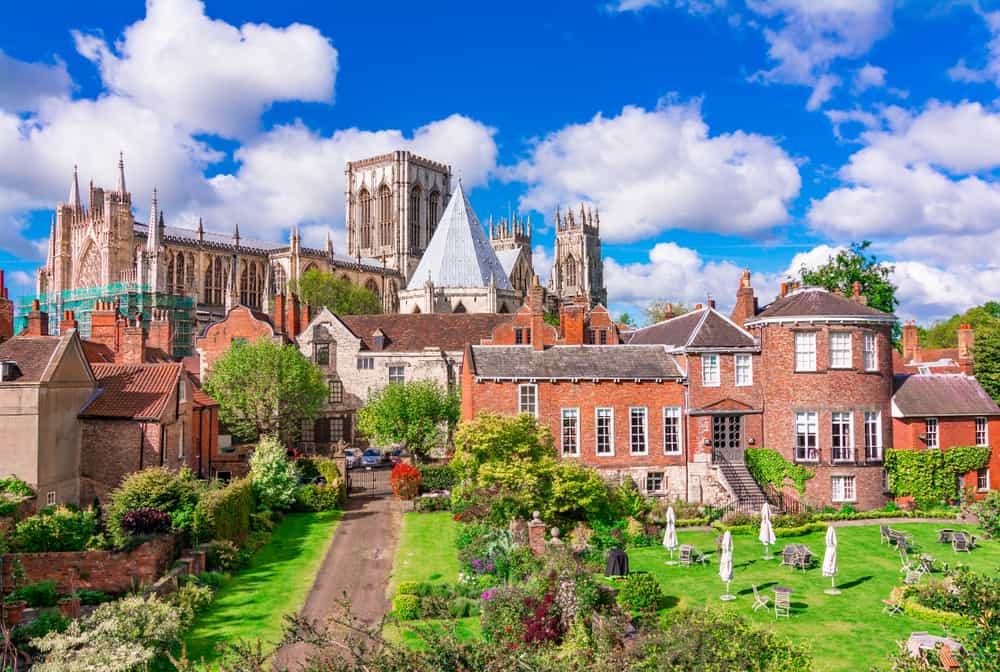 Conclude your UK road trip with a trip to Cambridge
At long last, we have reached the final destination of the UK road trip itinerary. Cambridge is the final city you will visit, ending the UK road trip in one of England's most well-known areas. It sits on the River Cam, in eastern England, and was a significant trading region in both Roman and Viking times. Both a university city and a historic place in its own right, Cambridge is a must-see and won't disappoint!
You can't visit Cambridge without a trip to the famed University of Cambridge, the second-oldest university in the English-speaking world. It is said to have been officially founded in 1209 when some scholars took refuge in the town of Cambridge from hostile people in Oxford. By 1226, they were numerous enough that they founded an organization, and began to lead courses of study together. The rest, as they say, is history. You can take a tour of the campus (walking, punting down the river, or otherwise!), taking in the beautiful spires of the towering buildings while learning all you want to know about the incredible university.
While in Cambridge, take a look at the Fitzwilliam Museum, which hosts over half a million works of art and historical artifacts. Whether it's armor, paintings, and sketches, literary documents, sculptures, or jewelry, the Fitzwilliam Museum has it all. Make sure to visit the multiple other museums that are open to the public, such as the Museum of Archaeology and Anthropology, the Museum of Zoology, and the Scott Polar Research Institute.
Take a stroll by the River Cam, or walk through the Cambridge Botanical Garden. Wander inside the great King's College Chapel, perhaps the most recognized building at the university, renowned for its Gothic architectural splendor. There is so much to see and do in Cambridge, so don't miss out!
Where to stay in Cambridge:
The Waterman. Check prices on Booking.com.
Pleasant En-Suite. Check prices on Booking.com.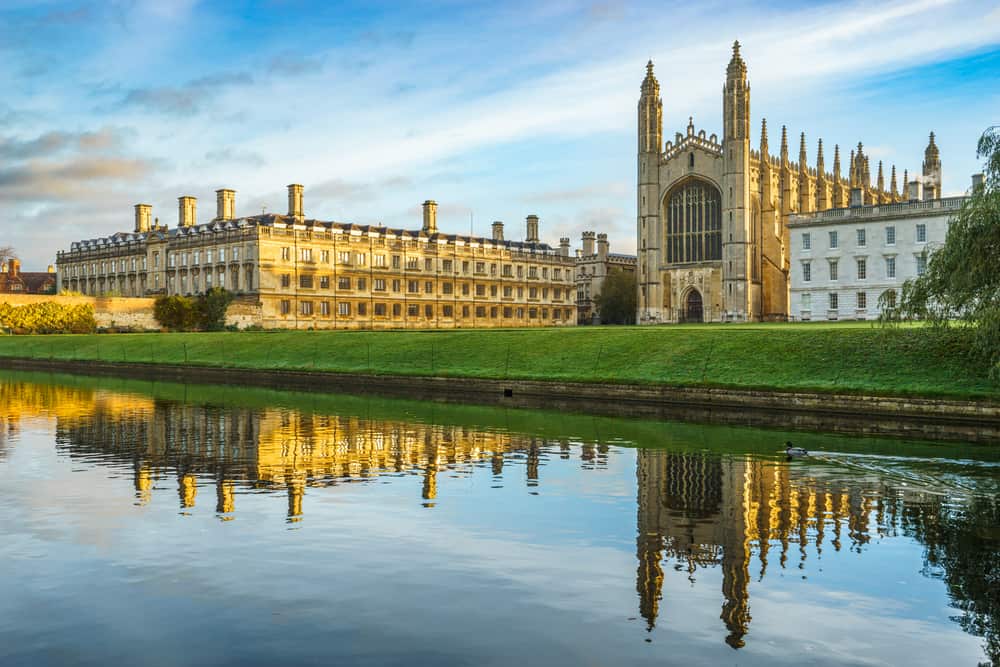 This concludes our ultimate UK road trip itinerary. We hope you enjoyed the suggestions listed here and that your UK road trip is truly magical and unforgettable. Have a recommendation or want to test out our guide? Let us know!