Looking to spend a weekend in Edinburgh but have no idea where to go or what to do? Want to visit the most historic sites but also have time to relax and enjoy the city? Don't worry! Edinburgh is a small city that is easily traveled and full of activity. There's always something amazing behind every twist and turn of cobbled street side corners and hidden alleyways. This is the perfect itinerary for everyone intent on seeing all that a weekend in Edinburgh has to offer while leaving time for people to explore this wonderful and important city all on their own!
It's no secret that staying a weekend in Edinburgh is one of the best things you can do while in the UK. This itinerary will cover two days and can be modified to fit your schedule and location on arrival day. You will uncover the vast and rich history of royalty in the city, and see with your own eyes how this city worked and functioned hundreds of years ago. You will also step out into the brisk air and climb famous trails that embody the beautiful Edinburgh scenery that is renowned throughout the world.
Ready to find out how to spend a weekend in Edinburgh?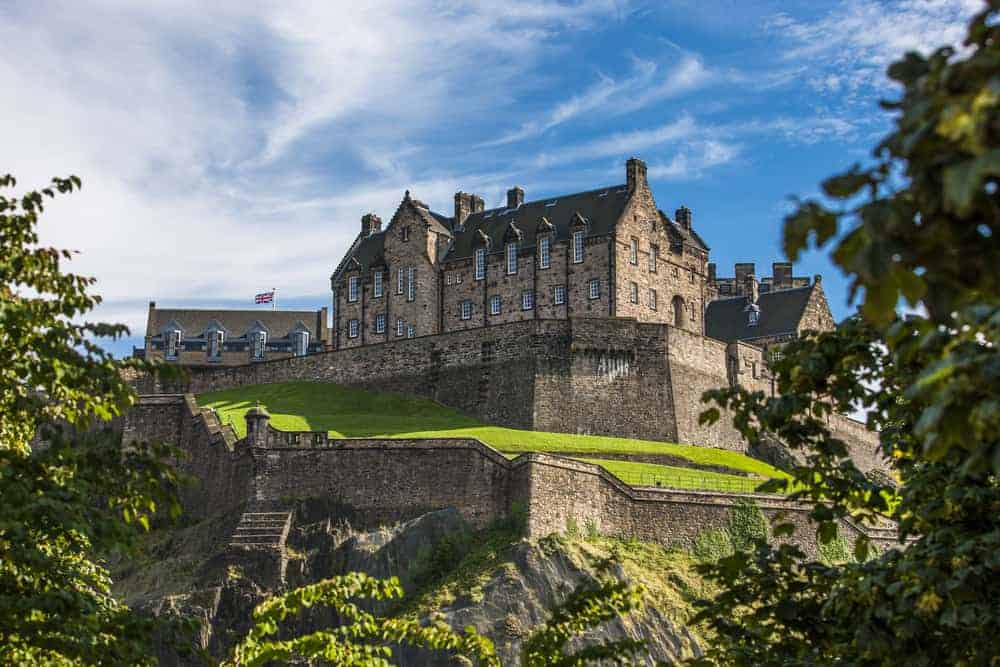 A Weekend in Edinburgh: The Ultimate 2-Day Edinburgh Itinerary
Day 1: Edinburgh Castle, St. Giles' Cathedral, and the National Museum of Scotland
Stop 1: Edinburgh Castle
Start off a weekend in Edinburgh with the magnificent Edinburgh Castle. A weekend in Edinburgh is incomplete without this iconic historic landmark! Built high on a hilltop, you can see the castle from many spots in the city, sitting tall and grand, just waiting for you to see what it has in store.
Edinburgh Castle is steeped in momentous history, home to Scottish and English monarchs, many battles (it is the most besieged area in Britain), and even the occasional ghost or two. As a royal residence, military stronghold, and prison, this building has seen the span of centuries. Once you enter through the main gates, you will be walking in the footsteps of legendary figures in European history.
The castle itself is made up of several structures and courtyards, all connected together. Before you enter the castle, you will need to buy an entry ticket, which includes access to an optional guided tour. You can buy an audio guide if you wish, or feel free to explore the castle on your own without any guide at all. Once you pass through the gates, you can start delving into the exhibitions in the castle.
One famous attraction you can see is the Honours of Scotland, a compound that holds the crown jewels of Scotland. After marveling at the glittering crowns and coronation items, head over to the Great Hall, the heart of the castle where great banquets and events took place, completed for King James IV in 1511.
Other notable areas include the Royal Palace, the living quarters for significant monarchs like Mary Queen of Scots (you can see the room where she gave birth in 1566 to King James VI, who later united Scotland and England under one crown for the first time in 1603), and St. Margaret's Chapel, the oldest building in Edinburgh.
You will definitely want to take an hour or two to experience Edinburgh Castle. It gets more crowded during the afternoon, especially in the summertime, so try and get there earlier to have the castle more to yourself. Feel free to eat lunch or get a snack at the castle cafes.
Don't forget to look out over the city on the incredible lookouts scattered throughout the castle and take a picture of the gorgeous view! You can't miss this legendary location on a weekend in Edinburgh.
It is located in Old Town which is one of the best places to stay in Edinburgh so if you are looking to see the castle every day!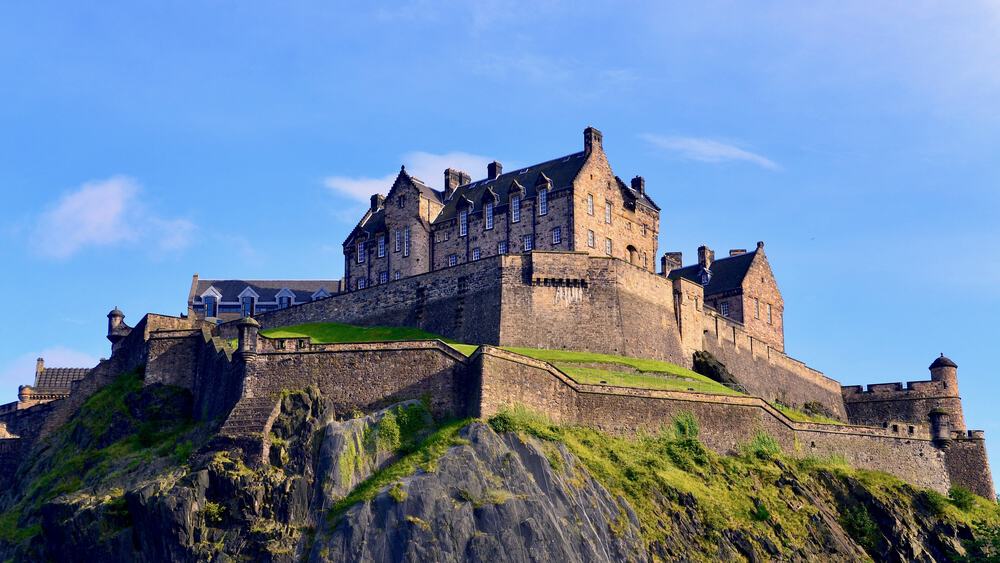 Stop 2: St. Giles' Cathedral
This is a spot that you absolutely won't want to miss during a weekend in Edinburgh. Located near Edinburgh Castle, this cathedral is as beautiful on the outside as it is on the inside. Also known as the High Kirk of Edinburgh, St. Giles' was founded in 1124 by King David I. It began as a Catholic church, then eventually morphed into Protestantism around the start of the 1560s when John Knox was appointed minister of St. Giles'. Scotland was declared an official Protestant country in 1560 by Scottish Parliament, despite Mary Queen of Scots, their monarch, being Catholic at the time. Thus began a long history of religious conflict at St. Giles', with angry riots and calls for peace throughout the years. Today the cathedral is known as the Mother Church of World Presbyterianism, but is open to all visitors around the world.
St. Giles' is unique due to its antique clock tower and Thistle Chapel. You can climb up the clock tower and enjoy views of the city on a guided rooftop tour for £6 a person. Thistle Chapel is so named for the Order of the Thistle, a Scottish order of chivalry. The chapel features stunning neo-gothic artwork and architecture. Entry to the cathedral is free, so you can walk right in and enjoy the spectacular interior of the church. Large stained glass windows illuminate the main space, which is marked by high stone columns and remarkable vaulted ceilings. Drop by and admire the exquisite structural details in St. Giles' and enjoy the more relaxed atmosphere in the cathedral as you continue a weekend in Edinburgh.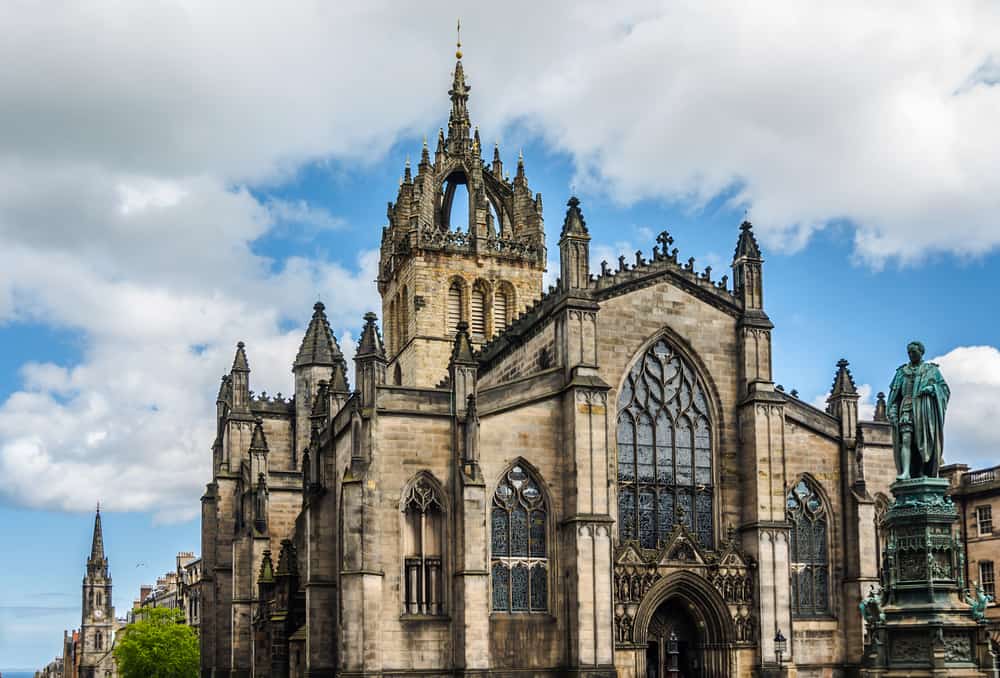 Stop 3: National Museum of Scotland
The National Museum of Scotland is a fantastic way to immerse yourself in the history of Scotland and to have fun on a weekend in Edinburgh. The museum has free entry and free guided tours if desired, which is a plus for travelers on a budget. It houses plenty of exciting and interesting exhibits from a wide range of time periods and cultural regions.
From T-Rex skeletons and Iron Age golden torcs to Enigma machines from World War II and a Mercedes-Benz coffin from Ghana, you will not be disappointed at what this museum holds. Displays are arranged by categories, such as art and design, the natural world, Scottish history, science and technology, and world cultures. There are great activities to try, including running on a human hamster wheel to generate energy and watching the gigantic Millennium Clock chime the hour with its moving figurines, flashing lights, and rousing music from within.
The National Museum of Scotland is famous for certain exhibits, such as Dolly the sheep, the first successfully cloned mammal, and the Lewis chess pieces, the most well-known archeological discovery in Scotland. You won't want to miss these amazing objects and displays that have made important contributions and impacts throughout history. This museum is great for all ages and is easy to navigate through so you can explore at your own pace. A weekend in Edinburgh would be incomplete without a trip to this delightful museum!
This brings your first day of a weekend in Edinburgh to a close. Take to the streets and find a nice restaurant or café nearby for dinner (The Elephant House, the café where author J.K. Rowling wrote much of the first beloved Harry Potter book, is only a 2 minute walk away from The National Museum of Scotland!) and get some rest for the new day ahead.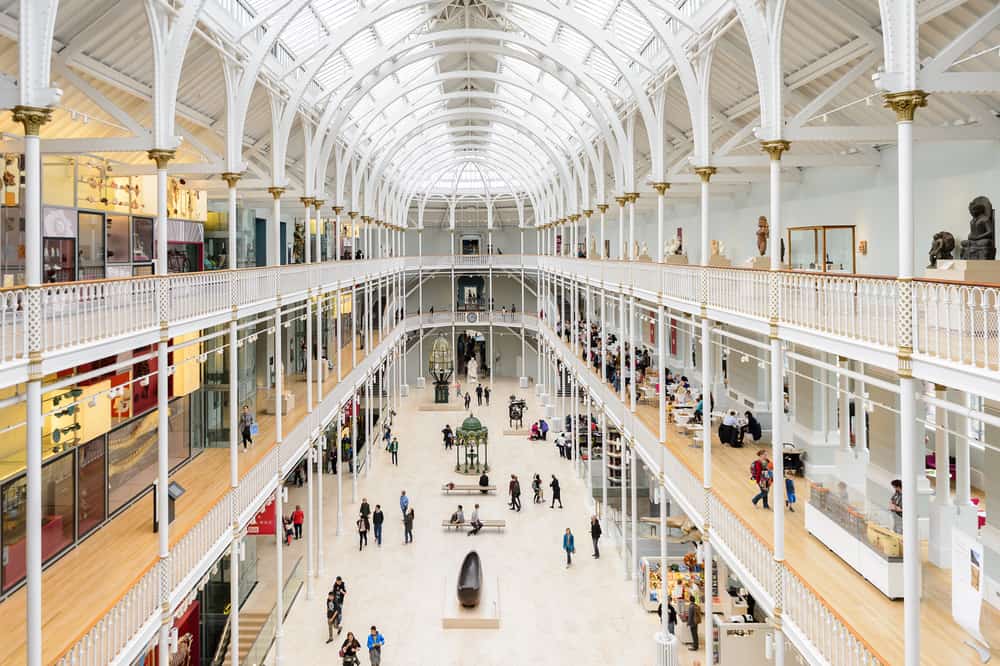 Day 2: Holyrood Palace, Arthur's Seat, and the Royal Mile
Stop 1: Holyrood Palace
Start the second day of a weekend in Edinburgh with a visit to Holyrood Palace. Holyrood Palace has been the official royal residence of the monarchy in Edinburgh for more than 500 years. When the Queen is currently not in residence, the palace is open to the public year round. The Palace of Holyroodhouse, its official name, was founded by King David I in 1128. The name Holyrood, or "holy cross," comes from a legend about David I. He was said to be hunting in the woods and was suddenly attacked by a large white stag. However, before the stag could kill him, a cross suddenly appeared between the animal's antlers and the stag vanished, so David I was saved. In thanks, he declared he would build an abbey on the very spot that his life was spared, and so Holyroodhouse was born.
In time, the area became a favorite spot for the monarchs of Scotland. James IV built a palace next to the abbey in 1501, which he and his successors often preferred over Edinburgh Castle, which was deemed cold and drafty due to its position on a hill, exposed to harsher weather conditions. Additions to the palace carried on for centuries, starting with building more towers and upper floors, and eventually progressed to installing electricity and modern bathrooms. With so many remarkable inhabitants and changes over the years, Holyroodhouse is an incredible sight to behold.
Holyrood Palace has different sights to see, all of which are extraordinary. Once admitted, you can delve into the wonders of Holyroodhouse by touring the grand State Apartments, the personal rooms of Mary Queen of Scots, and the ruins of the original abbey founded by David I. For a special limited time from June 14 to October 6, the wedding outfits of the Duke and Duchess of Sussex will be on display and the exhibition is included in standard admission tickets.
If you want to pay a little extra, you can see the Queen's Gallery and go on a special garden history tour. Visits to Holyrood Palace usually last about 2-3 hours and it gets especially crowded around lunchtime, so get there early to enjoy the grounds with less people around you! This is definitely one of the most memorable spots on a weekend in Edinburgh.
Stop 2: Arthur's Seat in Holyrood Park
A weekend in Edinburgh requires some fresh air and beautiful scenery, so it's time to go to Arthur's Seat! Next to Holyrood Palace is Holyrood Park, which holds an amazing extinct volcano called Arthur's Seat. You can climb up a long hill to reach the top of Arthur's Seat, the highest point in the park, which stands around 251 meters (823 feet) above sea level and gives people a marvelous view of the city of Edinburgh. The site of this volcano is also known to have its origins from over 2000 years ago, as one of four hilltop forts believed to be in the area.
Hiking to Arthur's Seat may seem intimidating at first, as the climb is steep, but there are different trails for all levels of climbing ability so everyone can reach the summit. Most people can hike up to Arthur's Seat within half an hour, but it never hurts to take mini breaks to check out the lush green rolling hills of the dormant volcano that you're walking on. Once you get to the top, make sure you get a picture of the brilliant view and admire the peaceful atmosphere around you. You'll be able to spot Edinburgh Castle in the distance. In the summertime, gorgeous (and sometimes very rare) wildflowers dot the hills. Make sure you have a jacket or sweater on hand, though—Arthur's Seat can be quite windy!
If you don't have the energy to hike all the way to Arthur's Seat, there's a less strenuous historic site for you to visit within the park. One of the trails on the way to Arthur's Seat holds the ruins of St. Anthony's Chapel, built no later than the 15th century. If you start from Holyrood Palace, you can take the path leading out from the parking lot and find the chapel in about 10-15 minutes on foot. Its exact origins are unknown, but the stone ruins are a great backdrop against the city landscape and overlook the river called St. Margaret's Loch. Best of all, the ruins are free to be examined by visitors and are the most likely area not to have tourists swarming around it! Holyrood Park is an unforgettable area for a weekend in Edinburgh.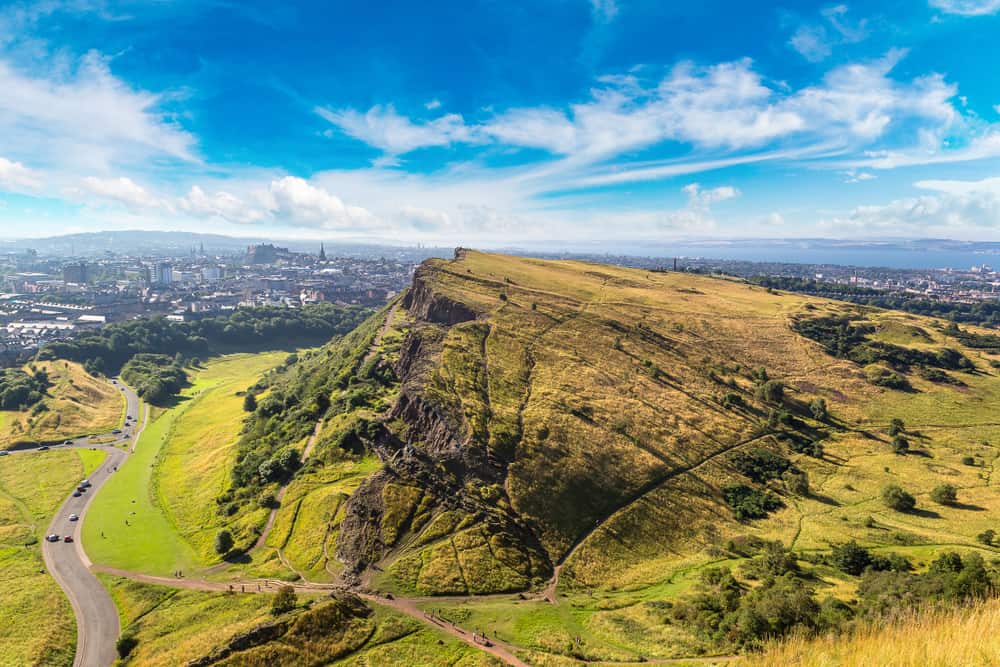 Stop 3: The Royal Mile
After seeing all the historic sites and destinations on a weekend in Edinburgh, it's good to take in the local life and walk the Royal Mile. The Royal Mile consists of the main stretch of road that makes up the heart of the city: Castlehill, Lawnmarket, High Street, and Canongate. Edinburgh Castle, St. Giles' Cathedral, and Holyrood Palace are all landmarks on the Royal Mile, as they are all connected by this one road, but that's not all you can find on this street. Here is where you can explore more on your own and make the most of the end of a weekend in Edinburgh.
The Royal Mile is filled with restaurants and shops, each unique and unlike anything you can find elsewhere. This is a great opportunity to eat dinner or grab a quick snack and check out local Scottish creations. Known for its high quality cashmere and tartan, Edinburgh has a plethora of clothing stores along the Royal Mile, where you can find anything from antique jewelry to the softest cashmere blankets. Take time to stroll along and pop inside several stores to talk to and support local artisans and shop keepers. You never know what you'll find in these stores and you will definitely want to take some amazing things home with you!
If you want to go off the Royal Mile and venture out further into Edinburgh's city life, try visiting the Grassmarket area in Edinburgh's Old Town and look for Victoria Street. Bright, colorful storefronts immediately capture the eye, as well as the different window displays. Victoria Street is full of odds and ends. There are hat stores and cookware shops with an endless supply of shortbread out for you to try, as well as a joke and prankster shop and stores full of art and stationary. There truly is something for everyone along this winding cobblestone road and you can linger in whatever store that catches your eye for as long as you like. Buy yourself an awesome souvenir so you can remember the good times you had on a weekend in Edinburgh.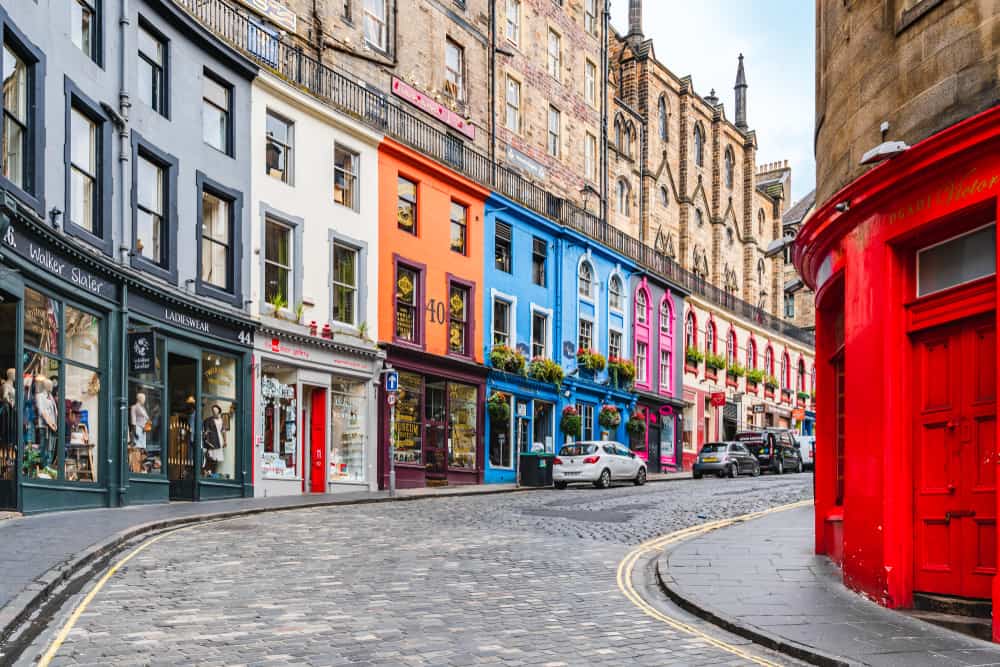 This concludes a weekend in Edinburgh itinerary! This picturesque city is full of life and history and it is one of the best cities in the United Kingdom. There's so much to explore and fun activities to try, so don't miss out on this magnificent place. A weekend in Edinburgh awaits!
Here for a shorter time? Check out this 1 Day In Edinburg Itinerary!