If you are planning a road trip anytime soon, then you are probably looking for some ideas for delicious and healthy road trip food. You have come to the right place for yummy ideas! We have created lists organized by each meal of all our favorite road trip foods.
Packing your own food for a road trip is a great idea for multiple reasons. For one, it is a healthier choice. You don't want to be bogged down by fast-food calories. Eating healthier on the road will help you feel good.
Also, bringing your own meals saves money because you will not have to eat out all the time. You'll save time too since you won't be stopping every few hours for your next meal.
There will also be less waste and trash build-up in your car from fast food wrappers, so it is a good environmental choice as well.
Besides, you want to spend your road trip looking for beautiful sights, not keeping an eye out for the next exit sign with the best restaurant choices. Having all your meals planned out ahead of time helps to make the rest of your trip less stressful. Food will be one less thing to worry about.
Okay, clean out your cooler and get your grocery list ready! It's time to meal plan for a road trip! Keep reading for some of the best food for road trips.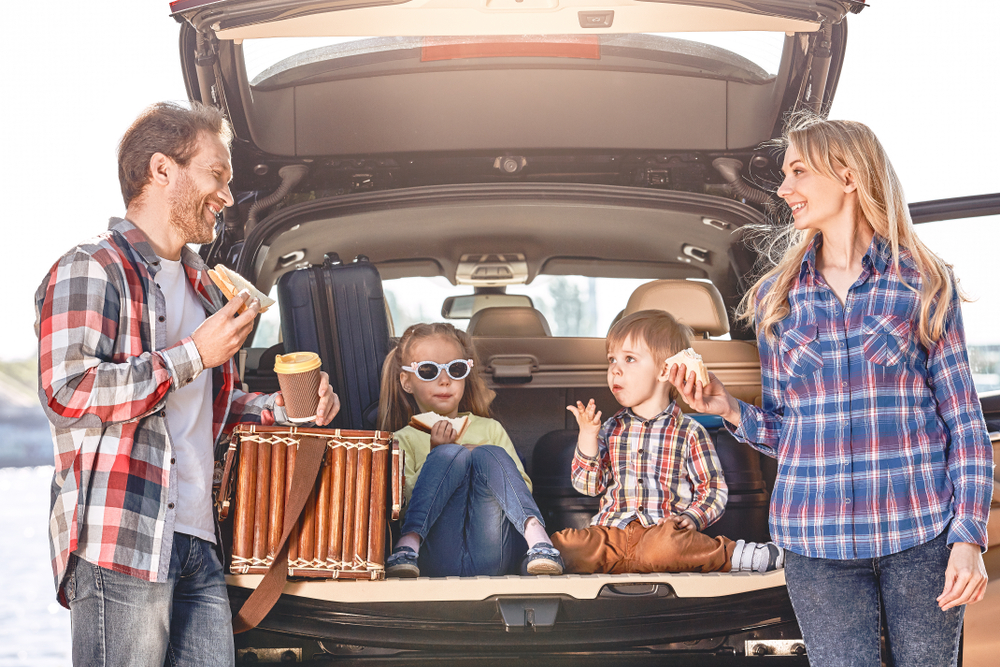 The Ultimate Road Trip Food Packing List
Quick Tips For Road Trip Food
Keep the Cooler Cold
It might seem obvious, but it worth reminding you of how important it is to keep your cooler cold, especially on a long trip. To help with this, make sure to only open your cooler when necessary. By opening it as little as possible, you help to keep that cold air inside and prevent the ice from melting.
It helps to know exactly what you plan on taking out before you even open the lid. That way you can get what you need quickly without having the cooler open for long. Keep the contents organized so you know where everything is.
Also, consider putting your ice on top of the food instead of on the bottom. This way the cold air will move down and keep your food colder more efficiently.
Pack With Care
How you pack your road trip food plays a big role. You need to make sure everything is organized by how likely it is to get smashed. Softer foods go on top and away from anything that might shift and smash it.
Overall, consider packing snacks that won't get crushed. Things will move around as you drive and you don't want to open a bag of crackers and find only crumbs.
Another thing to keep in mind is where you put your cooler and food containers in your car. If they are far in the back, you won't be able to easily reach them without having to stop. Make sure they are within arm's length and also out of direct sunlight.
Don't Bring Delicate Foods
Going along with the last point, you might want to consider leaving more delicate foods such as certain fruits at home. If not, eat them first before they get smashed or go bad.
Also, think about alternatives to certain foods. For instance, tortillas for wraps take up less space than a loaf of bread and also won't get crushed.
Use a Filtering Water Bottle
Instead of bringing a pack of single-use water bottles, bring along a few reusable water bottles. These of course take up less space and are better for the environment.
Also, consider using a filtering water bottle specifically. These water bottles will keep your water tasting fresh and clean, even when you have to fill them up at the gas station.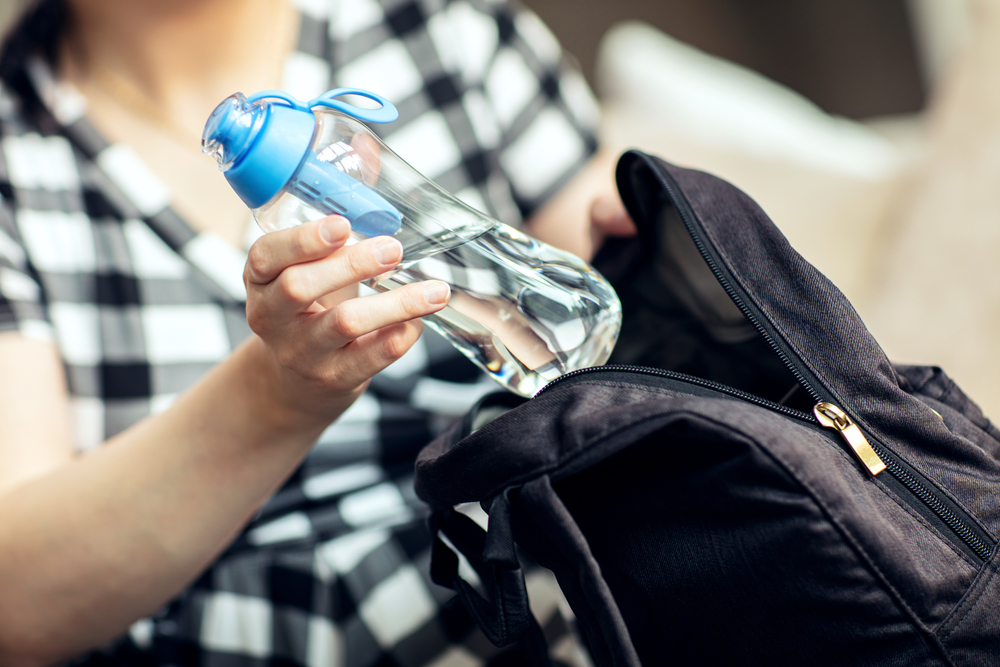 Use Two Coolers
Using two coolers will not only help you pack more food, but you will also be able to keep things more organized. One cooler can be used as your fridge and the other as your freezer. Use big ice blocks to keep things super cold in the freezer.
Avoid Too Much Sugar
Sugar is bad not only because it is unhealthy but also because of its effects. Too much sugar will lead you to feeling tired and sluggish, which is not want you want while on a fun road trip.
We've tried to list healthy road trip food options that are low in sugar, especially highly processed food. If you start to crave sugar try something with natural sugar like fruit.
Use Condiment Packets
Big bottles of ketchup, mustard, and mayonnaise take up a lot of space, plus they need to be refrigerated after they are opened. Instead, try stocking up on individual condiment packets.
These packets can be stowed easily and won't take up precious space in your cooler. Plus you can use just as much as you need, and you won't be left with a bunch of half-full bottles.
Pack Non-Food Essentials
Along with food, you need to remember to pack all of the essentials that go with road trip food. Napkins and wet hand wipes will keep you clean before and after you eat.
Pack plastic or bamboo utensils that can easily be wiped clean and stored after use. Travel-worthy bowls won't let food go flying with the movement of the car. Garbage bags will keep your car clean from litter and can easily be disposed of at a pit stop once they are full.
Another helpful thing to bring is a plastic cutting board. You can use this as a makeshift counter to prepare your food.
For any leftovers, use airtight containers to keep your food fresh. These containers are also more stackable. Alternatively, Ziplock bags might fit more snugly in your cooler.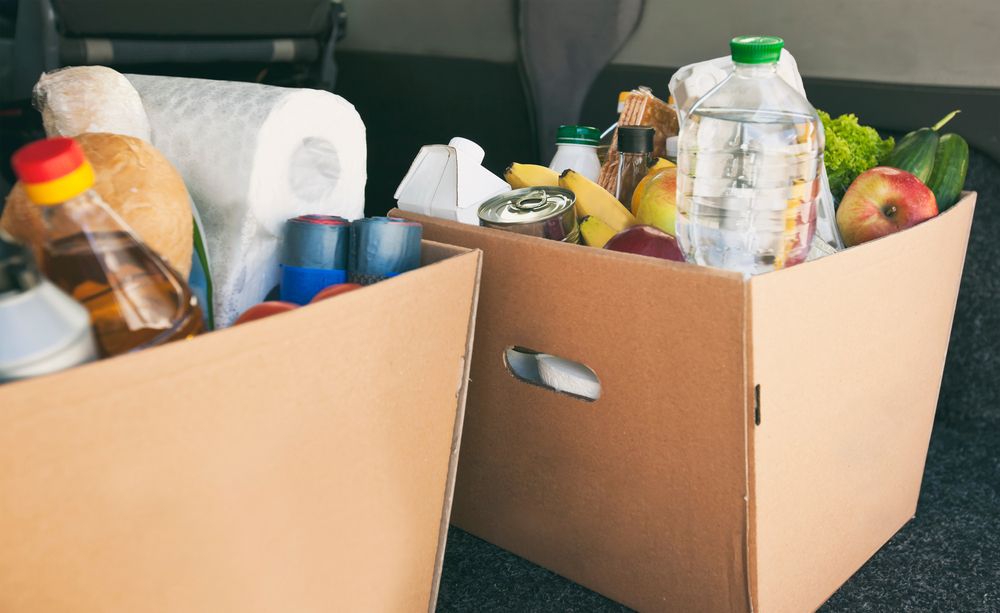 Road Trip Breakfast Ideas
Breakfast is the most important meal of the day and can really set your attitude for the rest of the morning. You want to eat a healthy road trip breakfast that will keep you going.
Foods like whole grains and nuts will keep you energized. Plus, they are better in the long run than a greasy breakfast sandwich from McDonald's every day.
Yogurt makes a great starting point for a healthy road trip breakfast. Choose ones that have low sugar and are non-dairy to make it even healthier. The great thing about yogurt is how you can customize it. Mix in granola and fruit to add even more flavor.
You can make your own healthier version of an Egg McMuffin by using hard-boiled eggs and precooked, turkey bacon. Or try a filling bagel with cream cheese and jam.
If you like to bake, you can make some banana bread or blueberry muffins for a delicious road trip meal. These will keep better than the fruit alone as well.
If traveling with younger kids, a bag of dry cereal like Cheerios could satisfy.
Yogurt
Granola
Hard-Boiled Egg and Bacon on English Muffin
Fruit Such as Bananas, Strawberries, and Blueberries
Bagels with Cream Cheese and Jam
Croissants with Nutella
Avocados
Homemade Banana Bread
Dry Cereal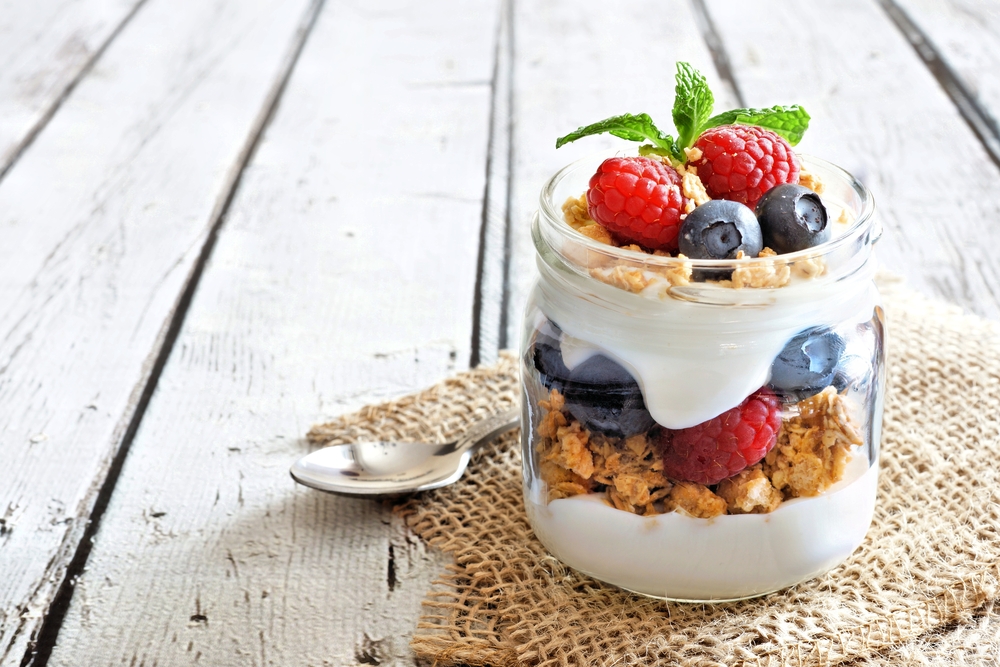 Road Trip Lunch Ideas
When lunchtime rolls around, you will want something a little more filling than breakfast. You can prepare road trip meals before you leave on your trip. Or you can bring ingredients that can easily be put together in the passenger seat.
Mix a salad in a Mason jar for easy packaging and consumption later. Use a Thermos to keep soup warm for the first leg of your journey or eat it cold later.
Vegetable Wraps
Pre-Made Salad or Salad in a Jar
Soups in a Thermos
Pre-Cut Summer Sausage, Cheese, and Crackers
Ham and Cream Cheese Pinwheels
Taco Bowl
Smoked Fish on Crackers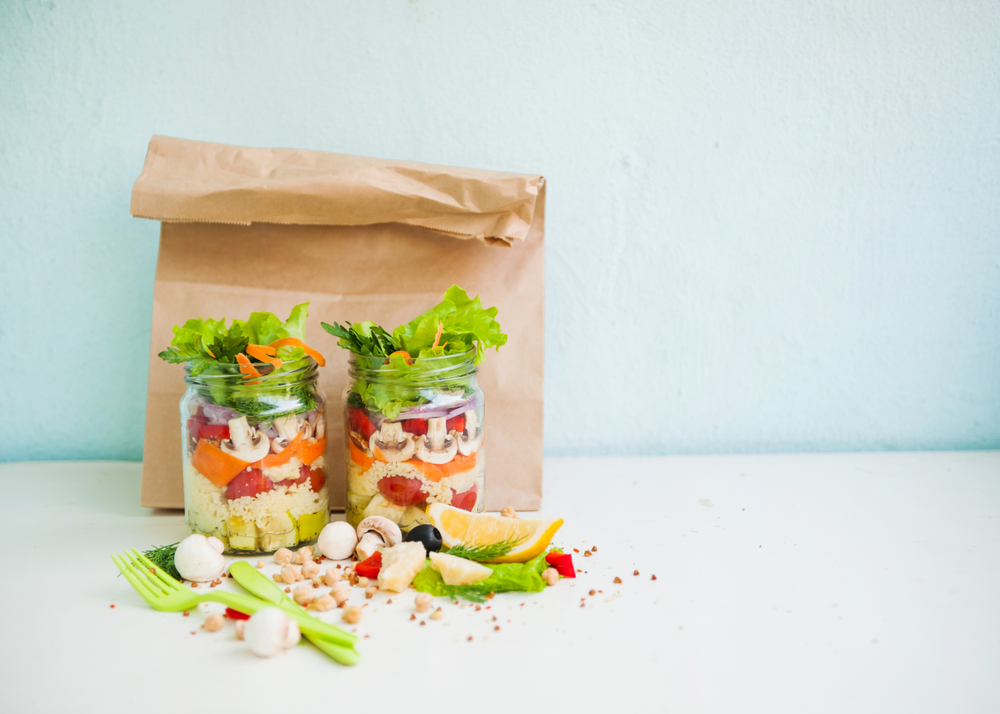 Road Trip Sandwich Ideas
Sandwiches are such a go-to easy lunch idea, why not create a list specifically for them? Not all sandwiches have to be the same and there are so many ways to make them with different ingredients.
You can make these sandwiches traditionally with bread or mix it up by rolling the ingredients up in a tortilla. Premade salads such as egg or chicken are great on bread, just add some lettuce. You can also use single packets of tuna that do not need to be refrigerated.
Peanut Butter and Jelly
Tuna
Egg Salad
Chicken Salad
Mini Subs
Hot Dog Sandwich
Pizza Sandwich with Pepperoni and Cheese
Cucumber With Cream Cheese
Peanut Butter, Banana, and Honey
BLT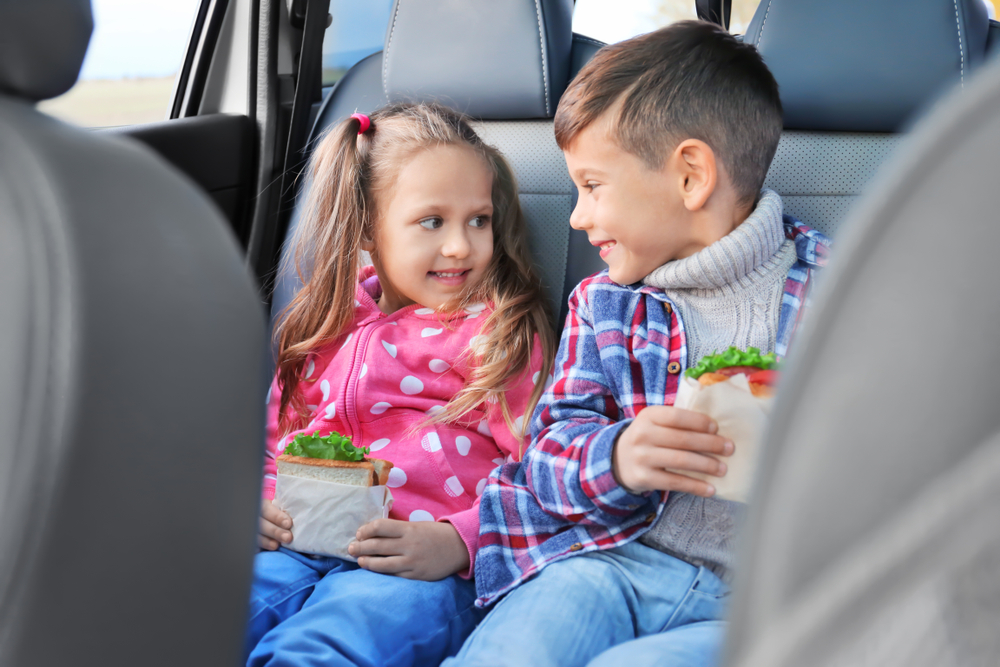 Best Road Trip Snacks
The road trip snacks you choose can really make or break your trip. You will want to bring snacks you like. Healthy road trip snacks will leave you feeling good physically and mentally.
Also, bring a variety of snack types so you won't get bored of what you are munching. Have a mix of salty and sweet so you have the best road trip snacks for whatever you are craving.
There are so many healthy and organic choices for snack foods these days that this road trip food category is easy to prepare for. Most of these ideas can easily be bought off the shelf and packed as they are.
If you want to keep portions small, open your bags and boxes of snacks and separate them into smaller containers. This helps if you have kids, too, since then each kid will have their own treat.
Another tip if you have kids is to have them help prepare the snacks ahead of time. They can help make the no-bake bars and cookies or dip pretzels in melted chocolate. This will make them excited to try their creations and give them something to look forward to during the ride.
String Cheese
Clementine Oranges
Pita with Peanut Butter and Chocolate Chips Rolled Up
Cheeze-Its
Goldfish Crackers
Nuts
Homemade Trail Mix
Healthy No-Bake Energy Bars or Cookies
Carrot Sticks
Apples
Pretzels
Popcorn
Raisins
Beef Jerky
Celery With Peanut Butter
Bell Pepper Slices With Veggie Dip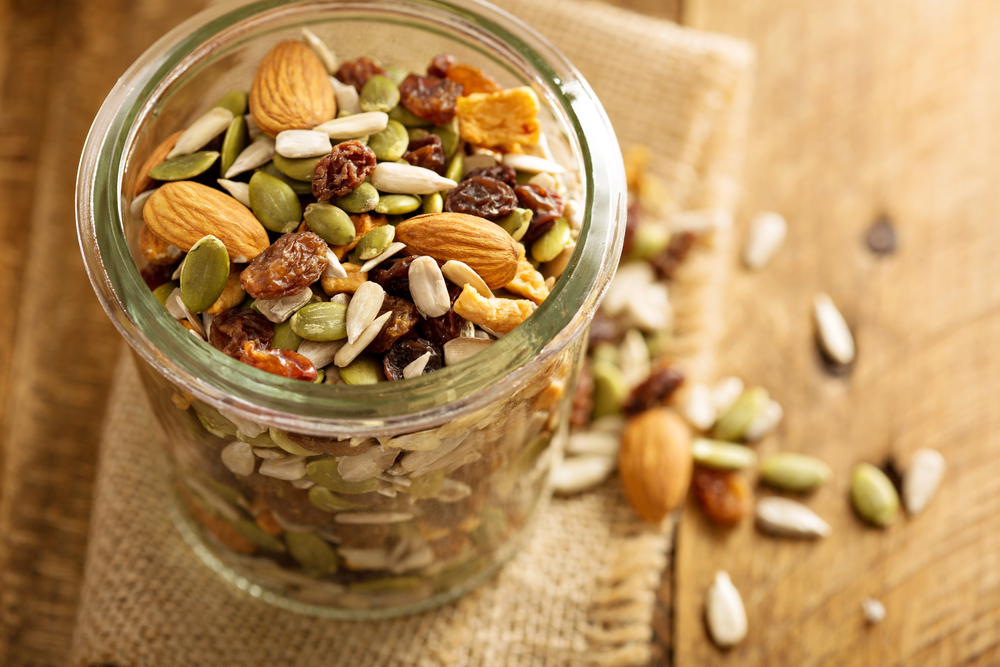 Best Road Trip Meals For Dinner
Your road trip dinner should be easy to make and healthy as well. This is where meal prep comes in the most. Of course, you can't cook while on the road, but there are plenty of road trip meals that you can eat cold.
Do some cooking before your trip so you are prepared to feed your family on the go. Things like soup, salad, and pasta are easy to make and come in so many varieties. They also keep well and can be easily stored in Tupperware.
Your meals do not have to be complicated to be good. Keep it simple! Pita and veggies dipped in hummus, for example, takes little prep and is a healthy road trip food idea.
Hearty Soups
Hearty Salads
Pasta Salad or Cold Pasta
Potato Salad
Pita with Hummus
Falafel
Pre-Cooked Chicken for Wraps or Salad
Pre-Made Pulled Pork on Buns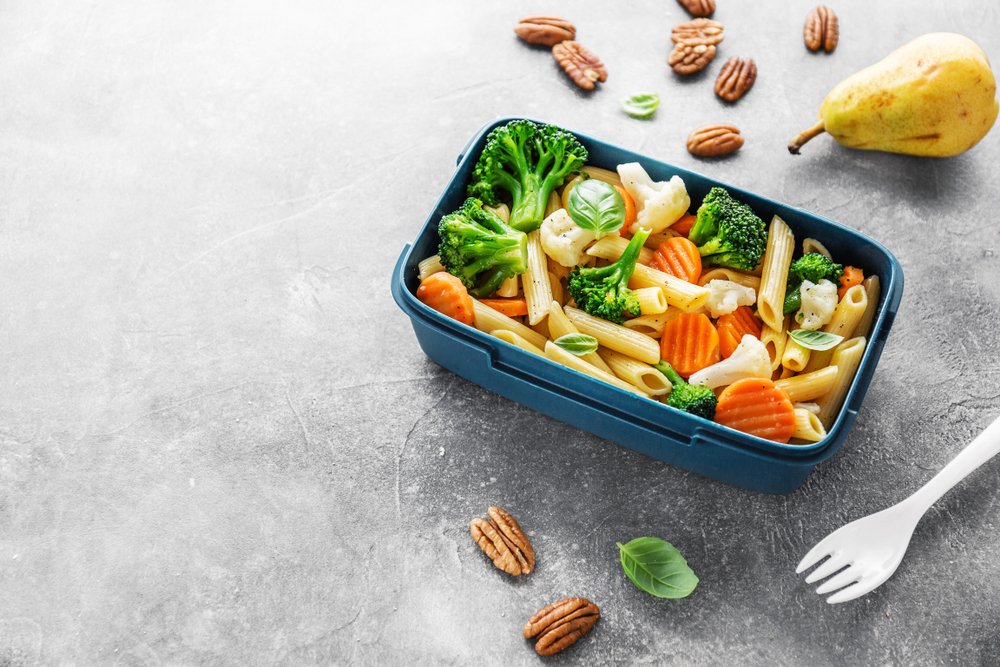 Best Drinks For A Road Trip
Road trip drinks are important in keeping you hydrated. Options like coffee and tea will keep you energized for hours behind the wheel. You will want healthy drinks to keep your calorie intake low when you are sitting for hours.
Consider the vitamins you can get from your drinks as well. Be mindful of what you are allowing into your body. Try making some health smoothies ahead of time or buy some bottled ones at the health food store.
Of course, water is the best choice health-wise. Plus it is free to fill up almost anywhere. Freeze your water bottles the night before so you can enjoy cold water throughout the day as it melts.
If riding in the car makes you queasy, try drinking ginger tea to settle your stomach.
Coffee
Pre-Made Herbal Tea
Cold Matcha Tea
Fruit Juices
V8 Juice
Healthy Smoothies
Lemonade
Kombucha
Water with Refillable Water Bottles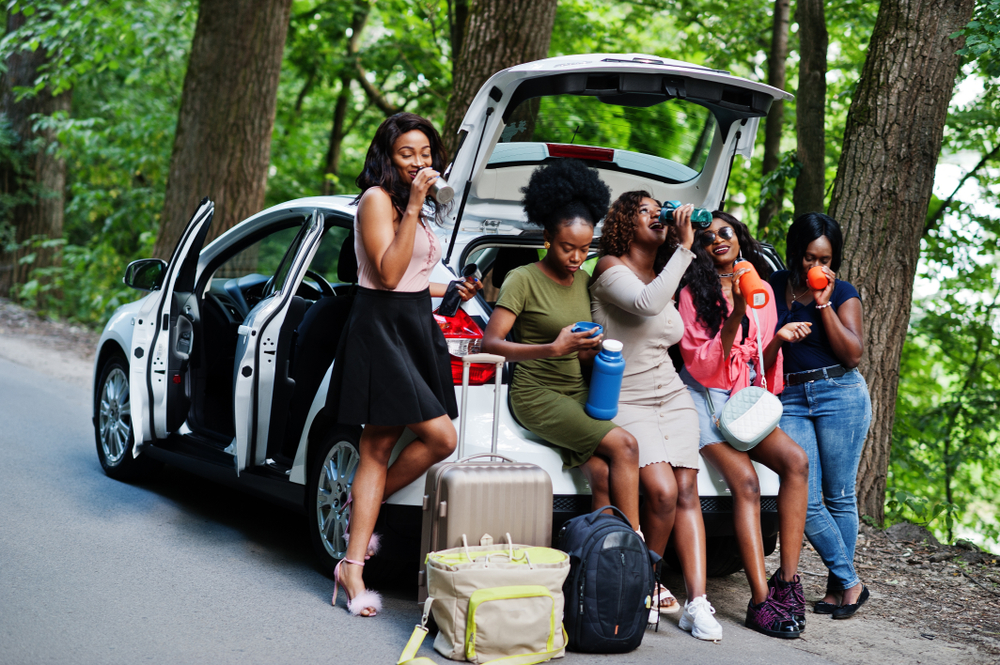 At the end of the day, you will want road trip food that will keep you both happy and healthy. Overloading on a bunch of sugary food while sitting in the car for long stretches might not make you feel good about your choices. However healthy road trip snacks are great tasting and good for your body.