Searching for the best Airbnb in Oregon as you head to the beautiful Pacific Northwest state? We've got you covered with these 12 unique Oregon Airbnb options.
Oregon's notoriously rainy weather is far out shadowed by its stunning natural landscape and fun (and often funky) cities.
You'll find some of the most spectacular cascading waterfalls in the Columbia River Gorge, haystacks, beaches, and charming towns, along the Oregon coast, and a hip vibe, delicious donuts, and a city-block wide bookstore in Portland. Now you just need to find the perfect Airbnb to put the cherry on top of what is sure to be a thrilling trip to Oregon.
Staying in an Airbnb in Oregon can be a great alternative to hotel life. Not only is it often a less expensive option, it gives you the opportunity to connect with locals and stay in an accommodation that is more unique to Oregon.
Whether you're looking for charm, coziness, proximity to the heart of a city, or sweeping views, you're sure to find the best Airbnb in Oregon for you from this list.
Looking to save money on your trip to Oregon? Get a FREE $55 Airbnb coupon by using our code when you book!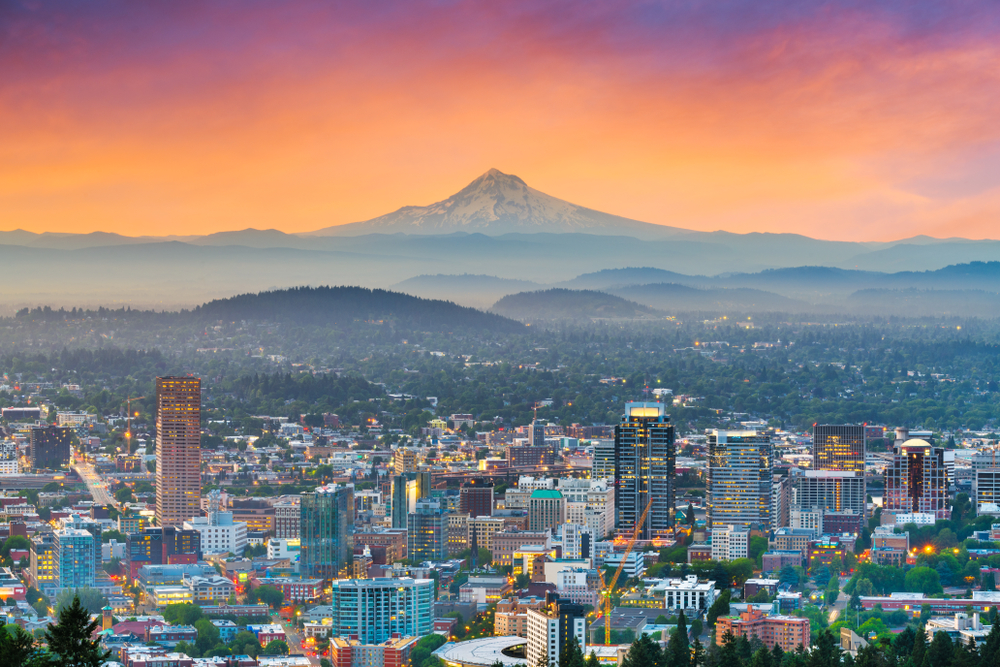 12 Best Airbnbs In Oregon (Cabins, Treehouses, & More)
Island + Alpaca Farm Retreat
Farm life has never looked more appealing than at the Island + Alpaca Farm Retreat on Sauvie Island, a river island in Oregon. "Tu Casa," as the guest suite is affectionately called, is charming, filled with bursts of color, and offers one queen bed and one sofa bed, but what lies outside is the ultimate draw of this Oregon Airbnb.
Blueberry picking in July and August, feeding the farm's sheep, alpacas, goats, and cow, eating lunch from the patio with a view of Mt. St. Helens, or walking along a nearby river beach will keep you more than occupied.
Though this is the perfect place to escape city life and slow down for a bit, the Airbnb is amazingly only a 15-minute drive from downtown Portland giving you the best of both worlds. Make sure you bring your bike along on your vacation too if you can, because the island provides the perfect environment to hop on your bike and explore.
It's easy to get swept away in the relaxing island farm life and never want to leave. If you're visiting Portland this is certainly a top contender for the best Airbnb in Oregon near the Portland area.
Click Here To Check Rates On Airbnb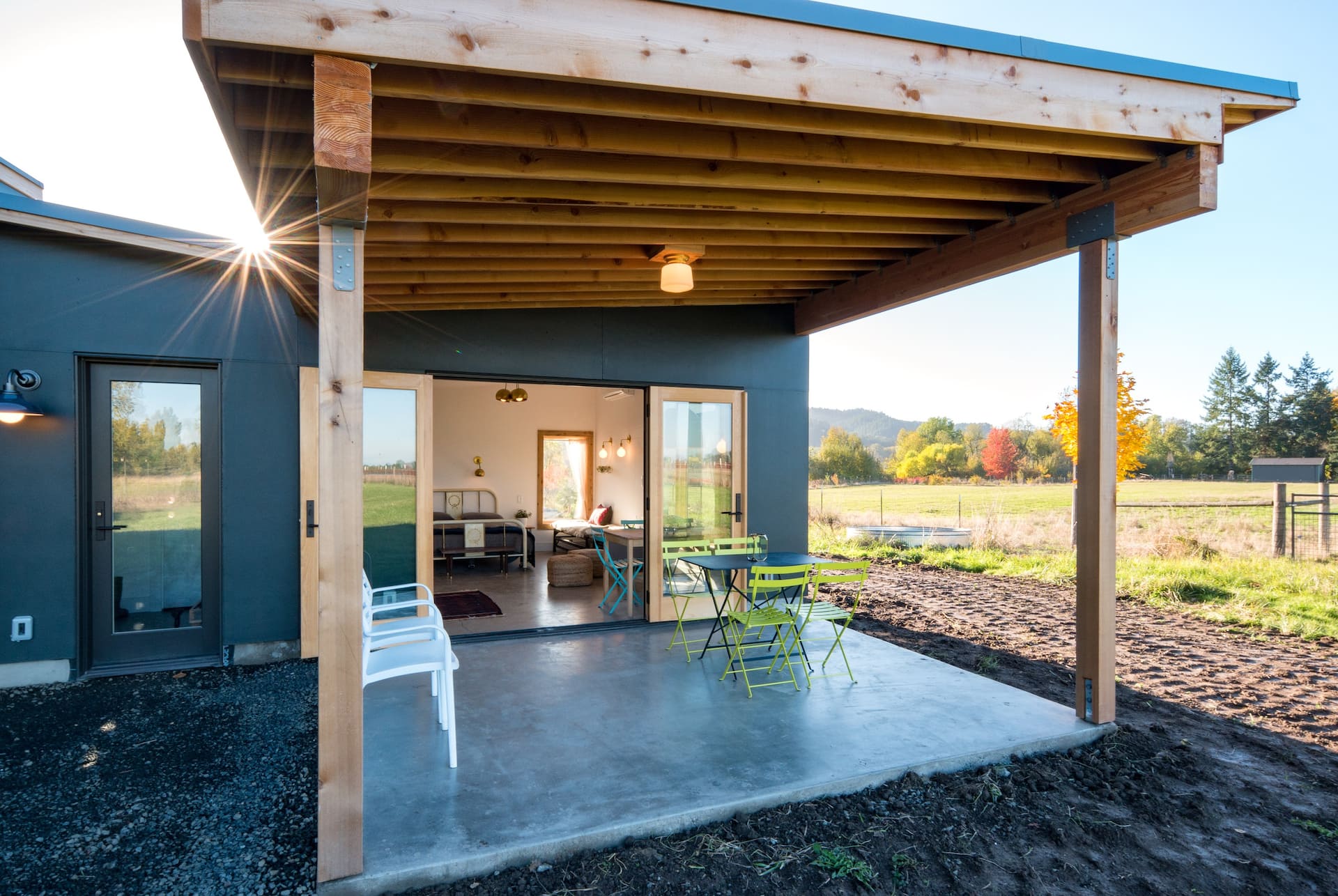 Luxury Cabin On The Santiam River
Bring your significant other, your inner tubes, hiking boots, and a healthy appetite for outdoor fun to this luxury cabin. This cabin on the Santiam River in Stayton, Oregon is the perfect romantic getaway for a mixture of adventure and luxury.
This one bedroom Oregon Airbnb provides you with two amazingly comfortable robes, a soaker tub, a rain shower, a gas fireplace, and a private deck for your enjoyment. Not to mention they clean your dirty dishes for you, in fact, they insist on it.
If you can manage to pull yourself out of the comfy king size bed, the river and a collection of Oregon hiking trails await you. You can kayak, fish, or float on the river or stay inside for a lazy day in and catch the beautiful river views through your window.
For those with a love of the arts, the hosts also give you an opportunity to paint in their Artsy Fartsy Studio for free! A nice special touch to what is already an excellent Oregon Airbnb experience.
Click Here To Check Rates On Airbnb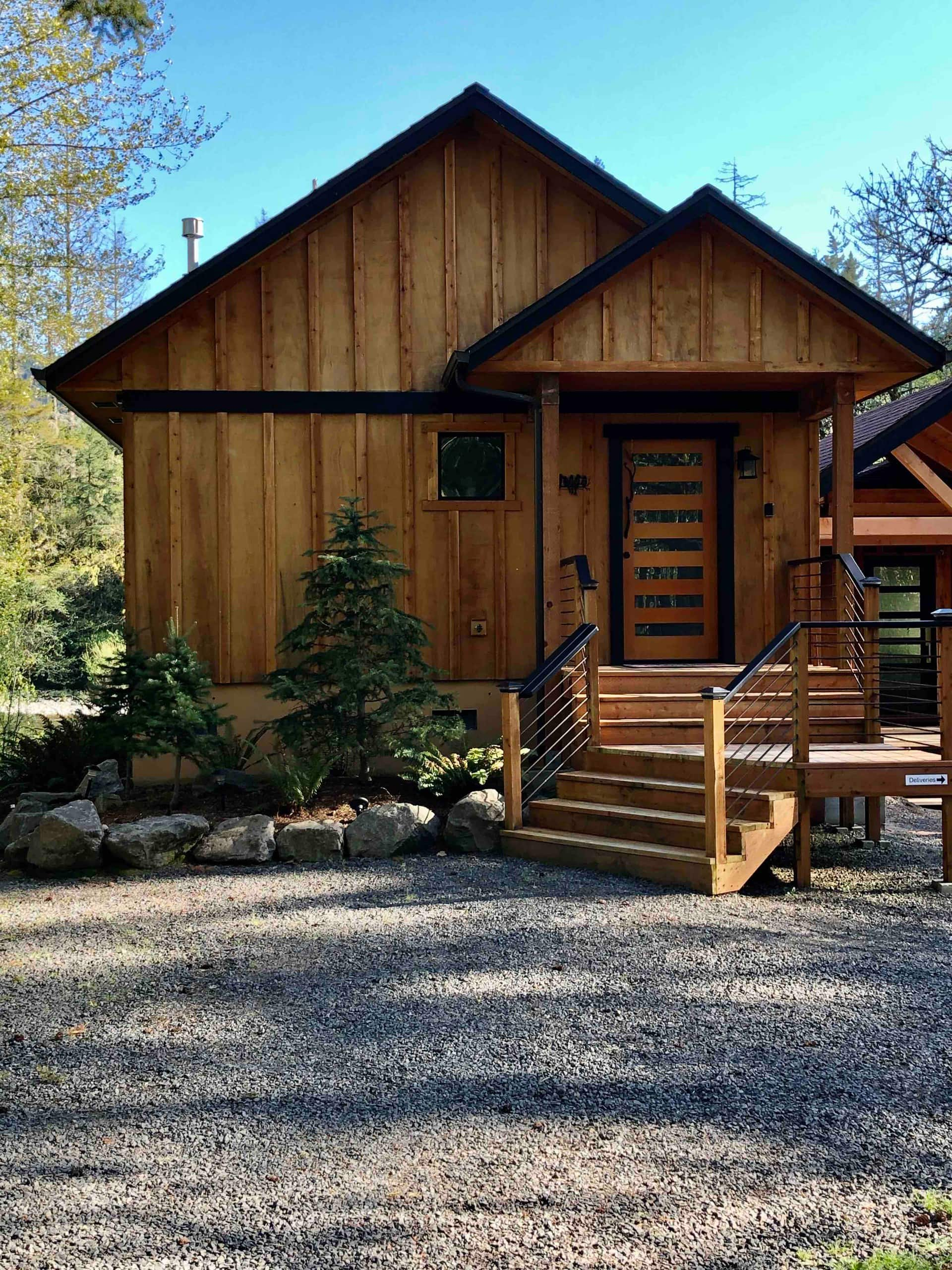 Rancho Relaxo
This beautiful A-frame mountain cabin in Rhododendron is the best Airbnb in Oregon for outdoor adventure lovers looking for a cozy home base where they can recharge, play a classic board game, and relax in peace.
This Oregon Airbnb accommodates 4 people and is perfect for a family or small group of friends. When you're at the cabin you can enjoy a cup of tea in front of the fireplace or stretch out on the couch with a good book in the 3rd-floor reading nook.
The cabin sits on the edge of Mt. Hood National Forest, so when your adventurous side kicks in, you're just a short distance away from ski and snowboarding opportunities, snowshoe trails, hiking trails, mountain biking trails, fishing locations, and beautiful lakes.
Be aware that the hosts require a 2-night minimum stay, though that shouldn't be a problem as you'll find it's hard to tear yourself away from this little slice of paradise.
Click Here To Check Rates On Airbnb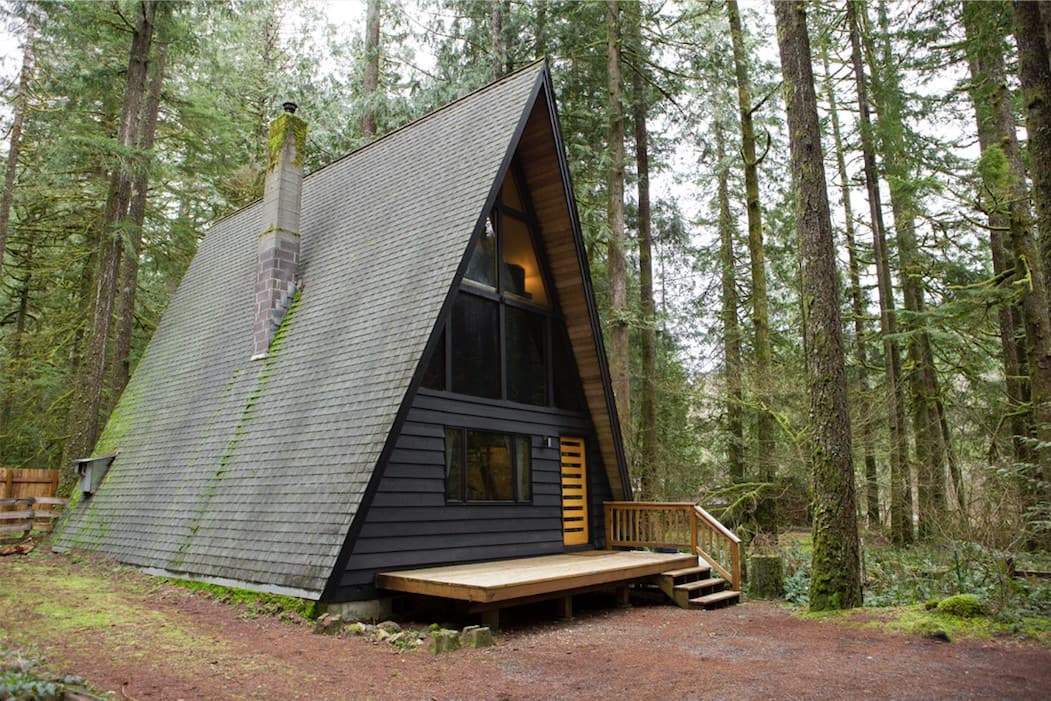 Sunset View Yurt
If you're looking for a truly unique experience, this yurt in Applegate Valley is the best Airbnb in Oregon for you. The yurt is located on a 5-acre property that is home to the host's horses and chickens.
The yurt accommodates up to 4 people with a king bed and a sofa bed, and also offers a continental breakfast to kick start your mornings.
You can count on having a wonderfully relaxing experience at this Oregon Airbnb. You can make dinner outside on the grill, watch the sunset at the fire pit, stare up at the twinkling stars from the hot tub, gaze out at the expanse of trees beyond, or lie in bed and play some records inside the yurt.
Portable AC's and heaters are the only ways to adjust the temperature in the yurt so the Airbnb is often closed in the harshest weather months. When the weather is more forgiving though be sure to check the availability of the yurt to ensure you don't miss out on this unusual but wonderful experience.
Click Here To Check Rates On Airbnb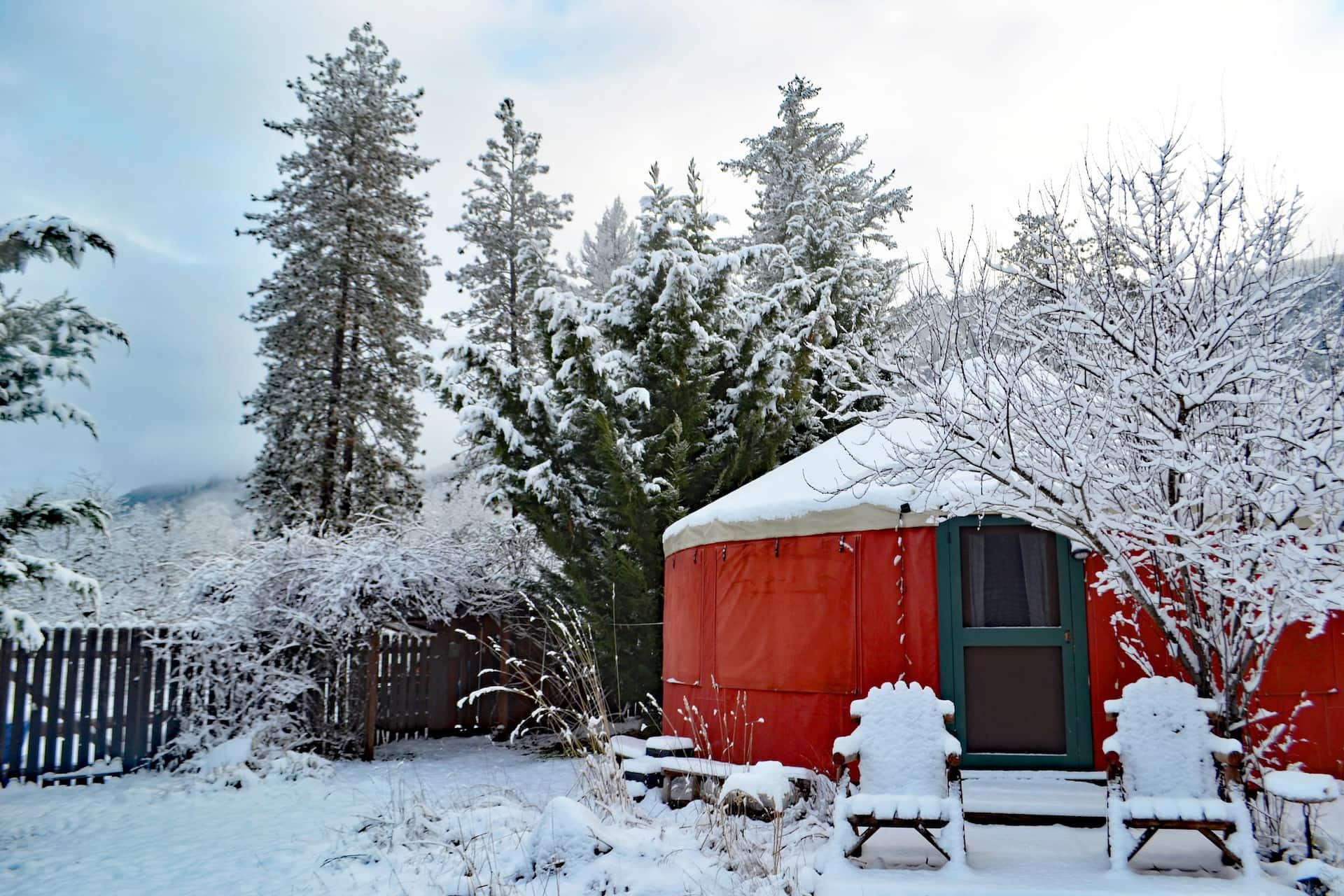 The S'more
The S'more will charm your socks off. This tiny house Portland Airbnb is like a fort for adults, complete with a hammock, a reading loft, skylights, and wood art.
Because the space is so small, the main sleeping accommodation is in a loft which makes this Airbnb far more suited to nimble guests. The dining area can be converted into extra sleeping space, however.
Picture yourself lying in the hammock beneath the skylight with a book in hand that you've perhaps just picked up from Portland's iconic Powell's bookstore while listening to the tap of rain on the outside of the house (because Portland will inevitably have rainy days). This is the kind of relaxing experience you can have at The S'more.
You also have access to a small deck, and of course, the colorful and eccentric city of Portland awaits you just beyond the front door.
Click Here To Check Rates On Airbnb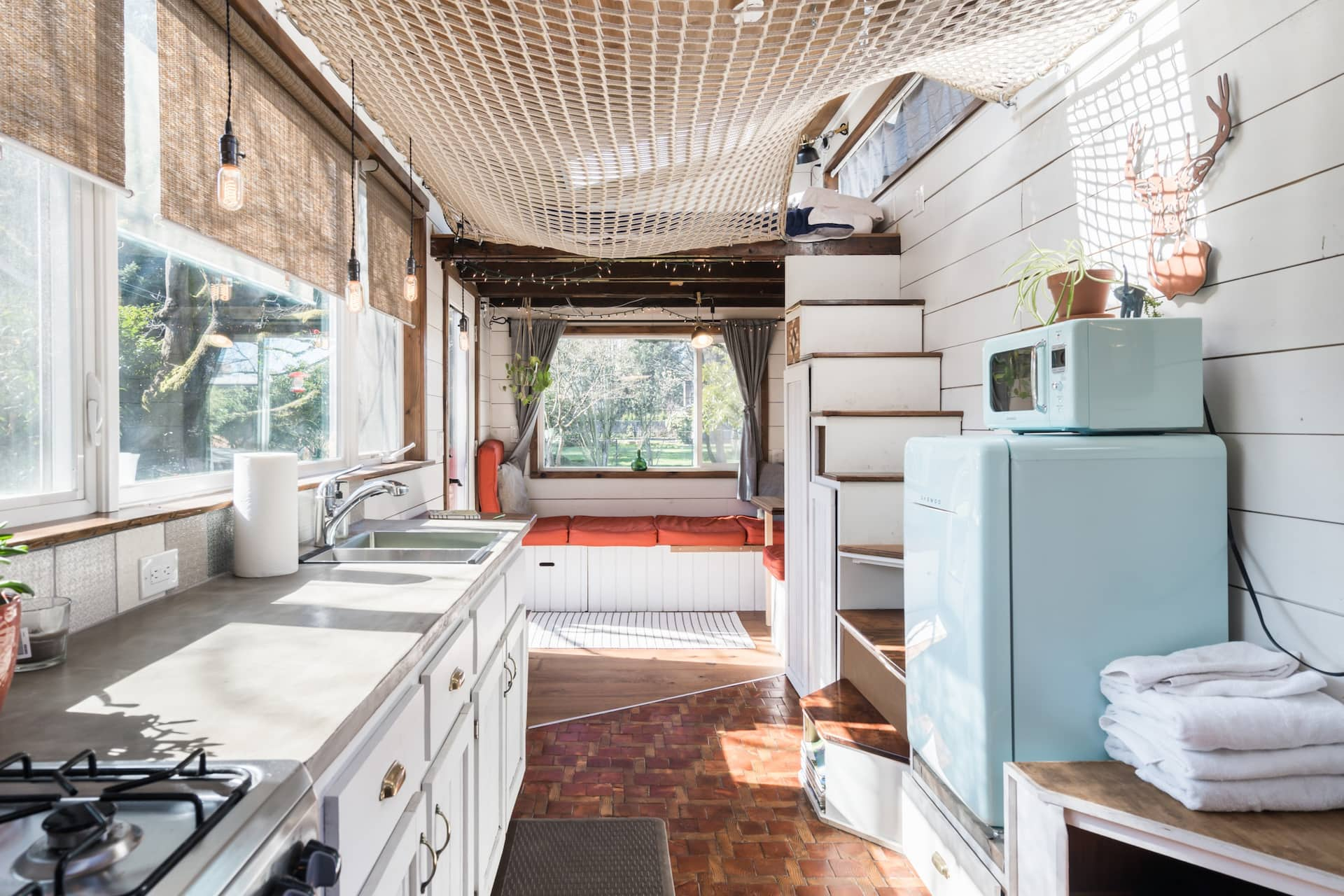 Dome Sweet Dome
Though this isn't a classic treehouse, Dome Sweet Dome has treehouse-like aspects, as the geodesic dome is perched up off the ground in a forested landscape.
This Bend Airbnb is perfect for outdoor lovers whether you're wandering through the pine trees in the backyard, hiking the trails in the Deschutes National Forest, or walking along the river. You'll get wonderful views from inside the dome as well when you're looking to kick your shoes off and cozy up inside.
You'll wake up to the beautiful morning light through the windows and go to sleep staring at the night sky. Dome Sweet Dome also offers the convenience of being 10 minutes from downtown Bend while still having a quiet, restful feel.
We suggest you pull up a chair, gather around the fire pit, and enjoy this unique Bend Airbnb.
Click Here To Check Rates On Airbnb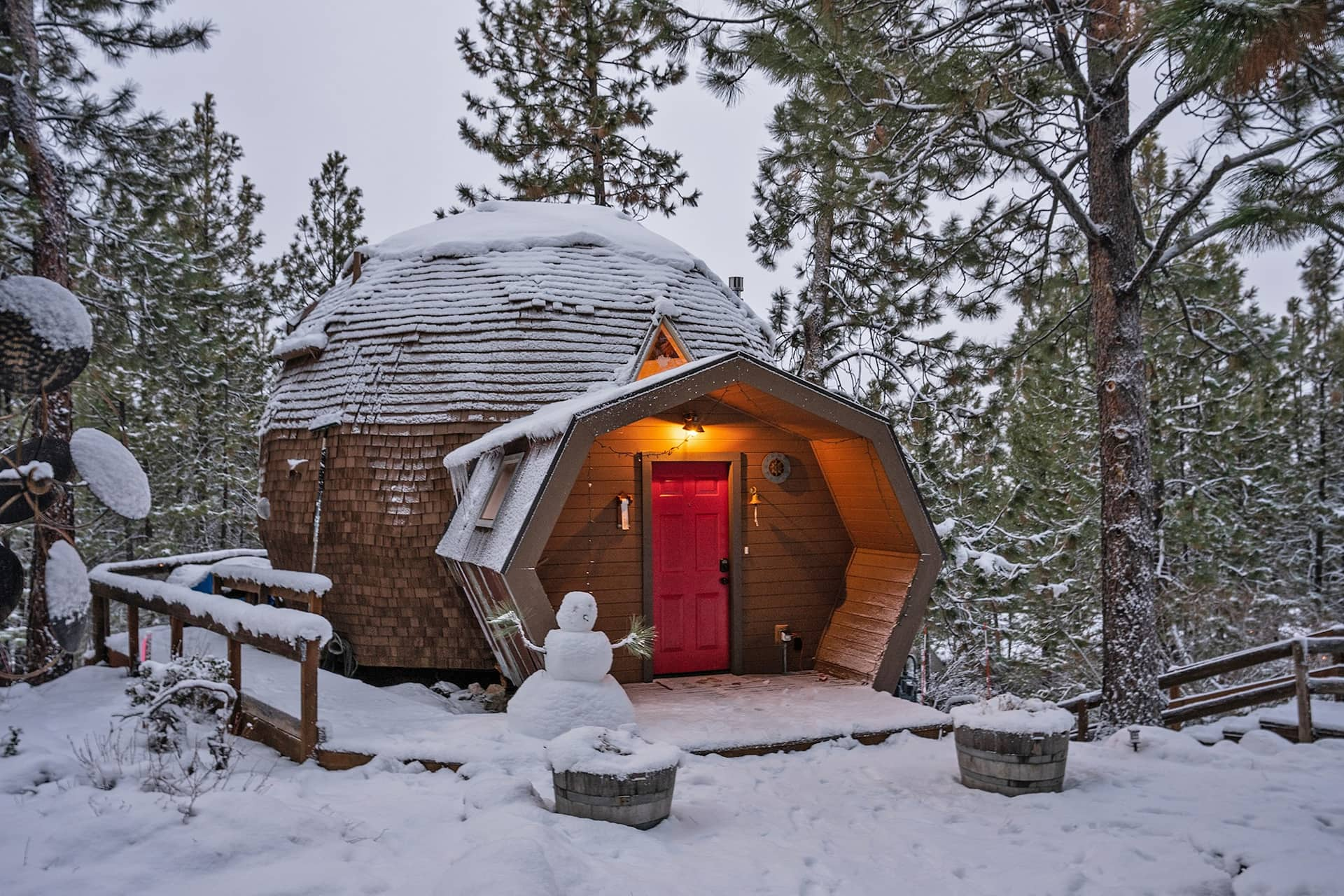 Kindred Studio
The Kindred Studio is not as unusual as some of the Airbnbs on this list, but it's a beautiful space with an abundance of light streaming through, and most importantly it's right by the beach!
This Cannon Beach Airbnb is located in the quiet Tolovana Park community so you get the excitement and conveniences (grocery store, shops, etc.) of being in a busy beach town while enjoying a little bit of peace at your actual sleeping accommodation.
You can spend your day at the beach, participate in the summer sandcastle contest, pick up some pastries at Sea Level Bakery, and head back to the Airbnb to enjoy the warmth of the fireplace while binge-watching your new favorite Netflix show on the provided Netflix account.
Though the biggest draw of the area is of course the beach, a stay at the Kindred Studio is the perfect way to maximize your Cannon Beach experience.
Click Here To Check Rates On Airbnb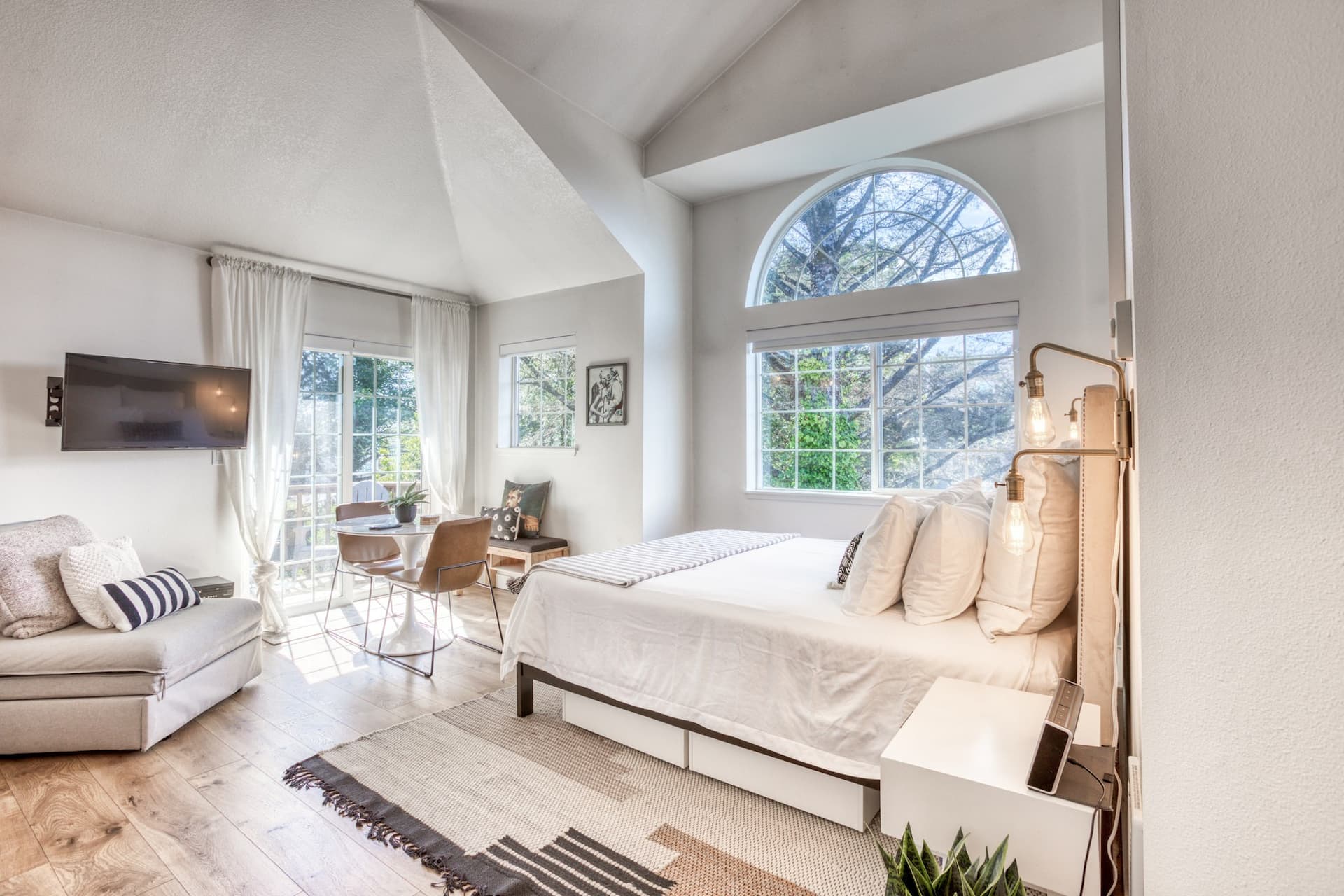 Sternwheel Riverboat B&B Cabin 5
Hop aboard the Newport Belle riverboat and claim your private room on this Oregon Coast Airbnb. If you're looking for a non-traditional accommodation, this riverboat in Newport's South Beach Marine Harbor is the perfect Airbnb in Oregon for you.
Besides enjoying the unique experience of staying on a riverboat, you'll enjoy beautiful harbor views, a three-course, homemade breakfast, and happy hour as well as snacks and drinks throughout your stay. And the best part is it's all included in the Airbnb price!
The room itself is pleasant but you'll want to venture outside to explore the harbor and eat fresh fish at a nearby restaurant before settling down in the sunroom on board the boat to enjoy a spectacular sunset.
Please note that you need to be comfortable climbing stairs to reach your room. If that's not a problem, this is a great Airbnb option that provides you with an experience so much more unusual and memorable than a traditional hotel.
Click Here To Check Rates On Airbnb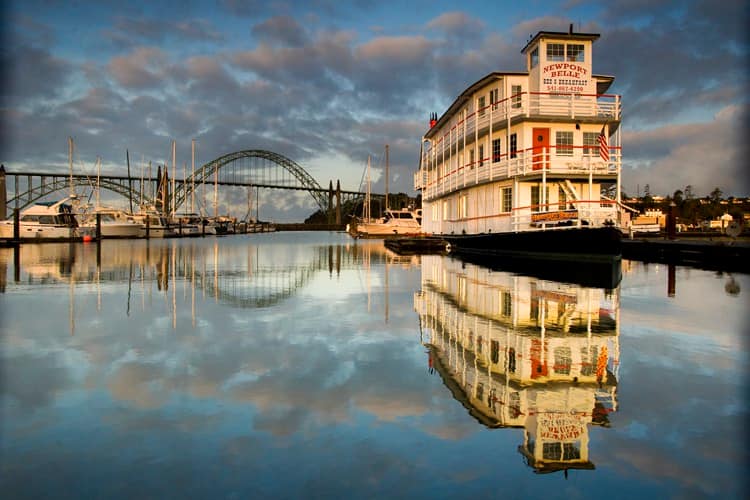 Quaint English Cottage Garden Private Apt.
Come immerse yourself in Portland's brick building history at this quaint English cottage in the Laurelhurst neighborhood.
This Portland apartment is part of a historic home that was originally constructed in 1922 by the Standard Brick & Tile Company in order to promote real burned clay brick and brick hollow walls as an economical alternative to building with lumber.
Though the home began as a model home open to the public, it has since changed ownership many times and now houses this charming Portland Airbnb that you can enjoy during your Oregon trip.
You can relax in the beautiful English gardens and courtyard at the cottage or drive just 15 minutes to experience downtown Portland. You're sure to feel right at home in this cozy historic apartment.
Click Here To Check Rates On Airbnb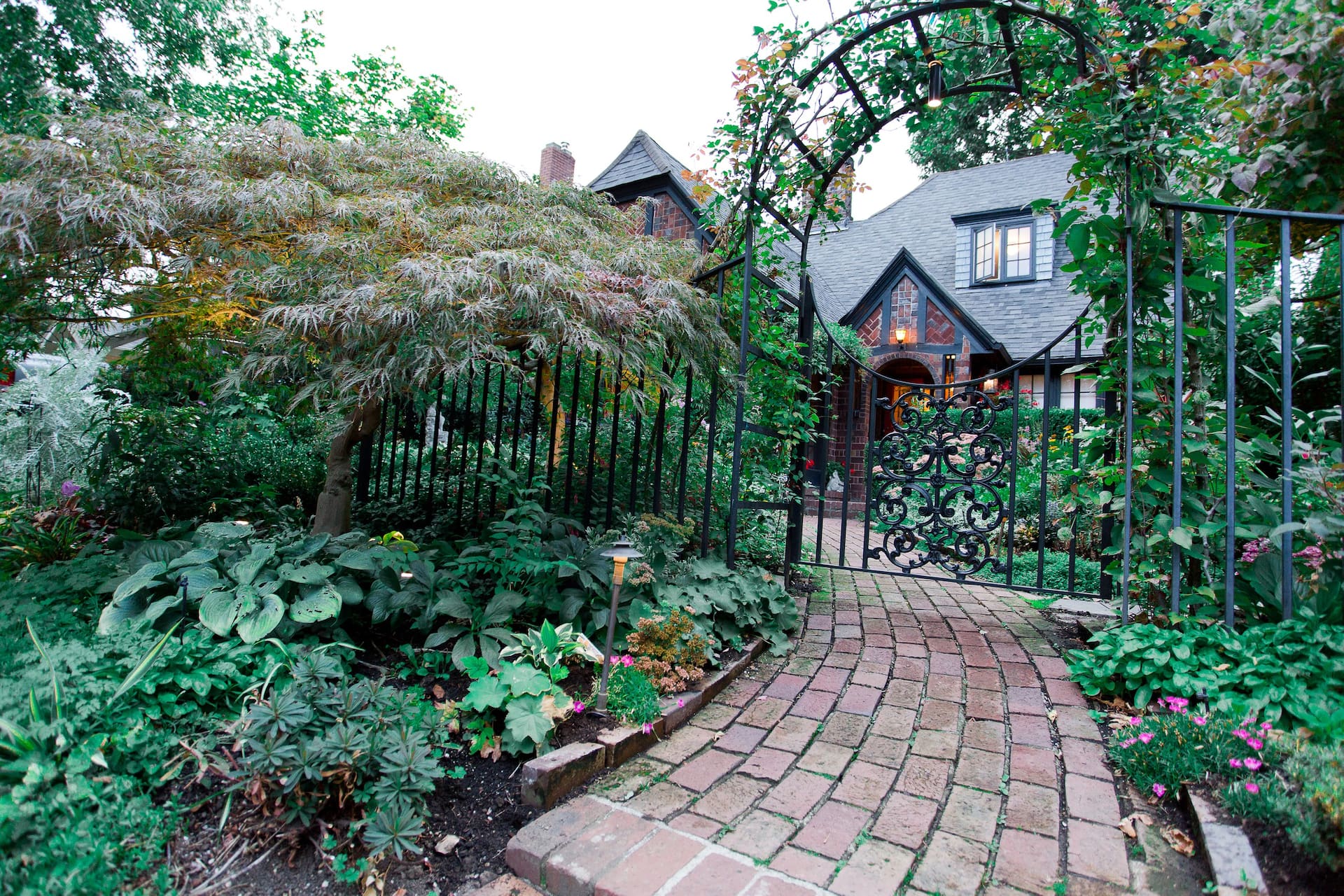 Private Oregon Roundhouse
This small wood creation is the perfect Airbnb in Eugene Oregon for your visit to the area. Be sure to book well in advance because this cozy Airbnb has become quite popular.
The Roundhouse is located just a short distance from the University of Oregon, downtown Eugene, and plenty of great food options and running trails. Spencer's Butte is also nearby providing you with the perfect hiking opportunity.
The house allows you to escape your busy everyday life in a space that breaks from convention and invites you to connect with your surrounding environment whether it's watching a deer pass by from the outdoor deck or listening to the music of the birds.
This is an ideal, peaceful retreat complete with snacks and even stamped postcards to tell your friends at home about your wonderful adventures.
Click Here To Check Rates On Airbnb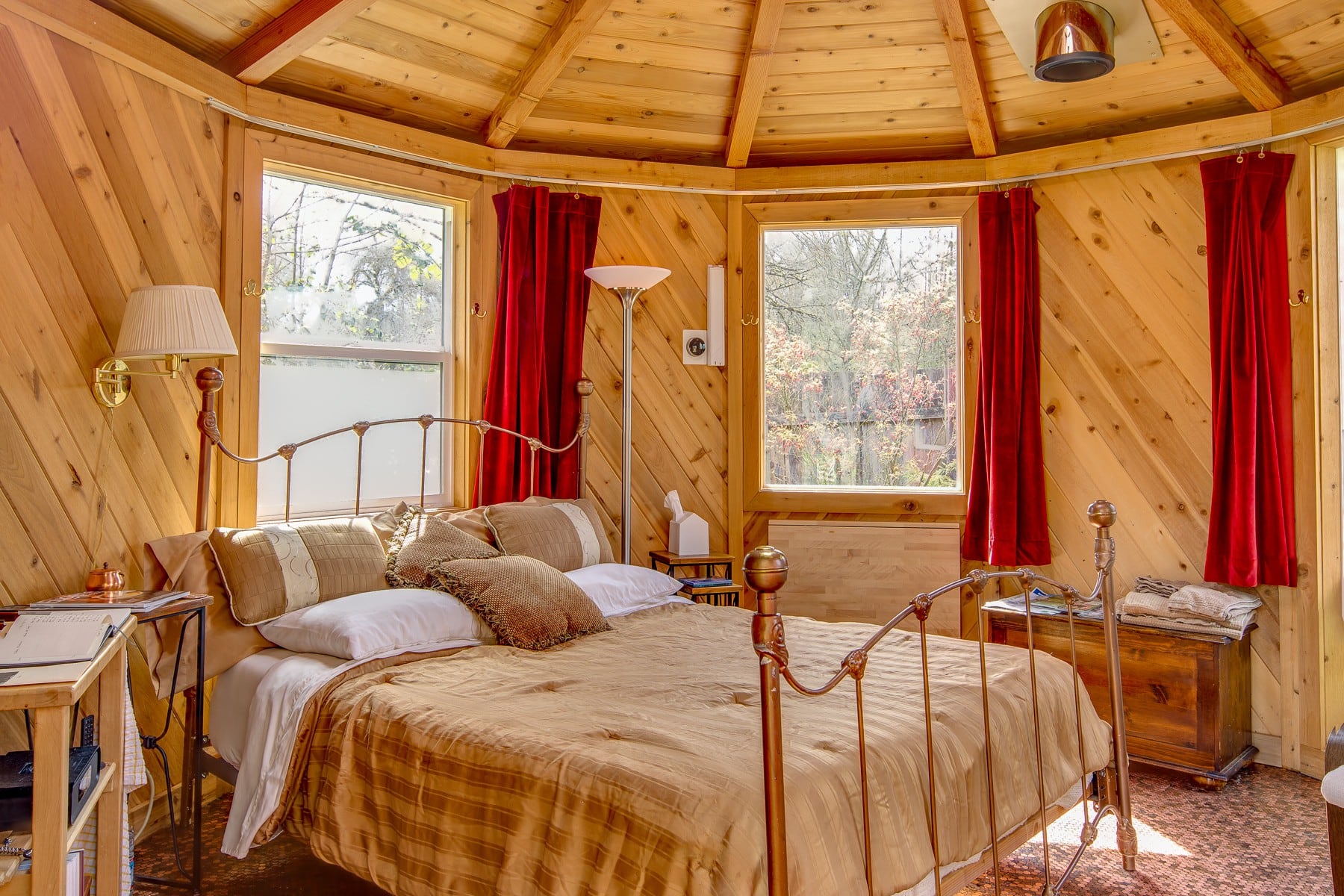 Saul Zaik Treehouse
The Saul Zaik Treehouse is a Portland Airbnb resting on a WWII Liberty Ship mast. Though you share the house with the host, you have the lower level and all its splendors to yourself including a private bathroom.
The views from the guest bedroom are spectacular. A wall made almost exclusively of windows gives you expansive views of the trees, downtown Portland, and the beautiful sunrises and sunsets.
It only takes about 10 minutes to reach downtown Portland and you're right nearby Marquam Nature Park with its hiking and running trails and Council Crest Park which is well known for its views of Portland and the surrounding area.
You should be aware that the host's cat is a very active part of this household, so if you don't love cats or are allergic this might not be the ideal Airbnb in Oregon for you.
Click Here To Check Rates On Airbnb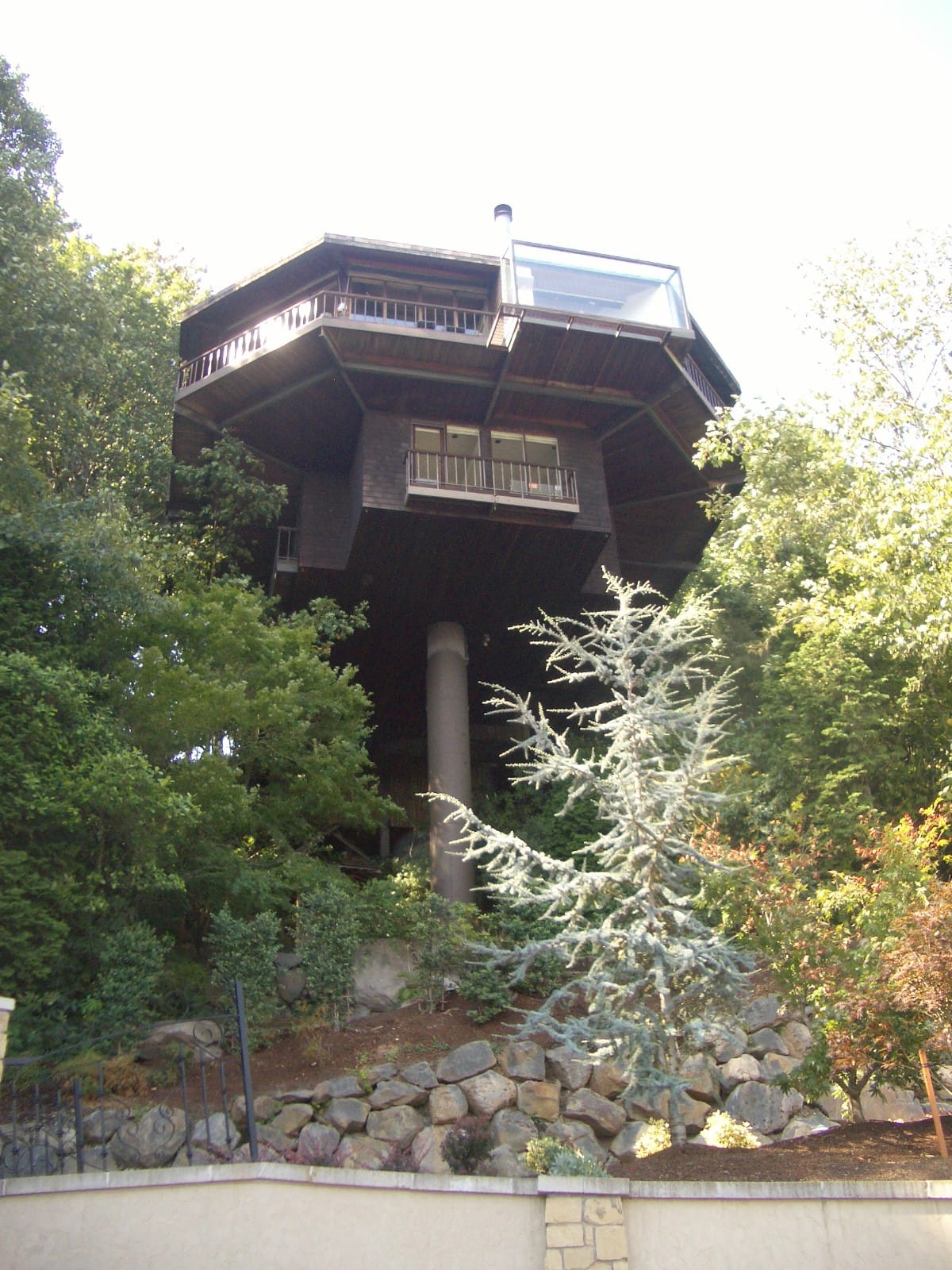 Mt Hood View Tiny House
You're sure to be impressed by this tiny house, an expertly constructed space designed to optimize the views of Mt. Hood. This Sandy, Oregon Airbnb is situated on a 23-acre property, so you'll be given plenty of privacy during your stay.
One wall of the home is made of glass and also opens completely so you're exposed to the outdoors while enjoying the comforts of the home. You can also watch the sunset each night through the glass wall.
The house is located 20 minutes from Mt. Hood, 40 minutes from downtown Portland, and is right next to some great hiking and mountain biking trails. You'll have everything you need in this cozy little haven.
So go ahead and let this beautiful cedar wood tiny home welcome you to Sandy, Oregon.
Click Here To Check Rates On Airbnb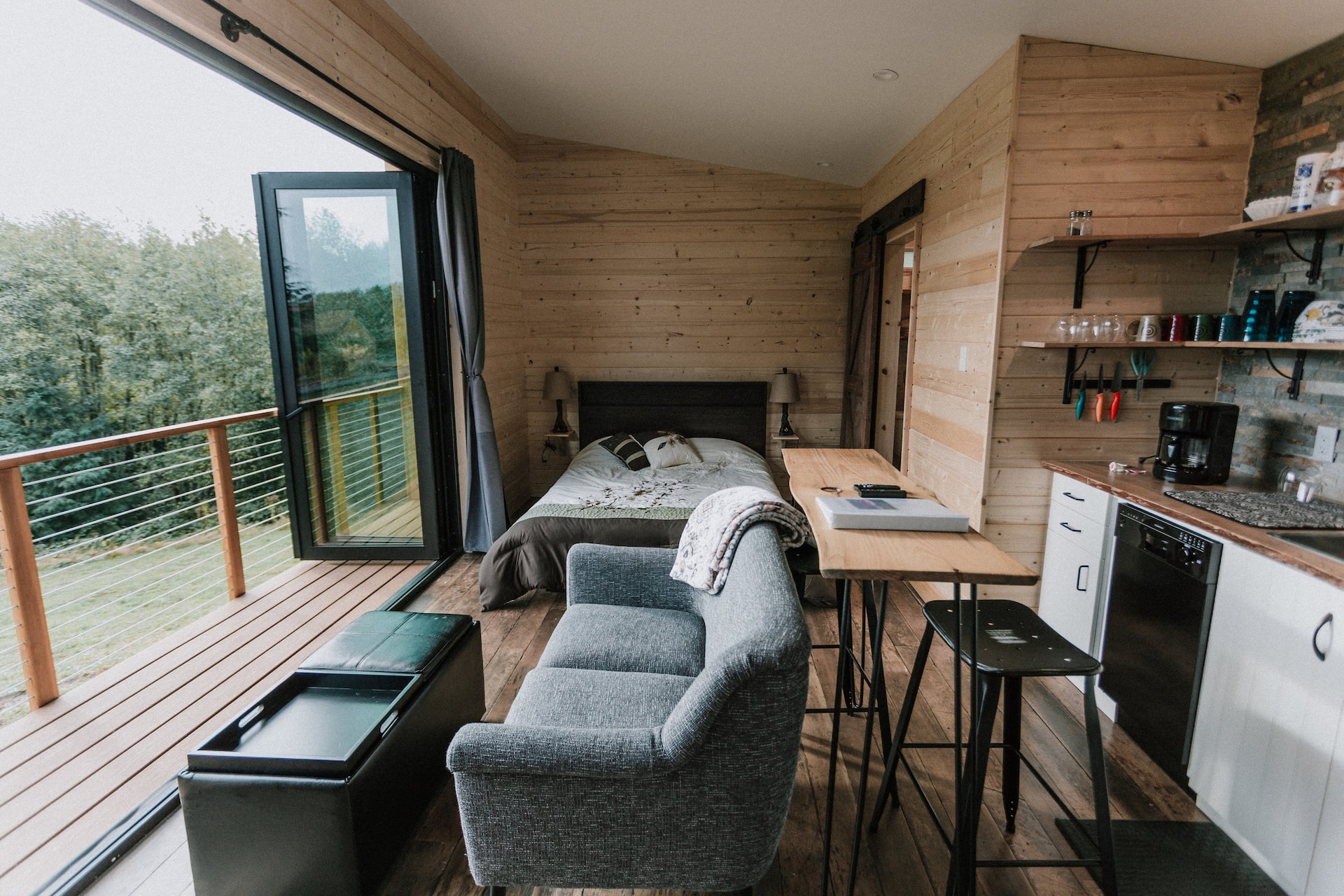 We're thrilled that you've chosen to call the lush forests, imposing mountains, and happening cities of Oregon your home for your next trip. We hope that one of the unique Oregon Airbnb locations from this list will stand out to you.
Whether you're cruising along the Oregon coast, taking photographs of hidden gems, or walking the downtown streets of the major cities, you're sure to enjoy your time in this Pacific Northwest state. Please let us know if you have any questions or comments as you look to choose your next Airbnb in Oregon.