Are you looking for a list of car camping essentials that you seriously won't be able to live without? Congratulations! You've found a compiled list of necessities from sleeping comfortably, bringing a pet along for the adventure, to kitchen must-haves!
Whether you are heading on a road trip to Yellowstone, or heading to the hot springs in Colorado, you'll want to make sure you have everything you need for a perfect trip!
If you're feeling a little stressed about making sure that you have the car packed without forgetting anything, allow us to provide a helping hand before you take off!
What Is Car Camping?
Car camping is exactly as it sounds: camping in your car! It's just like tent camping, only without the tent, but no less of the adventure.
The benefit of car camping versus regular tent camping is that those pesky tent instructions can stay at home! Of course, you can always bring a tent, but for purposes of car camping essentials, you won't find it on this list!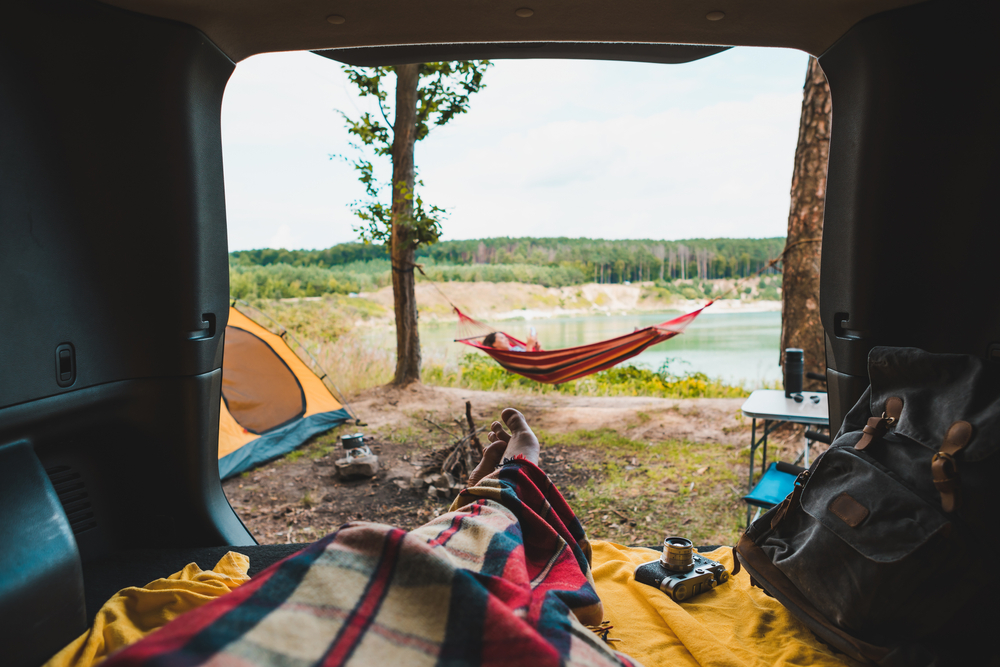 Where Do You Stay When Car Camping?
When it comes to car camping, it's best to plan ahead for where you're going to park your car for the duration of your stay!
A lot of campers want to go car camping in a national park, which who could blame them, the beauty in any national park is worth any trip. It's super important to book a spot ahead of time if you and your camping crew are wanting to spend your trip in a national park.
To plan ahead and book a spot, you'll have to check out the National Park Service website!
But if you're looking for a cheaper and likely more available area to go car camping, there is always BLM land. BLM land is free land that is managed by the Bureau of Land Management. You can park pretty much anywhere within BLM land limits, though just to be safe, our biggest car camping essential is to always look ahead before you head out!
How To Sleep Comfortable In Your Car
The biggest question you probably have right now is what car camping essentials could possibly make it comfortable to sleep in your car? Don't worry! We've got you covered!
At first glance, your car's seats might not seem like the ideal place for a snooze, but with this sleep system, you will be amazed at how your car can turn into the perfect bedroom with a sleeping pad, extra blankets, and extra clothes!
First, you'll want to grab a sleeping pad (or air mattress if your car has the extra room!), and lay out extra blankets for a few reasons.
The extra blankets can help out for any season! If it's hot outside and you won't need the extra layers, you can lay the blankets on top of the sleeping pad for a little extra cushion for the night! The extra padding could provide a ton of relief after a day of hiking!
On the flip side, if it is cold out, the extra blankets will help provide warmth and keep heat. In some areas, the temperature drops extremely low, so you won't want to be caught without covering.
Extra clothes are another thing that can help provide heat by wearing layers (especially jackets and sweaters), or you can use the extra clothes as extra padding or as pillows to sleep!
All the essentials you'll need to pack to pack for car camping will be listed below!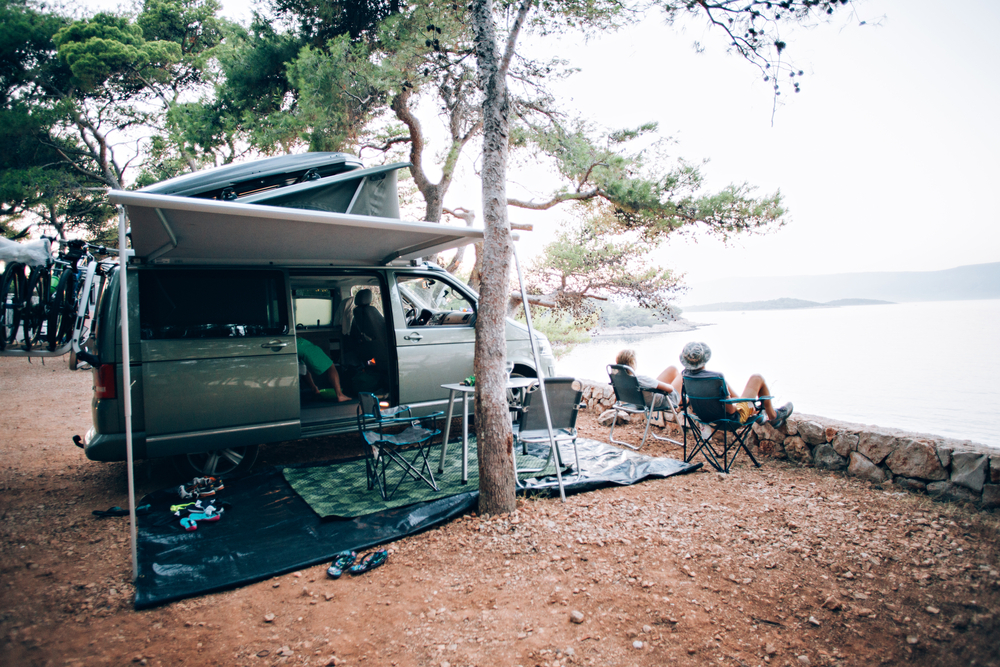 Car Camping With Pets
Of course the best car camping essential we can think of is your pet! The best camping trips are always when a four-legged friend tags along!
When camping with pets, it's always important to research your location before you head out to check their rules and regulations on pets!
Tie-Out Cable
One of the biggest car camping necessities for those four-legged friends is a leash or tie-out cable! Some areas might require you to keep your pets on a leash. The last thing you'd want is to get all the way to your destination and find out your best friend needs to remain leashed!
With a tie-out cable, you'll be able to relax knowing your pet has space to roam while still following regulations, and your arm won't be tired after holding a leash for long periods of time!
Food And Water Bowls
Two major items you'll want to remember to pack for your pet are easy to store and carry food and water bowls! By packing collapsing bowls, you'll be able to save room in the car and they will travel easily for any adventure once you get to your destination!
As for where your pet should sleep, the safest place is WITH you! Sharing your sleeping pad with your pet could provide some extra comfort and warmth throughout the night, and you'll always know where your pet is.
Outdoor Bedding
But if you'd rather your pet have their own space to sleep, no problem! A car camping essential that you'll want to pack for your pet is an outdoor bed!
Whether you bring your pet or leave them at home, there are a ton of other necessities you'll need to pack!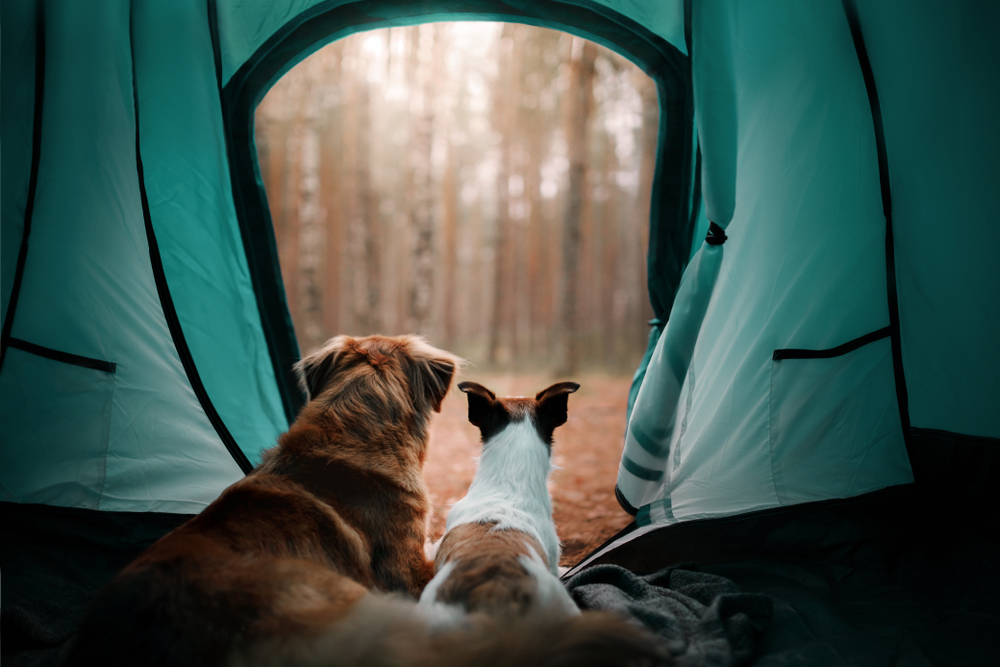 Car Camping Essentials: Sleeping
Sleeping gear is the most important section to our list. Forgetting any of these item may put you at risk of having the worst sleep of your life in your car! But with this list, your car will become your sleeping oasis!
Sleeping Pad
If there's one thing you (and your back!) will immediately add to your list of things to pack and it is a sleeping pad!
Whether your sleeping in your car or you left the car for a day hike overnight, you'll want a sleeping pad to provide cushion between you and whatever surface you might be sleeping on.
This car camping essential is so vital because it could determine how well you sleep your entire trip! Finding a sleeping pad that rolls up or is lightweight will be the best bet at not only saving room in your car, but also an easy carry if you plan to take it hiking.
You won't want to be without one, we can guarantee it!
Sleeping Bag
As with any camping trip, one car camping essential is a sleeping bag!
If you have previous memories of camping growing up, then you'll know packing your favorite sleeping bad was a MUST!
Sleeping bags give an extra layer of warmth and cushion to help keep you warm during the night. There are so many different types of sleeping bags too so make sure to choose one that is right for the environment you will be staying in!
Placed on top of your sleeping pad, a sleeping bag could give you the feeling that you are in your bed at home while being on an adventure.
When looking for the best sleeping bag for your car camping essentials list, it's important to take into account the weather. There are all different types of sleeping bags, some are waterproof, some lightweight if you plan to take it hiking, and some that are versatile during the seasons meaning they work well for hot or cold temperatures!
Investing in a great sleeping bag is one car camping essential that you can't go wrong with!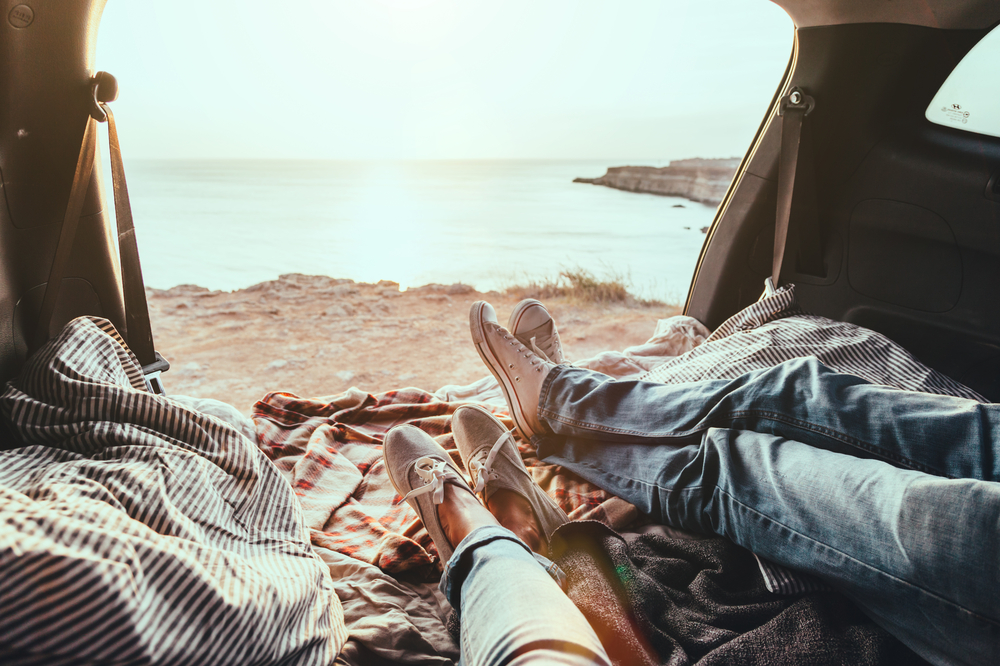 Blankets (MANY!)
No matter where you're camping, or what season it is when you go, nightfall can cause a severe drop in temperature that will make you wish you had an endless supply of blankets.
Blankets are vital for the obvious reasons that you don't want to freeze overnight!
Wool blankets are great because they trap heat and provide maximum warmth and comfort. But if you aren't a fan of wool, there are many other options to make sure you stay warm through your trip!
Depending on the weather where you're headed, you may want to add a waterproof blanket to your camping packing list. If you're planning to take a trip to a rainy part of the world, a wet blanket is the LAST thing you want!
Blankets are a huge necessity that would be awful to forget, and it's never a bad idea to bring them by the multiples!
Sleep Mask
While it might not seem like the first item you add to your packing list, a sleep mask is a car camping essential that your eyes will thank you for!
Your car likely has windows from every angle, which means once the sun rises, you will have the best view of the sun! One way to avoid being blinded first thing in the morning is to have a sleep mask handy!
More than sleeping, a sleep mask will also be a great item to take with you on a day hike in case you want to stop and take a short rest!
A sleep mask will allow you to have the best sleep despite an early sunrise, and it's a small item that won't take up too much room in your car during your trip!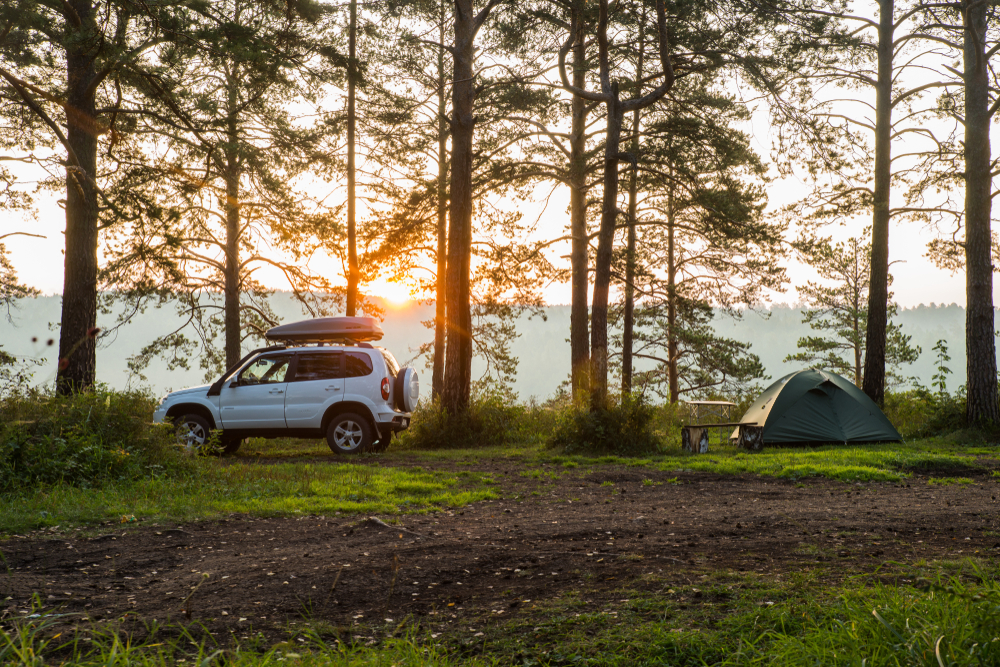 Car Camping Essentials: Kitchen
When it comes to cooking, you'll want to make sure you have everything you need to provide sufficient meals during your car camping adventure!
You won't want to go hungry, and we know granola bars get old after a few days, so let this list help make sure you don't find yourself in a bind during your trip!
Camping Stove and Fuel
There's one item we think will be a must-have on your list and that's a camping stove!
Depending on where you are and the climate, there may be burn bans or droughts in the area that restrict you from lighting a fire on the ground. In the event that this happens, a camping stove is necessary for cooking! If you are living in a van, you may want something more durable like this too!
By getting one with fuel, you're able to cook meals without running the risk of breaking fire regulations, plus a nice warm breakfast to start the day is the best way to gain energy for the day's adventure!
If your trip is an extended stay, make sure to pack extra fuel so that you don't have to worry about running out. Going to get breakfast ready and then realizing you're out of fuel would definitely put a damper on your morning! If you really want to camp like a pro, get a camping fridge too!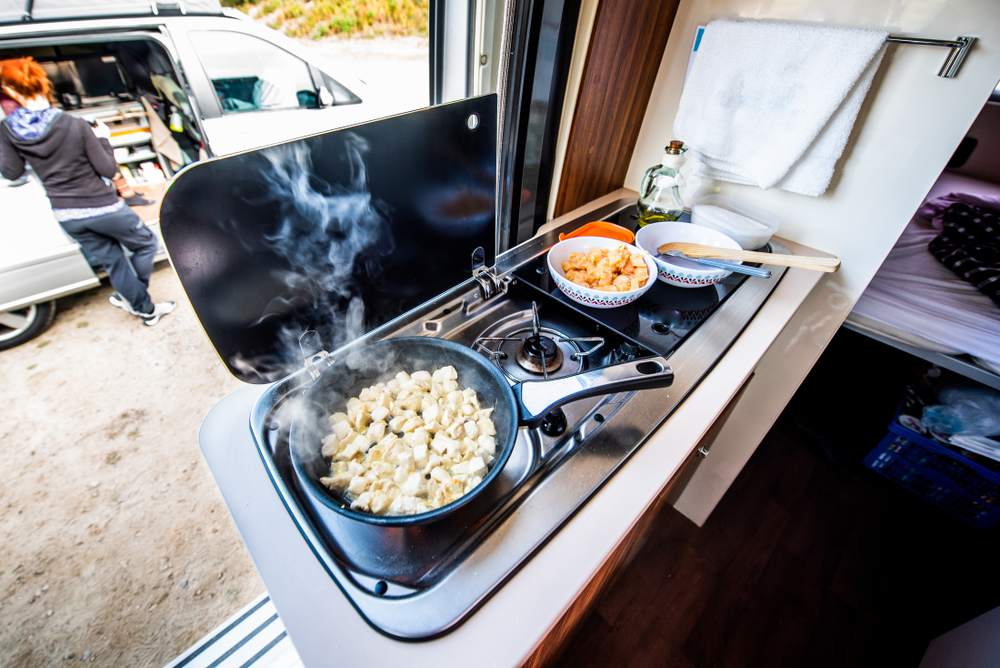 Cooking And Eating Utensils
Another item that we can't live without is cooking utensils!
You certainly don't want to cook hot food with your hands, and some things just need to be stirred! Cooking utensils will make cooking while camping an easy task, and it will keep your hands from touching food especially if you are cooking for a group!
When investing into cooking utensils, it's a great idea to find a pack that comes with everything you'll need including scissors. Plus, by finding a pack, you'll already have a place to store all of the utensils and won't have to worry about where to organize them!
Once the food is ready and it's time to eat, you'll want to add another item to your packing list.. eating utensils!
Unless you're eating something that easily pairs with eating with your hands, having a spork handy is always a good bet!
Trash Bags And Trash Can
The last thing you want to do while car camping is crowd your car with trash and waste from the trip, or worse, leave your trash on the land that you're using for your stay. This is one of the biggest tips for a picnic or eating outside in general!
One car camping essential to get around this issue are trash bags and trash cans! An easy way to deal with bringing a trash can and still having storage and room in your car is to invest in one that is collapsable or easily broken down so that it will take up a minimal amount of space.
Bringing a trash can and trash bags will help keep your car clean and more importantly, the land you are staying on clean! This is one of the best campervan tips!
Coffee And Tea
What better way to jump start your morning than a hot coffee or a hot tea.
Since you've already got your camping stove in tow, one of the must-haves you won't want to leave out a kettle and mugs for you coffee and tea lovers.
The best way to overcome the cold mornings is by holding and drinking a hot beverage, and for some, the coffee and tea could be a good source of caffeine to help provide the energy you'll need for the day!
It's best to find a set that comes in a case or carrying bag so that everything will be together without the risk of losing pieces or misplacing anything! Plus a carrying case will make it that much easier to pack for your trip!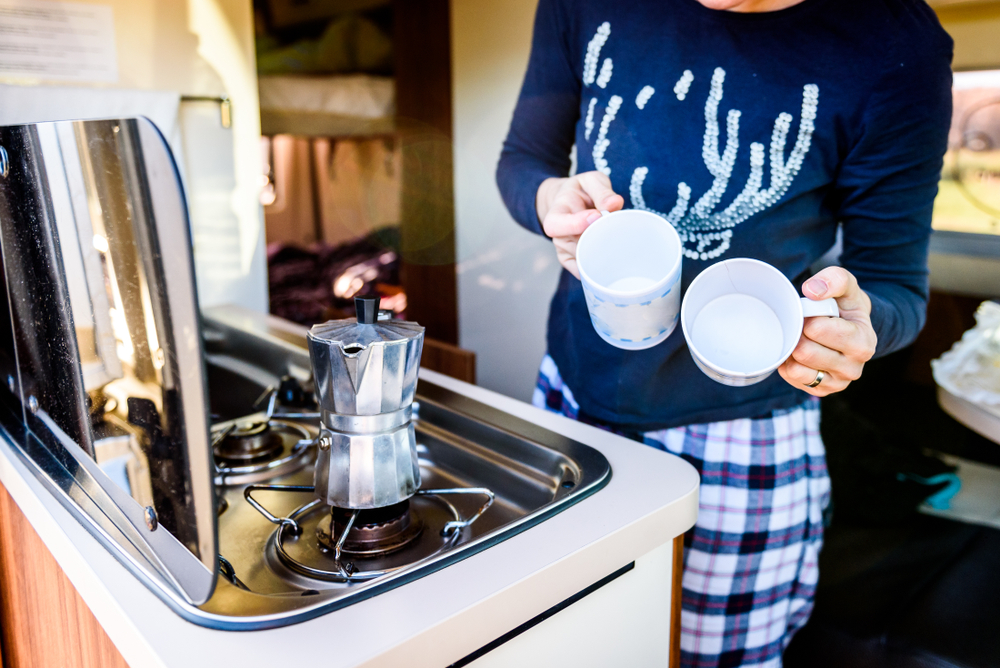 Car Camping Essentials: Toiletries And Showering
Let's face it, you're going to get a little dirty during your trip, after all, you'll be in the great outdoors for the duration of your stay.
There's nothing better than getting clean after a long day of adventure, and we've got a list to help get you through!
Shampoo And Bathing Wipes
One of the car camping essentials that will get you feeling clean during your trip is shampoo!
Packing shampoo is a great way to ensure your hair will feel and stay clean during your trip, without having to worry about all the dirt and grime you might encounter while out.
A great investment for camping shampoo would be one that doesn't need to be rinsed out, and will give you an all day clean feeling even if there isn't a place to stop and shower!
Another necessity to help you feel like you took a luxury shower is bathing wipes! If you're not able to take a full-on shower, but you can feel the day's worth of the outdoors on your skin, having a rinse-free bathing wipe will allow you to get a quick clean without needing a shower experience!
Toilet Paper
This item seems like a no-brainer but we've all experienced a time where toilet paper was left off the list.
You don't want to be caught without toilet paper in the middle of your trip! One easy to make sure you don't run out is to pack reusable wipes so that you can wash them and not have to worry about under or overpacking.
It also helps to invest in the compressed towel options so that they do not taking space in your car! When car camping, you have to keep in mind that you're likely sleeping in the same space all of your stuff will be stored, so your use of space might be limited!
Try not to get caught without toilet paper or you might find yourself in a jam!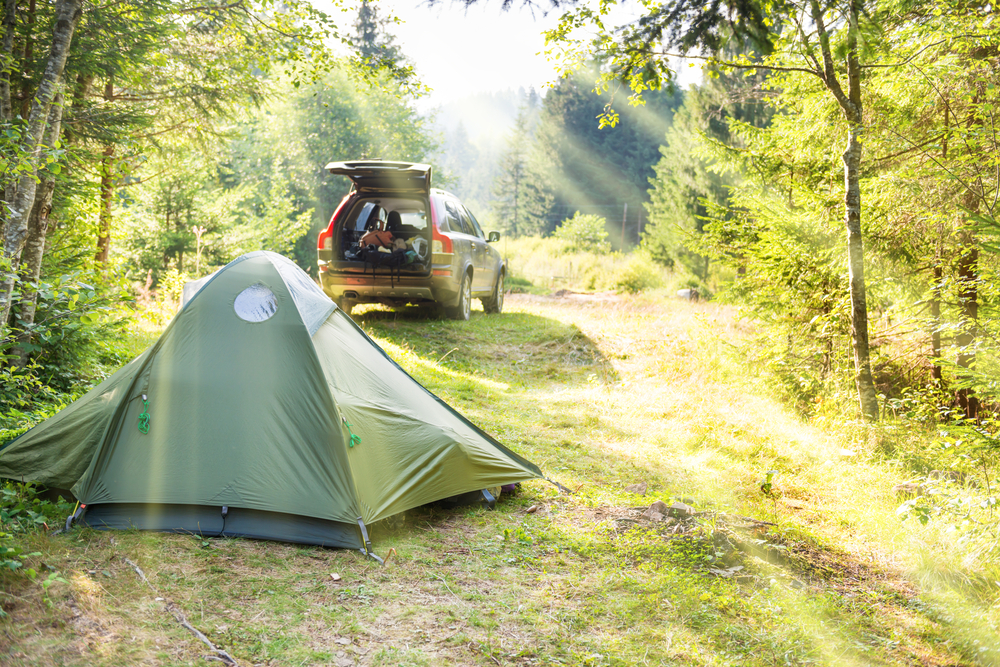 Portable Shower And Towels
One way to ensure you don't have to skip out on that full shower experience is to add a portable shower to your packing list!
Portable showers are a great investment because some are temperature controlled so you're able to select the temperature of your water so you don't have to worry about taking a cold shower!
Even better, some portable showers hold multiple gallons of water so you're able to take a decently timed shower before having to refill the bag!
Another one of the car camping essentials that pairs with the portable shower is a microfiber towel!
By brining a quick drying towel, you won't have to worry about staying wet, especially if it is cold outside! It would put a damper on your trip to have to stay wet during cold weather after taking a warm shower.
Toothbrush and Toothpaste
If there are two items you don't want to leave behind it is a toothbrush and toothpaste!
A toothbrush might not take up a lot of space already, but if you're looking to maximize your space, even more, it might help to invest in a foldable toothbrush that can fit straight into your pocket if need be for those day hiking trips that might turn into an overnight under the stars!
Another must-pack item is toothpaste tablets. While the traditional toothpaste might be your usual go-to, toothpaste tablets are nice because you just pop them into your mouth, do a quick brush, then rinse out! They are likely to take up less space than your regular old toothbrush tube!
While a toothbrush and toothpaste may seem like nothing new, it's important to note how difficult your trip may be without them!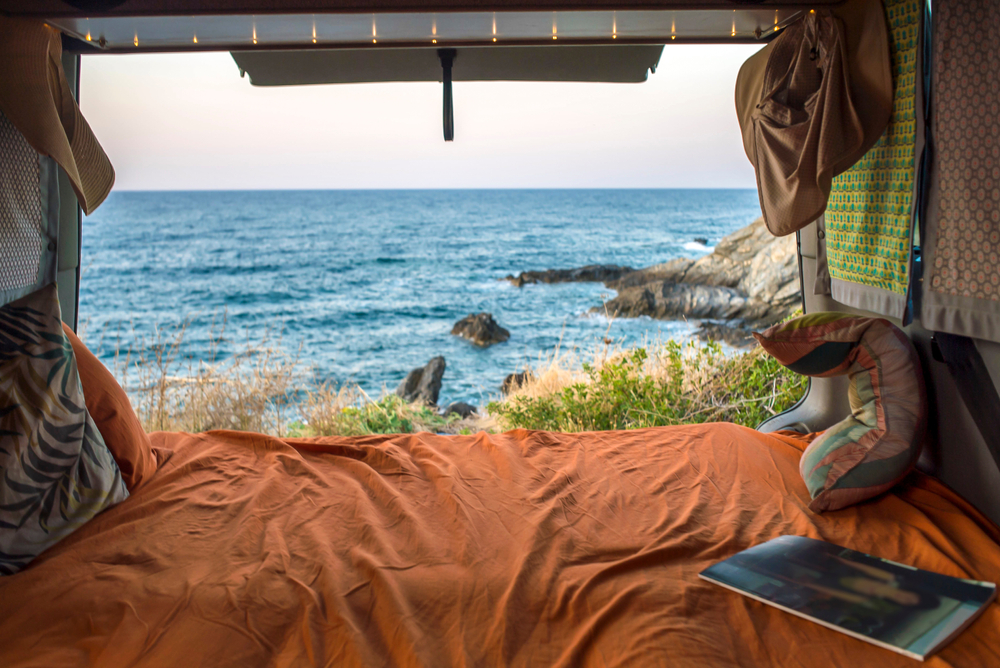 Camping Toolkit Ideas
You never know what sort of situation you might find yourself in during your car camping adventure, so it's best to be prepared!
When things go south, the more you're prepared, the better you'll be able to overcome a situation and get back to car camping with a breeze.
Duct Tape
One of the car camping essentials that you might find useful in any situation is duct tape.
Whether it's a ripped tarp, a hiking boot with a hole in it, or a broken piece of equipment, duct tape can be a quick and efficient fix so that you can continue your trip with ease.
Duct tape is, for the most part, waterproof so truly it can provide an aid for any equipment that might need a little extra support during your trip!
Lighter
You can't go wrong by adding a lighter, so we made it part of our list of things you must pack before leaving for your trip!
You might find yourself unable to start a fire the old fashioned way, so having a lighter will make lighting that fire easy! Plus if you run out of firewood but you have other safely flammable items around, a lighter will help provide you warmth by being able to light other items.
A lighter is also important in case your camping stove doesn't light. You might need to give your stove a little extra support to get it going.
A lighter is absolutely a car camping essential you won't want to forget!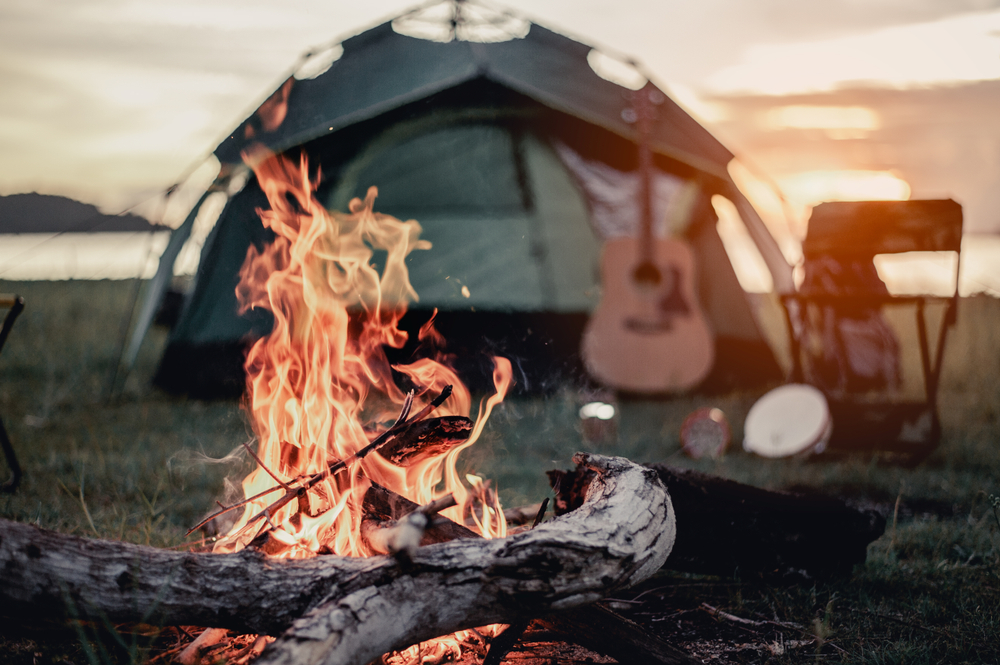 Pocket Multitool
One car must-bring item has everything you might need for any repairs or cutting you might do.
A pocket multitool is the best way to find all of your tools in one place! Some of these multitools have hammers or screwdriver attachments, and most have knifes=.
These are great for your car camping toolkit so that you're able to repair any of your equipment so long as your have the tools to do it!
Plus, having a knife attachment allows you to cut firewood, zip ties, and food!
Water Filter
Being able to filter water is a great way to ensure that you always have safe and clean drinking or cooking water.
Water filters are one of the best items you can pack for your trip! You can find compact travel ones that are great to take hiking and fit in your backpack without taking up too much-needed space.
This will also help you save space because so long as there is a water source where you are, you can leave the plastic water bottles behind and just bring a reusable bottle to fill once you've filtered the water.
Water filters are gold for car camping adventures!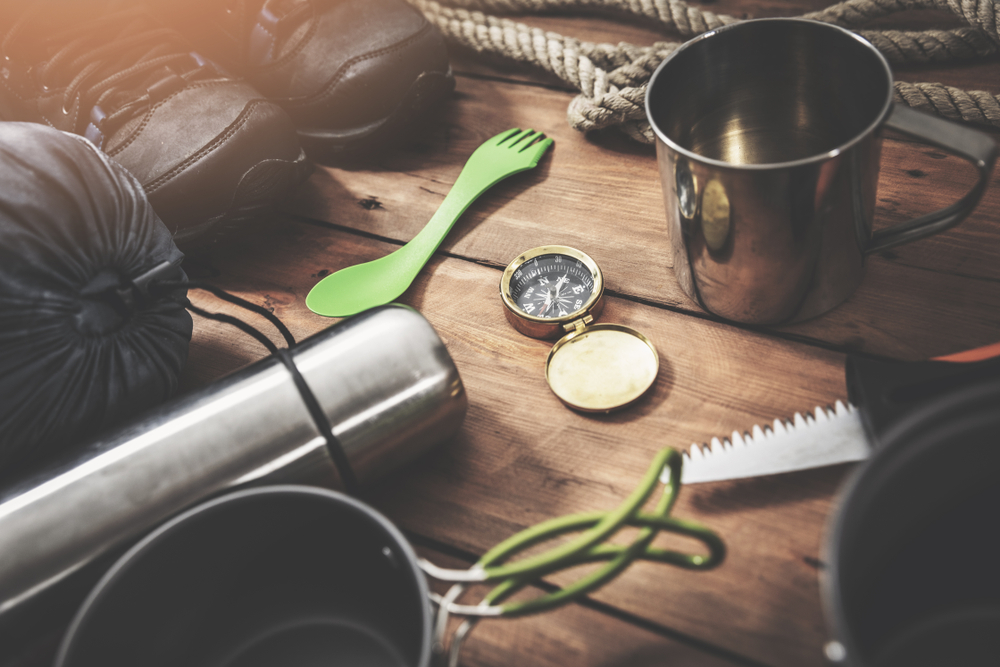 Clothing For Car Camping
Knowing what to wear is one of the biggest pieces of a car camping packing list!
Depending on the weather and the area you are going to stay in, you might need various types of clothing in order to be prepared for any climate. From rainy weather, cold weather, and those hot summer days, it's important not to forget any of these car camping essentials!
Fleece Pants
One way to ensure that you stay warm during the winter is to bring along a pair of fleece pants!
Fleece pants will ensure that your legs stay warm during the winter, or even overnight if you're camping in the summer during those cold nights!
Fleece is a great way to trap in heat and is soft enough that it won't irritate after wearing for long periods of time. Fleece pants are also great to wear while hiking, especially if you find a windproof and water resistant pair!
Rain Gear
Everyone has at least one story of going camping and it raining the whole time you're there! So to make sure you're prepared for that, one of our car camping necessity is rain gear!
If it's going to rain for a long period of time, it might be a good idea to invest in a rain suit. A rain suit will provide protection from the rain and still allow you to move around with ease!
If it's not going to rain the entire time, you'll want to pack a poncho! Ponchos make it easy to stay dry and they are very breathable for ease and comfort.
No matter what, you don't want to be caught in the rain without the right clothing!
Warm Socks
One of our camping essentials that is not only on our list of clothing ideas but are also a great way to stay warm overnight are thermal socks!
Thermal socks will keep your feet warm within your hiking boots during any day adventure. They will also provide comfort and protection in your boot.
You'll want the cushion in your boot after being in your shoes all day!
Thermal socks will also provide you with warmth overnight. Thermal socks will trap in heat so that your feet stay warm during freezing nights while sleeping in your car!
Socks are an item you can't go wrong with!
Hiking Boots
Whether you're hiking the mountains during your trip or just exploring the area around your campsite, you'll want to pack hiking boots!
Hiking boots will provide your feet the optimal protection during your trip. They are durable and meant for the outdoors in a way that most regular sneakers are not.
Plus, they are most likely waterproof so that they will be perfect for any terrain you might find yourself walking through, and they will be comfortable so that you won't fall behind your group while hiking because of sore feet.
Hiking boots are great for any outdoor adventure which is why we've decided they are a car camping essential you must pack!
Extra Essentials For Camping In Your Car
The list of everything you will need won't always fit into one category! Some items are random, but still just as important as the rest.
Make sure to add these to your packing list, believe us, you won't be sorry!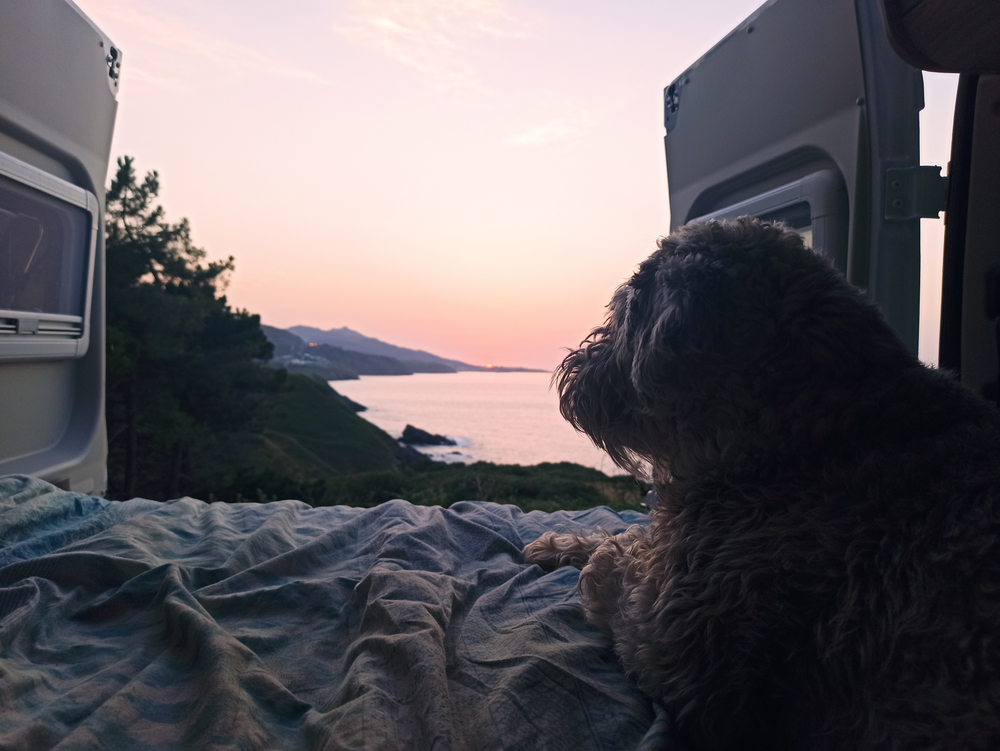 Window Shades
It's important to remember you'll probably be doing a lot of things in your car since that will be your shelter for the duration of your trip. One thing you'll want to think about is how much privacy you'll want to ensure!
Window shades are a great way to create a private atmosphere in your car. If you're going in a group, you might want to create privacy in the car during outfit changes or showering.
Investing in window shades is the easiest way to do this!
Plus, window shades are also a great way to block out the bright sun during sunrise in the morning, allowing you a potential few extra hours of sleep!
Lantern
Once the sun goes down, a lantern will be your best friend!
Lanterns provide a great source of light during the evening and nighttime periods of your trip. If you're camping in the winter, it's a good idea to remember that the sun goes down earlier and you'll have less sunlight than if you were going in the summer.
The last thing you want to do is be stuck without light or have to use your car lights and risk running down your car battery!
Make sure you grab a lantern and some extra batteries so you're never left in the dark!
Dish Soap
One of the car camping essentials that you might not think to pack is dish soap!
You'll be using dishes and utensils for your meals, but you won't want them to stay dirty, and you for sure won't want to use them knowing that they are dirty.
A good purchase is dish soap sheets! These sheets are easily packed and they take up next to no room in your car! By having dish soap sheets, you can rest easy knowing that the spork you're using is cleaned thoroughly!
Dish soap is also a good source for hand soap, so don't forget to add it to your packing list!
Mosquito Netting
There is nothing more annoying than mosquitos!
In order to keep them at bay, you'll want to pack a mosquito netting! By putting up netting, you'll be able to relax outside knowing you want to be swarmed with the pesky bugs the entire time.
If you're sleeping in a hammock for a night during your stay, you can also set the netting up around the hammock so that you are protected while you sleep!
No one wants to spend their entire trip fighting off bugs or with itchy bites!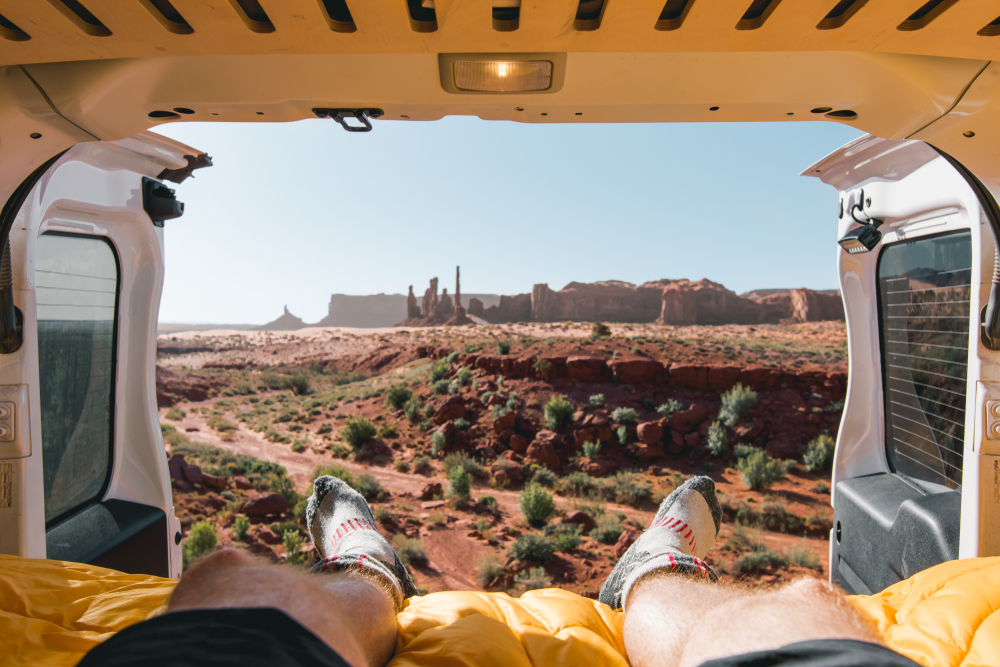 No matter where you're planning on going for your car camping adventure, it's important not to forget any of these car camping essentials.
From pet supplies to everything you might need in the kitchen, we hope this list helps prepare you for your adventure, and that you don't leave anything behind!