Are you on the hunt of the best New Zealand South Island itinerary? Look no further as these are the best stops that you are going to want to drop everything and see! People always have a hard time choosing between North Island and South Island in New Zealand. But you know what, I'll go for South Island any time of the day. And there's a good reason for that, almost all the natural gems are located at South Island compared to the more developed North Island. Today, we're gonna look at the places to visit to include in your New Zealand South Island itinerary.
Whether this is your first time planning a New Zealand itinerary or you are an old pro, these must-see stops should top your itinerary. Some you may have heard of while others may be brand new to you which will make them even more exciting to discover when you are planning your perfect New Zealand South Island itinerary. Make sure to check out this post for the best road trip apps and tools and get ready to see the best of New Zealand!
Please note: This fabulous guest post is written by Wandering Journal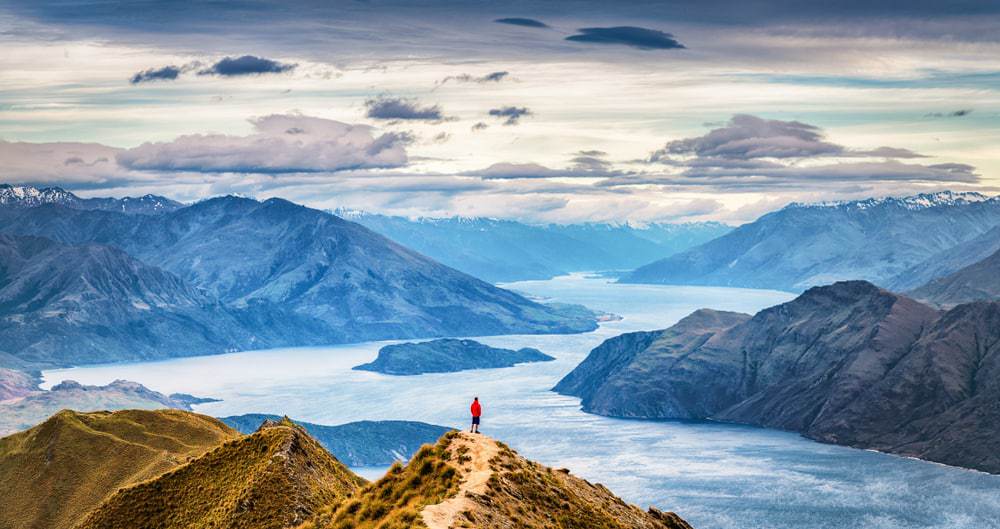 10 Must-See Stops On Your New Zealand South Island Itinerary 
Milford Sound Offers Waterfall Views
Milford Sound, located in Fiordland National Park is truly a legendary paradise for mankind, offering different magnificent views on different seasons. As a result, it is easily one of the best stops on your New Zealand South Island itinerary. Whether you are visiting in the summer or during the off-season, the views are spellbinding and there is so much to see and do.
The best way to visit Milford is by cruising or kayaking. Due to a large number of cruises running here every day, you'll find that the prices are relatively cheap. Kayaking is also an option for those who prefer flexibility but the downside is that you can't explore far from Bowen Falls when of the more popular Milford Sound waterfalls. The peaks surrounding the rivers are ultra-steep, reaching heights over 2000m. When it comes to winter, you'll find green trees at the bottom of those snow-capped mountains. A very interesting thing that happens is when it rains, hundreds of waterfalls will appear in Milford Sound for several hours. Only a few waterfalls, like Bowen Falls, remain flowing throughout the year.
Dolphins also enjoy swimming alongside the cruises, so get your camera ready at all time! It's so heartwarming to see wildlife engaging with humans but be careful not to feed or try and touch any animals during your New Zealand South Island itinerary. The only road that leads to Milford Sound is from Te Anau, which is 2 hours away. Along the way, there are a lot of campsites and attractions which are worth spending some time. Make sure to visit these awesome things to do on New Zealand's South Island!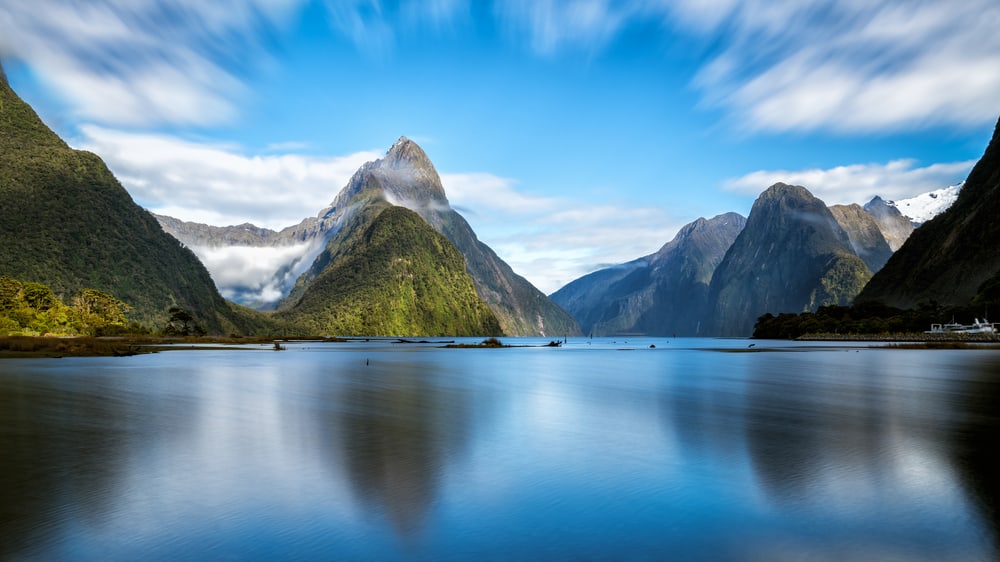 Mount Cook National Park May Be The Most Well-Known Stop On Your New Zealand South Island Itinerary
If you are planning your New Zealand South Island road trip, chances are you may have heard of the famous Mount Cook before. After all, it is quite well-known because Mount Cook is the tallest mountain in New Zealand, with an elevation of 3,724m. There are so many things to do in Mount Cook so you won't be disappointed!
And what's better when there's a national park dedicated to it? The mountains in the national park are breathtaking and worth a stop on your New Zealand itinerary. Before you go, make sure to check out these New Zealand travel tips!
While it is difficult to summit Mount Cook because you'll need a professional expedition team with all the tools and gears, there are lots of tracks/hikes available in the national park. The most well-known track would be the Hooker Valley Track.
It's easy and wheelchair accessible and only requires 3 hours for a return trip. The track spans 10km back and forth, circling through the valley overlooking the surrounding massive snow mountains. It's truly one of the best hikes in New Zealand! 
If you're doing a New Zealand South Island road trip, consider staying a night here inside your car or campervan. Check Campermate for the exact locations of the campsites. The fare would be around $8 per person per night. Be prepared for the bone-chilling temperature when camping here, especially if you're traveling in winter! Make sure to research and pack appropriate clothing depending on what you want to see and do at Mount Cook during your New Zealand South Island itinerary.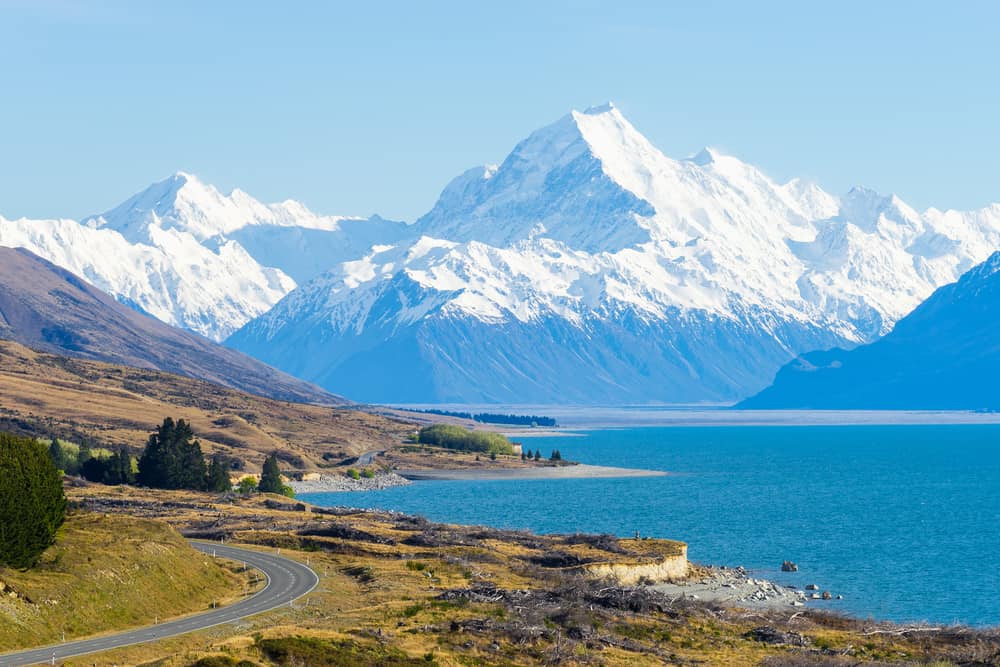 Arthur's Pass National Park Is Majestic But Often Skipped Over
Often missed out in travelers' New Zealand South Island itinerary – Arthur's Pass is the only highway that connects the West Coast and the East Coast at the central region. It's also one of the most scenic driveways in New Zealand. Sadly, many travelers miss out on seeing Arthur's Pass when planning their New Zealand road trip. The best-known landmark of Arthur's Pass National Park is Castle Hill, the filming location of The Chronicles of Narnia. Standing beside those massive limestone boulders will undoubtedly make you feel tiny. This is a unique piece of New Zealand that you certainly shouldn't miss.
If you love hiking, then you shouldn't miss Avalanche Peak too. It's very physically-demanding for some, but can be completed within a day. It's a popular track with a well-marked path so you need not to worry about getting lost. This is also a gorgeous place for sunset in New Zealand! 
The track is closed in the winter, because… The name says it all. If you're driving this New Zealand South Island road trip itinerary during the winter, be sure your car has some snow chains or snow tires because it's a hot spot for car accidents caused by skidding on black ice. It's located at high altitude and pretty vulnerable to heavy snowfall! Just be safe and drive slowly and you should be alright.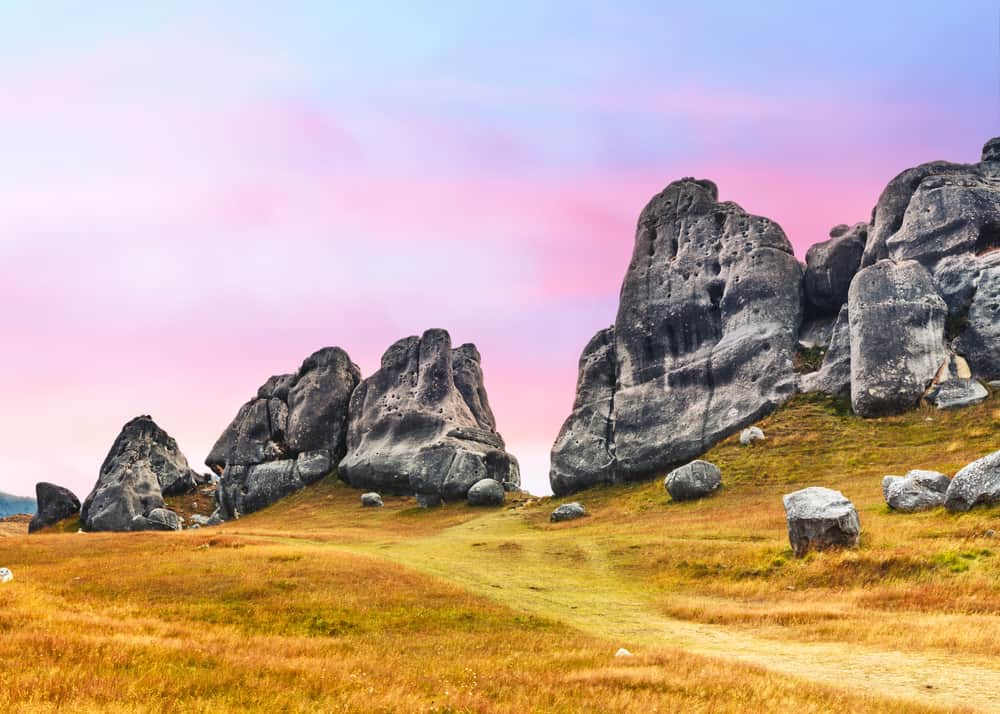 Franz Josef Glacier Is The Most Popular Glacier You Will See On Your New Zealand Road Trip
One of the two most well-known glaciers in New Zealand, Franz Josef Glacier should be in your bucket list right now and should top your New Zealand South Island road trip stops. Why do I say so? Well, the glacier is retreating at a ridiculous speed every year, large portions are gone day by day, and eventually, it will not be offering the same view as your friend sent you several years before. This is truly sad and this is happening to glaciers all around the world, from Alaska and Canada to Iceland and Greenland. If you really want to see glaciers during your New Zealand road trip, make sure to stop at Franz Josef Glacier before it is gone.
There are several operators which bring tourists up to the glacier for exploration using helicopters. You'll be brought to the safest route with the most spectacular views for an unmatched experience. Make sure you book early! If you have never been in a helicopter, it is an incredible out-of-body experience and what better time and place to do that than on New Zealand's beautiful south island?
If you're not planning to explore the glacier by helicopter, then you can visit the glacier by parking your car and walking up to the foot of it. It'll take about 30-45 minutes to walk to the viewpoint on the glacier, though it's still quite far away. If you are planning your New Zealand South Island itinerary on a budget, hiking to the foot of the glacier will be the best option for you. If you have some extra money to spare, the helicopter ride is well worth it!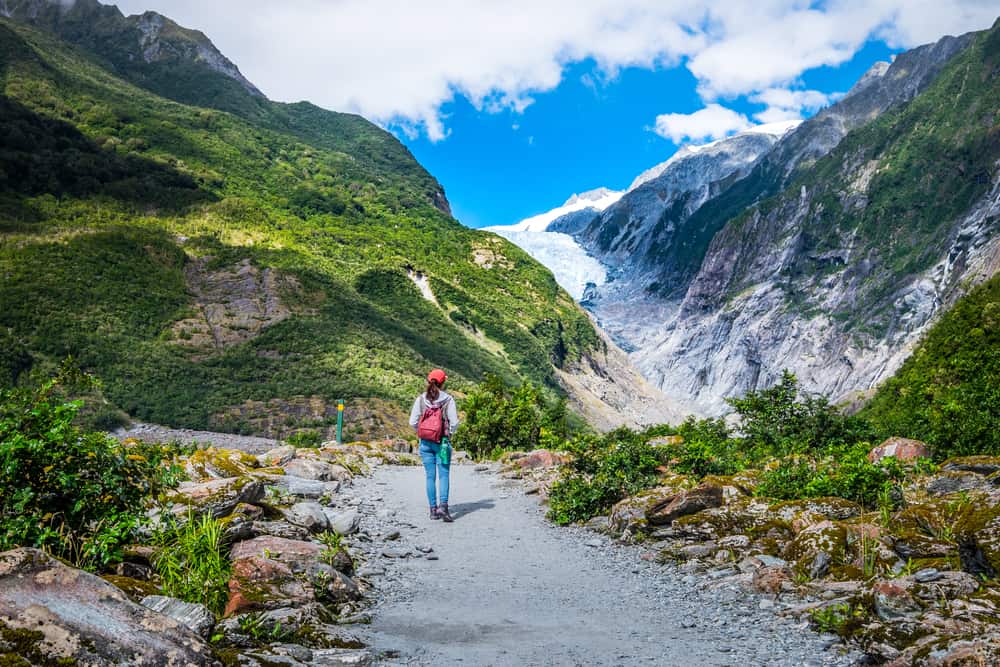 Lake Tekapo Offers Stunning Year-Round Views
Lake Tekapo, a destination enjoyable in four seasons is the right place to be if you're looking for some out-of-the-world vibe. No matter what time of year you are planning your New Zealand South Island itinerary, you will have a chance to visit Lake Tekapo and see some of the prettiest views you have ever seen, and the perfect place to park your New Zealand Campervan Hire!
Arriving at the right season, you'll get to enjoy the vast field of lupine blooming by the crystal clear blue lake. The lupine blooming season peaks around mid-November until early January [remember that New Zealand is in the southern hemisphere!], so take note if you're planning your itinerary now. If you're a fan of astrophotography, like me, then there's one more reason you shouldn't miss Lake Tekapo. With almost zero light pollution in the surrounding, stars powdered all over the sky, almost brightening the dark sky up.
And if you're looking for a perfect photograph of the starry sky, then use Church of the Good Shepherd as your subject! The architecture and size of the church make it the best subject for all photographs in town! Whether you are a lover of nature and pretty views or a serious photographer looking for perfect compositions, Lake Tekapo is a must-see on your New Zealand South Island itinerary!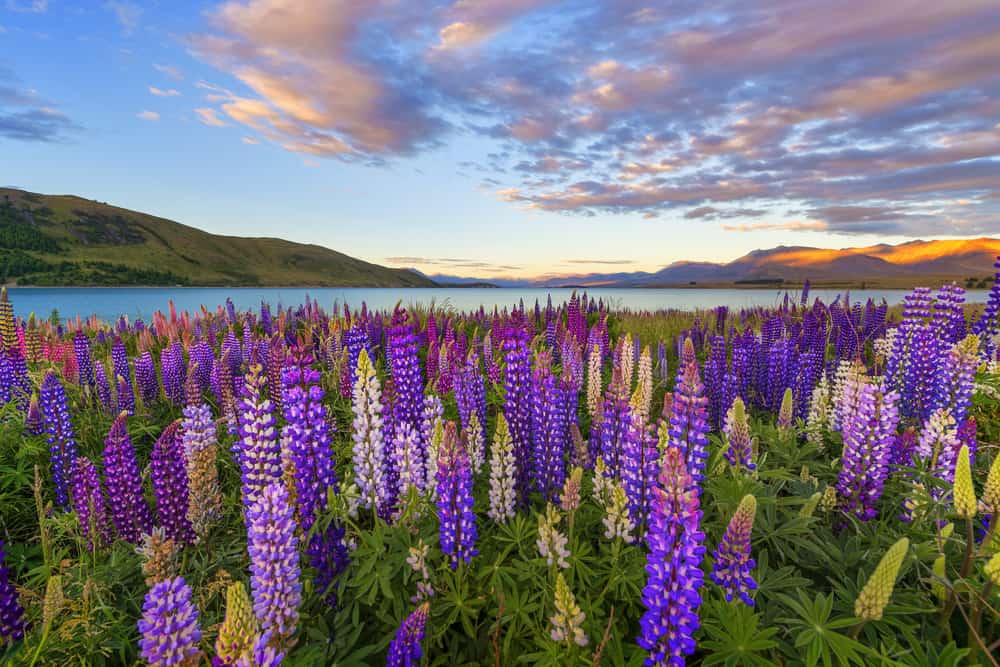 Fox Glacier Is One Of The Best Places To Stay During Your New Zealand South Island Itinerary
I mentioned about two glaciers when I talked about Franz Josef Glacier, this is it – Fox Glacier. Comparing the towns of the two glaciers, Fox Glacier is much more happening and there are more hostels and restaurants around there. It's also rated as one of the best places to stay in the world! If you are trying to figure out where to stay on your New Zealand South Island itinerary and aren't quite sure, you are going to want to make sure you spend the night [at least one!] at Fox Glacier!
If you didn't get to do a helicopter tour at your first New Zealand glacier, there are a bunch of tour operators here offering guided walks in Fox Glacier by helicopter as well. The price range is almost the same, but I would do it in Fox Glacier because I simply love staying in this very town and enjoy the best pork ribs for dinner. If you're up to some adventures, then Skydive Fox Glacier is definitely worth your consideration. It's voted as the most scenic skydive in the world in 2016, and also offering the highest altitude skydive in the country. 16,500ft above sea level drop with 70 seconds free fall! Talk about something memorable to do on your New Zealand South Island road trip! This is something you won't soon forget.
Queenstown Is The Prettiest City On Your New Zealand South Island Itinerary
Residing right next to Lake Wakatipu, Queenstown in undoubtedly the most scenic town on your New Zealand travel itinerary. Hundreds of travelers and tourists flock into Queenstown for the food as well as the views. I prefer Queenstown over Christchurch at any time of the day and highly recommend it as a must-see on your New Zealand road trip. In fact, most people plan their New Zealand South Island itinerary based in Queenstown so it makes a good beginning or end to your trip.
If you're a foodie, then you should be looking for Fergburger or Devil Burger. Fergburger will have longer line since it's more popular among tourists, while Devil Burger is more preferred by the locals. If you have time, try both and compare! Also, don't miss the pork ribs in Flame Bar & Grill, they're the best in the country. Yes, the best, second to none!
Queenstown is also crowded during winter because it's located near the two major ski fields, Coronet Peak and The Remarkables. Fun fact: there are more ski equipment rental shops than convenient stores! If you are planning to visit New Zealand during the winter, keep in mind that hotels and hostels will fill up quickly so make sure to plan ahead.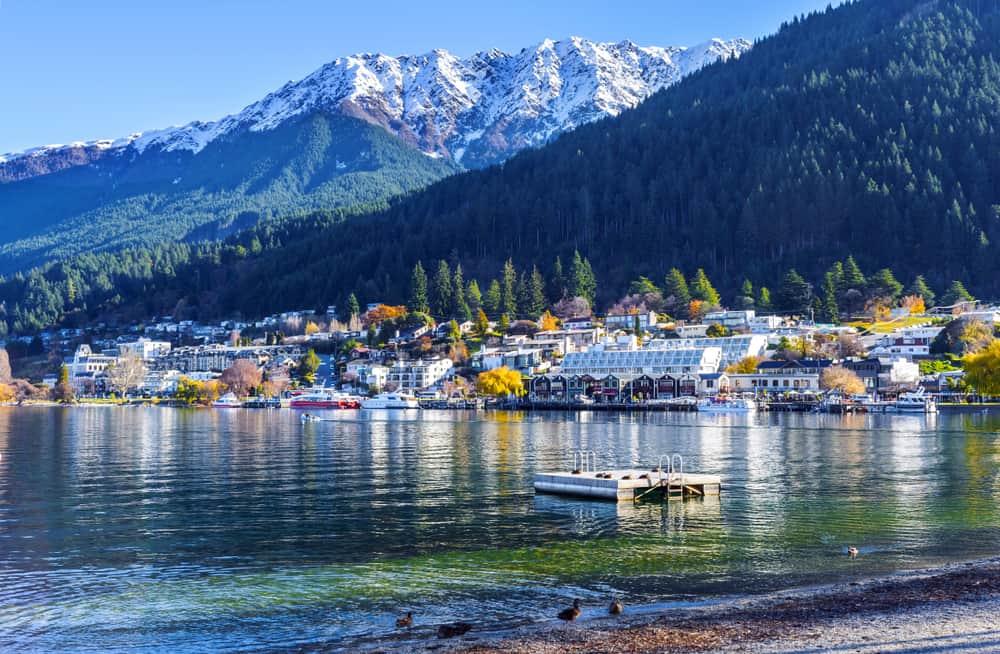 Wanaka Is The Most Popular Ski Town on New Zealand's South Island
The most visited town in winter – Wanaka is the ultimate destination for ski and snowboard lovers. Sometimes it seems like the entire town is completely dedicated to skiing alone. Like Queenstown, Wanaka is also surrounded by two ski fields – Treble Cone and Cardrona Alpine Resort. And you'll find ski equipment rental shops in every corner of the street too. Don't worry though, Wanaka is totally worth a trip any time of year, but it is especially popular during the winter.
You couldn't say you've been to New Zealand South Island without taking a photo of Wanaka Tree in Lake Wanaka. It's a miracle that a tree would grow in the middle of the lake and still blooms every spring season.  Just make sure that you respect the tree and don't try and wade out to get near or disturb it. Simply stand on the shore and take photos.
Looking for some hike? Roy's Peak is the best choice in town. 10 minutes drive away from the town center, you'll reach the parking lot of Roy's Peak. It takes around 4 hours for an average adult to reach the summit in a zig-zag steep path. Up there, you'll enjoy the panoramic view surrounded by snow-capped mountains and two blue lakes. This is easily one of the best hikes on your New Zealand South Island itinerary so if you are up for it, it really will not disappoint!
Like Fox Glacier, there is Skydive Wanaka, which in my opinion, has the best view in the country as you'll be able to see Mt Aspiring, Mt Cook, Lake Wanaka and hundreds of snow mountains and green fields. Wanaka is a fantastic city to use as a base to spend a few nights during your New Zealand South Island itinerary because there is so much to see and do all around the bustling town.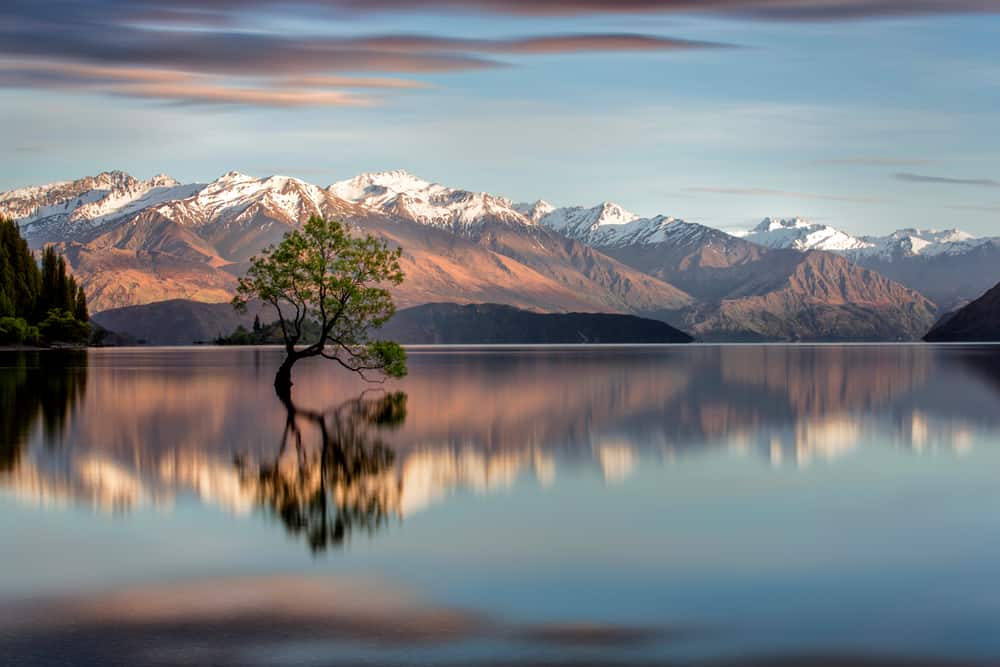 Catlins Forest Park Is An Underrated South Island Itinerary Stop
Catlins Forest Park is an underrated destination in traveler's New Zealand South Island itinerary, because of it's sparsely located attractions. It's home to dozens of picturesque waterfalls in the country. The most well-known one being Purakaunui Falls. Signboards are located all along the highway, so make sure you don't drive too fast or else you'll miss them. It's not commercialized now, so you'll be able to visit everything for free!
There are well-maintained platforms, so bring your tripod if you're planning for some long-exposure shots on the waterfalls. Many of the waterfalls are located just a short walk away from the road, so you can easily access them. This is a great stop along your New Zealand South Island itinerary if you aren't up for 4 hour treks or longer hikes because you can still see the beauty that is right near the road! If this is the first time you have ever heard about Catlins Forest Park, do a little more research and put it on your New Zealand road trip itinerary, especially if you love things that are off-the-beaten-path. You won't want to miss it!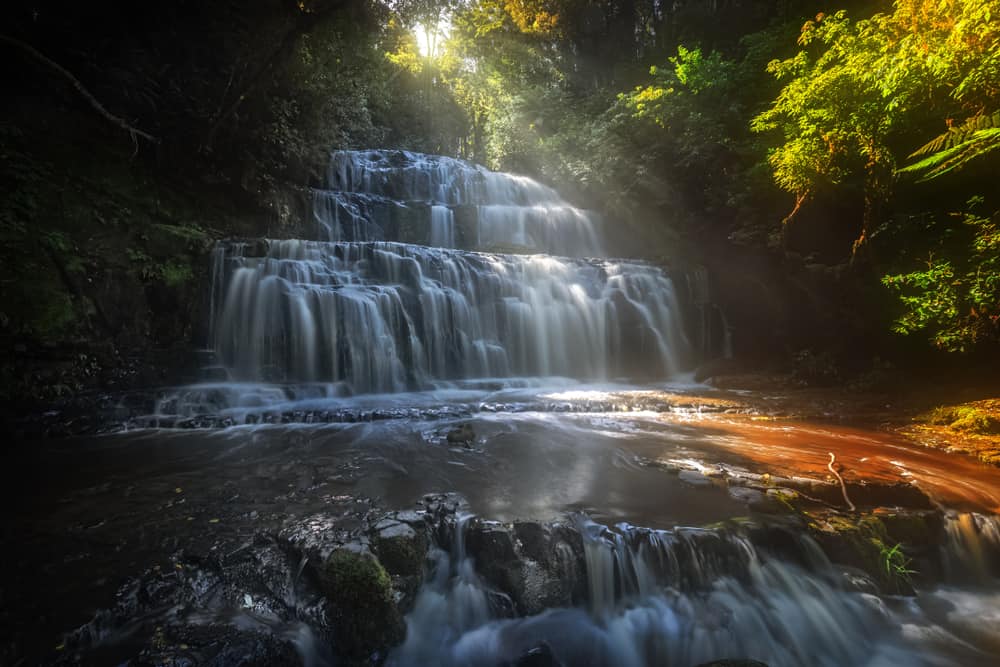 Golden Bay Is The Must-See Gem Of The North
Not sure if you noticed, but the attractions I've mentioned are all at the southern region of South Island. What about the northern side? I got you covered. Golden Bay is the northernmost part of the South Island of New Zealand. You might have seen the Archway islands of Wharariki Beach somewhere on the internet, but if not you are in for a real treat. It is less crowded that the southern part of South Island so it is a more intimate experience.
It's best visited if you have your own car because it's easier to navigate around with GPS during this stop on your New Zealand South Island itinerary. The attractions are far away from each other compared to other destinations on this New Zealand road trip suggestions, but you will be able to get between them with ease if you have your own vehicle. Pay a visit to Farewell Spit as well, home to numerous whale carcasses and bones and huge flocks of birds. Take the tour if you're interested to explore this area further because you'll not be able to enter without a permit. Although this is one of the more far-flung stops on your New Zealand South Island road trip itinerary, it is well worth the visit!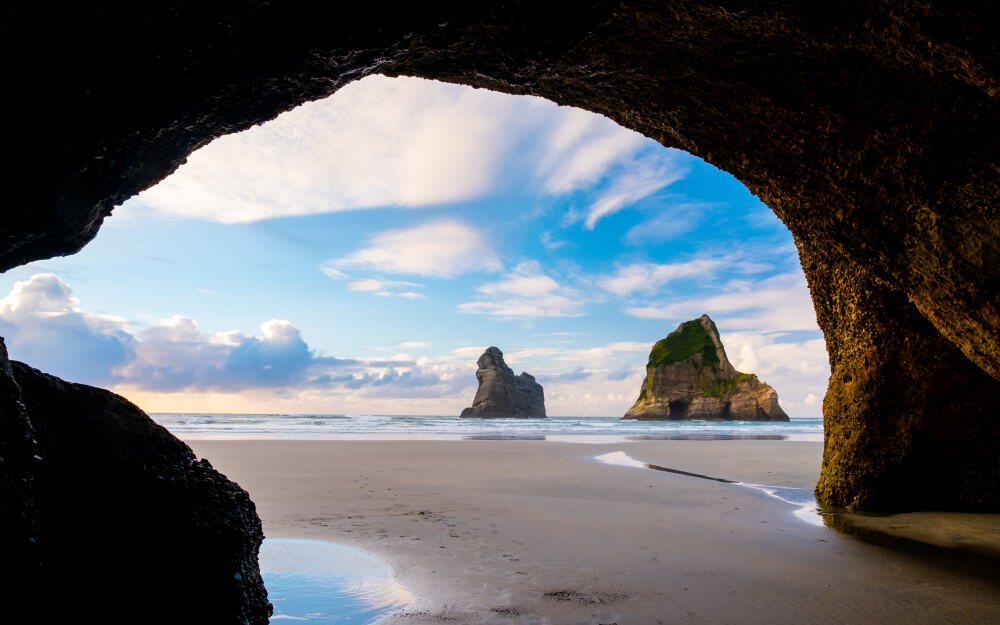 These are the 10 must-see stops to include in your New Zealand South Island itinerary. If you are currently in the planning stages, make sure to bookmark this post and save the names of these locations so you can do a little more research on your own! You won't want to miss them when planning the perfect New Zealand road trip itinerary. There is so much to see and do and you are sure to have a great and memorable time. Feel free to comment below about your thoughts. Hope you enjoyed reading and happy traveling!
About The Author: Yen from wanderingjournal.com is a full-time university student who always takes full advantages of his holidays to travel for new experiences. He's been to New Zealand for Working Holiday before taking his road trip, volunteered in Kathmandu, Nepal and exchanged in California along with several backpacking trips through Southeast Asia. Having spent months in foreign countries, he gives in-depth travel tips and guides in his travel blog, Swing Abroad.
Pin this post: