Wondering where to see the best areas for fall in Tennessee? It's a mystery no more! Fall in Tennessee is a top experience that people flock to the state for every year. Vivid colors line the roads and highlight the Smokey Mountains, providing sights for all ages and all visitors.
Oranges, yellows, and reds scatter across mountain ranges, highlight small towns, and give the state a unique view. Along hiking paths and roads you may also be able to find the best spots to see fall foliage in Tennessee– they may even be hidden in between the views of waterfalls and other breathtaking sights! The bright foliage truly rivals any other state, making Tennessee a top spot to visit in autumn.
Tennessee truly hosts a variety of quality and unique locations that are best for seeing fall foliage. We are here to list twelve of the best places to see these fall colors, that way you don't miss these breathtaking sights while exploring this great state and the iconic Smokey Mountains! It is truly one of the best places to see Fall Foliage in the USA!

12 Best Places to See fall Foliage in Tennessee
1. Clingman's Dome
Clingman's Dome is a mountain in the Great Smokey Mountains of Tennessee, reaching 6,643 feet. This means that this is the highest point in the Great Smokey Mountains National Park, making it one of the best places to see fall in Tennessee, as the foliage really starts to become bright and blossom at 4,000 feet in elevation.
On clear days, the views on the top of Clingman's Dome exceed 100 miles, but be prepared for some clouds, precipitation and cold temperatures too. Just know that it is this weather that makes perfect conditions for the coniferous rainforest that provides the fall foliage in Tennessee!
The Clingmans Dome Observation Tower is also open year round, and the road up to it is about seven miles, but this road has great scenic views of ridges and valleys along it. The road will end about 0.5 miles from the trail that leads to the summit, and this is a steep trail but we promise it's worth the hike! Known as the Highpoint of the Great Smokey Mountains, this is truly one of the best spots to see fall colors in Tennessee.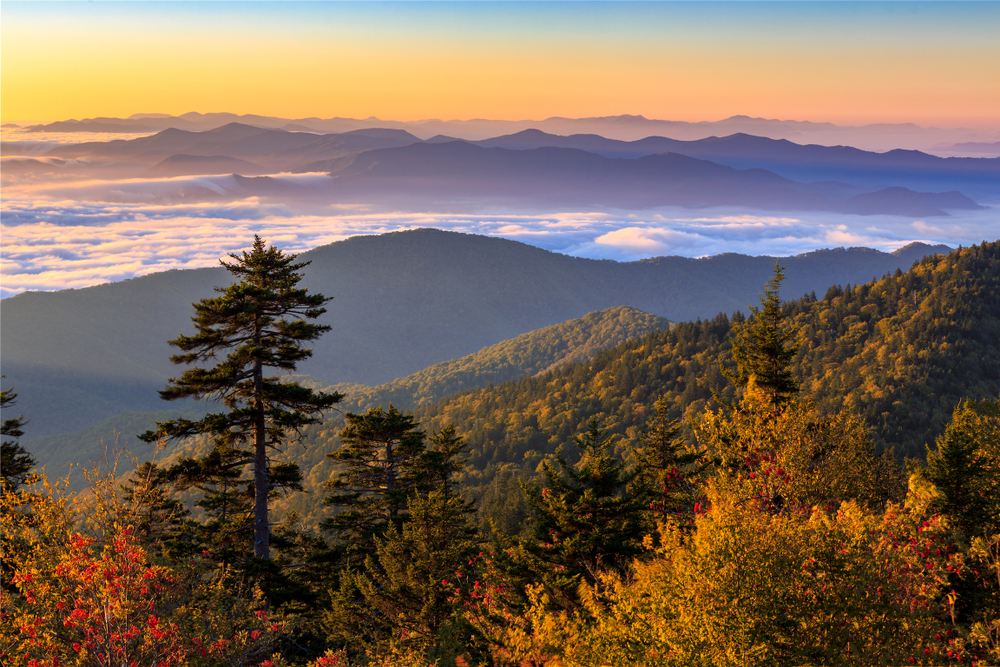 2. Falls Creek State Park
Falls Creek State Park is well over 26,00o acres, making it one of the largest areas in the state where you can see the fall foliage in Tennessee. This park is centered around the upper Cane Creek Gorge, which is known for its unique geological formations and scenic waterfalls.
This park encompasses rugged cascades and gorges, as well as lush forests of timber and the famous Fall Creek Falls, which stands at 256 feet, making it perfect for experiencing fall in Tennessee: here you will truly encompass the perfect combination of nature and views, and you can even stay in the park to really immerse yourself!
Falls Creek State Park is home to over 30 cabins and 222 campsites, making it suitable for visitors. There is a variety of trails (over 56 miles in total!) available for all ages and abilities, and the Nature center at Fall Creek offers hands-on education and programs that are great for families and can really add to your experience of witnessing fall in Tennessee with campfires, games, arts and crafts, and musical entertainment.
For more information feel free to explore our Tennessee road trip article ! Maybe you can hit the road while experiencing the smokey mountains in the fall on a road trip!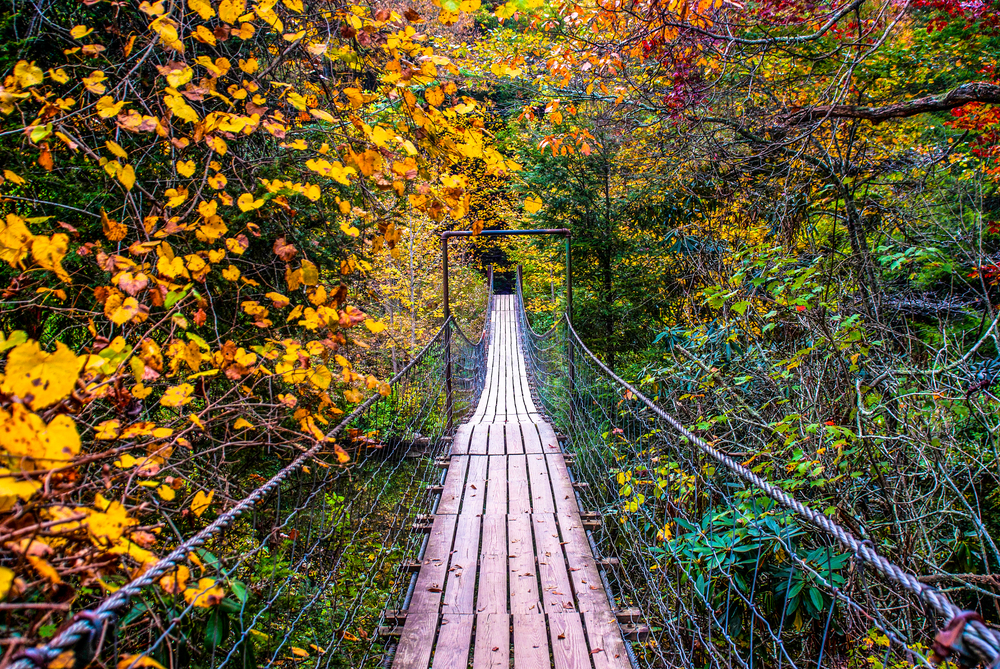 3. Bays Mountain Lake Park
Bays Mountain Lake Park is a 3,500 acre nature preserve located in Kingsport, Tennessee. It is the largest city-owned park in the state, and people flock here all year around to explore the 38 miles of trails that are suitable for hiking, running, sight-seeing, and mountain biking.
The park also features a 44 acre lake, and a nature center with a state-of-the-art planetarium theatre. Families visiting may also love the animal habitats that feature wildlife such as wolves, bobcats, raptors and reptiles.
There is so much magic at the Bays Mountain Lake Park year round, and this is only amplified in the fall. Seeing the fall foliage in Tennessee is always breathtaking but the 39 miles of trails in this park contrasted with its large lake and open skies makes it a breathtaking experience: you don't want to miss this!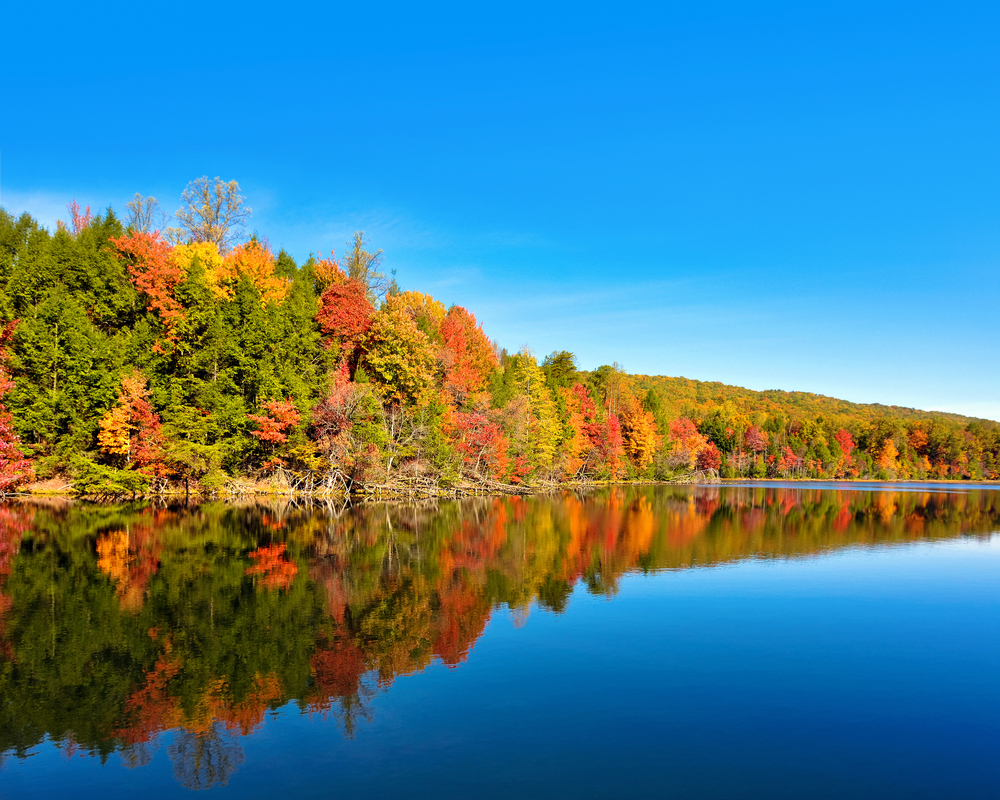 4. Gatlinburg
Gatlinburg is the perfect getaway for immersing yourself in fall in Tennessee. This mountain town is known as the gateway to the 520,000 acre Great Smokey Mountains National Park. Its attractions offer sweeping views of this park. These attractions, like the Space Needle observation tower and Sky Lift, are made for witnessing all of the fall foliage!
Staying in Gatlinburg is truly ideal, with its cabins and mountain vibes. It is the perfect small town for any family, and when you aren't enjoying fall in Tennessee outdoors, you can check out fun and cute indoor places such as the Salt and Pepper Shaker Museum, Ripley's Moving Theatre, and a Marvelous Mirror Maze.
Or if you do really want to experience the fall foliage outdoors, make are to check out white water rafting, an outdoor family theme park, hiking tours, and a mountain side coaster that takes you through the curves and winding edges of the gorgeous mountains! This town is full of adventure, and you'll really want to spend some time here. For more information check out our post on 20 things to do in Gatlinburg! We promise you won't regret it!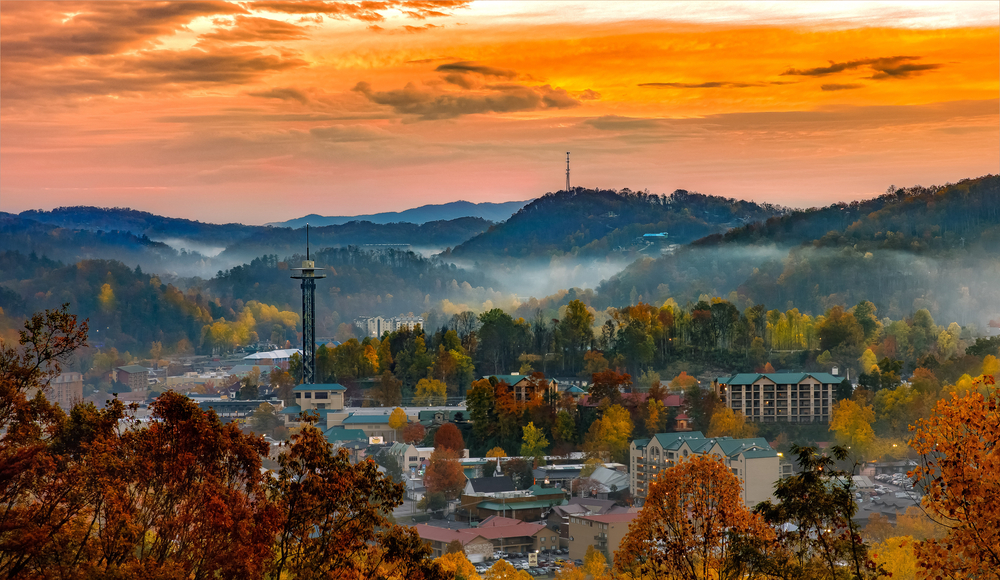 5. Roan Mountain
Roan Mountain stands at 6,285 feet, making it the perfect elevation height for stunning views, especially during fall in Tennessee. At its base is Roan Mountain State Park, which encompasses over 2,000 acres fo the Appalachian forest.
This park (and the mountain itself) is known for its wide range of outdoor activities that let visitors explore the creeks, ridges, and more. Rich hardwooded forests provide nice shade and the perfect place for fall foliage every year!
Guests have also loved to swim, tour farmhouses, and participate in educational programs at the foothills of Roan Mountain. The hikes surrounding the foothills can easily be accessed and are over 12 miles in length, with 2.25 of those miles being cleared for biking trails as well! This mountain and its park are fill of wildlife, wildflowers, and are always ready for something to be discovered, so what better time to discover it than when the beauty of autumn kicks in?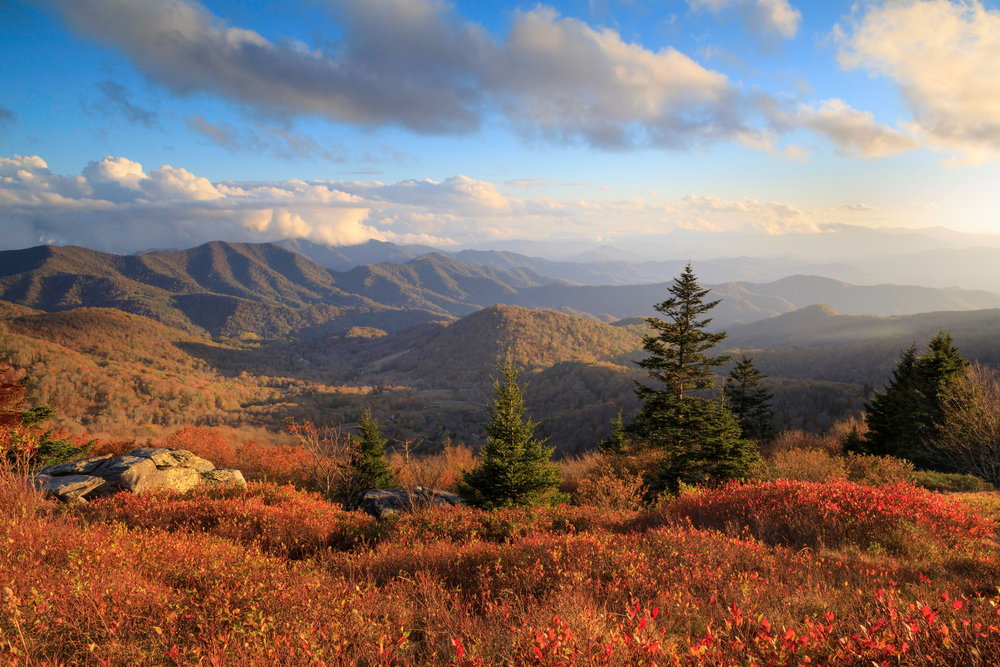 6. Pigeon Forge
Pigeon Forge is famous for being a vacation town in eastern Tennessee, home of Dollywood, and its prime location to the Smokey Mountains. Visiting Pigeon Forge is always worth a trip, especially if you can sneak in a chance to see the fall foliage while spending some time here.
At Pigeon Forge you are in for some great family fun with iconic museums, entertaining shows, musics, and even more outdoors adventures. From feeding birds at the Parrot Mountain and Gardens, to enjoying Little Pigeon River, or exploring the Forbidden Caverns, you won't find a dull moment outdoors. In fact, we highly recommend riding the Smokey Mountain Alipine Coaster to really experience the outdoors and fall in Tennessee: can you imagine flying by all those stunning colors on the mountain side?
Don't forget that there are great indoor stops at Pigeon Forge too, including the Christmas Place, the Elvis Presley museum, aquariums and more. But no matter what you decide to do in Pigeon Forge, we promise you will enjoy this all American town. And if you need more tips, check out our article on the fun things to do in Pigeon Forge!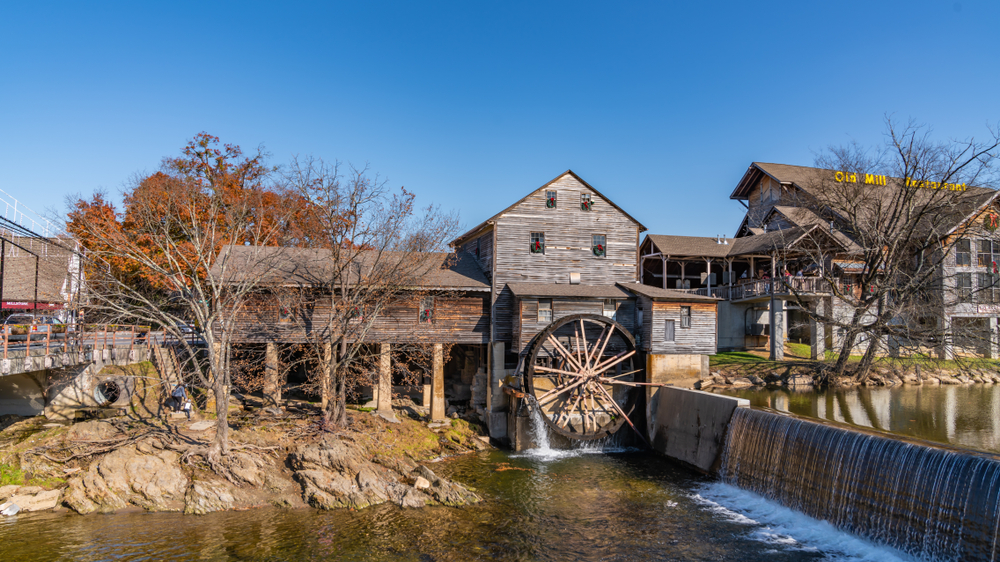 7. Newfound Gap Road
Newfound Gap is a mountain pass located right int he middle of the Great Smokey Mountains National Park and the southern Appalachian Mountains. This scenic drive can take from anywhere between 60-90 minutes to complete, depending on traffic and how many times you stop to get out and admire the fall foliage in Tennessee of course.
This is the lowest drivable pass is elevated at 5,046 feet. It travels between the Sugarlands Visitor Center near Gatlinburg, goes over and up the mountains, and stretches into Cherokee, North Carolina for a total of 31 miles.
By driving this, you will be traveling through woodlands that include pine-oaks, evergreen spruces, and cove hardwoods. Mile markers line the road and locate different sights such as Mingus Mill incase you want to stop the car and explore. If you do so, be prepared for some cooler temperatures due to the elevation, but we promise this is worth it! The scenic overlooks are once in a lifetime, and this is one of the locations to truly experience fall in Tennessee if you want to witness all those colors for autumn.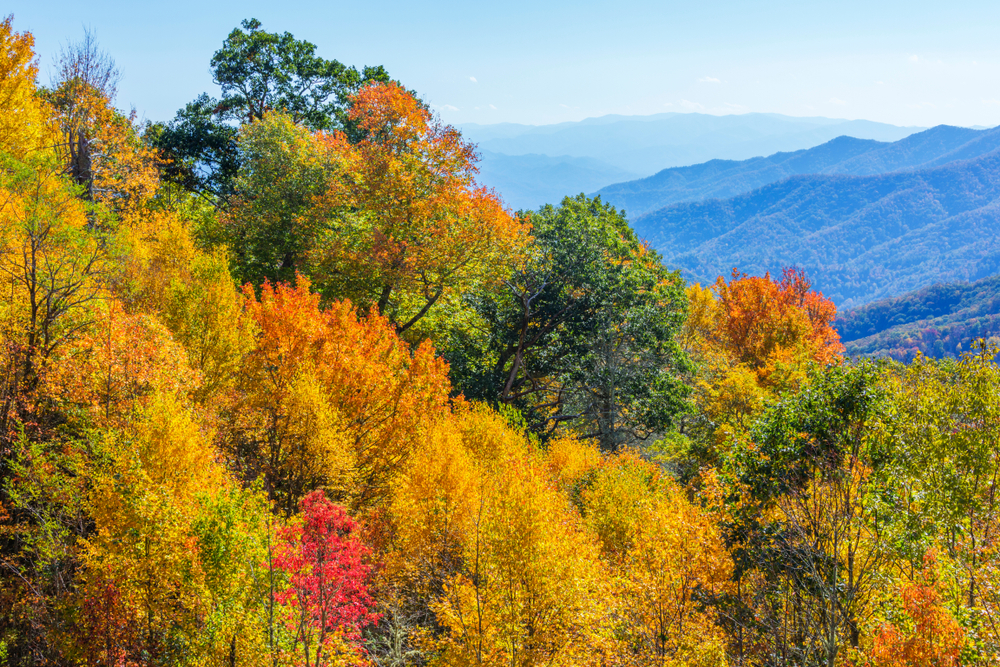 8. Cades Cove
Cades Cove is a valley surrounded by the Smokies. It is one of the most popular destinations of the this area as it offers some of the best opportunities to witness wildlife exploring the region. Many visitors have seen white-tailed deers, black bears, coyotes, turkeys, ground hogs and more here.
Numerous trails originate in the cove itself and can take you on different adventures: the five-mile roundtrip to Abrams Falls is probably one of the more popular ones to explore! You can also drive along the Cades Cove Loop road, which offers motorists a chance to circle the cove for 11 miles at a leisurely pace.
But whether you are walking to falls, admiring wildlife in the trees, or circling the loop in your car, you want to stop at Cades Cove during your fall visit in Tennessee because this fall foliage is a breathtaking sight that only few can see. Stop by and take it all in!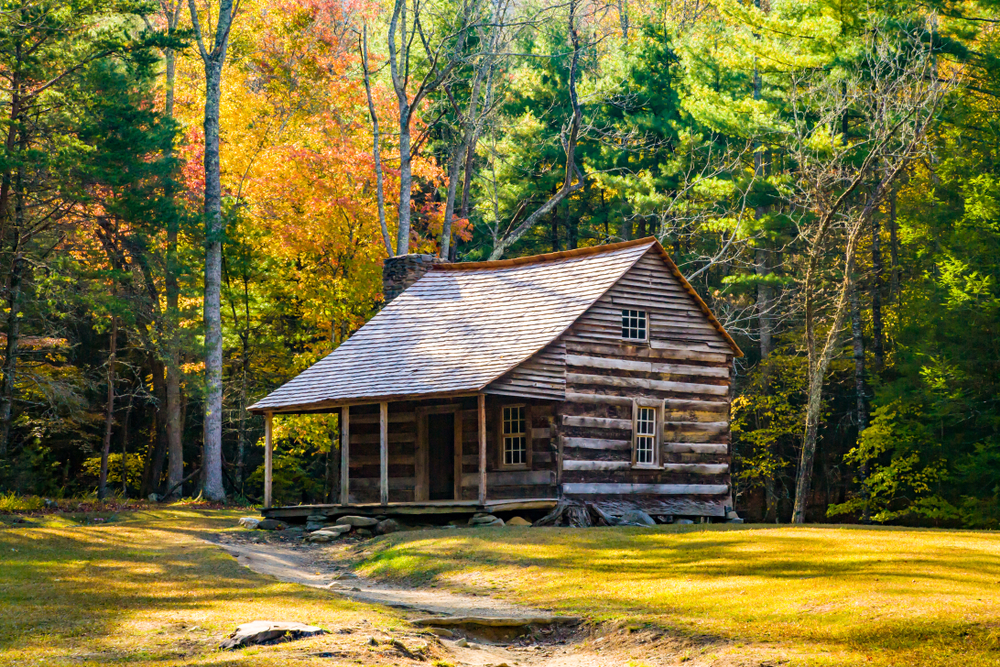 9. Roaring Fork Motor Trail
Roaring Fork features two of the most popular waterfalls in the Great Smokey Mountains National Park. There is the moderate level 5.4 mile hike to Rainbow Falls that is known for its 80-foot tall waterfall that drops into the park. The Trillium Gap Trail leads to 25 foot tall Grotto Falls, which features more visitor activity because you can walk behind the wall of water as it cascades to the ground.
Both of these falls, and the hikes to the parks themselves, are breathtakingly beautiful. And don't forget to check out the Place of a Thousand Drips while you're here too: chase all these waterfalls– we promise they are worth the visit, especially during Fall in Tennessee! Can you imagine that water contrasted with that fall foliage?
And while you're exploring Roaring Fork, don't forget to get some history lessons! The old cabins, barns and working tub mills in this park have been preserved and restored. You can even check out the working tub mills that are still producing honey– it's super sweet!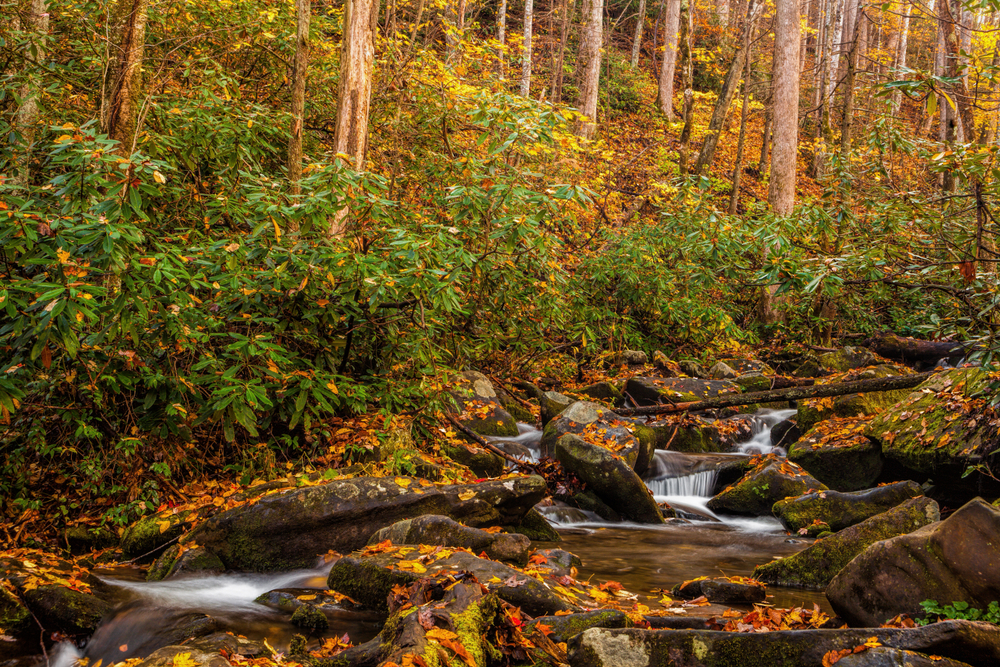 10. Lookout Mountain
Lookout Mountain is jus minutes from downtown Chattanooga in Tennessee, making it the perfect destination for an experience of natural wonders. In fact, Lookout Mountain is known for its three world-famous attractions that show the historic and natural beauty of their views. Can you imagining visiting this in fall in Tennessee?
When visiting, you can discover adventure at a variety of places. Start with Ruby Halls, where you can explore the tallest and deepest UNDERGROUND waterfall that is open to the public. After, you can trek through Rock City's to see breathtaking views 1,700 feet above sea level. The lookout here gives you a birds-eye-view you don't want to miss, and some cali you can even see seven states from here!
Finish up your adventure at Lookout Mountain by boarding the Incline Railway. This is known as "America's Most Amazing Mile" as the railway takes you up to a historic lookout on the steepest passenger railway in the world. While this is a Historic site and. Mechanical Landmark, it is the views you don't want to miss while trekking uphill!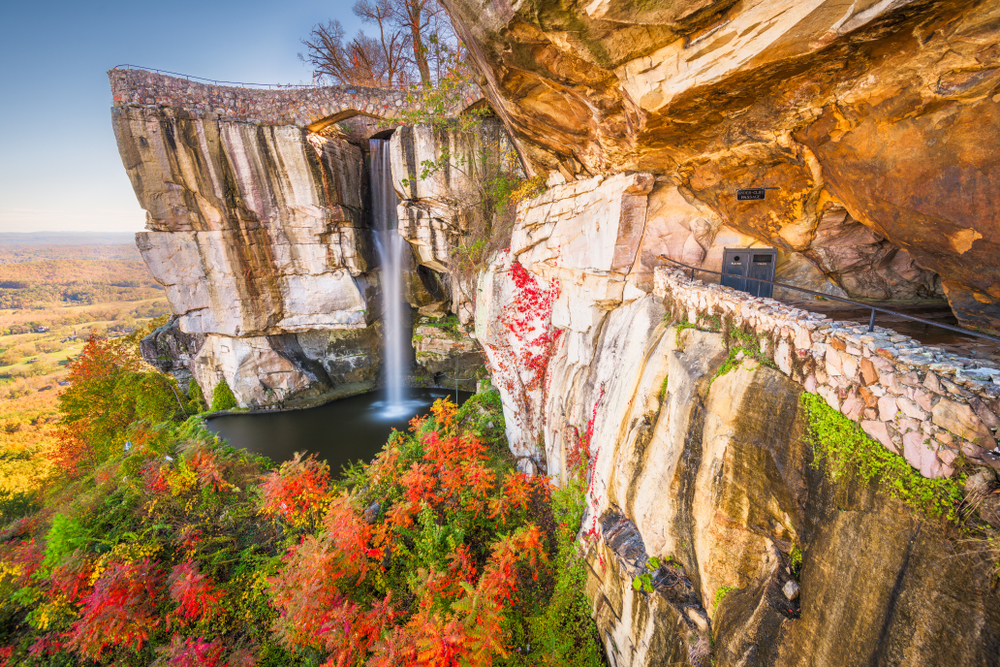 11. Big South Fork National River
The Big South Fork National River and Recreation Area protects its river, plateau, and tributaries. The area is composed of miles of scenic gorges, sandstone bluffs, and other natural features that make it a must see stop when wanting to experience fall in Tennessee.
There are a variety of outdoor adventures and programs you can participate in at this recreational area, making it perfect and interactive for all ages! From whitewater paddling, to rock climbing, horseback riding, and hiking through stunning trails, there is so much to do here.
You can even participate in Ranger-led programs and events to learn more about the area through the guided tours they offer. Add in the possibility of staying at one of the five campgrounds and you're set for an adventure you won't forget!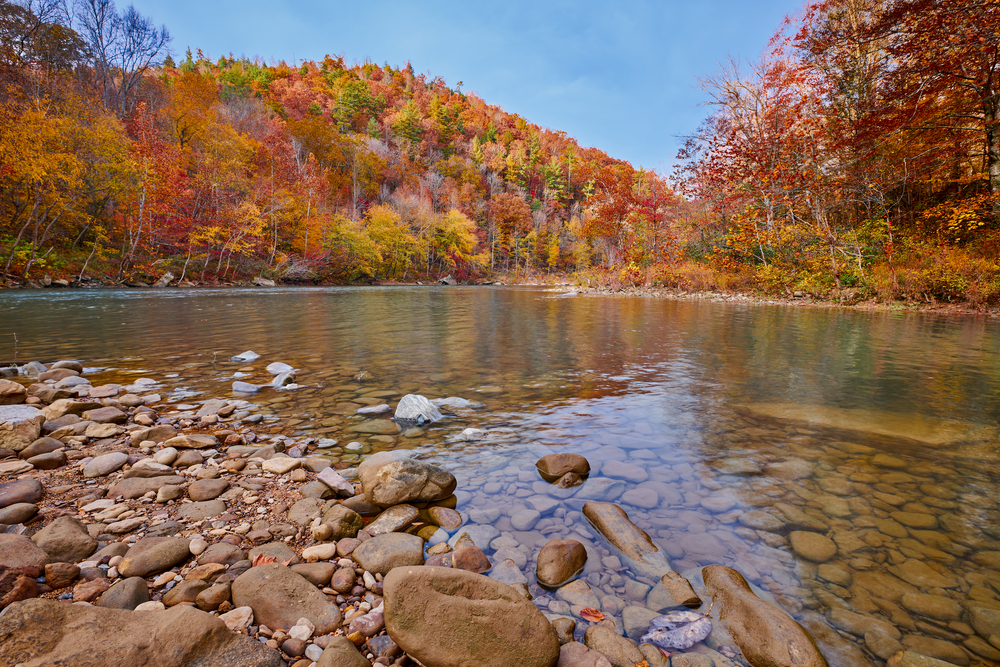 12. Cherohala Skyway
The Cherohala Skyway is a 43-mile National Scenic Byway that connects multiple states and cities and forests! Ridge after ridge of forested mountain sides greet you, expanding as far as the eye can see. The unobstructed views and scenic overlooks are worth the trip, especially in the fall in Tennessee!
Just be warned: when driving this byway, the road doesn't have many facilities other than a couple of restrooms for the entire 4o plus miles, so make sure you have gas and are well prepared! This road can also be a bit dangerous with its curves, and in the winter it does get icy and windy, so be safe when you explore here!
Enjoy the sweeping views and abundant overlooks around every corner. Stop to experience world class hiking trails, as well as refreshing waterfalls, and fully immerse yourself on this skyway to understand why the road has been named one of the best rides in North America!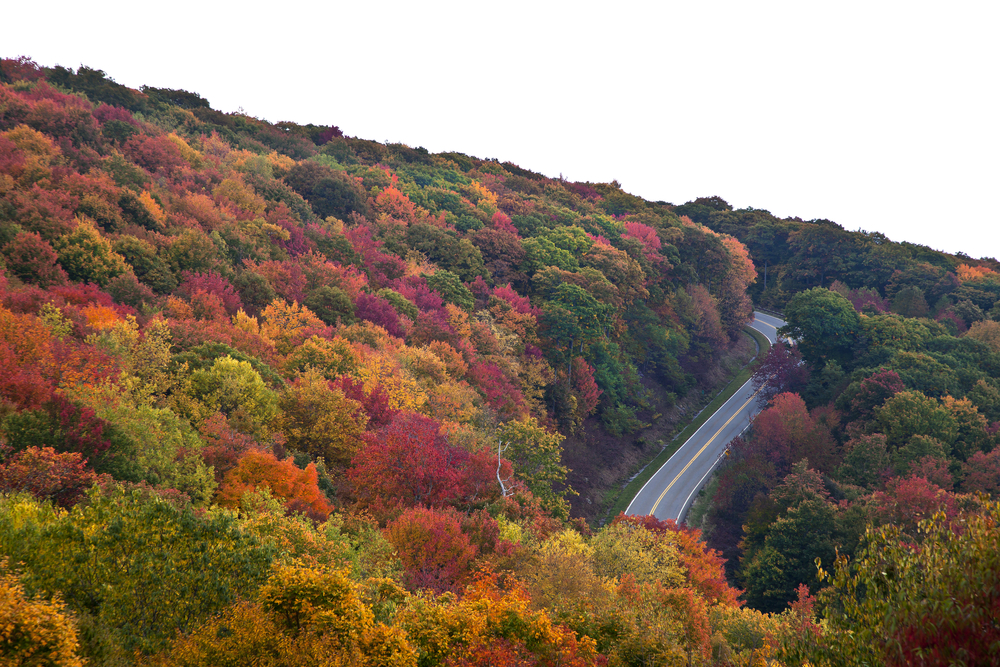 And there you have it! These are 12 of the best places to experience fall in Tennessee. We hope you have an amazing time exploring these towns, outlooks, drives, trails and mountains. Fall in Tensee is definitely an experience and we can't wait to hear all about your adventure. Don't wait! Take a trip to see the Smokey Mountains in the fall as soon as possible– you won't regret it!