Are you looking for great ideas for day trips from Amsterdam? This article will provide a list of places not far from the Dutch capital that you can reach within an hour, under two hours, or over two hours, depending on the time you have to spare. If you are spending more than three days in Amsterdam, have already seen the main sights there, and want to spend some time exploring other cities in the Netherlands, then consider taking a day trip from the city. You won't regret it!
With cities full of stunning architecture, Old World charm, beautiful sights, and fun things to do, there is plenty to look forward to on a day trip from Amsterdam by train or car. All of these places are easily reached and will give you a better perspective of Dutch culture and lifestyle than simply staying in the capital for your whole trip. Plus, you can get away from the larger tourist crowds by going to these smaller cities.
So, pack a day bag, buy a train ticket, rent a car, or book a tour, and get ready for your Amsterdam day trip!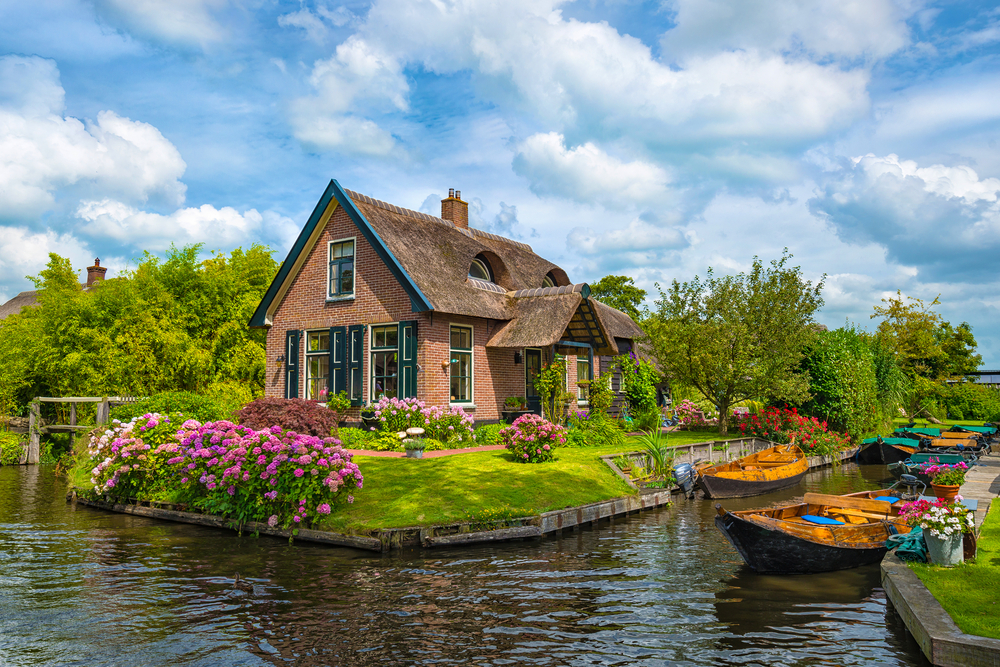 17 Best Day Trips From Amsterdam Worth The Effort
Best 12 Day Trips From Amsterdam Within 1 Hour
Haarlem
Right next door to Amsterdam is the smaller city of Harlem. Only about 15 minutes away by train, this is the idyll Amsterdam day trip for those short on time or who only want a half-day trip. In typical Dutch fashion, this cute town is filled with canal houses, boats, and a prominent windmill. To take in all the views while relaxing, book a boat tour and watch the city go by or if you want to get a workout, rent a bike instead.
The Dutch portrait painter Frans Hals lived and worked in Haarlem in the 1600s and the city now has a museum dedicated to his artwork and also features art from other painters of the same period. Art and history lovers will want to check out the Frans Hals Museum to get a glimpse at portraits of historic figures and events.
If you visit Haarlem on a Saturday, be sure to visit the street market that is set up in the Grote Markt near the outstanding Grote Kerk church. Even if you don't visit on a Saturday, there is plenty of shopping to do at the cute boutiques in one of the Netherlands' best shopping districts. Whatever you are looking for or enjoy doing, Haarlem deserves a spot on your list of the best day trips from Amsterdam.
Book Here: Haarlem: 50-Minute Sightseeing Canal Cruise
You May Also Love: Haarlem: 3.5-Hour Food Tour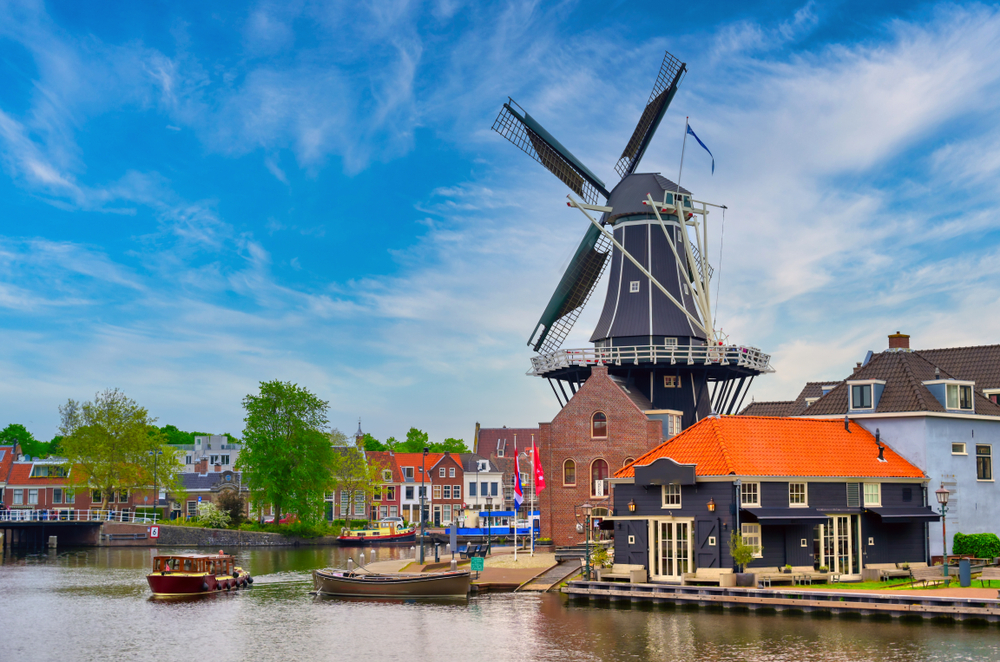 Delft
Just an hour's train ride from Amsterdam, you will find the cute city of Delft. This quint city is known for being the top producer of the classic, blue and white Delftware pottery, also known as Delft Blue or Delft Blauw. The dishes and tiles hand-crafted in this style often feature floral patterns or pastoral scenes. While technically developed in Antwerp, by the 17th century, Delft was the main producer of this pottery style and it was named after this city.
On your day trip in Delft, you can take a tour of Royal Blue, the only remaining original Delftware factory still in operation using the traditional hand-painted techniques. On this tour, you will learn the history of the pottery, see examples of the style, and even be able to watch artisans work. It is one of the best places to visit in the Netherlands!
After your factory tour, take time to stroll through the pretty streets of Delft and make sure to check out the Nieuwe Kerk, or New Church, in the Market Square. This church features an 85-foot tower with gorgeous views of the city.
Book Here: Royal Delft: Delftblue Factory and Museum
You May Also Love: Delft: Guided Walking Tour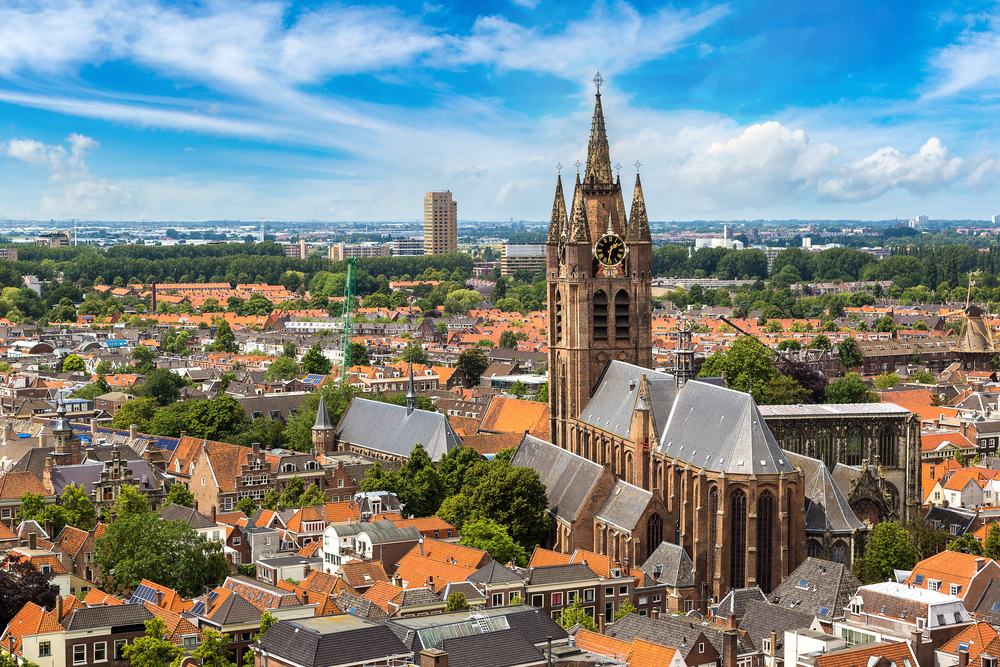 The Hague
About twenty minutes by train from Delft, the Hague could easily be paired with the last city on the same day trip from Amsterdam. If not, the Hague is still only an hour from Amsterdam and as the official seat of the government for the Netherlands and home of the International Court of Justice, it is an interesting place to visit. But it's not just politics here, there are plenty of examples of art, culture, and fun!
Any art lover will want to visit Escher in the Palace. This art museum is housed in a former royal palace and features the work of Dutch graphic artist M.C. Escher, who is known for his abstract, surreal, and geometric woodcuts, illustrations, lithographs, and prints.
Another cool tourist attraction in the city is the Madurodam Miniature Park. This original theme park allows visitors to walk among tiny, scale model replicas of many Dutch cities and famous sights. With hands-on experiences and plenty to explore, this is an enjoyable spot for families or anyone looking for a unique experience.
If you are still looking for more to do on your day trip from Amsterdam, The Hague also has beaches to relax at or you can take a tasty walk through the Haagse Market, where you can find local food and flowers. Whatever you do, the Hague is not a place in the Netherlands to miss and just a short day trip from Amsterdam by train, there is no excuse to skip it.
Book Here: The Hague: Escher in The Palace Museum Ticket
You May Also Love: Madurodam Miniature Park Entrance Ticket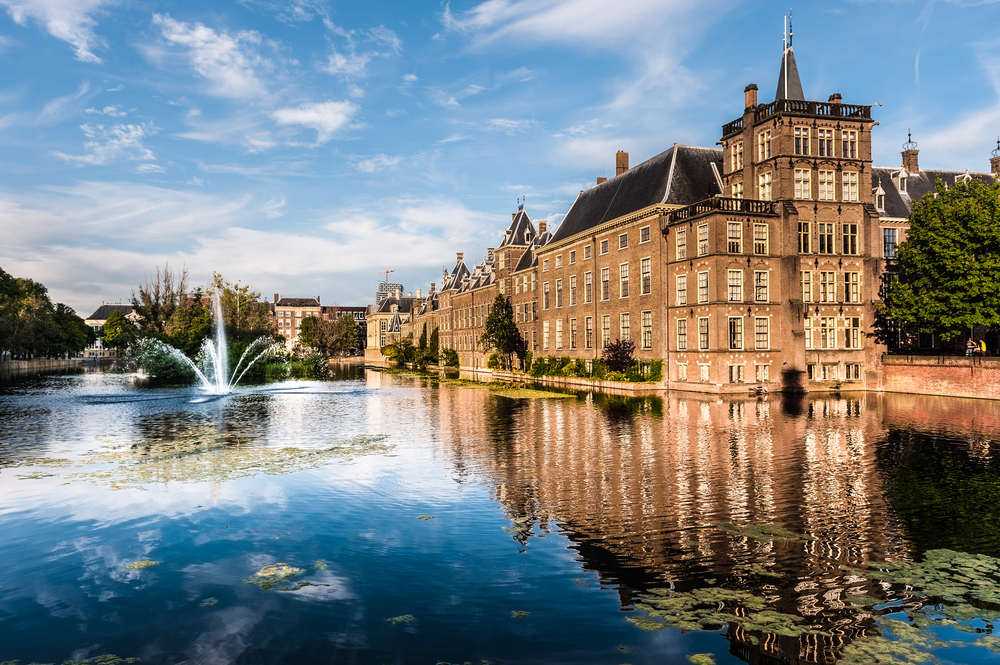 Keukenhof Gardens
If you are looking for an Amsterdam day trip that is beautiful and perfectly Dutch, you will want to journey to the Keukenhof Gardens. With over 7 million blooming flowers and over 9 miles of footpaths, this is the largest flower garden in the world. Of course, since it is Dutch, the flower featured here is the tulip. With windmills standing tall around the park and bright tulips as far as the eye can see, you are sure to capture a photo that simply screams "Dutch!" You will be left awestruck by the intricate landscaping, bubbling fountains, and wonderful photo opportunities around every turn in the path!
The Keukenhof Gardens are found in the small town of Lisse. A train ride from Amsterdam will be a little over an hour, but you can get here sooner by driving yourself. Either way, the close distance paired with the spectacular scenery makes Keukenhof Gardens one of the best day trips from Amsterdam. The gardens are only open in the spring, so make sure to time your trip accordingly!
Book Here: Keukenhof: Skip-the-Ticket-Line Entrance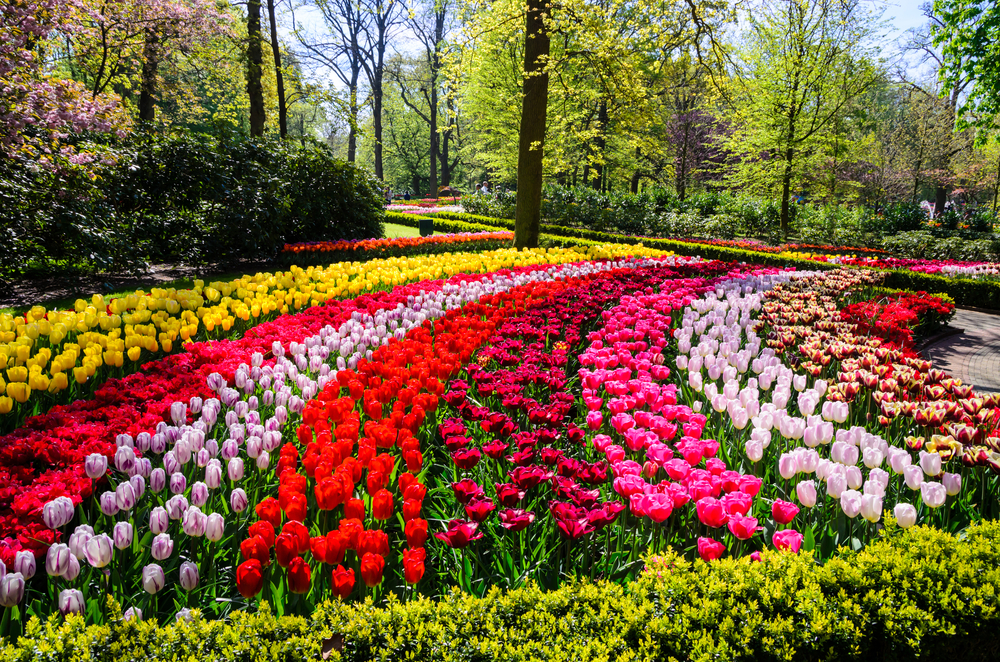 Rotterdam
Barely over an hour from Amsterdam by train, you will find yourself in Rotterdam, a city that is a perfect blend of old and modern. If you love contemporary architecture, then Rotterdam is the city for you! Just arriving at the train station will land you in an awe-worthy building. From there, check out the De Markthal, a standout building that houses a food market. Another architectural must-see are the Kijk-Kubus, or Cube Houses. These wonky, bright yellow, geometric buildings were designed by Piet Blom and are a sight you have to snap a photo of on your Rotterdam day trip.

If you aren't an architecture nerd, don't write off this Amsterdam day trip, there are still plenty of other fun things to do and see. Find the Euromast observation tower near the harbor for panoramic views of the city. Then, since you are near the harbor anyway, why not take a harbor cruise? Or check out the SS Rotterdam, a ship turned hotel, docked nearby?

Book Here: Rotterdam Architecture Walking Tour
You May Also Love: Rotterdam Harbor Tour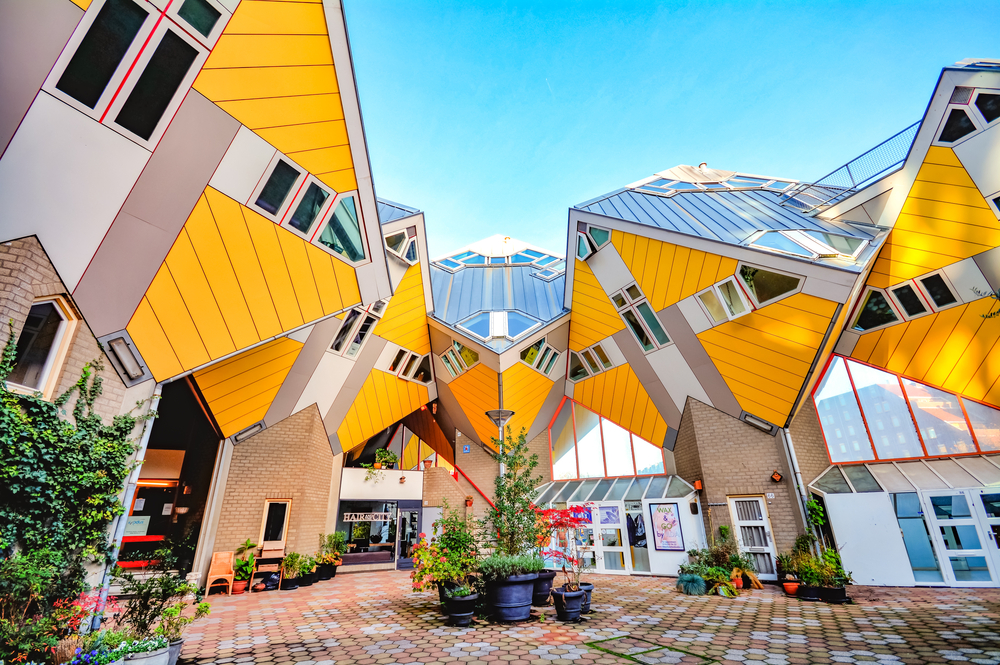 Zaanse Schans
Another one of the most beautiful day trips from Amsterdam is Zaanse Schans. This neighborhood in the town of Zaandam is on the Zaan River and features historic windmills dotted along the water. With cute shops, tulip fields, and grazing sheep, you can't get more idyllic than this. Visiting here is like walking back in time to the Netherlands of the past.
Many people visit Zaanse Schans by booking it as an Amsterdam day tour. Giving a tour guide the reins makes for an easy and stressfree trip. It is also possible to take a 15-minute train ride to Zaanse Schans on your own. This is the perfect Amsterdam day trip if you don't have much time to spend on a trip farther away, but still want to see the swoon-worthy, Dutch countryside.
Book Here: From Amsterdam: Zaanse Schans Windmills Half-Day Tour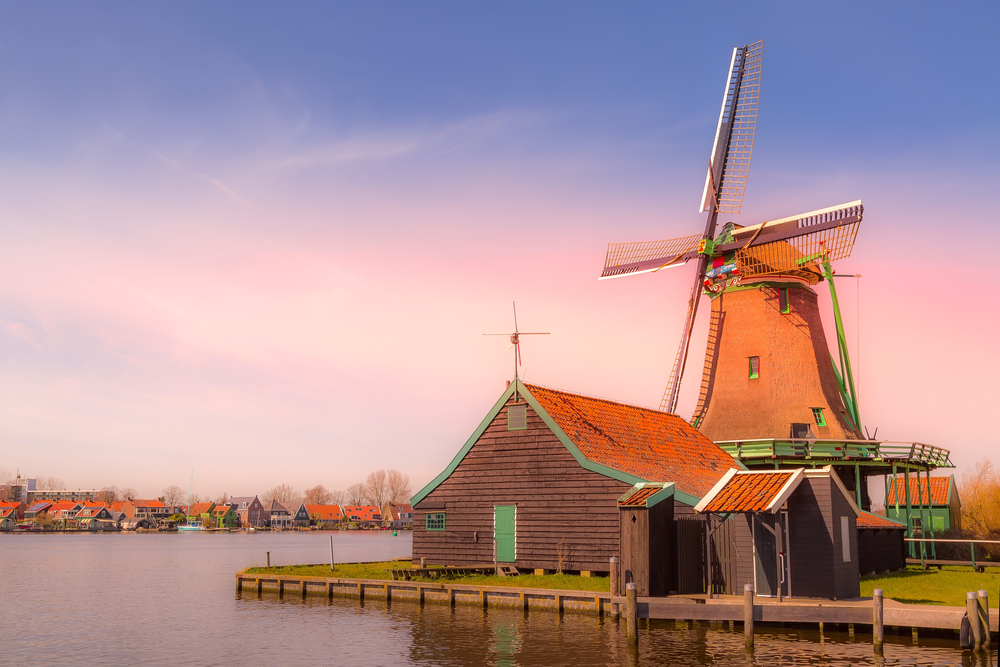 Alkmaar
Just a little over 30 minutes from Amsterdam, Alkmaar is one of the best day trips from Amsterdam by train. This is the perfect city for foodies, as Alkmaar is known as the city of cheese. Make sure to visit on a Friday from spring to fall to experience the cheese market. This market consists of a square full of cheese wheels, food vendors, and many cheese-related contests. This market has a long history and has been around since 1365.
Drenched in tradition, this cheese market is a great place to visit for food lovers or anyone interested in Dutch history. People watchers can have fun, too, enjoying the sight of people dressed in traditional outfits and men running back and forth as they tote cheese across the square. With a fun and friendly atmosphere, this Amsterdam day trip is a great choice.
If you are unable to visit during the market, there are many other things to do! Visit of the city's museums, including the Cheese Museum, the Beer Museum, or the Beatles Museum. Alkmaar is also a nice town to simply walk around in and enjoy the sights. There are plenty of cute streets and canals to stroll along. Or if you want some time in nature, check out Oosterhout Park.
Book Here: From Amsterdam: Traditional Dutch Cheese Market Tour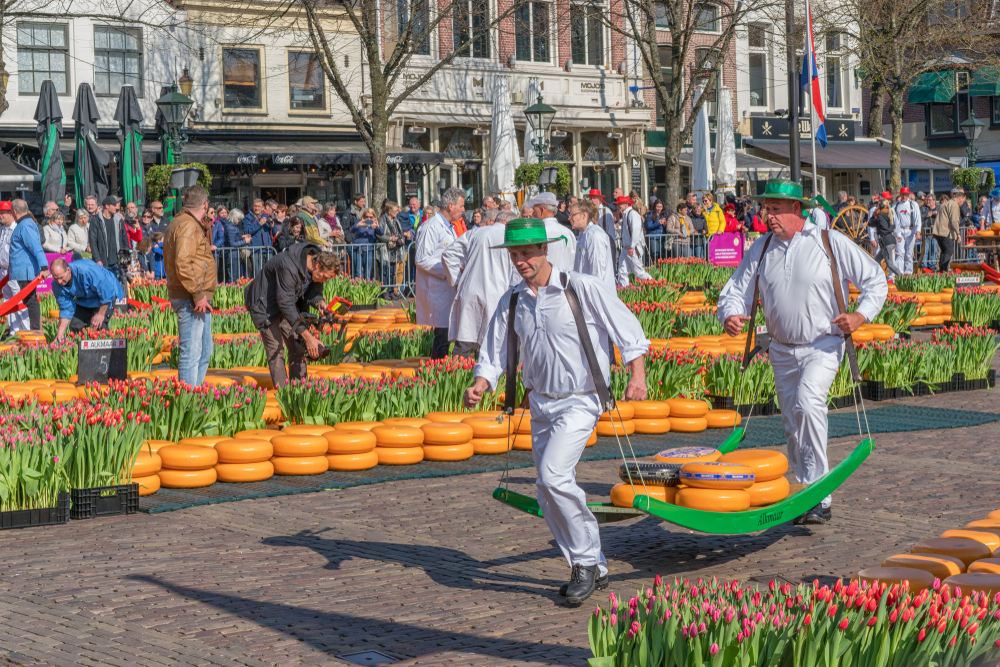 Marken
The old fishing town of Marken is found on a former island that was connected to the mainland in 1957 when a causeway was built. Since then, it has become an adorable tourist destination. Most people visit the town by booking a tour that takes them to multiple towns in the area, such as Volendam and Edam. If you don't go through a tour group, you can take an hour train ride or a 30-minute drive. No matter how you arrive, you are sure to enjoy this day trip from Amsterdam!
Marken is the perfect town to just wander. Since it was cut off from the mainland for so long, it is like a town stuck in the past, allowing you to truly enjoy the Old World feel of it. With charming houses, a harbor crowded with sailboats, and the Paard van Marken Lighthouse, there is plenty to see. You can also visit the Clog Factory and see how traditional, Dutch, wooden clogs are made.
Book Here: Marken, Volendam, and Edam Full-Day Tour from Amsterdam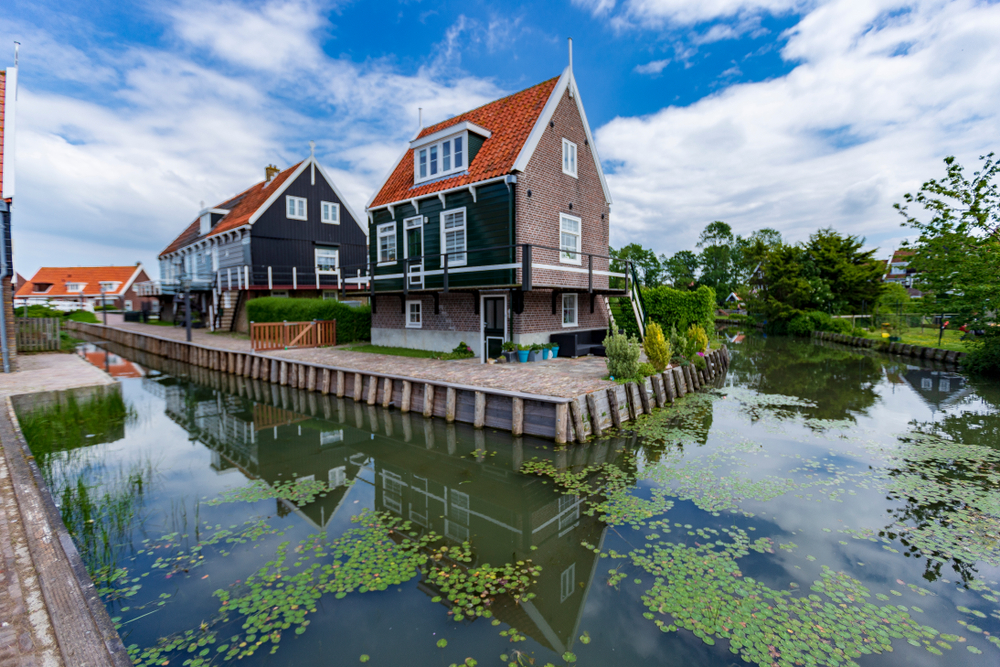 Gouda
Gouda, of course, is another cheese lover's destination. An hour from Amsterdam by train, this is a great Amsterdam day trip if you want to try out some more local cheese. The cheese market here is held on Thursday, maybe to allow people to visit this market and the Friday market in Alkmaar in the same week. Though, the two markets are very similar.
If you are not able to visit on Thursday or are just tired of cheese, this is still one of the day trips from Amsterdam you should consider taking. Marvel at the Gothic architecture of Gouda's City Hall, the Church of St. John, and the Gouwekerk Church. Take a look at the Red Lion Windmill sitting along the canal. If you still want something cheesy to do, visit the Kaasboerderij Jongehoeve cheese farm to see how cheese is made or check out the Goudse Waag Cheese and Crafts Museum.
Book Here: Gouda: 2-Hour Monument Walking Tour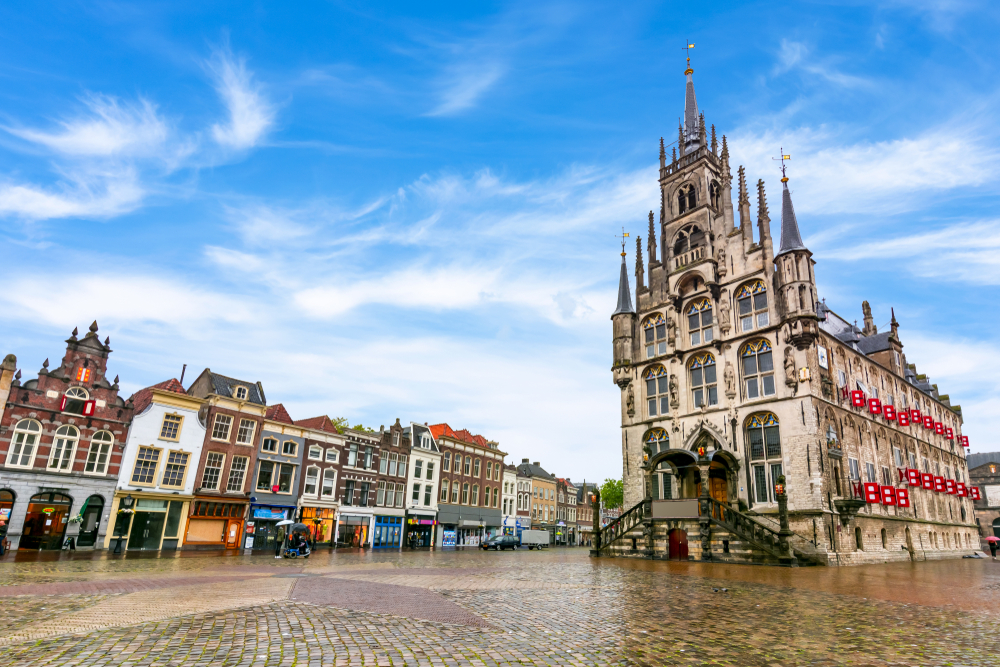 Utrecht
Just over 20 minutes by train from Amsterdam, Utrecht is another good Amsterdam day trip choice if you don't have much time. Utrecht is a breath-taking city full of amazing architecture, cool museums, and pretty gardens. Plus, there is a castle! De Haar Castle is one of the top tourist spots in the city and is the largest castle in the Netherlands. Surrounded by beautiful gardens, this castle appears to have been pulled from a fairytale. The inside is full of fascinating antiques, lovely tapestries, and ornate wood carvings.
Other things to do in Utrecht include marveling at the awesome architecture of St. Martin's Cathedral, St. Peter's Church, or the Dom Tower, which provides stunning views. There are also many unique museums here, including St. Catherine's Convent Museum, the Musical Clock Museum, the Railway Museum, and the Centraal Museum, which features an assortment of art and history.
Book Here: Amsterdam: Kasteel de Haar, Utrecht, and Rietveld House Tour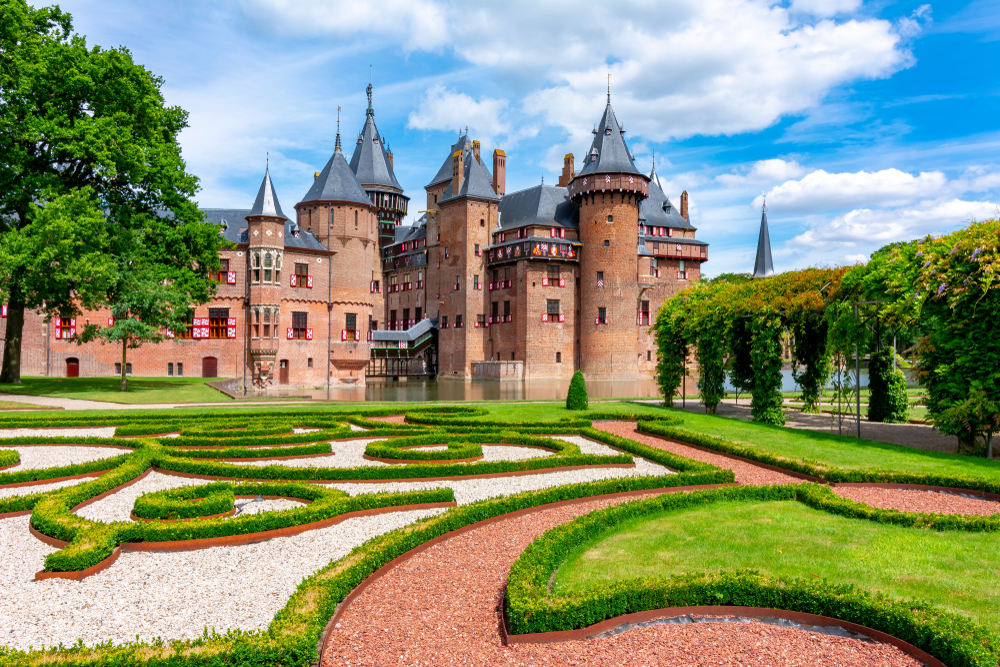 Leiden
Leiden is a small town about 25 minutes from Amsterdam and makes for a perfect day trip from Amsterdam if you are looking for a picturesque location. This university town and birthplace of Rembrandt is bursting with things to do and museums to walk through. Like many Dutch cities, the gorgeous canals and stunning architecture make this a great city to simply stroll through and take in the sights. If you visit on a Wednesday or Saturday, make sure to check out the Leiden Street Market.
If science museums are your thing, then Leiden is the city for you! There is the Naturalis Biodiversity Center, the National Archeology Museum, and the Museum Volkenkunde, which houses thousands of worldwide ethnological artifacts. If art is more up your alley, then you can go to the Museum de Lakenhal. History buffs may enjoy the American Pilgrim Museum or the De Valk Windmill, which has been turned into a museum. No matter your interests, Leiden is one of the day trips from Amsterdam worth the effort.
Book Here: Leiden 2-Hour Walking Tour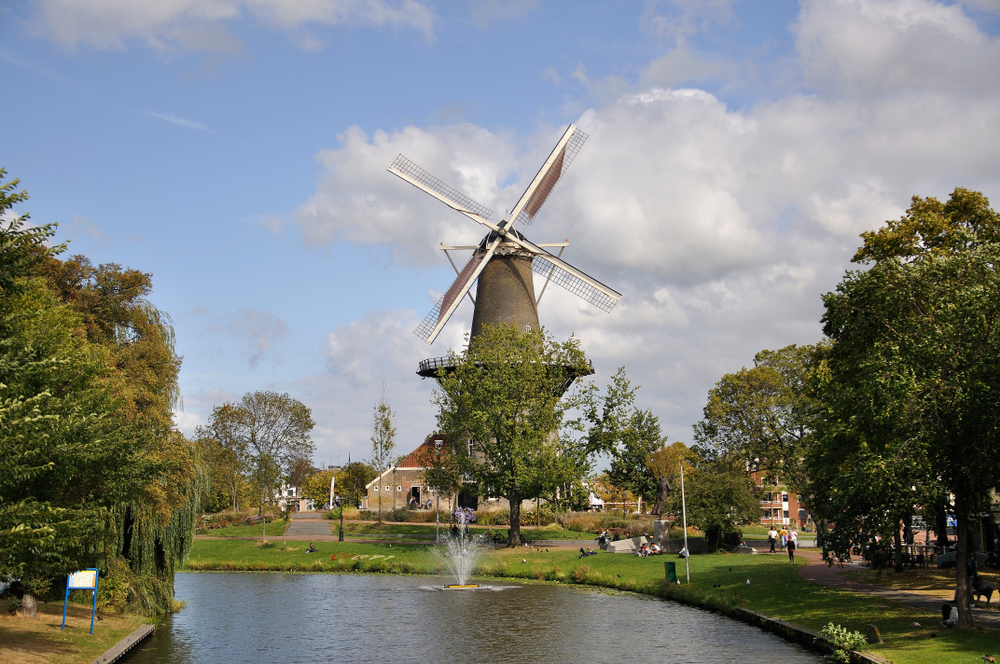 Muiderslot
This 13th-century castle is either a 30-minute car ride or an hour train ride from Amsterdam and is the perfect day trip for anyone interested in medieval history. Surrounded by a moat and manicured gardens, this castle, with its fortress grandeur, is picture-perfect. The castle has been restored to its former glory and is a UNESCO World Heritage site.
Included with your ticket purchase is an audio guide, so you can learn all about the castle's extensive history as you walk the grounds. If you visit from April to October, you can watch falconry demonstrations.
Book Here: From Amsterdam: Private Day Trip to the Dutch Castles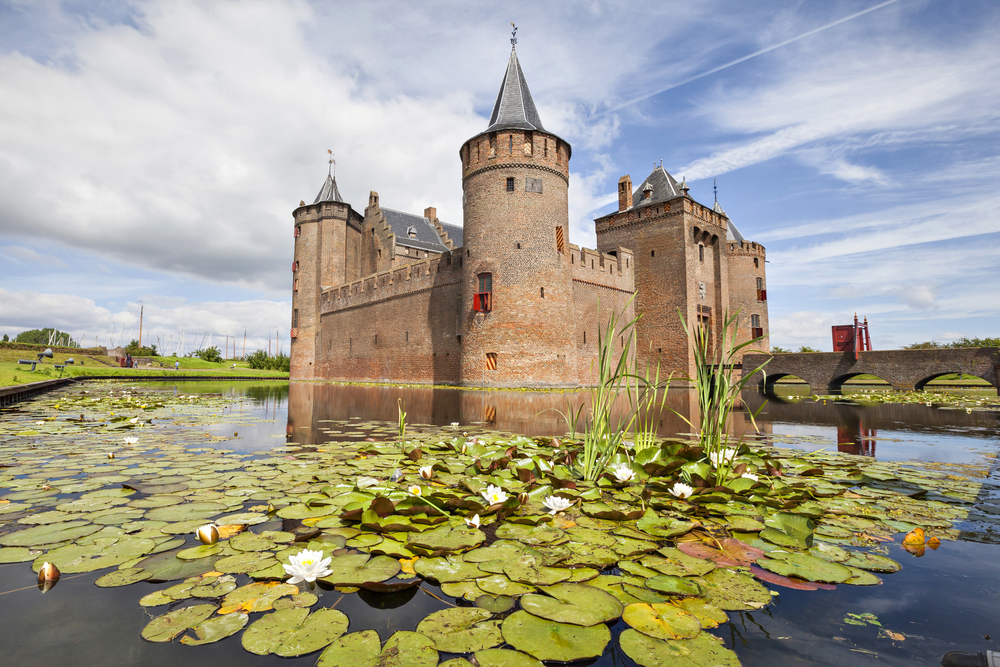 Best 3 Day Trips From Amsterdam Under 2 Hours
Giethoorn
Giethoorn is a charming, canal-filled village in the north of the Netherlands about an hour and a half drive from Amsterdam. Though public transportation will not get you here fast enough for a day trip, it is possible to book a tour that will provide transportation. This is one of the best Amsterdam day tours to look into if you want to get out of the bustling city and see the pretty countryside.
Nestled along the edge of the De Weerribben-Wieden National Park, canals are the only routes of transport among the town's thatched houses. Here, you simply must take a boat trip along the water and witness the cute village with its old farmhouses and abundance of greenery. With its waterways and rustic charm, Giethoorn could easily be described as the perfect Dutch mix of Venice, Italy, and the Cotswolds in England.
Book Here: From Amsterdam: Day Trip to Giethoorn by Bus and Boat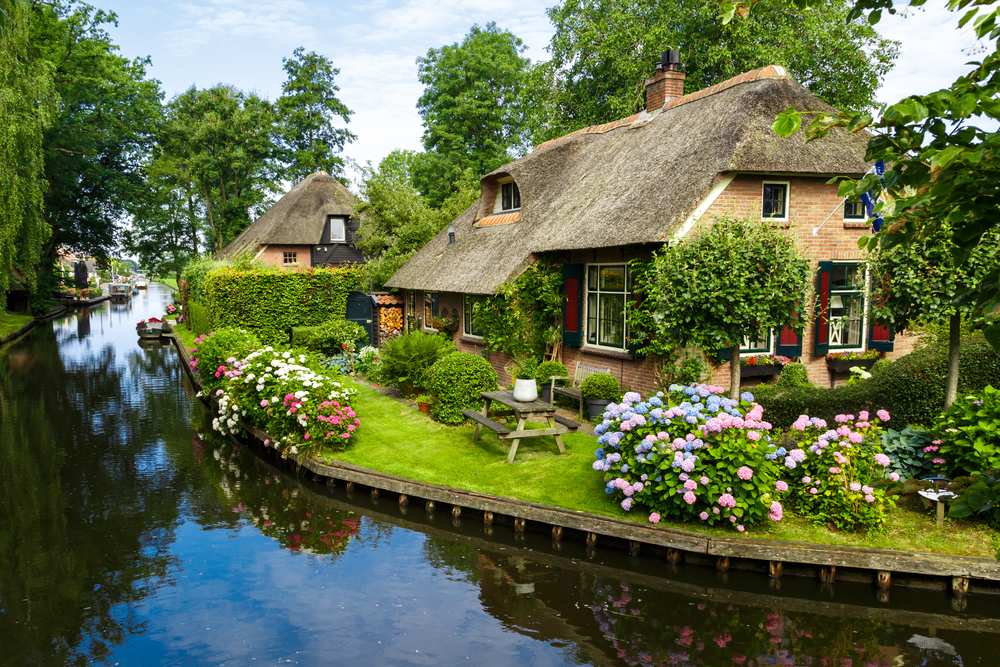 Kinderdijk
If you have yet to fill your windmill needs, head south of Amsterdam to the Kinderdijk windmills. To get to this Amsterdam day trip location, you'll have to ride the train for nearly two and a half hours, but you could get there an hour sooner if you drive yourself or go with a tour group. Kinderdijk is also only about 30 minutes from Rotterdam, so it is possible to visit both on the same day.
At Kinderdijk, you can take a look inside a historic windmill, board a tour boat, or rent a bike and check out the cycling paths that wind through the property. Whatever you do, you will be compelled to take a lot of photos of this gorgeous UNESCO World Heritage site during your fun visit.
Book Here: World Heritage Kinderdijk Windmills Tour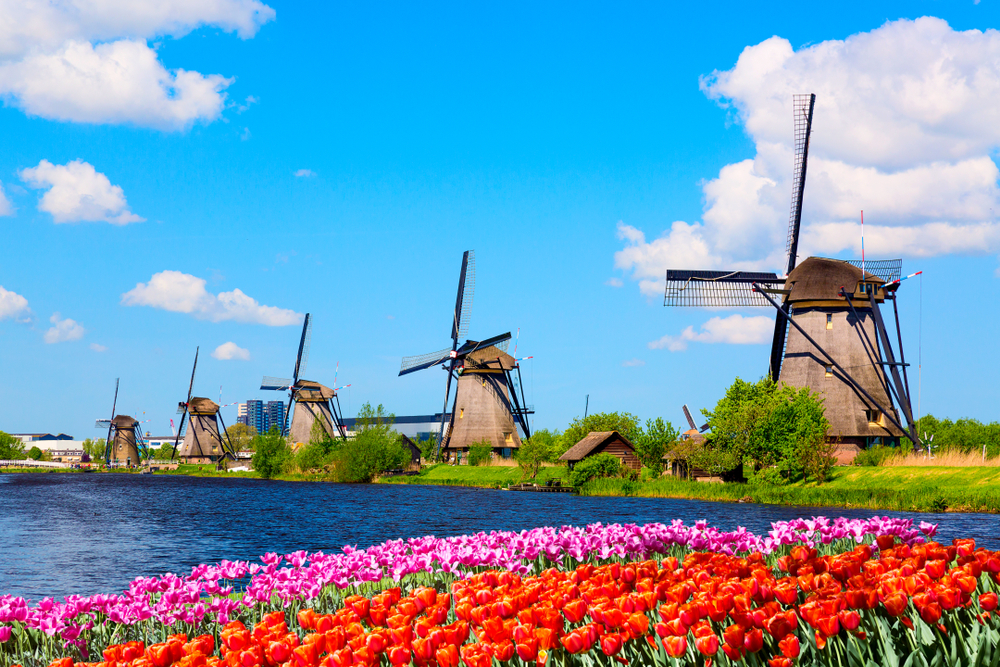 Antwerp
If you want to knock another country off your bucket list while in Amsterdam, consider taking a 2-hour train ride to the Belgian city of Antwerp. Going to Antwerp is one of a few day trips from Amsterdam that will land you in Belgium. Antwerp is a port city that mixes Old World and modern. It is a great place to shop, drink, and dine as well as visit museums, churches, and even a castle.
Book a walking tour to see all the main sights in the little time you have. You won't want to miss getting a glimpse of the Grote Markt, Cathedral of Our Lady, St. Paul's Church, and Steen Castle. Afterward, check out some of the city's museums. Choose from the Museum aan de Stroom, an art museum with awesome views, or the Plantin-Moretus Museum, a UNESCO World Heritage site dedicated to printing and publishing.
If you are traveling with kids, bring them over to the Antwerp Zoo or on a walk through the Park Spoor Noord. Then, treat them to some chocolate! Since Belgium is known for its chocolate, you can find it in shops around town. Antwerp is also one of the diamond capitals of the world, so make sure to take a walk through the diamond district and window shop.
Book Here: Historic Antwerp 2.5 Hour Walking Tour
You May Also Love: Antwerp Beer Tasting Tour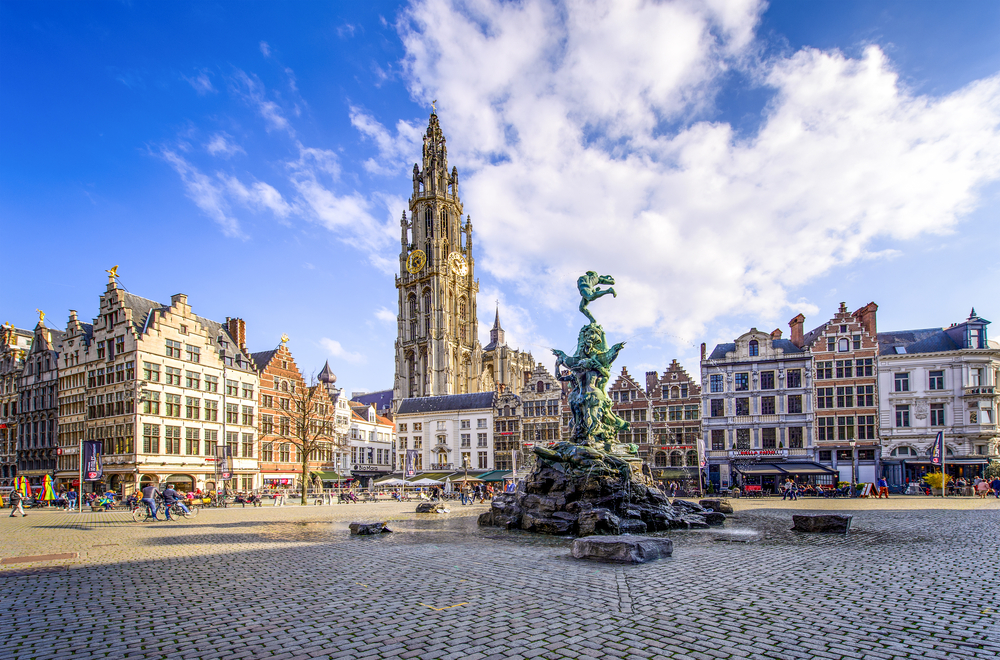 Best 2 Day Trips From Amsterdam Over 2 Hours
Bruges
Bruges is another Belgian destination for you to consider. Though the train from Amsterdam can get you here, it will take longer than a day trip allows. Instead, you can drive the three hours it takes to get to Bruges, but you might find it easier to book a tour. That way, everything is taken care of and you can enjoy your vacation. While in the city, tour the canals in a boat, admire the beautiful buildings, or ride in a horse-drawn carriage.
Belgium is also a country for food lovers and you would be doing yourself a disservice if you don't try out some Belgian food while on your Amsterdam day trip. Make sure to eat some sweet waffles, delicious chocolate, and savory fries. If you need something to drink, take a tour at the Half Moon Brewery.
Book Here: From Amsterdam: Bruges Full-Day Tour
You May Also Love: Bruges: 1.5-Hour Waffle Workshop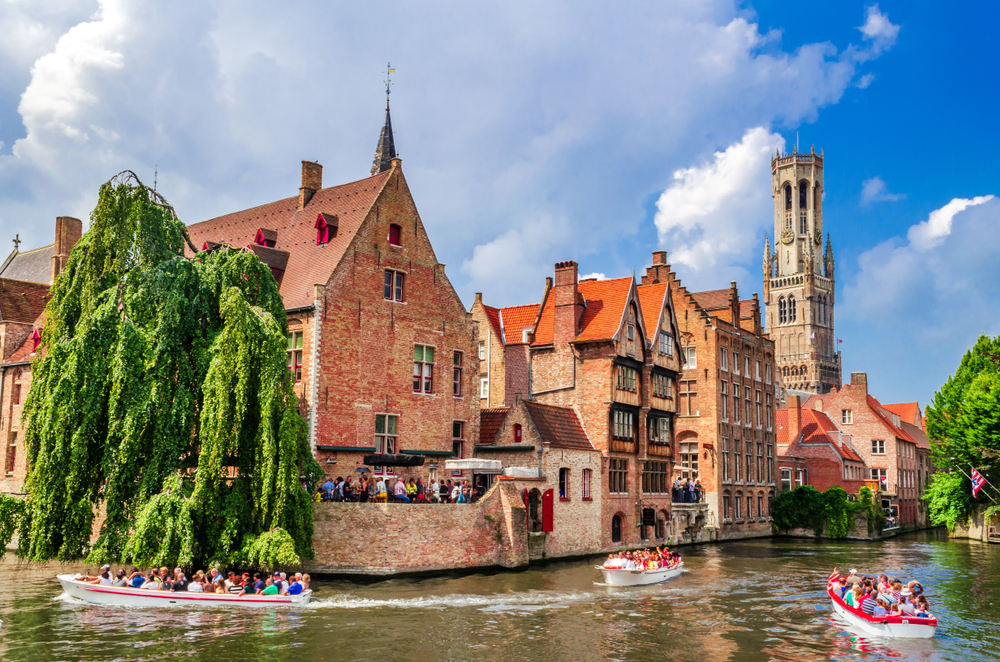 Brussels
Brussels is the capital of Belgium and is just over two hours from Amsterdam by train. Although a bit farther away, this is still one of the day trips from Amsterdam worth the effort. This city is the seat of the European Union and there are plenty of cool sights and things to do here.
You will want to visit Brussels' Old Town, not only for the plaza's shops and restaurants but to see the looming and pretty Hotel de Ville. This town hall's interior is full of amazing architecture and art. Other buildings to check out in the city include the Royal Palace, Notre-Dame du Sablon, and the Basilique Nationale du Sacre Coeur. If you want to see some art on your trip, look into visiting the Royal Museum of Fine Arts, the modern art piece called Atomium, or the Royal Art and History Museum.
Book Here: Brussels: Private Tour with a Local
You May Also Love: Brussels: 2.5-Hour Belgian Chocolate Making Workshop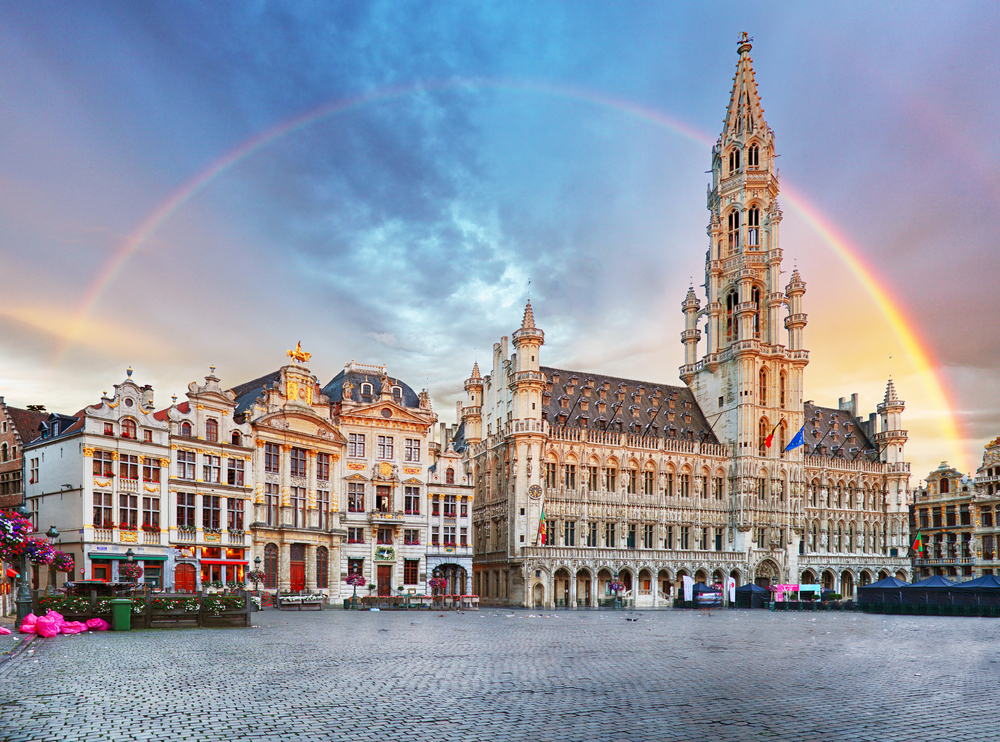 Day trips allow you the opportunity to get out of the main city you are vacationing in to explore nearby towns and even countries without having to deal with moving to a different hotel. There are a ton of day trips from Amsterdam to enhance your trip to the Netherlands. Most days trips here can be done by taking the train, but if you rent a car or book a tour, more places open up to you. No matter what interests you, whether art, history, shopping, or eating, there is an Amsterdam day trip for you! With so many options listed here, you should have no problem booking your next Amsterdam day tour.