If you are looking for the ultimate 3 days in Amsterdam itinerary, then you have found the right article! Though you might not have a ton of time in this beautiful and unique capital of the Netherlands, you can still pack a lot into your Amsterdam itinerary.
Dubbed the "Venice of the North" because of the grid of canals that cover the city, Amsterdam is not short on fun and interesting things to do. Even if three days in Amsterdam does not seem like enough time to fully emerge yourself in the Dutch culture, it will be plenty of time to hit all of the main tourist attractions as well as a few other unique sights.
Many people think of Amsterdam as a fun, party city, and while that is not wrong, it is also full of art museums, historical significance, gorgeous flowers, delicious food, and family-friendly activities. This Amsterdam itinerary is sure to have something for everyone no matter your tastes and interests. Do you love to check off famous paintings? Do you like beautiful architecture? Are you a foodie who loves to taste local cuisine? Do you enjoy a calm atmosphere? If you said yes to any of these questions, then Amsterdam just might be a good place for your next trip! Keep reading to find out more about the attractions you can expect to find in Amsterdam in 3 days.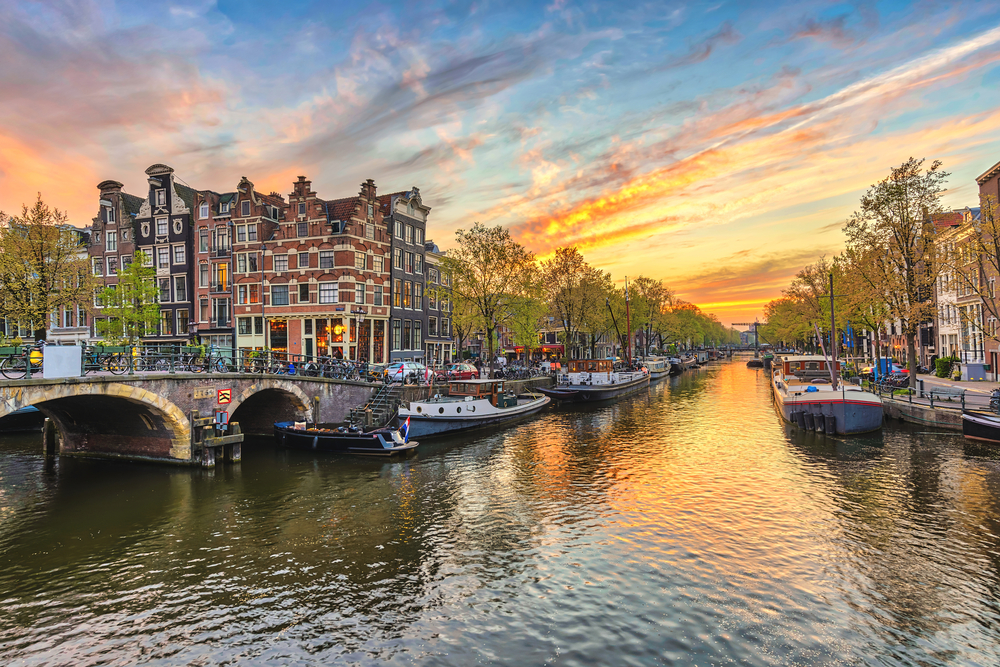 The Ultimate 3 Days In Amsterdam Itinerary You Should Steal
Day 1: Begin Your 3 Days in Amsterdam With a Focus on Art and Culture
Stop 1: Take in the Dutch Art at the Rijksmuseum
The Rijksmuseum is one of the top tourist spots in Amsterdam, so make sure to arrive at the Museumplein bright and early to avoid the crowds. This national art museum is the home to a million pieces of Dutch work from the years 1200 to 2000, though not all work is displayed at the same time. The grand building has held this collection since 1885 when it was moved from a previous location in Amsterdam. Before that, it was housed in the Hague, where it was founded in 1798. Along with art galleries, the museum also houses a large research library and a Michelin-starred restaurant.
Any art lover will be amazed not only by the sheer amount of art found here but also by the many famous pieces that can be spotted throughout. Because Dutch art has a history of being big in the art world, the Rijksmuseum is a great place to find many notable works you have probably heard of in your high school art class. One of the most popular paintings is Rembrandt's The Night Watch. This nearly 12-foot tall military-themed painting takes up a whole wall by itself and easily draws a crowd. If you look closely, you can even see where Rembrandt painted a cameo of himself into the painting!
A few of the other top artworks in the museum include Johannes Vermeer's The Milkmaid, Frans Hals' Portrait of a Young Couple, and Rembrandt's The Syndics of the Drapers' Guild. The stern of a ship can even be found in one exhibit.
Tram Stop: Spielgelgracht, Weesperplein, or Spielgelgraht
Book Here: Skip the Line for Rijksmuseum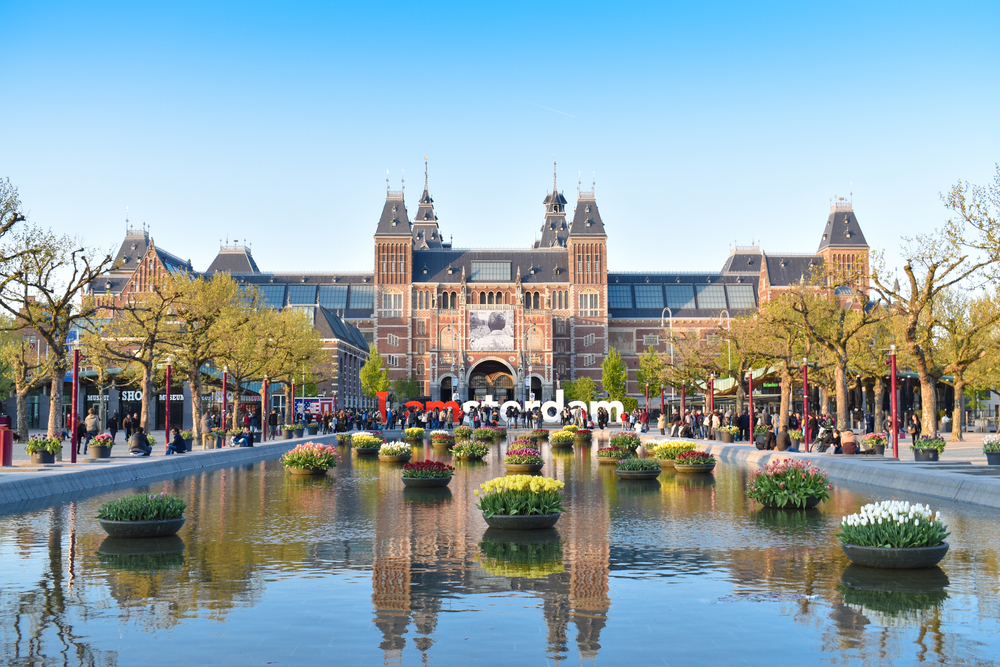 Stop 2: Marvel at the Work of Vincent van Gogh
A short walk from the Rijksmuseum is the Van Gogh Museum, which opened in 1973 and has become one of the most popular museums in the Netherlands. This more modern-looking building holds the largest collection of Van Gogh's work in the world.
Some of his more notable paintings found here include Sunflowers, The Potato Eaters, Bedroom in Arles, and a number of self-portraits. Along with his art, the museum chronicles his life through his letters, photos, and the works of his contemporaries, including Paul Gauguin, Claude Monet, Georges Seurat, and Henri de Toulouse-Lautrec.
Van Gogh was a Dutch Impressionist painter who lived from 1853 to 1890. After suffering from mental illness for much of his life, he tragically killed himself at the age of 37. Though he was not famous in life and struggled with poverty, he is now one of the most well-known artists in the world with over 2 million people a year visiting the museum dedicated to him. Join these fans during your three days in Amsterdam.
Book Here: Timed Entry for Van Gogh Museum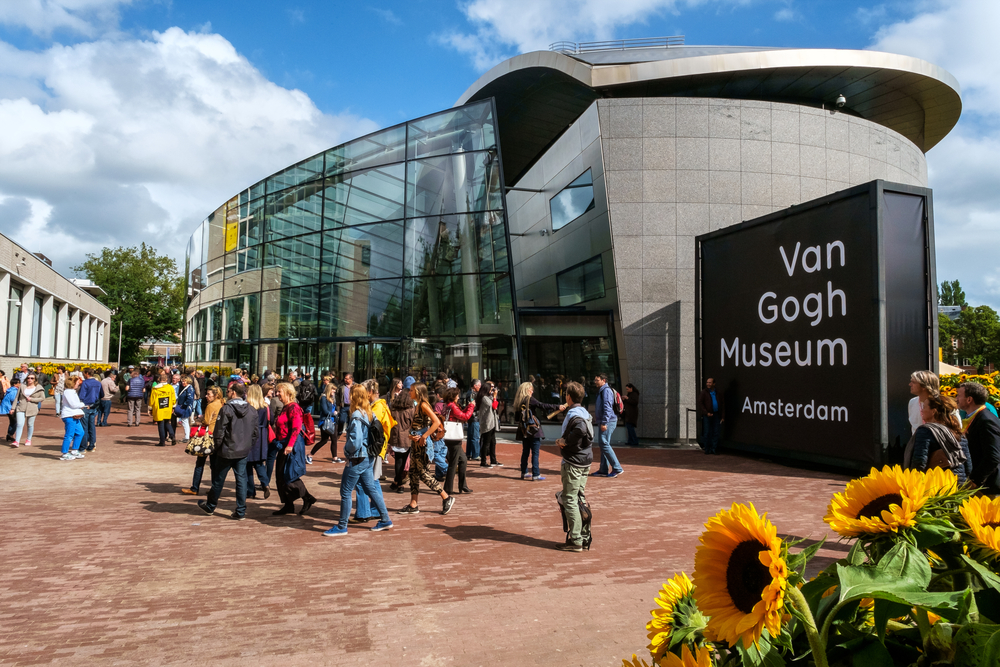 Stop 3: Take a Break on the Museumplein
The Museumplein, or the Museum Quarter, is the largest square in Amsterdam and is named so because it is where you can find three of the major art museums in the city, the two mentioned above as well as the Stedelijk Museum of Modern Art. Along with these art hubs, there is plenty of shops, restaurants, the Concertgebouw concert hall, a skate park, and in the winter, an ice skating rink.
While you are here, grab a bite to eat at one of the nearby food trucks and take a seat among the locals on the sprawling, green lawns. Take this moment to relax in the sun and maybe do some people watching. However, if it is too cold during your visit to stay outside, try popping into one of the restaurants in the area to warm up and enjoy a quick lunch before moving onto the next stop on your Amsterdam itinerary.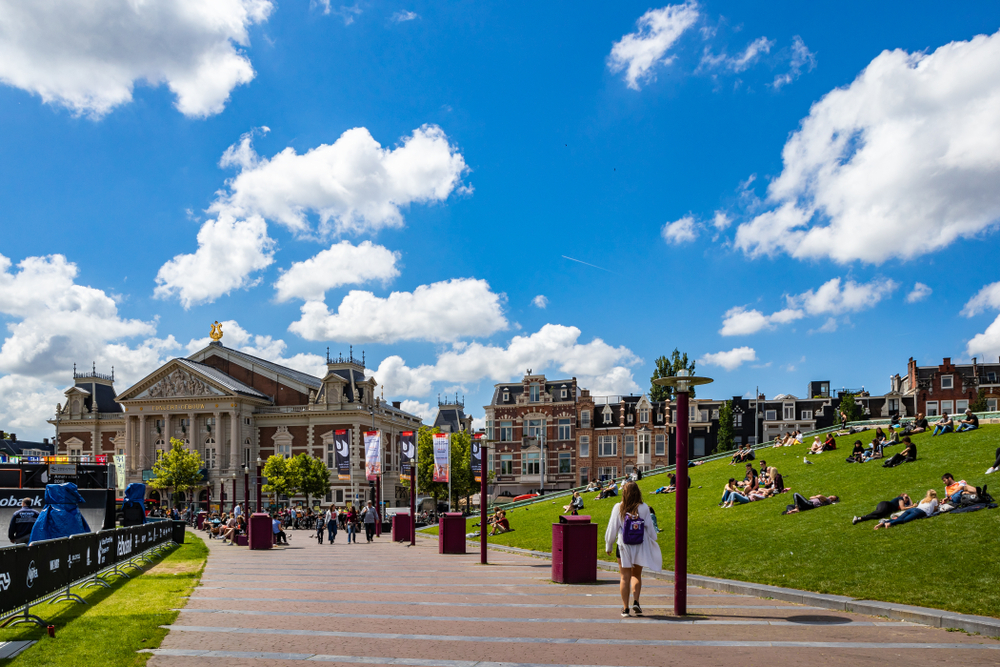 Stop 4: Visit Some of Amsterdam's Unique Museums
Spend your afternoon visiting some of the 70+ unique museums you can find in Amsterdam. If you have had your fill of art already, no need to fear, there are plenty of museums for all sorts of interests beyond art. Make sure to check out some of the best Amsterdam travel tips before you go.
History buffs can look into stopping by the National Maritime Museum or the National Holocaust Museum. Science and tech lovers can have fun at the NEMO Science Center, the Electric Tram Line Museum, or the EYE Film Institute, which focuses on the history of the film industry. Anyone into fashion could enjoy the Diamond Museum or the Museum of Bags and Purses.
Anyone who wants to dip their toes into the more risque side of Amsterdam will find they also have a wide range of museums they can visit. Amsterdam is known for its Red Light District, which you can learn more about at the Museum of Prostitution. Then there is also the Sex Museum and the Erotic Museum, which feature XXX-rated art and history. The Hash, Marihuana, and Hemp Museum might also suit your fancy. Wherever you go, remember to be mature and respectful.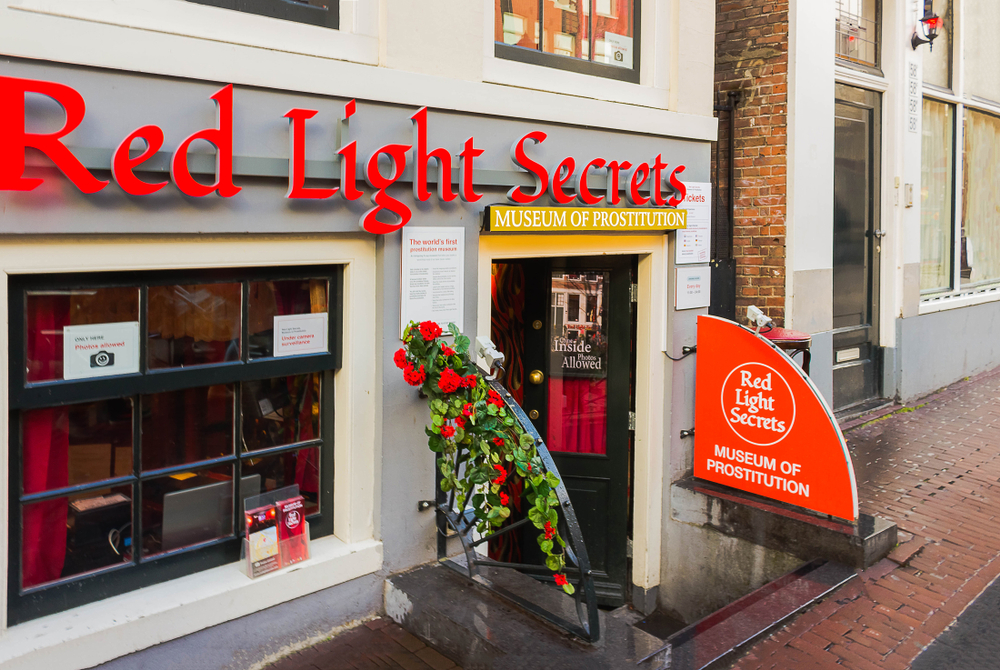 Stop 5: Try Traditional Dutch Herring
For your first dinner in Amsterdam, consider trying a traditional Dutch dish. Since Amsterdam is located right on the ocean, there is plenty of fresh seafood to be found. One meal that remains popular among locals is herring. This fish can be bought at many street food vendors or in sit down restaurants. The small, salty, fish is usually served raw. The traditional way to eat it is by grabbing the fish by the tail, throwing your head back, and lowering the fish into your mouth as you take bites. However, if that is a bit much for you, they are also commonly served cut up with onions and pickles.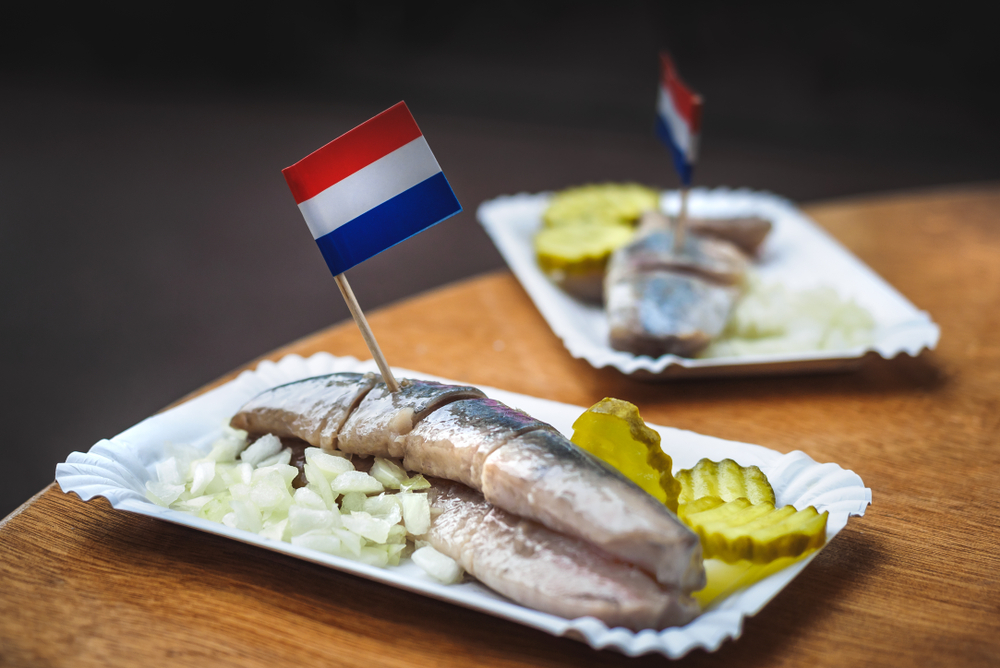 Stop 6: Eat Stroopwafels for Dessert
If you want to get the taste of fish out of your mouth, look for some stroopwafels, which can also be found at food vendor stalls or most bakeries in town. These simple cookie-like, Dutch treats are perfect for anyone with a sweet tooth, and you really can't spend 3 days in Amsterdam without eating at least one…or ten.
These crunchy delicacies are created by pressing two super thin waffles together with a good lather of caramel in between and taste best when they are freshly made. They are often eaten plain with coffee. They can also be bought with chocolate syrup and the possible addition of toppings such as sprinkles or nuts if you are really craving a sugar high.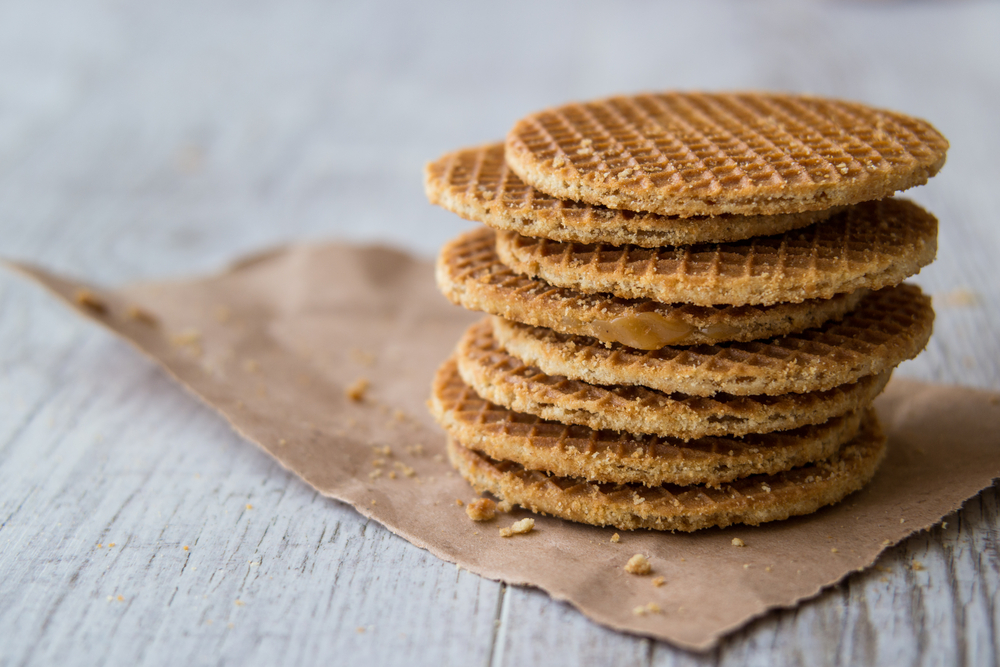 Day 2: History Lessons and Exploring the City on Your Second Day
Stop 1: Pay Respects at the Anne Frank House
Anne Frank was a young, Jewish girl who was born in Frankfurt in 1929. She is best known for the diary she kept while in hiding with her family and another family in an Amsterdam canal house from 1942 to 1944. After the Frank family was discovered and captured by the Nazis, Anne died from illness in the Bergen-Belsen concentration camp in 1945. The only member of her family to survive the Holocaust was her father, Otto, who published her writing in 1947 after the war. Over 30 million copies of the book have sold in almost 70 languages around the world.
The canal house that Anne had hidden in was made into a museum in 1960 and since then has come to include the building next door as well. Inside, you can also find a cafe and a bookshop. Over a million people visit the museum each year and because of its popularity, tickets can only be bought online in advance. Tickets are released two months in advance and sell out quickly. Once you know the dates of your 3 days in Amsterdam, be sure to buy your tickets as soon as possible.
Walking through the Anne Frank House is a surreal and sobering experience. If you have read The Diary of a Young Girl, the strange sense of walking through the rooms where Anne and her family had lived is overwhelming. Hushed visitors move slowly through the designated path all the way up to the attic where they hid. While all the furniture has been removed, the pictures and newspaper clippings Anne hung on the walls are still there. Visitors will also be allowed a look at her actual diary.
Tram Stop: Westermarkt

Book Here: Anne Frank House Tickets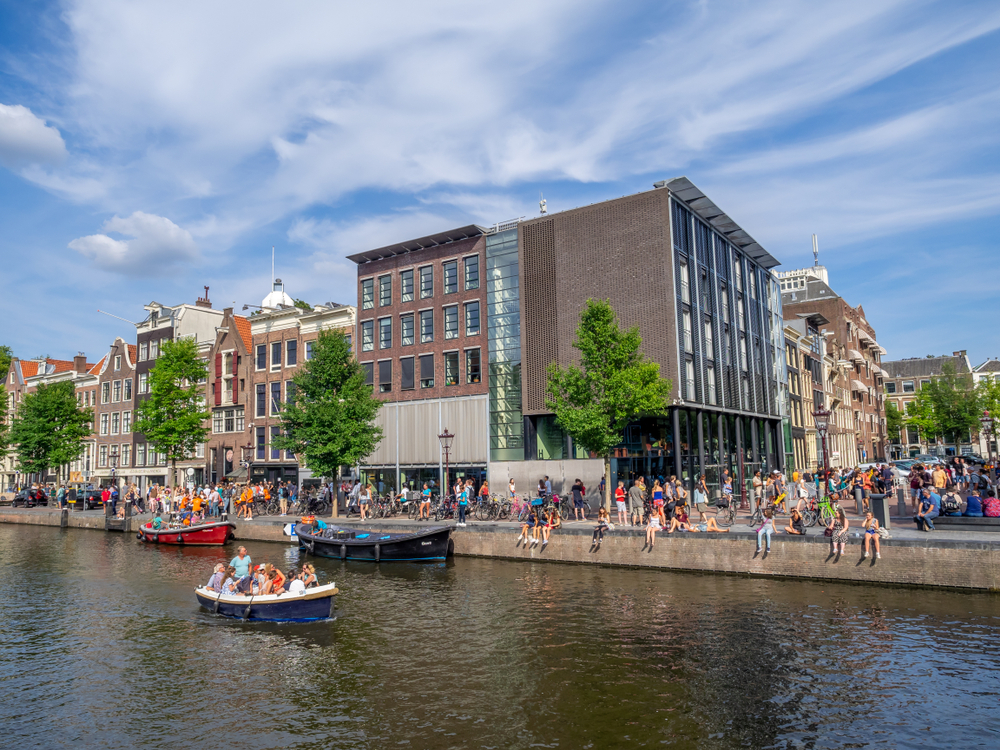 Stop 2: Learn the History of Tulips at the Tulip Museum
Across the canal and just north of the Anne Frank House, you will find the Tulip Museum. These flowers have played a huge role in the history of the city and were once traded almost like currency, with some varieties selling for thousands of florins during the Dutch Golden Age. Though the tulip craze has died, the brightly colored flowers are still a symbol of the Netherlands.
Stepping into the museum, you will find yourself in a small shop where you can buy flower bulbs and tulip themed merchandise. While entrance to the shop is free, you must pay a few Euro to go back into the museum. If you are interested in how the tulip impacted Dutch history and art, take some time to walk through the exhibit.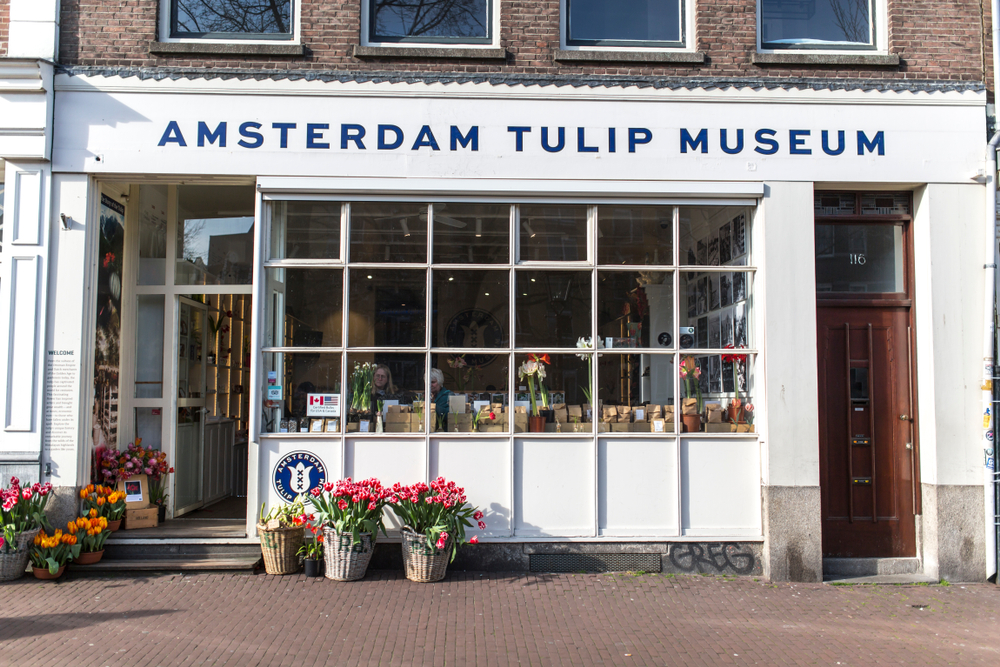 Stop 3: Try Some Samples at the Cheese Museum
Right next door to the Tulip Museum is an even tastier museum, this one dedicated to Dutch cheese. While it is a small building, there is a lot to see in this cute building. The top floor is a cheese shop with plenty of samples for you to try before you no doubt buy. After a few toothpicks worth of free cheese, make your way downstairs for the museum portion.
Down here, you will find photos and writing about the history of Dutch cheese as well as historical cheese-making displays. There is even a photo booth area with a backdrop and props if you need a place to say "cheese" for an Instagram selfie. Also, if you have never seen a diamond-encrusted cheese slicer, this is where you can find one! Though the original, diamond-covered slicer worth $28k was stolen in 2015, an even gaudier one has taken its place.
This is the perfect stop on your 3 days in Amsterdam itinerary if you consider yourself a food connoisseur or even if you are just an average cheese lover. Even though it might be a bit of a tourist trap, it is still cute (and yummy). One of the best things about this museum is that it is free, although hopefully, you budget for some cheese!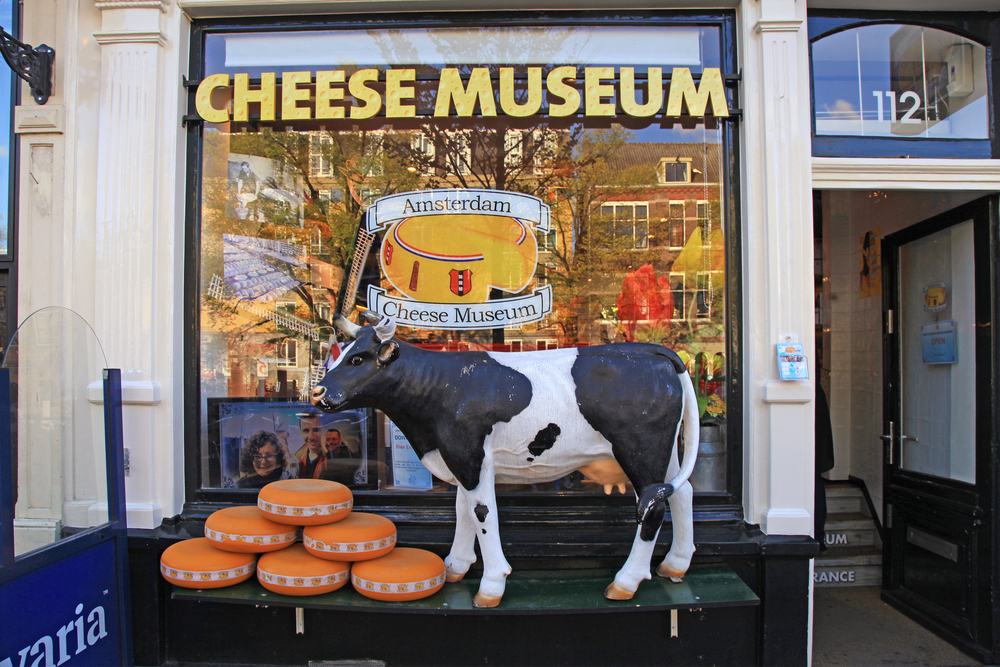 Stop 4: Wander the Beautiful Jordaan Neighborhood
After enjoying these museums, why not relax by simply strolling through the Jordaan neighborhood while you are in the area? Though there is plenty to do and see on your Amsterdam itinerary, you do not want to spend your entire 3 days in Amsterdam rushing from place to place. Jordaan is one of the trendier neighborhoods in Amsterdam and is full of cute shops, fun pubs, and cool restaurants. As you wander, you will find plenty of typical Amsterdam sights to snap photos of, from tree-lined canals and brick bridges to geometric canal houses and unique houseboats. Take time to just become one with the city and maybe find a place to snag lunch.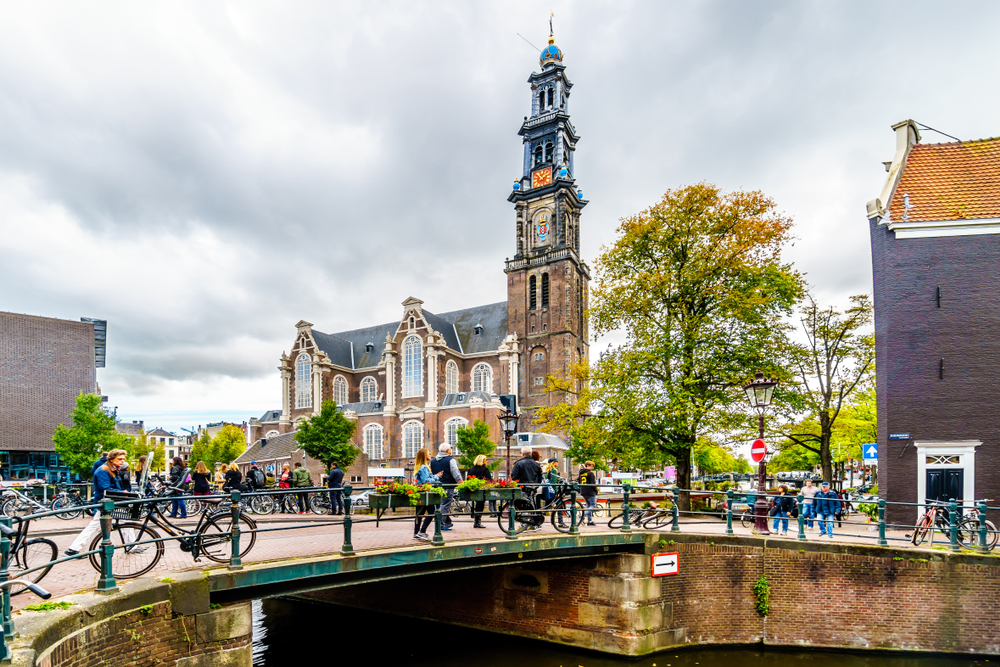 Stop 5: Discover a Free Panoramic View at the Library
From Jordaan, you can easily walk to the next destination depending on where you end up in the neighborhood. Or if you are too tired from wandering around, you can hop on a tram as well. On the east side of the Amsterdam Centraal Train Station, you will find the modern-looking OBA Library of Amsterdam. This public library is the largest in the country and is free to enjoy. Any book lover will be enthralled by the seven stories filled with over a million books and other media.
To discover the views this building provides, make your way to the top floor, where you will find a restaurant with a terrace. You can take the elevator but consider taking the escalator instead. This way, you will get to enjoy the sight of each floor as you move upwards. With plenty of windows to let in natural light and a beautifully designed interior, this is a library like no other. Once at the top, whip out your camera and capture some pretty views of the city of Amsterdam.
Tram Stop: Centraal Station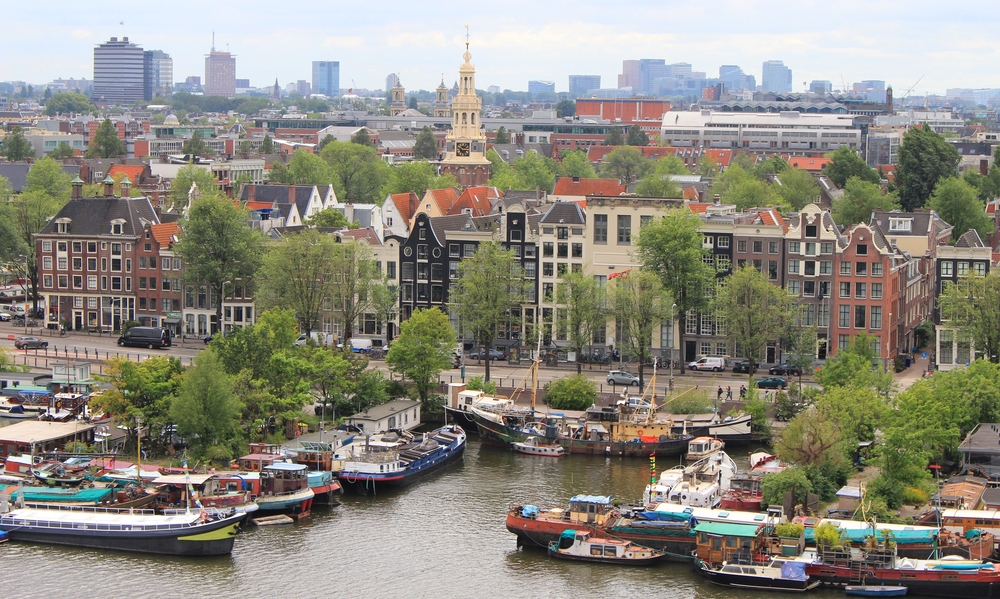 Stop 6: Eat Dinner on a Canal Cruise
The last stop on the second day of your Amsterdam itinerary is a dinner cruise along some of the 60 miles worth of canals that crisscross the city. If you are a couple traveling together, there is nothing more romantic than gliding effortlessly through the dark water as the sun sets and the city lights twinkle on to reflect in the calm water. As you take in the views, enjoy a delicious meal.
You would really be doing yourself a disservice not to take a boat cruise while in this city made for water travel. If your budget frowns upon shelling out so much money for a meal, consider booking a different cruise. There are all sorts to choose from that are shorter, simpler, and so, less expensive. Docks with cruise boats can be found throughout the city, so it will not be hard to find one. Many of the cruises include informative guides you can listen to as you sail along.
Book Here: 2-Hour, 4-Course Dinner Cruise From Centraal Station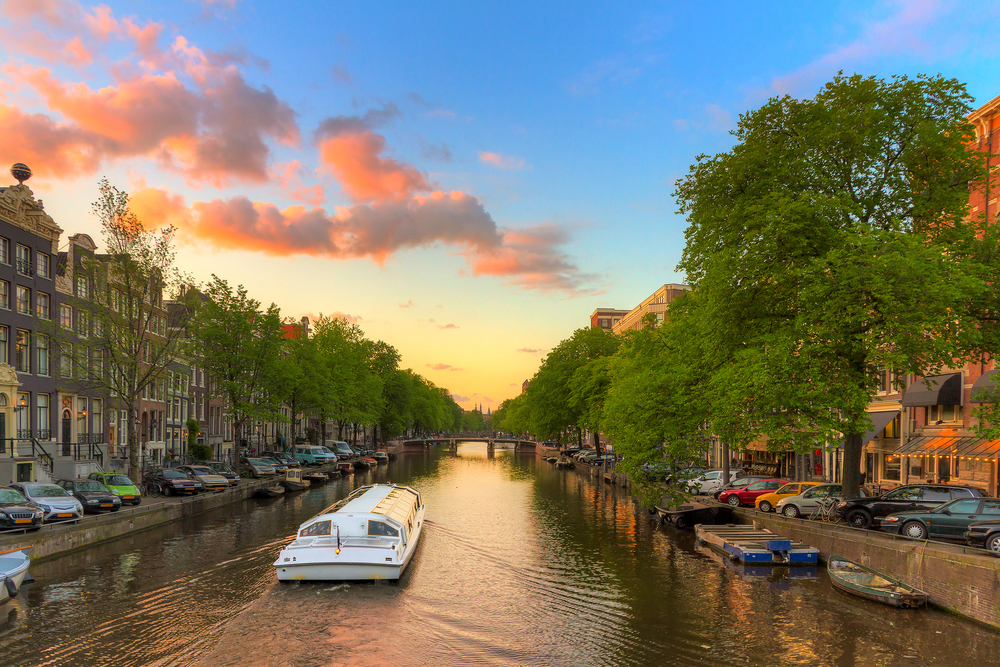 Stop 7: Check Out the Red Light District
The Red Light District is in the De Wallen neighborhood in the center of Amsterdam. Though it is pretty calm during the day, the area comes alive at night and becomes the perfect nightlife scene. Tourists flock here to witness what it is like when prostitution is decriminalized. Prostitution is legal in the Netherlands and is an industry that generates about $650 million a year. Women cannot work on the street. Instead, women stand in buildings behind windows with red lights over them.
With plenty of sex shops, peep shows, brothels, and lively bars, there are plenty of things to see here that would be hard to find elsewhere in the world. Though recently measures have been taken to end tours here to reduce overtourism, you can still visit on your own. The Red Light District is certainly not for everyone but is still a consideration for your Amsterdam in 3 days itinerary.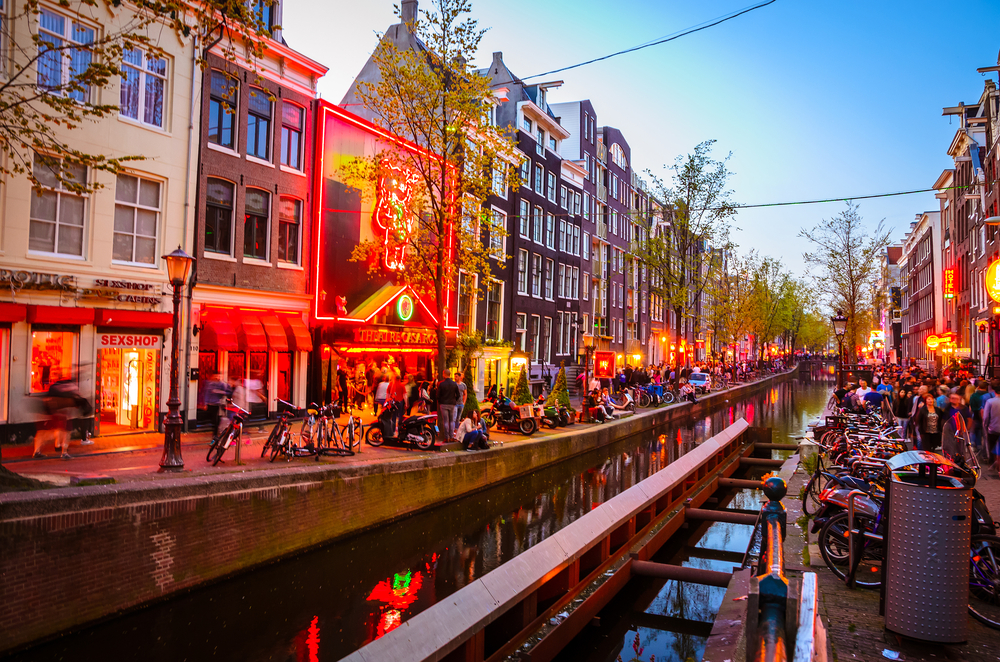 Day 3: Your Third Day in Amsterdam is for Fun and Relaxation
Stop 1: Visit Animals at the ARTIS Amsterdam Royal Zoo
You have made it to your last day in Amsterdam, and though you might be sad to leave, there is plenty left to do today so you do not suffer from the fear of missing out. You will find that 3 days in Amsterdam can be enough time to check off the most popular spots if you manage your time well.
For your first stop of the day, make your way to the east of the city to find the ARTIS Amsterdam Royal Zoo. This zoo was founded in 1838 as the first zoo in the Netherlands. It is a large zoo with a park-like feel and not long after you arrive, you will feel as if you are far from the city.
The zoo is home to a variety of animals from around the world and includes an aquarium, birdhouse, butterfly pavilion, planetarium, and the world's first microbe museum called the Micropia. Children will love the opportunity to run around and see all of the amazing animals here. Some animal exhibits even allow visitors to get up close and personal with the animals without fences between them, such as some lemurs and wallabies. While you are there, catch a sea lion show or have a snack at the cafe.
Tram Stop: Artis
Book Here: Skip the Line for the Zoo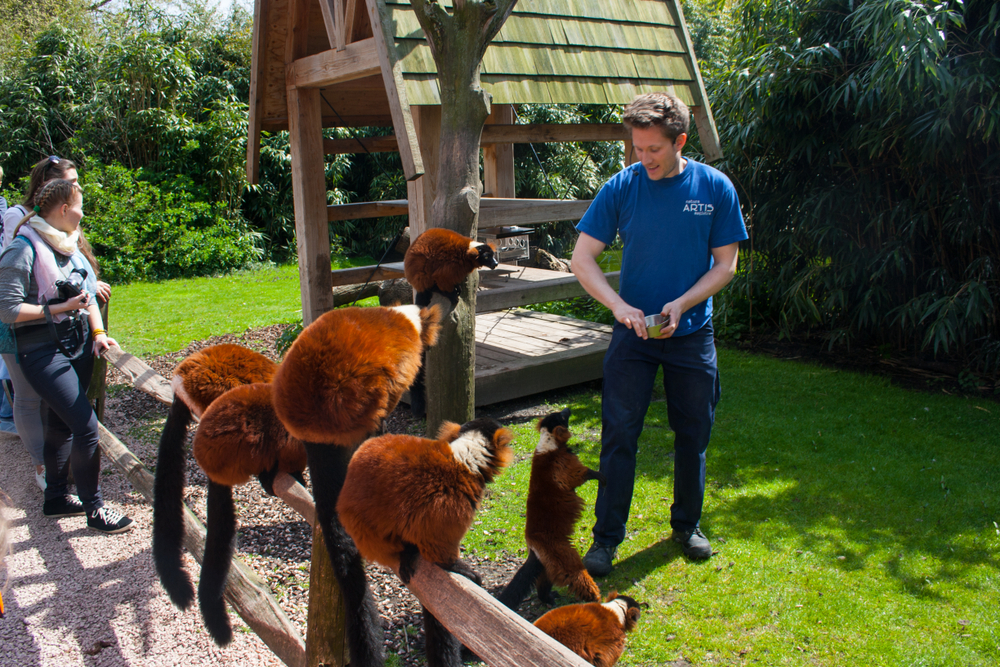 Stop 2: Picnic at Vondelpark
If you bought any cheese at the Cheese Museum yesterday, pack it up and make a quick stop at a local Albert Heijn supermarket to pick up anything you need for the perfect picnic. A few blocks northeast of the Museumplein, which you visited on your first day in Amsterdam, you will come across Vondelpark. This 120-acre park is beautifully designed and is an ideal place for locals and tourists alike to get away from the noise and craziness of the city.
Once you arrive, you will find green lawns, woods, a river, lakes, and gardens for as far as the eye can see. You will not have to walk far to find the perfect place to set up your picnic. Take a seat in the grass under the shade of a tree or if you have kids, maybe near a playground. After you eat, work off your meal with a stroll along the walking paths and try spotting some of the statues in the park, including one by Pablo Picasso. Or if you don't care about calories, grab an ice cream from a food vendor. You can always work out when your 3 days in Amsterdam are over!
Tram Stop: Van Baerlestraat, Cornelis Schuytstraat, or J.P. Heijestraat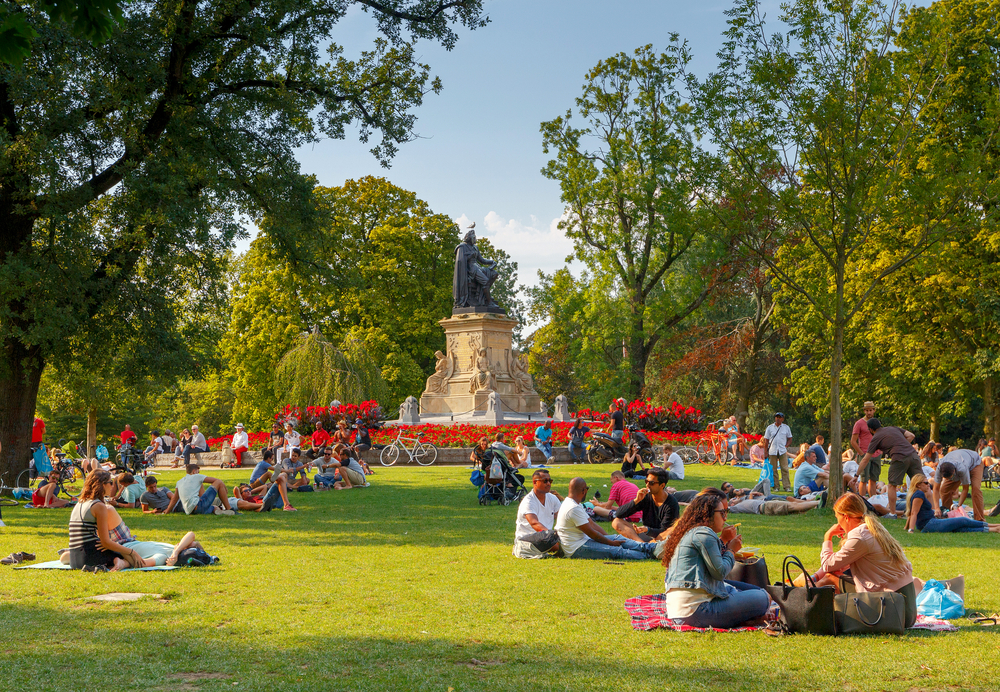 Stop 3: Smell the Flowers at the Bloemenmarkt
The Bloemenmarkt is the world's only floating flower market. Yes, you read that right! This unique market is found on barges tethered to the bank of the Singel canal. With greenhouse-like buildings to house the many flowers, this market is open year-round. The history of the market dates back to the late 1800s when boats brought fresh flowers into the city daily.
This market is known to be a great place to buy souvenirs, as there are gifts shops here as well that sell more than just flowers. If you do plan on buying flower bulbs to bring back home, do your research, not only to make sure you get bulbs that will bloom, but that the bulbs you buy will make it through customs. The bulbs are strictly regulated and must be approved for export.
Even if you do not plan on buying anything, Bloemenmarkt is still a great stop on your 3 days in Amsterdam itinerary. Take time to stroll through the flower stalls and smell the fragrant air.
Tram Stop: Koningsplein or Muntplein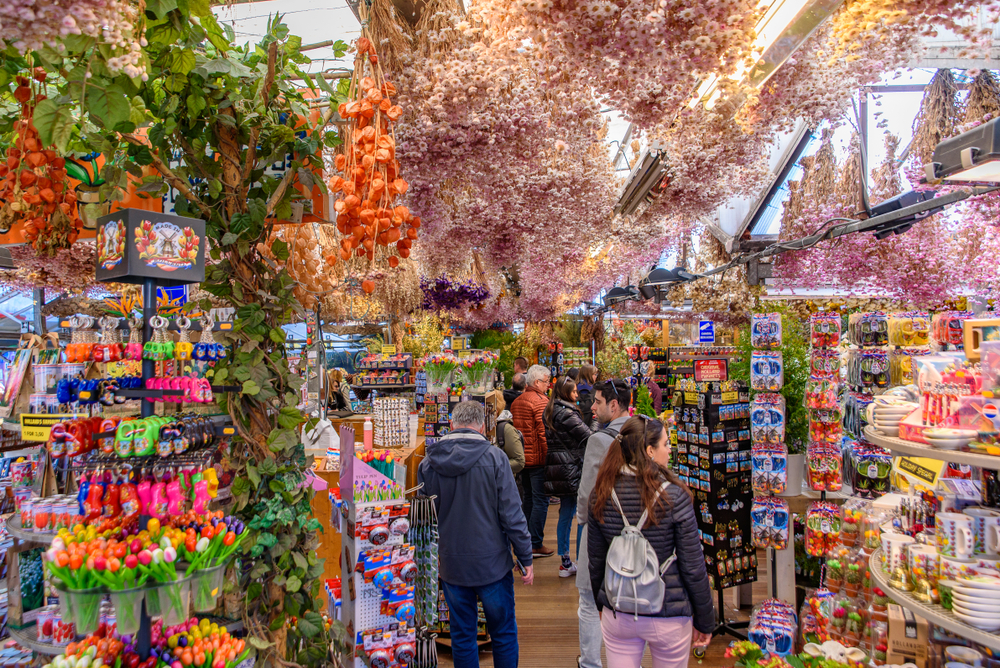 Stop 4: Tour a Brewery with the Heineken Experience
Heineken is a pale lager beer that is popular around the world. It was first brewed in Amsterdam in 1864 and has since become a Dutch staple. If you are interested in seeing how the beer is brewed, you might like the Heineken Experience Tour. Located in an old brewery in the De Pijp neighborhood, you will be able to see what it is like inside of an authentic brewery.
The tour will take you through the history of the brand and show you old ads. The price of the ticket also includes a couple glasses of beer, which you can draft yourself at the bar. If you do not drink or have underage members in your group, there are non-alcoholic drinks available as well. The drinking age in the Netherlands is 18.
Tram Stop: Weteringcircuit

Book Here: Heineken Experience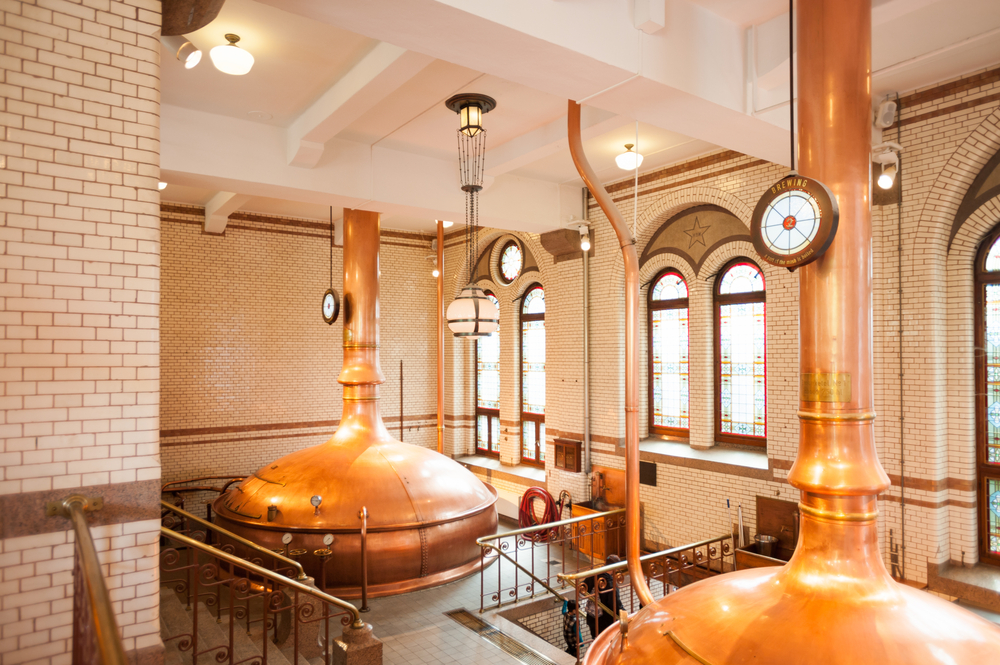 Stop 5: Wander the Streets Around Dam Square
Dam Square and the streets spanning out from it is a busy hub of activity and tourist attractions. In other words, it is the perfect place you spend the last afternoon of your 3 days in Amsterdam. With a fun atmosphere and plenty to do and see, you can easily spend a few hours here. Window shop while you snack on some of the delicious treats that can be bought here. Be aware of your surroundings though, since pickpockets are known to target tourists in the crowds here.
Take time to examine the tall obelisk in the center of the square that is the National Monument. Look around Ripley's Believe It or Not or check out Madame Tussauds' Wax Museum. Dam Square is also where you will find the Royal Palace. Admire the building's beautiful architecture from the outside or take a tour of the inside. At certain times of the year, you can also find a fair stationed in the square.
Tram Stop: Dam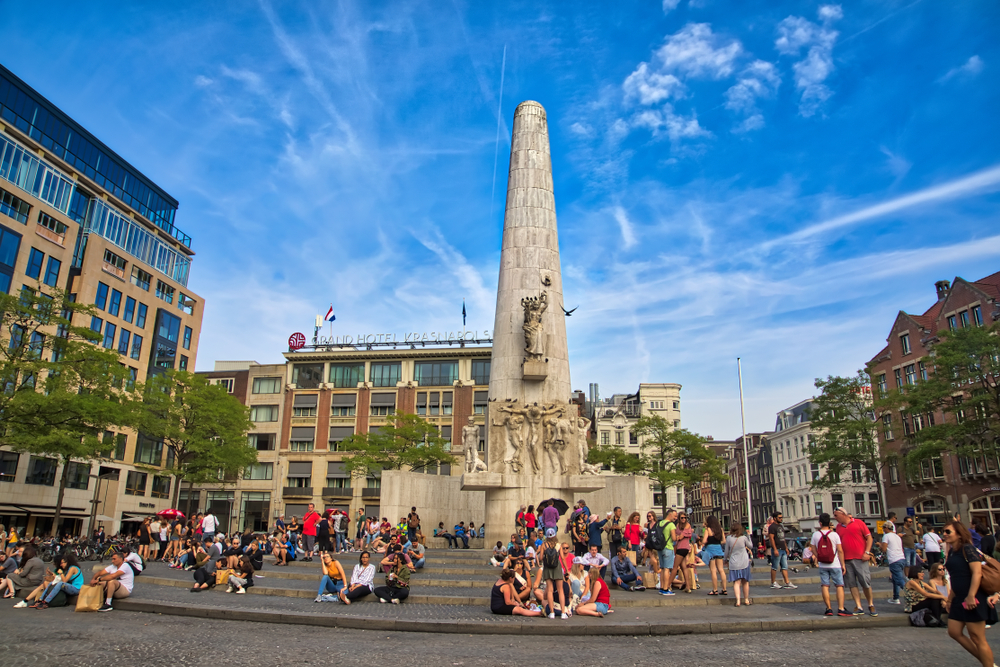 Stop 6: Try Cannabis at a Coffeeshop
Okay, you have smelled the distinct scent of weed through open doorways as you have walked the streets of Amsterdam and now it is finally time for you to enter one of the famous coffee shops that are dotted throughout the city. These coffee shops are the only places you are allowed to purchase and consume cannabis. They often offer plain weed, pre-rolled joints, hash, and edibles.
There is plenty to know before you go to one of these establishments, but if you still have questions, the employees at these shops are known to be very helpful, especially for tourists. Know that the cannabis bought here is usually stronger than what you may be used to, so pace yourself. Follow laws to avoid fines and remember to be responsible!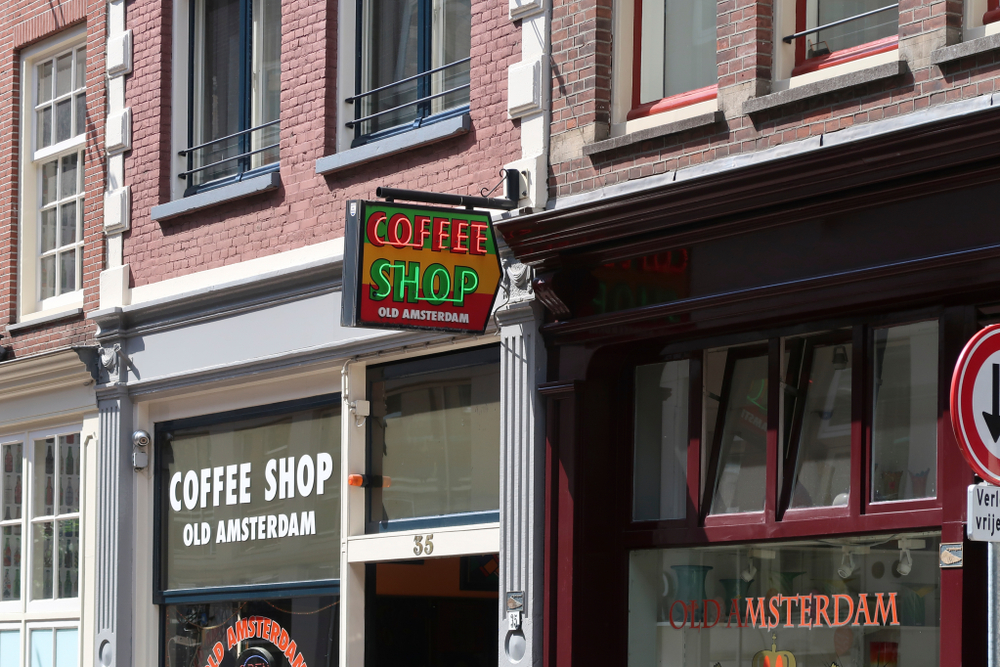 Where to Stay in Amsterdam
During your 3 days in Amsterdam, you are going to be out and about most of the day, but you still need somewhere to sleep at night. Whether you are looking to stay at a budget-friendly hotel or don't mind spending extra for something more luxurious, there are plenty of hotel choices within Amsterdam, many of which are near popular attractions. Here is a list of possible choices for you to look into booking.
Affordable: Stayokay Amsterdam Stadsdoelen
Found smack dab in the center of the city, this hostel is one of the best budget-friendly options around. With a large bar, free wifi, luggage storage, and friendly staff, you might not have to look any further for a place to stay during your Amsterdam trip.
This hostel is only a couple blocks from the Bloemenmarkt or the Rembrandt House. Get ready to make some friends in the shared bedrooms!
Check Rates Here: Booking.com
Affordable: The Flying Pig Uptown
Located on the edge of Vondelpark and a couple of minutes from the Museumplein, this fun hostel is the perfect place to meet fellow travelers. With modern dormitory rooms filled with bunk beds and a shared bathroom, you are bound to make friends during your stay.
Walking distance to many sights or near a tram stop to get farther away, this hostel's ideal location makes it perfect for your 3 days in Amsterdam.
Check Rates Here: Booking.com
Mid-Range: Botel
While staying in Amsterdam, why not consider staying at a unique boat hotel? The Botel is found docked in the River IJ just north of the city. A free 10-minute ferry will transport you to and from Centraal Station.
With an almost cruise-like feel, the boat includes a bar where guests can play pool and video games. The nearby shipyard has been modernized and is popular for its nightlife. If you are looking for a fun place to stay during your 3 days in Amsterdam, this location just might be for you!
Check Rates Here: Booking.com
Mid-Range: Hotel Washington
Only about 1,000 feet from the Museumplein, the Hotel Washington's mid-range rates are not the only thing that will draw you to it. With free wifi, a continental breakfast, and a great location, this hotel would be a great choice for your 3 days in Amsterdam.
Pretty rooms and a backyard garden give the property a cozy feel. For those interested in exploring the city in true Amsterdam style, the hotel offers bicycle rentals.
Check Rates Here: Booking.com
Expensive: Mozart Hotel
Found just a couple blocks from the Museumplein and about a mile from Dam Square, this centrally located hotel is perfect for your 3 days in Amsterdam. With simple, modern rooms and friendly staff, there is everything you need for your short stay. Guests will enjoy free wifi and coffee in the morning. Located on the Prinsengracht Canal, it is possible to book a room with a view of the water.
With a breakfast buffet, you do not have to waste time finding a place to eat before you start your day. The staff is also available to answer questions and help you book attractions.
Check Rates Here: Booking.com
Expensive: The Old Nickel Hotel
The Old Nickel Hotel is located just about a three-minute walk from Centraal Station, which makes it perfect for visitors who do not want to drag their luggage all over the city. With a tram stop nearby, traversing the city and finding your way back at night is easy.
This hotel has a very beautiful bar as well, decorated with the original paneling of a 17th-century ship. This bar will give you a nice place to spend the evening before catching some sleep before your next busy day.
Check Rates Here: Booking.com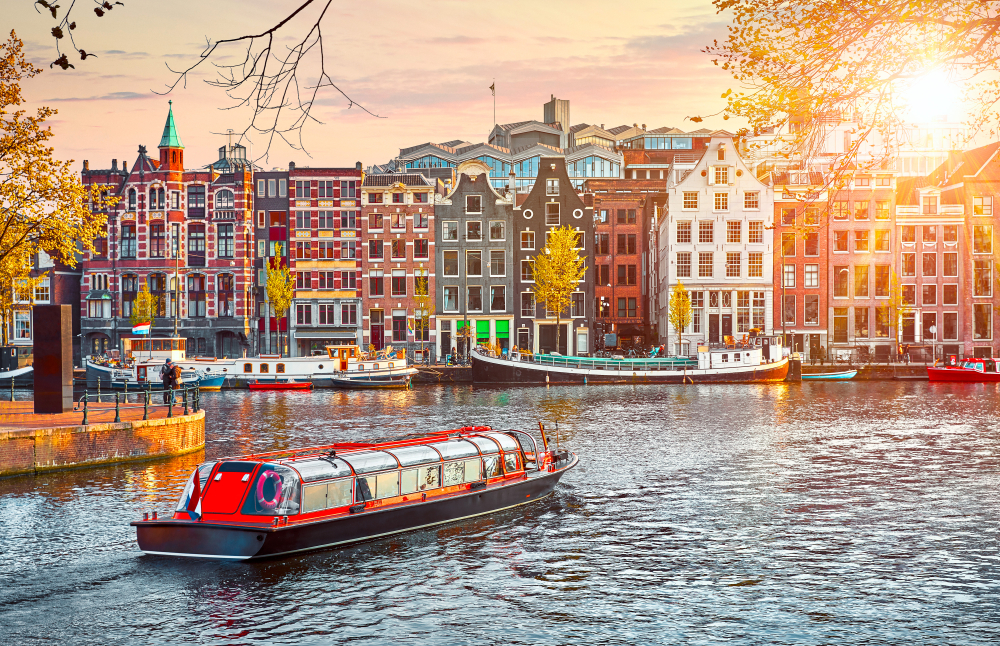 By now, you should have a great idea of how to spend your 3 days in Amsterdam! With diverse attractions and delicious food around every corner, Amsterdam is a city you can easily fall in love with. You will be able to go home with a taste of the Dutch lifestyle, awesome memories, and a ton of pretty pictures. Though you may have only scratched the surface of this amazing city in your time here, it only means you have more to explore on your next trip.