If you are looking for where to visit and where to stay in the Cotswolds Villages, you have come to the right place! The Cotswolds Villages, located in the southern parts of central England, are straight from a storybook. Within the Cotswolds Villages, there are a multitude of places in which you can book, stay and visit, so the planning process can get a little overwhelming. But we are here to make this process easy for you! This is one of the most beautiful parts of England and the perfect place to visit if you are looking for those storybook views and moments.
Below, we will break down some of the best villages in the Cotswolds to visit and even suggest a good place to stay at! We will tell you a little about each village so you can understand the Cotswolds Villages before you plan your trip. There is something for everyone, and each village is unique, so we know there will be something for you! This article is just a simple breakdown to help you get a feeling of the Cotswolds Villages and what will be best for you and your travels.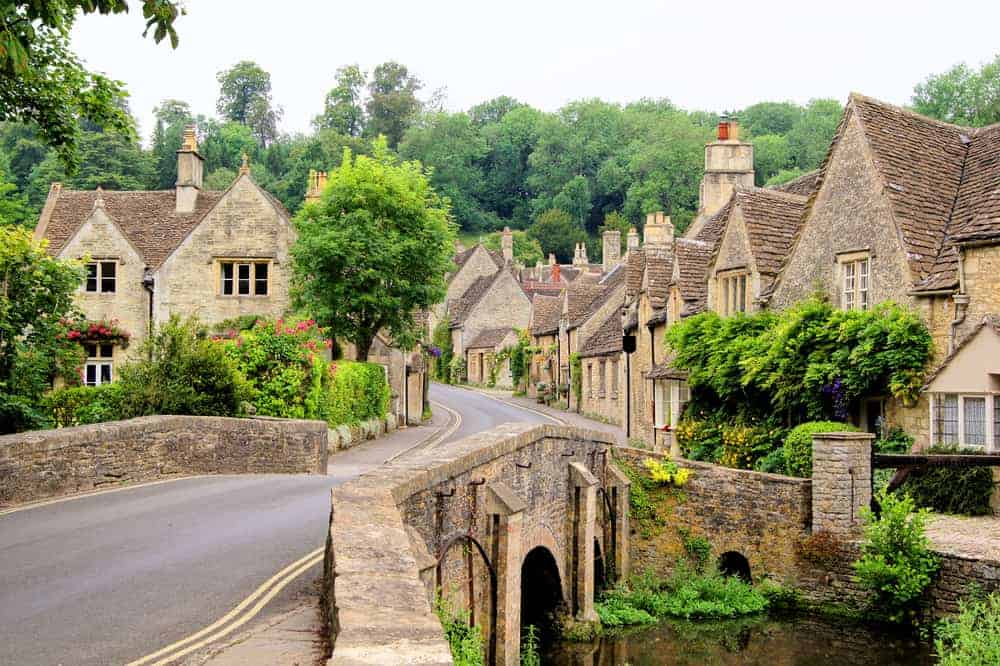 10 Cutest Cotswolds Villages Out Of A Storybook
An Introduction to the Cotswolds In England
The Cotswolds is an area in south central and west England, marked but the Cotswold Hills. These rolling hills mark the Cotswold Edge and this area has unique features due to it's natural limestone that creates a grassland habitat that is rare in the United Kingdom. Because of this natural and rare beauty, the Cotswolds was designated as an Area of Outstanding Beauty in 1966, and government has protected the landscape to help ensure it's survival for both locals and tourists.
The Cotswolds Villages run through six counties and are characterized by their attractive small towns and picturesque sights. Because of this, tourism is a large part of the area's economy, providing a large base of income for the villages. Between its Jurassic limestone that gives it's architecture an olden, storybook vibe, and multiple places of interest, such as the Sudeley Castle and the Tetbury Market House, this is one of the most sought after destinations to visit, as the Cotswolds Villages is truly a step into a storybook. You don't want to miss out on the beauty that is the Cotswolds Villages!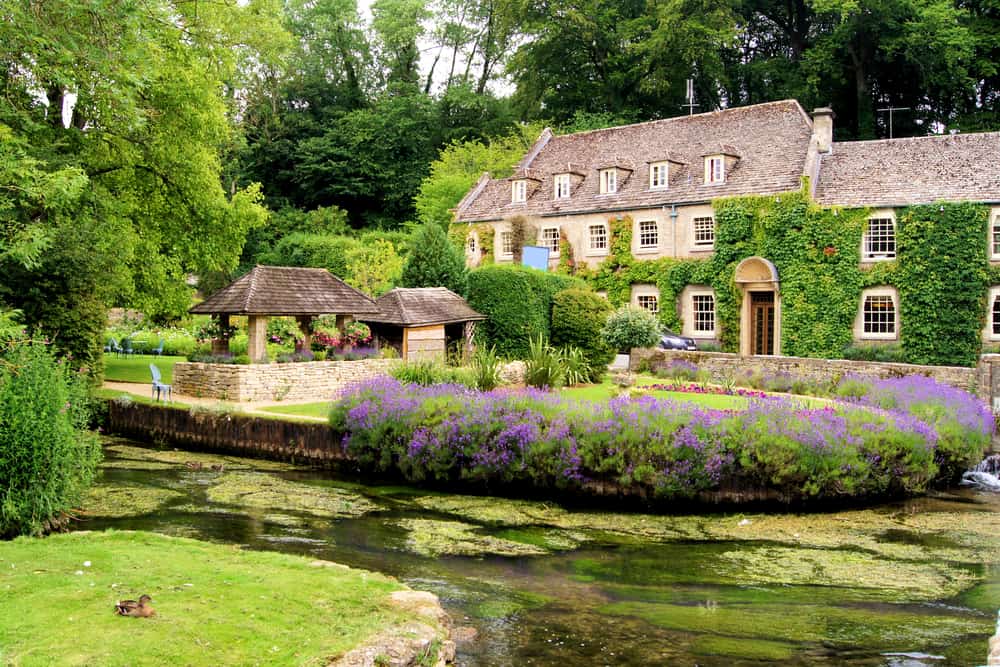 1. Swing By Upper Slaughter
The Upper Slaughter is a village in the Cotswolds that is built on both banks of the River Eye. It is one of the smaller Cotswolds Villages, and it is a village that takes pride in the fact that it lost no men during World War I or World War II. Because of its small nature, there aren't many places to visit, but a few places of architectural interests include Upper Slaughter Manor, which is a grade I listed property that shows the beauty of that jurassic limestone, and Old School Houses as well as Traditional Farmhouses.
However, the Upper Slaughter is one of the best Cotswolds Villages to visit, especially if you're looking for that quaint, storybook vibe. A little stream trickles through the village and the surrounding areas are grassy with relaxing vegetation and your typical storybook animals, like early morning birds. This Cotswold Village is never over-crowded and it has multiple medieval almshouses and fords, which make it picturesque and relaxing.
If you are looking for a true storybook hotel in the Cotswolds Villages, especially in the Upper Slaughter, we would recommend staying at The Lords of the Manor. This hotel is set on 8 acres of secluded gardens and has been voted as one of the to 200 hotels in the country between it's gorgeous views and award-winning food. Each bedroom is individually designed, the on-site restaurants offer great options, and the views of each room vary from gardens to ponds to hills– but they all promise that storybook feel.
Check Rates: Booking.com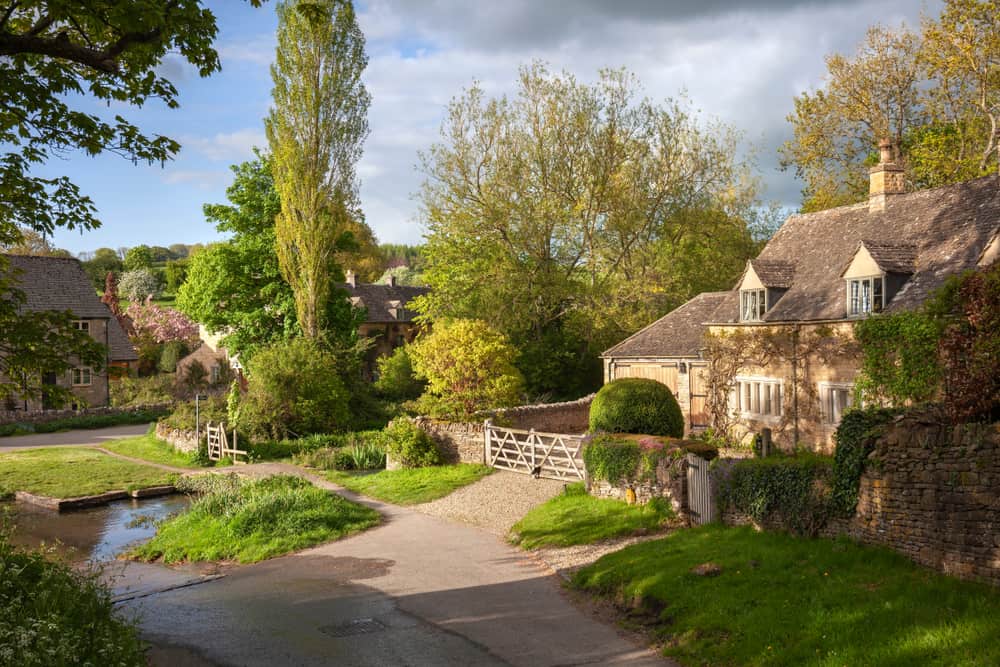 2. Then Swing On Down To Lower Slaughter
Lower Slaughter is a well known village in the Cotswolds Villages because of its beautiful streams and local attractions. Unlike Upper Slaughter, Lower Slaughter is a bit more popular in terms of tourists and visitors, which is noted by the fact that Copse Hill Road was voted the most romantic street in Britian, making it a must-see– especially for couples!
Between the beautiful architecture, stunning views, romantic ambiance and secluded getaways, it is no surprise that the Lower Slaughter is one of the best Cotswolds Villages to visit. This village also has great local attractions such as the Old Mill Museum, which was last used in 1958, but now features tours, teashops, and gift shops. This village is still quaint although more popular than the Upper Slaughters and might be the perfect place for you to visit when traveling to the Cotswolds Villages!
If you are looking for a true storybook hotel in the Cotswolds Villages, especially in Lower Slaughter, we would recommend The Slaughters Country Inn. This stone building is surrounded by 4 acres of grounds and is set beside a river, make it picturesque, romantic and relaxing. Only a two minute walk fro the centre of Lower Slaughter, there is free private parking, log fires, cosy dining, and modern private bathrooms. It is the place to stay!
Check Rates: Booking.com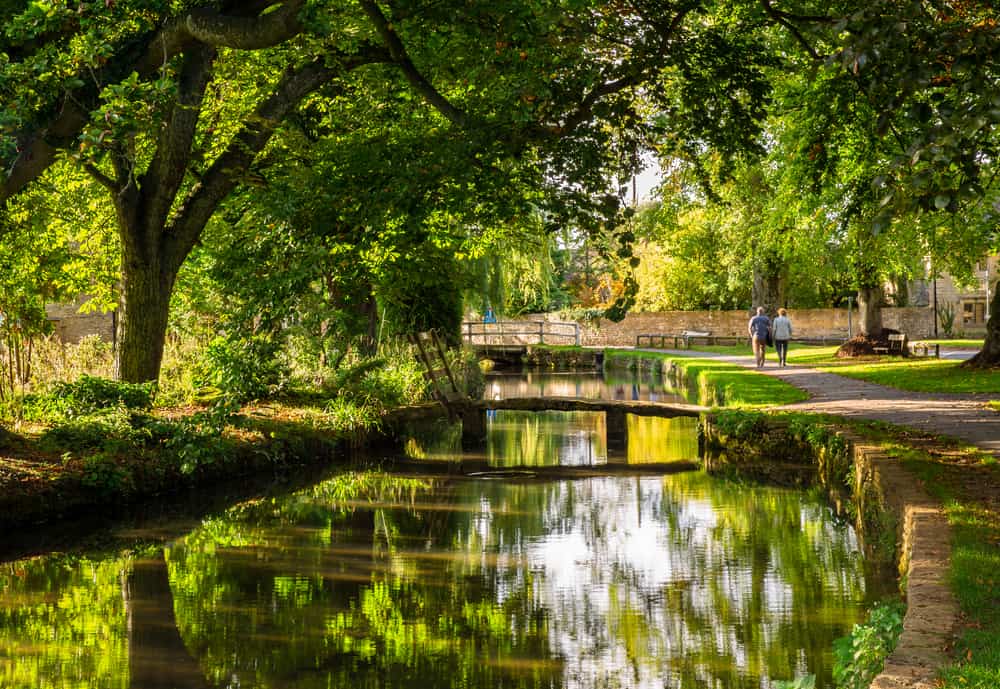 3. Don't Forget To Stop At Bourton-on-the-Water
Bourton-on-the-Water is one of the best Cotswolds Villages, which is noted by its peak tourist season where 300,000 visitors come to see this village's picturesque landscape. This is easily one of my favorite places to visit in the Cotswolds!
That being said, if you want to get technical about it, Bourton-On-The-Water is technically considered a "town" not a "village." This town is known for its storybook ambiance, especially because of High Street. High Street is a street that is flanked by long wide greens and the River Windrush that flows through them. The river has five low, arched stone bridges that cross it, which has given the village then nickname the "Venice of the Cotswolds."
Like the Upper Slaughters, there is also a variety of things to do in Bourton-on-the-Water. Between Birdland, which is a large park that contains over 500 birds, and The Model Village, which is a miniature version Bourton-on-the-Water, there is always something to see. Don't also forget to stop by the Cotswold Motoring Museum and the world-famous Dragonfly Maze! This village is perfect for family-friendly trips and those who enjoy museums and adventures!
If you are looking for a true storybook hotel in the Cotswolds Villages, especially in Bourton-on-the-Water, we would recommend The Lamb Inn. This country-style hotel is in the heart of the Cotswolds and offers luxurious rooms and suites that have exposed Cotswold stone walls and suite facilities. The on-site restaurant also offers fine, local produce and a relaxing atmosphere!
Check Rates: Booking.com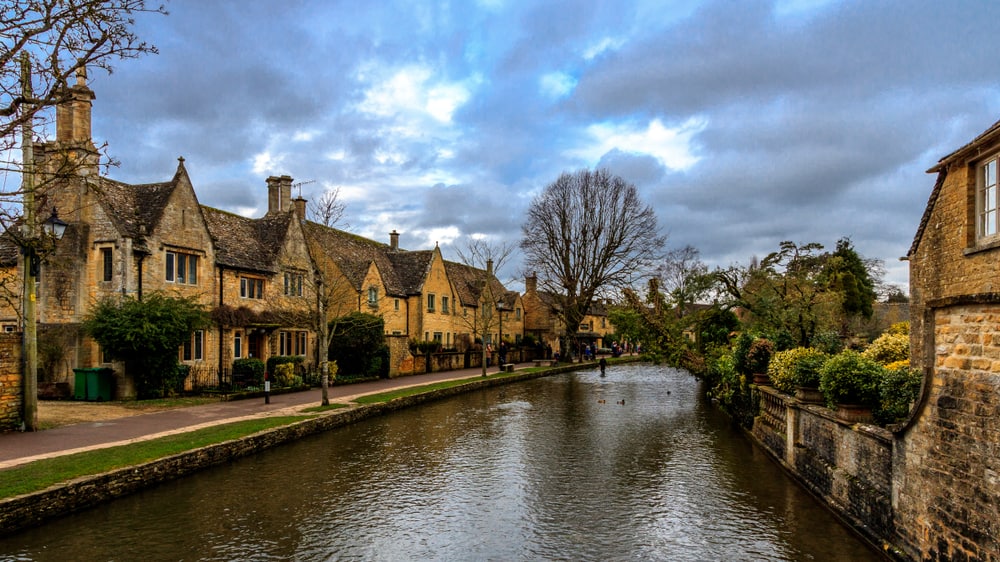 4. Burford Is A Unique Cotswolds Village
Burford is a famous Cotswolds town that many people love to visit due to its unique medieval vibe. It is a village that is well known for its downhill sweeping streets that lead to the River Windrush. Burford also has three-arched medieval bridges and a large church in the center of the town, which is surrounded by an unbroken line of ancient houses and shops, truly giving it that medieval feel.
Visitors love Burford because of its beauty and history, but also because of its shopping. Burford is well known for its antique shops as well as its vast options in terms of restaurants, teashops, and classic pubs. If you happen to visit during May, make sure to stop by during the commemoration of their rebellion, which is called Levellers Day. During this celebration, a colorful procession marches through the town and speeches, debates, and music help celebrate the freedom of human rights.
If you are looking for a true storybook hotel in the Cotswolds Villages, especially in Burford, we would recommend The Inn for All Seasons. This coaching inn overlooks the rolling countryside and is close to the gateway to the Cotswolds. It is a family owned inn, so a traditional setting, warm welcome, and relaxed ambience is promised, as well as great local food!
Check Rates: Booking.com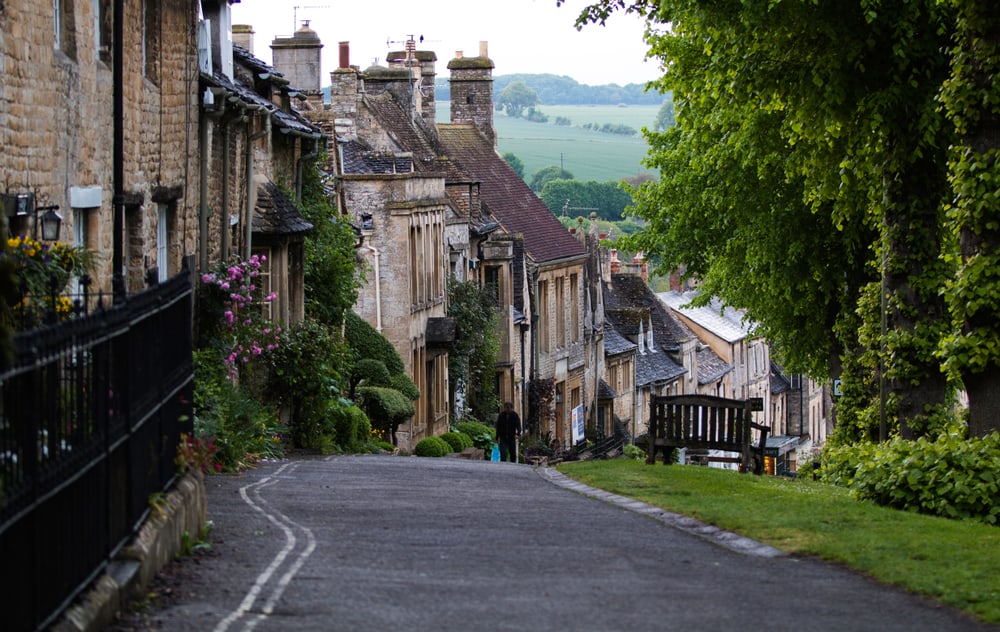 5. Stop By Bibury For An Evening Or Two
Bibury is one of the best Cotswolds Villages to visit, especially when just considering the views of the town! It is one of the most picturisque villages and was mentioned in an article written about "The Most Charming Towns In Europe You'll Want to Visit ASAP." Many people love visiting the cottages of Arlington Row, which was historically a place where the village weavers would live and work.
Other visitors seem to particularly enjoy the Bibury Trout Farm and the Arlington Mill. There are countless options and attractions to visit in Bibury, including Cotswolds Water Park and Westonbirt Arboretum. With all these options, it shouldn't be surprising that Bibury is popular with tourists in both summer and winter seasons. But despite some crowds, the picturesque greens and honey-colored stone architecture are must-sees!
If you are looking for a true storybook hotel in the Cotswolds Villages, especially in Bibury, we recommend checking out The Swan Hotel. This ivy-clad building is located on the banks of the River Coln, and each room is uniquely decorated. The Swan is just a minute walk from Bibury's attractions, and offers selections of dining and drinking options in addition to a beautiful courtyard and charming library!
Check Rates: Booking.com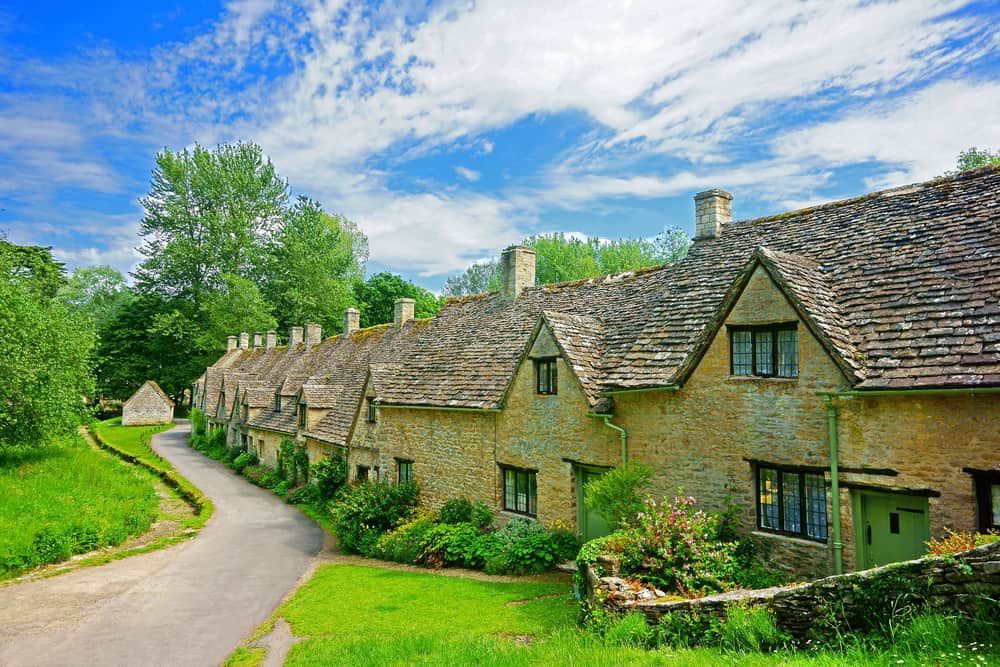 6. Stow-on-the-Wold Towers Over The Towns
Stow-on-the-Wold is another famous place in the Cotswolds Villages, known for its market town and vivil parish. It sits atop an 800 foot hill, at the junction of two major roads, making it a popular village to travel to. You may recognize the village from series "Top Gear" as the exposed spot on top of Stow Hill gives the town a picturesque setting. It also makes it stand out in regards to the rest of the towns as it towers over the other villages!
Stow-on-the-Wold's history is rich and the now-more-modernized-town pays tribute to its roots in the wool industry, as the town once housed as many as 20,000 sheep. Today, Stow is an imporant shopping centre with antique shops, art galleries, craft pop up stalls, and much more. We would also recommend visiting the Gyspy Horse Fair if you are  in town in May or October, as well as the Cricket Museum. And of course it is important to stop by and see St. Edward's Church! St. Edward founded this town and this church was built in his honor between the 11th and 15th century– it's stained glass windows are not to be missed!
If you are looking for a true storybook hotel in the Cotswolds Villages, especially in Stow-on-the-Wold, we recommend checking out The Wyck Hill House Hotel and Spa. This luxury country-house hotel offers great views over its 100 aces of land. It is located just on the cusp of Stow and offers large rooms and spa treatments if that is of any of interest to you! It is also close to Bourton-on-the-Water if you want to travel and visit other villages on your trip!
Check Rates: Booking.com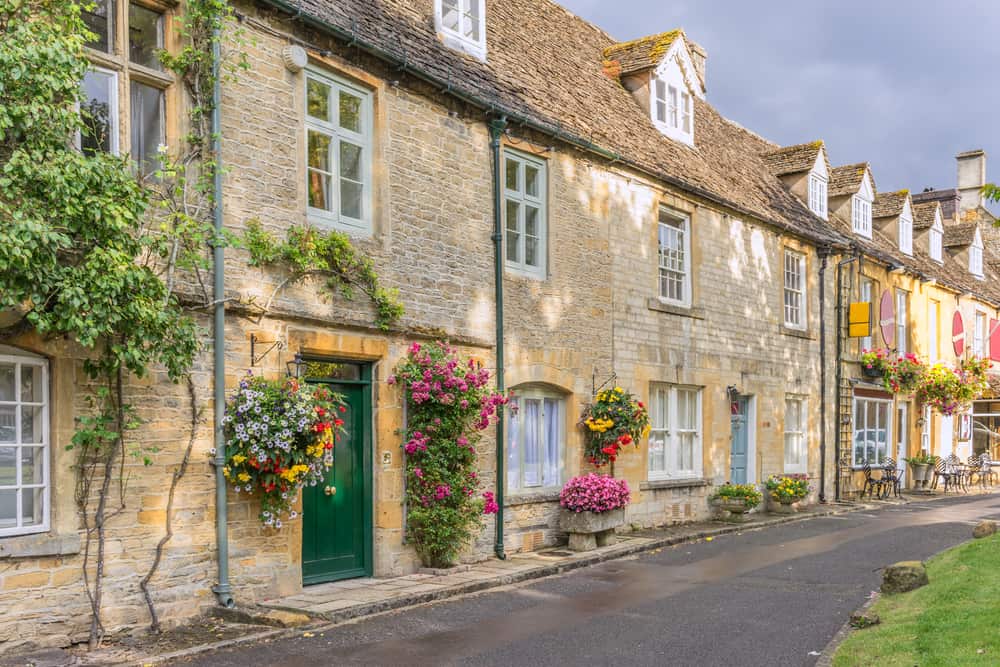 7. Visiting Castle Combe Is A Must In The Cotswolds
Castle Combe sits in the north west area of Wiltshire and takes credit as "the prettiest village in England." This is one of the Cotswolds Villages that is regularly featured in movies, arguably one of the most popular ones being Stephen Spielberg's "War Horse." This village has rich history and lots to do. Market's Cross and St. Andrew's Church, which dates back to the 13th century, are popular tourists spots. The church also faces a faceless clock which has been documented as one of the oldest working clocks in the United Kingdom.
Castle Combe is known for its ambience and the chance to stroll down its narrow roads while purchasing homemade cakes and flowers a locals' houses. There is also the famous Castle Combe Circuit, which is where drivers have the chance to test out different vehicles. You can even bring your own car to tackle the circuit or Rally course– just be careful if it's a rental! This town is truly from a storybook with its friendly locals, great community, and adventures!
If you are looking for a true storybook hotel in the Cotswolds Villages, especially in Castle Combe, we recommend looking into staying at Gibb Cottages. These cozy cottages are reminiscent of the town and are less than a mile away from the Castle Combe Circuit. The holiday home also offers a barbecue and a family-friendly environment with large yards and comfortable rooms!
Check Rates: Booking.com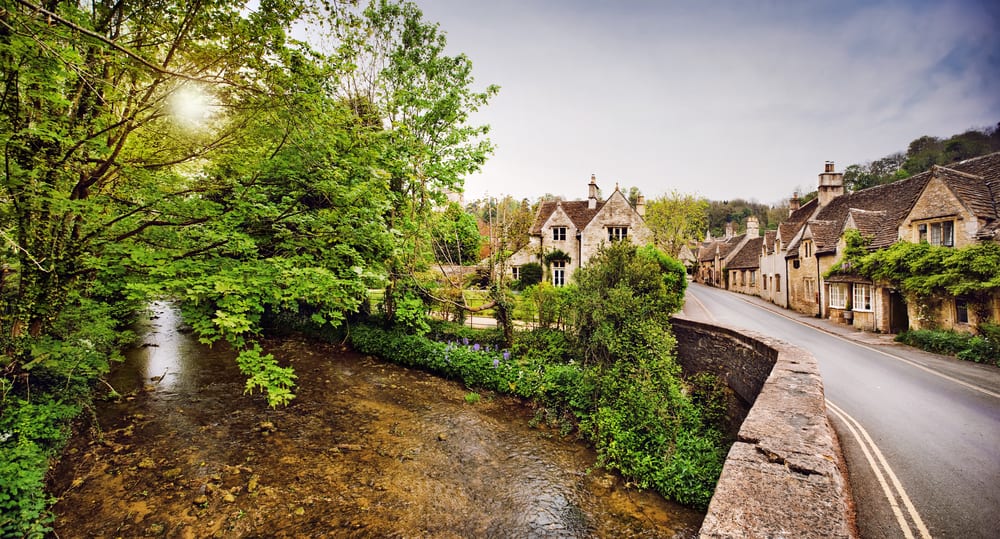 8. Broadway Is One Of The Prettiest Cotswolds Villages
Although this village shares the name of the famous New York City strip, Broadway is also a beautiful town in then Cotswolds Villages! Its High Street is lined with horse chestnut trees and dotted with period houses and the yellow-and-honey colored Cotswold stone cottages. The street through this town used to be an ancient ridgeway from Worcester to London, so this town is used to some traffic, and is home to many artists such as William Morris and Mary Anderson.
This town is referred to as the "Jewel of the Cotswolds" and is only two hours from central London. Broadway has a variety of places to visit, such as the Ashmolean Museum and the Broadway Tower. But if you are looking for other activities to do, this town also offers hands-on adventures such as clay pigeon shooting, horseback riding tours, a soap school, and pottery activities, all which pay tribute to the artistic history of this village. It is truly the Jewel of the Cotswolds Villages with it's stunning backdrop and heart for the arts.
If you are looking for a true storybook hotel in the Cotswolds Villages, especially in Broadway, many people have raved about staying at The Lodge at Broadway. This hotel is located 3.9 miles away from Broadway Tower, making it close to the center of the town, and offers broad, comfortable rooms that come equipped with a mini fridge with free, fresh milk from the town, a private bathroom, and coffee and tea facilities. The land it is located on is great for views of the town, especially during dusk or dawn!
Check Rates: Booking.com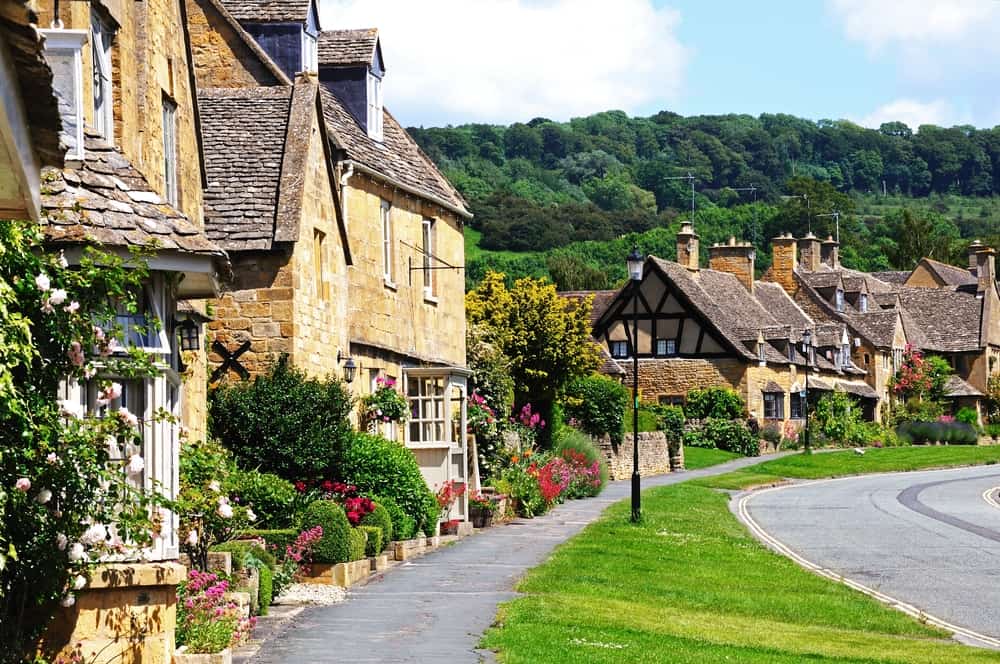 9. Painswick Is Waiting For You To Visit
Nestled between the Cotswold Hills and countryside is the town of Painswick. It's Main Street, New Street, was built around 1428 when the wool and cloth market was bombing, and thus, this village became historically known for its production of such materials. Because of such, Painswick puts on a Art couture festival every year for six weeks, where costumes are paraded in and stalls are set up along the narrow streets. And even if you miss the festival, the Painswick art centre always has art shows going on.
Outside of art, you can visit other spectacles of the town, such as 17th century spectacle stocks near the courthouse, 14th century houses on Bisely Street (which display two original Donkey doors– if you don't know what those are, they are doors wide enough for donkeys that used to carry wools from mills during the wool trade era), and England's oldest Post Office. The surrounding Woodlands are also ideal for birdwatching and wildlife fans! There is always something to do in this gorgeous town that is nestled between the hills.
If you are looking for a true storybook hotel in the Cotswolds Villages, especially in Painswick, make sure to check out Falcon Inn! This hotel is centrally located in the valleys and hills of the Gloucestershire Hills, offering great views, spacious bedrooms, and on-site restaurants and bars. Painswick's accredited Rococo Garden is also only a ten minute walk away! From free parking, down-feather bedding, and a pool table in the bar area, this is the perfect place to relax when you aren't exploring the town.
Check Rates: Booking.com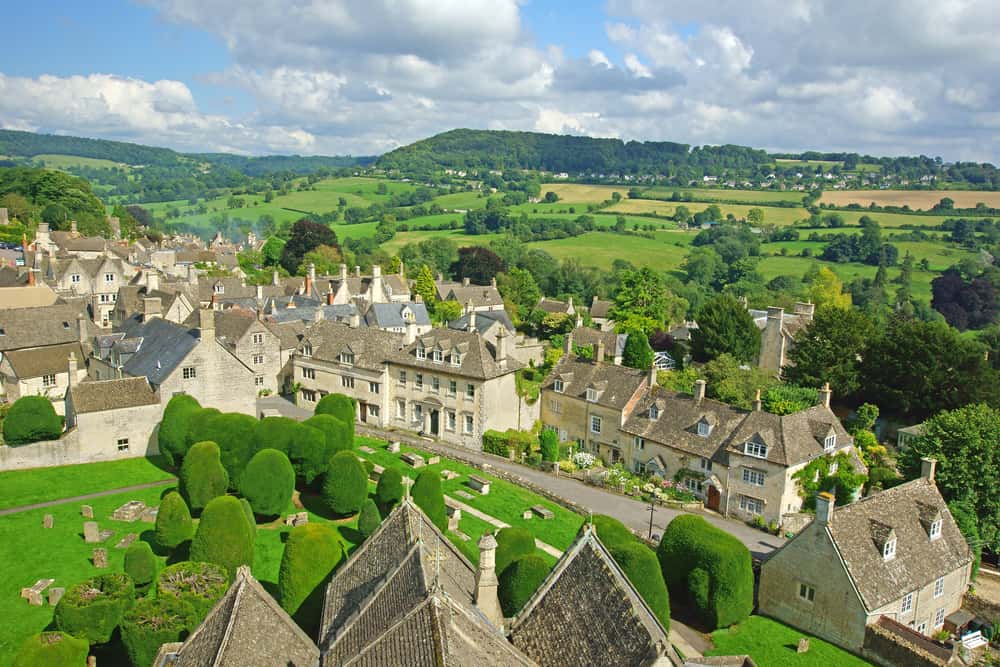 10. What's Chipping, Chipping Campden?
Chipping Campden has easy road access and is idea for a full vacation because of its a central location in the northern Cotswolds. There are plenty of accommodations in this village as it is well equipped for tourist season, but the town is never over-crowded. Chipping Campden loves to make their locals and tourists feel welcome in the community and put on a variety of events, such as the Robert Dover's Olympic Games, and by opening their gardens on weekends. They also have a Music Festival and a Literature Festival every year!
Although most of these events take place in early spring and summer, don't let it discount you from traveling during the winter as well! The snow-capped houses and limestone is beautiful to see in Chipping Campden and can offer a great backdrop when visiting Dover's Hill and St. James' Church. But if it gets too cold, you can always sneak into the Court Barn Museum to warm up– either way, this town is alive with festivals and community and you should visit!
If you are looking for a true storybook hotel in the Cotswolds Villages, especially in Chipping Campden, you should check out Eight Bells Inn, which is a traditional Cotswolds Inn that dates back to the 14th century! Each guest room is a suite and offers free Wi-Fi and the inn also has as a high-quality restaurant as well as a terraced garden with a gorgeous courtyard. This inn is located right off of High Street, so small shops and old Cotswold stone buildings are close by– and for all those literature fans– the birthplace of Shakespeare (Strafrod-upon Avon) is only a short drive away! Make sure to check it out!
Check Rates: Booking.com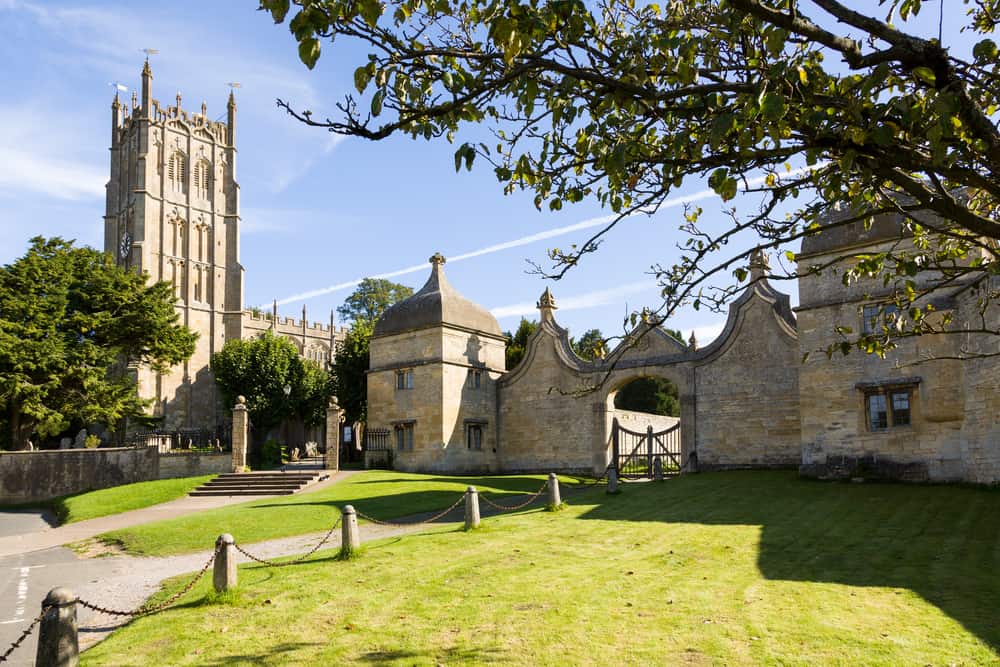 So there you have it! there are so many wonderful places to see and visit in the Cotswolds Villages, and even more beautiful places to stay! We know you will find a village that speaks to you. From river-side villages to the more popular towns, there are so many options when planning your trip, and we hope this article can help you plan your trip with ease! We can't wait to hear your thoughts on visiting the Cotswolds Villages and we know you will enjoy every second of it.