Everyone knows The Centennial State for its stunning mountain vistas, but did you know there are also many natural hot springs in Colorado? There's no better place to soak up the beauty of nature than from these peaceful pools!
Hot springs have been claimed to have medical and therapeutic value for users. Some of the benefits these hot springs in Colorado are reported to have include increasing circulation, reducing stress and muscle tension, and soothing the skin. After a long day of hiking or skiing, there is truly nothing better than unwinding in these warm healing waters.
Additionally, with hot springs in many different regions of Colorado, you will get to experience the diverse landscapes of this beautiful state. From rugged boulders to towering peaks, from forests to tranquil meadows, there is a view for everyone. Whether you are looking for some nature therapy or just a beautiful place to relax, you won't want to miss the best hot springs in Colorado!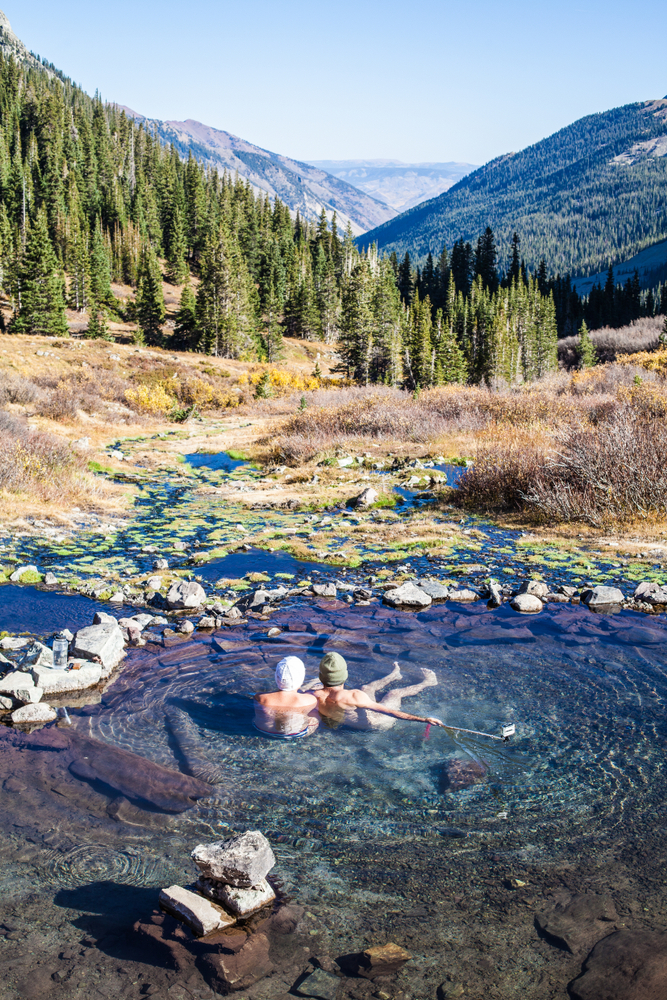 7 Natural Hot Springs in Colorado You Must See
Conundrum Hot Springs
If you are feeling adventurous, you'll want to be sure to check out Conundrum Hot Springs. Tucked away in the Maroon Bells-Snowmass Wilderness, this Colorado hot springs will make you work for your reward.

Visitors will need to do a nine mile hike to reach these isolated pools, but the view you can enjoy from them is unquestionably worth the journey there. Conundrum Springs is comprised of a large upper pool, with a smaller second pool located downstream.

Bathing suits are optional here, so if you're feeling inspired by the beauty of nature you can enjoy bathing au naturale. Try watching the sunset or even star gazing from the pools to reward yourself for completing the hike there!

There is a parking lot that fits about 25 cars at the trail head. Be sure to get there early during peak season (July through September) to make sure you get a spot.

The hike in goes through gorgeous meadows and aspen groves as you ascend into this mountain wilderness. Be prepared to get your feet wet, because some creek crossing is required! Also note that you will gain nearly 3,000 feet in elevation over the course of the hike.

Because of the length of the hike in and out, it is recommended visitors camp near the hot springs. Permits are required to visit this protected area (grab yours here)! We recommend checking out the nearby town of Aspen for other fun activities in the area before or after your visit to this amazing Colorado hot springs.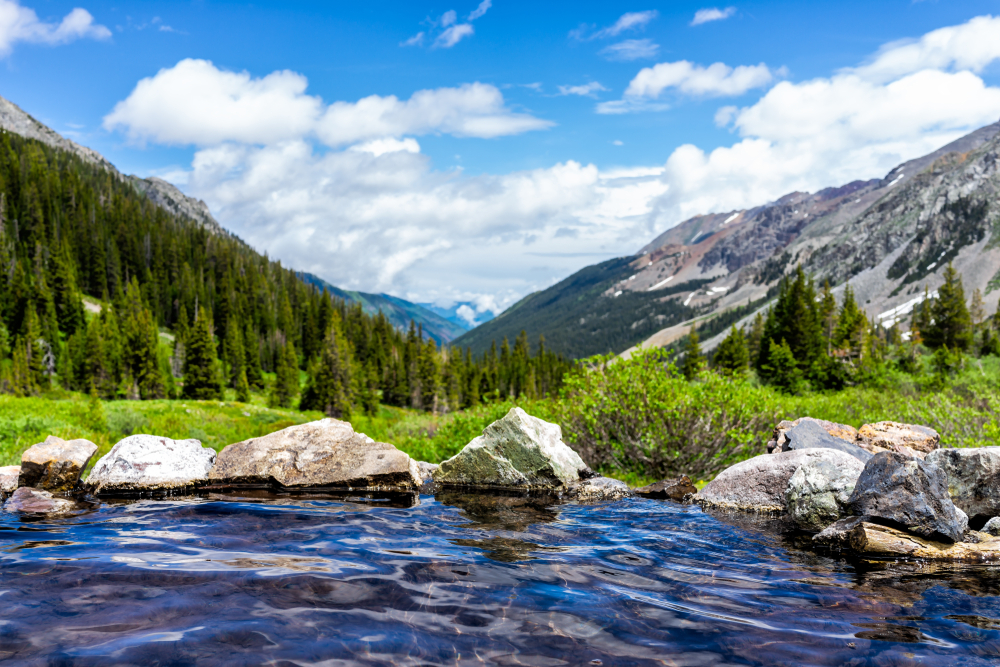 Valley View Hot Springs
Located right next to the Sangre de Cristo mountain range, Valley View Hot Springs is the perfect place to check out some of Colorado's famed peaks while soaking your worries away. There are six pools total, two located right by the parking lot and four more just a short hike away.

This Colorado hot springs is owned and operated by Orient Land Trust, which offers a variety of ways to experience this beautiful place. Whether you are looking for a day trip or overnight camping, there are several options you can tailor to your needs.

Because there is a limit to how many people can make reservations at one time, you won't have to worry about competing with big crowds to enjoy this natural Colorado hot springs and the remarkable mountain views. Soak up every minute of this intimate encounter with nature.

If you're interested in wildlife, be sure to keep your eyes on the skies around dusk and you may be able to spot Colorado's largest migratory bat colony. And if you're feeling a little wild yourself, swim suits are optional in these springs.

Valley View Hot Springs is just a short drive from the Great Sand Dunes, making it a perfect stop for your next Colorado Road Trip. The amazing mountain views and ability to completely customize your stay here makes this one of the best hot springs in Colorado!
Radium Hot Springs
If you are looking for the perfect place to experience a variety of outdoor activities, this is the Colorado hot springs for you! Radium Hot Springs is located just off the Colorado River, and can be reached after a short, one mile hike. You can also raft or kayak to the hot springs from the river!

Other popular activities here include tubing down the river and cliff diving if you can brave the 45 foot jump. If you're feeling adventurous, try alternating between swimming in the cooler river and soaking in the warm thermal pools.

There is one large, main pool which mixes with the river, keeping this hot springs a little on the cooler side (about 80-90 degrees). The mineral rich water is the perfect place to relax and unwind as you soak in the therapeutic benefits.

This Colorado hot springs is free to visit, and is perfect for a day trip or as a camping destination. Radium Hot Springs in about a two hour drive from Denver, making it the perfect escape into nature for anyone staying in the city. It is also close to Rocky Mountain National Park if you are looking to experience more of Colorado's natural wonders.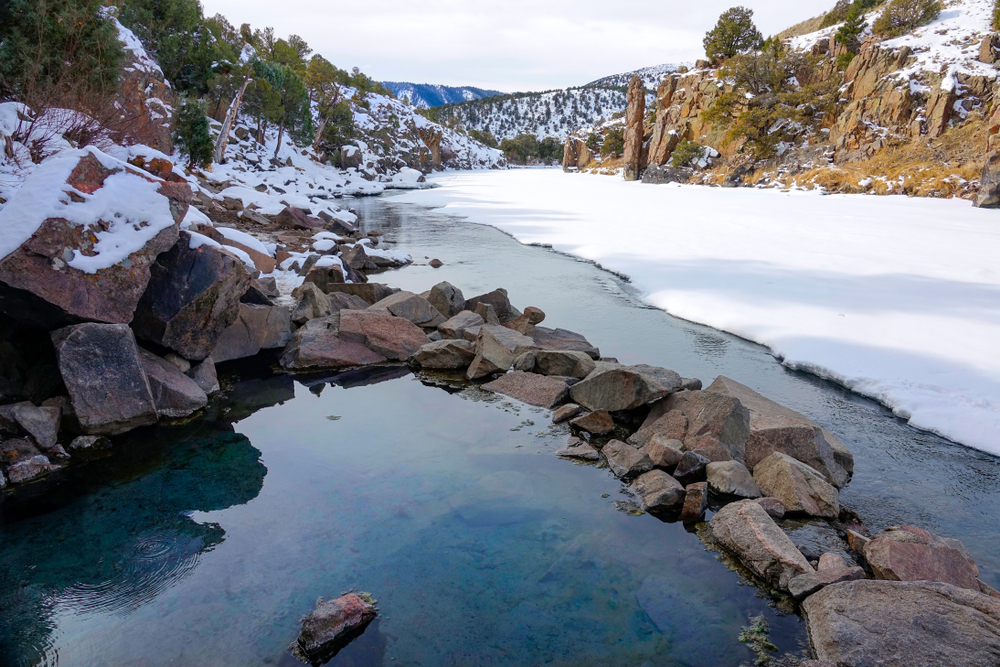 Piedra Hot Springs
If you like it hot, you'll definitely want to visit Piedra Hot Springs. Piedra Hot Springs is located off of the Piedra River in the San Juan National Forest. You can reach the hidden springs after a short mile and a half hike.

The secluded forest atmosphere makes this the perfect spot to see wildlife, such as elk, bighorn sheep, deer, and if you're lucky, a colony of local river otters. If your visit coincides with Pagosa Springs' annual fall festival, you may even be able to see colorful hot air balloons fill the skies near this Colorado hot springs.

There are multiple pools off the river you can soak in here, giving visitors more flexibility when it comes to selecting pool size and desired water temperature. The water here can reach upwards of 100 degrees, making this one of the best natural hot springs in Colorado!

While you're in the area, you'll also want to stop by Chimney Rock National Monument. This is a sacred archeological site of the Ancestral Puebloans that offers 360 degree views of Colorado and New Mexico. Book a star-gazing tour to fully experience the astronomical wonders of this site.
Penny Hot Springs
The landscape surrounding Penny Hot Springs is awe-inspiring. Large boulders border these pools, which reflect the nearby peaks in their waters. Penny Hot Springs is located in a beautiful canyon-land on the banks of Crystal River.

Penny Hot Springs was named for Dan Penny, who owned a hotel and bath house in the area. His guests began bathing in the hot springs nude, which offended local residents who destroyed the bathhouse and hot springs. Today the hot springs have been restored, but be sure to bring your swim suit with you as they are now required!

This beautiful Colorado hot springs is free to visit. And with the pools just a few feet from the parking lot, this is the perfect place for anyone not looking for a long hike to reach their destination.

The large rocks around each pool keep the cooler river water out, maintaining the mineral-rich springs at a warm 130 degrees at their warmest point. You can even create your own experience by adjusting the rock stacks to form your perfect pool.

Enjoy a rejuvenating soak in these calm waters while you take in the stunning scenery this amazing Colorado hot springs has to offer!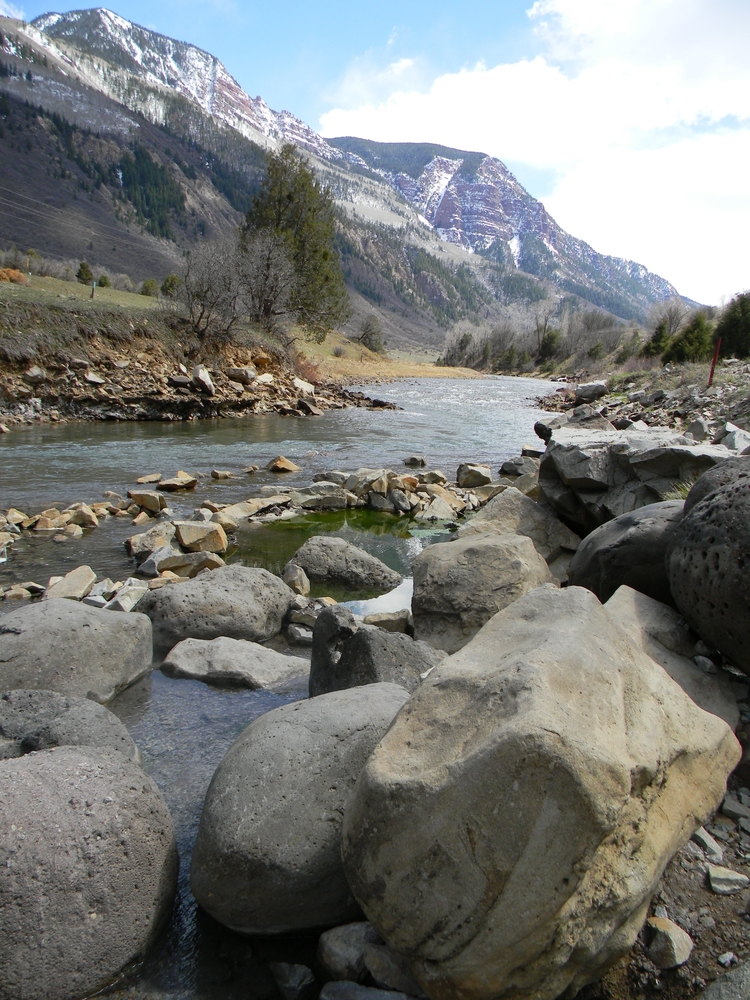 Rainbow Hot Springs
A hot springs and a waterfall? Sign us up for this natural wonder! Rainbow Hot Springs, a collection of three pools located in the Weminuche Wilderness Area, offers unparalleled forest and waterfall views, making it one of the top hot springs in Colorado.

The hike to these secluded pools is 4.5 miles through towering pine trees. Be sure to stay on the trail, since it crosses into private property at some points. Due to the length of the hike there and back, many visitors choose to camp overnight at Rainbow Hot Springs.

Soaking in this natural Colorado hot springs is the perfect reward after the hike in. The water temperature ranges from 95-105 degrees and is the ultimate cure for sore muscles.

Rainbow Hot Springs is free to visit. Clothing is optional here! You'll definitely want to add this hot spring to your list to experience all the wonders this area has to offer.
Strawberry Park Hot Springs
Strawberry Park Hot Springs is the perfect oasis to visit year round for a therapeutic soak. It is located in Steamboat Springs, Colorado.

This may be the most luxurious hot springs in Colorado, and is maintained by the land owners. Visitors can enjoy access to bathrooms, heated changing facilities, and a variety of options for overnight stays that range from camp sites to private cabins. If you are looking for a less primitive hot springs experience, Strawberry Park Hot Springs is the location for you!

These naturally occurring Colorado hot springs are surrounded by enchanting forest. The thermal pools range from 100-105 degrees, making them perfect to enjoy no matter the weather. After dark, clothing is optional here.

Strawberry Park Hot Springs is about five minutes from downtown Steamboat Springs. While you're in the area, check out the local restaurants and events this charming mountain town has to offer. Or hit the nearby slopes in the winter time and then head to the hot springs at the end of the day to soak the tension out of your muscles.

If you want to add to the pampering, you can also book a massage during your time here to make this the ultimate relaxing getaway. Be sure to make your reservation so you can experience everything Strawberry Park Hot Springs has to offer!
Planning Your Colorado Hot Springs Experience
No matter which Colorado hot springs you decide to visit, here are some helpful tips to keep in mind!

Practice Leave No Trace Principles: Make sure to pack out anything you bring to the hot springs, whether you're camping or just taking a quick soak. Also keep any glass items away from the hot springs, since this can be a big hazard if it breaks.

Check the Weather: Colorado is notorious for unpredictable weather, and it's not uncommon for there to be a significant amount of snow in the more mountainous areas of the state even deep into June. The trails can be more difficult to navigate when there is heavy snow, so be cautious and check out the conditions in the area when planning your trip.

Test the Water Before Getting in: Sometimes the temperature in pools can run quite hot, so be sure to test it out before fully jumping in! Your body will thank you for taking the extra minute to check out the temps before climbing in for a soak. Also, be sure to give yourself breaks as needed from the water if you start feeling too warm or light headed.

Attire: Some hot springs in Colorado are clothing optional, while others require swimwear. Be sure to check this ahead of time to avoid any unexpected encounters! Here is everything you need to know about visiting nude hot springs. Take off any jewelry before entering the pools to avoid possible damage.

Dogs: Not all the hot springs listed above allow dogs in the area, so if you're planning to bring your pup make sure they are allowed! Even if the area is pet friendly, be sure to secure your dog safely away from the hot springs themselves as the heat and mineral water can be dangerous for them.
Camping: Be sure not to camp right up against the hot springs. You'll want to find a space at least 200 feet away from the pools to set up camp. Most of these Colorado hot springs have existing camping areas or lodging options, so this should not be a problem!
The diverse views and experiences truly make these the best hot springs in Colorado. No matter which location from this list you choose to visit, you'll be treated to amazing views and blissful relaxation from the rejuvenating waters of these natural springs.