Looking for some inspiring Rainbow quotes? We have you covered. In this article, we have found the best 70 quotes to brighten up your day. We have quotes for kids, rainbow love quotes, double rainbow sayings, and funny quotes. We have found one for every occasion.
Rainbows are really special don't you think? No matter what mood you are in seeing one always cheers you up. They are magical, mysterious, uplifting, and often give us hope. Nothing beats an incredible rainbow picture.
Rainbows are caused by light being refracted when entering a water droplet and leaving it. It's an optical illusion of sorts and is viewed by everyone differently. They don't exist at a specific distance or in a particular location even though when we see them they look like they do.
The fact they can never be caught, touched or we will never see where they begin or end makes them all the more magical. This is why we feel rainbow quotes are some of the most uplifting and hopeful quotes there are.
Are you ready to hear some rainbow saying and rainbow quotes? I do hope one of these quotes just makes your day seem a little better.
The best rainbows we have seen are at waterfalls especially Skogafoss Waterfall.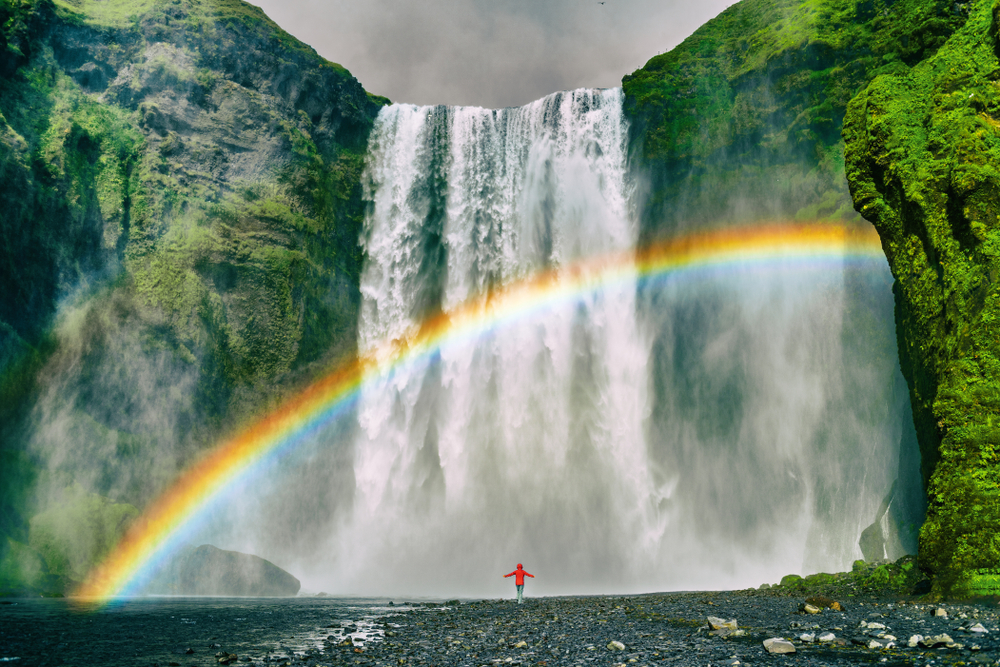 Rainbow Quotes For When You Are Happy
Here are some rainbow quotes and sayings for when you feel happy. Rainbows to us are happy things, seeing one makes us delighted so why not celebrate that with some quotes about rainbows.
These are great to send to someone who is having a great day or someone who has something to celebrate. Write one of these in a birthday or celebration card and spread the rainbow love.
-"Rainbows are made from small raindrops. Happy lives are made from acts of kindness." -Amit Ray
-"Let your happiness be known to the world like a stunning rainbow."-Somya Kedia
-"Don't seek to be happy; let everyone else chase after that rainbow. Seek to be kind, and you'll find the rainbow follows you."-Richelle E. Goodrich
-"Rainbows: The gift from heaven to us all." -Anthony T. Hincks
-"My heart leaps up when I behold a rainbow in the sky."- William Wordsworth
-"May you have all the happiness and luck that life can hold, and at the end of your rainbows may you find a pot of gold."-Irish Blessing
-""I wish I could bake a cake filled with rainbows and smiles and everyone would eat and be happy."-Jill Morrison, Mean Girls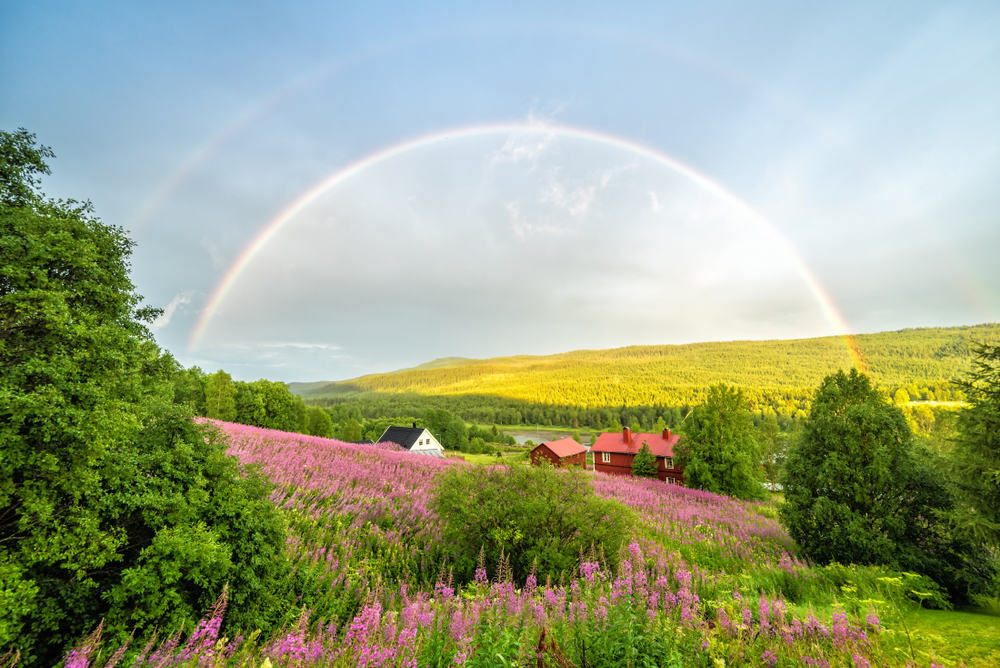 Rainbow Quotes For when You Are Sad
As we have said already rainbows are things we feel bring hope. It was no surprise to us that we found an abundance of quotes that would uplift you when you are down.
Bookmark this page and come back to it when you are having an "off" day or feeling sad. Send one as a text to a friend when they are feeling down or write them as a message in a card.
These rainbow saying are all beautiful are bound to make anyone just feel a tiny bit better.
-"When it rains, look for rainbows. When it's dark, look for stars!" -Oscar Wilde
"The greater your storm, the brighter your rainbow." – Unknown
-"When thunderstorms roll in, you make a choice to either succumb with tears to the gloomy downpour or smile and look for rainbows." -Richelle E. Goodrich
-"It's when you follow the rain clouds that you find out where the rainbows are hiding."-Anthony T. Hincks
-"Still, when it looked like the sun wasn't going to shine anymore, God put a rainbow in the clouds."-Maya Angelou
-"Rainbows apologize for angry skies." -Sylvia A. Voirol
-"There can be no rainbow without a cloud and a storm." John H. Vincent
-"If you want to see a rainbow you have to learn to see the rain." – Paulo Coelho
"And when it rains on your parade, look up rather than down. Without the rain, there would be no rainbow." -Gilbert K. Chesterton
-"It takes sunshine and rain to make a rainbow. There would be no rainbows without sunshine and rain." Roy T. Bennett
_"The way I see it, if you want the rainbow, you gotta put up with the rain"- Dolly Parton
-"Sending you a day full of sunshine, a heaven filled with rainbows, and a pocket full of dreams. May the future ahead of you be as wonderful as you are."-Judith Wibberley
-"Life throws challenges and every challenge comes with rainbows and lights to conquer it."-Amit Ray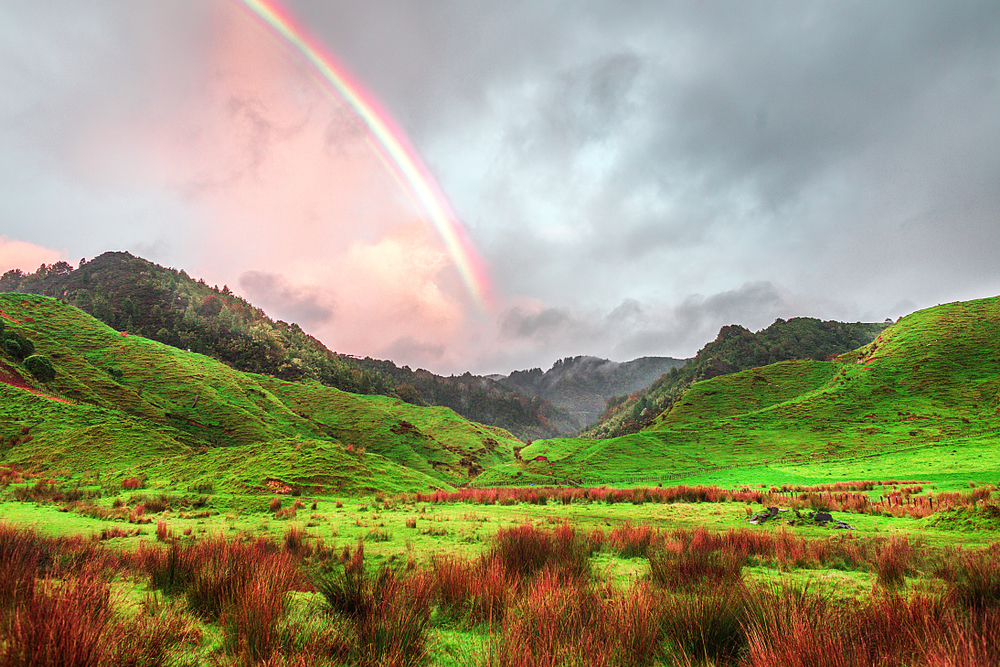 Rainbow Quotes For Kids
When looking for rainbow quotes for kids we looked for quotes we thought children would remember rather than ones about them.
There is something so special about the quotes our family and friends say to us as children. They stick with us and they have a long-lasting impact on us. They make us feel better, help us get through complicated emotions, and give us a different perspective on life.
These quotes are all rainbow quotes that children will love. Say them to children when they need to hear them, talk with them about them. Ask them what they they think these rainbow saying means.
Rainbows are a great way to help children learn about happiness, sadness, hope, and make sense of their own feelings.
-"Somewhere over the rainbow, skies are blue. And the dreams that you dare to dream really do come true." – Judy Garland, 'Over The Rainbow'
-"If life is so blue, select another color from rainbow." – Anonymous
-"Happiness doesn't always come in pink. Learn to appreciate the rainbow." – Richelle E. Goodrich
"Stay positive! Rainbows often appear when you least expect them and need them most." -Jamie Worthington
"Count your rainbows, not your thunderstorms."-Alyssa Knight
-"You'll never find a rainbow if you're looking down."- Charlie Chaplin
-"A rainbow a day keeps the blues away!"- Anonymous
-"Inside every child is a rainbow waiting to shine"-Unknown
-"Create your own rainbow everyday" Unknown
-"You are a rainbow of possibilities"-Unknown
-"Children with autism are colorful, they are often very beautiful and, like the rainbow, they stand out." Adele Divine
-"Formal education teaches how to stand, but to see the rainbow you must come out and walk many steps on your own."- Amit Ray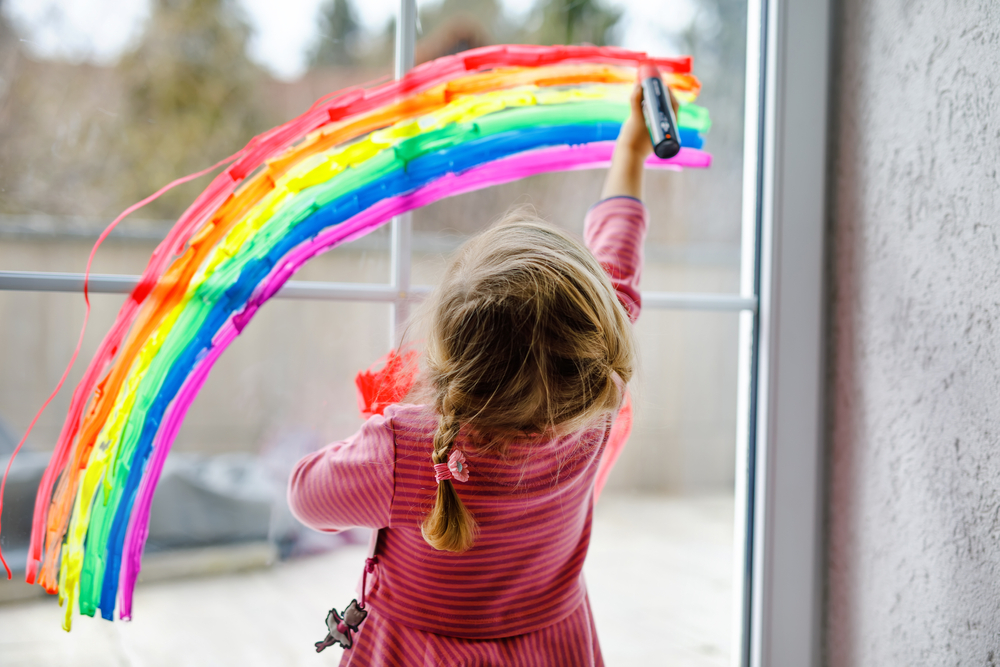 Double Rainbow Quotes
Double rainbows are actually a lot more common than we think they are. You will definitely see more rainbows than double rainbows that is for sure but they are not as rare as we think. Twinned rainbows are rare, this is when you get two rainbows from the same base.
Double rainbows occur when the light in a raindrop is refracted twice rather than once meaning you see two different reflections. The second, higher rainbow will always have the colours reversed.
Rare or not we think they are pretty amazing and wanted to celebrate them by having some double rainbow quotes.
-"A double rain, a double promise, a double portion blessing" Unknown
-"Love can form a double rainbow connecting two hearts." -Tom Baker
-"Where you go so will I. Cause a double rainbow is hard to find" Katy Perry
-"In my ordinary world you appeared like a double rainbow"- Tavneet Kaur
-"A lot has happened since I said that. "You saw a double rainbow," she said "and now you believe in aliens."- Rainbow Rowell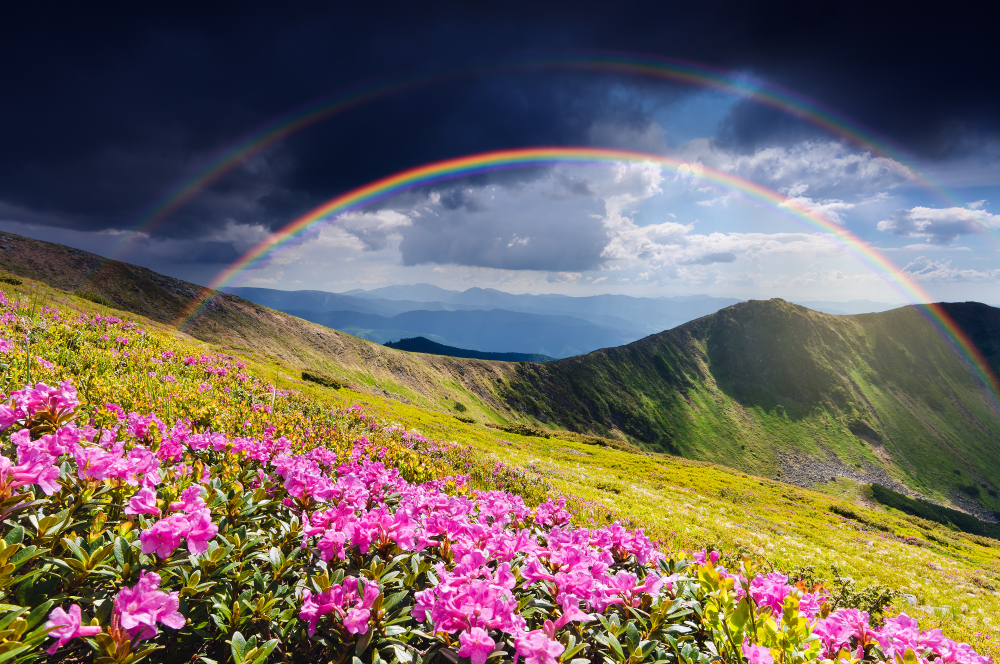 Inspiring Rainbow Sayings
There is nothing as inspiring as rainbow quotes. For us rainbows are all about seeing things from a different perspective, looking at things differently, and seeing that after every low there is a light.
These quotes and saying are reminders that we are strong, capable, and can achieve and do great things.
Bookmark this page and come back to it when you need some inspiration, Use some in your social media captions or print them out and put them on your wall as a reminder.
-"Don't seek to be happy; let everyone else chase after that rainbow. Seek to be kind, and you'll find the rainbow follows you." -Richelle E. Goodrich
-"Don't miss all the beautiful colors of the rainbow looking for that pot of gold." -Unknown
-"Dare to love yourself as if you were a rainbow with gold at both ends."
-Author-Poet Aberjhani
-"Shine your soul with the same egoless humility as the rainbow and no matter where you go in this world or the next, love will find you, attend you, and bless you."- Aberjhani
"I kind of view everybody like a rainbow. Everybody on the planet has all the colors of the rainbow inside."- Alexia Fast
-"I'd rather see the world as a rainbow than endless shade of gray."- Amani Abbas
-"Smiles are like rainbows; they make others smile too." Unknown
-"Life without dreams is like a rainbow without colours." Greyson Chance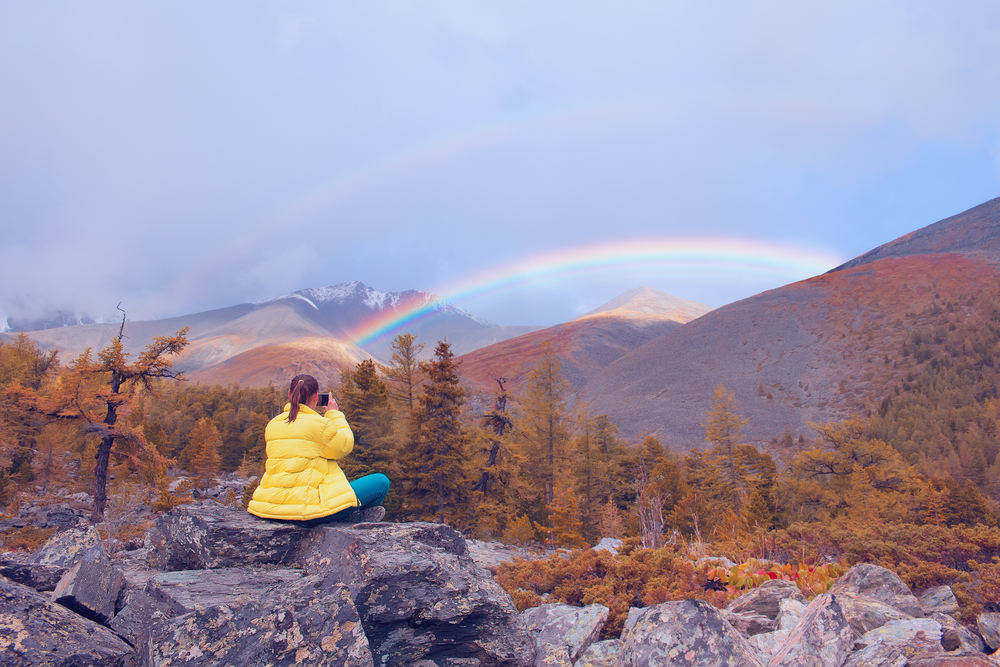 Romantic Rainbow quotes About Love
Rainbow love quotes have to be some of the best. We love the idea of rainbows been romantic and let's face it they are. There is nothing better than sitting down together with a beautiful view looking at a rainbow.
Send one of these to your loved one, write one on an anniversary card or just leave one on a cute little note for them to find.
-"We are rainbows, me and you. Every color, every hue." – Miley Cyrus,
-"Your true colors are beautiful like a rainbow." – Cyndi Lauper, 'True Colors'
-"You are my rainbow on a cloudy day" – Unknown
-"The Rainbow is a promise" – Mary Clark Dalton
-"We believed we'd catch the rainbow, ride the wind to the sun, sail away on ships of wonder." — Rainbow
-"She's like a rainbow." – The Rolling Stone
-"If the rainbow had an eighth color, it would be you." -Scarlet Lucia Rey
_"No two people see the rainbow the same way" -Anonymous
_"When I see a rainbow, I know that someone somewhere loves me."- Anthony T. Hincks
_"No matter how far I'll find my way to you, followin' a rainbow." -Colbie Caillat
-"You are beautiful like a rainbow." – True Colors by Cyndi Lauper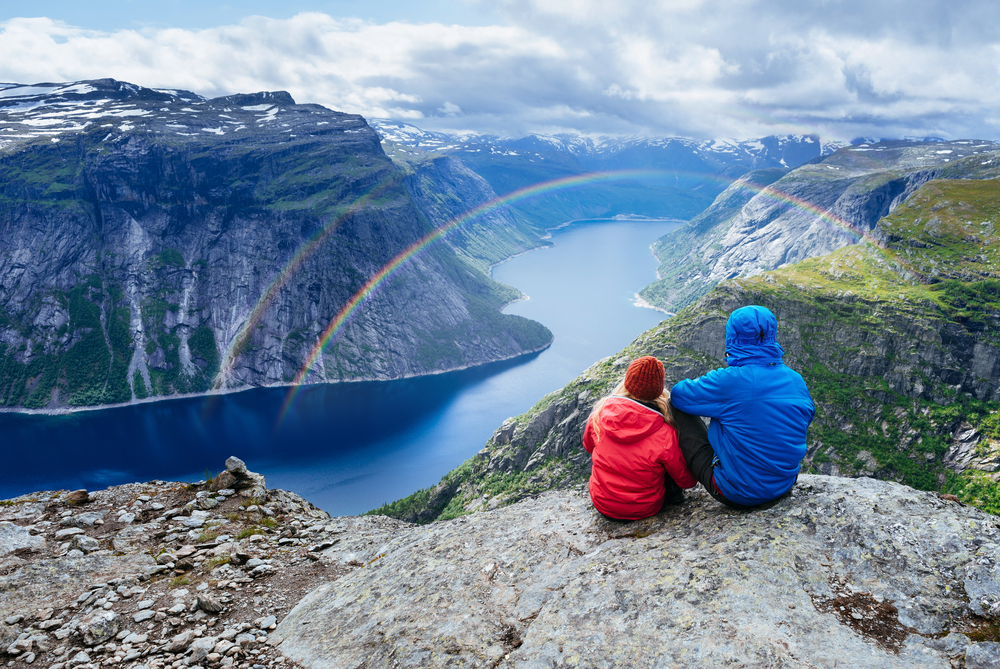 Beautiful Rainbow Quotes
To finish we are going to leave you with some rainbow quotes we feel are just so beautiful. They are quotes that just seem to make everything seem magical and special.
If you want a rainbow quote but none of the others seem to fit then you will probably find it here.
-"There is no envy, jealousy, or hatred between the different colors of the rainbow. And no fear either. Because each one exists to make the others' love more beautiful." – Aberjhani
-"When beauty is seen through the windows of the soul – rainbows appear and everything is magical. It feels simply divine." – Angie Karan
-"Rainbows are made of small raindrops. Happy lives are made from acts of kindness." – Amit Ray
-"When you look at the world, the world isn't just one palette. It's a beautiful rainbow, and why not have someone to represent that rainbow?" – Joan Smalls
-"All these seven colors are part of one rainbow, yet they are all different. They have their own quality, their own identity, their own flavor to it. So it is a rainbow. The Divine loves diversity, that is why he made us all different." -Sri Sri Ravi Shankar
-"Each of us has the power and responsibility to become a rainbow in the clouds." -Maya Angelou
– "God puts rainbows in the clouds so that each of us – in the dreariest and most dreaded moments – can see a possibility of hope." – Maya Angelou
-"Friends are like rainbows, always there to cheer you up after a storm."
-"May the sun always shine on your window pane; May a rainbow be certain to follow each rain." An Irish Friendship Wish
-"The most beautiful things in the world are the most useless, like the lilies, butterflies, and the rainbows." -John Ruskin
-"Weekends are a bit like rainbows; they look good from a distance but disappear when you get up close to them." – John Shirley
-"Life has a lot of grey and sadness, look for the rainbow and frame it. There is beauty in everything, sometimes you just have to look a little harder to see it." -Charlotte Kitley
-"Rainbows appear and disappear as if by magic and they make the world appear brighter and more beautiful, but you can never touch or hold the glowing arch of colored light." Stephanie Feeney
-"It's greener on the other side, but it's rainbows and gold on mine."-Kailin Gow
-"A rainbow is the product of physics working for your appreciation of beauty." -Kyle Hill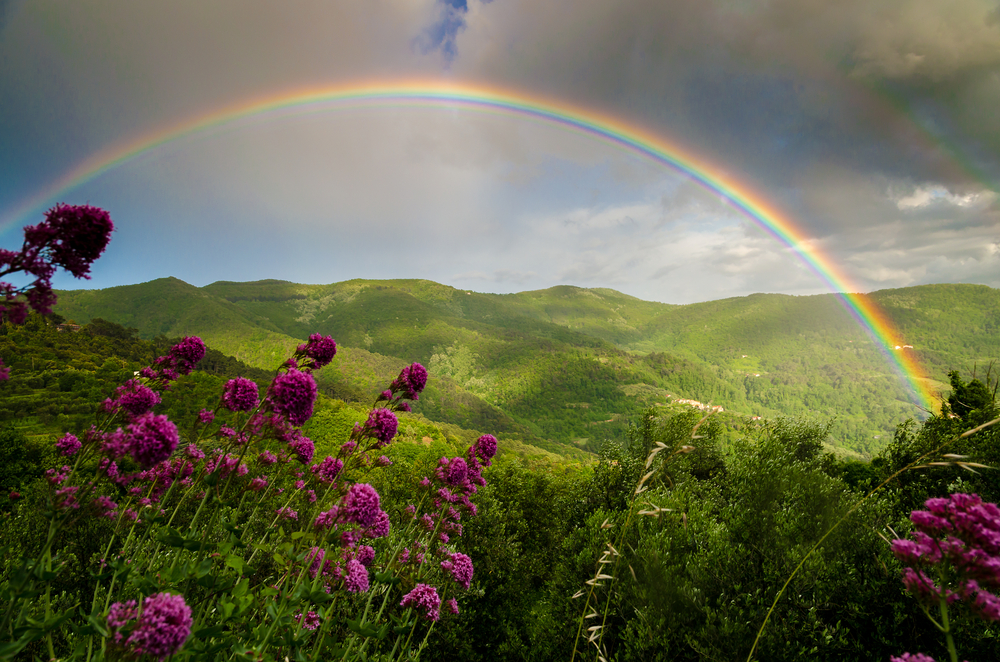 Bookmark this page and come back to it whenever you feel like you need a rainbow 'pick me up'. I do hope you found the exact rainbow quote you were looking for. Share these rainbow quotes for kids with your children and the rainbow love quotes with your partner.
If you have any great quotes about rainbows or rainbow sayings just pop them in the comments so everyone can enjoy them.