Are you on the hunt for the best cabins for rent in Texas? You have come to the right place! These cabins in Texas feature terrific options for a cabin getaway, a lake cabin stay, or a comfy and romantic cabin vacation.
Whether you're on a mission to see national parks, the Hamilton Pool Preserve, the Alamo, or some Austin city life, these Texas cabins will provide a great place for you to stay.
We've included an appealing and flexible variety of cabins to meet your preferences and travel needs, as well as the number of travel companions you'll have along.
Let the Texas adventures begin! [By the way, if you haven't settled your itinerary yet or you're looking for more things to do on your trip, check out this Texas road trip list!
15 Cozy Cabins in Texas You Must Visit
Perfect Beach Getaway
This gorgeous, large, accommodating cabin getaway in Texas is located on the Bolivar Peninsula — near Galveston — and gives you great access to the beach, with just a 5 minute walk. The hosts have thought of everything you might need for a large crowd… this cabin along the Southernmost border of Texas sleeps 10 people comfortably, and they've even provided extra air mattresses if you have a couple more guests to squeeze in!
This Airbnb offers everything you need for your group vacation, including a fully equipped kitchen, TV, outdoor shower, games, toys, and more. Enjoy your evening glass of wine on the wrap around deck with beautiful views.
Click Here to Check Rates on Airbnb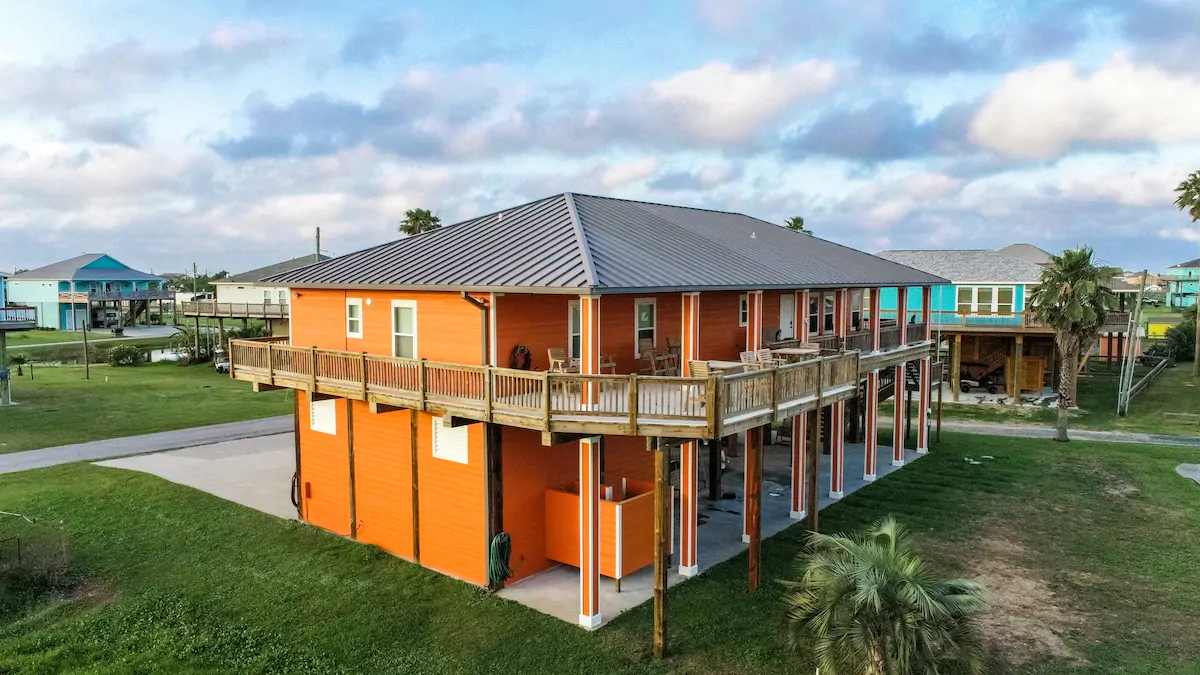 "Town & Country" Vineyard Cabin
Staying in San Antonio Airbnbs in the center of the city isn't everyone's cup of tea. If you prefer space and natural beauty, the Town & Country Vineyard Cabin in Grey Forest on the outskirts of San Antonio might just be the perfect home away from home for you.
This location has everything you need to relax and enjoy your vacation including a front porch and back deck, shared swimming pool, vineyard, orchard, gardens, fish pond, and bocce court. The cabin is found on over one acre of land that is shared with the main house (though it is separate enough to maintain a sense of seclusion and privacy).
A bottle of homemade wine from the hosts awaits you upon arrival to help start your vacation the right way. Grab a glass and venture to the deck to sip your wine in peace surrounded by a vibrant sunset.
The enclosed property of this Texas cabin is perfect for dogs to run around and stretch their legs. The hosts have two dogs themselves (Vienna and Geneva) who will no doubt be more than happy to show your dog the lay of the land.
Click Here To Check Rates On Airbnb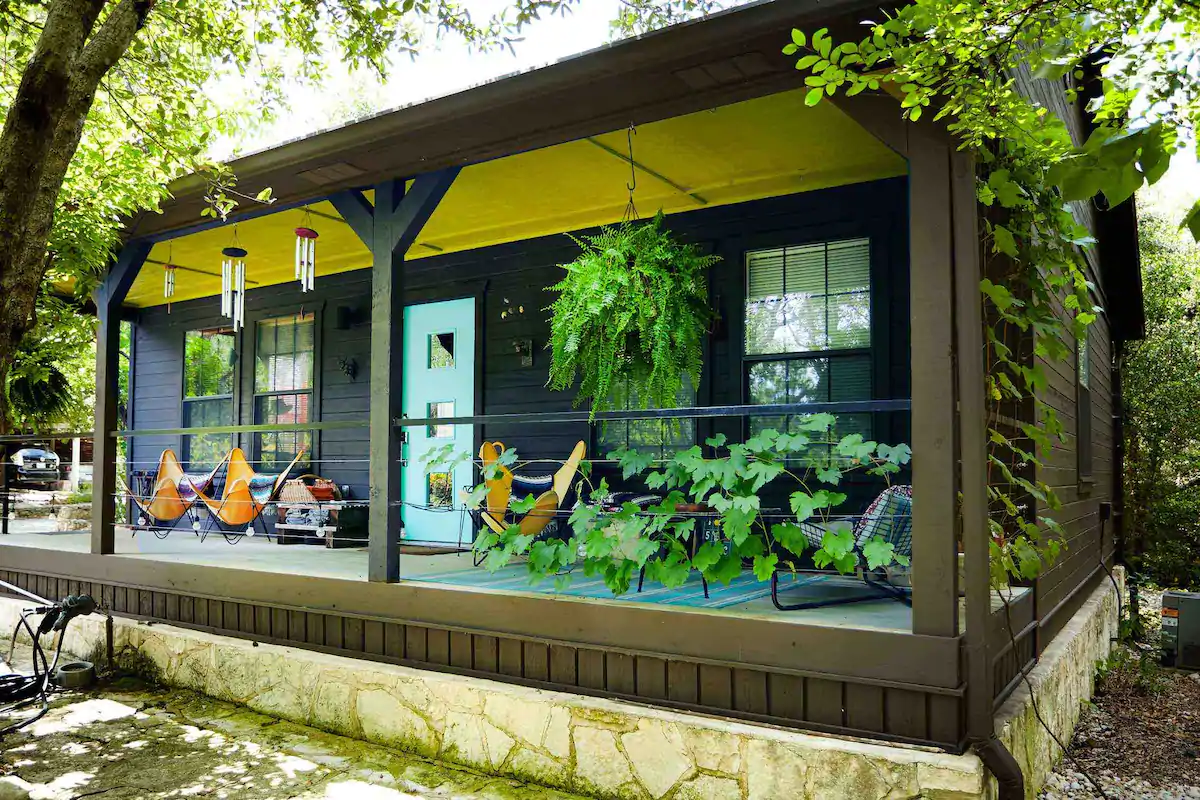 Deerhaven Retreat
Looking for a small, intimate, simple and simply romantic cabin in Texas? The hosts of this Airbnb at Deerhaven Retreat call it "A Sweet Cabin in Nature." This spot is cozy and works well for 2-4 guests. This cabin in San Antonio is definitely a place to check out if you want to be out in the woods yet close enough to get to the luxuries of town.
While it's simple and doesn't boast many showy fixtures, it has what you need and offers charm and relaxation. Book your stay and look forward to the deck, the fire pits, the trees, and a cabin in Texas Hill Country!
Click Here to Check Rates on Airbnb
The Bohemian
This two story cabin just outside Austin, in Texas Hill Country, is a remarkable Texas Airbnb getaway!
The hosts' design, style, and attention to detail really make the place shine, and their care for their guests shows through in all that's included in your stay, such as green, environmentally friendly soaps, coffee beans from a local roaster, and extra amenities for kids and infants.
The Bohemian is a perfect Texas cabin rental for a couple or small family; it accommodates up to four guests. The hot tub on the back deck will give you great star gazing, or you can enjoy a bath in the claw foot tub in the master bedroom (with a view!). And the property is ten acres! You'll have plenty of space and get to enjoy a refreshing time out in the country.
Click Here to Check Rates on Airbnb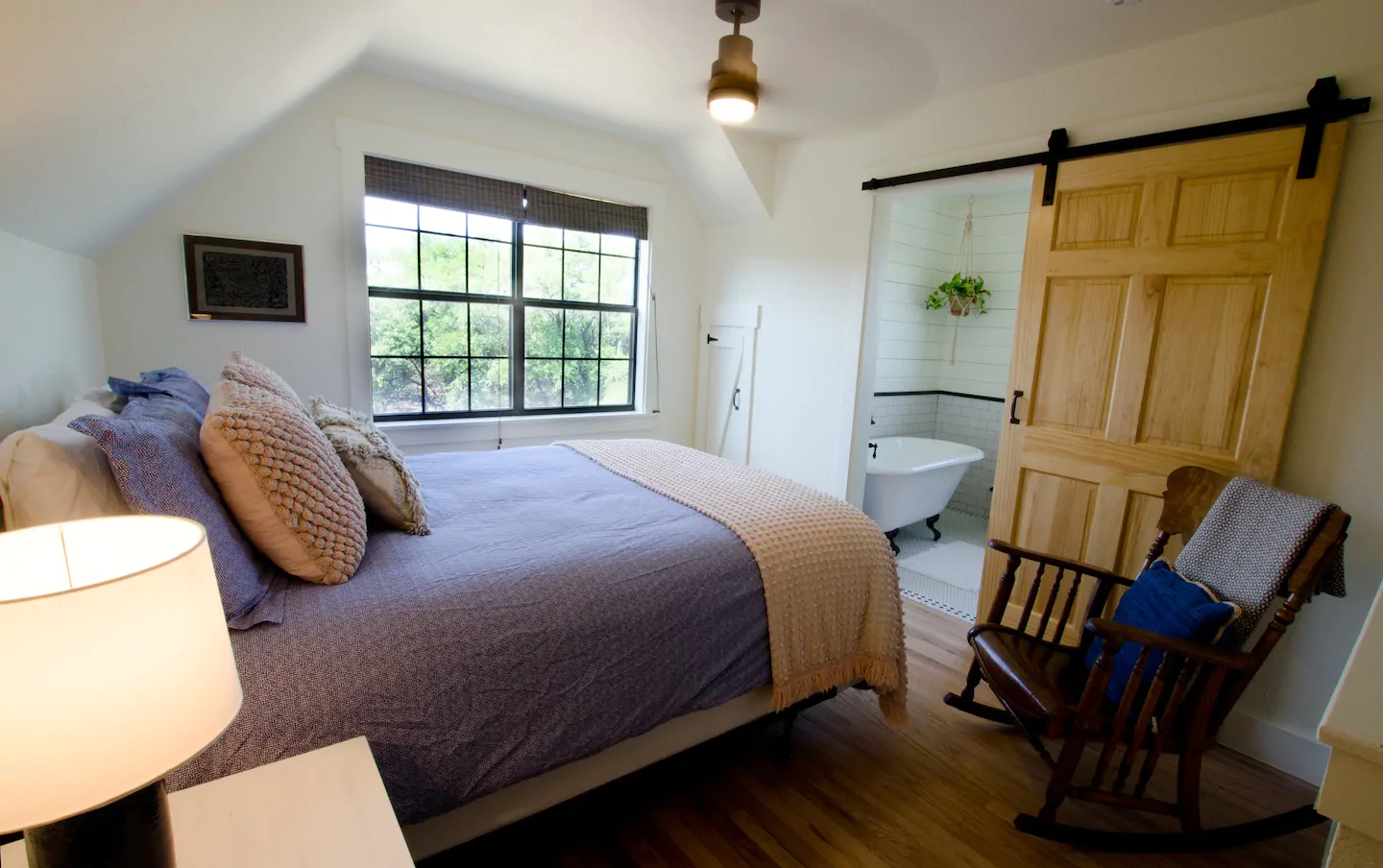 The Comal Cabin
This beautiful, natural light Texas cabin in Fredericksburg is set up for an inspiring and blissful stay. It's designed and decorated perfectly for the modernist in you! We love the light wood walls, angles, and how much sunlight gets in!
This cabin rental in Texas is stocked with almost everything you'll need. It's on 17 acres, which gives you feel of isolation, peace, nature, and privacy, but it's also a short drive to town! The bedrooms are cozy, the walk-in shower is awesome, and the loft bedroom, accessed via a ladder, adds adventure and fun.
Click Here to Check Rates on Airbnb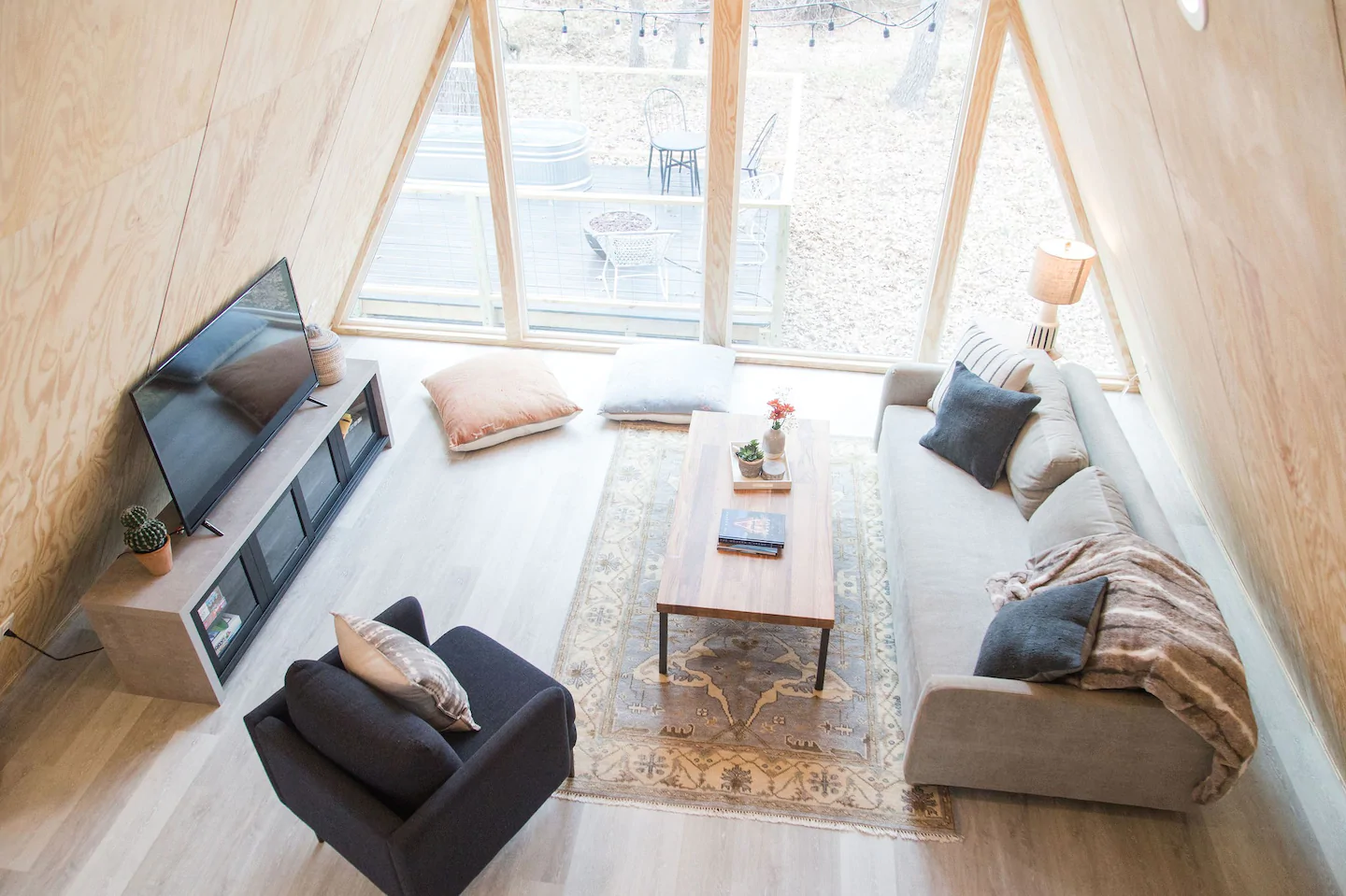 The Tree House
This is a perfect romantic cabin in Texas for you and your sweetie. The Tree House, though not actually in a tree, is up high and is built and outfitted with rustic elegance.
Two people can stay here and enjoy the trees, the fire pit, a game of horseshoes, and the Texas log cabin charm. You'll likely want to go for a woodsy walk, starting on the beautiful bridge!
Click Here to Check Rates on Airbnb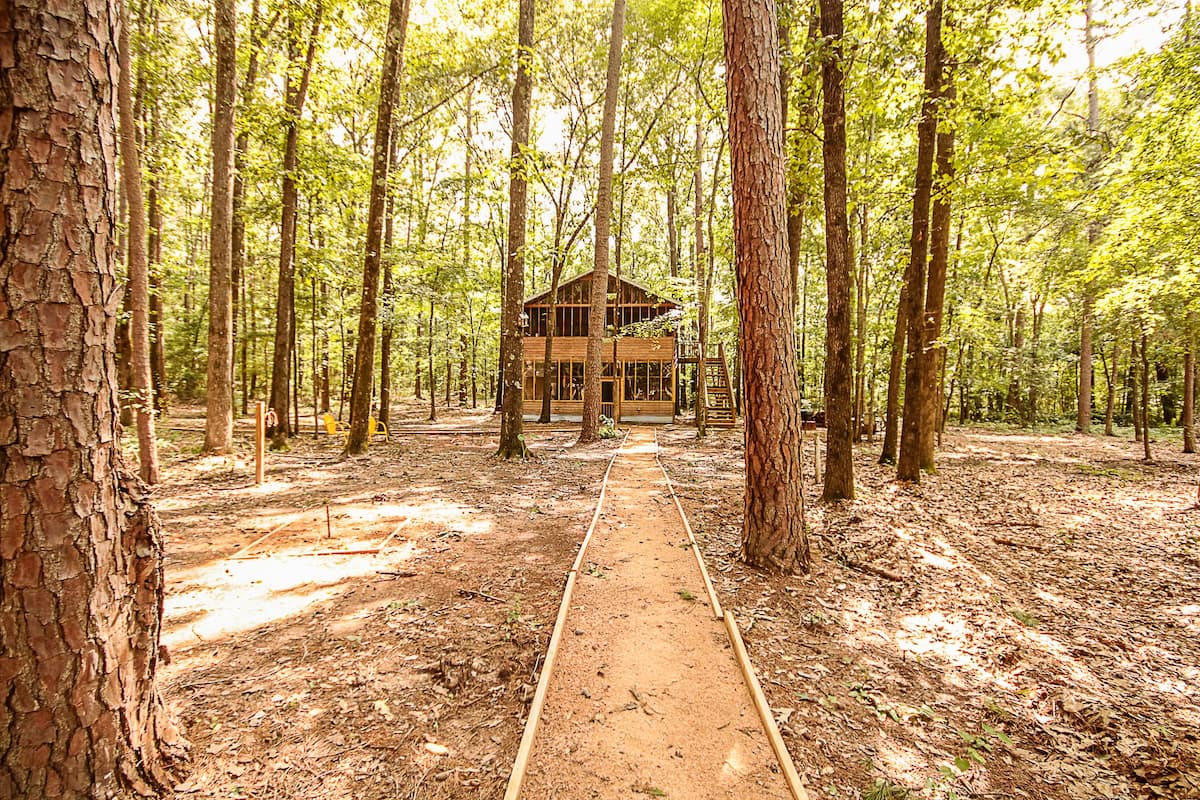 Sky Cabin
This modern-looking cabin in Texas is located near Austin and overlooks the Barton Creek Valley (great views!). It's roomy enough for four guests, or would make a perfect romantic cabin getaway in Texas.
This secluded Sky Cabin was proudly planned and built by the family who owns it, and it's gorgeous. Check out the wood-framed windows and trim! Beautiful. A couple other enjoyable, tasteful features are the spiral staircase leading upstairs and the three decks outside, two on ground level and one on the second story.
If you're headed toward Austin, this stylish cabin is one you don't want to miss.
Click Here to Check Rates on Airbnb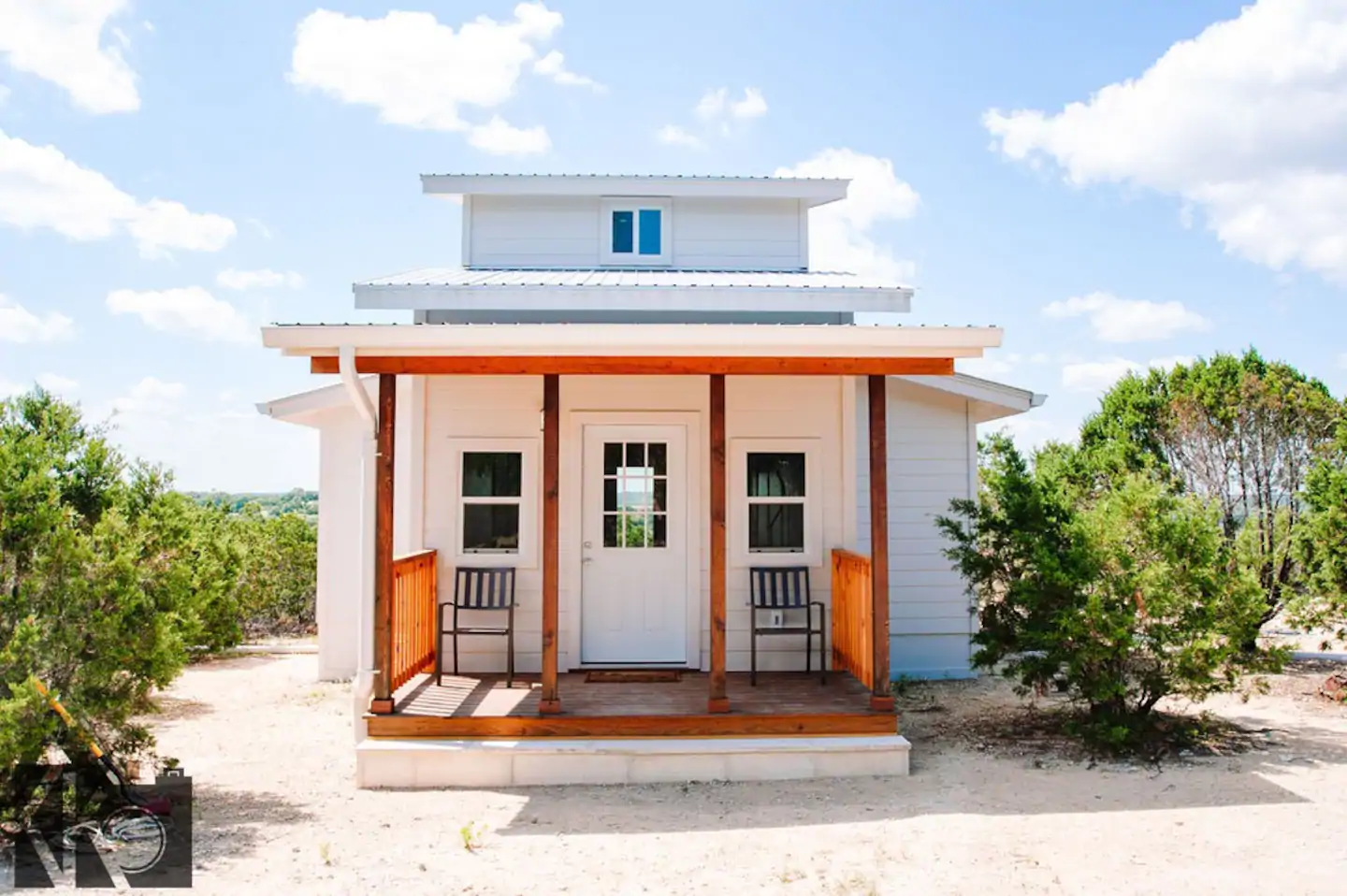 Bear Creek Retreat Cottage
The Cottage at Bear Creek Retreat draws you in from the bright yellow front door! This is a cozy, small, one room cabin rental in Texas. It accommodates two, and you must be ready for close quarters; the hosts let you know only the bathroom has a separate door, and everything else is shared.
It's really a comfy stay. One of its most appealing characteristics is the outdoor garden courtyard surrounding the little cabin. The environment is just flourishing, well-landscaped, and lovely.
The Cottage, in Manchaca (20-25 minutes from Austin), would be a great addition to your trip.
Click Here to Check Rates on Airbnb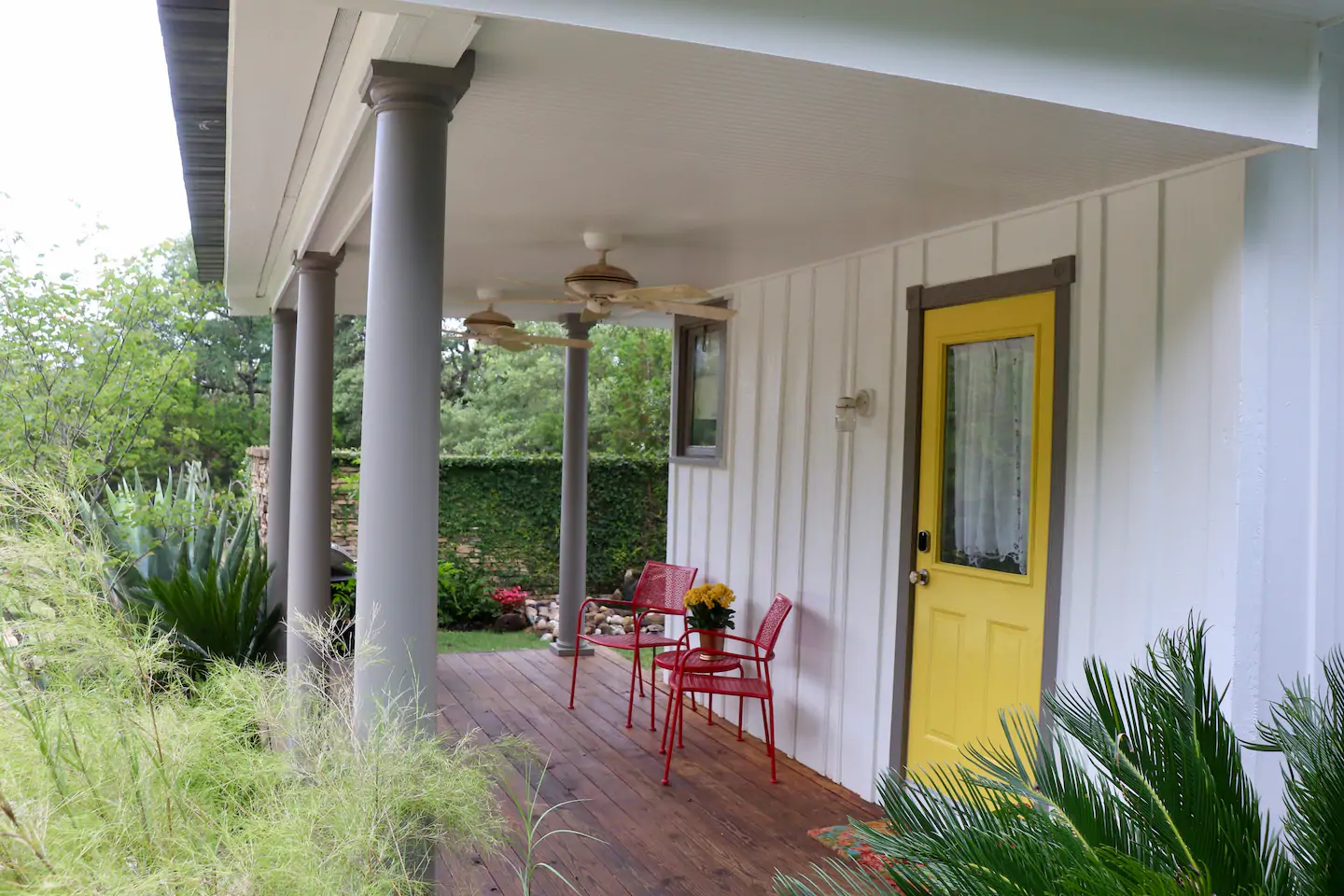 Three Graces Cabin
Three Graces Cabin, in Wimberley, is a mind blowing and welcoming romantic log cabin in Texas. It's truly luxurious and exquisite, and surrounded by the most beautiful nature!
Enjoy the scenic walks, the nearby river and dam (which creates a waterfall!), the hot tub, the canopy bed, the outdoor shower, and the hammock (from which you can hear the waterfall sounds!). This amazing Texas cabin rental also has a tree house that many couples have gotten engaged in!
Click Here to Check Rates on Airbnb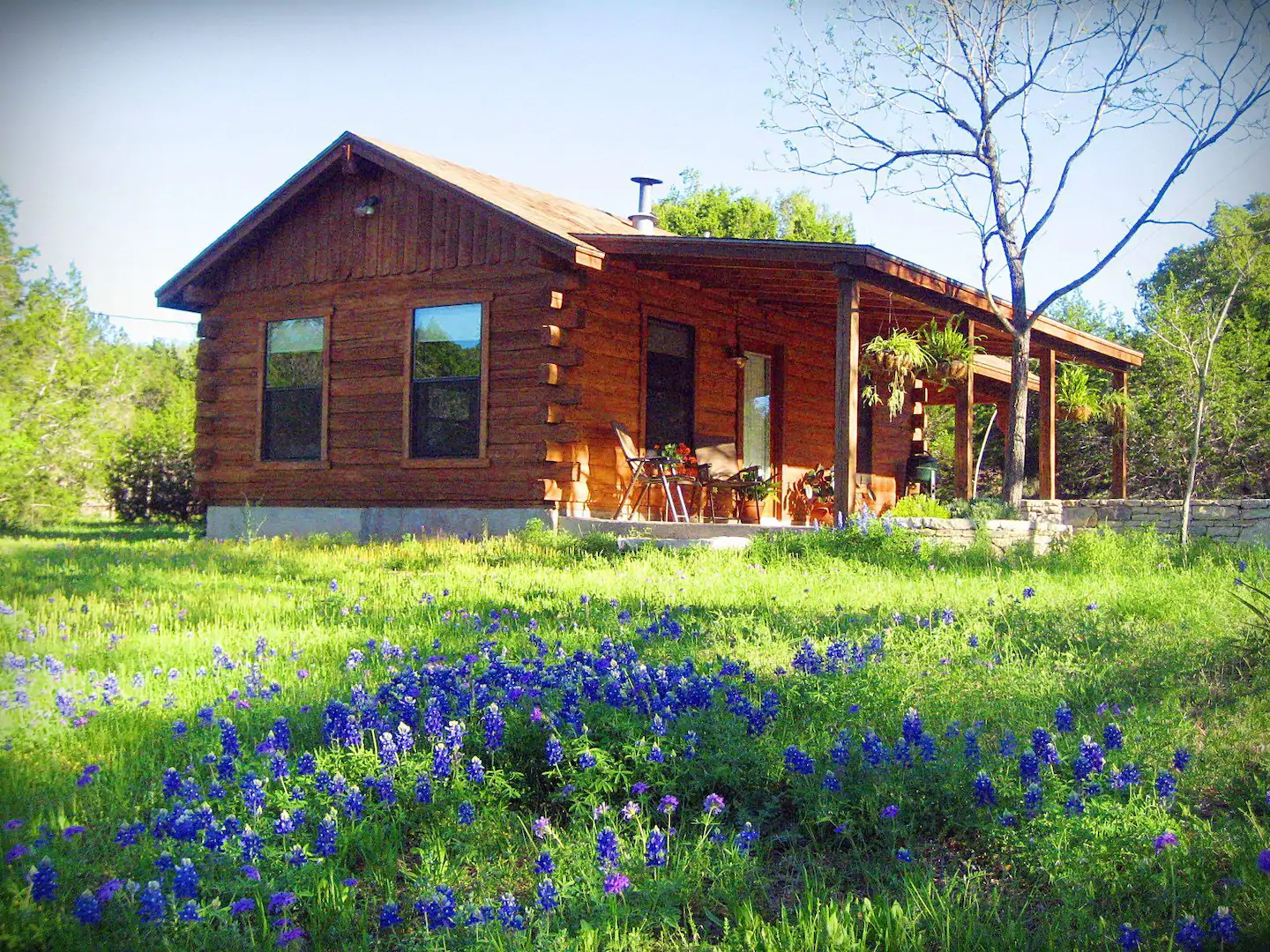 The Nest
The Nest, aptly named, as you'll see in the photos, is a unique and creative cabin in Texas. Its nest tower has a very stunning and noticeable "bird nest" type design and look. It's inviting and cozy. Once you've seen this amazing Airbnb, you'll be hooked.
Quoted from the hosts (via Airbnb.com), "The Nest is a hybrid cabin with features of both a treehouse and a bohemian bungalow." What a great combination. This Texas cabin can house two. It's a good "unplugged" vacation spot, as there is no TV or internet. Savor it!
Click Here to Check Rates on Airbnb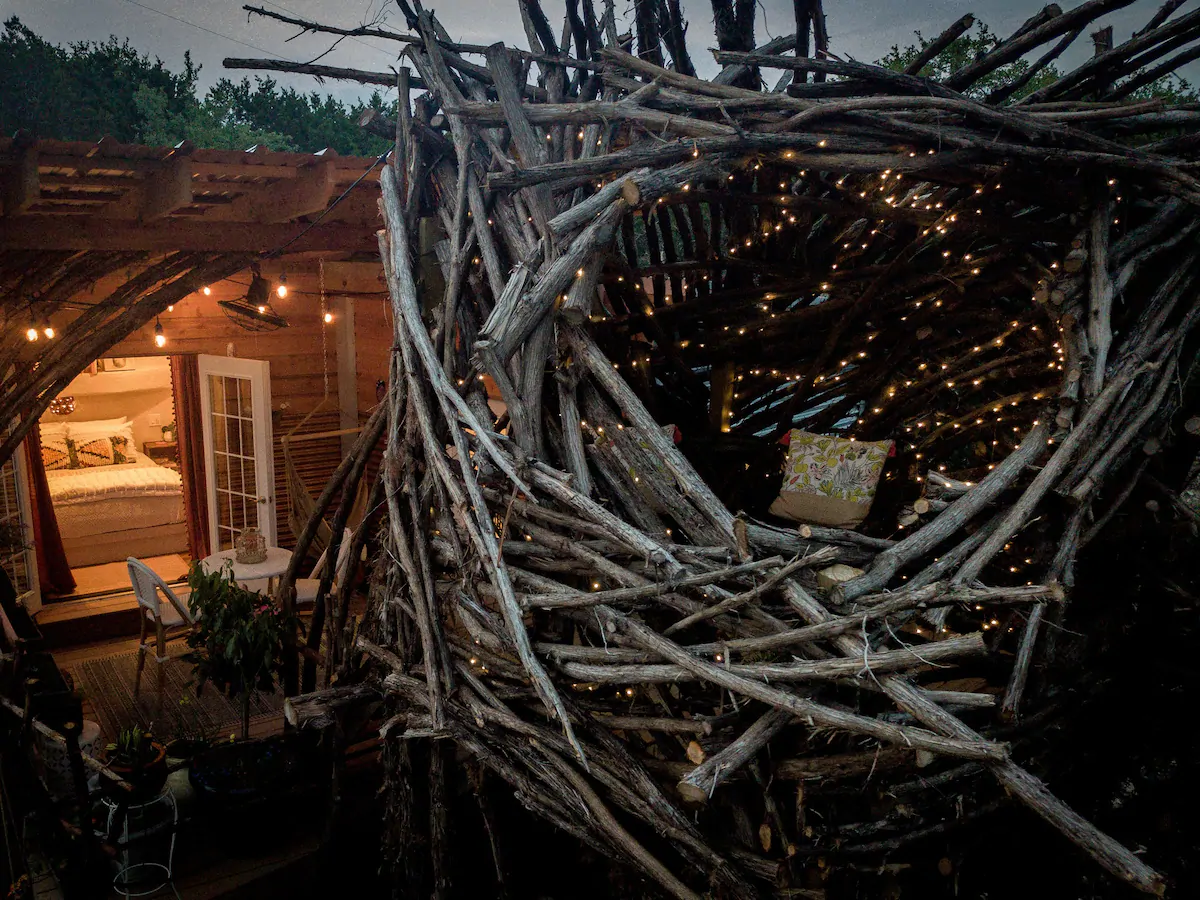 Naturalist Boudoir
Naturalist Boudoir, located in Lumberton, is a must-visit for plant lovers. This Texas cabin is surrounded by amazing trees and plant life, and luckily, there are plenty of windows and glass panels in the walls of the cabin, so you can enjoy the green outside!
Naturalist Boudoir can accommodate two guests and has one bedroom and one bathroom. You'll love the roomy deck and abundance of light strings to set the mood. There's also an outdoor shower and hot tub. The chandelier over the bed inside adds a classy and fancy touch. All around, this Texas cabin rental is a terrific find and will give you a relaxing, wonderful stay!
Click Here to Check Rates on Airbnb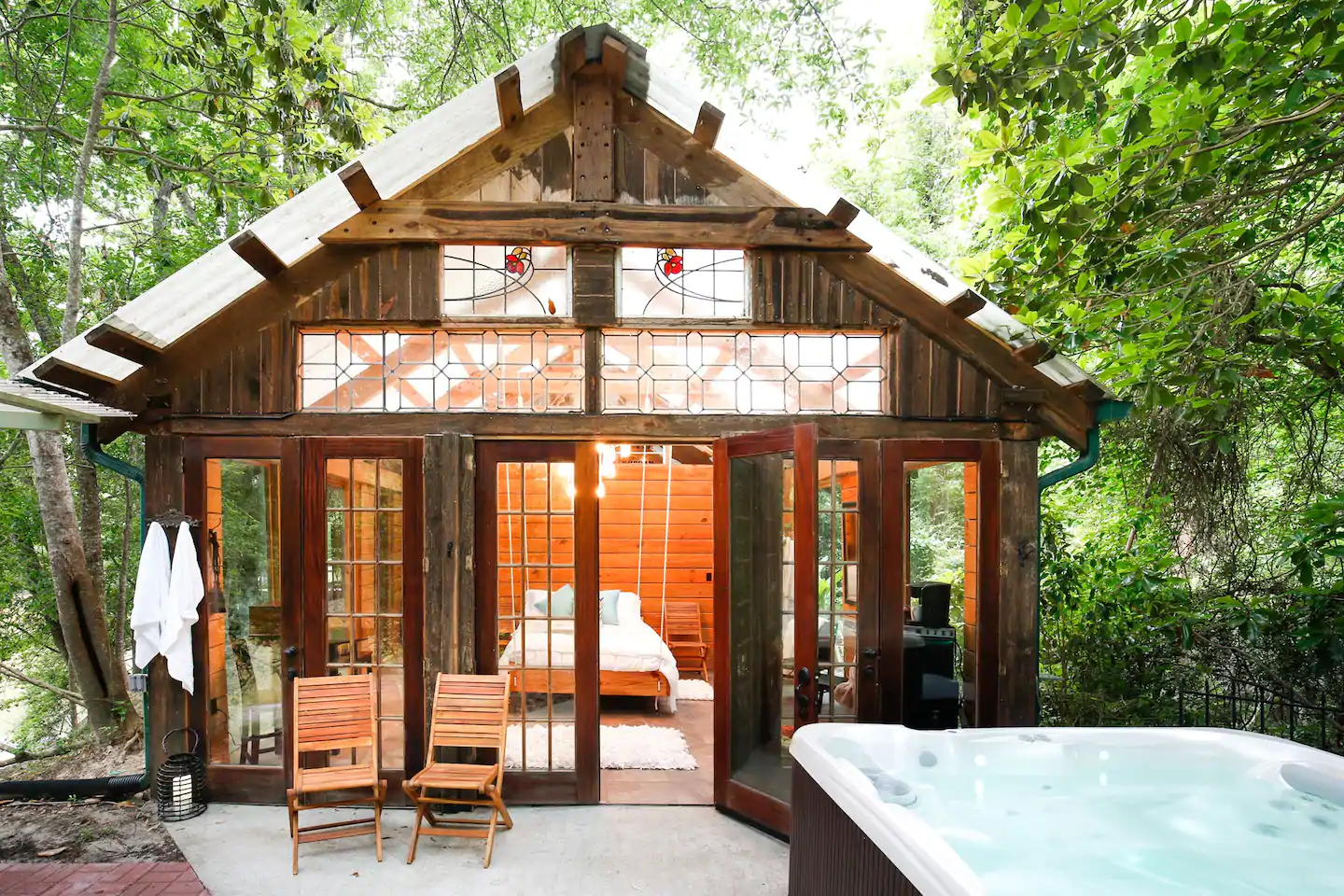 Bluegill Lake Cabins
This Bluegill Lake Cabin, in Eustace, accommodates four guests and is a very woodsy-feeling lake cabin in Texas. They offer fishing, boating (boats provided), and swimming. This cabin has a more rustic draw, and it offers what you need for a cozy Texas stay.
They do have a hot tub, deck, fire pit, and charcoal grill. On your trip, this Texas cabin rental will give you a relaxing retreat.
Click Here to Check Rates on Airbnb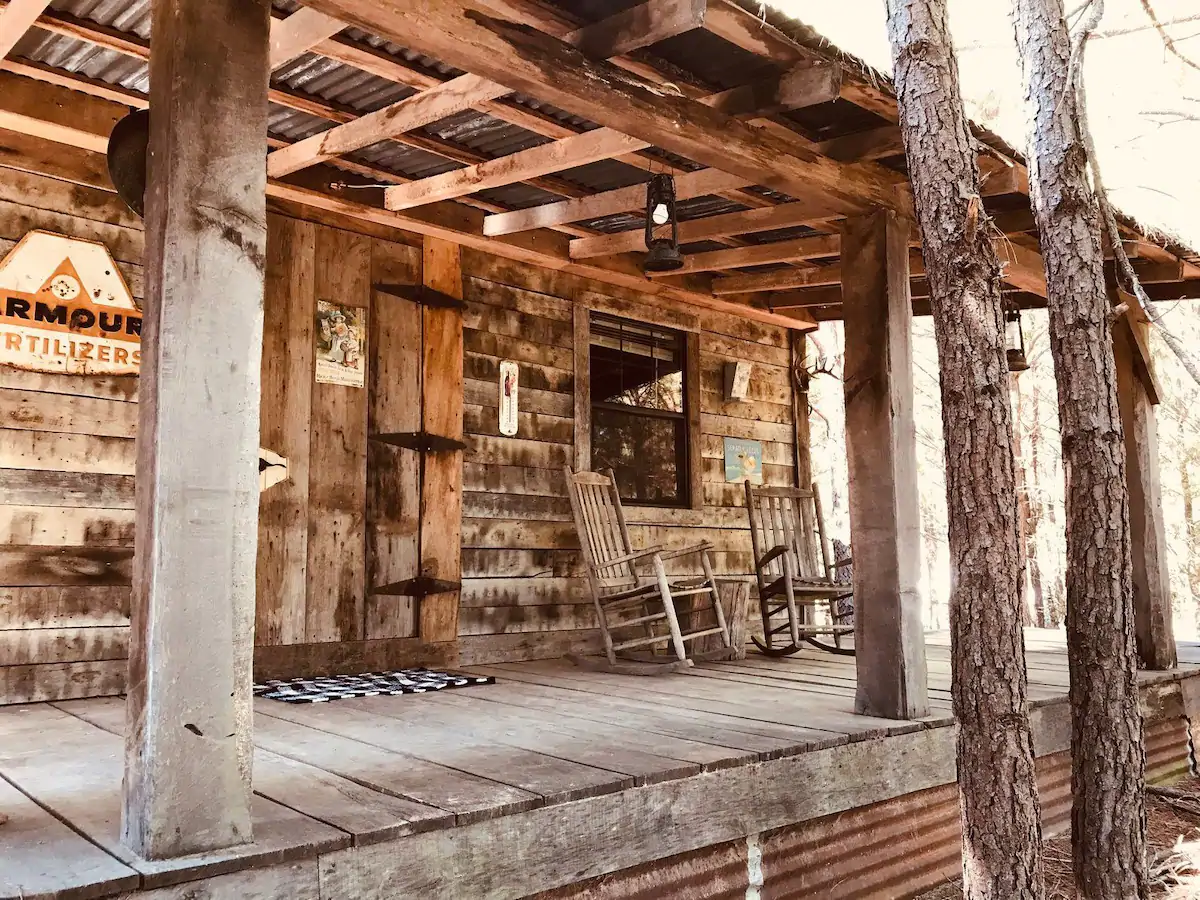 The Hive
The Hive, in Glen Rose, is a blend of an A-frame and a treehouse, and it's a fabulous Texas cabin getaway. This Airbnb has a very distinctive, one-of-a-kind design, including a huge wrap around deck with a hole cut out for an installed suspended hammock!
This amazing Texas cabin is very well furnished and beautiful in design, as well as provides all your necessities. The hosts do require a minimum age of 18 with all guests, so keep that in mind. You'll have a wonderful time here; definitely consider this spot for your Texas vacation!
Click Here to Check Rates on Airbnb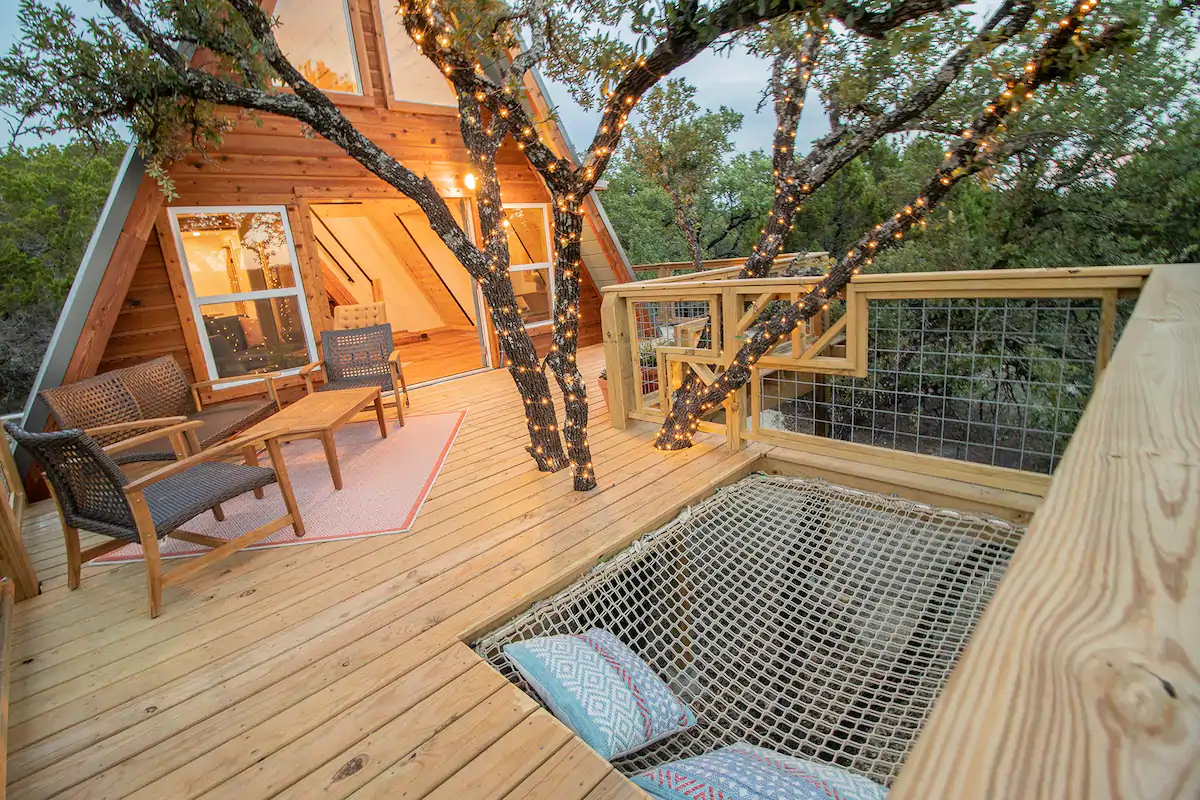 Caddo Lake Cabin
This Caddo Lake Cabin is an upscale, classic Texas lake cabin, which will give you so much to relish during your stay! Four guests can sleep here.
The deck built with thick beams, the knotty front door, the vaulted ceilings, the sliding barn door, and other well done interior details will make your visit next-level. You'll have a lake view and boat access. Kayak rentals are available for free to guests of this dream Texas lake cabin, and private boat tours are also offered, upon request.
This is one of the best Airbnbs in Caddo Lake, so don't forget to add it to your list!
Click Here to Check Rates on Airbnb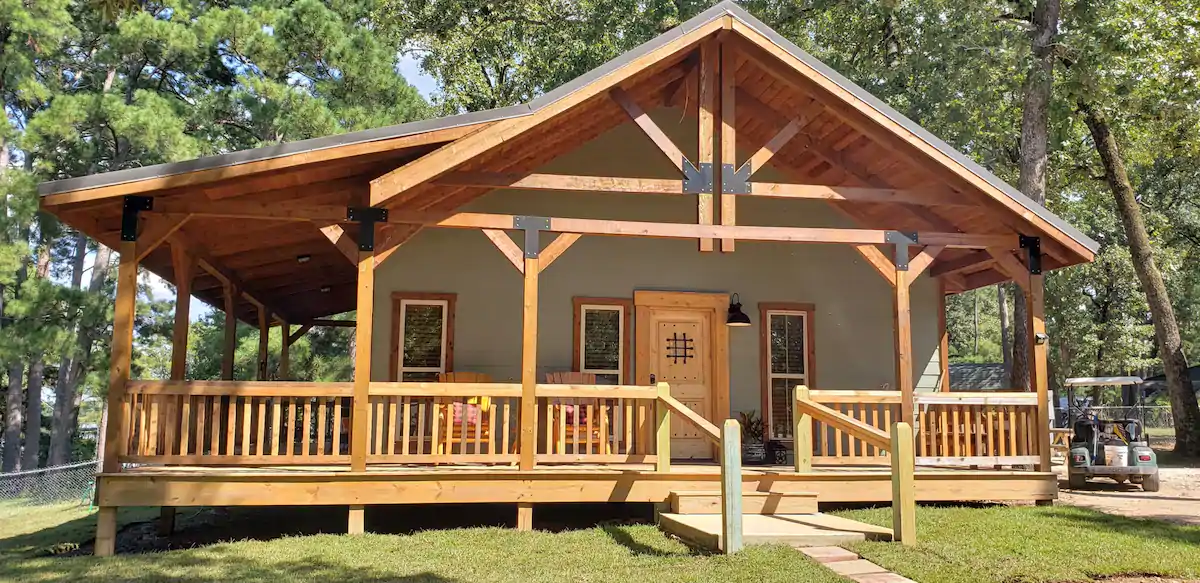 West Sandy Creek Winery Bungalow Log Cabin
This Winery Bungalow Log Cabin is a treat! Located in Huntsville, you'll love this amazing Texas cabin getaway. Even if it seems a bit lackluster on the outside, you'll find it to be luxurious and well-done on the inside, and there are so many awesome outdoor and nearby features and activities!
The winery is open to enjoy during regular hours, and the property has lots of animals! They mention Black Angus cattle, Kiko goats, a camel, a zebra, a zebronkey, and more! This woodsy cabin in Texas is sure to give you a terrific experience.
Click Here to Check Rates on Airbnb