Your next trip to Georgia will be one to remember when you stay at any of the best Airbnbs in Georgia. If you're looking for a place to stay on your next trip we have you covered. Whether you're hoping to glamp in a terrific cabin or a cozy yurt, or perhaps you're hoping to recharge in a treehouse; the best Airbnbs in Georgia have it all.
We rounded up some of the best Airbnbs in Georgia to help you on your next adventure. We chose a number of beautiful cabins with stunning views of Georgia's wilderness. We have treehouses for anyone hoping to fully immerse themselves in nature including a few with some feathered and furry friends. We even chose some historical stays in Savannah.
Georgia is home to a number of unforgettable places and sites. There's something for everyone. The breathtaking Blue Ridge mountains are great for hikers and the adventurous. The historic city of Savannah is a great choice for those hoping to walk through another time.
If you're looking to explore all the wonders that the state has to offer we have the Ultimate Georgia Road Trip. We even have a list of the Best Places to See Fall Foliage in Georgia for those who are looking for the best fall pictures or those who love the colors of the season.
We hope you'll agree with our picks of the best Airbnbs in Georgia.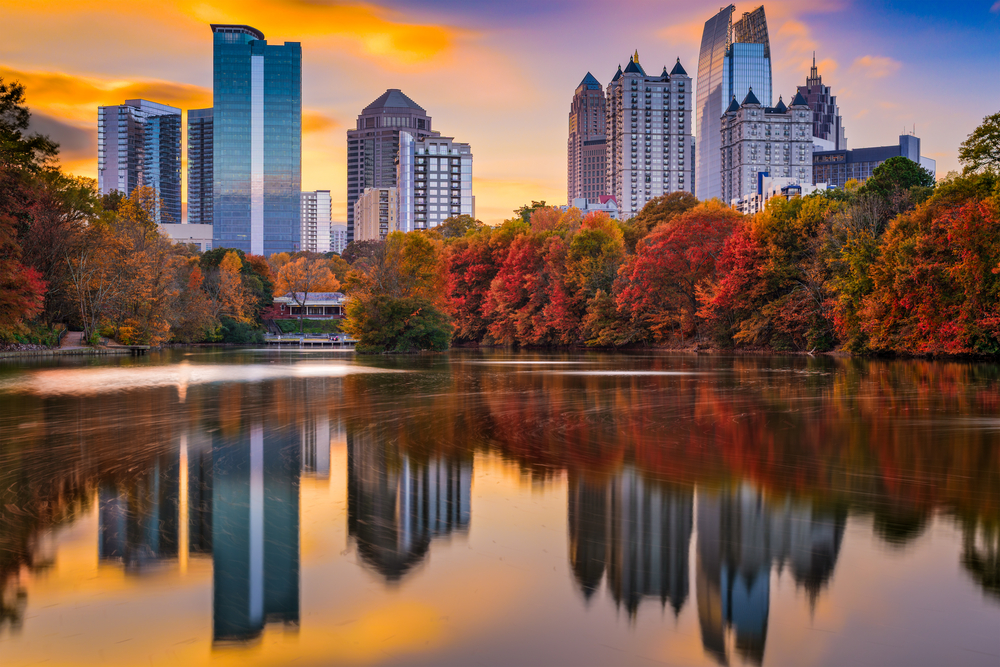 15 Best Airbnbs in Georgia (Cabins, Treehouses, and More)
Owl in the Oak Treehouse
Adventuring spirits will find themselves off the grid and literally immersed in nature while staying at the Owl in the Oak Treehouse. The home is suspended in trees and has many resident owls in the surrounding woods.
There are a few amenities not included in the treehouse because of the location and size of the home itself. So we recommend carefully reading the full description of the location before booking it for your next trip to make sure it's the right fit for you.
You can experience a rustic and unique stay if you choose this treehouse for your next adventure.
Click Here To Check Rates On Airbnb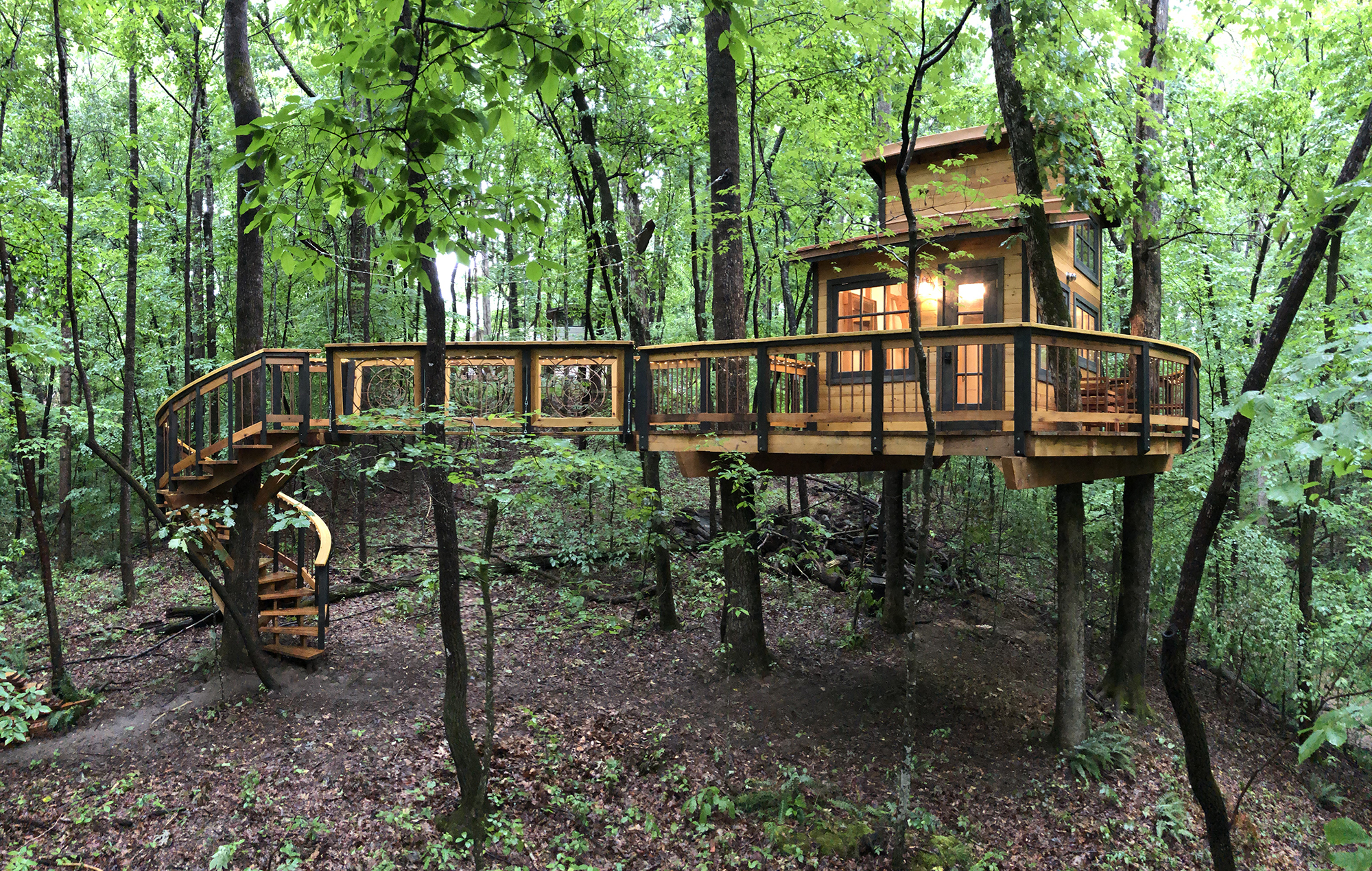 Atlanta Alpaca Treehouse in the Bamboo Forest
For a smaller, but well-known destination we think you should consider the Alpaca Treehouse in a bamboo forest in Atlanta. The home has been featured in various movies and TV shows and it is truly a sight to behold.
Farm-life including roosters, llamas and alpacas live on the farm land and will likely be visible during your stay. It is encouraged for no one under the age of 12 to stay in the treehouse for safety reasons.
The wildlife and notability of this stay make it one of the coolest treehouses in Georgia.
Click Here To Check Rates On Airbnb
Archimedes' Nest at the Emu Ranch
If you're looking for a less rustic location while traveling and you're okay with seeing some feathered-friends Archimedes' Nest in Atlanta is one to check out.
The treehouse is only a short walk from East-Atlanta Village with many restaurants, bars, and other businesses located within walking distance.
This is a perfect romantic stay for couples hoping to have a unique and memorable experience. There are two decks where you can take in the wilderness and admire the birds including peacocks and swans that roam below while enjoying your coffee in the morning.
Click Here To Check Rates On Airbnb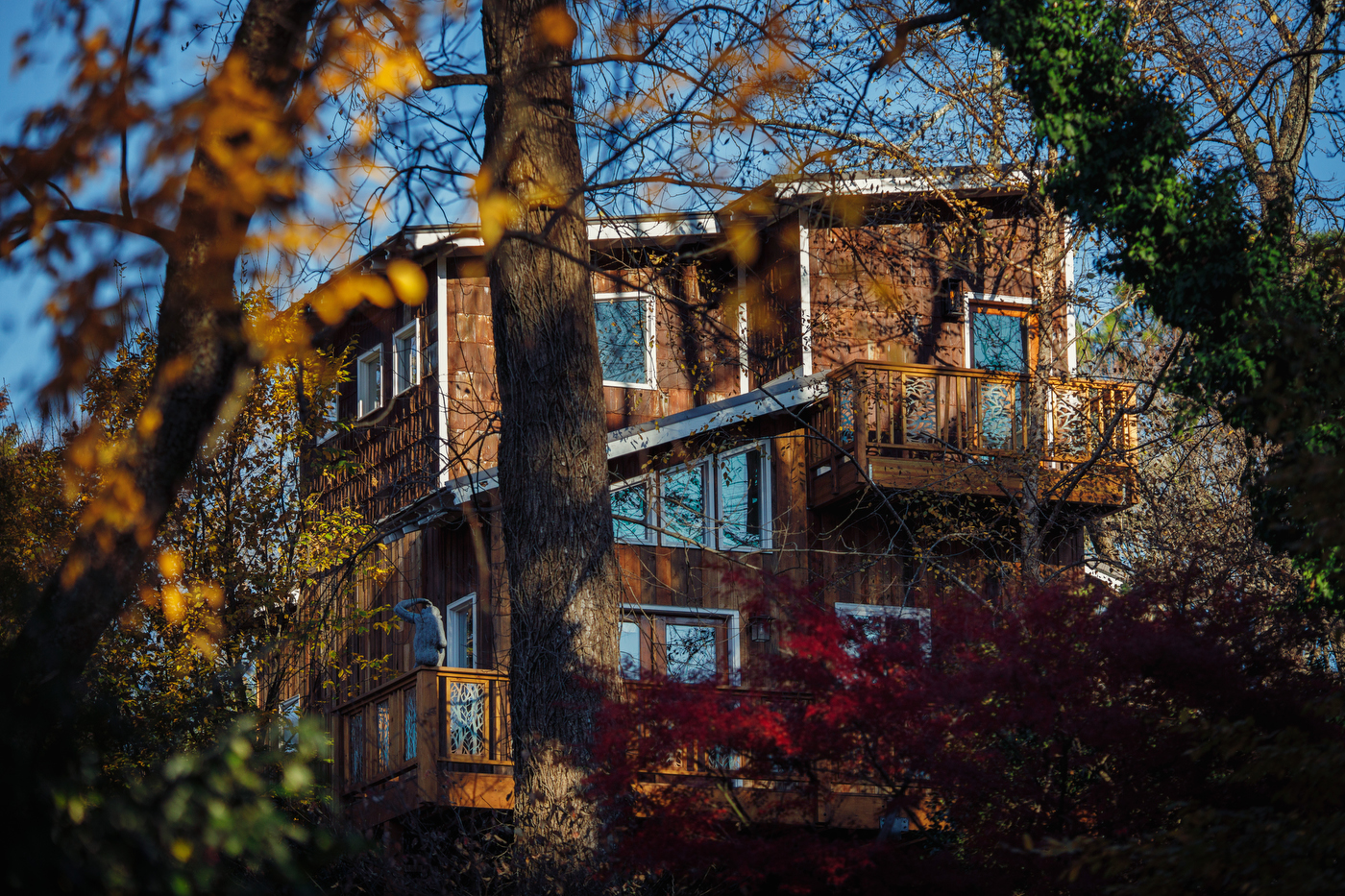 Stairway to Heaven, Midtown ATL at Piedmont Park
This apartment is located in Midtown Atlanta and can stay 8. It has a calming interior and a patio for guests to take in the view of Midtown.
The apartment includes a fireplace and large sofa. Two of the bedrooms have king-sized beds and the last has a queen, all of them keep a calming, neutral color scheme to help you unwind and relax.
We recommend Stairway to Heaven for anyone looking to check out the art scene in Atlanta. Midtown is known for the number of venues, locations, and groups that provide an artistic escape and experience.
Click Here To Check Rates On Airbnb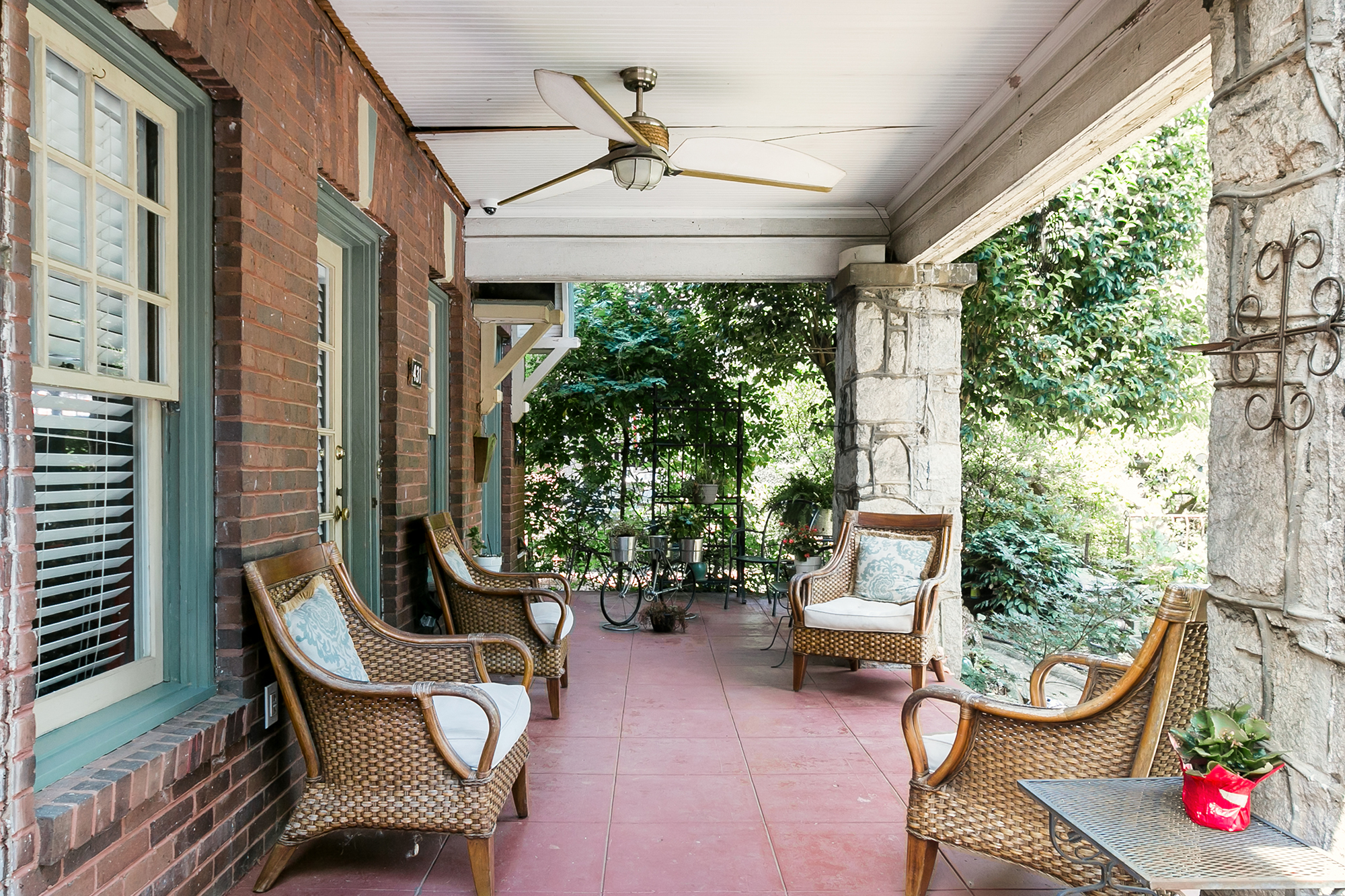 Daybreak- Designer Treehouse with amazing views
Located in Dahlonega Daybreak stays 4. It was designed and built by craftsman so almost every detail within the treehouse was carefully created.
There is a spring-fed creek near the treehouse. The patio allows guests to relax in the comfort of the outdoors and peacefully take in the surrounding wilderness. The view from the living room also provides a unique look into the nature around the treehouse. The main bedroom also has skylights for stargazing at night.
The details and views provided with this stay make it one of the best treehouses in Georgia.
Click Here To Check Rates On Airbnb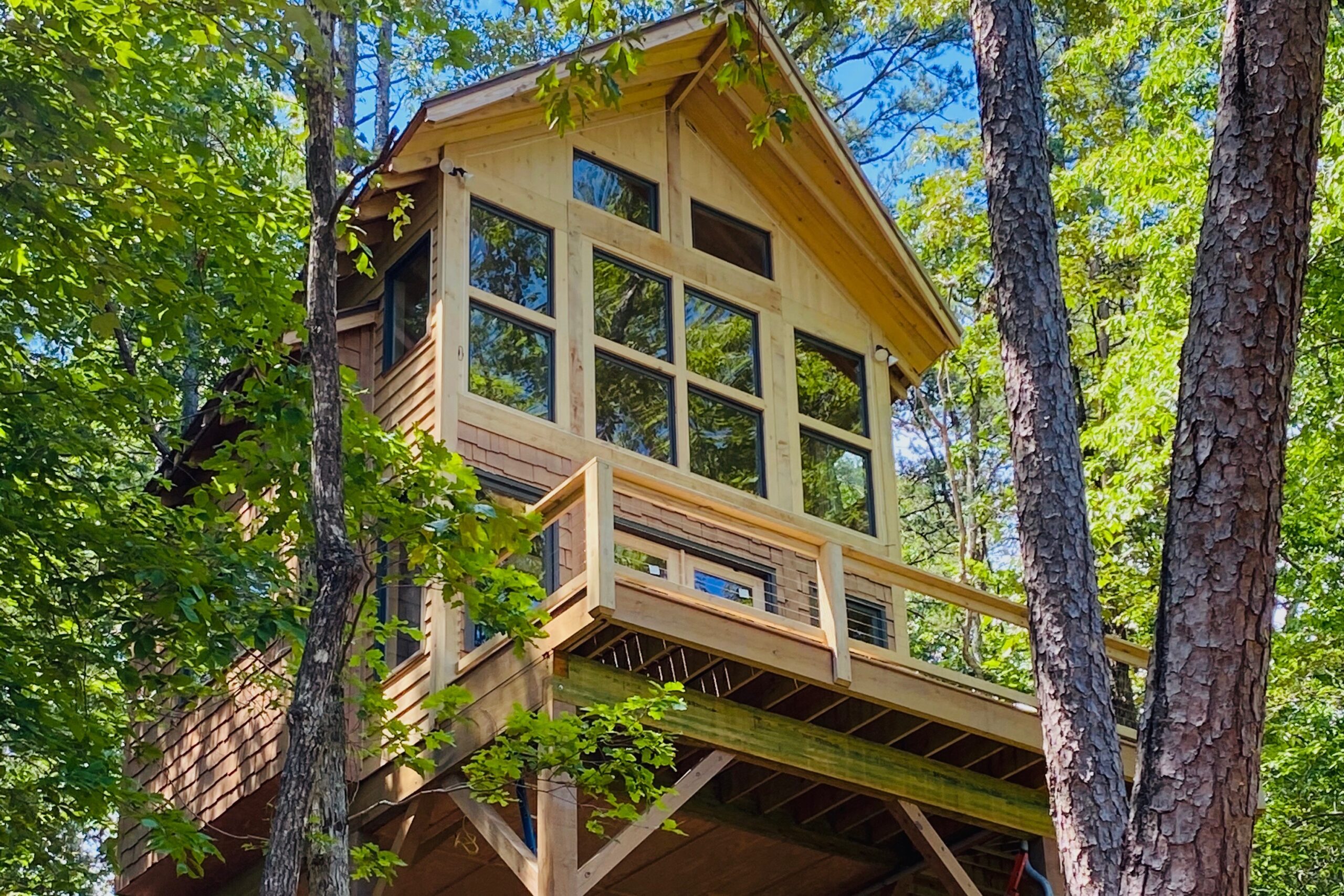 Splendid Summit – Luxury Mountain Cabin
If you're looking for a stay that can accommodate a larger party and one with stunning view we believe that Splendid Summit in Blue Ridge may be just what you are looking for.
The cabin is large and stays 12. It is perfect for families looking to stay together on a trip or groups looking to enjoy nature. There are a number of amenities provided for guests entertainment including a popcorn maker and a foosball table. The cabin is three levels and has a deck/patio for each level.
Your stay will be one to remember if you choose to spend your time here, and the views will be hard to forget.
Click Here To Check Rates On Airbnb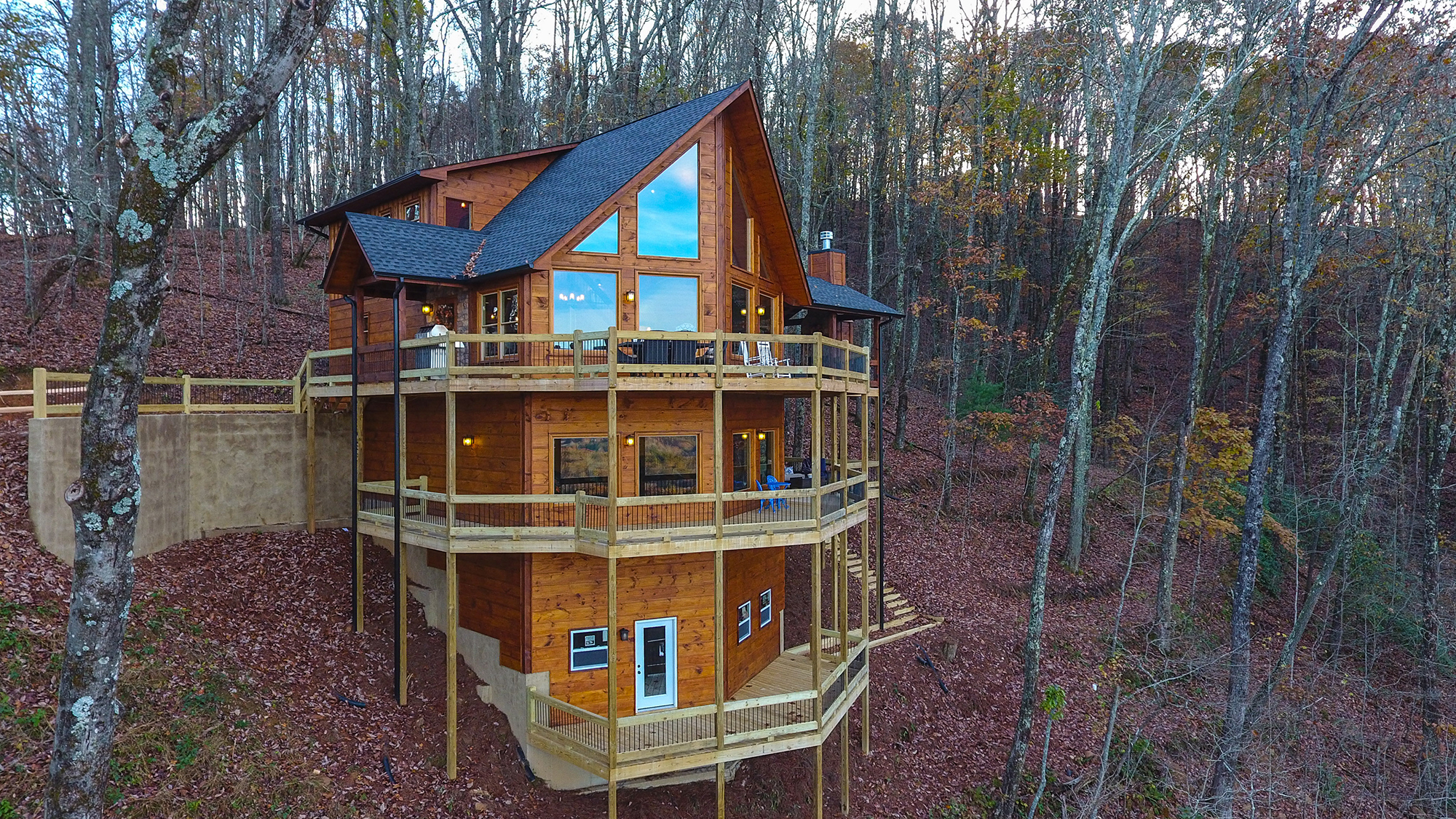 Lake Hideaway
This Lake Hideaway located in Blue Ridge offers a number of features to make guests feel at home.
The cabin comes with and indoor and outdoor seasonal fireplace (available for use from October to April). It also has a covered porch so guests can enjoy the outdoors even in rain. The cabin is located on the Lake and has a private dock.
We believe this stay is perfect for those hoping to hike or spend some time on/in the water during the trip.
This cabin is only available for guests at least 25 years of age.
Click Here To Check Rates On Airbnb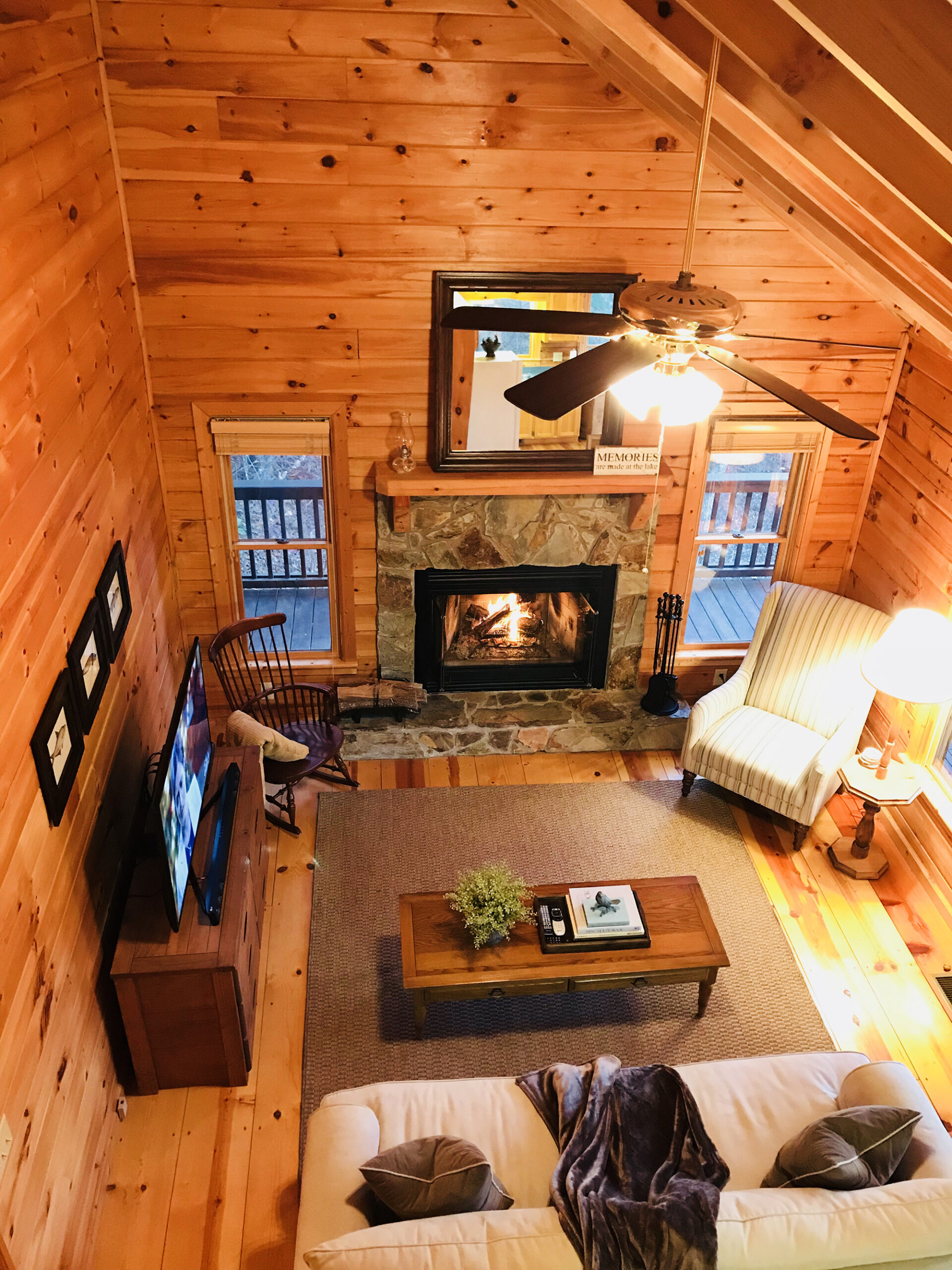 Luxury Mountain-top Blue Ridge retreat – Moosemac
For anyone looking to stay in style and still be able to appreciate and enjoy the wilderness of Blue Ridge we believe that Moosemac in Morganton is a cabin to consider. The cabin offers a number of cozy features including three fireplaces and a hot tub.
The hosts are incredibly accommodating and will even help guests find places to visit during their stay. The cabin stays 6, and is perfect for a romantic getaway for a couple or a group of couples.
There are many places to relax and unwind during your stay including a number of patios and an outdoor firepit.
Click Here To Check Rates On Airbnb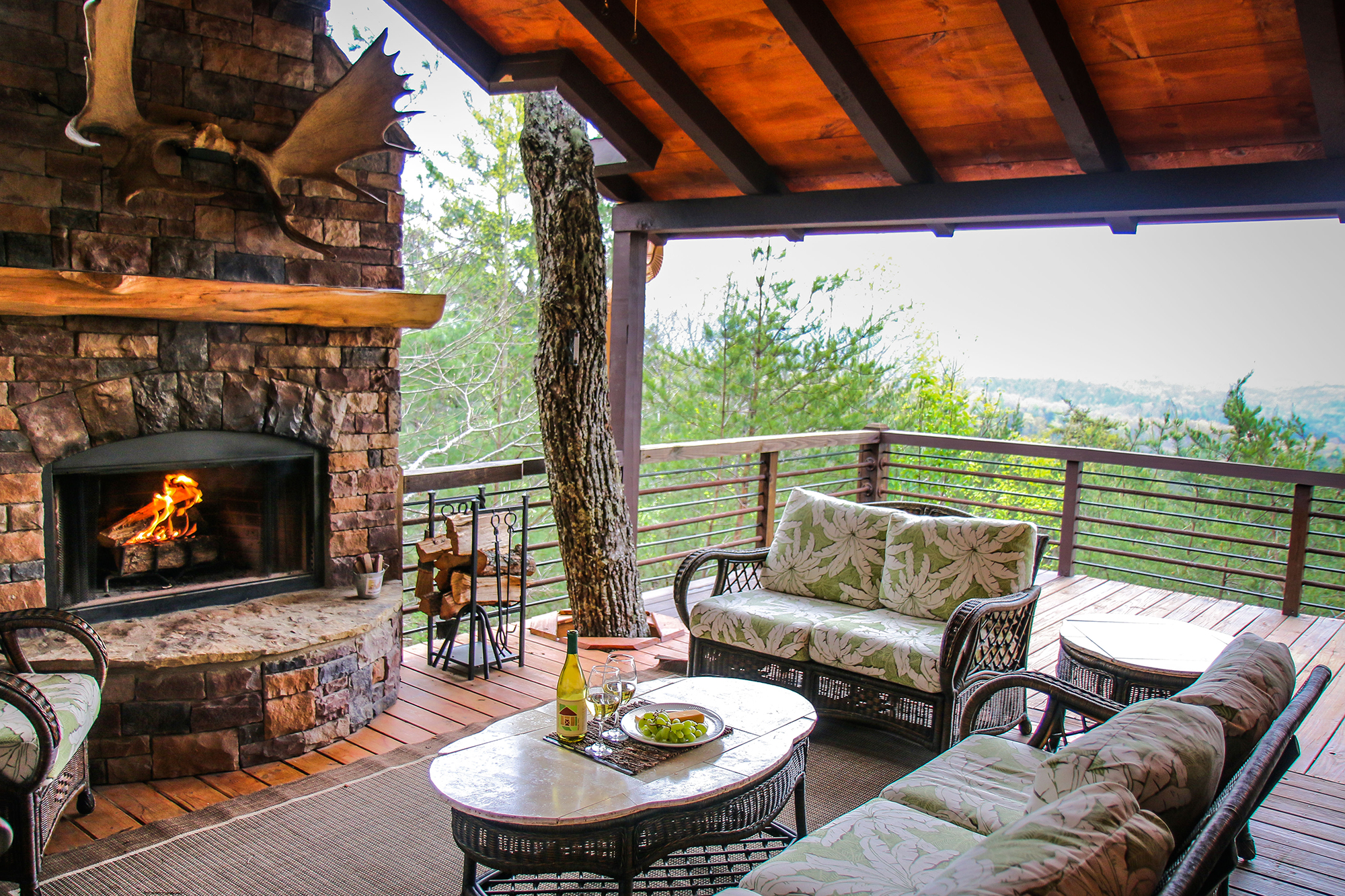 Blue Ridge Cabin Retreat: Amongst The Clouds
This large cabin in Morganton can stay 8 and offers a terrific view of the Blue Ridge Mountains. Because this cabin sits near the top of the mountain guests may feel as if they are staying Amongst the Clouds.
The cabin has a number of outdoor seating areas including an upper deck and a lower patio with a hot tub and fire pit. The cabin is surrounded by three acres of land and wilderness that guests are welcome to explore. We recommend this stay for anyone looking for a unique but serene place to rest on their next adventure.
The views make this one of the best cabins in Blue Ridge.
Click Here To Check Rates On Airbnb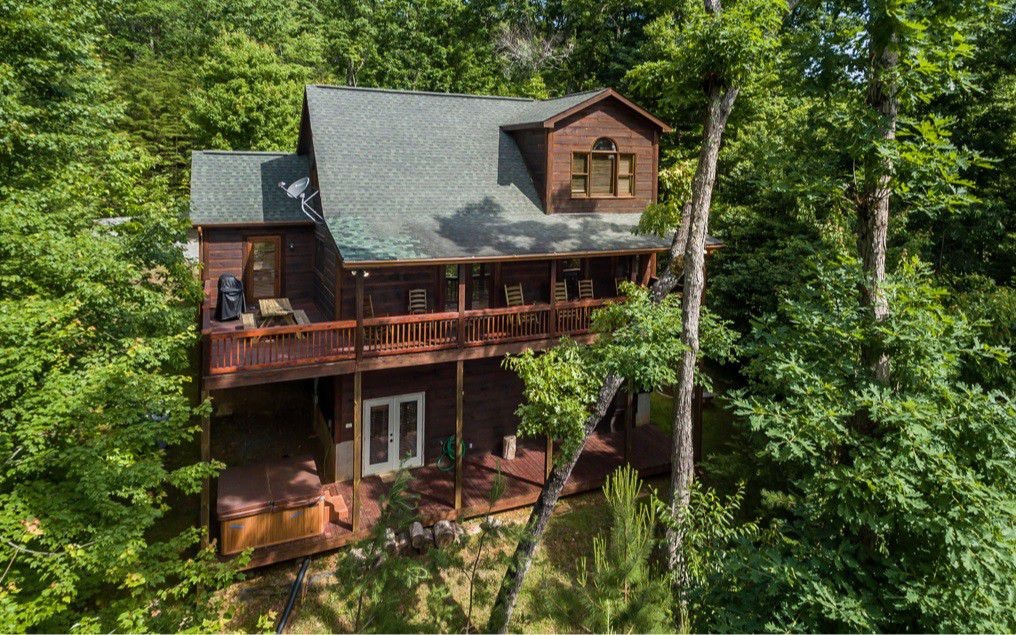 Cherry Blossom Yurt on Lookout Mountain
We think that the Cherry Blossom Yurt is a great choice for anyone looking to camp in style. The yurt stays 2 making a great destination for couples looking for a romantic getaway. It is located in Rising Fawn, about 30 minutes from Chattanooga Tennessee.
The yurt has a patio and overlooks the Cumberland Mountains providing a beautiful view for guests. Because the yurt is located close to the mountains many animals can be heard nearby. The yurt is divided into three sections, the living room/kitchen, the bedroom, and the bathroom.
If you're looking for somewhere to stay while glamping in Georgia we think that Cherry Blossom Yurt is one to consider.
Click Here To Check Rates On Airbnb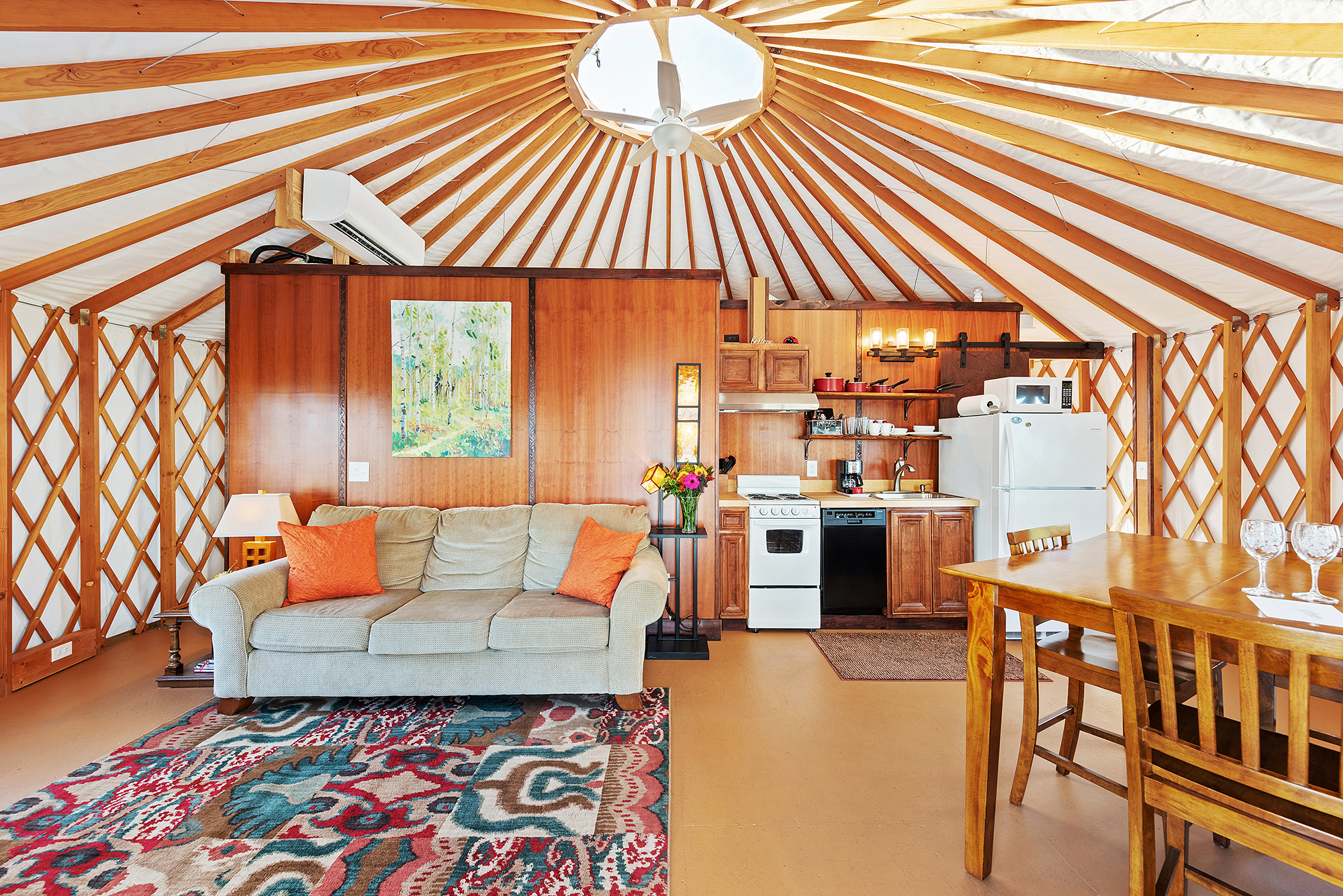 Lotus Belle Luxury Retreat
Couple can camp in style during their stay at Lotus Belle. The yurt stays 2 and has a separate, heated bathhouse for guests to use. There is a patio area, an outdoor fireplace and a covered porch for guests to fully unwind and immerse themselves in nature.
It is located approximately 12 miles from Blairsville. The sounds of the forest surrounding the yurt may be just what you need to recharge and relax during your trip.
The stay is pet-friendly but there is a fee for pets to cover cleaning costs.
Click Here To Check Rates On Airbnb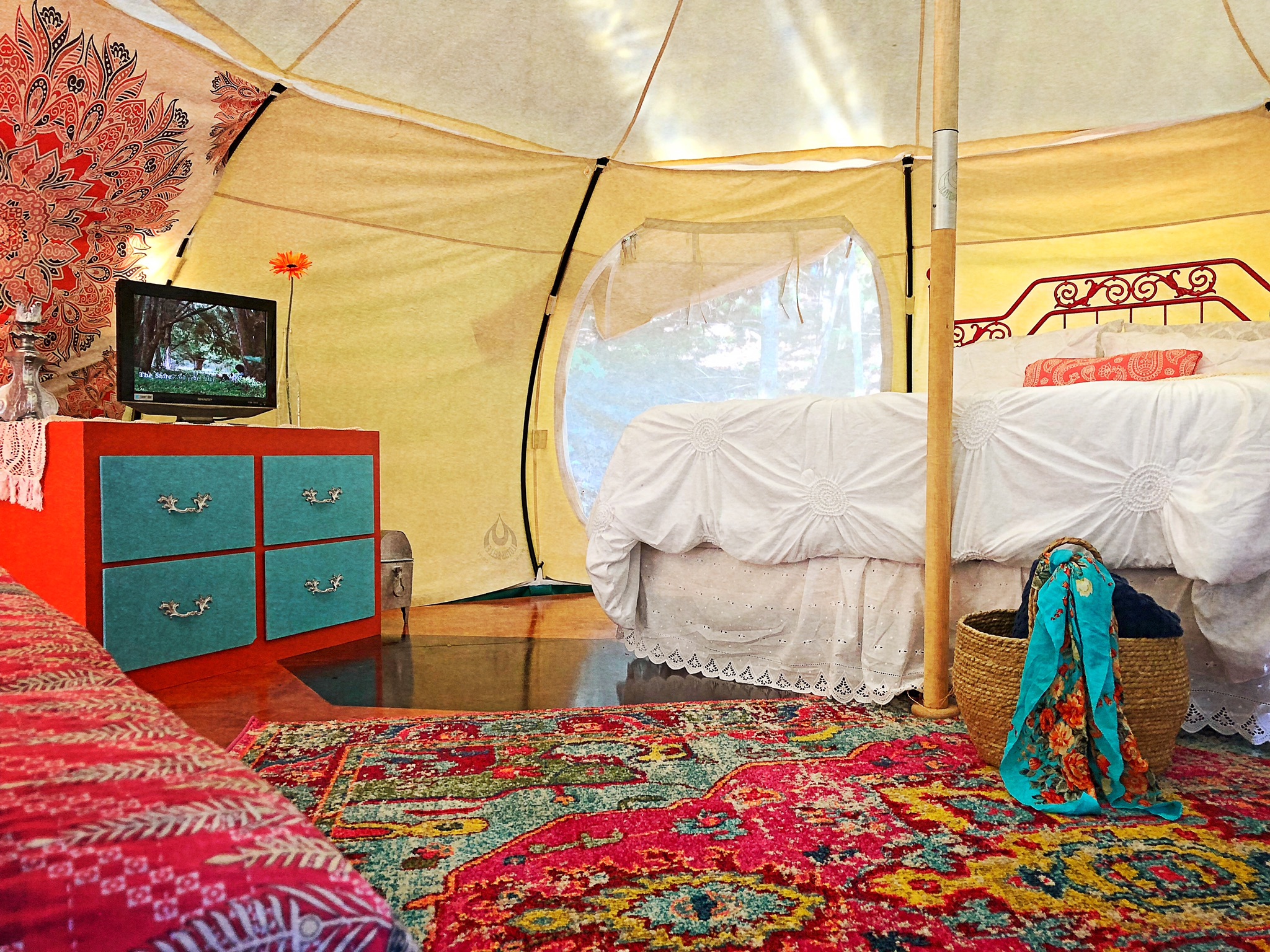 Treehouse with Elegance
This Elegant Treehouse offers a comfortable place to stay during your trip. It is also located near the Ellijay river if you're looking for somewhere near a waterfront.
The treehouse stays 4 and has an indoor fireplace and a wrap-around deck. It overlooks the Blue Ridge Mountains and is a great choice for those hoping to explore or be surrounded by nature during their trip. The treehouse also comes with a hot tub that overlooks the mountains for guests hoping to further unwind during their stay.
Guests must be at least 21 years old to stay in this treehouse.
Click Here To Check Rates On Airbnb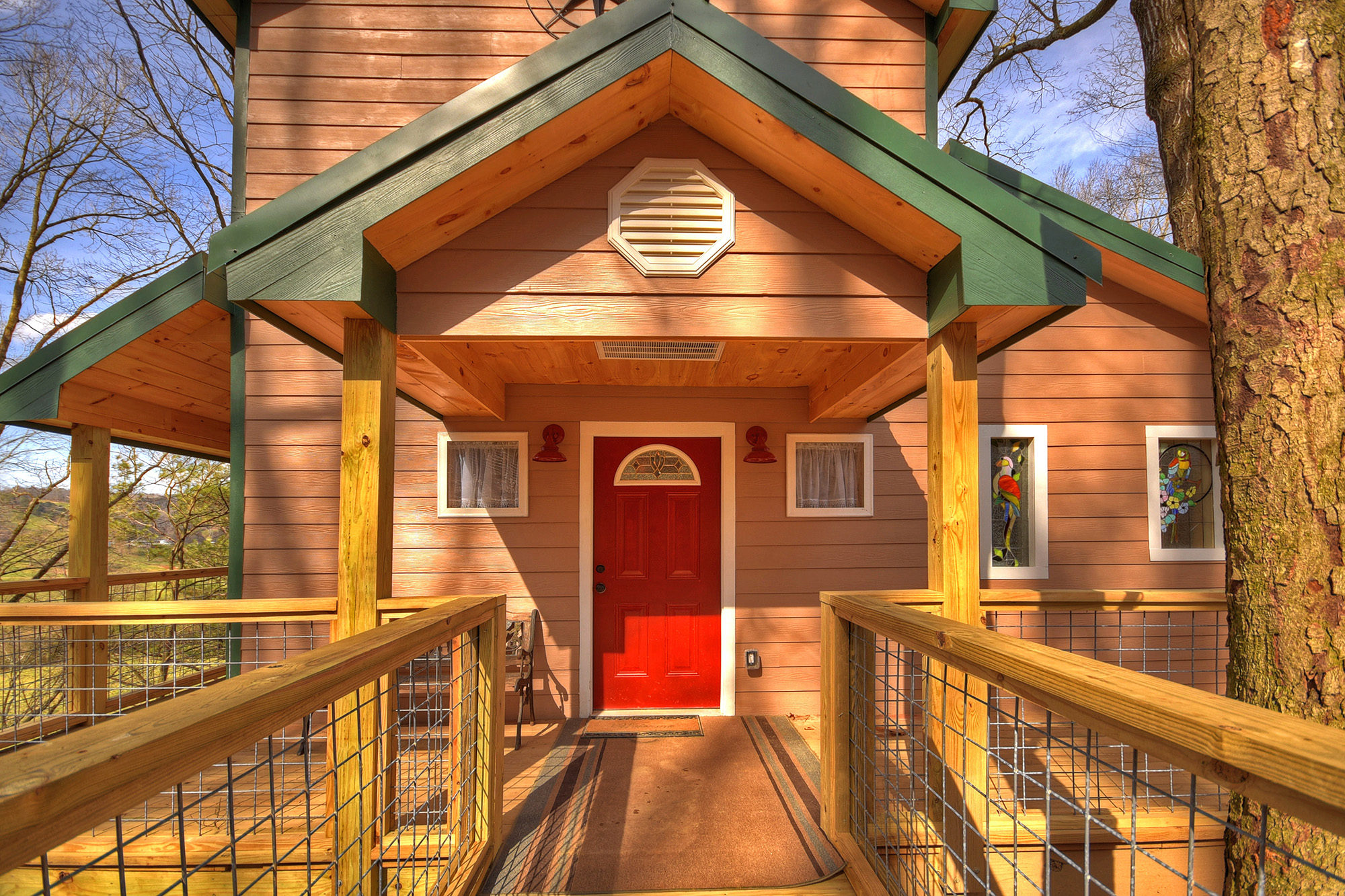 Mountain Song
Mountain Song, located in Ellijay is a great stay for adventurous travelers. It even has a private hiking path near the cabin for those who wish to explore the surrounding forest.
The cabin comes with a hot tub for guests to use and an outdoor fireplace. It is a great location for those hoping to unwind and relax during their stay. The cabin can stay 6, but one of the bedrooms is separate from the main house.
Guests must be 25 or older to stay in this cabin with the exception of families with toddlers/infants.
Click Here To Check Rates On Airbnb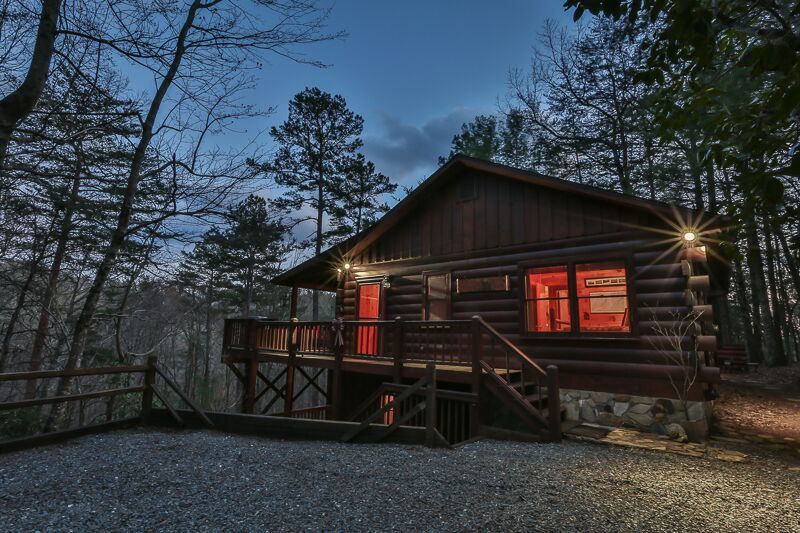 Savor the Romance of a Colorful, Historic Carriage House
For those looking for a fun or eclectic place to stay while in Savannah we think you should consider this Colorful Carriage House. This historic home is a perfect blend of vintage and modern through its color scheme and carefully chosen decor.
The home is located in the historic district of Savannah, and is not far from the historic James street. The home stays 3 but would be perfect for couples looking for a fun place to stay during their trip. There is outdoor seating for guests on the balcony and patio.
We believe that the coordinated decor and the fun touches to the interior and exterior of this home make it one of the best Airbnbs in Savannah.
Click Here To Check Rates On Airbnb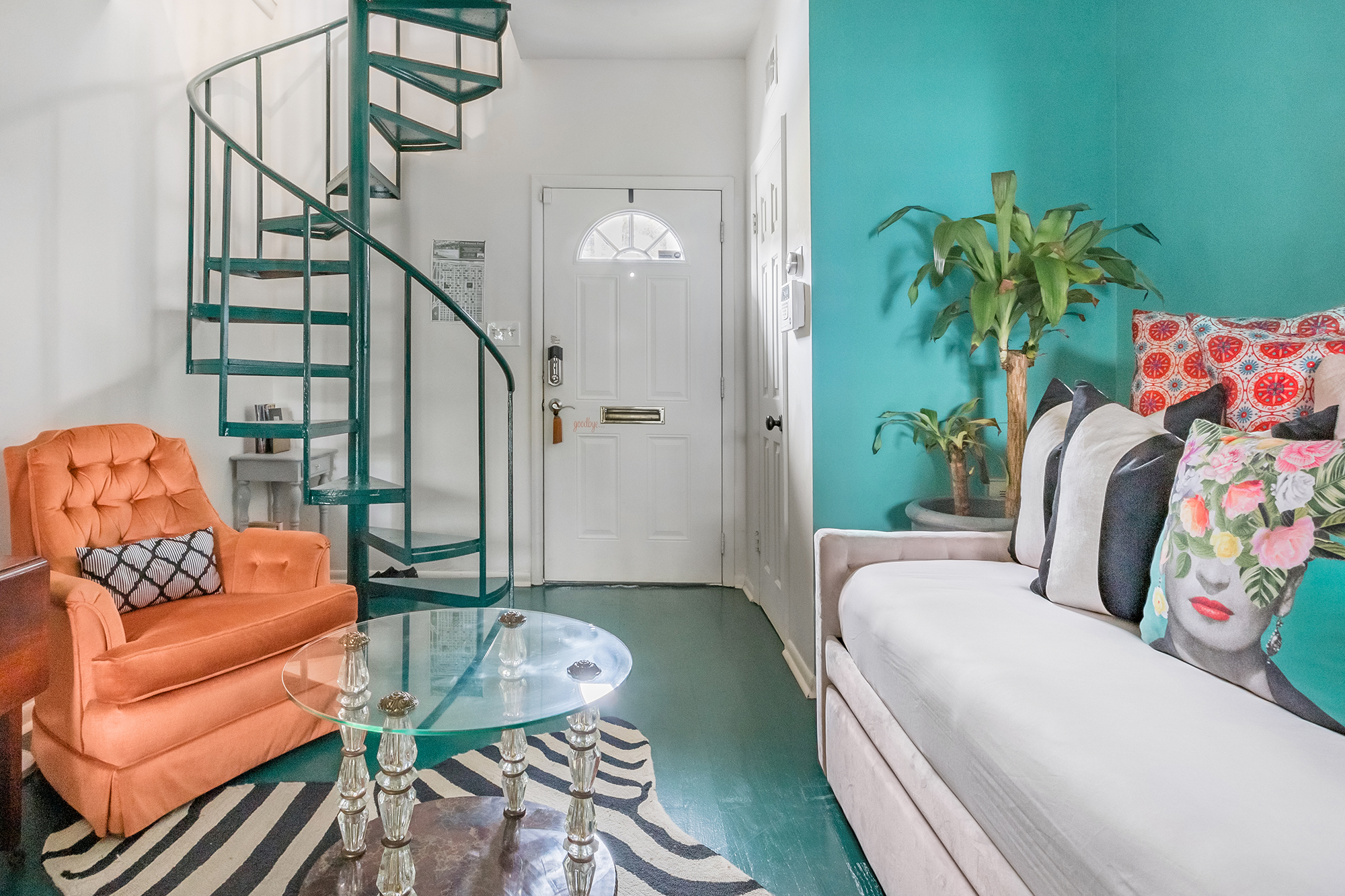 Radiant Estate in the Heart of Savannah
For large groups hoping to stay together in the Savannah area this Radiant Estate may be just what you're looking for. It stays 10 and includes a 3-bedroom main house, a 1-bedroom carriage house above the garage and a garden unit with a sleeper sofa.
The main house has a large living room/dining room area for guests to gather and spend time together. There is also an outdoor patio and backyard. The estate is located in downtown Savannah, not far from many historic attractions along with bars and restaurants.
This is a great choice for families or large groups taking trips who wish to stay in the same location.
Click Here To Check Rates On Airbnb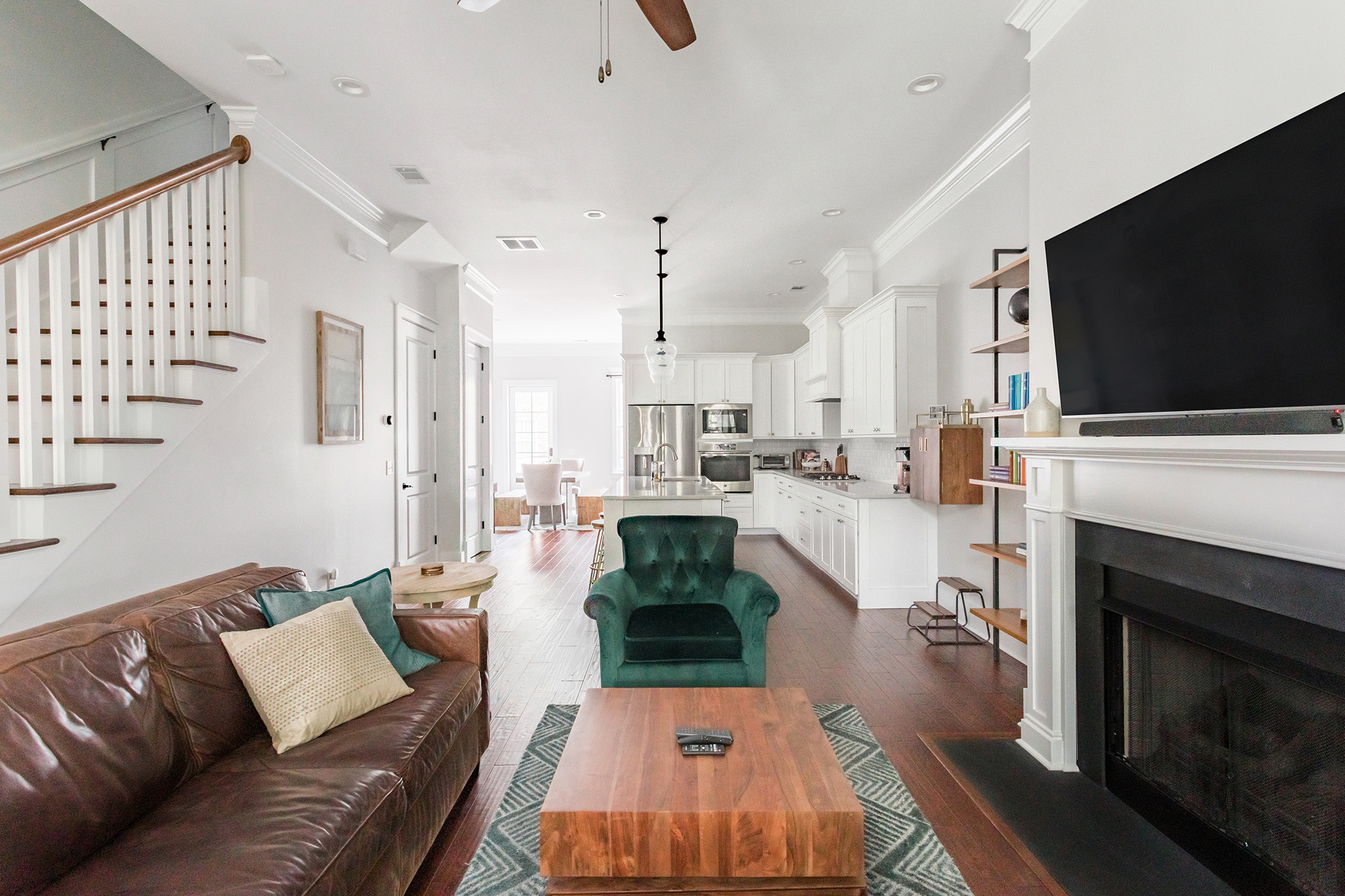 Whether you are traveling as a couple or with a group of people we know that there many places you can stay while in Georgia. We hope that our choices of some of the best cabins and Airbnbs in Georgia can help you narrow down your choices. We know that if you choose to stay at any of the best Airbnbs in Georgia your trip will be unforgettable.