If you are planning a trip to Georgia and are looking for the best Airbnbs in Savannah, then this article is for you! Let us ease the stress of looking for a place to stay in Savannah by showing you all the best choices!
Airbnbs make great accommodations since they allow you to have a place to yourself. They are usually larger than hotel rooms, offer more space to spread out, and the ability to cool your own meals. You are sure to feel right at home in these Airbnbs in Savannah!
Savannah is a beautiful, classically Southern city full to the brim with history and culture, as well as noteworthy architecture and nature spots. It is certainly not a city that lacks things to do! You could easily spend days here exploring everything the city has to offer.
Looking to save money on your trip to Savannah? Get a FREE $55 Airbnb coupon by using our code when you book!
14 Best Airbnbs In Savannah, GA (Cottages, Glampers, and More!)
Downtown Riverfront Condo
We will start with an ultra-modern and chic loft that perfectly mixes old and new. This beautiful apartment is open and bright with high ceilings and featuring rustic brick walls and vintage details throughout the property. This Savannah Airbnb can room up to four people and there is plenty of space to spread out. Each bedroom has a wall-mounted TV so you can relax in the evening.
This loft is found in downtown, so it is not far from many historic landmarks. It is also close to the the Savannah River and River Street, which has many cute shops and restaurants. Overall, this Airbnb is perfect for anyone who wants to be within walking distance to the downtown action and loves amazing architecture.
Click Here To Check Rates On Airbnb!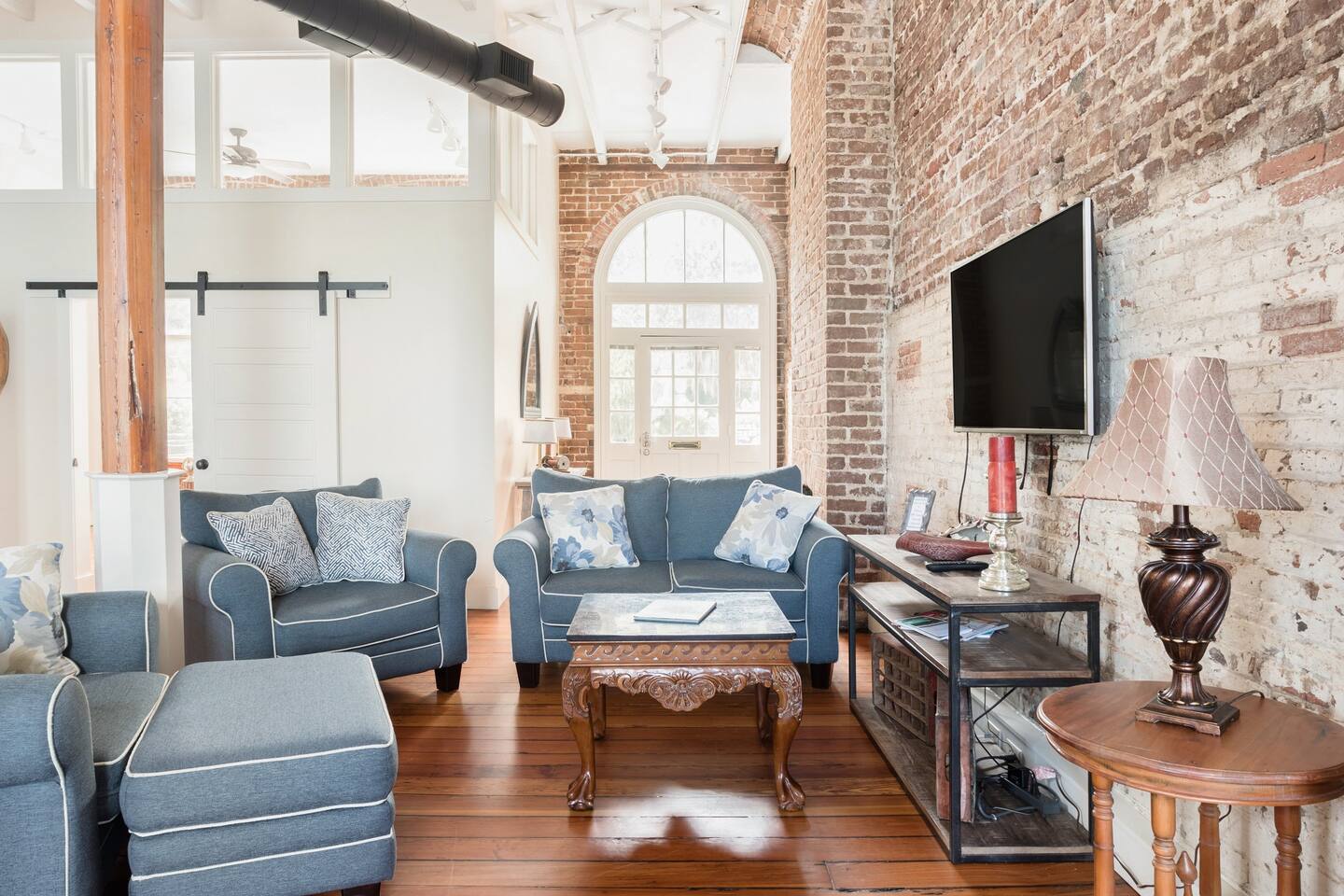 Cabin Apartment in 1914 Carriage House
This cabin is found in the city so you get all the fun of staying in a cute accommodation without having to be out in the middle of nowhere. It is located in the Thomas Square neighborhood and is walking distance to many restaurants, shops, and art galleries. It is also near Forsyth Park, a beautiful area perfect for anyone traveling with kids. This is certainly one of the best cabins in Savannah!
This Savannah Airbnb is found behind a 1914 colonial revival house in a renovated carriage house. Because of this, you can really appreciate the history of the place. Floor to ceiling windows let in a ton of natural light and look out into a pretty garden. A fireplace in the living room as well as a claw foot bathtub in the bathroom help to create a cozy atmosphere. The entire home exudes relaxation and is easily one of the best vacation rentals in Savannah.
Click Here To Check Rates On Airbnb!
Riverfront Cedar Bluff Cottage
You will love this cottage since it is incredibly cute inside and out! Found in the suburb of Bluffton, this Airbnb is about a thirty-minute drive to Savannah. There is so much to love about this location! The cottage is right on the May River where a private dock will give you access to amazing views of the water. The interior is decorated with beautiful rustic styled furniture.
A short walk will bring you to the Promenade area of town where you can enjoy some time shopping, eating delectable food, or strolling through art galleries. If you want to burn off a big lunch, check out the fully equipped gym in the cottage's garage. In the evening, you can grill up some food on the BBQ or sit around the fire pit. There is one more cottage on the property, perfect for two couples traveling together or for an opportunity to meet fellow travelers.
Click Here To Check Rates On Airbnb!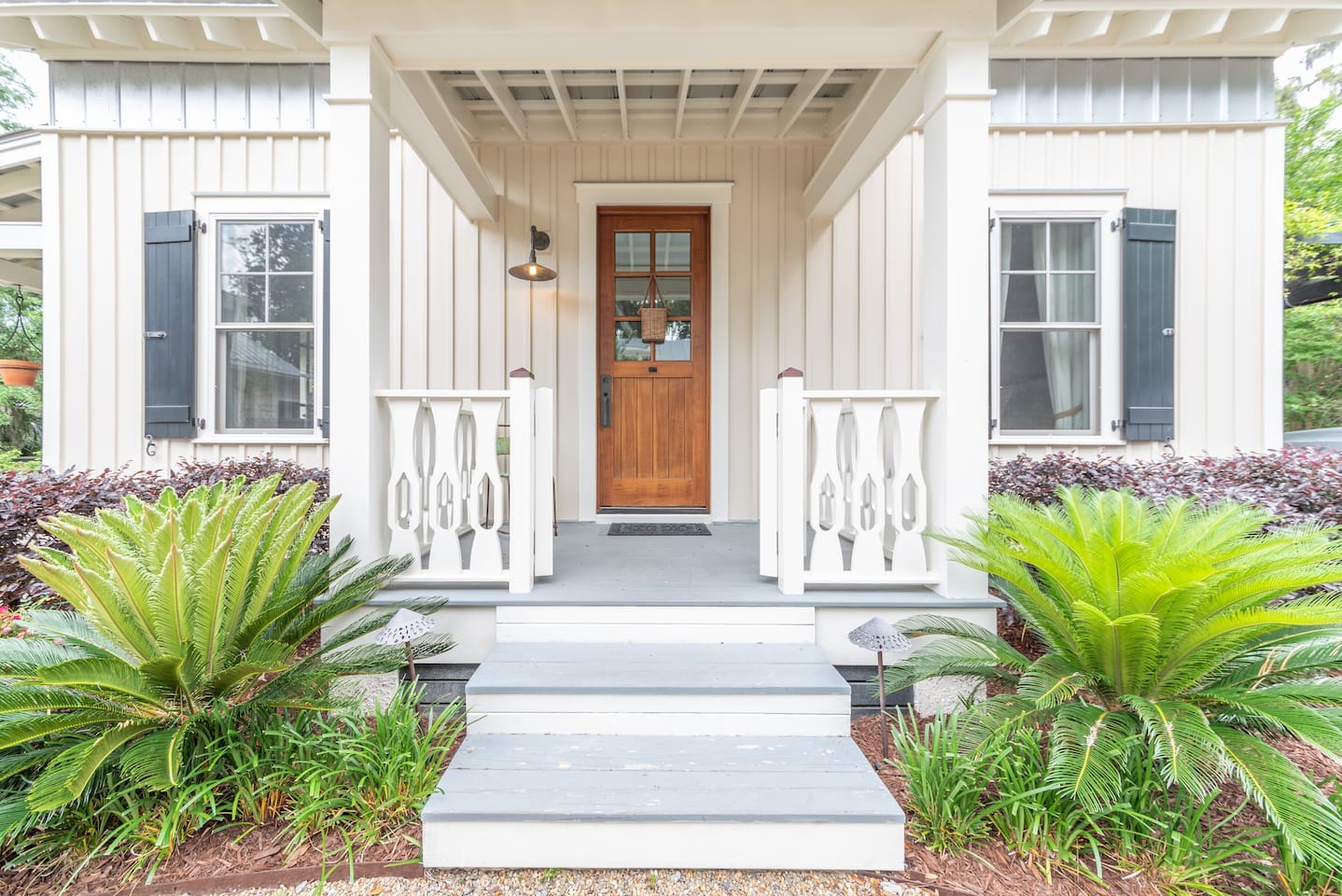 Miss Rose Cottage
The Miss Rose Cottage is found in Savannah's Victorian neighborhood and is as darling as its name and location would suggest! This cottage was built in 1874, providing an interesting history. As a bonus, the inside is full of period-accurate furniture, including a chandelier in the bedroom. A garden surrounds the property adding to the charm of the place. You could easily take a few great Instagram shots here!
This neighborhood is known for the many festivals it hosts, such as the Jewish Food Festival, the Greek Festival, and the Victorian-themed Picnic in the Park. If you time your Savannah vacation right, you can enjoy attending one of these events. Overall, though, this is a quiet and idyllic place to stay in Savannah. A stroll down the street will treat you to many old Victorian houses so you will feel as if you have stepped back in time.
Click Here To Check Rates On Airbnb!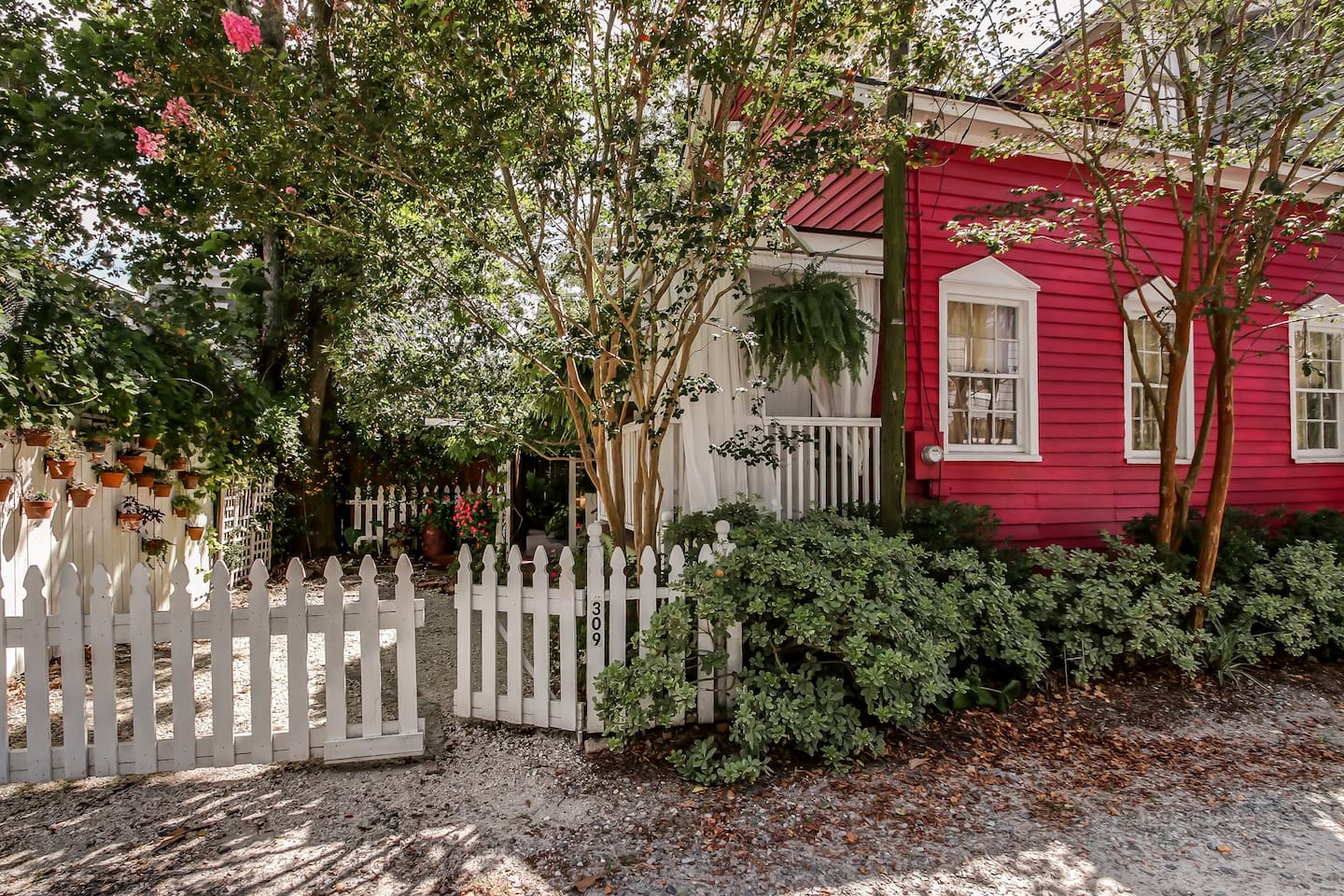 Glamping '60s Style
Glamping has become a popular past time for many travelers, and it is a great way to have a unique experience without breaking the bank. This retro 1968 Tag-A-Long camper has been transformed into an eclectic retreat in the city. Found in the host's backyard, you are given a private area to relax and enjoy your vacation. There are canoes available to borrow, with a boat launch only a block away.
Though the camper might seem really basic, there are fun amenities that will make your time here memorable. A hammock and fire pit allows you to enjoy the outdoors. In that same vein, there is also a cute outdoor bath area with a clawfoot tub and many plants. Who knew a bath could be so photogenic?! The inside of the camper has funky, bold colors and vintage details. You will not soon forget this stay!
Click Here To Check Rates On Airbnb!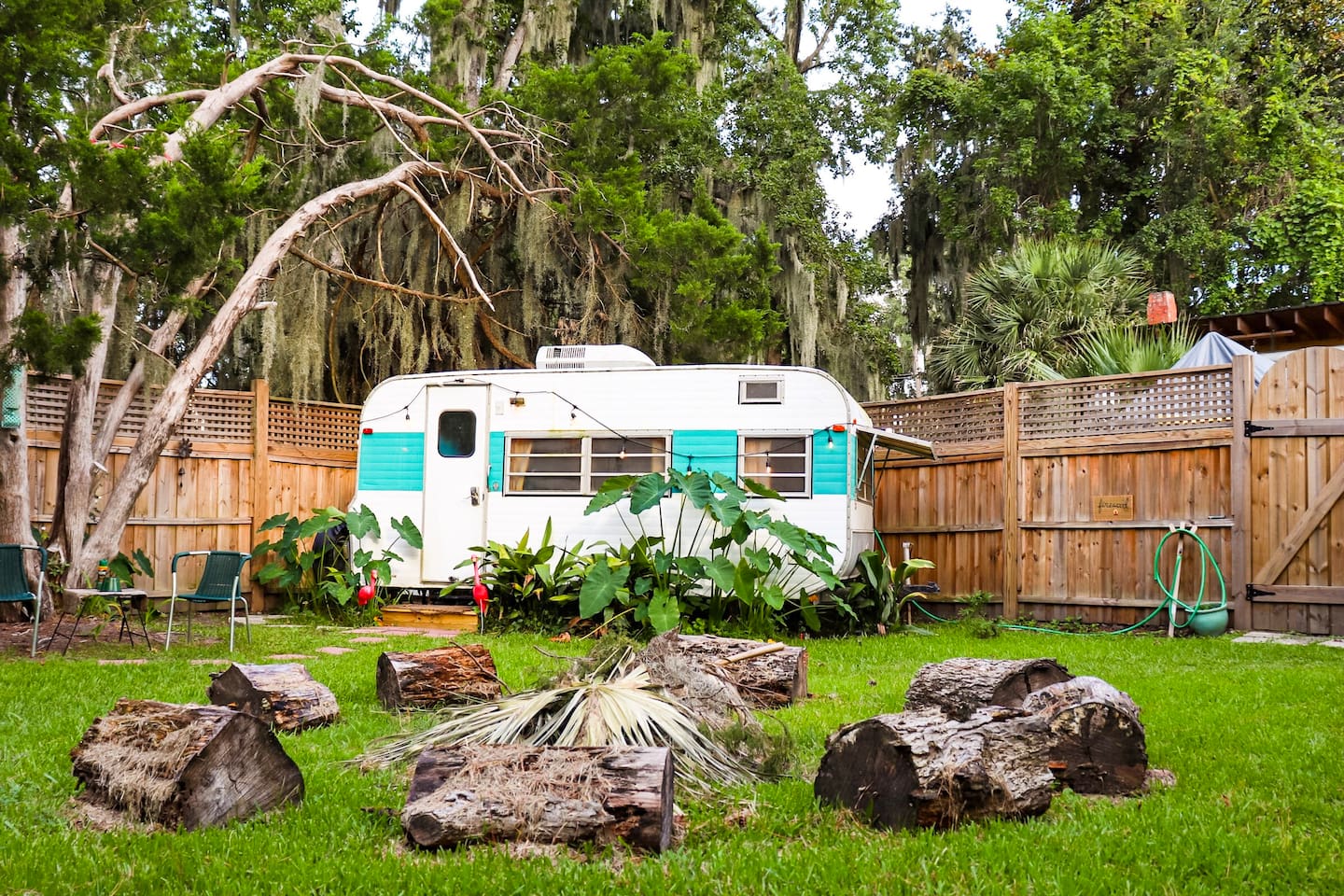 Silver Belle Airstream
The Silver Belle Airstream offers another chance to go glamping in Savannah. Though not as old as the last camper, this 2015, 25-foot Airstream International has been made into a cool Airbnb. Parked in the host's backyard, the camper is part of a small oasis complete with a pool and hot tub. Lights strung through the trees create a calming mood perfect for a meal at the outdoor table.
Even though it is not very large, there is enough sleeping space to fit up to six guests. Alternatively, this makes a great romantic stay for a couple. This camper is located in the Gordonston neighborhood close to downtown Savannah. It is a quiet place to relax, but not far from the city's many attractions. Staying in a camper is fun and affordable, so why not give it a try?!
Click Here To Check Rates On Airbnb!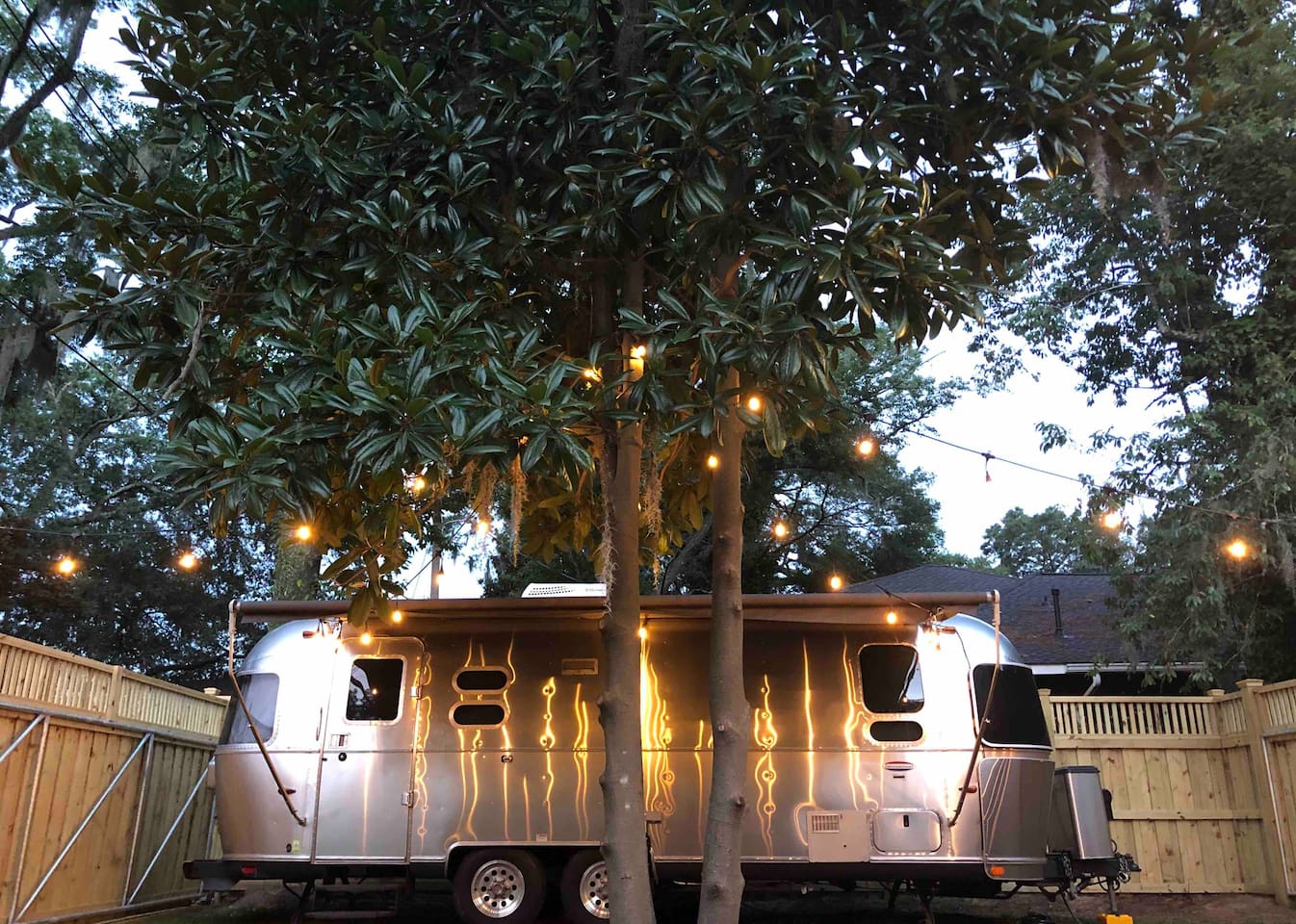 Carriage House at the Hive
The Carriage House at the Hive is another one of the many renovated, historic carriage houses you can book in Savannah. This 1924 home has been transformed into a chic Airbnb with a mix of rustic details and Southern charm. You are sure to feel right at home here! A beautiful staircase leads you to a bedroom loft with a comfy king-sized bed. A fire pit in the courtyard gives you a place to unwind.
While the adorableness of this Savannah Airbnb is part of what sets it apart, the other important factor is its location. It is found in the Starland District, an up and coming neighborhood with plenty of cute and hip cafes, shops, restaurants, and art galleries. You will feel just like a local as you explore the area. You will feel even more like a local when you settle down for the night to watch TV on a big couch in your carriage house.
Click Here To Check Rates On Airbnb!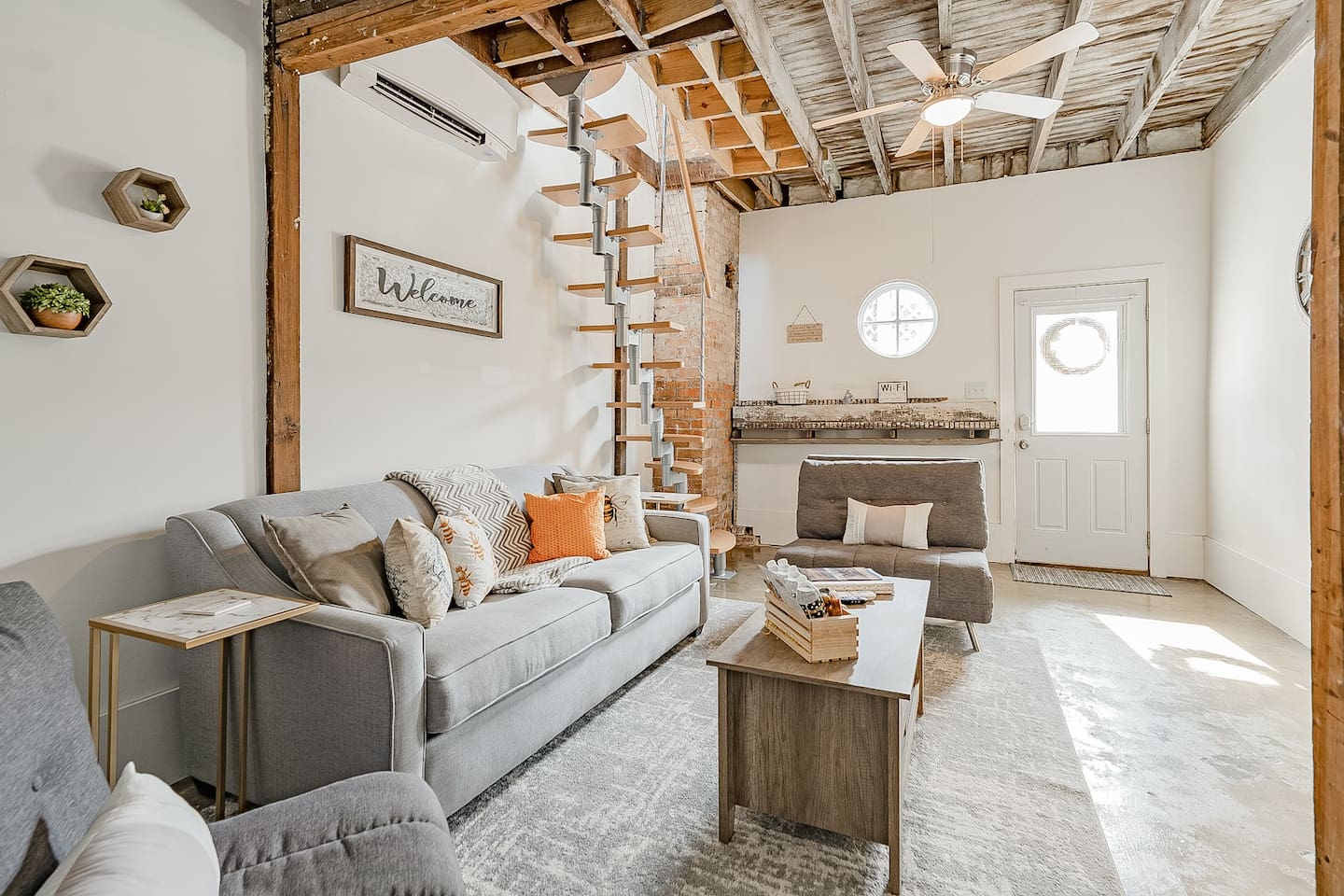 Perfectly Renovated Historic Downtown Home
You will discover another of the best Airbnbs in Savannah in this beautifully renovated downtown home with a history dating back to 1860. Exposed wooden beams on the ceiling give a sense of depth and rustic vibes. The modern furnishings, open floor plan, claw-foot bathtub, and keyless entry all work together to make it feel as if you are staying in a fancy hotel suite.
Since this home is found right in Savannah's downtown, you do not need to go far to find some of the best restaurants and tourist attractions the city has to offer. If you love being in the hustle and bustle of the city, then this is the Airbnb for you! With everything so close, you can save money on gas or Uber fare.
Click Here To Check Rates On Airbnb!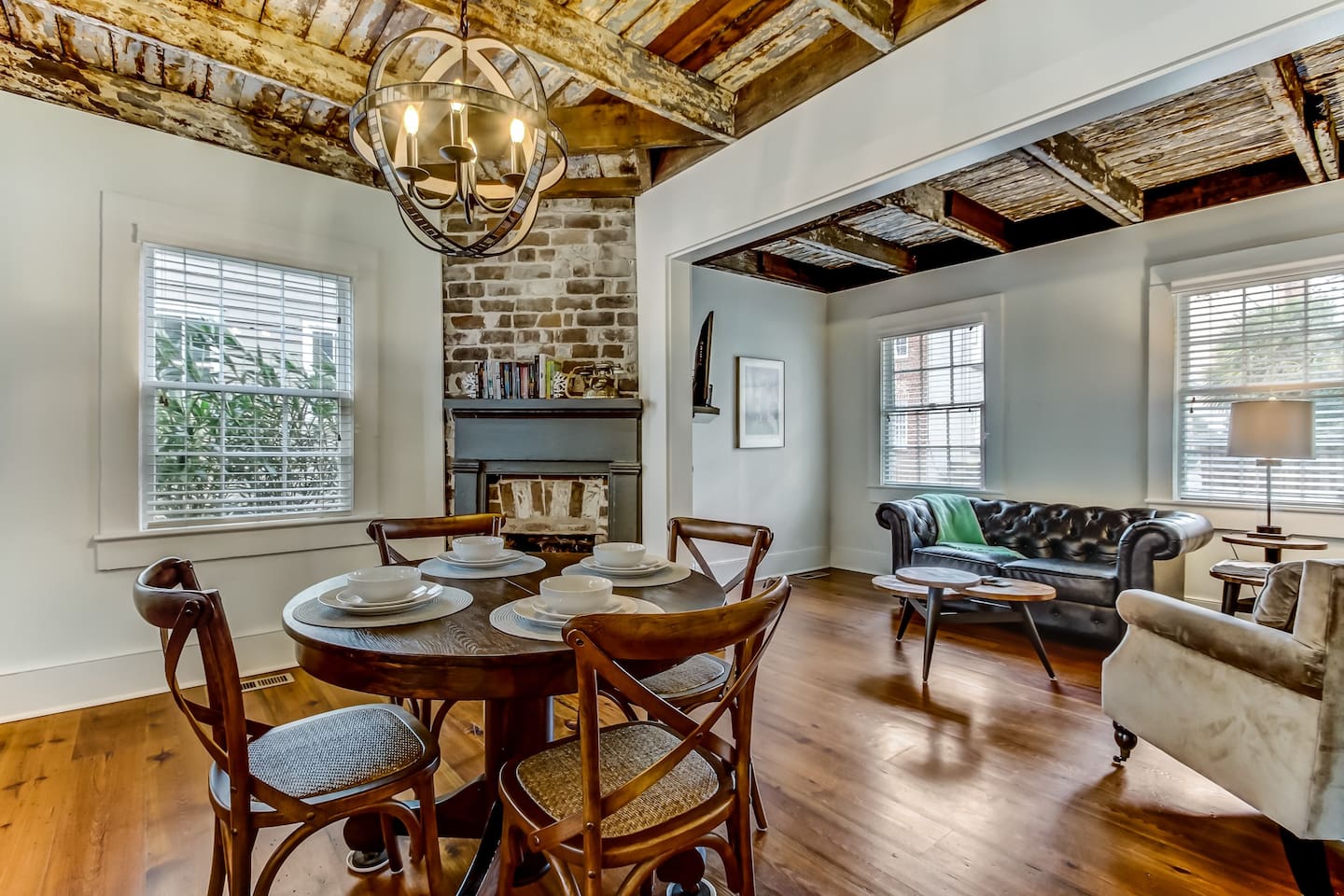 Laura's Cottage
Laura's Cottage is really a jaw-dropping property that will transport you to the 18th century. The inside is completely wood-paneled with antique touches around every corner. Film buffs will find it interesting that this home was used as a filming location for The Conspirator, starring Robert Redford. This home has also been included in the Savannah Tour of Homes and ghost tours.
This home is a feast for the eyes as well as being located in a great neighborhood. It is found in the Landmark District very close to many great sites, including River Street, museums, art galleries, shops, and restaurants. If you come at the right time, it is also close to the Savannah Music Festival and the Savannah Film Festival. You will absolutely fall in love with this Savannah Airbnb!
Click Here To Check Rates On Airbnb!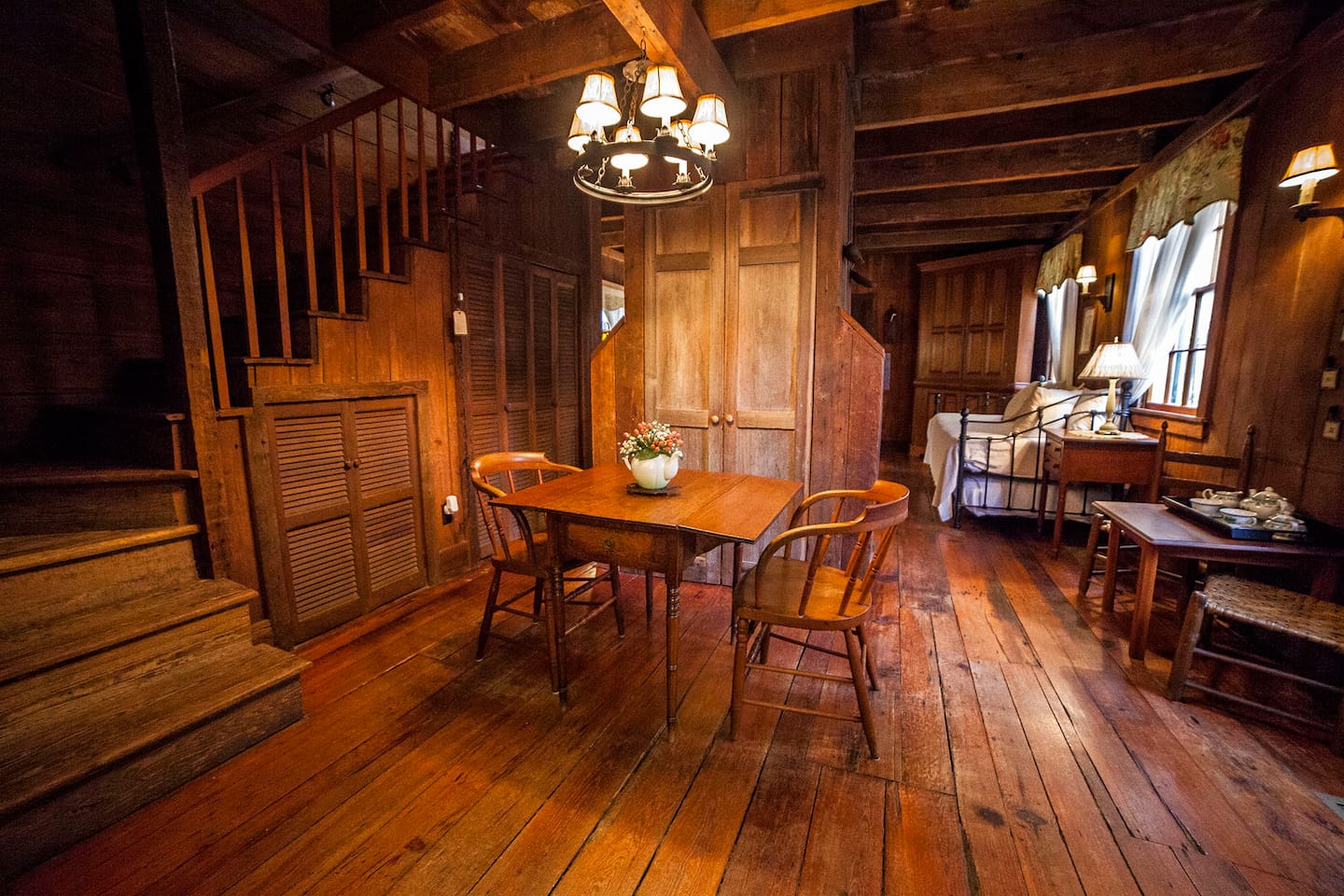 Historic Thomas Streetcar Victorian
This pretty, restored Victorian home was originally built in 1920 and is now welcoming guests as one of the best Airbnbs in Savannah, Georgia. The rooms are open, light, and airy with enough space to fit a party of eight travelers. There is enough Southern charm to go around! Spend time out on the porch, where you can eat breakfast while watching the world go by.
The Thomas Streetcar Historic District is a trendy neighborhood in Savannah and is also near the Starland District. The whole area is rich in cute cafes, restaurants, and bars, so there are plenty of places to pick up a meal or have drinks. There are also a ton of shopping choices and art galleries. If you want to visit Forsyth Park, it is about a fifteen-minute walk away in which you can soak in the scenery of the city.
Click Here To Check Rates On Airbnb!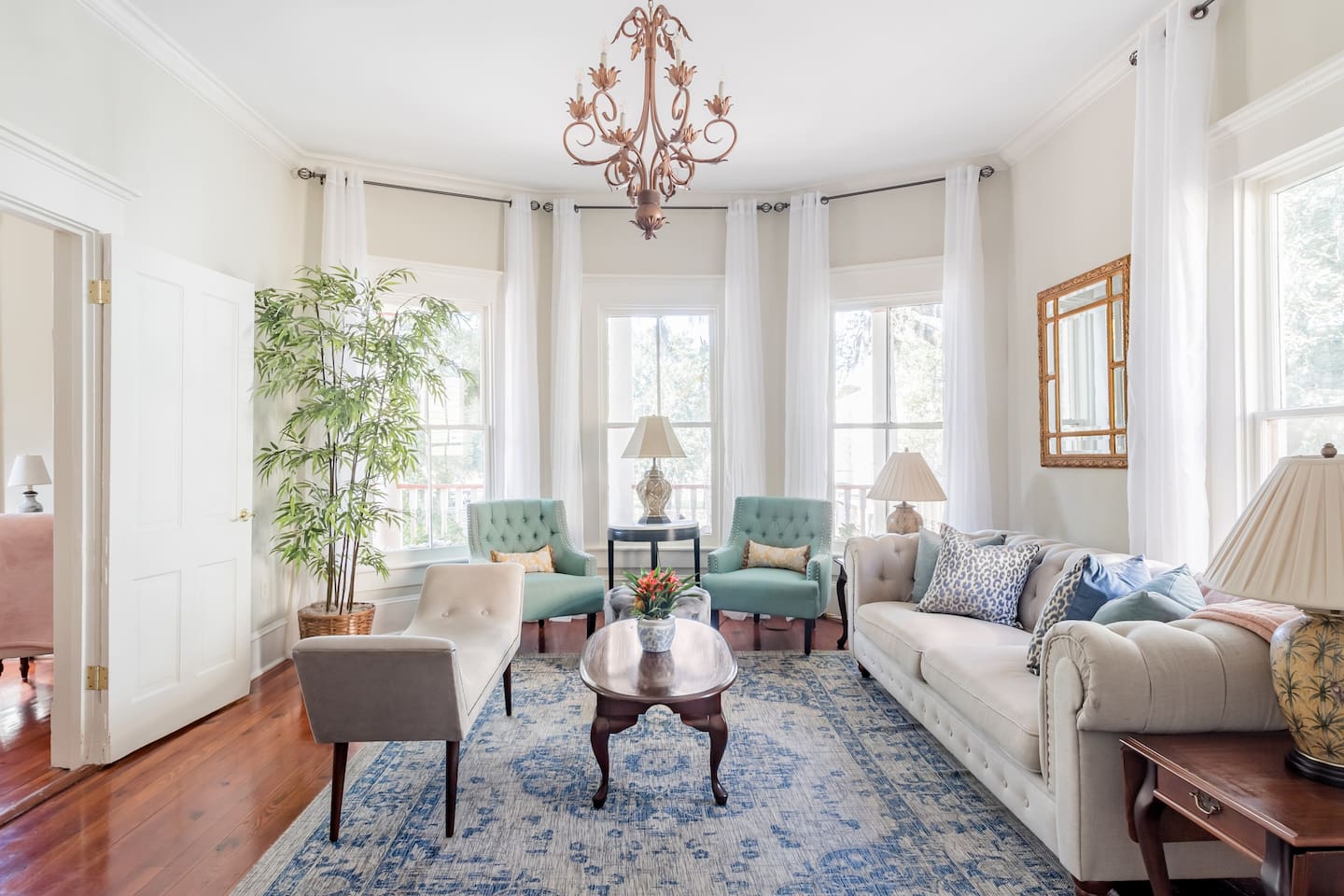 Urban Chic Studio with Balcony
Up next, we have a super chic and modern studio apartment with a minimalist color scheme and brick details. A covered balcony with strings of lights overlooks the colonial Oglethorpe Square, creating a cozy place to drink your morning coffee. This is one of the best Savannah Airbnbs for couples who love a relaxing vacation. Curl up on the queen-sized bed and watch some TV.
When you do venture out, you can easily walk to any place downtown. Or maybe take a ride in a horse-drawn carriage! There are plenty of theaters, churches, and museums in the area as well as many historic houses. Grab a snack at a cafe, then find a bench where you can people watch. No matter what you do, you will not be bored staying here!
Click Here To Check Rates On Airbnb!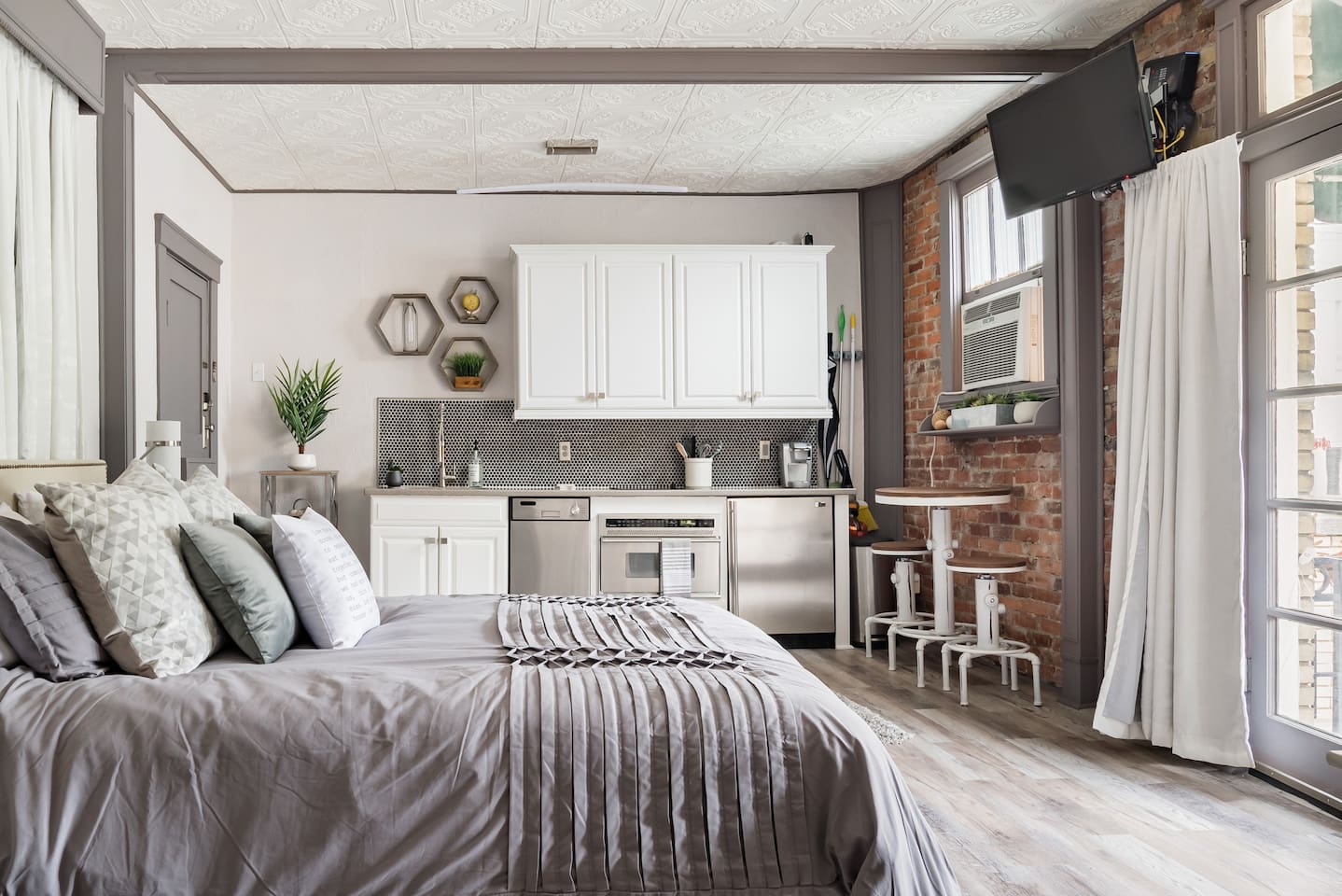 Modern & Stylish Apartment in Historic 1906 Home
This is yet another historic homemade modern! This stylish apartment is so modern and cozy, you might not believe it is found on the ground floor of a home dating back to the early 1900s. It has been completely renovated with up-to-date appliances and air conditioning. This apartment can occupy six guests, so it is one of the best Airbnbs in Savannah for a family vacation. A smart TV and WiFi will keep everyone entertained.
This home is found in a quiet, residential neighborhood, perfect for anyone who likes peaceful nights. Even so, you will not be far from fun activities! It is only a short walk or car ride to Forsyth Park, Broughton Street, and the Design District. Along with sightseeing, you will be close to the nightlife and many restaurants.
Click Here To Check Rates On Airbnb!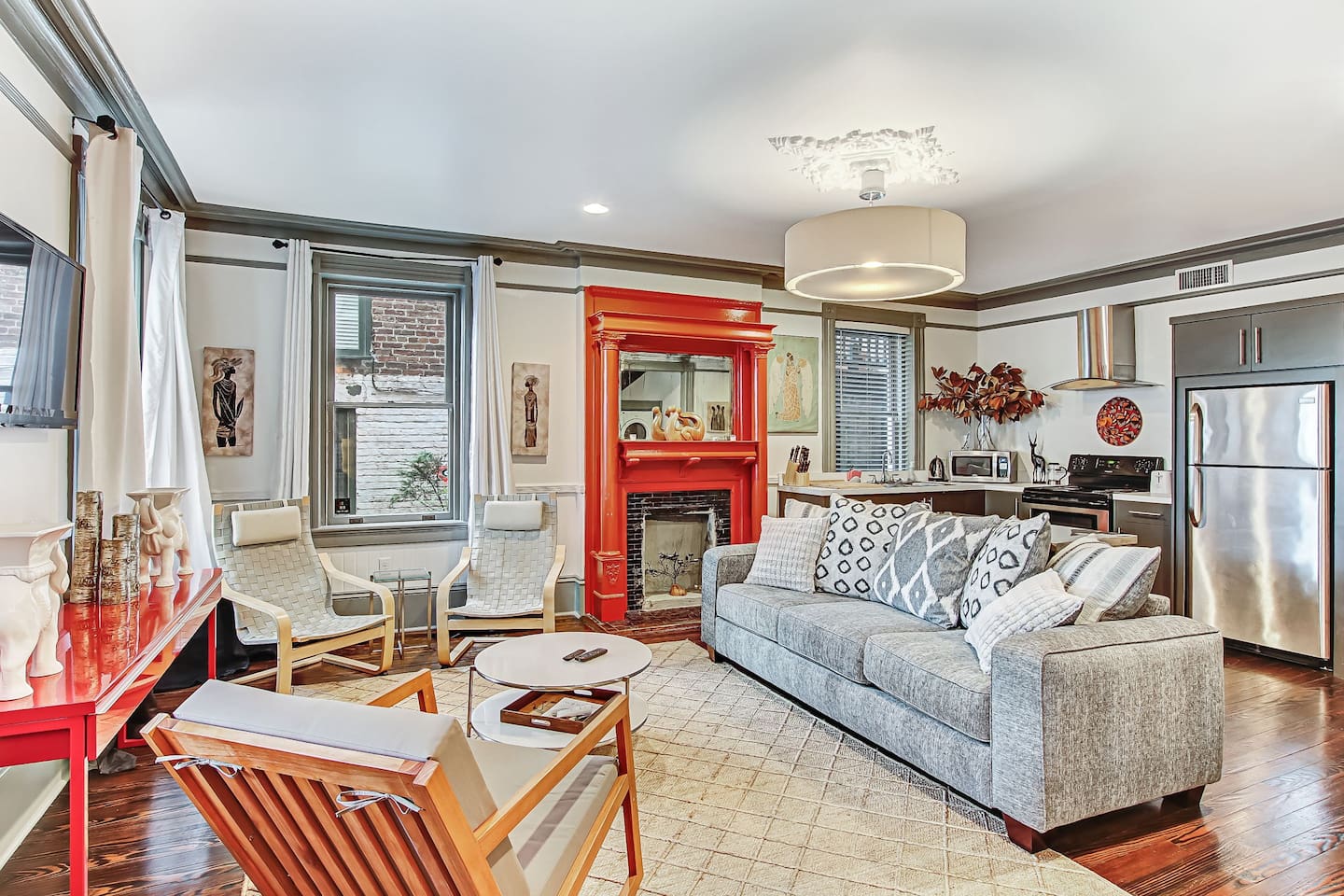 Lowcountry Chic Townhouse
This chic townhouse is another option in the nearby town of Bluffton, about a thirty-minute drive to downtown Savannah, though this suburb has its share of cute shops, art galleries, bars, and even a weekly farmers' market. Staying here will give you the chance to slow down and enjoy life outside the circle of the big city. But, of course, Savannah and all its splendor is only a short drive away!
This Georgia Airbnb has been designed in such a cute and modern way you will fall in love with it and quickly feel right at home. The pictures of the rooms look like a spread from Better Homes & Gardens. A private patio gives you a spot to get some fresh air before you start your busy day. A nearby park presents a place for parents to let their kids burn off some energy.
Click Here To Check Rates On Airbnb!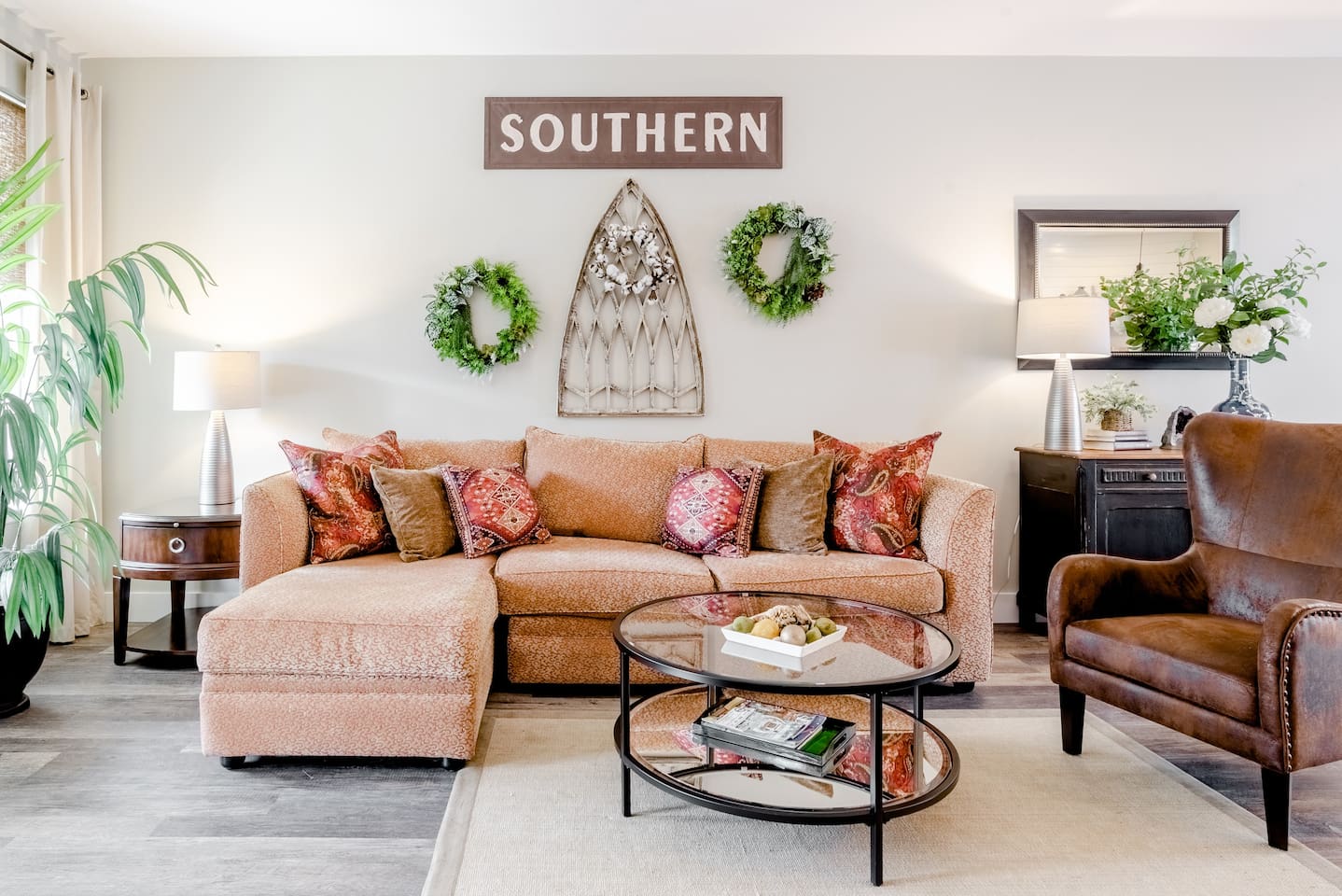 Pretty Home Steps From Forsyth Park
The last of our best Airbnbs in Savannah is a pretty home right next to Forsyth Park as well as many shops and restaurants. The neighborhood is very beautiful, the perfect place for taking a walk and peeking at the cool historic houses and mansions. In the nearby Starland and Midtown Districts, you can find smaller, yet still delicious, restaurants that will make you feel like a local.
With so many windows, this townhouse is very bright and welcoming with cute design touches and hardwood floors. There are two regular beds plus a pull out couch, so a total of six guests can stay comfortably here. And you will be comfortable! Settle down on the couch to watch the Smart TV and stay toasty in cooler months with the gas fireplace.
Click Here To Check Rates On Airbnb!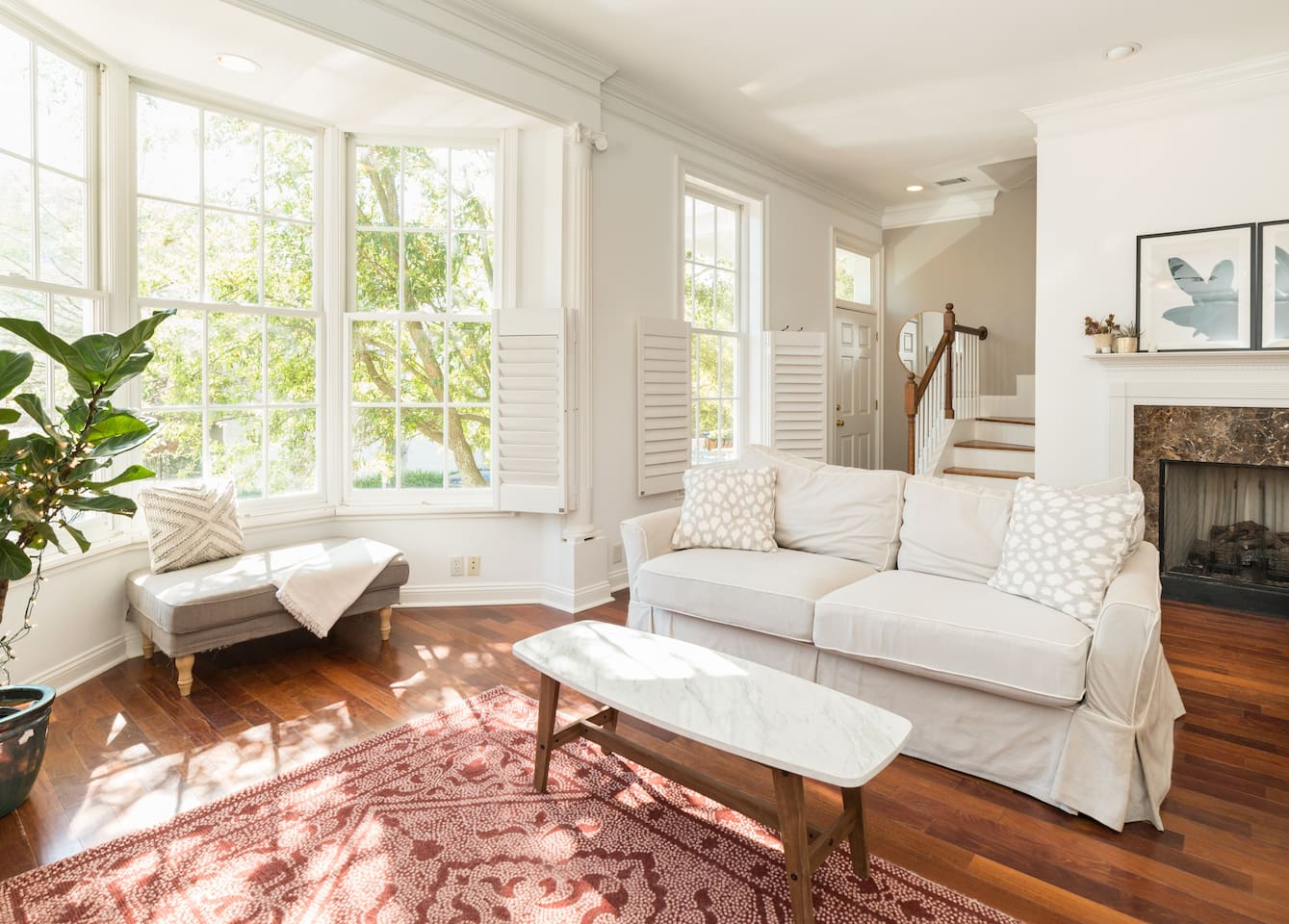 Savannah is a gorgeous city that perfectly mixes history with modern life. So many of these Airbnbs in Savannah are found in renovated buildings that date back a century or more, but the feeling of stepping into luxury is still there for visitors. Georgia is known for its Southern charm and there is certainly no shortage here! No matter where you stay in Savannah, you are sure to have a memorable trip!