Are you looking for the prettiest Wadis in Oman to visit during your trip? You've come to the right place! Oman is an incredibly beautiful country with countless sights and natural wonders. In fact, Oman is one of our favorite destinations in the world and truly blew us away. There are so many top things to do in Oman, we could go on for days.
When in Oman, you absolutely must visit at least one wadi! A wadi is another word for "oasis", and they are found throughout Oman. They consist of a body (or multiple bodies) of water surrounded by greenery nestled in a rocky desert area. It's such a gorgeous contrast of topography and nature, there is no wonder wadis are such a popular tourist destination when visiting Oman.
If you're not sure how to go about visiting a wadi or which ones that you should go to, do not worry! We've listed out in detail our 6 favorite wadis in Oman with details about why we loved them and how you can visit them yourself.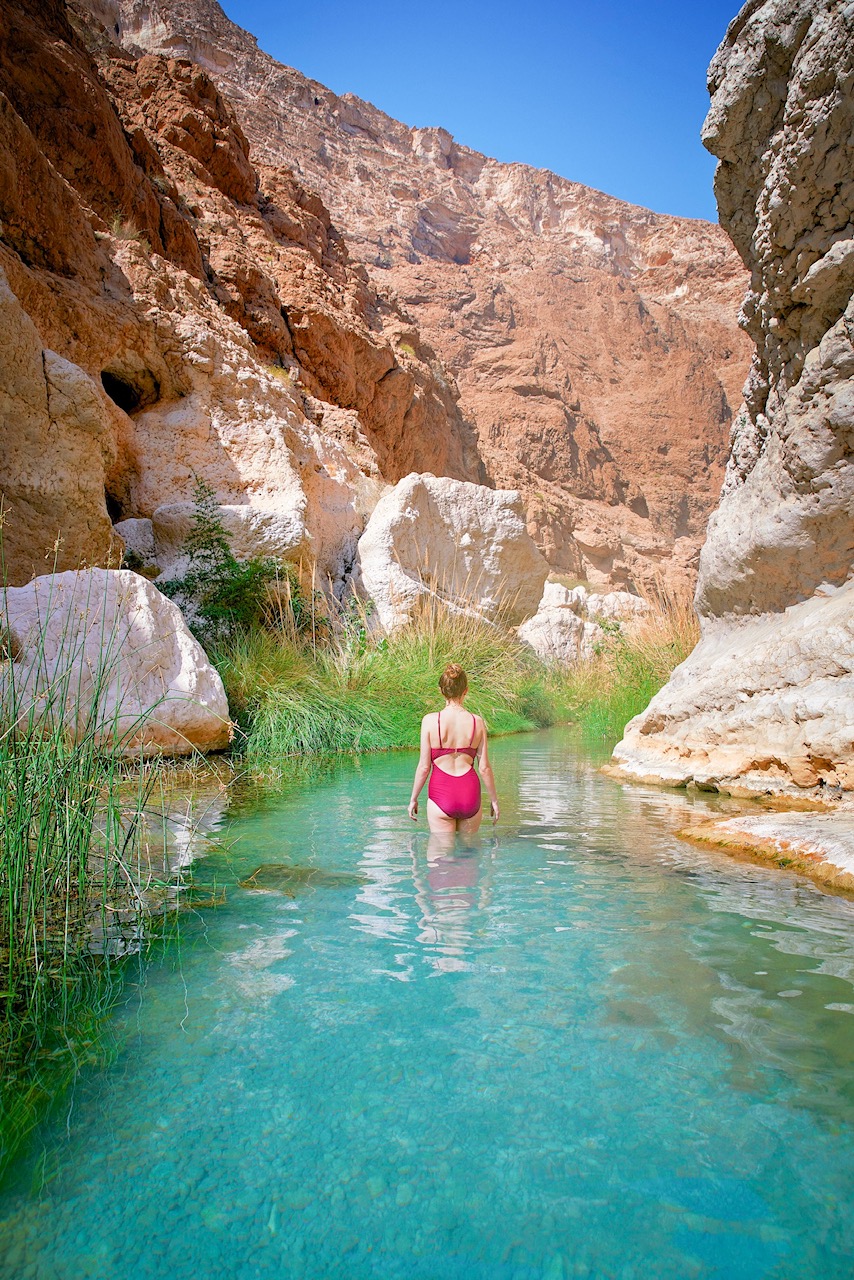 6 Prettiest Wadis in Oman You Can't Miss
Wadi Shab
Wadi Shab is our absolute favorite when it comes to Wadis in Oman, and you should definitely visit here if you can! There's a majestic gorge, beautiful warm aqua swimming pools, and even a secret waterfall! Before visiting Wadi Shab we did quite a bit of online research and found, unfortunately, that a lot of information out there is inaccurate. Luckily, we are here to set you straight and give you an honest guide to visiting this beautiful oasis.
Wadi Shab is approximately 1.5 hours from Muscat and 40 minutes from the town of Sur. You can enter the name "Wadi Shab Parking" in your GPS and it will actually take you right to the parking lot. The exit is also clearly marked from the highway. Parking is free but the lot can get crowded so you might have to park on the road and walk; there are also restroom facilities there so make sure you use it if you need it before traveling to the wadi.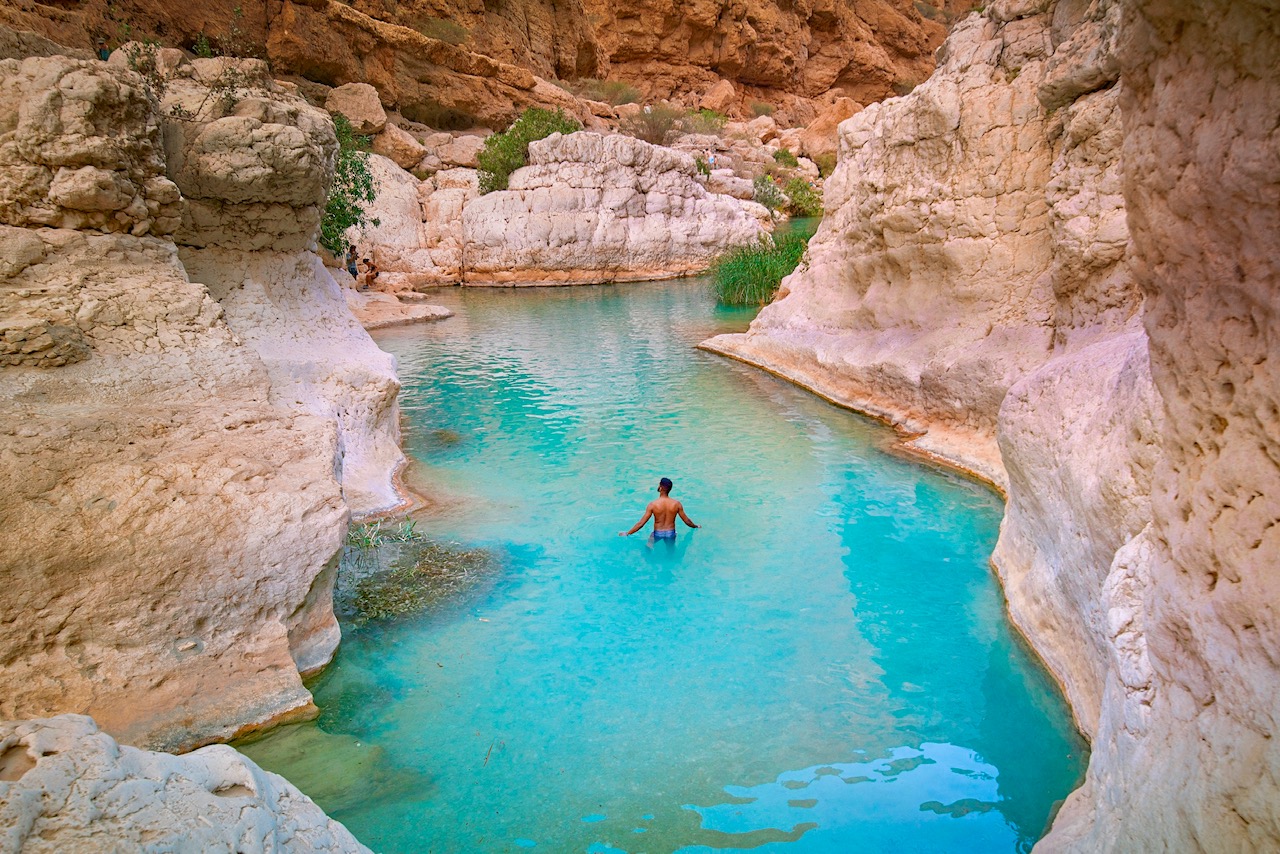 The first step on your Wadi Shad journey will be a short 3-minute boat ride across the river (cost is 1 Rial per person – cash only!). Boats run from 8 am to 5 pm so don't forget to ask when the last boat of the day is so you don't get stuck! The boat will bring you to the shore where you will start your hike to the first pool at the wadi.
Please be advised that this is HIKE not just a walk and involves climbing over boulders and a walk along a slippery and narrow canyon wall! We did see some elderly people doing it, so this is not to deter you from going but to help you better prepared than we were! We would also advise you to wear walking shoes (not sandals or flip flops) and hiking clothing over your swimsuit.
Make sure to always follow the red and black arrows to stay on the path, as it can be hard to follow at times. Even though it's not what we would call "easy", there are amazing views on this hike so it makes it a well worthwhile part of the journey.
Once you arrive there are 3 beautiful pools to swim in at Wadi Shab. Our favorite is the first pool you come across which is also the busiest but has AMAZING views. The second pool is pretty boring in our opinion, but you must swim to the other side of it to get to the third pool (which has the secret waterfall!). For more details about each pool and what to pack see our in-depth guide to Wadi Shab.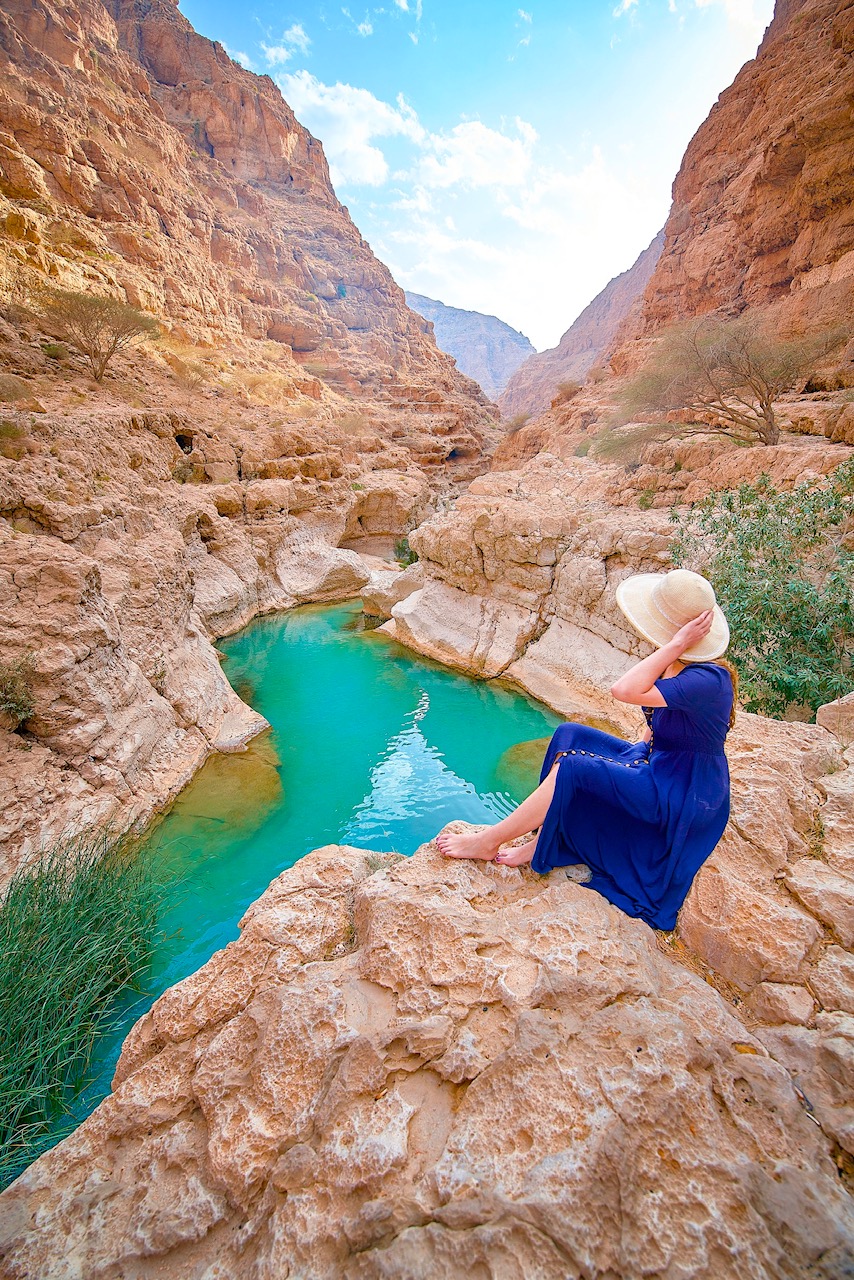 Wadi Bani Khalid
Wadi Bani Khalid is our second favorite of the wadis in Oman. If you're worried that Bani Khalid is too built up and touristy and you're not sure you want to make the trek, we implore you, please do it! It is truly magical and you will definitely regret not seeing it while in Oman!
First off, you should plan to spend an entire day at Wadi Bani Khalid. It's about 3 hours from Muscat and 2 hours from Sur, but it's only 45 minutes from where most desert tours and camping companies are based. If you plan on camping in the desert during your stay in Oman, you can plan to visit this wadi right before or after.
The major difference between Wadi Bani Khalid and Wadi Shab is the ease in which you can get to the wadi itself. Once you exit the highway and find the parking at the end of the 40-minute road through the villages, it is super easy to get to the wadi. Unlike the moderate 45 minute hike to Wadi Shab, at Wadi Bani Khalid you can park (for free) in the lot and simply walk on a paved sidewalk for 3-5 minutes to reach the first part of the oasis.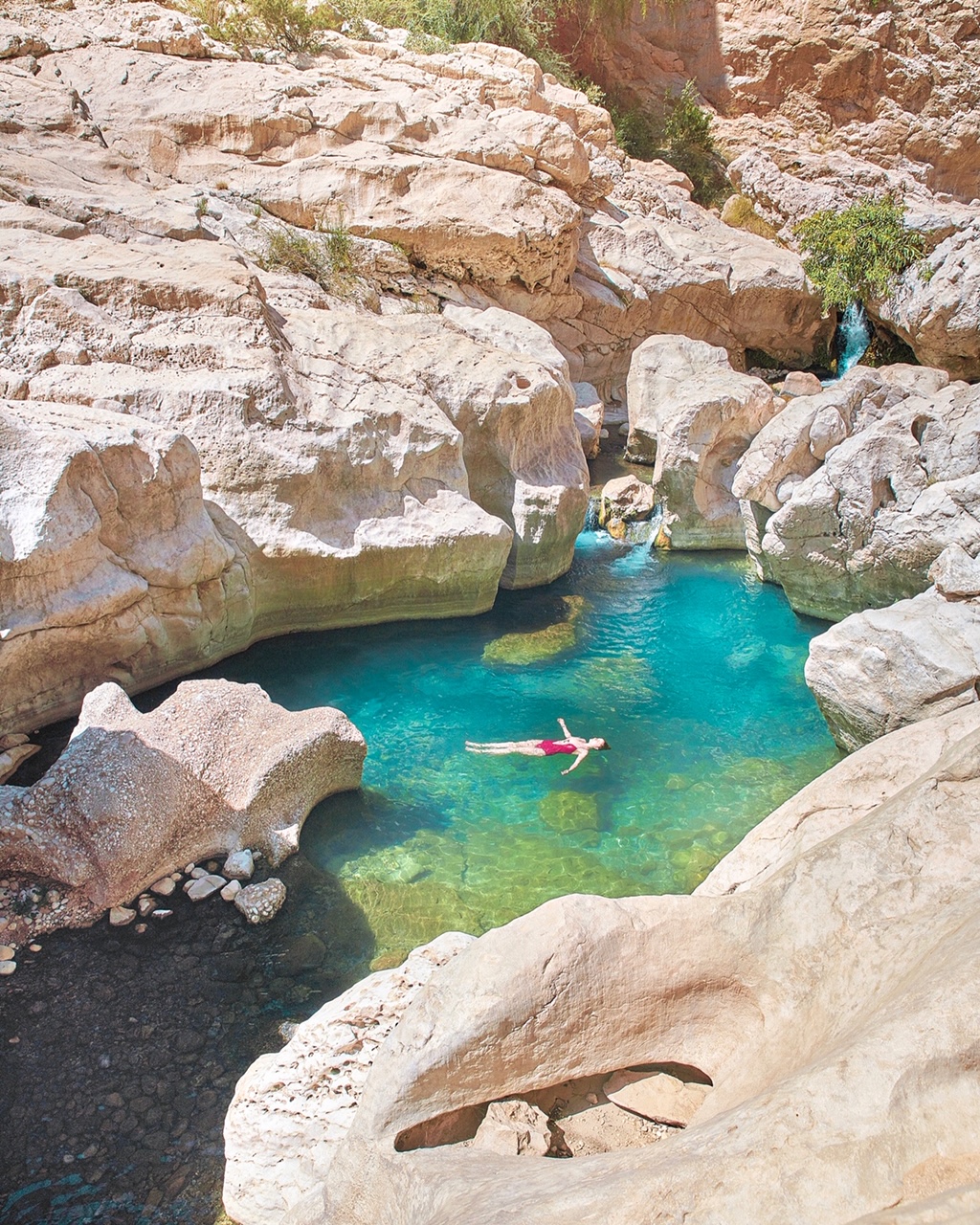 Wadi Bani Khalid has a large pool, which is the first one you will see after your quick walk from the parking lot. It's the most popular and touristy part of the wadi and in our opinion a bit boring. However, it's pretty to look at and you can even get a free fish pedicure by dipping your feet into its warm green-blue waters! There is an on-site restaurant here with fresh juices, snacks, small meals, and ice cream.
In addition to the large pool, there are also upper pools and canyons at Wadi Bani Khalid, which are a 10-minute hike from the large pool. These were our favorite part of the Wadi and one of our favorites in all of Oman! These pools were beautiful, warm and MUCH less crowded than the lower/large pool. The further up you go the more pools there are but we loved the ones at the beginning the most. If you keep walking you will find a cave and a gorge.
Make sure to dress modestly if you want to swim at the large pool by covering up with rash guard, t-shirt, and leggings or long shorts. This is particularly important at the large pool; the upper pools are a bit more relaxed but still no bikinis if you can avoid it and cover up unless you are in the water swimming. You can find more information in our guide to Wadi Bani Khalid.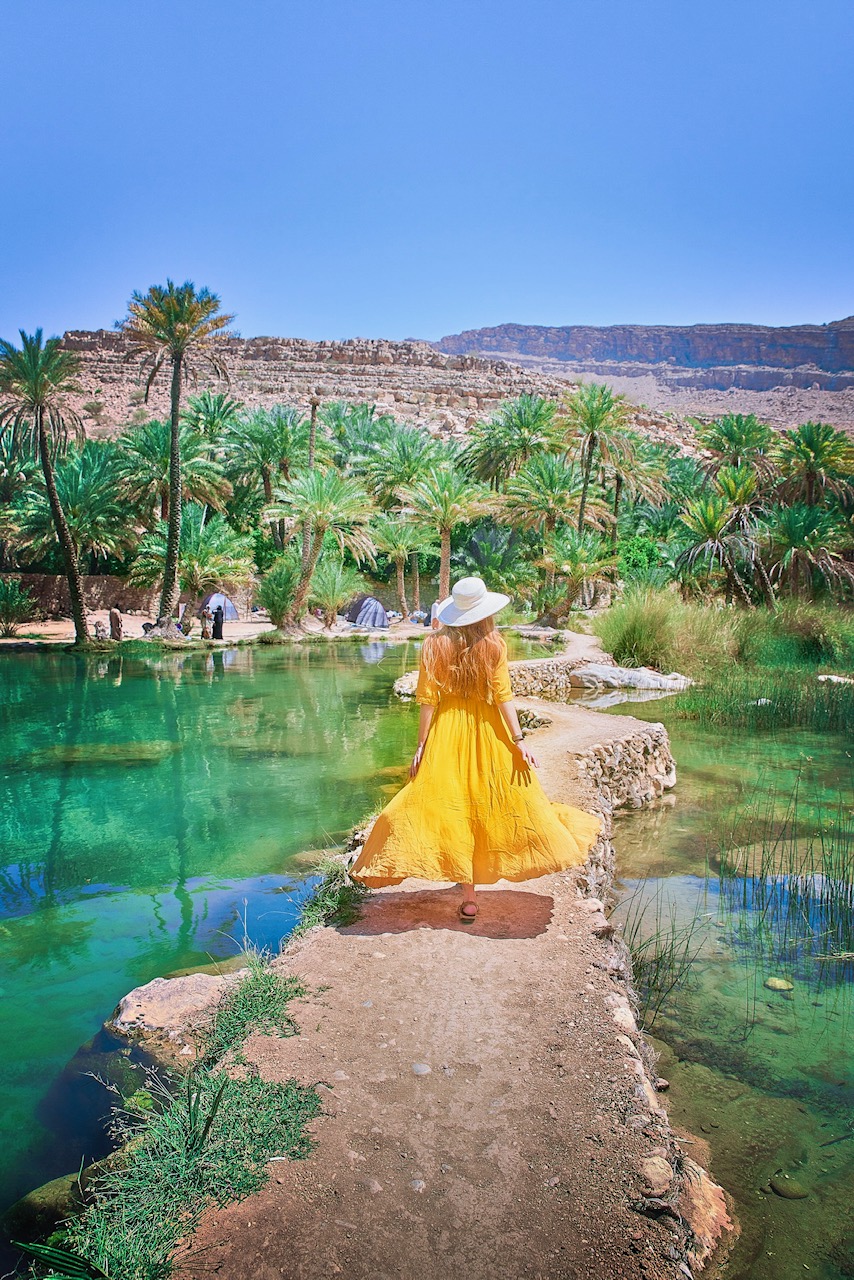 Bimmah Sinkhole
The next one on our list isn't one of the traditional wadis in Oman but is an amazing spot to visit and actually tops of our list of places to see in Oman! Bimmah Sinkhole is one of the most beautiful natural swimming holes you will ever see and is truly a natural wonder. Please trust us, you will be blown away by its size and depth.
Parking here is also free and it is so easy to get to. Only 1.5 hours from Muscat and 55 minutes from Sur, you should plan on spending a whole day in this magical place. Like Wadi Bani Khalid, make sure you are dressed modestly and avoid booty shorts, crop tops, mini skirts or bikinis.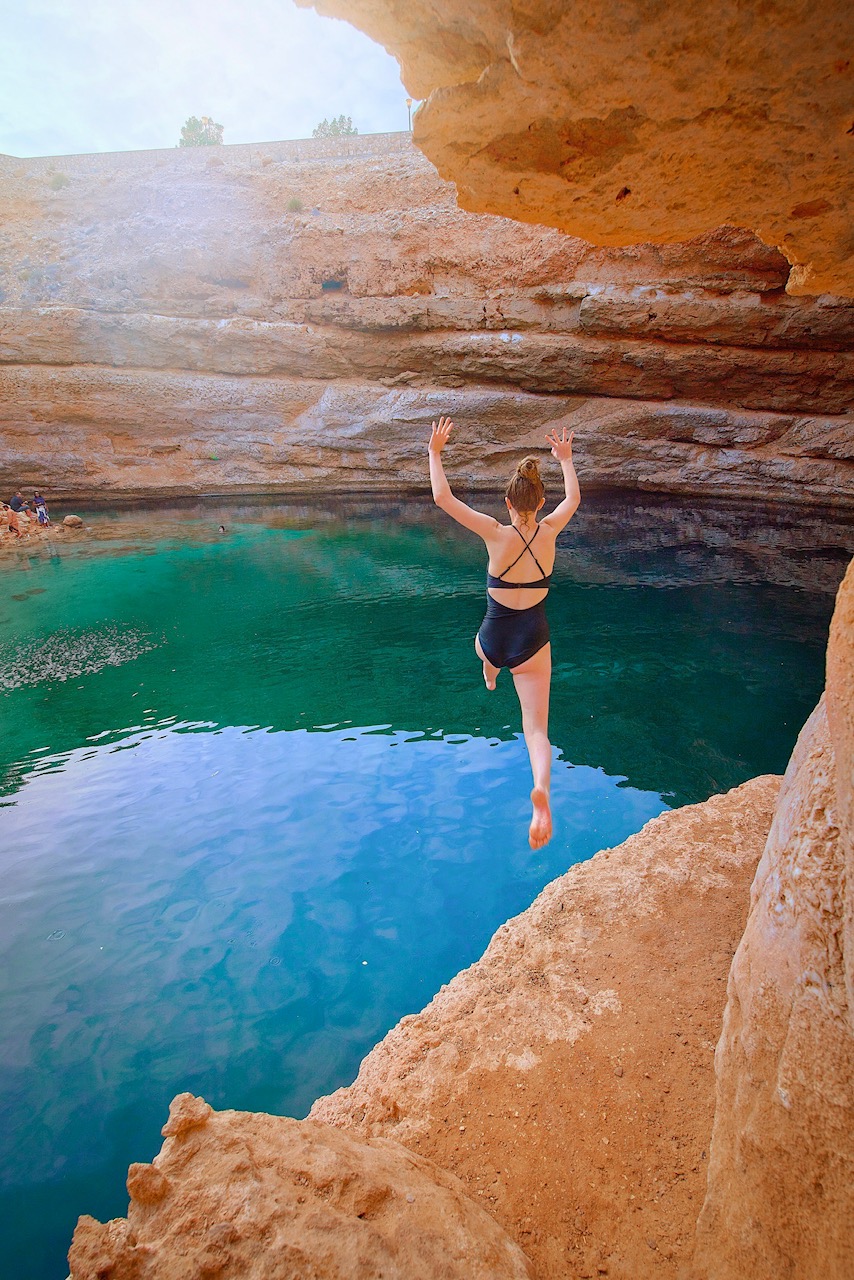 There is a large wall that surrounds the sinkhole, so just be aware that to get the Instagram famous shot of sitting on top of the sinkhole looking down into it, you will have to climb over the wall. It's allowed but a bit nerve-wracking and it is the only way to get the shot. There are also modest bathroom facilities, a playground, and a picnic area on the grounds.
While visiting the Bimmah Sinkhole, you can swim by walking down a long staircase into the sinkhole and jumping right in. If you go beyond the main pool where everyone swims you will find a channel leading to a secret cove. After entering the sinkhole don't turn right into the main pool and instead climb the small hill that will take you to the channel (and the cove that accompanies it). It's a wonderful way to escape the crowds and have your own little private swim! The brackish water ranges from only a few feet deep to over 300 feet deep!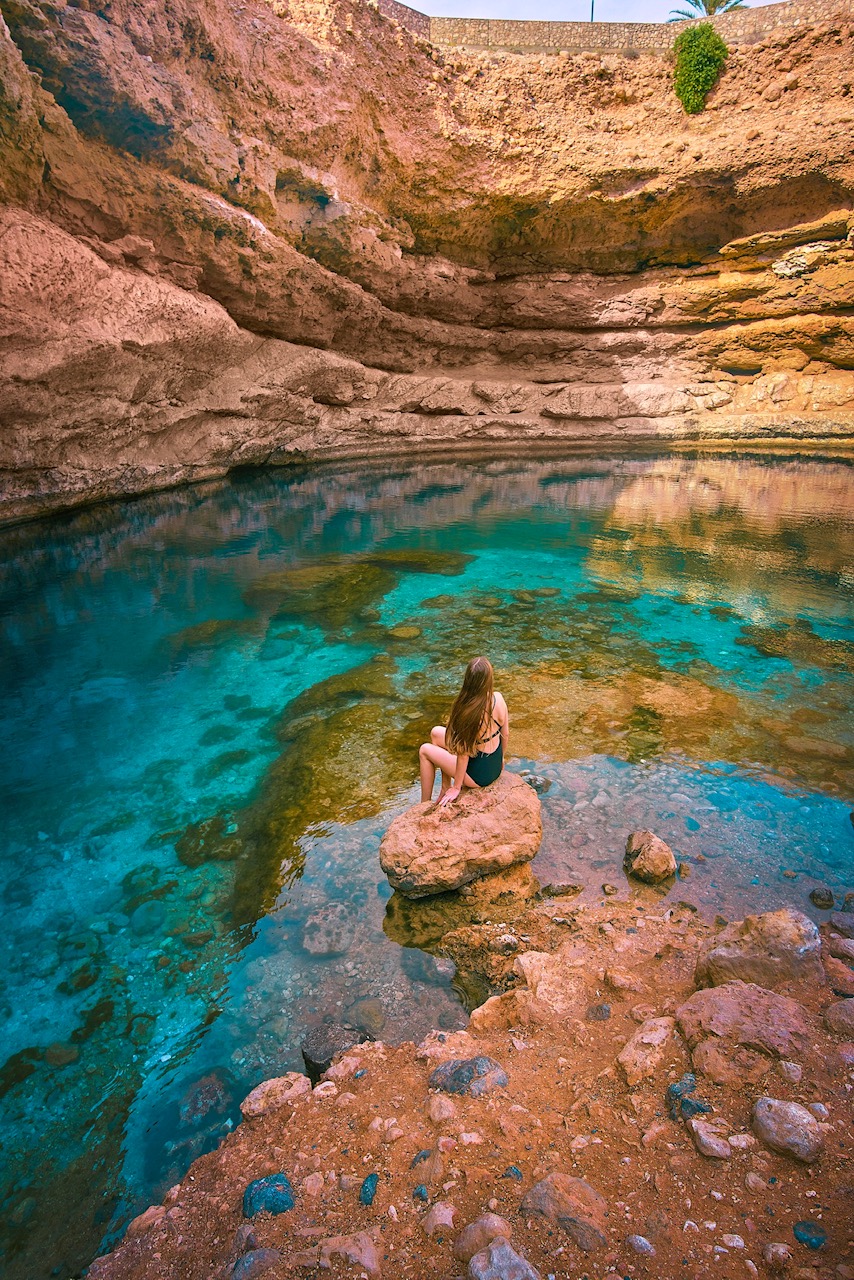 Wadi Dayqah Dam
While you can't swim at Wadi Dayqah Dam, it is one of the most epic spots in Oman and we 100 percent recommend adding it to your list! Located on the east coast of Oman, it is about a 1-hour 20-minute drive from Muscat and a 1-hour 40-minute drive from Sur. When we visited Oman we went here 4 separate times to watch the sunset because the views were just that spectacular. Even if you can't make it for sunset, we still recommend going as it is really unique and relatively undiscovered.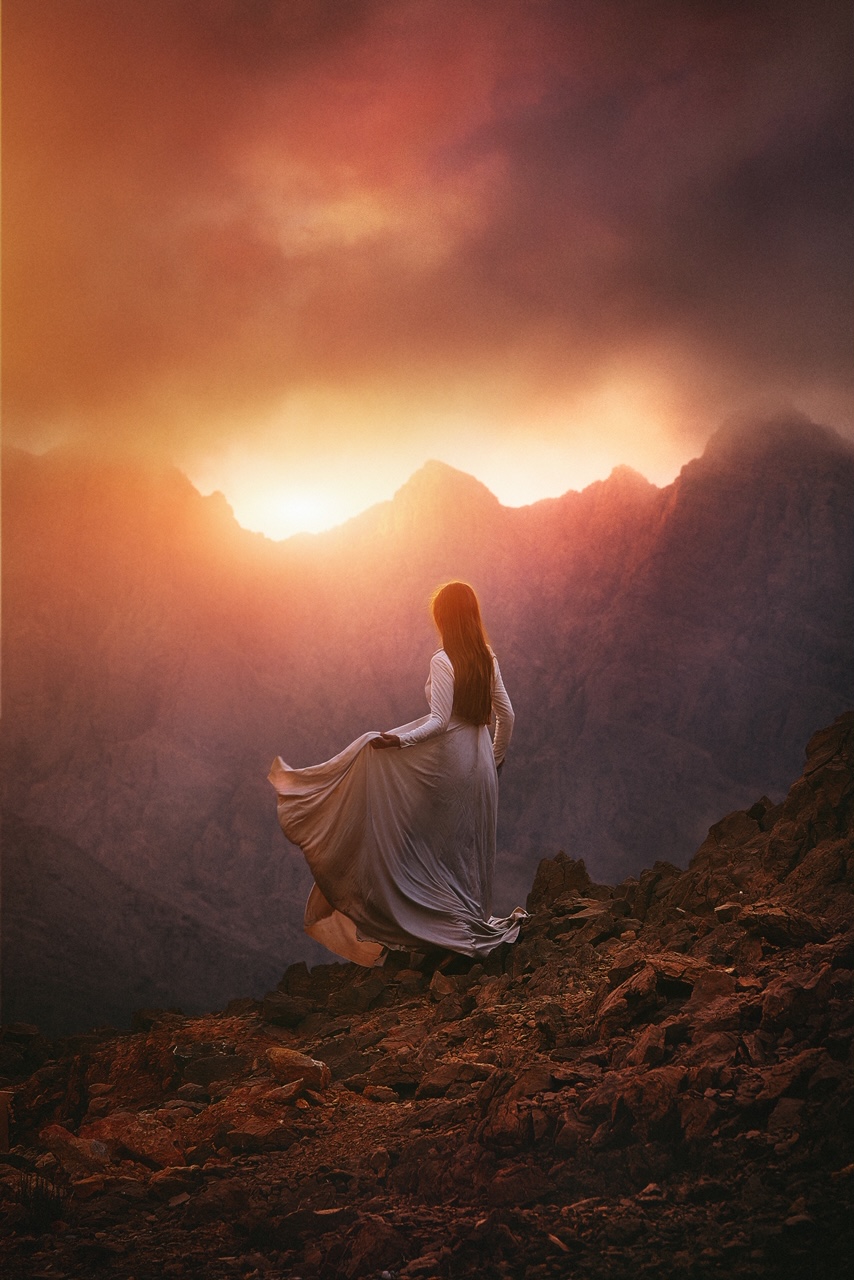 There is a dam built within it that is the largest in the entire country of Oman! It was built in 2012 to collect rainwater as a source of irrigation for the surrounding villages, and also to protect from them from flooding. It's quite an impressive sight!
If you are coming from the south (Sur) we recommend driving a 4×4 vehicle, as you will have to go the back way. From the north (Muscat) you will be on the main highway and paved road leading you right to the complex. There is a park at the complex that faces the wadi and it is quite popular with locals for picnicking. The great thing is that it's not very well known or famous so you won't see as many crowds and tourists as you would at the other wadis!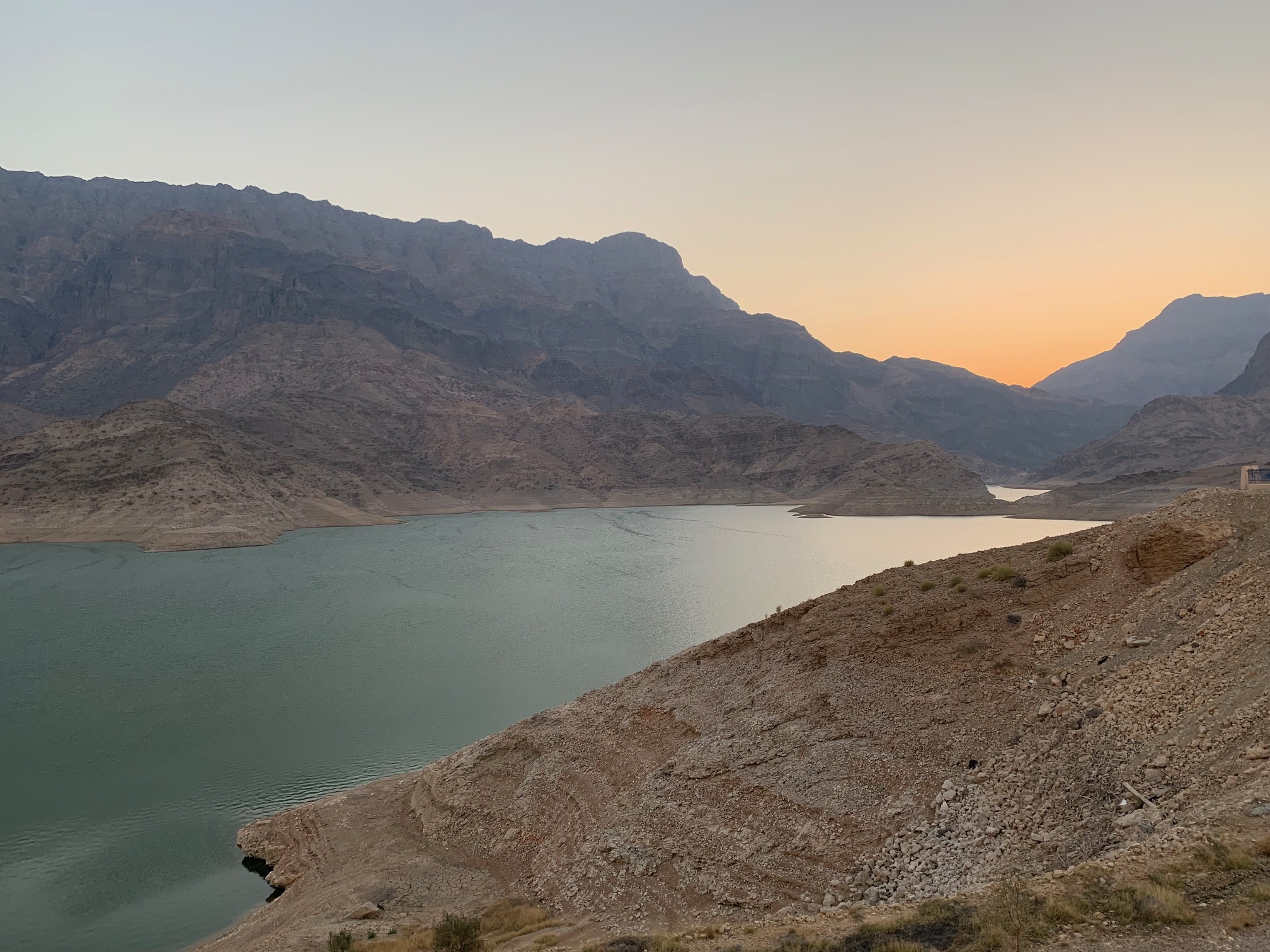 Wadi Tiwi
Wadi Tiwi is another one of the prettiest wadis in Oman and is located adjacent to Wadi Shab (about 2km distance). However, we want to point out —and this is VERY important— the classic and beautiful view you see in the picture below can be found less than 5 minutes inside where you enter the wadi. We mention this because unfortunately, we suspect we were very close to falling prey to a scam in Wadi Tiwi and we do not want the same thing to happen to you!
Wadi Tiwi is one of the lusher wadis, surrounded by forest, date and banana plantations and small villages. We were hoping to spend a little time here and capture images of the area pictured below. When you approach the wadi, be aware that you will need to drive down a very narrow and bumpy road past several villages and there will be 2-way traffic. This can be quite stressful as not everyone knows the passing rules and it can take a lot of time to get to the end of the road/the beginning of the wadi.
Our advice based on our experience would be to NOT stop and talk to anyone on your way into the wadi. Guide culture is very big in Oman but because of our uncomfortable experience (see link above), we would advise against allowing a random guide that approaches you to take you. Instead, you should either stick to the entrance of the gorge, where you will find this beautiful view below and places for swimming. If you start going up the mountain on the right side, you have gone too far. If you plan to go further into the wadi, ask a local for the exact GPS coordinates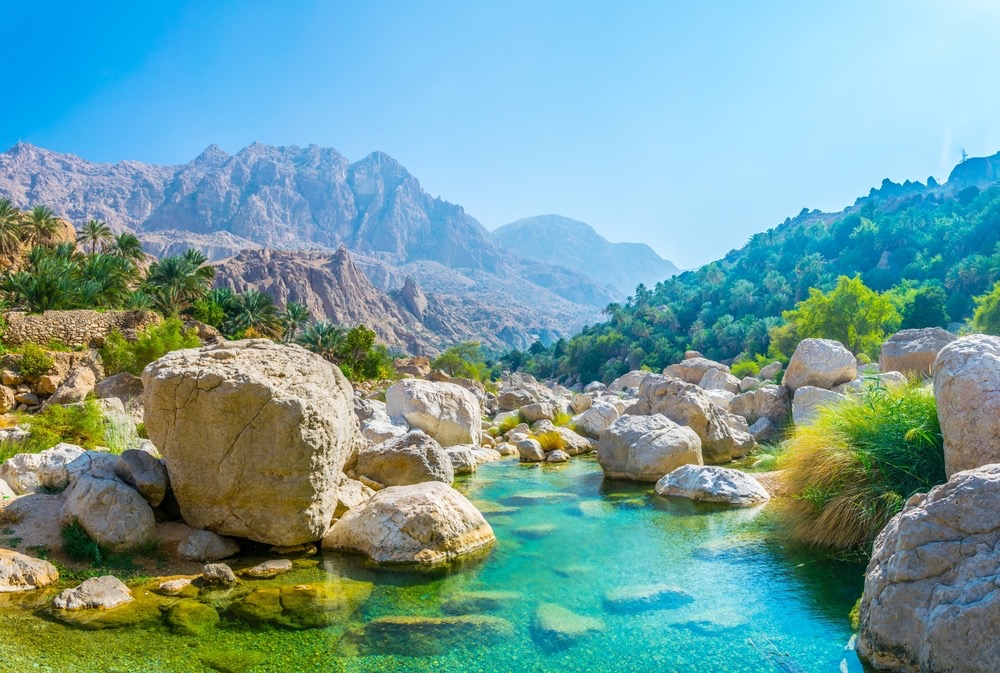 Wadi Al Arbiyeen
Wadi Al Arbiyeen (also commonly spelled Wadi Al Arbeieen) is our final recommendation for the 6 prettiest wadis in Oman. Located about 90 minutes from Muscat in the Al Sharqiyah region, this wadi is a more difficult one to get to but in our opinion totally worth the trek. Also, because of its remote location, you will find fewer tourists and a more untouched natural environment.
To get to this wadi you will need to be in a 4×4 vehicle, as it does require some offroading. If you are heading from Muscat towards Sur on the main highway, there will be a turn-off marked "Wadi Al Abriyeen" which will lead you to the road you'll follow for the duration. The 17km road will turn at some point from paved to dirt which is when your four-wheel drive will come in handy.
When you reach the first pool, this is where the road comes to an end and you can park and enjoy a swim in the bright blue waters. There is also a beautiful waterfall and a small village. You can continue deeper into the wadi on foot if you choose where you will find more pools, streams, and boulders. Be prepared to climb and swim during your hike further into the wadi. There are no official trails so take care when walking and rock climbing.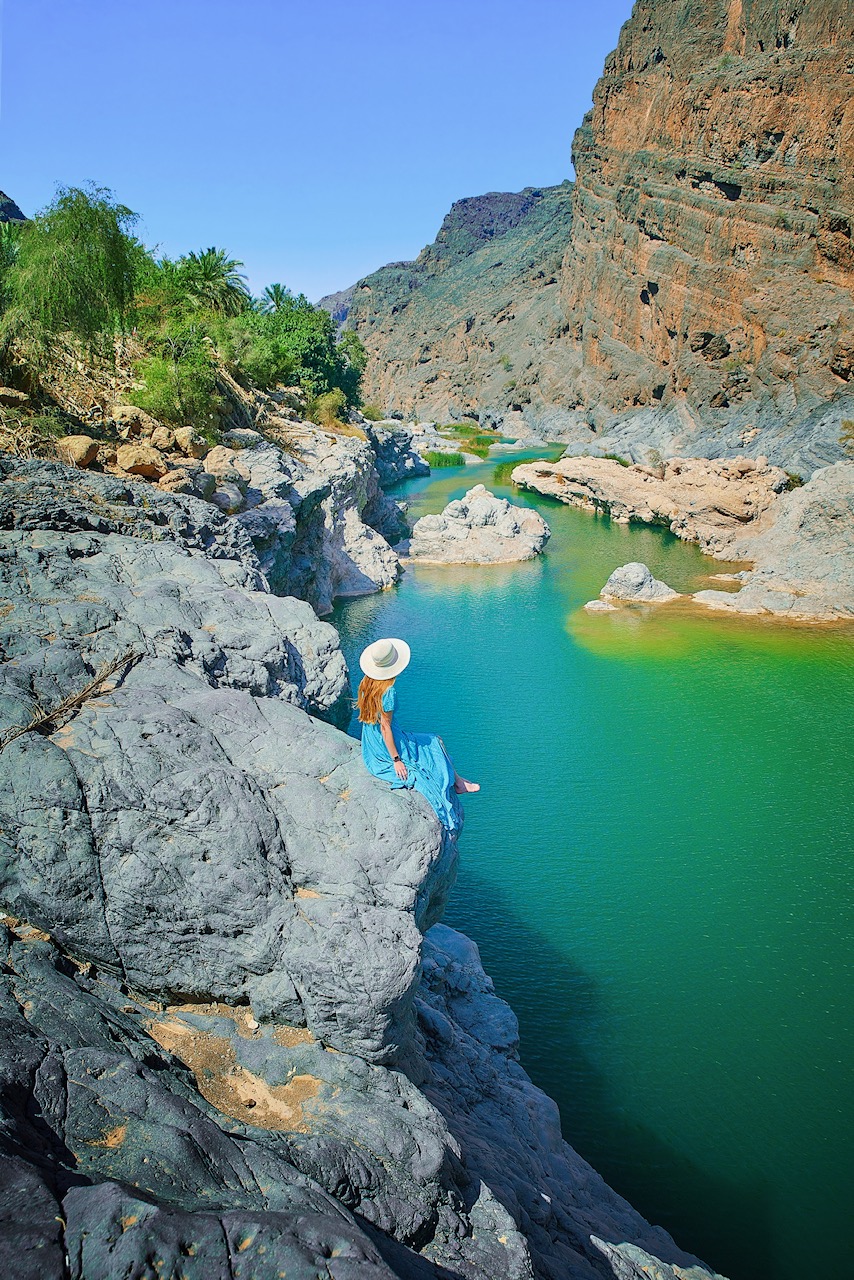 So here you have it, our recommendations for the prettiest wadis to visit in Oman! We hope that you find it helpful and it will inspire you to visit Oman as was truly one of our favorite trips and has something for everyone. Don't forget to check out our other guides to Oman for even more things to do in this magical country!