Visiting Wadi Bani Khalid is one of the top things to do in Oman and it won't disappoint. When we were planning our trip to Oman, we really weren't quite 100% sure if we were going to visit Wadi Bani Khalid but we are so glad that we ended up making the trip there. It ended up being our very favorite Wadi out of all of the ones we visited during our trip!
If you think that Wadi Bani Khalid is too touristy or that you aren't sure if you want to make the drive, think again. It is a magical oasis in the desert and blends "built up and touristy" with remote and magical. We even visited on a Friday when it was very crowded with locals and tourists alike and that didn't mar our experience one bit. Please do yourself a favor and visit Wadi Bani Khalid during your time in Oman!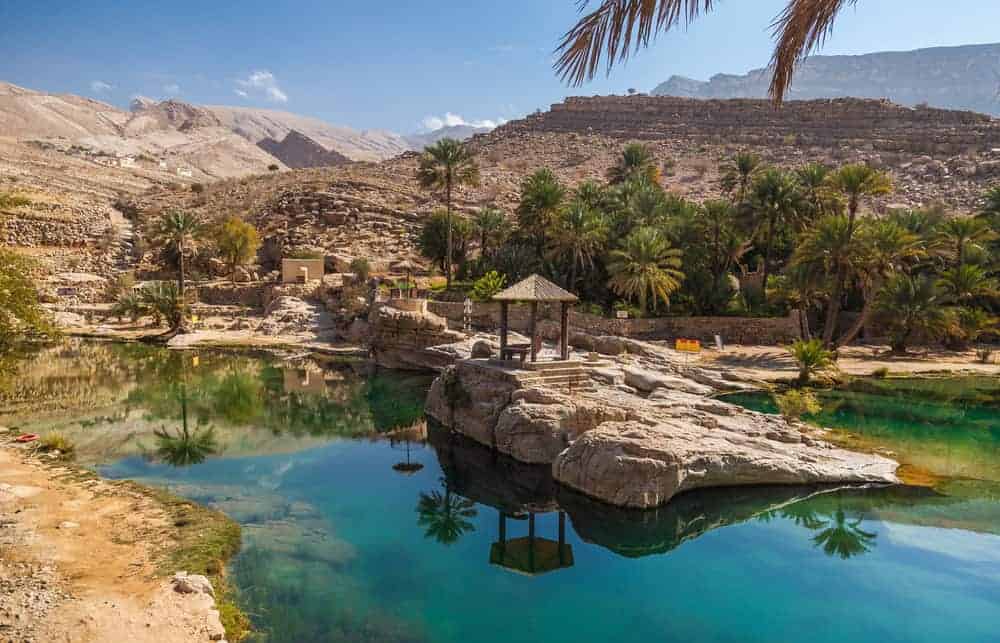 Everything You Need To Know Before Visiting Wadi Bani Khalid
Getting To Wadi Bani Khalid
It takes about 3 hours from Muscat and 2 hours from Sur to get to Wadi Bani Khalid. If you are planning on camping in the desert, Wadi Bani Khalid is only about 45 minutes from where most desert tour and camping companies are based so you can easily combine the two as we did. We came to Wadi Bani Khalid from the east coast of Oman near the Bimmah Sinkhole. It took us three hours and we drove on a treacherous mountain road. It was a pretty epic experience but it was slow driving the entire time. If you are coming to Wadi Bani Khalid from the northeast coast, we recommend taking the highway even though it is double the distance.
Wadi Bani Khalid was the easiest wadi to get to that we visited while in Oman. There is a wonderful road that winds through the mountains and past villages until you get to the parking area for Wadi Bani Khalid. You won't believe that the amazing natural oasis will be right beyond where the road ends, but you would be wrong. The drive from the end of the highway down through the villages to Wadi Bani Khalid is about 40 minutes in length because you must go slow through the villages and over the speed bumps.
Wadi Bani Khalid is a LARGE Wadi [aka Canyon/gorge] so make sure you put in the correct name into your GPS or you could be taken to another part of the Wadi that is NOT this swimming area! You don't want to drive somewhere and be disappointed that isn't the exact location!
Click Here For Correct Google Map Location Of Wadi Bani Khalid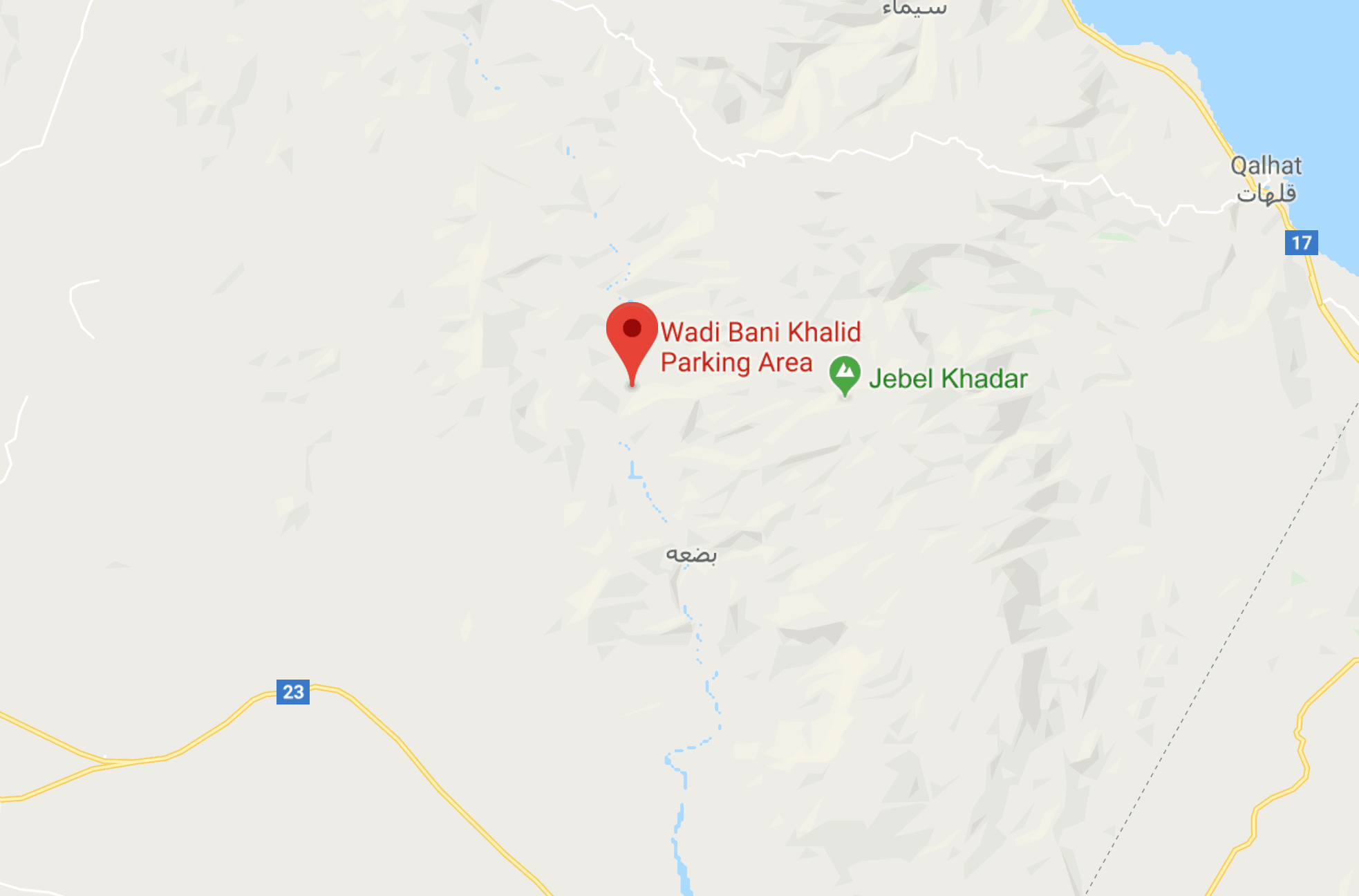 Parking At Wadi Bani Khalid
Parking is free at Wadi Bani Khalid. If you are visiting on a weekend [Friday or Saturday in Oman] the parking area will be packed and you will have to park down the road and walk a short distance. We were lucky to find a parking space in the parking lot of Wadi Bani Khalid although it was a little far away and we had to walk a short distance.
Unlike other Wadis in Oman like Wadi Shab where you have to hike for 45 minutes, Wadi Bani Khalid allows you to just park, walk on a paved sidewalk for about 3-5 minutes, and then you have arrived at the first part of this beautiful desert oasis.
There are lots of children and locals walking around the parking area with wheelbarrows. Local families come to Wadi Bani Khalid for their weekend swim and bring an entire picnic setup. These boys are here to help them for a small fee to bring all of their picnic items from the parking area to their desired location in the Wadi swimming area.
Read Next: Everything You Need To Know Before Visiting Wadi Shab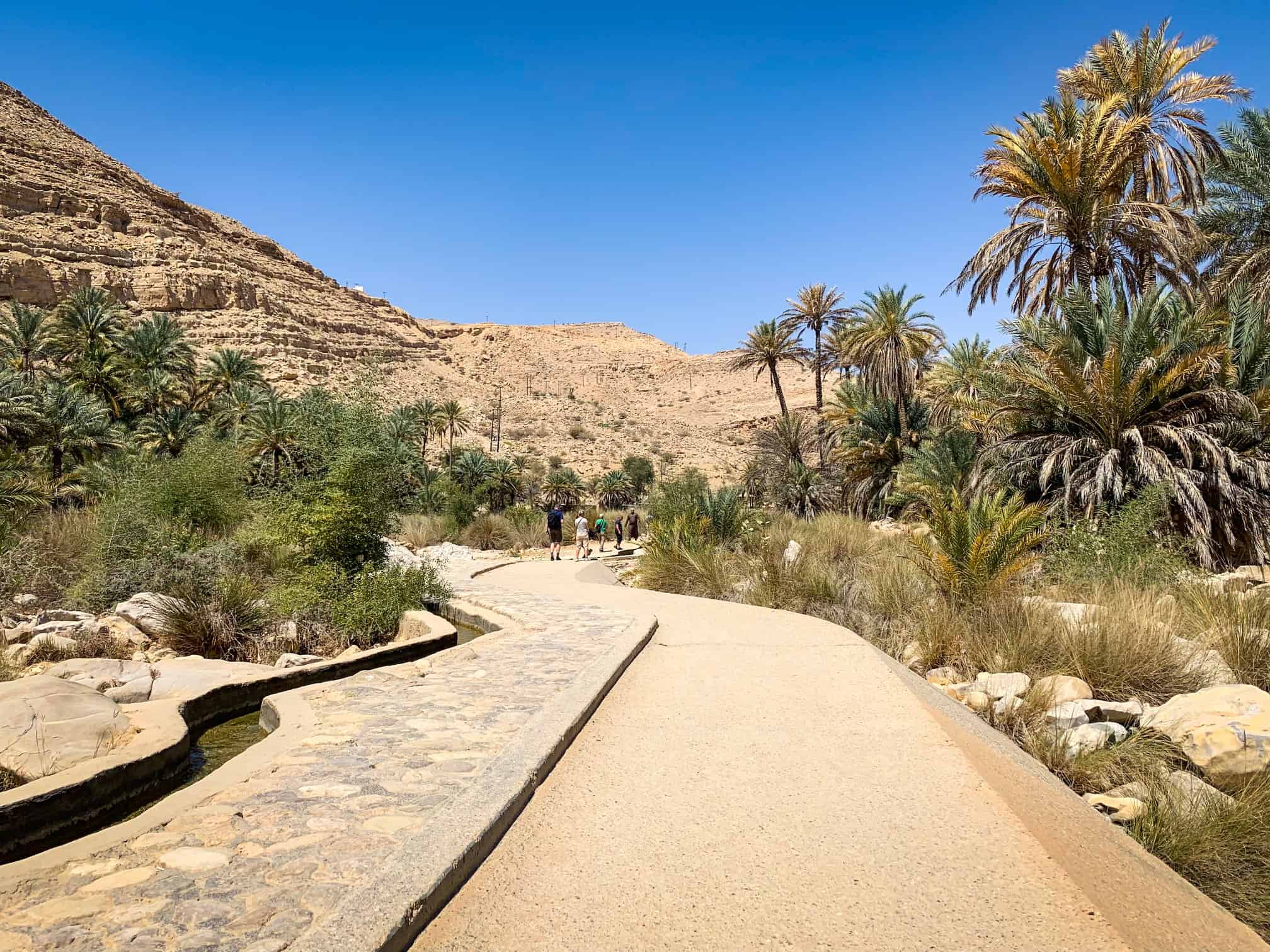 The Large Pool At Wadi Bani Khalid
After you walk from the parking lot for about 5 minutes, you will come to the first and largest pool in Wadi Bani Khalid. This is the pool that you see in all the travel photos like the ones below and the pool that is the most popular. It is also the largest and deepest pool in Wadi Bani Khalid.
When we were planning our trip to Wadi Bani Khalid, we honestly thought that this was pretty much it. Please do not make that mistake. This large pool is just the introduction to Wadi Bani Khalid and was actually our least favorite part. It was the most crowded with both tourists and locals and locals loved to picnic around the lake on the weekend which was quite nice.
If you want to walk over these fun pathways that go across the large pool/lake, hook a left as soon as you enter the Wadi Bani Khalid property and the main pool comes into view. You will be able to easily walk from one side to the other without going all the way around the pool area.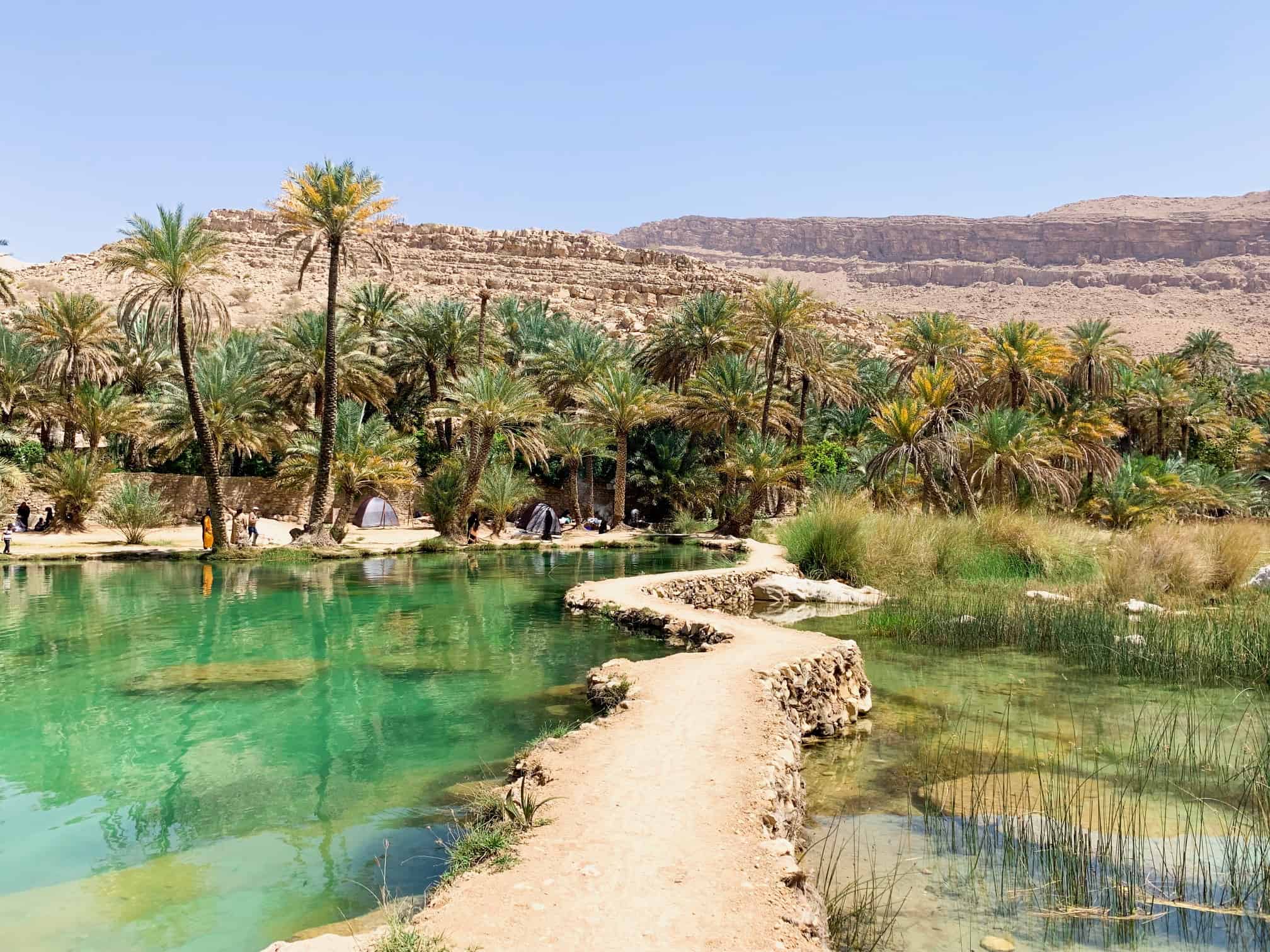 If you would like a free pedicure, put your feet in the water and the fish will nibble the dead skin away! It is a weird and ticklish feeling, but people pay good money for fish spa services all across the USA, Europe, and Asia. You can get it done for free in Oman so you may as well take advantage.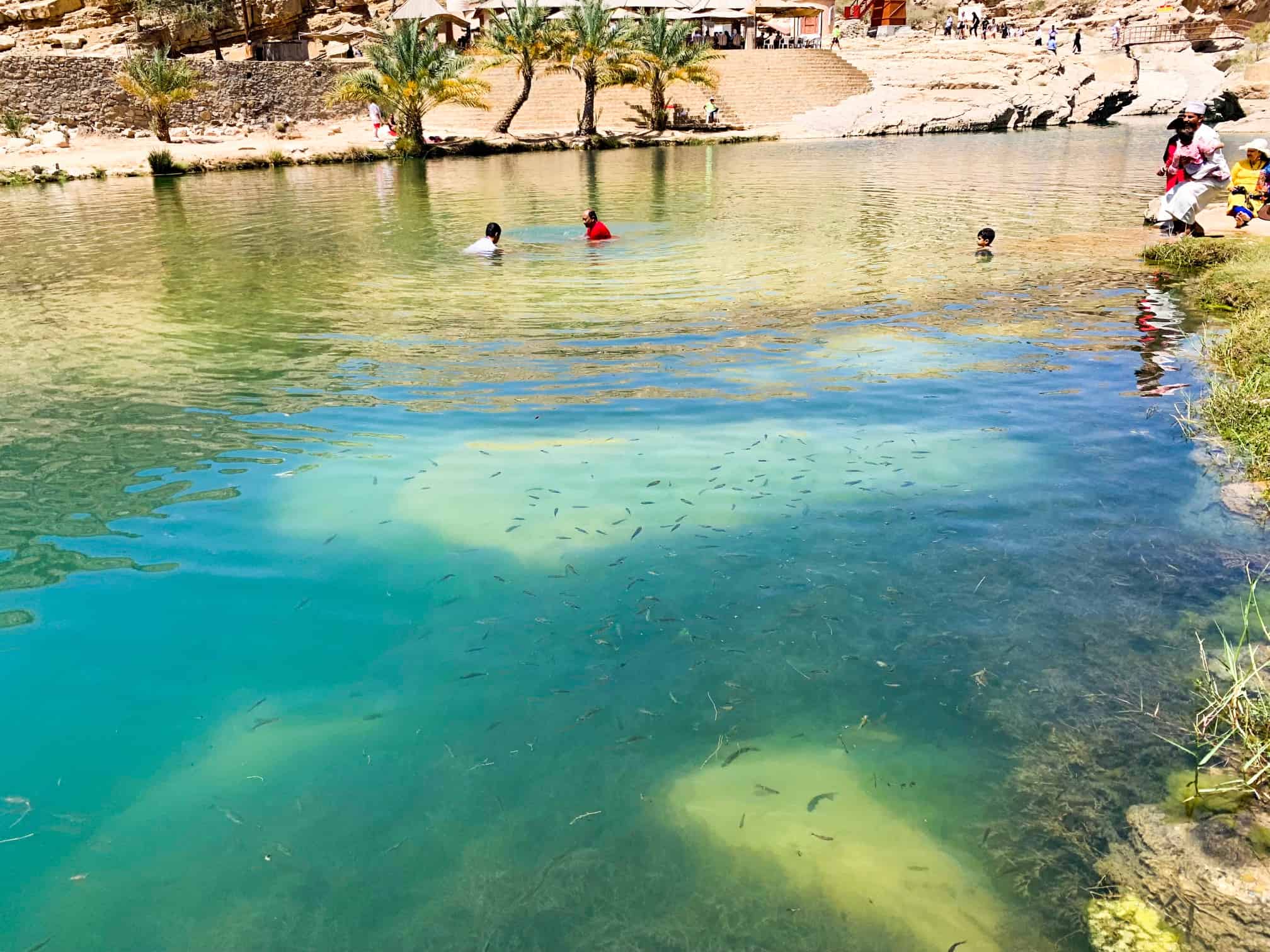 If you are swimming in the large pool of Wadi Bani Khalid, you are going to want to dress modestly. That means a rash guard and leggings or long shorts. We chose not to swim in the first large pool as it was the least interesting part of Wadi Bani Khalid to us personally, but we had extra clothes on hand in the event that we chose to.
The large pool at Wadi Bani Khalid is also a popular place to jump off the bridge and edges of the lake into the water since the water is so deep. There are both shallow points and deeper points, so make sure you are a strong swimmer if you decide to jump into the deeper parts.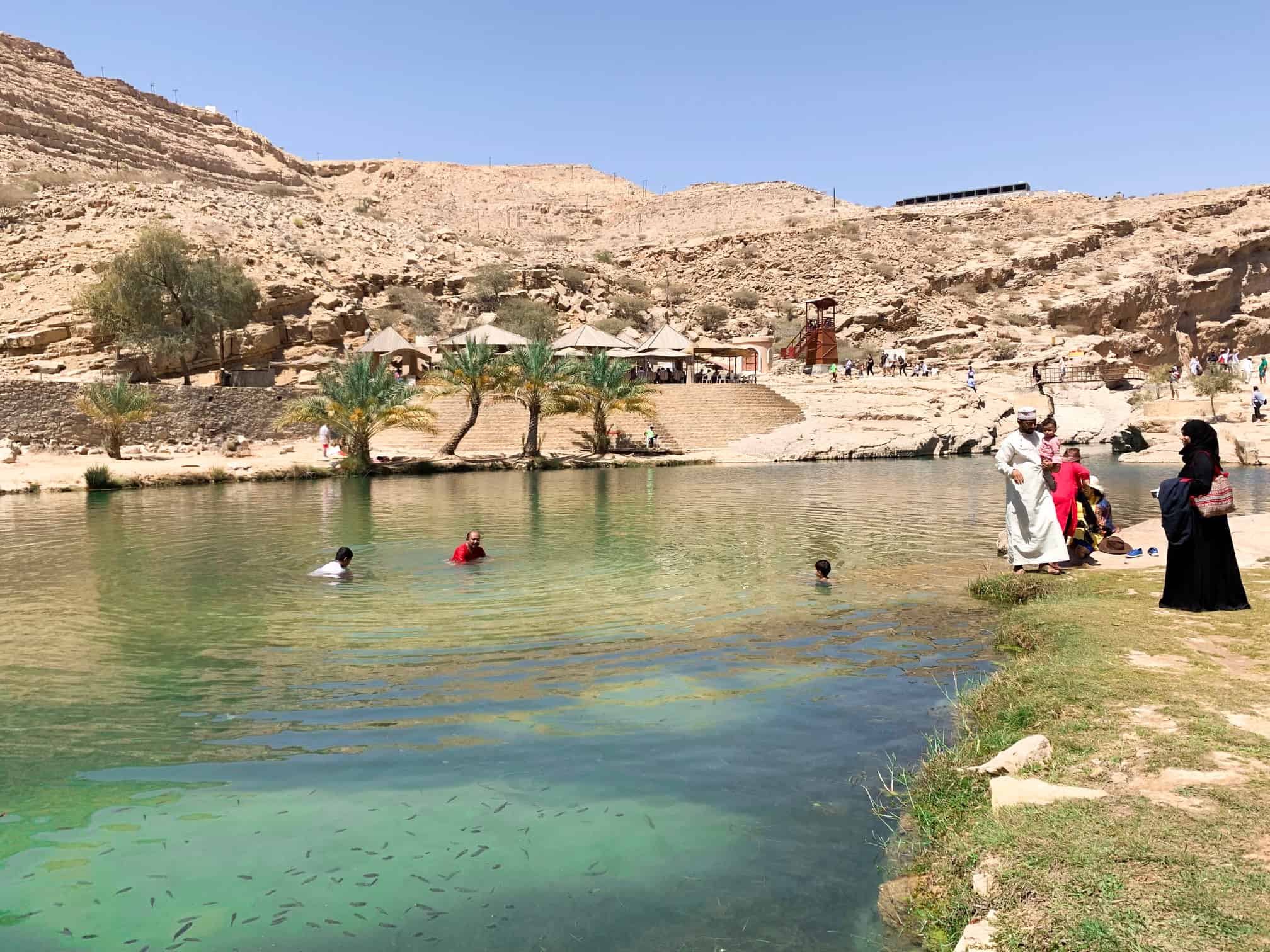 The Restaurant At Wadi Bani Khalid
Wadi Bani Khalid is the most built-up of all the Wadis [even though it is still completely epic] and has an on-site restaurant. The restaurant is a walk-up restaurant where you can get juice and takeaway foods like popcorn and ice cream and small meals. It was SO HOT when we visited Wadi Bani Khalid [okay well it felt hot] so we had some refreshing juice as we walked around in the shade before swimming and it was tasty and affordable.
There are also on-site bathrooms that are in the restaurant area. The toilets are a mixture of squat toilets and sit toilets and make for a great place to change into dry clothes after you are done swimming.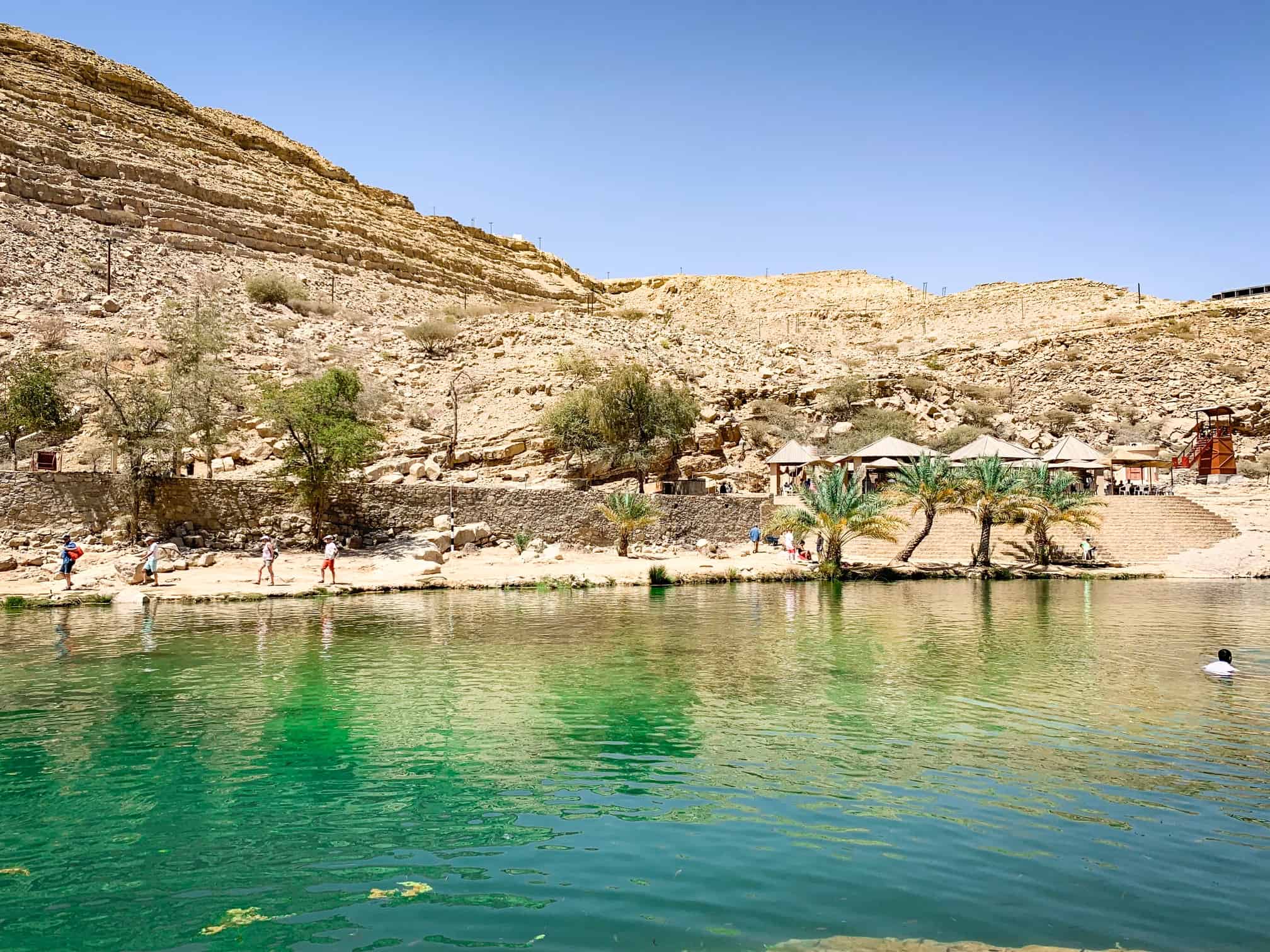 The Upper Pools/Canyons At Wadi Bani Khalid
The upper pools and canyons at Wadi Bani Khalid were our favorite part of the Wadi and one of our favorite places in Oman. There are clearly marked signs on how to get from the lower pool/lake to the upper pools. Unlike the other Wadis, the hike/walk to the upper canyon is less than 10 minutes.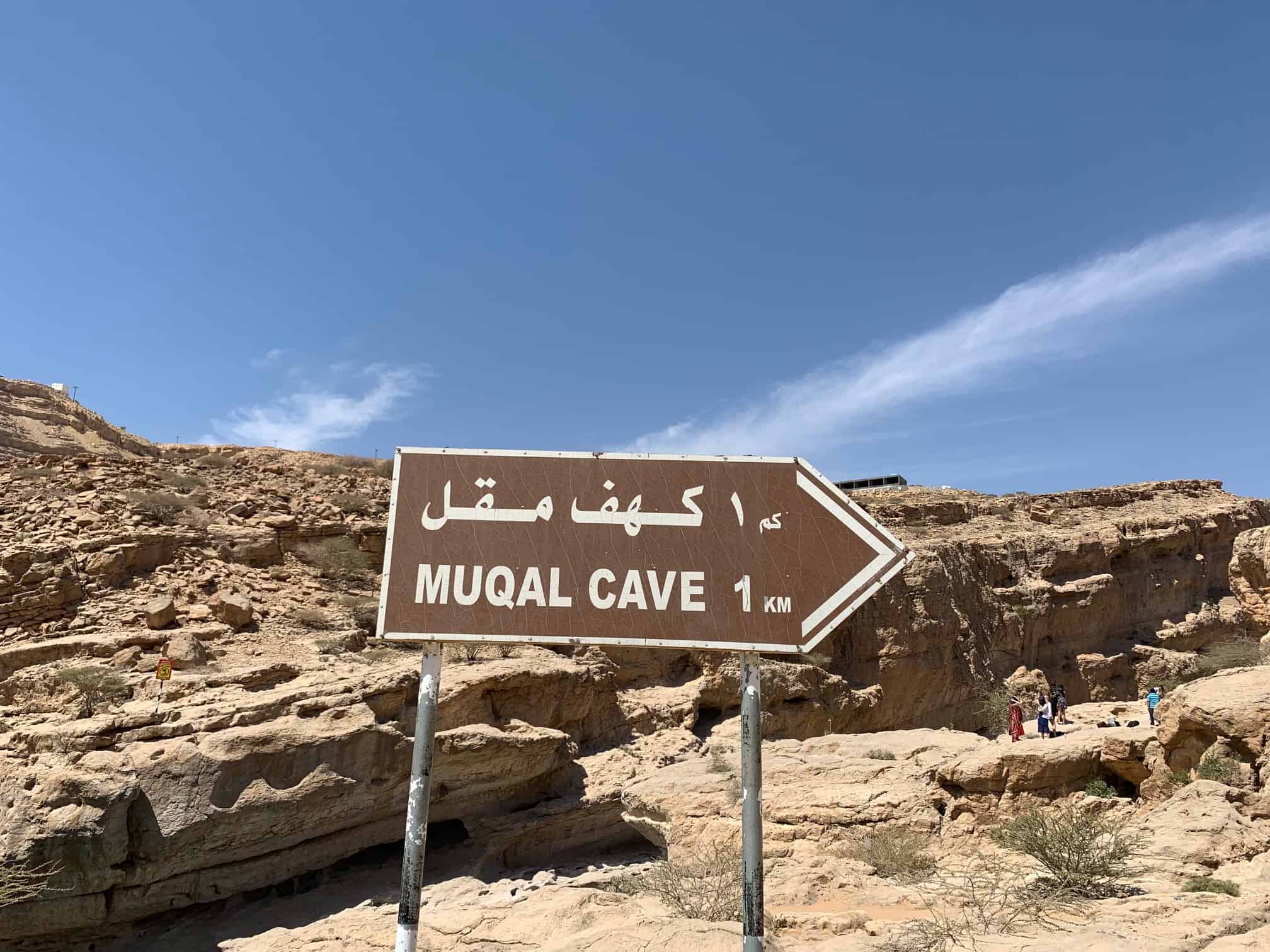 You will hike over the perfectly gleaming white stone but it is very slippery so please be advised. There were people of every age and ability walking to the upper pools at Wadi Bani Khalid so although it is slippery, it is fine if you take it slow.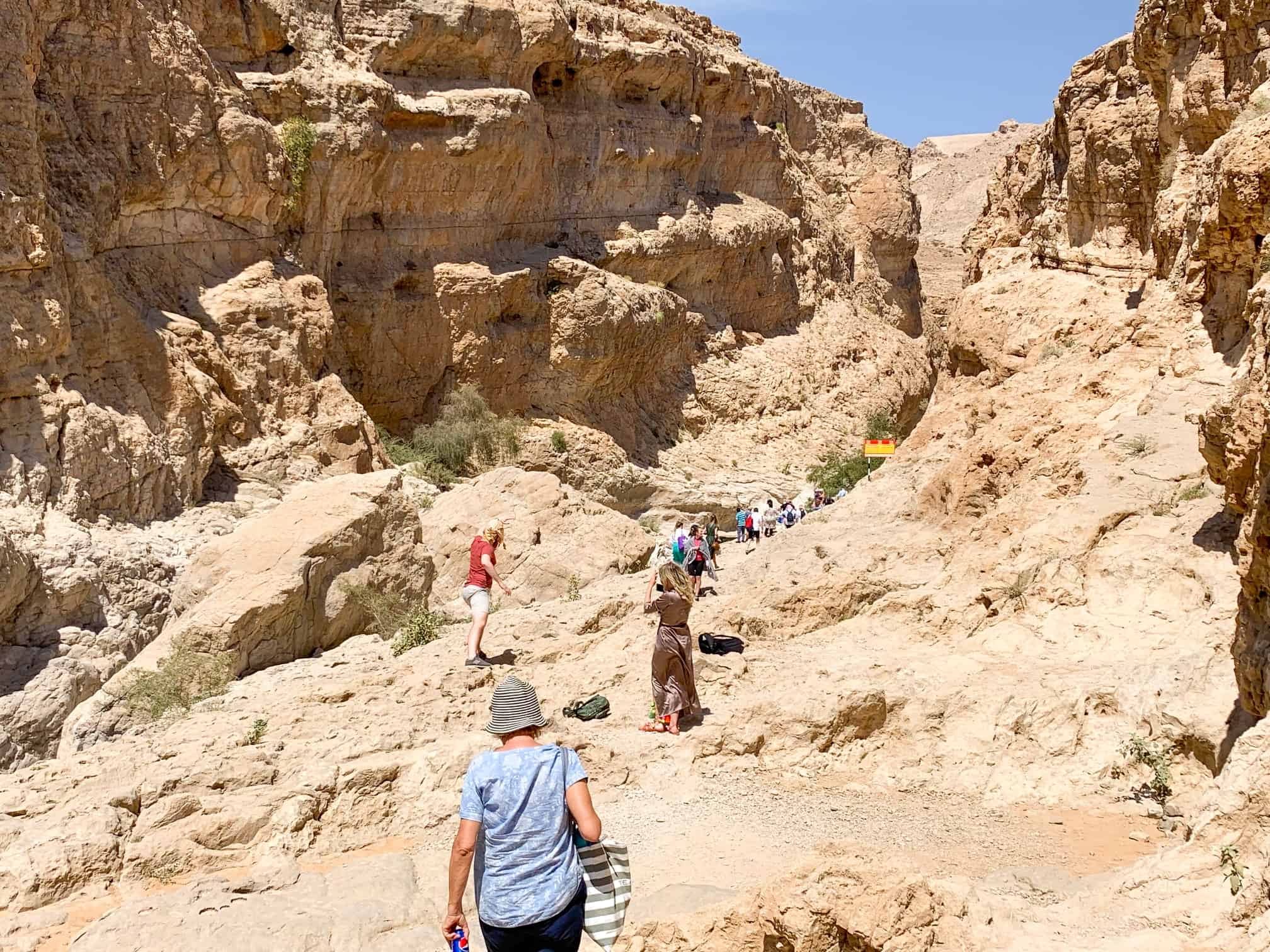 Within a few minutes you will come across the first upper pool at Wadi Bani Khalid. We were absolutely shocked that this pool was completely free from people even though it was quite crowded in the lower pools! We immediately hopped in for a swim and the water was incredibly warm and there was even our own little private waterfall.
You must dress modestly for the lower pools, but the rules are a little more lax in the upper pools [per a local] but please avoid a bikini if you can and don't sunbathe on the rocks. Just get in the water and swim. Many people were wearing a one-piece swimsuit and that was fine, but anything less would have been disrespectful.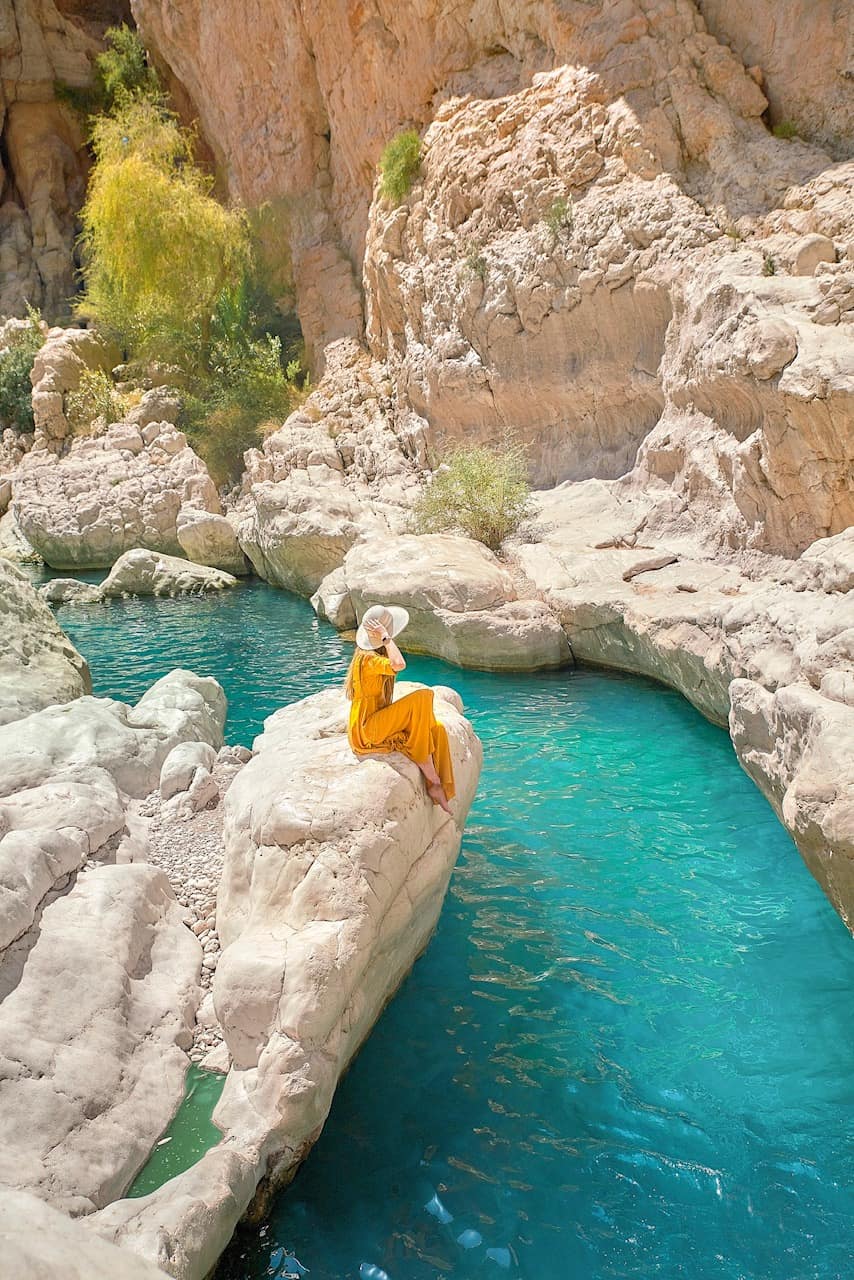 After you pass the first small upper pool, you will get to a small beach-like area that is the entrance to a wonderful swimming area through a gorge. We LOVED this part of Wadi Bani Khalid and you can swim through the gorge and hang on to small chains hanging down if you need a break. This area of the wadi can go from very shallow to quite deep, so if you want to swim the whole thing you must be a strong swimmer.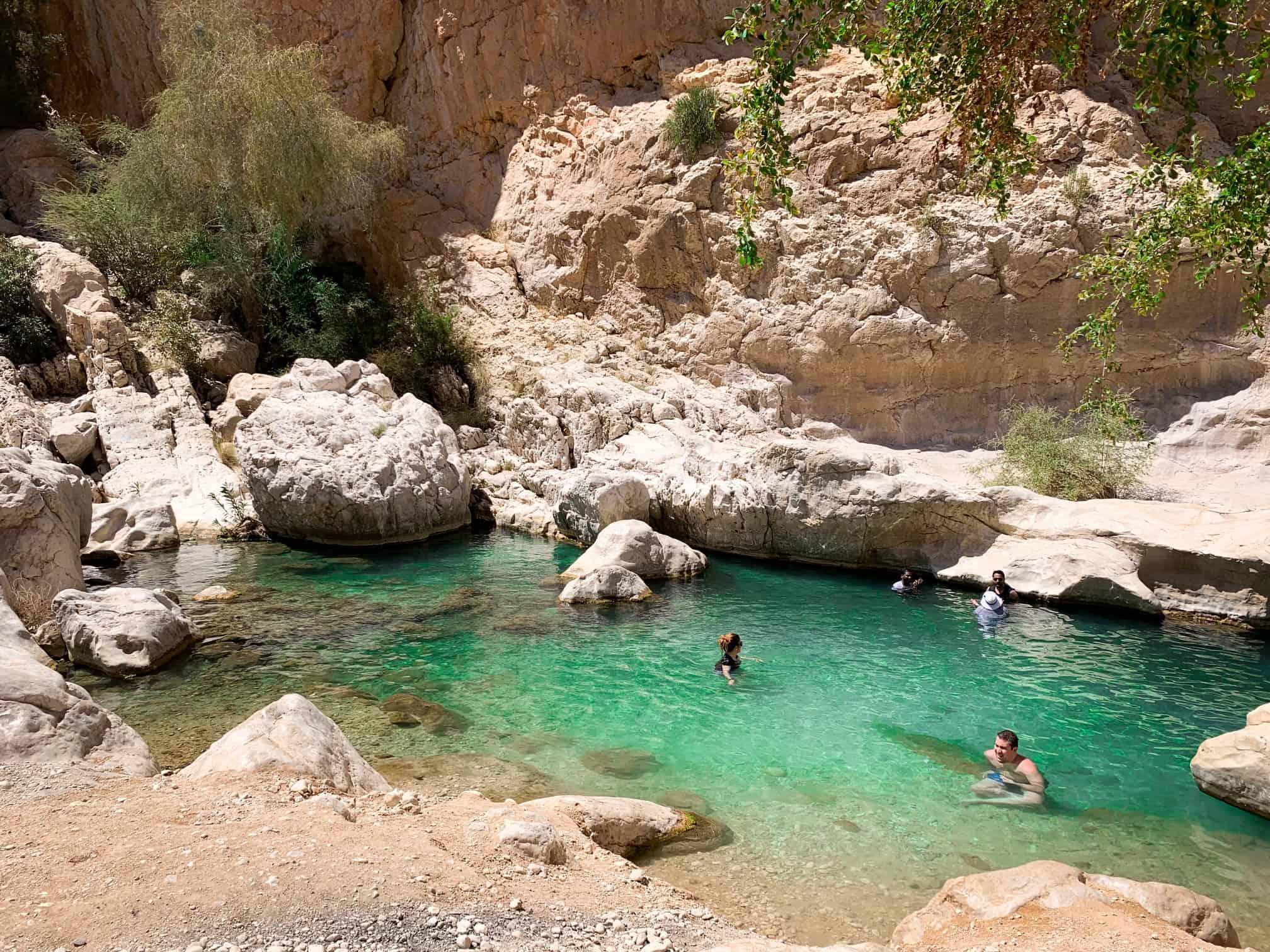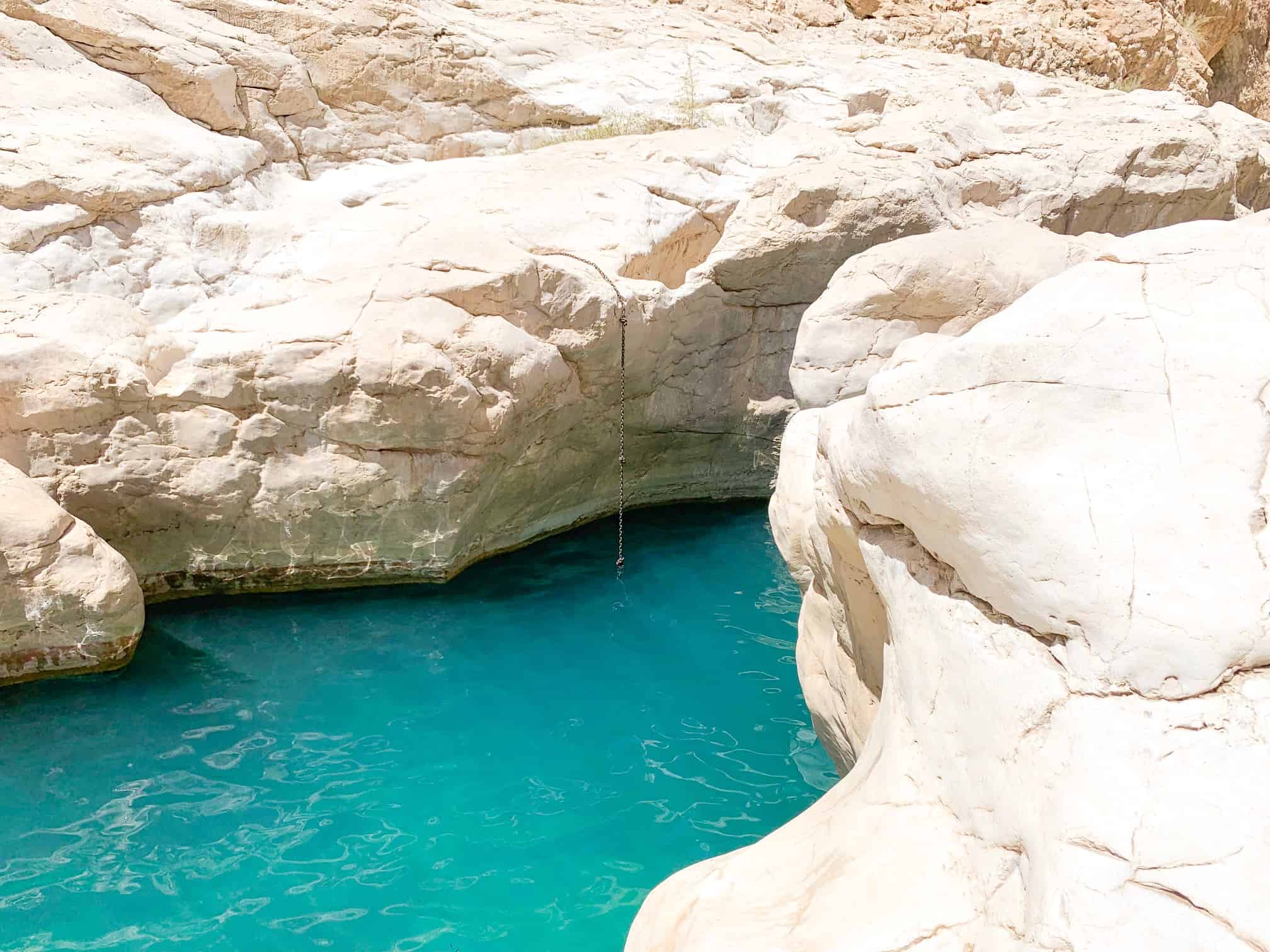 The further you go up into Wadi Bani Khalid, the more pools there are, but our favorite part was the ones at the beginning of the upper-pool areas. If you continue long enough, you will come to a cave that is about 1km into the gorge. We didn't go into the cave, but if you do, take a flashlight [even your phone] as you will have to crawl low to the ground and it may be quite dark.
We also loved jumping off the canyon walls at the upper pools of Wadi Bani Khalid. This was truly our favorite Wadi in Oman because the water was so warm and the area was so beautiful and easy to access.
If you are afraid that Wadi Bani Khalid will be too crowded, please don't worry! The lower pools may be busy but the upper pools will be better. Make sure to stop at the first of the upper-pools with the little waterfall as everyone bypasses that to continue on into the canyon. It was the best!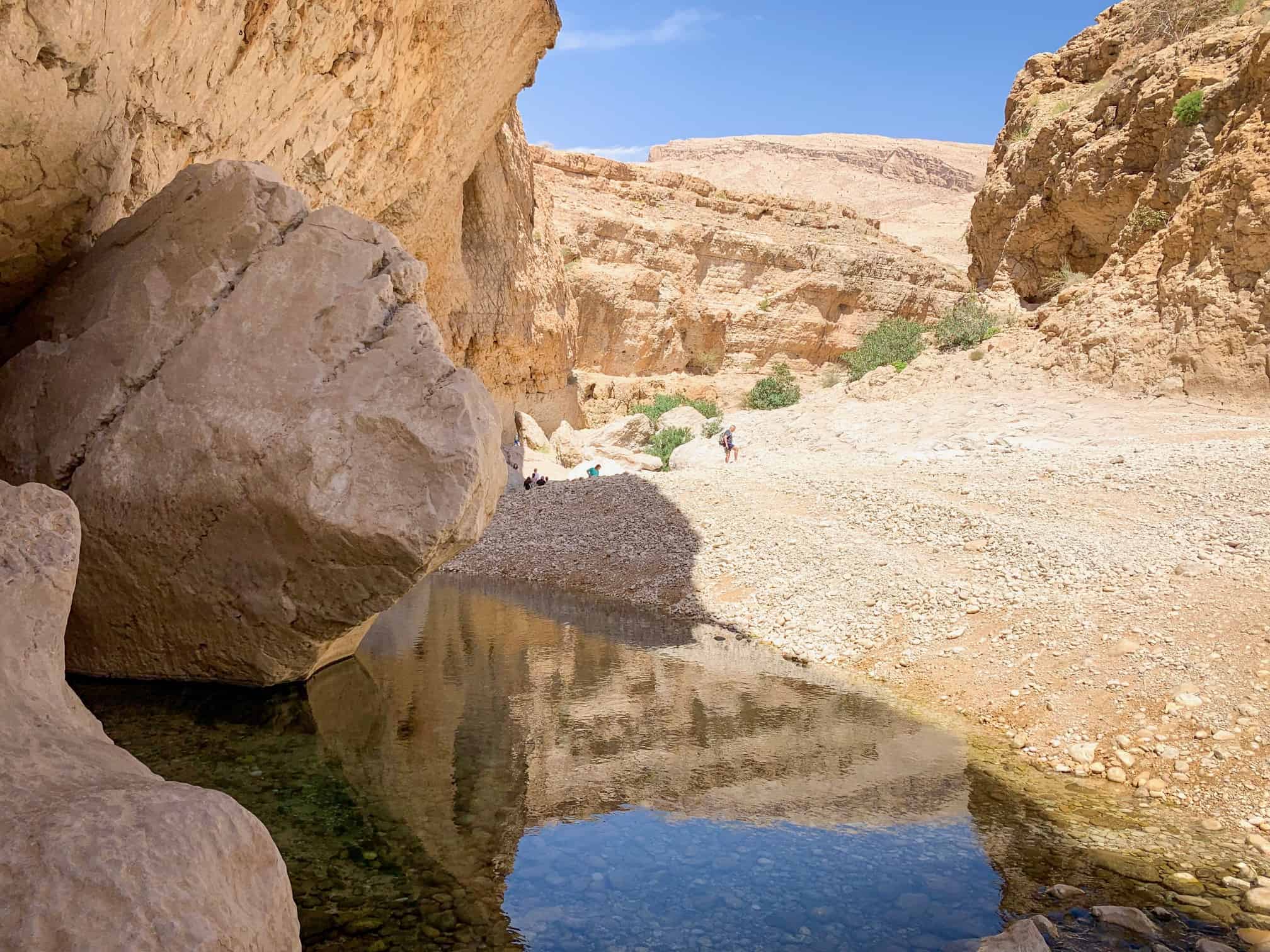 Dressing Modestly At Wadi Bani Khalid
Oman is an Islamic country so dressing modestly is essential when visiting Wadi Bani Khalid. There are signs everywhere that discuss this and we were horrified by the number of tourists wearing short booty shorts, cropped tops, bikinis with cleavage and more. Men are encouraged to dress modestly too and a t-shirt for swimming is a good idea.
The upper-pools at Wadi Bani Khalid are much laxer in the wardrobe department, but you still should only go as revealing as a one-piece and even then you should only wear it in the water. While you are hiking or walking around, wear a long dress or pants and a t-shirt over your swimwear, and only take it off when you are ready to enter the water.
If you are sticking to the lower pools, please be respectful and dress modestly and wear a t-shirt over your swimwear. This is particularly essential when visiting Wadi Bani Khalid during the weekend when there are lots of local people as well as tourists, but you should follow the rules and be respectful any time of the week when visiting.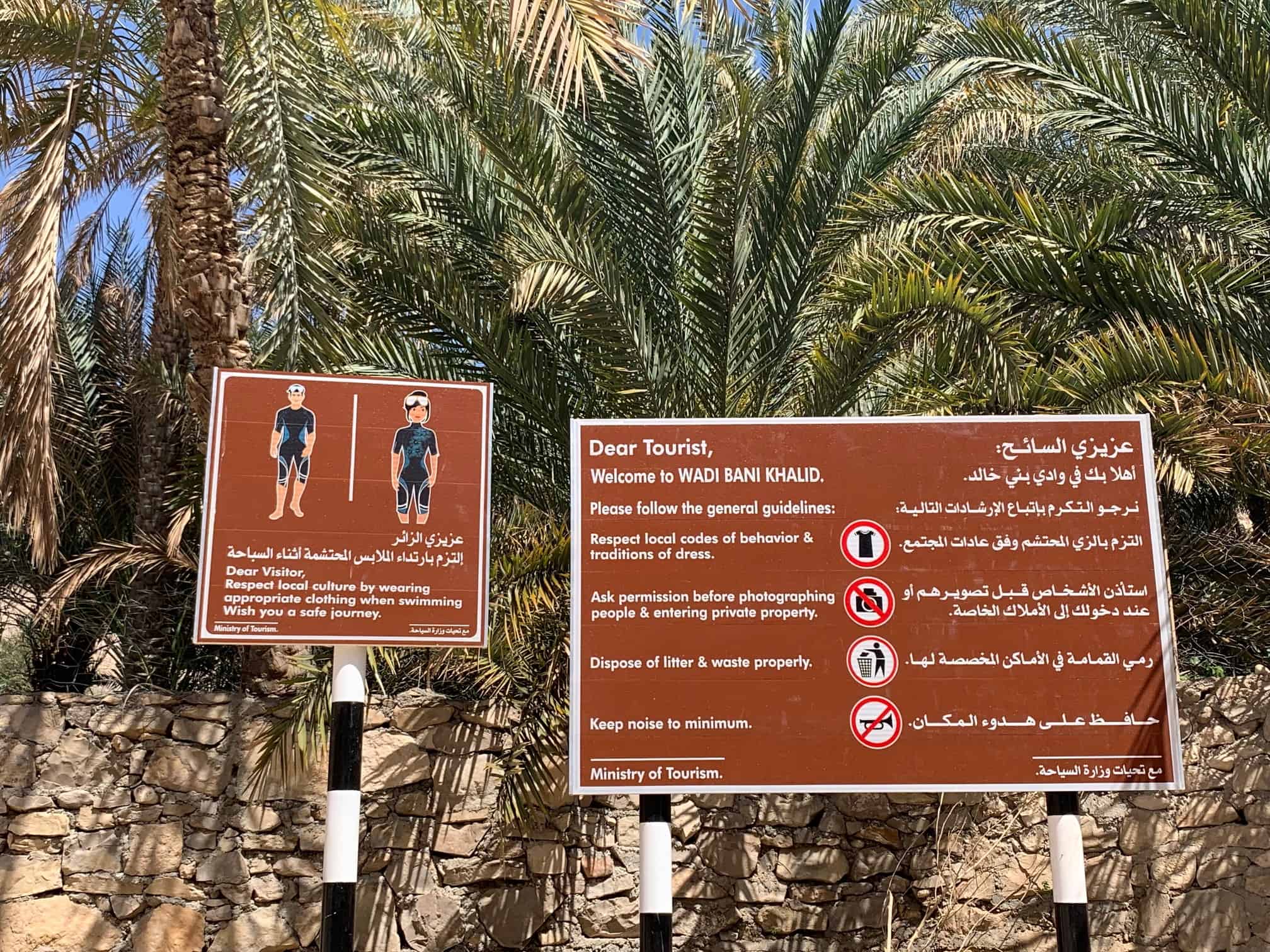 What To Pack For Wadi Bani Khalid
When visiting Wadi Bani Khalid, we recommend packing light if you plan on doing the walk into the gorge and upper pools. There is plenty of space to change and relax and there are no long 45 minute hikes, so if you want to bring more you totally can because you do have that freedom. We suggest packing a small bag and bringing the below items.
What To Bring To Wadi Bani Khalid:
How Long To Spend At Wadi Bani Khalid
When we visited Wadi Bani Khalid we only spent about 2 hours in this magical oasis. We were so sad that we couldn't stay for longer, but we had to meet up with our desert camp company for our trip to the desert. During our time in the desert, we met up with another couple who ended up carving out an entire day to spend at Wadi Bani Khalid. After visiting Wadi Bani Khalid ourselves and listening to them, we agree that if you can, try and spend at least a half-day at Wadi Bani Khalid.
If you can, we recommend spending at least 4-5 hours at Wadi Bani Khalid because there is so much to see and explore. If you can do a full day you really won't regret it. This was our favorite Wadi as it is easy to visit and explore and still stunningly beautiful and we hope that you love it just as much as we did. Please do Wadi Bani Khalid justice and spend a decent amount of time here as you won't want to miss all that it has to offer.
We hope you find this information helpful when planning your trip to visit Wadi Bani Khalid in Oman. Wadi Bani Khalid is truly a wonderful and beautiful slice of paradise in Oman and we know you are going to love it as much as we do. Of course, please ask any questions you may have in the comments and we will answer them to the best of our ability!