Visiting Wadi Shab is one of the top things to do in Oman and you need to include it on your list. If you are reading this, chances are you are already interested in visiting Wadi Shab which is a good thing because it is a completely memorable and fantastic experience! Think a fantastic gorge, warm blue pools, and a hidden waterfall!
Before we visited Wadi Shab, we did a lot of research online so we could know what the experience would be like. Unfortunately, we found some inaccuracies between what we read online and how the experience actually way. This post is not going to sugar coat what it is like to visit Oman's Wadi Shab. We are going to tell you straight up everything you need to know before visiting Wadi Shab so you can go in with your eyes open and have the knowledge you need to have a wonderful time.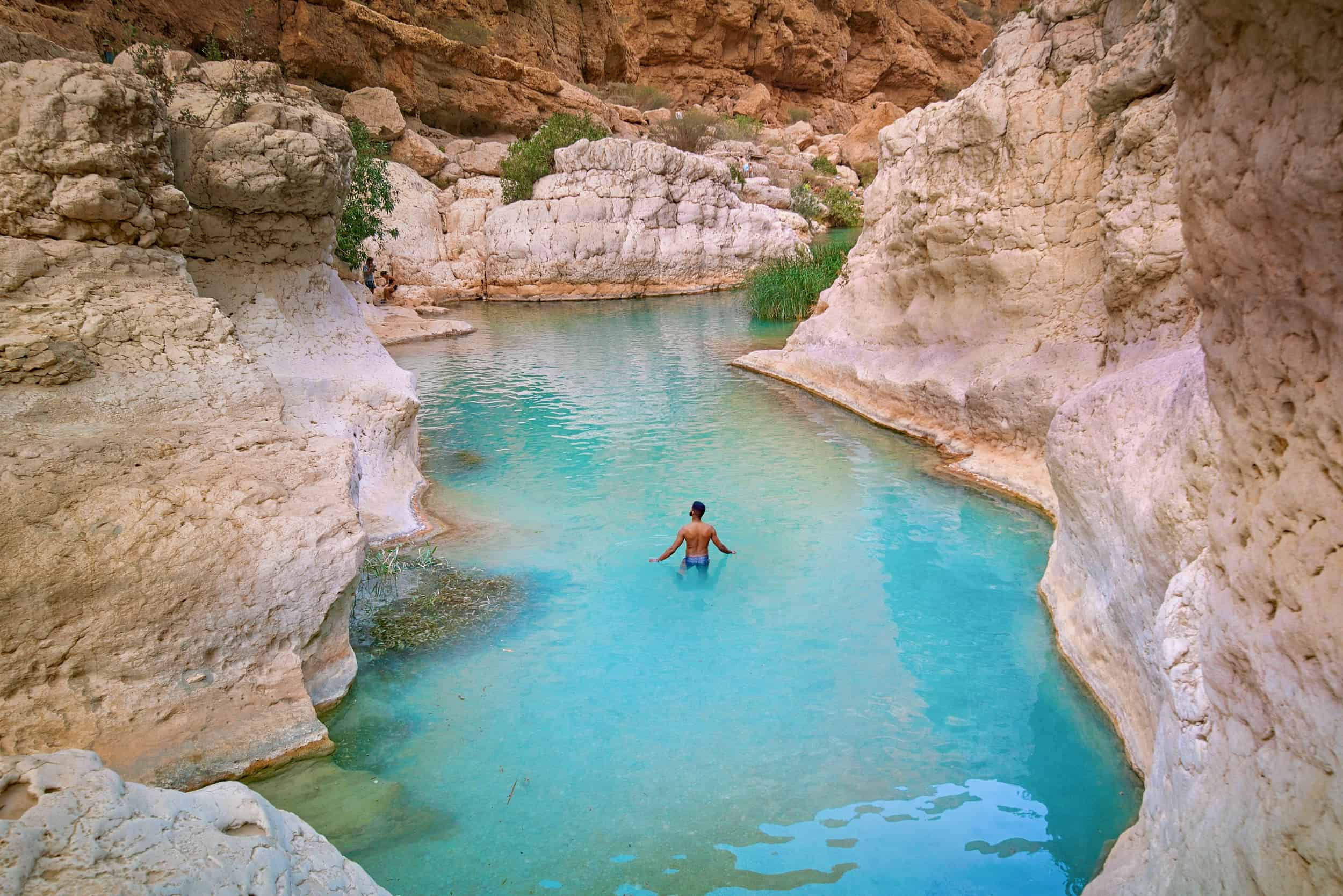 Everything You Need To Know About Visiting Wadi Shab Oman
Getting To The Wadi Shab Entrance
Luckily, getting to the Wadi Shab entrance is quite easy! Wadi Shab is about 1.5 hours from Muscat and 40 minutes from the town of Sur. If you simply put the name "Wadi Shab Parking" in your GPS you will be navigated right to the entrance parking lot. If you aren't using a GPS, don't worry! The exit for Wadi Shab is well marked from the highway. Once you turn off the highway you go down a narrow and steep paved road and you will end up parking underneath a large bridge that the highway you just left goes over.
Click Here For Exact Google Maps Location Of Wadi Shab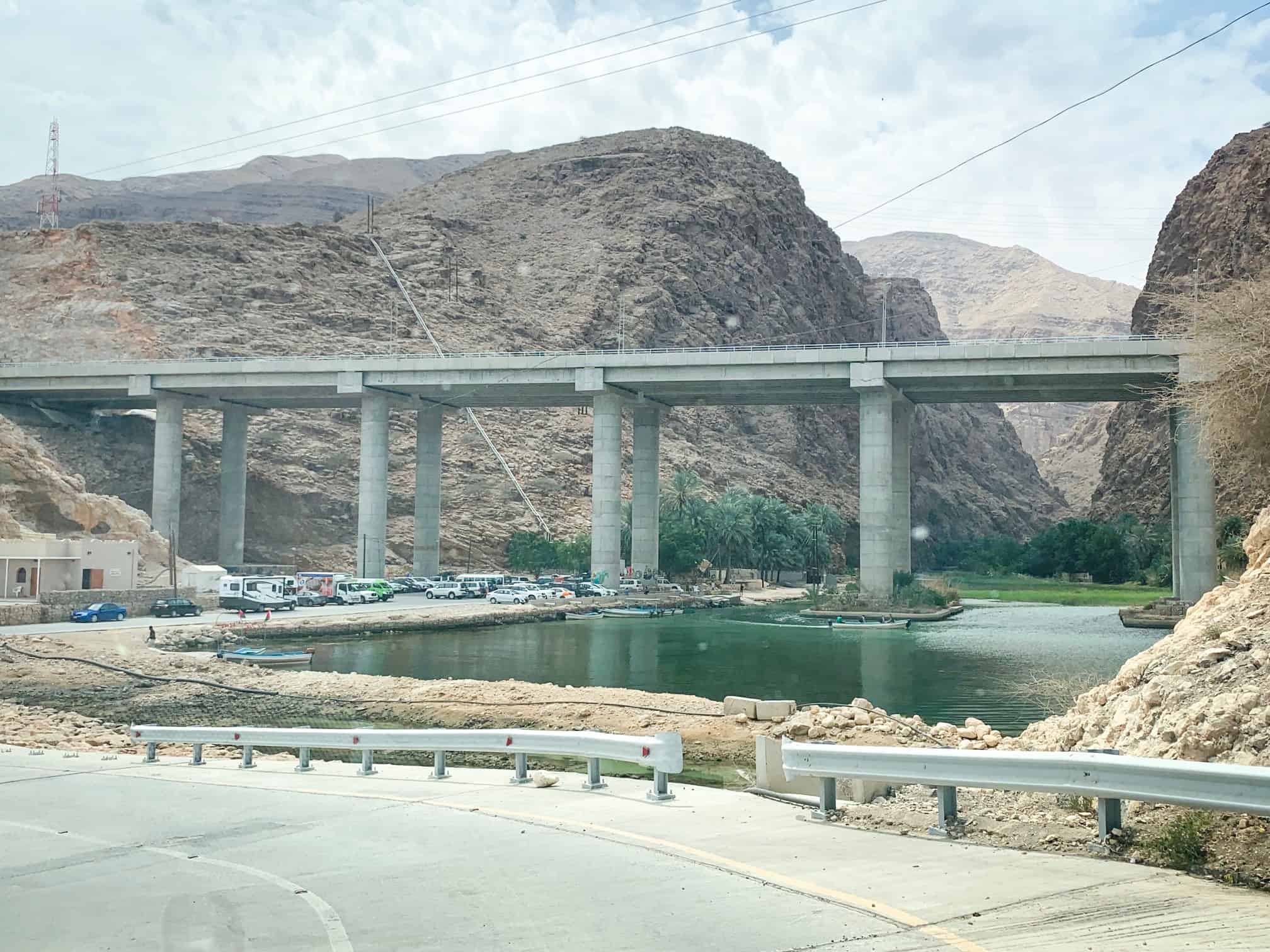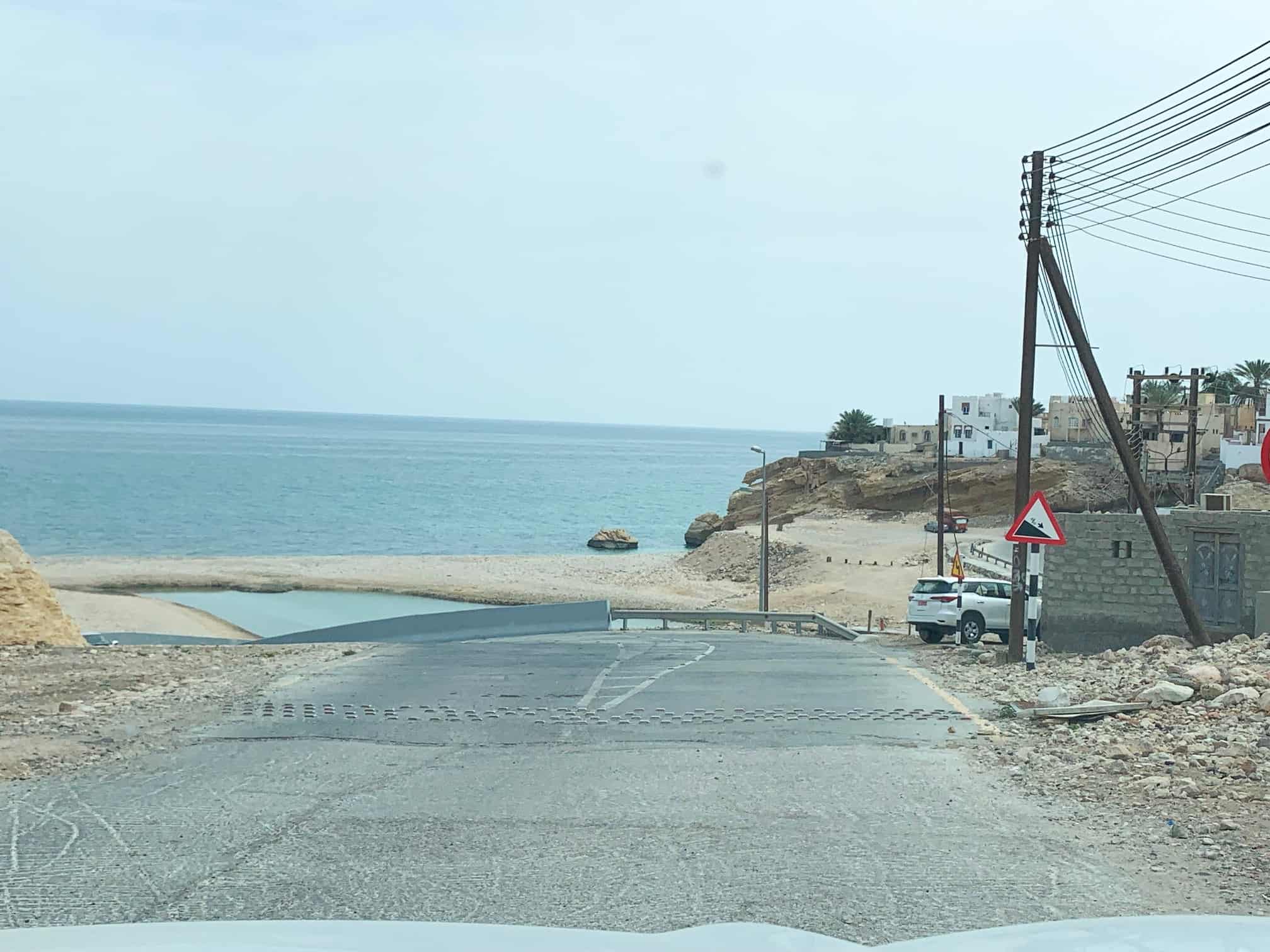 Parking At Wadi Shab
Parking is completely free at Wadi Shab! The parking lot isn't the biggest so if it is crowded, you may have to park down the road and walk back a little ways. When we visited, it was pretty crowded, but we waited a few minutes and were able to find a spot in the parking lot. When you are parking, there will be friendly local goats that are roaming around. Don't leave your car doors open for too long as the goats will try and hop into your car and start eating things. They are cute but they are sneaky too!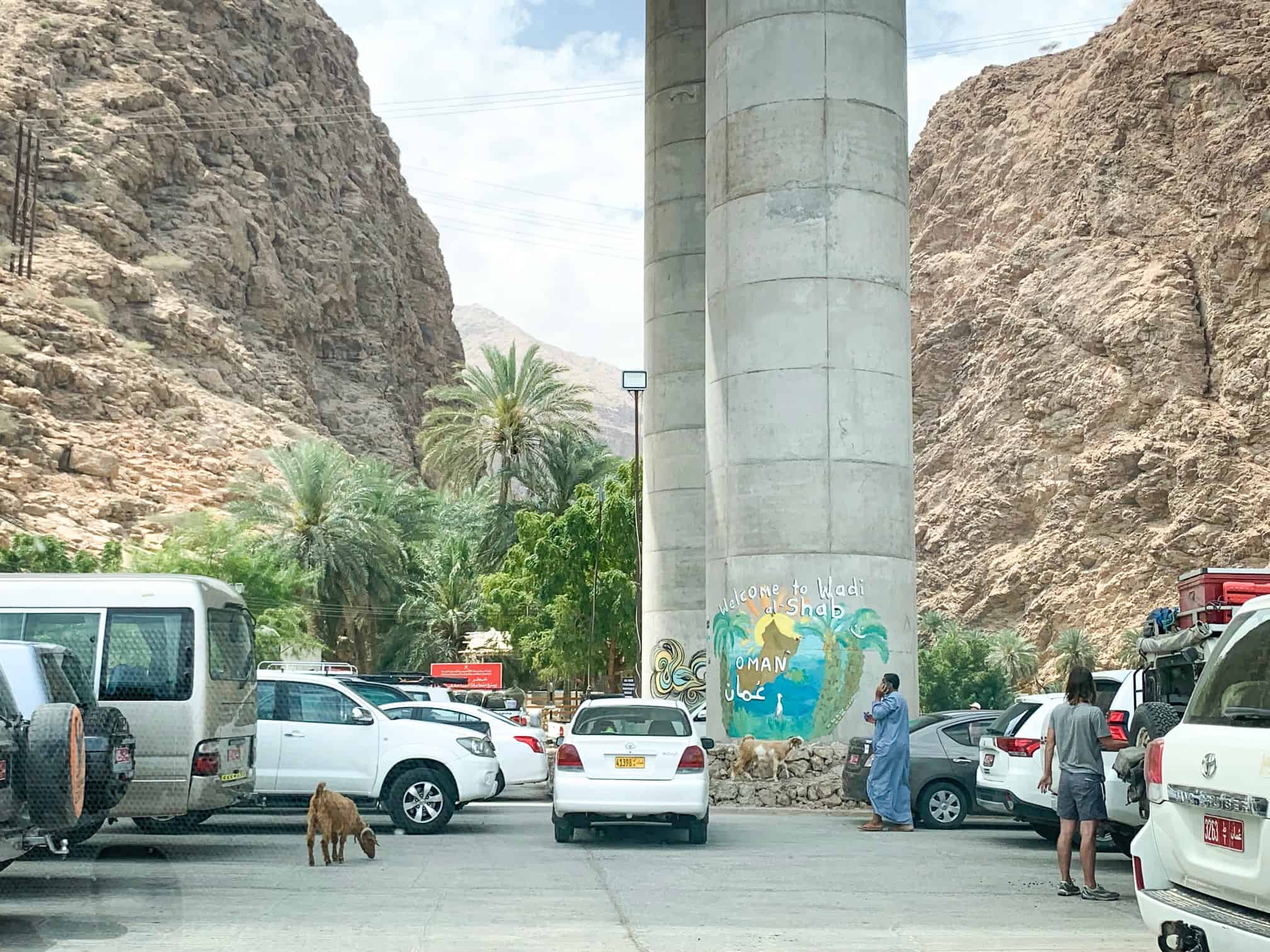 There are free bathrooms at the Wadi Shab parking lot so be sure to go before you start the journey to the swimming area. These are the only bathrooms in the area and were relatively clean with no toilet paper [as is usual in Oman] but plenty of soap for you to clean your hands.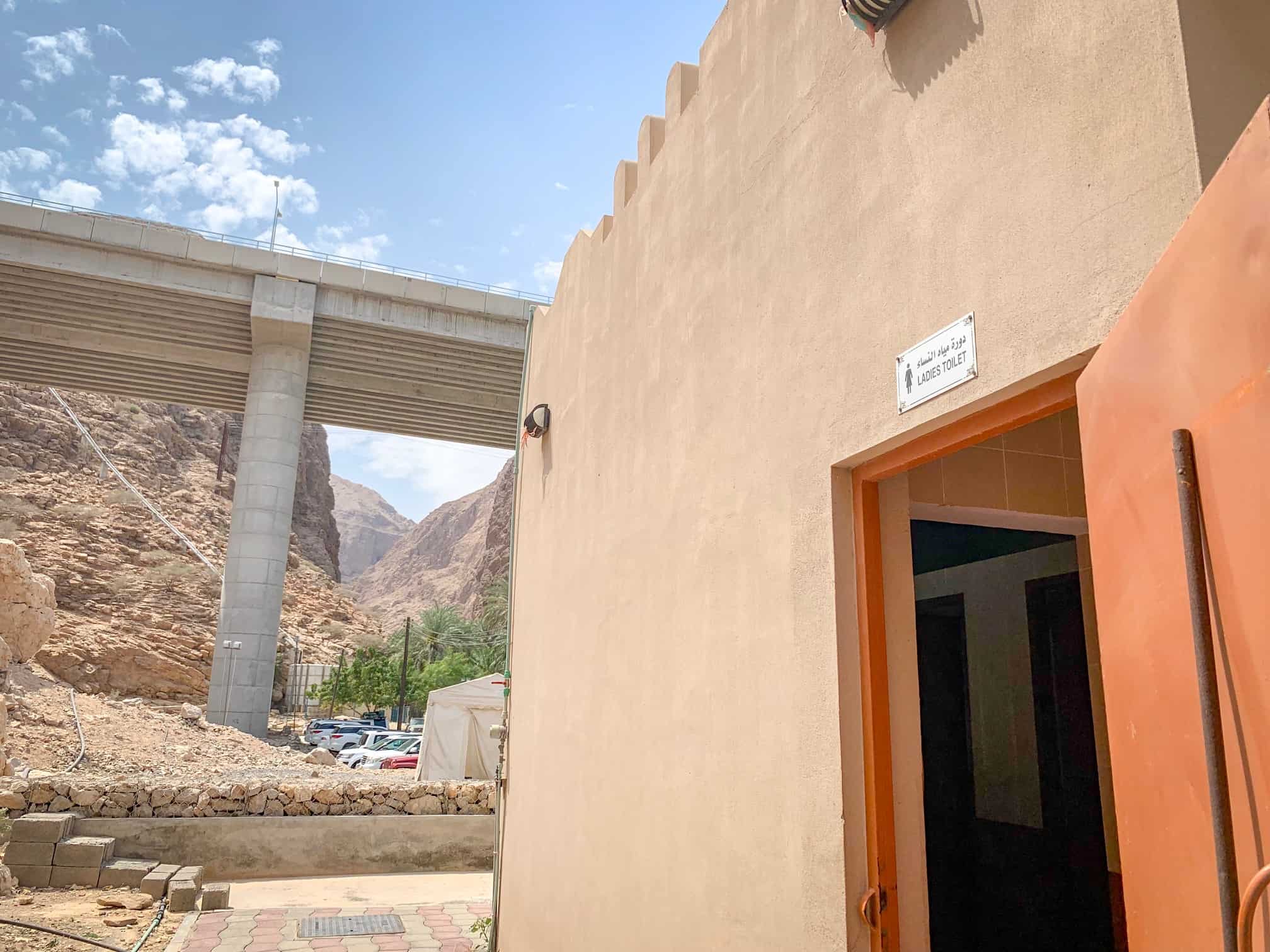 The Boat Ride At Wadi Shab
Listen up as this part is very important! To get to the beginning of the Wadi Shab hike, you must take a very short boat ride across the very wide river. The river is very deep and wide so you must take the boat ride to get to the other side. The boat ride costs 1 Rial per person and this must be paid in cash! Operation begins at 8am and runs until 5pm. Make sure to ask when the last boat of the day is in case you are late to arrive back. We don't want you getting stranded.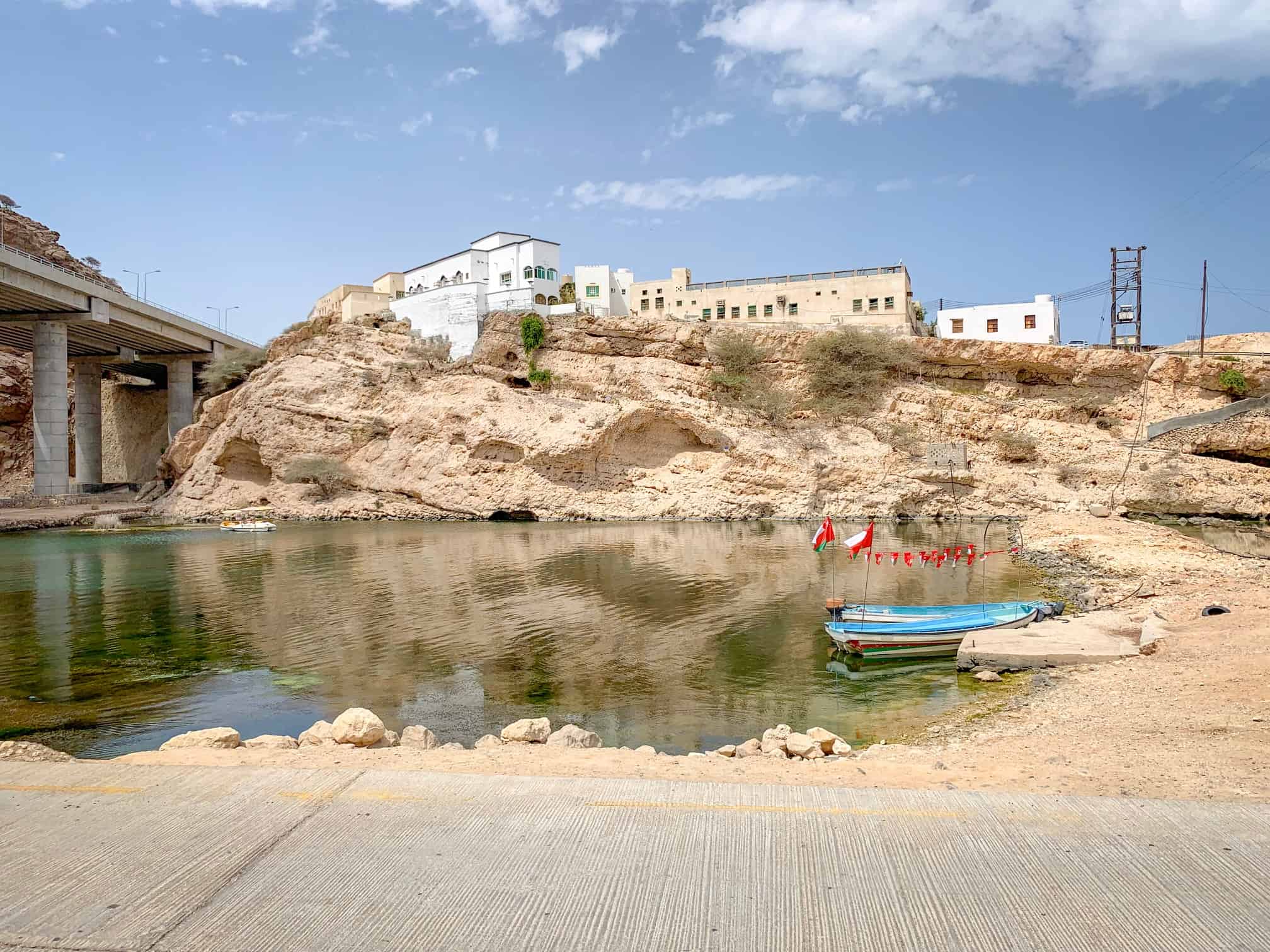 The boat ride takes less than 3 minutes to get you across the river but it is a fun experience to start off your trip. You can gaze into the canyon [aka Wadi] and imagine all the beautiful sights you are about to see! In order to come back, simply stand where the boat dropped you off and the boat operator will see you and come get you. It was a very simple process.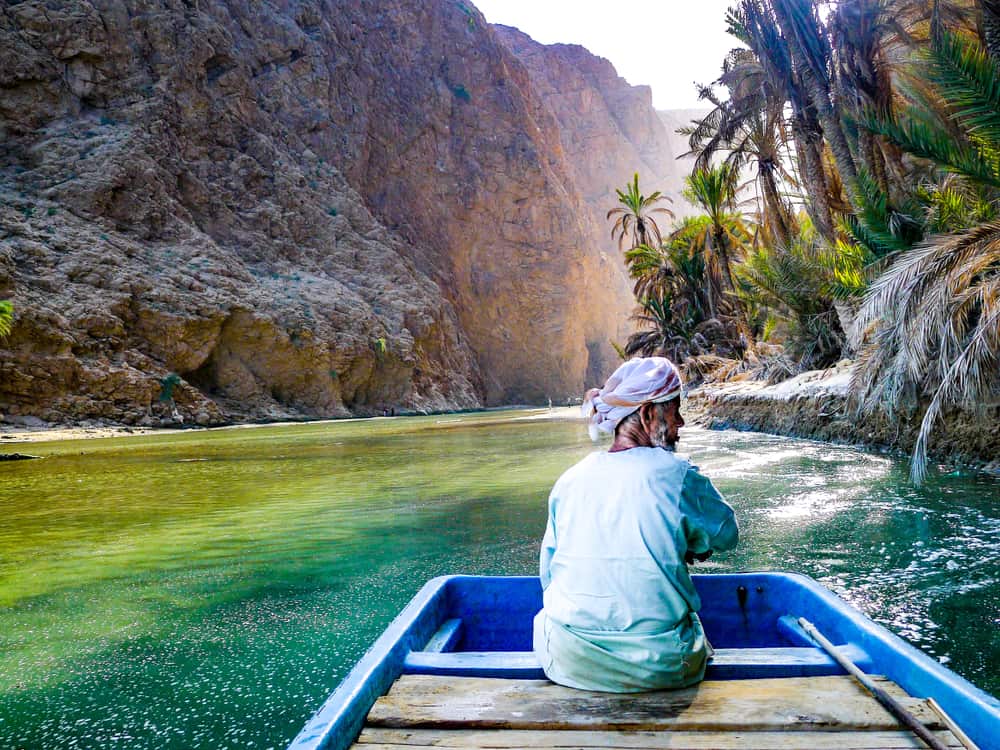 Hiking In Wadi Shab
Everywhere we read considered the 45-minute hike from the boat ride to the first pool to be "a walk." We are here to tell you that this is A FULL BLOWN HIKE and we would consider it to be moderate as you have to climb over boulders and walk along a very slippery and narrow canyon wall. We don't want this to scare you away from hiking to Wadi Shab as we saw plenty of elderly people doing the hike and even someone on crutches, but we want you to be 100% prepared, unlike us.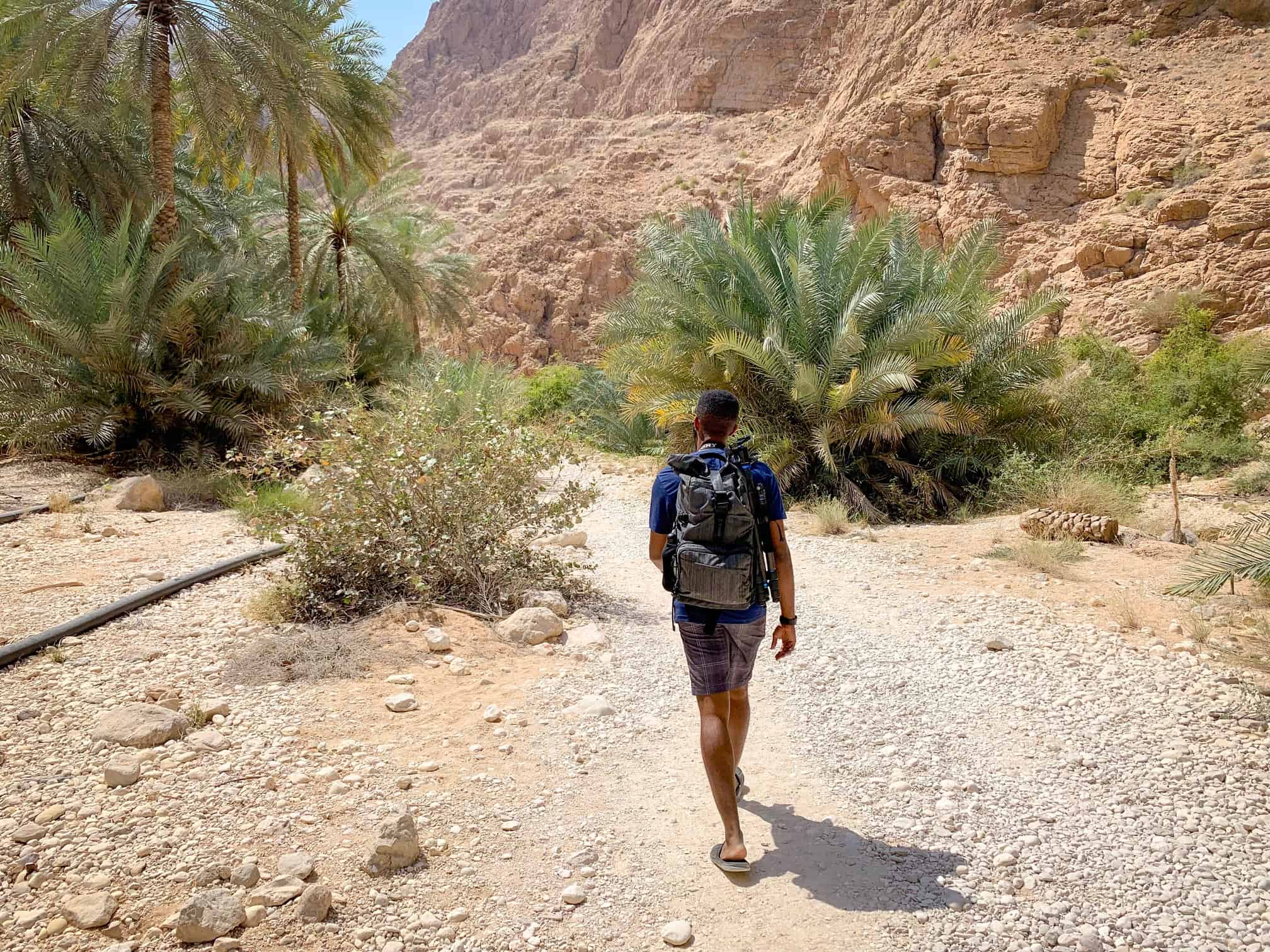 We chose to hike in sandals and although the sandals are very good quality and we walk in them around cities all the time, they were not the appropriate shoe for hiking to Wadi Shab. We highly recommend wearing your swimsuit under appropriate hiking clothes [pants and a top or a dress] and sturdy hiking shoes or closed toe shoes. Hiking in flip flops is a bad idea and this is indeed A HIKE to Wadi Shab, not an easy stroll or walk.
The hike to Wadi Shab begins innocently enough and will make you think it isn't all that bad. [Again, with proper preparation it IS NOT that bad but please understand it isn't just "a walk"]. You will walk past small local farms and over winding irrigation channels.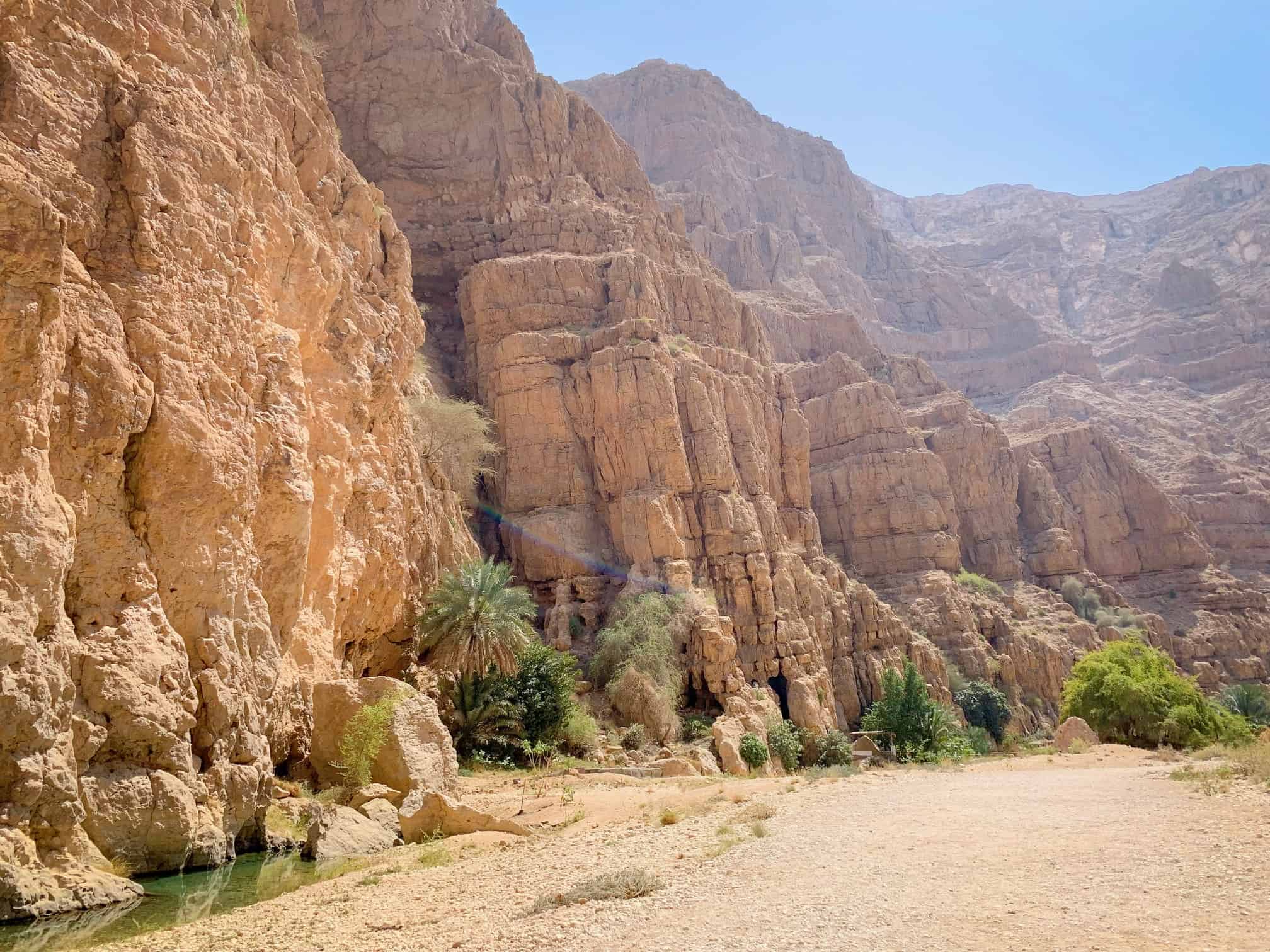 Next, you will come to the mouth of the pretty blue pools for Wadi Shab. This is a false end to the hike and you are NOT ALLOWED to swim in this area. There is only one designated swimming area at Wadi Shab and this is not it. At this point, you are at 1/3 of the way through the hike.
At this point of the Wadi Shab hike you are going to hike along the side of the canyon/Wadi. You are going to climb under and around the side and the pristine white rocks are VERY slippery. Please tread with caution as there is little to keep you from slipping. If you feel it is too slippery, simply get low and walk crouching down for that part. This is easily the most beautiful part of the hike as you wind through right on top of the clear blue/green water. This is a great area to stop for photos if you want to capture the narrow gorge from above.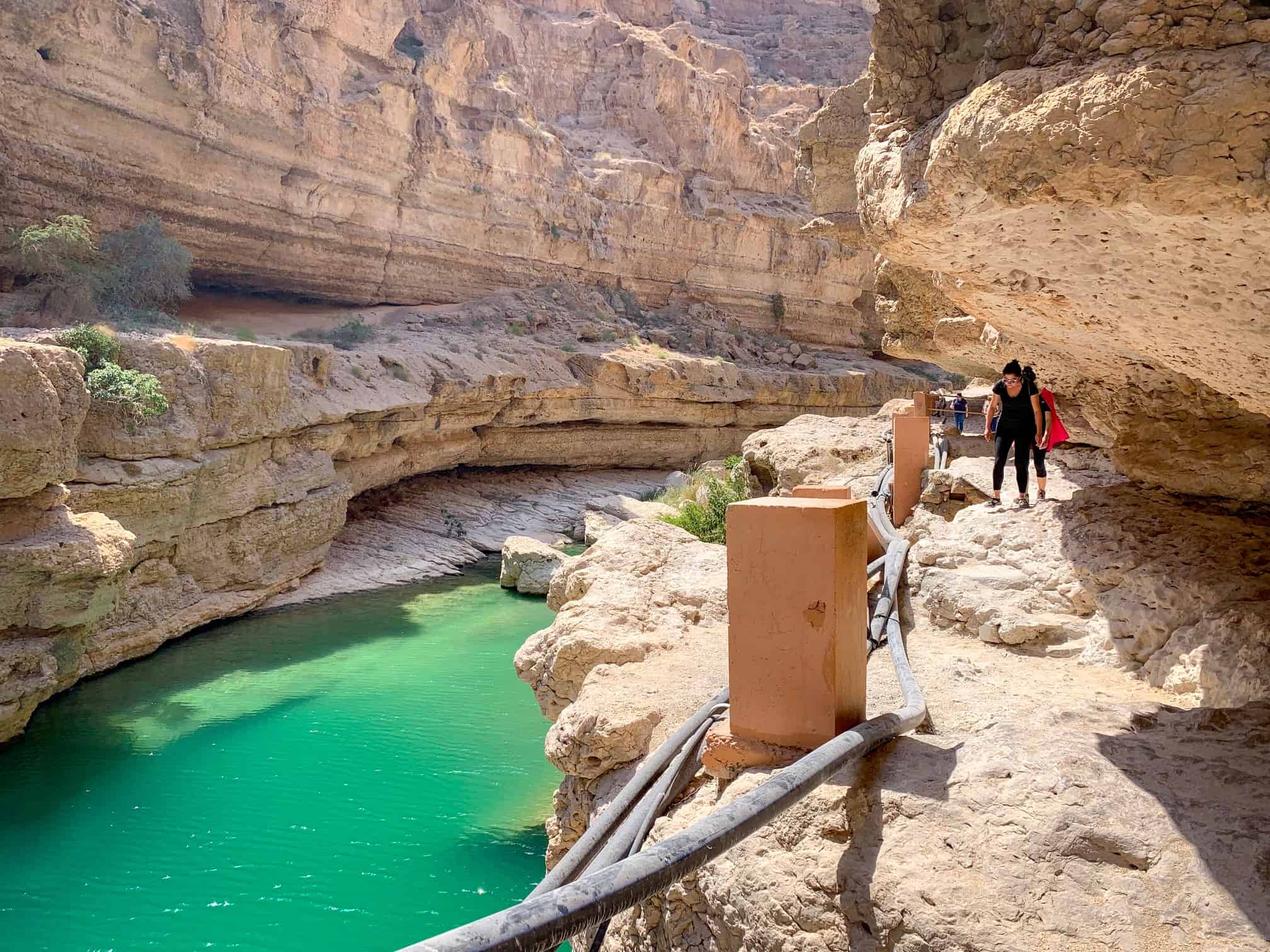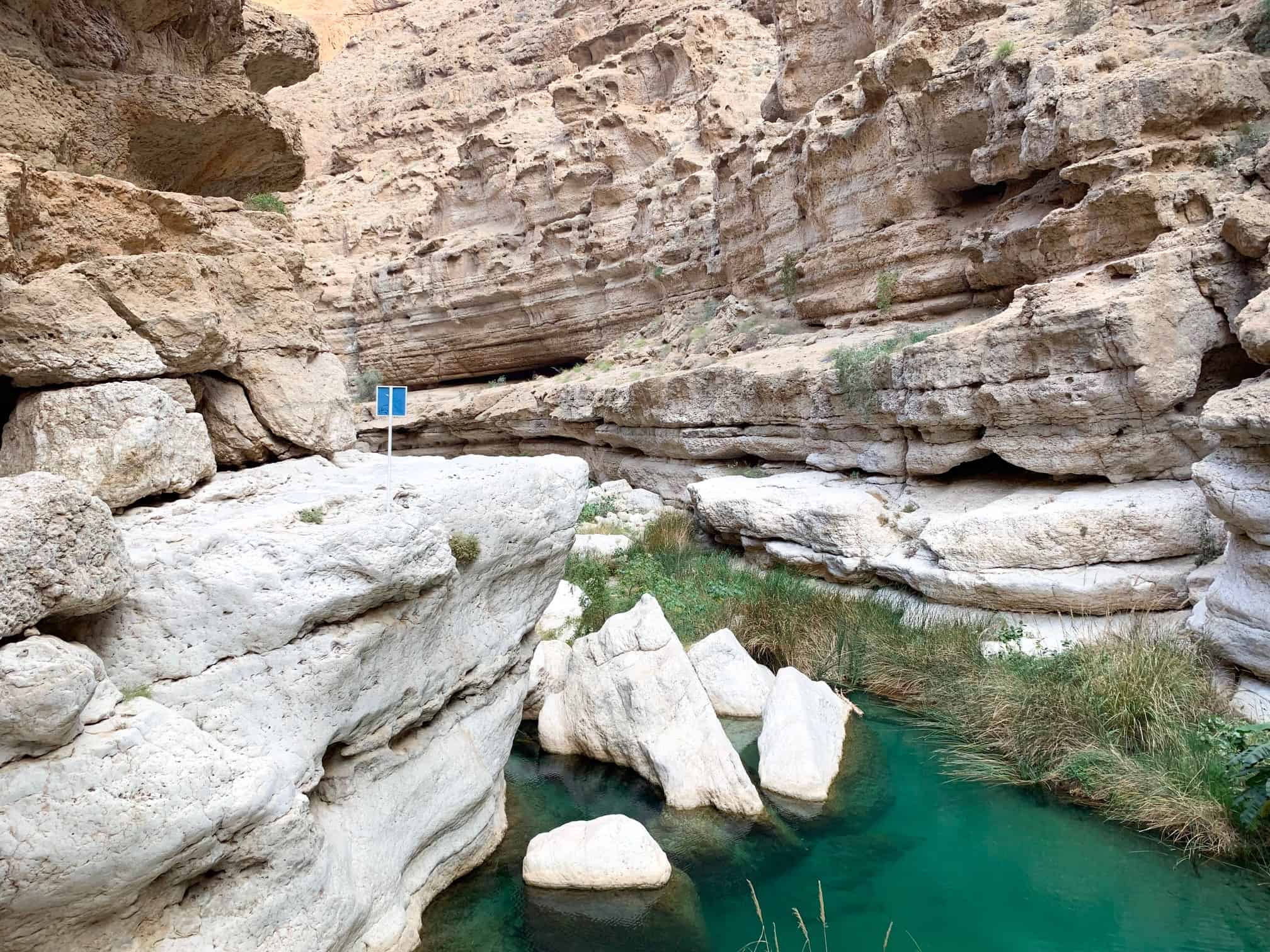 The third and last section of the Wadi Shab hike is a bit uphill and takes you up and around some giant boulders that are in the Wadi. The entire canyon is dry, save for some irrigation channels, but rest assured that the views are still spectacular. The hike can be a little difficult to follow at this point, so keep your eyes open for red or black arrows painted on the rocks that show you the direction you need to go. You won't get lost as if you keep going up the middle of the canyon you will eventually come upon the swimming area, but the arrows show you the easiest path.
Again, if we had to classify the hike at Wadi Shab, we would consider it to be a moderate hike with some of the best views we have ever seen. We consider it moderate due to the climbing aspect and the uneven surfaces you must jump over or climb up and around. Please wear proper footwear during the hike and take flip flops with you for the swimming portion!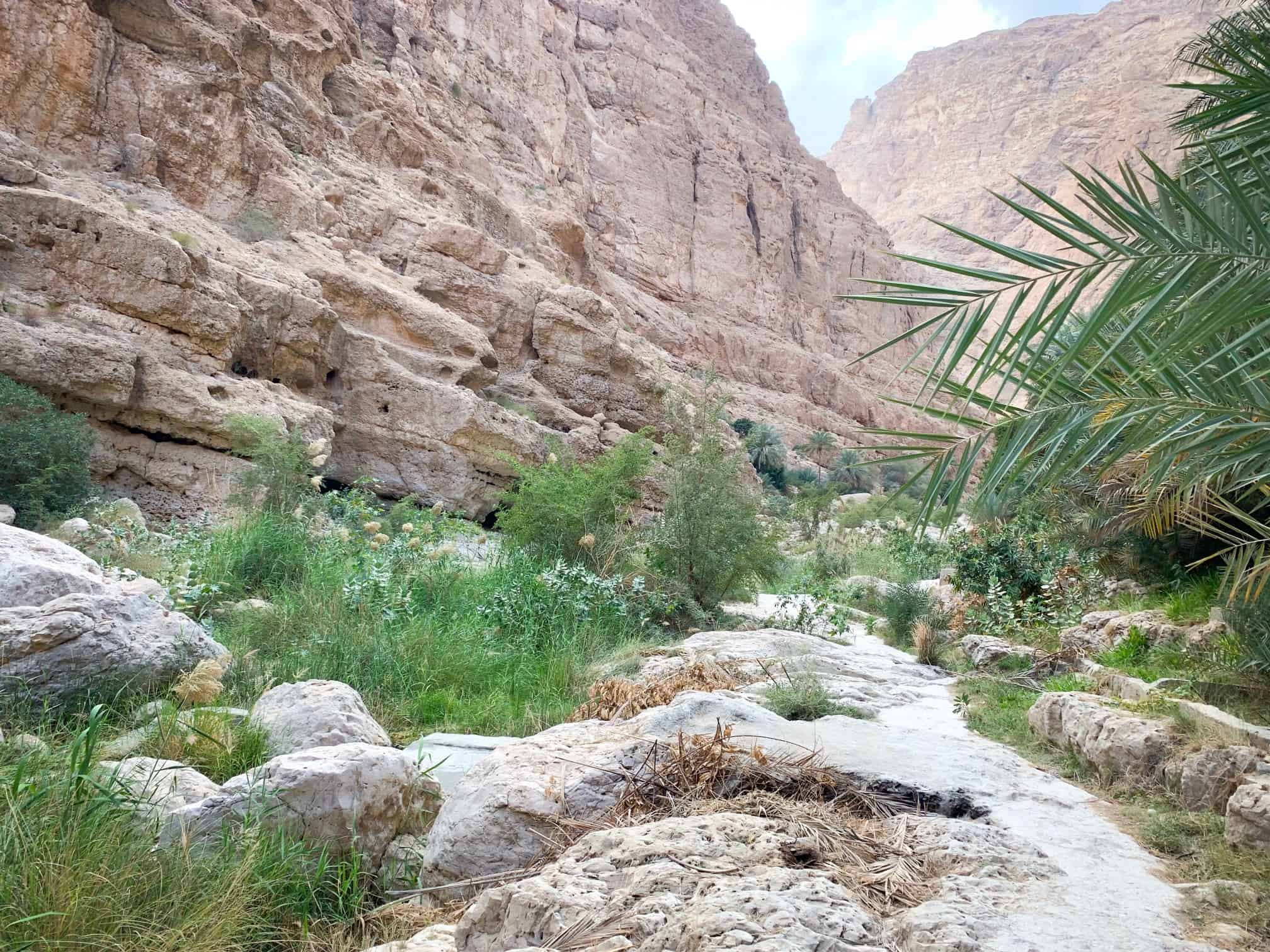 Swimming At Wadi Shab
Of course, the best part about visiting Wadi Shab is swimming in the perfectly clear blue pools! Another example of the internet/Instagram leading us astray was that the swimming area was MUCH smaller than we had expected. It is comprised of only three pools. Now, while the pools are relatively long, they are not huge by any manner.
We learned after the fact that many of these photos of people sitting on the edge of the canyon overlooking the blue water in a swimsuit were taken during part 2 of the hike where you walk along the canyon walls. This area DOES NOT allow swimming, yet people still post photos from that part of the hike making other tourists [like us] think that the swimming area for Wadi Shab is super huge and that we are missing something.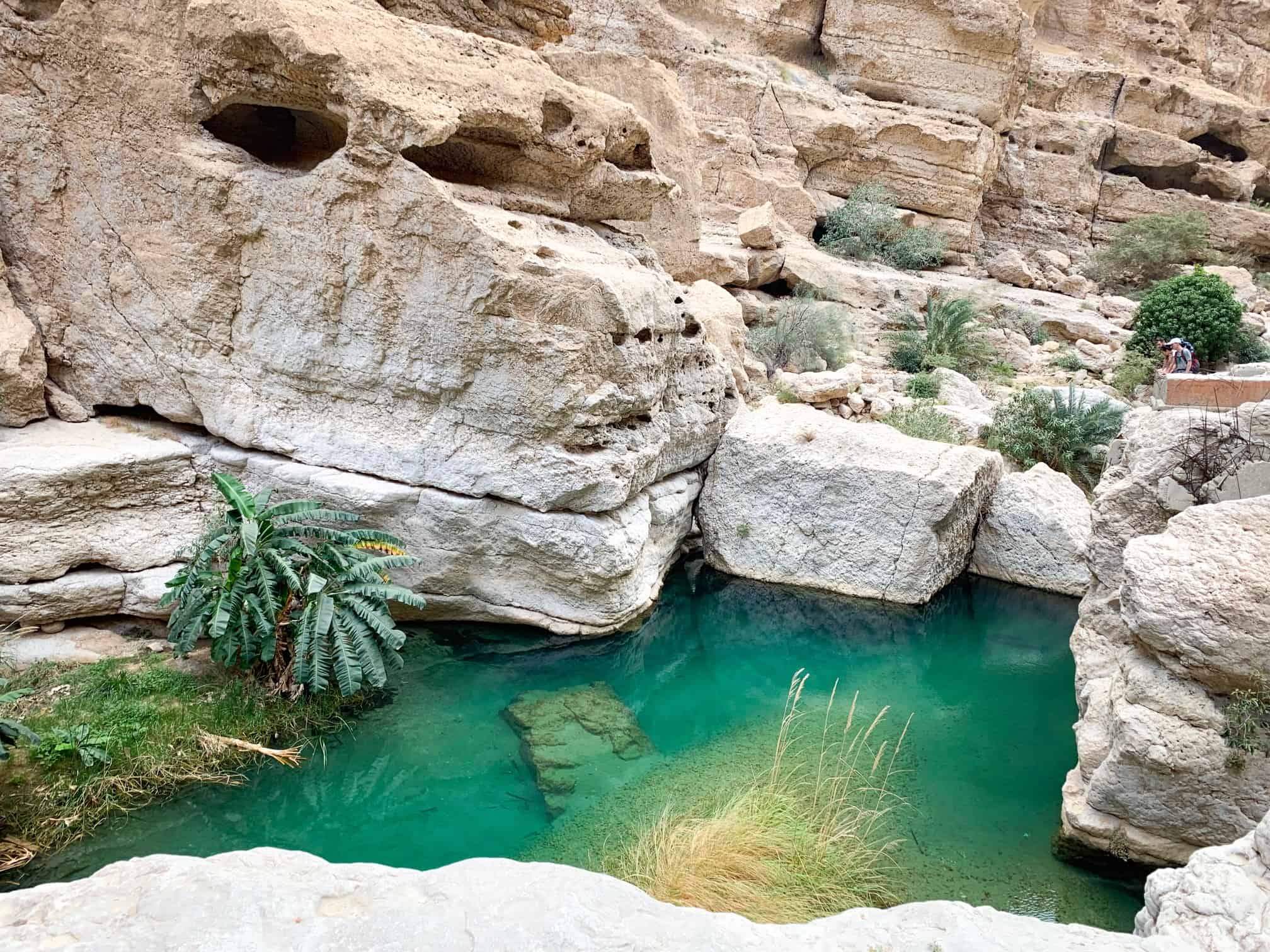 Swimming in Wadi Shab is enough space and a wonderful experience, but we just want to be 100% honest with you that there is space, but not THAT MUCH space.
The water at Wadi Shab is very warm for swimming. We went during the winter/high season and even as Floridians we were surprised at how warm the water really was. If you are planning a trip to Oman during the summer, we can't even imagine how wonderful the water will feel then. This is NOT a spring like we have in Florida and we estimate the water was at least 85*F/30*C ish during our swim.
We are going to break the Wadi Shab swimming area down into three sections to make it easier for you to plan the experience in your mind.
Wadi Shab Pool 1
This is the first pool that you will come across and will be the busiest swimming area in Wadi Shab. This is where many people leave their bags and towels before setting off into the Wadi. This pool is wide, gets narrow as you pass some tall grass in the water, and then gets wider again. This was our favorite pool at Wadi Shab. We liked the second wider part as the views were just so incredible and you could see up and down the gorge.
This pool is also the most shallow so if you aren't a strong or confident swimmer or have small children, this is the best pool for you. Luckily, it is pretty long so you have plenty of space to just explore and relax on your own.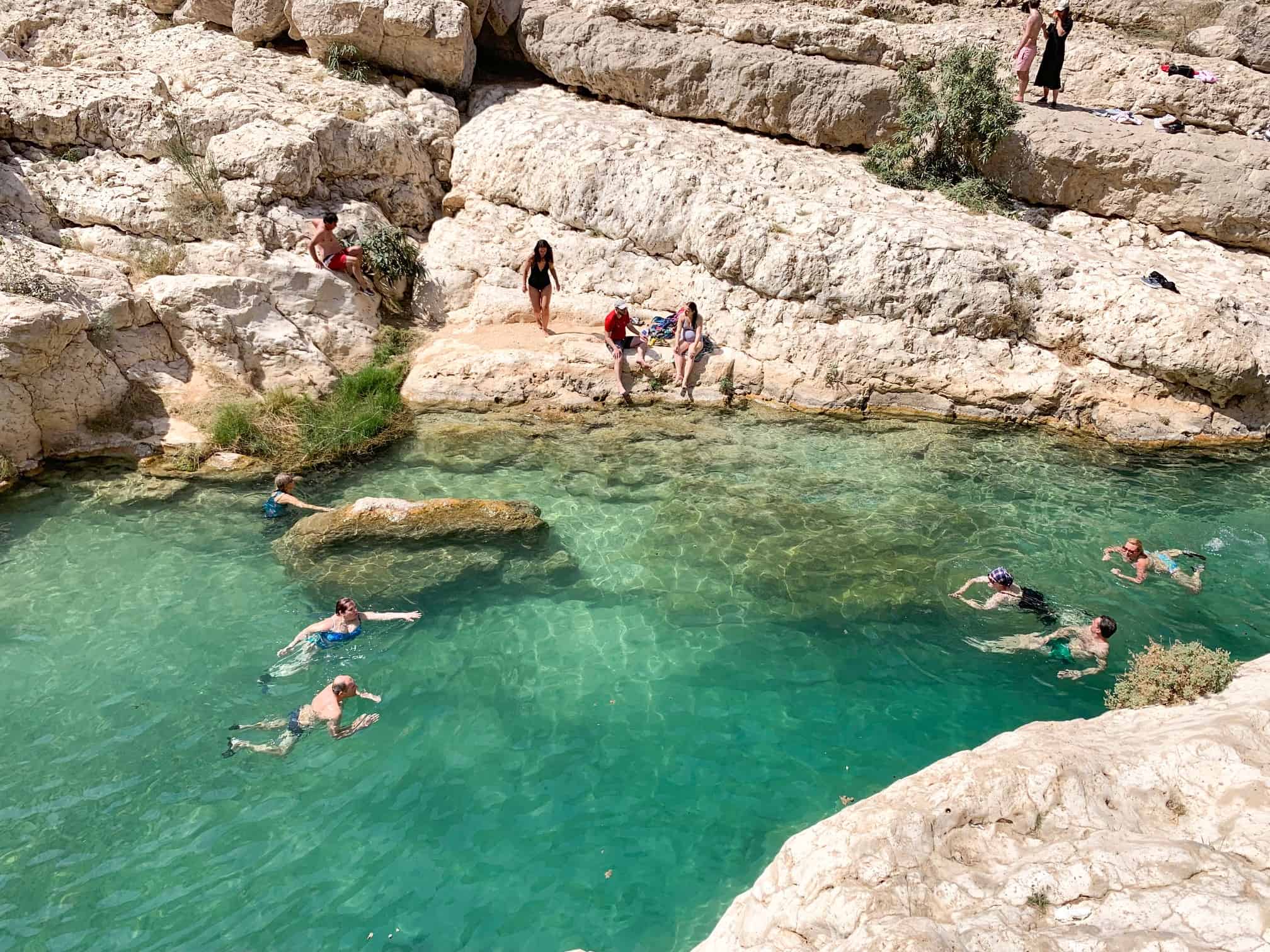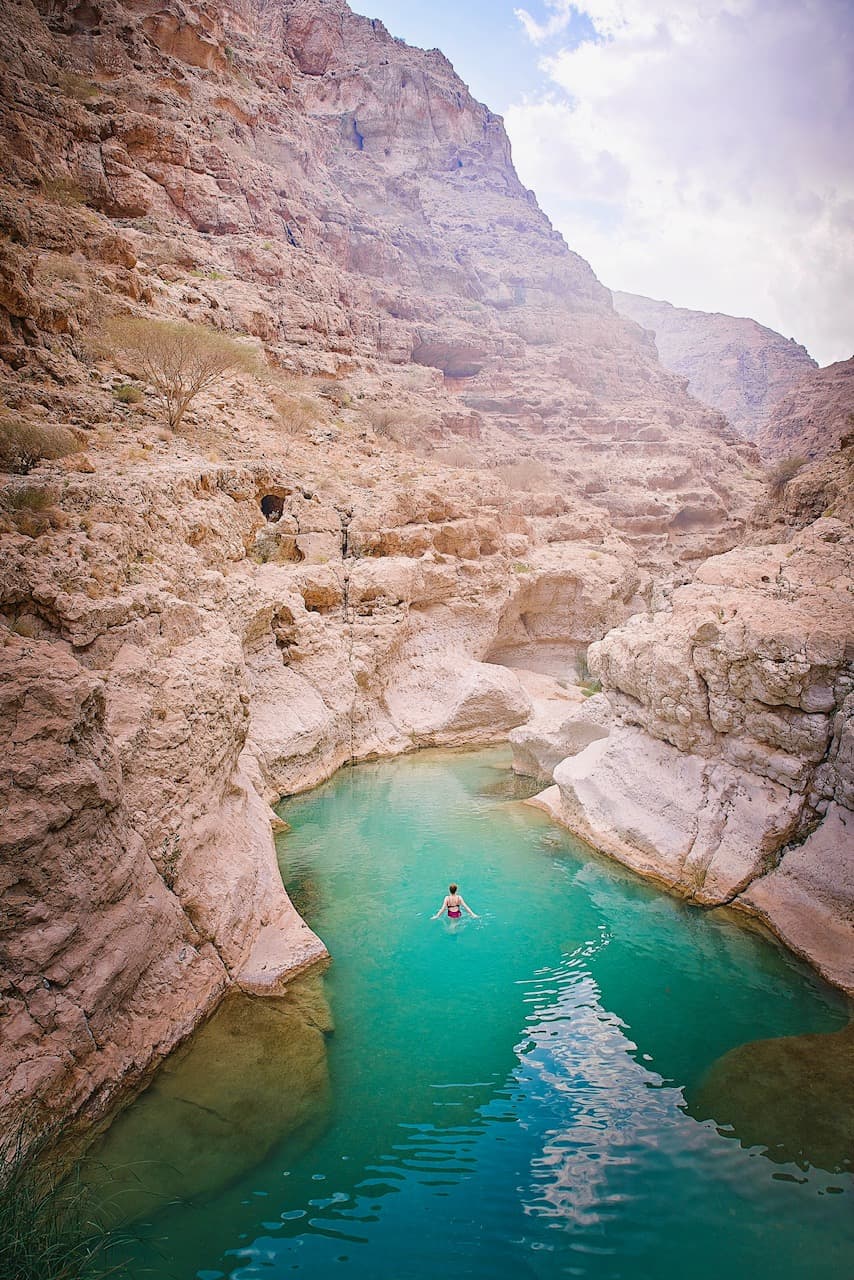 Wadi Shab Pool 2
In our opinion, pool 2 is the most boring of all the three pools at Wadi Shab. After you leave pool 1, you are going to walk through a narrow creek area. There are millions of small pebbles here and they HURT so bad when you walk on them. Like, you will want to cry in pain! These pebbles are on the ground of the entire swimming area which is why we 100% recommend bringing flip flops or water shoes to wear when you are swimming in Wadi Shab. You will thank us later when your feet don't hurt.
Pool 2 is also the end of your ability to walk. At the very end of pool 2 there is a very deep section. The section is very short, no bigger than 10 feet in distance, but it will go to a depth of over your head, probably 9-10 feet. It is an easy and quick swim, but DO NOT TRY AND BRING BAGS. Leave your bags and towels and camera gear at the entrance of pool 1. You will not be able to get it past this part of pool 2 unless you have a waterproof swim bag which we did not. We ended up leaving our gear on a rock in the middle of the swimming area as we swam to pool 3.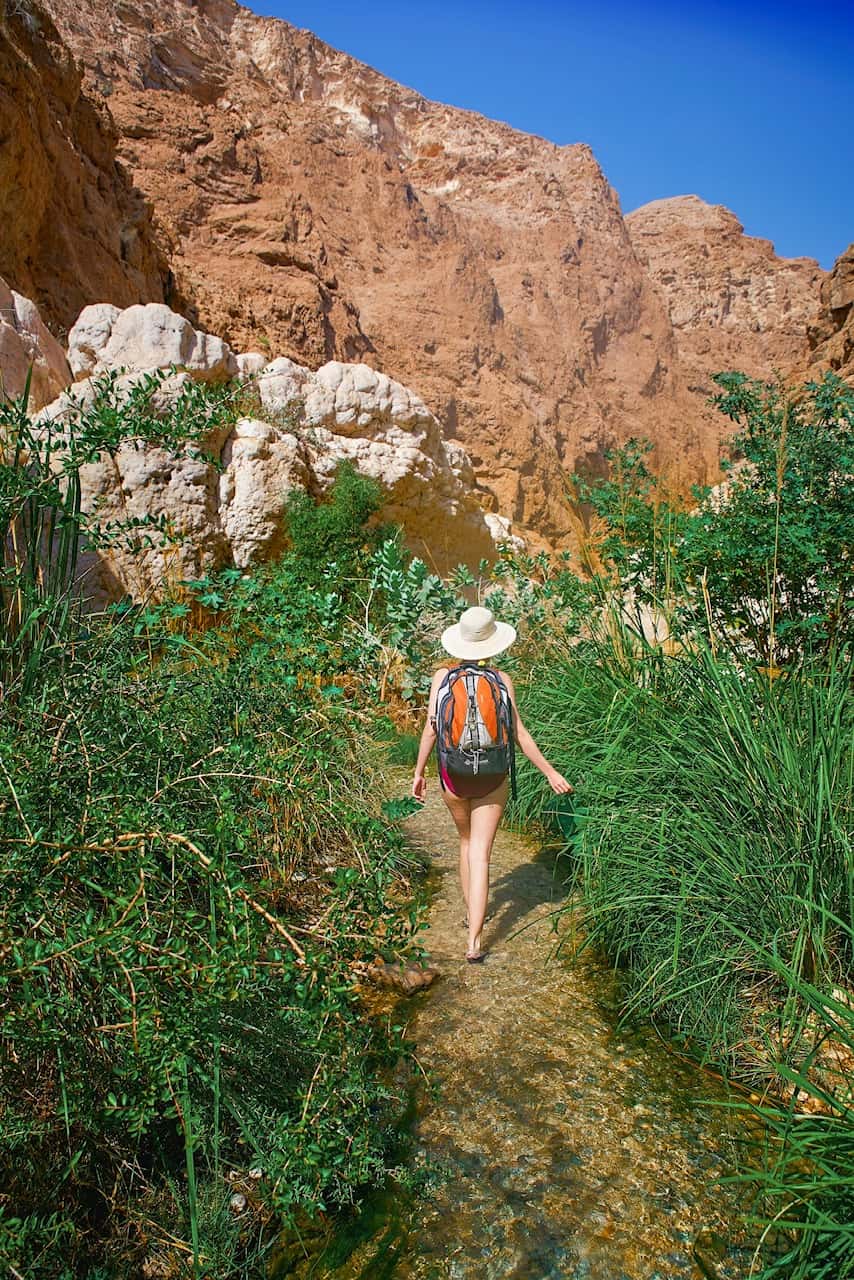 Wadi Shab Pool 3
The third pool at Wadi Shab is the deepest and you must be a strong swimmer. If you aren't SUPER strong but still want to give it a try, you can swim front the side of the pool to the other side in a zig-zag manner. Otherwise, it is best to stop here if you aren't confident because the pools are deep enough that you can't touch.
This pool is the longest at Wadi Shab and we sadly don't have any photos because we had to leave our gear back on the rock in pool 2 because it got so deep. If you have a GoPro or waterproof phone case, now is the time to bring it out. This was the quietest of all the Wadi Shab pools because most people turned around. But it is also very deep!
Wadi Shab Waterfall
If you swim to the very end of pool 3, you will see a small gap in the rocks that is just big enough for your head to fit through. If you swim through this area you will come to a large cave with a waterfall flowing into it. DO NOT TRY THIS if you are not a very confident swimmer as you will have to be able to tread water and swim for at least 10-15 minutes to complete the swim and see the waterfall and get back out. You can not stand inside the cave and there aren't many places to hang on. We did swim in to see the waterfall and it was pretty cool but we don't have any photos as we didn't take our camera gear.
We hope you found this breakdown of the swimming areas at Wadi Shab Oman to be helpful. We want you to be 100% prepared with what to expect when planning your trip!
What To Pack For Wadi Shab
We recommend packing very light when hiking to Wadi Shab. We didn't feel unsafe at any time during our visit to Wadi Shab, but if you aren't comfortable with leaving anything of value behind then keep it in the car.
What To Bring To Wadi Shab:
Good Hiking Shoes. We recommend you wear good sturdy hiking shoes like these for the hike to Wadi Shab. If you don't have hiking shoes, we recommend them for your entire Oman trip, but a good pair of closed toe shoes will suffice.
Flip Flops Or Water Shoes. We highly recommend packing water shoes or flip flops in your backpack. Once you arrive at the swimming area, take them out and put them on. The tiny rocks on the bottom of the pools hurt SO BAD and many people were screaming in pain. Avoid this by bringing a pair of shoes to wear in the water. You can pick up some water shoes for super cheap online!

Waterproof Dry Bag

. If you want to take all your belongings all the way to pool 3, you are going to need a waterproof dry bag. Any other type of bag or backpack will get soaked as you swim through the deep parts of the gorge.

Waterproof Phone Case.

If you want to take photos of pool 3 and the waterfall, consider getting a waterproof phone case. They are less than $10 and are a safe and affordable way to carry your phone for great photos in and under the water. We use ours all the time but were too distracted to think about bringing them to the cave during our time in Wadi Shab.
Quick-Dry Towel. A small and lightweight towel like this one is the perfect thing to take to Wadi Shab. If you don't want to pack a towel, make sure to borrow one from the place that you are staying so you have a way to dry off and change in a modest way after you are done swimming!
Goggles. The water is so crystal clear and we are so sad we didn't bring goggles from home. We visited many Wadis during our time in Oman and were very jealous of everyone else who had thought ahead and brought goggles so they could explore the underwater world too. We highly recommend goggles as they will add to your experience swimming in Wadi Shab!
Best Time To Go To Wadi Shab
Many articles we read suggested that the best time to go to Wadi Shab was early in the morning. We are going to have to disagree on this one! We ended up staying at Wadi Shab for over 5.5 hours. We arrived at around 11am and left at around 4:30pm. Keep in mind that the boats don't start up until 8 am anyway, so either way, you are going to be at Wadi Shab when it is crowded. It is either going to be at the beginning or end of your stay.
We loved getting the busy part out of the way first. As the time drifted into late afternoon, many other people left and the light got so nice on the canyon. It was much less hot for our hike back. We hiked to Wadi Shab in the heat and then swam and then walked back in the cool afternoon shade. If you arrive early, you will have to walk BACK in the heat which will make you sweaty with no way to cool off.
If you can, avoid going on a weekend [Friday or Saturday] as there will be many locals in addition to all the tourists. We visited other Wadis on the weekend and it wasn't all that bad, so if this is the only day you can visit, certainly don't skip Wadi Shab because it is the weekend.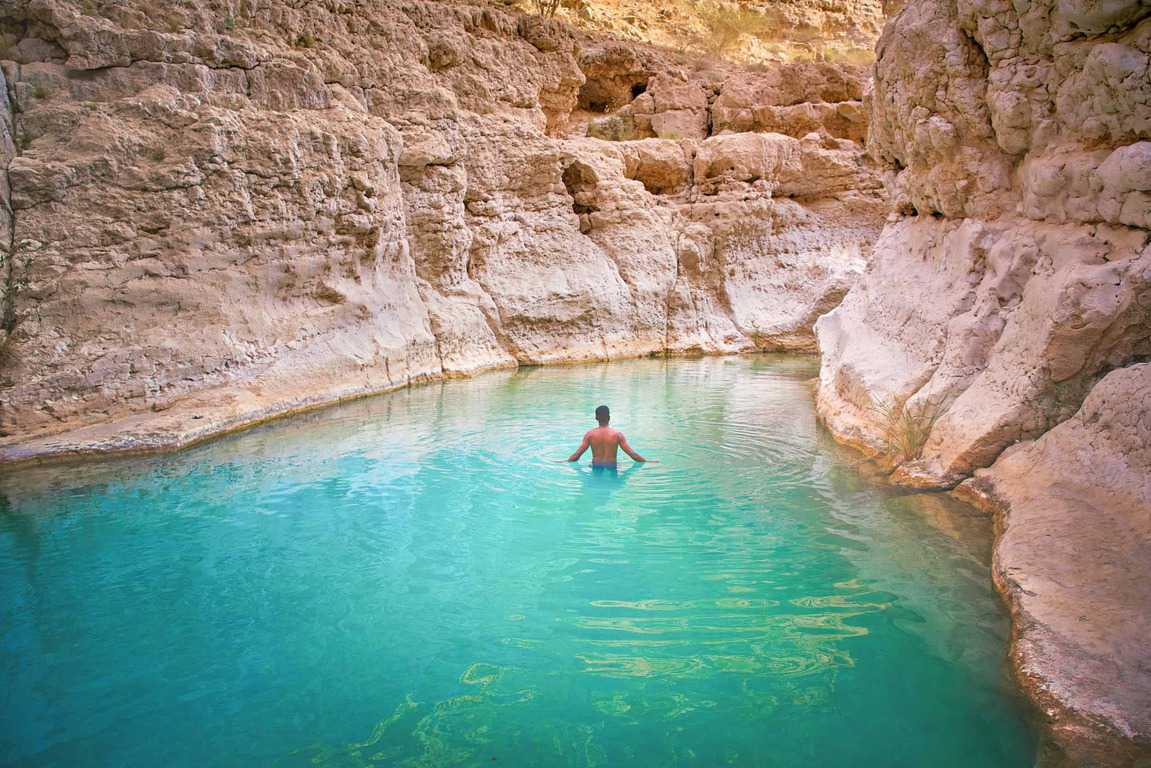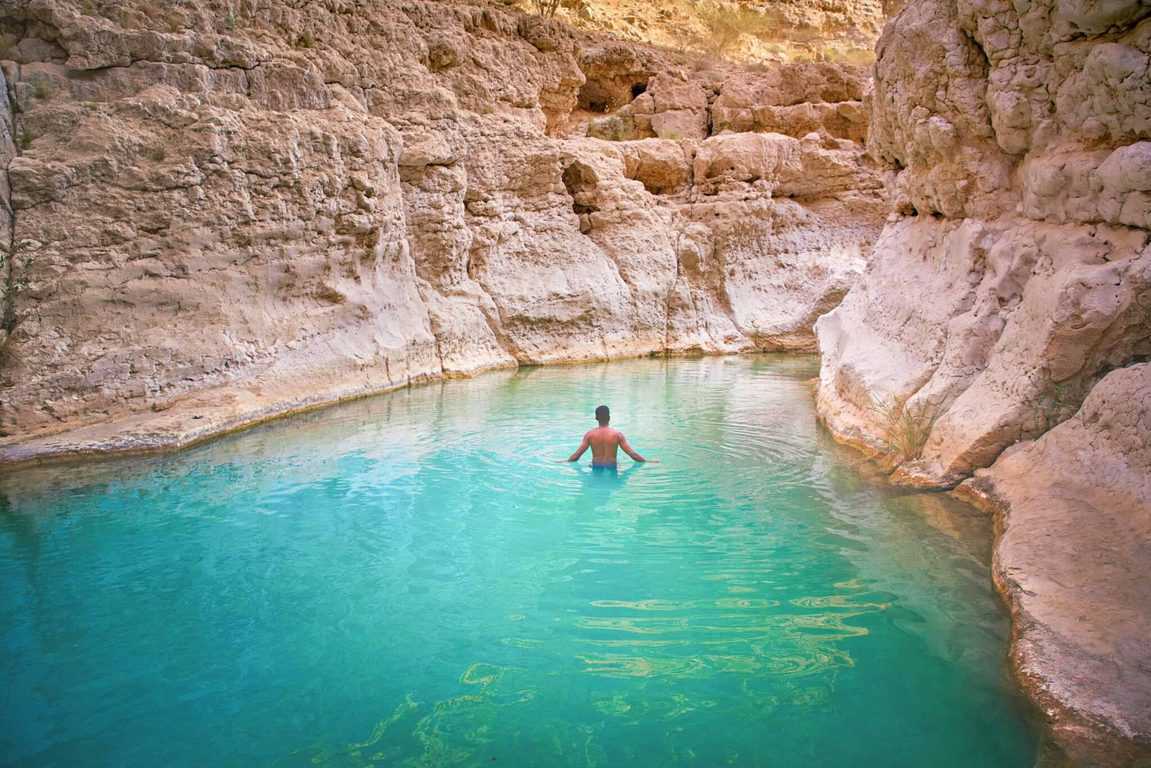 We hope you find this information helpful when planning your trip to visit Wadi Shab in Oman. Wadi Shab is truly a wonderful and beautiful slice of paradise in Oman and we know you are going to love it as much as we do. Of course, please ask any questions you may have in the comments and we will answer them to the best of our ability!