While this country is best known for its mountains and breathtaking landscapes there are many small towns in Switzerland well worth a visit. So if you are looking for something a little different these beautiful Swiss towns are well worth putting on your itinerary. 
A small landlocked country is somewhat a mixture of its surrounding neighbors making the small towns in Switzerland diverse in both culture and influence. From one of the oldest small towns in Switzerland, Grindlewald, to the picturesque Morcote, the waterfalls of Lauterbrunnen, and the car-free village of Bettmeralp these Swiss towns are bound to not disappoint, in fact, you might wonder why it's taken you so long to visit them.
This list should give you all the information you need to choose which Swiss town to visit first while planning your trip. Whether it be the distance between them or the destinations, we have got you covered on what small towns in Switzerland you have to go to before leaving!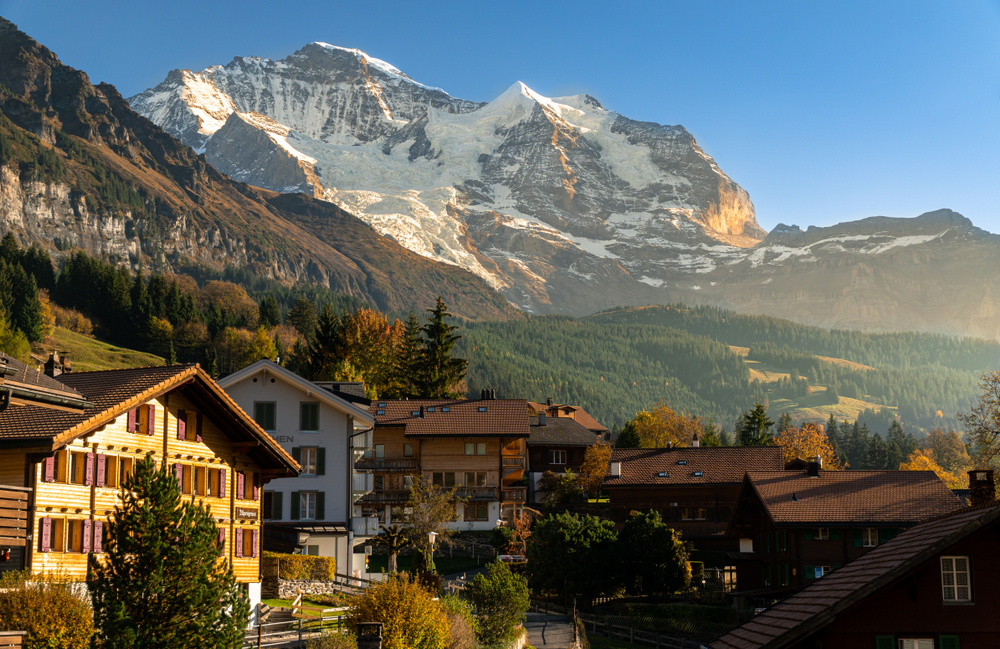 12 Pretty Towns In Switzerland With Magical Charm
Lauterbrunnen
When you imagine small towns in Switzerland you probably imagine something like the picture-perfect Lauterbrunnen.  Set between rock faces, mountain peaks, lush green valleys and surround by thundering waterfalls it's the idyllic Swiss dream.  Lauterbrunnen is the biggest nature conservation area in Switzerland, with 72 waterfalls in the valley, you will never run out of things to see or do.
An hour from Bern this quintessential town is one of the prettiest towns in Switzerland and is believed to have inspired many writers such as Goethe and more notable J.R.R Tolkien who is said to have used this area as inspiration for the landscapes in Lord of the Rings.
A must-see in this Swiss town is  Stabbauch Falls, Europe's highest free-falling waterfall, it's easily reached by walking through the main road in the village, or for the more adventurous you can climb a steep trail to the Staubbach Gallery where you can see the waterfall cascading down in front of you. There are so many things to do in Lauterbrunnen, but this is one of the best!
The gateway to the Jungfrau region in the summer you can stroll along the well-marked hiking paths, visit the  Talmuseum (Valley Museum) or simply enjoy the scenery from one of the local cafes, in the winter this area becomes a winter paradise giving way to all kinds of alpine activities.  A must on any towns in Switzerland itinerary.
Enhance your Swiss stay at the Hotel-Restaurant Waldrand known for its friendly owners, sun terraced view and an on-site restaurant.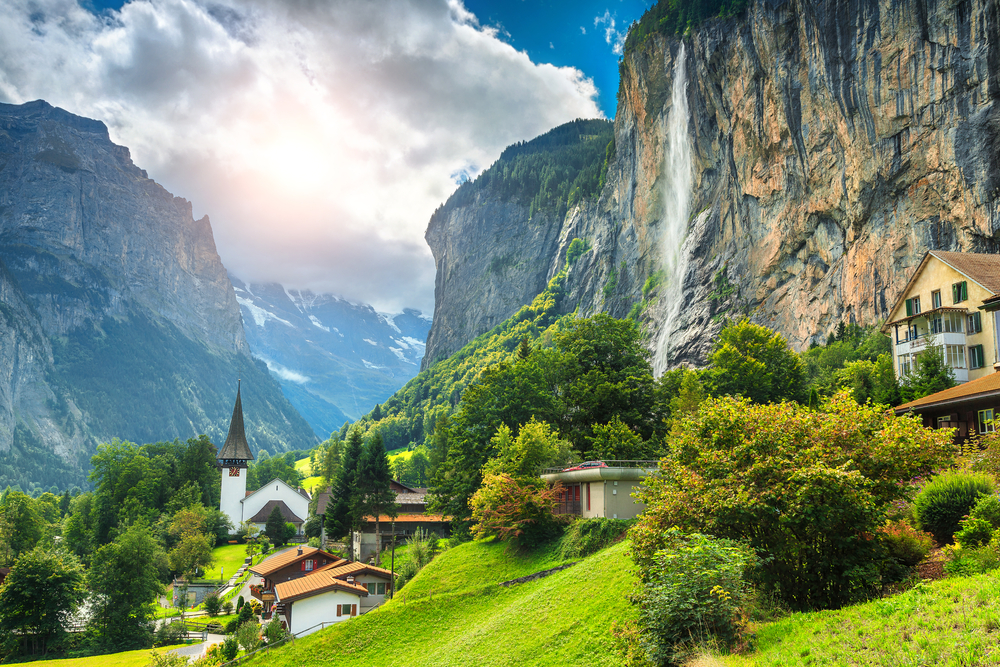 Andermatt
Andermatt is one of the towns in Switzerland in the Ursern Valley of the Alps. Home to Switzerland's largest ski resort it makes the perfect winter destination, in summer becoming a nature lover's paradise.
The town is small enough to easily explore on foot and many love it for its laid back nature compared to some of the other ski resorts. It's got all the charm and beauty you would expect of one of the small towns in Switzerland's Alps and the view from the central river bridge is worth the journey alone.
In Summer you can enjoy the majestic views from the nearby eight Alp passes, which are great for road biking, Andermatt is also known for one of the most picturesque golf courses, the 18-hole, par 72 championship Andermatt Swiss Alps Golf Course.
The town also offers a wide range of cultural and leisure activities in both summer and winter.  It's one of the towns in Switzerland that prides itself on offering a warm welcome in all season the evenings often coming to life with live music and traditional fondues.
Andermatt can be easily reached by car or train, there are several airports a couple of hours away and it's just 10 minutes from the north-south autobahn
With a restaurant, private parking, a fitness center and a bar consider a stay at Radisson Blu Hotel Reusser, Andermatt.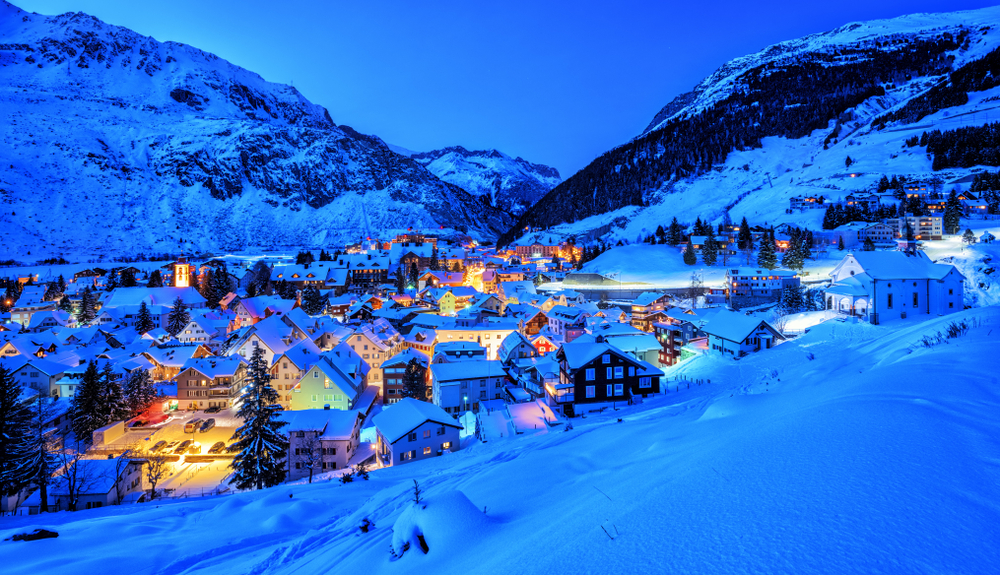 Zermatt
Zermatt is one of the small towns in Switzerland most know for its hiking, climbing, and skiing. The town is in the shadow of the iconic pyramid-shaped Matterhorn peak. Zermatt is a car-free town and most people arrive by train getting around the town by foot, taxi or bus.
Zermatt is a summer hiking destination with a long list of hiking trails displayed in the town center directing you to the trails with most having impressive views of the surrounding mountains. This is a very popular stop when visiting Switzerland with family! 
The main street Bahnhofstrasse has a lively après ski culture lined with hotels, boutique shops, and restaurants Zermatt is somewhat of a culinary delight with 16 Zermatt restaurants listed in the Michelin guide and one of them has been awarded two Michelin Stars.
The town also has an outdoor ice rink for ice skating and curling.  The views of the town for the hängebrücke (suspension bridge) are well worth a small trek from the Furo Gondola station.
If you like your towns in Switzerland to have a little more glitz and glamour Zermatt will be a good match for you.
The Butterfly Hotel Zermatt enjoys a quiet location in the center and is a 2-minute walk from the train station and the ski bus stop.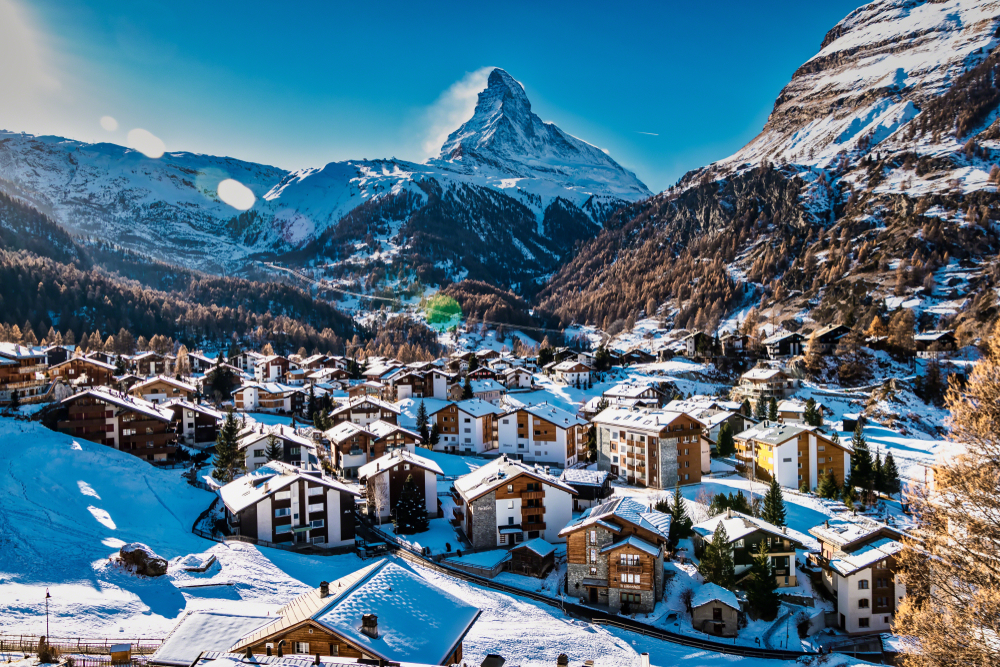 Lugano
Lugano is a bustling Swiss town in southern Switzerland's Italian-speaking Ticino region. A town known for its parks and flowers Lugano stands on the northern shore of glacial Lake Lugano, surrounded by mountains.
One of the towns in Switzerland known for its art and architecture Luagnan offers all the advantages of a bustling city with the charm of a small Swiss town.  It's a town to fall in love with from the pastel-colored, neoclassical palazzi Piazza Della Riforma to the dominating San Salvatore and Brè Mountains this town should be top of your Swiss holiday plans.
Due to the mild climate, Lugano is a popular tourist destination, from the camellias in spring, the wild beauty of the lakeshore, lakeside promenades, lively squares,  chic shopping and bustling restaurants this town has plenty of atmosphere to soak up.
It's also known for being the residence of the Nobel Prize winner, Hermann Hesse and Other Movie Film Festival in April
The family-run Continental Park hotel is located 200 yards south of the main train station with a swimming pool, some stunning lake views and modern rooms it will make the perfect location for your Swiss getaway.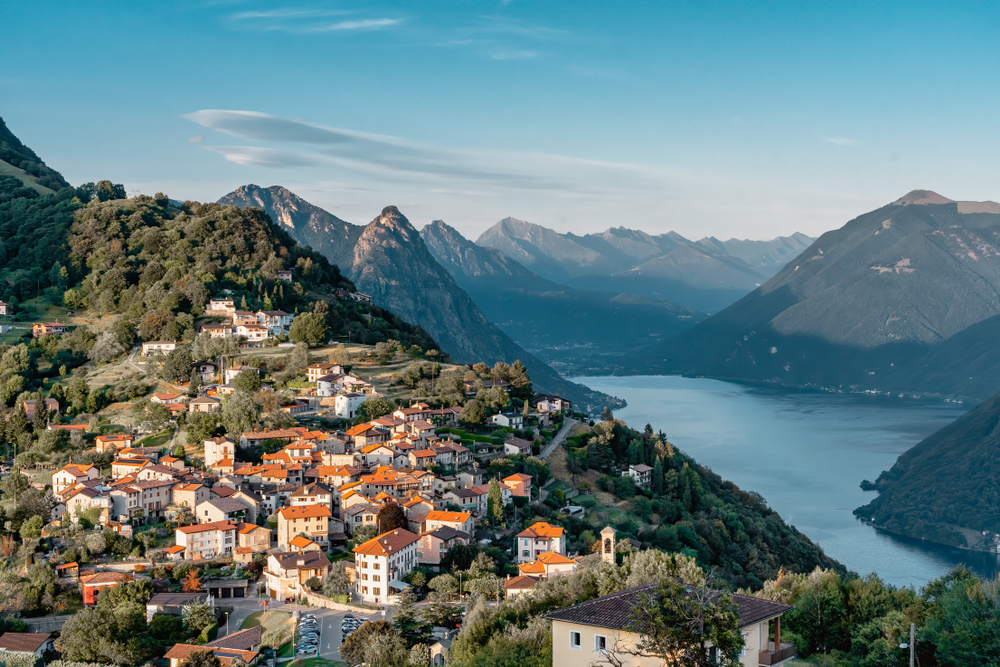 Wengen
Wengen is a town in Switzerland in the Bernese Oberland region. A charming and scenic town it is a fairy tale backdrop to any Swiss itinerary.
Like many other Swiss towns, it is car-free and can be reached by the cogwheel train from Lauterbrunnen. In the summer Wengen becomes a hiker paradise with tourists flocking to hike the 310 miles of trails. In winter it's a busy bustling town as visitors enjoy skiing.
This, as so many towns in Switzerland do, offers breathtaking views, we well as some stunning Belle Epoque era architecture all mixed with a warm and relaxed welcome.
If you like your Swiss towns more peaceful and quiet than full of late-night partying Wengen might be the place for you.
The Pasta&More Bed&Breakfast is a great place to stay during your visit to Wengen. All rooms come with a flat-screen TV, private bathroom, wifi, and breakfast. It is close to the train station and offers free-flowing coffee.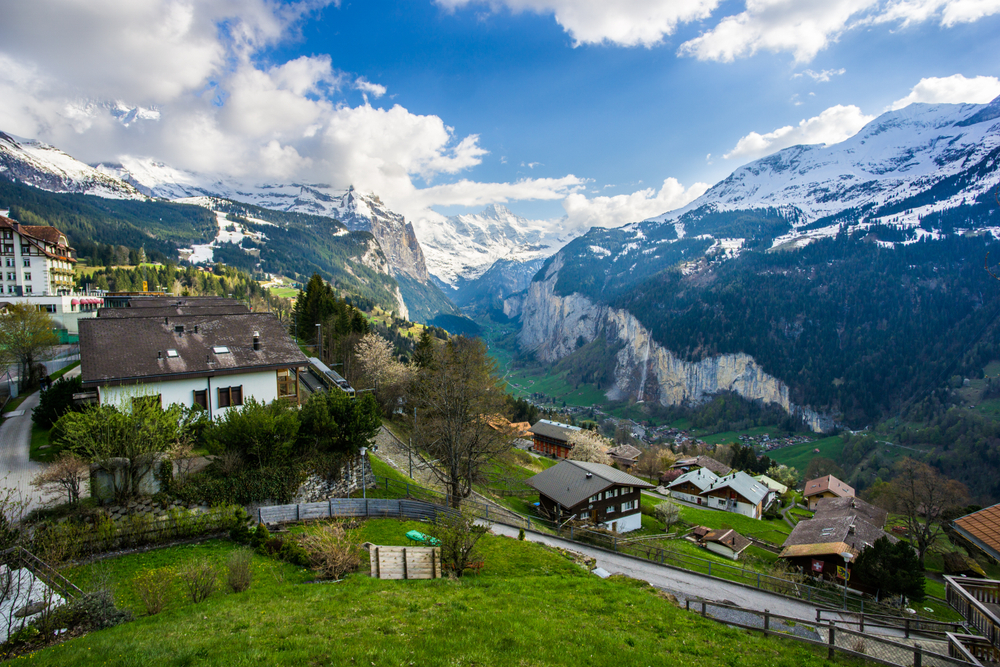 Grindelwald
Grindelwald is home of the largest ski resort in the Jungfrau region this picturesque town enjoys views of the north face views of Eiger. Regarded as one of the oldest towns in Switzerland it provides good hiking, including the Eiger trail and for the more adventurous the first flyer ride at First summit.
A popular resort Grndlewalk is a good alternative for those who want their Swiss towns to have all the convenience of a bigger city but not all the hustle and bustle. At night time Grindelwald
comes to life with the Eiger and the Wetterhorn framing this vibrant Swiss town.
When staying in Grindlewald the Hotel Gletscherblick is a great option. A 12-minute walk from the main town it offers stunning views and balconies to enjoy it.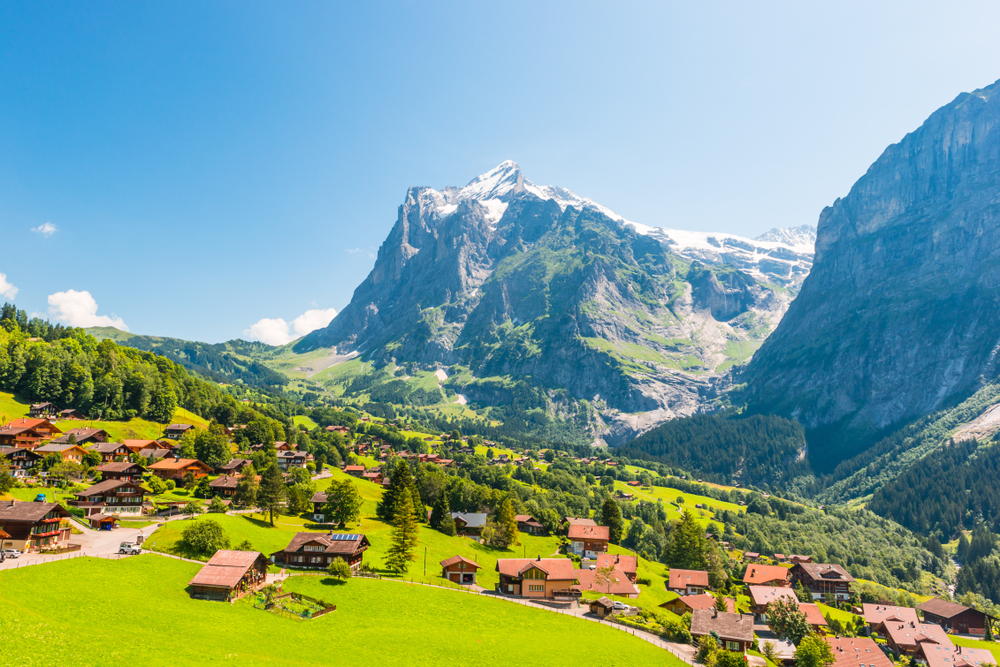 Sion
Out of all the small towns in Switzerland Sion is the most sun-blessed which in itself is a great reason to take a visit. Add to this the fact that this city is guarded by two high towers which wouldn't look out of place in Game of Thrones and it really is a sight to behold.
The high towers of Castle Tourbillon and the Castle of Valeria stand like centuries on two rocky outcrops flanked on their left and right by the immense heights of the Bernese Alps.
The old town has the charm we have come to expect from small towns in Switzerland and has many historical monuments, quirky shops, and buildings. Sion also sits in the middle of the Swiss wine region. A ski hub in the winter Sion also comes alive in the summer with festivals shows and a bustling Friday market.
The Hôtel du Rhône offers panoramic views of the Valais Alps and Valère Basilica, is set in a quiet location in the center and serves traditional Swiss cuisine.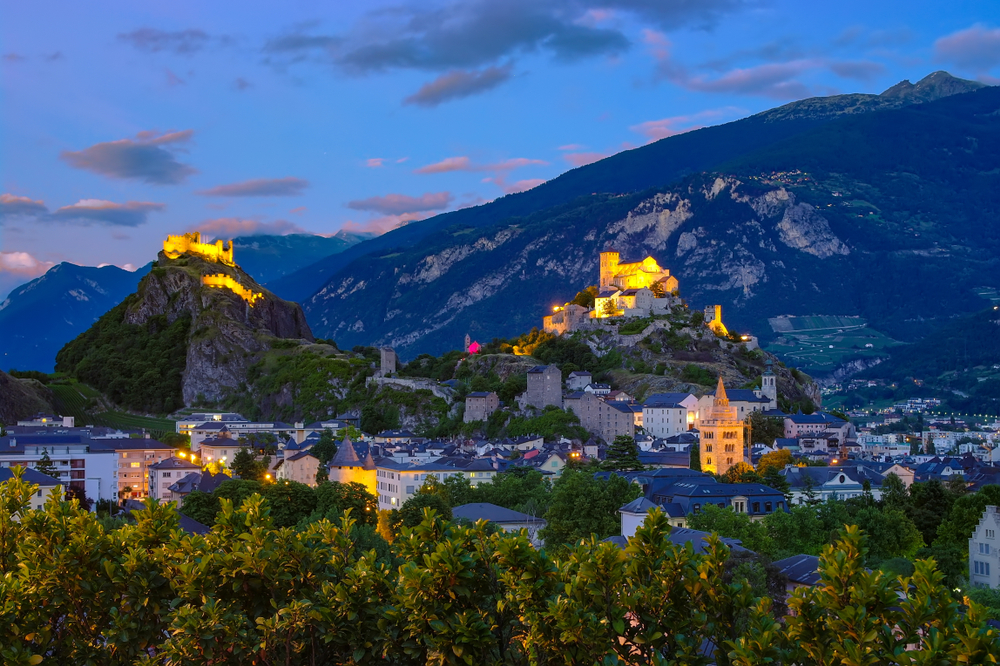 Spiez
Spiez is picture-perfect, standing on the shore of Lake Thun, flanked by vineyards and forest it really is a must on your towns of Switzerland itinerary. Add to that the majestic Spiez castle, a mild climate, and the beautiful bay it is one of the most idyllic Swiss towns to sit and relax for a while.
The village also has some of the finest vineyards in Switzerland so why not try the crisp white produced in this region while enjoying the breathtaking view of the Niederhorn range of peaks stretching to the Bernese Alps.
It's a perfect town to stop for a while and just be.
The Belvédère Strandhotel & Restaurant 4-star superior hotel in Spiez, right on the shore of Lake Thun. It includes a spa area, an outdoor pool, a private beach, and a gourmet restaurant overlooking the lake.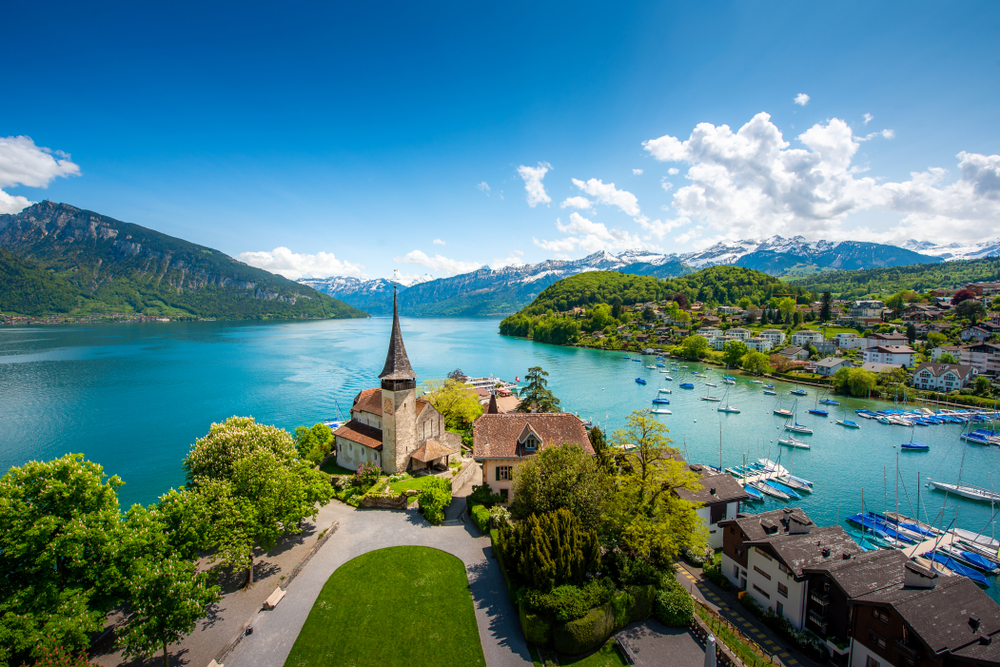 Morcote
Of all the small towns in Switzerland Morcote is a must on your list.
This tiny town located on the shores of Lake Lugano was named the most beautiful towns in Switzerland in 2016. It's a town full of history, culture and stunning architecture.
Well worth a visit is the church of Santa Maria del Sasso, presiding over the town this historic building has a rich heritage. A visit to this Swiss town is like stepping back into history and make sure you take your camera as this is one of the most photographed small towns in Switzerland.
Located at the heart of Morcote the Casa Angiolina – Holidays a typical Ticino house entirely furnished with love in a "shabby chic" style.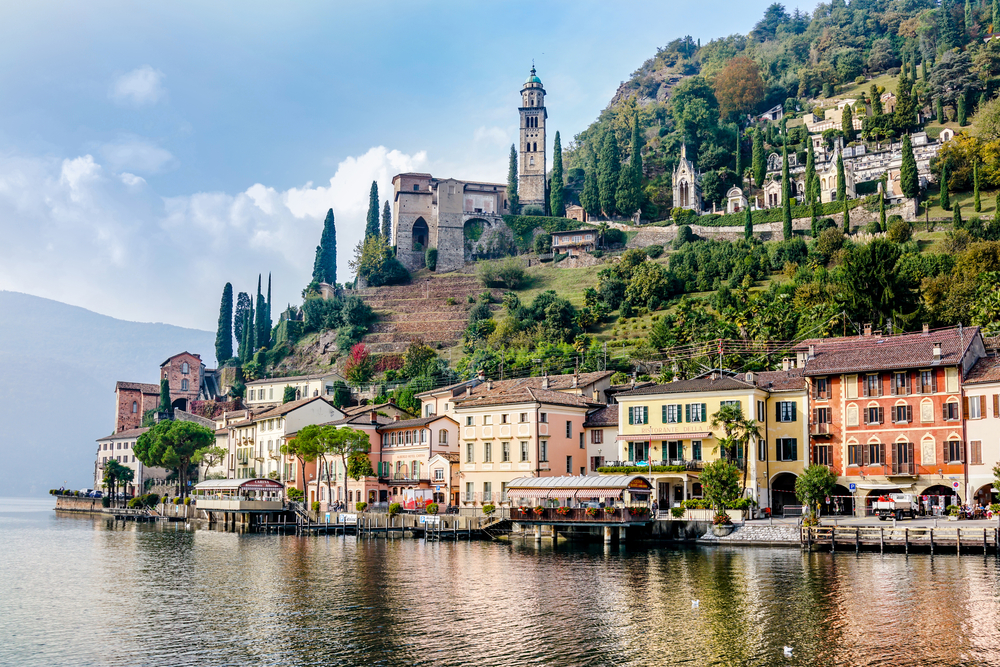 Interlaken
Interlaken is one of the towns in Switzerland for the adventurous thrill-seeker. Situated between two clear lakes Lake Thun and Lake Brienz, it has the lush green pastures and beautiful scenery we have come to know from our small towns in Switzerland coupled with an adventure park that offers most of the thrill-seeking sports you could wish for.
It's a town full of things to do whether its river rafting, hiking, skydiving, sightseeing or visiting historic castles this is one of the Swiss towns that has something for everyone.
Post Hardermannli  is a characteristic chalet-style hotel, located a 5-minute walk from the center of Interlaken and the West Train Station.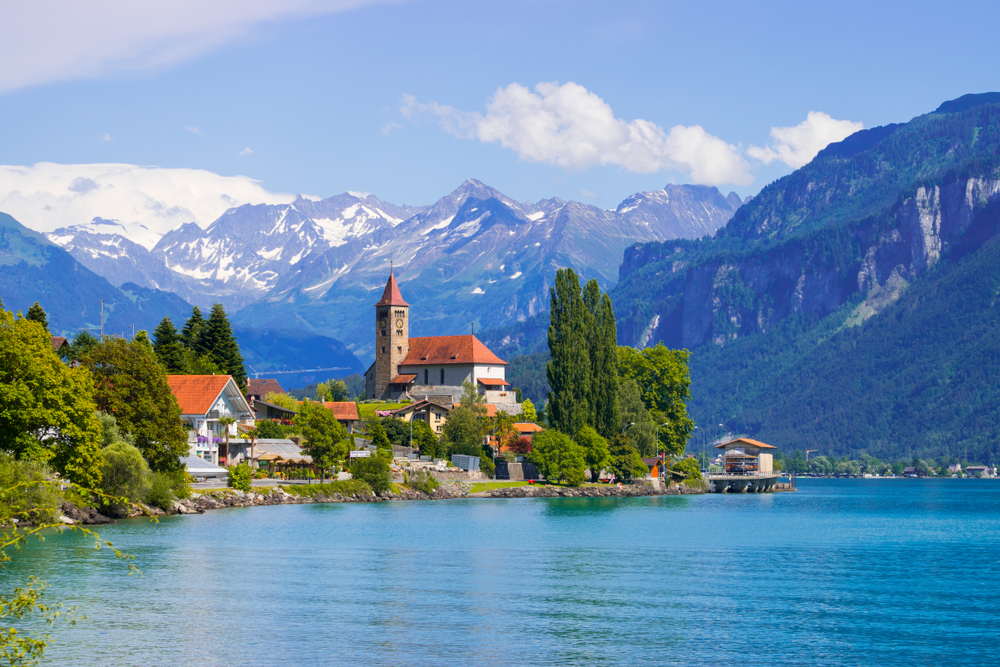 Murren
Murren is one of the towns In Switzerland enjoyed most for its peace and quiet. It's famous for been featured in the James Bond Film 'On Her Majesty's Secret Service', although it looks more like the cover of a Heidi book.
Murren is another car-free Swiss town in the west of the Jungfrau region and is one of the more isolated small towns in Switzerland.
If you want the picture-perfect isolated alp town experience Murren is for you. I idyllic town with lush meadows, mountain views and plenty of snow in the winter.
The family-run Hotel Alpina is right at the heart of Murren. Enjoying a unique location and spectacular views.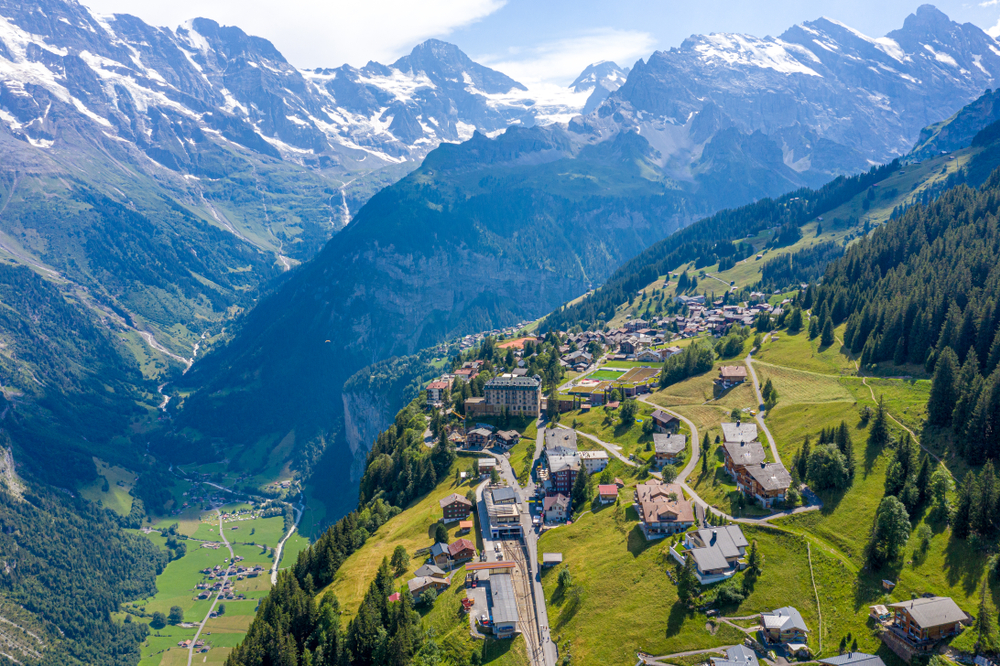 Chur
Chur is the oldest and most authentic of all small towns In Switzerland it has one of the best-preserved old towns which often host markets. This Swiss town offers a wide range of activities, culture shopping, and entrainment, or you can just get lost in the small winding car-free roads in the historic old town.
Well worth a visit is the 800-year-old Episcopal Cathedral and take the cable car Brambruesch where you get some stunning views.
Chur has both the stunning scenery and the hustle and bustle of a busy town. It's one of the small towns in Switzerland which gives you the best of all worlds.
Hotel City West is located in Chur with a breakfast made of local produce a restaurant serves seasonal regional specialties, a sun terrace and free wifi it will enhance your stay to this versatile town.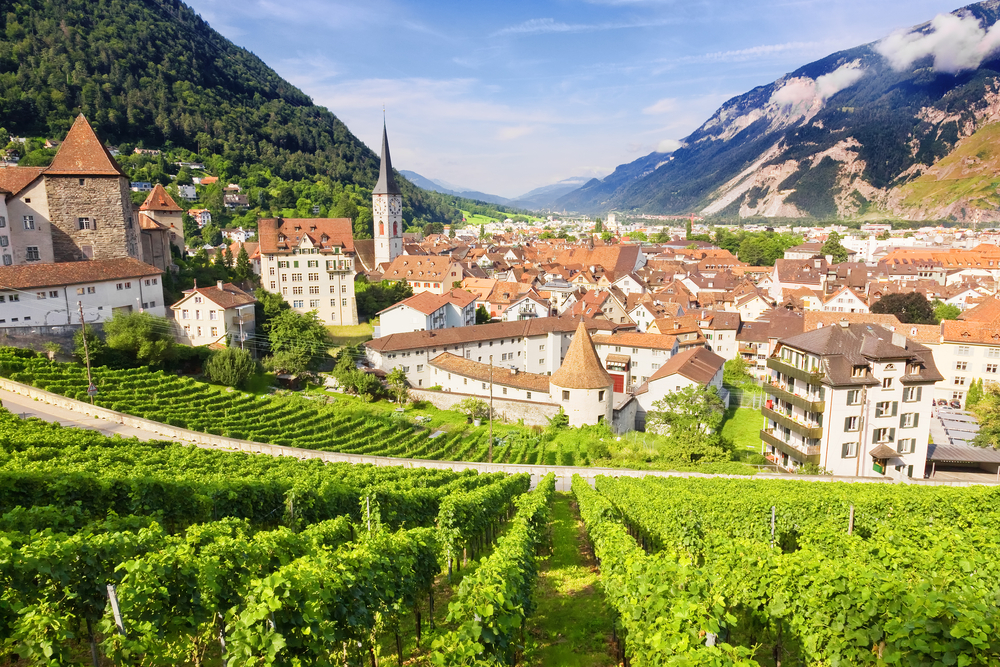 Saint Gallen
St Gallen is a  town in Switzerland that enjoys the company of the three close neighbors: Germany, Austria, and Liechtenstein. Saint Gallen is a metropolitan town housing a university a Textile Museum and a stunning Library in the Abbey of St. Gall with a rich collection of old books and medieval manuscripts it was an important trade location in the past. It's one of the small compact Swiss towns with a love of culture and art and a quiet old town.
Visitors to this town can easily enjoy hiking and many use it as a starting point to visit four countries in one day. It's also a town known for its impressive Renaissance and Baroque bay windows.
Hotel Walhalla is opposite the train station and centrally located. Guests can also enjoy half-board and sample Swiss specialties at one of the two restaurants.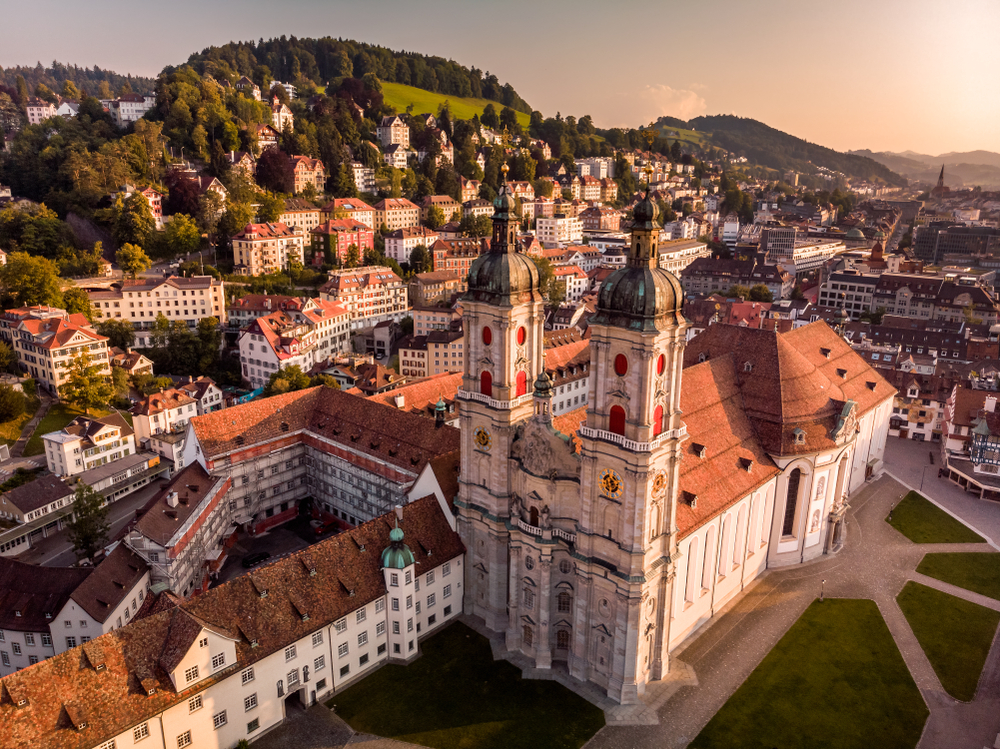 These towns in Switzerland are all beautiful, all offer something different and are diverse enough to have something for even the most discerning traveler. These small towns in Switzerland will enhance any Swiss itinerary whether it's hiking, skiing or just taking in the stunning views all these Swiss towns offer charm, culture and a warm welcome.
Looking for more inspiration? Why not take a look at 10 Prettiest Small Towns In Italy You Must See.