Your Switzerland road trip will welcome you to the land of sweeping valleys, majestic mountains, and world-renowned chocolates. No wonder you have decided to come explore! Although the country of Switzerland is about half the size of Scotland in terms of landmass, it is just as rich in history and tradition. Also, it makes it so much easier to see all of the amazing stops we have planned out for you! Less time on the road means more time learning, experiencing, and exploring. Of course, if you are going on a road trip in Switzerland because you love driving through stunningly gorgeous landscapes, do not worry. There are plenty of fantastically windy roads in our Switzerland road trip itinerary.
Another major perk to doing a road trip in Switzerland is that the smaller country size makes your trip extremely customizable. Whether you have three days or three weeks, you will be able to see a good portion of the stops we have highlighted for you. You just might not be able to spend all day at them. Regardless of how much time you have, there are plenty of spectacular things to see and do. We have also included a good number of stops so that you can get a feel for what kind of experiences the country offers and decide where you want to spend your time. Naturally, we think they are all worthwhile. But if you can only visit a few, you will still get a Switzerland road trip you will think back to fondly for years to come.
This is one of the BEST ROAD TRIPS IN EUROPE so you are in for a real treat and a memorable experience!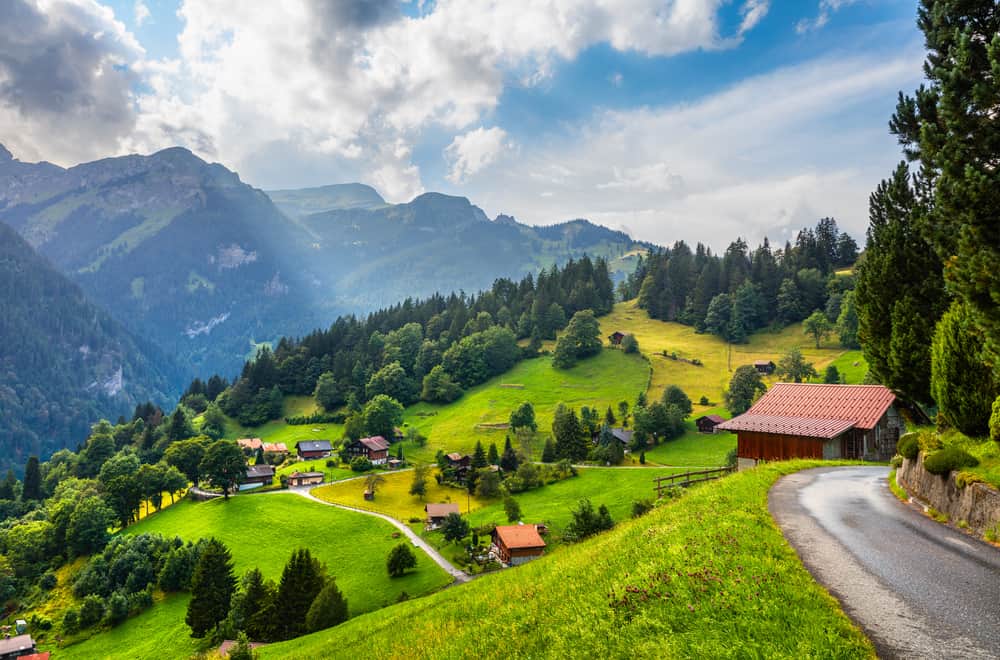 The Ultimate Switzerland Road Trip Itinerary
Best Time to Visit Switzerland
Switzerland is one of the most expensive countries to visit, but it helps if you can come during the offseason. That being said, offseason is offseason for a reason. Winter in Switzerland is cold. Temperatures near or below freezing are what persuade crowds to wait to come during the warm summer months of July and August. However, you can come just before and after and have reasonable temperatures with a lot fewer people. We recommend coming between April and June, or September and October if you are able to tolerate spring and autumn temperatures. Fewer people and better prices are a great combination for the best Switzerland road trip possible.
Traveling in Switzerland
There are a few things you should know about traveling in Switzerland. As we mentioned above, this country is expensive, and transportation is no exception to that rule. However, there are some good tips and tricks you can use to make it a little less impactful to your wallet. You can use a Swiss Travel Pass for better deals on the railways and some of the experiences Switzerland offers. Or you can use a Swiss Half Fare Card for a 50% discount on the trains and cable cars. You do not need both of these. If you do not plan on using trains or cable cars at all, you do not need either. However, you will need a Freeway Vignette if you plan on driving. Read on for more information about all of these options, and to figure out will work out best for your Switzerland road trip.
Don't forget to check out our Detailed Road Trip Packing List so you don't forget any essentials for your trip!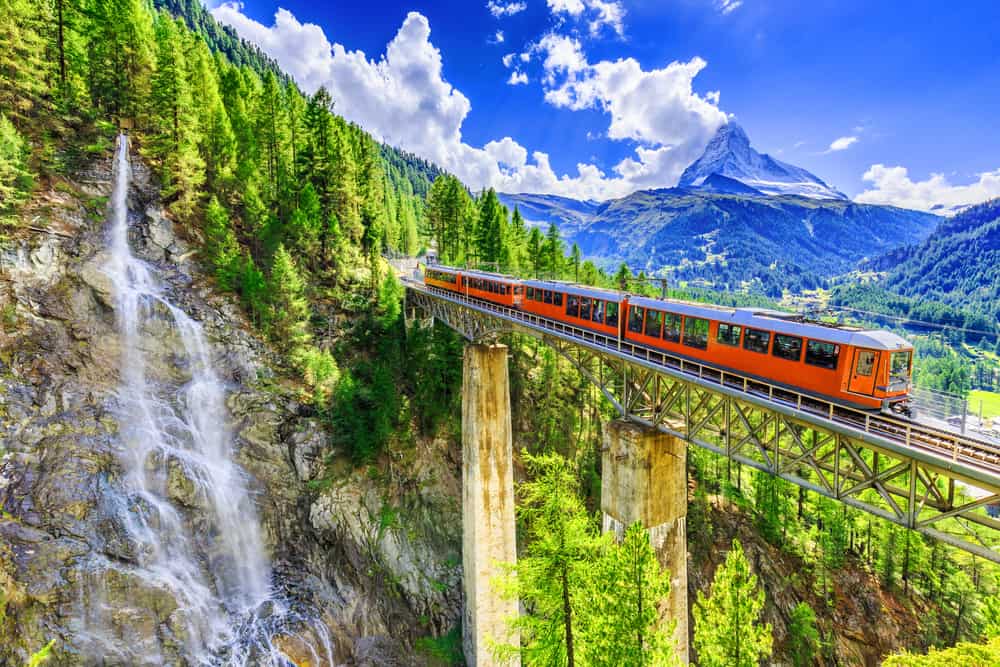 Swiss Travel Pass
The Swiss Travel Pass is for those of you who are planning a good chunk of time for your Switzerland road trip. It offers unlimited traveling in Switzerland, including all the trains, buses, and boats your heart could desire. The Swiss Travel Pass also offers discounted or free admission to many Swiss excursions including museums and mountains. It is a great way to travel the country without having to worry about being able to drive everywhere. If you want to road trip in Switzerland because you want to see all the amazing sights, not because you are dreaming of hours spent driving through the countryside, the Swiss Travel Pass is a great option for you.
Swiss Half Fare Card
The Swiss Half Fare Card is exactly what it sounds like. Use this and it will provide you with half-off pretty much every kind of transportation in Switzerland. If you would like to drive part of the time, but would also like to ride some trains, buses, or boats, then we recommend this option to save you some money. You will still have to purchase individual tickets every time you ride a train, bus, or boat, but with the Swiss Half Fare Card, you will spend half the cash. If you do not want to drive at all, you are going to want to check out the Swiss Travel Pass above.
Swiss Motorway Vignette
Anyone, locals and tourists included, needs a Swiss Motorway Vignette to drive on motorways in Switzerland. If you choose to go this route, we highly recommend also using the Swiss Half Fare Card referenced above to save you money on trains, buses, and boats. It is unlikely that you are going to come to Switzerland and avoid all the spectacular mountain tops, boat trips, and cable cars. We do not blame you for wanting to drive part of the way on the fabulous Swiss motorways–Switzerland has some beautiful roadways. Just do not forget to get yourself a Swiss Motorway Vignette before you go driving off into the sunset.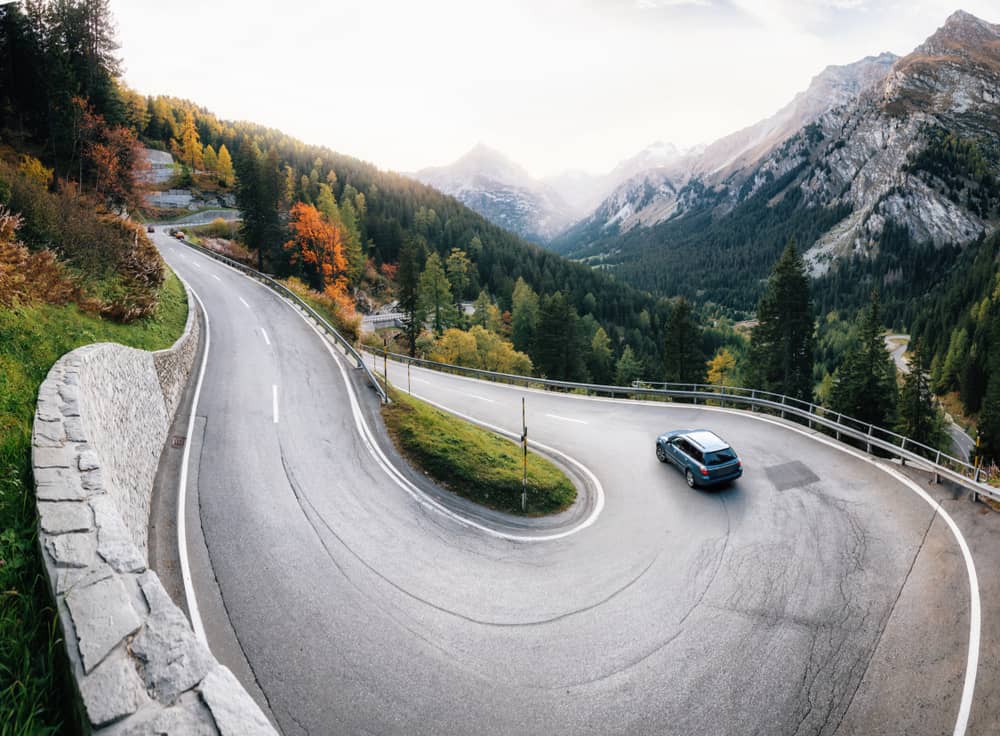 Begin by Flying into the Zurich Airport
When you visit Switzerland, we recommend flying into Zurich Airport. It is the country's largest airport in the country's largest city. Zurich is our recommended starting place for our Switzerland road trip. This great city is near the top of Switzerland, allowing you to meander down the country to Geneva, our last stop. From there, you can either fly home out of the Geneva airport or take a relatively simple three and a half hour drive back to Zurich. We are telling you–one of the beautiful things about Switzerland is its size. You could end your road trip basically anywhere in the country and still drive only a few hours to end up at a major airport.
Switzerland Road Trip Stop 1: Zurich
Naturally, Zurich is our first stop on our Switzerland road trip itinerary. Fly there, and then spend some time there–hours or days, up to you. Zurich is an old, history-rich city just waiting for you to explore it. Especially for you art and history buffs out there, this city is a must-see. Want to check out a museum? You will have your pick from 50 of them. Enjoy the art gallery scene? Zurich has over 100 of them. We are telling you, you could spend an entire week indoor in this city. But it is Switzerland, and it also offers so many things to do outdoors! Check out our favorite Zurich experiences below.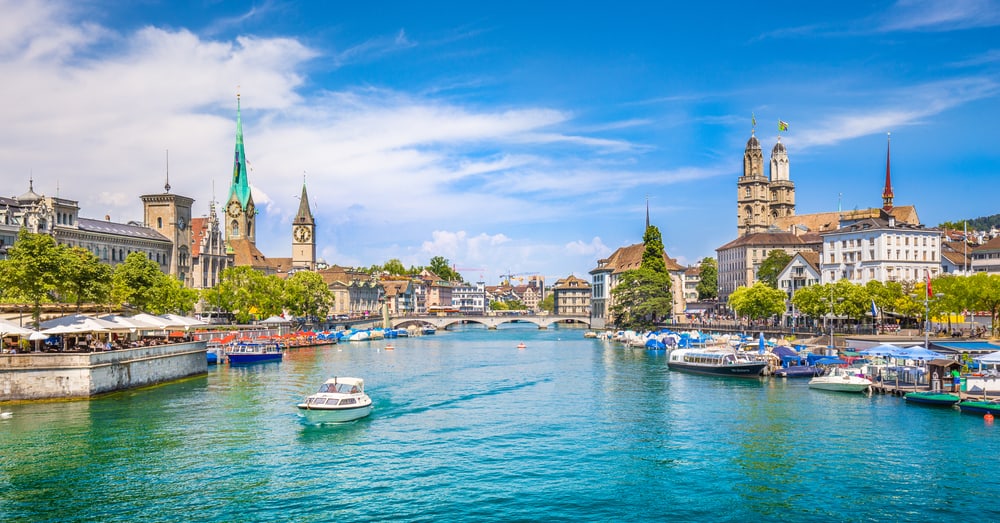 Noteworthy Things to do in Zurich
Walk the Lake Zurich Promenade
Lake Zurich is a narrow, curving lake right next to the city which gives way to the Limmat River. Both of these bodies of water feature prominently in the walkways, architecture, and experiences available in Zurich. Where the city meets Lake Zurich, there is a lovely walking and recreation area called the Lake Zurich Promenade. Experience rejuvenating pathways and soul-stirring sunrises and sunsets. Bring your dinner to eat it alongside the lake, soak your feet in the water, and witness the creative authenticity of the street artists. The Lake Zurich Promenade is a wonderful place of opportunity and enjoyment.
Catch a Train to Uetliberg
If you purchased a Swiss Half Fare Card or a Swiss Travel Pass, use it to visit Uetliberg! Even if you do not have one of the Swiss travel discount cards, Uetliberg is worth a bit of a splurge to visit. From the peak of this mountain, you will be able to see all of Zurich. You will find yourself breathless, not from the walk, but from the majesty of this view. There is just something about the way that the city meets the water, which meets the alps off in the distance. The walk to the peak is very short and worth the effort. And if you find yourself a little peckish, check out the restaurant at the top. You can take the cable car back down or hike, whichever you prefer.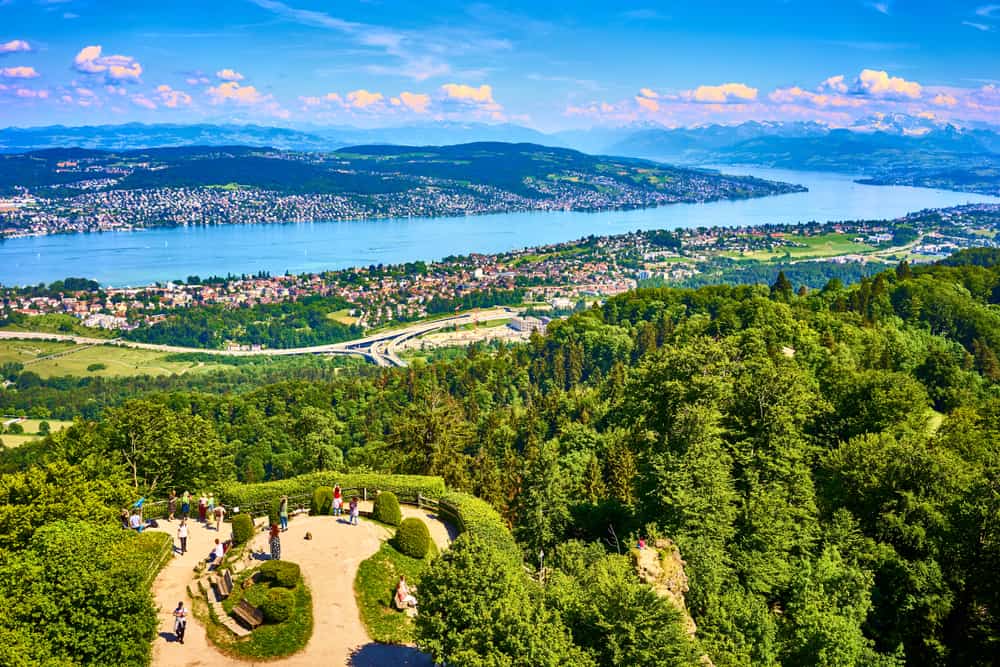 Take a Boat Ride
Once you fall in love with Lake Zurich and Limmat River, take the opportunity to get to know these beautiful bodies of water further by taking a boat ride. The Limmat River has multiple cruises that let you experience the city's magnificent bridges from the water. You will be able to see the many different historic and famous parts of the city in a way you just cannot get from walking through it. Experience the lake via yacht or boat, and you will not regret it. The river and lake are part of what makes Zurich such a stop worthy location in Switzerland.
Visit the Museum of Art
If you do not have days to spend checking out all the museums and art galleries in Zurich, good news. You can get a taste of both in one place by visiting the Museum of Art. It boasts a wide variety of art pieces from multiple renowned Swiss artists, some of which go all the way back to the 13th century. They also feature modern art from this century. Furthermore, they also have works from famous artists world-wide, including van Gogh, Picasso, and Rembrandt. As far as museums go, this one is not overly expensive and really packs in a lot of quality. While you are there, do not hesitate to check out the lovely cafe and gift shop. Both have excellent offerings to really complete the experience.
Hike Rhine Falls
The Rhine Falls are not actually in Zurich but are a short train ride away to Schaffhausen. We think they are worth taking a bit of a detour, or even making a day-trip out of them. Part of what makes them so spectacular is the sheer strength behind them. The Rhine Falls is actually the most powerful waterfall in not only Switzerland, but Europe too. You can walk to them, or you can take a boat trip to check them out. You may want to bring in your own food and water if you are trying to preserve some of your hard-earned money because food and beverage prices here are steep. It is busiest in the middle of the day, so if you like avoiding crowds come earlier or later.
Spend Some Time at Historic Churches
Zurich has a distinct religious history, which is represented by the many, many remarkable churches throughout the city. Grossmunster is a Romanesque church that began as a monastic church. With two classic church towers, this one is a nostalgic reminder of the beautiful architecture of times past. Charlemagne's grandson Louis founded the Fraumunster church, and it is a sight to behold. Here you can see stonework dating back to the 9th century in the crypt. If you want to see a truly historic church dating all the way back to the 8th century, with a tower that was used to spot fires in the city, check out the St Peter church.
Where to Stay in Zurich
Affordable: Chez Paula Check Rates: booking.com
Mid-Range: Hotel Seehof Check Rates: booking.com | hotels.com
Upscale: Storchen Zurich Check Rates: booking.com | hotels.com
Switzerland Road Trip Stop 2: Lucerne
Lucerne is often referred to as one of the prettiest cities in the world, and for good reason. Historians speculate on when this city was actually established, but it could have been as early as the 9th century. As such, it has some stellar architecture. Also, it is in Switzerland, so it is classically beautiful with breathtaking waterways and mountain peaks. If you can only go to a few places during your Switzerland road trip, we highly recommend Lucerne. This city has everything that makes Switzerland a country that people keep coming back to even though it is so expensive. Lucerne is packed with everything you need to make your road trip in Switzerland a success.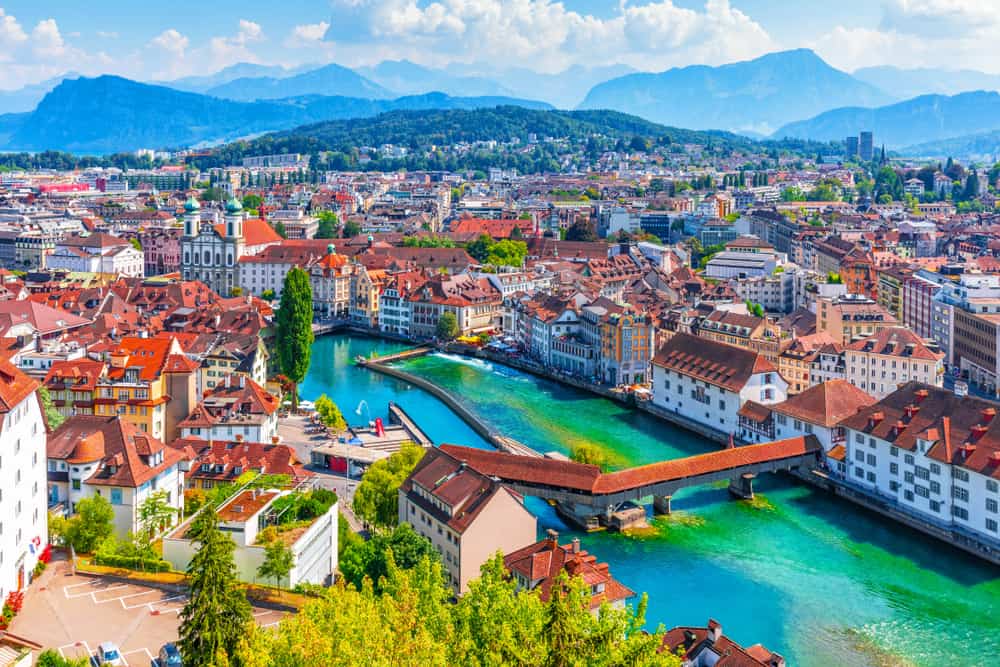 Noteworthy Things to do in Lucerne
Do the Golden Round Trip
Lucerne, in true Switzerland fashion, is built on the banks of Lake Lucerne. You can, of course, take all sorts of boat trips on the lake. If you want a bit of an adventure though, we recommend the Golden Round Trip. You start in a boat on the lake, then take a cogwheel railway to the summit of Mt Pilatus. Here there are several restaurants to choose from so that you can really enjoy the brilliant view without any hunger pangs. Descend via the cableway and gondolas, and then take a bus back to Lucerne. This is another excellent opportunity to use your Swiss Half Fare Card, which will cut the cost of this awesome trip in half.
Check Out the Dying Lion Monument
Switzerland is a very old country steeped in history and the Dying Lion Monument is a testament to this. During the French Revolution in 1792, around seven hundred Swiss Guards were massacred during and after the storming of the Tuileries Palace. The Dying Lion Monument honors them and commemorates their service. Carved out of the rock, this monument depicts a collapsed lion laying upon broken symbols of the French monarchy. A small pond in front of the relief brings another layer of reflection to this peaceful place. It is very famous, and to really feel the spirit of it we recommend going in the morning or evening, and avoiding the daytime crowds. Even if you go in the afternoon, the atmosphere tends to pervade through all of the people.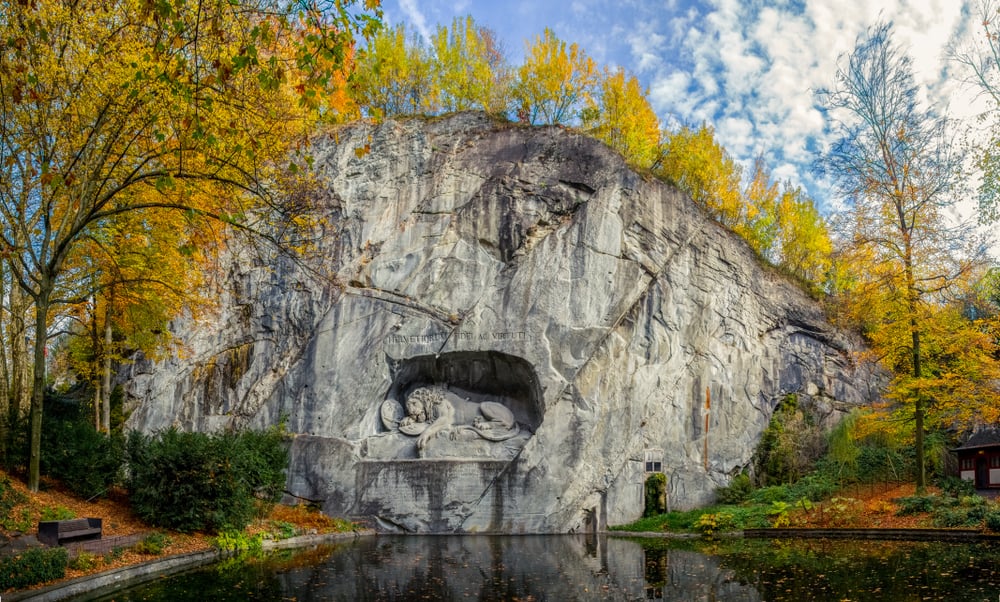 Visit the Chapel Bridge and Water Tower
Speaking of history, the Chapel Bridge is first referenced in written record in 1367, making it almost 700 years old. Unfortunately, a sudden midnight fire in 1993 destroyed most of the bridge. Perhaps even more of a loss than the historic bridge itself was the 85 historic paintings under the roof of the bridge, leaving only 35 remaining. A scarce 25 of those were restored, and the others were replaced when the bridge was restored. Fortunately, the bridge was restored and you can visit it once more during your road trip in Switzerland.
Next to the Chapel Bridge is the old Water Tower, which has its own fascinating history. One of the few structures that survived the fire in 1993, it has served as everything from a prison to a treasury vault. You are not able to go inside this building as it is currently in use as a club room, but it is worth a look from the outside.
Take a Cable Car to the Titlis Glacier
A short drive from Lucerne to Engelberg will give you the experience of a lifetime. The Titlis Glacier, found atop Titlis Mountain, is accessible via a rotating cable car from Engelberg. This experience is one for the books. The rotating cable car gives you panoramic landscapes from every angle and is worth the trip for that alone. Additionally, you will be able to explore a glacier cave, do a cliff walk, use an amazing suspension bridge, and visit cute shops and restaurants. Bring warm clothes and layers at whatever time of year you come, because this place is cold.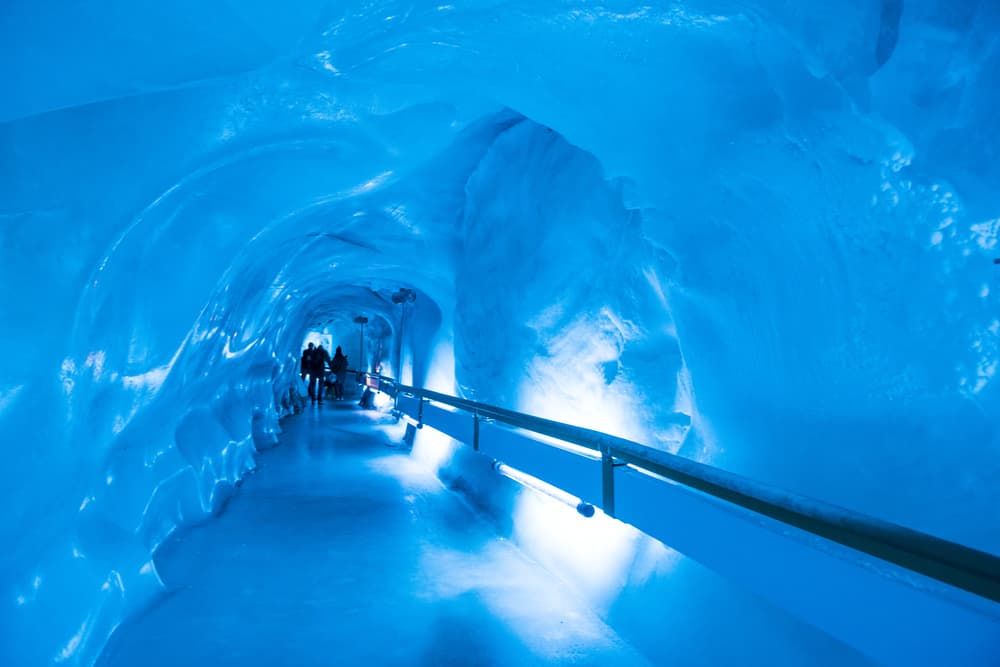 Hike Mt Pilatus and Mt Rigi
If you are not sold on the Golden Round Trip, we still recommend checking out the summit of Mt Pilatus. You can take the world's steepest cogwheel train to the summit, or you can also hike to it within a good couple of hours. There is even a hotel at the top so that you can experience the beauty of the mountain at sunrise and sunset. Whenever you come, however long you stay, we think you will agree with us that the views here are simply unbeatable.
If hiking in Switzerland is a dream come true, you will also want to look into the trails of Mt Rigi. This mountain offers a multitude of trails at varying levels of difficulty so that you can choose how much of a challenge you want. From guided hikes to themed trails, Mt Rigi will not disappoint. Not to mention the views! If this sounds like your cup of tea, check out the Classic Rigi hiking trail, and the Rigi Panorama Path.
Where to Stay in Lucerne
Affordable: Hotel Balm Check Rates: booking.com | hotels.com
Mid-Range: Hotel des Balances Check Rates: booking.com | hotels.com
Upscale: Penthouse by Art Deco Hotel Montana Check Rates: booking.com | hotels.com
Switzerland Road Trip Stop 3: Lugano
One of our favorite things about Switzerland is that it is a true cultural melting pot. Across the country, you will find French, German, and Italian speaking regions. Lugano is in an Italian speaking region and has a wonderful Italian air about the city. The Italian aspect lends itself to the architecture and layout of the city. Looking at pictures, you could easily confuse it with Italy itself. We had to include it with our Switzerland road trip because it gives you a chance to squeeze another country in with your time in Switzerland! As with Zurich and Lucerne, Lugano is right next to a lake and has its own view of the alps in the distance.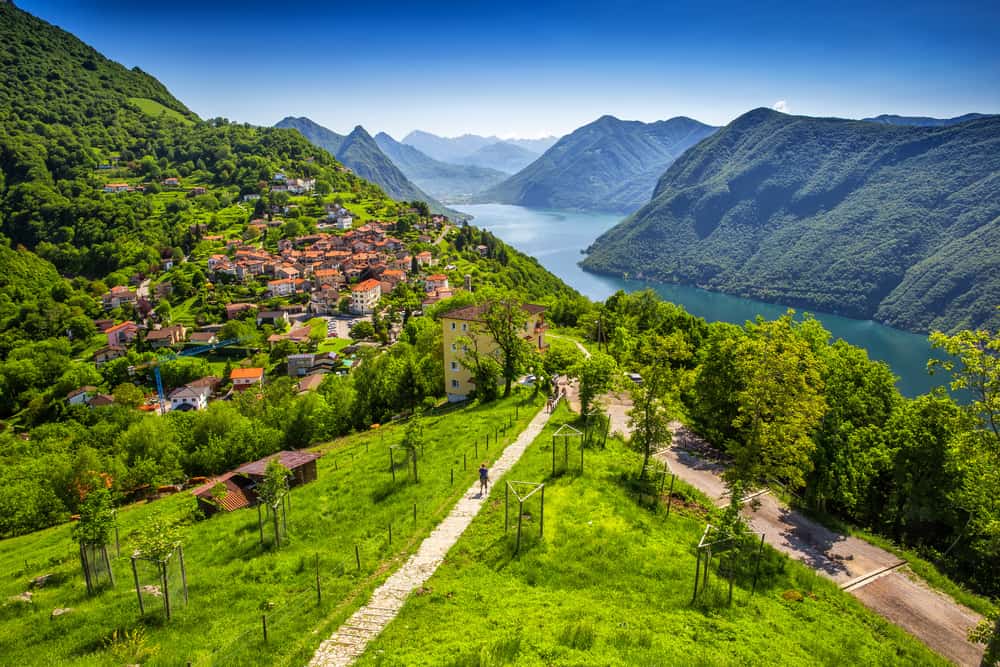 Noteworthy Things to do in Lugano
Explore Lake Lugano
Lake Lugano is a narrow, winding lake that greets the edges of the steep mountains along with the city. It is actually a glacial lake that was carved by a glacier making its way through here thousands of years ago. You can make use of a boat or ferry to explore the many varied stops around the lake, many of which have delightful restaurants and shops. There are many boat trips available in the area so that you can visit some of the places only accessible by water. People access this lake from both the Italian side of the lake and the Swiss side of the lake, and it offers a great opportunity to spend a little time in both countries.
Climb Monte San Salvatore
What kind of stop would this be if we did not include a little hike? Monte San Salvatore is a little mountain at just over 900 meters tall. Never fear though, it is an excellent opportunity to see the breathtaking city of Lugano from above. You can hike for an hour to reach the top, or you can take a cable car. So if hiking is not your thing, but truly epic scenery totally is, Monte San Salvatore is an excellent option. Lake Lugano is amazing from any angle, but from the summit of Monte San Salvatore it is truly awe-inspiring. There is something about the way the lake hugs the sides of the peaks that stretch straight from the lake's depths that will call to your soul from this viewpoint.
Visit Parco Civico
For another soul-stirring experience, visit Parco Civico. We do not know if you are catching on yet, but the best experiences in Lugano are all about the lake. Parco Civico gives you a chance to experience Lake Lugano right from its banks. Adding to the experience, you can also view the stunning mountain peaks from here. Stroll the pretty walkways, sit in reverent contemplation on one of the park benches, or get in touch with the wilderness inside you in the woodland areas. This is another area where you will want to catch at least one sunrise or sunset. The changing horizon reflected on the water is an unforgettable experience.
Adventure in Gandria
You might not think it now, looking at the quaint waterside village of Gandria, but this little part of Lugano used to be home to some pretty illicit activities. Only a hundred years ago, it was home to a major smuggling operation. Today it is a pleasant, picturesque scene of the kind of hillside village dreams are made of. Houses line the slopes of the hill as it descends toward the lake, and boats line the waterways. It is also home to the Church of St Viglio, another popular stop during your time in Lugano. If you would like to learn more about this beautiful area and its colorful past, visit the Swiss Customs Museum directly across the lake.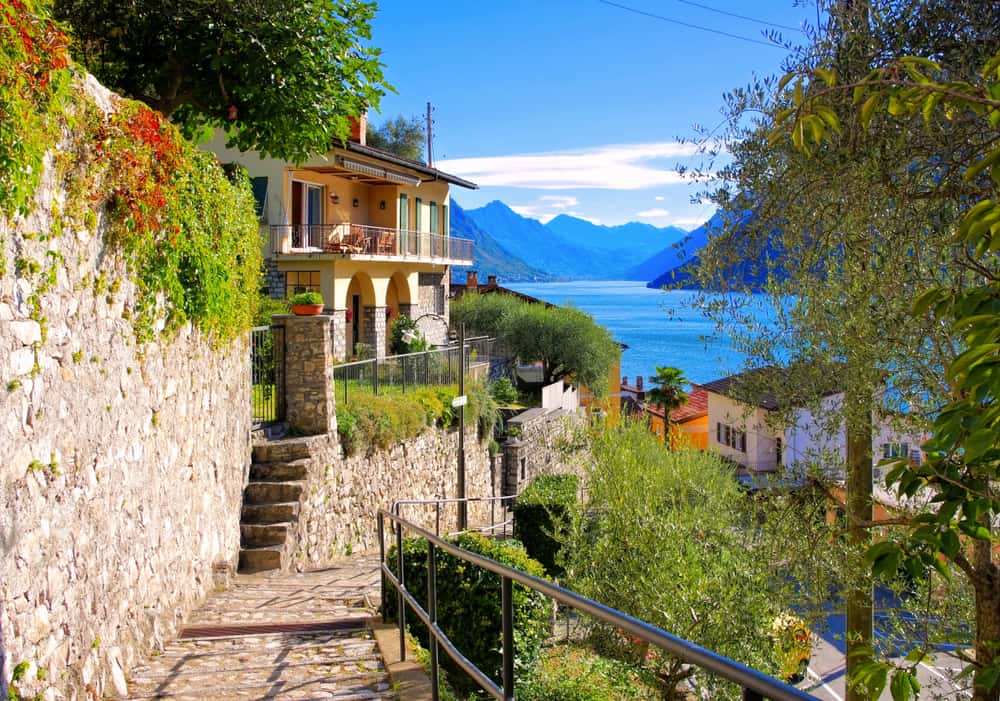 Darken Some Church Doors
Lugano comes complete with its own set of historic churches. A couple of our favorites are the Chiesa di Santa Maria degli Angeli, and the Cattedrale di San Lorenzo. The Chiesa di Santa Maria degli Angeli has a Renaissance fresco from 1529 that has been fantastically preserved, along with several other religious paintings from the same time period. The Cattedrale di San Lorenzo was also constructed during the 16th century, albeit over a Roman building from far earlier times. It is built with white limestone and marble that make it stand out and shine. This beautiful cathedral also offers views of the lake and mountains, making it a classic place to visit while in Lugano.
Where to Stay in Lugano
Affordable: Lugano Dante Center Swiss Quality Hotel Check Rates: booking.com | hotels.com
Mid-Range: Hotel Splendide Royal Check Rates: booking.com | hotels.com
Upscale: The View Lugano Check Rates: booking.com | hotels.com
Switzerland Road Trip Stop 4: Zermatt
Zermatt is a resort city in Switzerland, best known for its views of and access to the Matterhorn. As home to one of the most famous mountain peaks in the world, let alone Switzerland, of course we had to make it a stop on our Switzerland road trip! This popular city's activities revolve around the mountain and makes for a great experience for anyone looking to do a little mountaineering. Even if your only interaction with the mountain is to sip coffee (or tea or hot chocolate!) from your balcony, Zermatt is a fun place to spend some time. From the classic cabins to the snowy hillsides, you will not regret however much time you choose to dedicate to this place.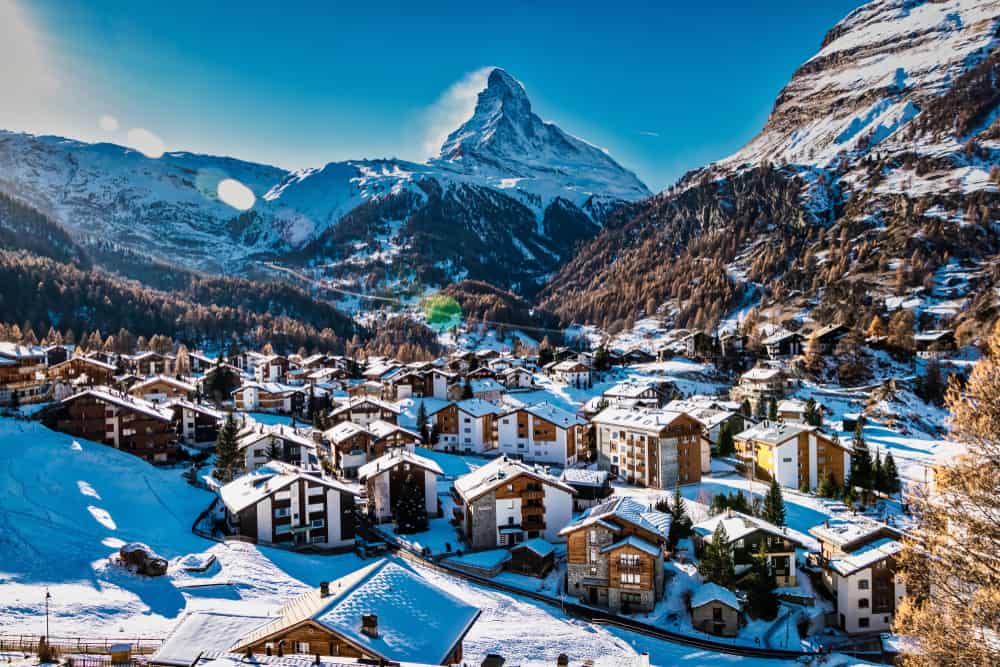 Noteworthy Things to do in Zermatt
Go Skiing
More people visit Zermatt for the skiing than the Matterhorn, which makes sense since the Matterhorn is a little deadly. Skiing is why Zermatt has become such a popular resort town. While skiing is most accessible November through April, there are often areas where you can ski in the warmer months of the year as well. Zermatt is at a very high altitude, with multiple glaciers, and things stay pretty cold here year-round. When you have had your fill of skiing, check out some of the popular restaurants located all over this mountainous area.
Experience the Matterhorn
For those of you who may be unaware, the Matterhorn is a famous mountain with a seriously challenging ascent. We mean it when we say seriously challenging. Do not attempt to climb this mountain if you are not an expert. That does not mean you cannot still experience it though! There are viewpoints all over the place where you can view the famous peak from afar, where you will not die from trying to climb it. Yes, people have died trying to hike this mountain. You can even visit the Mountaineers' Cemetery where many of the people who have perished climbing the Matterhorn are buried. We recommend checking out the Klein Matterhorn via aerial tramway, where you will be able to experience the mountain safely.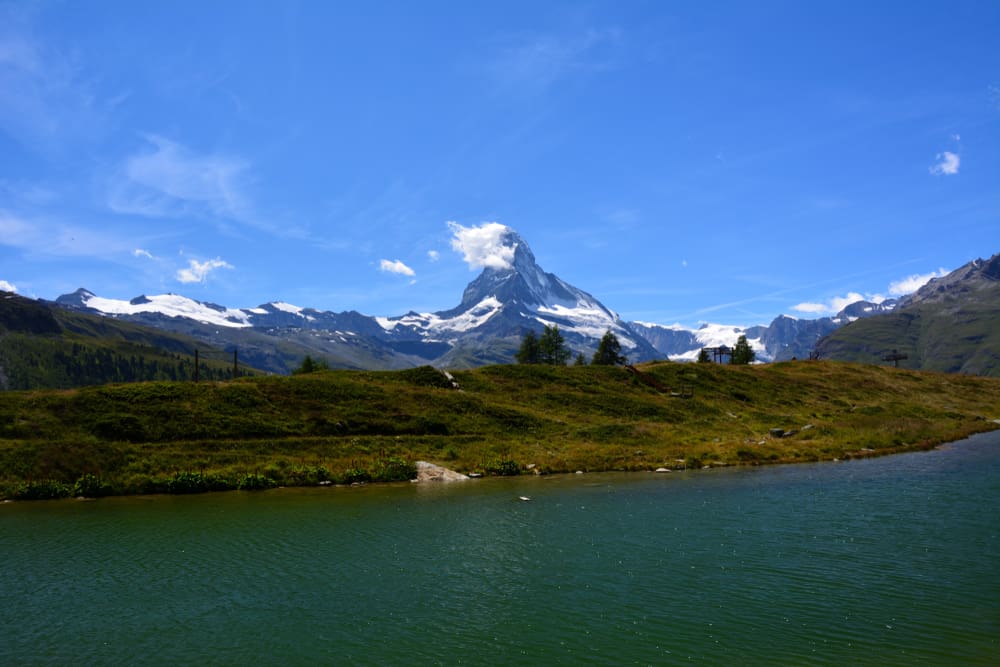 Visit Gornergrat Station
Zermatt boasts the highest open-air rack railway in Europe, and you can use it to visit Gornergrat Station. The railway was built more than a thousand years ago and remains a truly great feat of brilliant engineering. When you reach the station you will be able to view the Matterhorn, as well as the Dufourspitze, another famous Swiss mountain. Switzerland has no end of amazing views accessible throughout the country, but we really question if you can find one greater than those of Gornergrat Station. The whole experience, from the railway to the station, is one that you will never forget.
Ride a Cable Car
Being the skiing resort town that it is, Zermatt has some serious cable cars that are in use year-round. Whether you use them in the winter for skiing, or in the summer for hiking, the cable cars here offer unique views of the mountains and valleys in this area. Honestly, we would ride the cable cars just for the ride and views alone. There is just something about riding in a cable car high above the world while taking in some of the most spectacular views in Switzerland. We highly recommend checking them out if you visit Zermatt.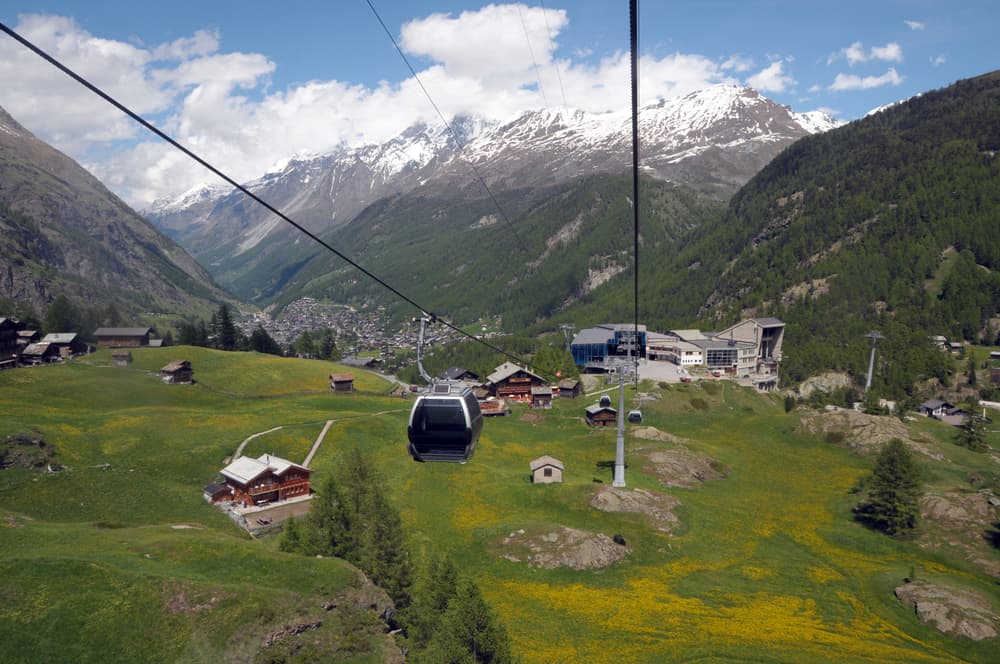 Check Out Sunnegga
Sunnegga is another great place for experiencing the awesomeness of the Matterhorn safely. Accessed via the Zermatt-Sunnegga funicular, it offers a stunning panoramic view of the Matterhorn. Another beautiful attraction is Leisee Lake. It is popular with solo travelers and families alike for its pristine beach. You can swim, barbecue, and soak in the ambiance of this gorgeous place. Even in the winter, it offers pristine views and snowshoe trails. Sunnegga is one of our favorite ways to experience the Matterhorn.
Where to Stay in Zermatt
Affordable: Best Western Hotel Butterfly Check Rates: booking.com | hotels.com
Mid-Range: Grand Hotel Zermatterhof Check Rates: booking.com | hotels.com
Upscale: Le Mirabeau Hotel & Spa Check Rates: booking.com
Switzerland Road Trip Stop 5: Interlaken
All the best things about Switzerland are in full force in Interlaken, making it one of our top stops for your Switzerland road trip. This little town is located between two lakes and has easy access to mountains, forests, and all kinds of hiking and skiing. Interlaken has the ability to meet and exceed all of your Switzerland expectations. It is an outdoor enthusiast's paradise. If Zurich is the city where you could spend a week inside, Interlaken is the place where you could spend a week outside. Honestly, you could probably spend several weeks outside and still never run out of exciting adventures to engage in.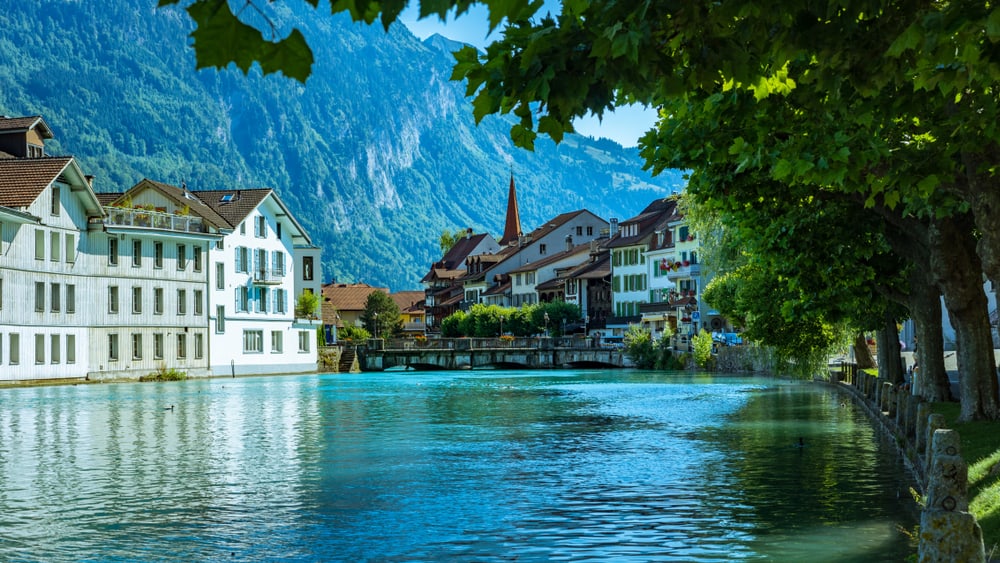 Noteworthy Things to do in Interlaken
Do All the Things
What exactly are all of the things? Paragliding, speedboating, river rafting, mountain biking, hiking, skiing, and skydiving, to name a few. Interlaken is commonly referred to as an adventure capital, and the people who call it this know what they are talking about. You can find guides and tours for pretty much anything you can imagine, or you can go solo. Interlaken is not nearly as big as some of the cities in this Switzerland road trip, but it is absolutely surrounded by the wild outside in all the best ways. Whatever your level of physical fitness, Interlaken offers a way for you to get outdoors and enjoy it.
Check out Jungfraujoch
The Jungfraujoch railway is part of a dream that began in 1860 to make a railway on Jungfrau Mountain. Construction did not actually begin until 1896, and the railway was not inaugurated until 1912. This railway continued to be developed through the 20th century up through 1996. All of this history to tell you that some of the absolute best things are a long time coming. Jungfraujoch takes you to the highest railway station in Europe. You are greeted at the top station by a wintery world of ice and wonder, home to the Aletsch Glacier. Take it a step further by going even higher up from the station to the Sphinx Observatory.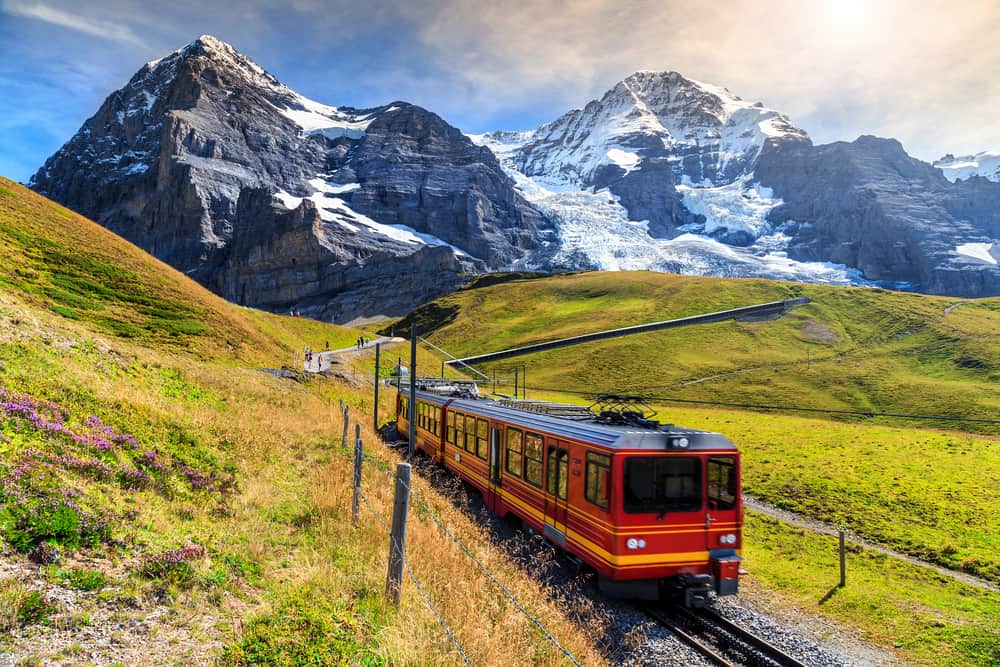 Experience the Schynige Platte Railway
It hardly seems fair that one little Swiss town can be home to two of the most epic railways in the world, but nevertheless it is true. Giving the Jungfraujoch a run for its money, the Schynige Platt Railway is also one of the highest railways in Switzerland! This railway took a lot less time to come to fruition, opening in 1893. It has been running for 126 years! You will love the Schynige Platte Railway for many reasons. Chief among them are the mountain views that will steal your heart and the Alpine garden at the top that will charm your imagination. This is one of those experiences that you will think back to a long time after.
Explore Unterseen
Okay, so technically Unterseen is its own town, and not totally part of Interlaken. But it is so close that it is almost the same town, and we are counting it! You should visit Unterseen during your road trip in Switzerland because we said so. Just kidding! You should visit Unterseen because it is awesome! It is a medieval town packed with historic buildings and character. Even more tantalizing is the Weissenau Nature Reserve, which lies right next to Unterseen. This beautiful wetland is home to the ruins of Weissenau Castle, a castle from the 1200s. As if this is not reason enough to visit Unterseen, this whimsical place has yet to be discovered by mainstream tourism and is much less busy than the main town of Interlaken. It is the perfect place to get some alone time in the wilderness.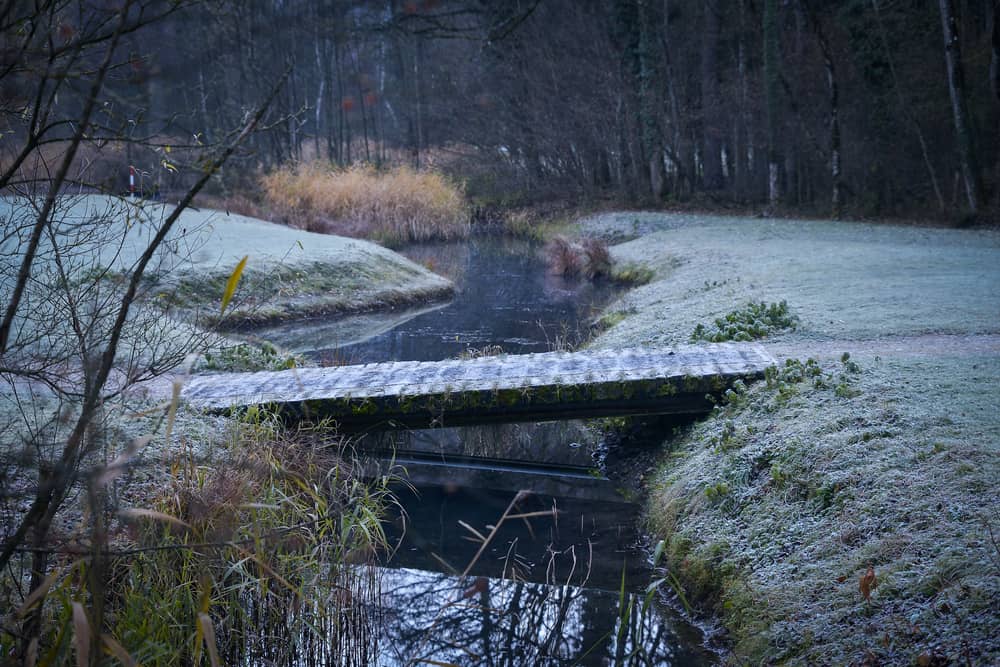 Visit St Beatus Caves
We are telling you, Interlaken has everything. Off to the side of one of the neighboring lakes, Lake Thun, exists St Beatus Caves. According to local legend, a dragon used to live in these caves until the Irish monk Beatus came along in the 500s BC, kicked the dragon out, and made the place his own. 1500 years later, all that is left is a cave system that will blow your mind. It comes complete with its own waterfall, hiking path, restaurant, and museum. You can get here by car or bus. We recommend coming earlier or later in the day, as this is a popular tourist destination and the narrow walkways can get a little packed.
Where to Stay in Interlaken
Affordable: Hotel Tell Check Rates: booking.com
Mid-Range: Villa Heimgarten Check Rates: booking.com
Upscale: Victoria Jungfrau Grand Hotel & Spa Check Rates: booking.com | hotels.com
Switzerland Road Trip Stop 6: Lauterbrunnen
If Interlaken is Switzerland's adventure capital, Lauterbrunnen is Switzerland's fairytale capital. We are basing this opinion strictly on looks, but check out the picture below. Lauterbrunnen is beautiful in the most whimsical, dreamy, and lovely way. From the way the valley naturally draws your gaze toward the old church steeple, to the casual waterfall just doing its thing on the side, this place is stunning. Fun fact: Lauterbrunnen actually has 72 waterfalls. There is no typo there. 72. Waterfalls. Seriously, this place practically oozes magic. If ever there was a sprite and fairy capital, it would be here. Add this stop to your Switzerland road trip for a chance to truly step outside the norm.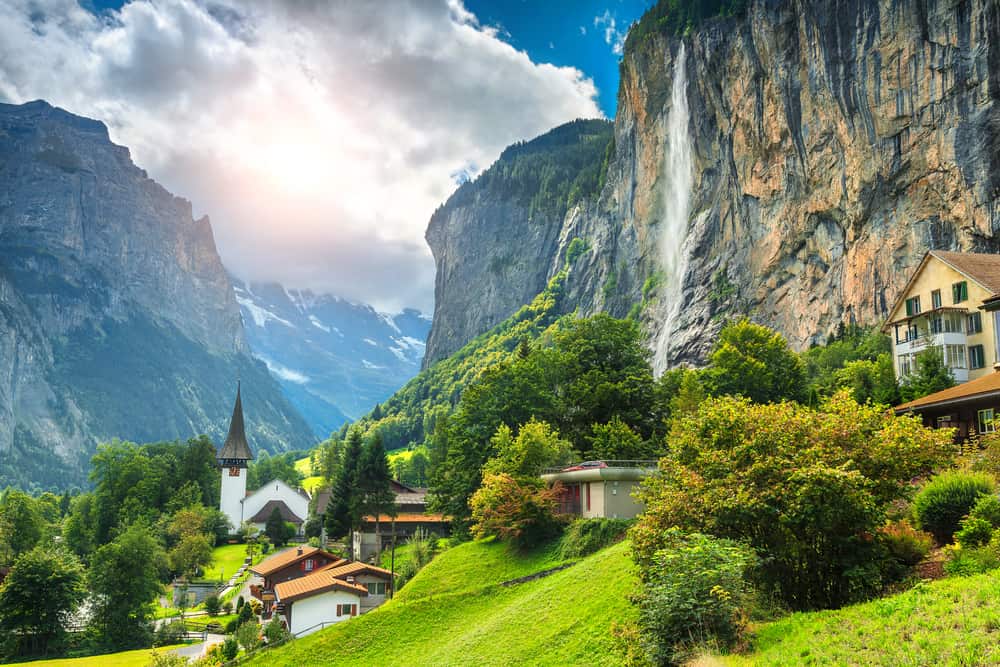 Noteworthy Things to do in Lauterbrunnen
Check Out Some Waterfalls
You saw this one coming, right? When in Lauterbrunnen, you check out the waterfalls. We mean, honestly, you cannot really help it when they are literally everywhere, so just plan on it. And while you are at it, we especially recommend taking some time to see Trummelbach Falls. This natural wonder is made of ten waterfalls cascading down into the valley. It is more of a walk than a hike to go see them, making it almost criminal not to. When nature makes it this easy to see something amazing, you just do it. Another noteworthy waterfall in Lauterbrunnen is Stabbauch Falls, the prominent waterfall you see when you first see the town.
Spend Some Time at the Jungfraujoch Observation Area
You can get to Jungfraujoch through Lauterbrunnen too, not just through Interlaken! This just might be one of the most expensive things you do while in Switzerland (save some serious money on this one with a Swiss Travel Pass or Half Fare Card!), but we are telling you, this view is unbeatable. Switzerland has a lot of unbeatable views, we know. We have already told you about several. But folks… The Jungfraujoch Observation Area is extraordinary. Not only that, but there are other attractions in this popular spot. A couple of our favorites are the Ice Palace and the Lindt Swiss Chocolate Heaven.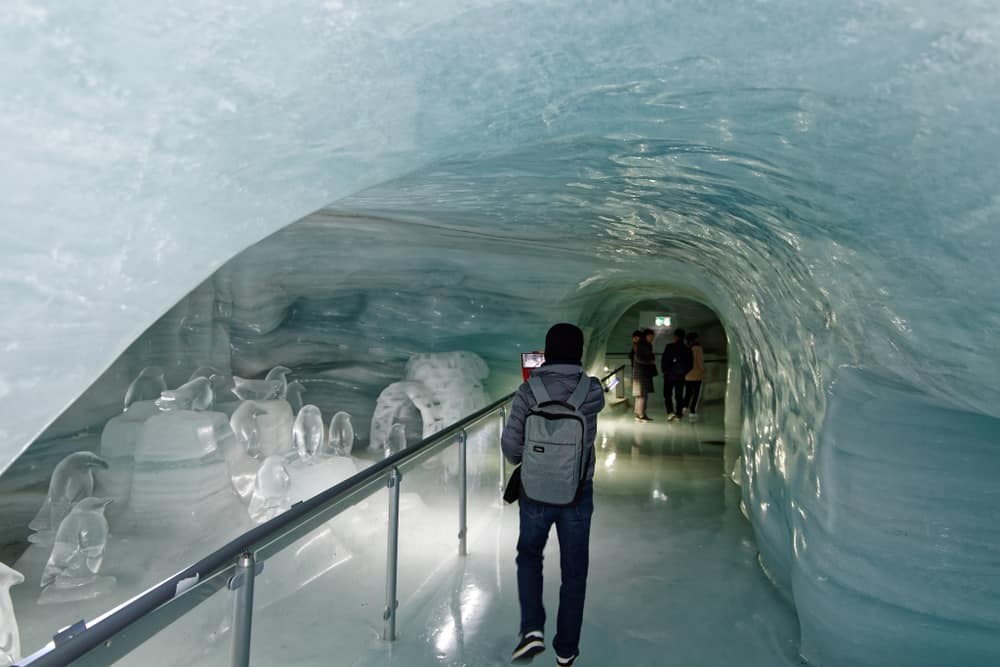 Take a Train up to Murren
If you like a little seclusion with your waterfalls, you will want to take the train to Murren. It is a very small village just shy of 400 residents, built on the plateau above Lauterbrunnen. You cannot drive here, but once you get here by train you will not miss having a vehicle. This little village is the gateway to several hikes, paths, and walking trails. There are also more trains and cable cars that go on from here to even more viewpoints and scenic trails. Go to Lauterbrunnen to view this beautiful valley from below, and to Murren to see it from above.
Visit the Observation Deck
Okay, so technically the observation deck in question is also in Murren, but it is fantastic enough to warrant its own section. This viewpoint on the edge of the plateau gives an excellent view of the valley below and the pretty village of Lauterbrunnen. As with many other popular places on this list, we recommend getting your views in earlier in the day so that you can miss some of the crowds. The word is out that the observation deck in Murren is simply spectacular, but it is still worth taking the time to go see. You just might want to go see it earlier rather than later.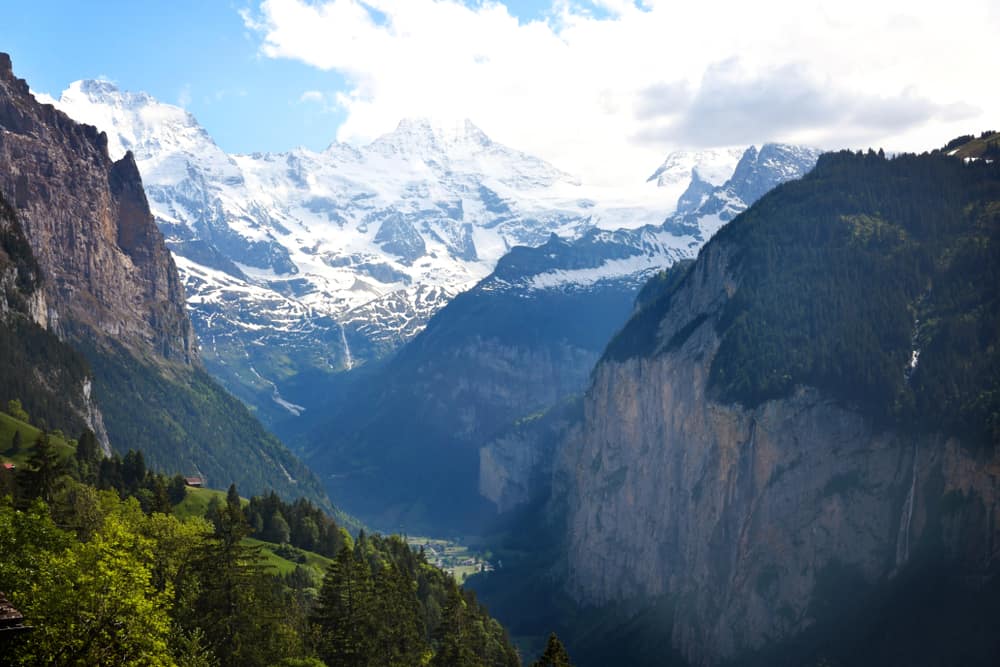 Hike to Gimmelwald
Like Murren, Gimmelwald is another traffic-free village accessible by train. It has half as many people as Murren and is just as idyllic. Something entirely unique to Gimmelwald is the Honesty Shop. Imagine a store full of souvenirs, treats, and local artwork. Now take out the cash registers, the cashiers, and the part where anyone is there to hold you accountable. The stuff is not free–everything has a price on it. But you pay by putting money in the honesty box. That is it. Is it crazy, or is it genius? We think it is innovative, and a nice way to put some trust back in the world.
Where to Stay in Lauterbrunnen
Affordable: Hotel Steinbock Check Rates: booking.com
Mid-Range: Hotel Silberhorn Check Rates: booking.com | hotels.com
Upscale: Hotel Staubbach Check Rates: booking.com
Switzerland Road Trip Stop 7: Bern
Welcome to the capital of Switzerland! You cannot make a Switzerland road trip itinerary without making Bern one of the stops along the way. We are not saying you have to stop here (you do the road trip you want to do!), but it is definitely worth considering. This amazing city dates back to the 12th century, and as such, is packed with Swiss history. It is littered with thought-provoking architecture, fountains from the 1500s, and gardens to draw you outside. Bern is a great place to do something a little different, but still entirely Swiss during your road trip in Switzerland.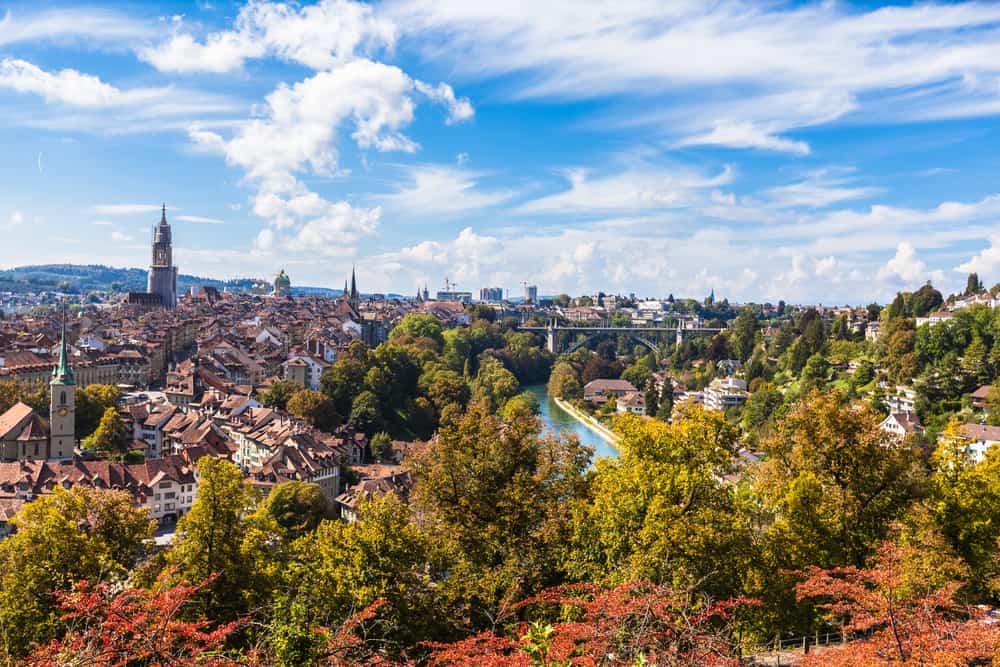 Noteworthy Things to do in Bern
Check Out the Clock Tower
Zytglogge is the famous clock tower of Bern. It is famous because of its moving puppets that make an appearance every hour. It is located in Bern's Old Town, which is listed as its own attraction further down. Zytglogge is a tribute to a different time when Switzerland was renowned for its clockmaking. This clock tower displays everything wonderful and whimsical about the clockmaking of centuries past. In fact, it is 800 years old, and still functioning just as well now as it did then thanks to the extensive care it has been given over the years. Check it out by yourself or take a tour to learn all there is to learn. Either way, definitely consider spending some time here.
Relax in Rosengarten
One of the things we love about Switzerland is how integrated with nature nearly everything is. Rosengarten is no different. This serene park began as a cemetery and has only been a public place for the last century. Take advantage of the opportunity to picnic here, or visit the restaurant inside the park. Spend some time in quiet reflection and peaceful contemplation. Rosengarten promises a sigh of relief and a breath of fresh air for those who choose to spend some of their precious moments in Switzerland here. Abide by the pond, explore the over 400 species of flowers, and just breathe in the quiet ambiance of the place.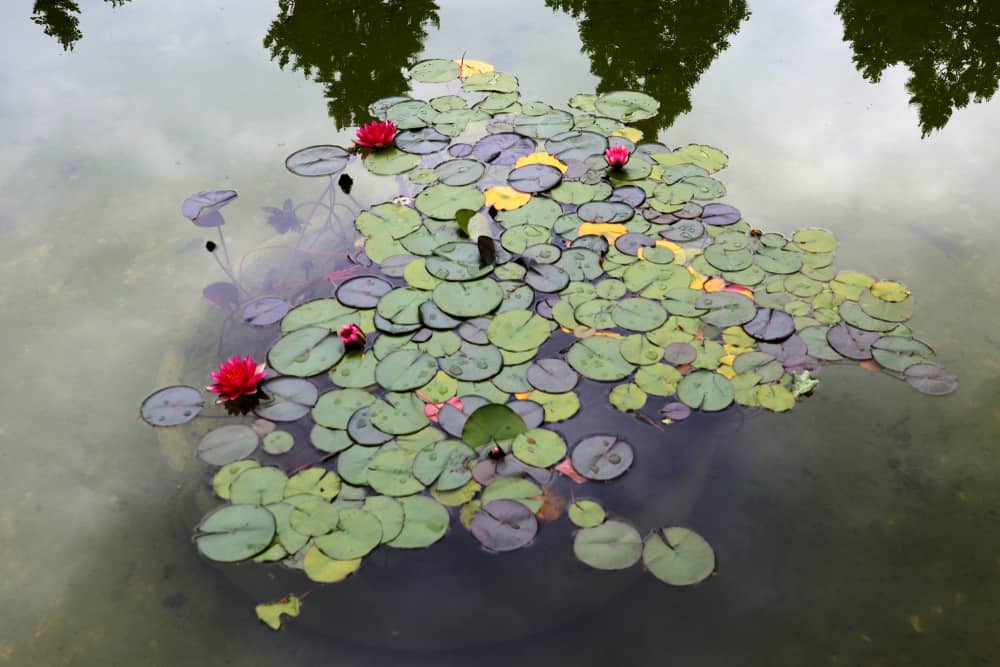 Visit the Cathedral
Bern's famous cathedral is known by many names. The Berner Munster, the Bern Cathedral, the Cathedral of St. Vincent. It was built over the course of 470 years between 1421 and 1893. You will be greeted by sculptures, paintings, architecture, and the history that has been steeped into this very old building. Because of the long, drawn-out time span during which it was built, Bern's cathedral also has a wide variety of art from the centuries. Just as impressive is the Baroque Organ from the early 18th century. The cathedral's terrace, with all its trees and views, is almost as impressive as the cathedral itself.
Spend Some Time in the Old Town
Bern's historic center comes complete with its very own covered shopping area. Whether there is rain or sun, this is a fun area to spend some time even if you do not want to spend some money. Window shopping is perfectly acceptable! Even if shopping is not your thing, Bern's old town is still worth checking out. It is built on a cliff, right next to the Aare River. Cobbled streets will lead you through the historic streets to restaurants, bookstores, and picturesque sitting areas.
Where to Stay in Bern
Affordable: Hotel Savoy Check Rates: booking.com | hotels.com
Mid-Range: Hotel Jardin Check Rates: booking.com | hotels.com
Upscale: Hotel Schweizerhof Bern Check Rates: booking.com | hotels.com
Switzerland Road Trip Stop 8: Montreux
For most of the year, Montreux is a sleepy little town near Geneva, but for two weeks it becomes a culture center when the Jazz Festival comes to town. Whether your road trip in Switzerland happens during the festival or not, Montreux is a great addition to your Switzerland itinerary. One of the lesser-known, but greatly appreciated benefits of Montreux is the microclimate. Because of its unique location and proximity to Lake Geneva, this town has a shorter winter and warmer temperatures all year round. Montreux is colloquially referred to as the Swiss Riviera because of its great weather and festival vibes.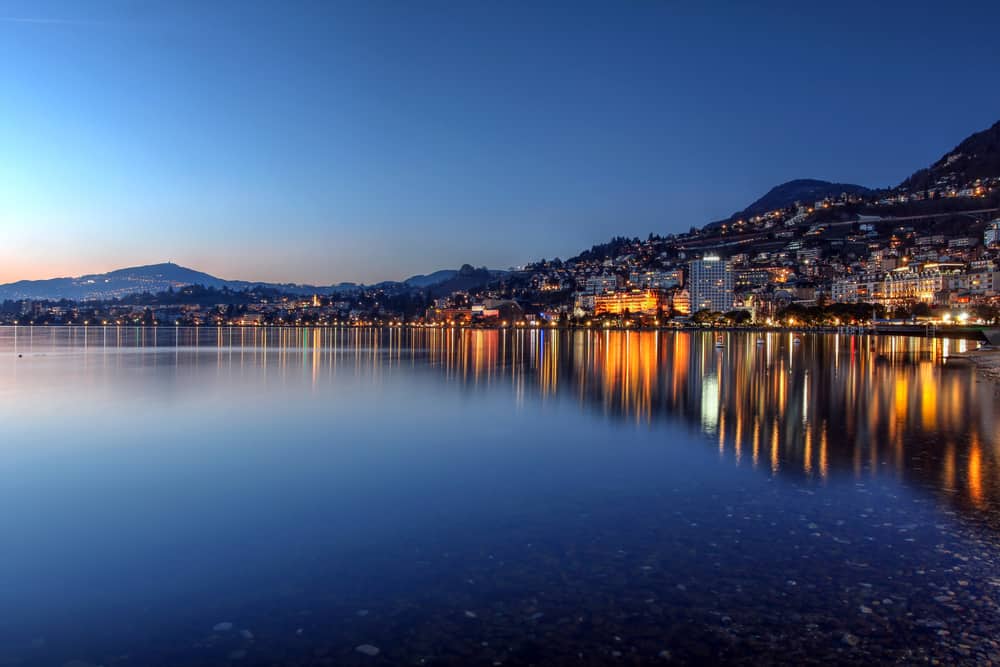 Noteworthy Things to do in Montreux
Take the Chocolate Train
Honestly, we cannot think of anything more Swiss than the Chocolate Train. If it just had a medieval, classic Swiss-made clock somewhere, it would be perfect! Even so, the Chocolate Train is pretty spectacular. Now, you can do this tour on your own and certainly do not have to take the train for this one if you want to save some money. However you do it though, if you like chocolate and cheese this experience is for you! Begin in Montreux, go to Gruyeres to visit the cheese factory, and then make your way from there to the Nestle Factory.
Experience the Jazz Festival
Montreux's Jazz Festival is an experience like few others. Expect to have to elbow your way in to experience it, because there will be crowds! It used to be held in a Casino, but that burned down in 1971. That did not stop anyone though, and the Jazz Festival is very much alive and well today. During the 70s it was strictly a Jazz Festival but has evolved over the last few decades to be much more comprehensive. Although the exact dates change every year, you can expect it to happen sometime in the first couple of weeks of July.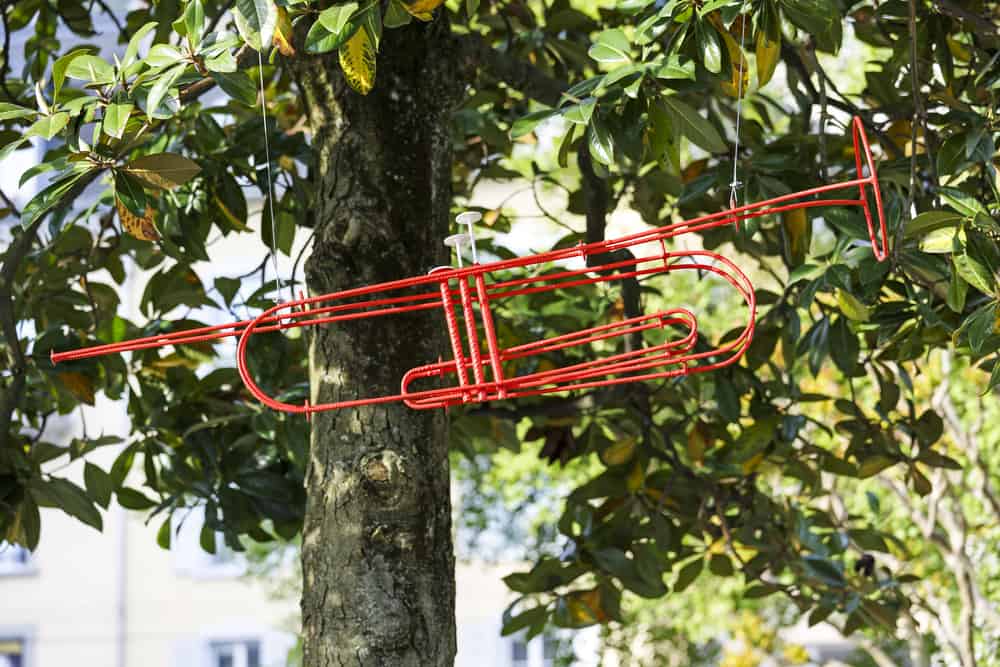 Explore the Lantern Trail
Winter in Montreux may not have the Jazz Festival, but it does have the lantern trail of Les Pleiades. A quick train ride will take you from Montreux to the Les Pleiades train station. There you will find a trail that has been painstakingly lit by lanterns. They provide an otherworldly glow to guide you through the landscape. Snowshoes are requisite and serve to further build the clandestine experience. A Switzerland road trip offers so many opportunities to experience nature in unique and unorthodox ways, and we highly recommend this one.
Check Out Rochers de Naye
By now you have surely caught on to the pattern of coming to a place just to take a train to another place, right? That is why we told you about the Swiss Travel Pass and the Half Fare Card in the beginning. You do not have to take trains anywhere while you are in Switzerland, but you will miss out on a lot of amazing experiences. Rochers de Naye continues the pattern of visiting one place to get to another. When you are ready to take a bit of a break from Montreux, but not leave completely, take the train to Rochers de Naye. It is one of the Swiss Alps mountains, and it gives you stunning views of Lake Geneva below.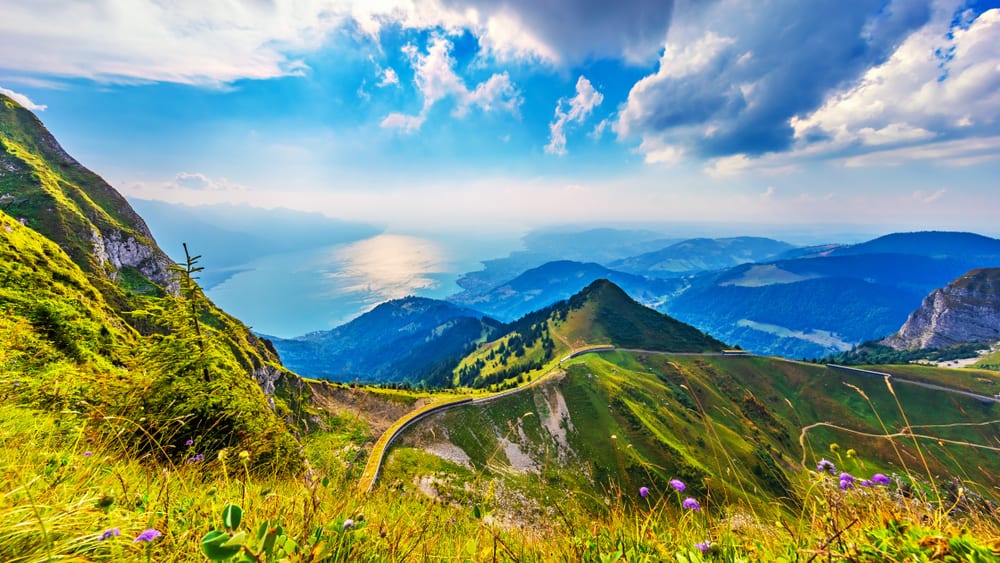 Visit Glacier 3000
Speaking of excellent day-trips from Montreux, might we suggest Glacier 3000? As far as pure, unadulterated awesomeness goes, Glacier 3000 takes the cake. We have mentioned a couple of glaciers so far in this itinerary, but Glacier 3000 is an entirely new experience. This adventure begins much like most others in Switzerland: you take a cable car. But then–then, you can ride the Alpine Coaster, ride a bus on the glacier, traverse the world's first suspension bridge, and eat at a restaurant on top of the world. And honestly, for Switzerland, this one is not even that terribly expensive. It is a win all the way around.
Where to Stay Near Montreux
Affordable: Alpe Fleurie Hotel & Restaurant Check Rates: booking.com | hotels.com
Mid-Range: Le Mirador Resort & Spa Check Rates: booking.com | hotels.com
Upscale: Grand Hotel du Lac Check Rates: booking.com | hotels.com
Switzerland Road Trip Stop 9: Nendaz
Nendaz is popular during the winter months for its excellent skiing. If you are doing a summer Switzerland road trip though, Nendaz still promises to impress. This place has its own summer festivals, easy access to outdoor adventures, and views just as mindblowing as any other Swiss city. And, because it is better known for its winter skiing, the summer offers more of a relaxed experience than some of the other Switzerland cities and towns we have listed.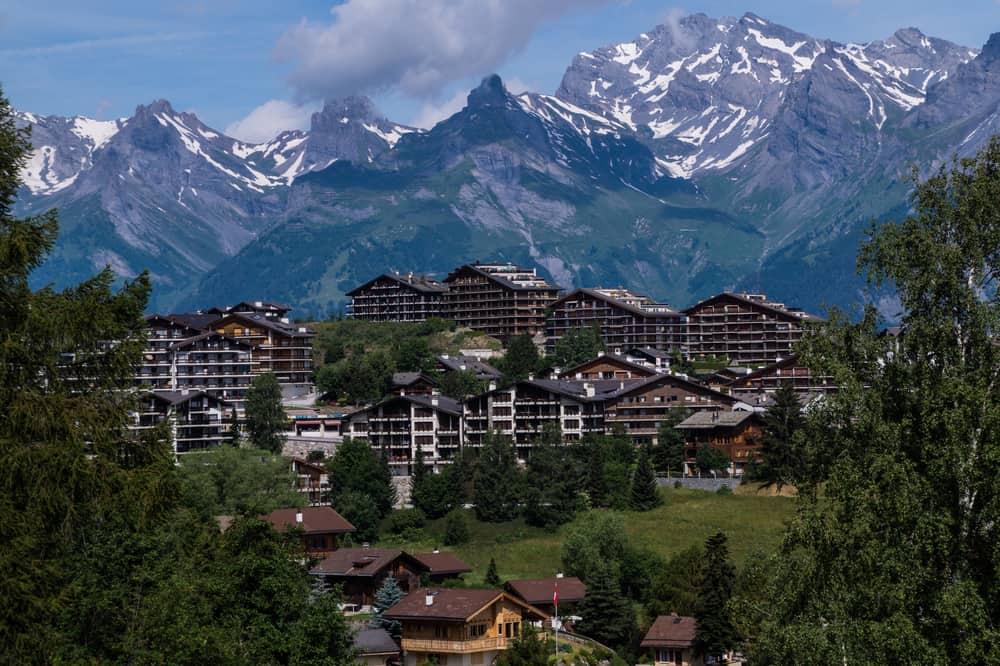 Noteworthy Things to do in Nendaz
Take a Cable Car to Tracouet
Every Swiss town, no matter how big or small, has its own mountain. And every mountain, no matter how big or small, has its own cable car or railway. Tracouet is Nendaz's mountain. One of the lovely things about Switzerland is the country both recognizes the splendor of its mountains and also makes it easy to experience them, hence the abundance of cable cars and trains. Take part in a classic Switzerland landscape via the traditional cable car, and enjoy Tracouet.
Check Out the Summer Alphorn Festival
Have you seen or heard a traditional Swiss Alphorn? If not, definitely consider visiting Nendaz during the annual Swiss Alphorn Festival. Quite different than the Jazz Festival in Montreux, Nendaz's Summer Alphorn Festival is a work of pure Swiss tradition and history. The alphorn is a very long horn, spanning several feet, traditionally made of wood. Originally it was used as a means of communication, but over time has come to be used for music instead. The Summer Alphorn Festival celebrates this instrument and its important place in Swiss history and tradition.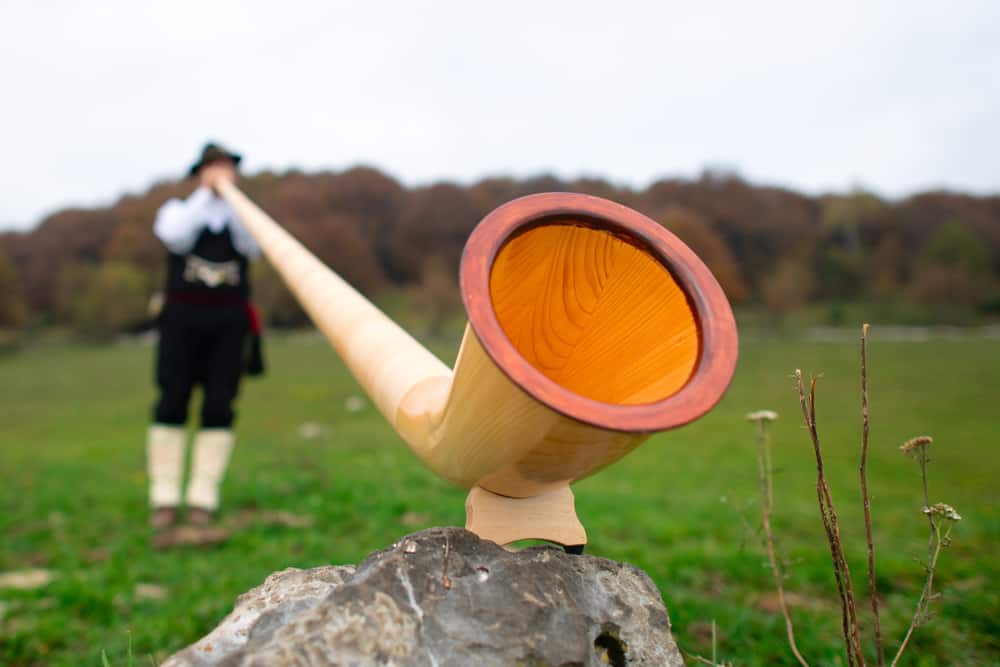 Swim in the Public Pool
If you did a double-take at that title, you are not alone. Public pools and illustrious foreign road trips do not often go hand in hand. However, in Nendaz, Switzerland, they most certainly do. Now, it is only open during mid-June through August, so this is a limited-time opportunity. However, if you can swing it, you have got to check this mountain pool out. Swim with clear views of the valley and mountains–this is truly an experience unlike many others.
Go Mountain Biking and Hiking
You can actually do this one after you take the cable car up Tracouet! At the top of Nendaz's mountain lies a spectacular trail network that you can walk, hike, or bike to your heart's content. People from all over the world come here to experience the trails for themselves, and for good reason. They are beautiful in the winter when people come to ski, and just as extraordinary in the summer when the snow has left behind lush green meadows. Spend as much or as little energy here as you want. Nendaz offers ways to experience nature whatever your level of physical fitness.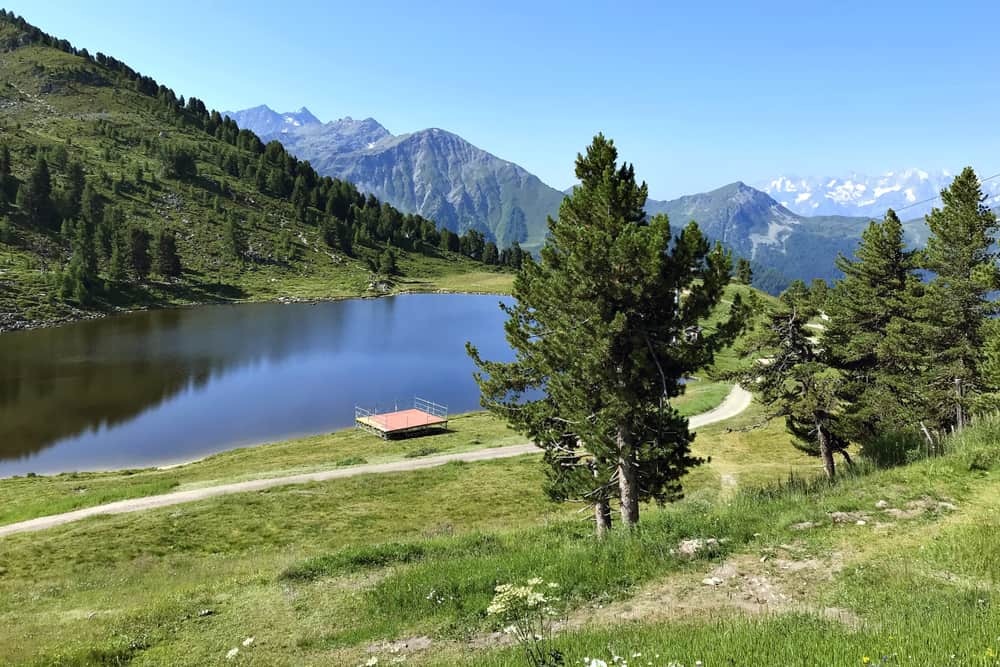 Visit the Spa
Nendaz is a resort town, and it takes that identity seriously. You will definitely be able to tell when you visit the Spa des Bisses in the 4 Vallees Hotel. Not only is this hotel one of our recommended places to stay listed below, but it is a great place to get some serious relaxation in. Even if you do not stay in the hotel, we still recommend checking out the spa. It offers all kinds of luxurious relaxation experiences and promises not to disappoint.
Where to Stay in and Near Nendaz
Affordable: Martigny Boutique-Hotel Check Rates: booking.com | hotels.com
Mid-Range: Nendaz 4 Vallees & Spa Check Rates: booking.com | hotels.com
Upscale: W Verbier Check Rates: booking.com | hotels.com
Switzerland Road Trip Stop 10: Geneva
Geneva is a city of beauty, refinement, and culture. It is a wonderful place to end your Switzerland road trip. While you are here, take a moment to sit on the longest wooden bench in the world, located in the Old Town. Come during August for the sunrise festival, or in spring to witness the budding of the city's famous chestnut tree that announces the change in season. Whenever you come, whatever you choose to spend your time on, Geneva will leave you with happy memories and a lasting fondness for Switzerland.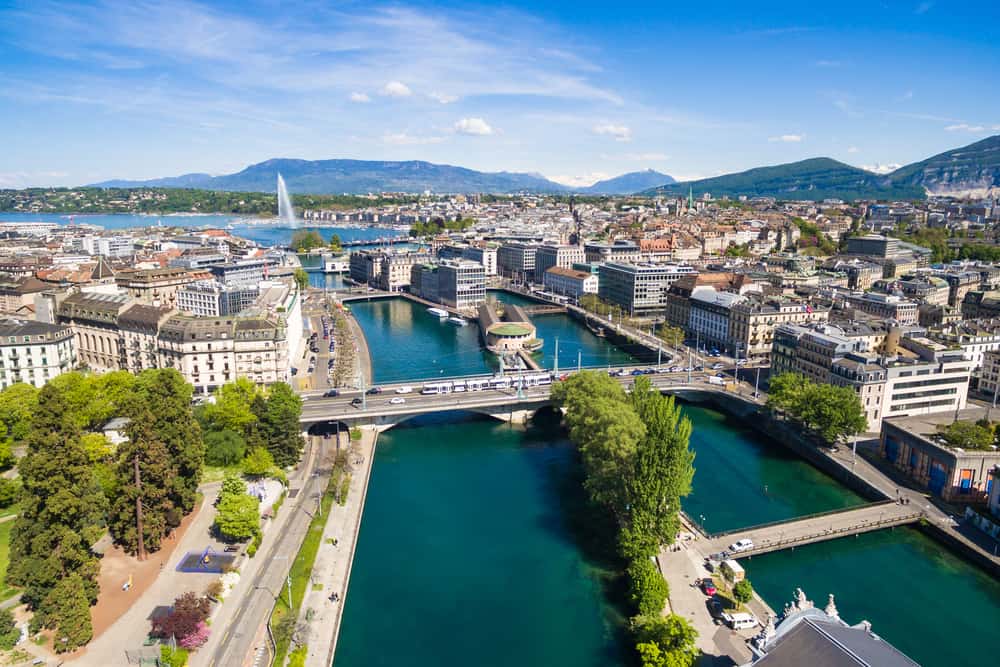 Noteworthy Things to do in Geneva
Visit the Cathedral of St. Pierre
St Pierre Cathedral is a historic cathedral that looks more like the Parthenon than a church. This is not surprising, given its beginning as a Roman Catholic Cathedral. You might be surprised to know that the Roman facade was not originally part of this church though, but rather added in the 1700s. This church has gone through several transitions over the centuries, having also become a Reformed Protestant Church during the Reformation, and with many additions built along the way. Inside you will find the classic stunning architecture and decoration that continues to make cathedrals popular tourist destinations after hundred of years.
Go to the Headquarter of the United Nations
As we mentioned before, Switzerland is a major melting pot of several different countries. There are separate regions that speak different languages and draw from a variety of cultures. It must have felt like a natural decision back in the 1930s to make Geneva the headquarters of the League of Nations. Now it is the European headquarters, with another in New York. You can visit the Palais des Nations during your stay in Geneva, which has been home to the European headquarters since 1966. Take a guided tour, or visit on your own. Many parts of this historic building are open to the public and available for your perusal.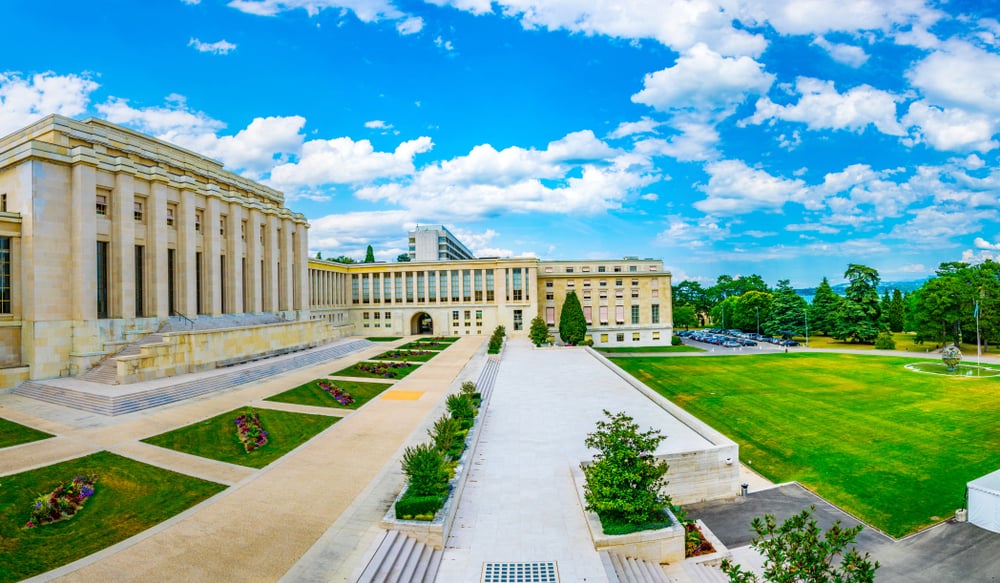 Take a Boat Ride on Lake Geneva
Lake Geneva is the largest lake in Switzerland and in Central Europe. It is also called Lac Leman. Cities and villages line its banks because people just cannot get enough of this paradisical place. For those of us who can only visit, not live here, rest assured that there are plenty of ways to get your fill of the lake. Whether you prefer the more structured boat tours or would rather take a ferry tour so you can choose your own destinations, Lake Geneva is yours to explore.
Experience the Chocolate Flavours Tour
If you are going to do any chocolate experience during your road trip in Switzerland, we highly recommend the Chocolate Flavors Tour. Honestly, we drool a little just thinking about it. It is a walking tour that takes you to five different chocolate factories and patisseries over the course of three hours. It even includes a boat ride! Learn about chocolate and how it is made, eat a lot of chocolate, be one with the chocolate… We know chocolate is not everyone's thing, but if it is you have got to do the Chocolate Flavors Tour.
Witness Jet D'Eau
The Jet D'Eau is an impressive water fountain in Lake Geneva that shoots straight up into the sky. It was originally designed as a way to relieve water pressure from a hydraulic pumping station but was so spectacular that it soon became its own attraction. Although it was built on the Rhine river, when it became so popular it was moved to Lake Geneva so that it was more easily accessible. The Jet D'Eau will not take too much of your time and is a fun feat of engineering and luck that is easy to witness.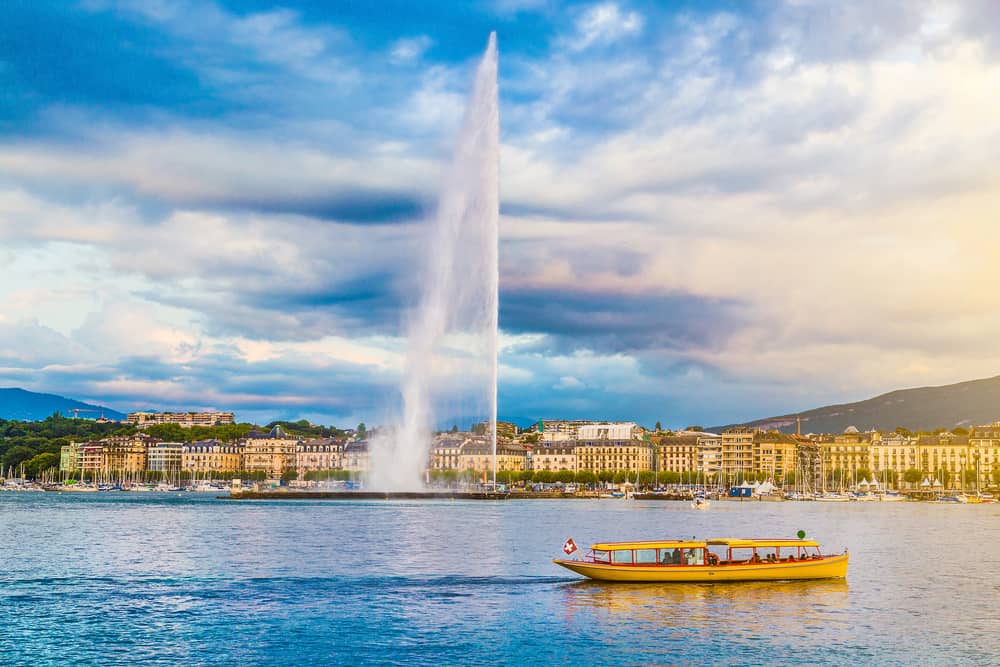 Where to Stay in Geneva
Affordable: Base Nyon Check Rates: booking.com | hotels.com
Mid-Range: Hotel d'Angleterre Check Rates: booking.com | hotels.com
Upscale: Hotel Beau Rivage Geneva Check Rates: booking.com | hotels.com
End by Flying out of Geneva or Zurich
Geneva Airport, otherwise known as Cointrin Airport, is a stellar international airport that is definitely equipped to see you safely home. If you want the convenience of being able to fly directly home after your Switzerland road trip, we recommend Geneva. However, flying out of Zurich offers the ability to do a round trip flight in and out of Zurich. And, Zurich is only a little under three hours away from Geneva. So if you do not mind traveling back, that is definitely an option. Safe travels!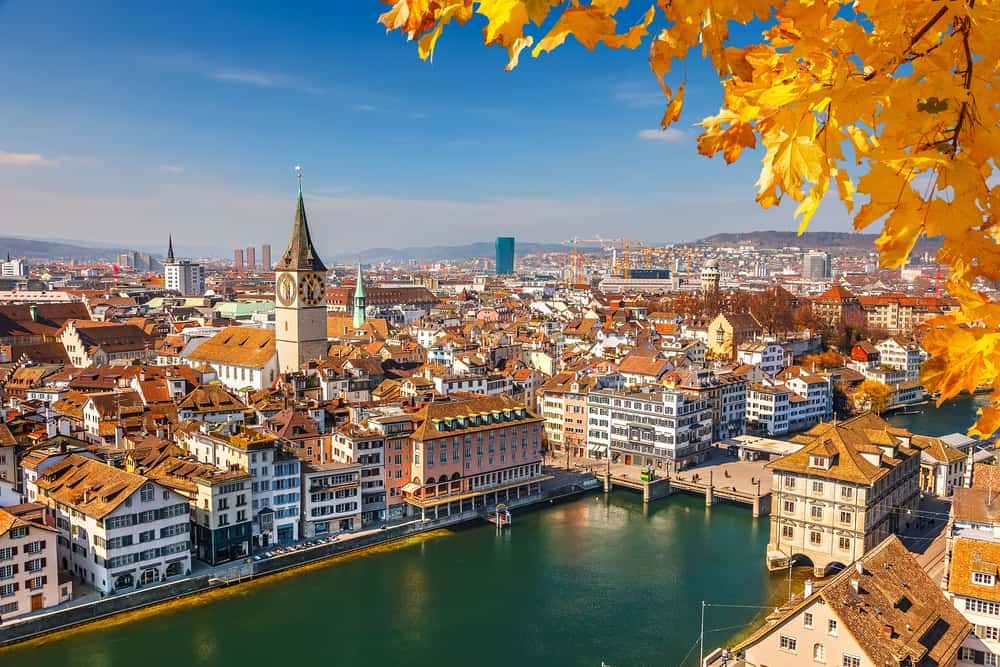 We hope that our Ultimate Switzerland Road Trip Itinerary has been helpful in planning your adventures in Switzerland! There are so many great places to see and experience. You are going to have a great time! Let us know if you visit any of the stops we have listed, and which one was your favorite. We look forward to hearing about your road trip!