So you're headed to Europe? Narrowing down where to go in a continent can be difficult, especially if it's your first time! Whether you have a month or just a week, European capitals are a great place to start. Rich with history and culture, you'll get a feel for the country in minutes, just by visiting the capital cities in Europe.
Even if you've been to Europe before, there is plenty to see and do in each European capital city. Of course, we're giving you the prettiest European capitals to see, so you can be sure that you snap that perfect photo. If you've only got a few hours, the capital cities in Europe can show you a good time. Got more time? Learn about the rest of the cities and where you'll want to go next!
You can even grab more information about the country and head to a brand new destination you've never heard of. If you need something in the country, the capital city should have it. So, why not start with the 10 prettiest European Capital cities? Keep reading to find out where you have to go!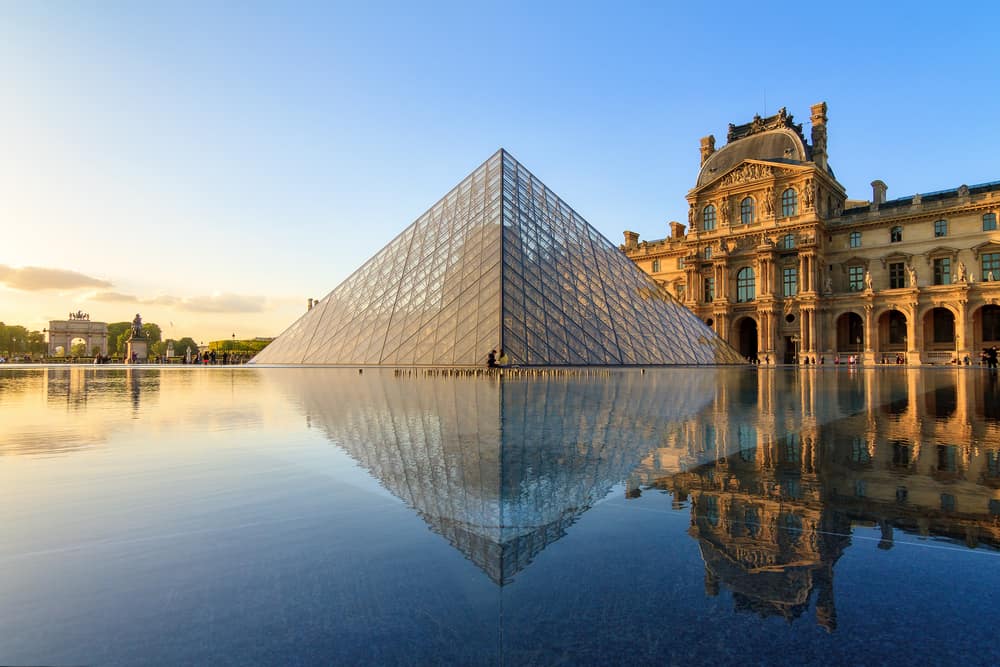 10 Prettiest European Capital Cities You Must See
Budapest, Hungary
Hungary is a great place to start in Europe since it's right in the middle! Budapest is one of the prettiest European capitals to check out and it's perfectly placed! It's also one of the most visited destinations in central Europe. If you're looking for history, Hungary is the country to visit. It is said to have been settled back in the 5th century.
Budapest was settled in the 6th century before Hungary was even settled! Now, 15 centuries later, Budapest is home to almost 2 million people. It is the most visited city in Hungary. This isn't surprising as it is one of the prettiest European capitals. The perfect time to visit the city is during the summertime, as Budapest regularly has sunny, warm summers.
With all of this rich history, the summer is the perfect time for taking a sight-seeing tour. Being located along the Danube River, visitors have the option of land tours and boat tours. Choose between a dinner cruise along the river or simply a road to water tour! Either way, you'll be able to take in the gorgeous sights and sounds of the city!
You can also visit some of the historical buildings on your own! Both the Hungarian Parliament Buildings and St. Stephen's Basilica are known for their beauty and history. The parliament buildings feature neo-Gothic architecture, making it one of the prettiest places to snap a photo in this European capital.
It's very pretty on the outside, but inside, it's considered one of the most complicated parliaments in Europe. Within the 386 parliamentary representatives, there is both a Prime Minister and a President of the Republic. Visitors can take a guided tour through the parliament buildings where they can see the crown jewels and the house of lords! Be sure to grab your tickets in advance, it'll save you lots of time!
At St. Stephen's Basilica, visitors can visit the Cuolpa and see one of the prettiest European Capitals from above! On a clear day, visitors can look down on the entire capital. While you're inside, make sure to check out one of the main attractions of the church, the mummified hand of St. Stephen. This is the most sacred relic in all of Hungary. If that's not your thing, you can sit at one of the cafes inside the church and people watch or take in one of the musical performances happening.
History not your thing? Make sure that you check out some of the best restaurants while in the capital! Some even say that it has the best food of any European capitals. You'll have to decide for yourself. One of the highest rated restaurants, Mazel Tov, not only serves great food in the Jewish quarter, but it also boasts a beautiful venue. It is a large restaurant with glass ceilings, giving it an outdoor feel. Inside, plants are everywhere, giving it a beautiful courtyard feel! If you want to try authentic Hungarian food, head to Cafe Kor.
There's so much to see, it's hard to narrow it all down!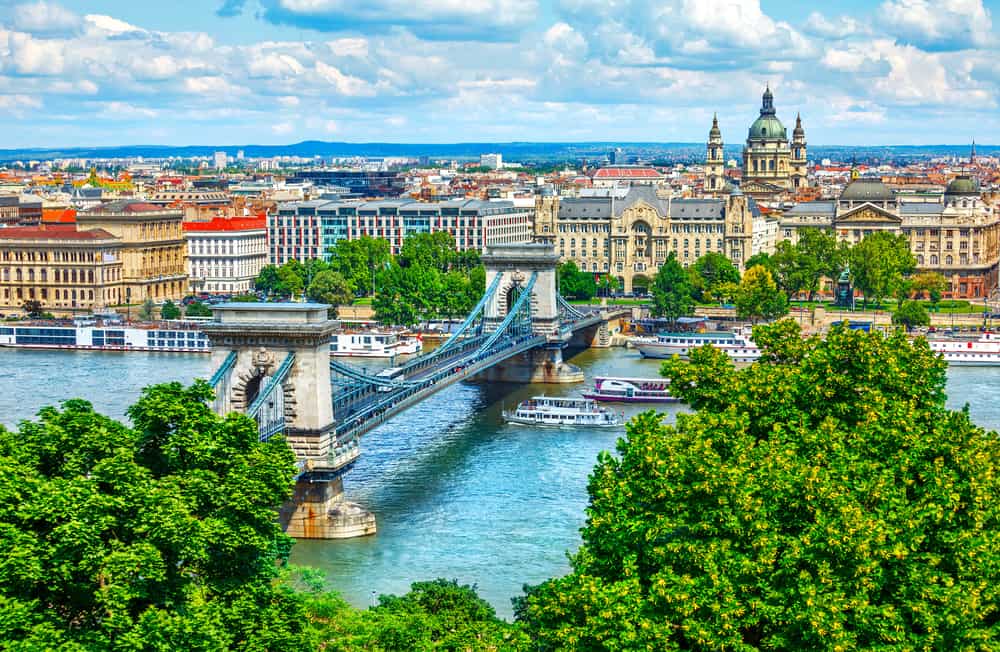 Paris, France
Paris is one of the best-known and most-loved European Capitals. If you haven't been, it should definitely top your list. There's a reason they say that Paris is always a good idea. Between the colorful streets, monument lined avenues and some of the best-known landmarks in all of Europe, there is no shortage of things to do in this European capital city. We'll do our best to keep it short, but it's hard to see all of Paris in one trip (if you only have one day, check out this itinerary!)
Of course, you can't go wrong with the traditional tourist destinations. Just remember that like every one of the capital cities in Europe, it can be very busy so plan accordingly (buy tickets online, plan out your days in advance, etc.). If you're looking for the perfect Instagram shot or photo to bring home for the relatives, be sure to head to the Eiffel Tour or the Champs-Elysses. From the top of the Eiffel Tower, you'll have the perfect view of the city. From here, you'll be able to see the unique layout of this beautiful European capital. Paris is divided into 20 different arrondissements or neighborhoods that spiral out from the core of the city. Besides the view from the top, the grounds in front of the tower are stunning.
The best shopping, especially for those luxury travelers, is on the Champs-Elysses. If you decide not to go to the top of the Eiffel Tower, you can also take a trip up to the top of the Arc De Triomphe. This arch-way is almost as well known as the Eiffel Tower. Take a walk down the Champs-Elysses and take in the shops and sites!
There is no shortage of museums in Paris, so you'll have to pick and choose. Probably the best known in Paris and even Europe is the Louvre. Not only is it gorgeous, but it's also home to the Mona Lisa. The Louvre is very large and can be quite overwhelming. For this reason, we suggest booking a tour in advance so that you can make sure you see all of the best spots. You can also grab some traditional French food at one of the restaurants and look out on the beautiful buildings that surround and make up the museum. If contemporary art is more your style, you can check out the Paris Museum of Modern Art or the National Museum of Modern Art at the Centre Pompidou.
If you have any time remaining, be sure to take a walk through one of Paris' most beautiful neighborhoods, including Rue Cremieux or Montmartre.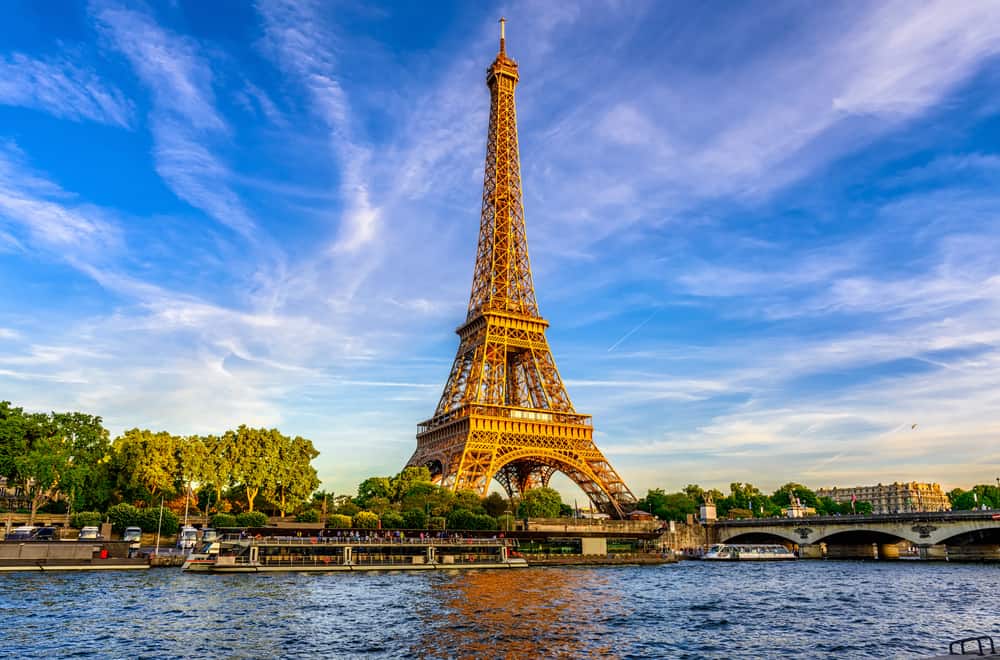 Vatican City
Vatican City is one of the more unique European capitals because it is actually its own city-state! Located in Central Rome, this stunning city-state is the home of one of the most powerful men on earth, the Pope. There are only about 1000 people who live within Vatican City, making it the smallest of the European Capitals. This doesn't mean that there isn't anything to see there.
In 1503, the current Pope, Pope Julius II, donated his private collection to the building, effectively creating the Vatican Museums. Since then, other Pope's have followed his lead and the museums' collection has become one of the largest in the world. There are over 15 separate museums within the city-state. The best time to visit is on weekdays or on Saturdays. You can also book an English-speaking tour guide for your trip through the museums.
Located inside the Vatican Museums is one of the world's most famous buildings, the Sistine Chapel. The ceilings of the Sistine Chapel were painted by Michaelangelo and are regarded as one of his best works. It is definitely a must-see building in the area and in Europe.
While you're there, you can also take in St. Peter's Square and St. Peter's Basilica. The Basillica is one of the largest churches in the world and many Pope's have been buried inside. Outside in St. Peter's Square you can see the 140 statues of Saints that line the square.
This is a must-see when it comes to European Capitals!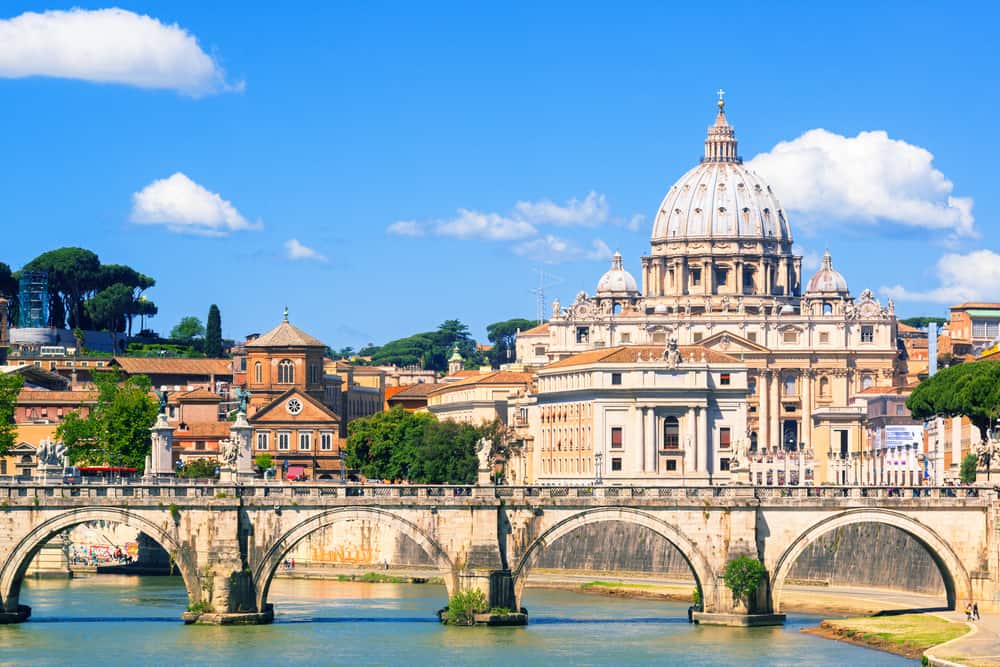 Bern, Switzerland
Bern is the quaint and medieval capital of Switzerland. It is one of the smaller European Capitals, giving it a homey feel. You can take a walk down its coble-stoned streets and visit the Aare River. It might seem small and inconspicuous but it has been home to some famous people. Did you know that Albert Einstien lived in Bern? You can even visit the house that he rented! Also, make sure to keep an eye out for Bern's quirky fountains, which can be found all over the town. They are differentiated by the statues on top and range from Jesus to ogres.
The best way to take in the beauty of this city is to visit the Munster. The Munster is Bern's gothic cathedral. It has a spire that stands over 100 meters tall and guests are encouraged to climb the steps to look out over the beautiful city. You can see as far out as the Alps!
The house that Einstein was renting when he developed the Theory of Relativity is located on Kramgrasse street (worth a walk even without the house) and has been turned into a museum. It has been completely reconstructed so that visitors feel like they are staying there at the time of Einstein's discovery over 100 years ago.
Like many other European capitals, Bern is home to many beautiful art galleries. The oldest fine art museum in Switzerland is the Kunstmuseum, located in Bern. The museum houses galleries from the middle ages, renaissance and on. It has over 3,000 different pieces, including some by Van Gogh, and Picasso. To see more current pieces, visit the Kunsthalle Barn. This exhibit space houses new exhibits every year and it is known around the world for its collection.
If food is more your thing, head down to the Altes Tramdepot! Not only does it have views of BarenPark, Old Town and the River, but it also serves wonderful Swiss, French and Asian dishes. And of course, the beer is always flowing! It is a wonderful way to begin a 4-day Switzerland trip or to cap off a lovely Switzerland road trip!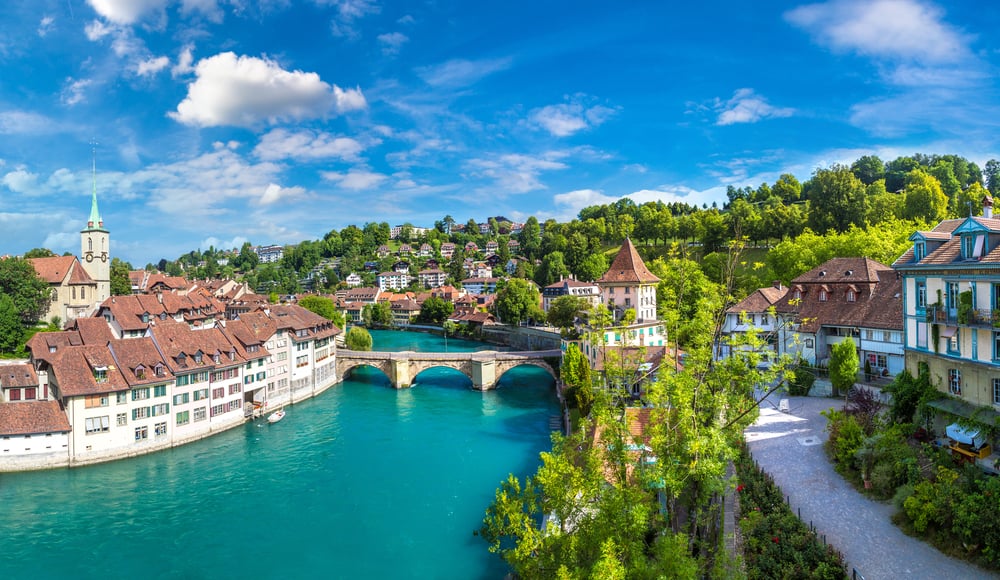 Ljubljana, Slovenia
In the heart of Slovenia is one of the prettiest European Cities, Ljubljana. It is known for its picturesque rivers and green spaces. Within this small, yet powerfully European city stands the Ljubljana Castle. This is the main attraction for tourists visiting Ljubljana. In the outlook tower, you can get great views of this stunning city. The castle itself is home to three different attractions. A six-part exhibition shows the entire history of Slovenia. There's also a puppet museum, upholding the traditional puppeteering history of Slovenia. Finally, there's an escape game that will teach you the history of one of the greatest European Cities.
If there's only time to visit one place during your trip, be sure to check out the Central Market. In the spring and summer months, visitors can go to the unique food market where chefs prepare dishes from all over the world. In the rest of the outdoor market, visitors can find local fruits and vegetables as well as dried meats and flowers. If it's not as nice out, there is also an indoor market to explore, including a fish market, some gorgeous artwork, and local shops.
For the perfect Instagram shot, check out the Ribja Brv Footbridge. Here, you'll be able to capture the gorgeous architecture and waterways.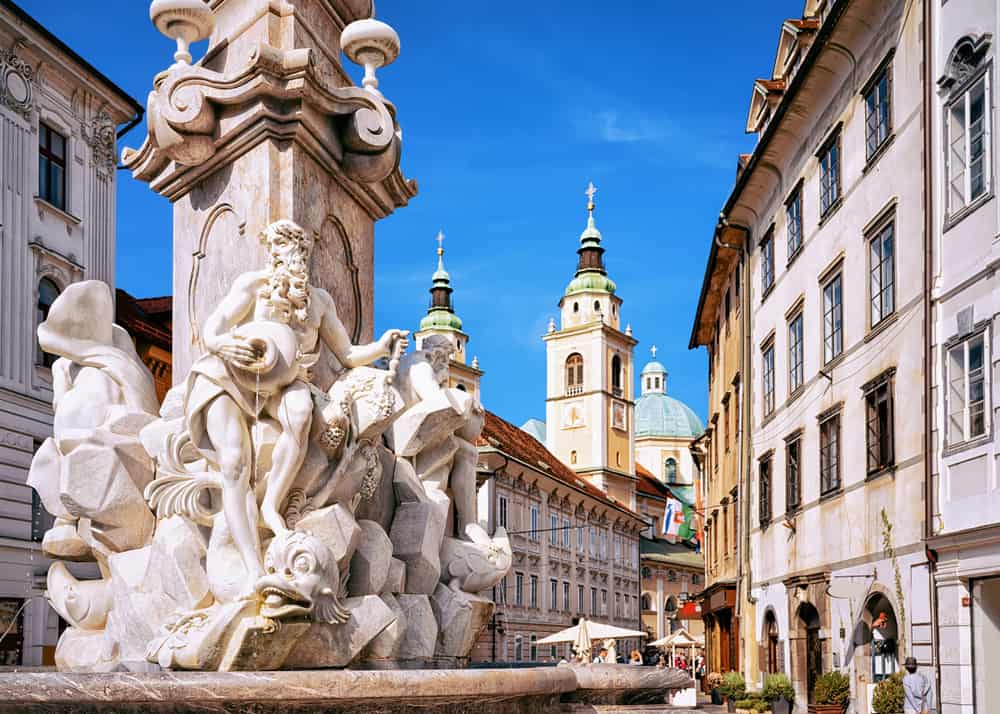 Reykjavik, Iceland
One of our favorite European Capitals is Reykjavik, the capital of Iceland. There are so many fantastic things to see and do in Reykjavik, so we've narrowed down a few of the key spots to visit.
The swimming in Reykjavik is unlike any of Europe's Capital Cities. For local Icelanders, it is a place of community and a way to be social. For many, there is also a great fitness aspect. There are many different places to swim, including pools with waterslides for children or simple warm pools for relaxing. Due to Iceland's plentiful supply of hot water, the pools are always nice and warm.
For those interested in the history of this country, the Hofsstadir Historic Park Viking Longhouse is a great place to visit. Here, visitors will find a park constructed to represent how Hofsstadir would have looked between 870 and 930. Through the use of new technology, such as 3D effects, visitors can get a feel for what it would have been like to live in a Viking Longhouse. This is located just outside of Reykjavik, making it a quick and easy visit for those staying in the capital. Read this article for the best tours to take!
Of course, you'll want to try the local cuisine while in one of the most unique European Capitals. Post-lunch, check out Kaffi Loki for typical Icelandic tea-time food. For Icelandic seafood, you'll want to try Sea Baron.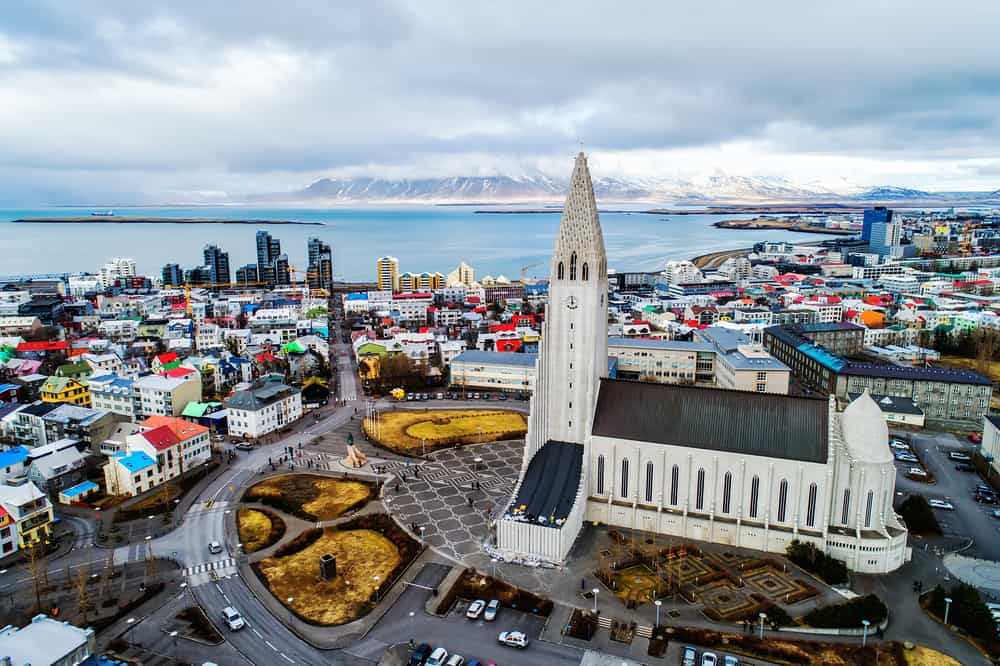 Moscow, Russia
While it might not be the first on your list, Moscow is one of the prettiest European Capitals. There is plenty to see and do in this beautiful city. One of the top activities to do in the capital is to take tours of major political and historical buildings. Between the Kremlin, the Armoury, and Red Square, there are plenty of ways to take in Russia's history. If you head to the Kremlin around lunchtime, you can see the changing of the guards. It's often recommended that tourists grab their tickets for the Armoury and Kremlin for the same day to save the most time.
Like all European Capitals, tourists could visit only the historical buildings in Moscow and take up many hours of their time there. However, there is more to this beautiful city than just its troubled history. There are plenty of highly-rated restaurants in the Moscow area that serve traditional Russian cuisine. Check out Russia Pub or Chemodan for the highest-rated local food.
Another way to take in Russian traditions is through the theatre. Spend a night out at the Bolshoi Theatre. There is a large variety of options for visitors to attend including Shakespeare plays, orchestral performances and operas.

Riga, Latvia
One of the prettiest medieval European Capitals, Riga is a must-see when visiting Eastern Europe. The capital of Latvia is the largest Baltic capital and is infused with art and spirit that you won't find elsewhere.
Speaking of art, visitors will want to put Art Museum Riga Bourse on their list of places to visit. Housed in Latvia's restored stock exchange building, the facade itself is a masterpiece. Within this stunning location, there is both Latvian and foreign art. The Oriental section includes Chinese and Japanese art, and it even features an Egyptian mummy!
If you're looking for the fanciest place to eat in Riga, be sure to check out Vincents. It's said that even Queen Elizabeth II has eaten there. The food is sourced from local Latvian farmers and the decor is all Van Gogh inspired.
We can't all afford to eat where the queen does, but that doesn't mean that we can't enjoy some amazing Latvian cuisine. Head down to Old Town to take in both Latvian food and Latvian nightlife. Some restaurants to try are Domini Canes and Folkklubs Ala Pagrabs. Don't forget to stick around for some evening fun at the clubs and cultural hubs.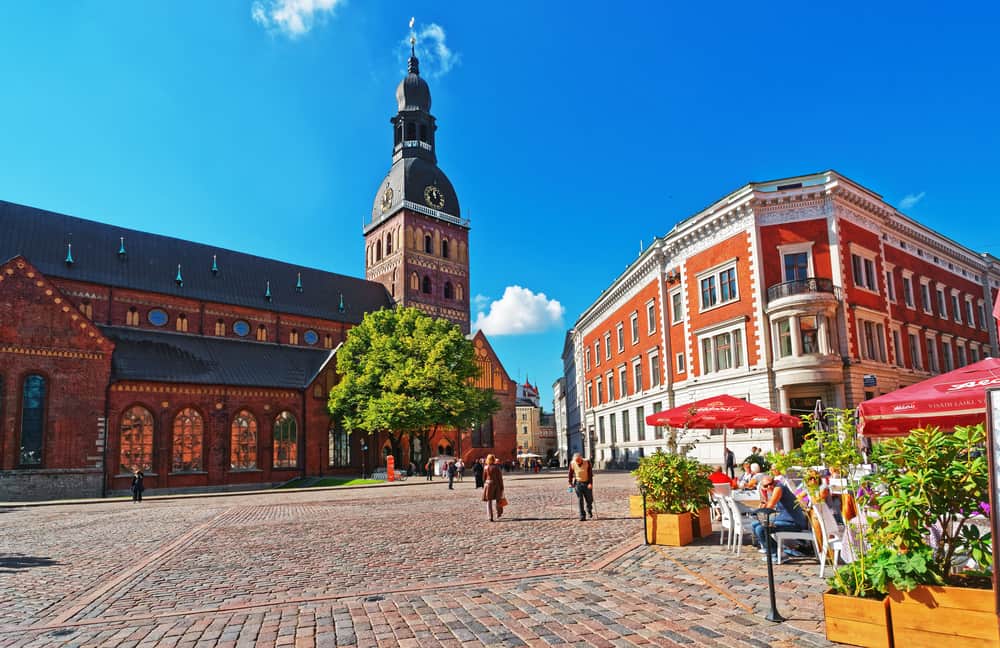 Luxembourg, Luxembourg
This small landlocked country still has one of the most beautiful European Capitals. It's easy to remember because Luxembourg is both the name of the capital and of the country! This is one of the easiest European Capital Cities to add to your itinerary because the country is located in the middle of France, Belgium, and Germany. If you're headed to Paris, Brussels or Berlin, make sure to add Luxembourg to the list.
Like many countries during World War II, Luxembourg was under Nazi occupation. They have many monuments dedicated to the war, but perhaps the most interesting and beautiful monument is the National Monument of the Solidarity. An eternal flame burns in the center of the monument and it the inside is meant to represent the prisons, camps, and barracks.
Another unique attraction to visit is the Panoramic Elevator of the Pfaffenthal. This glass elevator connects the city center to the Pfaffenthal area. It is a great way to travel from one point to the next while taking in views of the city.
Yet another beautiful way to take in the city is through a guided night tour of the city. This walking tour allows you to learn about the city's history while taking in the monuments at night. The tours are held in English/German and French/Spanish. If this tour doesn't appeal to you, the city holds many guided tours. Simply visit the website or a visitors center for more information.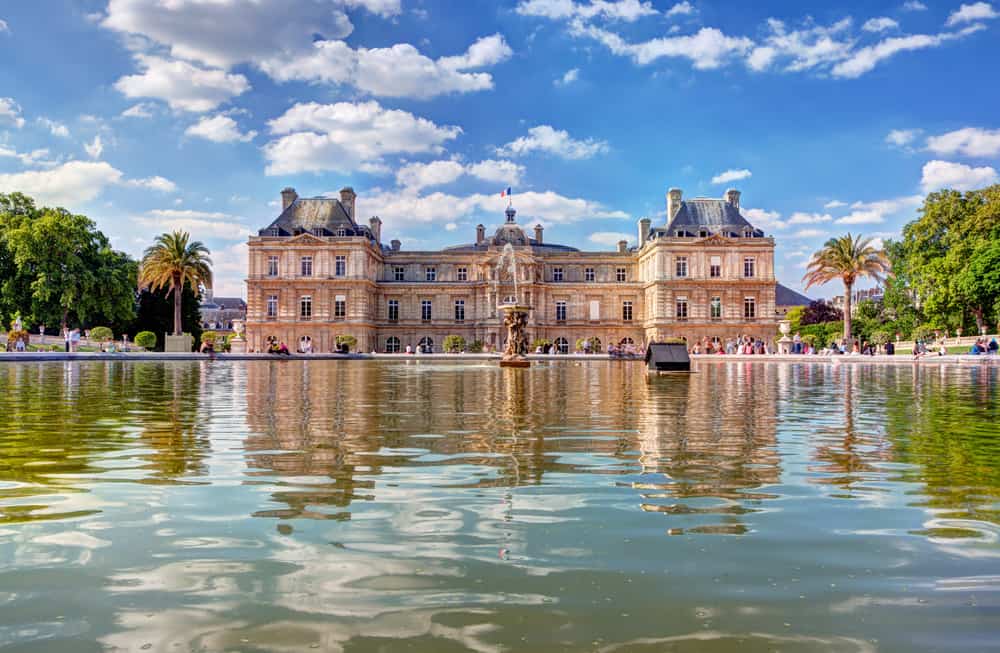 Prague, Czech Republic
The City of a Hundred Spires completes our list of European Capitals. Prague is known for its beauty and spectacular architecture. Often referred to as the Paris of Eastern Europe, Prague should always be at the top of your list.
It's hard to narrow down the architectural beauties for this article. If you've got a lot of time, be sure to visit the Charles Bridge and Prague Castle. For this post, we're going to focus on Old Town Square. This square has functioned as the main square for the city since the 10th century. Now, it's still the heart of the city but it definitely acts as more than just a meeting place. Musical performances, fashion shows, and Christmas markets often fill the square. This is a great place to go to get a feel for the Prague style and culture.
Besides being known for its beauty, Prague is also one of the European Capitals best known for beer. Czechs drink the most beer per capita than any other country in the world. To see what all the fuss is about you'll want to visit some of the best breweries located in Prague. Check out U Fleku, where they have been continuously brewing beer for over 500 years. Or visit Vysehrad Beer Garden for awesome beer and great local food.
Looking for the 'can't miss' attractions in Prague? Check out this article.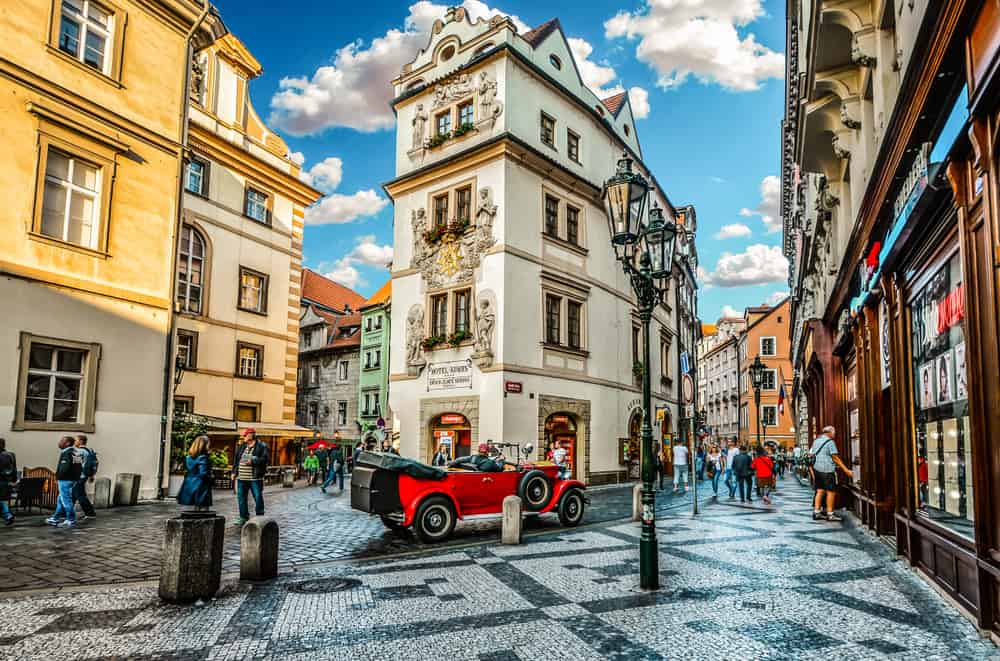 Packing Tips For Your Trip To Europe:
Here are some of our favorite items that you should consider packing for your trip to Europe! These are essential travel items that we use and love and you should make sure to consider for your travels.
A concealed travel pouch may be one of the most important items you bring with you! This unisex RFID blocking concealed travel pouch is lightweight and comes in several colors. It has lots of organization to give you peace of mind. You can keep your most valuable documents safe and secure next to your body.
If you have a pouch already you may not want to or need to invest in a new one. If it does not come with the RFID protection, these RFID sleeves would be handy to prevent identity theft. This configuration comes with enough passport and credit card sleeves that the entire family would be protected. They are slim too, so they will easily fit into your current pouch or wallet. These are the kind our family uses not only when traveling but at home as well.
If you have a camera on your packing list, you need to add additional memory cards on your list as well. Unless you are packing a computer for your trip, you will not be able to upload photos and clear your existing memory card. Purchasing additional memory cards cost under $20 and take up no space in your luggage. Having a backup can have the potential to save you a lot of heartaches if something goes awry! There is nothing worse than coming across that perfect moment and then finding out you don't have enough space to capture it on your camera!
Similarly, If you are planning to capture your trip on a smartphone, we beg you to bring some way to back up your memories. The best way to do this is with a portable smartphone flash drive. A flash drive is a small storage device that you can connect up to your smartphone and then safely and easily download the photos onto this device.
If you are planning on taking a lot of pictures with your phone you will definitely want to consider an external charging battery. This Anker high-speed phone charging battery is the exact one we carry with us on all of my trips. It can be used on a variety of phones, not just an iPhone like we have. And wow is it fast! We like that it holds its charging capabilities for several uses so we do not have to worry about it while out and about. And if we forget to recharge it at night, it will still be good to go the next day.
My mom was never a fan of packing cubes until she tried them out! Now she am sold. These Bagail packing cubes are the exact ones she use whenever she travels and she travels a lot. She cannot believe how much more organized she is now! And she will never leave without them anymore.
We never leave home on a trip without our Bobble filtration bottle. The 18.5-ounce size is perfect for travel and it will fit nicely in the pocket of a backpack or your purse. Also when filled with water, it is not too heavy to carry. And the Bobble carbon filter ensures fresh clean water whenever and wherever you fill the Bobble. You can find filter replacements here.
Perhaps you are traveling a long distance and packing space is a premium. Then this set of collapsible silicone foldable water bottles would work well for you. Would not take up much space in your suitcase at all. And you will be receiving a set of two.
You will want to bring a backpack or daypack with you to store snacks, your water bottle, phone, extra clothes, etc.. This foldable water-resistant backpack would be great. It is very affordable and is available in many color options for you to choose from. The fact that it folds down into a zippered pouch will make it easy to pack.
Perhaps you need a more substantial backpack for your international travel. This antitheft backpack has a charging port, is water-resistant and can comfortably carry up to a 15.6″ laptop. It comes in a range of colors to choose from and it is inexpensive as well.
We all need to protect our eyes from the sun's harmful UVA/UVB rays. These unisex polarized sunglasses come in a lot of lens colors and frame designs and are extremely affordable too.
If you are fond of the aviator-style of sunglasses these polarized aviators may interest you. We like polarized sunglasses because they remove the glare off the water and help you to see things more clearly.
Don't forget to bring along a universal power adapter if you are traveling abroad. This worldwide power plug is a great example and will charge your phone at the end of your busy days. And this world traveler adapter kit can charge several devices at the same time. This is what you will need when there are several people traveling in your group, or if you bring several electronic devices on your trip that require charging at the same time.
Which of these European Capitals is your favorite? Did we miss any on our list?