Can you imagine anything more legendary than a Greece Honeymoon? Of course not, that is why you are going on your honeymoon in Greece! Congratulations on your wedding, and on finding your special someone. Marriage takes some serious dedication, and we are so impressed that you have taken this step! You are the only person who knows just how much blood, sweat, and tears getting here took, but we have an idea. That is why we have pulled together everything you need to know about planning the perfect Greece honeymoon. You have done enough! We got this for you!
And might we just say, wow. Greece. You are going on your honeymoon in Greece. Greece! We are so excited for you! Greece has so much to offer, and you are not going to regret your decision to spend the first days of your married life here. From the flight into Athens, to the beautiful islands and Santorini resorts… Your honeymoon is going to be epic. Like Greek legend epic, only without all the sacrifice and crazy monster business. Think endless skies, turquoise waters, and the undeniable love between you and your new spouse–that kind of epic. Your marriage is going to be its own legend, and your Greece honeymoon is the beginning. Read on for our best tips and tricks for planning the honeymoon of your dreams.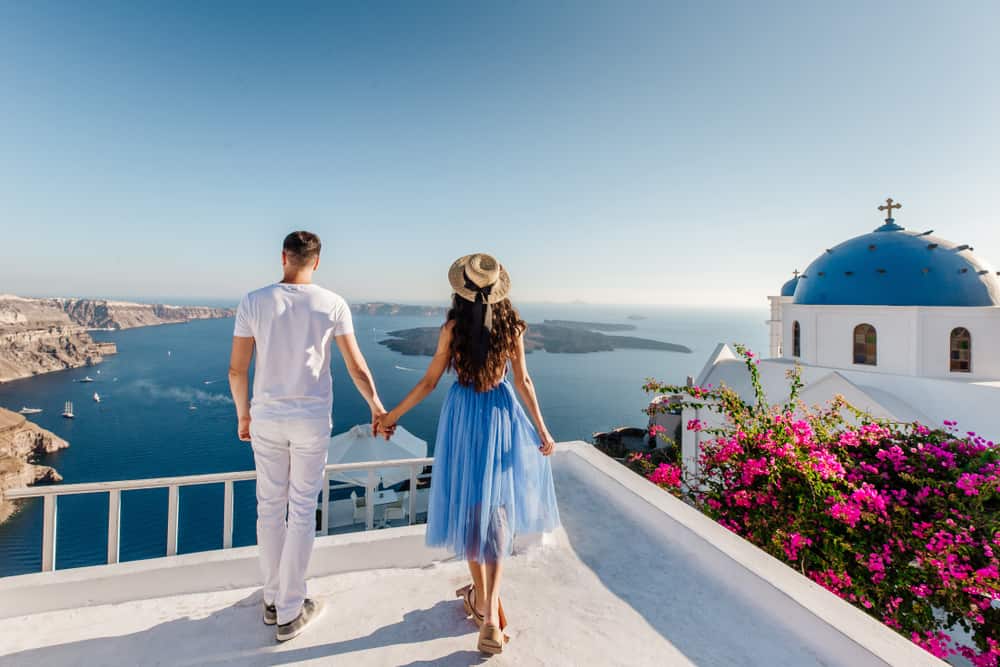 How to Plan the Perfect Greece Honeymoon
When to Honeymoon in Greece
Honeymooners are not the only people who think that Greece is a great memory-making location, but if you plan it right you will not have to be there when everyone else is. Greece has very pleasant, warm weather starting in May and lasting through October. Most vacationers visit between July and August, giving you some prime Honeymoon time on either end. Come in May or June, or rather September or October if that fits your timeline better. A bonus benefit of avoiding peak tourist season is better prices for basically everything. Even if money is not an issue for you, it is nice to have the option to spend more on experiences and less on where you are staying.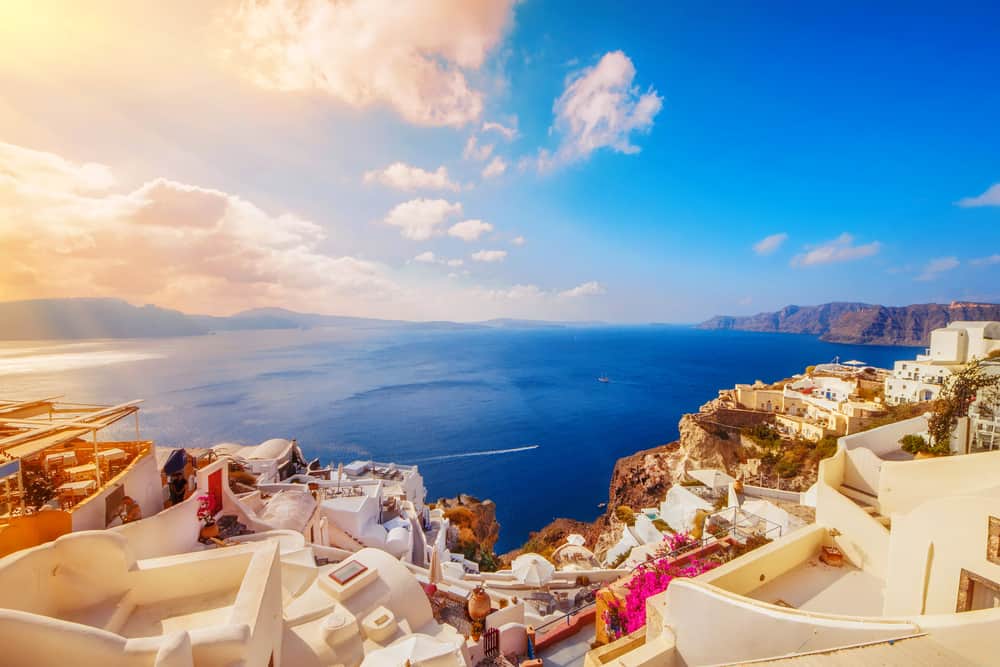 Romantic Greece Honeymoon Hotels
There are a few different classic Greece honeymoon locations, so we have found some of the best places to stay in each location. Want a stunning beach honeymoon with incredible sunsets and horizons? Check out our picks in Santorini. If a more exotic honeymoon with a mad night scene is more your cup of tea, watch for our picks in Mykonos. If you are going to Greece for your honeymoon because, hello, epic ancient history! then skip to our picks in Athens. Wherever you choose to focus your Greece honeymoon, you are going to love it!
Alta Vista Suites
Can you say, "infinity pool"? Because Alta Vista Suites has got an infinity pool. Like, the infinity pool of your dreams. You could do your entire honeymoon in their infinity pool and never get tired of it. We mean, just look at that view in the picture below. Forget spending your honeymoon here, we could spend our whole lives here. Alta Vista Suites is the perfect place to stay if you want to manage your own time and experiences, but also want a stellar place to stay the night. And the day. And all of the time. Not sure if we have made this clear yet, but we kind of love this place.
Check rates: Booking.com | Hotels.com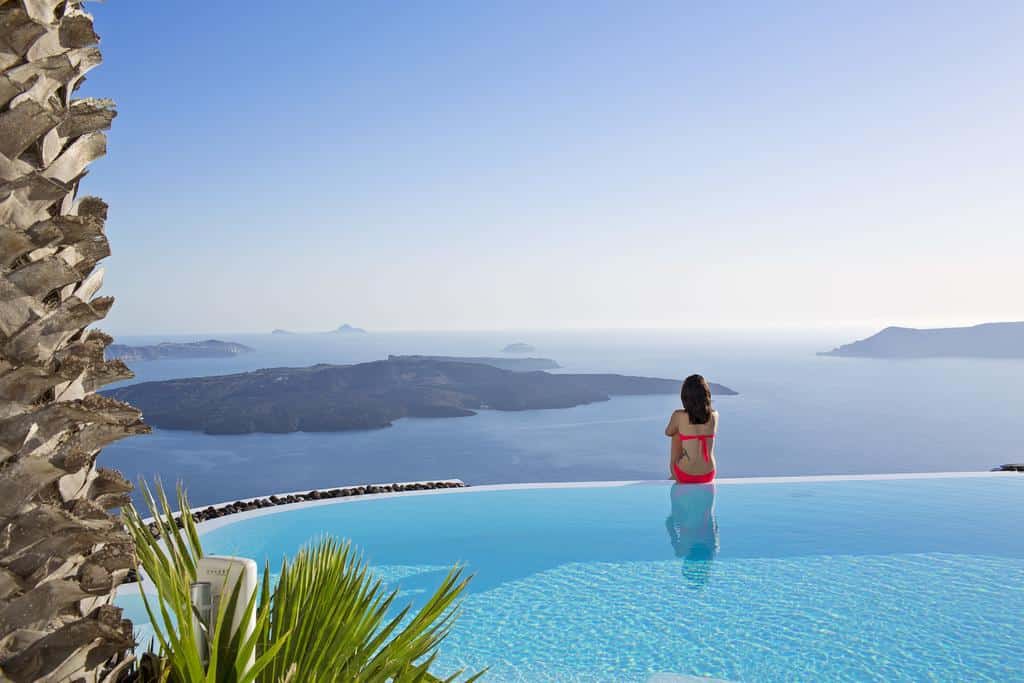 Honeymoon Petra Villas
We mean, it has the word "honeymoon" in the name. Honeymoon Petra Villas is the all-inclusive Greece honeymoon experience you have been looking for. They offer sailing excursions, wine tasting, and a wellness cave. That is right, they have their own spa, and in classic Santorini fashion, it is in a cave. And when we say sailing excursions, we are talking about sailing around to at least ten of the surrounding islands, snorkeling, visiting authentic taverns, and free drinks! Check out the different packages they offer here. 
Check rates: Booking.com | Hotels.com
Grace Hotel Santorini
So if you are following along and checking these places out, you may have noticed that they all have infinity pools. Like you and your spouse, Greece knows when it has something good, okay? This hotel should be on your Santorini itinerary if this is the place you are visiting for your honeymoon!
The Grace Hotel Santorini is no stranger to the lure of infinity pools, and in fact, has the largest one in the caldera. You could live in this one too. As if that is not enough, some of the suites here also have private plunge pools. Eat at the hotel's world-class restaurant, or take a short walk to visit some of the local eateries nearby. This is the place to stay for an idyllic honeymoon of relaxation and charm.
Check rates: Booking.com | Hotels.com
Mykonos Grand Hotel and Resort
Part of why we love the Mykonos Grand Hotel and Resort is that, whatever end of the budget spectrum your suite falls on, it has amazing features and views. It is not close to the famous Mykonos night scene but does provide a bus if you would like to go downtown. If you would like to relax and experience nothing but amazing food, comfort, and scenery, just stay here! The Mykonos Grand Hotel and Resort offers a health center, spa, fine dining, gym, and tennis court. They even have a private beach! Furthermore, people rave about the attentive staff and service. This place is lux, but it is worth every penny.
Check rates: Booking.com | Hotels.com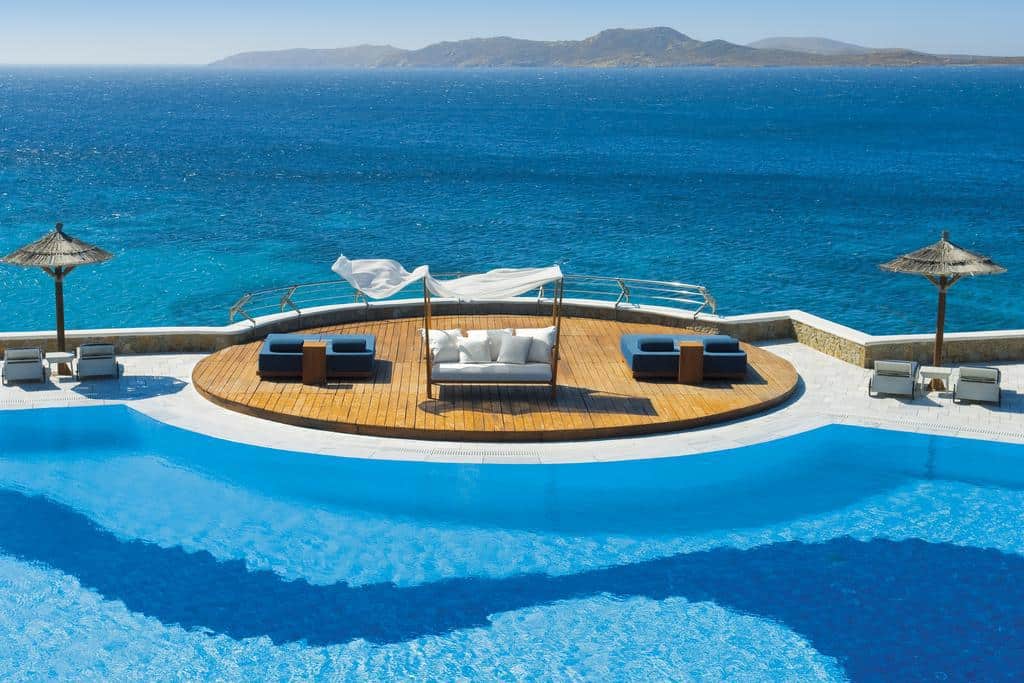 Royal Myconian
Stay in a suite or a villa at the Royal Myconian. Here you will enjoy expansive views of the Aegean Sea, sunny days at Elia Beach, and access to their excellent spa. This resort is a little less expensive as some of the others we have listed, but still offers everything you could want for the best Greece honeymoon ever. Some of the rooms even have their own hot tubs and private pools! They also have a shuttle service so that you can easily explore the surrounding areas. People love the breakfast buffet, the location, and the general experience here.
Check rates: Booking.com | Hotels.com
Cavo Tagoo Mykonos
If you are honeymooning in Mykonos for the rich nightlife and party scene, Cavo Tagoo Mykonos is the place to stay! The pool bar here is hopping, and the town's bars and parties are only a five-minute shuttle ride away. Even if the party life is not really for you, there are other great reasons to stay at Cavo Tagoo. This hotel is renowned for its beautiful traditional Greek architecture and style. Like many of our other recommendations, Cavo Tagoo also offers suites with private pools. Whether you are here for the celebration of a lifetime, or here for some needed rest and serenity, this place has what you are looking for.
Check rates: Booking.com
Cape Sounio
Imagine the conversation now:
Some Someone You Know: "So where'd you go on your honeymoon?"
You: "Oh just this little lux resort across from the Temple of Poseidon."
Boom. Winning. Cape Sounio is a luxury hotel in Athens with private villas, a beach, and straight-up spectacular views. Trust us, there are a lot more reasons to stay here than just being able to top anyone else's honeymoon location. They also have their own spa, as well as a gym and multiple restaurants. Try something local, or stick with your comfort food–Cape Sounio has it all. Stay here and you can also book a private yacht cruise to visit the surrounding islands. You just cannot go wrong here.
Check rates: Booking.com | Hotels.com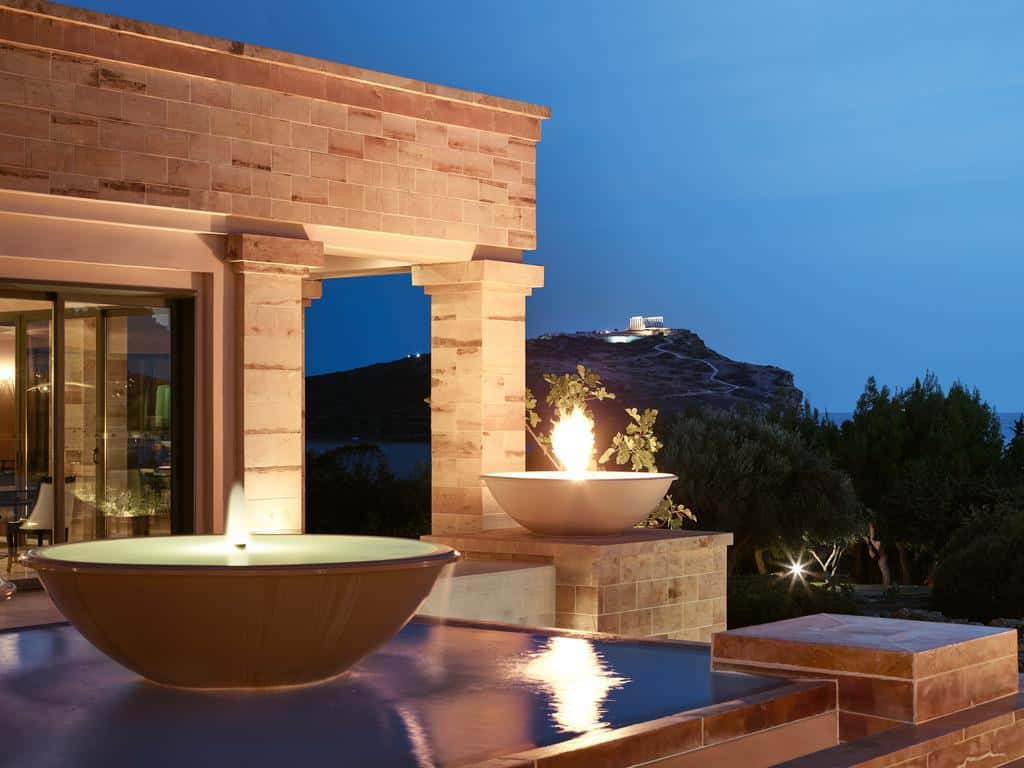 Life Gallery Athens
Okay so we have raved about Greece's infinity pools a bit much, but have you heard about the glass-bottomed pools? Life Gallery Athens has a glass-bottomed pool that allows you to swim and check out the panoramic views at the same time. They are not an all-inclusive resort, but do offer a honeymoon package to sweeten your experience. This also allows you the ability to be more selective with your honeymoon experiences and activities. Explore the amazing, historic city of Athens with your lover during the day, and then come back to this luxury hotel for the night. You will not regret it.
Check rates: Booking.com
Royal Olympic Hotel
If you are taking a honeymoon in Greece because you love ancient history almost as much as you love your new spouse, the Royal Olympic Hotel in Athens is a great place to stay. It is right next to the Temple of Zeus. So close, in fact, that you can see it from most suites and the pool! How epic is that? You can also see the Acropolis and Lycabettus Hill from the rooftop restaurant. The Royal Olympic Hotel also offers a garden, gym, and free WiFi. For a historic Greece honeymoon filled with sightseeing and adventure, this is the place to stay.
Check rates: Booking.com | Hotels.com
What to Pack for Greece
#1. Reusable Filtered Water Bottle
We always recommend this one. A great way to add some ease to your Greece honeymoon is to bring a reusable filtered water bottle with you. Save the planet, save the ocean, and save your wallet. Trust us on this one–bring yourself a water bottle. It is so much easier and less expensive to carry water with you than to try to find it while you are out adventuring.
#2. Add A Poncho Instead Of An Umbrella
Looking to save space but still stay dry when choosing what to wear? Add a poncho to your packing list instead of a travel umbrella! A poncho folds up teeny tiny in your suitcase and is easy to throw into a backpack when you're are sightseeing. It is quick to whip out and put on and keeps you more covered than an umbrella. When considering what to wear in Greece, make sure you pick a poncho that is made of quality material so it doesn't rip when you put it on. This is cheap but necessary to bring on your honeymoon in Greece.
#3. Portable Power Bank So You Can Keep Going Strong
Whether you use your phone camera or you're more high tech, it is always useful to carry something to recharge when an outlet is nowhere in sight. If you plan to stay in for the entirety of your honeymoon in Greece, then this one might not be as necessary. But, if you plan on going out and adventuring, bring a portable power bank. They are small, lightweight, and worth the space they will take up in your purse or pockets.
#4. Action Camera for All Your Unforgettable Moments
If you are going on your honeymoon in Greece, then you know you will be doing some amazing things. Your memories will last a lifetime, but there is no harm in taking some video to help remember things a little better! And lucky for you, cameras are kind of (read: very much) our thing. We have a couple of articles you can check out to learn more: the 5 Best GoPro Dome Ports and How to Use Them, and the 11 Best GoPro Alternatives That Won't Break the Bank.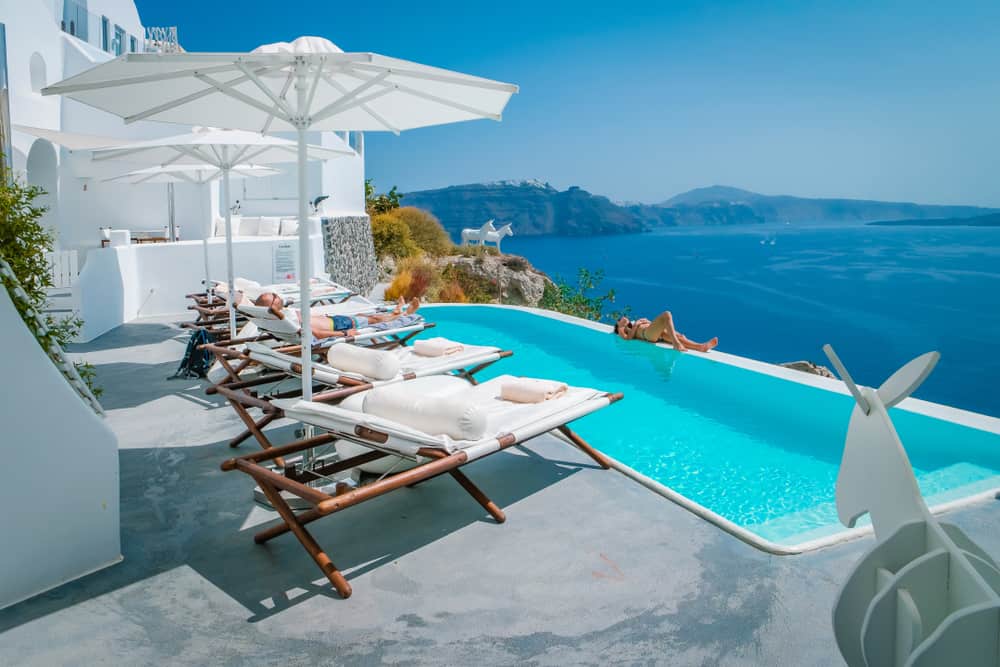 #5. Underwater Case for Your Action Camera
If you're going to bring an action camera to your Greece honeymoon (and we recommend that you do!), do yourself a solid and bring an underwater case for it. We recommend this case for over-under water shots and for snorkeling and/or swimming in shallow water. If you are all about deep water diving, we recommend this case instead. Of course, why not come prepared and bring both?!
What to Do on Your Greece Honeymoon
Take a Boat Tour
Wherever your Greece honeymoon takes you, chances are great that there is an amazing boat tour somewhere very close by. From the rivers to the Aegean Sea, Greece has water everywhere. Research some of the best Greek islands for couples and then choose exactly where to go and take a boat tour to those locations!
Some boat tours are more of a sightseeing expedition, while others offer excursions and experiences. You might not usually put snorkeling and boat tours together, but a boat tour is actually an excellent chance to see some of the marvels below the water.
If you love adventure, you can do a jet ski tour in Santorini which is very popular, and for a good reason.
And what could be more romantic than a sunset cruise? Boat tours are a perfect Greece honeymoon experience!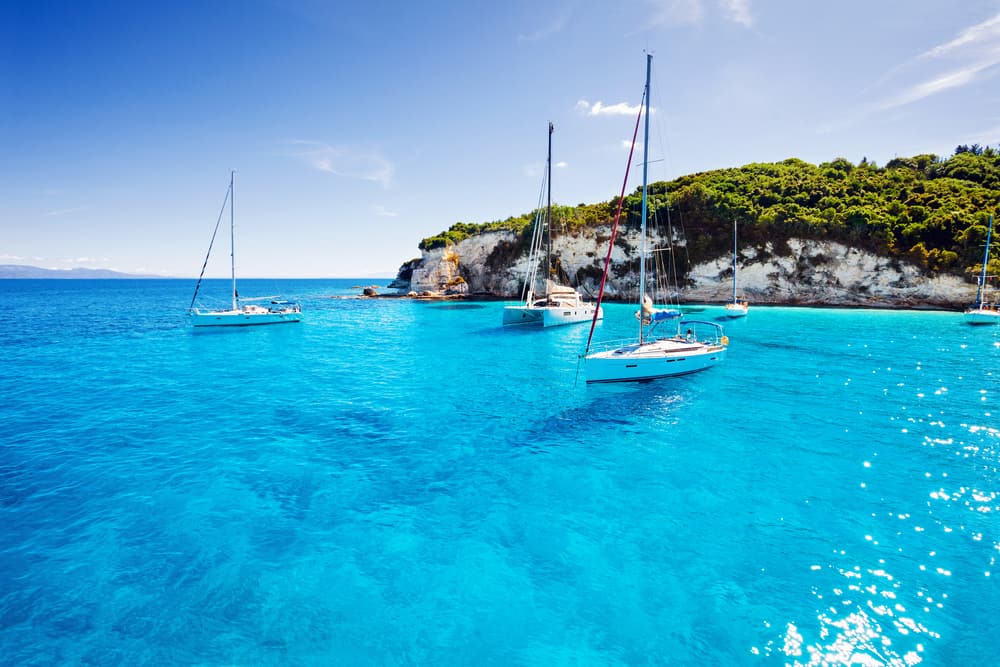 Soak in Some Hot Springs
Did you know that Santorini has its own active volcano? Do not worry, it is considered dormant and should not make any trouble while you honeymoon in Greece. But it does make some excellent hot springs! You will have to take a little boat ride to get there, but the little black islands Palea Kameni and Nea Kameni, formed by lava thousands of years ago, are worth the effort.
We recommend taking a bit of time to admire and walk on the side of the volcano before soaking in the hot springs. And bring clothes you are not emotionally attached to, because the smell of sulfur is strong here. Hot springs are some of the best places to visit in Greece and can make for a really romantic experience on your honeymoon!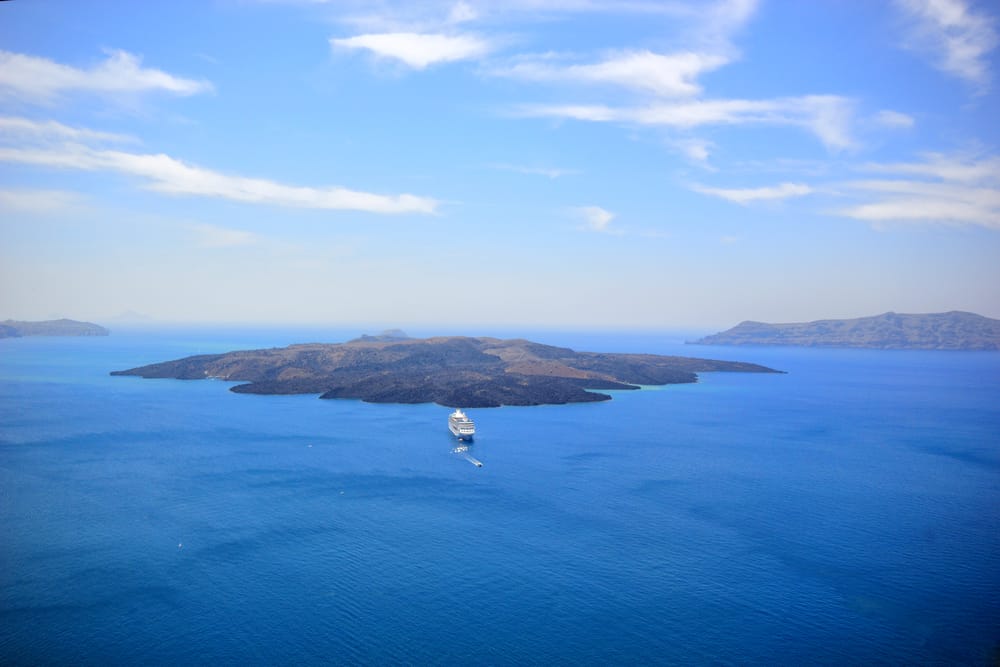 Sunbathe at Kamari Beach
Do something a little different during your Greece honeymoon and visit Kamari Beach. You might ask: what makes something as traditional as a beach unique? Kamari has black sand that glitters in the sunlight! It is a popular location for soaking up some sun and taking it easy. Once you have had your fill of the sun and sand, feel free to visit the restaurants and cafes. There are plenty of them with a wide variety of cuisines. There is simply no excuse to go hungry while you are here. You can even snack on gelato to cool down during the hot summer months!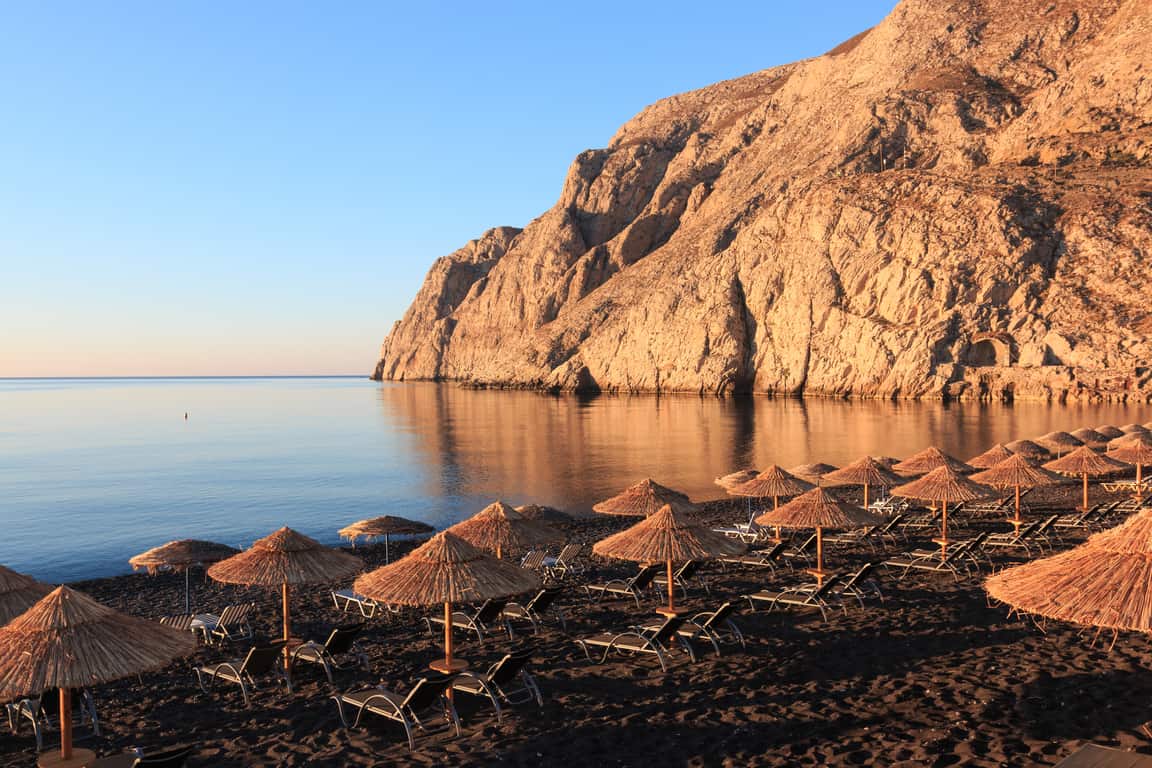 Explore Ancient Ruins
This one is non-negotiable for you history buffs out there. Very close to Mykonos lies the little island of Delos. Keep in mind that you will need to take a ferry from one of the neighboring islands to get here. A few millennia ago this was the home to a thriving city, with temples for Apollo and Artemis. All that remains from that time are a bunch of ruins, artifacts, and sculptures. Delos has a museum where you can see many of the archaeological finds from this area, and you can go and explore some of the ruins yourself.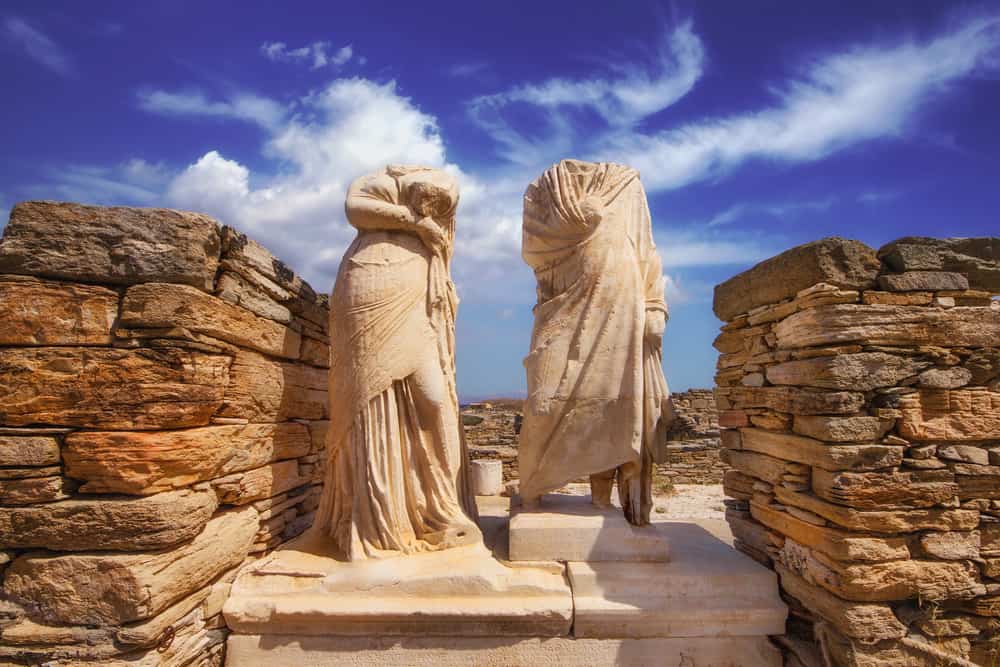 Experience a Gondola Ride
There are very few things more romantic than a gondola ride. Add a little spot of Mykonos that is reminiscent of Venice to the mix, and you have a Greece honeymoon experience you will never forget. Mykonos actually used to be a stop between Venice and Asia, which is why there is so much Italian architecture on this Greek island. Even without the gondola ride, this would be an amazing place to visit during your honeymoon. There are shops and restaurants galore in the area and no shortage of things to do. But of course, we have to recommend the gondola ride!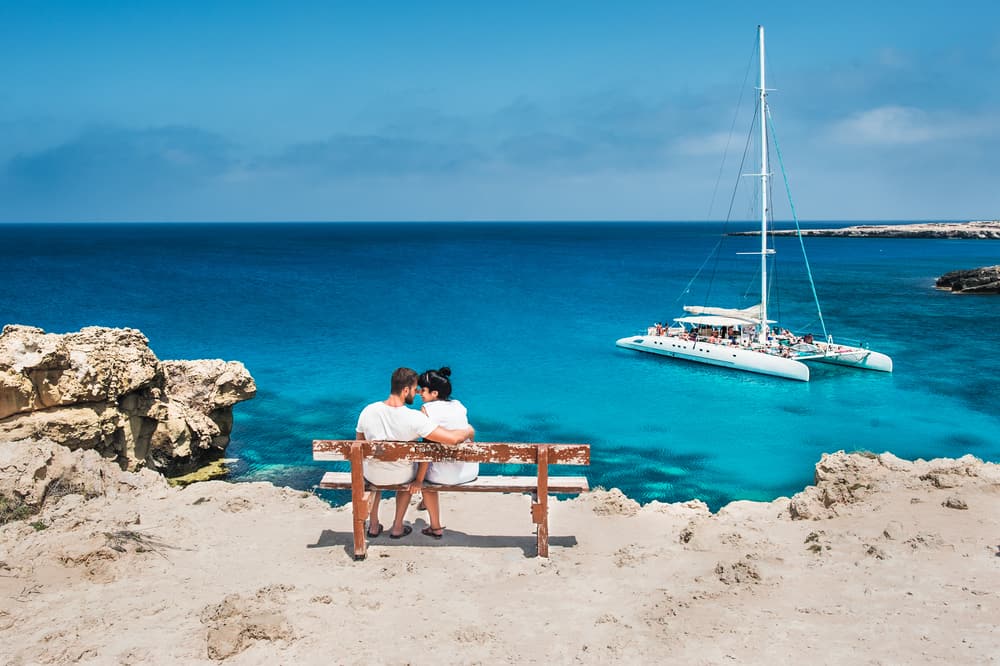 Go Clubbing
Mykonos is famous for its party scene and is one of the best Greek Islands For Couples! What else is a honeymoon but a two-person major celebration? If your way of celebrating involves night clubs, dancing, and drinks, then definitely check out the nightlife in Mykonos. Some of the most popular clubbing locations are the Paradise Club, Alley Cocktail Bar, and the Skandinavian Bar. Even if the party life is not your thing, the island of Mykonos is worth a visit just to see the sunset here. Caprice offers some of the best evening views you can find in the area.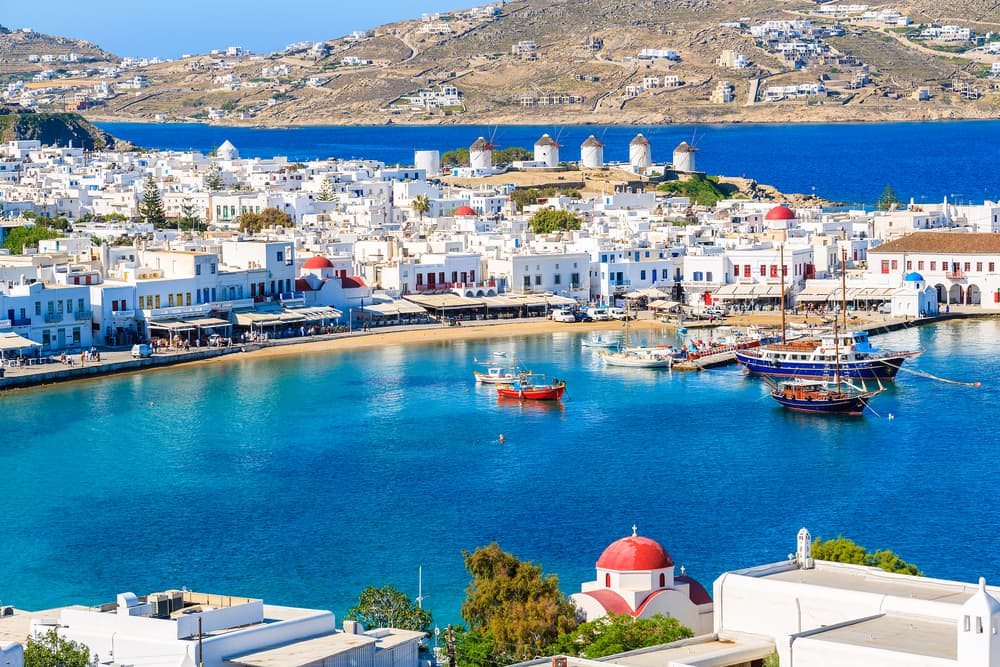 Visit the Temple of Zeus
The Temple of Zeus is another must-see for the history enthusiast. Or just for the cool-experience enthusiast. This colossal temple was built thousands of years ago over the course of centuries. The architecture alone is worth a visit, but the history of this place will blow you away. There is a certain air of wonder at sites like this that are so steeped in ancient culture and tradition. You can spend anywhere from an afternoon to a day at this place, marveling at the way its magnificence shows through after years of war, shifting traditions, and weather.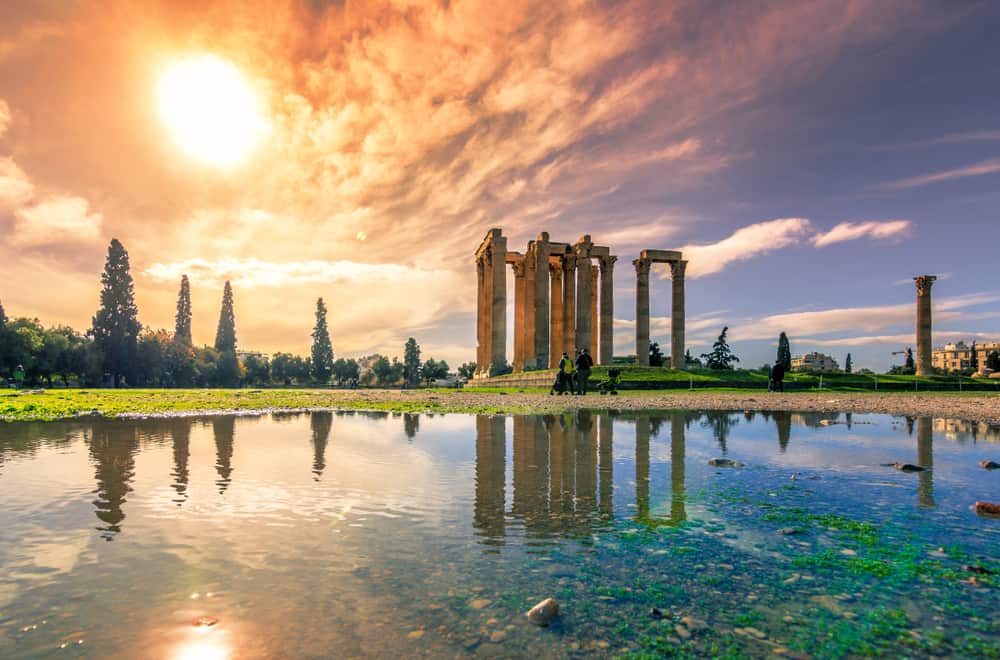 Check out the Parthenon
We cannot talk about a honeymoon in Greece without mentioning the Parthenon. And of course, we cannot list the Temple of Zeus without listing the Temple of Athena! Did you know that the Parthenon is the Temple of Athena? A lot of people do not, since it is more commonly referred to as the Parthenon. It was also the largest and most opulent Greek temple of its time. If you are planning to travel to Athens during your Greece honeymoon, spend some of it here.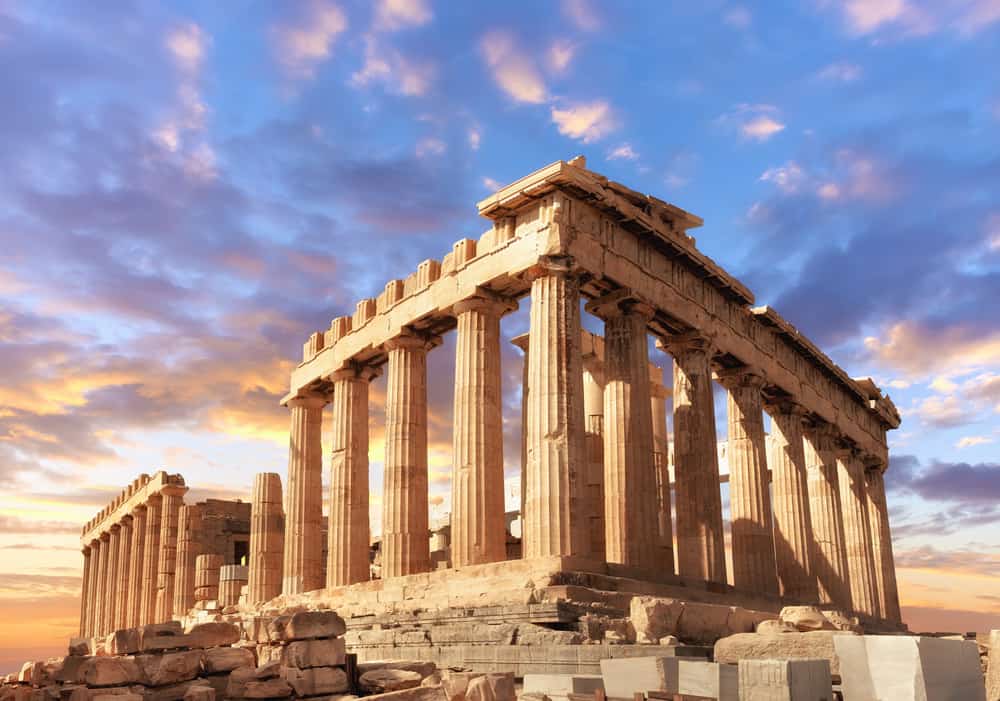 Hike Mount Lycabettus
No better location exists than Mount Lycabettus to view the historic city of Athens. Surrounded by a forest that was planted in the 1800s to prevent erosion, Mount Lycabettus rises high above Athens. At the top lies the Chapel of St. George, or Agios Georgios. There are a couple of eateries at the top as well, although they are expensive. The most impressive part of this hike is the view. While this hike is not extremely challenging, it does have its steep areas so take it seriously. Bring water and good shoes so that you can truly enjoy the scenery.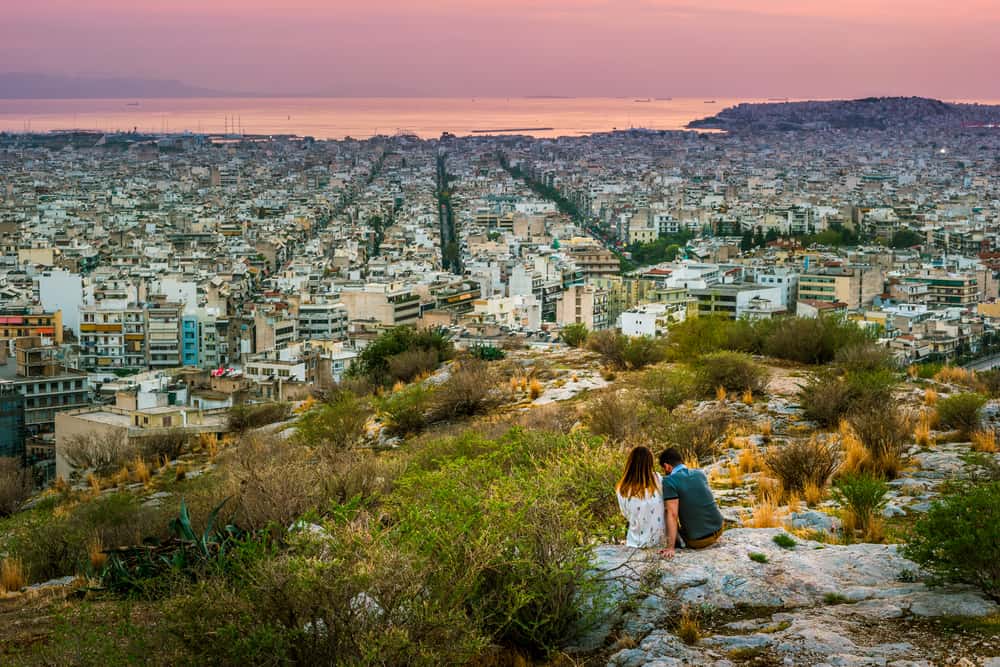 Getting to Greece
The main, international airport for Greece is in Athens. From there you can fly to any of the main islands like Mykonos and Santorini. There are also boat and ferry rides that can get you from the mainland to the islands. You can choose one location for your entire Greece honeymoon, or you can hop around. It depends on what you are looking for–if you want a mostly relaxing, chill honeymoon, we recommend picking one spot and sticking to it. If your honeymoon in Greece is also the opportunity of a lifetime to visit the country and check out some of the most exciting sites, then hop around. It is up to you. One of our favorite things about Greece is that there is an inexhaustible list of things to do. Wherever you spend your honeymoon in Greece, you will not be disappointed.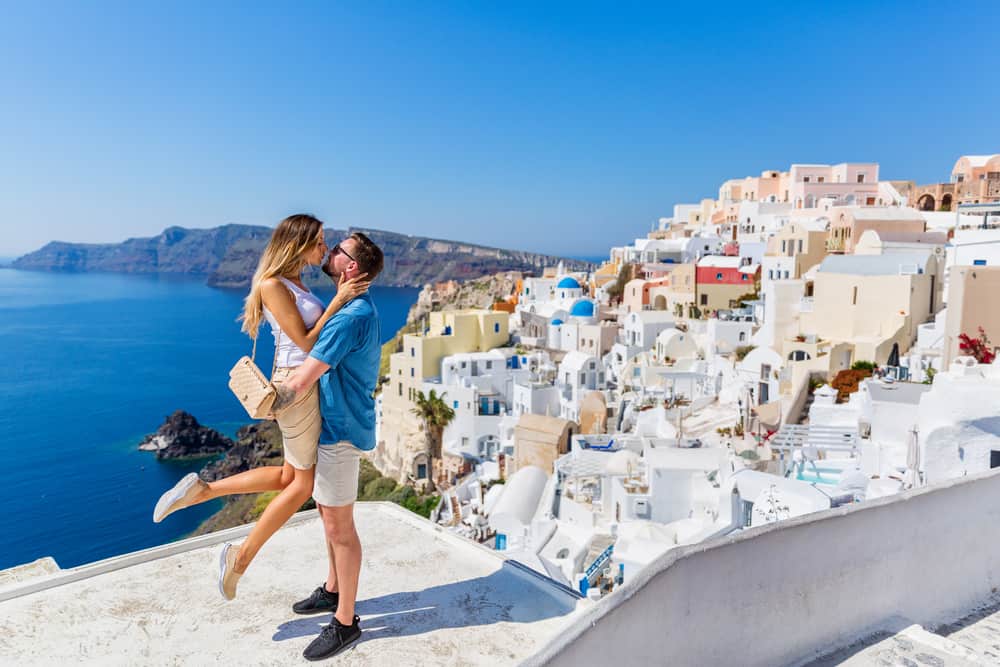 We hope our guide has been helpful in planning your Greece honeymoon. Congratulations again on getting married, and being able to plan the honeymoon of your dreams. We hope you love Greece! Let us know if you visit or stay in any of the places we have recommended, and which ones are your favorite!