There are so many good quotes about Italy out there and with good reason. This spectacular European country has been inspiring and mesmerizing people for centuries with its beauty, art, food, people, and culture. It only makes sense that poets immortalize it, right?
Whether you are counting down the days until your Italy trip or are trying to convince yourself to finally book tickets, this list of Italy quotes are sure to get you in the Italian mindset. You will soon be craving both Italian food as well as the Italian way of life.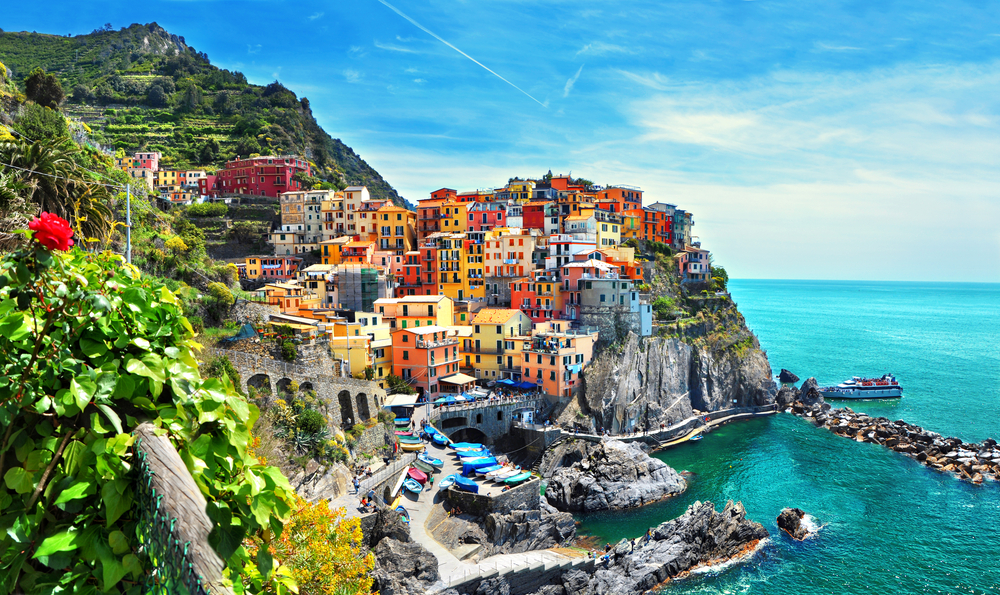 60 Quotes About Italy to Inspire and Delight You
Famous Quotes About Italy
Italy has a long history of drawing people in from far and wide. When these people quickly fall head over heels for the swoon-worthy country, they seem to be compelled to praise it in writing. No matter their differences, it seems everyone has something in common: they love Italy!
You may have the universe if I may have Italy – Giuseppe Verdi
One doesn't come to Italy for niceness," was the retort; "one comes for life. Buon giorno! Buon giorno! – E.M. Forster
Italian cities have long been held up as ideals, not least by New Yorkers and Londoners enthralled by the ways their architecture gives beauty and meaning to everyday acts. – Rebecca Solnit
The Creator made Italy by designs from Michelangelo. – Mark Twain
We are all pilgrims who seek Italy. – Johann Wolfgang von Goethe
Open my heart and you will see, engraved inside of it, 'Italy'. – Robert Browning
Even now I miss Italy dearly, I dream about it every night. – Eila Hiltunen
Italy will never be a normal country. Because Italy is Italy. If we were a normal country, we wouldn't have Rome. We wouldn't have Florence. We wouldn't have the marvel that is Venice. – Matteo Renzi
Traveling is the ruin of all happiness! There's no looking at a building after seeing Italy. – Fanny Burney
The name of Italy has magic in its very syllables. – Mary Shelley
A man who has not been in Italy, is always conscious of an inferiority. – Samuel Johnson
What is the fatal charm of Italy? What do we find there that can be found nowhere else? I believe it is a certain permission to be human, which other places, other countries, lost long ago. – Erica Jong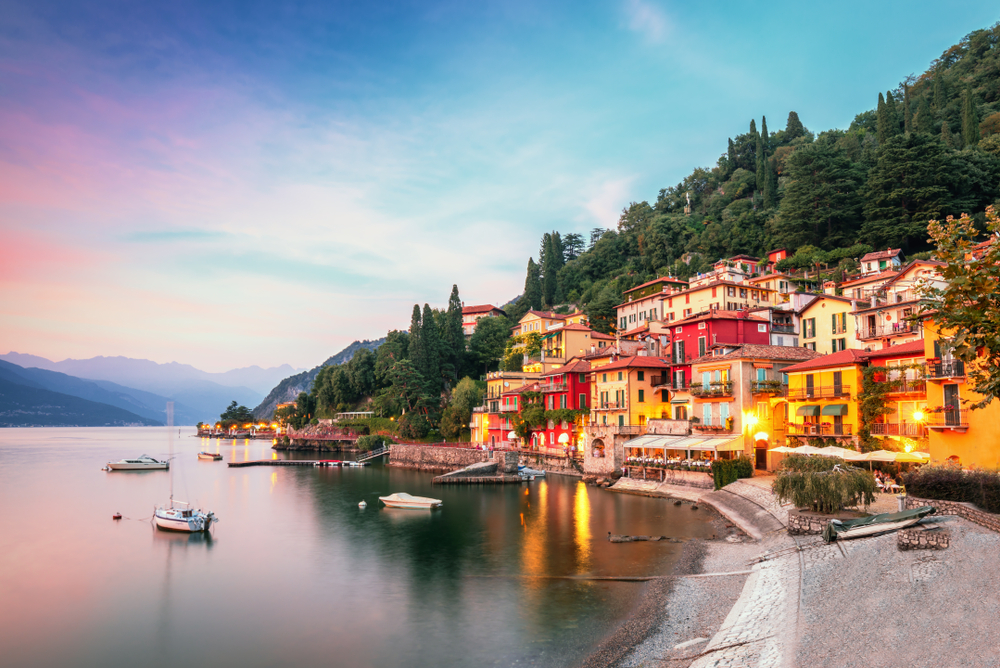 Italian Quotes About Rome
Rome, the Eternal City, is loved eternally as well, which is obvious in all the nice things people have to say about it. These quotes on Rome plainly state that this is a city everyone must see so they can soak in the majesty, history, and art all around them.
Rome, the city of visible history. – George Eliot
To Rome, for everything. – Miguel de Cervantes
Italy has changed. But Rome is Rome. – Robert De Niro
Rome was a poem pressed into service as a city. – Anotole Broyard
Rome is not like any other city. It's a majestic museum, a living room to tiptoe through. – Alberto Sordi
Methinks I will not die quite happy without having seen something of that Rome! – Sir Walter Scott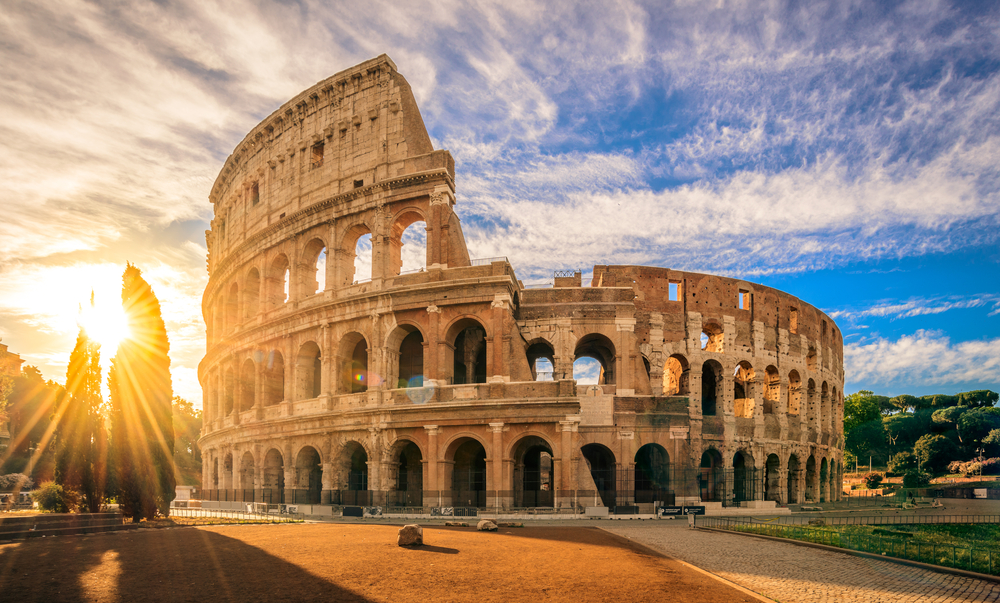 Italian Quotes About Venice
Many people through the ages have waxed poetically about Venice, which is perfect since the city is almost like a living poem. Each of these quotes paints the ideal picture of the city in your mind's eye and truly implores you to visit.
Venice is like eating an entire box of chocolate liqueurs in one go. – Truman Capote
Venice, it's temples and palaces did seem like fabrics of enchantment piled to heaven. – Percy Bysshe Shelley
This was Venice, the flattering and suspect beauty this city, half fairy tale and half tourist trap, in whose insalubrious air the arts once rankly and voluptuously blossomed, where composers have been inspired to lulling tones of somniferous eroticism. – Thomas Mann
It's so easy for me to get caught up in the feeling of a city like Venice, where everything is just beautiful color and gorgeous buildings that are so peaceful. You can roam around and get lost in the labyrinth. – Nanette Lepore
All of Venice is tattered, resewn, achingly lovely, and like an enchantress, she disarms me, making off with the very breath of me. – Marlena de Blasi
Venice never quite seems real, but rather an ornate film set suspended on the water. – Frida Giannini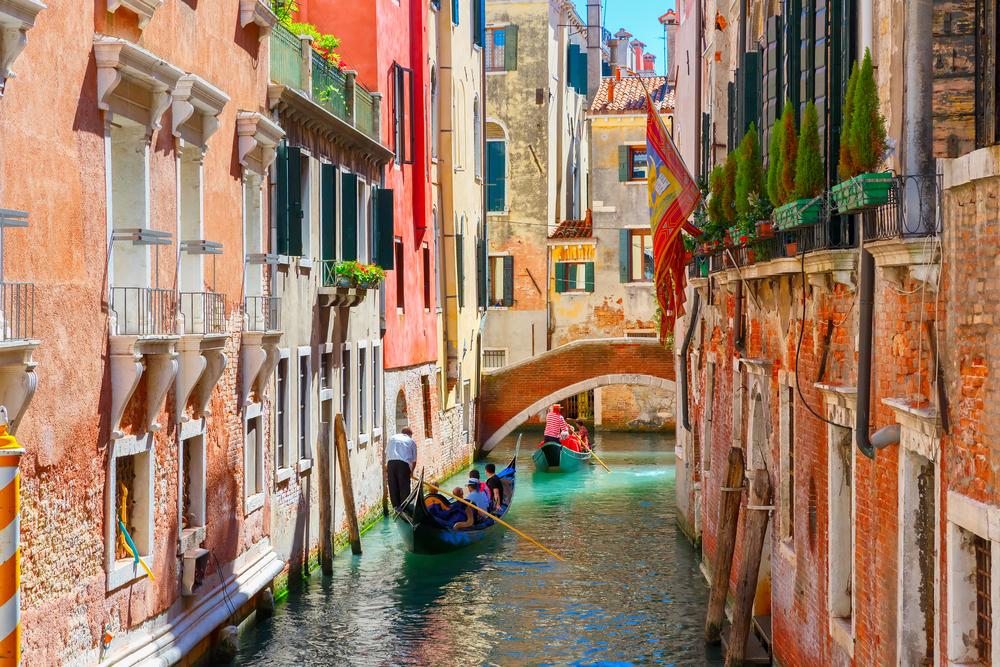 Italian Quotes About Florence
Florence is a Renaissance hub full to the brim with famous art, magical light, and vivid color. These Italy quotes bring the city to life and allow you to feel as if you are there.
Everything about Florence seems to be colored with a mild violet, like diluted wine. – Henry James
In Paris, you learn wit, in London you learn to crush your social rivals, and in Florence, you learn poise. – Virgil Thomson
Through these old streets I wander dreamily; Around me Florence sweeps her busy tide of life. – William Leighton
To see the sun sink down, drowned on his pink and purple and golden floods, and overwhelm Florence with tides of color that make all the sharp lines dim and faint and turn the solid city to a city of dreams, is a sight to stir the coldest nature, and make a sympathetic one drunk with ecstasy. – Mark Twain
When I walk up the piazza of Santa Croce I feel as if it were not a Florentine nor an European church but a church built by and for the human race. – Ralph Waldo Emerson
I do not believe Florence's mission is in the past. Being a center of the Renaissance five hundred years ago is of little use, unless we truly respond to it. – Linda Falcone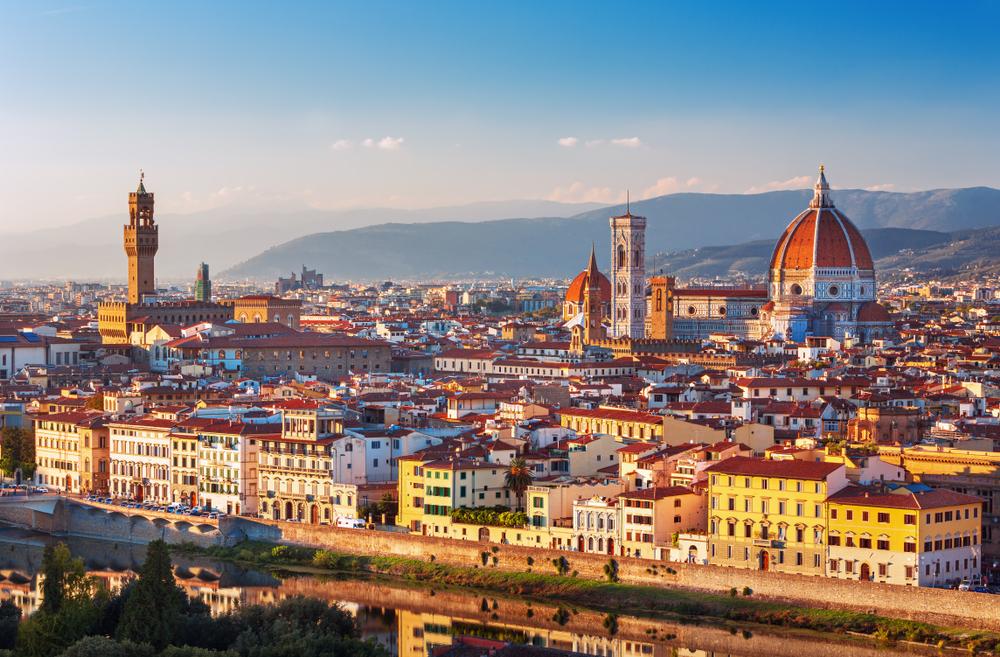 Italian Quotes About Tuscany
Ah, Tuscany! With a landscape bathed in sunlight and green pastures rolling into the distance, it is no wonder everyone dreams of retiring to this Italian countryside. Each of these Italian sayings speak volumes for the area's beauty.
Maybe money can't buy happiness, but it can get you a nice little villa in Tuscany, and that's close enough for me. – Lois Greiman
One of my ambitions is to move to Tuscany. I like the idea of getting a vineyard. I love being under the sun and being casual and comfortable. That's my idea of heaven. – Paolo Nutini
My idea of heaven still is to drive the gravel farm roads of Umbria and Tuscany, very pleasantly lost. – Frances Mayes
The Tuscan countryside whizzed by in a kaleidoscopic whirl of shapes and colors. Green grass and trees melded with blue sky, purple and yellow wildflowers, peachy-orange villas, brown-and-gray farmhouses, and the occasional red-and-white Autogrill, Italy's (delicious) answer to fast food. – Jenny Nelson
Tuscany is so full of history and beauty – you meet wonders of art and architecture on almost every corner. But I love the region's homier aspects: the special sweetness of the tomatoes, the soft mozzarella, the heady scents of basil and garlic everywhere. – Trudie Styler
Americans who visit Tuscany or Umbria love the landscape: the silvery olive groves, the fields of sunflowers, the vineyards, the stone houses and barns. – Anthony Lewis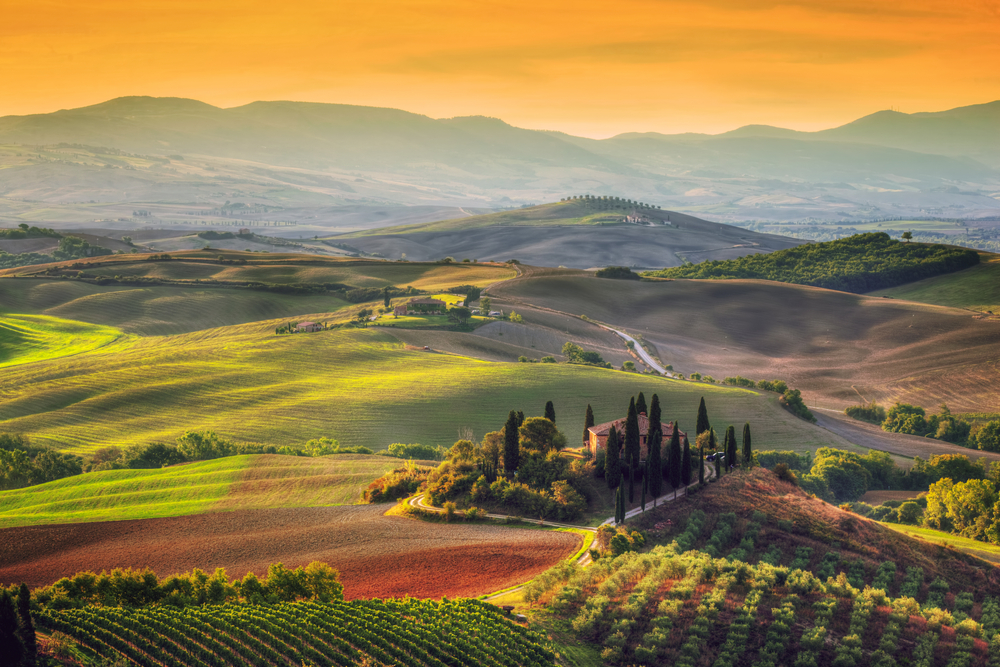 Quotes About Italian Food
Most people can agree that Italian food is some of the best food in the world! Not only is the food worth taking about, but the way it is cooked and eaten is even worthy of discussion as well.
The trouble with eating Italian food is that five or six days later you're hungry again. – George Miller
I think people in Italy live their lives better than we do. It's an older country, and they've learned to celebrate dinner and lunch, whereas we sort of eat as quickly as we can to get through it. – George Clooney
In Italy, food is an expression of love. It is how you show those around you that you care for them. Having a love for food means you also have a love for those you are preparing it for and for yourself. – Joe Bastianich
So… Italian gelato. Take the deliciousness of a regular ice-cream cone, times it by a million, then sprinkle it with crushed-up unicorn horns. – Jenna Evans Welch
I love the simplicity, the ingredients, the culture, the history and the seasonality of Italian cuisine. In Italy people do not travel. They cook the way grandma did, using fresh ingredients and what is available in season. – Anne Burrell
Watching Italians eat (especially men, I have to say) is a form of tourism the books don't tell you about. They close their eyes, raise their eyebrows into accent marks, and make sounds of acute appreciation. It's fairly sexy. – Barbara Kingsolver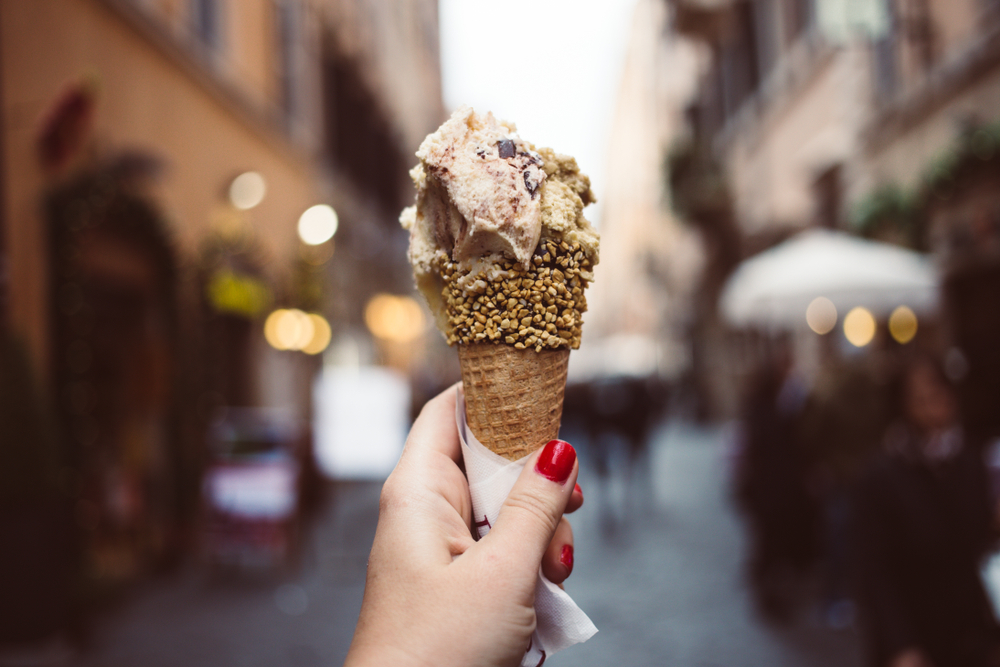 Quotes About Italian Culture
Italian culture is history, art, food, and happy people mixed perfectly to create the Italian lifestyle outsiders are so jealous of. Many people, from singers, actors, and writers, seem to wish they could live in Italy or become one with the culture there. This is seen by the following selection of quotes about Italy.
I love places that have an incredible history. I love the Italian way of life. I love the food. I love the people. I love the attitudes of Italians. – Elton John
Italian culture is so deeply soaked in an appreciation of the good things in life. – Mariska Hargitay
I'm a pretty calm person. That came from living in Italy for a long time. Nothing works, nothing is on time. You have to learn to deal with it. – Tom Ford
There is in the DNA of the Italians a bit of madness, which in the overwhelming majority of cases is positive. It is genius. It is talent. It's the masterpieces of art. It's the food, fashion, everything that makes Italy great in the world. – Matteo Renzi
Italians know that what matters is style, not fashion. Italian style does not have social or age boundaries. – Stefano Gabbana
All of my youth growing up in my Italian family was focused around the table. That's where I learned about love. – Leo Buscaglia
I spent five years in Italy, and the Italians have a slightly different lifestyle. Everything is a bit slower and more easygoing. You can feel that when you live there; you become a little more relaxed about typically 'German' things like accuracy and punctuality. – Miroslav Klose
I find that other countries have this or this, but Italy is the only one that has it all for me. The culture, the cuisine, the people, the landscape, the history. Just everything to me comes together there. – Frances Mayes
Not much was really invented during the Renaissance, if you don't count modern civilization. – P. J. O'Rourke
The Italians have long known what makes a livable town or city. – Norman Foster
Italy, and the spring and first love all together should suffice to make the gloomiest person happy. – Bertrand Russell
All of my youth growing up in my Italian family was focused around the table. That's where I learned about love. – Leo Buscaglia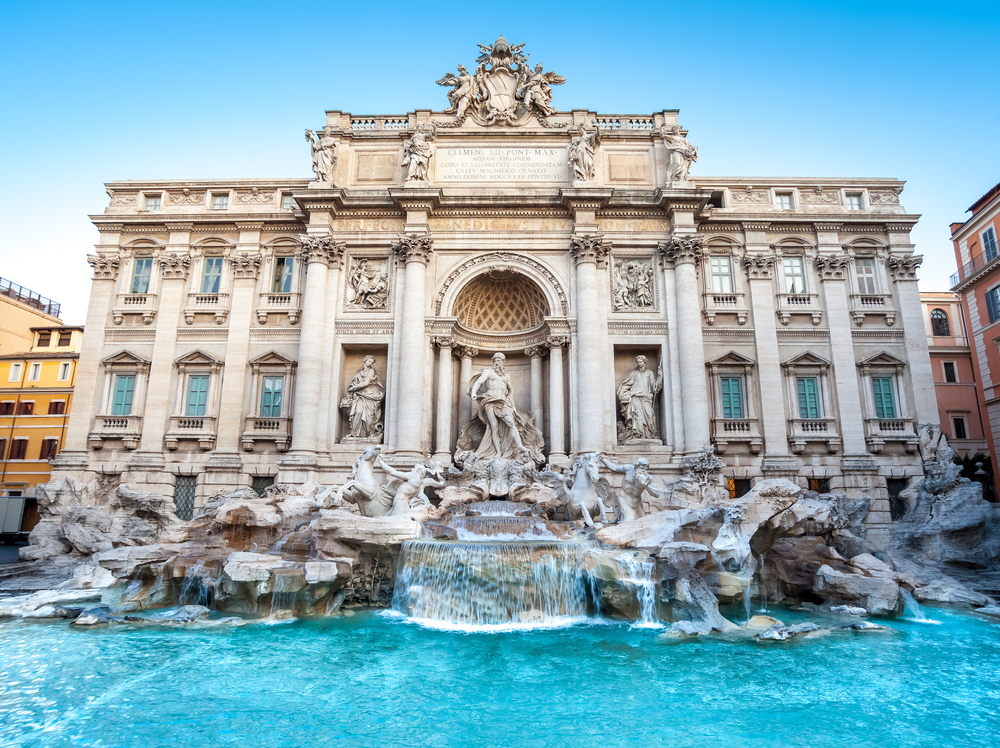 Italy Instagram Caption Ideas
If you plan on filling your Instagram feed with some beautiful photos of your recent trip to Italy, why not caption them with some beautiful words? These quotes are short, sweet, and to the point, creating the perfect message when the awe of Italy has left you at a loss for words.
I gasp for air if I don't get to breathe Italian air once a year. – Danny Meyer
In America, one must be something, but in Italy one can simply be. – Pietros Maneos
For sure, in Italy, the sun always shines. – Aleksandar Mitrovic
Italy was where the soul went to find calm and love, and I wanted to hold the best of it in the palm of my hand. – Lisa Brennan-Jobs
Italy is a dream that keeps returning for the rest of your life. – Anna Akhmatova
Venice is eternity itself. – Joseph Brodsky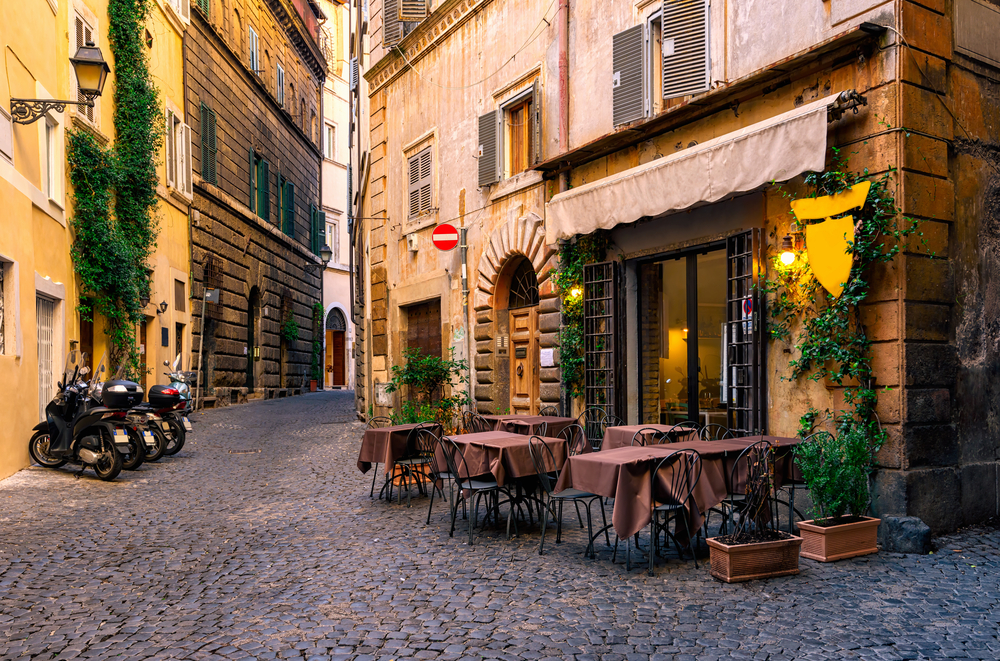 Now you have an arsenal of quotes about Italy to keep at the ready if you are feeling nostalgic for past trips, excited for future trips, or need help convincing someone to come with you to this gorgeous country. It is clear why so many books and movies take place in Italy. The lovely cities, amazing atmosphere, and captivating landscapes make the perfect setting.