Ready for the perfect, most romantic Maldives honeymoon that you won't ever forget? Who isn't! You have found the perfect person after all (congratulations!), which means you are ready for some one-on-one time in one of the most beautiful places on earth. If you have settled on the Maldives it means you have some high standards, something your mom might have lamented at some point on the journey to finding your special someone and getting married. Tell your mom that those standards are about to come in real handy. You have found your person and the place where you want to start your married life together. Go you! No wonder your lover has decided to commit to a life with you!
Whether your standards are along the lines of, "the more events and attractions the better," or more along the lines of, "the more privacy and romantic candlelight the better," you will find everything you could want in your Maldives honeymoon. From packed beaches to boat rides for two, your honeymoon in the Maldives is going to be spectacular. Especially because you found us! We have crafted this comprehensive guide for the perfect Maldives honeymoon. You did the work of finding your soulmate, let us take some of the elbow grease out of planning your honeymoon.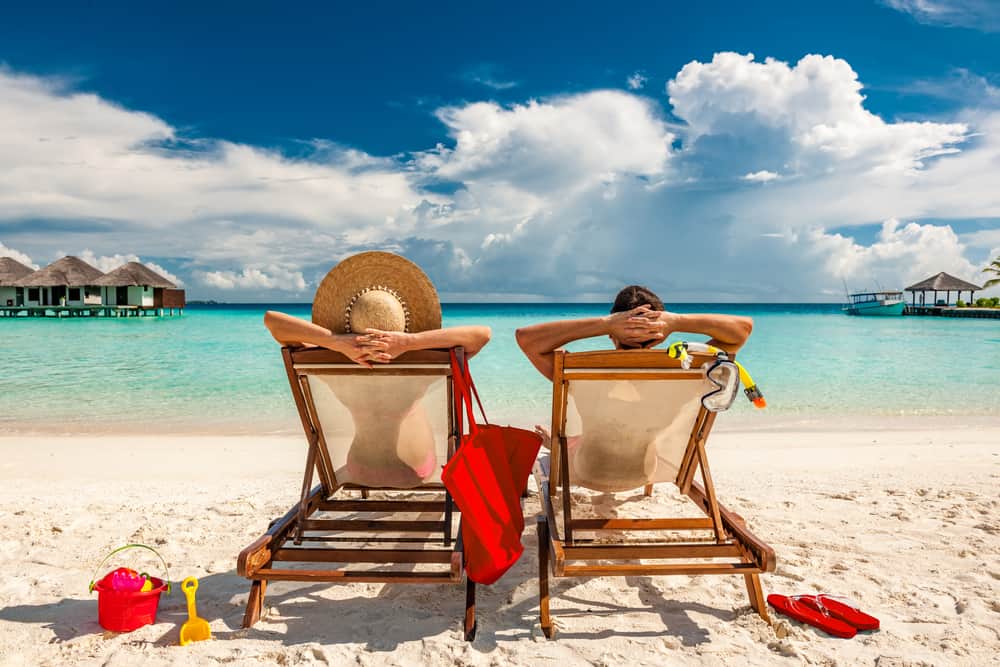 How to Plan the Perfect Maldives Honeymoon
When to Honeymoon in the Maldives
You may already know this because, hello, you have a lot going right for you right now (yay wedding!), but you can visit the Maldives any time of the year. Beautiful weather and sunny skies abound in this paradisical place. That is part of what makes a Maldives honeymoon such a natural choice. However, depending on what you want to do while you are here, you may want to schedule accordingly.
For example, diving is best from January to April. The weather is the best during this time, which means the water is calmer and clearer. However, the varieties of fish vary throughout the year, and whenever you come to the Maldives there will be something exciting to see.
The Maldives does have a wet and dry season, which you will want to account for when planning your Maldives honeymoon. The dry season runs between November and April, and the rainy season comes between May and October. Of course, the islands and resorts are busiest and most expensive during the dry season. If you can handle some rain and wind you may want to consider coming during the wet season. Whenever you come, there is no end to the things you can enjoy while in the Maldives.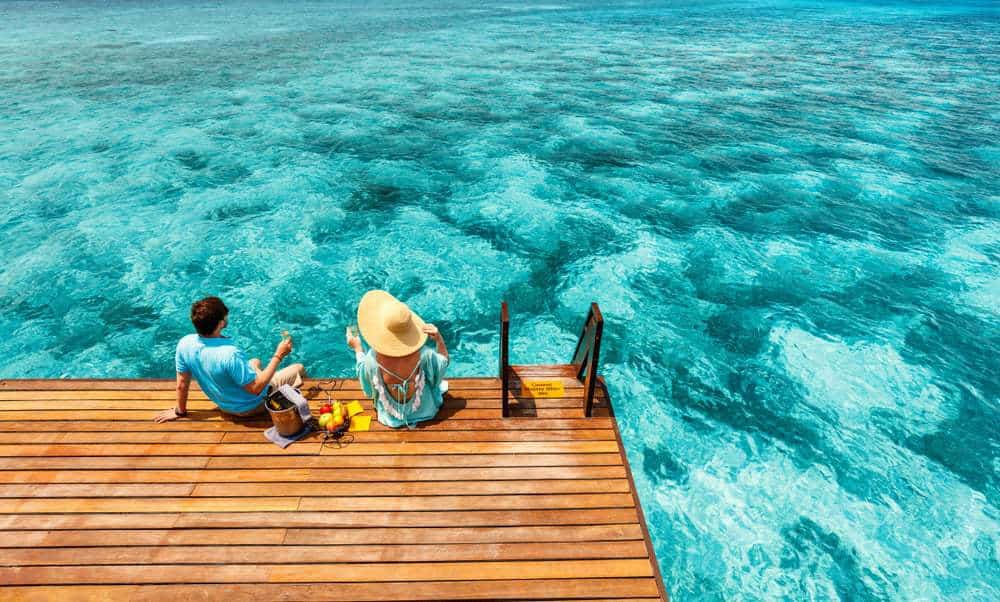 Romantic Maldives Honeymoon Hotels & Resorts
Did you know that there are resorts in the Maldives specifically for lovers? If you don't require a resort to be happy, there are plenty of other places to stay. The Maldives has everything from overwater bungalows to beachfront hotels, and a place to stay for everyone. That is why there is nothing better than a Maldives honeymoon. We've combed through the highest rated locations and curated this list of our top picks just for you!
We understand that not everyone is planning a super expensive honeymoon and to visit the Maldives you don't have to be rich! These hotels range from luxe to affordable so that you can get the best experience possible on your Maldives honeymoon. Depending on your interest, budget, and experiences you want to be included, there is a hotel for everyone and we have listed some great starting choices below.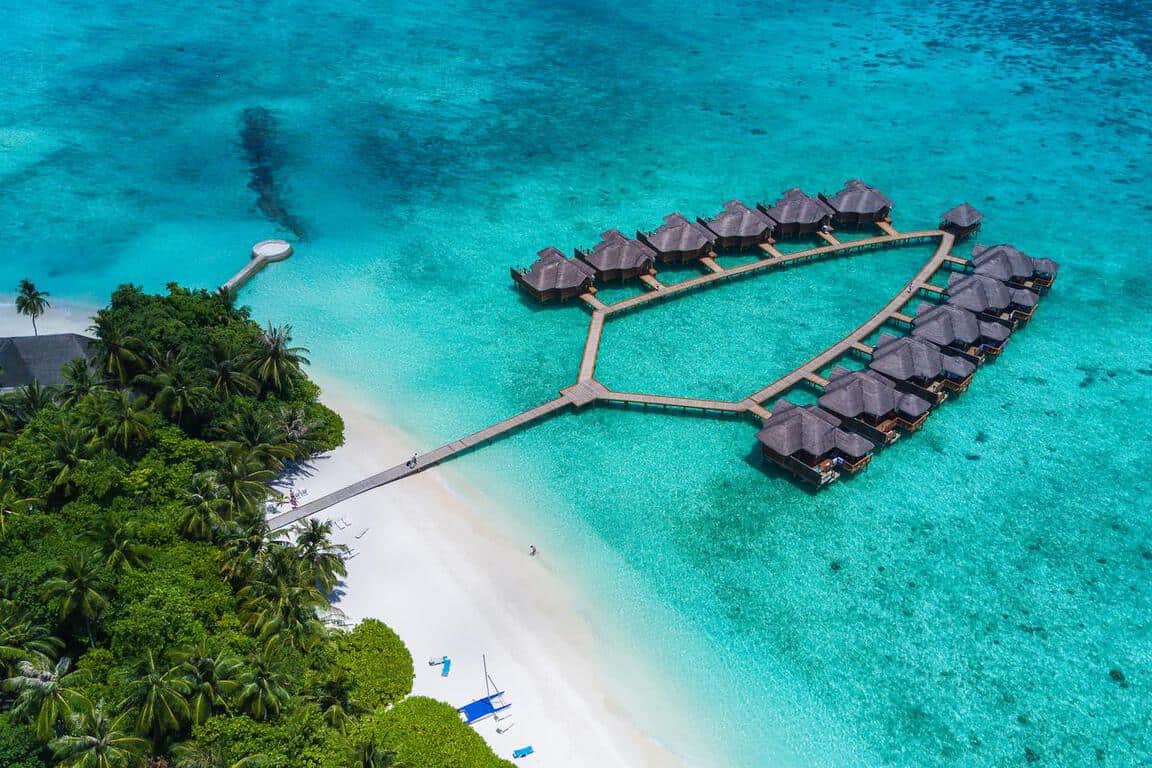 Fihalhohi Island Resort
If you chose a honeymoon in the Maldives because you were looking for your own piece of paradise, look no further than the Fihalhohi Island Resort. They have a spa where you and your new spouse can receive massages, air-conditioned rooms, and a tour desk to help you get the most out of your visit. Our favorite part though? You can stay in an over-water bungalow on the ocean. It doesn't get much more ideal than that!
Check rates: Booking.com | Hotels.com
Wave Sound by 3S Maldives
You cannot go wrong with the Wave Sound by 3S Maldives Guesthouse. They provide adult-only accommodations, and have their own private beach! If the beauty of it isn't enough to sell you on this place, the amenities should be. They provide a shuttle to the airport, free Wi-Fi, have a convenience store on-site, and even offer packed lunches!
Check rates: Booking.com
Shamar Guesthouse & Dive
Honeymoons are about you and your lover, and the life you are making together. That is why we have included another guesthouse with a private beach, because your honeymoon is about the two of you and you've earned this. The Shamar Guesthouse & Dive not only has a private beach area, but also a sun terrace, an on-site restaurant, rooms with a view, and all kinds of activities to do with your spouse.
Check rates: Booking.com
Luau Beach Inn
If you don't need a private beach to have the perfect Maldives honeymoon, the Luau Beach Inn is a great choice! What this place doesn't have in the way of private beaches, it more than makes up for in attractions. Want to swim with sharks? You can do that here, and feed stingrays too! Want to taste some amazing local cuisine? The chef here is great! Luau Beach Inn is a great place to stay to explore and get a feel for the true Maldives experience. This is the perfect place to stay if you are looking to honeymoon in the Maldives on a budget! Prices really can't be beaten.
Check rates: Booking.com | Hotels.com
Thundi Guest House
When you first thought about taking your honeymoon in the Maldives, part of the draw was probably the beautiful islands with their sandy beaches and turquoise waves. If you stay at the Thundi Guest House, you will have all of these things in abundance.
Classic, tranquil beauty abounds in this location. You can't help but breathe a sigh of appreciation when you see the views available to you here. This is another great affordable hotel if you are looking to honeymoon on a budget but don't want to sacrifice the fantastic views. If you are looking for the Maldives on a budget, this is a good choice!
Check rates: Booking.com | Hotels.com
Kudadoo Maldives Private Island
If luxury is your idea of perfection, welcome to Kudadoo Maldives Private Island. This place has over-water bungalows, terrace pools, a spa, and personal butlers. You read that right–have your honeymoon here, and you will have a personal butler available to you. You would be hard-pressed to come up with a single thing you could want that the Kudadoo Maldives Private Island doesn't offer. They have a wine cellar and cheese room, private yoga and meditation, excursions, and all the premium champagne your newlywed heart desires.
Check rates: Booking.com | Hotels.com
Cinnamon Hakuraa Huraa
Cinnamon Hakuraa Huraa offers private villas on pristine white beaches or over the water. They also have a spa and bar over the water. It is the place to stay if you are interested in windsurfing, snorkeling, or canoeing while on your honeymoon in the Maldives. Cinnamon Hakuraa Huraa also offers spa packages, relaxation areas, and a fitness center. Imagine waking up and stepping out of your villa directly into ocean waters, an amazing horizon ahead.
Check rates: Booking.com | Hotels.com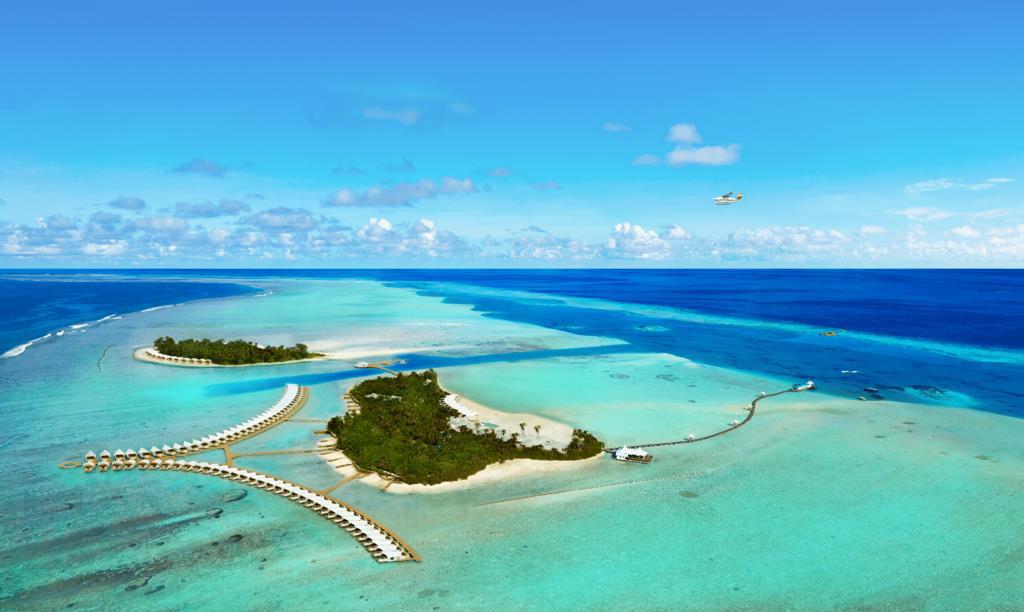 What to Pack for the Maldives
#1. A Travel Adaptor Specifically Designed for Maldives Outlets
Good news! Most Maldives resorts supply adaptors for honeymooners from outside the UK. However, we find that it is best to plan as if Murphy's Law (what can go wrong will go wrong) is in full force when traveling. If you have a travel adaptor you don't have to make sure your resort or location has one for you, and you can plug in to other places besides just in your resort.
#2. Reusable Filtered Water Bottle
We always recommend this one. A great way to add some ease to your Maldives honeymoon is to bring a reusable filtered water bottle with you. Nothing kills the mood faster than feeling like your mouth is made of sand because you didn't bring water with you. And also, there is the sanitation factor. The tap water in the Maldives is not sanitary, and should not be drunk. Some resorts supply safe drinking water, some places make you pay for it. Wherever you stay, you would be wise to carry water with you when you venture out.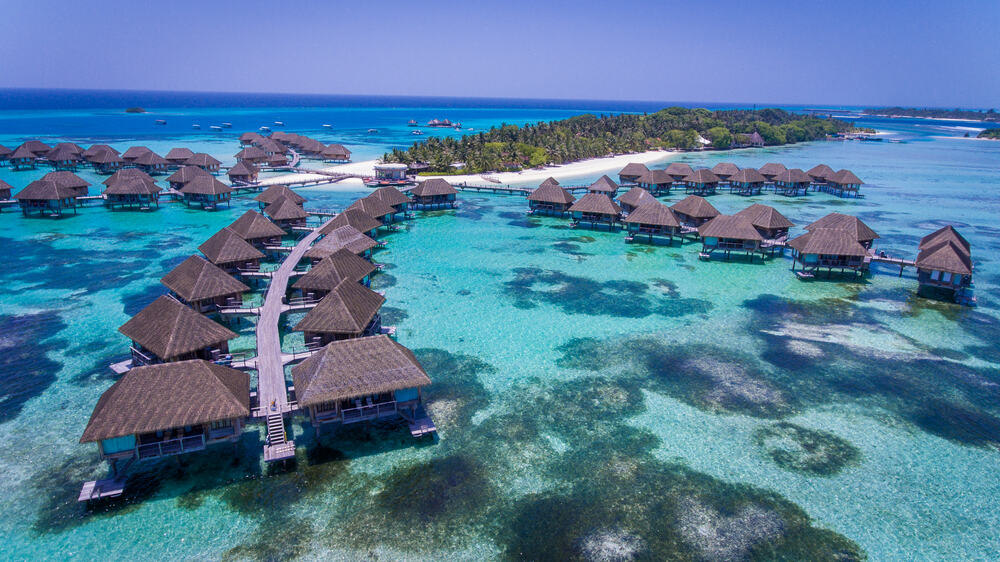 #3. Portable Power Bank So You Can Keep Going Strong
If you don't take pictures, did it really happen? Whether you use your phone camera or you're more high tech, it is always useful to carry something to recharge when an outlet is nowhere in sight. If you plan to stay in for the entirety of your honeymoon in the Maldives, then this one might not be as necessary. But, if you plan on going out and exploring the islands, bring a portable power bank. They are small, lightweight, and worth the space they'll take up in your purse or pockets.
#4. Action Camera for All Your Unforgettable Moments
If you are going on your honeymoon in the Maldives, then you know you will be doing some amazing things. Your memories will last a lifetime, but there is no harm in taking some video to help remember things a little better! And lucky for you, cameras are kind of (read: very much) our thing. We have a couple of articles you can check out to learn more: the 5 Best GoPro Dome Ports and How to Use Them, and the 11 Best GoPro Alternatives That Won't Break the Bank.
#5. Underwater Case for Your Action Camera
If you're going to bring an action camera to your Maldives honeymoon (and we recommend that you do!), do yourself a solid and bring an underwater case for it. We recommend this case for over-under water shots and for snorkeling and/or swimming in shallow water. If you are all about that deep water diving, we recommend this case instead. Of course, why not come prepared and bring both?!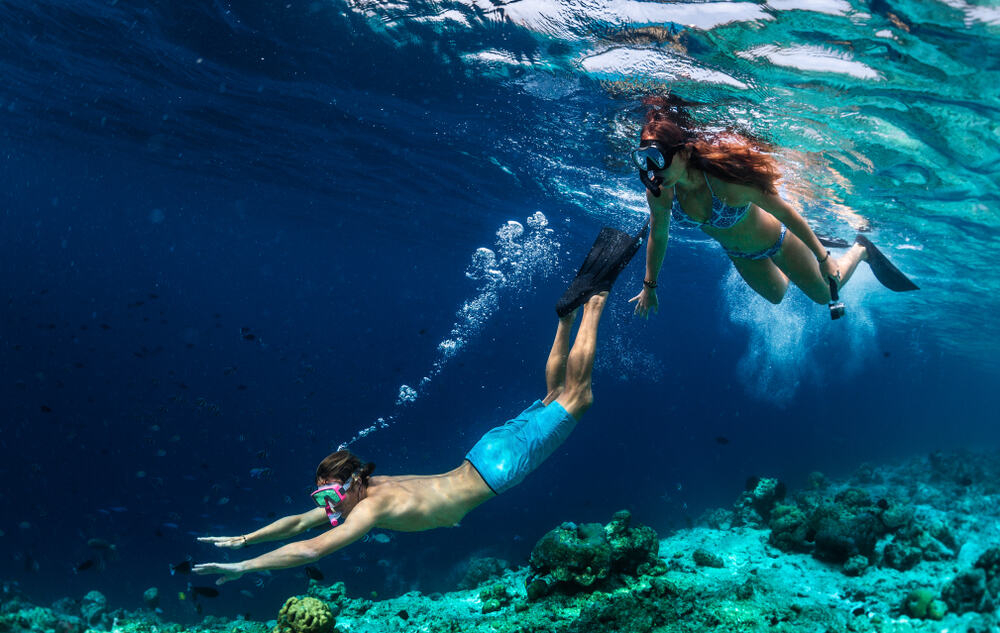 What to do On Your Maldives Honeymoon
Explore Your Love
Whether you have known your lover for a week or a decade, you know by now that there is always something new to explore with each other. A Maldives honeymoon offers many places and things to explore and enjoy together! You and your lover can go for a walk together along the beach. Anywhere you go in the Maldives, there is always a beach full of shells to walk along. You can also go exploring between the islands. Glass bottom boats are a Maldives classic, and offer the opportunity to see the wildlife under the water without having to be in the water. Ferries run in between some of the islands, and many resorts offer guided tours to both populated and unpopulated places.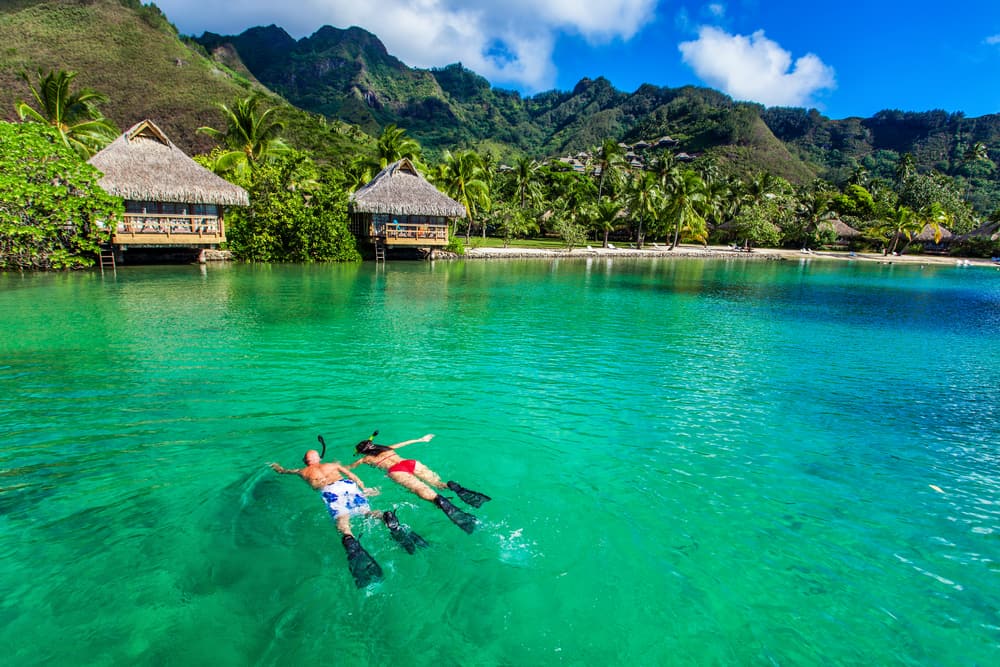 Surf to Your Heart's Content
Surfing is a classic Maldives activity–people go here specifically to surf. If you are an amateur, come surf during the dry season when the waters are calm. If surfing is life, come in the rainy season when the waves will actually offer a challenge. Whatever your skill level, the Maldives offer lots of places to surf, as well as opportunities to learn. The general consensus is that the capital island of Male has the best places to surf. It is right next to the airport you will fly into and can be reached from wherever you choose to stay by speedboat.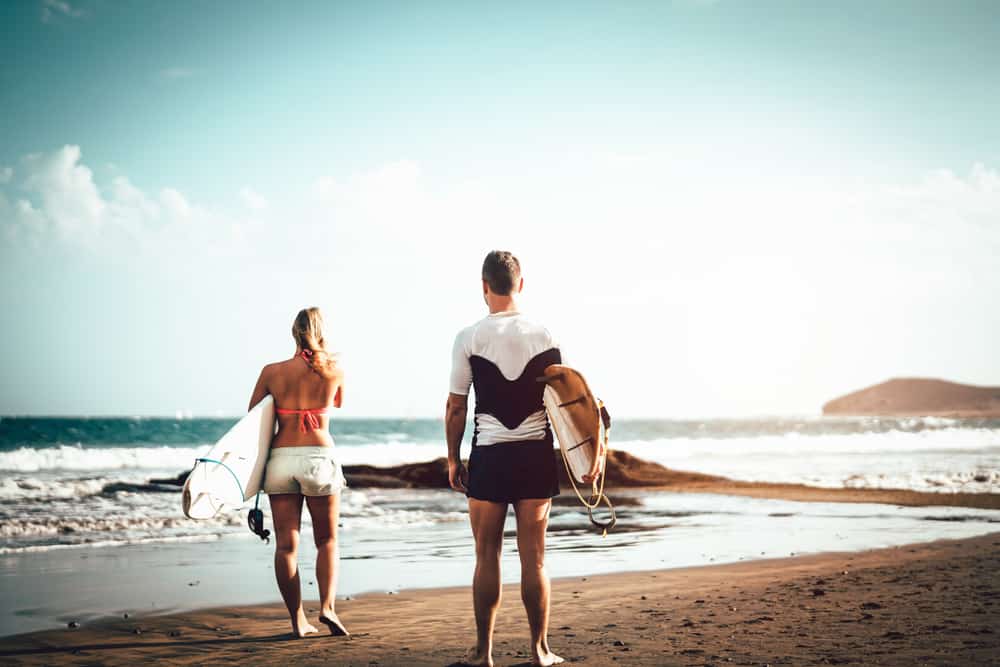 Spa Retreats for Two
If you stay at a resort, chances are good that they will have their own spa available to you. If resorts aren't really your thing (or the price tag that comes with them) but you still want a spa experience during your Maldives honeymoon, don't worry. Spas and the Maldives go hand in hand like fish and the ocean. In fact, the Maldives have taken spas to a whole new level beyond the traditional beauty and relaxation services. With the ocean being so accessible, many spas draw on it for inspiration and incorporate parts of it into their experience. The world's first and only underwater spa is in the Maldives, and they offer underwater couple's treatments! Can you think of anything more amazing for a honeymoon in the Maldives? Because we can't!
Get Some Culture
Wherever life takes you, learning is something you and your spouse will always have the opportunity to do together. Why not learn about the Maldives while you are here? The Maldives is comprised of almost 1,200 little islands, and honeymooners weren't the first people to come here. Rich history can be seen and learned about all over these little islands. On a quiet day when you have had your fill of adventure and watersports for a moment, check out some local island villages. Handicrafts exist in abundance in the Maldives and make excellent souvenirs to remind you of your time here. And, if you enjoy exploring culture through food, definitely don't miss out on trying some local cuisine!
Dive in the Deep End
Remember that moment when you knew you were in deep? When you looked at your lover's face, and knew this was the person you were going to spend your life with? However long it took you to realize, you have decided to take the plunge.
A honeymoon in the Maldives offers all kinds of opportunities to dive in, albeit in a more literal sense. Wherever you stay during your Maldives honeymoon, the odds are excellent that there is great diving nearby.
There are all kinds of fish in the Maldives, including sharks and barracudas. You can also see live corals in some places. Even more exciting, there are wrecks throughout the Maldives that you can dive down to. There is no end to things to do and see here and diving in the Maldives is amazing!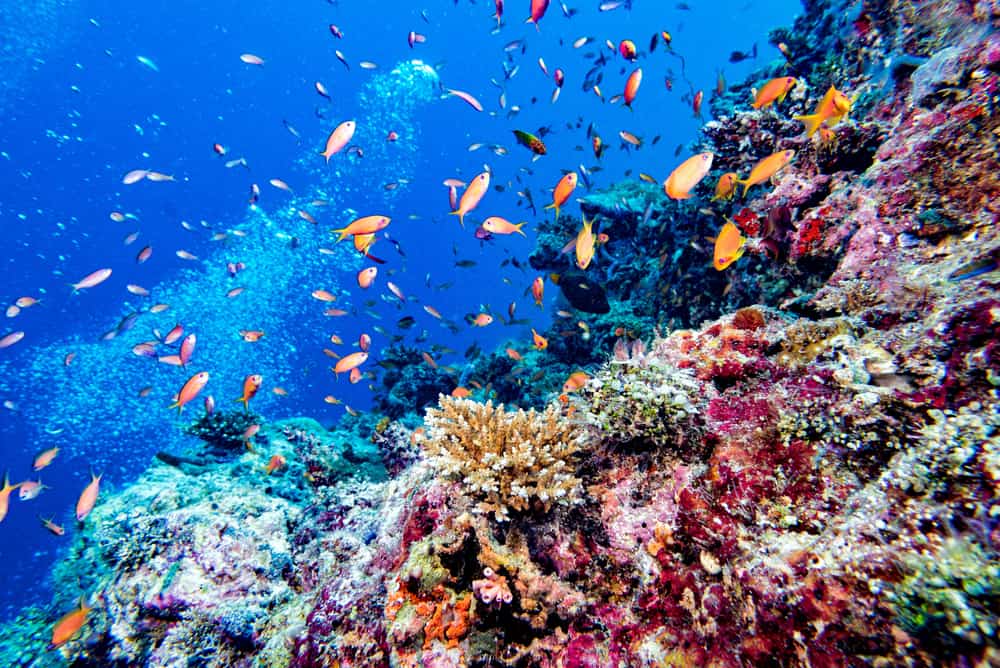 Sail Off Into the Sunset
When you're living on or right next to the ocean, the sailing possibilities are limitless. Canoes built for two are readily available for rent or hire if you want a workout while sailing. If you want some alone time while your spouse dozes in your dreamy resort, rent a kayak to explore an island. You can hire someone to drive a jet ski for you, or rent one to drive yourself. Parasailing is not as available, but there are still plenty of places that offer it as an option if you want a more thrilling sport during your honeymoon in the Maldives. You can also go kite surfing, kneeboarding, surfing, wakeboarding, and water skiing. If you want to be on the water, your options are endless.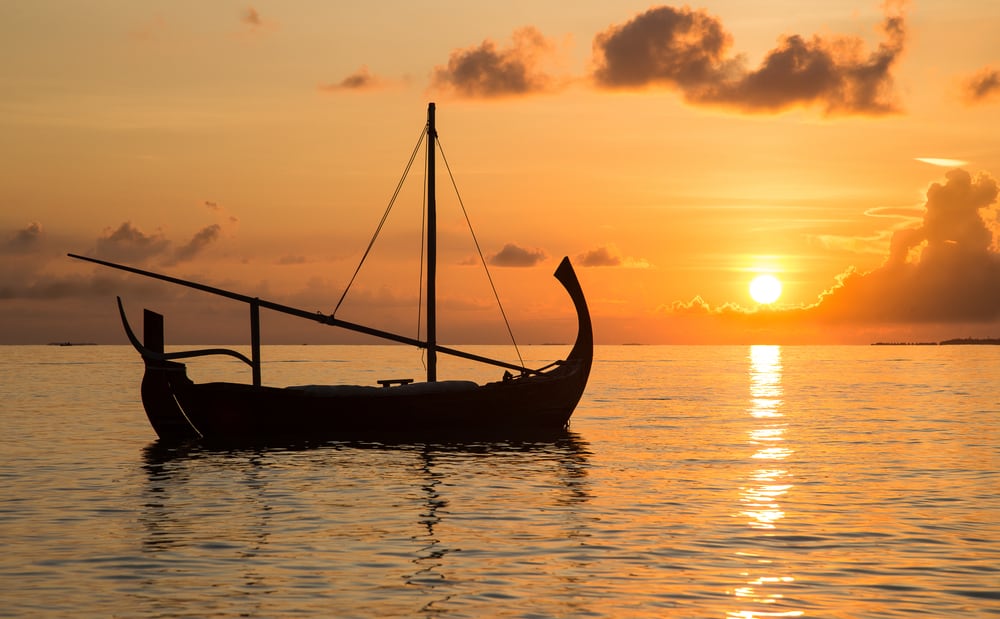 Getting to the Maldives
It should come as no surprise that you cannot drive to the Maldives, given that the country is a collection of hundreds of islands in the middle of the ocean. We recommend flying into the Velana International Airport, as it is the primary Maldives airport. It is on the island of Hulhule, very close to the capital island of Male. The shortest flight from the US to the Maldives is just under seventeen and a half hours long, so you'll want to prepare for that. It may pass quickly as you gaze into your lover's eyes and dream of your future together, but we also recommend bringing a good book, great music, and whatever other things you use to help you pass the time.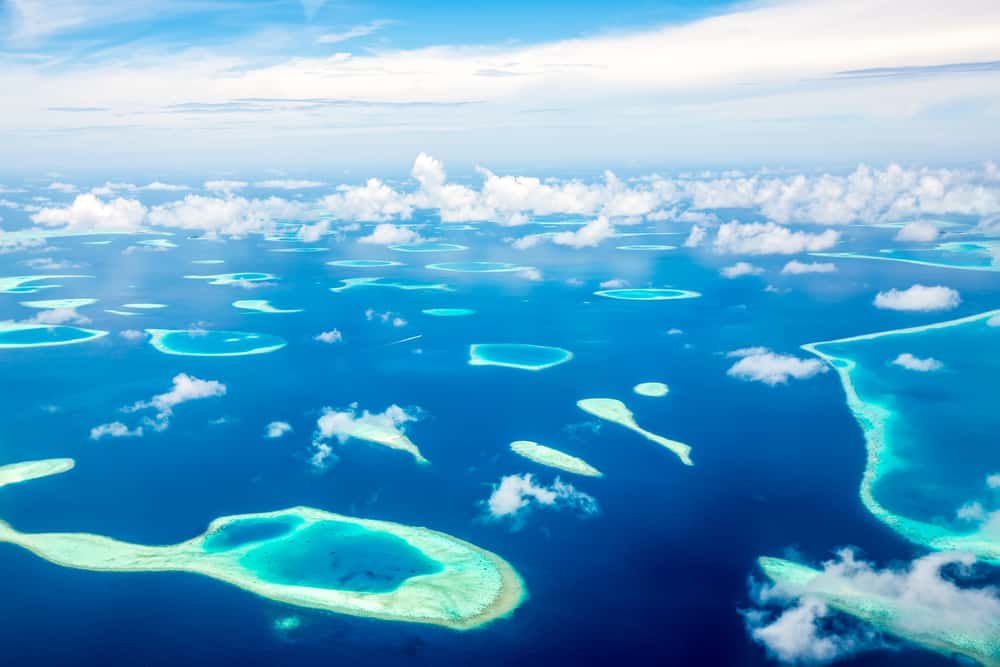 Getting Around the Maldives
Many resorts and hotels offer transportation directly from the Velana International Airport to their location. The most common forms of travel that you will use during your Maldives honeymoon are speedboat and seaplane. Both of these are excellent ways to not only get to your destination but to explore the islands around you. And you know by now that there is plenty you will want to explore!
Speedboats offer the opportunity to become quickly acquainted with the pristine waters that are expected from the Maldives. On your way from the airport to your hotel or resort, you might even see some turtles or dolphins! Speedboats are often less expensive than seaplanes, and more reliable and timely.
However, there is a reason why people pay the money to take a seaplane. While speedboats offer a ground view of the spectacular landscapes of the Maldives, seaplanes offer a breathtaking aerial view of paradise. However, if you take a seaplane expect that there might be delays. Speedboats generally run regardless of the weather, but seaplanes are beholden to the skies.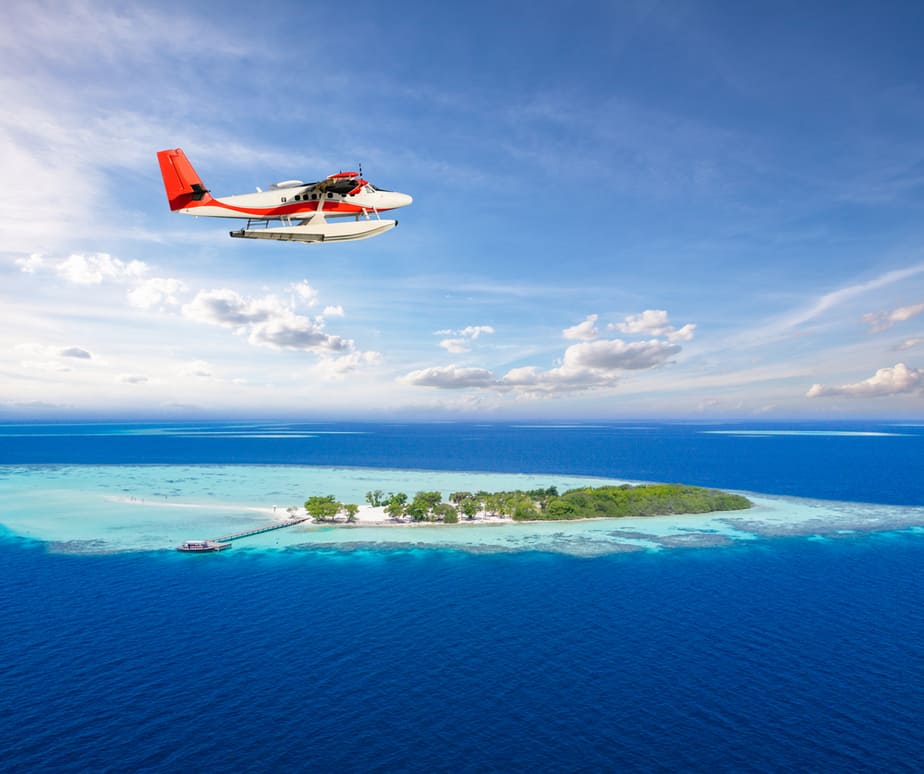 Visa for the Maldives
A visa is required upon arrival at the Maldives, and as is to be expected, they have some expectations you need to meet in order to receive that visa. You will either need proof of reservation ina tourist resort or hotel, or proof that you have enough funds to last through your stay. The Maldives does not give visas for over 30 days, so plan your dream Maldives honeymoon accordingly. The Maldives Ministry of Foreign Affairs has a great guide for everything you need to make sure you are eligible to receive your visa on arrival.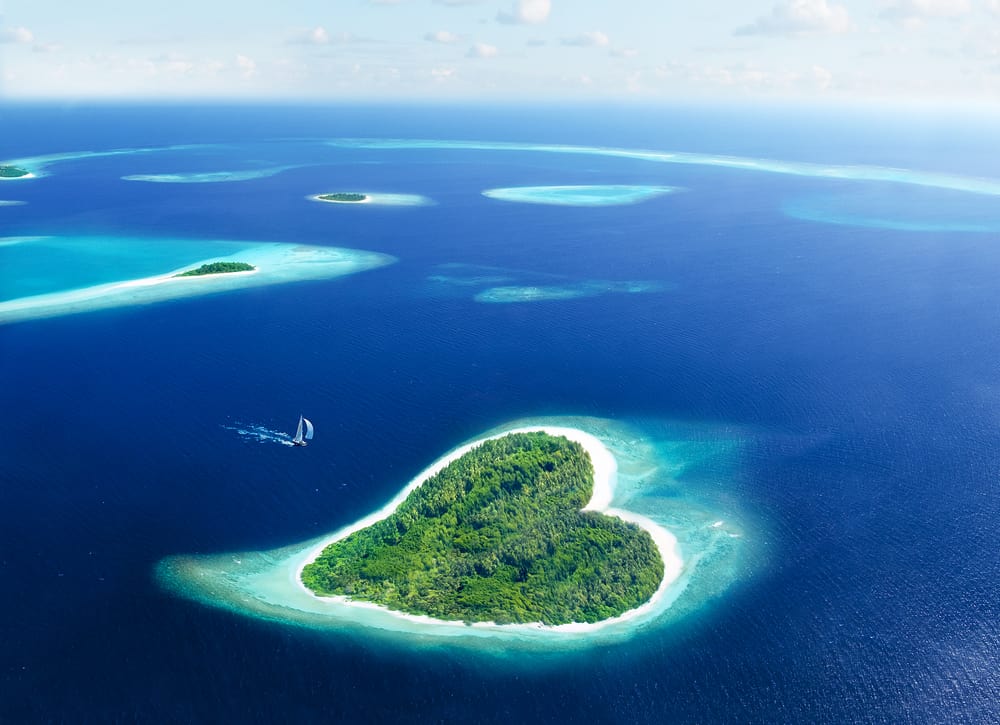 We hope our guide has been helpful, and that you have the most amazing honeymoon in the Maldives! Congratulations on finding your soulmate, tying the knot, and diving into a life together. And congratulations on your Maldives honeymoon! With so many things to do and experience as you start married life together, you won't be disappointed.