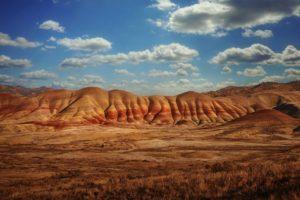 Did you know that Oregon is home to a whole bunch of mesmerizing things you would never believe existed in this Pacific Northwest State? Iceland or Utah maybe, but Oregon? You would never guess! Oregon is famous for the over-crowded-yet-beautiful Multnomah Falls, the Columbia River Gorge, the stunning coast, and the foggy forests, but there are so many crazy-cool places to be discovered!
5 Crazy-Cool Oregon Landscapes You Didn't Know Existed
1. Hot Springs
Hot springs in Oregon? You bet! Many of the mountains in the Cascades are volcanic in nature and the subterranean heat helps to produce hot springs. People often travel abroad to Iceland to visit geothermal pools but not many know that Oregon is home to many.
Don't forget to check out some of the Best Airbnbs In Oregon, from cute cabins to treehouses and more!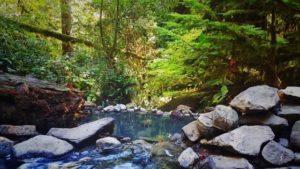 Whether you are interested in crystal clear blue pools in the middle of the woods, springs hanging off the side of a mountain, hot pockets nestled right alongside a glacial river, or man-made wooden hot tubs, there is an epic Oregon hot spring for you to run away to. A word of caution: some hot springs are clothing optional and many bathers opt out of swimwear.
2. Lava Fields
The stark landscape of hardened lava as far as the eye can see is a sight to behold and many people travel to Hawaii, Italy, Iceland, or New Zeland to visit these unique locations. Not many people know that a vast network of lava fields and caves can be found right in Oregon! The state is often associated with lush forests and a lovely coast, but thousands of acres of straight-up lava surrounded by volcanic mountains is a sight that shouldn't be missed!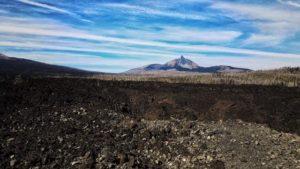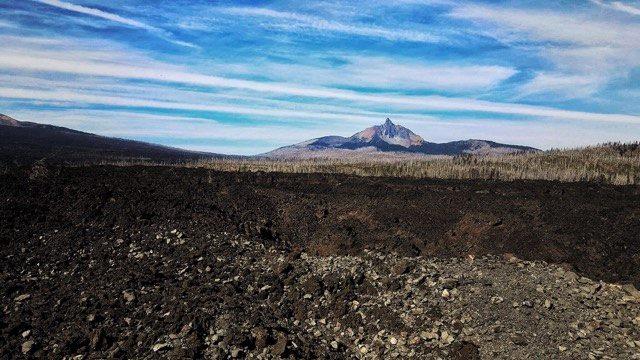 3. Basalt Columns
People who have visited Northern Ireland [Giant's Causeway] or Iceland like to perpetuate the myth that basalt columns are unique to these locations and therefore travelers MUST see them. While not every destination is known for its columnar basalt, it certainly isn't specific to Iceland/Ireland.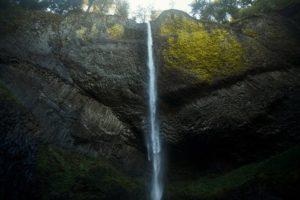 Oregon has TONS of easily accessible basalt columns that are just as stellar as their European counterparts and Latourell Falls in the Columbia River Gorge [pictured above], is just one of many easy day trips you can make from Portland! Columnar basalt can be found all over the state including near waterfalls, in the middle of the woods, and on the coast. By the time you leave the state, you will have seen enough unique basalt to satisfy even the pickiest geologist.
4. Covered Bridges
If you have spent time in places such as Ohio, Vermont, or New Hampshire, chances are you have seen a covered bridge. That being said, who the heck knew they were plentiful in the likes of Oregon? Central Oregon's Lane County is home to the largest number of covered bridges in the west. Covered bridges are a lovely reminder of a bygone era and driving past them makes you feel like you are living in a real life postcard. Make sure to take a moment to drive through the bridge too for a different perspective.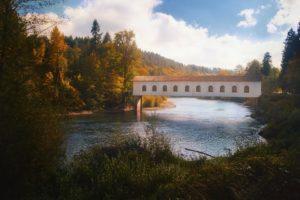 5. The Desert
Lush forests, towering mountains, plenty of rain, and misty fog are all what you would expect to find in Oregon…but the desert?! In reality, about two-thirds of the entire state is covered in the type of landscape you would find in Arizona, Nevada, and Utah! If you don't know what you are getting into, the striking contrast between visiting moss covered trees and then discovering that stark red rocks exist less than an hour away is quite breathtaking.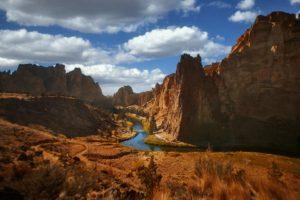 In Oregon, you can go crazy with rock climbing, fossil beds, sleepy towns, and basking in the history of the old Wild West. If you only have a few days, John Day Fossil Beds/The Painted Hills and Smith Rock State Park should top your bucket list!
READ NEXT: 5 Of The Best Airbnb Getaways In Oregon
Special thanks to Travel Oregon for hosting us during our entire trip and to Eugene, Cascades, and Coast for hosting us during our stay in Lane Country. As always, all opinions are our own.
Pin this post: