Thai Bloom is located on a busy street in Northwest Portland. The street is full of shops, music venues, and other places to eat. As we pulled up, we immediately saw that Thai Bloom had a line of people waiting outside the door. A line of people waiting is ALWAYS a fantastic sign of delicious food to come.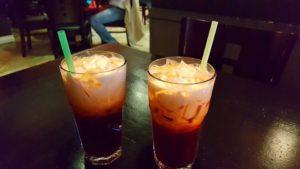 We appreciated that Thai Bloom offered customers free parking instead of paying or fighting for a spot on the street. As soon as we entered, the atmosphere was electric. Almost every table was full, servers were carrying steaming plates of authentic food, and the waiting area was packed. We recommend making a reservation so you can sit right down like we did!
Of course, we had to order the Thai Tea, our personal favorites. It absolutely did not disappoint and our waiter even offered us a refill on the house which was a nice gesture.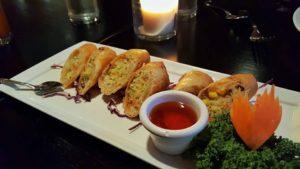 Although there are so many appetizers to choose from, we decided to go the traditional route and chose to test out the Spring Rolls. They were tasty, vegetarian, and enough to split between two people without feeling overly satisfied.
The menu was large and we had a plethora of options to choose from. Terrence decided upon Beef Broccoli, one of his staple Thai dishes and Victoria went with Pad See Ew. Pad See Ew is a noodle dish like the traditional Pad Thai, but it is served with wide noodles and a different sauce.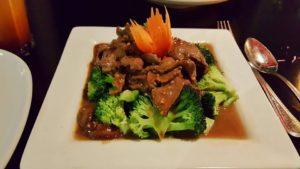 When we say that dishes at Thai Bloom are HUGE we are not kidding! Our plates were so full that we were both able to indulge in a filling meal and still have some left over to take home fro lunch the next day. The Beef was tender and the Pad See Ew was marinated just right. Our server forgot the Tofu for the dish but instantly remedied the situation. We have never seen tofu cooked and delivered to our table so fast!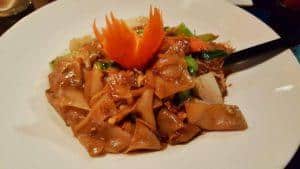 We were so full from our appetizer and entree that we were too full to eat a dessert on the premise. Instead, we opted to bring it home and the manager was kind enough to package the ice cream in a little plastic container and put it on ice. We thought this was above and beyond but we sure enjoyed our vanilla bean ice cream and molten chocolate lava cake!
The verdict? Heck yes we 100% totally recommend if you love delicious Thai food! Your favorite will be on the menu and you will also have plenty of unique options to choose from.
READ NEXT: 5 Of The Best Airbnb Getaways In Oregon
Disclaimer: We were provided with two complimentary meals by Thai Bloom for the purpose of this review. We are obsessed with Thai food and all opinions are our own.