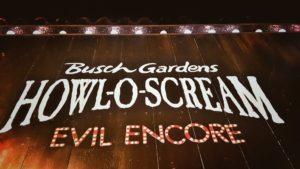 Busch Gardens' 2016 Howl-O-Scream is the real deal. We pride ourselves on heading to horror events and not being "those people." You know, the ones who freak out, run away or scream. The ones that the scare actors target on purpose because they know they will elicit a reaction. We are actually pretty mellow when it comes to walking through haunted houses. We may become started twice at best the entire night…..until Howl-O-Scream 2016.
Busch Gardens does such a fabulous job putting together themed houses, creating scare zones, and training scare actors. When we arrived at the park on a Friday night, we thought the place would be packed. Don't let the bottleneck at the entrance fool you! People gather at the main gate to wait for their friends, snap selfies, or grab a bite to eat. This gives the illusion that the park is way more crowded than it is.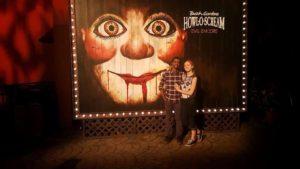 The first house we went to was honestly the scariest. "Unearthed" focuses around witchcraft and the entire house is lit very dimly and you have a hard time seeing anything. Since your vision is impaired, the whole experience becomes more intense, especially with scare actors descending upon you and "stuff" hanging from the ceiling.
"Death Water Bayou" is a returning house but elicited the most genuine reactions from both of us. Victoria, who prides herself in hating horror movies but gleefully skipping through terrifying haunted houses with no reaction at all, jumped and screamed at least four times in one single house. When she wasn't being startled, Terrence was startled or spooked.
Walking from house to house we also encountered various scare zones and roaming hordes. Many people lost their marbles when seeing the [pretty terrifying] scare actors in these zones, but we proceeded through unafraid. We aren't particularly fond of the "bush people" because they are the most likely to scare you. Pay attention to your surroundings every second at Howl-O-Scream because potential scares lurk everywhere!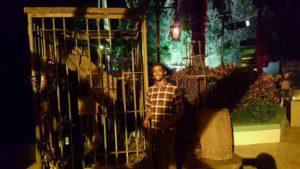 Our all time favorite haunted house was "Motel Hell." We spoke with tons of friends and this was hands down their favorite as well. In the 5+ years we have been attending Halloween events, this was, by far, the most elaborate and well-done house we had ever seen! We were so impressed that we did it twice!
Motel Hell is modeled after a 1960's motel and comes complete with an entire pool, 60's music, and all the old-fashioned decor you would expect from that decade. Oh, and it also comes with the best scares. In most houses, you can easily look ahead and see where scare actors are popping out from. Not so with Motel Hell.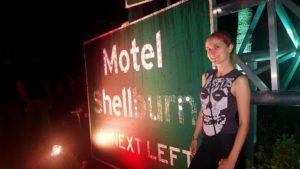 We successfully decided that a room was "safe" from scares and were caught EXTREMELY off guard when a scare actor jumped through a tiny hole in a mattress. We also did not appreciate the people who were camouflaged with what appeared to be a safe wall. They were dressed in all-black and did a great job of catching us unawares.
Howl-O-Scream 2016 did a fantastic job at actually scaring those of us who are rarely even startled at a Halloween event. We highly recommend paying the park a visit, but must caution you to keep your eyes and ears open and to never let your guard down!
Read Next: 5 Adventure Island Water Parks To Enjoy With Your Sweetheart
Special thanks to Busch Gardens Tampa Bay for providing us with two tickets to Howl-O-Scream for the purpose of this review. All opinions are our own as we were certainly scared!
Have you visited Howl-O-Scream 2016? What was your favorite house?