You have come to the right place for the ultimate Norway road trip itinerary. You are going to Norway after all; ultimate is the only way to do it. Of course, if you are planning a trip to Norway, you already know some of the basics. You know that the cities are something out of a fairytale and that the mountains are straight out of legend. You know that the fjords will steal your heart and that the Norwegian countryside will take your breath away. But maybe you are not so sure about where exactly to go for those fjords and mountains, or which ones are worth a stop in your Norway itinerary if you are pressed for time.
That is why you are here, and that is why we are here. We have put together a Norway itinerary that will positively make your toes curl in your handknit Norwegian wool socks. You will find everything you need for a Norway road trip that will hit all the right stops in the right steps. With the greatest locations for the coziest Norwegian vacation, you can't go wrong with anything on our list. Choose as many or as few stops as you would like–we have found the best ones to choose from here.
This is one of the BEST ROAD TRIPS IN EUROPE so you are in for a real treat and a memorable experience!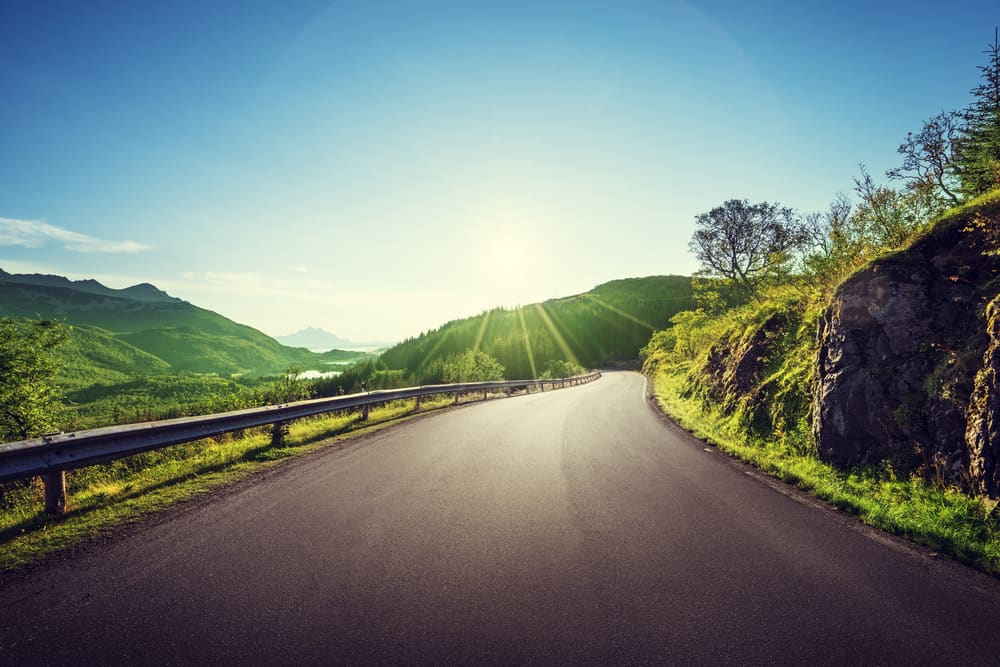 The Ultimate Norway Road Trip Itinerary
Norway Itinerary Stop 1: Begin Your Norway Road Trip in Oslo
Picture a vibrant city of color and light on a glassy fjord, surrounded with dark Nordic mountains reaching for the sky. You are picturing Oslo. The city is an unreal experience and a great place to start your road trip in Norway. Oslo is Norway's capital city and a cultural center for the country. Add it to your Norway itinerary for its beauty, as well as for its varied events and adventures. Whether you are a connoisseur of the arts or thrive in rich city nightlife, there is no end to the things available to do here. People visit Norway just for Oslo. But never fear, it is just the beginning of the ultimate Norway itinerary we have put together for you.
Noteworthy Things to Do in Oslo
Frogner Park
Want to see a unique and brilliant set of sculptures that were all carved from a single piece of granite? And over a 14-year time span no less? Who wouldn't! Seriously though, Frogner Park is amazing.  It was created by Gustav Vigeland, a sculptor from the 1900s. The sculptures range from endearing and nostalgic to bizarre. They all have an uncommon aesthetic that promises to leave a lasting impression. With the background of the green Norwegian forest and crystalline Nordic sky, you will not regret taking the time to spend some time in Frogner Park.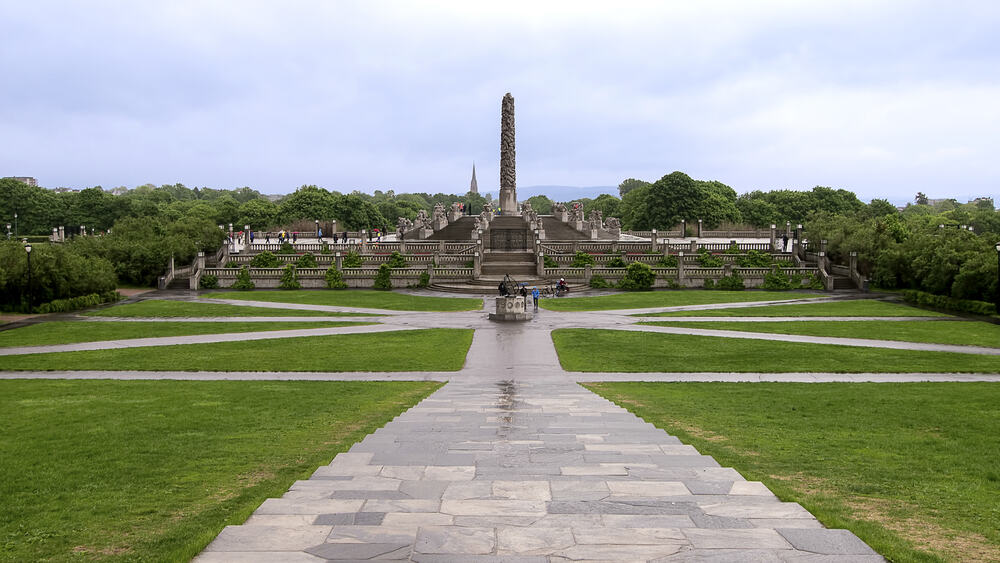 Laksen Fisk and Vilt
We hope you like fish if you are visiting Norway (although it is certainly not a requirement!). If you do, you have got to check out Laksen Fisk and Vilt. It is not an expensive eatery, proving that money does not always equate with value or quality. They receive high marks because of their simple and local fare, and their cheerful shop. Not only do they have delicious and decently priced food, but they are also only a few blocks from the river. Buy your food there, take a quick walk, and enjoy it with the sounds of nature soothing your soul. There is nothing like comfort food in a comforting environment.
Syverkiosken
Not everyone likes fish, we get it. Oslo has you covered if you are not a fish fan, or if you just want something different. If you eat meat, add Syverkiosken to your Norway Itinerary. They have great food, and it comes with a touch of culture. Syverkiosken's old fashioned red kiosk screams tradition with its variety of sausages, bread, and sides. Sausage kiosks used to be quite prevalent in Norway but now there are few left in Oslo, making Syverkiosken an even greater treat. Stop in for a classic taste of a Norway of decades past.
Oslo Opera House
Opera is not everyone's cup of tea, but even if it isn't yours, the Oslo Opera House is worth a visit. The opera house is made of white granite and marble and makes an impressive presentation with its location on the harbor. You can visit for the operas and ballets presented inside, or just for a free trip to the roof to view the sunset. If opera is totally your jam, book a backstage tour. There is also a café inside where you can dine in the splendor that exudes from this place. Even if all you do is look at the Oslo Opera House from the outside, it is a worthwhile addition to your Norway itinerary.
Don't forget to check out our Detailed Road Trip Packing List so you don't forget any essentials for your trip!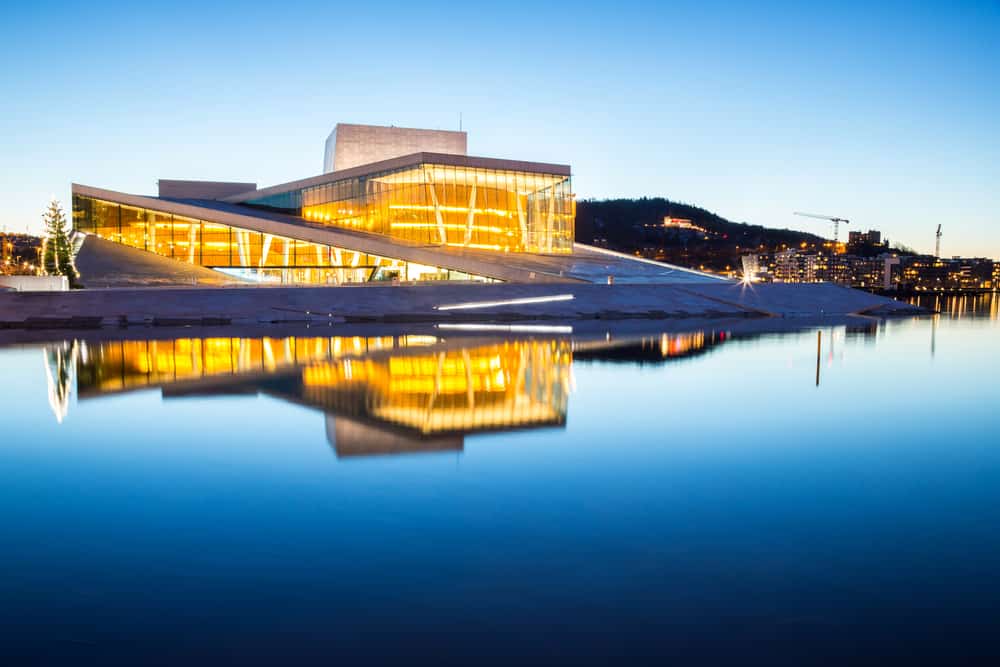 Viking Ship Museum
Oslo's Viking Ship Museum has copious amounts of both culture and tradition. They have artifacts from Viking Burial sites that were discovered nearby around the Oslo Fjord. You will be amazed by the pristinely preserved burial ship on display. In addition to that, there are also many other artifacts like wood carvings, beds, and textiles. Take a step back in time to a completely different world, and visit the Viking Ship Museum.
Embla Keramikk
If you are looking for a first-rate souvenir from your road trip in Norway, look no further than Embla Keramikk. Shelves with beautiful pottery line the walls of this ceramic workshop, and you can actually watch the artists at work when you visit. You might recognize some of their work if you have been to some of the finest restaurants in Norway, but you cannot bring it home from the restaurant. Visit their shop and you are sure to find a one-of-a-kind piece to keep for yourself.
Places to Stay in Oslo
Affordable: Lysebu Hotel Check Rates: Booking.com | hotels.com
Mid-Range: Wright Apartments Check Rates: Booking.com
Upscale: Comfort Hotel Grand Central Check Rates: booking.com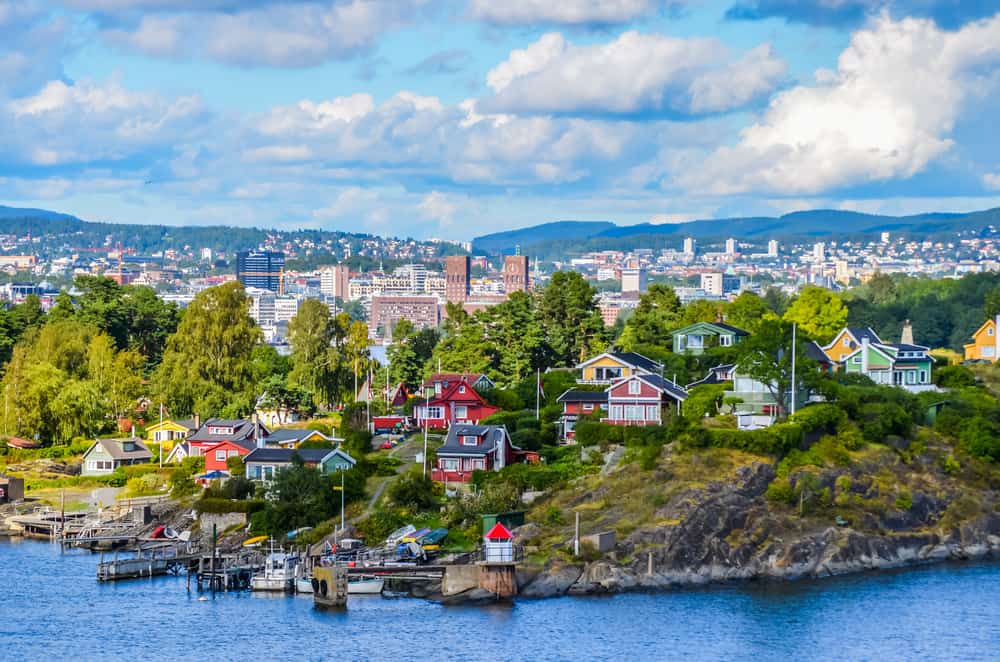 Norway Itinerary Stop 2: Fly to Stavanger
If you have endless time, rent a car and drive from Oslo to Stavanger. This is a Norway road trip after all. Norway is a very large country though, and in order to fit everything in we recommend flying. There will be plenty of driving through remarkable countryside later in this Norway itinerary. And Stavanger is definitely a must for your road trip in Norway! This city has its own fjord (of course, because Norway) as well as some absolutely astounding cliffs to visit.
Things to Do in Stavanger
Gamle Stavanger
Historic Stavanger, or Gamle Stavanger, has a multitude of wonderful and curious facets. It is home to the best-preserved wooden home settlement in all of Europe. Impressive, right? While you stroll the centuries-old cobblestone roads, you will have the opportunity to visit museums and shops. People do live in this quaint part of town, so be respectful and do not just walk into the old white houses. But please do visit the cute shops that are scattered all throughout Gamle Stavanger!
Øvre Holmegate
While Gamle Stavanger is known for its pretty white houses, Øvre Holmegate is known for its very colorful street. We love Stavanger because it is a perfect representation of old alongside new, classic alongside vibrant color. Øvre Holmegate was designed by famous hairdresser Tom Kjørsvik, who apparently wanted to leave his mark on more than just hair. This is another area full of shops and eateries that is a natural choice for spending time during your Norway road trip.
Stavanger Cathedral
Guess who has the only surviving cathedral from the Middle Age? Stavanger does! And you can visit during your road trip in Norway! Even more impressive, Stavanger Cathedral has been in use since the 1300s. It is not just a lovely landmark, people, and not just tourists, still worship here on the regular. Furthermore, Stavanger Cathedral is full of relics and artifacts. When you visit here you will be taken back in time.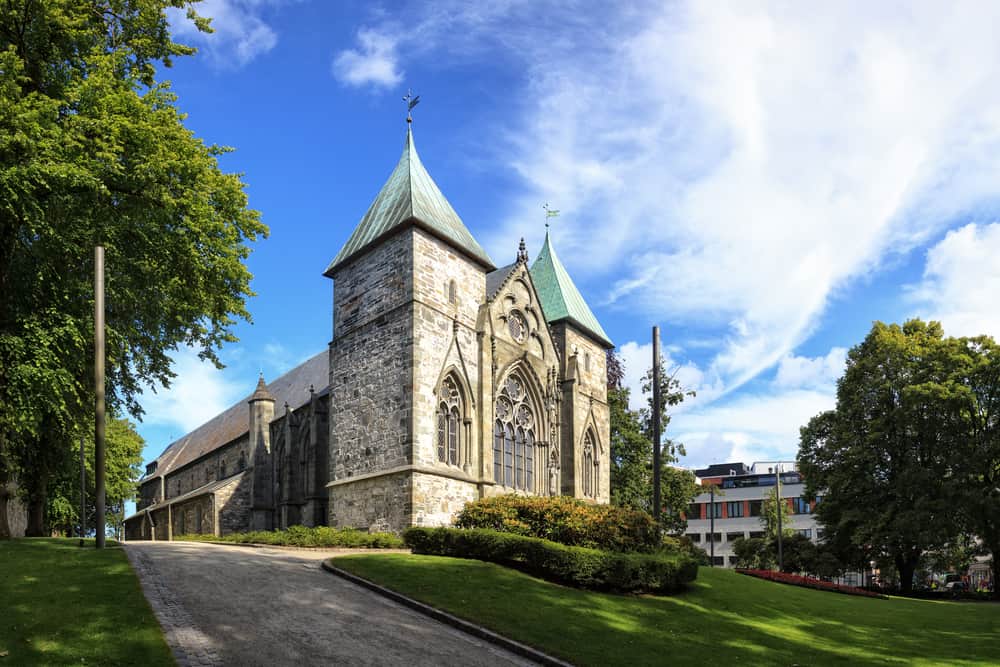 Museum of Archaeology
When you are ready for another dose of Viking history, visit the Museum of Archaeology. It is a smaller museum than some others, but has a good layout and plenty of exhibits to check out. Their exhibits are impressive too, with plenty of historic finds that were discovered in and around Stavanger–some even from the Stavanger Cathedral mentioned above. The Museum of Archaeology also has a fun extension in the Iron Age Farm, which gives a glimpse of what life looked like 1500 years ago. Both are great places to spend a bit of time when you visit Stavanger during your Norway road trip.
Lysefjord Cruise
Stavanger is home to Lysefjord, which is a must-see if you are coming to Norway for the fjords. It is actually an option to cross this fjord on your way to Pulpit Rock, which is the next stop on our Norway itinerary, so we recommend sailing it when you are ready to move on from Stavanger. The sights you will see while crossing the Lysefjord are the things Norway dreams are made of. Majestic cliffs and green sloping hills will guide you through the fjord and send thrills through your adventurer's soul.
Places to Stay in Stavanger
Affordable: Sea Story by Frogner House Check Rates: booking.com | hotels.com
Mid-Range: Pulpit Story – Langgata 4 Check Rates: booking.com | hotels.com
Upscale: Clarion Collection Hotel Skagen Brygge Check Rates: booking.com 
Norway Itinerary Stop 3: Pulpit Rock Hike
Pulpit Rock, also known as Preikestolen, is often listed as something to do while you are in Stavanger, but trust us, you are going to want to make this its own stop. You will not regret this hike, and you are going to want to prepare and take your time so that you actually enjoy it. Expect to take between three and four hours to do this hike depending on your level of fitness. You do not need to be in stellar health to do this hike, but you still need to be smart about it.
Pulpit Rock is steep but almost flat at the top. When you reach the top you will be greeted with one of the most stunning, panoramic views in Norway. Bring plenty of water and good shoes. Also keep in mind that Pulpit Rock is extremely popular. If being around crowds of people is really not your thing, come later in the night or early morning. Whenever you do this hike, you are sure to be glad you did.
Places to Stay Near Pulpit Rock
After you hike Pulpit Rock, we recommend staying the night in Jørpeland or Årdal. Jørpeland is closer, but Årdal is not that much farther away and there are more lodging accommodations between the two cities. You can, of course, go back to Stavanger. However, staying in Jørpeland or Årdal will put you further in your Norway road trip instead of taking you backward.
Jørpeland:  Verkshotellet Jørpeland Check Rates: booking.com
Årdal:  Høiland Gard Gardshotellet Check Rates: booking.com

Norway Itinerary Stop 4: Kjeragbolten
Hike
Seriously folks, we do not recommend doing Pulpit Rock and Kjeragbolten on the same day if you are not in good physical condition. Even if you are, it is okay to be kind to yourself and give each one its own stop on your Norway itinerary. Pulpit Rock is challenging, and Kjeragbolten is downright difficult–and so, so worth it. Kjeragbolten takes about six hours round trip. Do yourself a favor and bring snacks and water so that you can keep your energy up.
Even though it is difficult, Kjeragbolten is a very popular hike in Norway. Thousands upon thousands of people are drawn here each year for many reasons, not least of which is the amazing views. You can also get a major adrenaline rush by stepping out onto a massive boulder that was deposited between two cliffs by a glacier thousands of years ago. Kjeragbolten is also witness to one of the tallest waterfalls in Norway. You won't regret doing this hike as long as you take it seriously. Wear good hiking shoes and check the weather–we recommend against doing this one in the rain as it is quite challenging and some areas can become slippery when wet.
Places to Stay After Kjeragbolten
If you do not want to drive far after accomplishing the physical feat that is Kjeragbolten, we recommend staying in Tjørhom. It is a little less than an hour's drive away and features a charming apartment with free WiFi. If you are fine with driving a few hours after hiking half the day, then go ahead and drive on toward Trolltunga and the Hardangervidda National Park, stopping in Odda We recommend staying in Odda at this point in your Norway itinerary because it has multiple lodging options, some of which have unexpected fun features like Norwegian beaches and mountain views for reasonable prices.
Tjørhom: Sirdal Check Rates: booking.com | hotels.com
Odda: Trolltunga Hotel Check Rates: booking.com | hotels.com

Norway Itinerary Stop 5: Trolltunga Hike
Ready for another all-day hike? Because you should be! This is truly one of the best day hikes in Norway and hsouldn't be missed!
Trolltunga is a hike near the Hardangervidda National Park, and it takes anywhere between eight and twelve hours. It has its challenging spots, but think of this as a unique opportunity to spend between eight and twelve hours marveling at the remarkable landscapes that make up the Norwegian countryside. We do highly recommend taking the shuttle so that you do not have to hike to the parking lot–Trolltunga is difficult enough already!
Like Pulpit Rock, Trolltunga has a flat cliff extending into the abyss at the end of the hike. But unlike Pulpit Rock, Trolltunga is more narrow and juts farther out. Trolltunga actually means troll tongue. Even though it is such a long hike, it is less challenging than Kjeragbolten. Bring your hiking shoes, lots of water, and layers. You will want to start early when it is cold, and keep in mind that it just is not going to warm up very much. Bring your layers so that you can truly enjoy the surroundings.
After the Trolltunga Hike we have a whole National Park to check out, so we recommend you stay close. You can stick to Odda, or you can stay in one of the beautiful lodging options in Hardangervidda National Park. Either way you will not want to go too far because we have a number of stops coming up in Hardangervidda that you are going to want to see!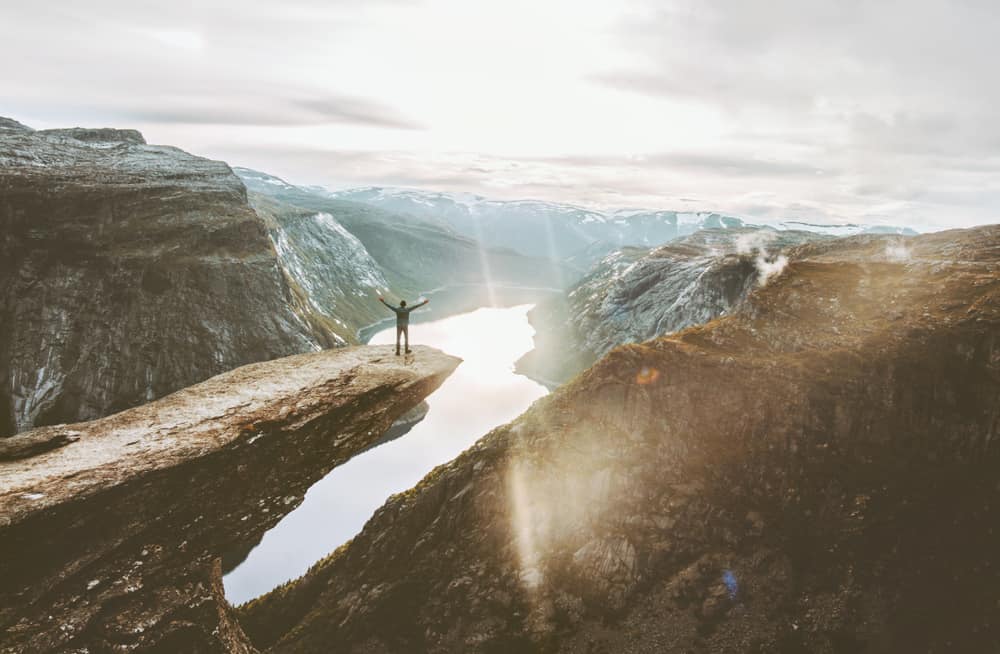 Norway Itinerary Stop 6: Hardangervidda National Park
Norway, a country of endless skies and big outdoor adventures, also has its fair share of national parks. All of them have their own benefits, but we especially recommend Hardangervidda. It is Norway's largest national park and offers all kinds of adventures. Come here for hiking, fishing, and even cross-country skiing. You might even be lucky enough to catch sight of some reindeer herds! Not to mention the remnants of stone age settlements that are scattered throughout the park. There are several places to stay located in or very near the park, and the lodgings available are just as much a part of the experience as the things to see.
Sights to See and Places to Stay in Hardangervidda
The Hardangervidda National Park Route
What could be better for your road trip in Norway than a road that takes you right through Hardangervidda National Park? The Hardangervidda National Park Road, or the Telemark Mountain Road, (also known as Fjellveien–you know it is good because people keep coming up with more names for it!) is a great way to see all the sights of Hardangervidda without having to put in so much physical exertion. Of course, we recommend getting out of your car and checking things out, but also understand if you just can't after Kjeragbolten. There are tons of observation points along the way, and you will go through several historic and traditional villages.
Vøringsfossen Waterfall
At two hours, the Vøringsfossen waterfall is one of the shorter hikes we have on our Norway Itinerary! Vøringsfossen has carved a canyon through the Hardangervidda plateua, and you have to face the canyon to view the waterfall. Although it is a shorter hike, it is still challenging and you will still want to bring your good shoes. This is Norway–bring your good shoes period.
Liseth Pensjonat og Hyttetun
Close to the Vøringsfossen waterfall is Liseth Pensjonat og Hyttetun. They offer free WiFi and a restaurant with traditional Norwegian cuisine. You can also get assistance while you are here with rending canoes and obtaining ski passes. Stay in a private room or a cottage. Drink your morning coffee or cocoa by the banks of the little stream that runs just behind the property.
Check Rates: booking.com

Fossli Hotel
Get even closer to the Vøringsfossen waterfall with Fossli Hotel. It is located on the plateau right next to the waterfall. Along with its unbeatable surroundings, Fossli Hotel is also a piece of Norwegian history. It was built in 1891 and had a few famous regulars including composer Edvard Grieg. The Vøringsfossen waterfall is not the only nearby attraction; there are plenty of hikes to venture on in the immediate area.
Check Rates: Booking.com
Kinsarvik Church
Along the Telemark Mountain Road that goes through Hardangervidda lies the small village of Kinsarvik, which is home to the Kinsarvik church. This church houses an extensive collection of historic treasures, including some 13th-century paintings that were actually discovered inside of some of the church's walls. Give yourself a break from your outside adventures for a bit to wonder at some of the man-made creations inside Kinsarvik church.
All the Hikes
If we listed every single hike in Hardangervidda that is worth your time, we would be here all day! Some of them are easier day hikes, but there are many multiple-day hikes. If backpacking is your thing, this is the place to do it during your Norway road trip. You know we love glaciers, and therefore we have to mention Finse. Finse is a small (read: tiny) Norwegian village that offers a challenging hike around the Hardangerjøkulen glacier. A shorter, friendlier hike is Falkeriset. This one offers an easy trail and absolutely astounding views of Hardangervidda. You cannot go wrong with adding any of the hikes in Hardangervidda to your Norway itinerary.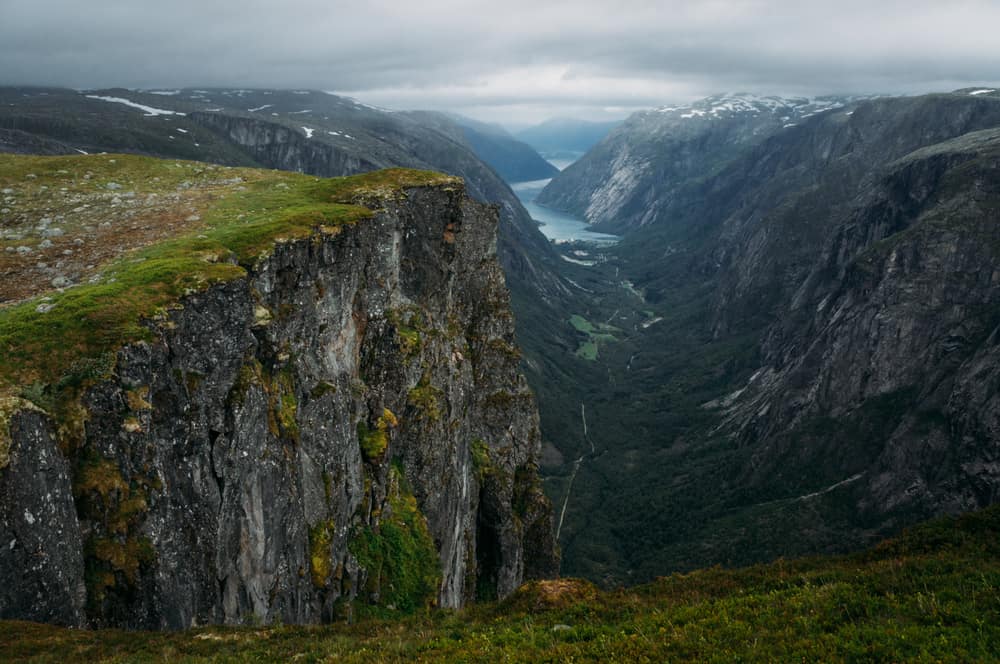 Norway Itinerary Stop 7: Arrive in Bergen
When you have had your fill of Hardangervidda, take your Norway road trip on to the next stop: the great city of Bergen. Norway is a country full of breathtaking fjords–most of the major cities are built around them. But Bergen is the Norway city that is known as "The Gateway to the Fjords." Like Oslo and Stavanger, Bergen is also home to a number of great shops and museums to explore. And the adventures you can have here–Bergen is definitely a stop you must consider in your Norway itinerary.
Top Things to Do in Bergen
Fjordcruise Bergen–Mostraumen
Of course we have to start with exploring the fjords! Fjordcruise Bergen–Mostraumen is a three-hour cruise that begins in Bergen and takes you up the Osterfjorden. It gives you the opportunity to view Bryggen, which is the historic part of Bergen, with all its beauty and charm from the fjord. This cruise takes you past and even under some waterfalls. Sail between mountains through the narrow Mostraumen strait for a unique experience you will not forget.
Check Out Bryggen!
Do not just view Bryggen from the fjord, go visit it! Bryggen has existed for at least 900 years and was a central port during Viking times. In the early 1900s, several fires devastated the area, and this historic treasure was almost left to ruin. But a renewed effort was stirred up in the 1970s that restored Bryggen to its current glory. It is home to artists, shops, restaurants and eateries, and a great nightlife.
Visit the Hanseatic Museum and Schøtstuene
While you are in Bryggen, visit the Hanseatic Museum and Schøtstuene. Learn about the heritage of this place, and how important it was to the city.  You will get a taste of what life was like here through the last several centuries, and how people survived and thrived here. Perhaps the most exciting part is the medieval ruin from around 1280 that you can view through a glass floor.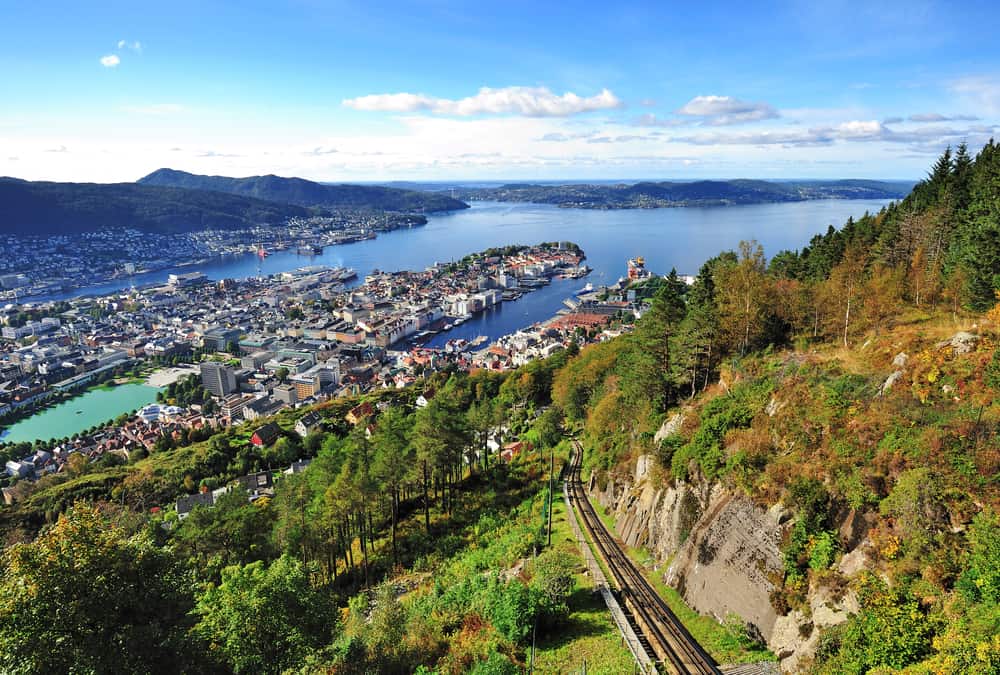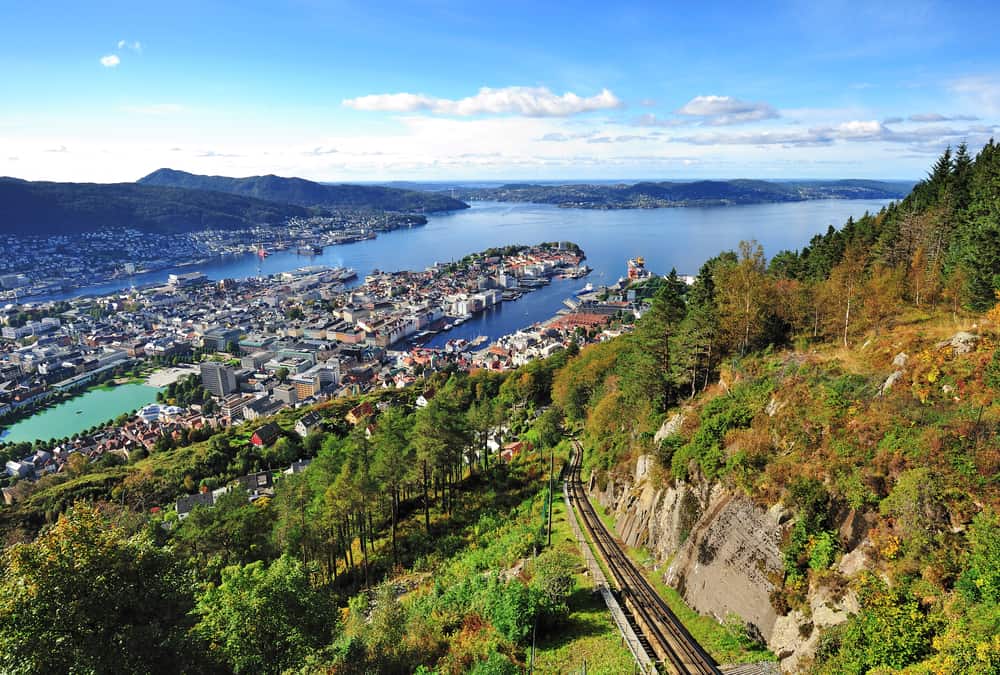 Hike Mt Fløyen
Bergen makes hiking easy with the trail for Mt Fløyen starting right in the center of the city. There are fun guided tours, or you can do it yourself. Expect to learn all kinds of history and to hear fantastic stories if you go with a guide. At two hours, it is another refreshingly short hike, and the path is relatively easy. Children do this one all the time! You will see awe-inspiring views of the city, mountains, and fjord.
Do the Island Walk
Why not combine exploring the fjord and hiking together? The Island Walk starts with a boat ride from Bergen city center to Kleppestø, where you hike up the island. This is another easy hike that is approved for people of all ages and levels of physical fitness. We cannot imagine anyone who would not want to do this one. With minimal effort and exertion (as far as hiking goes, anyway) you will be rewarded with some of the most amazing views available around Bergen.
Places to Stay in Bergen
Affordable: Claus Ockenssmauet 3 Check Rates: booking.com 
Mid-Range: Bergen Børs Hotel Check Rates: booking.com | hotels.com
Upscale: Opus XVI Check Rates: booking.com | hotels.com
Norway Itinerary Stop 8: Take a Bus to Jotunheimen National Park
It is a long five and a half hours from Bergen to Jotunheimen National Park. We recommend taking a bus, but you can definitely drive it if you want! Buses go from most of the major cities in Norway to Jotunheimen, which should be an indication of why we put it in our Norway itinerary. Like Hardangervidda, Jotunheimen is a more than worthy place to spend some time during your Norway road trip. It is located right in the heart of Norway, and we think it will take a spot in your heart too.
Sights to See and Places to Stay in Jotunheimen
Take the Besseggen Ridge Trail
Also known as Besseggi, Besseggen is a mountain ridge that lies between two lakes, Gjende and Bessvatnet. The trail is a long one–14 km, with some challenging spots. It takes about seven to nine hours to go one way. We recommend booking ferry tickets so that you only have to do one way. At least 30,000 people come to do this every year though, so it must be worth the effort! With the lakes on either side, the views on this trail simply cannot be beat. Bring your water and bring your lunch, you are going to want them!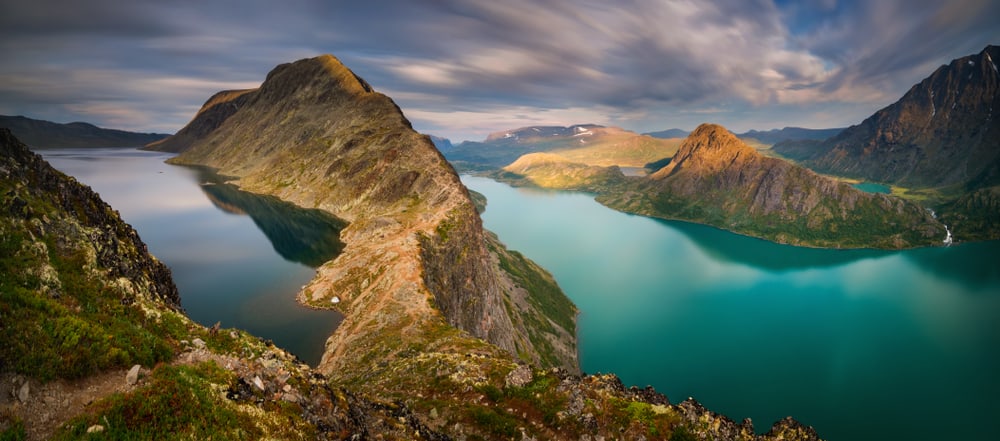 Visit Gjende Lake
Gjende is one of the lakes on the side of Besseggen. It was formed by a glacier passing through thousands upon thousands of years ago and has high walls on either side. With its own harbor and gift shop, Gjende is a perfect place to spend a relaxed afternoon. Norway is renowned for its mountains and hiking, but we totally get it that sometimes it is nice to experience beauty in a less labor-intensive way. You can definitely do that on the peaceful beach of Gjende.
Hike Galdhøpiggen
If mountaineering holds a special place in your heart, take the time in your Norway road trip to hike Galdhøpiggen. It is the tallest mountain in Norway, as well as Scandinavia and Northern Europe. You might think, given that information, that it would be a longer hike than Besseggen, but Galdhøpiggen is actually shorter. You can start from Juvasshytta for a shorter, easier hike, or go from Spiterstulen for a more challenging climb. Again, bring food and water. Like, a lot of water. Also keep in mind that, as the tallest mountain in Norway, Galdhøpiggen definitely has its challenges. Go with a guide if you are not an experienced mountain climber, and even if you are you still may want to consider it.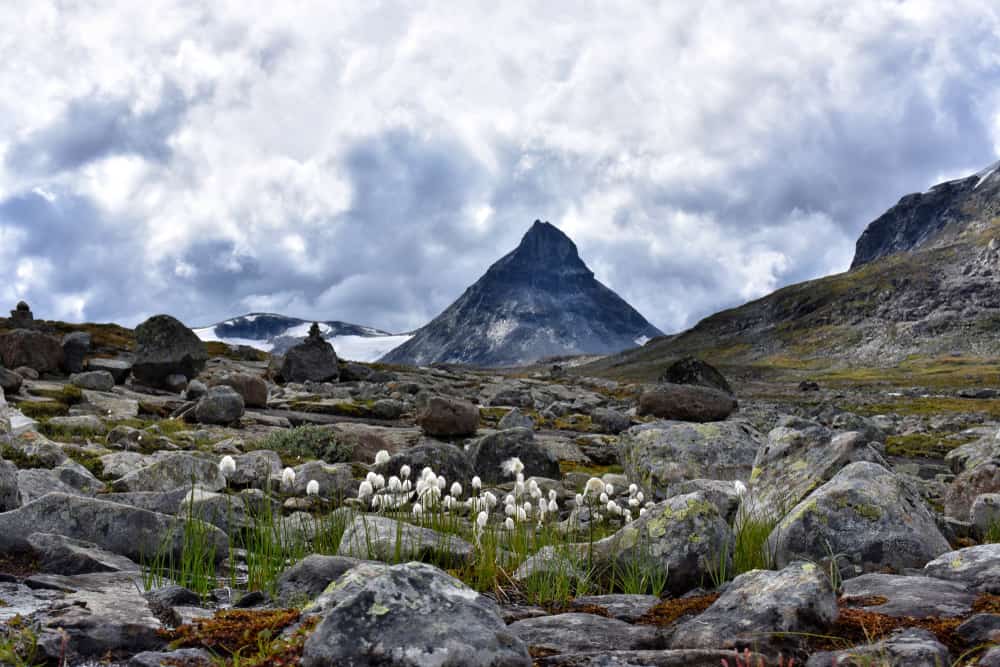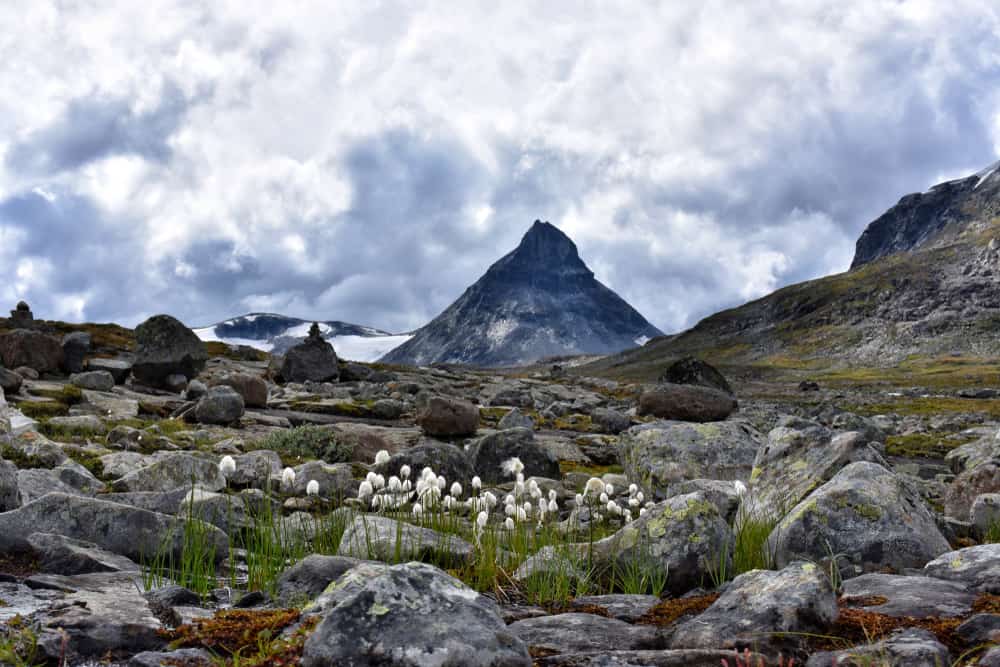 Ski Galdhøpiggen
You can go skiing in the summer at Galdhøpiggen! If you come too early in the year, you will not be able to ski (which is why we recommended hiking first!), but skiing is available in summer and autumn. You can even ski on the glacier! If you do not want to climb the tallest mountain in Scandinavia, but still want a chance to see all its beauty, you can. Drive up and ski, or just visit the small ski resort at the top.
Visit Vettisfossen Waterfall
There is something about waterfalls that just makes them a necessary addition to any Norway itinerary. Vettisfossen is no different. It is one of the tallest waterfalls in Norway and only takes two hours to get to it. The trail is not too challenging and is packed with amazing views along the way. If you would like, you can take the hike a step further to view the waterfall from the top. Whether you do that or stay at the bottom, Vettisfossen is sure to leave an impression.
Places to Stay Around Jotunheimen
Affordable: Jotunheimen Husky Lodge Check Rates: booking.com
Mid-Range: Besseggen Fjellpark Maurvangen, Jotunheimen, Cottage no.17 Check Rates: booking.com
Upscale: Lemonsjøen-Jotunheimen-Besseggen Check Rates: booking.com
Norway Itinerary Stop 9: Arrive in Geiranger
While on your road trip in Norway, definitely consider spending some time in Geiranger. Geiranger is no city, but rather a small tourist village a couple of hours away from Jotunheimen National Park. It is a fun place to get some cultural experiences, along with the beautiful landscape and fjord you have come to expect from Norway. Geiranger also comes complete with a wide variety of things to see and do, including kayaking and fishing along with the more typical hiking and sightseeing.
Best Things to See in Geiranger
Geirangerfjord
Take a ferry or a kayak to explore the amazing Geirangerfjord. You will be able to see the famous Seven Sisters waterfalls, along with the Suitor and the Bridal Veil waterfalls. Or if you would rather experience the breathtaking fjord from land, there are a number of hikes in the area. However you do it, Geirangerfjord is the main reason Geiranger is on our Norway itinerary because there just are not many places in the world like it.
Do the Waterfall Walk
One of the great hikes available in Geiranger is the Waterfall Walk. Rather than a typical hiking path, it is a stairway of 327 steps built up the mountainside. Starting in Geiranger center, it goes all the way up to the Norwegian Fjord Center. And doesn't that just sound amazing in and of itself?! Between the architecture of the stairs and the truly awe-inspiring surroundings, the Waterfall Walk is definitely an experience to consider when planning your Norway road trip.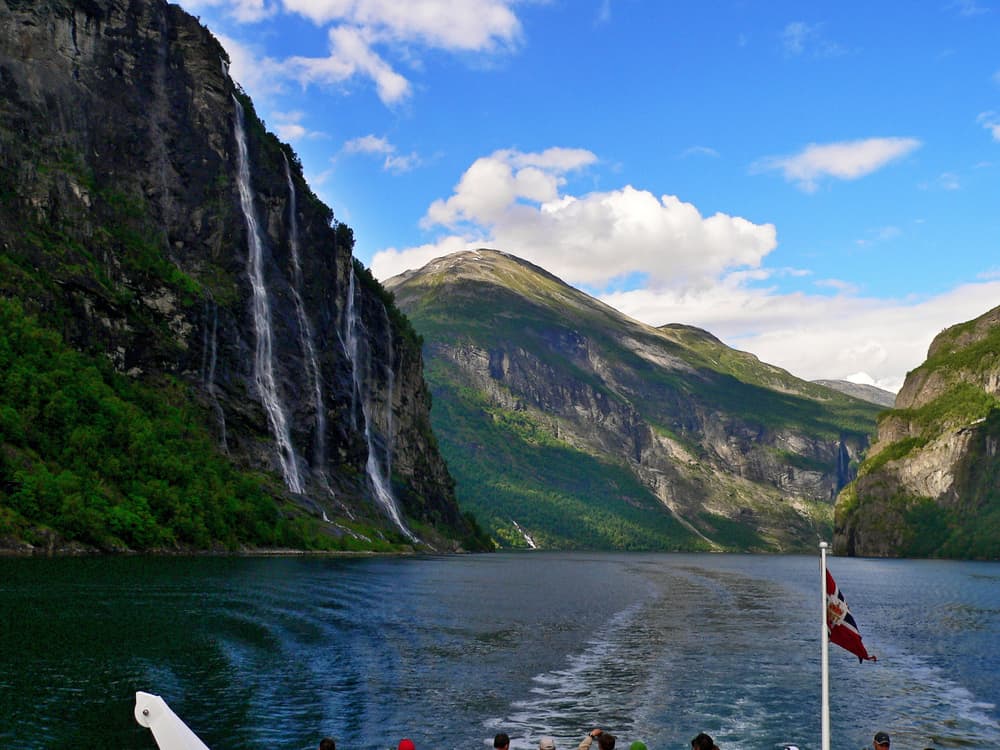 Go Sightseeing
Geiranger is home to some experiences that are a little outside the Norway norm, including old and abandoned farms. You can view them from the fjord, or go check them out and learn about how people lived and farmed on the steep hillsides. You can visit some of the active farms in the area as well and learn about current ways people make their living in this marvelous place. Geiranger offers the old alongside the new, giving a unique way to learn about the culture and lifestyle here.
Visit the Village Center
With all the hiking Norway tempts you into doing, at some point it just makes sense to restock on calories. (Are we right, or are we right?) The Geiranger Bakery is an excellent place to do this. It is also in an old barn, which is pretty cool in and of itself. There is also the chocolate factory, Geiranger Sjokolade. You cannot go wrong with any of the cafés and restaurants in Geiranger, but we especially recommend the Geiranger Bakery and Geiranger Sjokolade. European chocolate is the best chocolate after all.
Take the Trollstigen Mountain Road
Just outside of Geiranger, you can drive or ride through the Trollstigen Mountain road. We actually recommend doing this on your way to or from Geiranger. Take your time–there are a lot of places and viewpoints to stop along the way with sights and scenery that will blow your mind. Featuring several hairpin turns, this drive is a classic on any Norway Itinerary. There are even hiking paths you can stop at along the way!
Places to Stay Close to Geiranger
Affordable: Solfjord B&B Check Rates: booking.com
Mid-Range: Fjellro Turisthotell Check Rates: booking.com | hotels.com
Upscale: Norway Holiday Apartments – Norddalstunet Check Rates: booking.com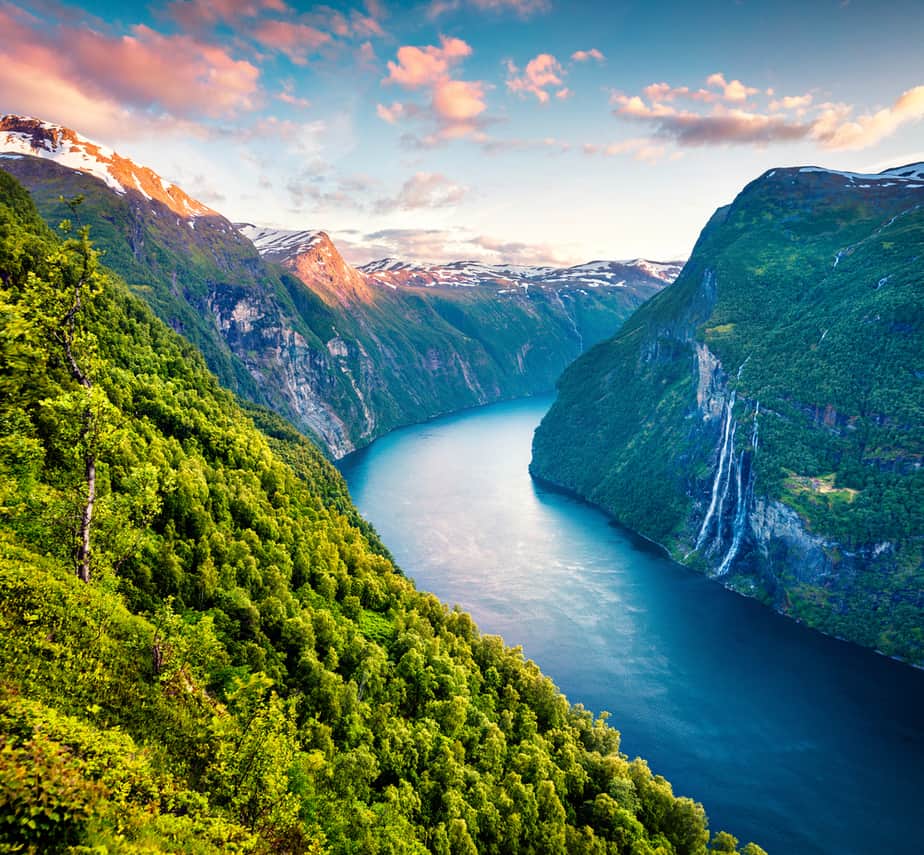 Norway Itinerary Stop 10: Romsdalseggen Ridge Hike
Like Pulpit Rock and Kjeragbolten before, Romsdalseggen Ridge is its own stop. There are hikes, and then there are hikes in Norway, and then there is the Romsdalseggen Ridge hike. Expect to take about seven to nine hours to finish this one. When you finish your ascent you will find truly mindblowing panoramic views. With the Trollveggen cliff in one direction and the Dalsida landscape to the southeast, we dare you to try to prove us wrong on this one.
To say that Romsdalseggen Ridge is a difficult hike would be an understatement. There are narrow places with chains to help you to traverse them safely, and several steep climbs. At some points, it will definitely terrify anyone with a solid fear of heights. Fortunately, there is an alternative route that starts at Hestheia. This route is still challenging, but lacking in viewpoints that may make you dizzy with their height. Check the weather before you go–this is not a hike to do in strong winds or in the rain, although the Hestheia route is an okay option if it is windy.
Seriously though, warnings aside, Romsdalseggen Ridge is amazing. Awe-inspiring, stunning, awesome, soul-stirring, life-changing–if you can possibly do this hike, do it. There is a reason why some person decided to make a trail through the treacherous terrain here, and why thousands of people face their fears every year to do this. You cannot beat the wildness, tranquility, and spirituality of this place.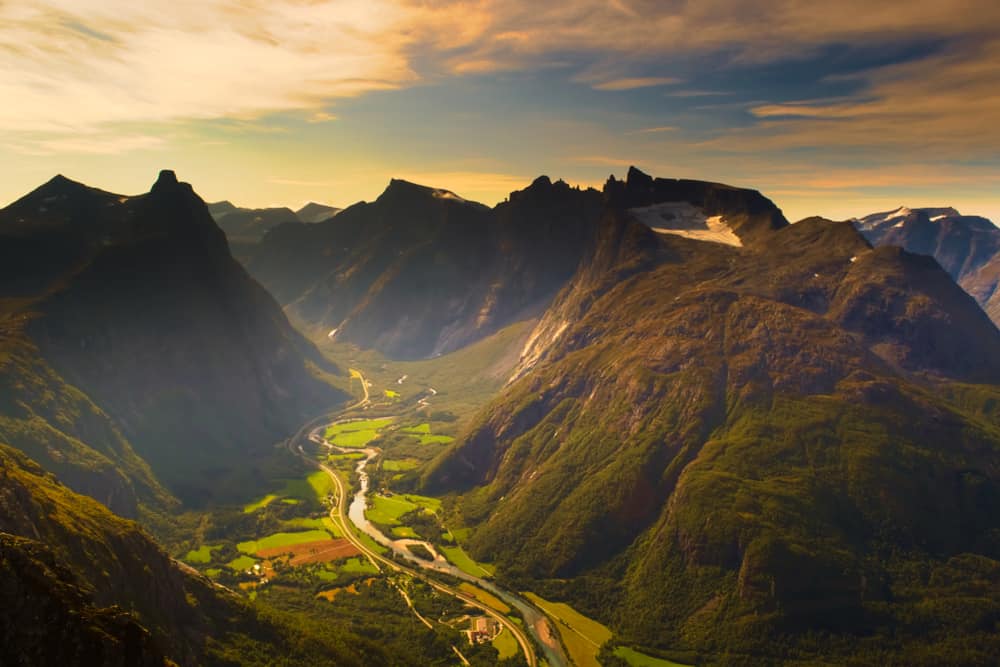 Norway Itinerary Stop 11: End Your Norway Roadtrip in Ålesund
We recommend driving directly to Ålesund when you are done with the Romsdalseggen Ridge Hike. Ålesund is only an hour and a half away and has plenty of places to stay. It is also the last stop on our Norway road trip. If you could only stay in one city during your time in Norway, Ålesund would not let you down. With fjords on all sides, renowned architecture, and a picturesque harbor, Ålesund is absolutely remarkable. You will notice that there are no nine-hour hikes listed here or incredibly difficult undertakings. Ålesund is the perfect place to catch your breath and relax. Enjoy the simplicity offered in this beautiful Norwegian city before flying back home from the international Ålesund airport.
Best Things to Do in Ålesund
Visit Art Nouveau
In 1904, Ålesund was devastated by a fire that destroyed hundreds of timber buildings. Like Bryggen in Bergen though, ultimately the desolation of that fire paved the way for an extraordinary work of beauty and architecture that is now Art Nouveau. Determined not to lose so much to fire again, the residents of Ålesund rebuilt this portion of the city in stone. They did not just rebuild though, they made this part of the city into a veritable work of art. A walk through Art Nouveau is the perfect thing to cultivate and refresh your imagination.
Spend Some Time at Ålesund Church
Ålesund Church is an excellent example of the inspired architecture used to rebuild the Art Nouveau area of Ålesund. Built from Norwegian marble, the Ålesund Church lies in the same spot where another church existed before the fire of 1904. It houses one of the largest organs in Norway, and is a testament to the harmony that can come from chaos. It is still in use to this day, closed on Monday and Saturday, as well as for weddings and funerals.
Walk to the Top of Mount Aksla
Ready for another fun hike via staircase? At 418 steps, the walk from Ålesund center to Mount Aksla comes in just 91 steps longer than the Waterfall Walk in Geiranger. Bundle up and do this one at night for a striking view of the city and its fjords. If you are super done with hikes of any nature, it is okay. You can also drive up to the viewpoint at the top of the staircase, or even take the City Train. Even better, there is a restaurant and café at the top. You can eat great food and enjoy the view at the same time!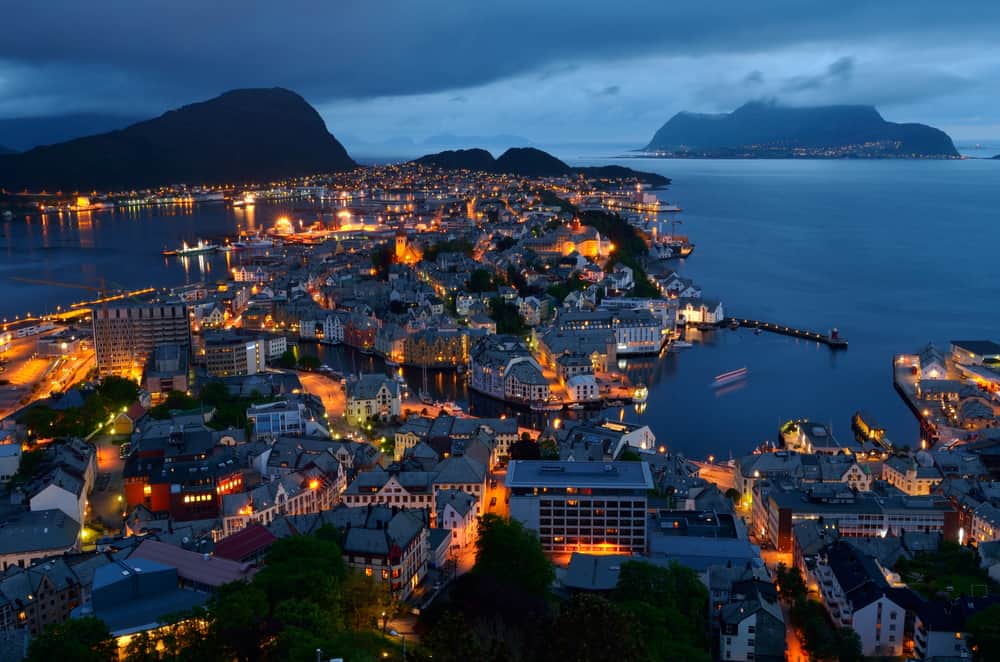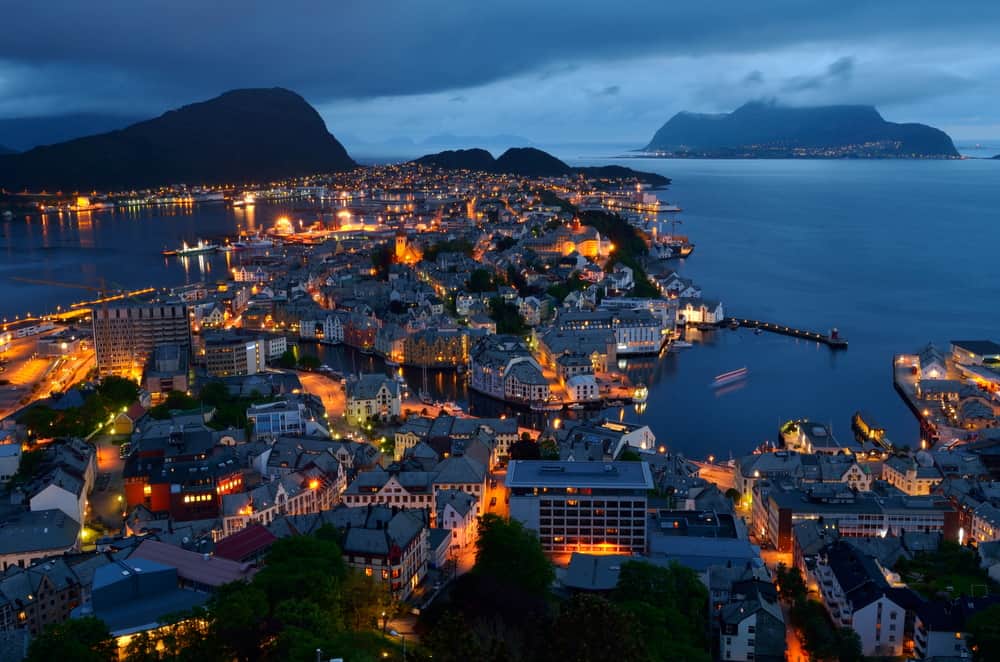 Take Another Fjord Cruise!
With the Sunnmøre Alps on either side, Hjørundfjord is a striking fjord to take a cruise through. The area is thick with woods, giving it even more of a retreat feel. Take a boat, cruise, or kayak. You can explore Hjørundfjord by yourself or with a guide. Some cruises even offer the option of learning about and exploring ruins of underwater farms in Norangsdalen along the way. Wherever the Hjørundfjord takes you, you are sure to make some memories.
Check Out the Sunnmøre Museum
All the other museums we have listed have been indoor, but the Sunnmøre Museum is an outdoor collection of traditional Norwegian buildings, ships, and historical artifacts. Drive through to see what life looked like in years past, and the types of buildings people used to live in. The Sunnmøre Museum is a fun way to spend some time and also get your dose of Norwegian history and culture in.
Places to Stay in Ålesund
Affordable: Scandic Parken Check Rates: booking.com | hotels.com
Mid-Range: Hotel 1904 Check Rates: booking.com | hotels.com
Upscale: Quality Hotel Ålesund Check Rates: booking.com | hotels.com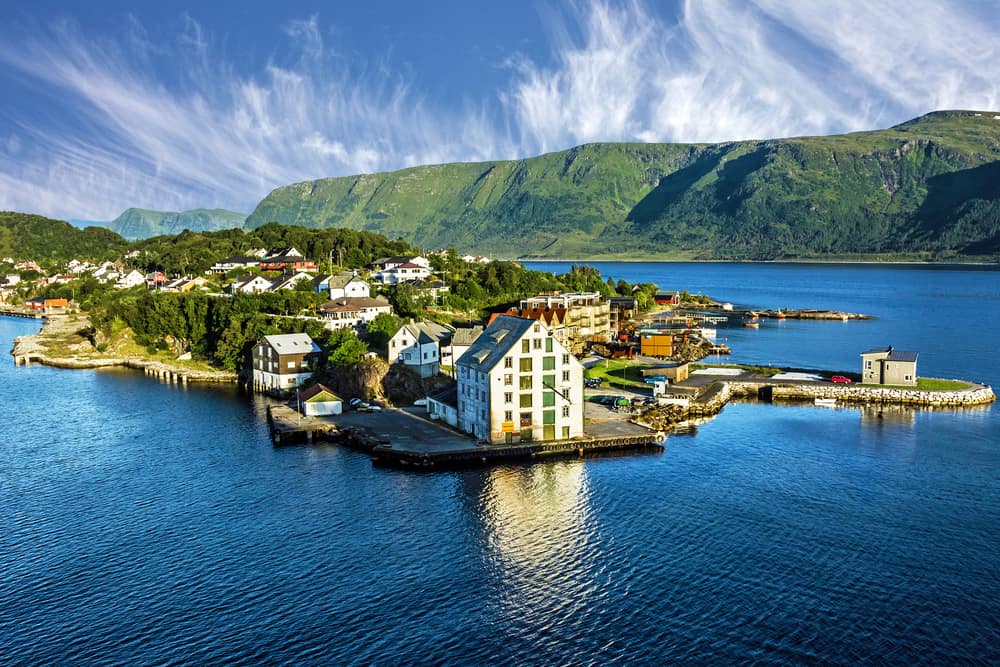 Best Time of Year for Your Norway Road Trip
You can visit most places in our Norway itinerary any time of year, but keep in mind that winter in Norway is no joke. It is long, it is brutal, and they close roads for it. Most cities plow their roads very well, it is the highways between cities that get closed in the winter. So if you just want to go to the cities, then you should be fine to go in winter. If you want to actually do some driving during your road trip in Norway, we recommend going between March and November. If you, like us, think the national parks in Norway are to die for, you are going to want to check when they are open. For our ultimate Norway itinerary, we recommend coming mid-June or later, but no later than the end of September. However, that is really based on the outdoor experiences available. If hiking all day every day isn't really your thing, you will have a lot more flexibility in timing.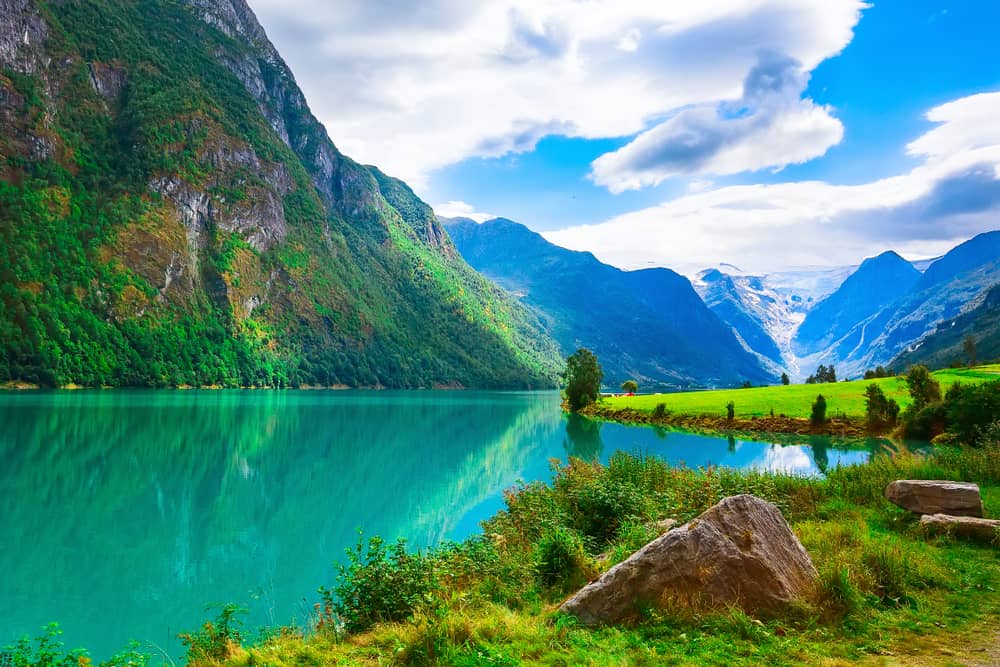 Renting a Car in Norway
Good news for your Norway road trip, Norway makes it easy to drive whatever country you are from. As long as you have a valid driving license you can drive for up to three months, or for as long as the license is valid if you are from an EU or EEA country. Now, you do not necessarily need a car to road trip in Norway–public transit by train and boat is very good. But if you want to have the most control over your where you stay, how you get there, and for how long, car rental is the way to go. It is expensive, so take this in mind when you are trying to decide. If you have enough time to book your car rental ahead, this can help with the costs.
Keep in mind that Norway has tolls on many of its roads. You can buy a pre-paid toll pass so you can avoid racking up the fees. Another pro tip is to buy an independent excess insurance policy before you go to Norway so that you will not feel pressured to buy high priced insurance policies from the rental companies. Check out this great article for even more information about renting and driving cars in Norway.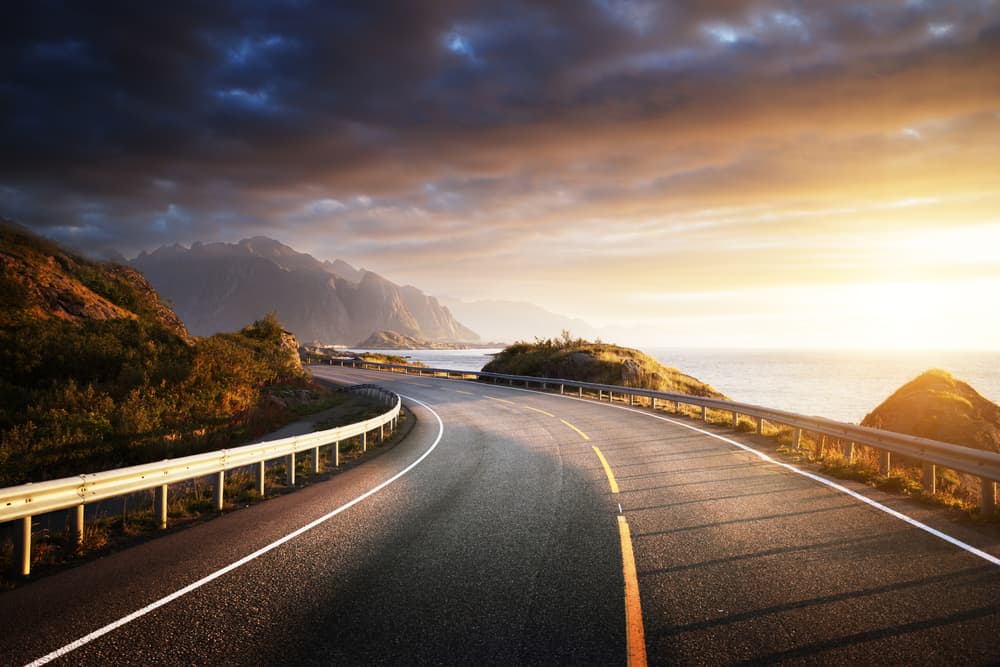 We hope you have a fantastic time on your Norway road trip! If you can only visit a couple of the stops, we highly recommend Geiranger and the Hardangervidda National Park. Please let us know how your Norway road trip goes, and if you went to any of the places we suggested in this itinerary!