Visiting the Grand Canyon in winter might not the first thing that pops to mind when you consider visiting the Grand Canyon National Park, however, we are here to show you that there are lots of reasons that you should spend winter in the grand canyon.
The Grand Canyon National Park in Arizona encompasses 277 miles (446 km) of the Colorado River and adjacent uplands. The Grand Canyon itself is a mile (1.6 km) deep, and up to 18 miles (29 km) wide and the incredible layered rock is an awe-inspiring sight by anyone standards.
There is so much to do other than just exploring the canyon including things like hiking, camping, a trip to the historical village sights and white water rafting, not to mention the plants, wildlife, and all the things of geological interest. Winter in the Grand Canyon is not much different than Summer in the Grand Canyon, in fact we might go as far as to say it's better, so let us tell you why.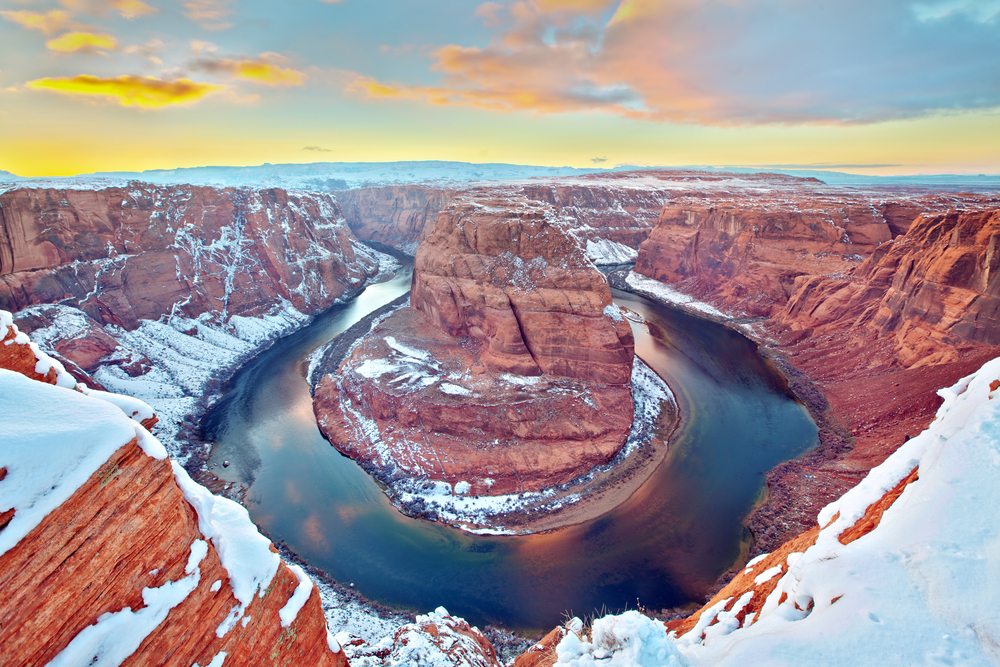 The Ultimate Guide To Visiting The Grand Canyon In Winter.
Is Winter A Good Time To Visit The Grand Canyon?
In one word, yes. The Grand Canyon during winter is just as spectacular, maybe even better. You get all the amazing views but without any of the stress. The Grand Canyon in winter is a special place; not only are you likely to see snow but you may feel as if you have the place almost to yourself.
The winter season sees the lowest number of tourists. During Decemeber, January and February the canyon only gets 10% of its annual visitors. A visit to the Grand Canyon in the winter also means you won't be walking around in the baking heat, the sky will be clearer and the sunsets earlier.
I'm asking myself why wouldn't anyone visit the Grand Canyon during winter?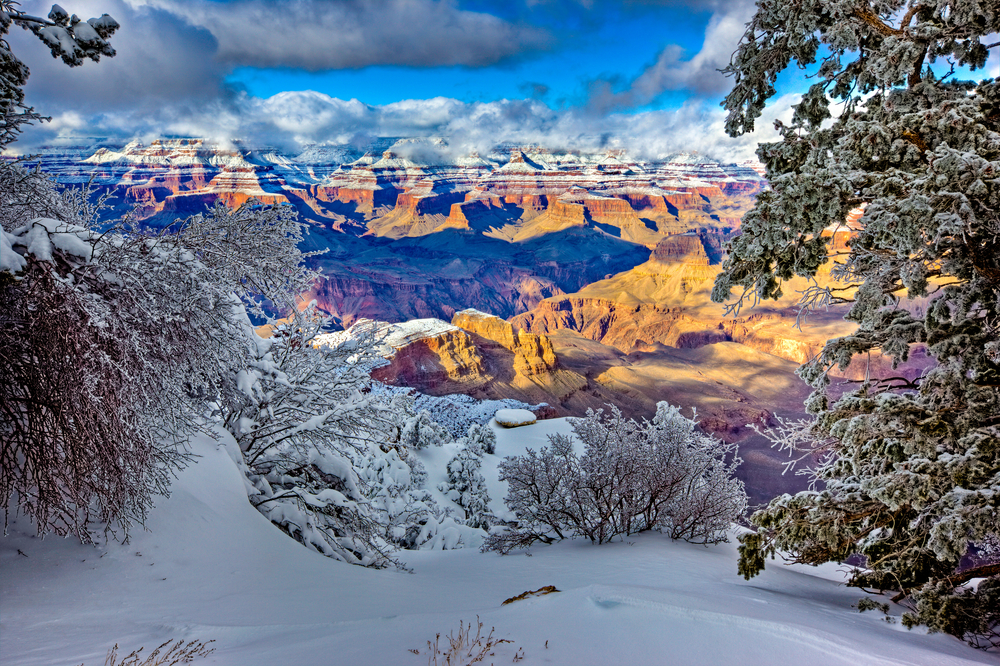 Average Winter Weather In The Grand Canyon
Winter Weather typically begins in November and it can be extreme, normally breaking by mid-April. With an elevation of around 2000 feet to over 8000 feet, things can change quickly and dramatically.
Along the rim low temperatures are generally in the teens with afternoon highs in the 40s due to the amount of sunshine.
Along the river temperatures generally range between 30 and 40. Grand Canyon weather in December can be very cold and windy, so be prepared.
During the winter fog can occasionally form but it usually breaks up by mid-morning. Sometimes you are lucky enough to see a temperature inversion and these are actually quite magnificent. Think what it looks like when you look out an airplane window with clouds and mountains below. Partial inversions occur a couple of times a year in winter and very occasionally there is a total inversion, but these are rare.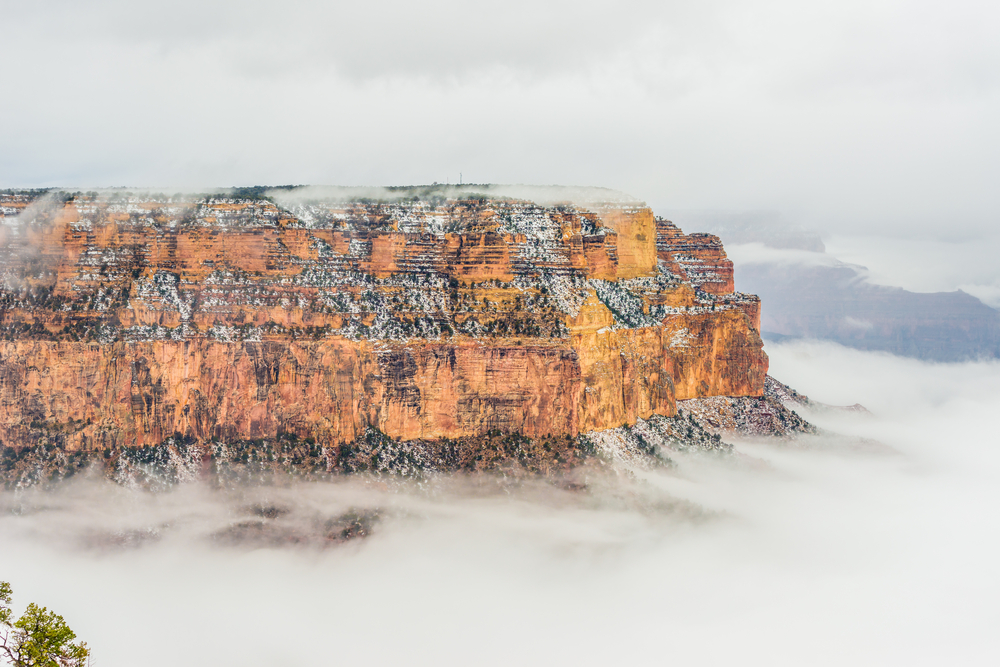 Does It Snow In The Grand Canyon?
Yes it does, even with the winter sunshine there is often significant snowfall, The average snowfall is 50 to over 100 inches per year on the Rim and sometimes this snow reaches to the river at the bottom. It does surprise people that you find snow at the Grand Canyon but you do, so be prepared.
It's not unheard of for snow to still continue into April at the higher elevations and sometimes even May.
Most of the snow accumulates on the North Rim, making it impassable but the South Rim does get some too.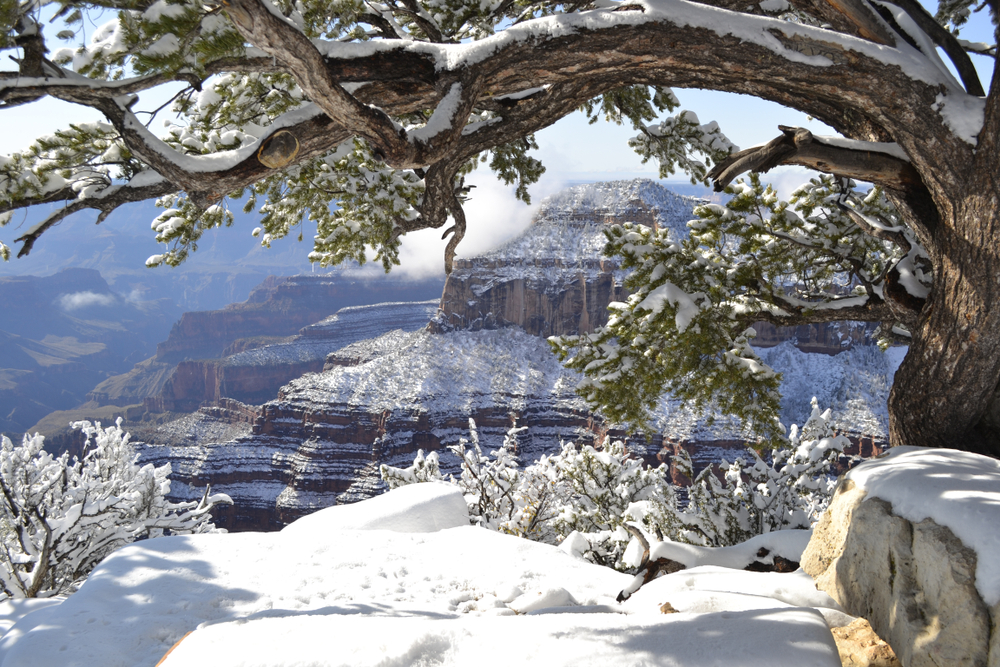 Is The South Rim Closed In Winter?
No, the South Rim is open but the North Rim is plunged into a winter wonderland, or a winter solitude depending on which way you look at it, and closed. The North Rim is closed between October and May but the popular South Rim stays open and roads are drivable, except in inclement weather.
You will find plenty of activities to keep you entertained at the South Rim during winter. The South Rim is where most of the hotels, campgrounds, and restaurants are located.
Be prepared though as paths and walkways can be slippery and we don't recommend going on any of the steep trails unless you are used to winter hiking and have crampons.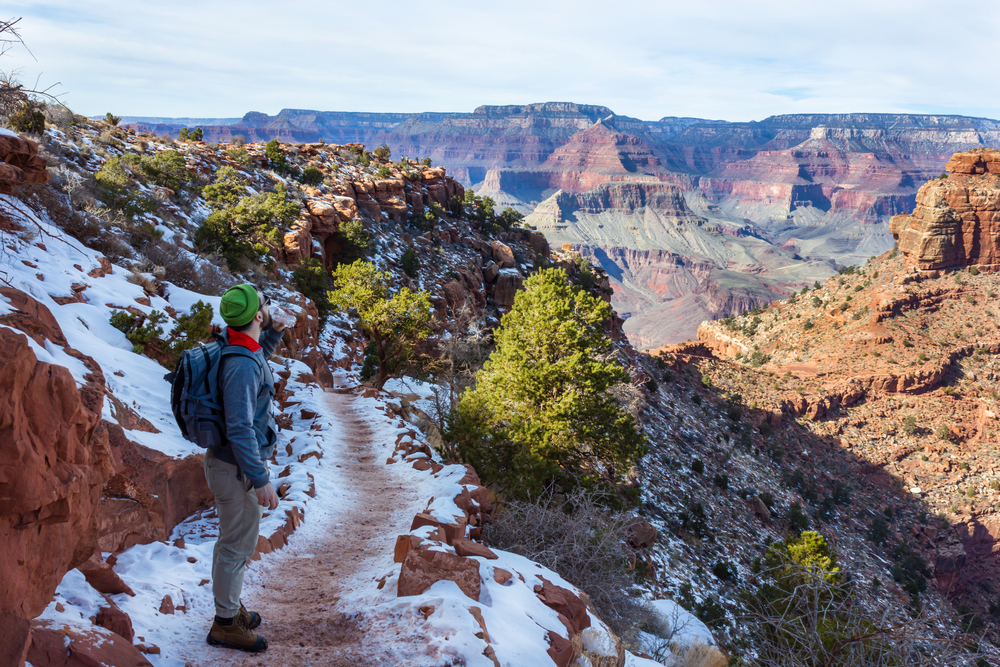 What To Pack For The Grand Canyon In Winter
If visiting the Grand Canyon during winter think about layering, an inner layer that is worn directly on the skin that breathes and has moisture-wicking, a middle layer that will insulate and heat, and an outer layer that will protect against the wind and rain.
The objective is to stay warm and dry, while also being able to remove layers during times the sun is shining, so anything that helps in those terms is well worth the investment.
Here are the things we recommend you pack for the Grand Canyon in winter. Obviously what you will take will depend on what you are going to do and how long you are going to stay there. Here we have assumed you will be spending most of the day at the canyon, will hike a trail, and be willing to take outer layers off when the sun is shining and you get too hot.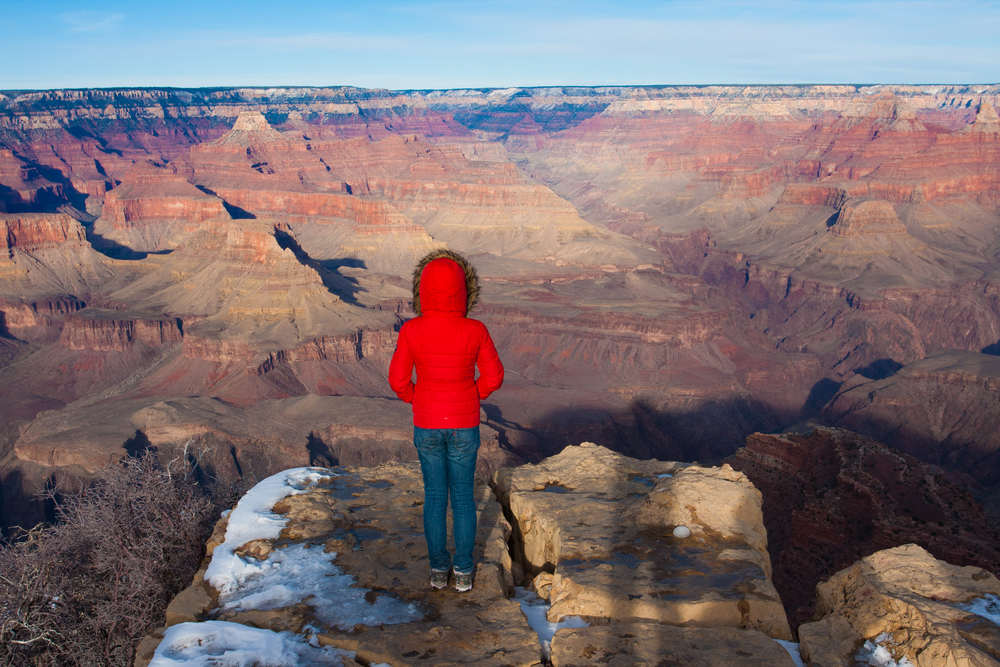 Waterproof and Windproof Coat
The right jacket can make your Grand Canyon in winter trip a great one or a cold miserable one. You want a solid jacket that is both waterproof and windproof. We recommend a jacket with an Omni-tech base layer and a waterproof shell. A good jacket is worth the investment. And if you are thinking of taking pictures, yellow or red looks great against the winter backdrop. We like the Columbia Women's Superpipe Slope 3 in 1 Interchange Winter Omni Heat 650 Down Ski Jacket. Terrance wears this Columbia Men's Action Jacket.
Winter Boots/Snow boots or waterproof shoes.
A good pair of waterproof shoes or boots are essential for winter in the Grand Canyon. There is nothing worse than walking around with cold feet. There are so many different types and styles so choose what suits you and what you intend to do in the canyon. It can get slippery and if you are walking down trails you may need crampons. Make sure the soles are certified to keep your feet warm to temperatures below 0*F to ensure you are purchasing a good pair. Victoria wears the Columbia Minx Mid II Omni-Heat Winter Boot and Terrance wears the Columbia Bugaboot Plus Omni-Heat Michelin Snow Boot.
Waterproof Gloves.
Like everything else make sure your gloves are waterproof. If not, your hands may spend most of the day wet and cold as there may be snow and ice everywhere. Victoria loves these Touch Screen Waterproof Warm Gloves and Carhartt Women's Quilts Insulated Breathable Glove with Waterproof Wicking Insert gloves. Terrence tends to wear these HighLoong Men Ski Snowboard Gloves Waterproof Thinsulate Cold Winter-Black.
Hiking Pants/Trousers
if you are going to hike ones of the trails you can, of course, wear jeans or any other trousers but we find hiking pants more comfortable, particularly if they are ones which have a bit of stretch in them. Hiking pants tend to be on the thin side so you will need something warmer under them. These Columbia Women's Saturday Trail Straight Leg Pant are Victoria's favorites and Terrance likes this pair of hiking pants.
Thermal Tights or Fleeced leggings and a Long-Sleeved Top.
Investing in some good thermal tights, leggings, long johns, or leggings, and a long sleeve top will make your trip more pleasurable and keep you toasty warm. If you will be wearing them directly on your skin make sure they are breathable and moisture-wicking, as you will sweat.
Victoria loves these Premium Women's Fleece Lined Leggings and these 32 Degrees Women's Heat Scoop Neck Thermal Tops. This is also one of your favorites; Hanes Women's V-Notch Pullover Fleece Sweatshirt. We tend to pack Pack at least 3-4 good long sleeve shirts each. Terrence wears a thermal top and thermal leggings.
Knit Hat
It doesn' have to be fancy, just something that you can pull over your ears and is functional because it can get windy. Victoria wears a Tough Headwear Cable Knit Beanie.
Wool Socks
if like me you get super-miserable when your feet get cold invest in a pair pack of wool socks. Wool is the single best fabric for keeping you warm and you won't want to do the trip without them, believe me, we tried.
Things you might not think you will need but you will.
Polarized Sunglasses.
If you have been skiing you will know why you need polarized sunglasses during a winter trip if you want to really see anything. Sun reflecting off snow and ice can be very harmful to your eyes. It's also impossible to keep your eyes open if this is happening and believe me, you will want to see the amazing scenery. Polarized sunglasses offer more protection but normal sunglasses will do if you don't have polarized ones.
Sun Protection
It might seem odd but winter in the Grand Canyon can get very sunny. You are at a higher elevation and therefore will burn faster and easier
Water Bottle
Just a friendly reminder to take your water bottle, they are as important in the winter as in the summer.
Hiking Poles
if you are intended on doing any long hiking trips we highly recommend that you also get some hiking poles, even if you think you don't need them. We find these Hiking poles are helpful at any time of year, particularly in the winter to help gain traction.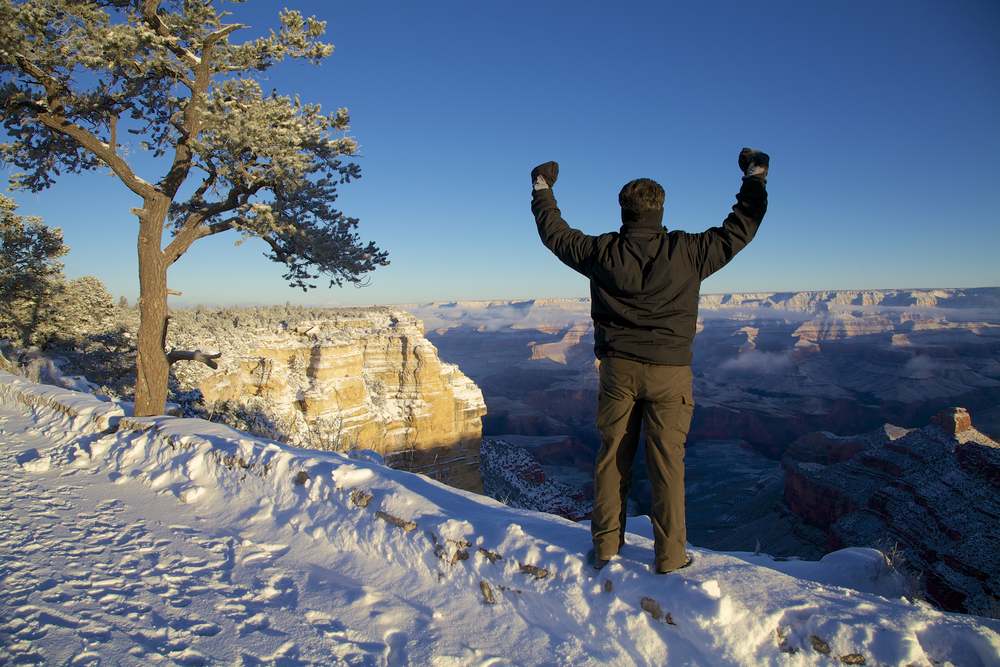 Top Things to Do During Winter In The Grand Canyon
Go for a hike
Winter in the Grand Canyon is perfect for hiking; the trails are almost empty, even the popular Bright Angel Trail and you also won't have the scorching sun blazing down on you. The conditions on some of the trails can be very icy and snowy so make sure you are prepared and check with the Backcountry Information Center about weather and trail conditions. If weather conditions allow you can also take a mule ride along the rim or down to the Colorado River.
The easiest hikes are the ones around the rim and are relatively flat. Please only take on the other longer, steeper hikes if you know what you are doing as paths are not cleared or salted and can be very dangerous.
Read more about hikes in the Grand Canyon
Watch the sunset
The sunsets in winter at the grand canyon are incredible. The sunsets are somewhere between 5 and 6.30 depending on when you are there. Make sure you stay a little after the sun seems to disappear as this is when the sky takes on some beautiful colors. Popular sunsets spots are Mather Point, Hopi Point, and Yavapai Point.
Visit the viewpoints
Visiting the viewpoints will change depending on if there is snow or not and how comfortable you are driving in snow. If you are not so keen driving in the snow the Orange Shuttle runs approximately every 30 minutes and calls, among other places, at Yavapai Point, Yaki Point and Pipe Creek Vista.
If self-driving you can head east or west; both offer great viewpoints but East is the most visited route.
Have lunch in Grand Canyon Village
If you want to relax and not miss the view then head to the Grand Canyon Village for some food and refreshments. Located on the South Rim, it's restaurants hold some of the best scenic overlooks in the park. The Arizona Room, which is part of Bright Angel Lodge, for example, has an incredible view over the Grand Canyon near the Bright Angel Trail trailhead.
Looking for more ideas about what to do at the Grand Canyon in winter? Check out The Perfect Grand Canyon Road Trip
Where To Stay Near The Grand Canyon In Winter
If you going to the Grand Canyon in the winter we have listed some places below where you might like to stay. Some of these places are off the grid so please be aware of that if visiting in the winter.
Nomad's Pad @ Grand Canyon: #1 THE DREAMER
If rugged and unplugged is your thing then this experience might be for you. An off-grid, alternative outdoor experience with panoramic views this place is designed for those seeking an immersive wild adventure.
Nomad's Pad sleeps 3 and is a 30-minute drive from the south rim of the canyon.
Click Here to Check Rates on Airbnb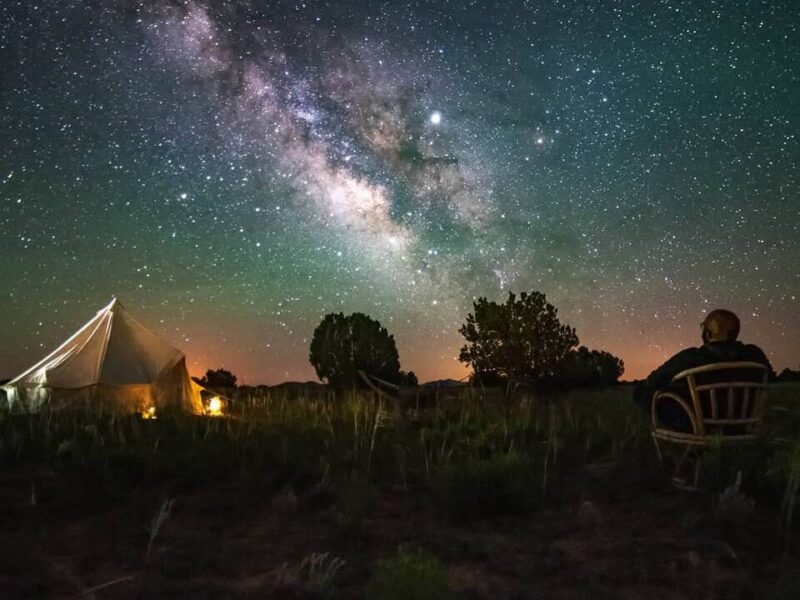 Closest Grand Canyon B&B
19 miles from the South Rim, this is a European style B&B. This place is also a Certified Wildlife Habitat with the National Wildlife Federation so expect to see lots of wildlife coupled with a big starry sky.
The rooms accommodate 2 and comes with breakfast.
Click Here to Check Rates on Airbnb
Alice's Cozy Grand Canyon Cabin

Sleeping four, this historical cabin was built in the 1930s. The South Rim is 23 miles away and Alice's Cabin is the perfect place to relax and is completely private.

The cabin has a kitchen, a large living room, two bedrooms, and two full baths.

Click Here to Check Rates on Airbnb
Glamp like a pro in the Grand A-Frame!
Just 40 minutes from the South Rim, this modern A-frame sleeps 4. The interior was meticulously curated to provide you with luxurious amenities while staying true to the camping experience.
Everything is provided for a comfortable stay but be warned, it can get cold in the winter even with heaters, so be prepared.
Click Here to Check Rates on Airbnb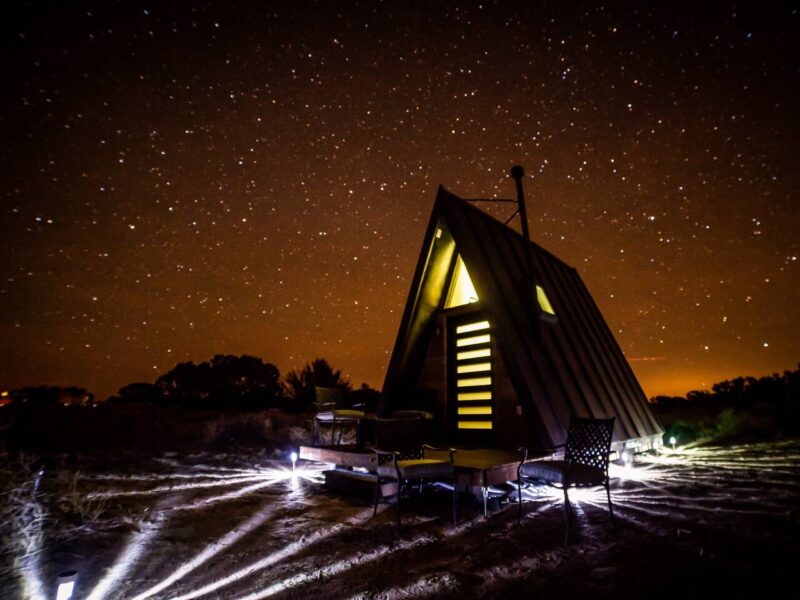 The Love Shack
If your trip to the Grand Canyon in the winter is of the romantic kind why not stay at the Love Shack? A renovated 1962 Red Dale Camper and everything is provided for you to enjoy your stay.
This is another off-grid experience so be prepared.
Click Here to Check Rates on Airbnb
We hope we have convinced you that the Grand Canyon in Winter is well worth a trip, whether you visit the Grand Canyon in January or another month we are sure you will have an amazing trip. Please take pictures of the snow at the Grand Canyon as we love to see them.