There's no denying the fact that Airbnb has become a popular booking company for people as they travel to different cities, states, and even countries. With prices that will let you save some money, great locations and more, booking through Airbnb is a great opportunity when you travel– especially with USA Airbnbs!
The best thing about United States Airbnbs is that there are great places to stay across the country, and there are even unique Airbnbs to book too! From romantic airbnbs in the US to treehouses, vans, a traditional apartment and more, no matter where you travel to in the United States, there is sure to be a place for you to stay.
Letting yourself stay in accommodations that are more unique to the area lets you stay away from a generic hotel room. You can also connect with locals and, as already mentioned, save some money! So go ahead and take a look through our look of unique USA airbnbs to find the best fit for you and your travels! And if you're worried about starting to use Airbnb, check out our Beginner's guide to Airbnb to help navigate this new adventure!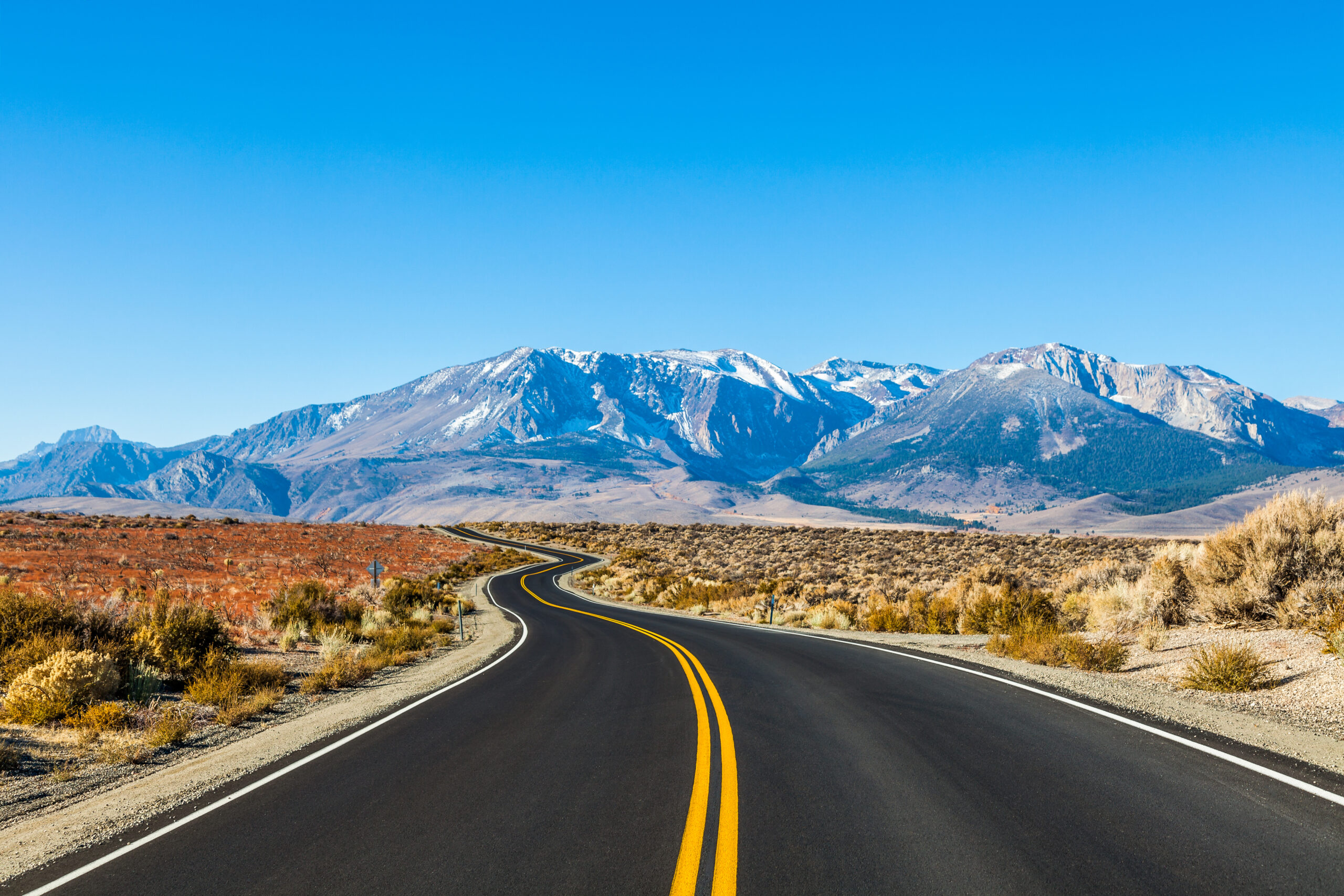 16 Best Airbnbs in the USA [Treehouses, Domes and More!]
1. Brand New Studio Earthship In New Mexico
If you're looking for some of the most unique USA airbnbs, there is one right in Taos, New Mexico! This new studio Earth Ship is totally off the grid– but don't let that scare you, it has all modern amenities including Wifi, a kitchen, and washing machine and more.
There is a queen-size bed and futon mattress available to hold up to 4 guests in this unique place, and we know you will enjoy this off the grid house that catches its own rainwater, generates its own electricity, and stays at 72 degrees all year round without fuel!
The owner has built this custom house itself, and it is isolated yet close enough to Taos for a perfect trip: stay in the desert yet close enough to the city in this unique Airbnb– we promise it is one of the best Airbnbs in the US! And if you're looking for more cool places to stay in New Mexico, check out our article on the best Airbnbs in New Mexico!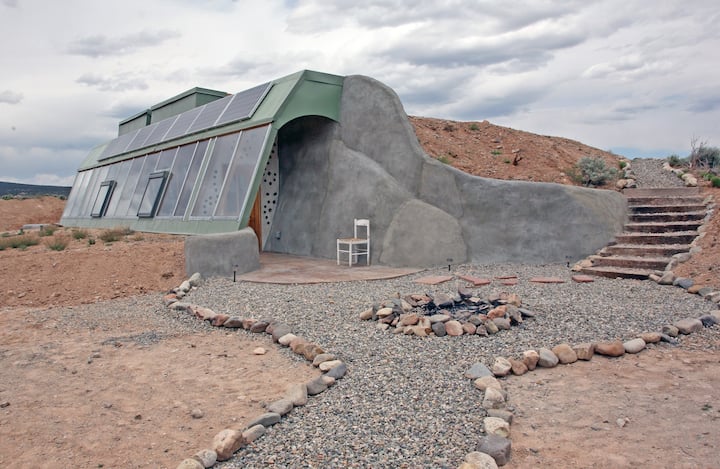 Click Here to Check Rates on Airbnb
2. ManCave Apartment in Florida
Want to have the cave to yourself? Look at booking one of the best Airbnbs in the US in Florida! This "Cave" is located in an airplane hanger and features an eclectic collection of things that lines the ceilings and walls.
This is truly a fun space as it features a bar, microwave, fireplace, TV, Wifi, and more. Better yet? There is also the opportunity to learn how to milk a goat here, or even go on a horseback ride through the 500 acres natural lands that are adjacent to Danville.
With friendly hosting, venues separated by 21 acres, careful cleaning, and just an all-around great vibe in Geneva Florida, this may be one of the coolest USA airbnbs around so definitely look into booking it when you're visiting the sunshine state!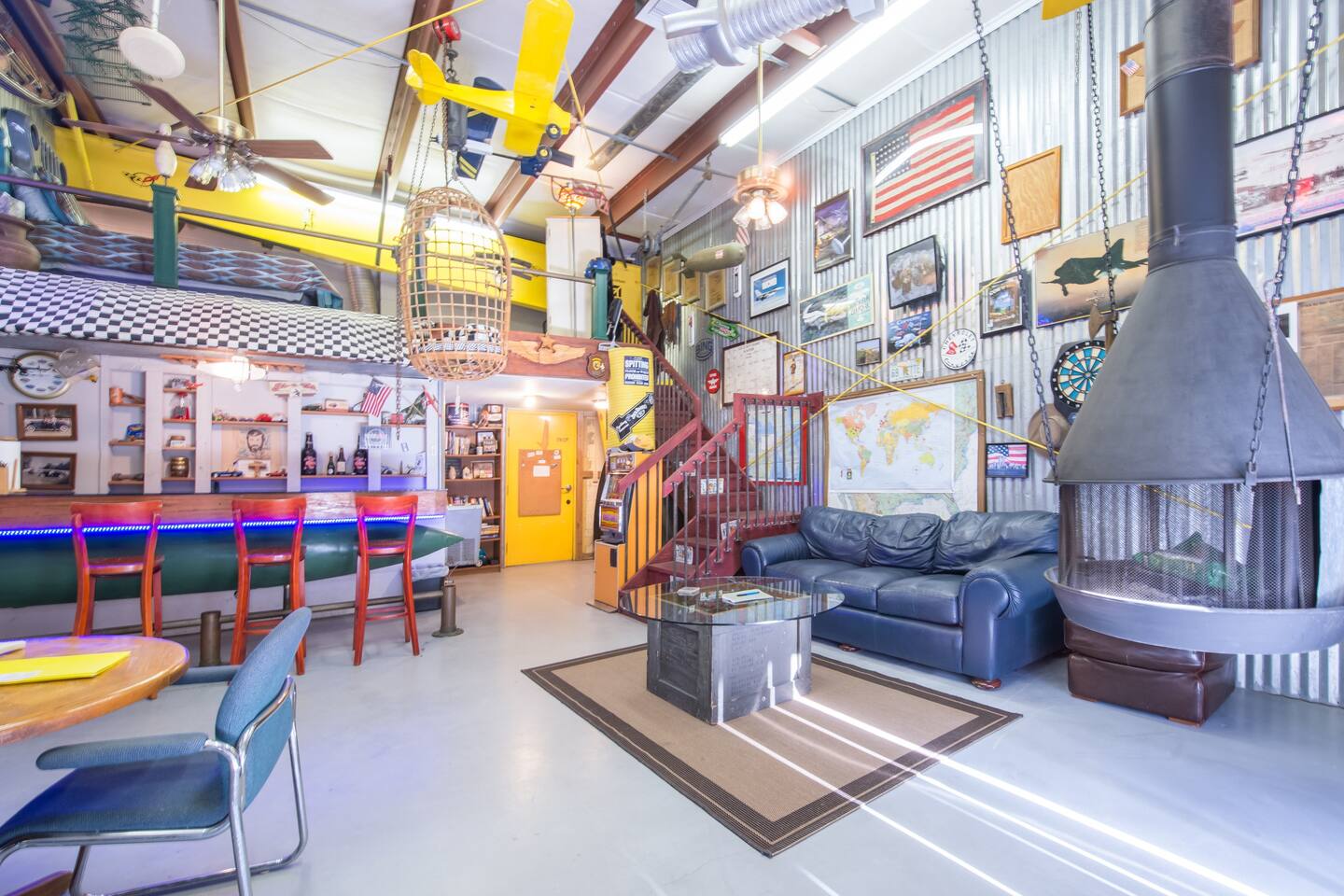 Click Here to Check Rates on Airbnb
3. Rainforest Treehouse Retreat in Hawaii
Let's face it, staying in Hawaii can get super expensive in hotels, so why not rent out an Airbnb while you stay? This Peaceful Rainforest Treehouse retreat is located in Volcano Hawaii and is the perfect gateway for relaxation. We would even argue it's one of the more romantic Airbnbs in the US!
With nearby beaches, forests, and volcanoes, this treehouse is perfectly peaceful and off the grid, which allows you to completely immerse yourself in nature. It is only 8 miles away from the Volcanoes National Park, and the treehouse itself has been elevated 15 feet off the ground for a unique experience.
The lanai and deck is surrounded by hanging plants which encourages a zen relaxation, and the treehouse itself also features a bathroom, daybed, bamboo walls, a wood washbasin, and more. Make sure to check out one of the best Airbnbs in the US when looking to stay in Hawaii– we promise this treehouse is unforgettable!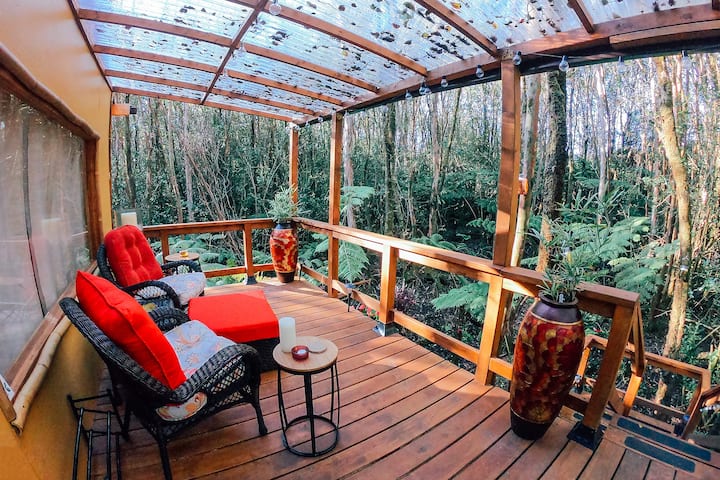 Click Here to Check Rates on Airbnb
4. Canyon Hideout Bungalow in Colorado
In Cortex, Colorado this refurbished 1958 Airstream trailer is every traveler's dream. In the private red rock canyons shaded by a 900+-year-old Juniper tree, Canyon Hideaway Bungalow is the perfect getaway for two: it's truly one of the coolest, tiniest houses featured in USA airbnbs!
This Airstream has its own private backyard with a hammock and a place to eat and relax and is equipped with everything you need. The nearest town is 13 miles away and the hiking trails to the Ancients National Monument lead right from the bungalow. Guests also have access to a tipi if available, about a 25-minute hike from the airstream!
This location is incredible and most guests describe this place as magical or heaven on earth. Definitely a Colorado Airbnb to consider, but even more so one of the best airbnbs in the US with its retro vibe and 80-acre property. And don't forget to check out our article on the best airbnbs in Colorado!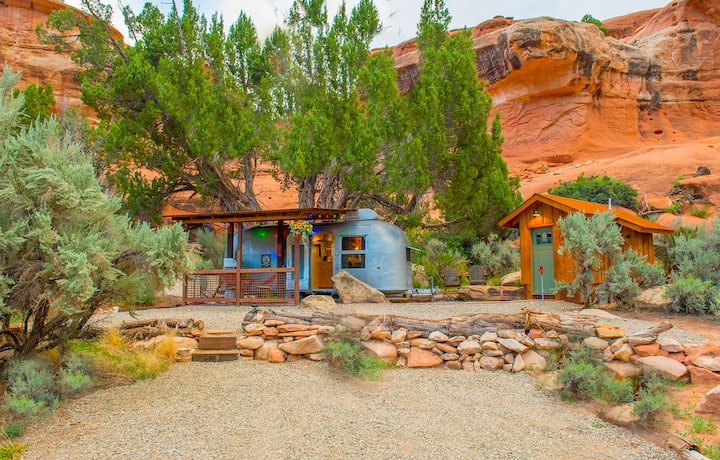 Click Here to Check Out Rates on Airbnb
5. Running Deer Tipi in Utah
A tipi for 4 anyone? With the 360˚ views of Red Rock Cliffs and the Sevier River on the private 13-acre property, this tipi really is a unique find.
Just a warning though, this isn't glamping! It's definitely camping with a view. The restroom is a porta-potty and there is no shower, water, or electricity on the property. The Running Deer Tipi is truly a find, but at the end of the day is about an experience.
For those travelers who love big open skies, some seclusion, and being immersed in nature, this is a great romantic airbnb in the United States, conveniently located off Highway 89. And don't worry, there are showers at the nearby Red Canyon Campground, so you can stay clean all while exploring one of the coolest USA airbnbs around! Better yet, there are more of these awesome Utah Airbnbs around, so check it out on our article about the 24 best Airbnbs in Utah!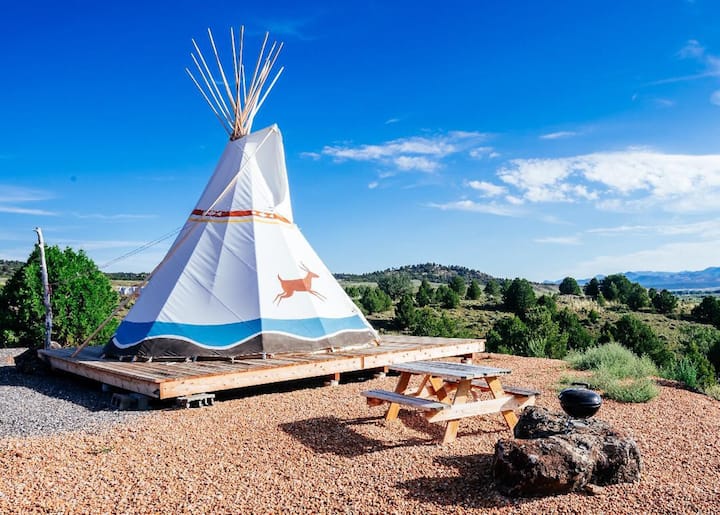 Click Here to Check Rates on Airbnb
6. A Pirates Life for Me: Houseboat in South Carolina
Welcome to a Pirate's Life! This airbnb property features 6 stay-abroad rentals and has been featured on "Tiny House Hunters" and classified as one of "Charleston's Best Airbnb Experience." This houseboat was gutted and redesigned to become a comfortable, spacious, and tranquil stay!
Here you can enjoy morning coffee with dolphins and evening views of the Charleston Harbor with a cocktail! This houseboat is very spacious with lots of room to move around and sleeps 3 comfortably. It is only 2 miles away from the historic district and is docked at a private marina.
Some of Charleston's best restaurants are nearby, and there is ample heat and air conditioning on the houseboat. No matter when you decide to book here, you will be comfortable and you will enjoy the water and sunset– this is truly one of the greatest USA airbnbs you can book!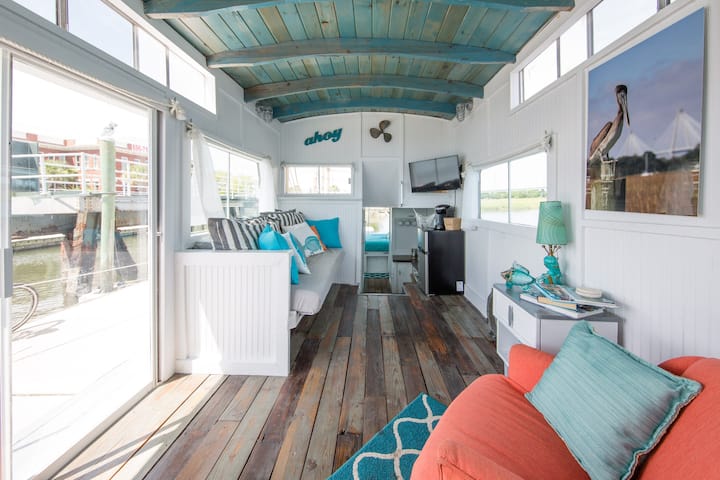 Click Here to Check Out Rates on Airbnb
7. Dome Sweet Dome in Oregon
Though this isn't a classic treehouse, Dome Sweet Dome has treehouse-like aspects, as the geodesic dome is perched up off the ground in a forested landscape in Bend, Oregon!
This Bend Airbnb is perfect for outdoor lovers: here you can wander through the pine trees in the backyard, hike the trails in the Deschutes National Forest, or walk along the river. You'll get wonderful views from inside the dome as well when you're looking to kick your shoes off and cozy up inside.
You'll wake up to the beautiful morning light through the windows and go to sleep staring at the night sky. Dome Sweet Dome also offers the convenience of being 10 minutes from downtown Bend while still having a quiet, restful feel. We suggest you pull up a chair, gather around the fire pit, and enjoy one of the coziest and most unique USA Airbnbs. And if you're interested in exploring more Airbnbs in Oregon, check out our 12 Best Airbnbs in Oregon article!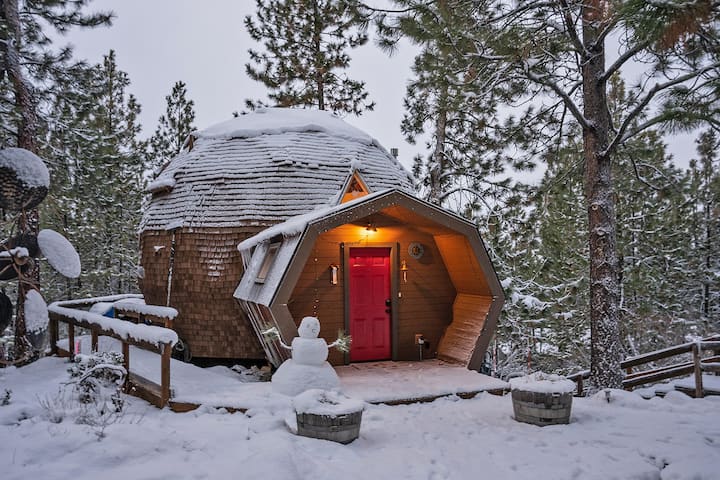 Click Here to Check our Rates on Airbnb
8. Casita Del Rey in Arizona
We should start by mentioning that this beautiful Tucson, Arizona Airbnb is home to Mediterranean miniature donkeys, horses, Nigerian Dwarf and Pygmy goats, and chickens. Visiting the animals is just one of the activities available on this impressive 5-acre property, and just one of the reasons we think it is one of the coolest USA airbnbs!
The small one-bedroom casita exudes southwest charm and is the perfect place to rest your head at night, but the real fun is found right outside the door. When you're not visiting the animals you can cool off in the pool, shoot some hoops on the basketball court, relax in the courtyard, or grill at the BBQ pit.
And when you're ready to venture outside the property to explore the rest of Tucson you'll be happy to know that just a short drive will take you to downtown Tucson or to top-notch hiking trails in the Catalina Foothills. This is truly a great place for adventure. But if you're looking for more adventure, check out our article on the best Airbnbs in Arizona!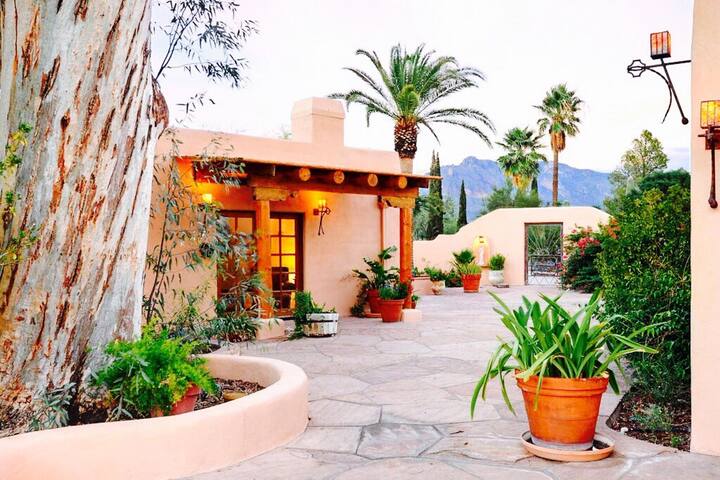 Click Here to Check Out Rates on Airbnb
9. Victorian Suite in New Orleans
Our next cool USA Airbnb is a Victorian suite located directly on Bourbon Street in the famous city of New Orleans. It provides a truly luxurious experience with 18-foot ceilings, Crystal French chandeliers, marble bathrooms, enriched hardwood floors, crowned beds, and French linens and drapes.
It can accommodate up to 5 guests with a studio floor plan, 3 beds, 1 bath, and a kitchenette. The real standout, however, is the over-sized balcony that overlooks Bourbon and Dumaine Street: these are true views you are not going to get anywhere else! Guests also have access to an inner courtyard that is very tranquil with seating and plants.
Built in 1820 as a single-family home, this Airbnb property has now been converted to luxury Lifts, and luxury it is: the dazzling nature of this suite is down to every detail, making it one of the best Airbnbs in the US, let alone in New Orleans! And don't forget to do more research and find out where the other best Airbnbs in New Orleans are– our article can help!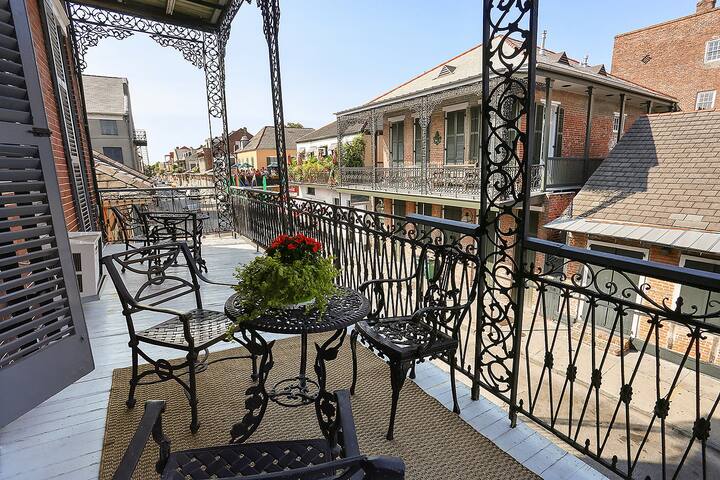 Click Here to Check Rates on Airbnb
10. Train Car in Tennessee
Hop inside a time capsule and rent out a converted WWII Train Car when starting in Maryville, Tennessee! This renovated troop train kitchen car is truly one of the most unique USA airbnbs, with its open-plan layout, wood flooring, modern furnishings and more.
When staying here, space is not a problem! There is plenty of room on Platform 1346, and outside the space, you can enjoy a fire pit, gazebo, and BBQ.
This train car has been featured on websites and travel shows like the Travel Channel, so you know it has to be good! With enough room to fit 4 people comfortably, there are 2 beds and 1 bath, and a great patio to explore while visiting Tennessee. We highly recommend checking out this renovated masterpiece: it is such a great Airbnb!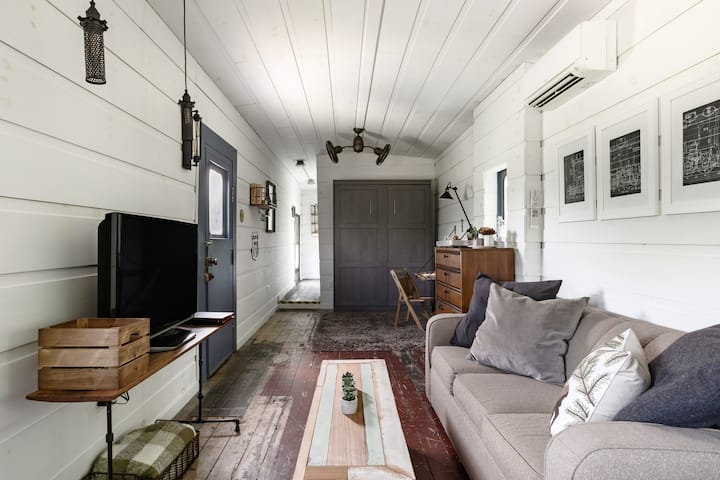 Click Here to Check Out Rates on Airbnb
11. Death Valley House in Nevada
If you're looking for a little house deep in the desert, this entire home is located 20 miles off the Death Valley National Park boundaries and features over 80 acres of land with unobstructed views. Mountains and desert surround you for an immersive experience when you book this Airbnb, and we promise it is one of the coolest USA airbnbs to book!
This piece of isolated land has you far away from any large infrastructure or neighbor that may interrupt your vacation time and views. This house's stunning views merge with the interior due to its natural design and has 3 bedrooms, 2 baths, an office, kitchen, and more.
The deck also features a sunken-in hot tub and it perfectly situated to maintain comfortable temperatures year-round. Known for its massive windows that face south, the deck and views available in this Death Valley house are unforgettable.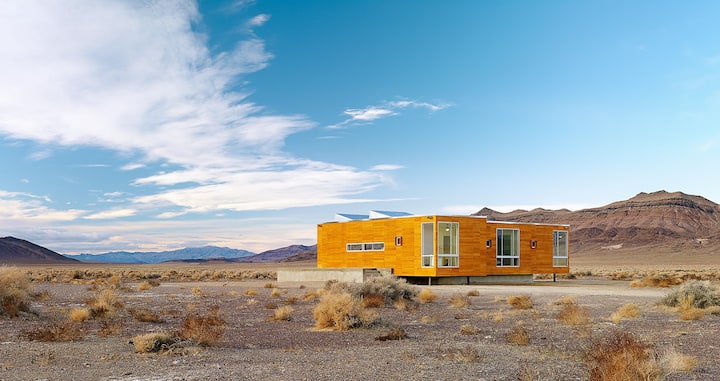 Click Here to Check Out Rates on Airbnb
12. Underground Hygge in Washington
If you're looking to channel your inner Hobbit, look no further! This Underground Hygge is located in Orodno Washington and is perfect for a little getaway that helps bring you closer to the earth.
This dwelling is nestled between the Columbia River Gorge mountainside. People can spot it from far away due to its iconic round doorway, and travelers love to leave the door open during the days to look at the wondrous views this little nook offers.
This is one of the coolest USA airbnbs: it truly will warm your soul, as every cranny is charming in this hole. You can truly hibernate here, tucked into the earth, and explore adventure when it seems fit for you!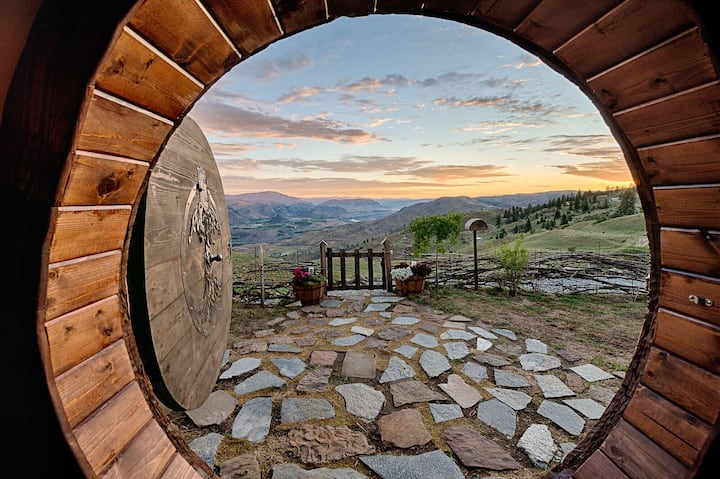 Click Here to Check Out Rates on Airbnb
13. 3 Story Victorian Home in the Trees in Connecticut
Nestling yourself into the forest is one thing, but what happens when you get to do it in the comfort of a 3 story Victorian home? This amazing home is on a hill above the quaint town of West Cornwall. It features French mirrors, lamps, shaker furniture, and more, all to really give off that Victorian ambiance.
This home is perfect for travelers who love charm and style. It has been known as one of the better romantic USA airbnbs as it overlooks a stream and a town. It is closed to a covered bridge, restaurants, coffee shops, antique stores, and more.
With a great garden, creek, and huge stone steps, the space of this home will have you feeling like you stepped back in time and are able to breathe in the openness it provides. All you need is a Victorian styled dress to accompany your stay when renting out one of the best USA airbnbs!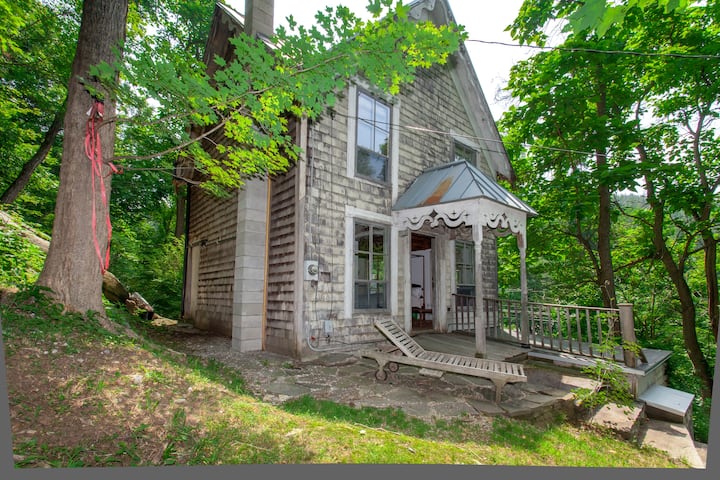 Click Here to Check Rates on Airbnb
14. Dog Bark Park Inn in Idaho
While this isn't your typically designed home, this is also not one of those USA airbnbs that you don't want to miss! Say inside a beagle-shaped building that offers comfort and a unique style.
Whether you decide to stay indoors and explore the selections of library books, games, and puzzles this airbnb offers, or go explore Cottonwood itself, this is a great getaway– especially for dog lovers! The expanse prayer grain fields and mountains offer great views from the second story deck.
The nearby Hells Canyon Gorge of the Snake River also invites guests to explore beyond the Dog Inn, but the visitor center, shop, and artist studio is close by too. Wifi, snacks, and breakfast are included!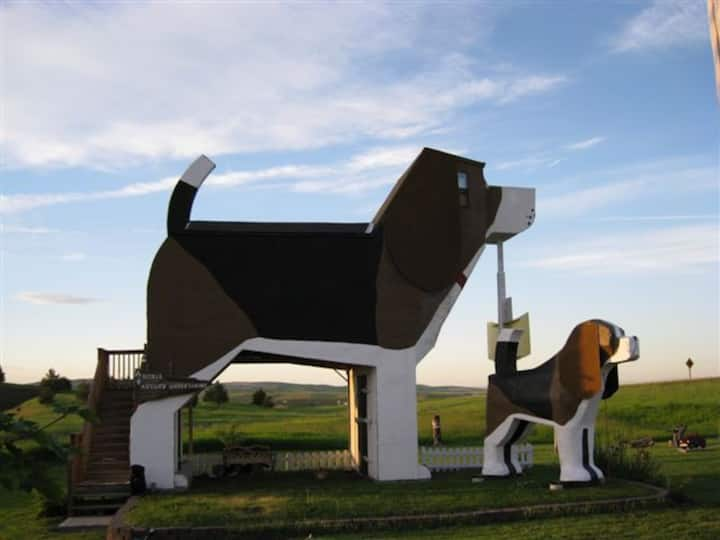 Click Here to Check Out Rates on Airbnb
15. The Joshua Tree House in California
Located just 10 minutes from the entrance of the Joshua Tree National Park, this Tree House (which is not actually a treehouse, but a house surrounded by trees!) is a two-bedroom, two-bath that is perfect for anyone looking to stay nearby and escape from reality for a bit! Better yet? Downtown Joshua Tree (that features many shops and restaurants!) is also only a 10-minute walk away!
Joshua Tree is known to call dreamers, giving them a place to relax, reflect, and rest. This hacienda was built in 1949 and has over 100 Joshua Trees on the property, so the views are inspiring and magical. You really don't want to miss the sunrise on the front porch!
This place is truly a private oasis: you can enjoy the Jacuzzi, porch, local coffee shops, and more. But the one thing you don't want to miss is the starry night sky. So sit back and enjoy, and make sure to book this hacienda! It is one of the most relaxing USA airbnbs around.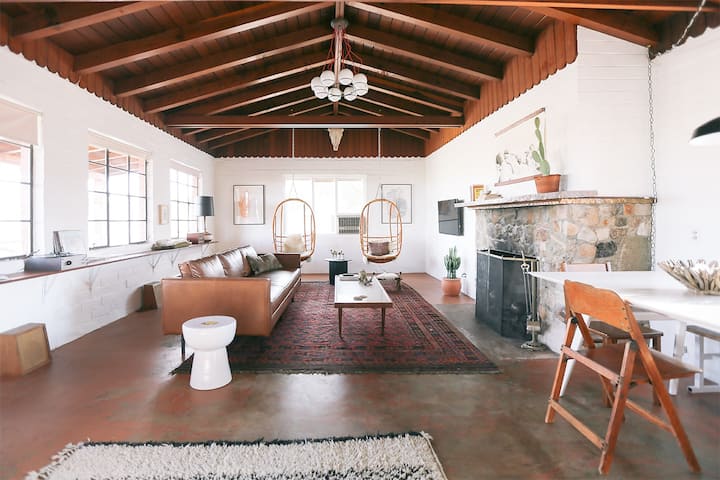 Click Here to Check Out Rates on Airbnb
16. East Side Beehive in Texas
Staying in uniquely shaped and designed homes are half of the fun when booking through Airbnb, and now we have one of the best USA airbnbs in Austin, Texas: the beehive! This home takes a modern take on cottages and is clean and zen.
Inspired by Japanese teahouses, this backyard cottage has a great location and is close to Central East Austin neighborhood, meaning you are close to fantastic downtown areas with great restaurants, public transportation, and more.
This beehive cottage has gorgeous lighting– both natural and not– vaulted ceilings, and an open floor plan. The 1 bathroom, 1 bedroom is spacious, calm, and inviting with its new furnishing and fixtures! Check as to why so many people are buzzing to the beehive today!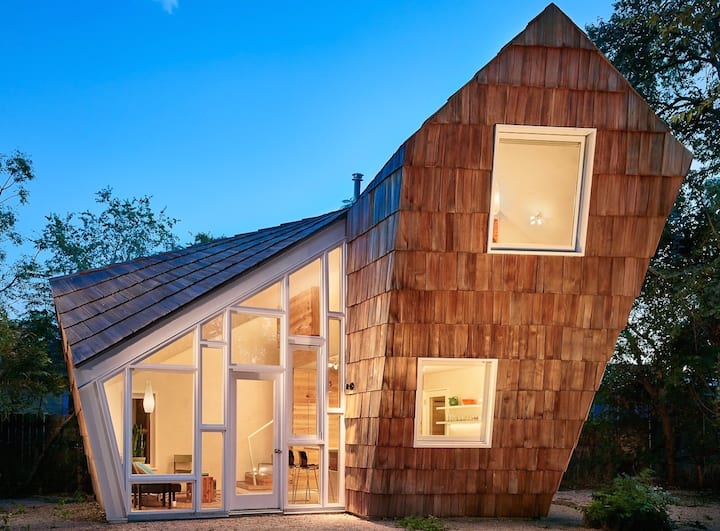 Click Here to Check Out Rates on Airbnb
We're thrilled you're giving Airbnb a chance! No matter where you go, there are always going to be some of the coolest USA airbnbs around. From Colorado to Connecticut, Washington to Hawaii, and in between, we hope one of these unique locations will stand out for you and your travels!