So you're looking to explore fall in Canada? Well, you've come to the right place! We absolutely love fall, we think it's one of the best times to get out and explore the outdoors. The cooler weather means outdoor adventures are a lot more comfortable, and the beautiful views that nature has to offer are only made better with the gorgeous, vibrant colors!
Fall in Canada is amazing. There are so many different places to visit and views to see that you'll never get bored. From beautiful Provincial Parks and mountainous views to parks amongst the bustle of city centers, there are places for everyone on this list!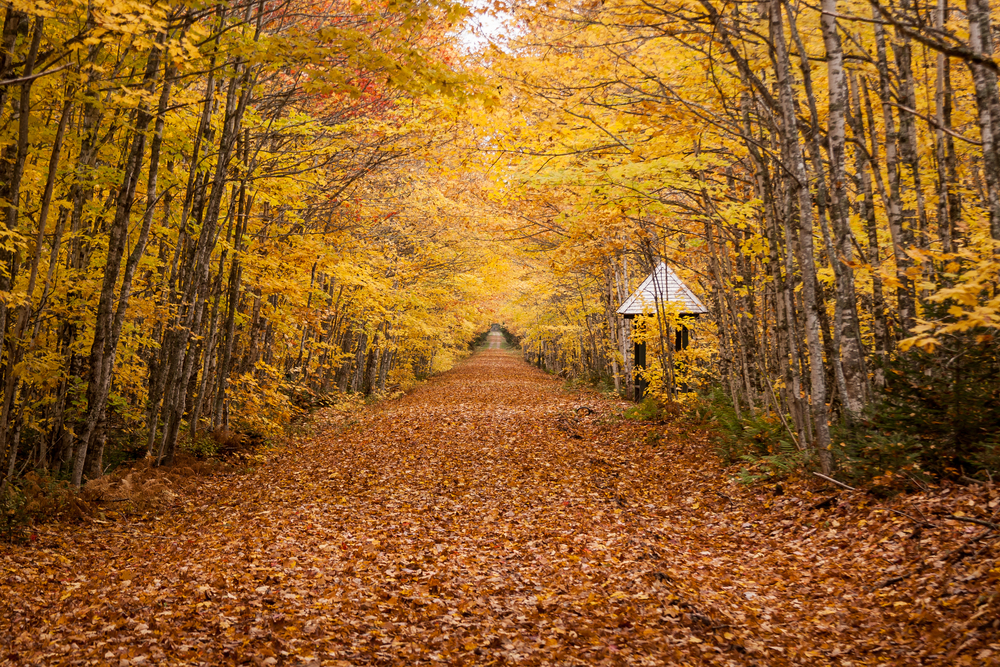 15 Places to See Vibrant Fall Foliage in Canada
Algonquin Provincial Park, Ontario
Algonquin Provincial Park is the oldest Provincial Park in Canada and is located between Georgian Bay and the Ottawa River. If you want to experience fall in Canada in all its glory, this is the place to go! The colors you will see depends on what time you go. Mid-September to Early October is our favorite because you get to see the color change of the Sugar Maples and Red Maples. The park comes alive with a mixture of greens, yellows, and reds! These gorgeous colors are best observed at an expansive view along the trails or across the water.
Early to Mid October is known as the "golden encore" and is when the poplar and birch trees turn yellow. The park's East Side and the eastern portion of the Highway 60 Corridor are popular areas to go to see the views.
If you're planning on visiting fall in Canada later, towards the end of October, is when Tamarak will turn yellow before they drop their needles for winter. The Tamarack is the parks only pine trees that will do this so it's pretty special!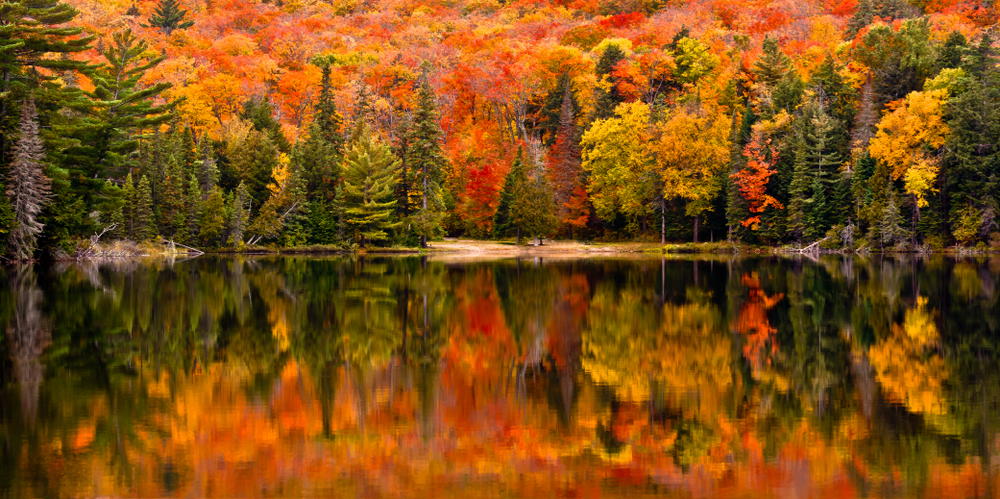 Niagara Falls
We love Niagara Falls so much we dedicated a post to it!
Niagara Falls can be enjoyed from both the US and Canada, but we truly believe it's one of the most breathtaking places to experience fall in Canada.
The gorgeous reds contrasted with the water make Niagara Falls beautiful. Rainbow Bridge, which connects the American and Canadian sides of the falls, is a great spot to head to see some of the amazing fall foliage. From there, you can see the gorge and all three of the waterfalls.
Whilst you're at Niagara Falls, take advantage of their fairs and festivals. They include pumpkin carving and haunted attractions for the ultimate fall in Canada experience.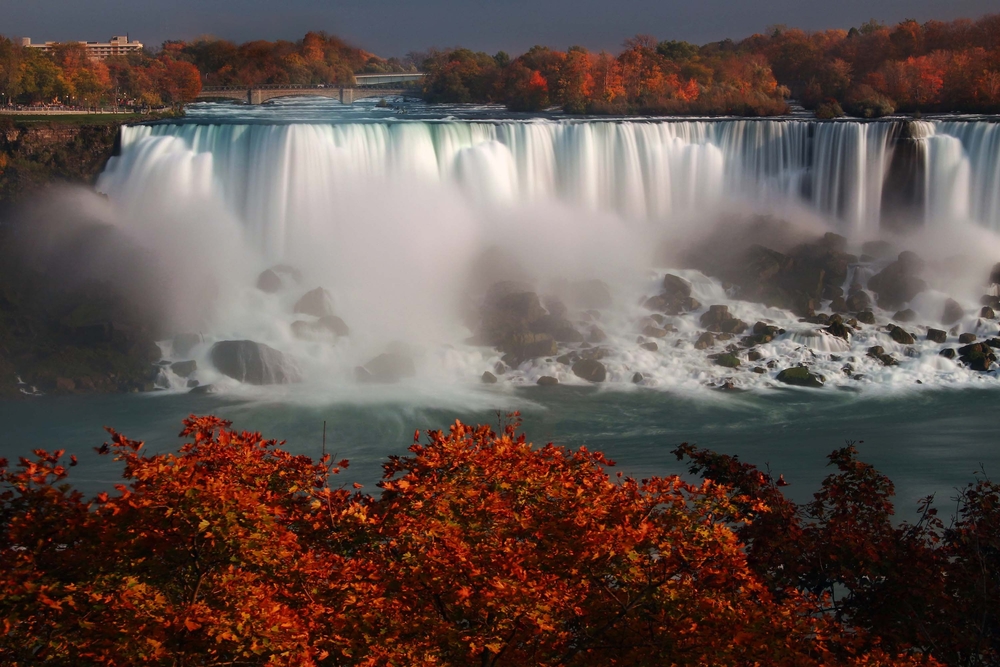 Hautes-Gorges-de-la-Riviere-Malbaie National Park, Quebec
Hautes-Gorges-de-la-Riviere-Malbaie National Park is located in the Charlevoix region of Quebec and is one of the best places to see fall in Canada because of the valleys and mountainous backdrop.
There are many hikes you can go on to view the stunning fall colors. The one we recommend is the Acropole des Draveurs, as there are panoramic views at the top to see fall in Canada in all of its glory. If you can, go on a clear day to get the best views.
Lake Ouimet, Quebec
Lake Ouimet is located in Mont-Tremblant. This place is nicknamed 'Les Couleurs' because in fall it becomes one of the most lit-up landscapes in Canada. For that reason, it's one of the more popular places for tourists to visit fall in Canada.
Lake Ouimet is known for it being a popular place to fish, and with so many vacation rentals nearby, this would be the perfect place for a weekend vacation.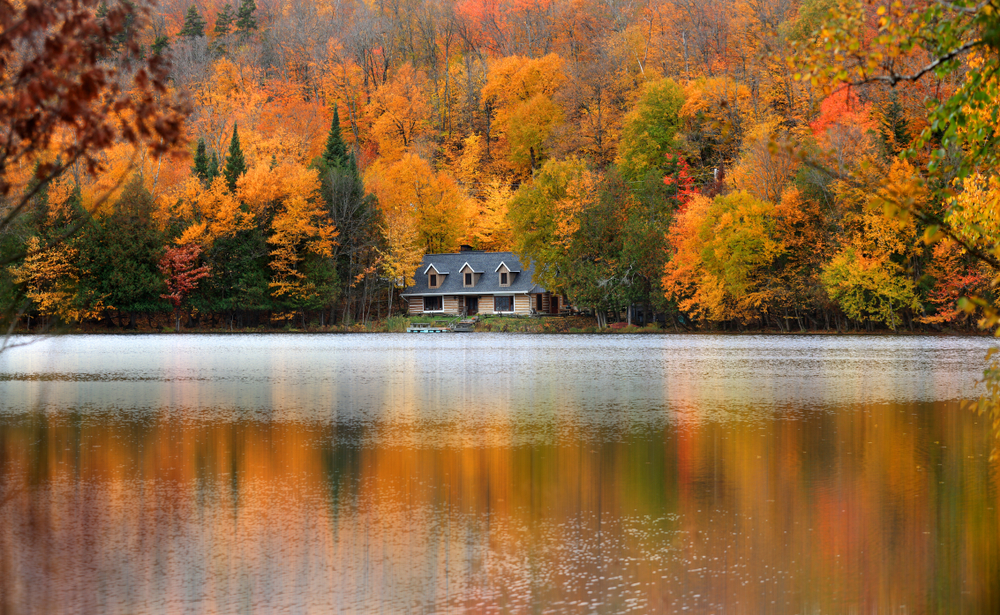 Montreal
When you think of fall in Canada, you may not immediately think of Montreal, the most populated city in the Canadian province of Quebec. But don't discount Montreal when you're planning a fall trip, it's actually a great place to see fall in Canada!
Montreal is great to go Leaf-peeping because of the wide variety of trees – there'll be a bunch of different shapes and colors for you to see! And the best part is – you're right in the city so you will never run out of things to do and see.
Our favorite spots are Mount Royal Park and the Montreal Botanical Garden.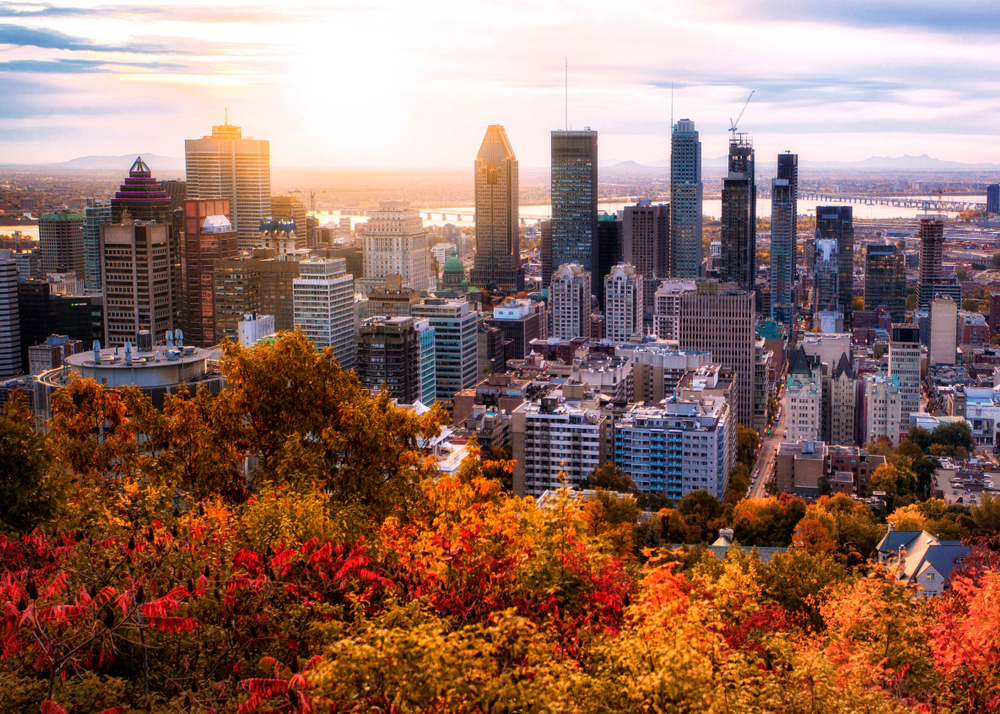 Halifax Nova Scotia
Halifax is the capital of the Canadian Province of Nova Scotia and is a brilliant option to see fall in Canada.
The locals say that fall is the best time to visit Halifax. On top of having beautiful parks to see those gorgeous fall colors we all love, such as Shubie Park and Sir Sandford Fleming Park (both have maple trees!) There's also a lot of fall events such as the Oyster Festival, Halloween events, and Hal-Con!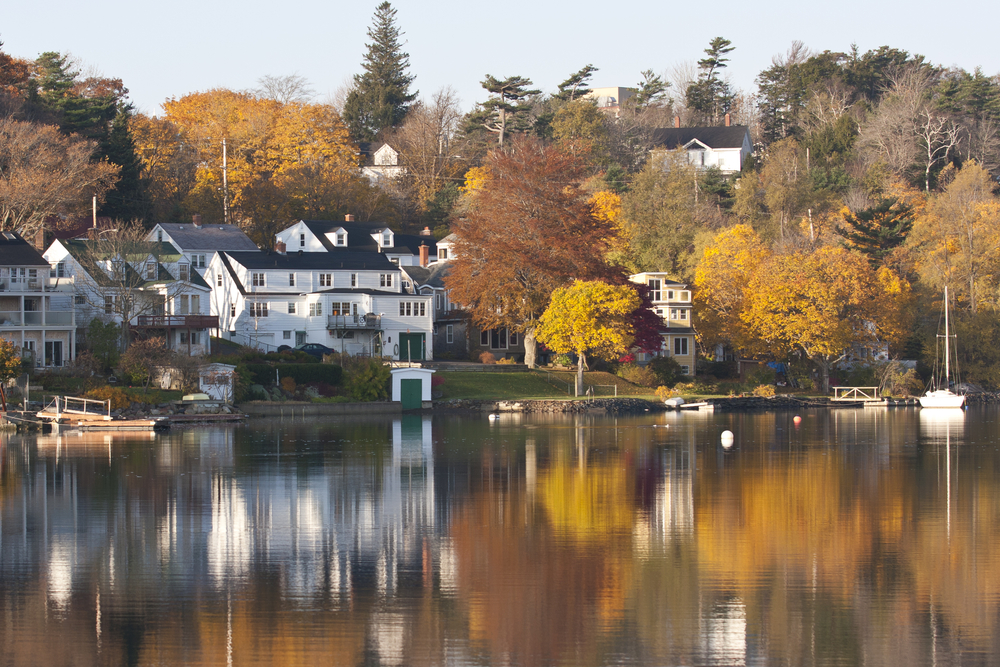 Mont Tremblant, Quebec
Mont Tremblant may be best known for skiing, but it is also one of the best places to experience fall in Canada! Located in the Laurentian Mountains of Quebec (see our blog post here).
The best time to visit is mid-September to late October. Mont Tremblant is also a great short getaway spot because they have chalets in the heart of the forests. Can you imagine waking up to vibrant reds, bright yellows, and gorgeous oranges?! Would be so beautiful!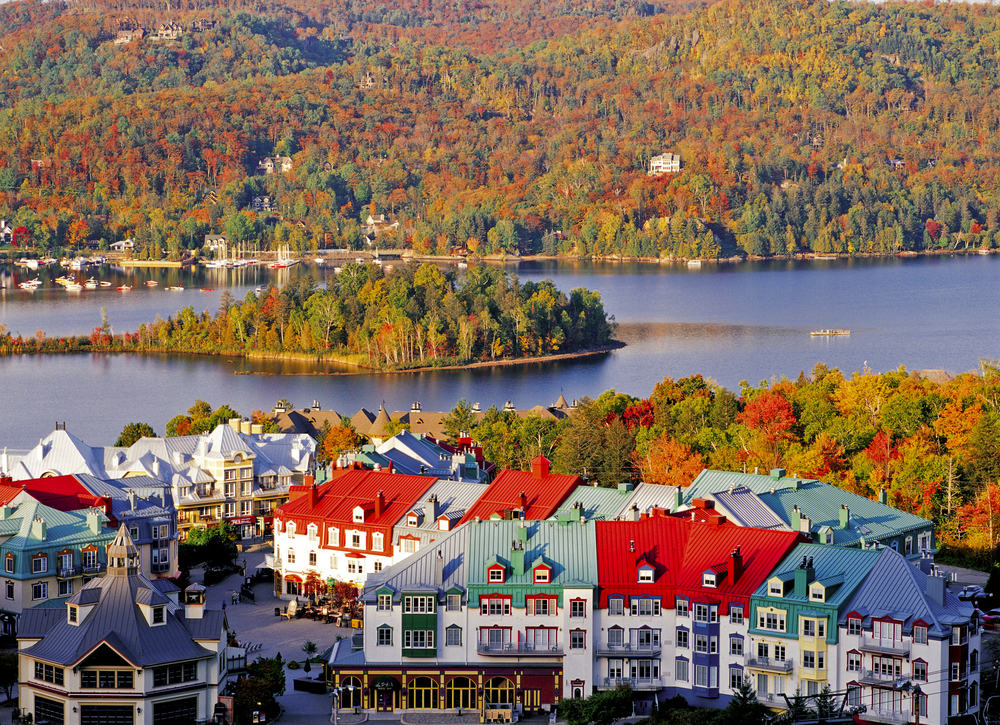 Vancouver, British Columbia
Vancouver is a great place to witness fall in Canada. To help plan your visit to Vancouver, we have a blog post for you to read!
Despite British Columbia's reputation for being ever-green, there are plenty of places right in the middle of Vancouver to see fall colours. There's a tonne of different parks such as Stanley Park and Queen Elizabeth Park. They both have some of the more dramatic transformations in fall, boasting colors from purple, yellow, and bronze. We also recommend going to see The Sylvia Hotel. The whole thing is completely covered in ivy which changes colors in the fall!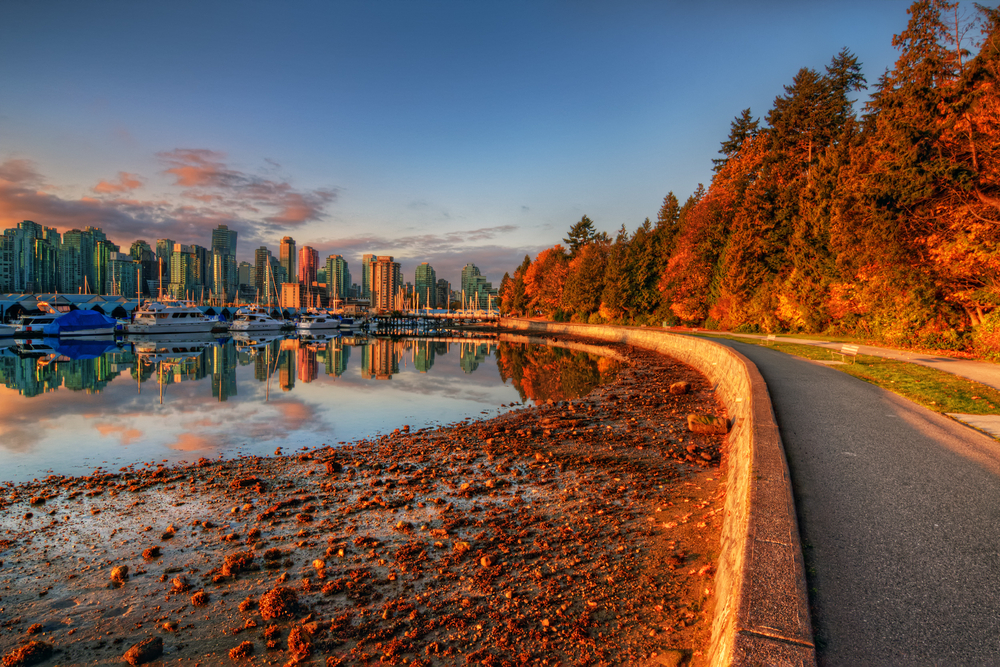 Candian Rocky Mountains, Alberta
The Canadian Rocky Mountains are huge and offer inspiriting scenery, beautiful wildlife, activities for the whole family to enjoy, and of course, a fantastic place to visit Canada in the fall. It's also the home of Jasper National park – which we wrote blog post all about!
The fall foliage in Canada is best enjoyed on one of the many bike paths available. There's plenty of stunning views for you to see when you stop and have lunch! You will get the best photos in the Rocky Mountains, the steep slopes make the place look like a painting and will leave you wondering how it could possibly be real!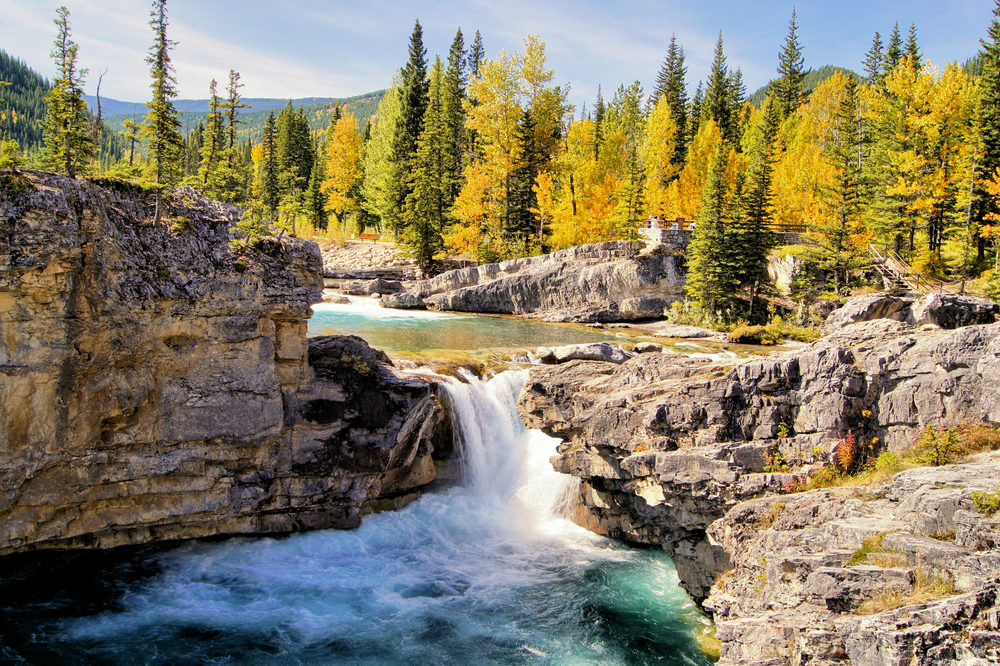 Cape Breton, Nova Scotia
Cape Breton Island was ranked the best island in Canada for the third year running and you can see why! Despite only being 110 miles long, there are so many things to do on Cape Breton. There are many trails, kayaking opportunities, and even Alpacas!
Fall in Canada on Cape Breton is a true event. Complete with hiking tours, festivals, farm-to-fork cuisines, and more than 300 cultural experiences. You definitely won't run out of things to do on Cape Breton in the fall season.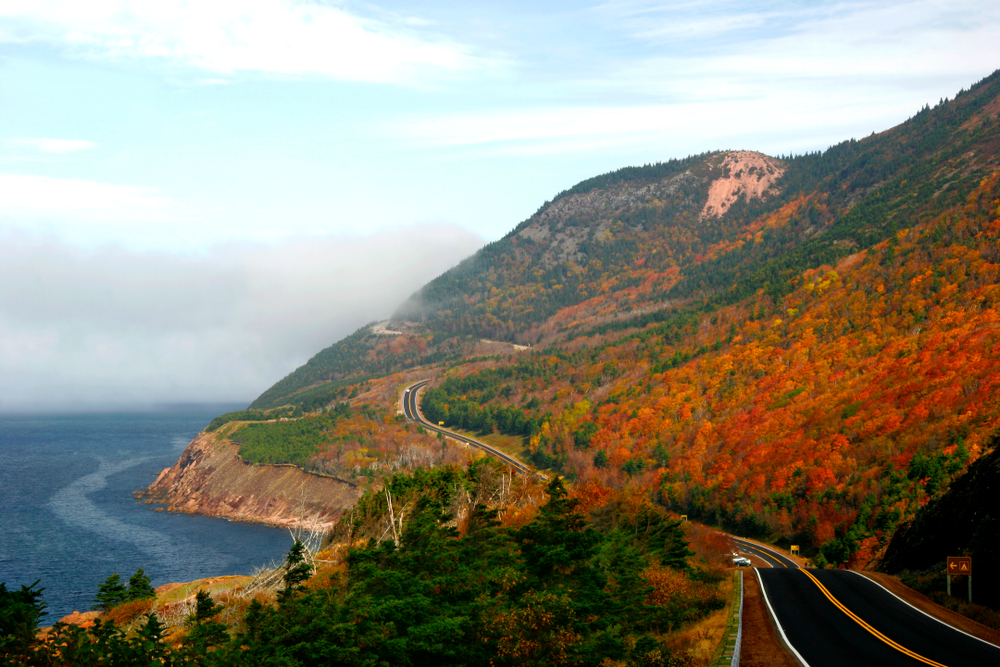 Corner Brook Newfoundland
Corner Brook is a city located on the west coast of Newfoundland in the province of Newfoundland and Labrador.
The best time to visit Corner Brook to see fall foliage in Canada is late September to early October and expect to see those signature reds and fiery oranges. The Humber Valley just outside of Corner Brook is particularly stunning.
There are so many different places to experience fall in Canada in Corner Brook, such as Corner Brook Caves, the Corner Brook stream trail, and the Blow-Me-Down mountains.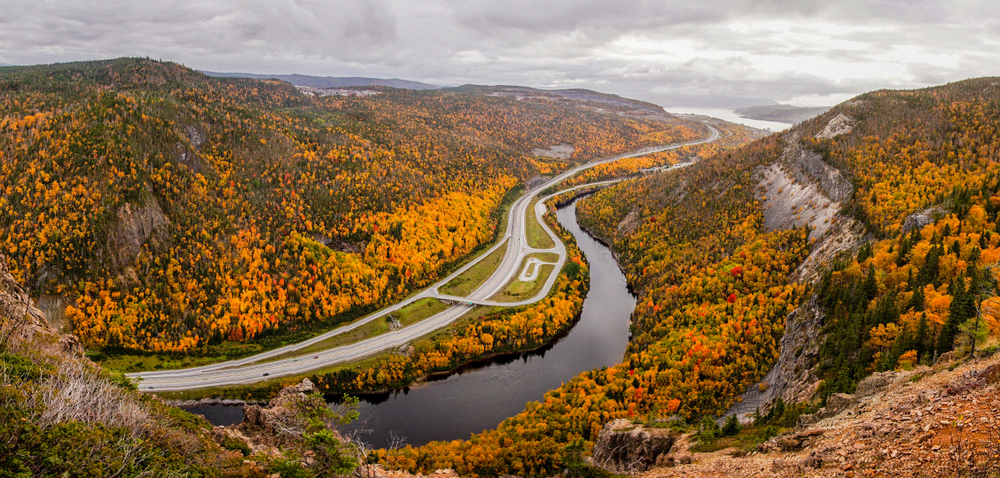 Riding Mountain National Park, Manitoba
Riding Mountain National Park is located in Treaty 2 Territory, and is a pretty big contrast to its surrounding farmland – you certainly won't miss it! It's the perfect place to see fall in Canada as there are so many other things to keep you occupied after you've taken in the beauty of the surroundings!
The Lake Audy Bison Enclosure is your best chance to see Bison in the wild, there's around 40 of them and they're pretty impressive animals. Obviously, seeing them isn't guaranteed but there a couple of designated viewing spots that are worth checking out!
Can you imagine how beautiful sunset would be in fall in Canada? Head down to the pier at Clear Lake for some incredible sunsets to see the fall foliage come to life.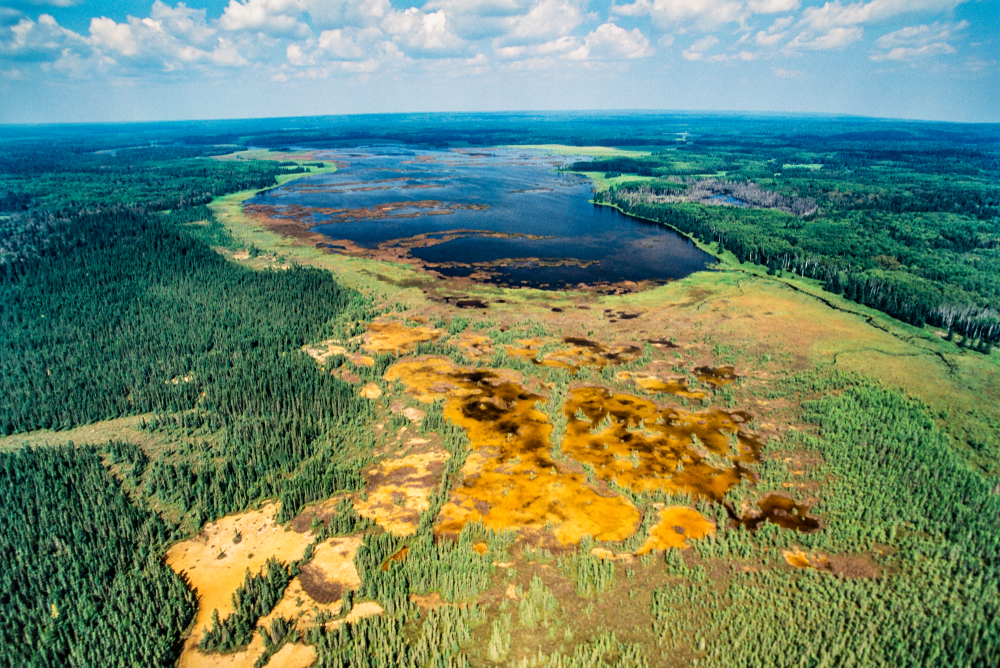 Via Rail Train From Halifax To Montreal
We think the Maritimes are one of the best places to view fall foliage and we don't think there's a better way to see fall in Canada than on a train. You get to see the beauty of the Canadian Fall Foliage all from the comfort of a train. If you want to learn more about rail trains across Canada, you can read our post here.
The stretch from Quebec into News Brunswick is known for being particularly beautiful and is considered one of the more therapeutic ways to travel and see the real beauty of fall. The 839-mile journey will take around 21 hours and provides fresh meals and accommodation. If you've never experienced sleeper train travel before, we highly recommend it!
Prince Edward Island
Prince Edward Island is the smallest province in Canada, but it also the most densely populated. The best time to see the colors of fall in Canada is mid-September to late-October. The forests on Prince Edward Island are known for their wide variety of fall colors and different varieties of trees. With maple, cherry, sumac, poplar, and birch trees to name a few, the landscape will truly look spectacular.
There's a lot of walking and biking trails for you to take on to see the fall foliage in Canada, but you can also drive up the unpaved Heritage Road to take in the landscape amongst farm fields.
Prince Edward Island hosts the PEI Fall Flavours Festival, a month-long celebration of food and culture full of freshly harvested crops and fresh seafood.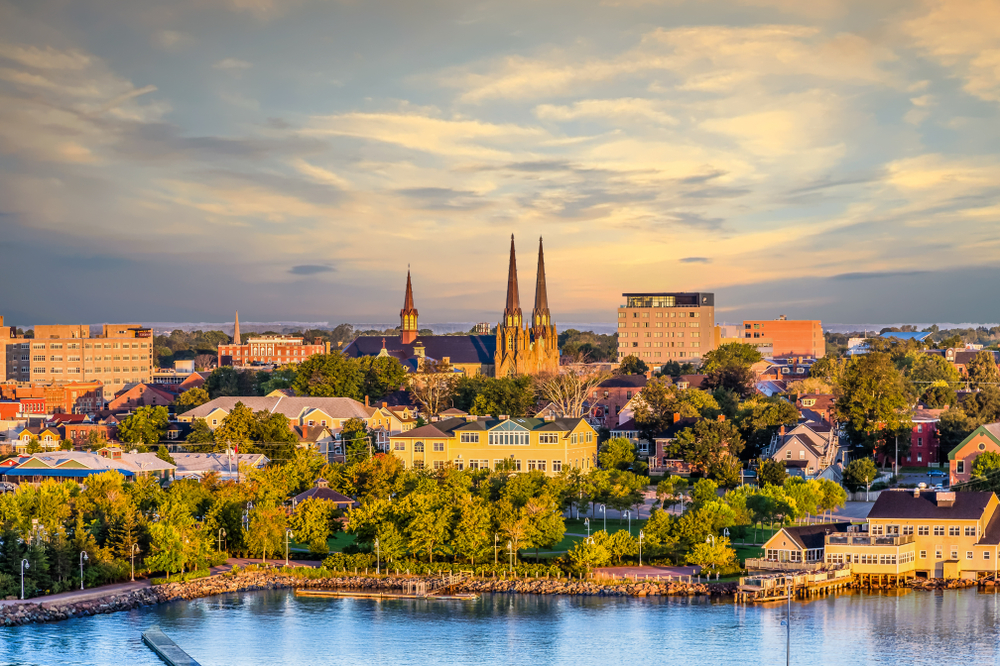 Dawson City, Yukon
Dawson City in Yukon feels like stepping back in time. This eclectic northern community is closely linked to the Klondike Gold Rush. Even though it is a small town, we think you'll be surprised with the amount you can do here!
In many ways, Dawson City is the perfect place to see the beauty of fall in Canada as you can take part in the Arctic Circle Fall Safari! This week-long trip offers arctic wildlife, stunning fall landscapes and the possibility to see the Northern Lights, could it get any better!?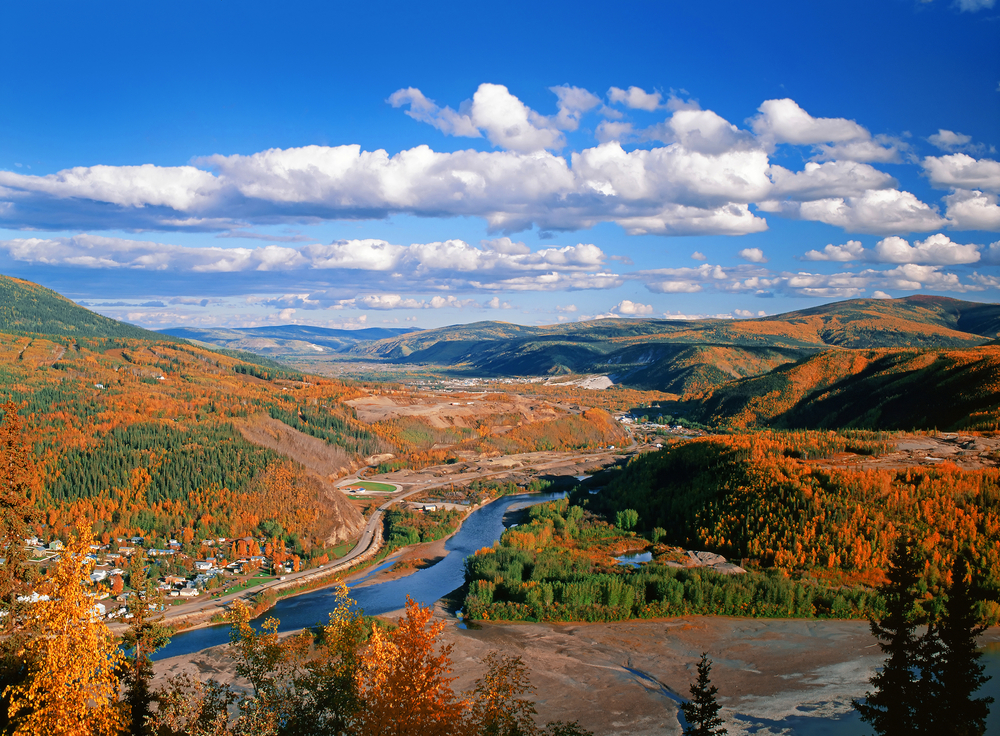 New Brunswick Countryside
New Brunswick is so picturesque that it's impossible for us to choose just ONE place! The beautiful countryside hosts loads of great places to experience fall in Canada.
Whilst the list could go on forever, here are a couple of places we suggest you visit:
Kings Landing (no, not the place from Game of Thrones!) is a real step back in time! This open-air museum hosts a 19th Century village where you can learn all about life as an early british settler. They have many events going on in fall, from live music to their 'A Taste of Fall' event. Kings Landing gets surrounded by beautiful oranges in the fall!
A great place to see the Canadian fall foliage is the Fundy Trail Parkway. There are SO many lookouts, hiking paths, waterfalls, and observation decks. In early September, they have the 'Autumn Treasures' guided walk where a plant ecologist will talk you through all of the fall foliage of Atlantic Canada.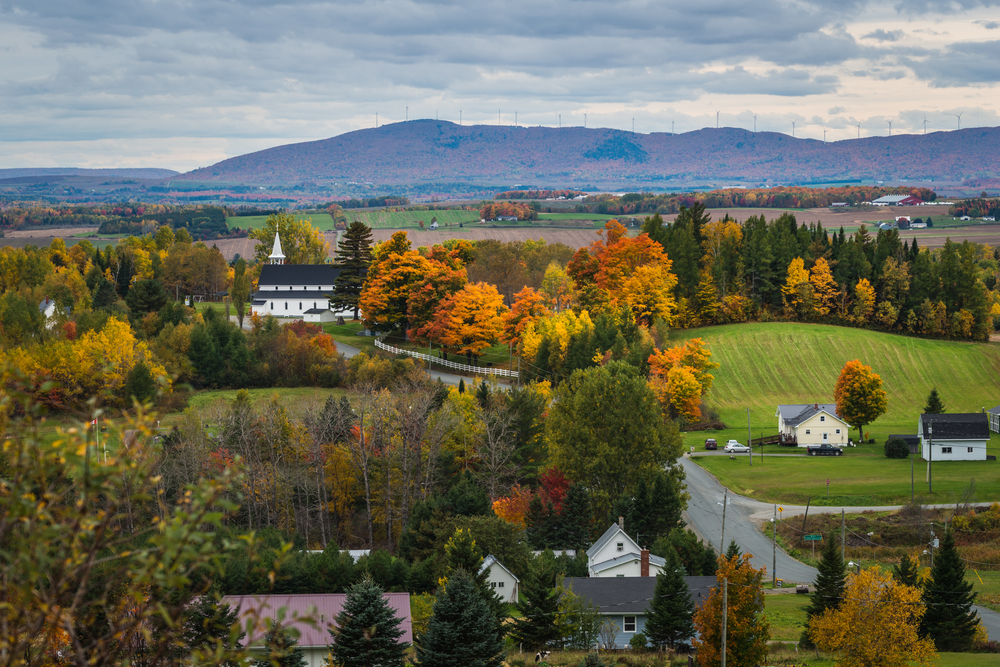 And that concludes our list of places to see fall foliage in Canada! We hope you found some great spots on this list, and wherever you decide to visit, we hope you enjoy those beautiful autumn colors!