If you're wanting to see some of the best fall foliage the world has to offer, then experiencing fall in New York should be on your bucket list!
When you think of New York, you probably immediately think of New York City. But New York State is so much more than the iconic Big Apple. There are some beautiful state parks to see some breathtaking fall colors in New York. But It's also home to Niagara Falls and the Adirondack Mountains, which we think are two of the most beautiful places in all of New York State, made even better by picturesque views that come alive in the fall!
Whether you just want to see the fall foliage through good old fashioned hiking, or love to take part in various fall-themed festivals or activities, there will be something on this list for you!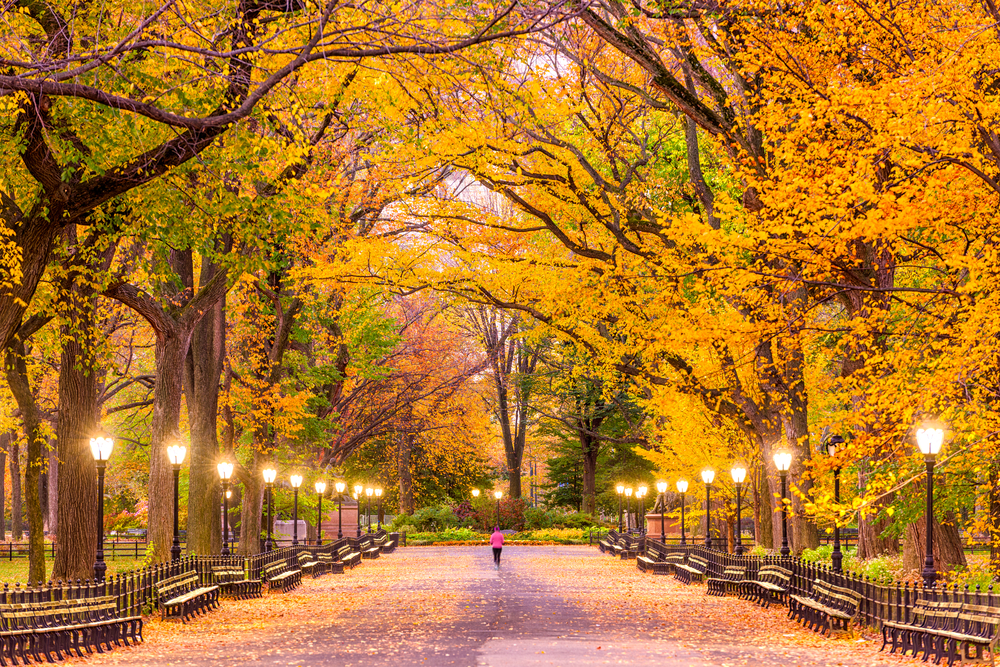 16 Best Places to See Fall Foliage in New York State
Niagara Falls
Fall is one of the best times of year to experience the falls. Whilst the temperatures are much cooler, the summer crowds have gone and the hotel prices decrease. If you're wanting to see the gorgeous reds, oranges, and yellows of fall in New York at its peak, then visiting in early-mid October is the best time. Niagara Falls is an amazing place to visit any time of year, you can read all about in our blog post.
There are multiple places to go in Niagara Falls to see beautiful views of the falls and the foliage. We recommend Goat Island, which is a small heavily wooded island on the American side of the falls. Here, you will have a unique vantage point of the fall colours as well as the crashing falls. There's also multiple walking paths for you to explore. On Goat Island, you can also experience the Cave of Winds where you can see a close up of the falls from below! That would really be a unique way to see fall in New York!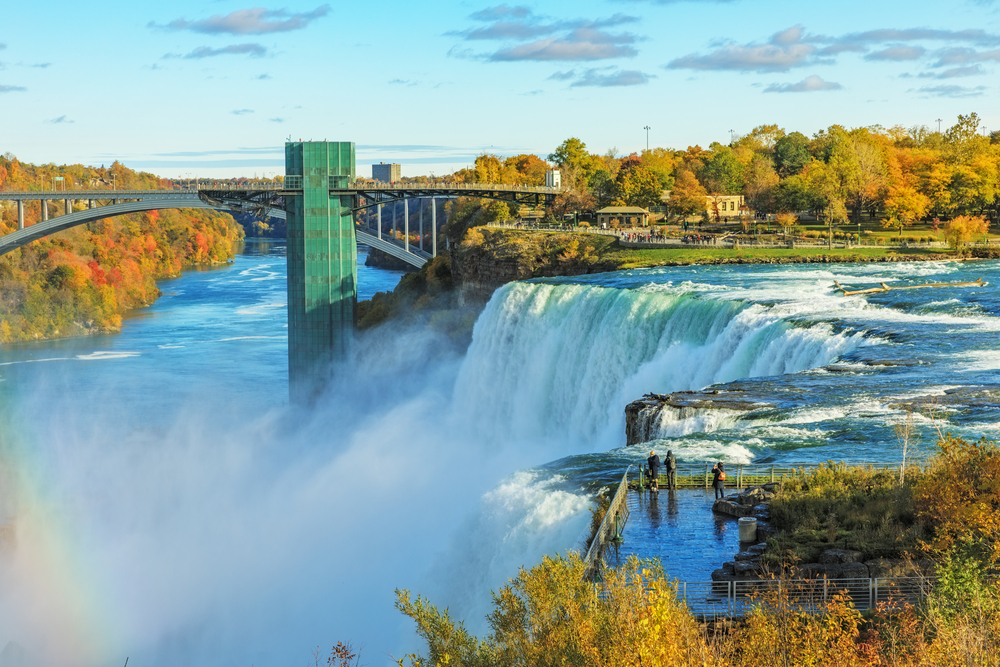 Watkins Glen State Park
Watkins Glen State Park is the most famous of the Finger Lakes State Parks and, we believe, is one of the most spellbinding places to see fall in New York. In just a two mile hike, you get to see 19 different waterfalls and numerous different gorges.
The views are a lot to take in even when it isn't fall, but the beautiful golden, fiery leaves add that something little extra to make it look truly magical. Watkins Glen State Park is a great stop if you're planning a road trip in New York, you can check out our itinerary here.
The best time to see the fall foliage in New York at Watkins Glen State Park is usually early-mid October.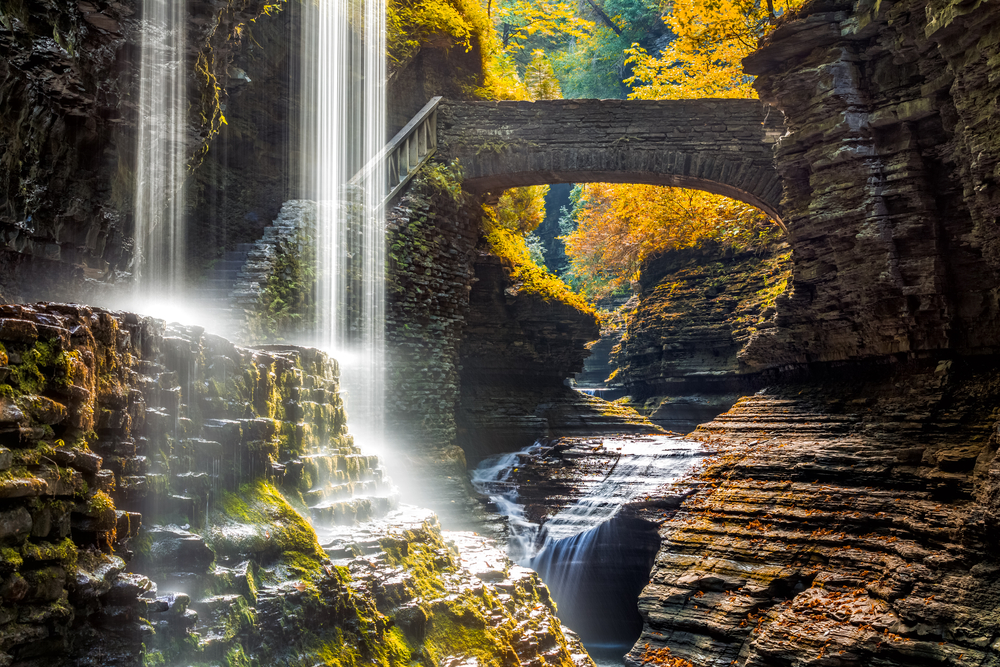 Thousand Islands
Thousand Islands really comes to life in fall! Not only is it home to one of the best castles in America, it really is the best place to be if you love doing fall activities – Thousand Islands has everything you could ever think of!
Without a doubt, the absolute best and easiest way to see the fall foliage of Thousand Island is to take a cruise on one of the boat tours (there are two different ones; Clayton Island Tours and Uncle Sam Boat Tours. It's a great way to see the Rock Island Lighthouse without the heavy crowds of tourists, and the reflection of the fall colors in the St Lawrence River provide a beautifully photographic mirrored effect.
Thousand Islands is a great place to take the family for a fall vacation. Clayton is the place to go during fall as it's home to many fall festivities. You can enjoy a music festival in the form of Jazz on the Water, and experience the 1860s Fall Fair Weekend which includes livestock, fine art, agriculture, and dairy exhibits, old fashioned games and so much more!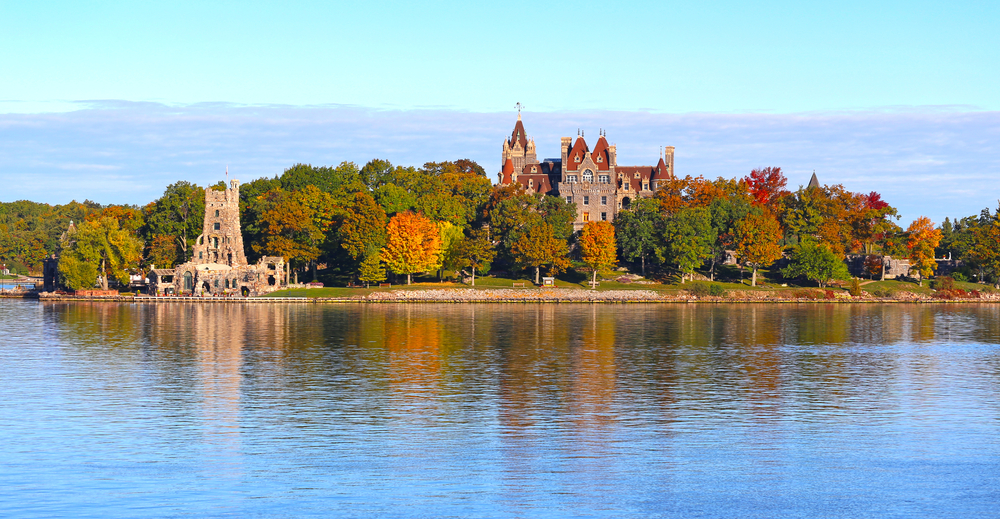 The Mall In Central Park
If you're only going to New York City to see your fall foliage, don't worry there's plenty of places in the city to experience fall in New York! If you're looking for an itinerary, we have one right here for you!
If you have seen any movie set in New York ever, you have probably seen The Mall in Central Park. It's basically a walkway in the middle of Central Park that runs from 66th to 72nd street and leads up to the Bethesda Terrace.
The Mall is a pretty popular gathering place for for street performers, roller skaters and skate boarders. It boasts one of America's largest plantations of the American Elm tree. In fall, the entire landscape turns a bright orange. It's pretty spectacular and a nice little gem to see fall right in the middle of New York City. There is a reason this is a top destination for visiting NYC in a weekend!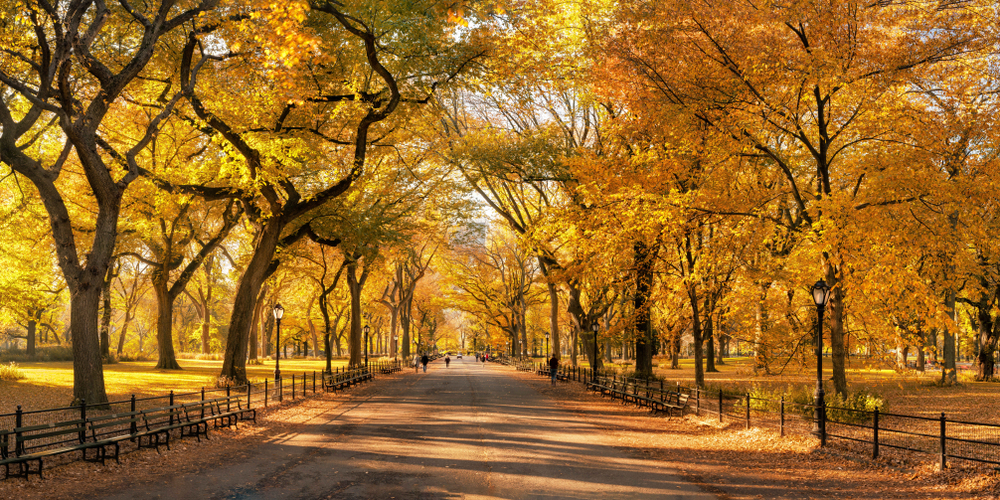 Letchworth State Park
Known as the 'Grand Canyon of the East', letchworth State Park is one of the more dynamic places to see fall in New York due to the large variety and sheer concentration of trees. The waterfalls and canyons paired with the colors of fall really are a photographer's delight.
There's definitely a reason why it was voted the No. 1 State Park in the United States in 2015. It's peak season is October, so make sure to plan your trip well in advance in order to get somewhere to stay.
The stand out attractions are the three waterfalls known as Upper Falls, Middle Falls, and Lower Falls and can be viewed from a hiking trail that follows the canyon for 7 miles. If you're wanting to see fall in New York at Letchworth State Park in all of its glory, visit the third or fourth week of October for the best foliage.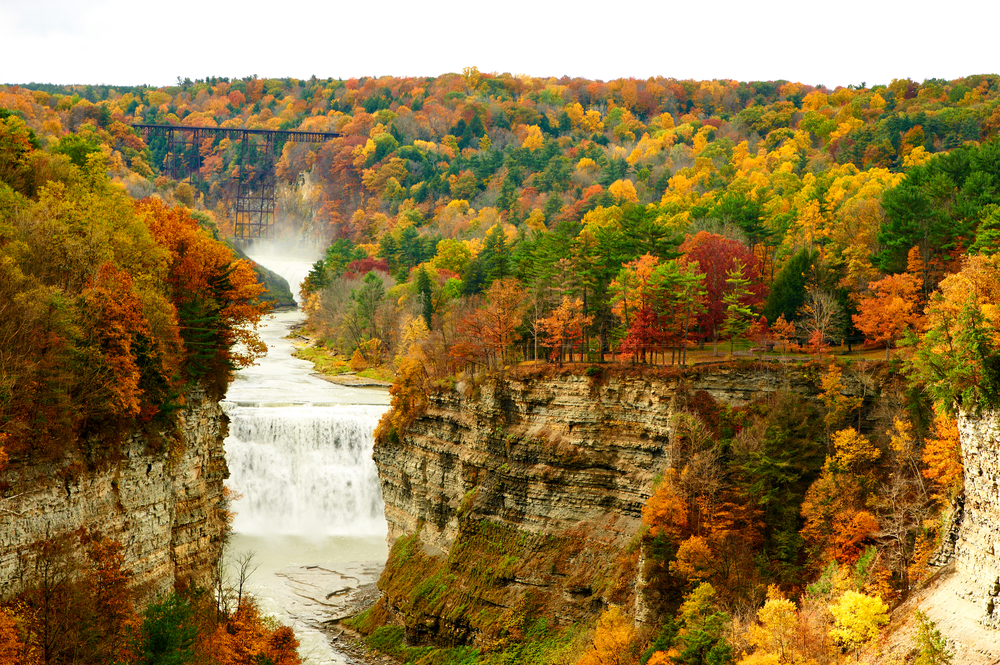 Hawks Nest
Of course, Hawks Nest gets its name from the birds of prey that nest in the area. Hawks Nest is located just outside of Port Jervis on New York State Route 97.
You may recognise Hawks Nest as it has been featured in many movies and commercials, mainly car advertisements. But you can see why, the winding roads offers beautiful views whatever time of year, but the trees become a blanket of oranges and reds. If you want an iconic photo of fall in New York, Hawks Nest is the place to go!
WhiteFace Mountain
Whiteface mountain is the fifth highest mountain in New York State and may be a surprising place to experience fall in New York as it's primarily known for being a popular skiing destination.
But there are plenty of things to do at Whiteface Region during fall that are bound to keep you entertained. During September when the weather is still warm, you can take part in a race to ascend Whiteface Mountain Memorial Highway to the summit. If running isn't your thing, it's still a great thing to witness! The top of the mountain provides panoramic views as far as Mount Washington in New Hampshire on a clear day. Imagine a blanket of fall colors as far as the eye can see!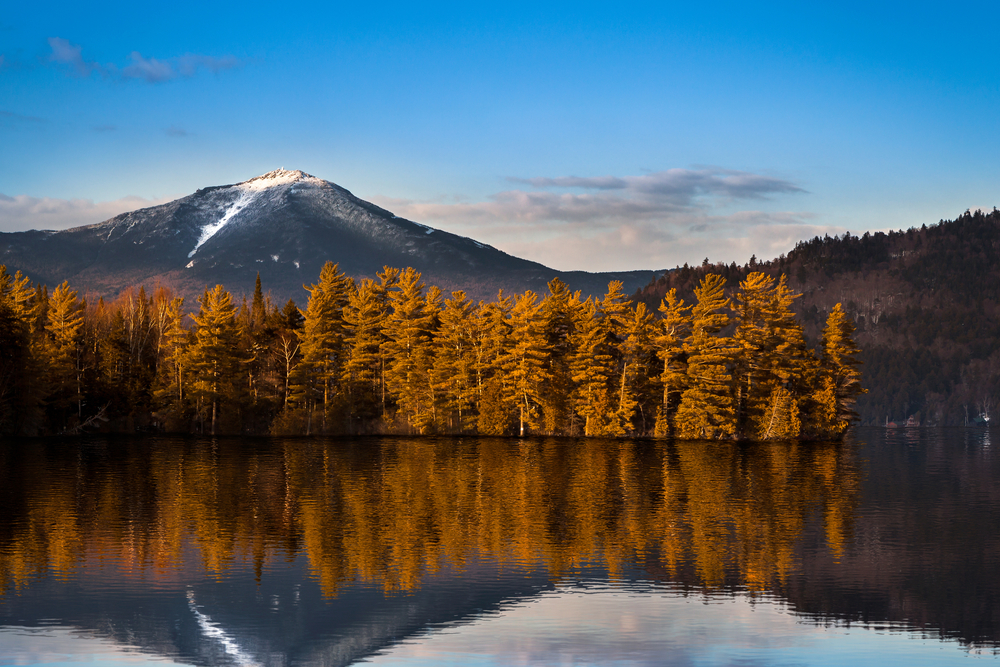 Belvedere Castle In Central Park
Yes. You read that right, there is a castle in Central Park! Can you think of anything more fairytale-esque than seeing fall in New York at a castle!?
Named for the Italian meaning 'beautiful view', Belvedere Castle really does live up to its name. The castle has two balconies and includes panoramic views of the great lawn and the turtle pond. In fall, the castle gets surrounded by delicious reds and bright yellows. It's hard to believe that this place is right in the middle of New York City – it feels worlds away!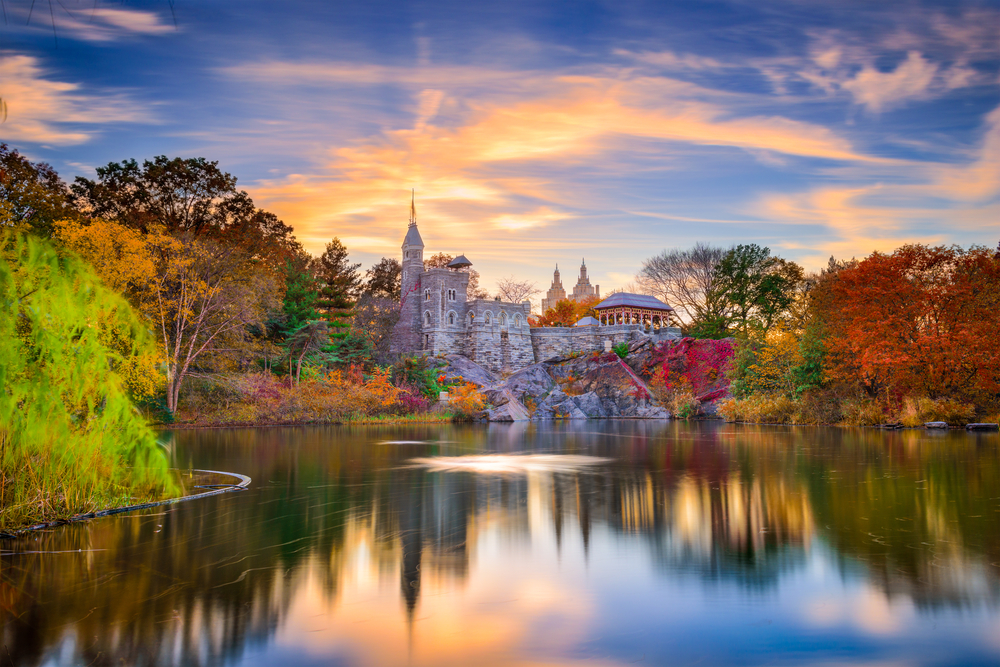 Minnewaska State Park
We believe one of the best ways to see fall in New York is through a hike, and there are 33 of them in Minnewaska State Park alone! With over 50 miles of footpath, you can expect waterfalls, crystalline sky lakes, hardwood forests, cliff ledges opening up to beautiful views, and clear streams that cut in into the valley. It has all the makings of being the perfect place to see fall in New York.
Fall in Minnewaska State Park is at its peak during early-mid October, and the contrast of the white cliffs to the reds of the trees makes for pretty spectacular viewing. And if you're staying in New York City, this state park is just an hour and a half away!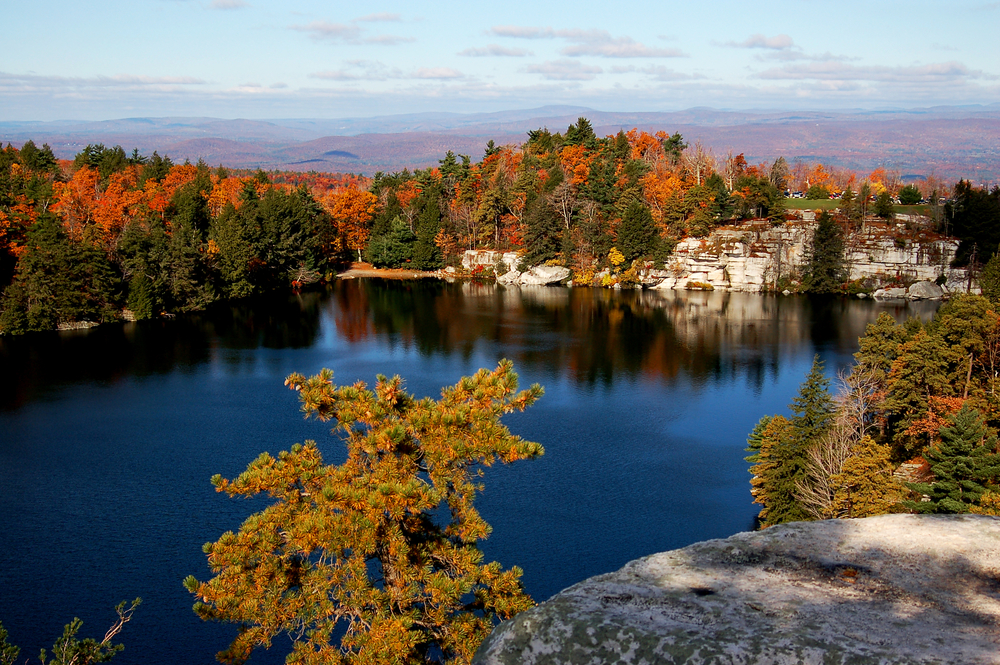 Kaaterskill Clove
Kaaterskill Clove is a deep valley in New York's Catskill Mountains. Known as 'the mountains of Thomas Cole' Kaaterskill Clove is considered the most beautiful place in the world by many notable American writers such as Washington Irving and Mark Twain.
The crashing waterfalls and high ridge-lines of Kaaterskill Clove make the perfect backdrop for fall in New York and is considered a very romantic spot. This place is home to the Kaaterskill Falls, a 260 foot high waterfall that can be seen on a 1.5 mile hike if you park at the Molly smith Parking Area on Route 23A.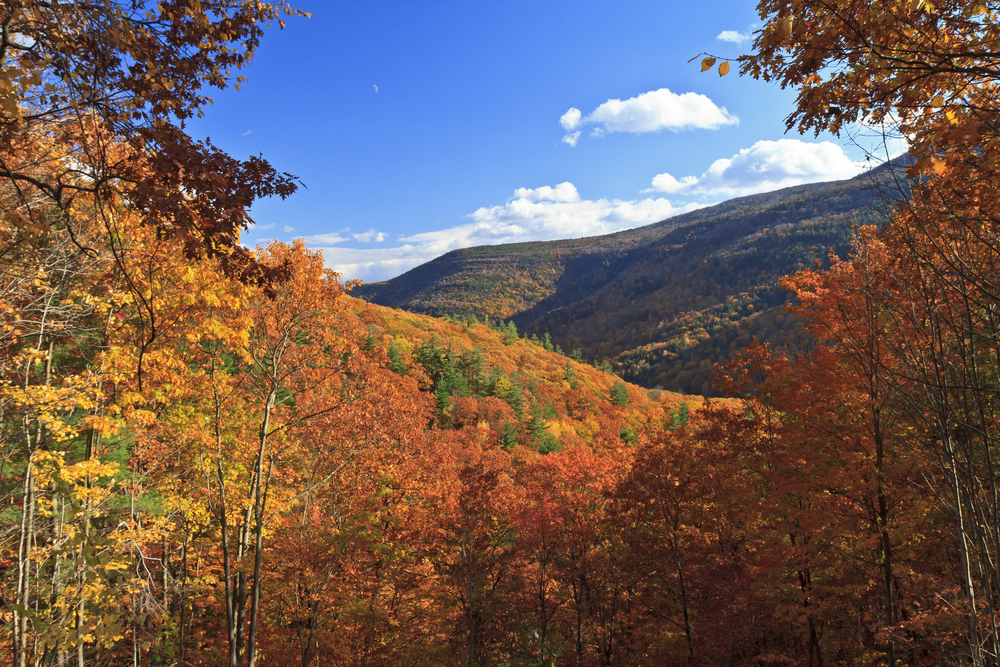 Lake George, Adirondack Mountains
We think that the Adirondack Mountains is one of the best places to go to see fall in New York without a doubt. The Adirondack Mountains have one of the longest, and most impressive, fall seasons of the country.
There's way too many amazing different places in the Adirondack mountains to see fall in New York, so we're focussing on Lake George as we feel it offers some really unique experiences. It offers many different ways to see the fall foliage of the Adirondacks from a different perspective, such as the Gondola Rides at Gore Mountain, zip-lining, boat rides, and white water rafting. But for us, the knock out is seeing the fall foliage from a hot air balloon ride. We can't think of a better way than seeing fall in New York from high above!
There's many other fall related activities for you to take part in such as apple picking, pumpkin patches, and many halloween events!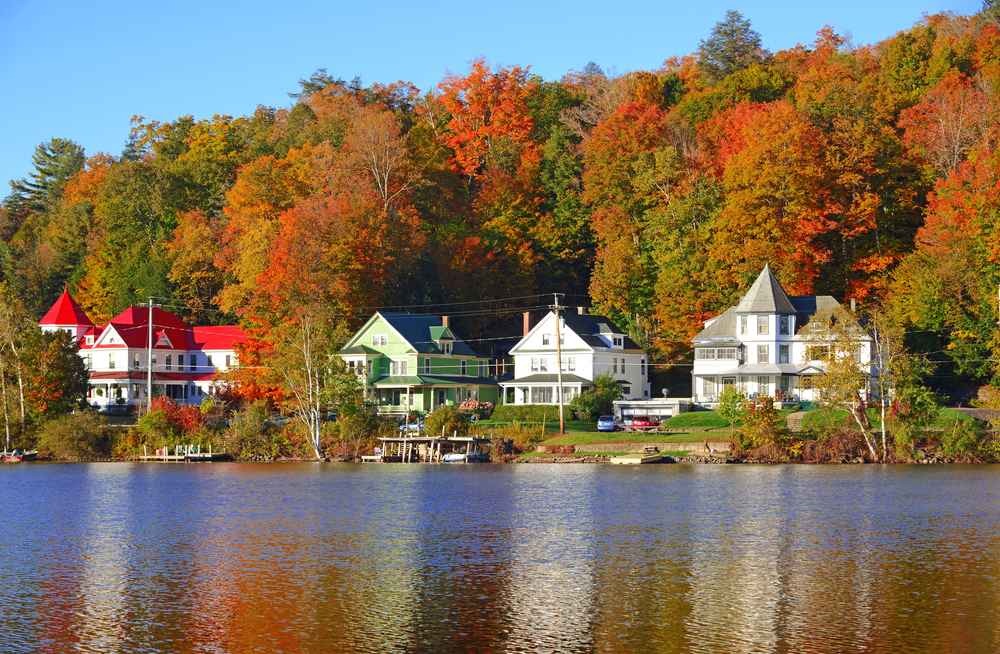 Bear Mountain Bridge
Formally known as the Purple Heart Veteran Memorial Bridge, this place has been wowing tourists and residents for a very long time. Stretching across the Hudson river, the surrounding trees of Bear Mountain Bridge turn a gorgeous shade of orange in fall, and has become one of the most iconic places to see fall in New York.
Spanning across 2,225 feet, you can actually walk across Bear Mountain Bridge and really experience the fall colors in New York. The foliage will reflect of the water, making the entire view burst with colour.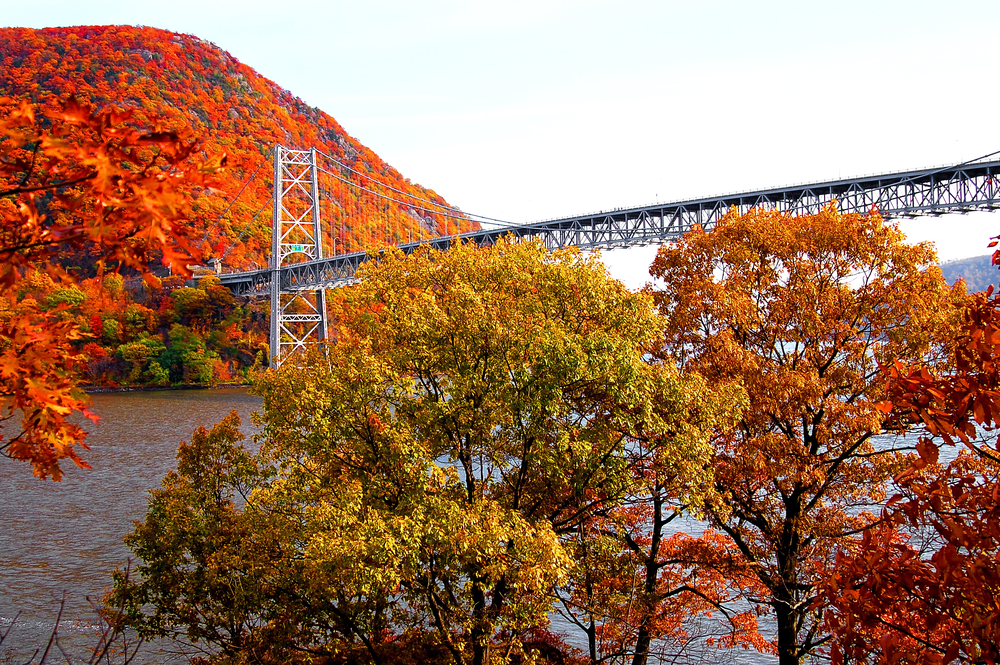 Prospect Park In Brooklyn
You have probably heard of Prospect Park, it's one of the most recognisable parks by name in the world. The 585 acre oasis has some of the most stunning fall foliage New York has to offer, despite the constant hustle and bustle of the city.
There's many walks you can take in Prospect Park to see the magic of fall in New York, including Peninsula to Lookout Hill, and Lullwater and Nethermead. We also highly recommend Long Meadow, where you will see the gradual change of the trees dotted on the grass.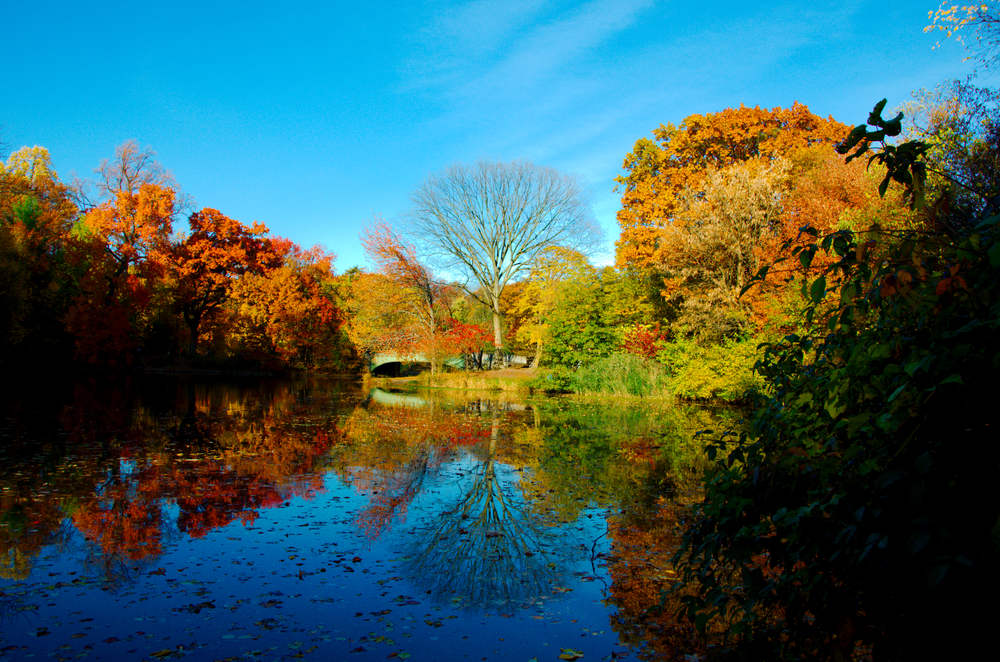 Lake Pleasant
Lake Pleasant is a hub of activity for Hamilton County. Surrounded by forest preserve lands, Lake Pleasant is the perfect fall in New York backdrop to enjoy many tourist activities such as hikes, camping, and water based activities.
The expansive skies provide really beautiful sunsets and sunrises, and is the perfect place if you are looking for a quiet getaway. There's plenty of nearby restaurants which feature fresh, locally made food. We can't think of anything better than experiencing a sunset over Lake Pleasant!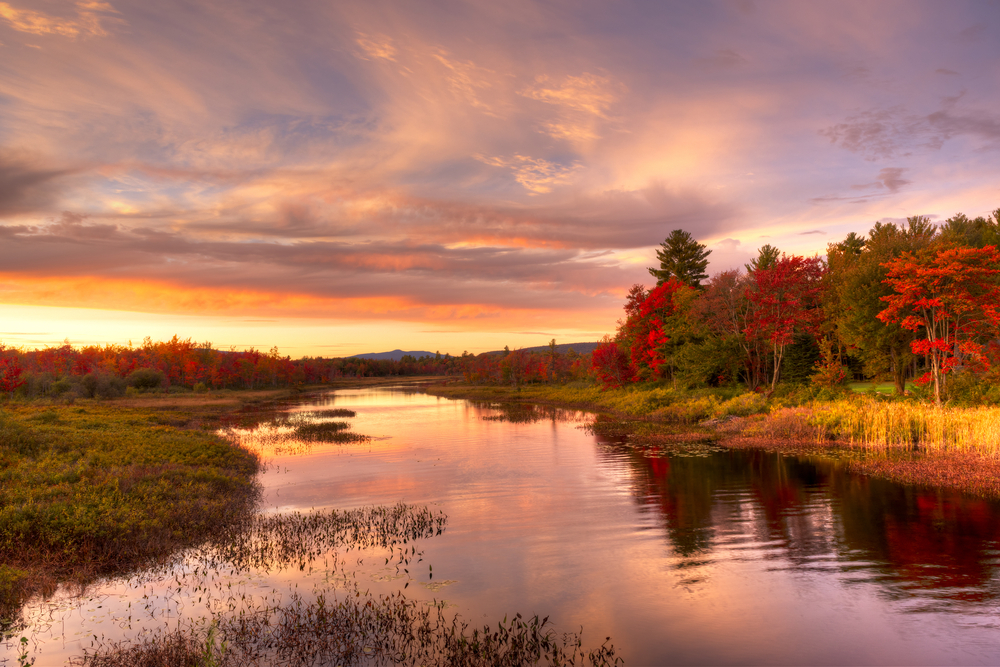 Catskills
The catskills is a great place to get away from the non-stop bustle of the city. If you're the outdoorsy type and looking for the perfect place to experience fall in New York, the Catskills should definitely be on your radar!
The skii resorts on Hunter Mountain and Belleayre Mountain make for great views on a hike. However, if hiking isn't your thing you can see the sights that fall in New York has to offer from your car! The winding roads and farmlands provide gorgeous viewings of the fall foliage, with popular routes being the Catskill Mountains Scenic Byway and Route 28-47-42-28A.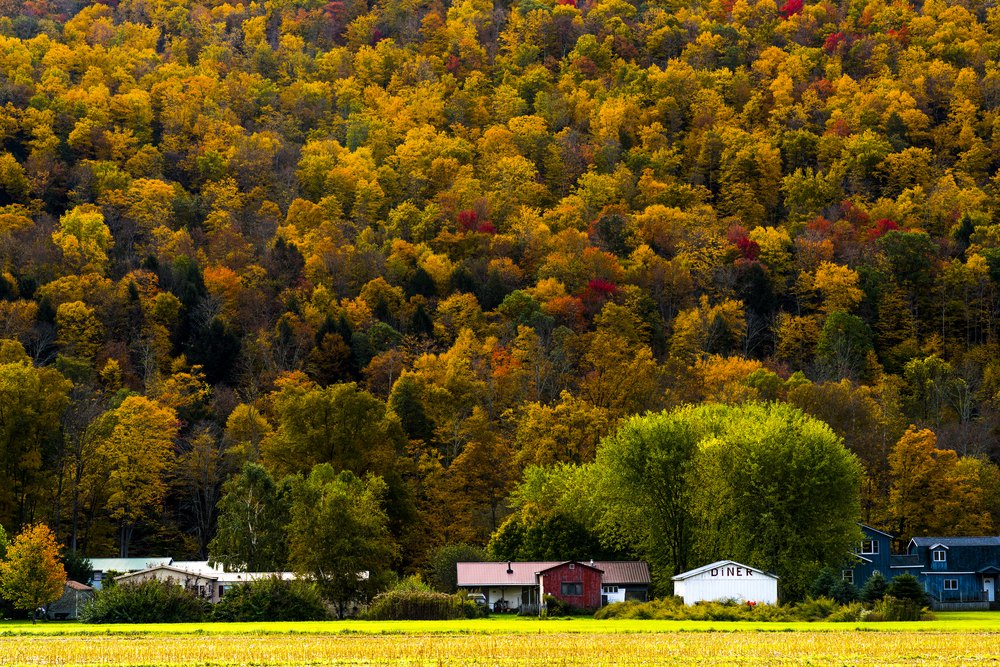 Finger Lakes
As you would expect, The Finger Lakes are eleven long, narrow lakes in New York. There are so many ways to see fall in New York here that we could go on forever! But these are just a few of the highlights.
The Country Road 12 Scenic Overlook provides a breathtaking view of fall foliage over the Canandaigua Lake. If you're looking for more than just views, the Bristol Mountain Fall Festival is a lot of fun and has craft booths and unique foods. The Naples Grape Festival showcases the vert best of Finger Lakes Wines and grape pies!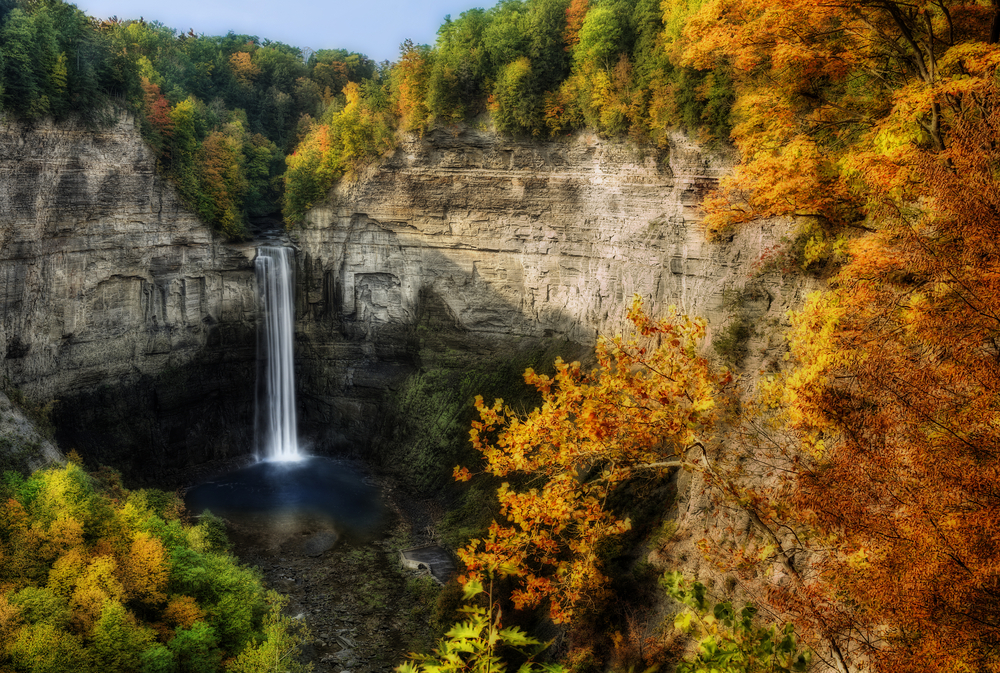 And there you have it! We hope this list has inspired you to see fall in New York for yourself. Fall is a great season to visit New York, and there is such a variety of places to go and experience fall in whatever way you wish to.