If you've been dreaming of the coziest cabins in Utah, then you've come to the right place. This list of Utah cabins is just what you need!
Utah has some of the coolest spots in the United States, including five of the most unbelievable National Parks, the best slot canyons, and the most relaxing natural hot springs.
It's the perfect place to retreat into the wilderness for rest and relaxation or to conquer some of the most exciting nature adventures. Utah is also one of the best places to road trip through, so make sure to check out our ultimate Utah road trip itinerary!
Utah is a must-visit, and we've picked out awesome cabins just as unique as this state. From treehouses, log cabins, ranches, and cottages, Utah has all sorts of cabin for every vacation need. Let's take a look!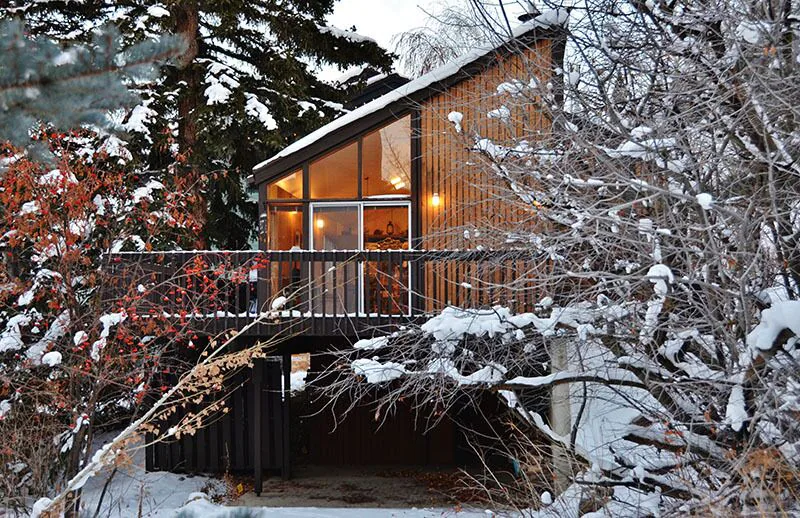 15 Cozy Cabins In Utah You Must Visit
Cozy Cabin In The Pines
Located just outside of the Dixie National Forest Reserve, this cozy a-frame is the ideal getaway for up to 4 guests. It's a picture-perfect refuge, with classic pine cabin décor that is full of charm. You'll love staying in the midst of Pine Valley, where nature is just outside your doorstep.
There are a few local shops nearby as well to try, though this is definitely more of a stay for the nature lovers. There is plenty of hiking near the cabin, and guests often catch glimpses of deer from the cabin! It's very close to Zion National Park too!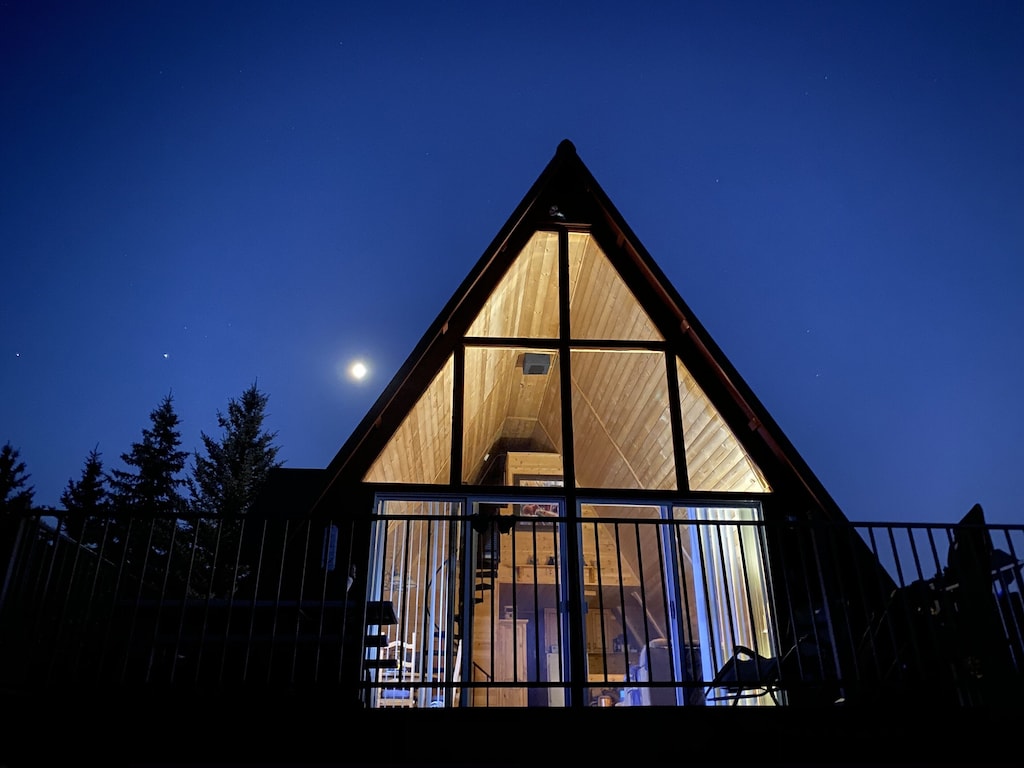 Historic Rose Cottage
If you've ever wanted to feel like you're in a fairytale, then you have to check out this awesome cabin. You'll quickly see why it's one of the best Utah cottage rentals. Up to 4 guests can enjoy all the comforts this Airbnb has to offer, including a quaint patio with gorgeous views of Zion National Park.
It has a plenty space to spread out in, but we think you'll want to spend most of your time outside because the landscaping is top notch. You'll feel like you just walked into the pages of an English fairytale! It's located in Springdale within walking distance of tons of local shops and restaurants.
Cedar Hollow Cabin
Try out the log cabin life at Cedar Hollow Cabin! You won't want to go home. Cedar Hollow sits on a very tranquil and private half-acre lot surrounded by trees. Take a trip into the nearby tiny town of Duck Creek for a bite to eat or to pick up some essentials.
The best part of Cedar Hollow Cabin is the gorgeous front porch which is the perfect place for up to 6 guests to watch some incredible natural views. Conveniently, this log cabin is within traveling distance of Zion, Bryce and Brian Head Ski Resort, so it's a great home base for the adventure of a lifetime!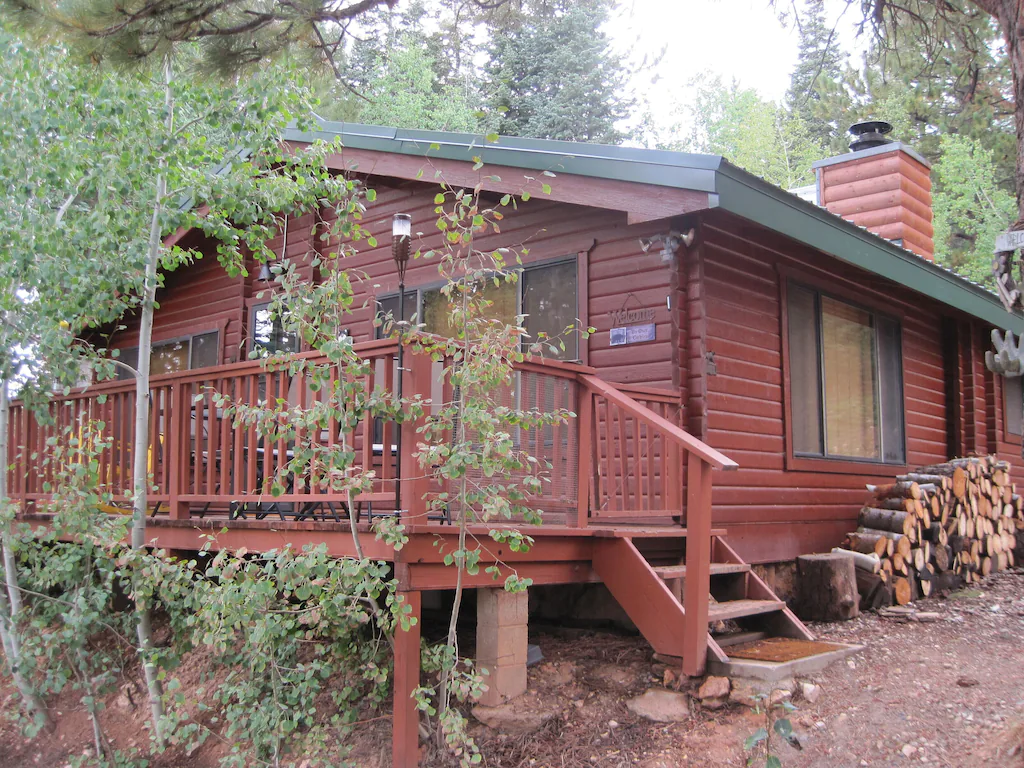 The Treehouse At The Escape
This treehouse near Orderville has to be one of the most unique Utah vacation homes. This incredible cabin was built atop the trunk of a 100 year cotton wood tree. You can take the stairs up to the treehouse, or you can enter through the quaint door to the climbing wall that takes you up to the cabin.
Once inside, you'll love the rustic aesthetic as well as the full bathroom and kitchenette. It sleeps up to 3 and soars 16 feet off the ground. Bryce Canyon, Zion National Park, and the Grand Canyon are all in driving distance too!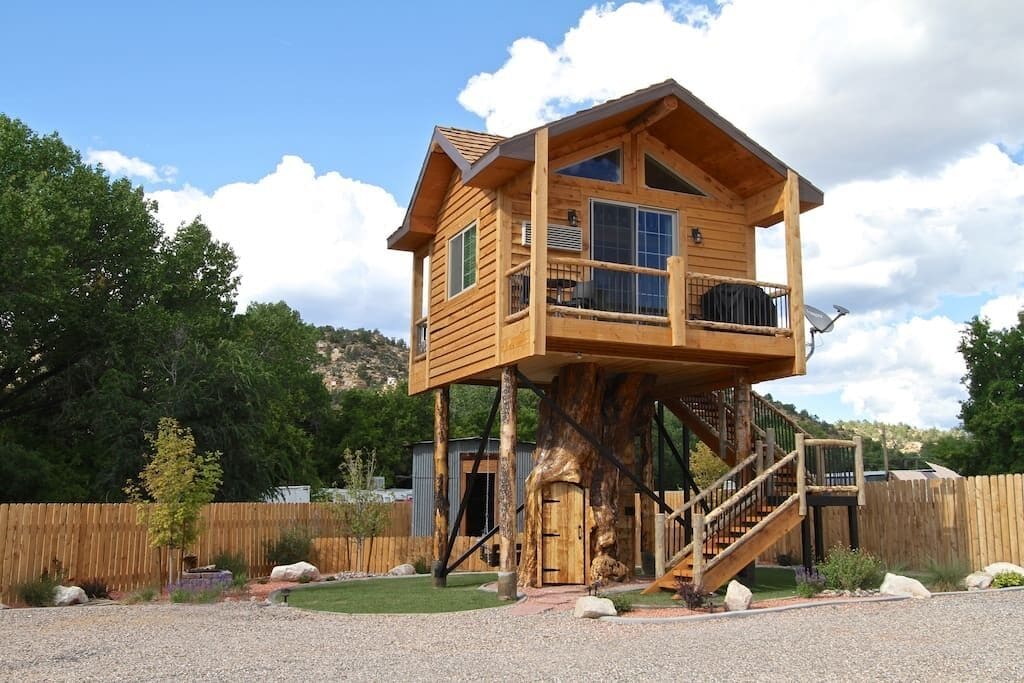 Scofield Lakefront Cabin
Kick back and relax with 13 of your best friends in this large and comfortable cabin. The Scofield Lakefront Cabin is only a 2-hour drive south of Salt Lake City, making it pretty easy to get to.
The drive is well worth it for its prime spot right next to the water as well as the private dock that comes with this vacation rental. There is a plethora of activities to do at this Airbnb such as fishing, hiking, and ice skating on the lake in winter.
This cabin is just so charming and lovely, with massive windows that over look the lake and a huge stone fireplace. You'll feel completely at ease in the rustic log cabin interior, combined with its very serene location.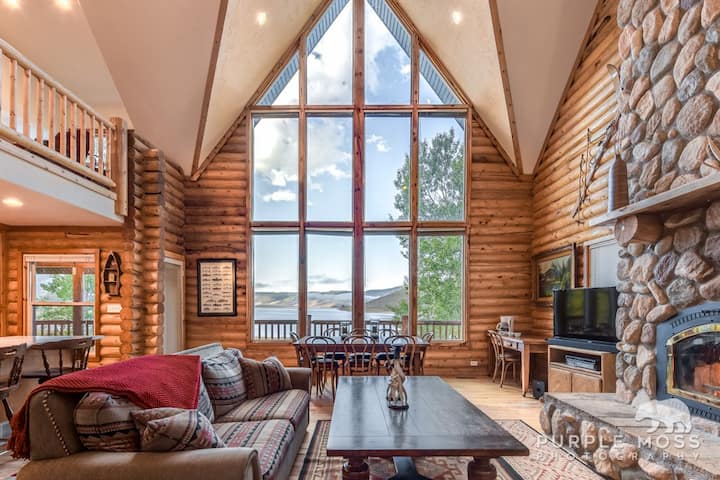 Quaint Salt Lake Getaway
If you're wanting more of an urban getaway, the Lavender Hill Cottage is the perfect place to stay in Salt Lake City. There is no other word to describe it than quaint. It can comfortably accommodate up to 9 guests. It's so cozy that your group might not want to leave!
This cabin apartment is only a couple miles away from the heart of downtown Salt Lake City. Spend a busy day exploring the city, and then retire for the evening in this quiet and enchanting urban cabin. You'll feel like you're in a fairy tale. For a peaceful stay amid the hustle and bustle of the city, this is it!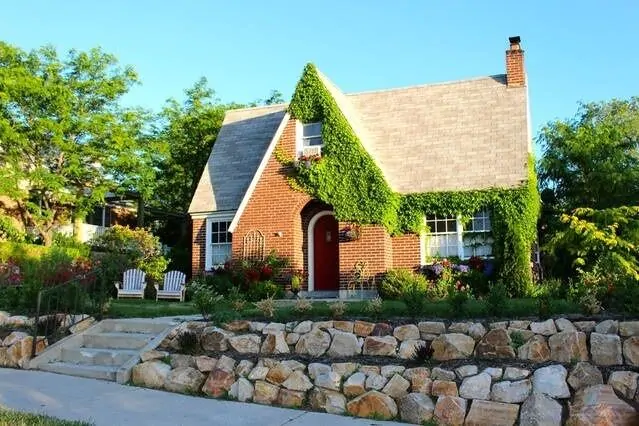 Old Lazy Bar S Ranch
If space to spread out is what you need, then you will love all 3300 square feet of the Old Lazy Bar S Ranch, which includes enough room for 10 guests.
You'll find this Airbnb almost exactly between Zion and Bryce Canyon National Parks. It is certainly one of the best cabin rentals in the Utah mountains, with some of the most scenic views. In fact, you can't see any other cabins or homes from the ranch, though you can see a beautiful lake from inside the home!
Make sure to bring supplies for smore making in the fire pit, and enjoy the most lovely star gazing!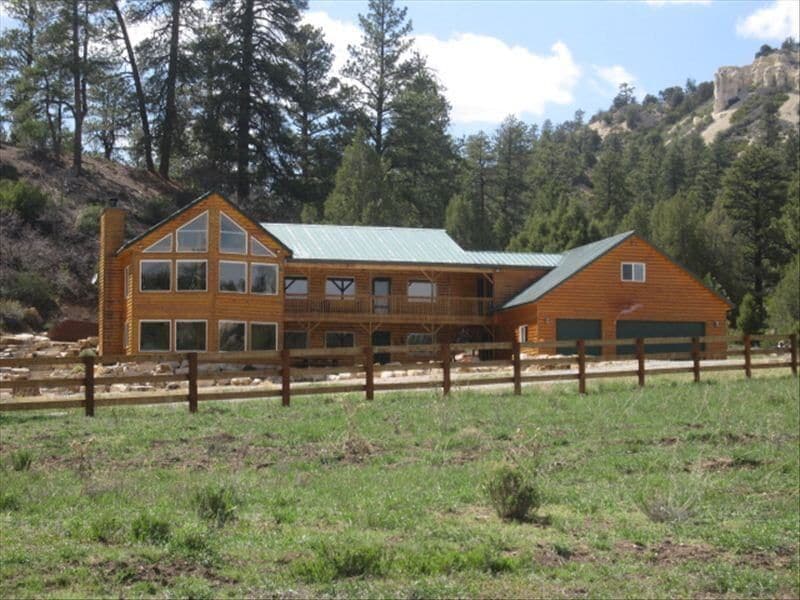 Quaint & Rural A-Frame
This rural A-Frame cabin has some unparalleled views! Despite how private it feels, there is a ton to do around this A-frame. Hit up Otter Creek Reservoir nearby to go fishing, boating, or the ATV trails. It's a great base came for Bryce, Zion, Escalante Petrified Forest State Park, or Mystic Hot Springs!
After a busy day outside, come home and rest your head in this rustic cabin. It can fit up to 4, but we think it would be a romantic holiday for 2! You won't want to miss relaxing on the wrap around porch! This tiny home for two is definitely one of the most romantic cabins in Utah.
Storybook Stone Cottage
Built right over a stream, the Storybook Stone Cottage is an awesome place to submerge yourself into nature. This cabin is perfectly named for its fairytale-esque features, such as the quaint stone bridge over the river and the private park for guests called The Hollow. This park is a wonderful gathering spot with plenty of outdoor seating around a cozy fireplace.
The cottage might look straight out of a fable, but it has some lovely modern conveniences, like a gorgeous kitchen and heated floors. Not to mention this cabin rental comes with a full service concierge that can help you book activities like ziplining, fly fishing, and day trips.
The "Bird House" is included with the cottage. It's an adorable tiny house made of stone that has sleeping quarters. You'll be fight over who gets to stay in the Bird House!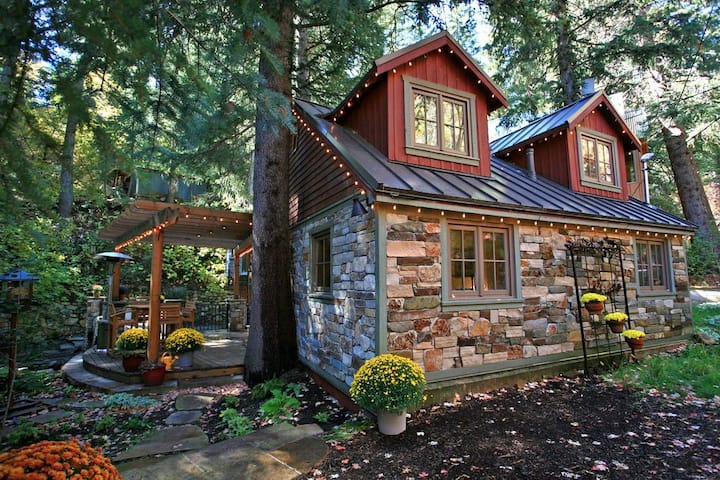 Quaint A-Frame in the Woods
Embrace hygge at one of the best a-frame cabins for rent in Utah! This cabin was nicely designed to feel modern, cabin chic inside, with beautiful wood accents and minimalist décor (plus a wood-burning stove). It has a cute outdoor eating area on the deck overlooking the woods where you might want to take all of your meals. If you come in winter, be ready for lots of snow, as well as lots of frolicking wildlife all year round.
This a-frame is within driving distance of Park City, a picture perfect resort town where you can go skiing, hiking, take a ride on the scenic chairlift, and lots of other activities. It's also not too far from Salt Lake City if you wanted a jaunt to the city. This is the perfect place for you and up to 5 other guests.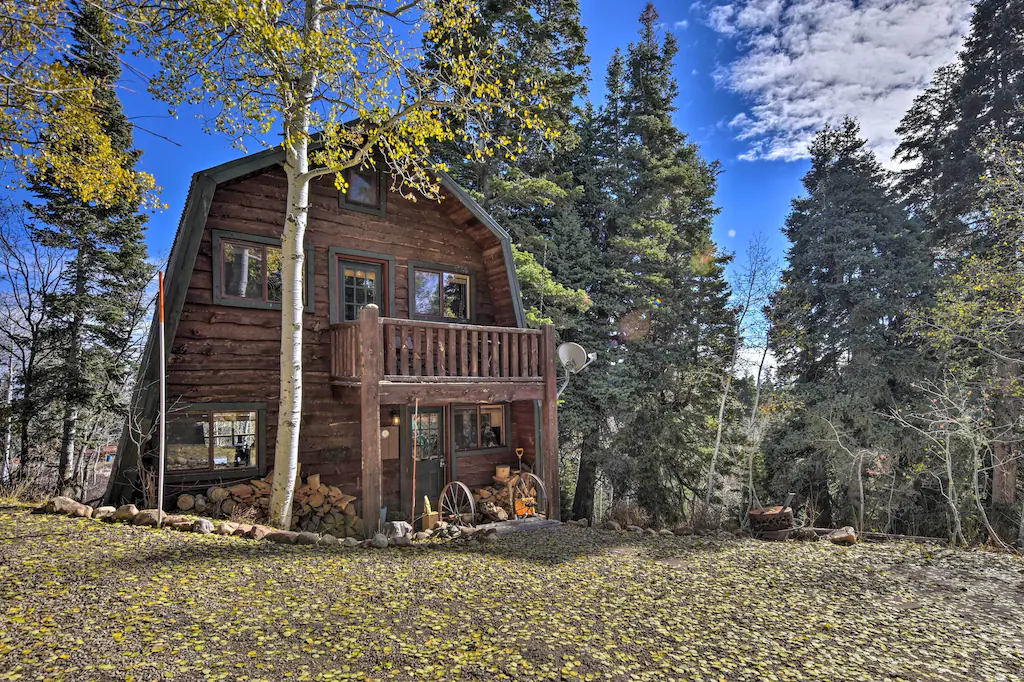 Quaint Moab Haven
If Moab is a stop on your Utah trip, then you absolutely have to check out this log cabin! This gorgeous getaway can house up to 6 guests. The upper and lower decks are the ideal place to gather or to stargaze. You can even see 6 different mountain peaks from this cabin, which has to make it one of the best Moab cabins.
The inside cabin décor utterly matches the outside aesthetic, and we love that it's pet-friendly. Plus, if you're up for a short road trip, Canyonlands National Park and Arches National Park (which is so cool to visit in the winter) are super close!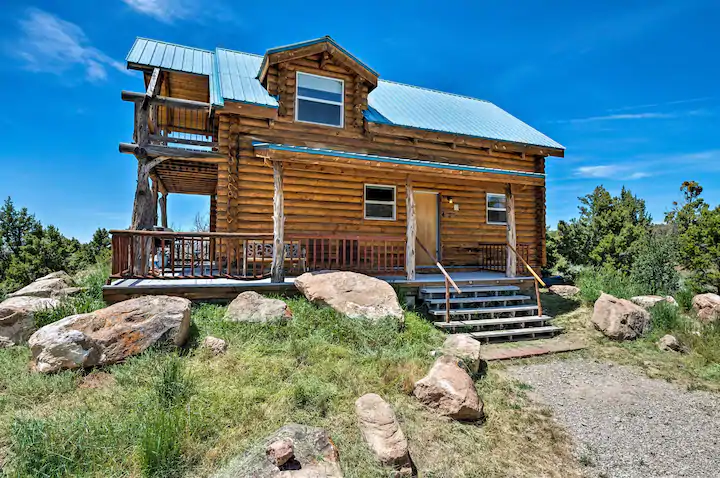 Luxurious Cottonwood Canyon Lodge
This mountain lodge for 11 west of Park City is one of the most luxurious Utah vacation homes! The first thing you might notice is its beautiful exterior with its striking lines and gorgeous large windows.
The interior is just as luxurious as on the outside. With the huge stone fireplace and vaulted ceilings, you'll feel like you're staying at the height of comfort. The kitchen is fabulously gourmet for any aspiring chef in your group. The hot tub is the best place to relax in after a fun filled day!
One thing to for ready for is that if you're coming winter, you'll want to make sure to have good tires. It can be a slick and bumpy ride!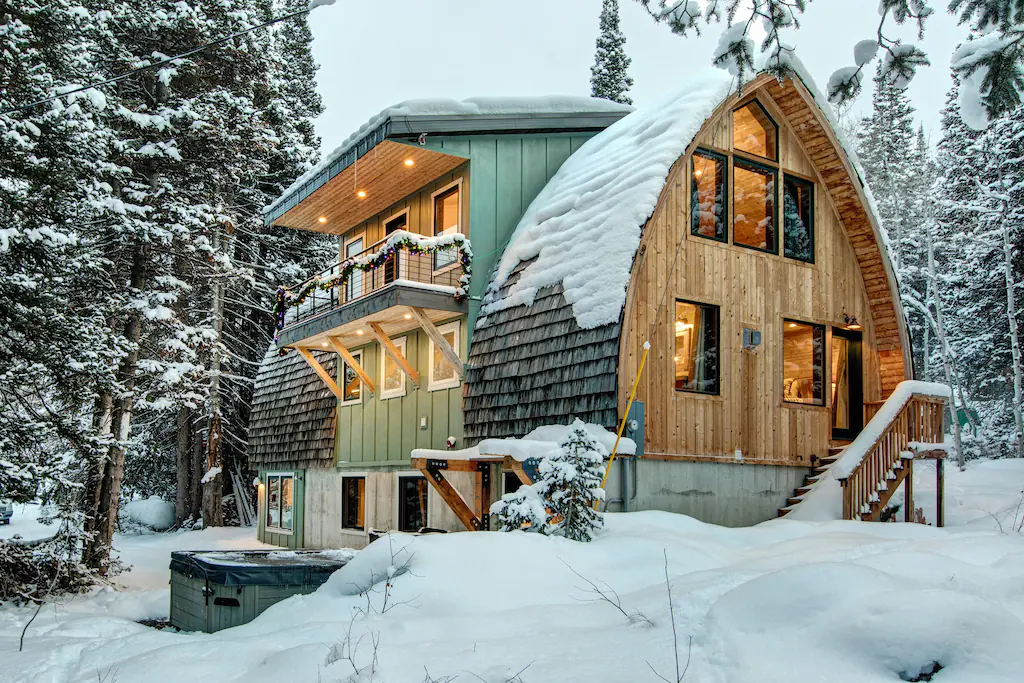 Modern Ski Retreat
This cabin for 7 near Park City is the perfect balance of modern aesthetic and traditional cabin living. Pinewood paneling runs throughout the cabin itself which matches the retro vibes and wood-burning fireplace. Relax outside on the deck and commune with nature.
One of the coolest things about this cabin is that you can go on foot to the ski lifts, and ski your day away on the local runs. It's also only a mile's journey to downtown Park City and all the fun that the cute mountain city has to offer! The location might be the best part of this ski retreat!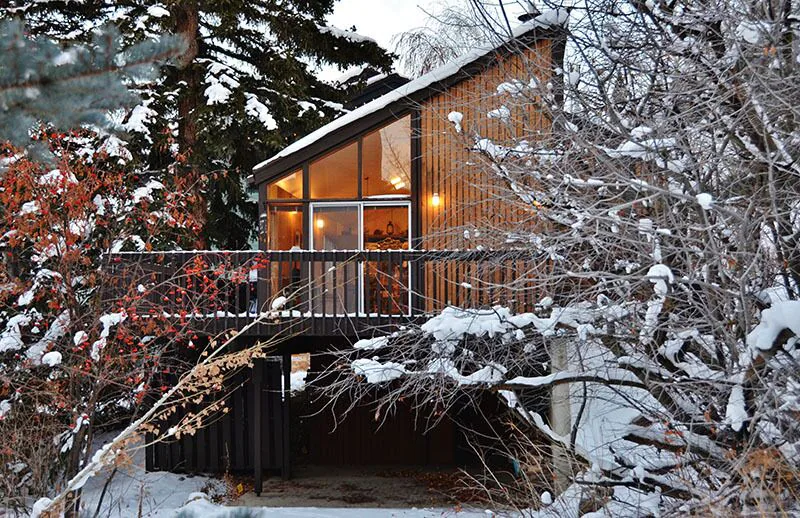 Log Cabin On The Farm
South of Salt Lake City near Spanish Fork is this beautiful cabin. You'll be struck by how charming and beautiful this log cabin is, but you'll stay for the rural farm experience. It's based on a 17 acre farm and can fit up to 8 people.
This cabin is the perfect spot for family friendly entertaining, with a pool table, popcorn machine, air hockey table, and a video game machine all in the family room! The backyard has multiple trampolines, a volley ball court, and even a batting cage.
Check out the chickens while you're here. If you have any horse lovers in the group, the property does offer horse riding lessons onsite!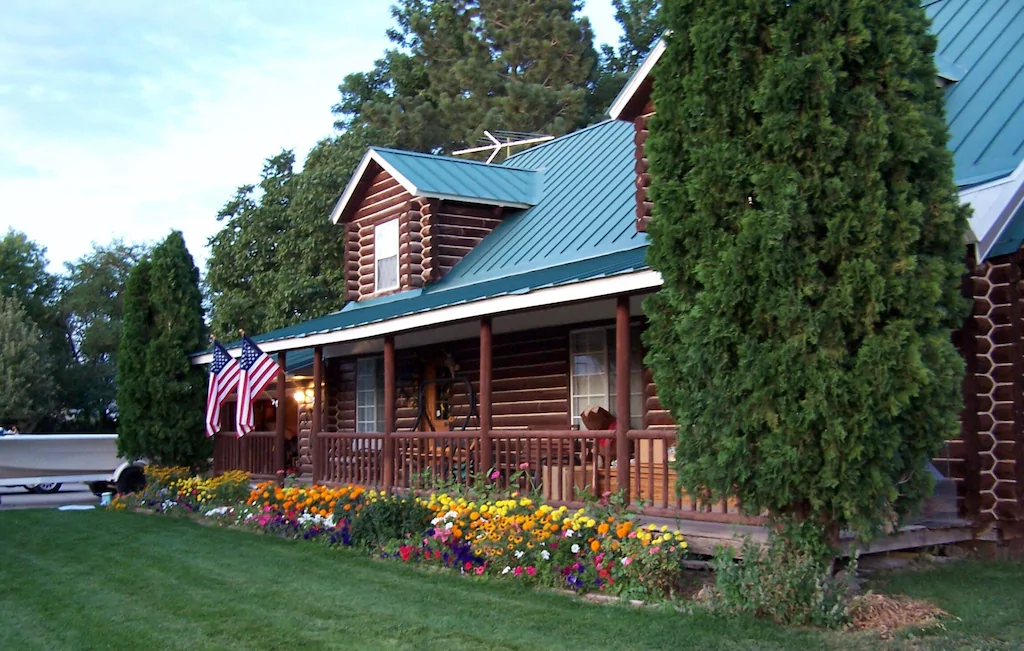 Rustic Mountain Chalet
Last but not least is this incredible getaway at 7000 feet above sea level at the midpoint between Bryce and Zion National Park. If you want an escape from modern technology, then this might be the place for you. You'll be left breathless by the beautiful view through the panoramic windows overlooking the forest.
Up to 7 people can stay here and enjoy the wood burning fireplace, the jacuzzi tub, and the spacious rooms found throughout the home. It's super close to miles of hiking, ATV trails, and fly fishing. In winter, you'll love curling up against the beautiful fireplace with a good book!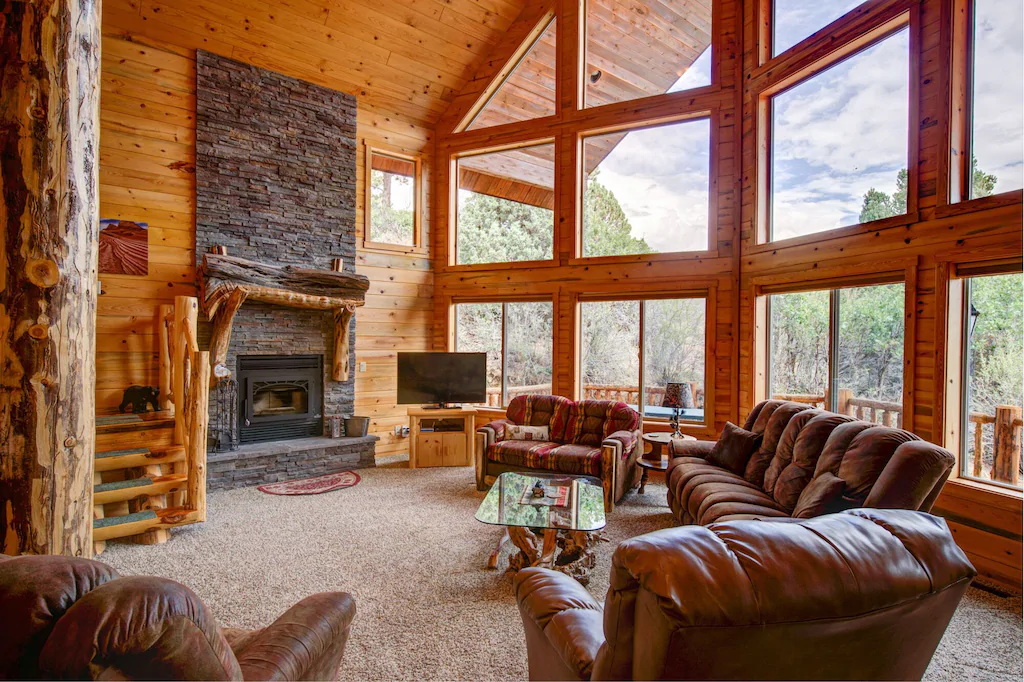 If you've enjoyed this list of cabins, don't forget to check out our top picks for other Airbnbs and VRBOs in Utah. Have a great time in this cool state, and happy travels!