If you've been dreaming of the coziest cabins in Utah, then you've come to the right place. This list of Utah cabins is just what you need!
Utah has some of the coolest spots in the United States, including five of the most unbelievable National Parks, the best slot canyons, and the most relaxing natural hot springs.
It's the perfect place to retreat into the wilderness for rest and relaxation or to conquer some of the most exciting nature adventures. Utah is also one of the best places to road trip through, so make sure to check out our ultimate Utah road trip itinerary!
Utah is a must-visit, and we've picked out awesome cabins just as unique as this state. From treehouses, log cabins, ranches, and cottages, Utah has all sorts of cabin for every vacation need. Let's take a look!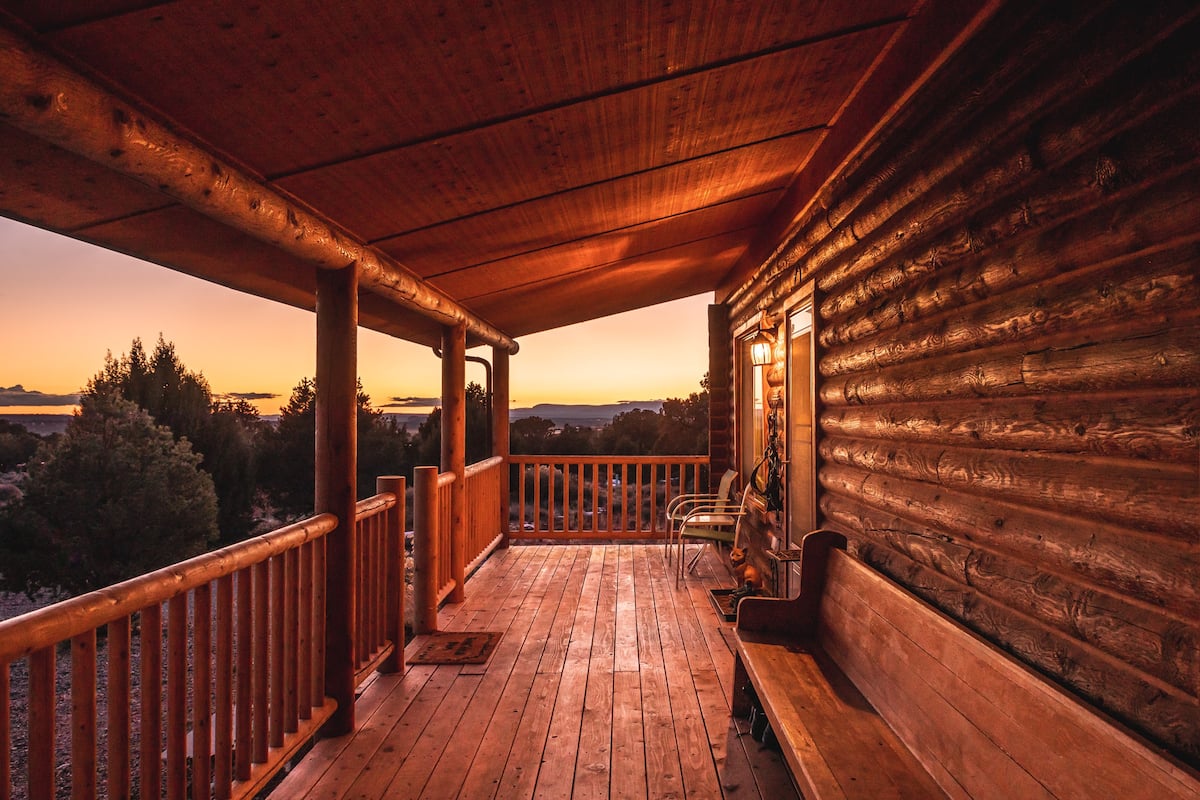 15 Cozy Cabins In Utah You Must Visit
A-Frame of Mind Haus
Located just outside of Park City, this cozy a-frame is the perfect getaway for up to 4 guests. You'll love staying only 6 miles away from the adorable and historical mountain town of Park City, where you can find the best skiing, a vibrant downtown full of restaurants and shopping, and even the Sundance Film Festival.
At the end of a busy and fun-filled day, come home to this quaint cabin and curl up by the wood-burning stove. It's a picture perfect refuge, with cabin meets bohemian décor that is full of charm. There is plenty of hiking near the cabin, and some guests have even caught sight of a moose during their stay!
Click Here To Check Rates On Airbnb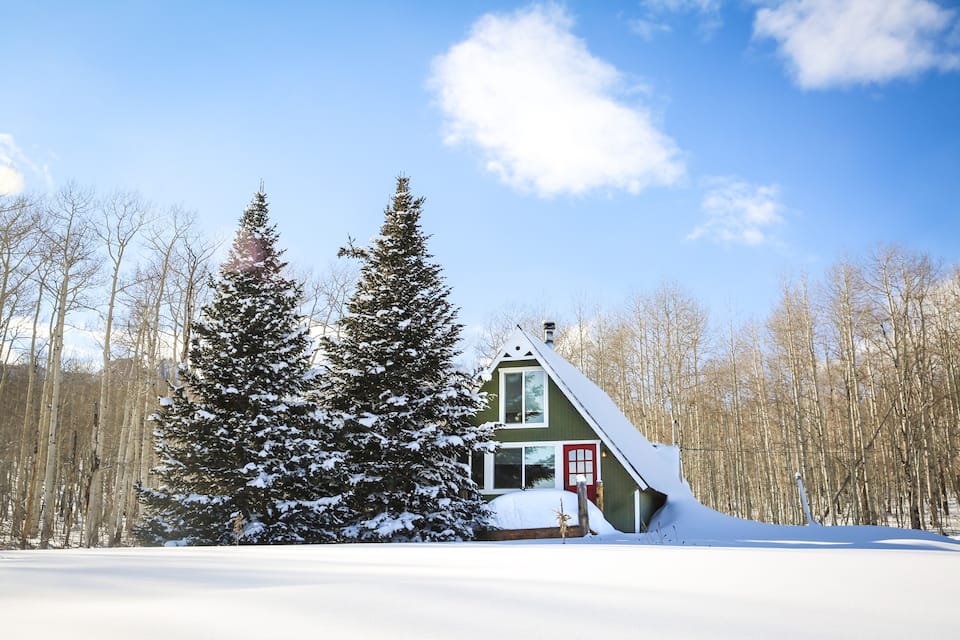 Treetop Retreat on the Stream
If you've ever wanted to feel like you're in a fairytale, then you have to check out this awesome cabin. You'll quickly see why it's one of the best Utah cottage rentals. Up to 11 guests can enjoy all the comforts this Airbnb has to offer, including a well-stocked kitchen and wood-burning fireplace.
It has a ton of space to spread out in, but we think you'll want to spend most of your time outside because the landscaping is top notch. Enjoy the view of the stone-lined river from two comfortable decks, or meander the trails that lead you through the serene forest. It's only a mile away from the Sundance Resort and all the fun activities there, like ziplining, restaurants, and skiing.
Click Here To Check Rates On Airbnb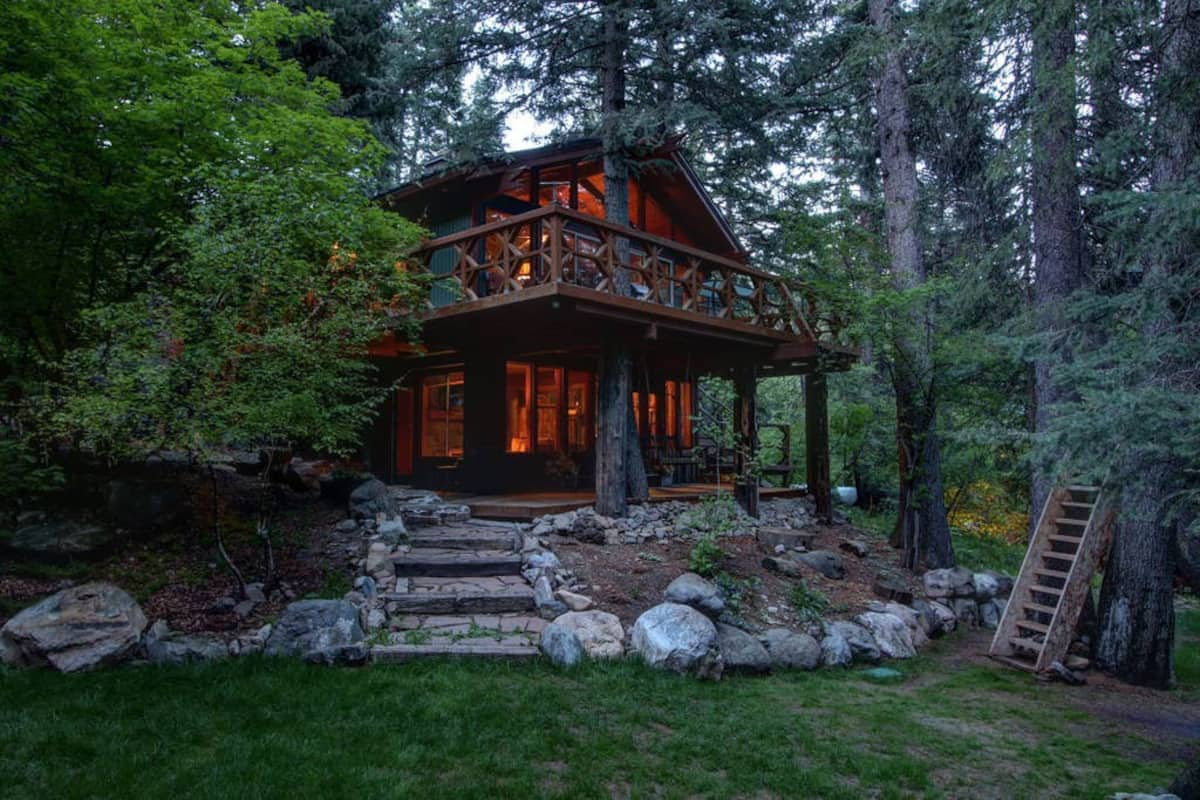 Sage Haven Log Cabin
Try out the log cabin life at Sage Haven! You won't want to go home after this. Sage Haven boasts 2.5 acres that backs to public land, making it a tranquil spot. It's also only a 5 minute drive from the little town of Kanab, where you can find a bite to eat and places to restock your essentials.
The best part of Sage Haven is the gorgeous front porch which is the perfect place for up to 6 guests to watch some incredible sunsets. Conveniently, this log cabin is within traveling distance of the Grand Canyon, Lake Powell, and Zion National Park, so it's a great home base for the adventure of a lifetime!
Click Here To Check Rates On Airbnb
Fantasy Treehouse and Resort
This treehouse near Nephi has to be one of the most unique Utah vacation homes. Inspired by imagination, this incredible cabin is built around huge tree branches that run around and through the building itself.
A suspension bridge takes you into the treehouse, where up to 6 guests can stay comfortably. It features a rustic interior as well as a gazebo and barbeque for guest use.
Once inside, you can't help but notice the Crow's Nest atop the tree house. This deck stands 30 feet above the ground, give you the perfect vantage point to see the beautiful surrounding landscape.
Click Here To Check Rates On Airbnb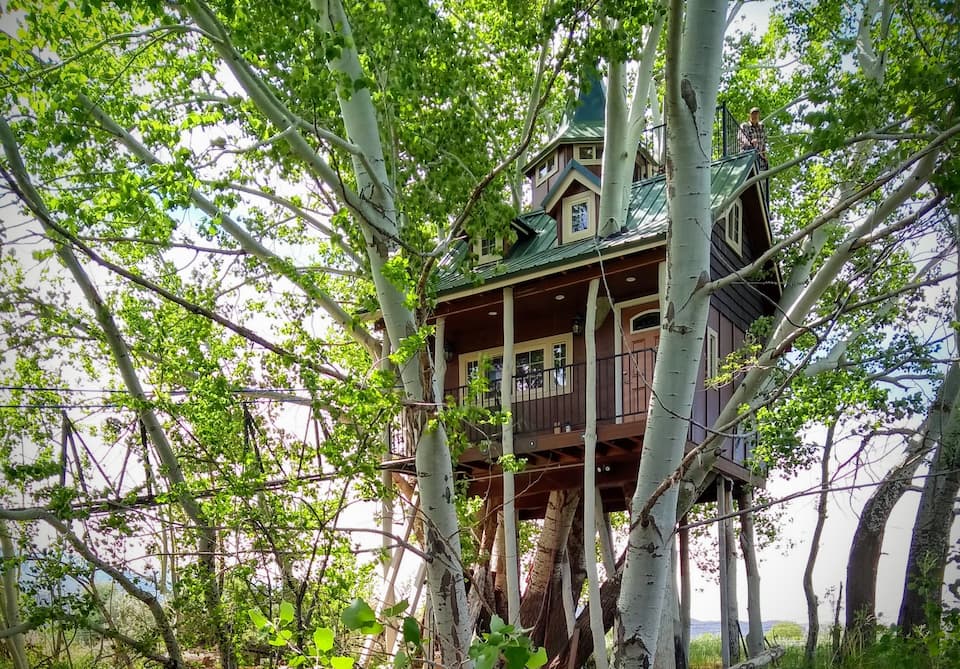 Scofield Lakefront Cabin
Kick back and relax with 13 of your best friends in this large and comfortable cabin. The Scofield Lakefront Cabin is only a 2 hour drive south of Salt Lake City, making it pretty easy to get to.
The drive is well worth it for its prime spot right next to the water as well as the private dock that comes with this vacation rental. There is a plethora of activities to do at this Airbnb such as fishing, hiking, and ice skating on the lake in winter.
This cabin is just so charming and lovely, with massive windows that over look the lake and a huge stone fireplace. You'll feel completely at ease in the rustic log cabin interior, combined with its very serene location.
Click Here To Check Rates On Airbnb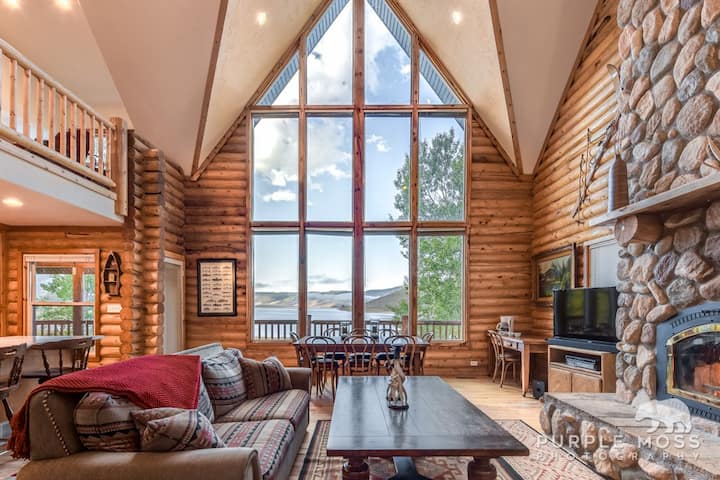 Scenic Salt Lake Getaway
If you're wanting more of an urban getaway, this cute cabin apartment is the perfect place to stay in Salt Lake City. With its own private entrance and a full kitchen, it can comfortably accommodate up to 4 guests, although you might end up spending most of your time on the the patio!
The super cozy patio has some of the best views of the whole city. This cabin apartment is also so close to choice shopping and restaurants. Plus, it's right next to open space and a whole ton of walking trails. For a peaceful stay amid the hustle and bustle of the city, this is it!
Click Here To Check Rates On Airbnb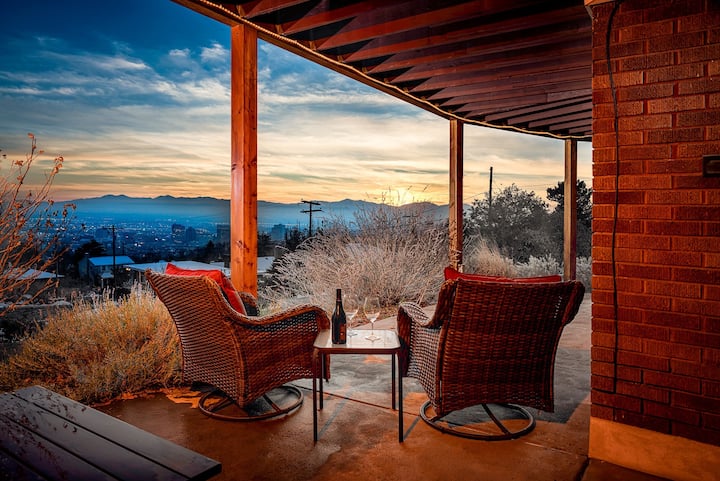 Old Town Family Lodge
If space to spread out is what you need, then you will love all 5300 square feet of the Old Town Family Lodge, which includes enough room for 16 guests.
Located on 11 acres, you'll find this Airbnb between Strawberry Reservoir and Starvation Reservoir. It is certainly one of the best cabin rentals in the Utah mountains with all the great nearby water activities like ice fishing and boating.
The cabin itself is named for the historic 1936 canoe that hands in the great room and that perfectly matches the rustic décor found in the rest of the house. Relax your muscles after a long day in the jacuzzi tub or cook a meal in the large kitchen.
Make sure to take advantage of the complimentary smores kit and create some memories under the stars around the firepit!
Click Here To Check Rates On Airbnb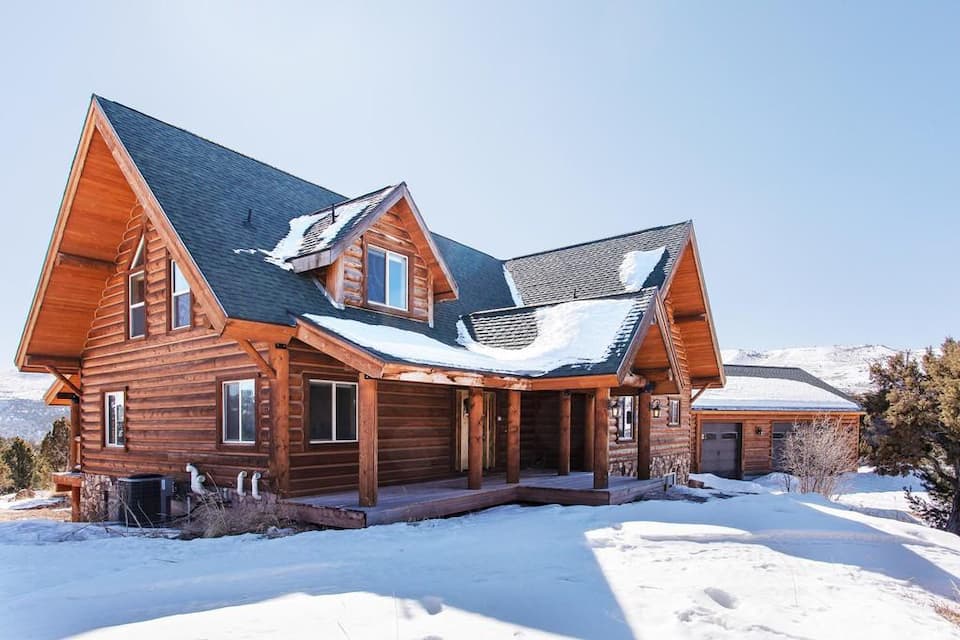 The Narrows A-Frame
The Narrows A-Frame cabin is one of the coolest cabins we've ever seen!
This little a-frame is the best that glamping has to offer. The wall on the southside opens up to give you a breath-taking view of the Zion mountains from the comfort of bed. There is also an outdoor observation deck where you can take your meals or just stargaze.
You might be happy to know that there is running water, along with a private bathroom and private parking, so you're not completely off the grid! This tiny home for two is definitely one of the most romantic cabins in Utah.
Click Here To Check Rates On Airbnb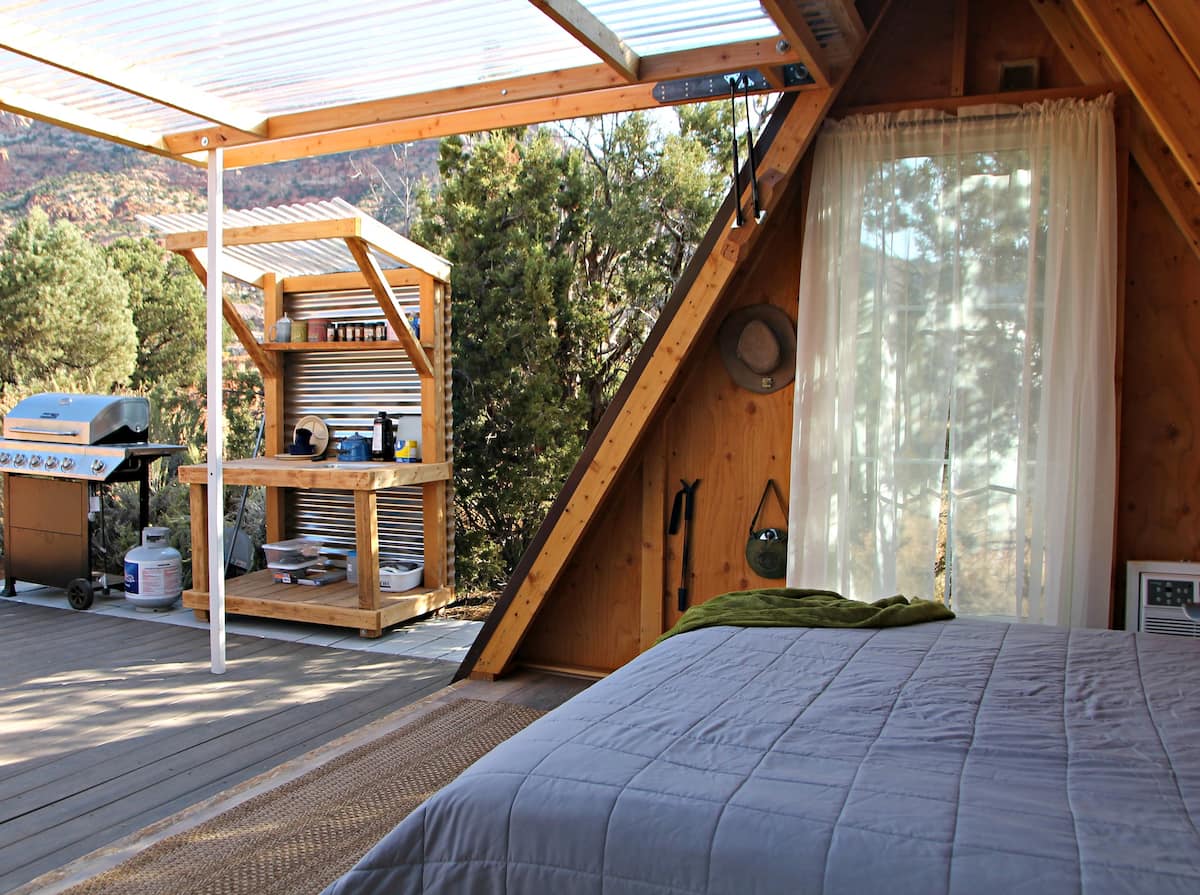 Storybook Stone Cottage
Built right over a stream, the Storybook Stone Cottage is an awesome place to submerge yourself into nature. This cabin is perfectly named for its fairytale-esque features, such as the quaint stone bridge over the river and the private park for guests called The Hollow. This park is a wonderful gathering spot with plenty of outdoor seating around a cozy fireplace.
The cottage might look straight out of a fable, but it has some lovely modern conveniences, like a gorgeous kitchen and heated floors. Not to mention this cabin rental comes with a full service concierge that can help you book activities like ziplining, fly fishing, and day trips.
The "Bird House" is included with the cottage. It's an adorable tiny house made of stone that has sleeping quarters. You'll be fight over who gets to stay in the Bird House!
Click Here To Check Rates On Airbnb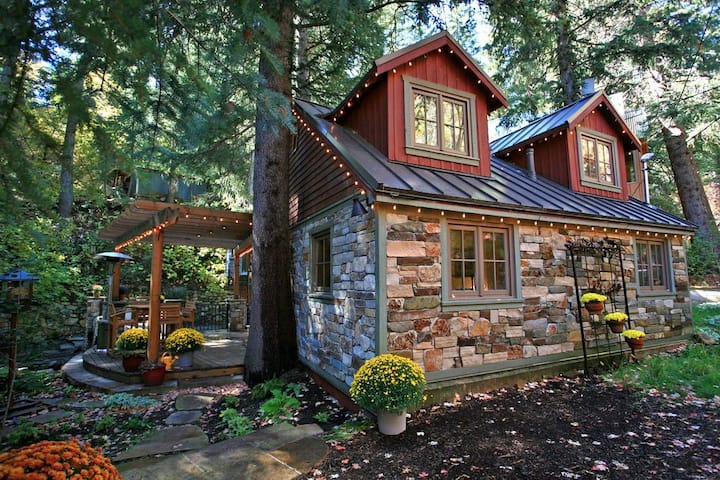 Quaint A-Frame in the Woods
Embrace hygge at one of the best a-frame cabins for rent in Utah! This cabin was nicely remodeled to feel modern, cabin chic inside, with beautiful wood accents and minimalist décor (plus a wood burning stove). It has a cute outdoor eating area in the woods where you might want to take all of your meals. If you come in winter, be ready for lots of snow, as well as lots of frolicking wildlife all year round.
This a-frame is within driving distance of Brian Head, a picture perfect resort town where you can go skiing, hiking, take a ride on the scenic chairlift, and lots of other activities. In fact, Brian Head is known for having the highest base elevation of any ski spot in all of Utah!
Keep in mind that this cabin is close to Zion National Park and Bryce Canyon National Park, so if you've ever wanted to visit these locations, then this Airbnb might be a great place for you and up to 3 other guests!
Click Here To Check Rates On Airbnb
Quaint Moab Haven
If Moab is a stop on your Utah trip, then you absolutely have to check out this log cabin! This gorgeous getaway can house up to 6 guests. The upper and lower decks are the ideal place to gather or to stargaze. You can even see 6 different mountain peaks from this cabin, which has to make it one of the best Moab cabins.
The inside cabin décor utterly matches the outside aesthetic, and we love that it's pet friendly. Plus, if you're up for a short road trip, Canyonlands National Park and Arches National Park (which is so cool to visit in the winter) are super close!
Click Here To Check Rates On Airbnb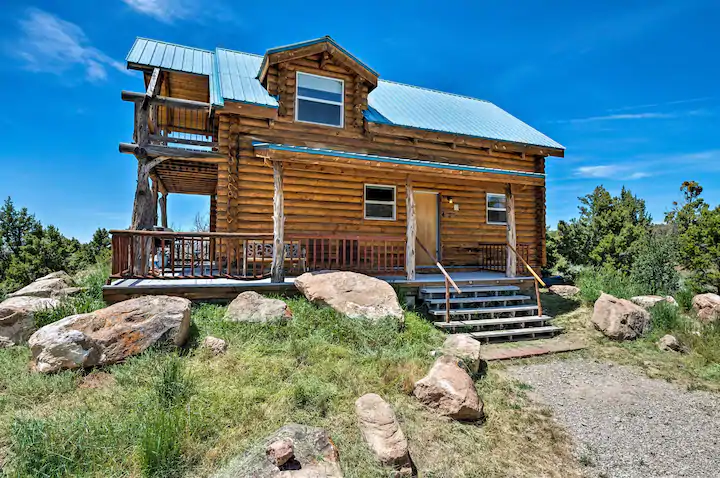 Riverfront Carriage House
This carriage house for 4 is one of the most romantic getaways in Utah! The first thing you might notice is its beautiful stone exterior and the sweeping grand staircase that takes you right into the cabin.
The interior is just as cozy and rustic on the outside. With pine paneling and heated floors, you'll feel right at home. The fireplace on the main deck is a wonderful place for smores. If you want a closer look at the lovely stream, there's a bench built into the bridge for the best views. Other guests have spotted wild turkeys on the grounds, so you might make a feathered friend or two!
One thing to for ready for is that if you're coming winter, you'll want to make sure to have good tires. It can be a slick and bumpy ride!
Click Here To Check Rates On Airbnb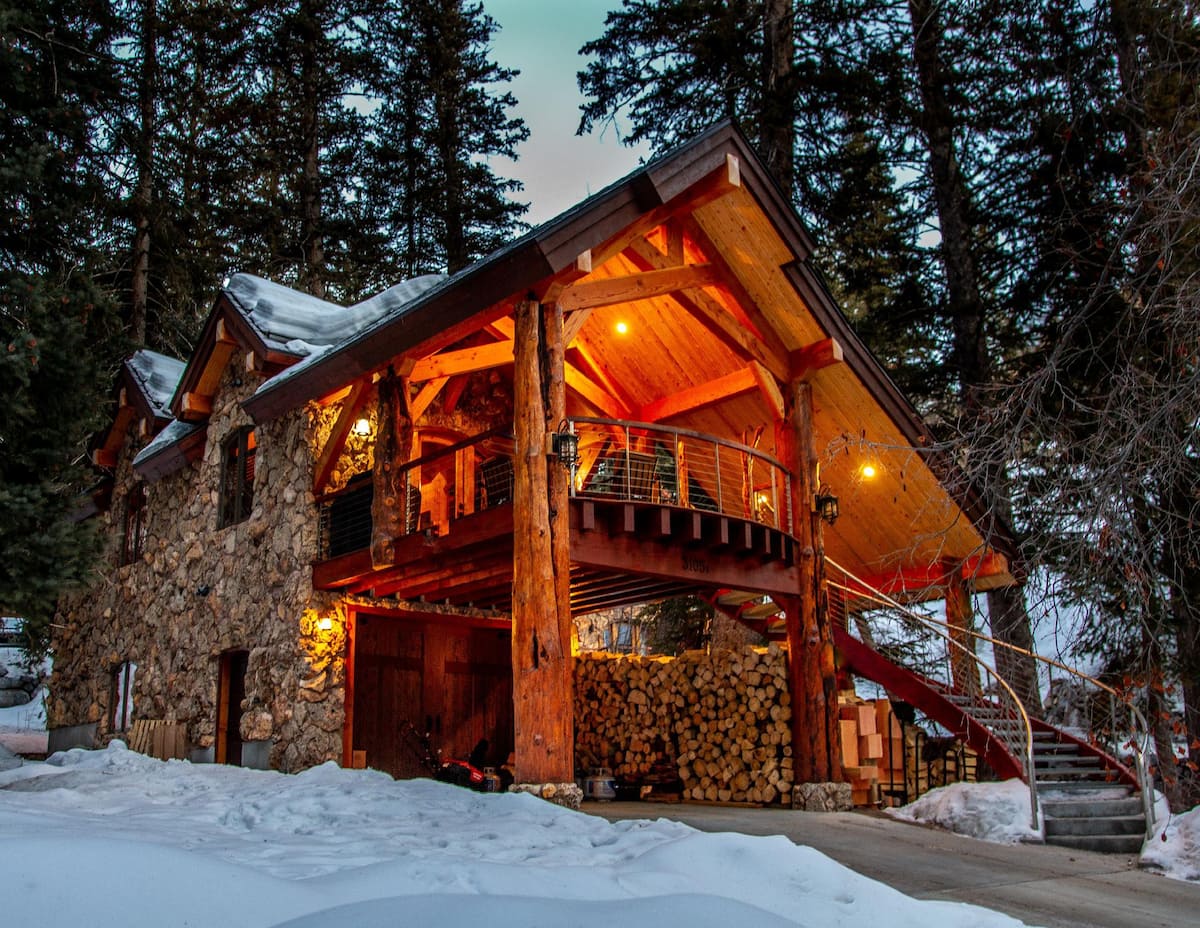 Cobblestone Ranch Cabin
This cabin for 5 near Fish Lake is the epitome of cabin living. Pinewood paneling runs throughout the cabin itself which matches the old-timey light fixtures and wood-burning fireplace. Relax outside on the hammock and commune with nature.
Cobblestone Ranch Cabin is at the bottom of Monroe Mountain, where you can find Monroe Mystic Hot Springs. This natural hot springs is one stop relaxation, with tubs you can rent to soak in, healing massages, and awesome views of the sunset. If you're staying here in summer, keep an eye out for paragliders coming off the mountain!
Click Here To Check Rates On Airbnb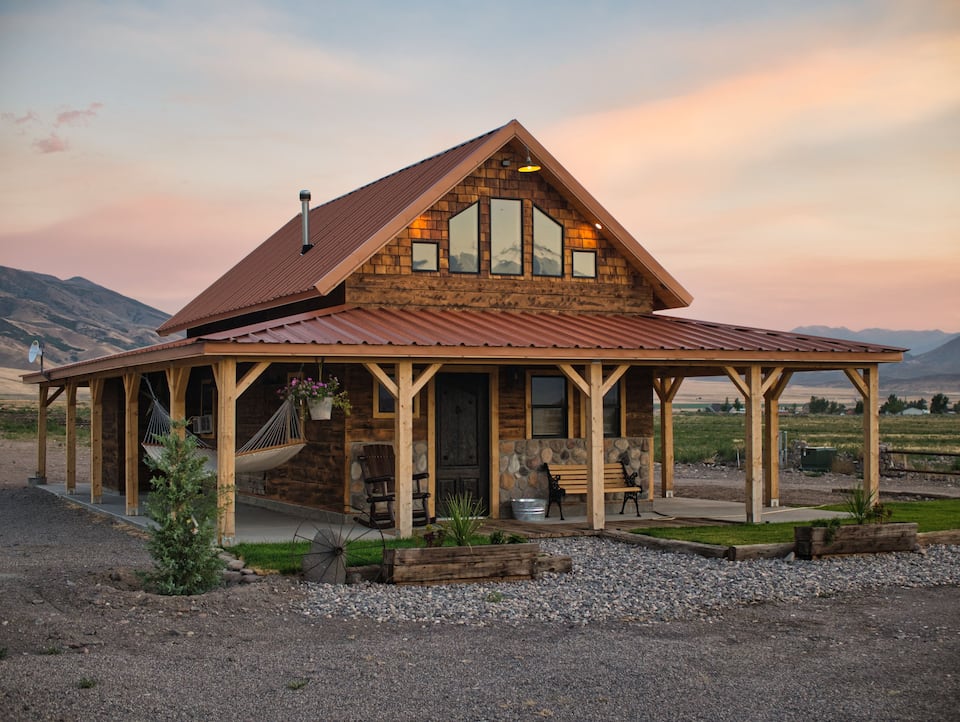 Wild West Retreat Barn
Between Capitol Reef National Park and Bryce Canyon is this beautiful cabin in Escalante. Originally a functioning barn, it has been entirely remodeled into one of the most charming little Airbnbs and can fit up to 5 guests.
The upper hay loft is now a bedroom with access to an upper deck. To up the cozy, there is a wood burning stove as well as a full kitchen that is stocked with what you need to make a hardy breakfast.
If you've ever wanted to see some cool slot canyons, this stay is only an hour away from Peak-a-boo and Spooky Gulch (you learn about these two and more in our guide to slot canyons in Utah!).
Click Here To Check Rates On Airbnb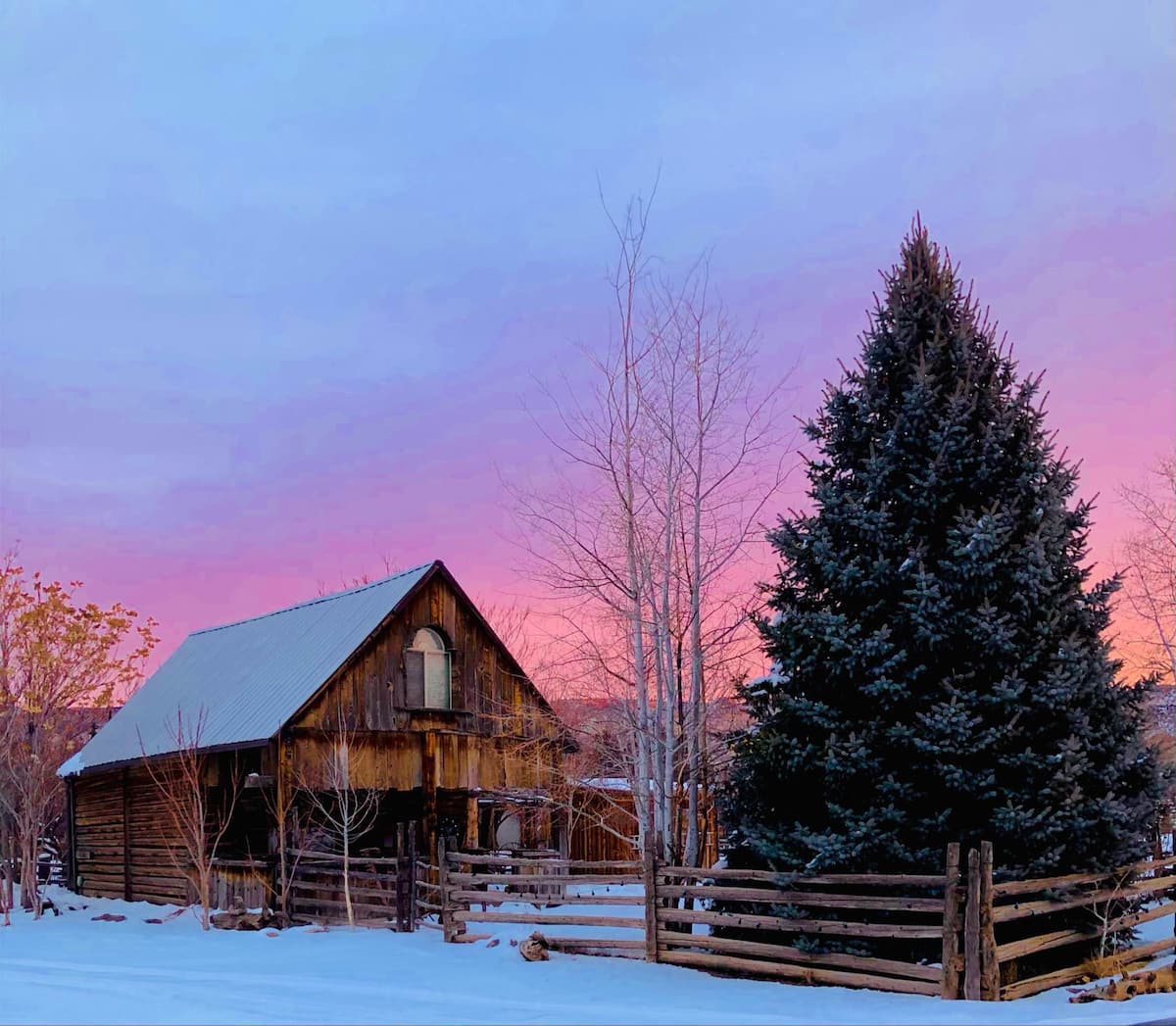 Serene Mountain Escape
Last but not least is this incredible getaway on 40 acres near Bear River Lodge. If you want an escape from modern technology, then this might be the place for you. In winter, you can only access this cabin by snowmobile, which you can rent from the host if needed. There is also limited cell phone coverage.
It does come with many amenities. Up to 10 people can stay here and enjoy the wood burning fireplace, the pool table, and the foosball table. From the large deck, you can see the nearby national forest. Most excitingly, the fireplace doubles as a climbing wall! So cool!
Click Here To Check Rates On Airbnb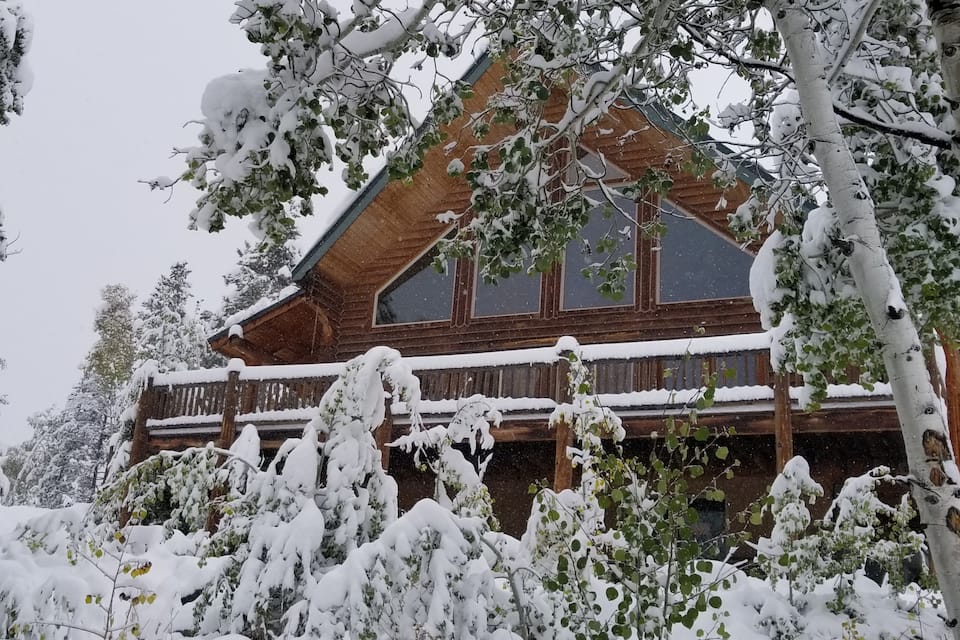 If you've enjoyed this list of cabins, don't forget to check out our top picks for other Airbnbs in Utah. Have a great time in this cool state, and happy travels!