Arches National Park is a popular destination for nature lovers during the warmer months, but did you know that visiting Arches National Park in winter is just as fun?
Established in 1971, Arches National Park contains over 119 square miles (308 square kilometers) of beautiful and unique high desert landscape. The natural stone arches, for which the park gets its names, number over 2000, with a range of sizes.
There are just so many fun things to do at the Arches in winter, making it a perfect stop for any Utah road trip (check out our ultimate Utah road trip iterary!). Hiking, biking, wildlife watching of the unique desert animals, taking the unusual geology like the famous red rocks, and stopping by the nearby city of Moab are only the beginning. We think you'll love winter in Arches National Park, and we can't wait to tell you why.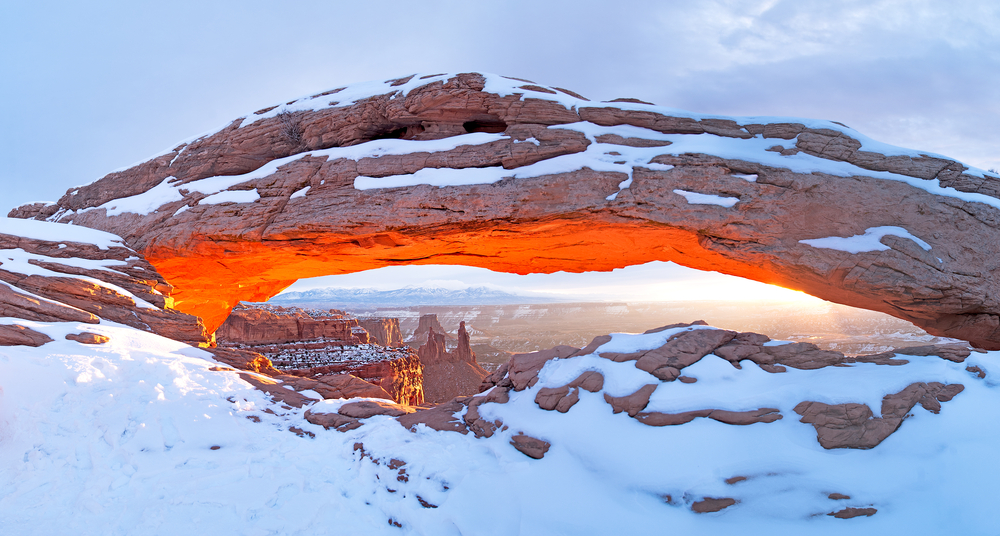 Is Winter a Good Time To Visit Arches National Park?
Definitely! In fact, we've been multiple times! Visiting Arches National Park during winter is the perfect time to go because it is usually far less crowded than during the busy summer season.
You are more likely to see the unique wildlife with less people around too. Not to mention that if you want pictures of the beautiful landscape you won't have to wait to get a shot clear of other people.
Plus, you'll be in good company with the locals who also love to visit the park!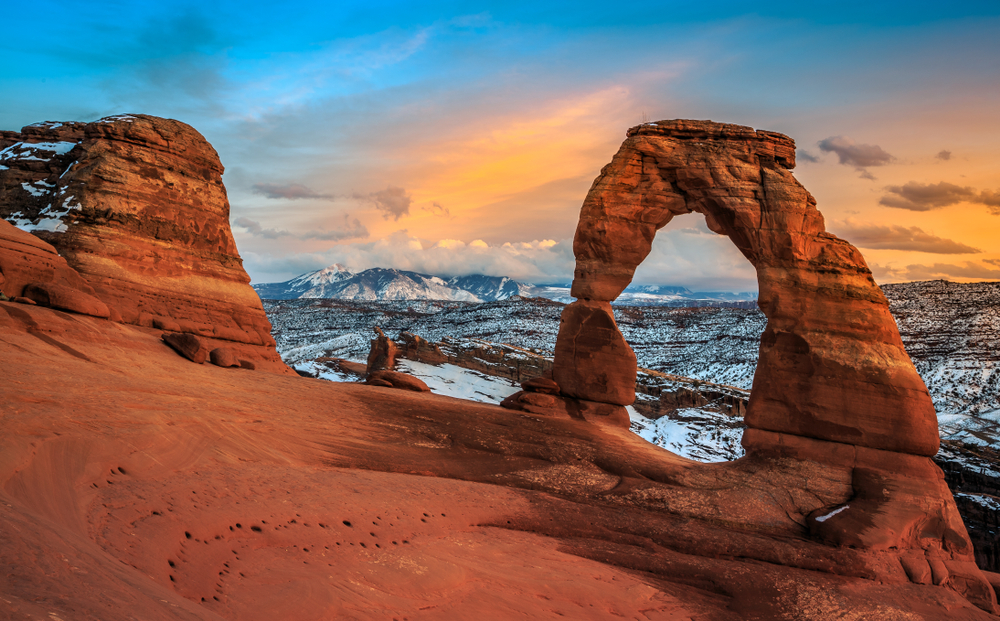 Average Winter Weather In Arches National Park
The average temperatures of Arches National Park in winter is surprisingly moderate, considering its mountainous location in Utah. The coldest month at Arches tends to be in January, and even then the average low temperature for Arches National Park in January is 22°F while the high is a balmy 45°F.
One thing to be aware of is that since the park is considered a high desert, temperatures can really vary within even a single day. On an extreme day, there can be a 40 degree difference between the high and the low! Be prepared for anything when you get here.
Check out these average temperature highs and lows for the Arches in winter to get an idea:
Average Temperature for Arches National Park in December: 45°F high and 23°F low
Average Temperature for Arches National Park in January: 45°F high and 22°F low
Average Temperature for Arches National Park in February: 52°F high and 28°F low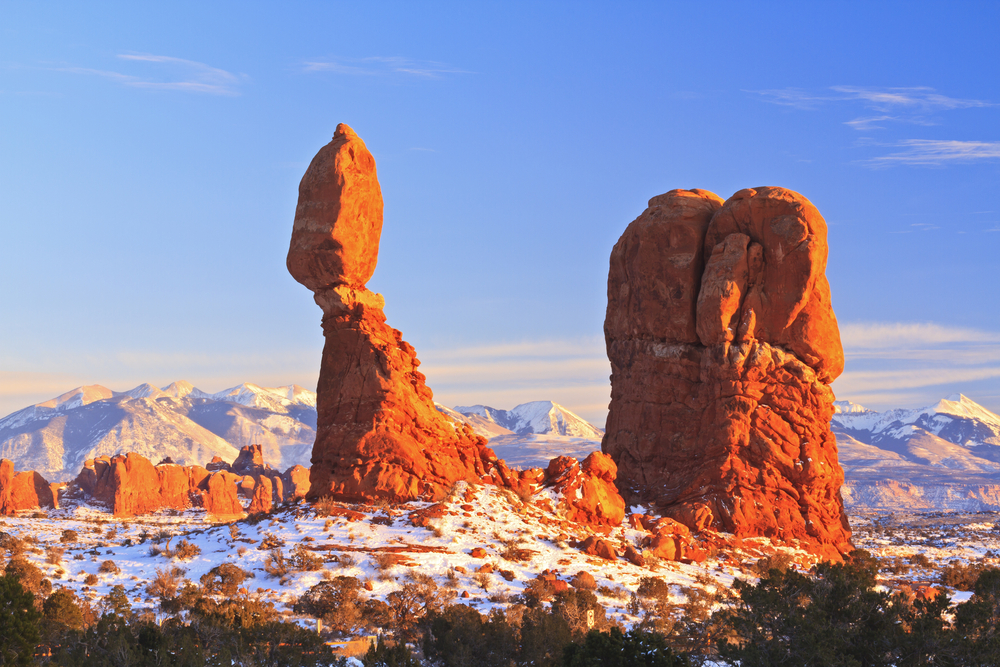 Does It Snow In Arches National Park?
Yes it does! The good news is at Arches during winter, large snowstorms are pretty unusual. Storms tend to clear out pretty quickly, while snow accumulation typically clear out within a couple of days.
That being said, snow can be a little heavier and accumulate more in higher elevations and in the nearby mountain ranges. Make sure to pack accordingly!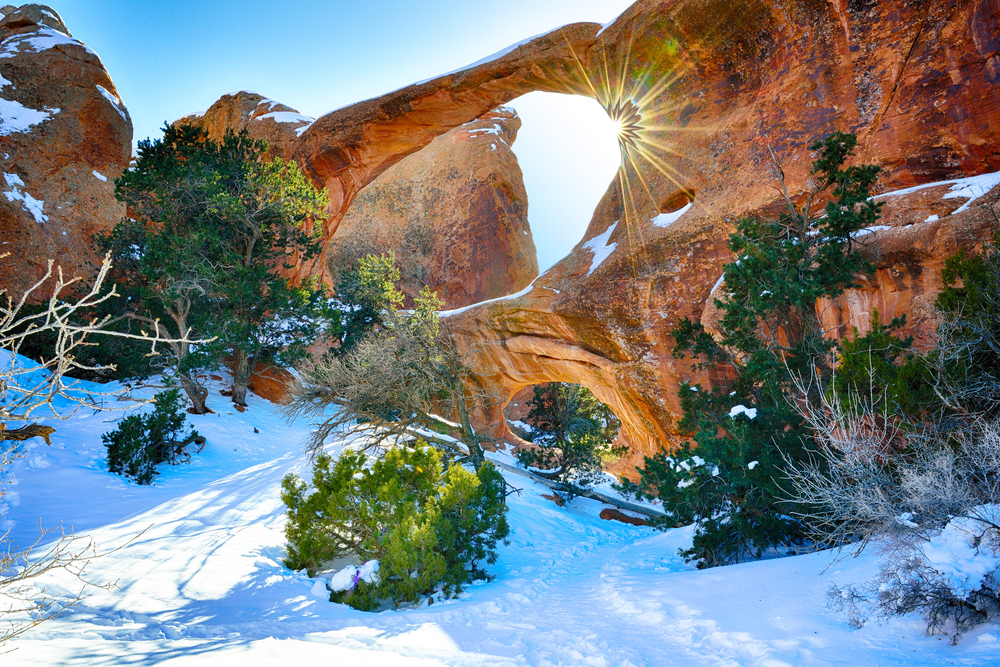 What To Pack For Arches In Winter
Layering will be your best friend if you're thinking about visiting the Arches during winter. Because the temperatures can vary so much even during just one day, you'll want to be able to add or remove clothing quickly and easily in order to stay dry and warm.
Consider wearing an inner layer against the skin that can breath and provide moisture-wicking, a middle layer that provides insulation and heat, and an outer layer that can protect against the elements, like wind and snow.
Here are what we recommend packing, assuming that you're planning on spending the day outside at the Arches and don't mind shedding layers if you get too hot. What you need to pack will also depend on how long you're spending at the Arches in winter and what you plan to do.
Waterproof and Windproof Coat
The right jacket can make your Arches in winter trip a great one or a cold miserable one. A good jacket is definitely worth the investment. You want a solid jacket that is both waterproof and windproof. We recommend a jacket with an Omni-tech base layer and a waterproof shell.
If taking pictures is on your to-do list, we recommend getting a jacket in yellow or red, which looks great against the winter backdrop. We like the Columbia Women's Superpipe Slope 3 in 1 Interchange Winter Omni Heat 650 Down Ski Jacket. Terrance wears this Columbia Men's Action Jacket.
Waterproof Boots or Shoes
A good pair of waterproof shoes or boots are essential for winter in Arches National Park. There is nothing worse than wet socks when you're trying to have a fun day outside. With so many different types and styles to choose from, you'll be able to pick ones that not only suit you but are perfect for your itinerary at Arches. It can get slippery, and if you are walking down trails you may need crampons. Make sure the soles are certified to keep your feet warm to temperatures below 0*F to ensure you are purchasing a good pair. Victoria wears the Columbia Minx Mid II Omni-Heat Winter Boot and Terrance wears the Columbia Bugaboot Plus Omni-Heat Michelin Snow Boot.
Wool Socks
To avoid miserable cold feet, invest in a pair pack of wool socks! Wool is the single best fabric for keeping you warm. You won't want to go without them (we know from experience!).
Waterproof Gloves
Like everything else, you'll want to make sure your gloves are waterproof. If not, you might risk spending your whole day with wet and cold hands as there may be snow and ice anywhere within Arches National Park in winter. Victoria loves these Touch Screen Waterproof Warm Gloves and Carhartt Women's Quilts Insulated Breathable Glove with Waterproof Wicking Insert gloves. Terrence tends to wear these HighLoong Men Ski Snowboard Gloves Waterproof Thinsulate Cold Winter-Black.
Hiking Pants
Technically, you can wear any pants while hiking the trails including jeans and regular trousers, but we find hiking pants to be more comfortable, particularly if they are ones which have a bit of stretch in them. Hiking pants tend to be on the thin side so you will need something warmer under them. These Columbia Women's Saturday Trail Straight Leg Pant are Victoria's favorites and Terrance likes this pair of hiking pants.
Thermal Tights or Fleeced leggings and a Long-Sleeved Top
Investing in some good thermal tights, leggings, long johns, or leggings, and a long sleeve top will keep you toasty warm, making your trip the best it can be. If you will be wearing them directly on your skin make sure they are breathable and moisture-wicking, as you will sweat.
Victoria loves these Premium Women's Fleece Lined Leggings and these 32 Degrees Women's Heat Scoop Neck Thermal Tops. This is also one of your favorites; Hanes Women's V-Notch Pullover Fleece Sweatshirt. We tend to pack Pack at least 3-4 good long sleeve shirts each. Terrence wears a thermal top and thermal leggings.
Knit Hat
You don't have to pick anything too fancy, as long as you can pull it over your ears if it gets cold or windy! ictoria wears a Tough Headwear Cable Knit Beanie.
Trekking Poles
If you want to do any hiking trips, especially longer ones, we highly recommend picking up some hiking/trekking poles. Even the rangers at the park recommend them because the trails can get slippery at Arches National Park during winter. We find these Hiking poles are helpful at any time of year, particularly in the winter to help gain traction.
Polarized Sunglasses
If you have been skiing you will know why you need polarized sunglasses during a winter trip if you want to really see anything. Sun reflecting off snow and ice can be very harmful to your eyes. It's also impossible to keep your eyes open if this is happening, which would be a shame when visiting such amazing scenery. Normal sunglasses are sufficient, but if you can bring polarized ones, they do offer more protection.
Sunscreen
It might seem odd putting on sunblock when it's cold out, but the Arches in winter can get pretty sunny. Plus the high elevation means you can and will burn faster and easier.
Water Bottle
Just a friendly reminder to take your water bottle. They are as important in the winter as in the summer. Stay hydrated!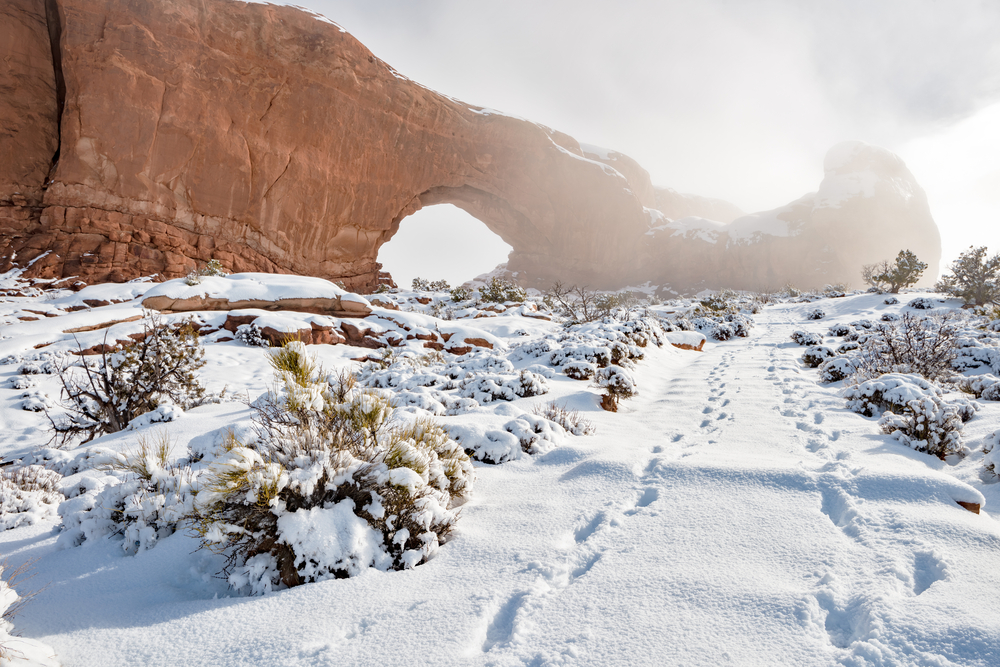 Top Things To Do During Winter In Arches National Park
Go For a Hike
Arches National Park in winter is the perfect time to go hiking. Almost all the trails are open, including Delicate Arch. Even better, the trails are much less crowded, and it's far less hot than in the summer. One thing to note is that the trails can be a little slippery if it's snowing or has snowed recently, so check in with the Arches National Park Visitor Center and pack appropriately!
Check our picks for the best Arches National Park hikes!
Grab a Bite to Eat at Moab
The city of Moab is locate at the mouth of the park, only a short 10 minute drive away from the Arches National Park Visitor Center. It's a great place to stop and eat before or after your long day at the Arches in winter.
Moab is full of small town charm, made even more fun set against the beautiful landscape. Although some businesses do close in the less busy winter season, there is still plenty to do and places to at. Sunset Grill in Moab, for example, has an incredible view of Moab and the landscape beyond!
Wake Up Early to See the Sunrise
Sunset is amazing at Arches National Park during winter, but we highly recommend checking out the sunrise too! Sunrise tends to occur between 7 and 8 AM during the winter months, though make sure to double check when it will happen on the dates you are there. Delicate Arch is wonderful spot to watch the sun come up.
Earn a Junior Ranger Badge
If you're bringing the kiddos on your adventure at Arches National Park in winter, then you'll definitely want to participate in the Junior Ranger Program! You'll need to get ahold of the booklet (either at the Visitor Center or online). Inside you'll find a ton of fun activities for the whole family, and once you complete at least 5 activities and 3 adventures, you'll receive a badge! It's also completely free.
Where To Stay Near Arches National Park In Winter
If winter in Arches National Park sounds like your style, here are just a handful of great places to stay while you're here. For even more options, check out our picks for the best Airbnbs in Moab.
Bungalow Close to Arches
This cozy bungalow is super close to Arches National Park with amazing views right off the patio. It comes with a kitchenette, walk-in shower, and heated pool.
Click Here To Check Rates On Airbnb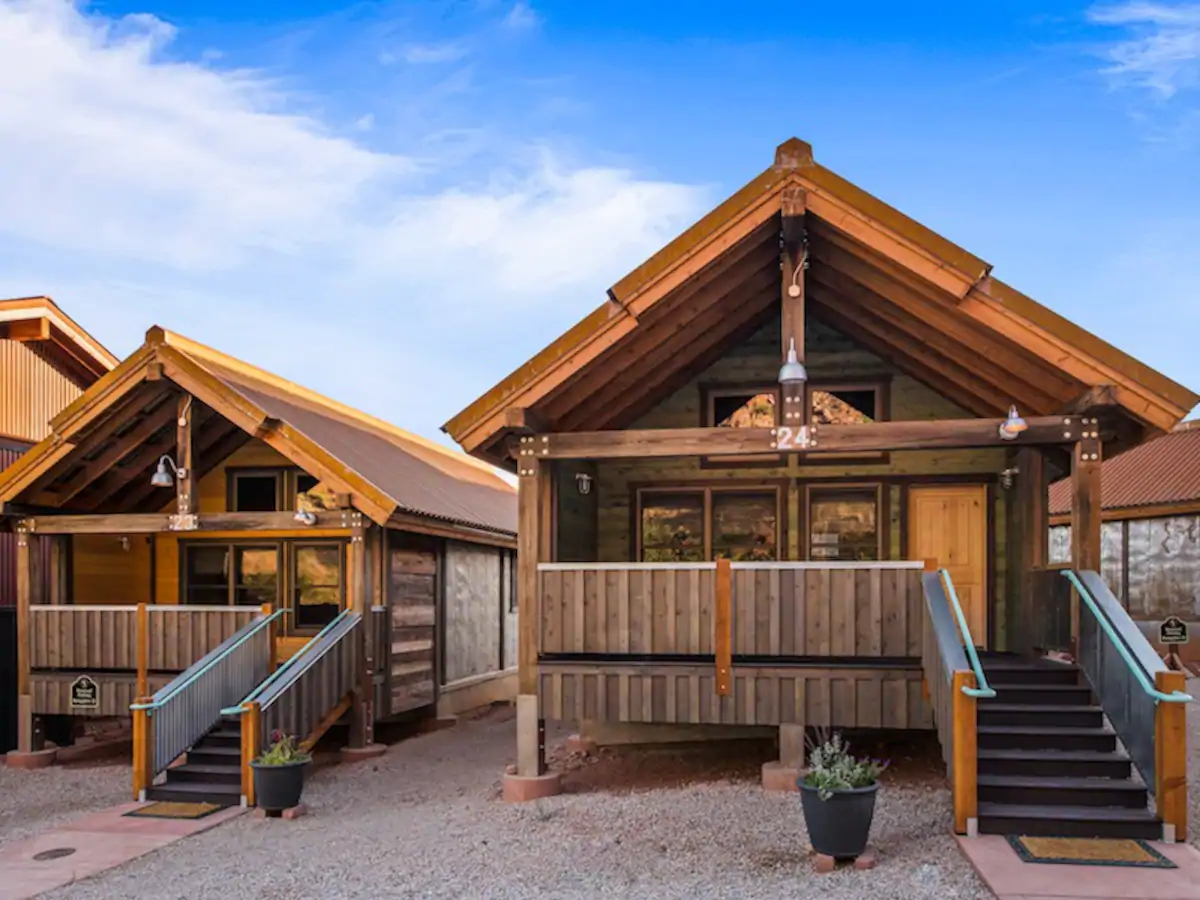 Downtown Casita
Stay where all the action is in this casita located only one block away from Main Street. Explore Arches National Park only 10 minutes away and then walk to restaurants and breweries in the evening!
Click Here To Check Rates On Airbnb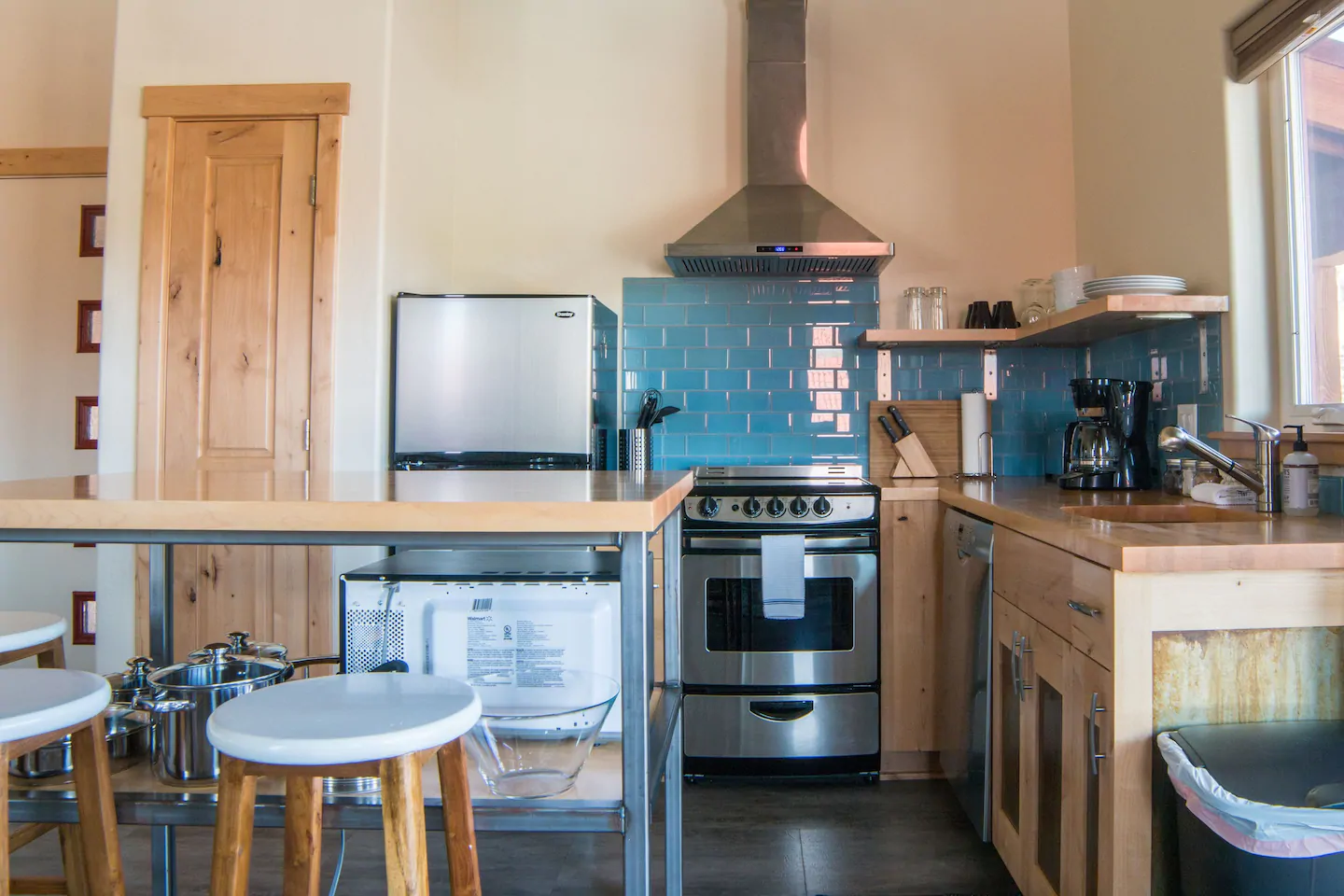 Kokopelli Adobe Cabin
Located just outside of town, this adorable tiny home is perfect for anyone looking to avoid the hustle and bustle and get right down to relax after a long day. It fits up to 4 with all the amenities you could need!
Click Here To Check Rates On Airbnb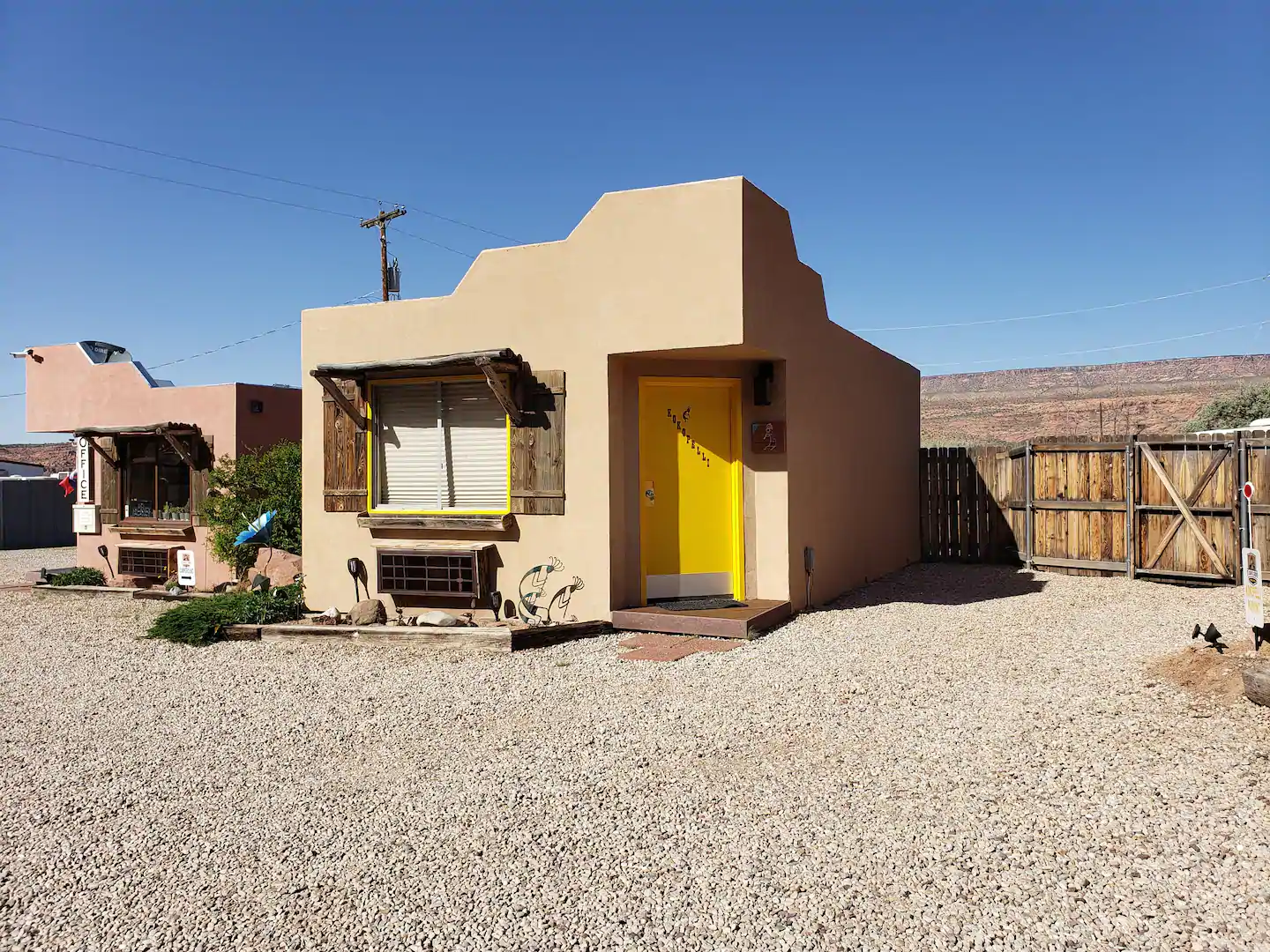 We hope we've shown you just how fun Arches National Park in winter can be! Whether you visit Arches National Park in December or during another month, we know you will have a great time.
And if we've inspired you to visit this region in winter, take a quick peek at our awesome American Southwest road trip guide for more ideas of where to go!