Are you looking for a vacation rental in Utah? You have come to the right place; we have done the research for you and compiled a list of the best vacation rentals in Utah from cozy cabins, wonderful tree houses, a castle, and even an ark. We are sure that whatever your trip to Utah has in store we have found the perfect places for you to stay. This list is as varied as the scenery in Utah and really has something for everyone.
Utah is a double landlocked state in the Western USA. Made up of vibrant cities, mountains perfect for skiing, and stunning natural landscape, it's definitely a state for adventure.
To the north is alpine scenery, campsites and hiking, and of course the Wasatch mountains. Also home to Dinosaur Land in Vernal, the only place in the world where you can view and even touch over 1,500 dinosaur bones. And don't forget the vibrant Salt Lake City and Park City.
The south of Utah is all snow-capped mountains, orange sandstone, and sculptured red rock; a beautiful, unique and unsurpassed area of outstanding beauty.
And if it's solitude you want, central Utah is a land of alpine forests, farmlands and deserts, and of course the Heritage Highway 89.
Utah is diverse in landscape and activities offering something from the most adventurous of travelers, to the travelers who want isolation and quiet.

We have looked at all the Utah Airbnbs, VRBOs, and more to bring you a diverse range to match this incredible state and its stunning landscapes.
Take a look at our Ultimate Utah Road Trip Itinerary for some ideas of what to do in Utah.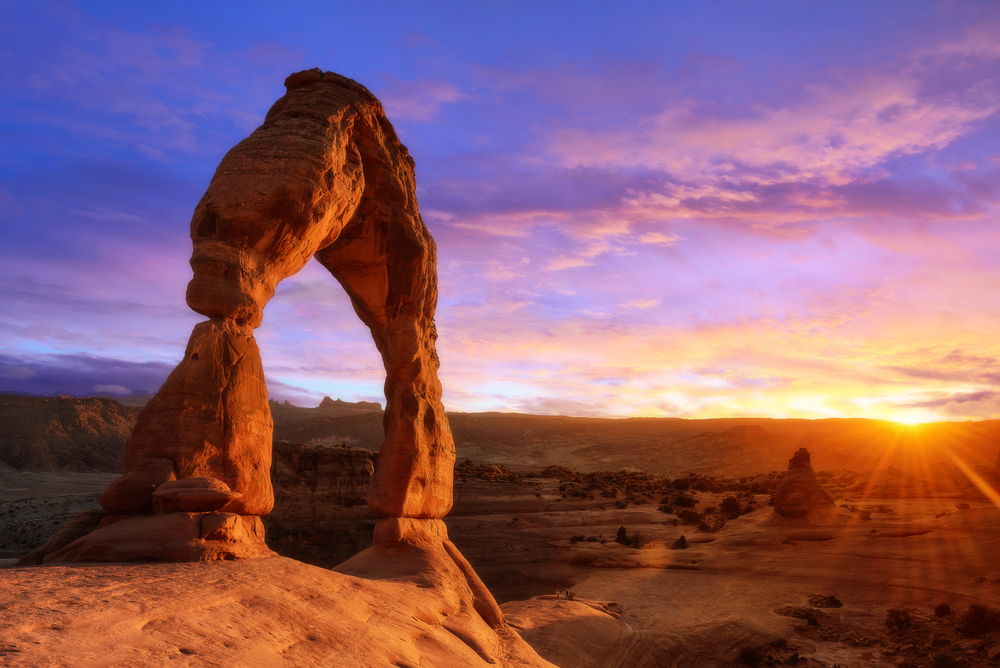 25 Best Vacation Rentals In Utah (A castle, an ark, treehouses & more).
Cozy Tiny House
In Draper, this Airbnb in Utah sleeps three and is close to amenities.  This tiny house is located in an RV park 15 minutes from Little Cottonwood Canyon.
The house is equipped with everything you will need for your stay and please note you have to climb a fairly steep ladder to the beds.
A cute place to stay if you looking for something fun and different for a short stay.
Click Here To Check Rates On VRBO
Zion Themed Getaway
You'll get a unique experience of the breathtaking landscape of Utah in this Zion-themed VRBO. The rental cabin is designed to bring the outdoors in with the area's signature red and orange rock formations filling this VRBO with natural splendor.
This rental is 1400 sq ft and sleeps 4 people in two bedrooms. It has air conditioning and a fireplace. It has a full bathroom including a large golden soaking tub and huge shower. This romantic space is sure to add a touch of luxury to your Utah trip.
Click Here To Check Rates On VRBO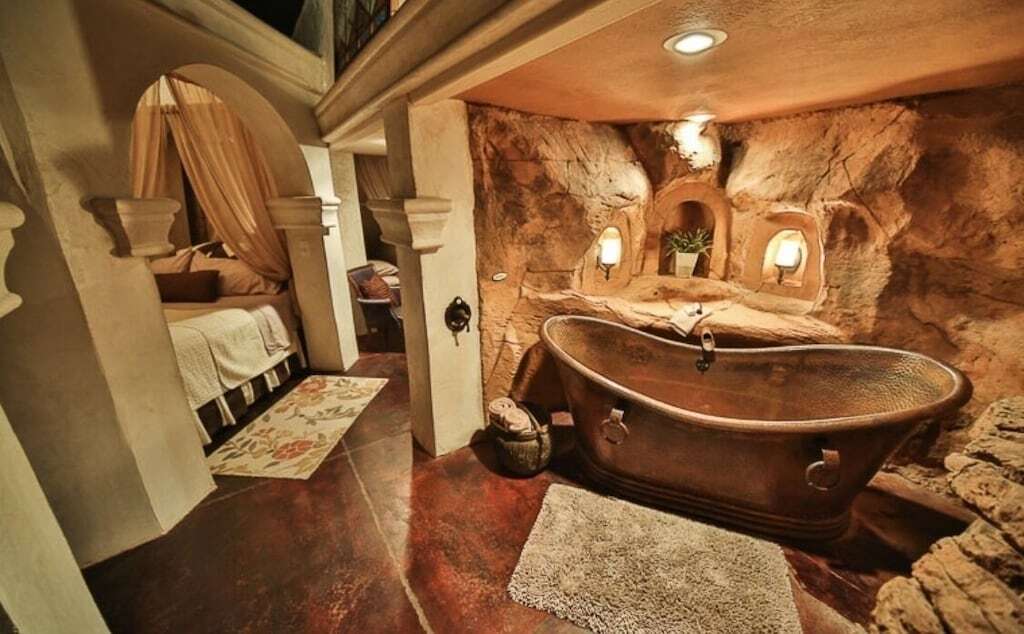 Dreamy Treehouse
Looking for a Park City, Utah Airbnb? How about a dreamy treehouse for two? In Park City, this treehouse features a lofted bedroom with a skylight and the main room with 180-degree windows for amazing views of the Uinta Mountains.
It's a small, cozy, beautiful style and has incredible views. This is a treehouse living in style with everything you could want including an elevated deck where you can dine among the treetops.
The treehouse is situated on an acre of land with the owner's chalet and if you are arriving in snowy conditions you will need a 4×4 as the roads are not often plowed.
This really is a unique property in an enviable position.
Click Here to Check Rates On Airbnb
Mini Dome
A mini domed home that sleeps three in the quiet mountain town of Huntsville. It's a cozy, relaxing space with all the necessary amenities. But you come here for the view of the lake, mountains and endless sky.
A lovely space for a relaxing time overlooking the mountains.
A Utah Airbnb with an amazing view.
Click Here To Check Rates On Airbnb
Historic Pioneer Cabin
A lovingly refurbished Pioneer Cabin sleeping two in Escalante.  This rustic cabin is 350 sq ft and built in 1890. It has a rustic charm mixed with modern amenities like air conditioning, a deep claw foot bathtub, and an outdoor shower.
The cabin is located on a farm and you're welcome to pick produce for your meals while you stay there. What an adorable piece of Utah's history to get to live in!
Click Here To Check Rates On VRBO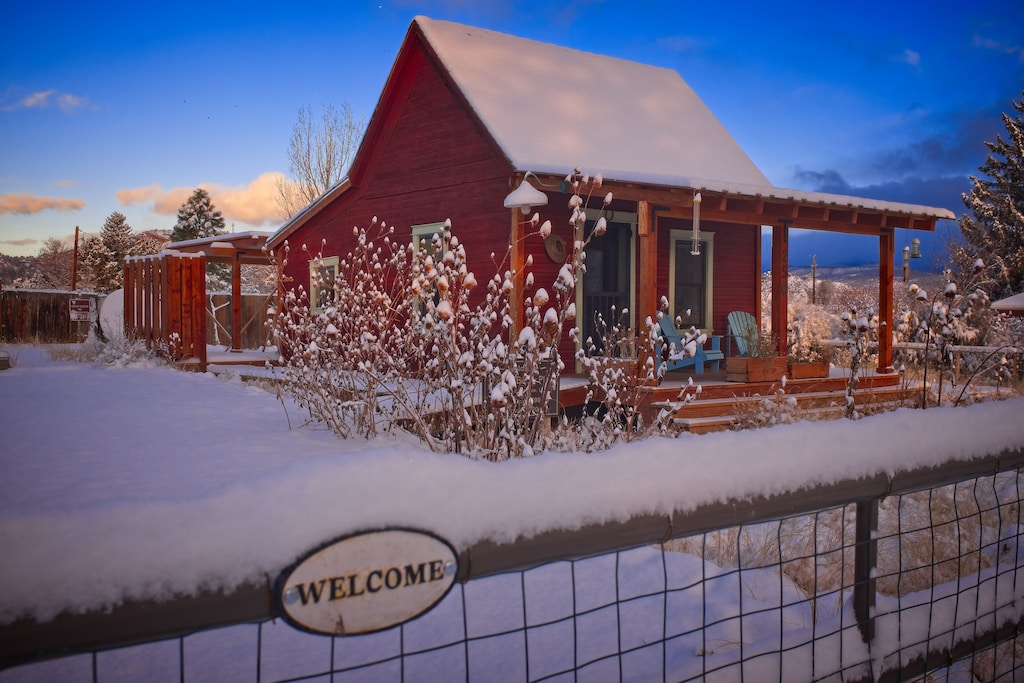 Wranglers Quarters Riverview Cabin
In Hatch, this log cabin sleeping two is set on the 280-acre Sevier River Ranch. Wranglers Quarters is equipped with everything you need and has the most amazing private deck with incredible views across the ranch's pasture where you can see cowboys herding cattle in the summer.
The cabin is located between two of the state's most visited national parks and is a great place to enjoy an outside adventure.
A great vacation rental in Utah complete with real-life cowboys.
Click Here To Check Rates On VRBO
Running Deer Tipi
A tipi for 4 anyone? With the 360˚ views of Red Rock Cliffs and the Sevier River on the private 13-acre property, this tipi really is a find. This isn't glamping though it's camping with a view. The restroom is a porta-potty and there is no shower, water, or electricity on the property. The Running Deer Tipi is a find.
A great Utah Airbnb for the outdoorsy type who craves a big open sky.
Click Here To Check Rates On Airbnb
Glamp Tent #3 at Wildland Gardens
If you like glamping more than camping then this vacation rental might be for you.  In Joseph, Glamp Tent #3 sleeps four and has incredible views of the Sevier Valley.  It has a Queen-size bed, a sofa/futon sitting area, access to the community fire pit, a shared shower, and restroom.
There is everything you need for a great stay and a deck to enjoy the night sky.
Click Here To Check Rates On Wildland Garden's Website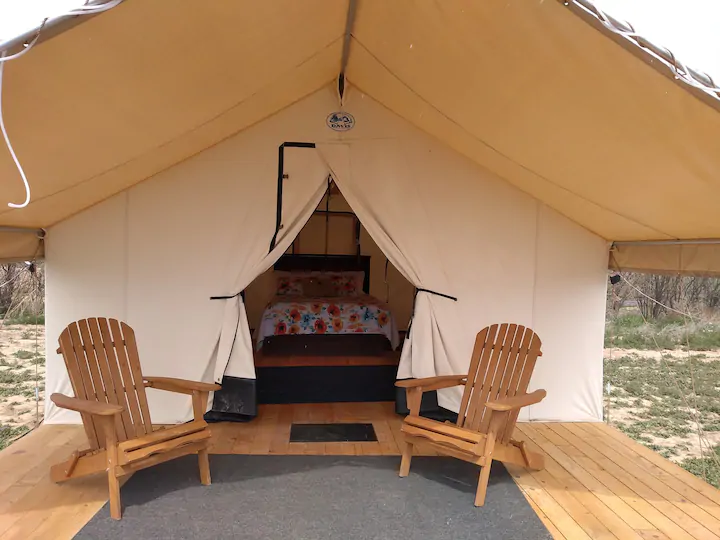 Bryce Canyon Deluxe Private Yurt
And if you like your camping with added luxury then this deluxe yurt in Panguitch might be just what you looking for. Sleeping four, this yurt comes with a breathtaking view and is only ten minutes to Red Canyon.
There is a queen bed, a private bedroom, and a queen sofa bed in the living room. This yurt is equipped with everything you will need and is in a great relaxing spot to while away the time.
Click Here To Check Rates On Canyon Base Camp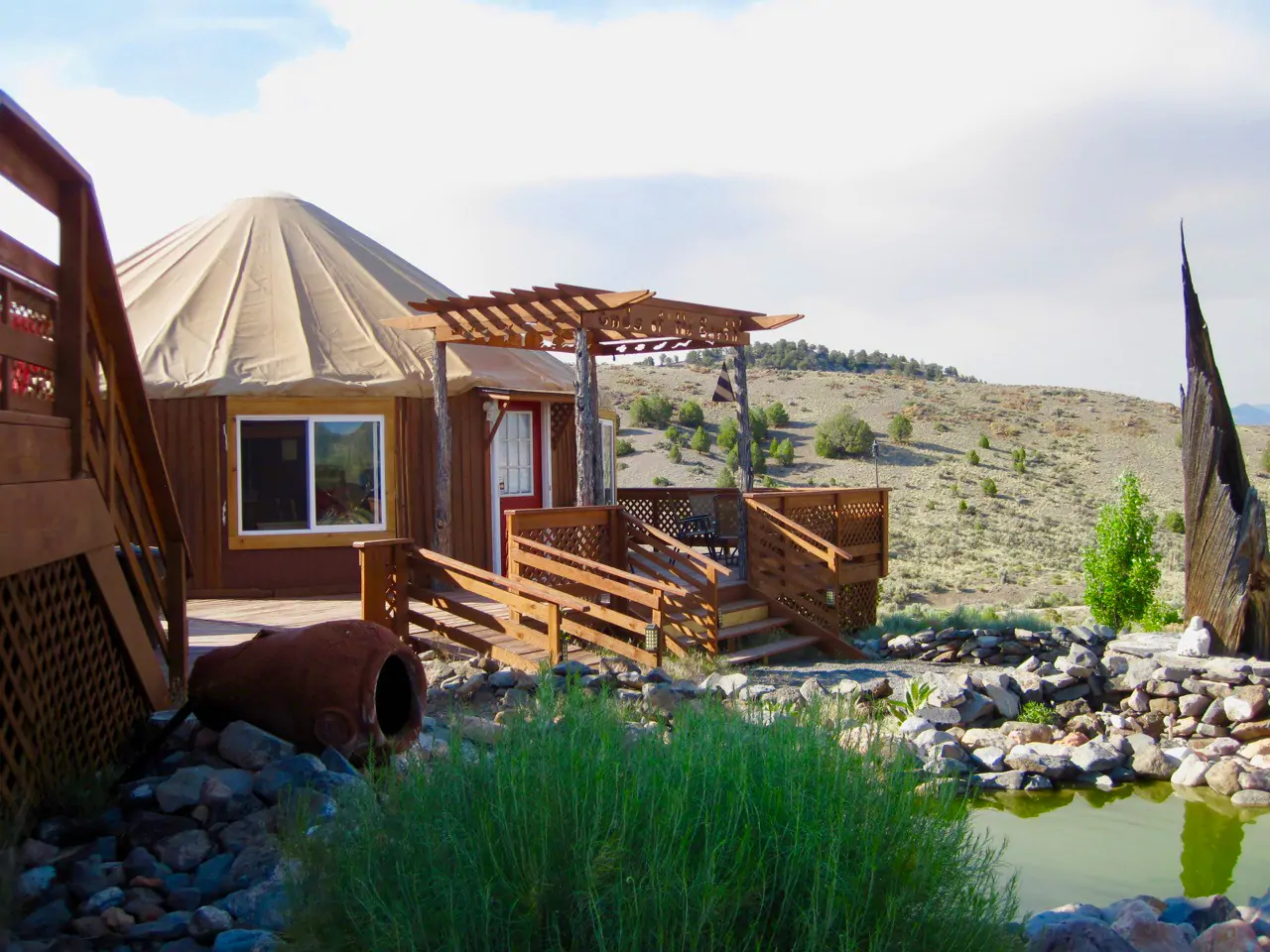 Luxury Penthouse Studio Apartment
If you're in Utah for the incredible skiing, this is the vacation rental for you! This VRBO is located on the tippy-top floor of the Westgate Park City Resort & Spa. There is only one bedroom, but the Penthouse can sleep 4 with a pullout couch in the living room.
Staying here gives you access to a ski valet, 3 amazing pools, a fitness center, and much more! What a great spot to enjoy Utah's skiing culture and to relax and the end of a snowy adventure.
Click Here To Check Rates On VRBO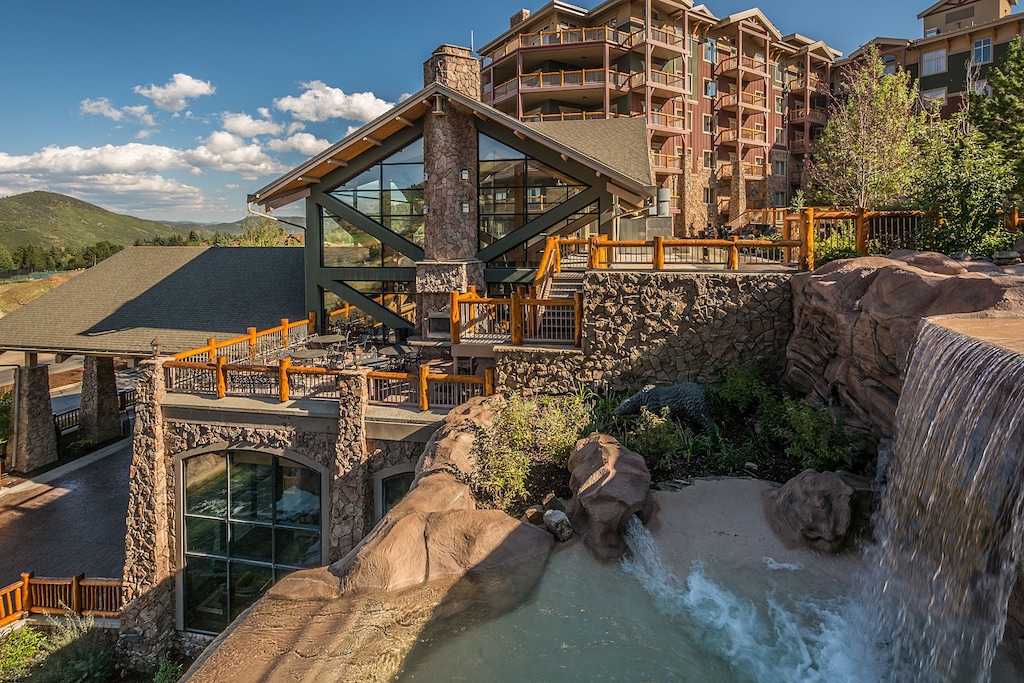 Brookside Cottage
This cute little cottage can sleep up to five guests with two double beds in one bedroom.  Situated in beautiful downtown Kanab and nestled under a canopy of trees with two ponds, Brookside Cottage looks like your own little fairy grotto. There is also a rainfall shower and French doors that open onto a romantic garden.
Oh, and continental breakfast is included.
Click Here To Check Rates On Trip Advisor 
Draper Castle Luxury Apartment
This has to be one of the best Airbnb in Utah, an apartment in a castle in Draper that sleeps four.
This Draper apartment is decorated beautifully with lots of castle-type features and has a view over the Draper Temple and Salt Lake Valley. Vaulted ceilings, fireplaces, chandeliers, and balconies, this really is palatial living.
If you fancy living like a King or Queen for a while this might be perfect for you.
Click Here To Check Rates On Airbnb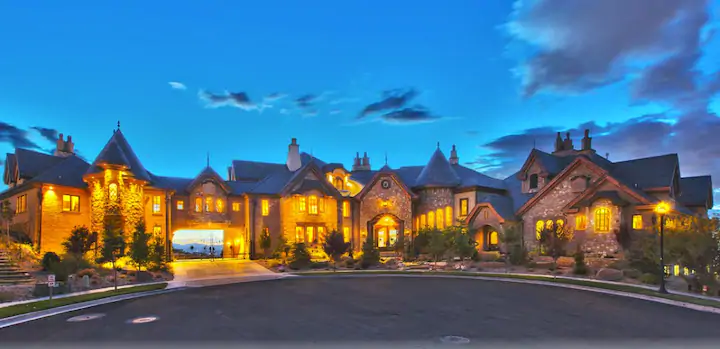 Luxury Log Home Retreat
This spacious log cabin is located near Zion National Park. It sleeps 10 and boasts 3,000 square feet so all your friends and family can come to enjoy the famous Zion National Park with you.
This VRBO is a lovely combination of log cabin and luxury. You're sure to love the outdoor dining area (with grill!) as well as the pond with waterfalls on the property. This is a Utah vacation rental you don't want to miss!
Click Here To Check Rates On VRBO
Apple Hollow Tiny House
This adorable tiny house is only a 25-minute drive to Zion and a 55-minute drive to Bryce Canyon, making it a great home base to explore Utah's most popular parks. It can sleep 4 people, and there is an option to rent other tiny houses on the property to have more friends join you.
The tiny house is located in an apple orchard where July-September you can eat the fruit right off the trees. You'll love coming home from a day of hiking to watch the sunset by your private outdoor fire pit.
Click Here To Check Rates On VRBO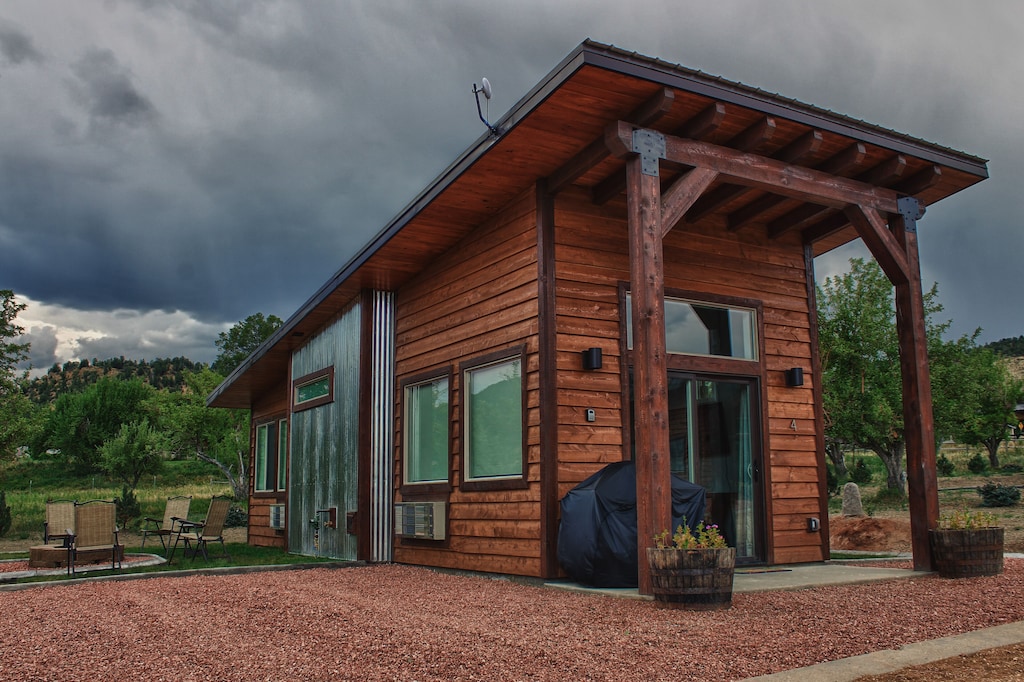 Ark Tiny House
A vintage-style themed tiny house with all you need, the Ark is set in Virgin and can sleep six. Also boasting a hot tub and a fire pit, this place has everything you will need and looks adorable.
Oh, and you get free reign of the 75-acre property for walking or having a picnic down by the stream.
The location is enviable and the property is decorated to a very high standard. This vacation in Utah is a dream.
Click Here To Check Rates On Expedia 
Zion Alpacas Country Casita
Did someone mention Alpacas? This farm stay in Hurricane is a private, stand-alone casita and is located on 4 acres and free-roaming alpacas.
The property also has great views of the surrounding desert, cliffs, and Pine Valley Mountain. The farm also has mini donkeys, mini highland cows, mini pigs, and dwarf goats; could it get any cuter?
This Airbnb in Utah is a real winner if you like cute animals and huge views.
Click Here To Check Rates On Airbnb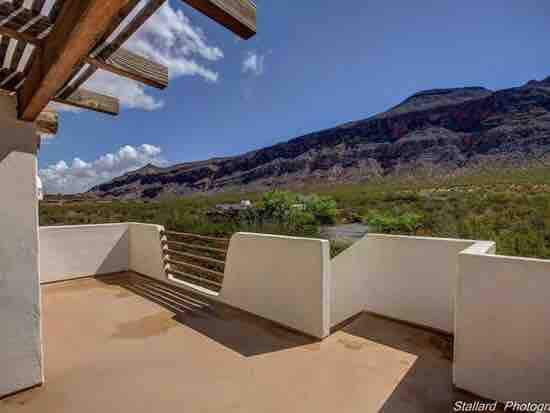 Hidden Pines Secluded Cabin
A delightful A-frame cabin on your own private 3 acres. The property boasts lots of beautiful old growth trees and a creek! This VRBO can sleep 7 guests in 2 bedrooms with 1.5 baths.
You'll love to cozy up by the unique petrified wood fireplace after a long day of roaming the piney woodlands surrounding the home. Hammocks and picnic tables around the property ensure you'll get lots of outdoor chill time.
Click Here To Check Rates On VRBO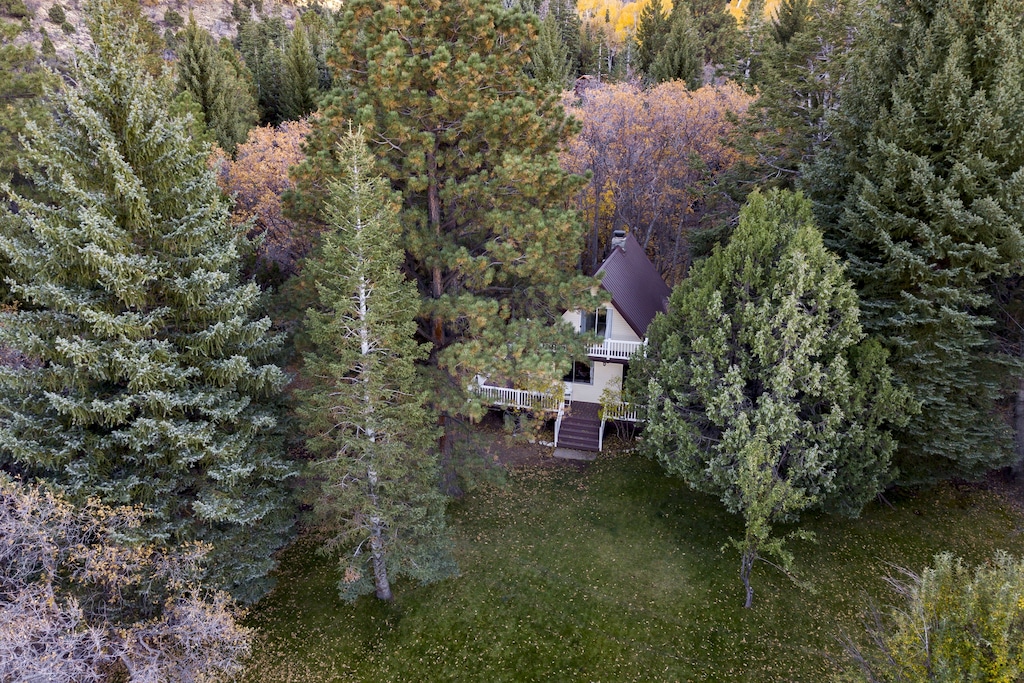 Red Rock Teardrop Trailer
If you are more about spending your time in the great outdoors then this teardrop trailer may be perfect for you. With a queen bed, a well-equipped kitchen at the back, and solar panels, these trailers are delivered to your campsite so you can get up close and personal with nature.
Click Here To Check Rates On Red Rock Base Camp
Creekside Guest Cottage
This bright and airy cottage is within walking distance to lots of the amenities of the town of Moab. Canyonlands National Park is about 30 miles away and Arches National Park is only six miles away from this lovely hideaway.
The cabin has cathedral ceilings and a well-equipped kitchen. There is even an outdoor gas grill for you to cook up a feast after a day of hiking the National Parks. It can sleep four adults in its two bedrooms. This is easily one of the best vacation rentals in Utah.
Click Here To Check Rates On VRBO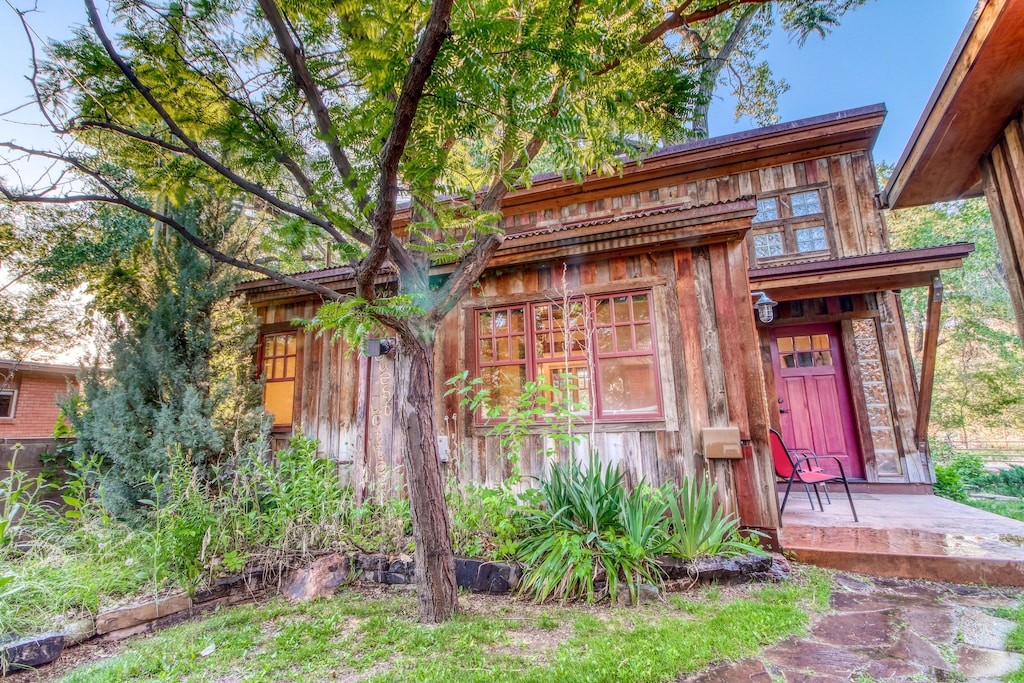 West 6 – Kokopelli West Studio
A colorful studio located just one block from Moab's famous Main Street. West 6  sleeps four and is in a perfect location. You'll have access to a shared hot tub and grill on the property.
Click Here To Check Rates On VRBO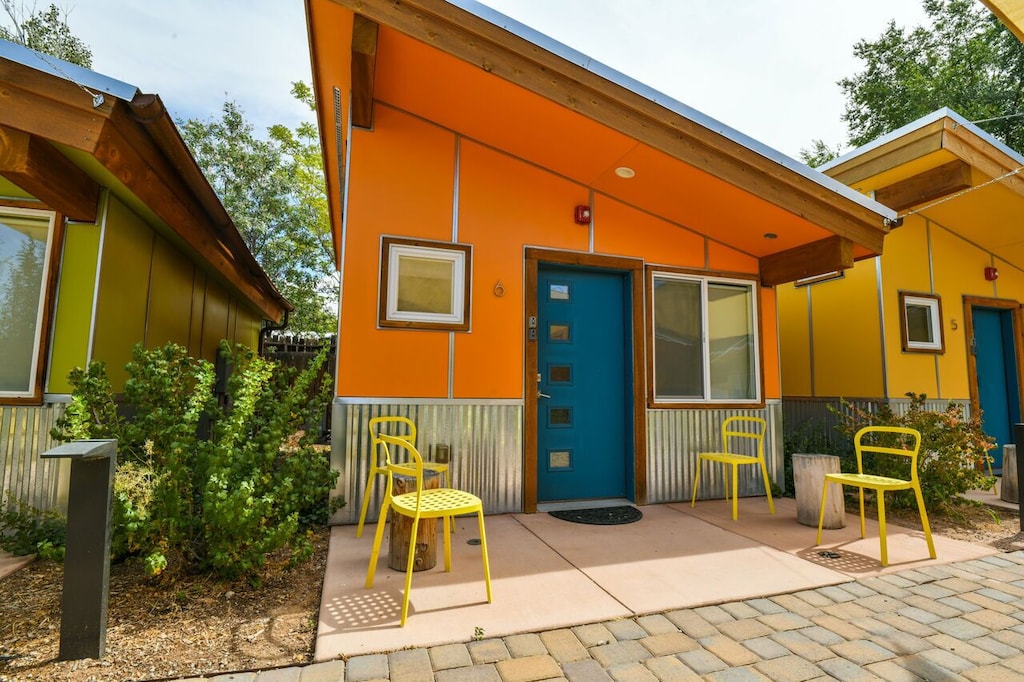 St. George Condo
This St. George Utah VRBO sleeps 4 and has everything you will need including an amazing balcony and all the amenities of a resort. The amenities include pools, a hot tub, a fitness center, gazebos with BBQs, as well as volleyball, tennis, basketball, and pickleball courts. This is an end unit condo with its own exterior entry
This condo is located only 45 minutes from Zion National Park and Snow Canyon State Park is only 8 minutes away. There are also hiking and biking trails only blocks from the condo.
Click Here To Check Rates On VRBO
Utah Treehouse at Victorian Woods
Another treehouse location because you can never have enough tree houses. This one is in Menden and sleeps two. It's very well appointed and has a deck with a hammock on the roof. Oh, and there is a Tarzan swing should the stairs become too tiresome for you. The bathroom is in the owner's property and is not far from the treehouse.
Click Here To Check Rates On Airbnb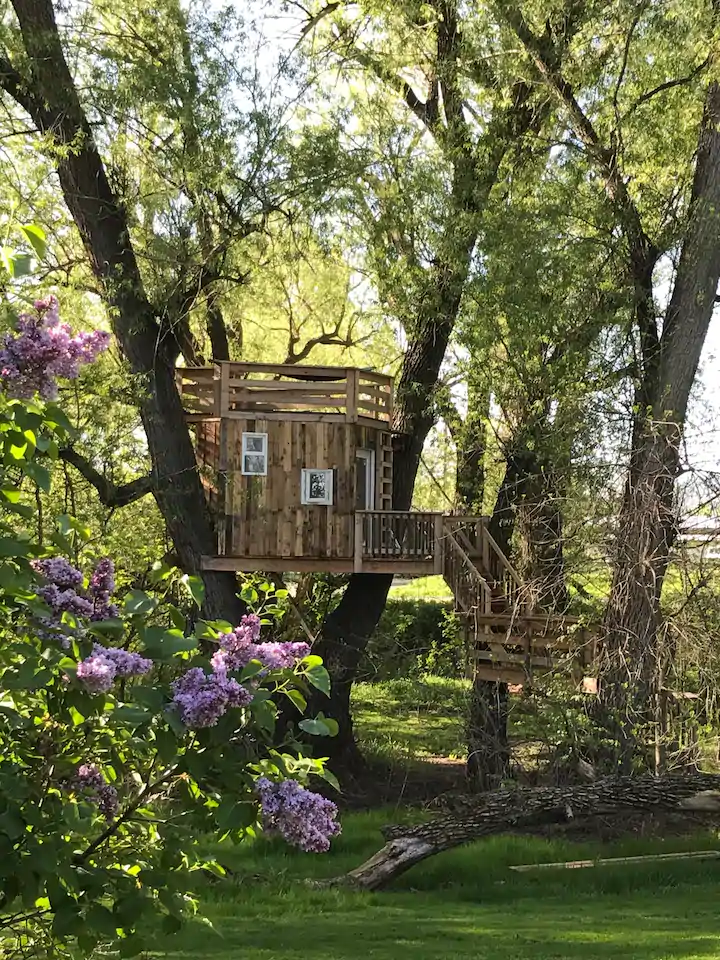 Apartment near the Capitol
This apartment sleeps six and is right downtown in Salt Lake City. Walk to the Utah state capitol and the University of Utah. Enjoy all of downtown's fine dining! Dedicated free parking and only an 11-minute drive to the airport make this a super practical downtown VRBO in Utah.

Click Here To Check Rates On VRBO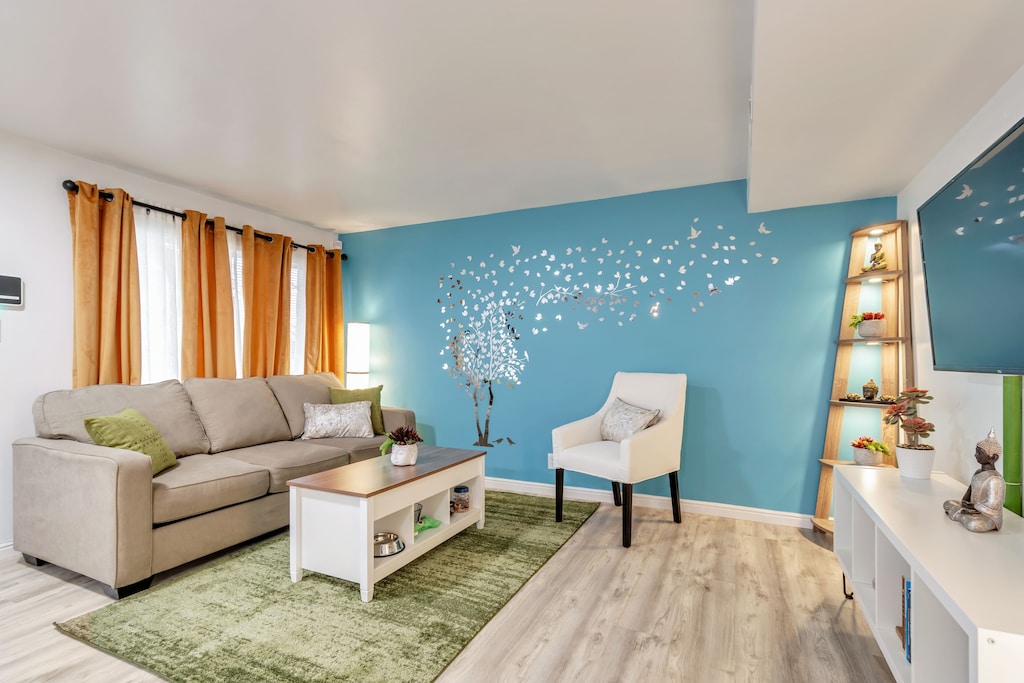 Historic Rose Cottage
If you are looking for a Springdale Utah vacation rental we think this one is perfect.  The Historic Rose Cottage is all about location, location, location. It is within walking distance to restaurants, gift shops, art galleries, and grocery stores. Also, the shuttle to Zion National Park stops less than a block away from the cottage!
The Rose Cottage can accommodate four guests and is oh so charming. You'll love being surrounded by the views of Zion National park while relaxing in your private cottage garden.
Click Here To Check Rates On VRBO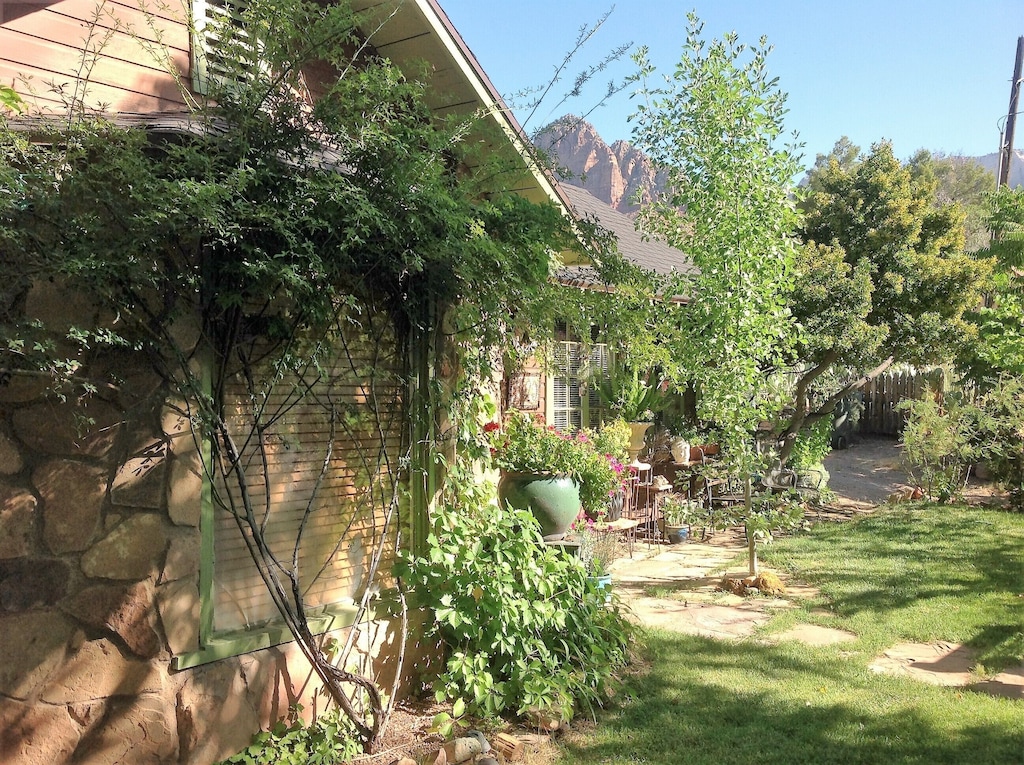 We know that whichever of these Airbnb in Utah that you pick you will have an incredible time. These are some of the best Airbnb in Utah; the locations are great and the hosts even more so. We hope you enjoy your time in Utah and can't wait to hear all about it.
You Might Also like 5 Natural Hot Springs In Utah You Must See