If you're looking for the perfect Airbnbs in Moab to complement your newest adventure in Moab, you've come to the right place! Moab is full of adventure with hiking, biking, and plenty of exploring and these Airbnbs are the perfect space to rest at night for the next day's adventure whether it is for a full week or just a stop on your Southwestern roadtrip.
Moab offers so many gorgeous views and many of these Airbnbs in Moab will allow you to wake up to these views each morning including Airbnbs near Arches National Park. They also have the perfect styling to complement your outdoor adventure.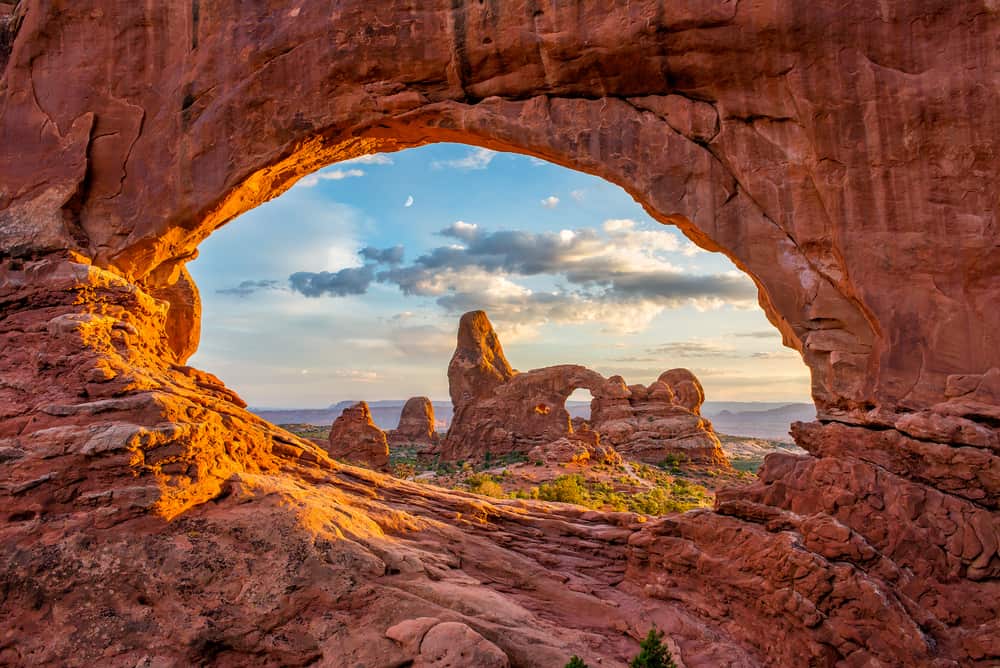 16 Best Airbnbs In Moab (Cabins, Campers and more!)
Premium Double Bungalow @ Moab Springs Ranch
This bungalow is located in Moab Springs Park which is a boutique resort near Arches National Park. This is one of the best Airbnbs in Moab since it offers all the creature comforts of a hotel suite like 2 queen beds, a kitchenette with a mini-fridge, a single stove, cooking accessories; as well as a smart TV, a private patio, and parking. However, it still has a cozy cabin feel.
The resort also offers an outdoor heated pool, hot tub, private park, BBQs, hammocks, natural flowing springs/pond, trail access, viewpoints, electric car chargers and campfire circle. These bungalows would make the perfect vacation rentals in Moab for a family vacation or a couples getaway.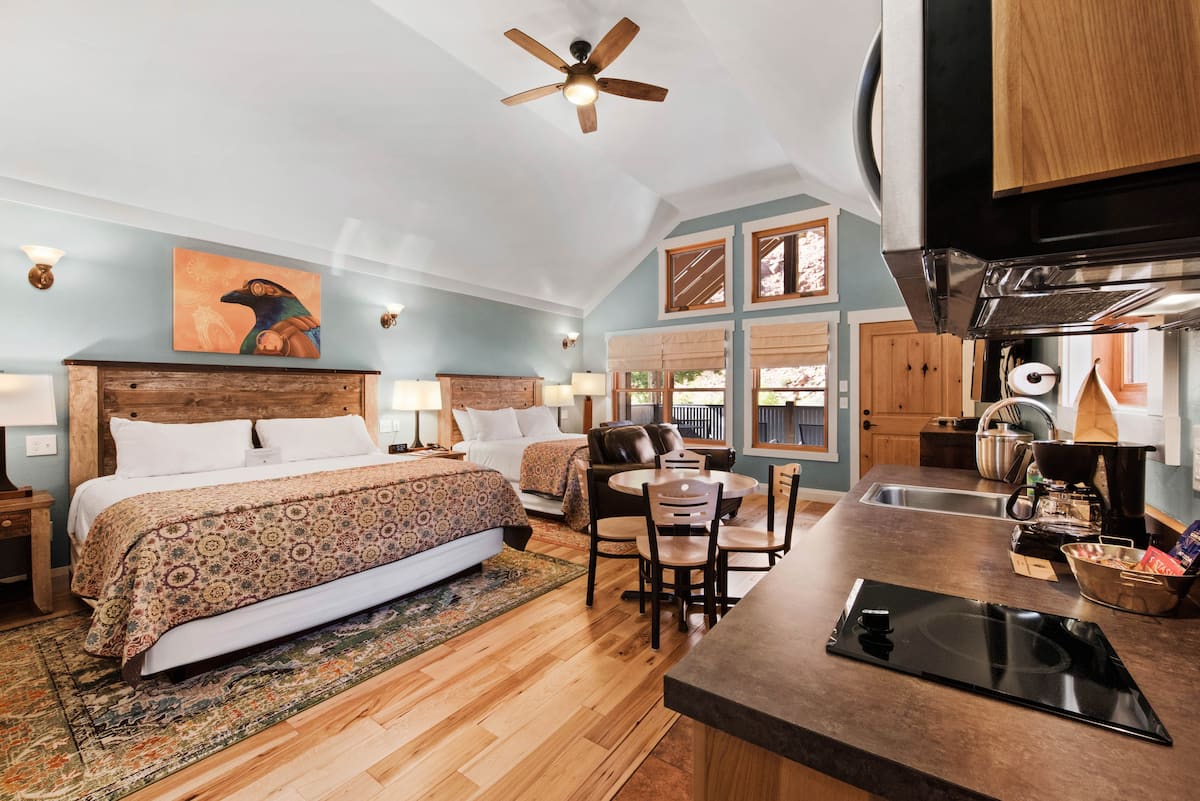 Entrada at Moab #640, Beauitul Condo In Downtown Moab With Stunning Views
Whether it's a family reunion or a couples getaway retreat, this is one of the best Moab Airbnbs. It sleeps up to 10 guests with 4 bedrooms and 3 bathrooms. You'll have the whole condo to yourself and plenty of windows to enjoy the views of Arches, La Sal Mountains, and Portal.
This gorgeous condo is in a new luxury condo development just a few blocks from downtown, and minutes away from Arches, Canyonlands and the Colorado River. It's also walking distance from bike shops, OHV rentals, shops, art galleries, and restaurants.
If you're traveling with children this condo also includes a dedicated kids playroom off the living room and it's close to Moab's state-of-the-art Recreation Center with two fun, kid-equipped swimming pools, a skate park, and a well-equipped playground.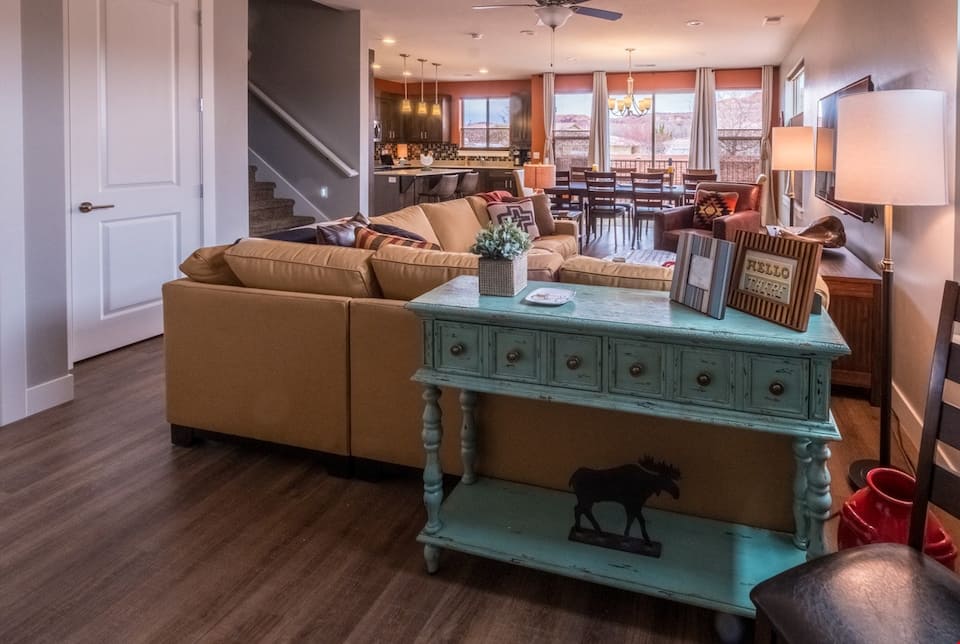 RV Adventure rental! Fully Loaded, Spacious!
If you're looking to take your Moab adventure to this next level, this will be one of the most exciting Moab rentals out there. This RV is completely off the grid and offers a tiny home experience, it even includes solar-powered wifi.
This RV is rated highly for having an amazing value offering great views and a comfortable place to sleep while exploring the outdoors in Moab. The RV offers a small kitchen, dining space, 2 double bed bunks, a queen bed, and 1 bathroom making it a great stay for 2-3 people.
This is one of the best Airbnbs in Moab for glamping because you'll get to experience off the grid living with breathtaking views, but also enjoy all the comforts of home.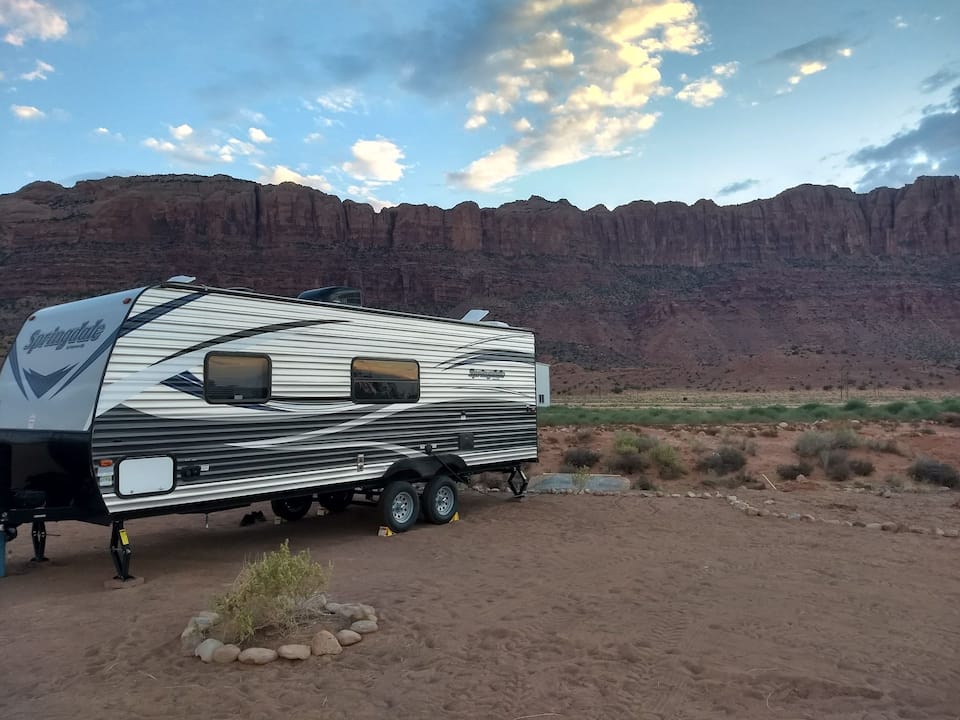 FunStays Glamping Setup Tent in RV Park #6 OK-T6
If you want to take glamping to a whole other level, you'll want to add this tent stay to your list of Airbnbs near Moab. Just off of I-70 and Highway 91, this would make a great stop on a road trip through Utah.
The tent offers a bed large enough for two people with all linens provided as well as a patio table and chairs to enjoy meals. The campgrounds have a common bathroom with showers and a laundry facility. There are also grills to cook meals.
This is a great way to experience camping without having to set up your tent or sleep on the ground. Towels and toiletries are also provided.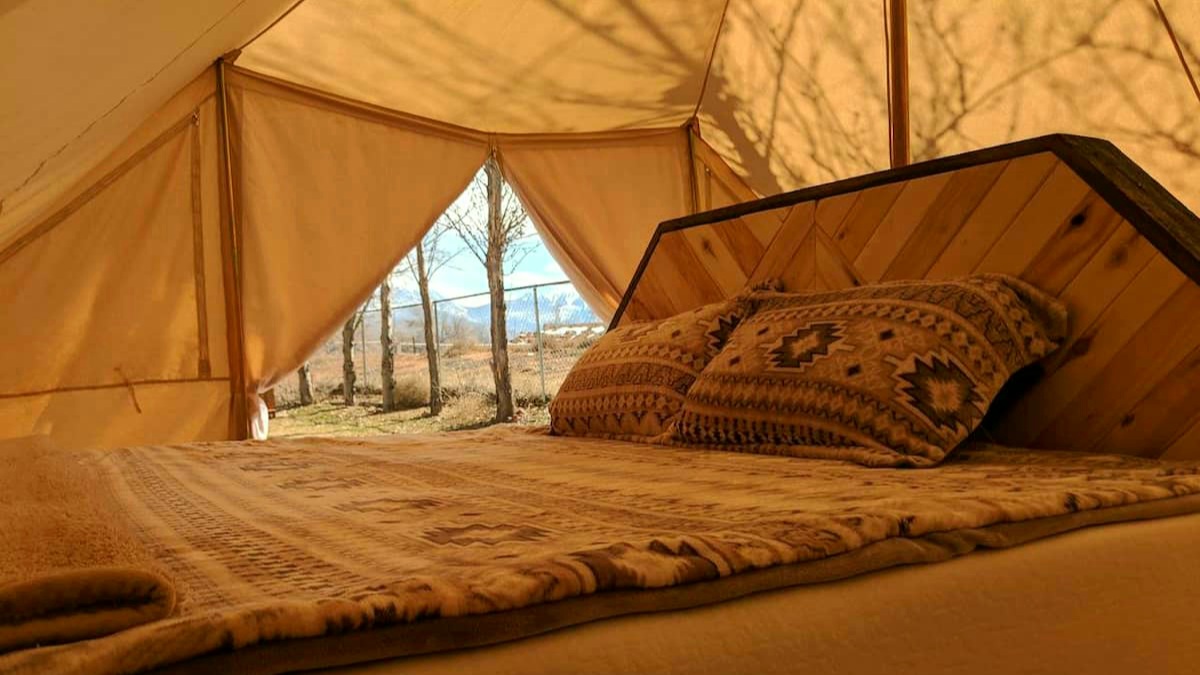 2A Relaxing Redcliff Condo Pool & Hot Tub – Pet Friendly!
This beautiful condo is one of the best Airbnbs in Moab for the whole family, even the 4-legged furry ones. With 3 bedrooms, 2 bathrooms, and a full kitchen this just may become one of your favorite vacation rentals in Moab.
The location is just 5 minutes from downtown Moab and a short drive to adventurous destinations like Arches and Canyonlands National Parks, Dead Horse Point State Park.
The condominium is surrounded by the gorgeous Moab red cliffs and features a hot tub open year-round and a pool open between April and September which would be a perfect spot to relax after a long day of hiking.
The gorgeous space is bright and colorful with a modern kitchen giving your family a comfortable place to start and end their day.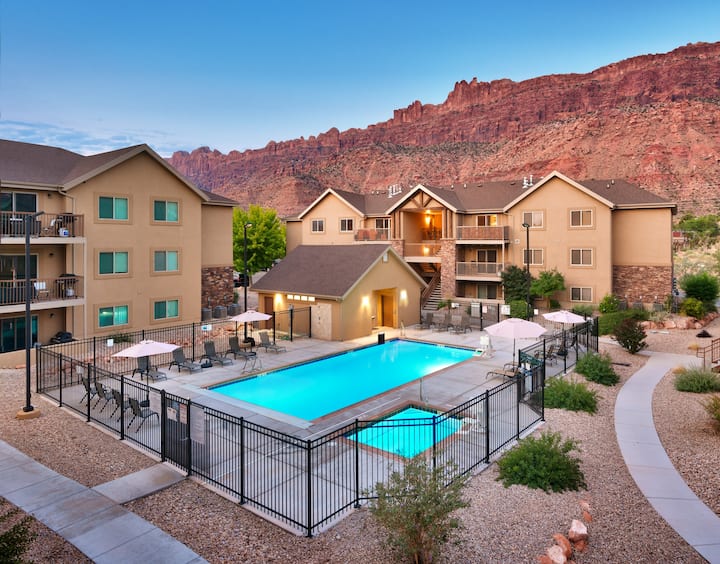 New! RV adventure rental! Unique and affordable
If you're a lone traveler or couple ready for an adventurous getaway, this is one of the best camper Airbnbs in Moab. It's the perfect combination of off-grid and tiny house living.
The new RV can comfortably sleep 2 people with a queen bed and a small double bed. It also includes a small kitchen, bathroom, and dinette. It's completely self-contained with solar power, a backup generator, and water tanks. Plus it offers spectacular views and starry night skies in its secluded location.
This Airbnb is known for having a local host who's willing to help recommend places to go and may also beable to provide access to nearby pools and hot tubs during your stay.
Hidden Oaks Lodge, Great for Groups! Sleeps 18
If you're looking for Airbnbs in Moab that can host large groups, this is it! This gorgeous cabin is about 40 minutes southeast of Moab, but it sits on 200 acres of mountain land and borders a national forest, so your adventure can take place right there on the property.
This would be a fantastic spot for a family reunion where everyone can unplug and take in the fresh air. Head right out the back door with your mountain bike, hiking gear, cross country skis, or ATV's to access thousands of acres of National Forest Land.
There's also a 60-foot deck that's great for spending time with family or friends and a fire pit for marshmallow roasting. Kids can play Frisbee and badminton on the huge lawn and spend hours building forts in the nearby gamble oak trees. The pond is perfect for skipping rocks and splashing around on warm summer days. There's even an outdoor commercial-sized grill to easily prepare meals for everyone.
There's also a large kitchen and plenty of seating for everyone in the dining room. There's only 3 large rooms, 2 with bunk beds and 1 with a single queen bed. However, you probably won't be spending much time in them with the spacious great room, game room and gorgeous outdoor areas.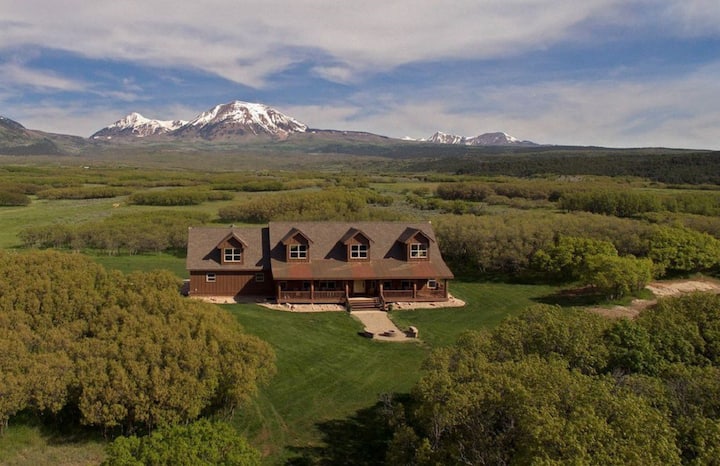 Luxurious house w/ a fantastic deck & gorgeous mountain views
If you're looking for spacious Airbnbs in Moab with dreamy mountain views – you're going to want to add this one to your list.
This is another perfect stay for a family reunion with the ability to host up to 16 guests. It features 7 bedrooms with beautiful views and 4 bathrooms. Plus it offers an oversized kitchen that opens up to the great room and dining room that's perfect for gathering with the family. You can also grill and enjoy the deck with gorgeous red rock views.
This home is about a 10-minute drive to downtown Moab and only 14 miles south of Arches National Park and 39 miles east of Canyonlands National Park. It's also only 2 miles from Sky Ranch Airport, and there are top-rated restaurants (including Susie's Branding Iron Restaurant and Hidden Cuisine) within a short drive.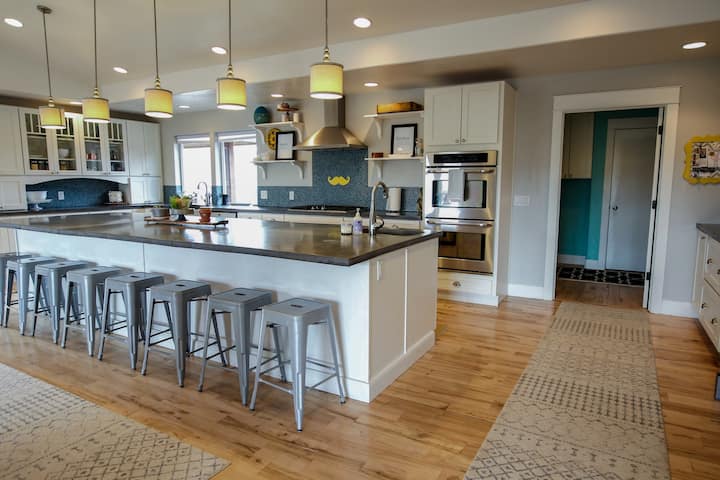 3 Bedroom 3.5 bath all Suite home Exclusive Retreats 3371
This is one of the more luxurious vacation rentals in Moab just 5 minutes to downtown Moab or 10 minutes to Arches National Park. This would be a great stay for a group of friends ready for an adventure in Moab, but still looking for a little bit of luxury.
This home features a dreamy outdoor space with a firepit, dining area, hot tub, and of course the spectacular red rock views. Inside there's 3 bedrooms and 5 beds. This host can accommodate up to 12 guests.
Click here to check rates on Airbnb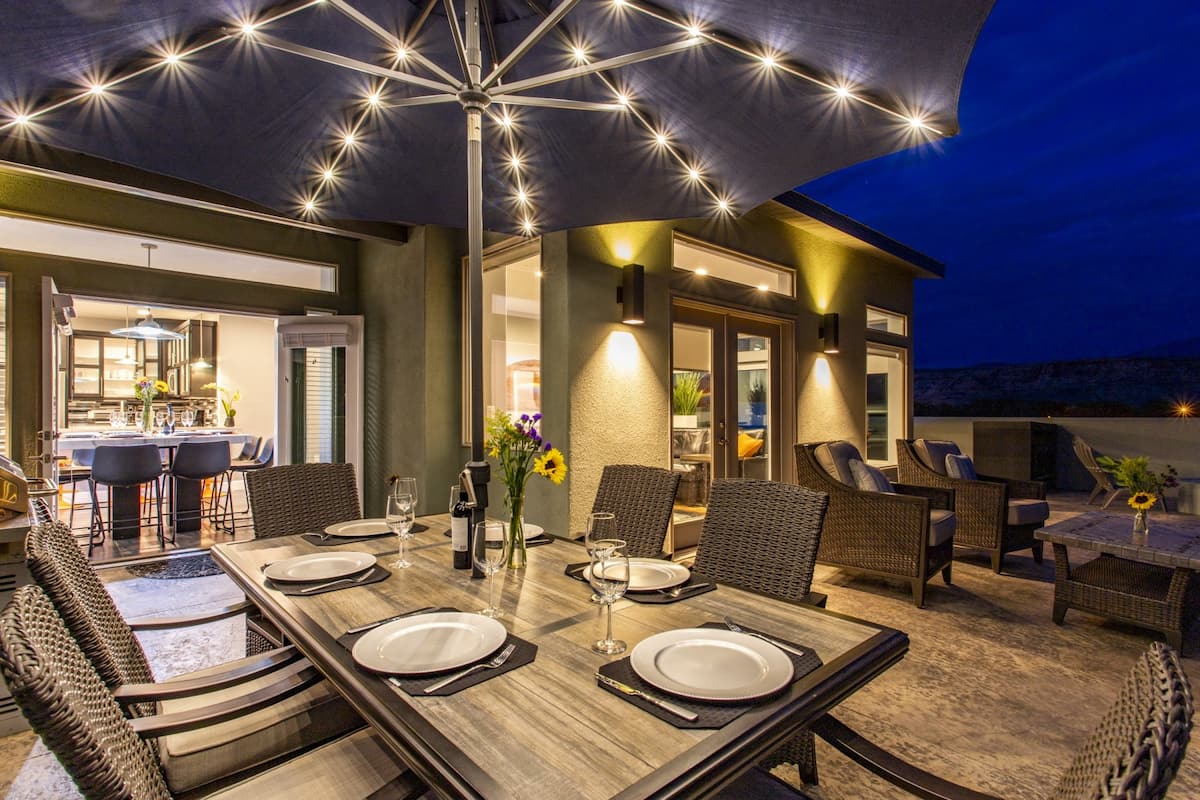 PRIVATE RANCH LOCATED BETWEEN MOAB/TELLURIDE/OURAY
This southwestern style home is the perfect ranch getaway. It's about an hour from Moab, but you may not even want to leave the property! It offers all of the amazing red rock landscape, mountains, fruit trees, cactus gardens, and Pinion Pines.
This home is in the Paradox Valley with views clear to the San Juan Mountains right on the border of Colorado and Utah. It sits on 40 acres of old west sactuary surrounded by the Manti LaSal National Forest, so there's lots of exploring to do right on site for the home with a variety of trails to explore.
This old western home offers cozy comforts with 3 bedrooms, a fully equipped kitchen, and 2 bathrooms. The front porch is the perfect space to drink your coffee and start your day with breathtaking views.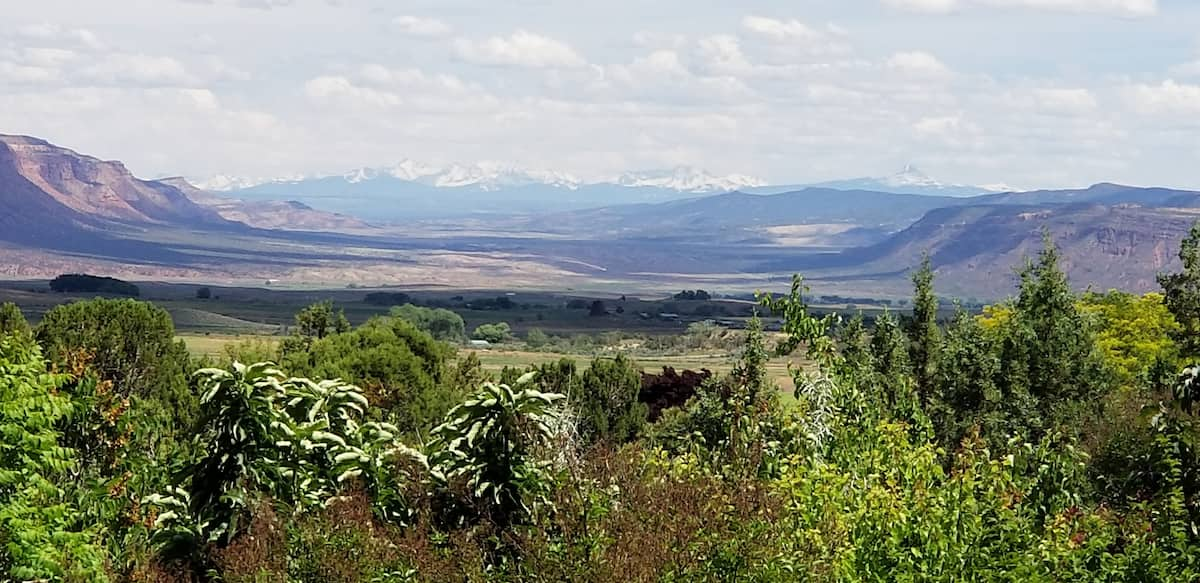 4 Star Property w/ Heated Pool, Near Arches Park!
This spectacular hotel room is one of the best Airbnbs near Arches National Park. It offers an amazing desert escape with lots of modern charm and luxury amenities.
A stay at this hotel offers free HBO, an on-site spa, a year-round heated pool and more making it one of the best Moab vacation rentals. This hotel offers a familiar set up with a spacious room, 2 queen beds, bathroom, mini fridge, and daily housekeeping.
You can also enjoy a barbeque area, fitness center, and garden. The location is very close to Arches National Park and a hike on White Rim Trail comes highly recommended.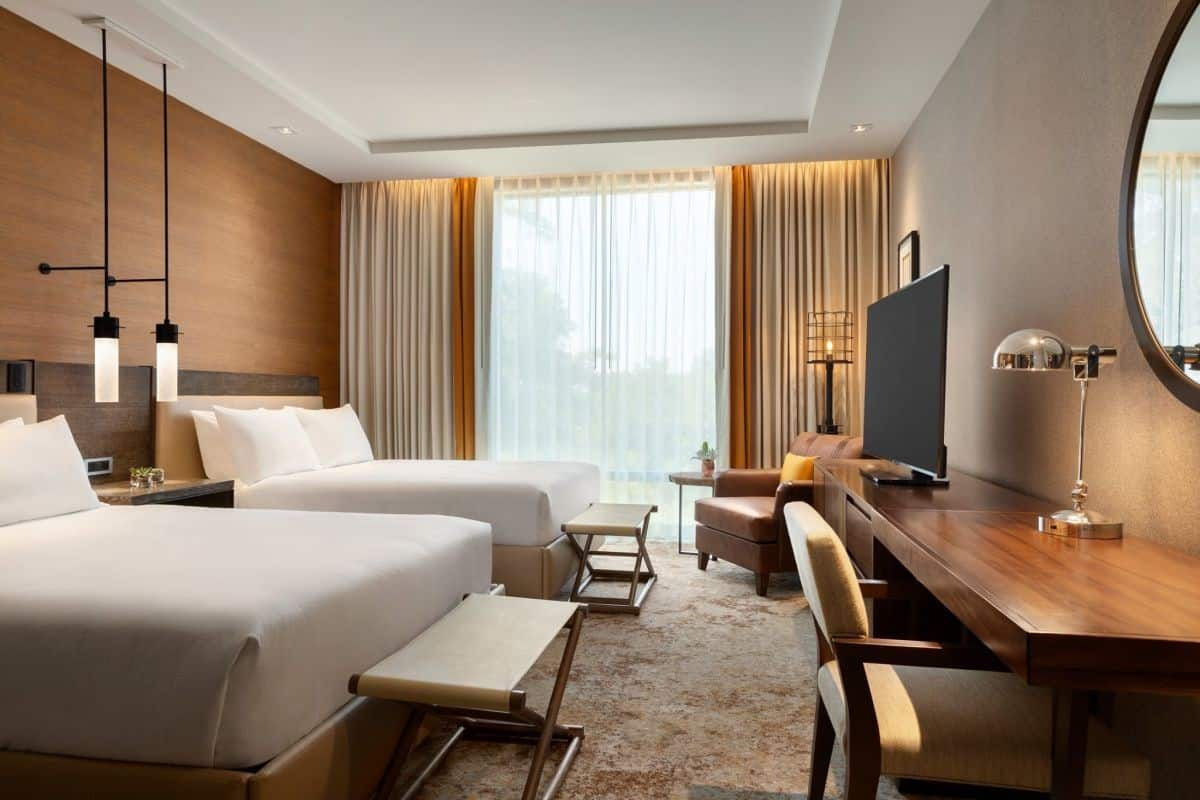 Mountain Bikers Dream. Lockable Storage, Wash Area, Work Stand and More – Purple Sage Flats #8
Purple Sage Flats is a collection of condos with modern decor and charming amenities. This beautiful condo is close to Main Street in Downtown Moab, but still tucked away from all the noise for a quiet and peaceful stay.
The common area outdoor space with a fire pit is perfect for gathering for relaxing evenings, and the hot tub and grill are available for your use as well. The flat includes one bedroom with a queen bed and bunk beds in the living area, so this flat can host up to 4 guests. You'll also have a full kitchen and an open living room space with a TV.
Purple Sage Flats offers a total of 8 rooms and can typically accommodateate large groups as well where everyone has their own flat.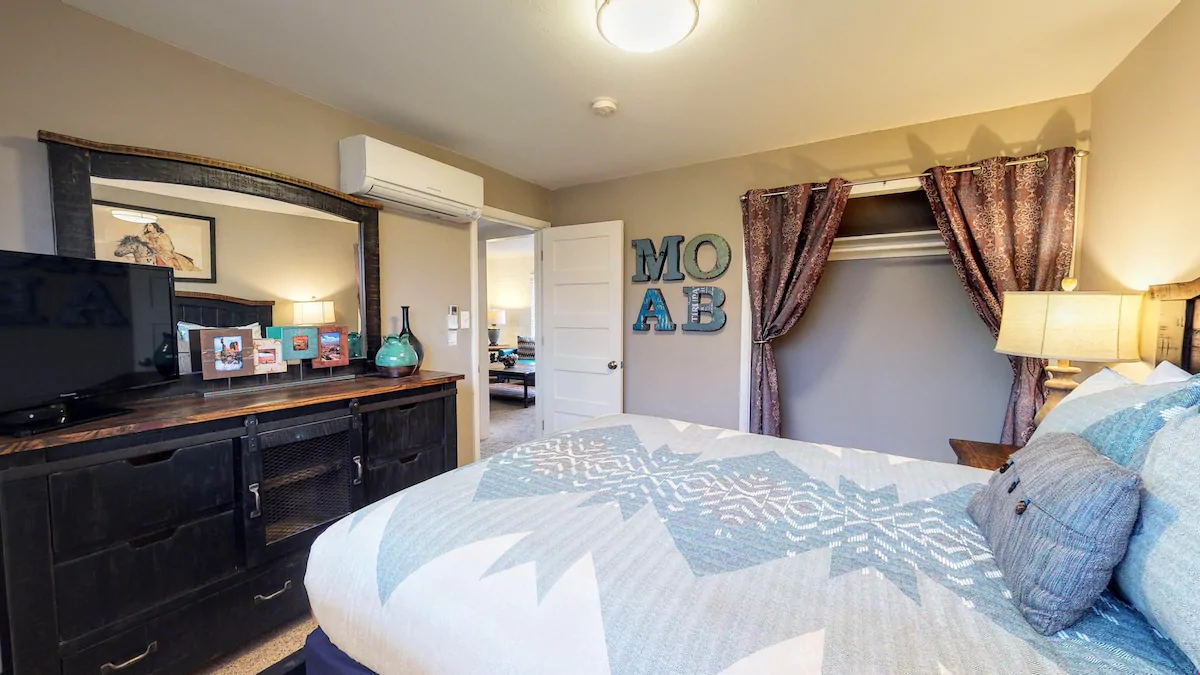 Scalatore ~ #5, Downtown Condo in Moab with Rock Climbing Wall
If you're looking for unique Airbnbs in Moab, you'll want to check this one out! It features a rock wall in the home with 16.5 ft. tall ceilings. Yes, you read that right, if you're headed to Moab for rock climbing you can climb the walls right there in your bedroom before bed.
The master bedroom brings the beauty of Moab's red rocks right into the bedroom with a custom rock art headboard and along each side fo the bed are fully useable climbing routes. There's also 3 elevated bunk beds accessed by a ladder, and fireman's pole. Lots of climbing in this home!
This home is a brand new 2 bed, 2 bath home with many custom and upgraded features and right on Main Street in downtown Moab for a unique stay.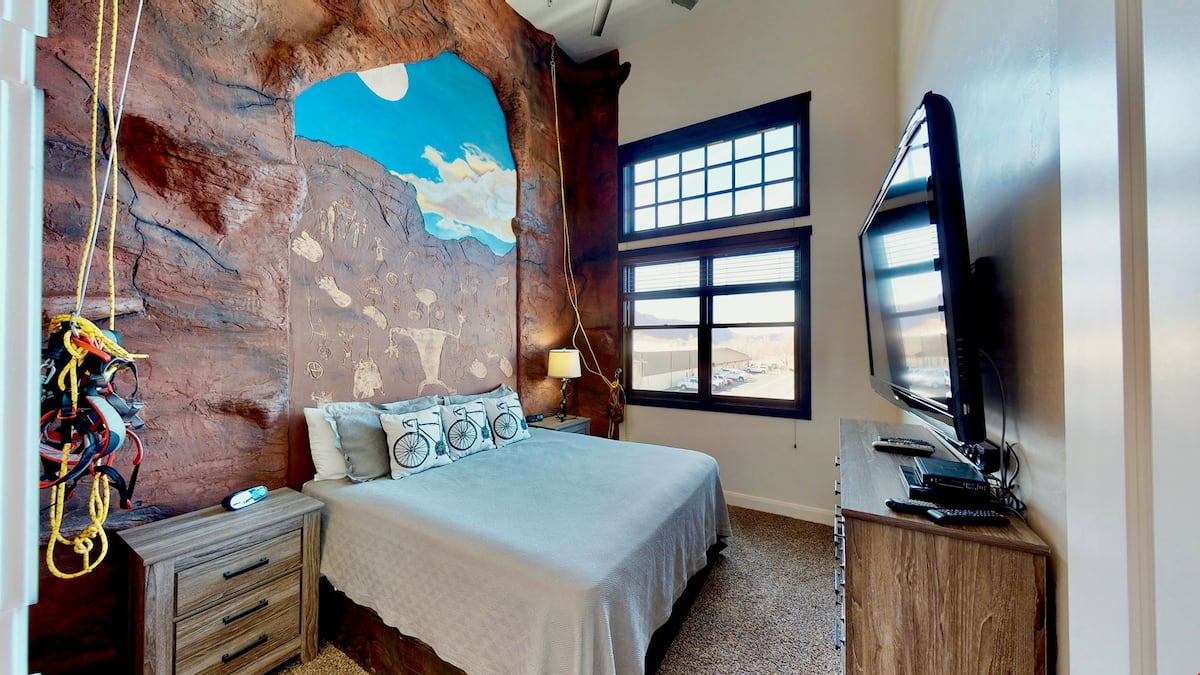 (St Danes Cabins) -Kokopelli Adobe Cabin Moab
This 400 sq. ft. tiny house cabin is one of the cutest Airbnbs in Moab. It's off of Highway 191 in rural Spanish Valley, 7 miles south of downtown Moab, so it's in a quiet area but still close enough to all the landmark spots.
The cabin offers a small kitchen, a bathroom, a bedroom with queen bed, and a sleeper sofa in the living room; so it can host a total of 4 guests. It's also dog friendly, so with notice, you can bring your furry adventure buddy with you too.
The cozy western style offers the perfect space to unwind after a day full of adventure and since it's in a cluster of 5 small cabins, you could travel with a larger group or maybe meet some new friends as your take you in the amazing views of the Moab Rim surrounding the cabin.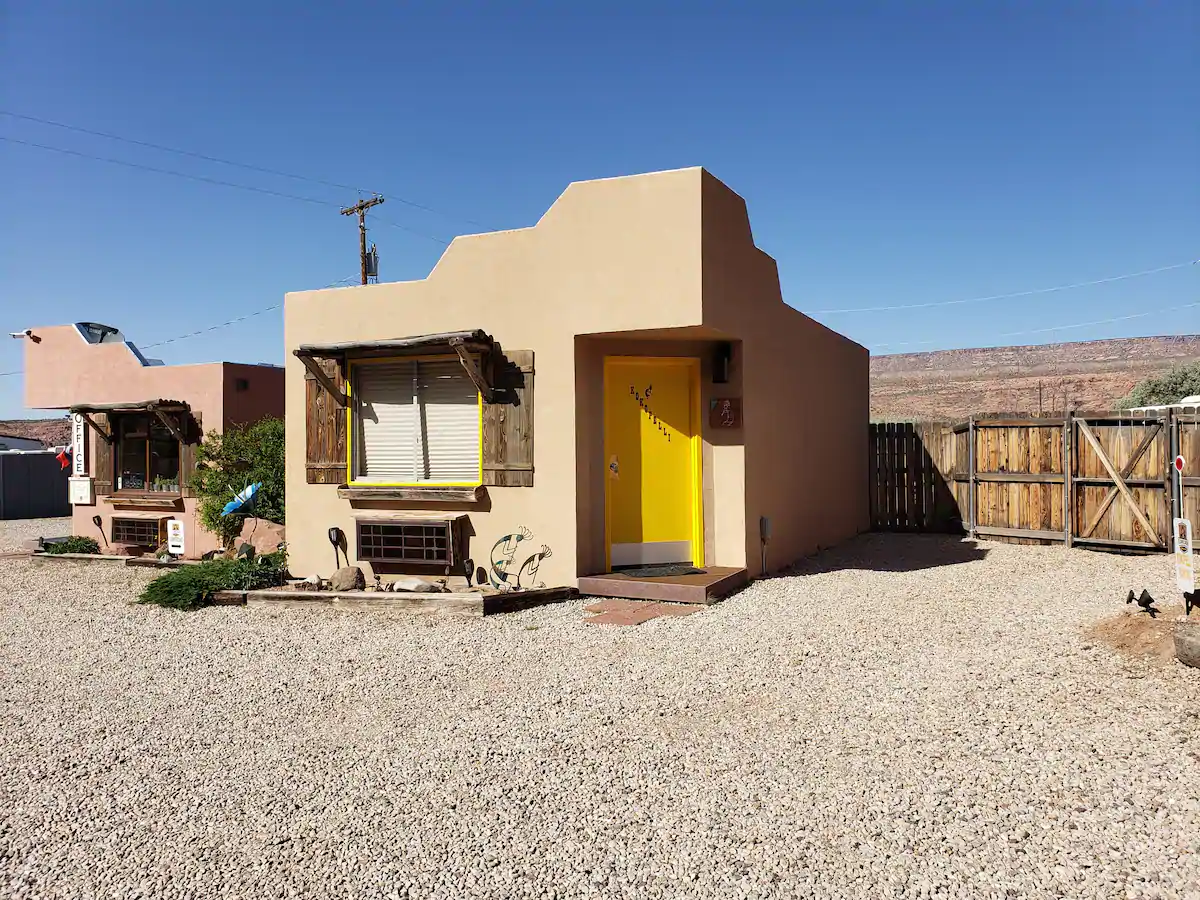 Casita #2. In town. Outdoor sauna and shower!
Just one block from Main Street, this downtown Moab Airbnb is the perfect spot for being right in the center of all the action. We think this is one of the best Airbnbs in Moab for its location and modern charm mixed with Western-style.
The home is a 2nd-floor Casita with an open floorplan, full kitchen, bathroom, and a bedroom with a queen bed so it can comfortably host 2 guests. The outdoor amenities include a Cedar Sauna, gas fire table, large private, open-air deluxe BBQ area, and secure enclosed bike storage.
If your days aren't packed with hiking adventures, you can stop by the Moab Brewery, Chile Pepper bike shop, and Slickrock Cinemas, just a short 5 minute walk away.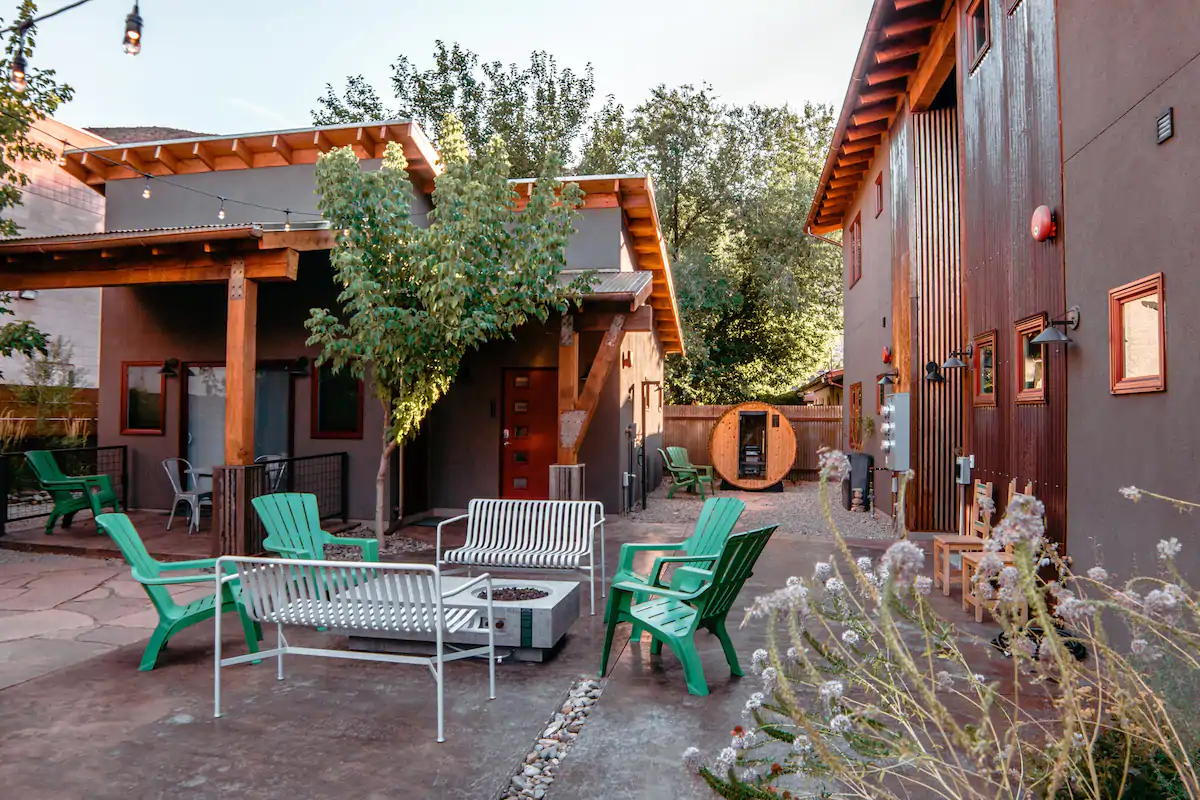 Brand New One Bedroom One Block off Center and Main – Slot Canyon A
This one bedroom condo in downtown Moab is one of the best Moab rentals for a couple looking to have a comfortable place to stay while they explore all the city has to offer.
This unit is brand new with large windows for lots of natural light to brighten up your mornings. It's much like a hotel suite with one bedroom with a queen bed, a living room space and a perfect little kitchenette for quick meals or you can walk downtown to find local resturants.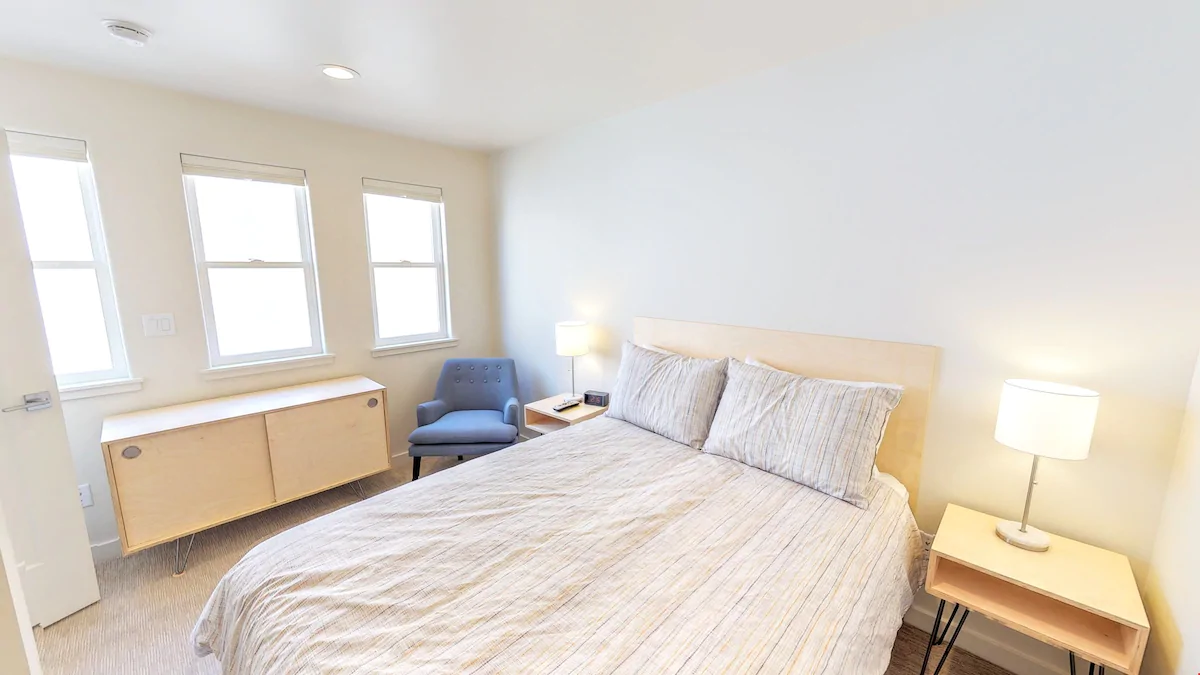 We think these Airbnbs in Moab will be perfect for your next adventure. There's such a variety of vacation rentals in Moab from downtown condos to secluded campers. Don't miss the 6 best Arches National Park Hikes while on your trip and if you're looking for more in Utah, check out our 24 Best Airbnbs in Utah!