Looking for the best Airbnbs in Flagstaff for your next trip to the forests of Northern Arizona? We're here to help you out with these 15 suggestions.
From the vibrant red rock of Sedona and the jaw-dropping landscape of the Grand Canyon to the light rays streaming through Antelope Canyon and the wonder that is Horseshoe Bend, Northern Arizona has brilliant natural beauty that draws people from around the world. Northern Arizona also has cooler temperatures, making it the perfect escape for Phoenicians looking to flee the scorching summer heat of the capital.
Because of its proximity to all of Northern Arizona's gems, Flagstaff is the perfect home base for all your Northern Arizona adventures. Flagstaff has its own charms though as well with top-notch hiking trails through towering Ponderosa Pines and beautiful aspens that change color in the fall, as well as wonderful ski opportunities in the winter.
Whether Flagstaff is your final destination or is a pit stop on an Arizona road trip, you'll undoubtedly want to choose from the best Flagstaff Airbnbs to make your stay as perfect as possible. Airbnbs give you the perfect chance to immerse yourself in the town, find out where the hot spots are from locals, and perhaps save a few bucks that would have otherwise gone towards a generic hotel room.
So as you prepare for your next vacation, take a look at these Flagstaff, Arizona Airbnbs, and find the perfect fit for you.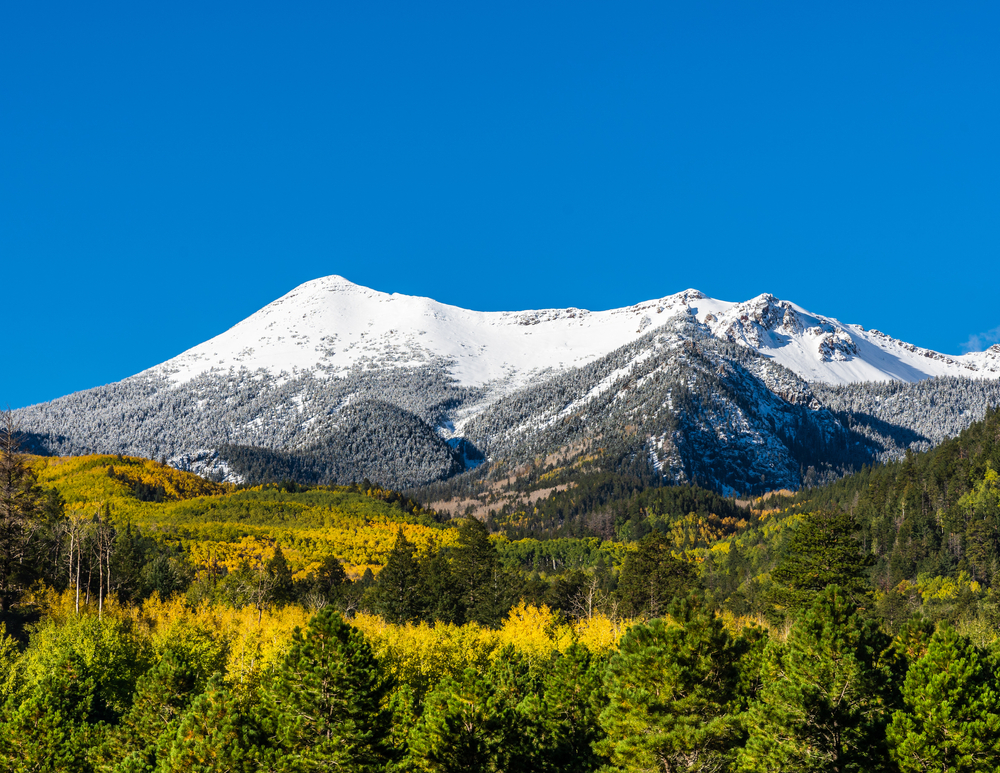 15 Best Airbnbs In Flagstaff (Cabins, Cottages, And More!)
Eclectic Artist Studio – The Cactus Wren
If you're looking for unique Airbnbs in Flagstaff, look no further. From the turquoise walls and vibrant artwork to the penny countertops in the kitchen, the Cactus Wren studio is eclectic and inviting. 
The studio is conveniently located within a short drive of downtown Flagstaff, restaurants, grocery stores, hiking trails, and more. If you don't have a rental car or would rather take public transportation you can catch a bus right down the street from the studio.
The host does an excellent job of providing you with everything you might need during your stay including coffee and tea, instant oatmeal and granola bars, bathroom toiletries, sleep masks, and earplugs. On top of that, you'll find the lovely breakfast nook, vintage Foosball table, and Chesterfield sofa make you feel welcome and at home in this cozy sanctuary.
Due to the studio's location, you might hear traffic noise as well as the train horn during your stay, though the sound should be significantly muffled and fairly inconsequential while inside the studio. If you're a light sleeper we suggest using the complimentary earplugs to further minimize the noise.
Click Here To Check Rates On Airbnb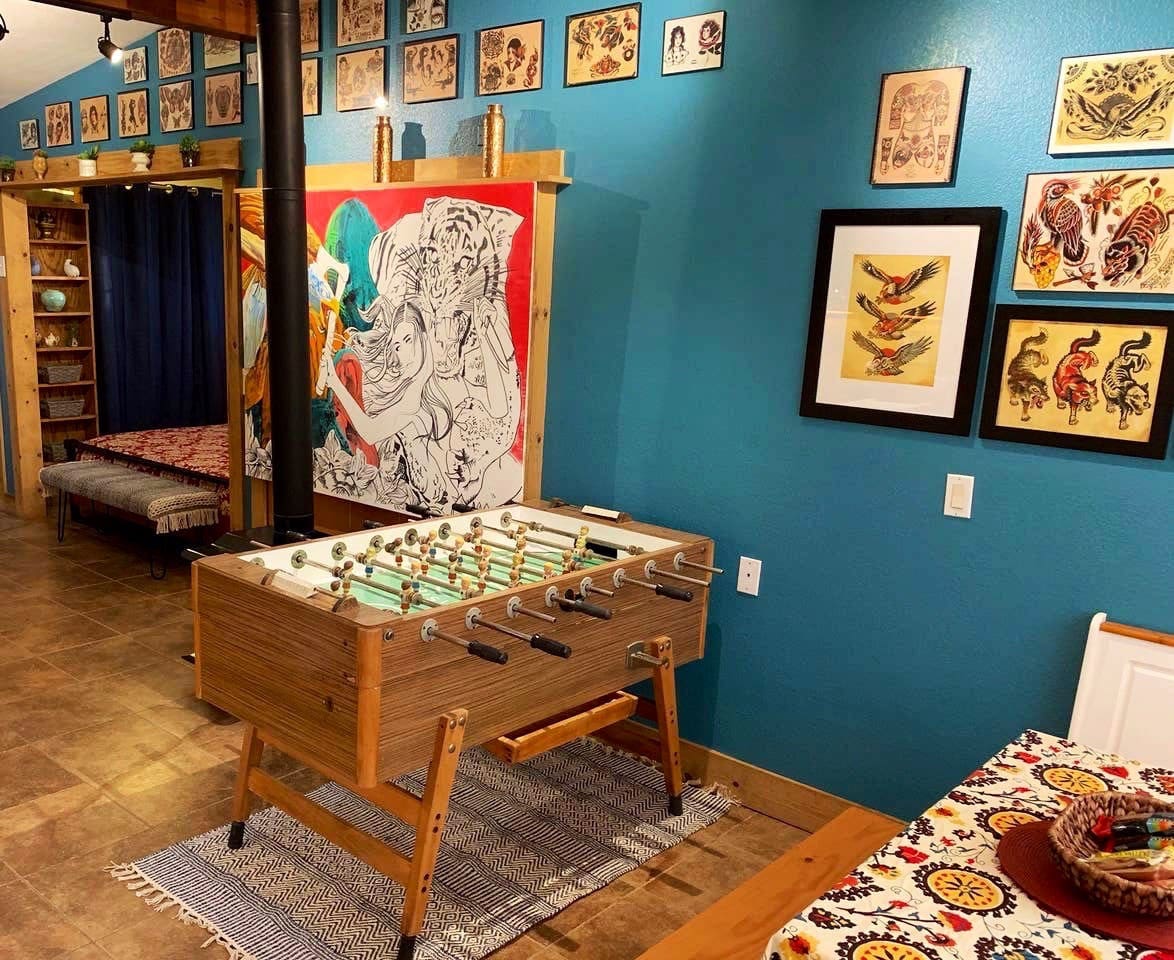 Bader Suite Flagstaff
While Flagstaff Airbnbs in the heart of downtown certainly have their appeal, sometimes you just need a quiet escape among the pines, and that's where the Bader Suite comes in. This charmingly decorated suite is part of a historic home located on a 3-acre property near the Arizona Snowbowl Ski Resort roughly 20 minutes from downtown Flagstaff. 
The property is conveniently located near excellent hiking trails and its proximity to nature means the backyard gets visits from elk, birds, and even the occasional black bear. Besides the wild animal visitors, the host has a flock of chickens that reside permanently in the backyard and provide you with complimentary fresh eggs to kick start your morning.
The suite has a kitchenette to accommodate your basic breakfast needs, and a gas grill outside to prepare a tasty lunch/dinner. A private outdoor patio complete with string light decorations makes for the perfect spot to enjoy a meal.
Your cozy suite shares a wall with the host's home and another Airbnb, but both doors remain locked and you have a separate entrance around the back of the house to ensure you have full privacy during your stay. You're free to roam the 3-acre property and can say hello to the chickens and rooster from outside the fence.
Click Here To Check Rates On Airbnb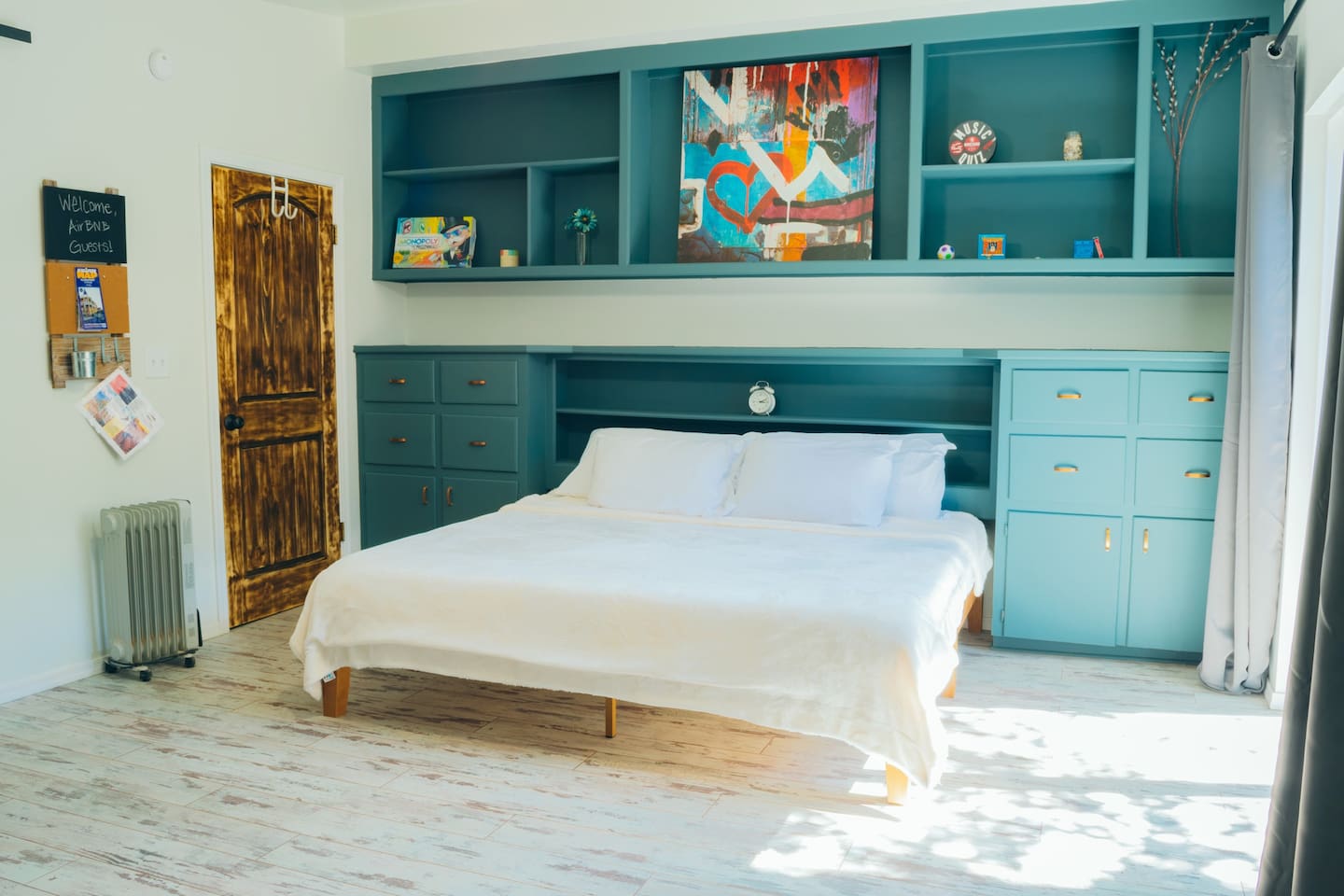 A-Frame of Mind!
There's something so peaceful and relaxing about cabins in Flagstaff enveloped by pines. The A-Frame of Mind will provide you with the perfect vacation spot that has been known to be a welcome refuge for more than one guest looking to flee the Phoenix summer heat. 
It'll be hard to pry yourself away from the cabin's outdoor patio with its grill, patio chairs, and beautiful tree-filled view. It's the perfect spot to enjoy dinner or stargaze late at night.
The interior of the home is appealing in its own right with a cozy fireplace and two large living rooms complete with a Roku TV. There are three bedrooms that can accommodate up to 10 guests making it the perfect location for large families to have some quality bonding time amidst Flagstaff's beauty.
The cabin is conveniently located about 15 minutes from both downtown Flagstaff and the Northern Arizona University campus while also being secluded enough to enjoy some peace and quiet in the outdoors.
Click Here To Check Rates On Airbnb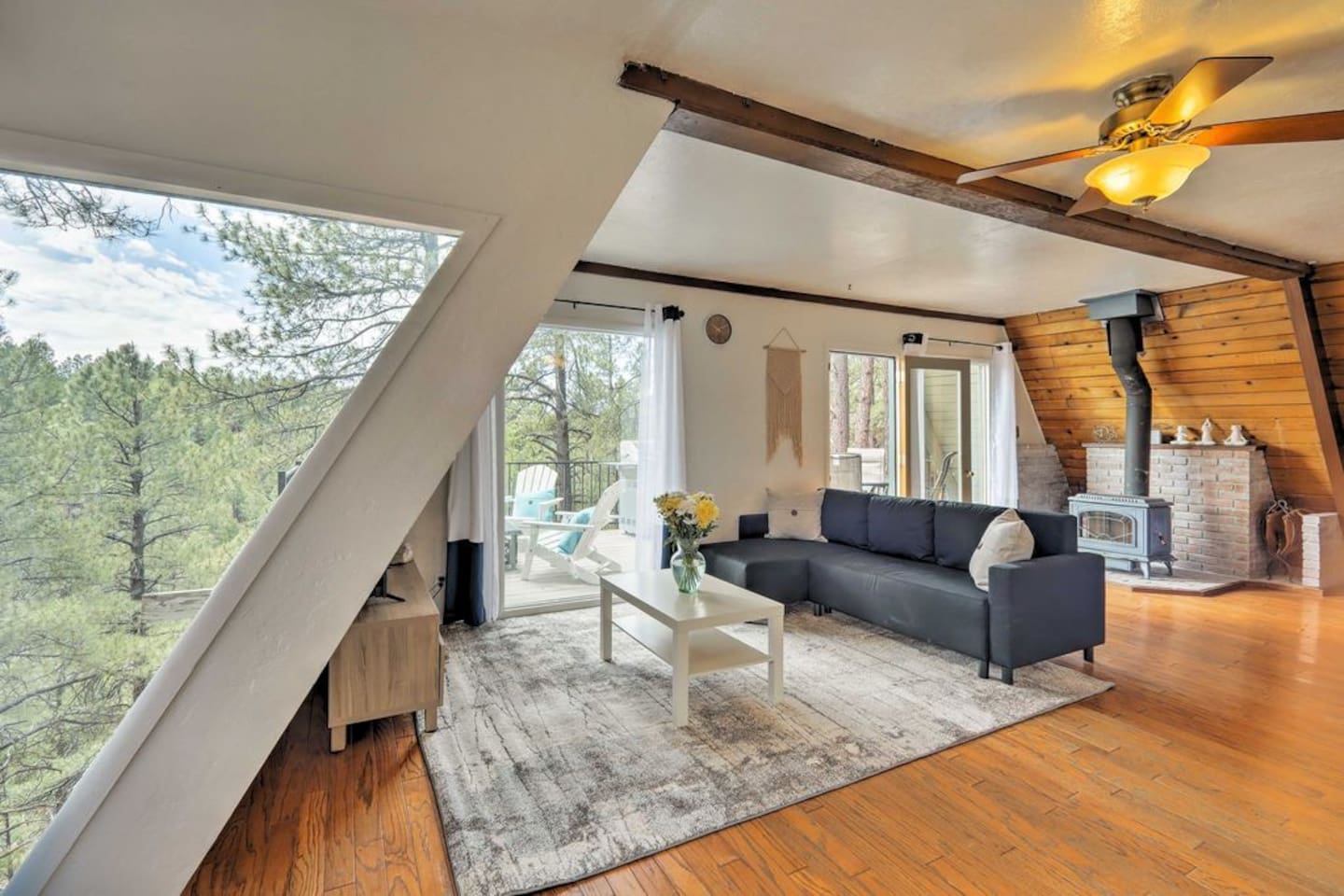 Lincoln Log Cabin
The Lincoln Log Cabin is one of the more expensive cabins for rent in Flagstaff, however, when you find out all it has to offer, gather up a group of your friends, and split the cost between as many as 10 guests, we have a feeling you'll be at peace with the money spent. 
The Lincoln Log cabin is relatively secluded in a small 12-home community while still being conveniently close to downtown Flagstaff. You'll be afforded plenty of privacy and serene beauty as you sip coffee on a wrap around deck with 5 acres of forested land surrounding you.
While the adults relax on the deck, the kids (or adults!) can wander the property or play air hockey and ping pong in the well-appointed garage/game room. When evening hits and everyone is ready to gather and tell stories about their adventures of the day, a fireplace awaits you in the beautifully decorated living room.
Until you get to the point where you have to venture out for food, you could easily stay holed up in this charming cabin and be perfectly content never leaving.
Click Here To Check Rates On Airbnb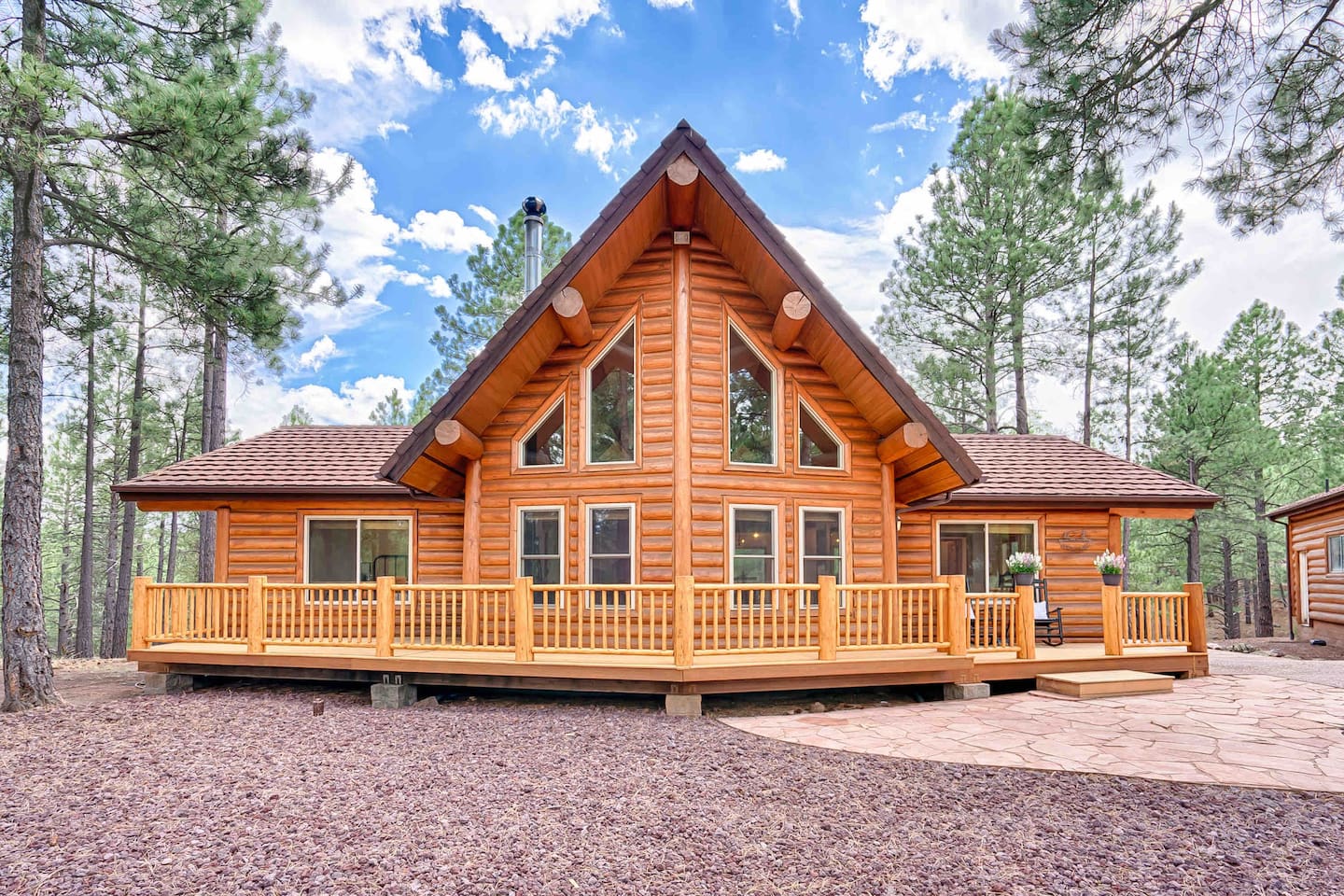 A-Frame Mountain View Cabin in a National Forest
This A-Frame cabin is one of the most sought after cabins in Flagstaff, and for good reason. This charming cabin offers all the remoteness of being on a 1.5-acre property in a forest while still being only 10 minutes from Flagstaff's historic downtown. 
A 15-minute drive will also take you to Walnut Canyon, Sunset Crater, and Wupatki National Monuments. It's rare to have three such unique national monuments all within close proximity of each other, so we suggest visiting all three if you have the time.
Prepare to disconnect completely while at the cabin. There's no Internet or TV available, though you'll hardly miss them when you're gazing up at the stars from the deck, watching elk wander the backyard, or sipping on hot chocolate by the fireplace.
The Airbnb comes with 3 mountain bikes for your use, a horseshoes pitch, and a BBQ grill to further enhance your stay. You should note that though the main bedroom is on the first floor, you'll have to climb a steep staircase with no guard rail to reach the loft.
Click Here To Check Rates On Airbnb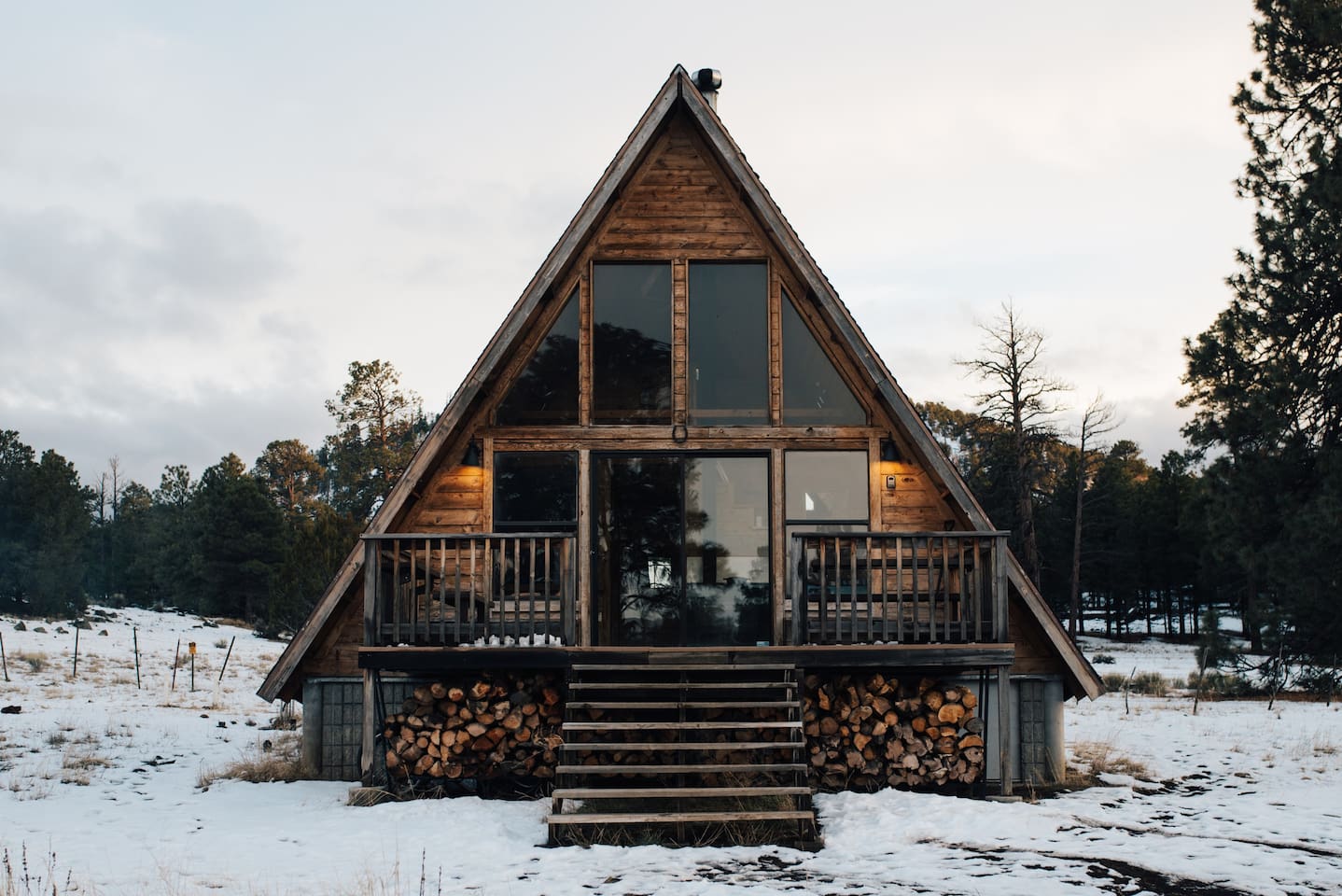 The Midnight House
The Midnight House, an appropriate name for a house painted a deep midnight blue, is located just 3.5 miles from downtown and accommodates up to 10 guests, making it one of the most desirable Airbnbs in Flagstaff for large groups. You'll have access to 3 bedrooms in addition to a queen size sofa bed in the living room and a Pack N' Play crib if needed. 
The interior of the house is in stark contrast to its dark, painted exterior with white walls and ample natural light streaming in. A TV as well as games and puzzles are provided for your enjoyment, so kick back on the living room couch, chairs, and recliner, and let the games begin!
Though the inside of the house has its charm, the outside of the house might just be the highlight of the property. The house has an outdoor patio that is perfect for relaxing with friends and family while you all soak in the quiet peacefulness of the forested neighborhood.
The pièce de résistance however is the hot tub. There are few things better than coming back home from a long day of adventures and escaping the crisp evening air by soaking in a hot tub.
Click Here To Check Rates On Airbnb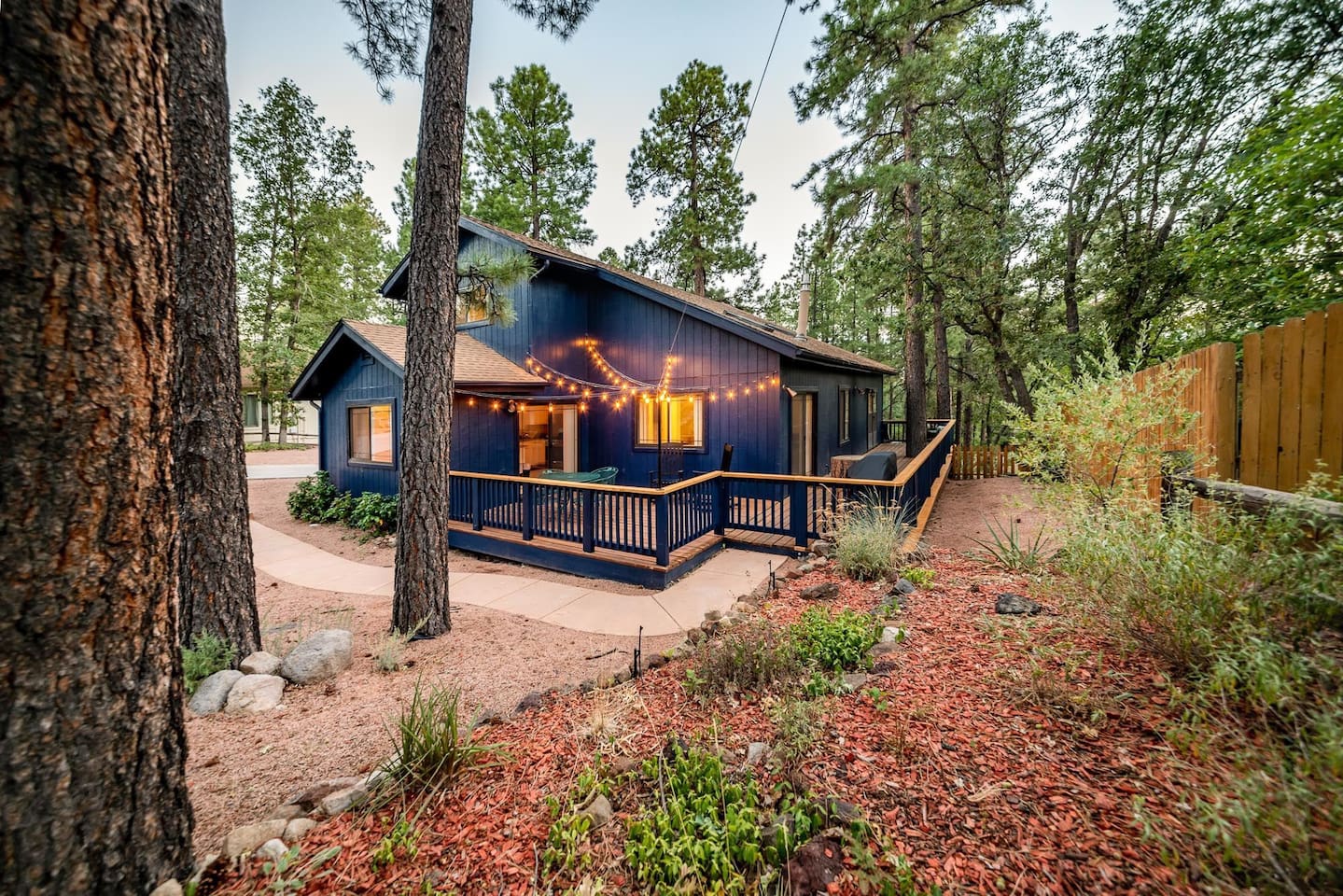 Private suite: style. privacy. walk downtown
Finding great Airbnbs in downtown Flagstaff is always a plus when your hope is to be close to the bustling action of the town and all the restaurants and shops. This private suite can be found just a ½ mile walk from downtown.
The suite is connected to the host's main home, so muffled noises may be heard throughout the day, but it is sealed off from the rest of the house and has its own separate entrance ensuring you have full privacy during your stay.
The interior of the space is beautifully decorated with original art and string lights hanging throughout, creating a cozy feel. You'll also feel plenty pampered between the comfy queen bed and the spacious double shower.
There isn't a full kitchen in the suite, but with so many restaurants close by, grocery stores for easy to eat staples, and coffee provided at the Airbnb, you'll hardly feel deprived. A refrigerator and microwave are provided to store and later heat up any leftovers.
Click Here To Check Rates On Airbnb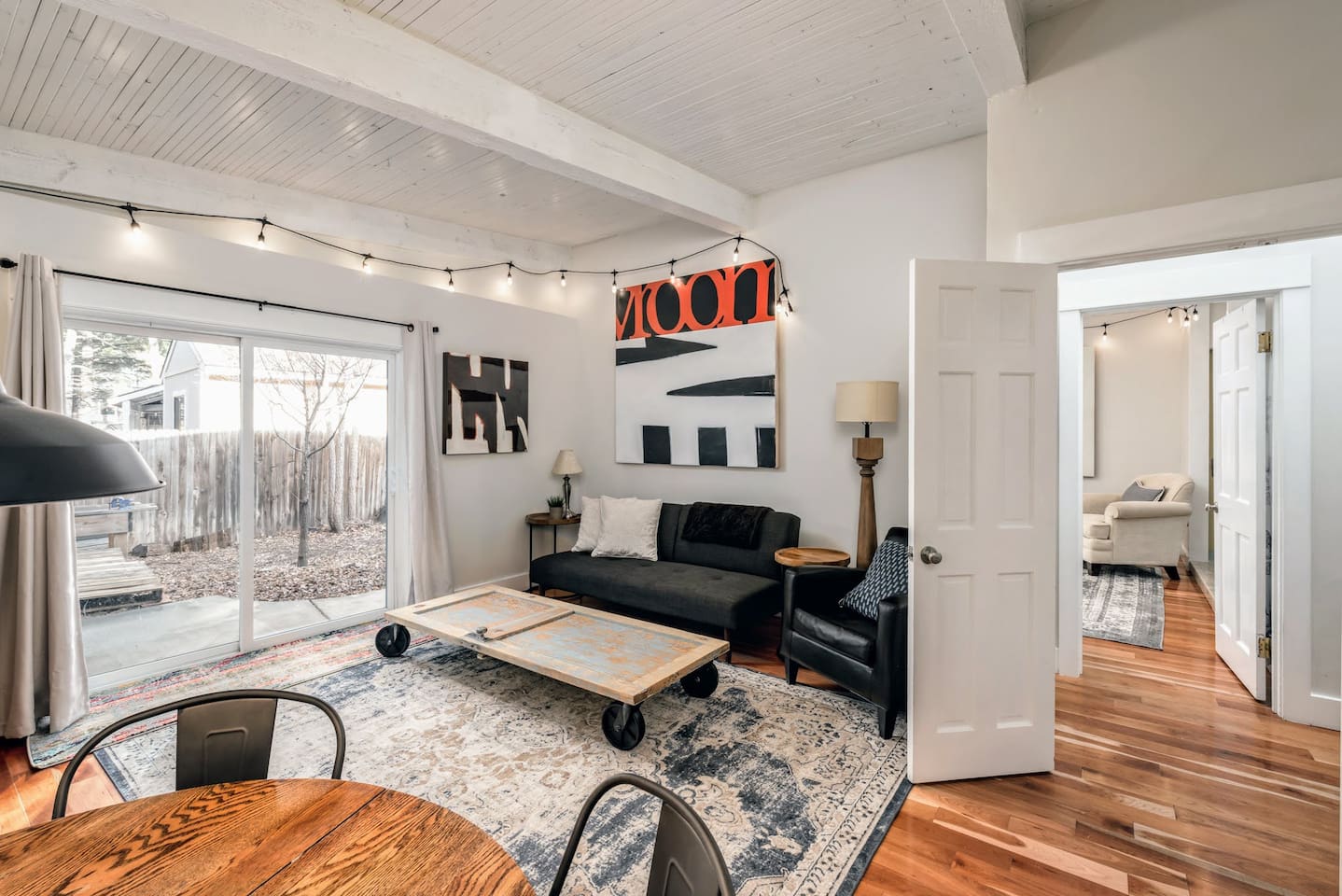 The Bohemian House
Like many of the Flagstaff Airbnbs on this list, the Bohemian House is secluded and quiet, while also being within 15 minutes of downtown Flagstaff. It's certainly the best of both worlds when you can enjoy a backyard full of trees and have the luxury of venturing out to restaurants, bars, and shops at the same time. 
Though the house doesn't look particularly large from the outside, the interior feels spacious thanks to an open space floor plan. The hosts have also thought of everything to make your stay enjoyable, from movies, board games, and high speed Internet to coffee and guide pamphlets for nearby attractions.
When you're not challenging your family and friends in a game of Trivial Pursuit, you can grill a delicious meal outside or gather around the outdoor fire pit roasting marshmallows underneath the fairy lights. Sounds pretty magical, right?
But it gets even better…there's a hot tub! After a long day of skiing or hiking you can relax in the hot tub with a group of your favorite people, and reminisce on the events of the day (the house accommodates up to 8 guests).
Click Here To Check Rates On Airbnb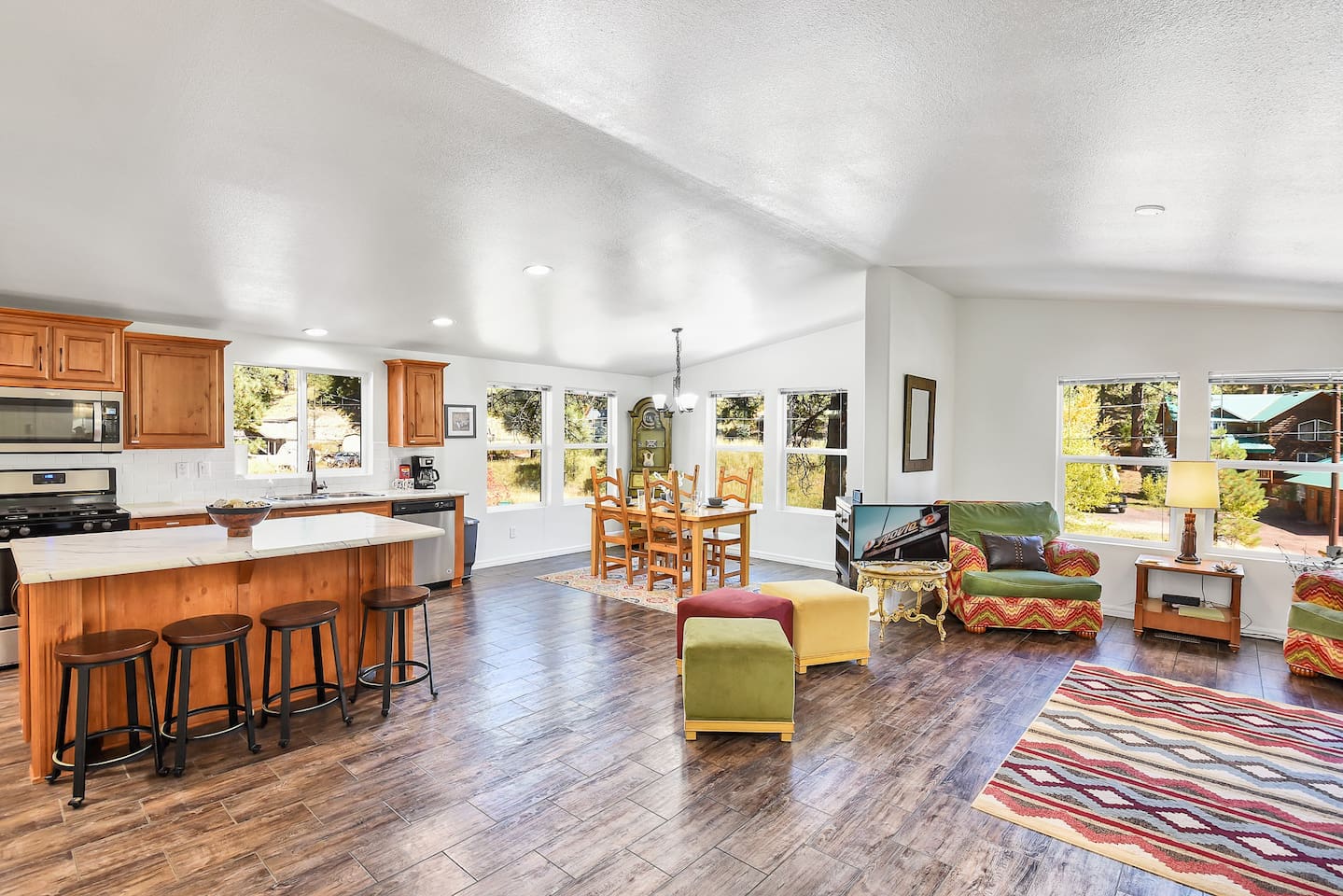 The Basecamp
The Basecamp has to be one of the coziest cabins in Flagstaff. From the charming interior and wood-burning stove to the backyard hammock where you can stargaze at night, you'll feel right at home during your stay at this log cabin. 
Coffee, tea, hot chocolate, oatmeal, granola bars, apples, and fresh baked muffins are provided to make sure your day starts the right way. When you're ready to venture out, you'll find you're extremely close to hiking trails and just 6 miles from downtown Flagstaff.
After a day of hiking through Flagstaff's beautiful natural landscape, you'll enjoy returning home to a grill and fire pit, the perfect recipe for a delicious dinner and lots and lots of s'mores. When it's not too cold, the patio is the perfect place to relax for an extended period of time, breathing in the fresh mountain air.
Dog owners will be pleased to know that the Basecamp is extremely dog friendly. Though there's a pet fee of $50.00, you'll have use of a pet bed, water bowl and treats, as well as a decent sized, enclosed backyard for your dog to run around in.
Click Here To Check Rates On Airbnb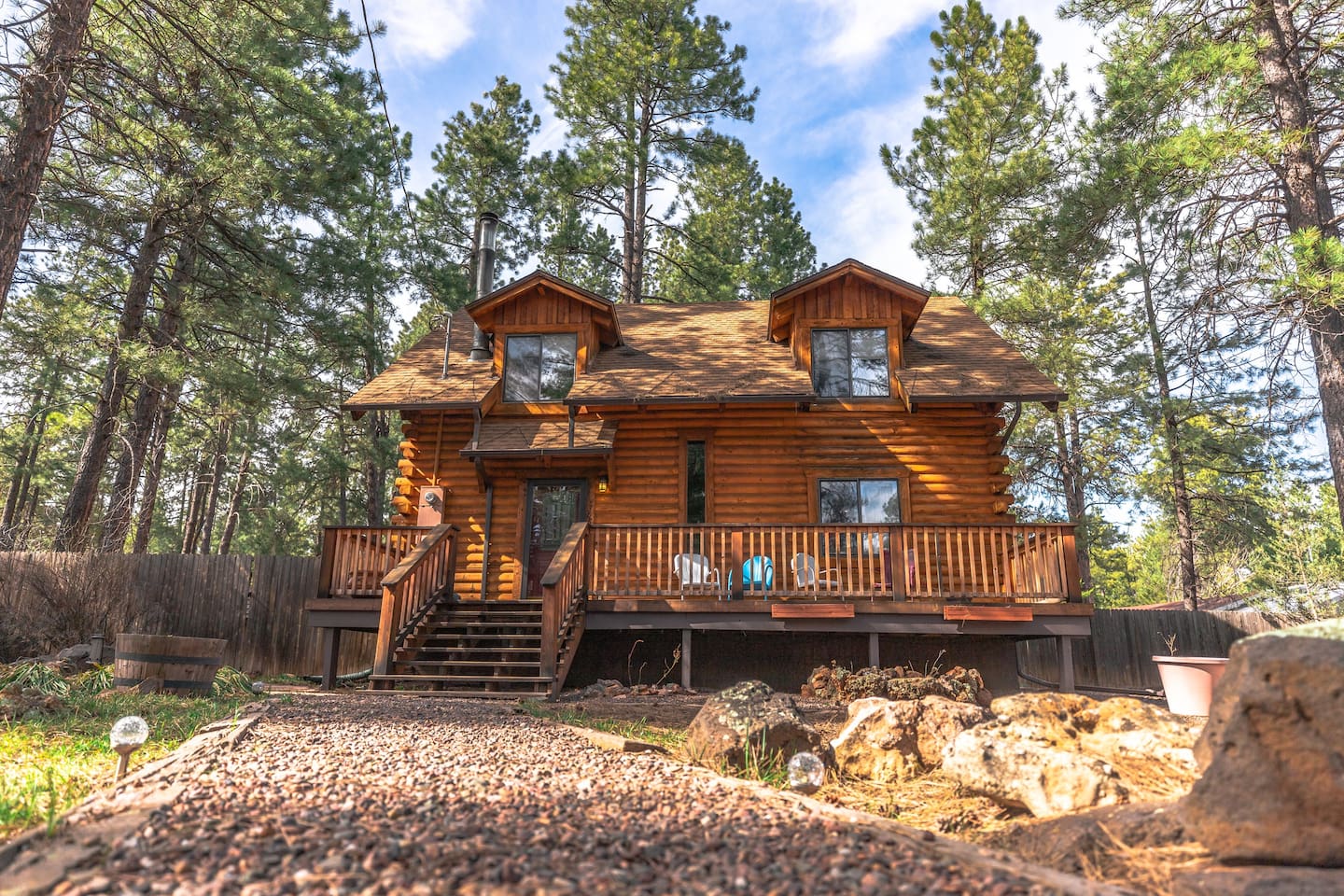 The Farmhouse
The Farmhouse is one of the best Airbnbs in Flagstaff for a getaway with a group of your best friends or extended family. The house can accommodate a whopping 14 guests with 3 queen beds, 1 king bed, and 6 bunk beds.
The interior of the home is beautiful with classic farmhouse décor, thick wood beams, brick walls, and sliding barn doors throughout. There are also plenty of windows and skylights allowing ample amounts of sunlight in during the day.
You'll hardly want to spend time indoors however when you have multiple outdoor patios, a hot tub, and grills at your disposal. Not to mention the views of Mount Elden and the pine and aspen that surround the property have their appeal too.
The backyard is also fenced in, so if you're traveling with kids and/or dogs you can let them run free.
The farmhouse is located just 3 miles from downtown, 2 blocks from a Safeway for all your grocery needs, and steps away from excellent hiking trails. This Airbnb is certainly pricey, but if you split the cost among your group it'll be worth the stay to have easy access to Flagstaff's best hiking and skiing locations while also having the perfect home away from home to return to each night.
Click Here To Check Rates On Airbnb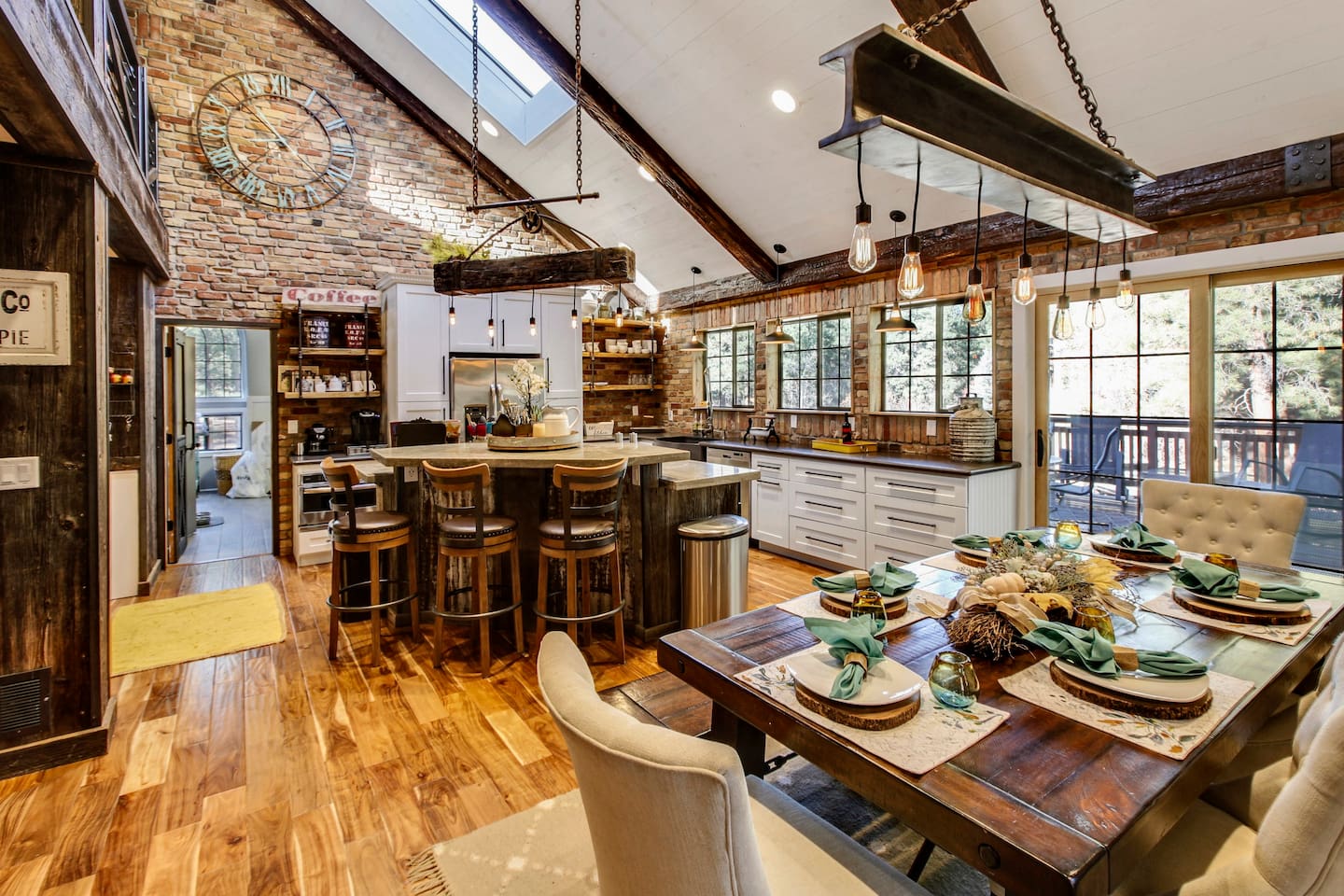 13 Pines Triangle House
You can see how the Triangle House got its name with the triangle A-frame emphasized with triangular beams and braces, and large triangular windows. From the aesthetics of the house to the complimentary breakfast waiting inside, it's easy to see why this is one of the most popular cabins for rent in Flagstaff. You'll feel right at home in this charming A-frame from the moment you arrive. 
Children will appreciate a stay at this Flagstaff Airbnb whether they're playing board games, enjoying the nearby park and playground, or running around the backyard. While they're expending energy being kids, you can grill outside, roast marshmallows on the gas fire pit, or kick back and watch a movie inside.
The Triangle House is also pet friendly, so with a $50 pet fee you can bring your dog(s) and let them run around the backyard while you exchange stories around the fire pit. During the day, you and your dogs can venture out to any number of nearby hiking trails or take a stroll around the neighborhood.
You should note that one of the queen beds is located up in the loft, which requires climbing a steep staircase/ladder to get to. Though staying in the loft and walking the catwalk over the living room can be an enjoyable experience, climbing the staircase should only be done by more able-bodied guests.
Click Here To Check Rates On Airbnb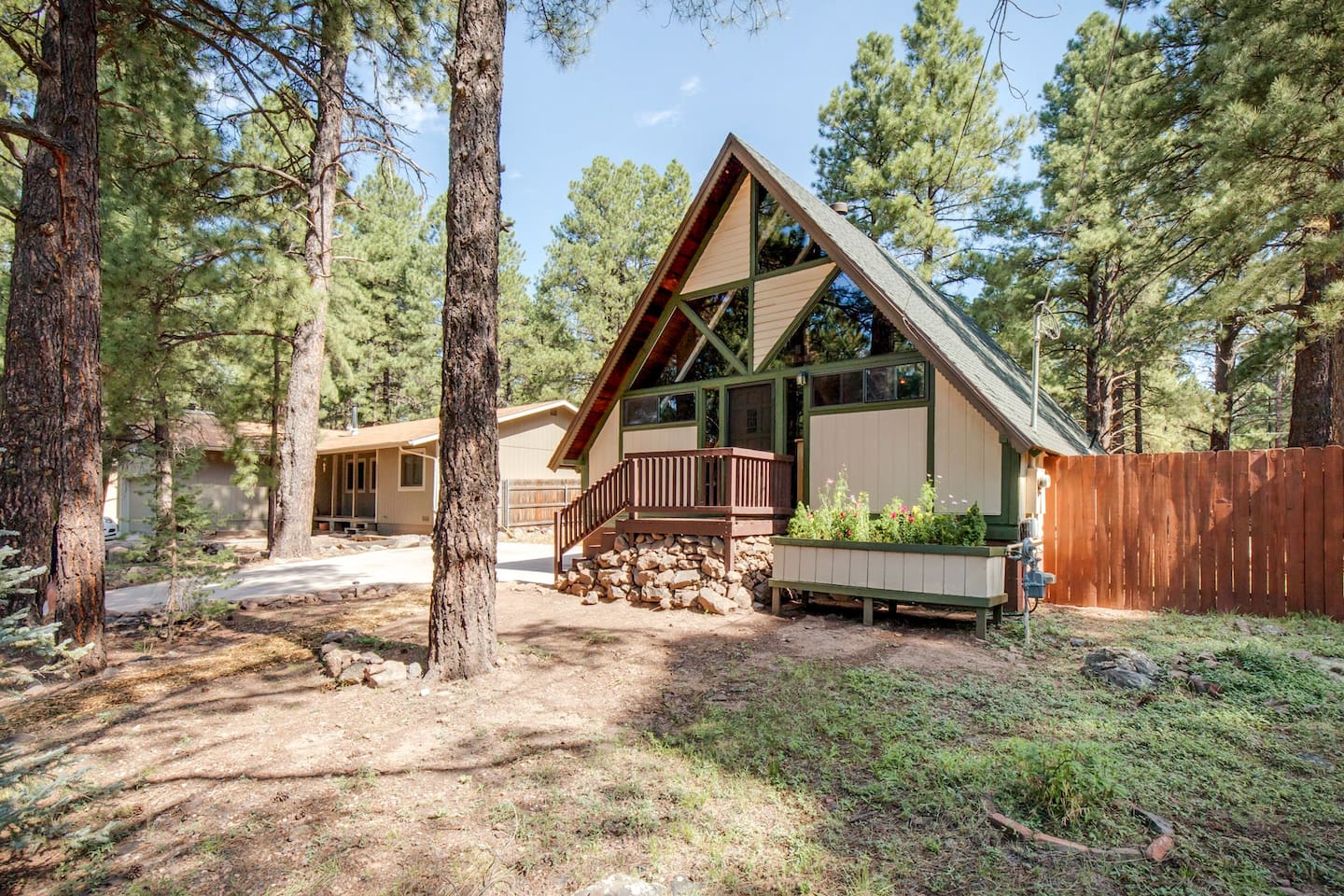 Retro Apartment
If you're looking to visit the Arizona Snowbowl Ski Resort during your vacation, this retro apartment is one of the best Flagstaff Airbnbs for doing just that. A quick 5-minute drive will take you to the resort where you can ski or hike any number of fantastic trails nearby including a section of the Arizona Trail. 
At the apartment, you're only 12 minutes from downtown Flagstaff, so you can enjoy the proximity to the restaurants, breweries, and grocery stores. At the same time you have the benefit of avoiding downtown traffic if you'd prefer to spend your vacation at or near the Snowbowl.
The apartment itself is charmingly decorated with a distinct 70's vibe. A pellet stove fireplace makes the space particularly cozy on snowy days while you play games in the living room and gaze outside at the stunning San Francisco Peaks. Coffee, tea, and oatmeal are also thoughtfully provided for your morning enjoyment.
You should note that the apartment is right off the main property and has its own private entrance. It is also on the second floor so it is better suited for guests who are easily capable of climbing a staircase.
Click Here To Check Rates On Airbnb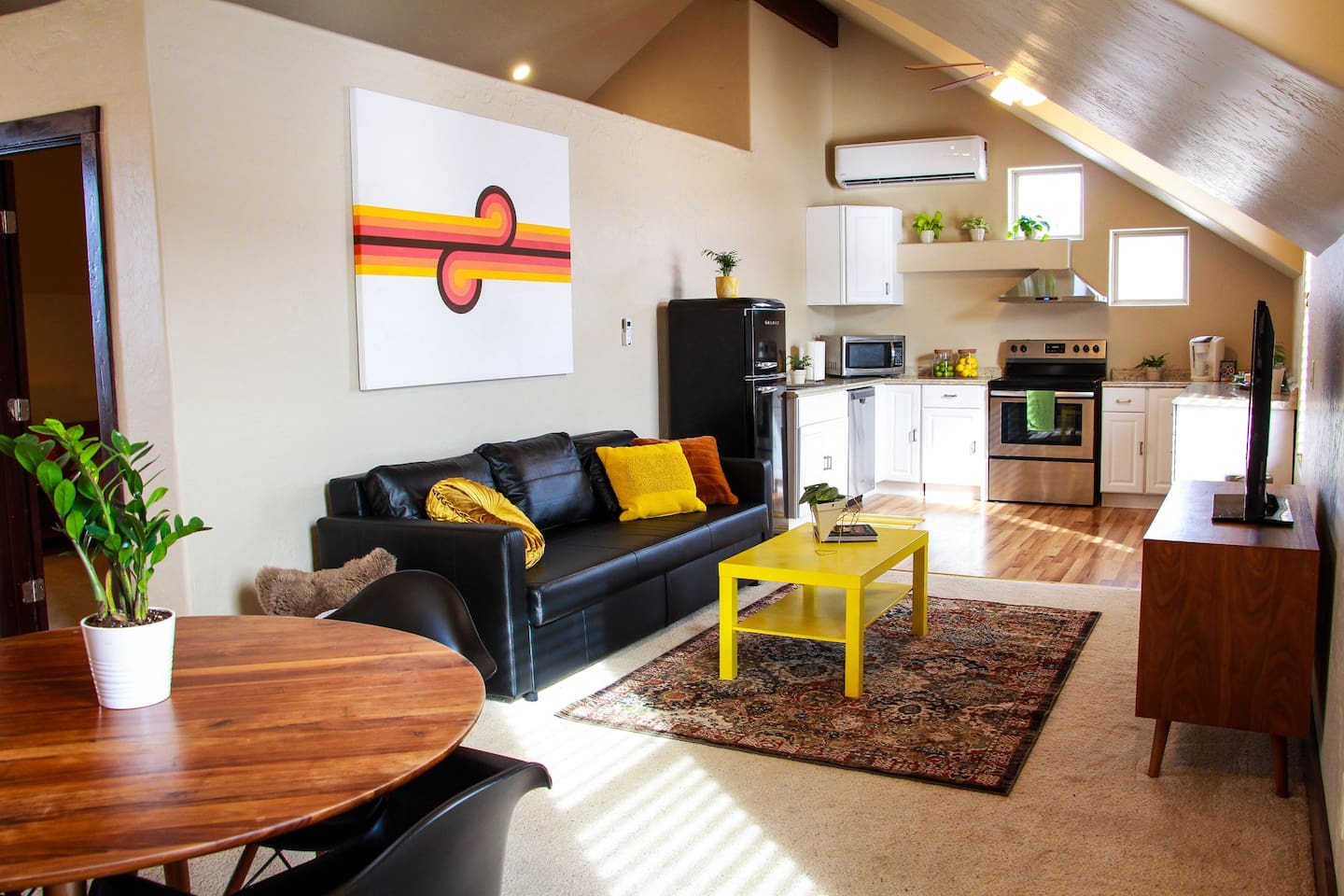 Modern Stay on Observatory Mesa
Airbnbs in downtown Flagstaff are great, but this suite on Observatory Mesa is perhaps even more ideal being part of a hillside home away from the crowds while still being a stone's throw from downtown. You'll reach your suite through a private entrance off of the main house, which was inspired by the ruins at Wupatki National Monument (worth a visit while you're in Flagstaff).
In addition to being right next to downtown Flagstaff (1.5 miles driving), you can walk a short .5 miles to the Lowell Observatory. Whether you're immersing yourself in the museum exhibits or viewing the sky through a telescope after dark, a visit to the Lowell Observatory is always fascinating.
Back at the suite you'll enjoy the fantastic walk-in rain shower, heated concrete floors, and crisp, modern look. Grab the provided yoga mat and meditation pillow, and head to the window for a sunrise view of the trees and downtown Flagstaff.
There are plenty of hiking opportunities right outside your door. And when you return home you can toss all of your well-worn clothes from your adventurous day in the washer and dryer that are provided for your convenience.
Click Here To Check Rates On Airbnb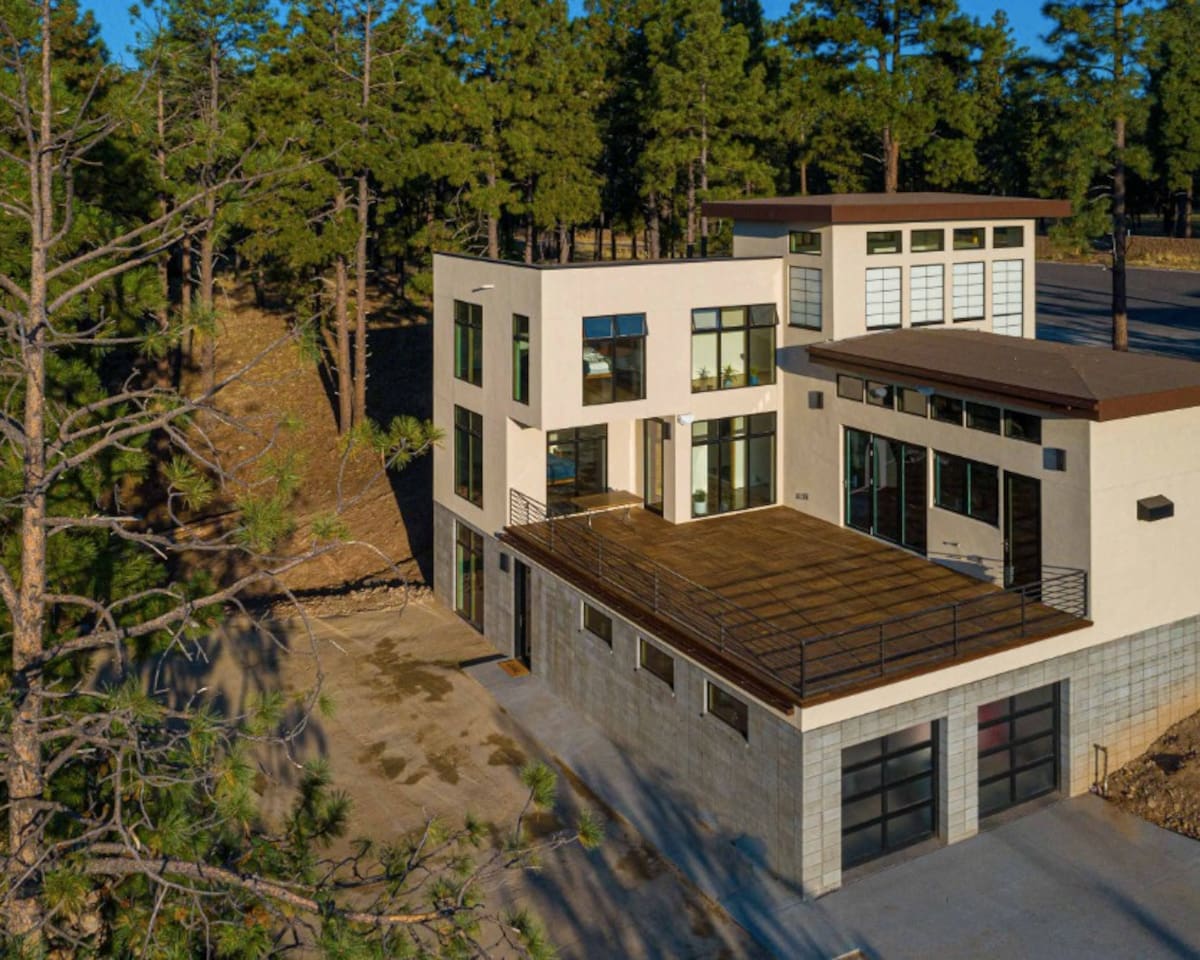 Toho-Tel Suite
The Toho-Tel Suite is one of the best Airbnbs in Flagstaff for couples. From the record player and indoor fireplace to the candies in the kitchen and the couch out back on the porch, this place has cute and cozy written all over it. 
An excellent record selection accompanies the record player so you can have nighttime jam sessions after a day of exploring around Flagstaff. You'll also find the outdoor patio with its large couch will become a favorite spot of yours as you enjoy the smell of fresh pine.
The suite is relatively close to downtown while still being quiet, secluded, and surrounded by Ponderosa Pines. There are also plenty of nearby hiking trails through the surrounding forest.
The hosts have thoughtfully provided suggestions for things to do and see during your stay for those who are not familiar with the area. In addition to their own suggestions, the hosts encourage their guests to write down their own stories and suggestions from their Flagstaff stay for the benefit of future guests.
Click Here To Check Rates On Airbnb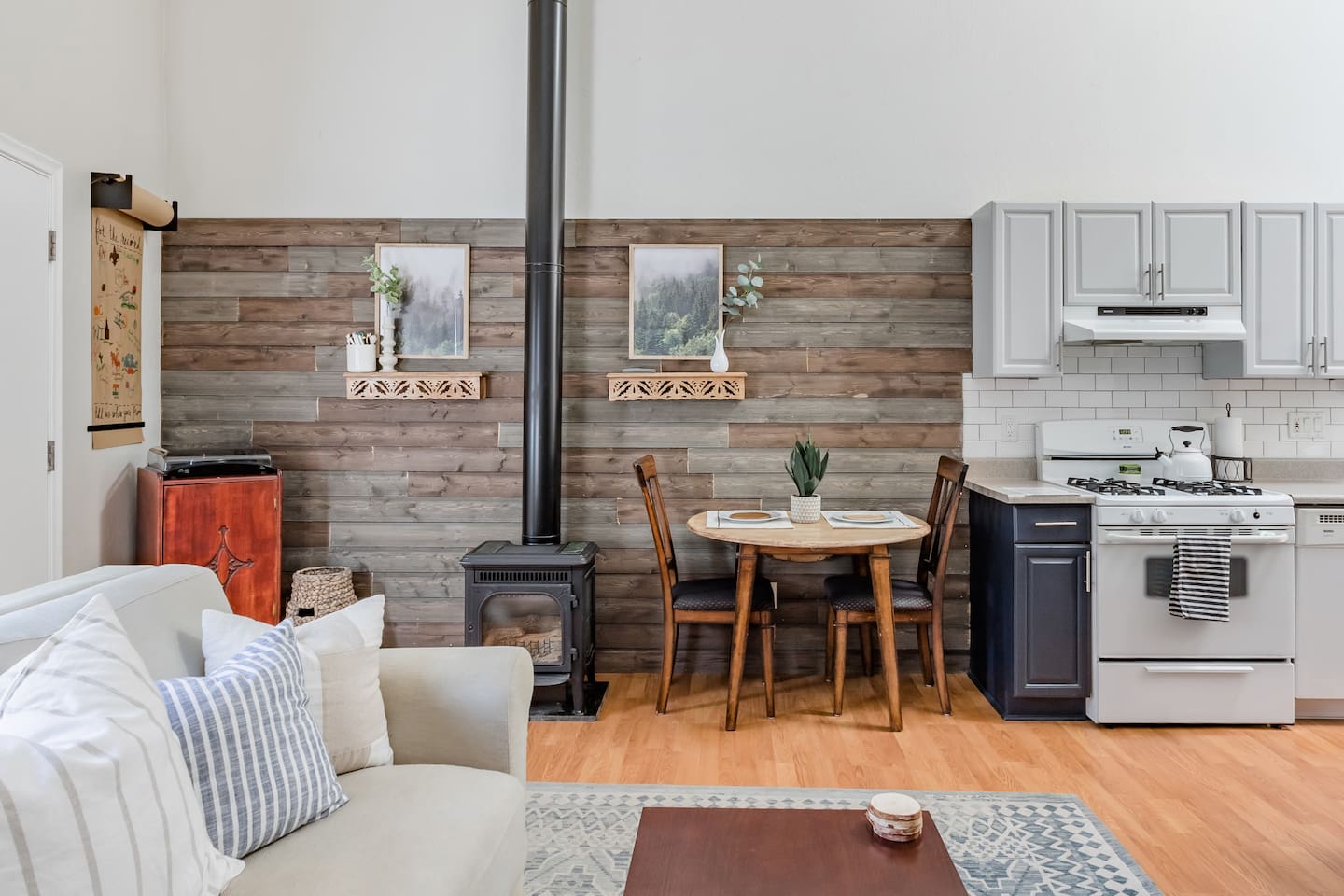 Magdalena Cottage
If you're venturing out on your next family vacation to Flagstaff, you'll find the Magdalena Cottage is one of the best Airbnbs in Flagstaff for small families. There are bunk beds on the first floor perfect for kids, and a door leading from the bedroom to the backyard where they can run around and play. 
The enclosed backyard is also great for dog owners wishing to bring their pets along. There's plenty of space for them to run around outside and enjoy the sunshine.
The Magdalena Cottage is located just 3 miles from both the Arizona Snowbowl Ski Resort and downtown Flagstaff, making it an optimal home base for all of your vacation activities. Whether you're skiing, hiking, or just grabbing a beer at your favorite brewery, you'll have easy access to all of the above.
The cozy cottage is two floors, however you should be aware that the top floor can only be accessed from a staircase on the outside of the house. The bottom floor is reached through the garage.
Click Here To Check Rates On Airbnb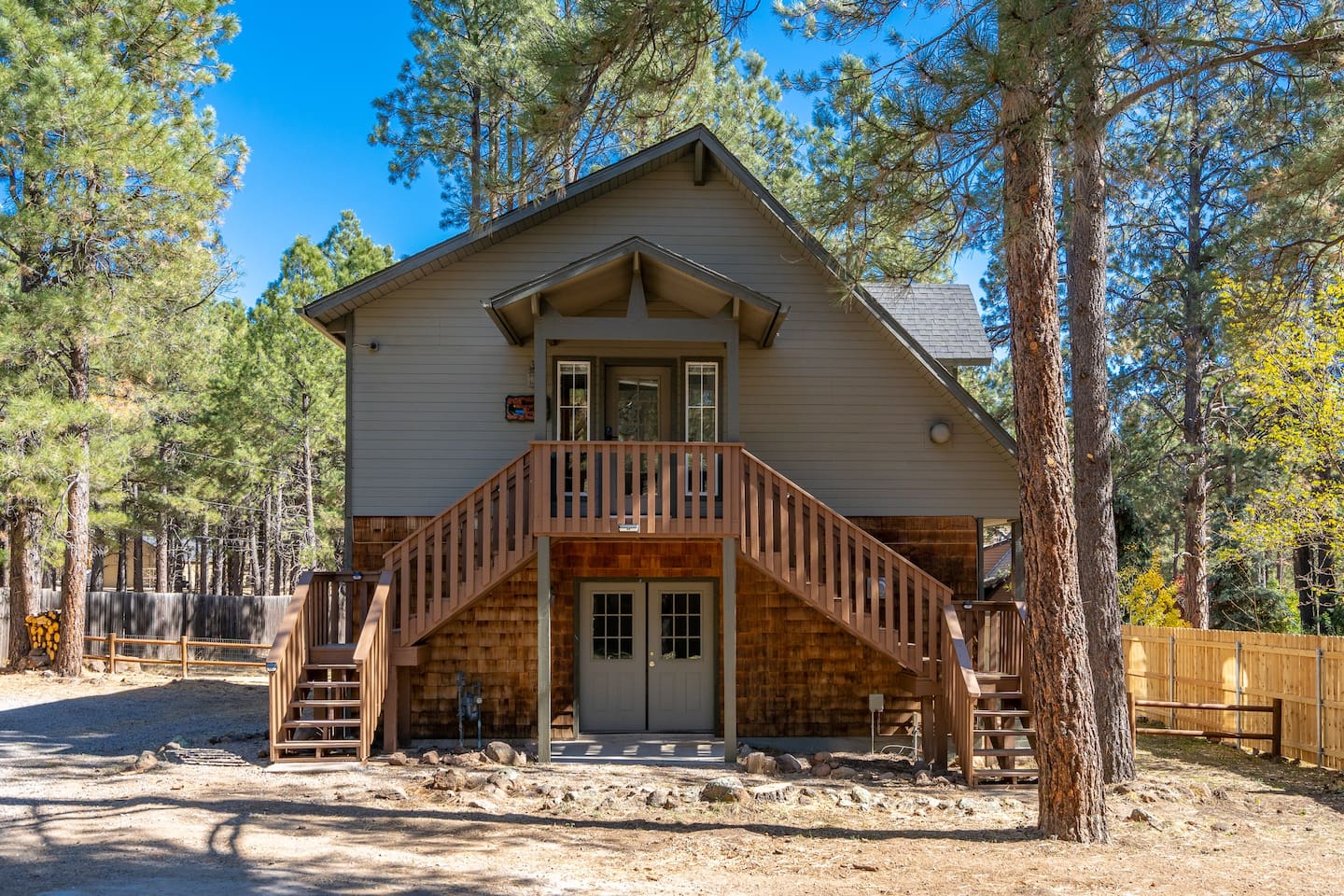 We're thrilled you've decided to make the pine and aspen forests of Flagstaff your home for your next getaway. We hope one of these Airbnbs in Flagstaff will catch your eye.
Whether you're looking to stay in the heart of Flagstaff's historic downtown close to restaurants and shops, or somewhere further out where you can enjoy the crisp mountain air from an outdoor deck surrounded by trees, you're sure to enjoy your time in this beautiful city. As you go about choosing which of these Airbnbs in Flagstaff is best for you, please let us know if you have any questions or comments.