If you are looking for the best all-inclusive resorts in Florida? You have come to the right place. I am obsessed with all-inclusive hotels and after exploring this state for over three decades, I can tell you what is great and I would recommend to a close friend, vs. what you should skip!
Something that a lot of people ask is "Does Florida have all-inclusive resorts?" And the answer is, heck yes we do! That being said, Florida doesn't have many true inclusive resorts. Even expected hotels, like ones on Disney property, only offer dining packages or coupons! So when we come across resorts in Florida that do offer all-inclusive, you know we take note!
I also get the question "Does Florida have a Sandals resort?", and while the answer is no, that doesn't mean that there are great options. I love Sandals Resorts, and while they are a short flight away from Florida, sadly we cannot claim one in this state. Some of the best all-inclusive resorts in Florida include Bungalows in Key Largo, Little Palm Island Resort and Spa for adults, and properties such as Legoland Resort for families.
The experience is worth it! Know everything is taken care of. Never reach for your wallet or worry about budgeting or cost. Eat, drink, relax, and enjoy what YOU want to enjoy. So, go ahead and book one of the best all-inclusive resorts in Florida. You won't be disappointed!
All Around Best Pick: Bungalows Key Largo All-Inclusive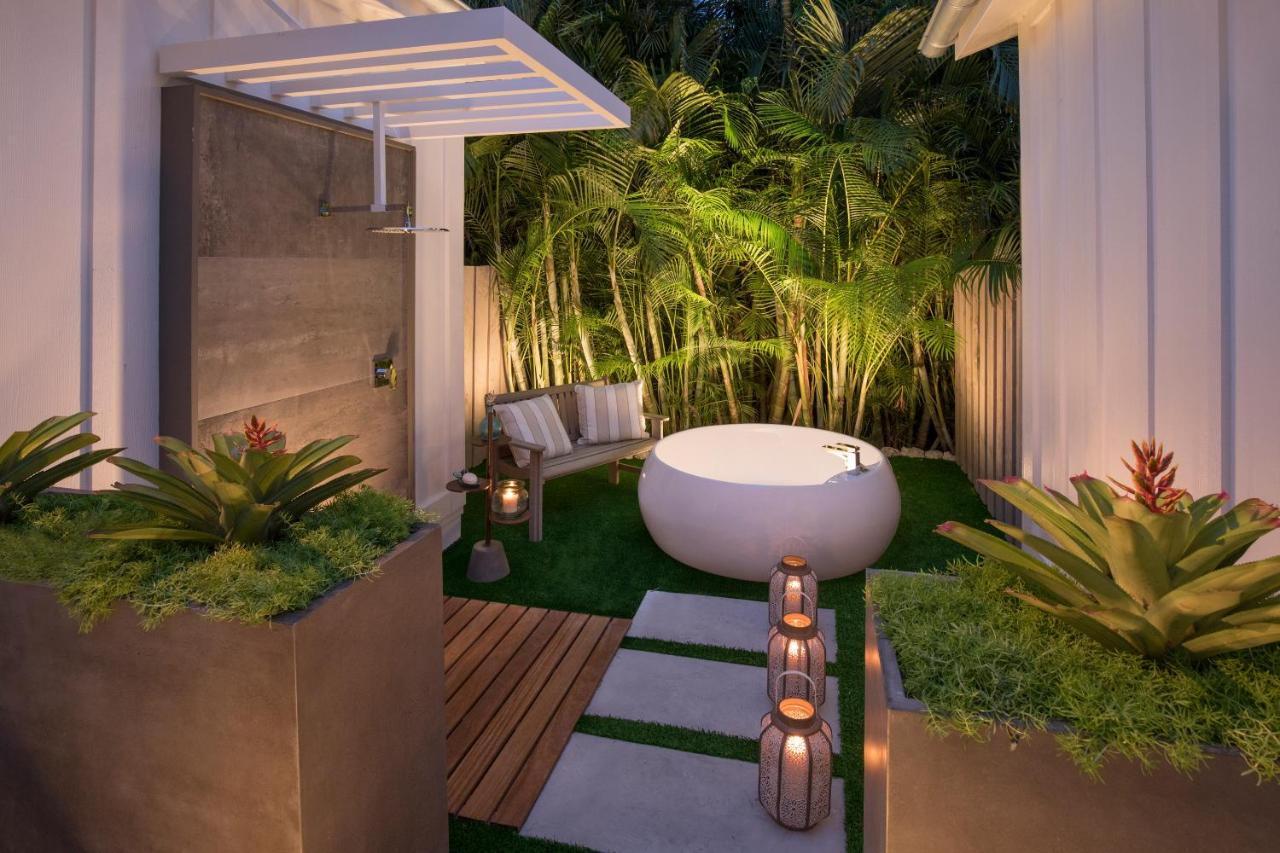 6 Best All-Inclusive Resorts in Florida
1. Bungalows Key Largo
If you are looking for one of those all-inclusive resorts in Florida that are adult-only, then you have to check out Bungalows Key Largo. Nominated for the Conde Nast Traveler 2020 Readers' Choice Award for Best Resort, this one is STUNNING.
If you are looking for a true adult-only experience, this is it. It is 21 up for this resort, so no kids or teens will be there. It is hands down one of the best all-inclusive adults-only resorts in Florida with oceanfront bungalows. And don't forget the wonderful garden too. You will want to put this romantic all-inclusive resort on your bucket list!
Pricing covers all meals. The resort has three restaurants and two bars. You can also participate in morning yoga classes, paddle boarding, rent a kayak, join a Pelton sprint, and more. Extra things cost a little more, like spa treatments and float on tiki boats, but overall, check this place out. Talk about one of those all-inclusive adults-only resorts in Florida you must check out!
Key Largo is the Diving Capital of the World, and the Bungalows are only a few miles from a living coral reef, so you have to make sure to snorkel here. It is romantic, and life-changing! Plus, the private Bungalow approach and design helps ensure a sense of intimacy. With no kids and with lots of isolated areas, you won't want to leave.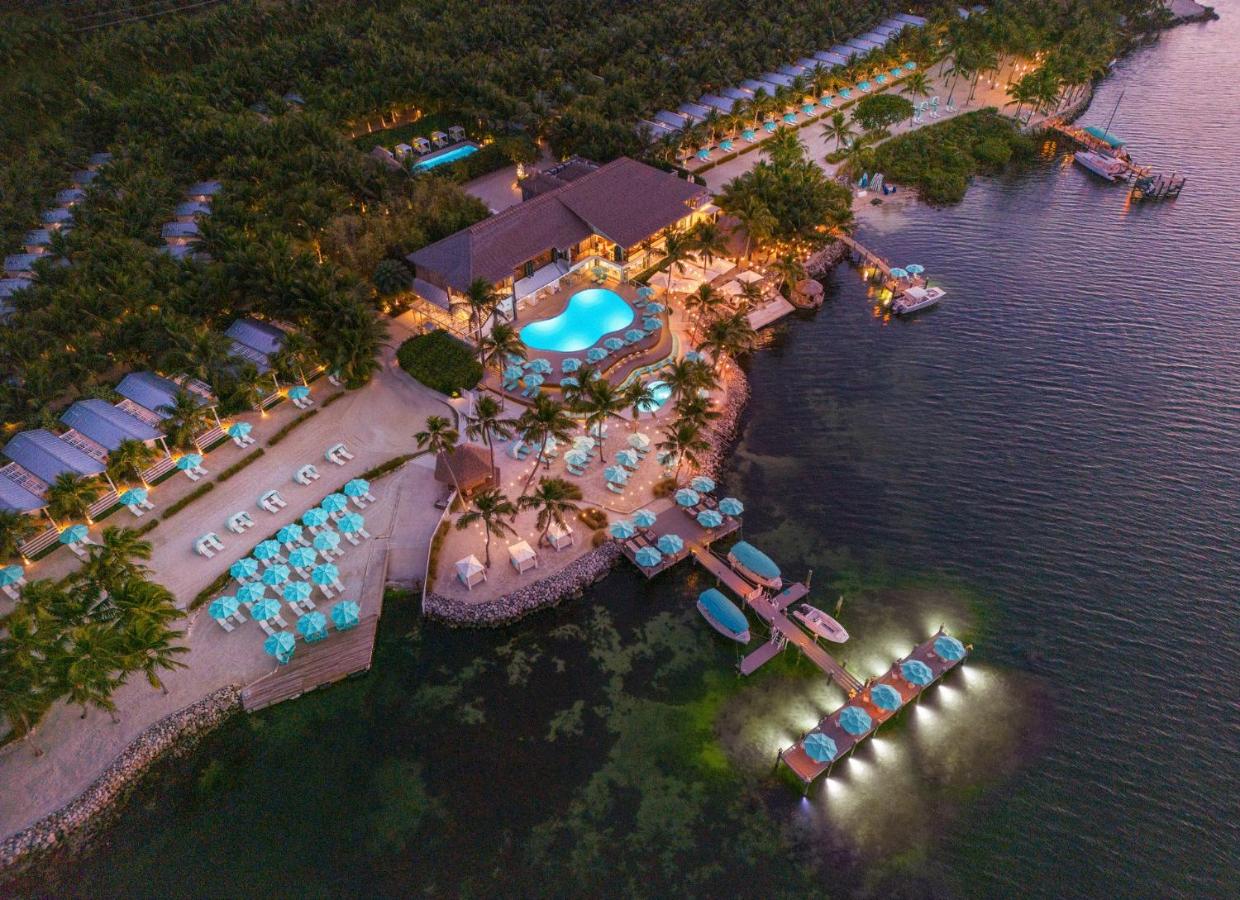 2. Sandpiper Bay by Wyndham
Located near West Palm Beach, Sandpiper Bay is one of those beachfront all-inclusives in Florida you don't want to miss. Staying here includes meals, accommodations, water activities, kids' clubs, endless entertainment and more. All-inclusive at this hotel means that even tips are included!
This is definitely one of those all-inclusive family resorts in Florida, so don't book here unless you are okay with kids running around! Being tucked away on the St. Lucie River, and being right on a small, private beach ensures there are tons of things to do.
You and your family will love to go paddle boarding, take tennis classes, and maybe even join a circus school?! How cool! Guests have also commented that they have taken day trips to Orlando when visiting here, which allows them to see something else other than the resort.
If I were them, I'd stay here, though! How can you pass up three outdoor pools and even a sports academy?! You can't get much better than this one. Family vacations have never looked better and this is one of those all-inclusive beach resorts in Florida you want to check out.
3. Sirata Beach Resort
Located on the West Coast of the state, the all-inclusive Sirata Beach Resort is right on St. Petersburg Beach! As a Tampa Bay local, this is the one I hear the most about! Since it is so close to Tampa, my experience with this resort is that it is fun, friendly, and casual.
Guests love the three swimming pools and easy access to the beach. With volleyball courts, cabanas, playgrounds, and daily activities, you'll never be bored. I mean, how can one pass up water balloon darts, scavenger hunts and seashell hunts? This is easily one of my favorite all-inclusive Florida resorts for couples.
Activities are always changing here. But one thing is constant! The amenity fee. This helps pay for anything you participate in. The meal packages allow guests to pick what best fits them and their vacation.
This resort is quick to point out that it is not an all-inclusive hotel, but it offers all-inclusive packages. This means it is not one of those true all-inclusive hotels in Florida, but it offers those packages! Its perfect location makes it a great go-to for beaches and downtown St. Petersburg. Why not visit the Dali, or go to Fort De Soto when here? Plus, the St. Pete Beaches have great food, shops, and night activities on their strip!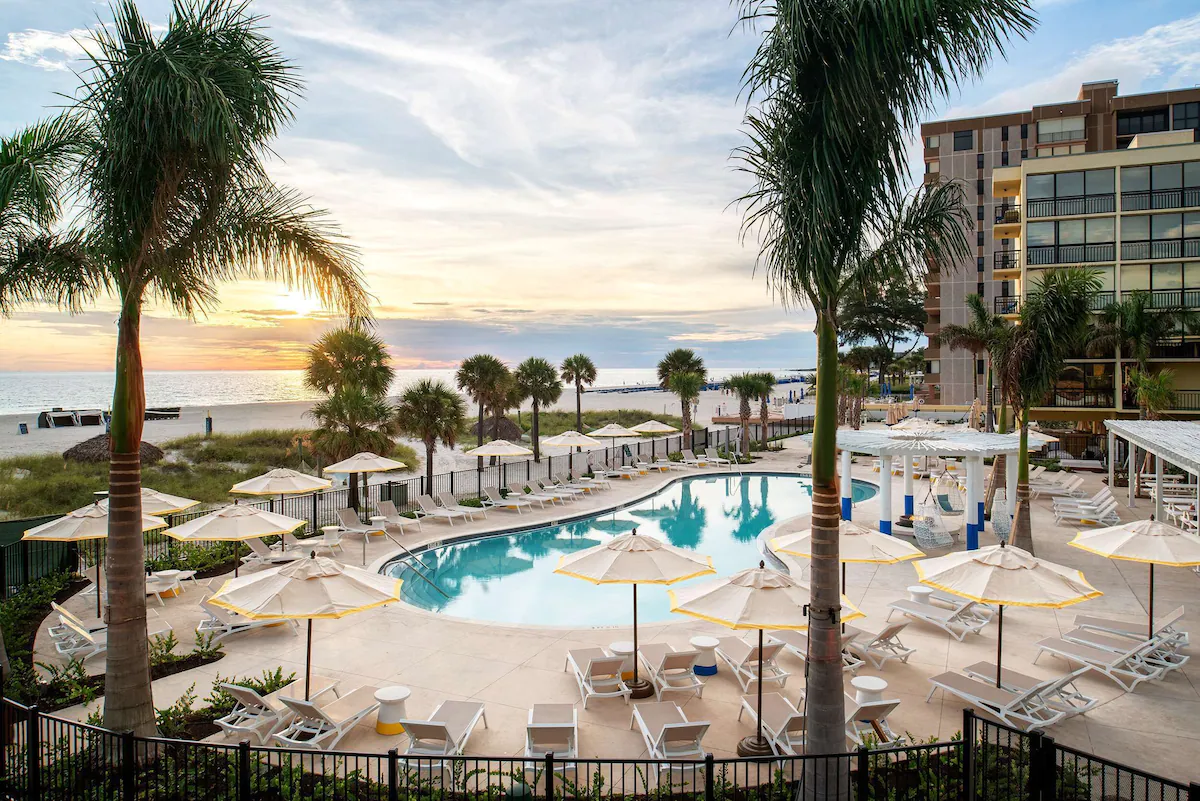 4. Little Palm Island Resort and Spa
Located in the Florida Keys, Little Palm Island Resort and Spa is one of the best of the best. This resort sits on its own private island! In fact, it is only accessible by yacht or seaplane, so you know it is private and truly exclusive. Talk about one of the best island resorts in Florida which is located in the Florida Keys!
This is one of those all-inclusive spa resorts in Florida and you have to be above 16 to stay here. No kids and the solitude of a private island means perfect peace! While it isn't one of those official adults-only all-inclusive resorts in Florida, it comes pretty close with sixteen plus!
What makes this Florida Keys resort stand out is the private, lush island. Go shelling and enjoy tropical foliage. The building itself is stunning and luxurious with thatched bungalows and hidden walkways. There are also romance suites that look over the beach if you are looking for something more romantic! This is the perfect option when considering all of the all-inclusive resorts in Florida for couples.
This spa encourages you to "turn off." Telephones and TVs are not in guest rooms! Therefore, the pool is always the place to be, and those private copper bathtubs are always full.
Check out things like the Culinary Paradise Package if you want to not worry about lunch, dinner, breakfast, champagne, and spa credits! This makes for wildly romantic all-inclusive adults-only resorts in Florida. Perfect for honeymoons or anniversaries.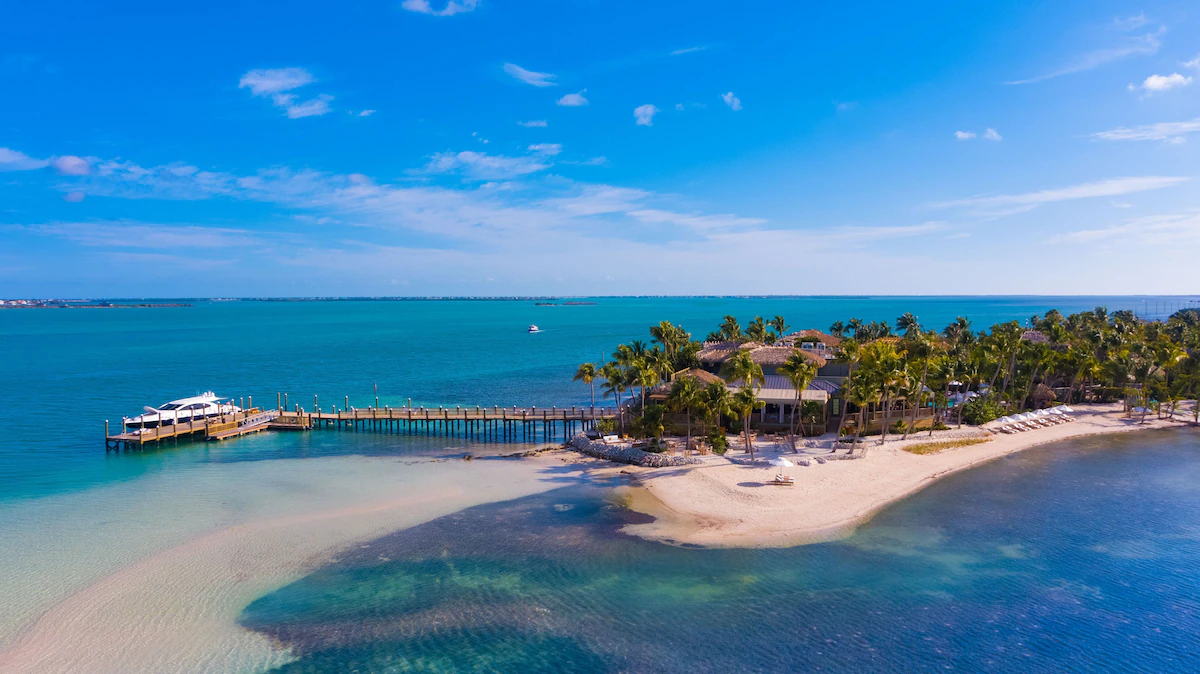 5. Legoland Resort, Florida
In Winter Haven, Florida, which is just outside of Orlando, you may want to check out one of the best all-inclusive family resorts in Florida. Kids will LOVE living their best Lego Life here. And better yet? There are three hotels to choose from. So book Legoland Resort!
Stay at Pirate Island Hotel, LEGOLAND Hotel, and Legoland Beach Retreat are the hotels you can stay at that also offer all-inclusive Florida vacation packages. When you stay here, tickets to Legoland Florida Resort Theme Park are included! So is the water park! And the Peppa Pig Theme Park! Plus, to make your memories permanent, the in-park-photo pass is part of the deal too.
Better yet? All meals are included. Whether you eat at the hotel or theme park! And when not at the park, swim in the pool or participate in mini-golf! There are tons of activities for kids. Most love the in-room treasure hunt since there is a LEGO prize.
Guests can also join the Master Builder Workshop. So, no matter what you are doing while on vacation in Legoland, you won't be bored or disappointed! While this isn't one of those beachfront all-inclusive resorts in Florida for families, it is worth checking it out. Book today to help your kids build great memories.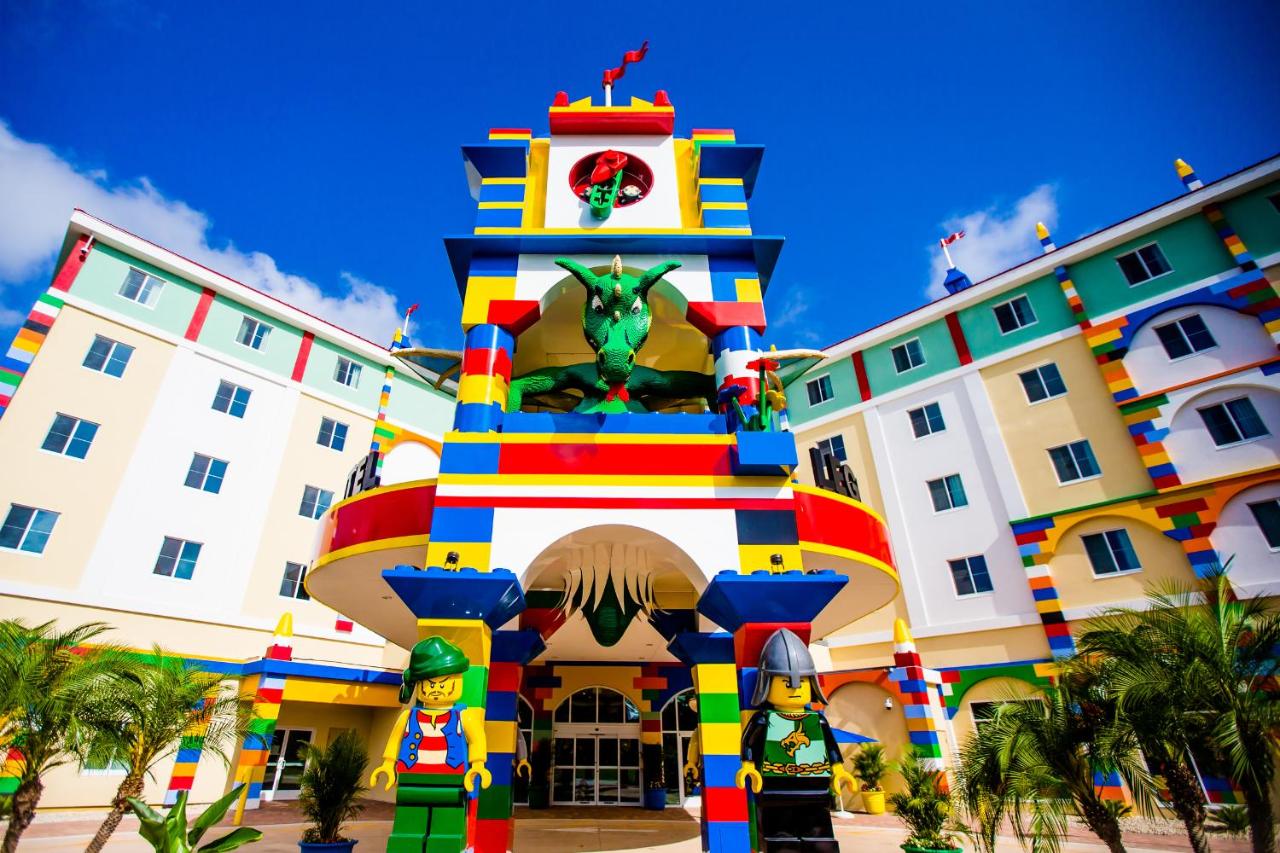 6. Costa d'Este Beach Resort & Spa
This Vero Beach all-inclusive resort in Florida is a true gem! The Coast d'Este Beach Resort and Spa brings in Miami style and luxury for all of its guests. Amenities like yoga classes, beachfront lounging, kayaking rentals, and beach cruiser rentals give you a taste of this luxurious life.
Being on Vero Beach also adds a few pluses! If you're not in the resort, or lounging by the pool, you can go shop down Ocean Drive boutiques! But who really wants to leave when you have a beachside Cabana bar and an ocean-view dining experience right on site?
Guests get to choose from a variety of rooms. There are spacious suites, penthouse options, and cozy rooms to choose from! With only 94 rooms though, you'll never feel over-crowded here. It is an escape!
This is the spot for an all-inclusive resort in Florida for couples. Couples report that the cocktail and dining experience alone is worth it. The sweeping views of the Atlantic are stunning, and when you combine the rejuvenating experience of facials, massages, and body treatments, you will have a new definition of romance! Of the all-inclusive spa resorts in Florida, this is one to check out!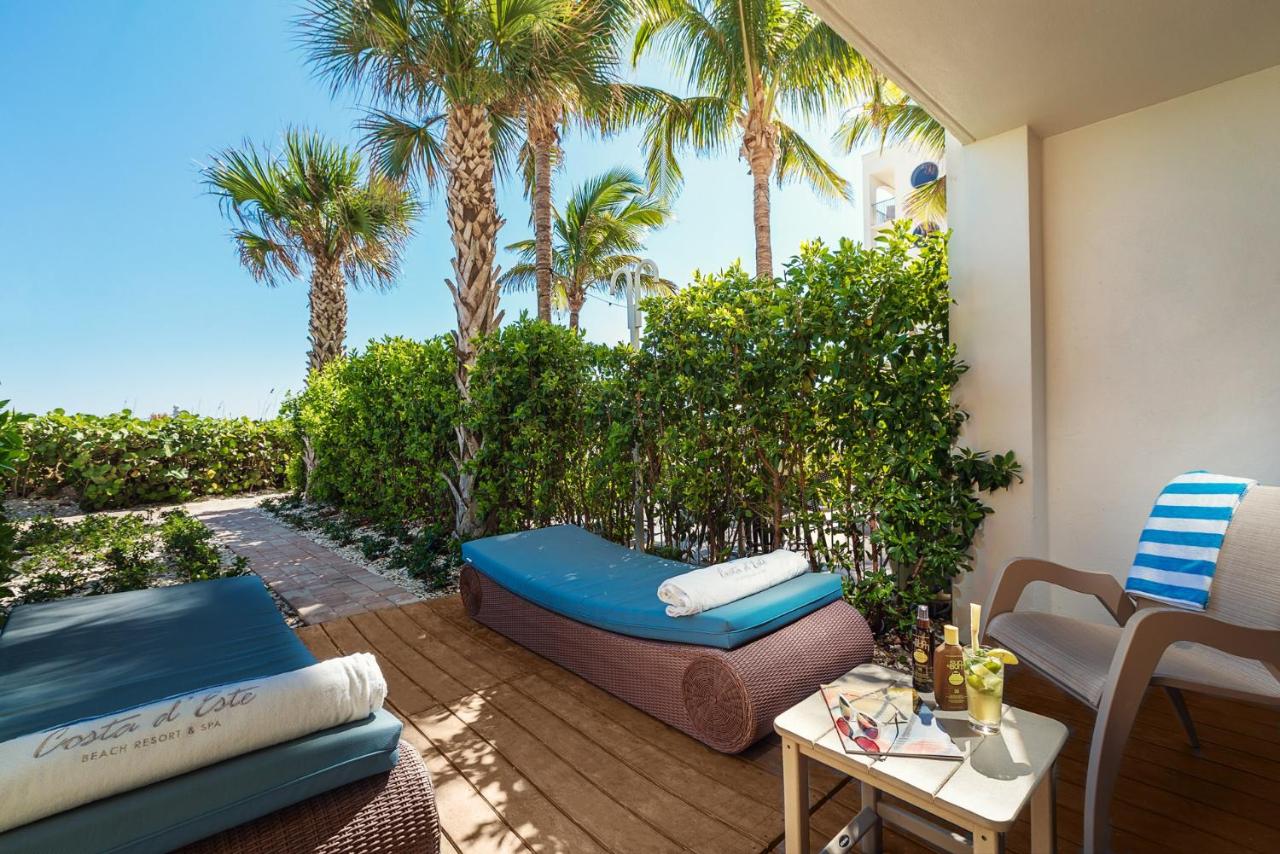 And there you have it, folks! 6 of the best all-inclusive resorts in Florida. Whether you are looking to go with family or take a couples retreat, there are always options. Book a spa, a vacation package, or pick a dining experience that is best fit for you. Either way, I believe these inclusive resorts are worth every penny. Stay and don't worry about money or budgeting… until that credit card bill comes in! I personally love all-inclusive hotels in Florida on the beach and want you to have that experience. So book today!